Best small crossovers for £10,000

Written by
Russell Campbell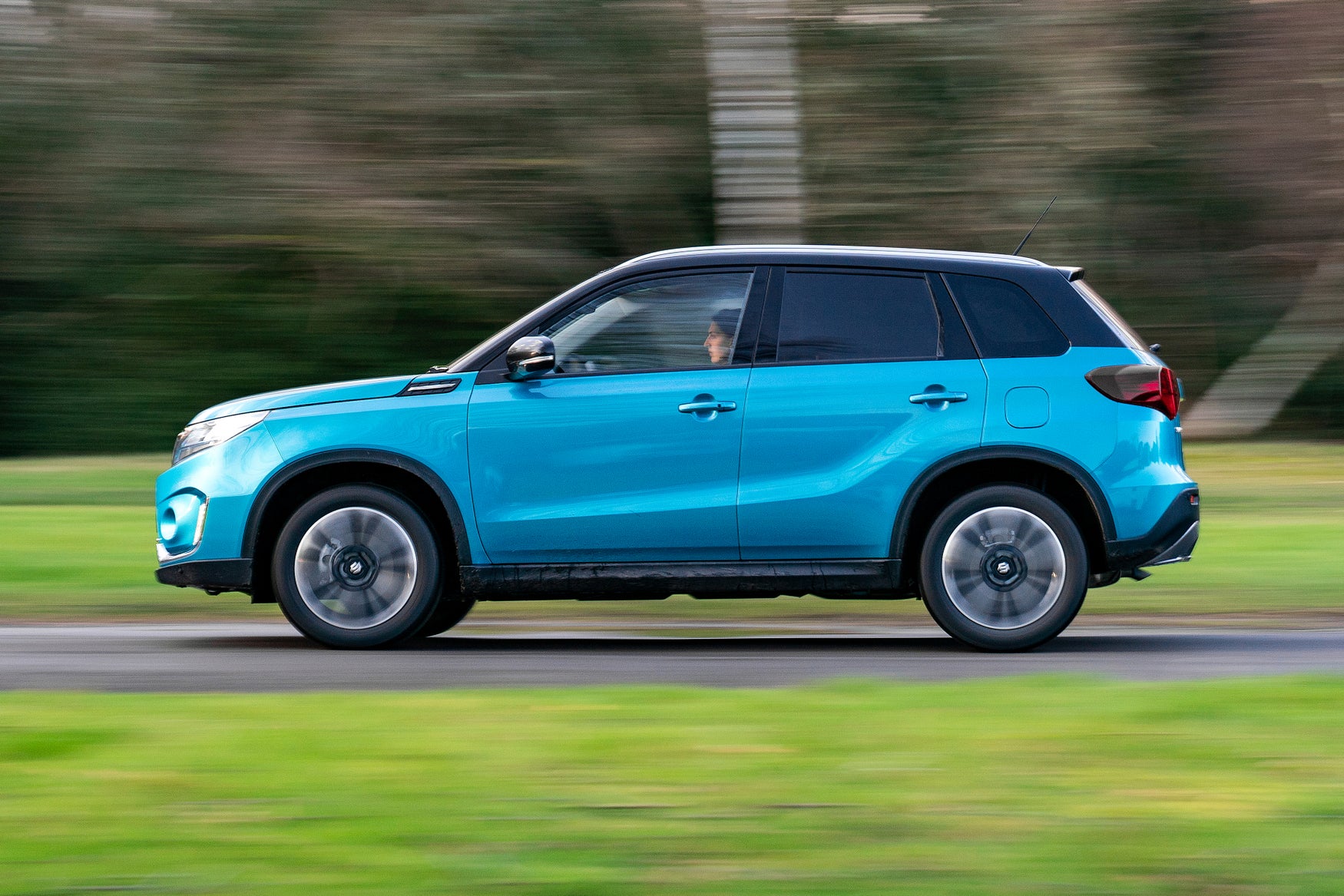 What is the best small crossover for £10,000 in the UK? We've searched our latest cars for sale to reveal the best and cheapest used small crossovers for value, comfort and fuel economy.
What's the best small crossover for £10,000? It's a question worth asking if you're looking for a practical family car that's easy to drive and cheap to run. Small crossovers give you a raised ride height for a great view of the road when you're driving and some even come with four-wheel drive for extra grip on slippery roads. You can choose between petrol and diesel engines and between cars that are very comfortable or more sporty to drive.
How have we chosen the cars on this list? We've scoured the heycar website to find the small crossovers that offer the best value for money and condition you can get on a £10,000 budget. All the car's here will fit perfectly into your family life, they're spacious for the size, cheap to run and easy to drive. Keep reading for heycar's guide to the best small crossovers for £10,000.
Renault Captur
Year launched: 2013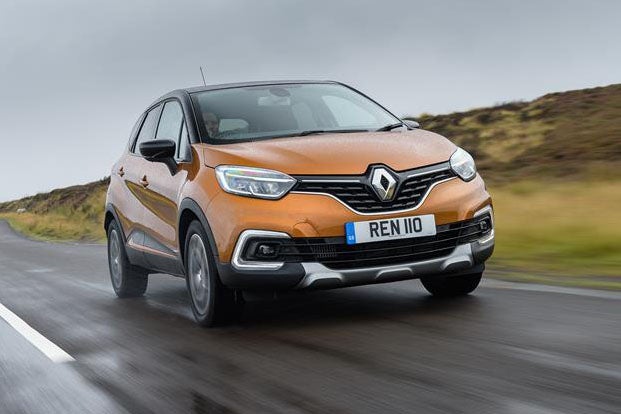 The Renault Captur is one of the best small crossovers for £10,000 you can buy. It's stylish looking and is available with a variety of customisable wheel and paint designs.
The Captur is based on the Renault Clio but its tall body means it's a lot more spacious inside. It has room for four adults and the sliding back seat means you can juggle between rear-seat legroom and boot capacity. Even at its smallest setting, the Captur's boot is big enough to compete with larger cars like the Volkswagen Golf.
Our £10,000 budget is enough to land a three-year-old Captur with fewer than 20,000 miles on the clock. We'd go for the 90PS 0.9-litre three-cylinder petrol engine – which has get-up-and-go but is also cheap-to-run – in Dynamique Nav trim. That includes desirable options such as climate control, seats with washable covers and an infotainment system with a seven-inch display and built-in sat-nav.
Honda HR-V
Year launched: 2015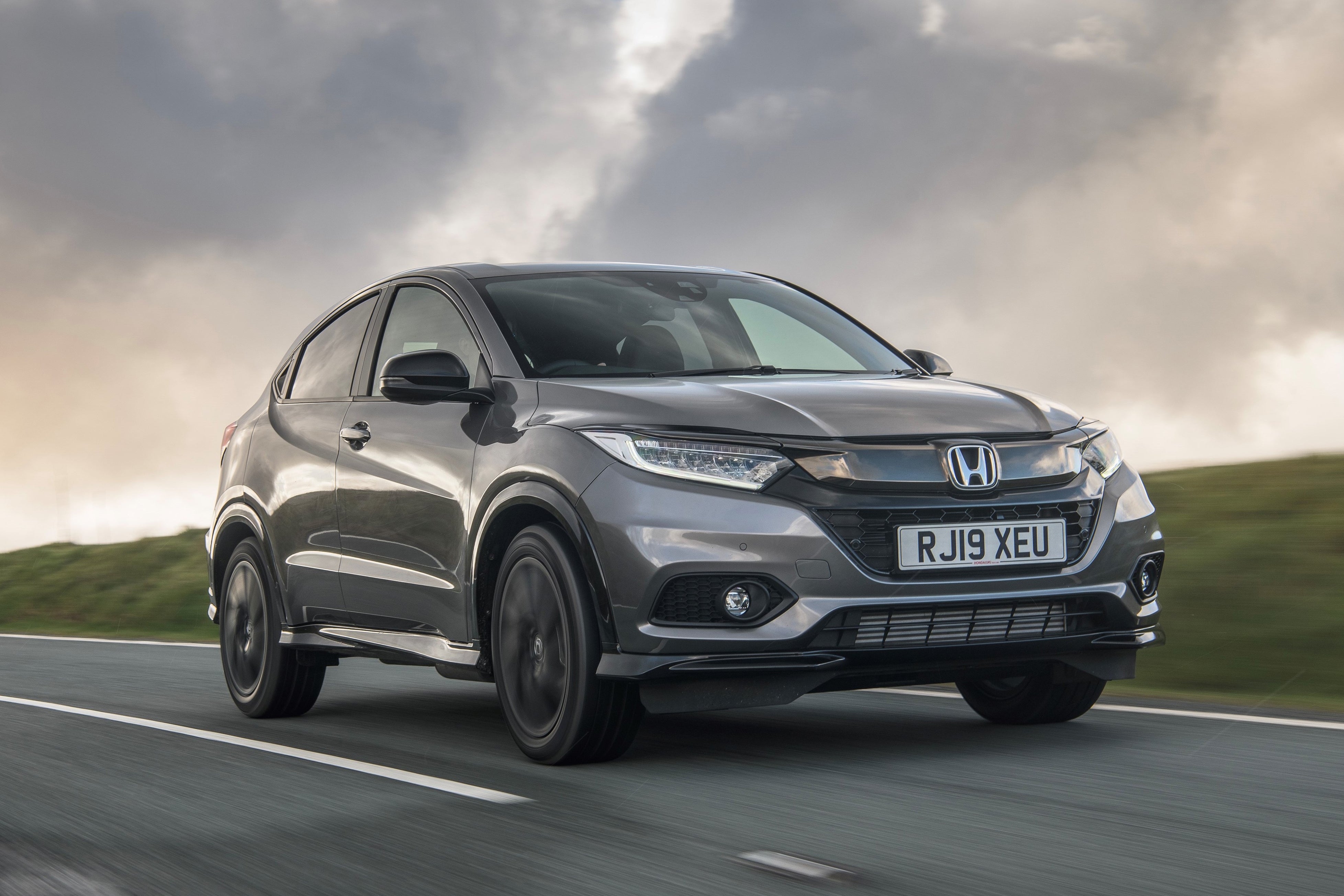 The Honda HR-V was one of the more expensive small crossovers when it was new, but depreciation means you'll have plenty of choice on the second-hand market with a £10,000 budget.
Inside, the Honda feels very solid with durable plastics and glossy black trims that make other small crossovers feel a little tinny. There's plenty of space inside for a young family and the boot is huge for a car this size. You also get smaller storage areas which will help keep the cabin tidy and even basic models have kit such as auto lights and climate control.
Out on the road, the Honda has been set up to feel sporty. It doesn't lean noticeably in bends, the steering feels positive and manual models have a slick change. On our £10,000 budget, we'd choose the 1.5-litre petrol – which is more relaxing than the diesel – in SE trim which adds useful kit such as cruise control and parking sensors.
Citroen C3 Aircross
Year launched: 2017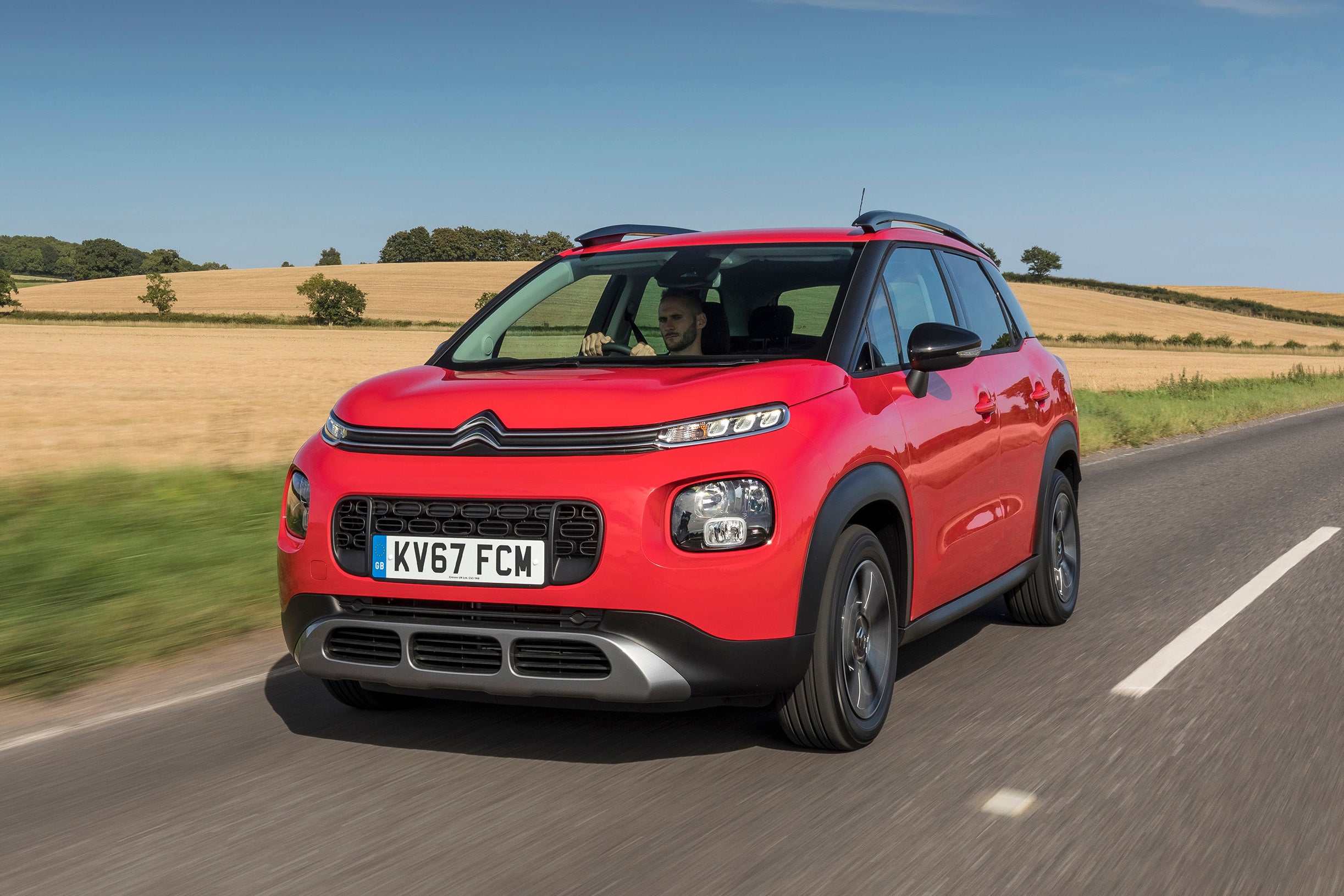 The Citroen C3 Aircross is a small crossover that'll make you stand out. It has lashings of gallic charm and is available with a variety of contrast colour schemes, Venetian-style window graphics and colourful fabric interior finishes that you'll either love or hate.
What you'll all agree on is that the C3 is very comfortable for a small car. Upfront you get thickly padded seats that are almost like armchairs and don't have any of the body-squeezing lateral support you get on sportier crossovers. There's an impressive amount of room in the back for a car this size and the boot is capacious.
Comfort is also prioritised in the way the C3 Aircross drives. Its soft suspension smooths out lumps and bumps and the cabin is quite quiet at a cruise. On a £10,000 budget, you also be able to stretch to the 110PS 1.2-litre PureTech petrol engine which sips fuel and feels nippy.
Fiat 500X
Year launched: 2016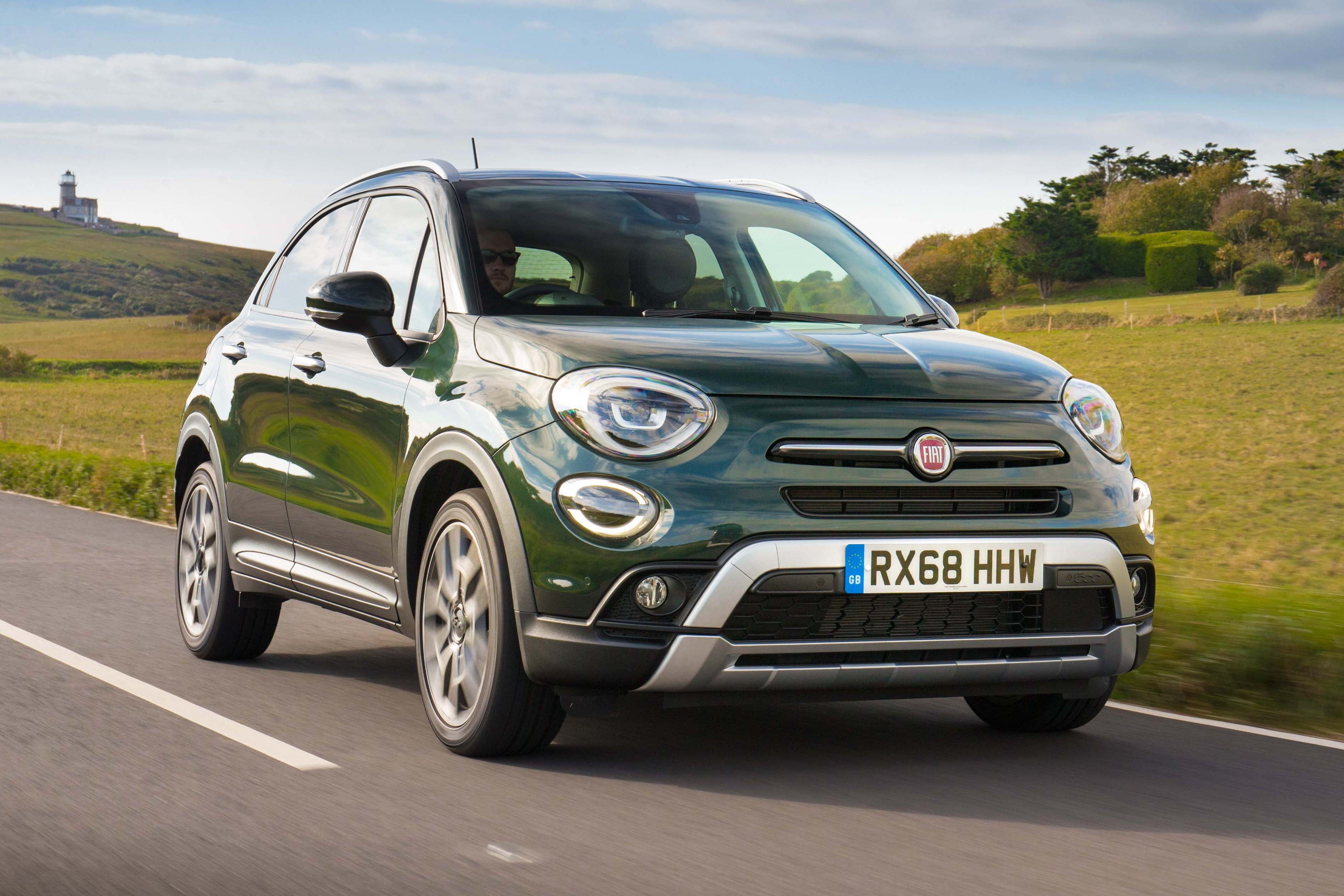 Love the cute, retro styling of the Fiat 500 but need more space for your growing family? Then take a look at the 500X small crossover. It looks like a 500 that's been blown up in a giant photocopier.
You get the same cutesy face and retro chrome details, but its upright shape gives you more interior space and you also get rear passenger doors. There's room for tall adults up front with space for average-sized adults in the back and while the boot isn't the largest, it'll still handle the luggage for a week away with the family.
The engine range includes 1.3 and 2.0-litre diesels, the latter being the only model available with four-wheel drive, as well as a spritely 1.4-litre petrol. We'd go for the 120PS 1.6-litre diesel, though, which has punchy acceleration on the motorway and is cheap-to-run.
Suzuki Vitara
Year launched: 2015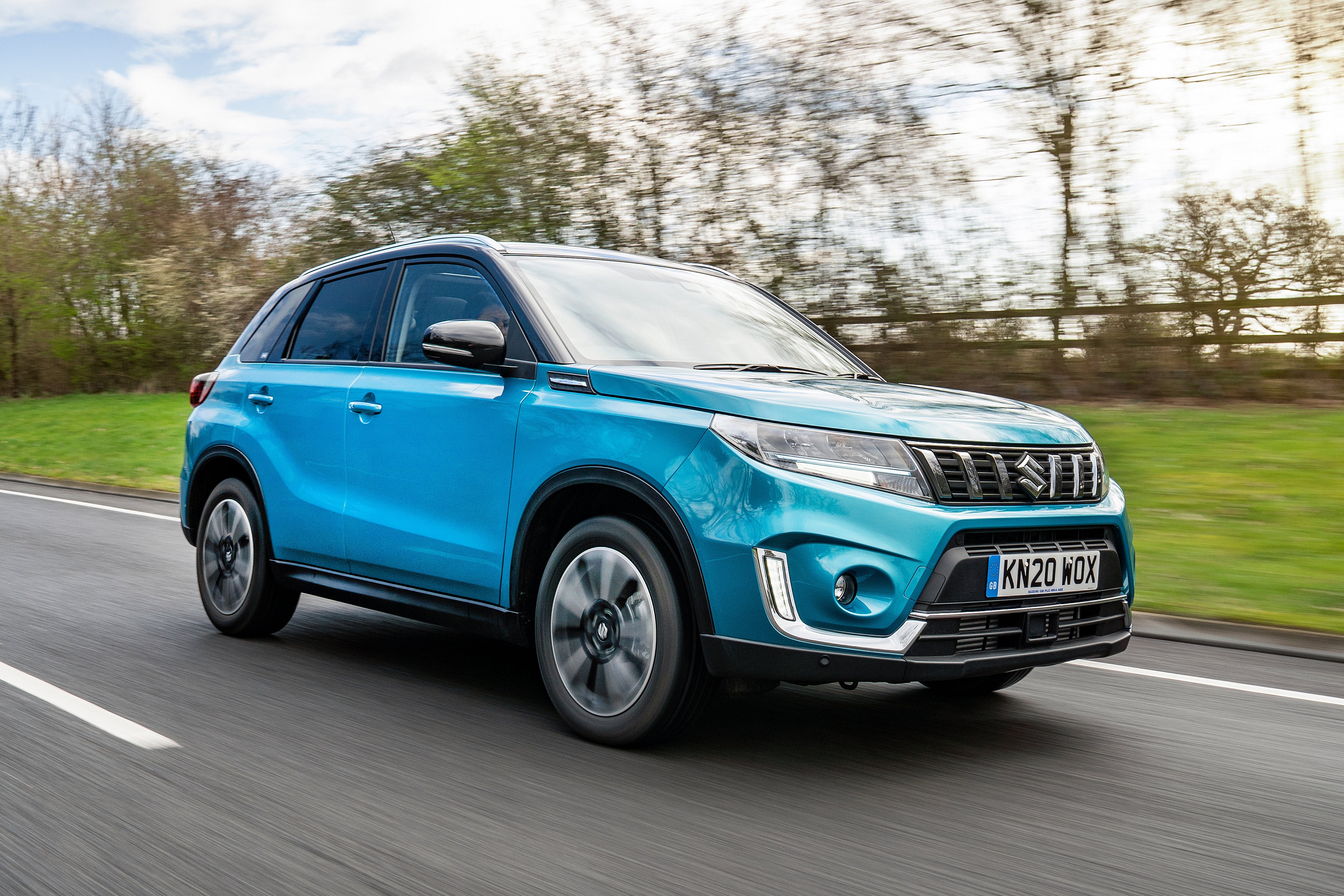 The Suzuki Vitara is a great example of how buying attitudes have changed – once a sturdy and capable SUV, the new model prefers to focus on being easy to drive on-road and cheap to run.
That said, it's tall body means it still feels quite like a traditional SUV, you get a better view out than you do in other crossovers, there's loads of space up front, enough room for adults in the back and the boot is large. The interior doesn't feel particularly expensive but you get the impression it is robust.
You get a range of engines to choose from but we'd go for the 120PS 1.6-litre diesel. It costs buttons to run, feels punchy on the motorway and has just enough power to make the most of the Suzuki's surprisingly tidy road manners.
Dacia Duster
Year launched: 2017

The Dacia Duster costs buttons brand new, meaning you can get a year-old car with fewer than 15,000 miles well within our £10,000 budget.
So what does your money get you? For starters, it gets you a cabin that's short on frills but big on interior space. And you'll get four adults in there without too many complaints, plus the boxy boot is large. The Dacia's tall suspension also makes it easy to get in and out of.
Four-wheel drive versions of the Duster can deal with tough off-road conditions but, unless you need that ability, we'd stick with the 100PS 1.0-litre petrol model which is light on fuel and just about quick enough. We'd also avoid basic Access models that do without essentials such as air conditioning.
Jeep Renegade
Year launched: 2017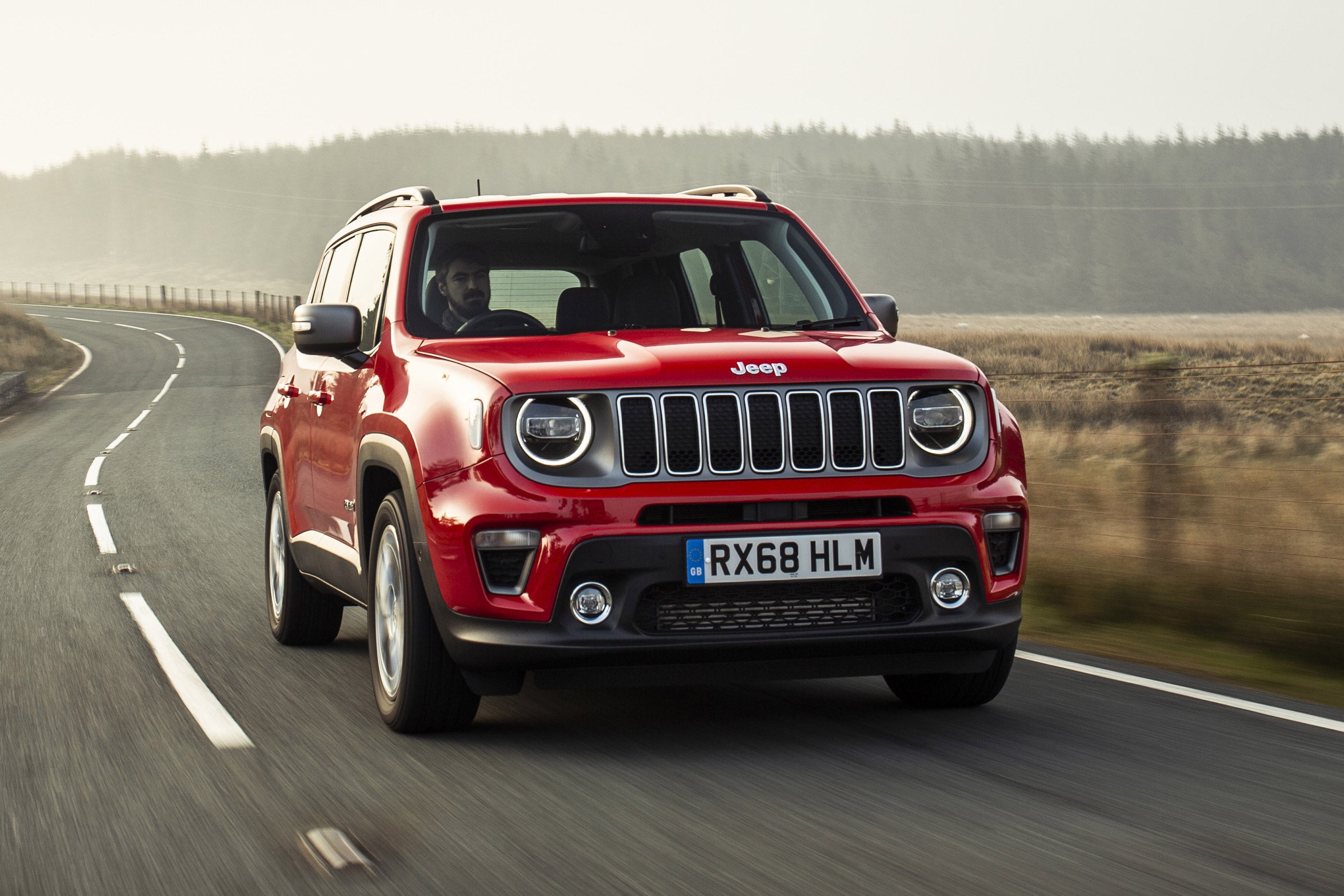 The Jeep Renegade has the badge to go with its chunky looks – the brand can be traced back to the Willys Jeep that mechanised allied infantry in the Second World War.
Naturally, things have come on a bit since then. Rather than a stripped out off-roader, the Renegade is a five-door family crossover which has room for four adults and a relatively large boot. The interior is also crammed full of 'easter eggs' like the Jeep graphic at the bottom of the windscreen and the X-style rear lights that are inspired by the petrol canisters often carried on the original model.
You can choose to have your Renegade with front or four-wheel drive, with petrol or diesel, and with a manual or automatic gearbox. We'd choose the two-wheel drive 120PS 1.6-litre diesel which has decent mid-range poke and won't drain your bank balance like the 2.0-litre diesel.
Citroen C4 Cactus
Year launched: 2014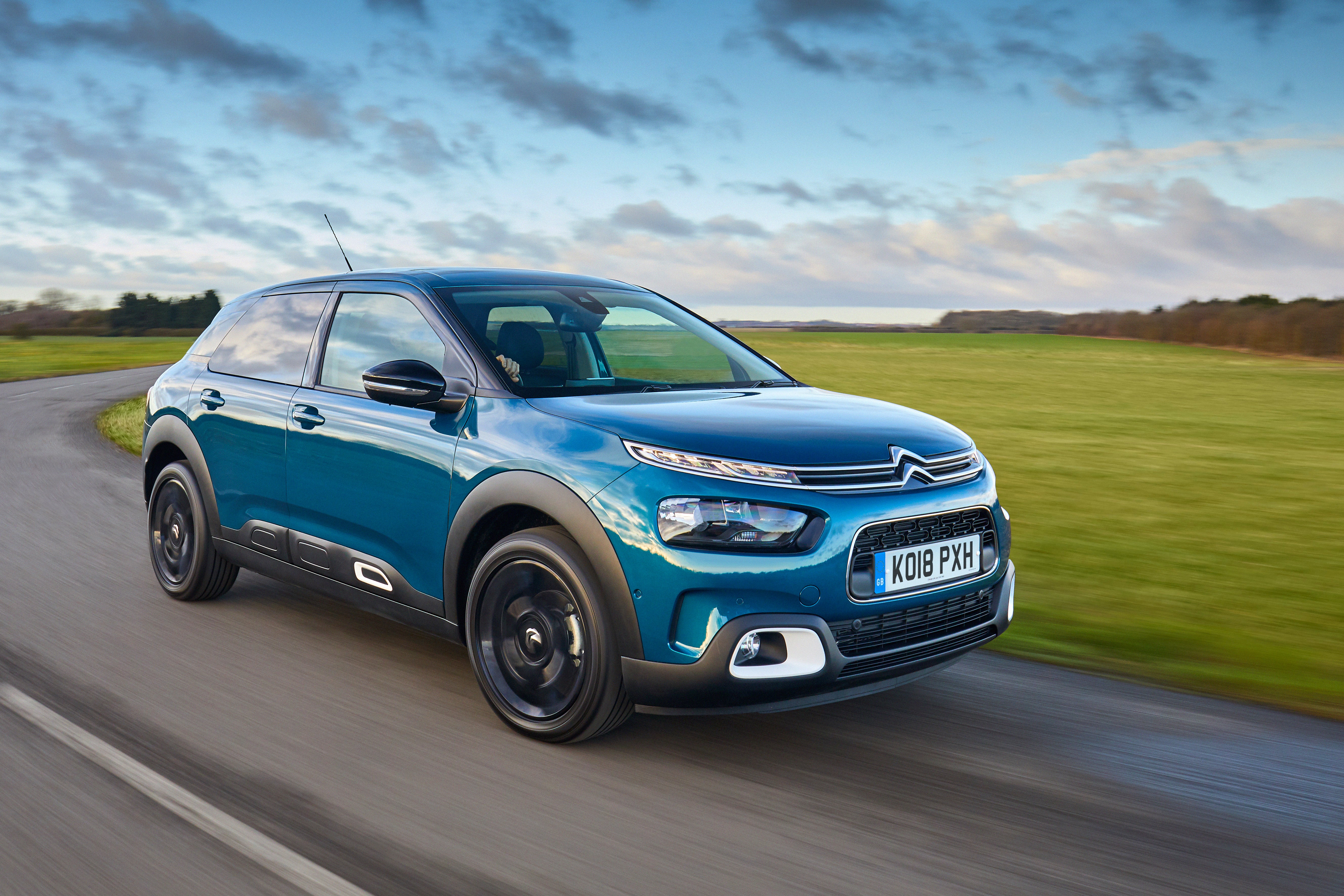 The Citroen C4 Cactus comes from the wackier end of the crossover spectrum thanks to its wide range of contrast body colours and distinctive Airbump plastic cladding, which is designed to protect the car from shopping trolley dings.
You'll find the inside is just as distinctive as the outside. There are plenty of bright colour options and eye-catching features like a glovebox that appears to be held shut using straps. The seats, meanwhile, are soft and spongy and the Cactus has space for four adults along with a boot that's relatively large.
Like its seats, the Cactus's suspension is set up to be soft and spongy and its best sampled with the 110PS 1.2-litre PureTech petrol engine that's quieter than the diesel and still cheap to run. Our £10,000 budget is enough to get a high-spec Flair model, which will come with a reversing camera and sat-nav.
Nissan Juke
Year launched: 2010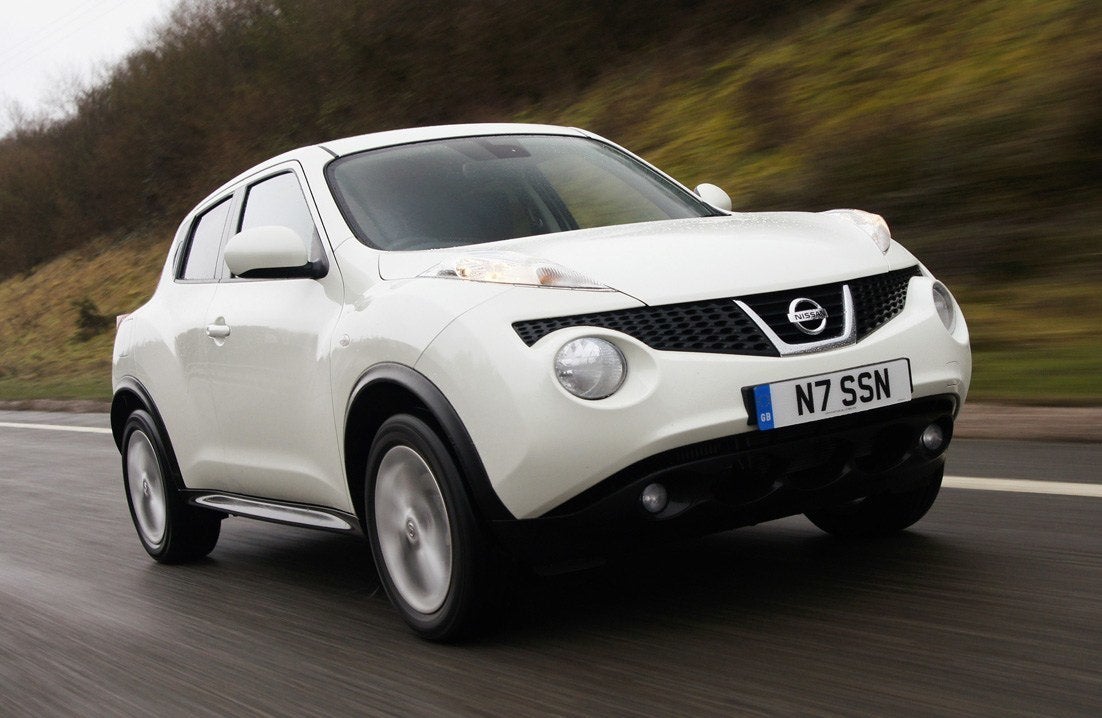 The Nissan Juke is a small crossover that offers striking looks at the expense of practicality. Its lights bulge out of the bonnet like a frog's eyes, the muscular wheel arches look like a centre back's shoulders and the hidden rear door handles trick your eyes into thinking it's actually a three-door coupe.
It's not the most spacious crossover here, but it still has more room than most small cars. There's plenty of room for tall adults up front, kids will be fine in the back and the shallow boot will happily swallow a couple of carry-on cases. It's worth noting that 2014 models and onwards free up a little more cabin space.
Engine choices include 1.2 and 1.6-litre petrols, but we'd go for the cheap-to-run and punchy 110PS 1.5-litre diesel. Our £10,000 is enough to pick up an N-Connecta model that comes as standard with a reversing camera and sat-nav.
Peugeot 2008
Year launched: 2013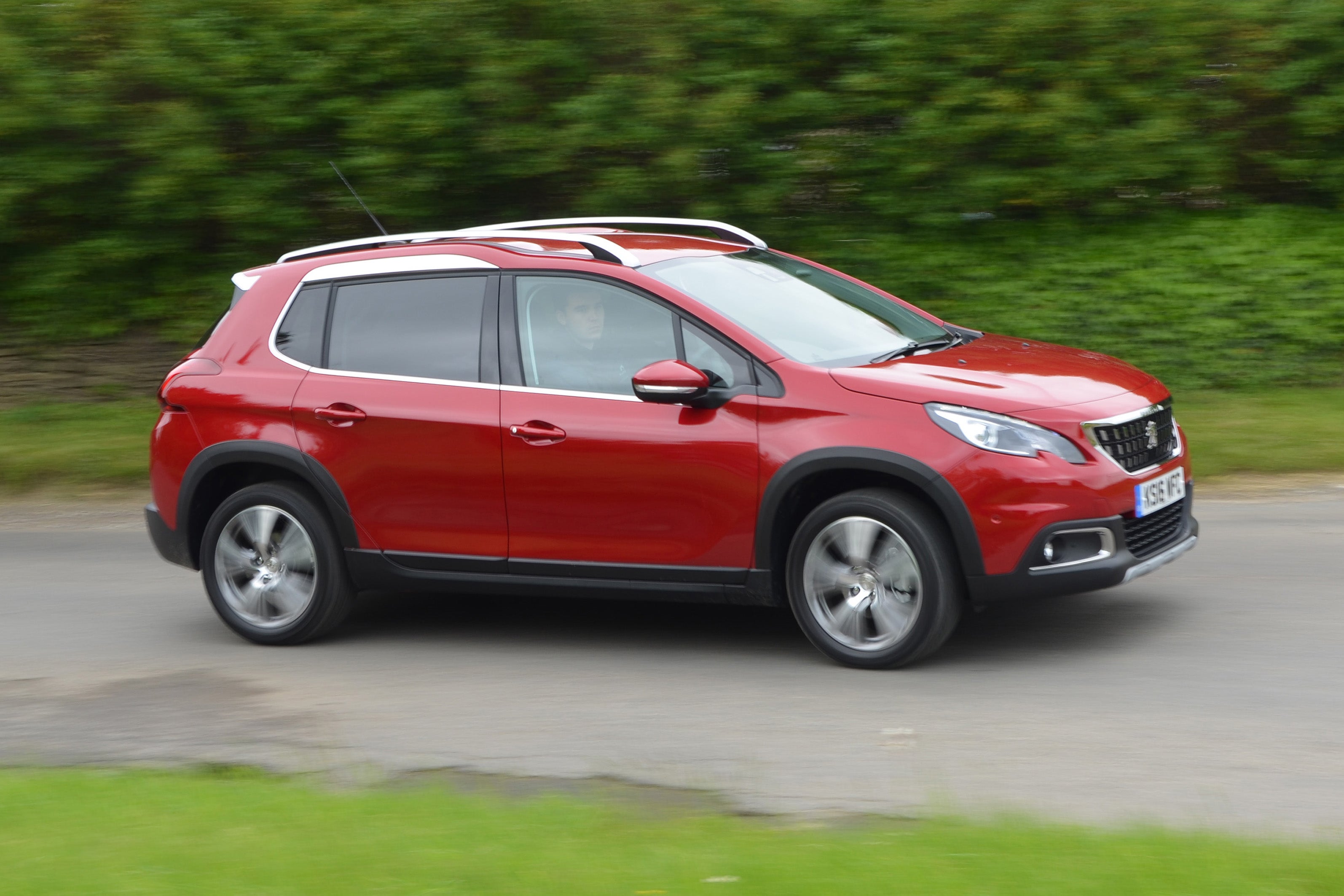 The Peugeot 2008 is based on the 208 but its boxy body means it offers a lot more interior space and you get rugged crossover looks.
Inside, it has room for four adults, the boot is reasonably large too and you can fold the rear seats flat into the floor for big jobs. Avoid the entry-level trim and go for a 2016 model or later and you get a colourful infotainment screen as standard that can mirror the display on your smartphone for things like music playback and sat-nav.
That comes as standard on Allure models, which also have Peugeot's clever Grip Control gadget, which helps the two-wheel-drive Peugeot tackle muddy and snowy roads with surprising ease. The engine to choose is the 130PS 1.2-litre PureTech petrol which is nippy, frugal and comes with a six-speed manual gearbox that makes the car quieter when cruising on the motorway.
Small crossovers tend to be based on small cars – the Peugeot 2008 is based on the 208 – but have boxier, taller bodies that make them more spacious inside. Small Crossovers are easy to drive in town, comfortable on the motorway and won't roll excessively in corners like you might find in a traditional SUV. Some even have four-wheel drive which will be handy if you live somewhere prone to bouts of snow and ice.
Small crossovers tend to have a new starting price of around £17,000, though keenly priced models like the Dacia Duster start from a little more than £10,000. Buy used, though and £10,000 opens up a world of possibilities from nearly new models that have covered a handful of miles to posher cars that are a few years older and have more miles on the clock.
The best small crossover for £10,000 according to heycar is the Renault Captur. The Captur embodies everything we love about a crossover: it's stylish on the outside, spacious on the inside, easy to drive, and is cheap to run. That said, on a £10,000 budget cars like the Citroen C3 Aircross and Fiat 500X are also well worth considering.
Reviews of more small crossovers
Honda HR-V
1.5 i-VTEC SE 5dr
Vertu Honda Grantham

Lincolnshire, NG317UH
HP: £285.77/mo
Representative example: Contract Length: 36 months, 36 Monthly Payments: £285.77, Customer Deposit: £1,574.00, Total Deposit: £1,574.85, Total Charge For Credit: £1,363.57, Total Amount Payable: £11,862.57, Representative APR: 9.9%, Interest Rate (Fixed): 9.48%
Honda HR-V
1.5 i-VTEC SE 5dr
Pentagon SEAT Scunthorpe

Lincolnshire, DN163RL
HP: £249.62/mo
Representative example: Contract Length: 36 months, 35 Monthly Payments: £249.62, Customer Deposit: £1,394.00, Total Deposit: £1,394.25, Total Charge For Credit: £1,086.57, Total Amount Payable: £10,381.57, Representative APR: 8.9%, Interest Rate (Fixed): 4.58%
Honda HR-V
1.6 i-DTEC SE Navi 5dr
JCB Jaguar Ashford

Kent, TN240HT
HP: £270.34/mo
Representative example: Contract Length: 37 months, 36 Monthly Payments: £270.34, Customer Deposit: £1,499.00, Total Deposit: £1,499.25, Total Charge For Credit: £1,236.49, Total Amount Payable: £11,231.49, Representative APR: 8.9%, Interest Rate (Fixed): 4.72%