Best small crossovers for £15,000

Written by
Russell Campbell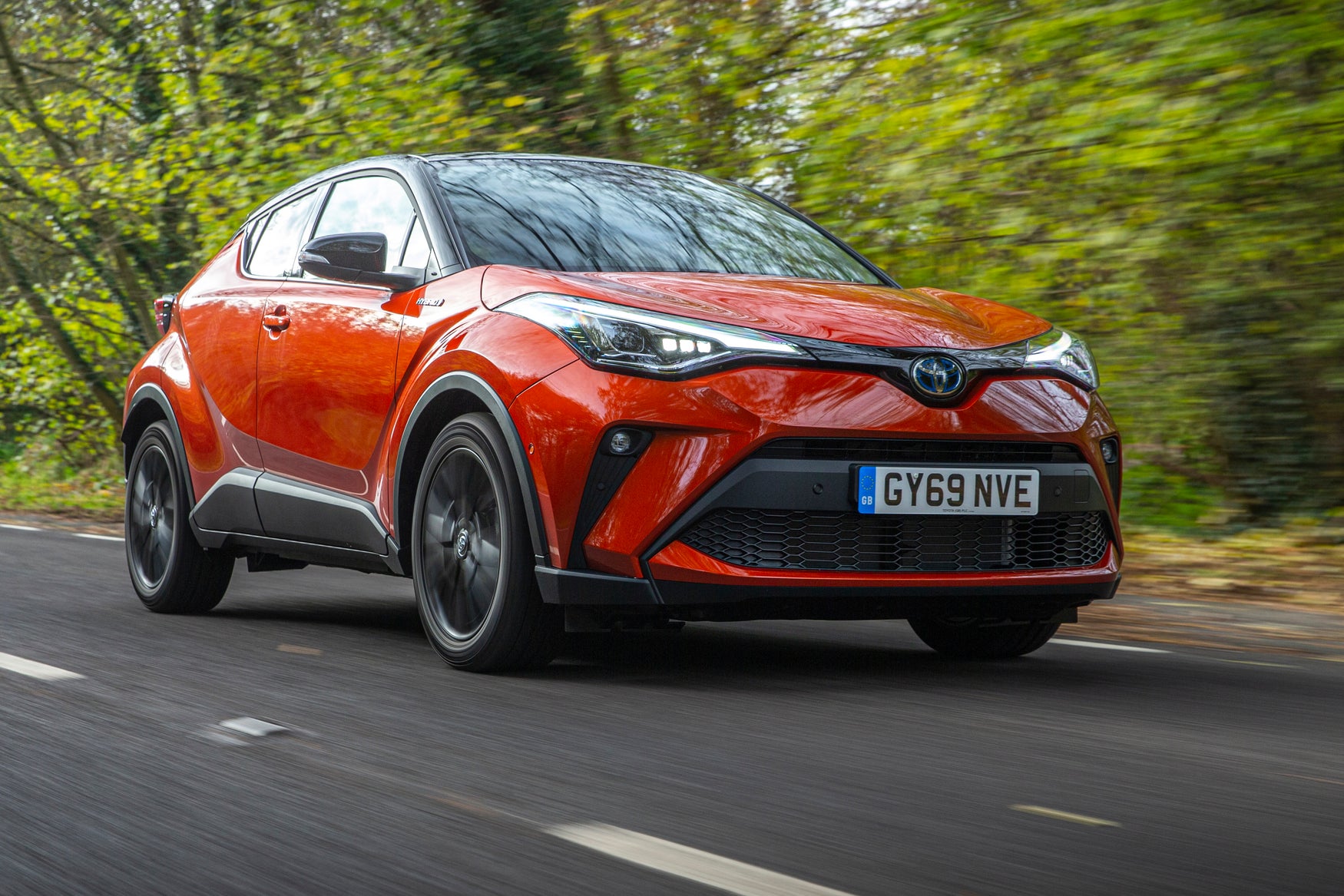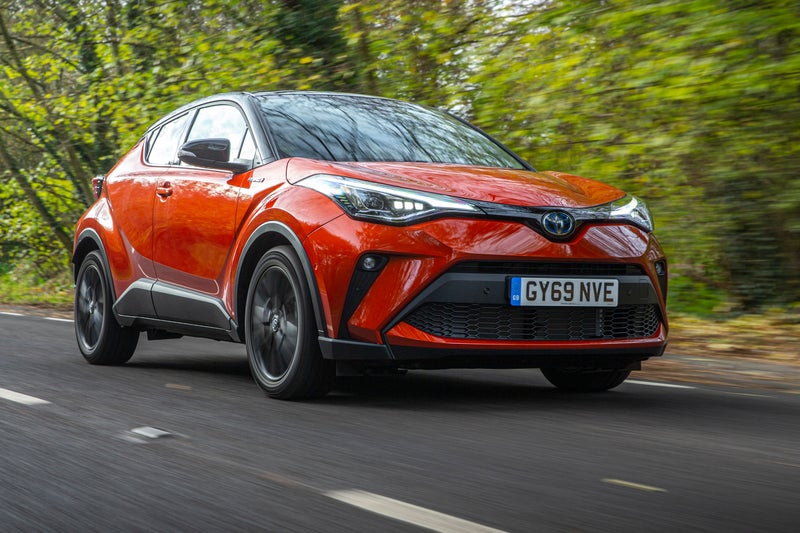 What is the best small crossover for £15,000 in the UK? We've searched our latest cars for sale to reveal the best small crossover for £15,000, scored in areas such as practicality, comfort and fuel economy.
If you're looking for a small car that's easy to park but very practical and also cheap to run, you should read our guide to the best small crossovers for £15,000.
Small crossovers have boxy bodies that give them the interior space of a larger car and their raised suspension gives great visibility when you're squeezing through traffic and parking. They also give you cool SUV looks. Small petrol and diesel engines mean they're about as cheap to run as a small car and they're just as easy to drive. Keep reading for our guide to the 10 best small crossovers for £15,000.
SEAT Arona
Year launched: 2017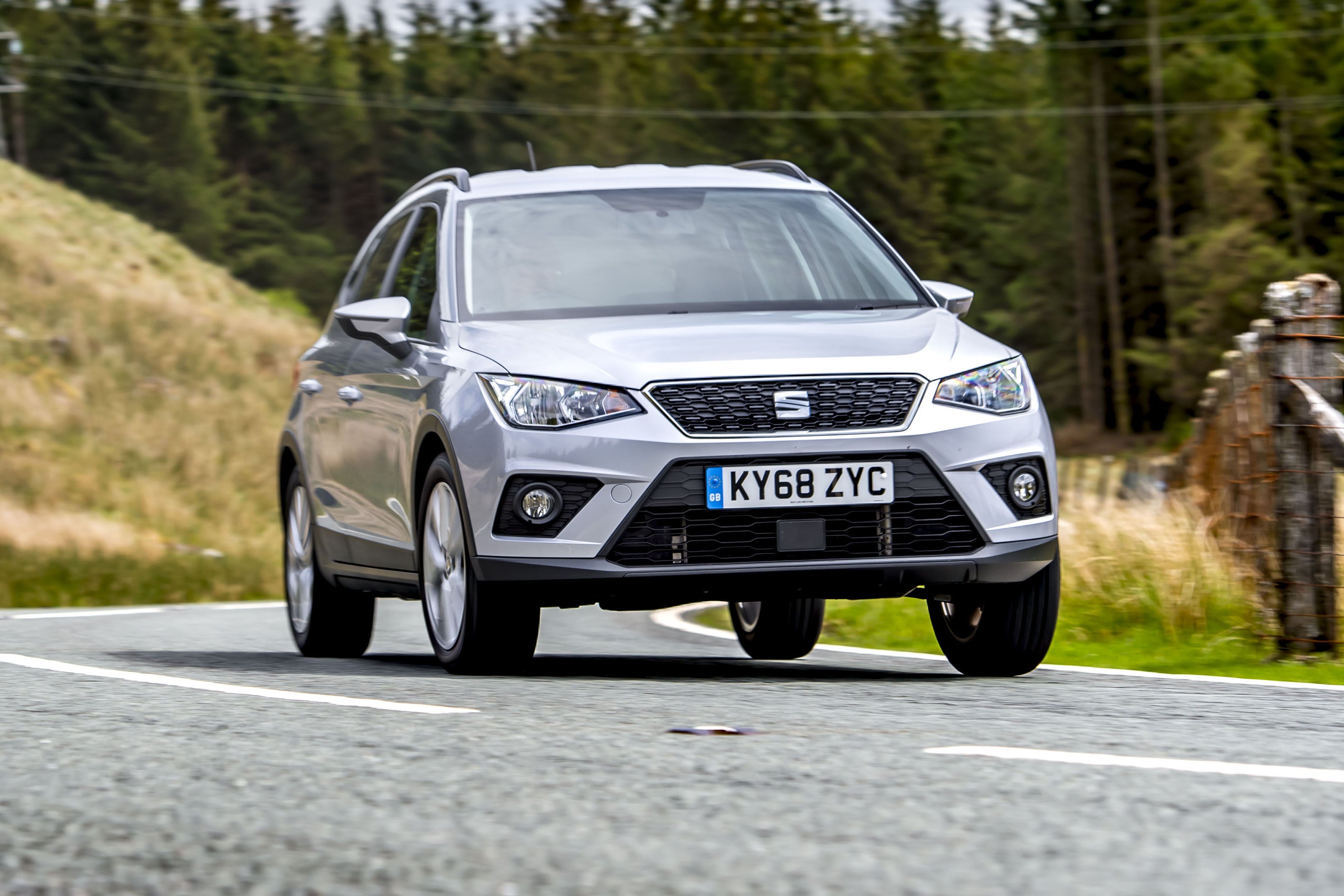 The SEAT Arona is a perfect example of a great all-rounder, which is why it tops our list of the best small crossovers for £15,000. It's a smart-looking car with sharp styling and sporty alloy wheels.
Yet despite its cool design, it's very practical. Its raised seats mean there's room inside for four adults and you get a big boot that's easy to load through the large opening. The interior is well designed and intuitive to use and you get an infotainment screen that can mirror your smartphone's display.
The engine range is bang up-to-date. The petrol engines deliver spritely town performance and barely use any fuel. The diesel is even more fuel-efficient, handy if you rack up lots of miles. Predictably, the Arona is also a nice car to drive. Its controls are light and direct, there's little of the cornering lean you might expect to find in a tall car and you can even have an automatic gearbox with snappy shifts.
Renault Captur
Year launched: 2013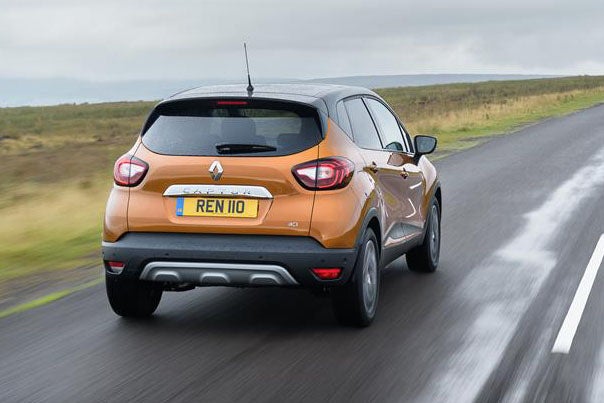 The Renault Captur finds itself on this list for best small crossovers thanks to its blend of cutesy styling and practicality. It's a smart-looking car that's available with a range of alloy wheels and contrast colour paint jobs that help make it stand out.
It has space for four adults inside and you can have it with handy features like removable, machine-washable seat covers and a rear bench that slides back on runners so you can strike a balance between rear passenger room and boot space. The boot, meanwhile, has more room than you'll find in a larger car like the Volkswagen Golf.
As well as making it more spacious, the Captur's tall body gives you an excellent view of the road ahead and its light steering makes it easy to drive in town. The 0.9-litre petrol engine hits the nail on the head by offering zippy performance and cheap running costs.
Audi Q2
Year launched: 2016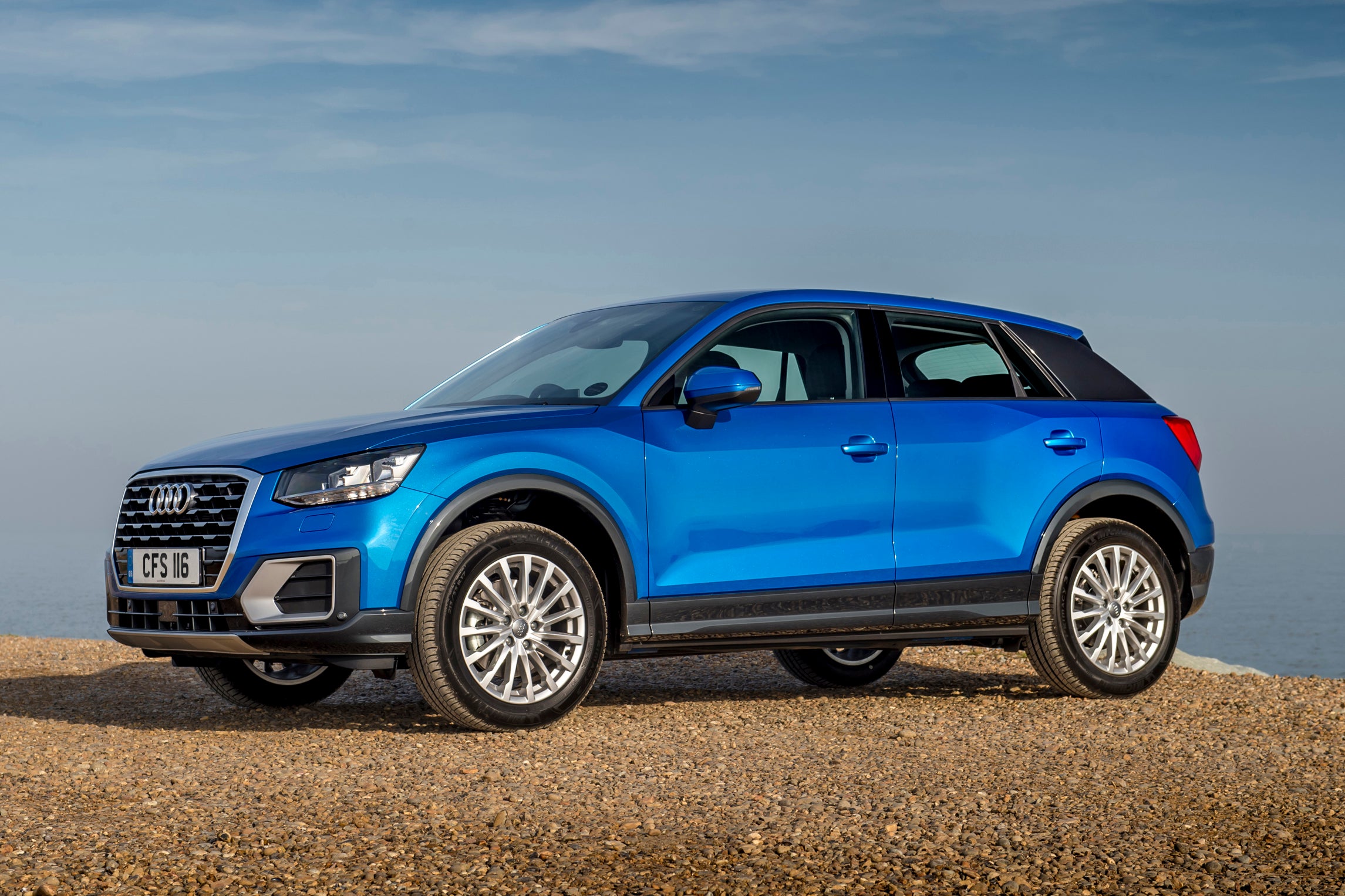 If you're willing to pick a slightly older car with higher miles, your best small crossover could be an Audi Q2. It has chunky styling with sharp body creases that make it look chiselled and you get a range of alloy wheels, bright colour schemes and contrast finishes that are more playful than Audi's larger cars.
Inside, it feels better built than other crossovers this size and you can pick from a range of colour schemes and trim finishes. It does all the basics well too. A wide range of adjustment makes it easy to get a comfortable driving position, there's room for three more adults and you get a boot that's big for a car this size.
The Audi is available with manual or automatic gearboxes and front or four-wheel drive. You can also choose from a range of petrol and diesel engines, but the 1.4-litre petrol is quick, smooth and cheap to run.
Nissan Juke
Year launched: 2010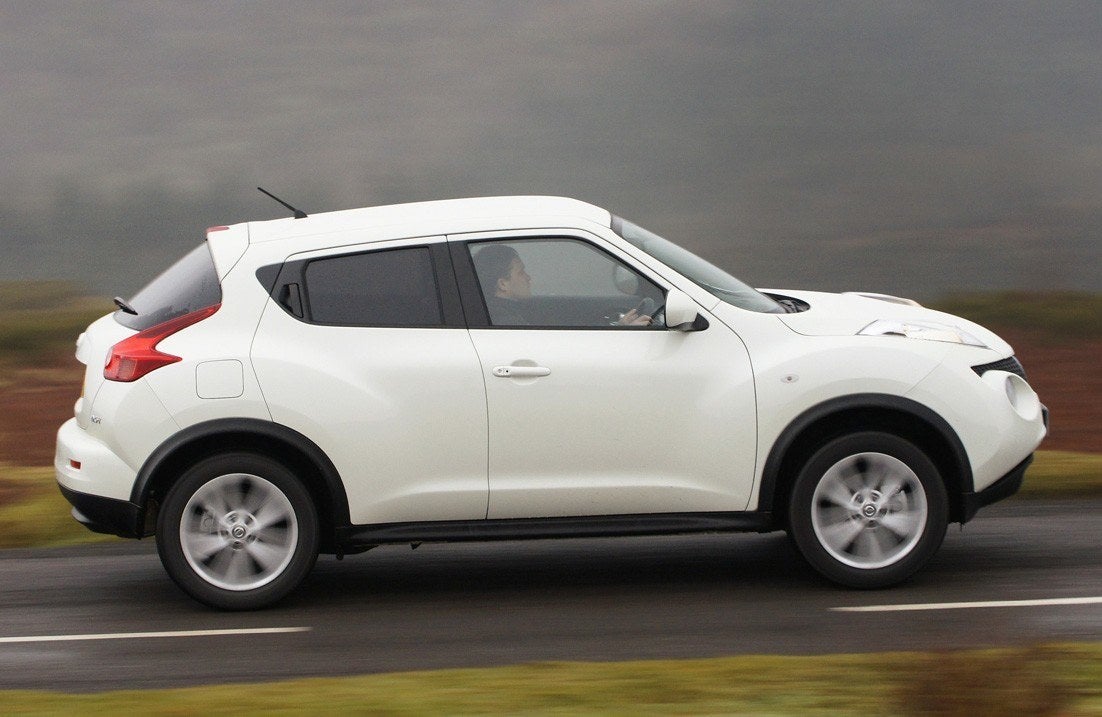 Back in 2010, the Nissan Juke spearheaded the influx of small crossovers. It looked like it belonged on the concept stand at a motor show rather than the high street but it also managed to be practical thanks to its raised body.
That added height makes the Juke easy to manoeuvre around town and the lights that sprout out the bonnet help you guide it through gaps in traffic. You can choose from a range of petrol and diesel engines but on a £15,000 budget, you'll be able to get a newer model fitted with Nissan's excellent 1.2-litre petrol engine, which is nippy but cheap on fuel.
Models built from 2014 also get noticeably larger boots, but all Jukes have plenty of room for adults in the front and kids will be happy in the back.
Peugeot 2008
Year launched: 2013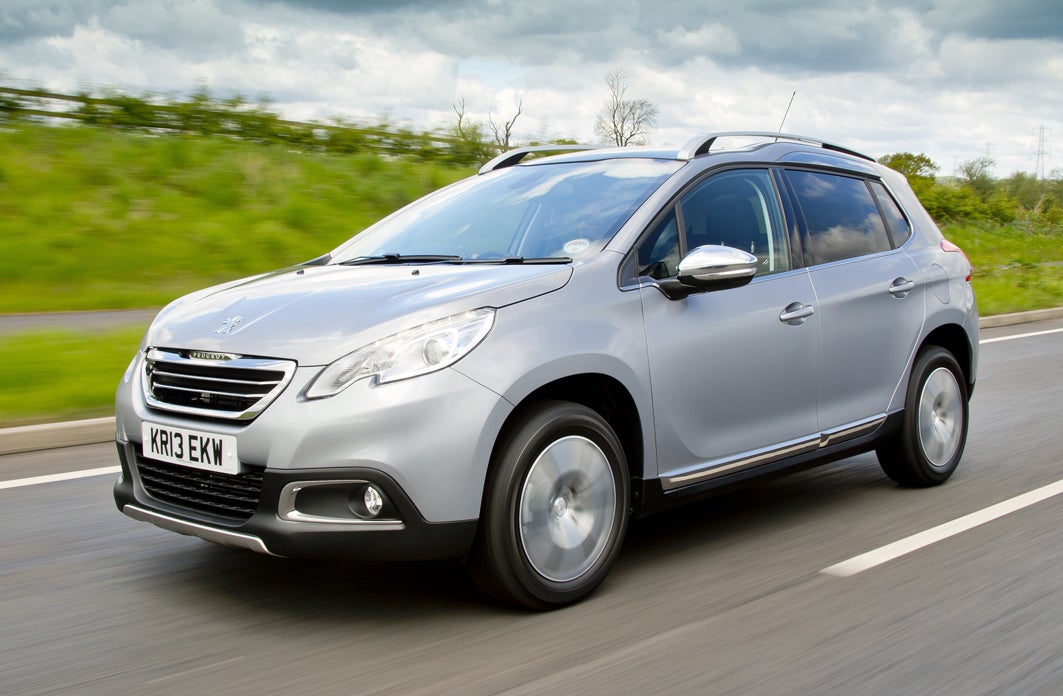 The Peugeot 2008 follows the small crossover formula to the letter – it's about the same size as the Peugeot 208 small car but offers significantly more interior space.
Adults will have no problem getting comfortable upfront and all but the tallest will be able to squeeze into the back without too many complaints. The boot's square shape and low load lip make it easy to fill with luggage and the back seats fold flat into the floor for big jobs. A £15,000 budget is enough to get you a high-end allure model which gets an infotainment screen that can mirror your smartphone's display and cool features like coloured ambient interior lighting.
It also means you can get Peugeot's excellent 130PS PureTech petrol engine. It's quick but economical and Allure models come with Grip Control that means the two-wheel drive 2008 can tackle sand and mud surprisingly effectively.
Kia Stonic
Year launched: 2017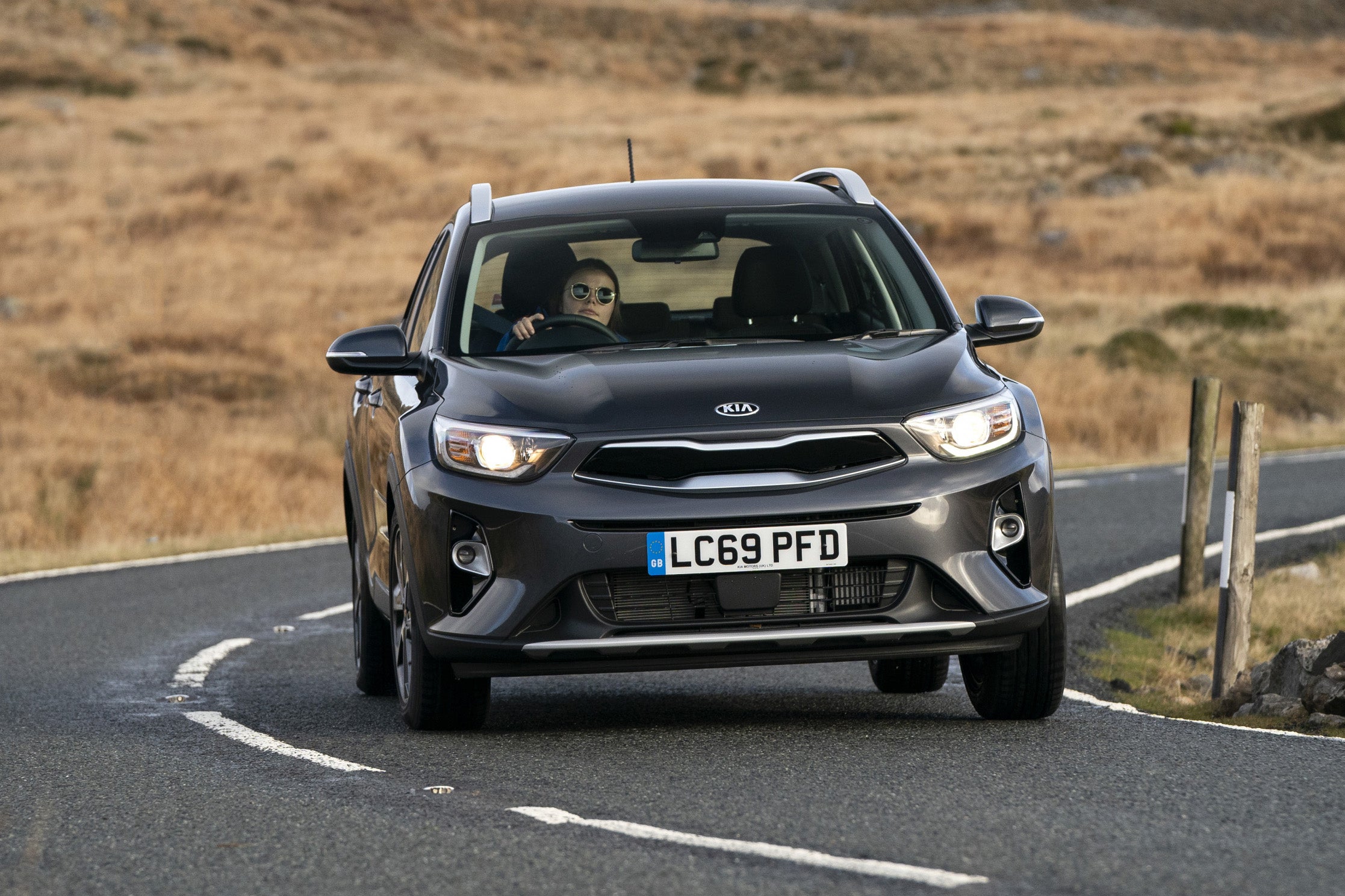 The Kia Stonic's name comes from a mixture of the words 'speed' and 'tonic' which means, well, we're not sure... Maybe it's best to focus on the fact that it looks quite stylish and is available with a range of eye-catching contrast colour paint jobs.
A choice of four bright colour packs means you can jazz up the interior, while all models come with an infotainment screen that has Apple CarPlay and Android Auto. Sure, other crossovers are more practical, but the Stonic's height means there's more space for people and stuff than you get in a small car.
The tall body also gives you a decent view out of the front of the car and standard rear parking sensors make it a doddle to reverse park. It's an easy car to drive, particularly when it's fitted with the peppy 118PS 1.0-litre petrol engine. The icing on the cake is Kia's brilliant seven-year 100,000 miles warranty.
Mazda CX-3
Year launched: 2015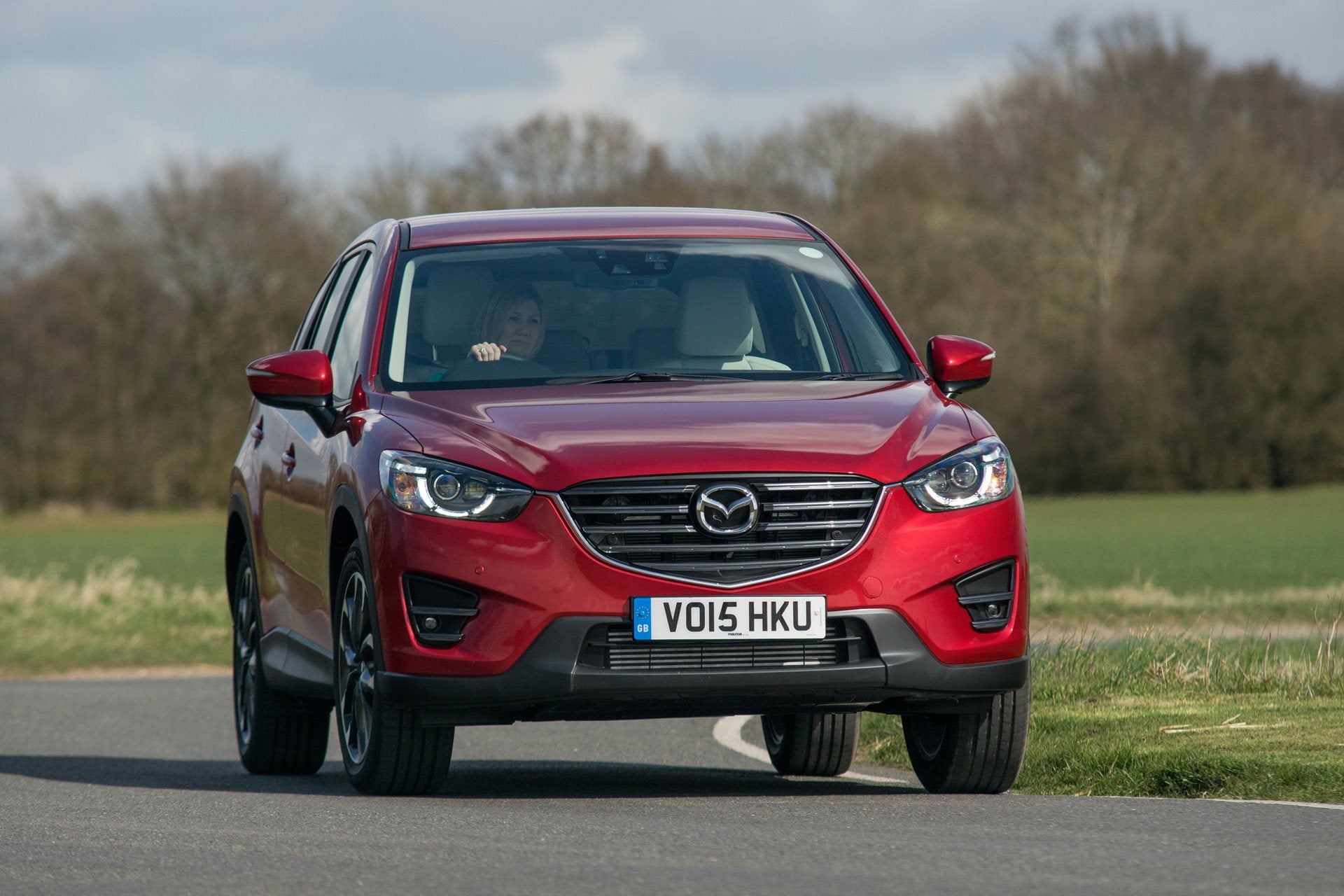 The Mazda CX-3 feels like a sports car that's been trapped in a crossover's tall body. It has a slick manual gear change, positive steering that's accurate and, while it's comfortable, it doesn't lean too much in corners. Choose the 105PS 1.5-litre diesel engine and you get punchy performance and great fuel economy.
Circular dials and air vents mean there's a hint of sports car to the interior though, naturally, it's a lot more spacious. You'll happily get four average-sized adults in there, which makes up for a boot that's smaller than in some rivals. SE L models – readily available on a £15,000 budget – come equipped with sat-nav and heated seats.
New, the CX-3 was more expensive than rivals, but second-hand values are broadly similar so, for the same price, you get a car that looks a bit more premium outside and in.
Toyota C-HR
Year launched: 2016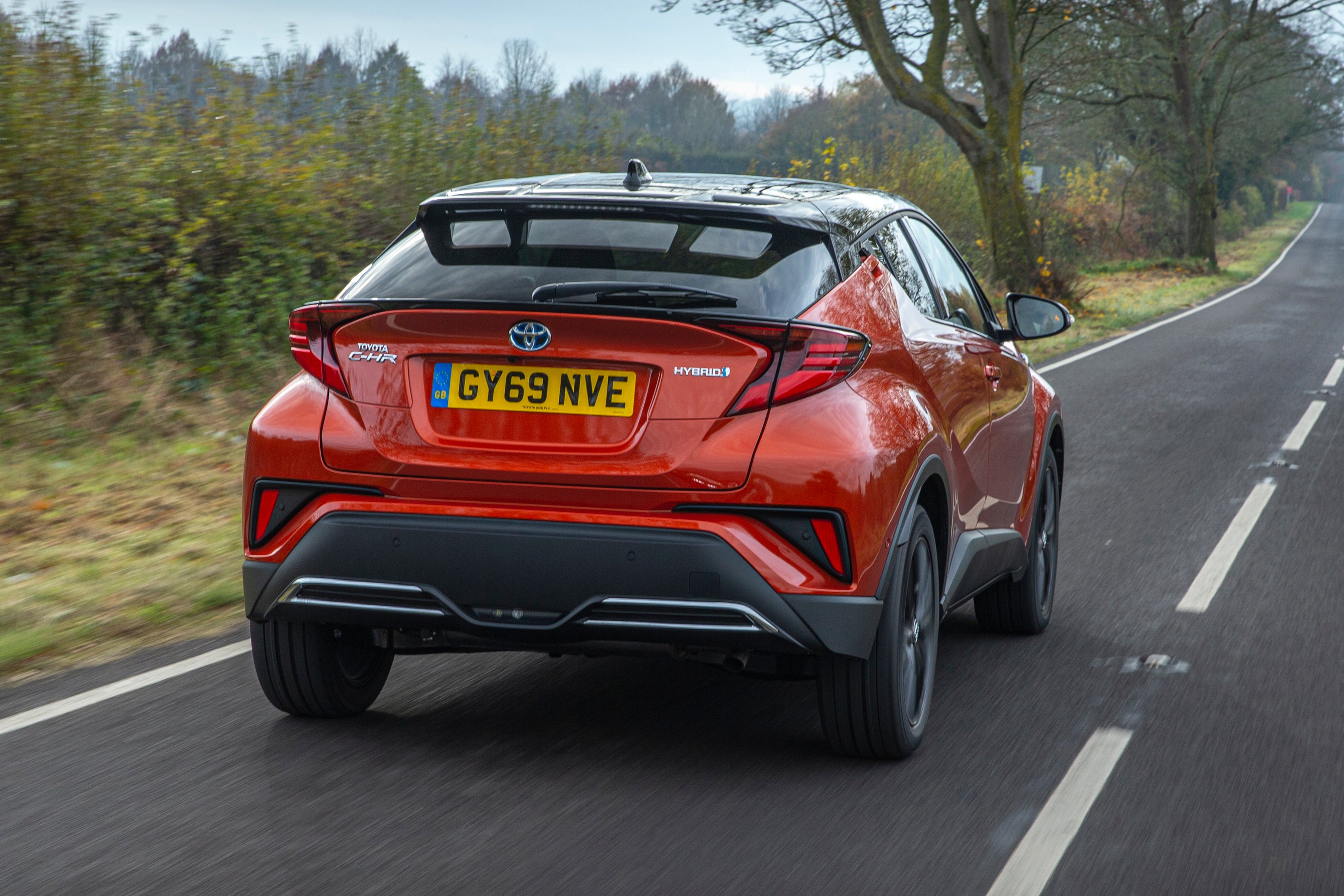 The Toyota C-HR has an angular design, a sloping roof and hidden rear door handles that make it look like a coupe on stilts. It also looks stylish on the inside. You'll find an angular dashboard with a large infotainment screen that cuts down on the need for conventional buttons, leaving the cabin looking neat and tidy.
It's also spacious. Four six-foot adults will fit inside the C-HR and you get a boot capacity that's comparable to that in a larger Volkswagen Golf. The raised ride-height is also handy because it means you can get a baby seat in without having to bend your back uncomfortably.
What sets the C-HR apart from other cars like this is its 122PS petrol-electric hybrid engine that's quiet in town and can return spectacular fuel economy. A high-mileage example will come in under our £15,000 budget and Toyota's reputation means it'll likely be very reliable.
Suzuki Vitara
Year launched: 2015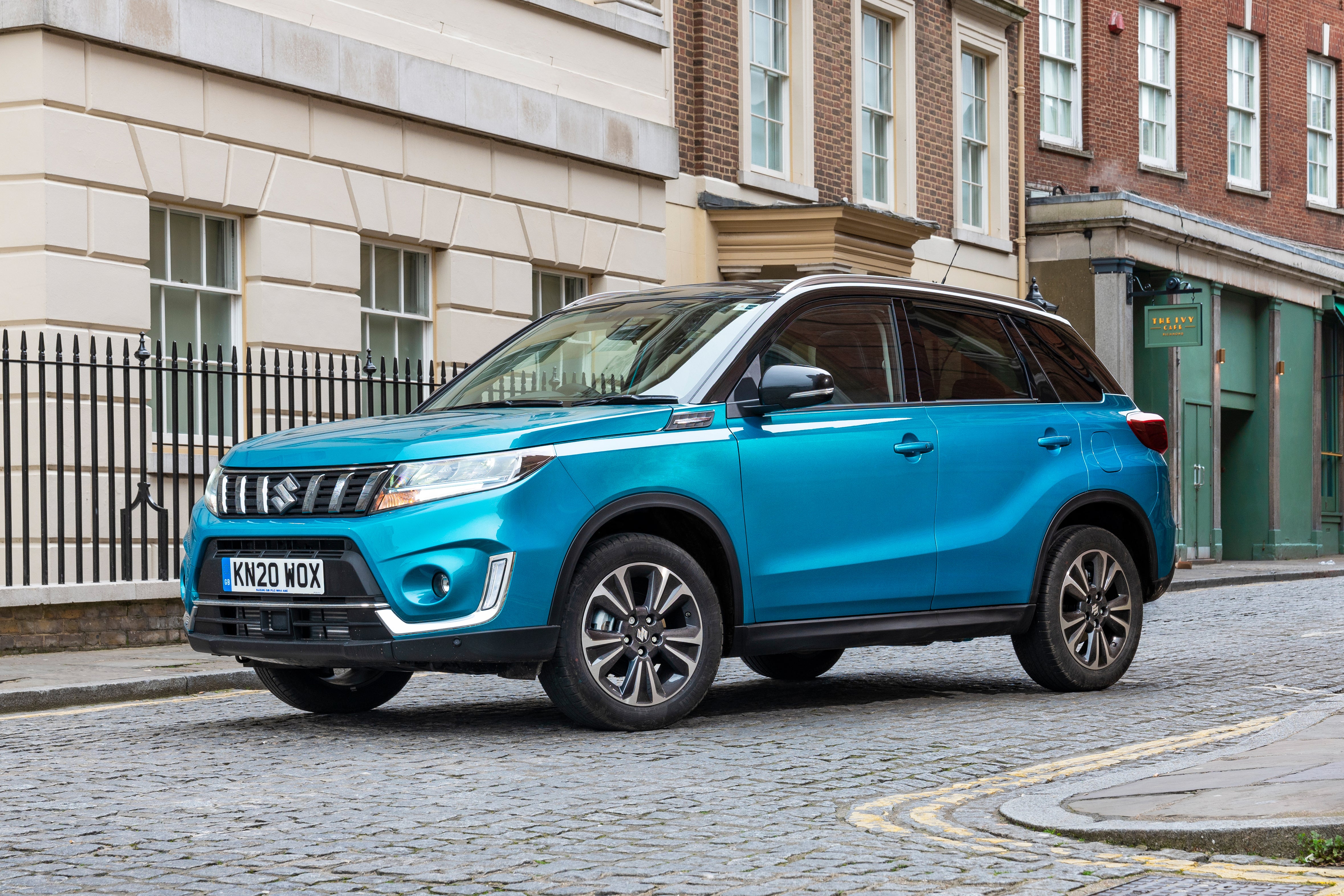 The Suzuki Vitara is a crossover that feels like a proper SUV. Its raised body gives you a great view out and the slim pillars around the windows mean it doesn't have any bad blind spots. The tall roof pays off in terms of practicality because the Vitara has loads of headroom in the back, it's also one of the few cars this size that feels alright with three people sitting abreast and you get a practical square boot.
What's even more surprising is that the Vitara is a hoot to drive. Its steering is sharp, it has a snickety manual gearbox and, even though it's quite tall, it doesn't feel like it'll keel over in corners. It's also available with a relatively sophisticated four-wheel-drive system, which means it can tackle more than mounting the kerb in the M&S car park.
To make the most of the sharp handling, it's worth going for the 140PS 1.4-litre Boosterjet petrol engine which is nippy and surprisingly economical. It was expensive when new but makes a canny second-hand purchase.
Dacia Duster
Year launched: 2017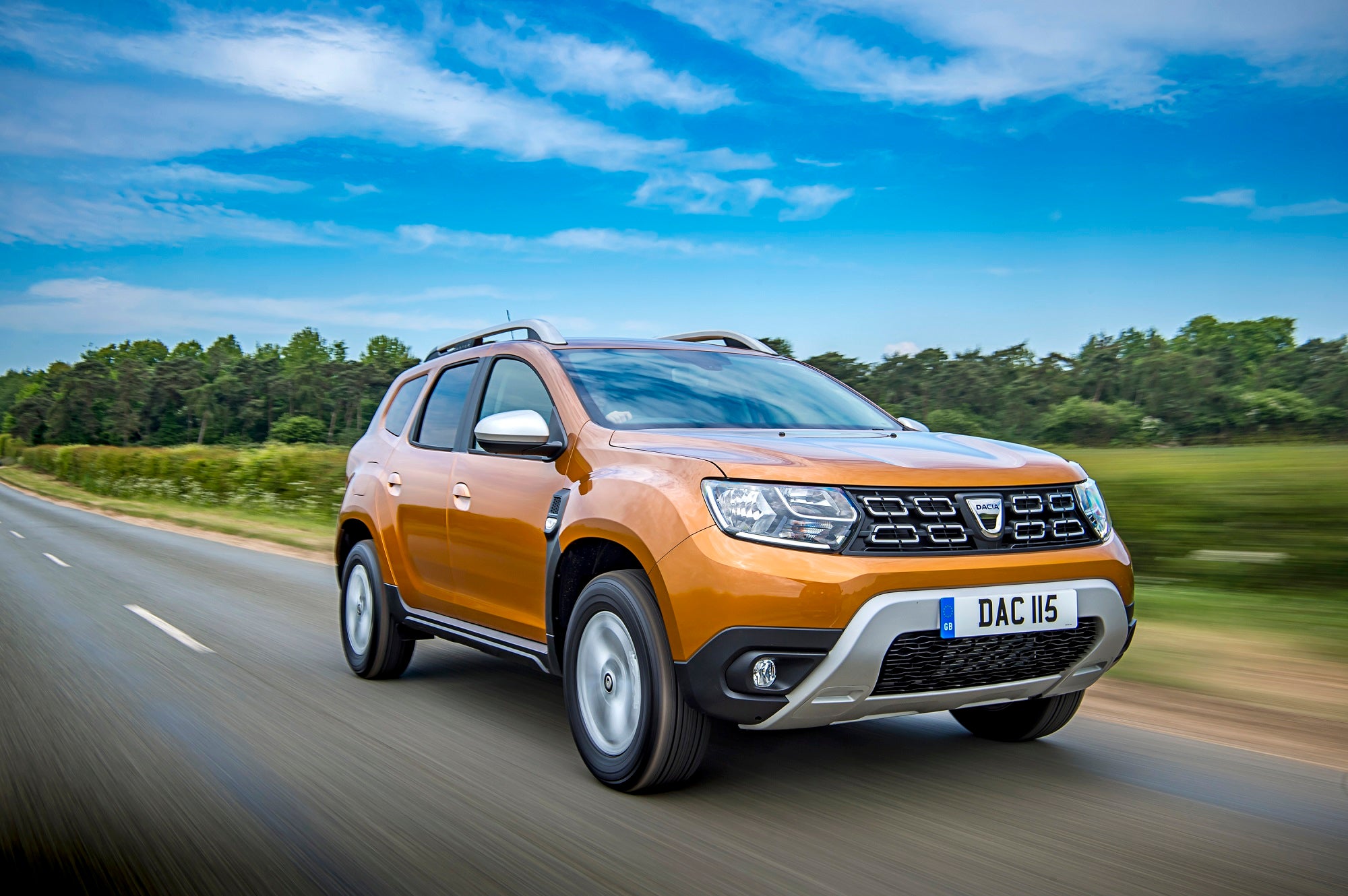 The Dacia Duster is a back to basics crossover that gives you lots of value for money. Its chunky styling and raised ride height make it easy to get into and there's plenty of room inside. There's space for adults in the front and on the rear seat – you can squeeze in three with fewer complaints than you'll get in other crossovers. The boot is also large and has a square shape and you can drop down the back seats for big jobs.
Okay, so the Duster's spartan design and the predominant use of hard plastics makes it feel pretty basic, but its extremely keen pricing does reflect this. Plus, if you avoid basic models, you get must-have accessories such as air-con and a stereo.
Our budget of £15,000 is enough to get you a year-old model with fewer than 5000 miles on the clock, four-wheel drive and Dacia's frugal 1.5-litre diesel engine.
Small crossovers are comparable in length to popular small cars like the Volkswagen Polo and Ford Fiesta, but their tall, boxy, SUV-like bodies mean they offer more interior space. That said, they have similar running costs and are just as easy to drive as a small car. This mix of SUV and car-like qualities is why they're called crossovers.
New small crossovers will set you back from around £18,000, but the latest models are available secondhand for fewer than £15,000, which gets you an example that's less than a year old and has a handful of miles. A £10,000 budget, meanwhile, will get you a perfectly acceptable car that's slightly older and has covered in the region of 30,000 miles.
The heycar choice for the best small crossover is the SEAT Arona. It has sharp looks and an interior that oozes practicality, you'd swear it's a bigger car from inside – there's space for adults in the back and a big boot. You also get a choice of economical petrol and diesel engines, as well as the option to have a slick automatic gearbox that's great if you drive in town.
SEAT Arona
1.0 TSI SE Technology 5dr
Fife Seat SEAT Kirkcaldy

Fife, KY12NL
PCP: £185.22/mo
Representative example: Contract Length: 36 months, 35 Monthly Payments: £185.22, Customer Deposit: £1,912.00, Total Deposit: £1,912.50, Optional Final Payment: £6,062.50, Total Charge For Credit: £1,707.70, Total Amount Payable: £14,457.70, Representative APR: 6.9%, Interest Rate (Fixed): 6.86%, Excess Mileage Charge: 3.6ppm, Mileage Per Annum: 10,000
SEAT Arona
1.0 TSI 115 FR [EZ] 5dr
Manufacturer Approved
Listers SEAT Worcester

Worcestershire, WR37DG
PCP: £200.62/mo
Representative example: Contract Length: 36 months, 35 Monthly Payments: £200.62, Customer Deposit: £1,949.00, Total Deposit: £1,949.25, Optional Final Payment: £6,265.00, Total Charge For Credit: £2,240.95, Total Amount Payable: £15,235.95, Representative APR: 8.9%, Interest Rate (Fixed): 8.52%, Excess Mileage Charge: 4ppm, Mileage Per Annum: 10,000
SEAT Arona
1.0 TSI 115 FR [EZ] 5dr
Perrys SEAT Bolton

Lancashire, BL36BS
PCP: £216.31/mo
Representative example: Contract Length: 37 months, 36 Monthly Payments: £216.31, Customer Deposit: £2,024.00, Total Deposit: £2,024.10, Optional Final Payment: £7,230.00, Total Charge For Credit: £3,547.26, Total Amount Payable: £17,041.26, Representative APR: 12.9%, Interest Rate (Fixed): 6.59%, Excess Mileage Charge: 9ppm, Mileage Per Annum: 10,000