Best small crossovers for £25,000

Written by
Russell Campbell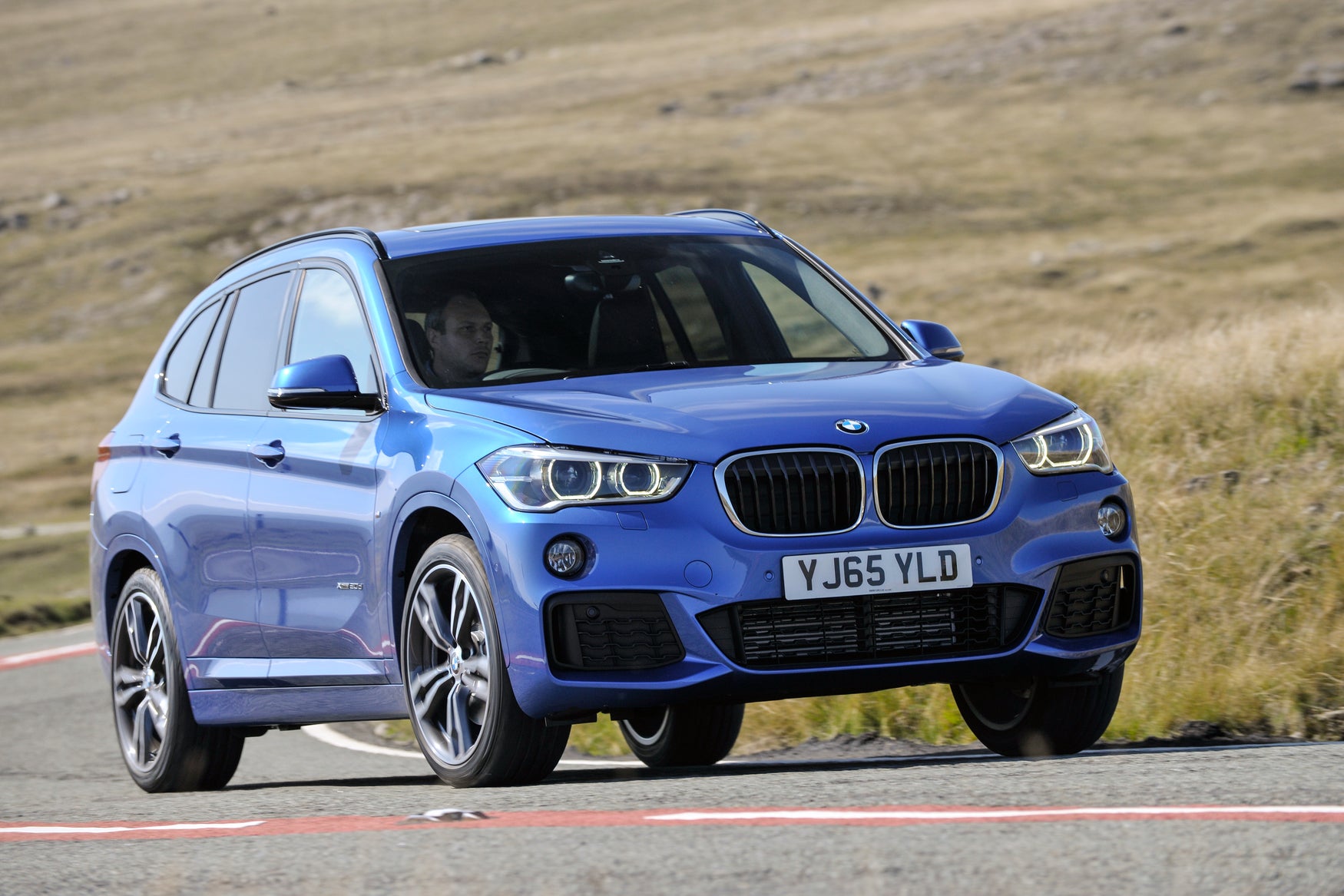 Our guide to the best small crossovers for £25,000 is designed to help you choose the car that will best fit into your life. For that reason, we have chosen a mixture of models from mainstream and posh manufacturers and with petrol, diesel, hybrid or pure-electric power.
If you're in the market for a crossover costing £25,000 or less, you're sure to find the right car here. While we've chosen a broad range of models they all share one thing in common – their upright SUV-style bodies.
That means they have loads of interior space and a large boot that'll make them perfect for family life, while their raised driving position makes you feel safe and secure when you're sharing the road with towering HGVs and coaches. Keep reading for the heycar guide to the best small crossover for £25,000.
Volvo XC40
Year launched: 2018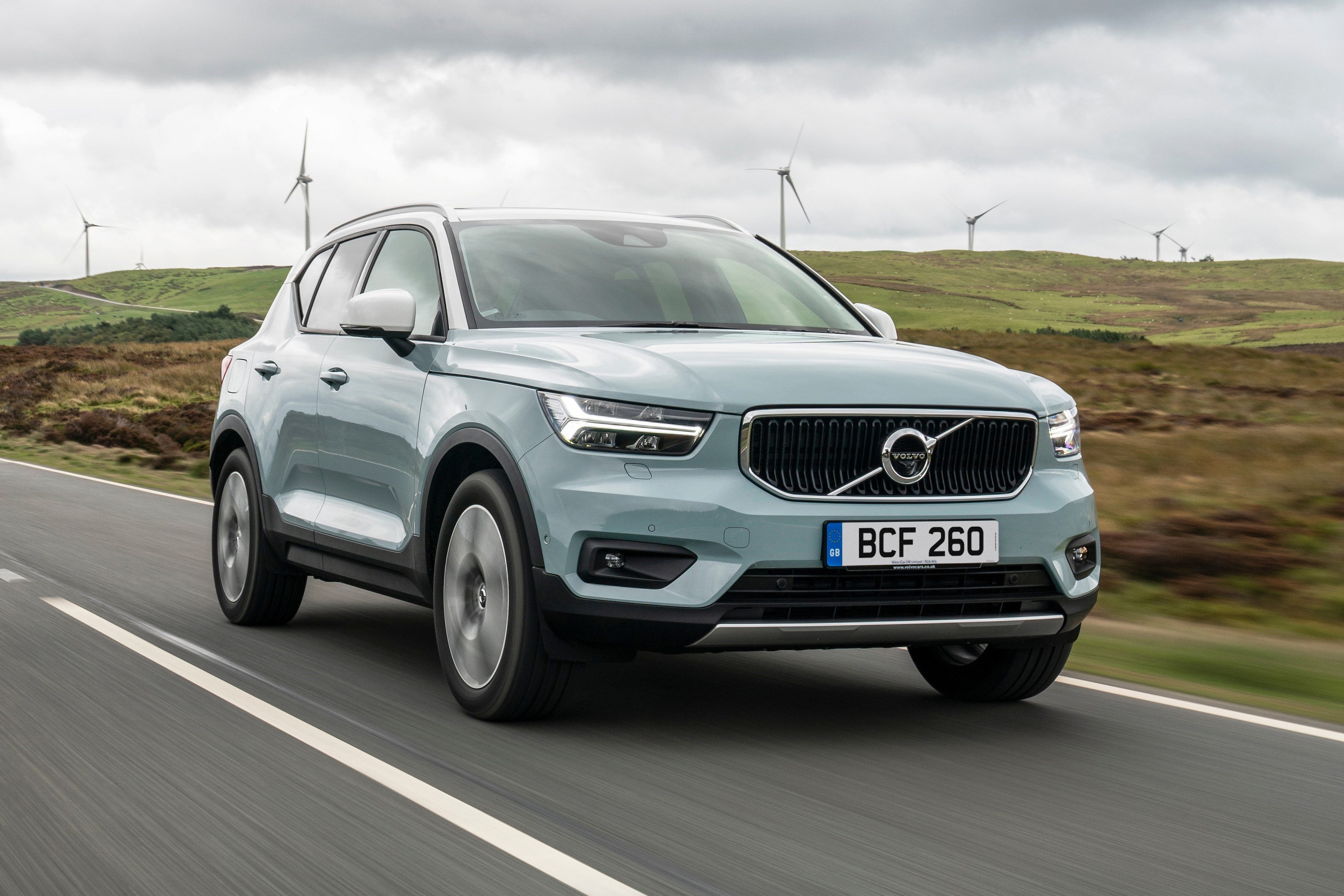 The Volvo XC40 is the best small crossover for £25,000 that you can buy. On the outside, it's clearly a Volvo with the company's distinctive grille and 'Thor's hammer' headlights being instantly recognisable, but it also gets body creases and contrast paint jobs that make it stand out from Volvo's larger models like the Volvo XC60.
Get behind the wheel and the first thing you'll spot is the Swedish firm's trademark iPad style infotainment screen. It's larger than most rivals and is used to control many of the car's systems. You'll have no problem fitting tall adults in the front and the back seat, plus the boot is big.
Our budget is enough to get you a D3 XC40 Momentum that's a year old and has fewer than 2000 miles on the clock. Kit includes automatic lights and wipers, a digital instrument binnacle and a vast array of safety features. The D3 diesel engine is a 150PS 1.5-litre three-cylinder which has plenty of grunt yet will return 40mpg fuel economy all day long.
Ford Puma
Year launched: 2019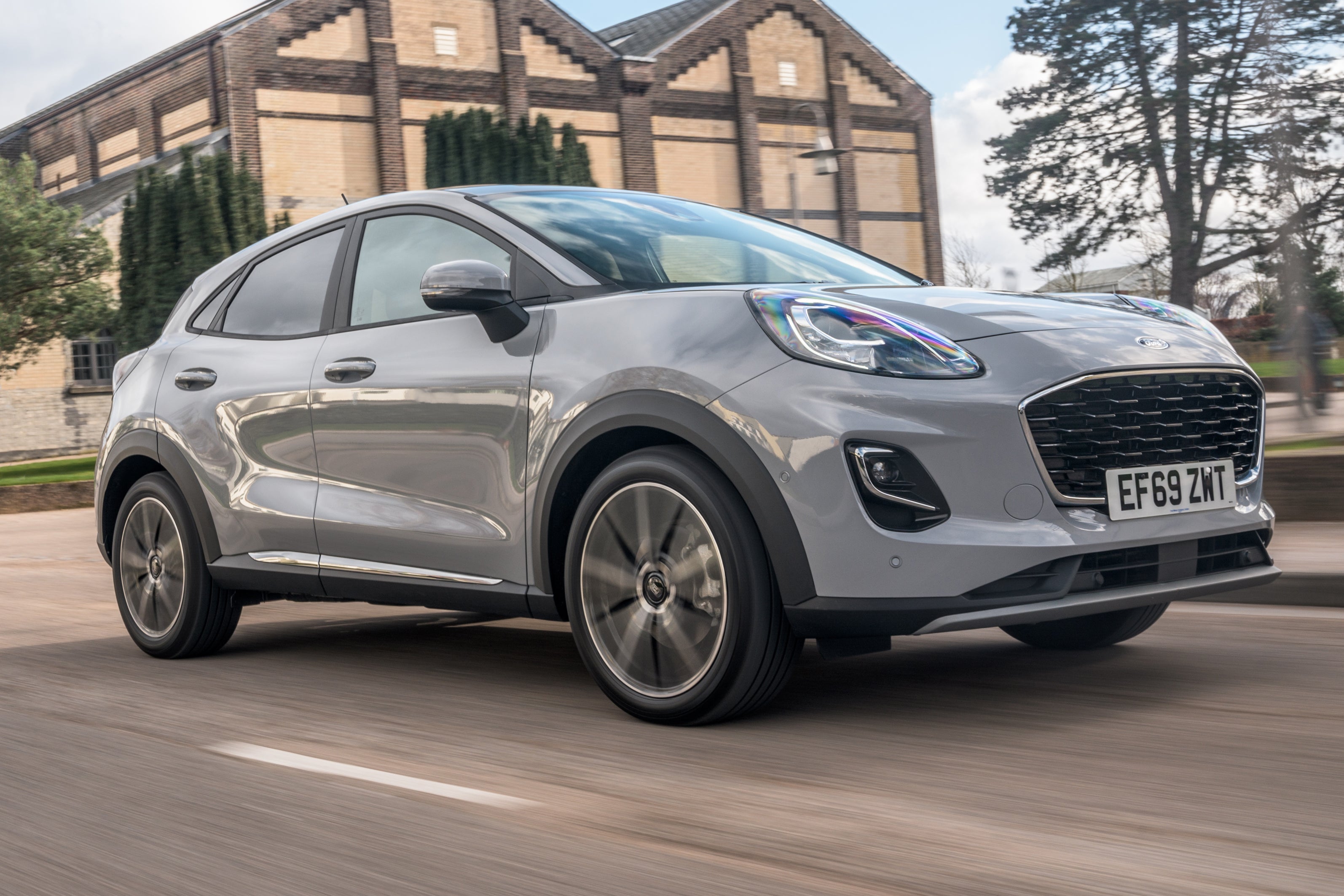 Our £25,000 budget is also enough to get you a high-end Ford Puma in brand-new condition. The Puma has a surprising amount in common with its coupe namesake from the 1990s, like its sharp styling.
That said, it has way more interior space. The Puma's raised ride height makes it easy to get in and out of and even tall adults should have plenty of room up front, plus you'll be able to squeeze adults in the back. The boot is the best bit though, it's massive and has a huge Megabox storage area hidden under the floor, which can be hosed out and is ideal for muddy kit that would otherwise ruin the interior.
A budget of £25,000 is enough to get you a 2020 car with fewer than 3000 miles in high-end ST-Line trim which comes with a sporty body kit, half-leather seats and a powerful B&O stereo. You also get Ford excellent 155PS 1.0-litre petrol-electric hybrid engine which is quick, but also very cheap on fuel.
BMW X1
Year launched: 2015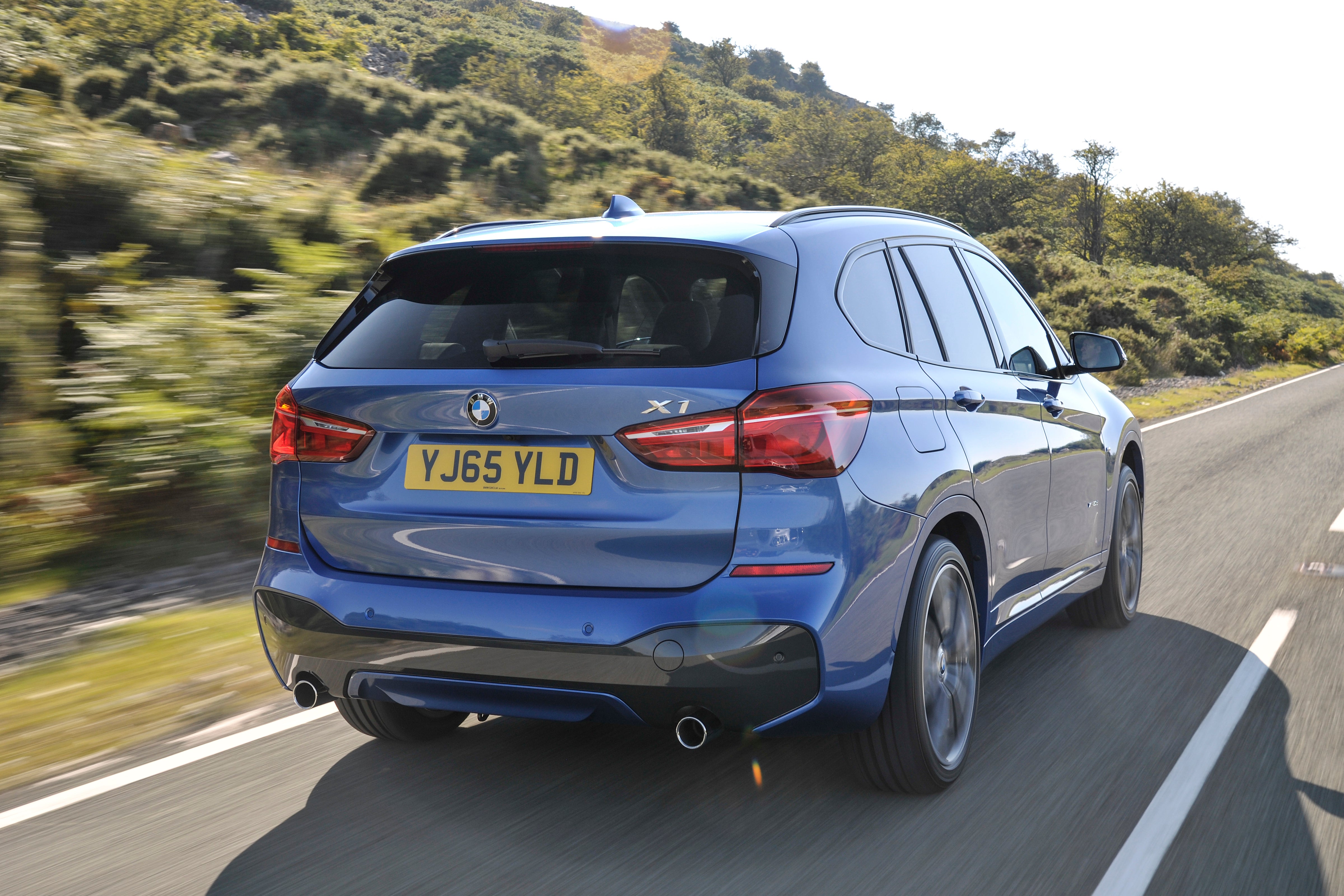 With £25,000 to spend, you could find yourself behind the wheel of a premium small crossover like the BMW X1. It'll have a few more miles on the clock than a mainstream alternative, but the BMW badge means you get a posh interior and a sporty drive.
Like all of the car's here, the X1 is very practical. It has space upfront for tall adults and you'll get three more on the backseat without everyone feeling intolerably crushed. The boot is also big and practical. The BMW's cabin looks and feels posh, is intuitive to use and has one of the best infotainment systems you'll find in a car like this.
This being a BMW, it's also great to drive with direct steering and little body lean in bends. Our £25,000 is enough to get you a desirable M Sport model – which has big alloy wheels, a sporty body kit and sports seats – in combination with BMW's 140PS 1.5-litre petrol engine. It's usefully quick and capable of returning fuel economy of more than 40mpg.
Audi Q3
Year launched: 2018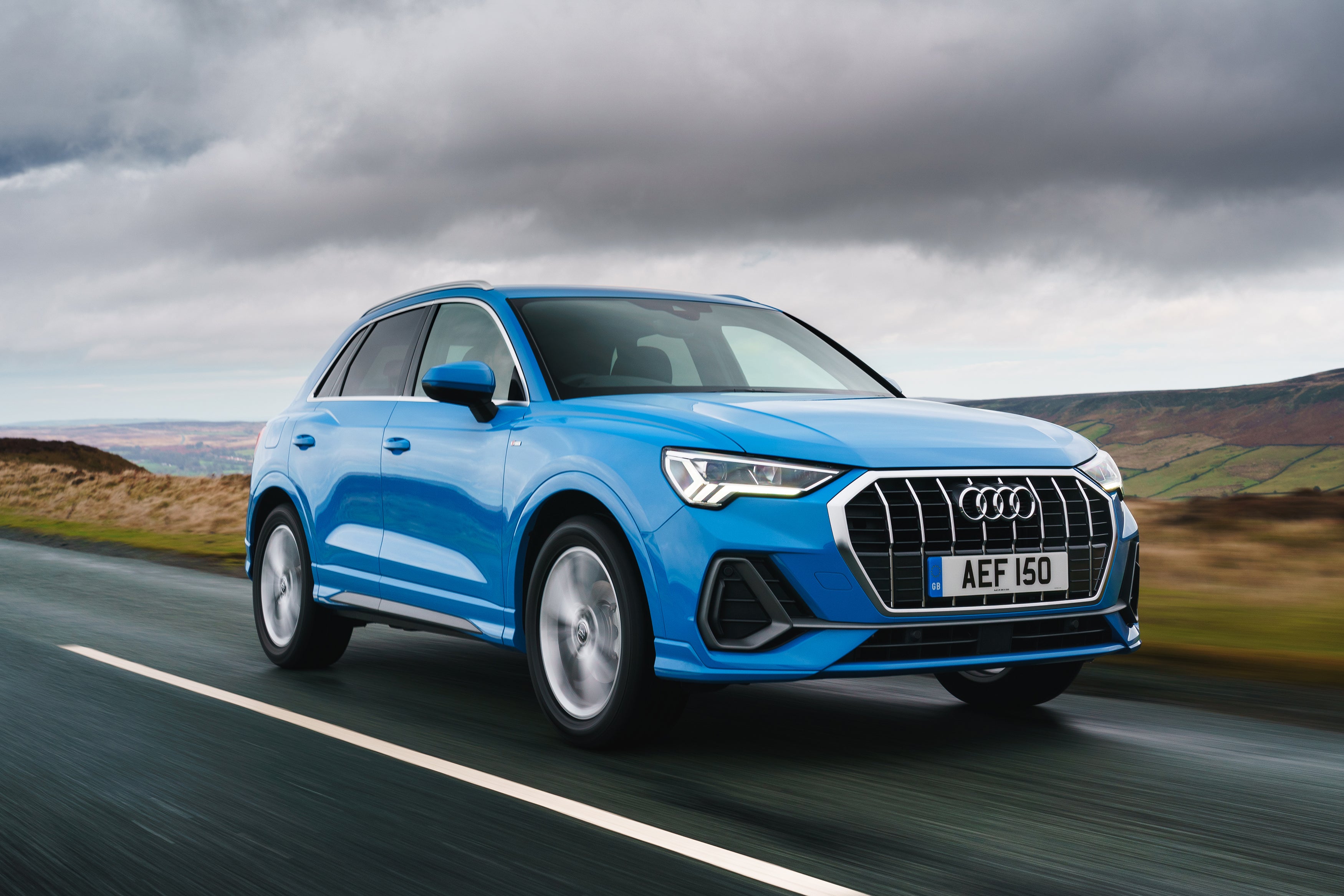 The Audi Q3 is another example of a premium crossover you can have on a budget of £25,000 and in excellent condition. It's a handsome looking car with a big grille and tight shut lines that make it look extremely well built.
It's even better looking on the inside where you can specify two huge infotainment screens with voice activation, although we'd sooner use the standard Apple CarPlay to mirror the display of your smartphone. As you'd expect, the Audi has room for four tall adults and a boot that'll swallow a family's luggage for a fortnight away.
The Q3 is easy to drive and comfortable and it's worth choosing the 150PS 35 TFSI petrol engine which is smooth and refined, economical on fuel and has a surprising turn of pace. We found a 2019 car with this engine, fewer than 3000 miles on the clock and in Sport trim – which adds things like 18-inch alloy, LED headlights and sports seats – for less than £25,000.
Lexus UX
Year launched: 2019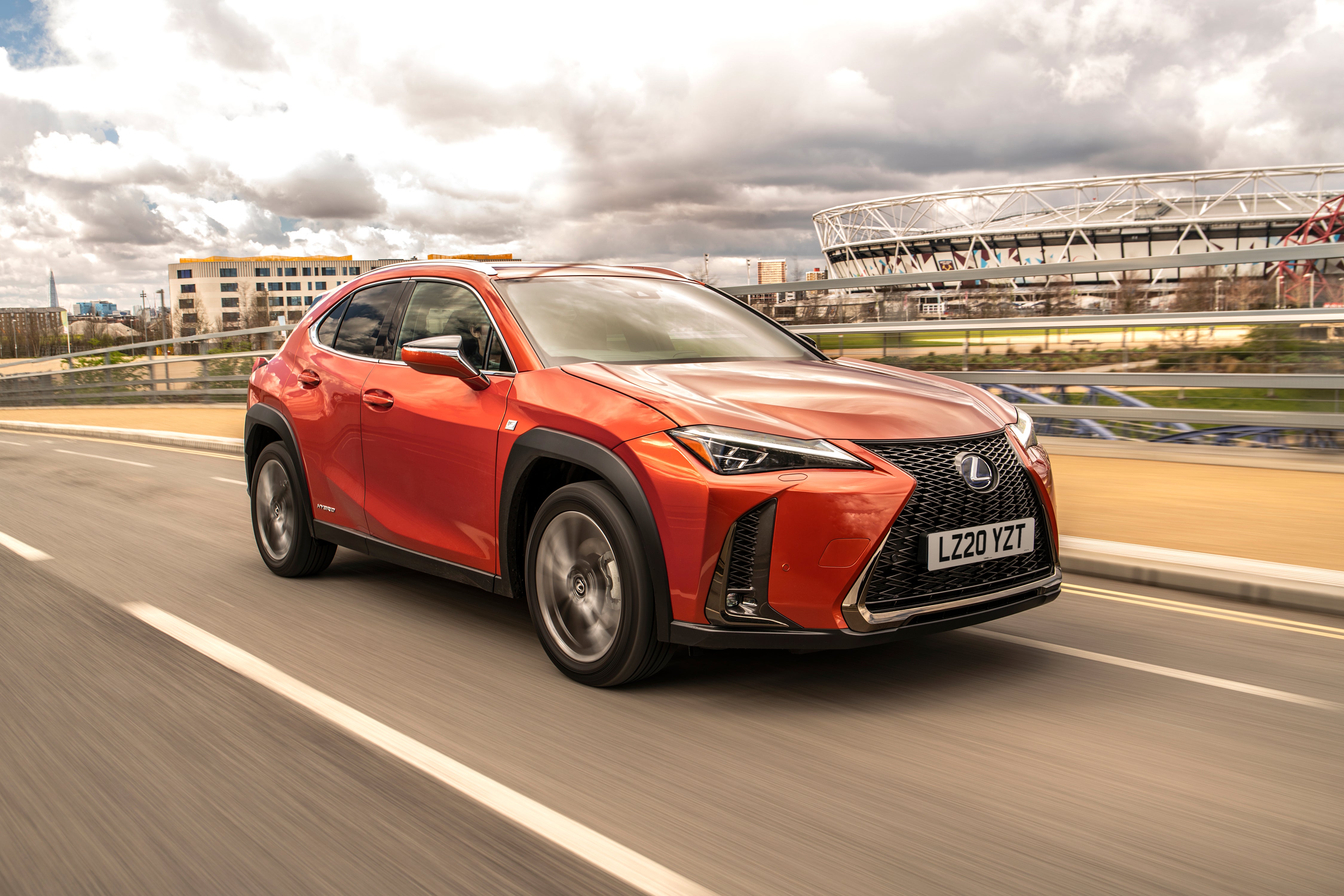 The Lexus UX's mixture of sharp edges and creases makes it look like it's been styled in a giant's origami class and the modern design hides an equally modern powertrain.
That's because the UX is a hybrid that uses a petrol engine boosted by an electric motor to produce 176PS. It's quick, but at its best in town where the car can run on silent electric power alone. A 2019 model with 10,000 miles on the clock falls within our £25,000 budget.
Whichever version you choose, the UX is extremely well built and comes with a large infotainment screen that's controlled using a touchpad between the two front seats. Standard kit includes a reversing camera, auto wipers and auto lights that can also dip themselves when they detect another car. The UX's interior, meanwhile, has room for two adults up front and kids in the back, while the boot's lack of a load lip means you can easily slide luggage into place.
Mercedes-Benz GLA
Year launched: 2014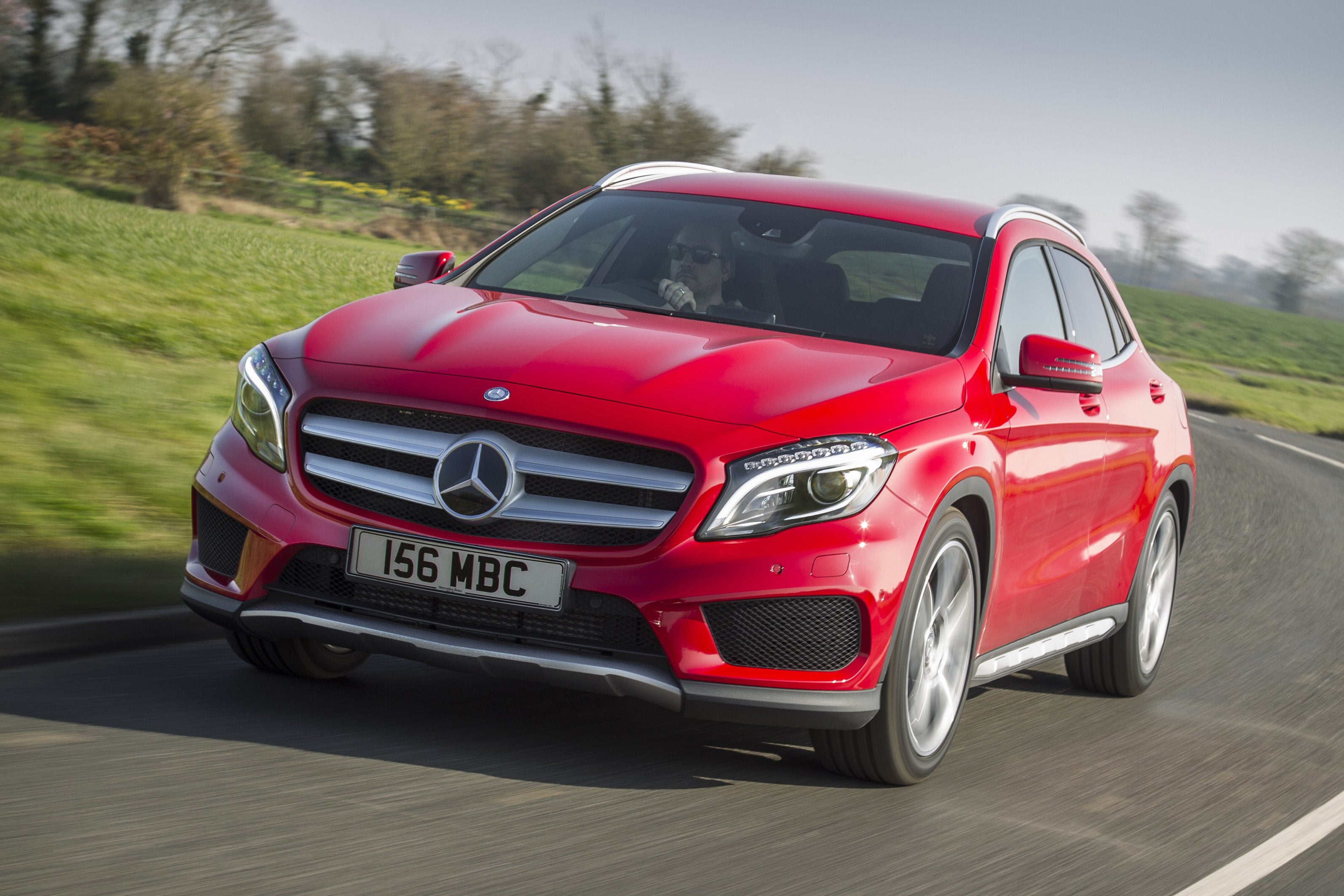 The Mercedes GLA blurs the lines between SUVs and crossovers because, essentially, it's just an A-Class with jacked-up suspension. Not that that's a bad thing because the A-Class is a handsome-looking car and the GLA simply adds some rugged appeal.
It feels posh on the inside thanks to extensive use of soft-touch materials and fancy trim pieces and you also get a pretty infotainment screen with high-definition graphics. Adults will be fine upfront and, while the back is more of a squeeze, the relatively large boot makes up for it.
The GLA was replaced this year so, while the latest model is out of reach on our budget, there are plenty of nearly-new versions of the old model to choose from. We found a 2019 car with fewer than 5000 miles on the clock within our £25,000 budget. It had the desirable 200 154PS 2.0-litre engine, a smooth-shifting automatic gearbox and came in sporty looking AMG Line trim.
Toyota C-HR
Year launched: 2016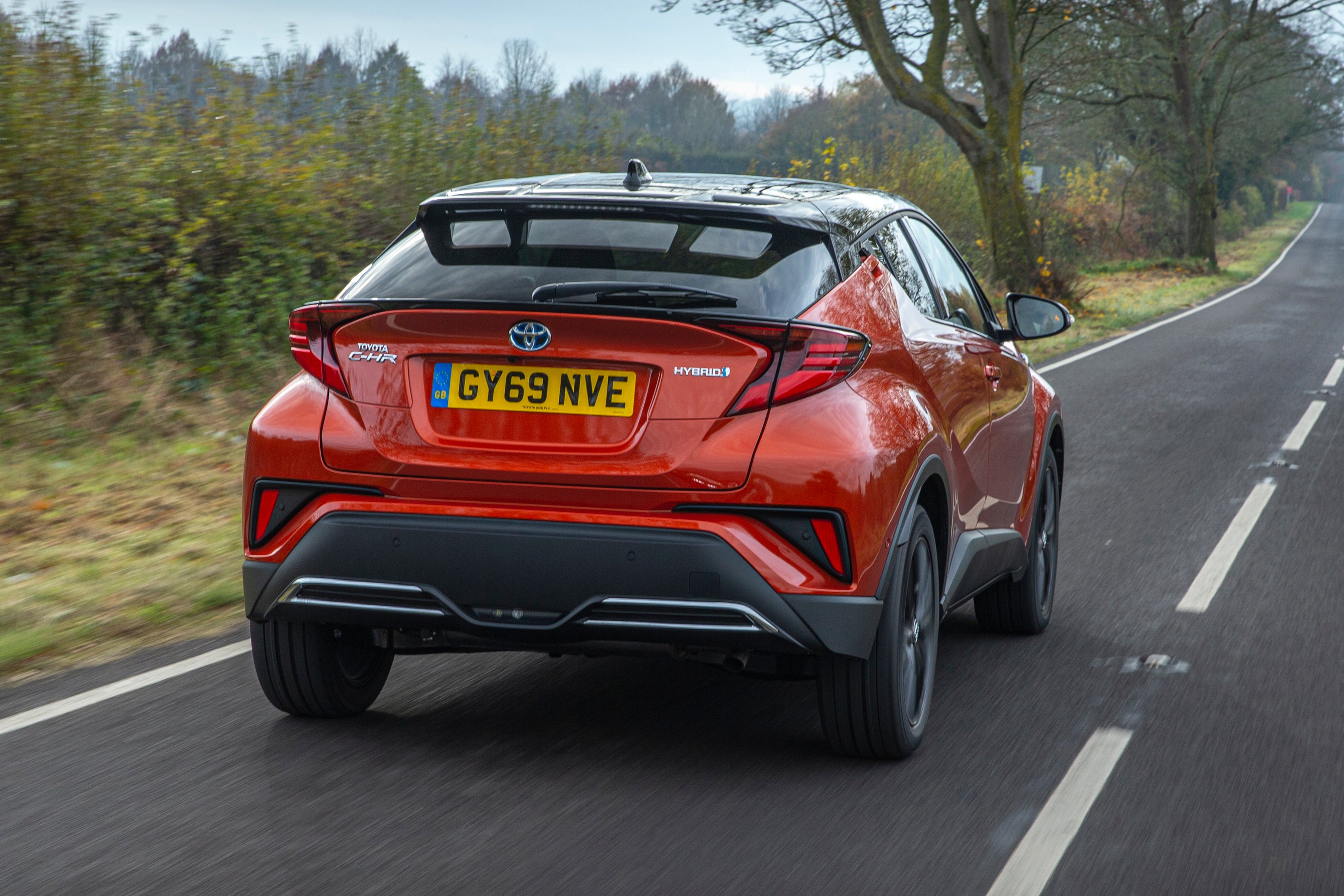 The Toyota C-HR looks like a coupe on stilts thanks to its high ride height and sloping roof. It's a clean and tidy design on the inside too, helped by the fact that all cars come with a large infotainment screen that cuts down on the need for conventional buttons.
Despite looking sporty, the C-HR is practical. You'll get four six-footers safely accommodated and the boot is larger than you get in a normal car the same size. Like all the crossovers here, the Toyota's raised ride height makes it easier to get in and out of and to load.
On our £25,000, you can have a 2019 top-of-the-range car with fewer than 5000 miles on the clock and fitted with a 181PS petrol-electric engine that gives great performance and economy. The Dynamic trim of the car we found, meanwhile, gives you auto lights and wiper, LED headlights, 18-inch alloy wheels and a two-tone paint job.
MG ZS EV
Year launched: 2019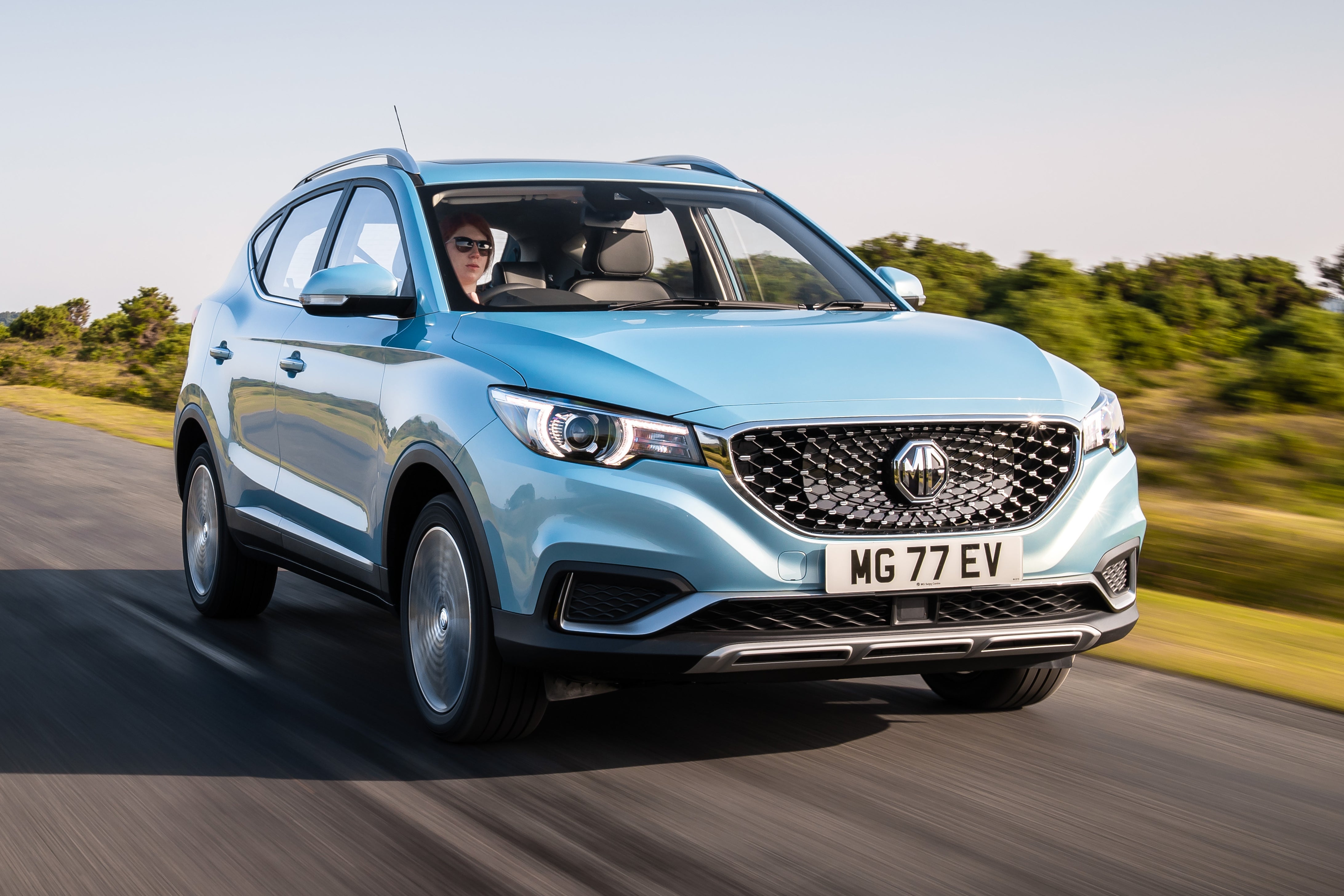 If you thought you'd need to spend mega money to get behind the wheel of an electric crossover then you're in for a nice surprise – you can have a brand new MG ZS EV for less than £25,000.
And it doesn't even feel that cheap inside. Okay, so there are plenty of black plastics but many are soft to the touch or glossy, plus you get a large infotainment screen that comes with Apple CarPlay and Android Auto as standard. This is also a practical car with room for four adults and a boot that's bigger than you get in the petrol and diesel models – usually, it's the opposite way around.
Compared to its conventionally powered alternatives, the ZS EV delivers surging performance silently, but you'll have to put up with a worryingly low range – 168 miles officially, but a lot less than in the real world. Best of all, you'll get a new car on our budget with kit that includes a leather interior and panoramic sunroof.
DS 3 Crossback
Year launched: 2018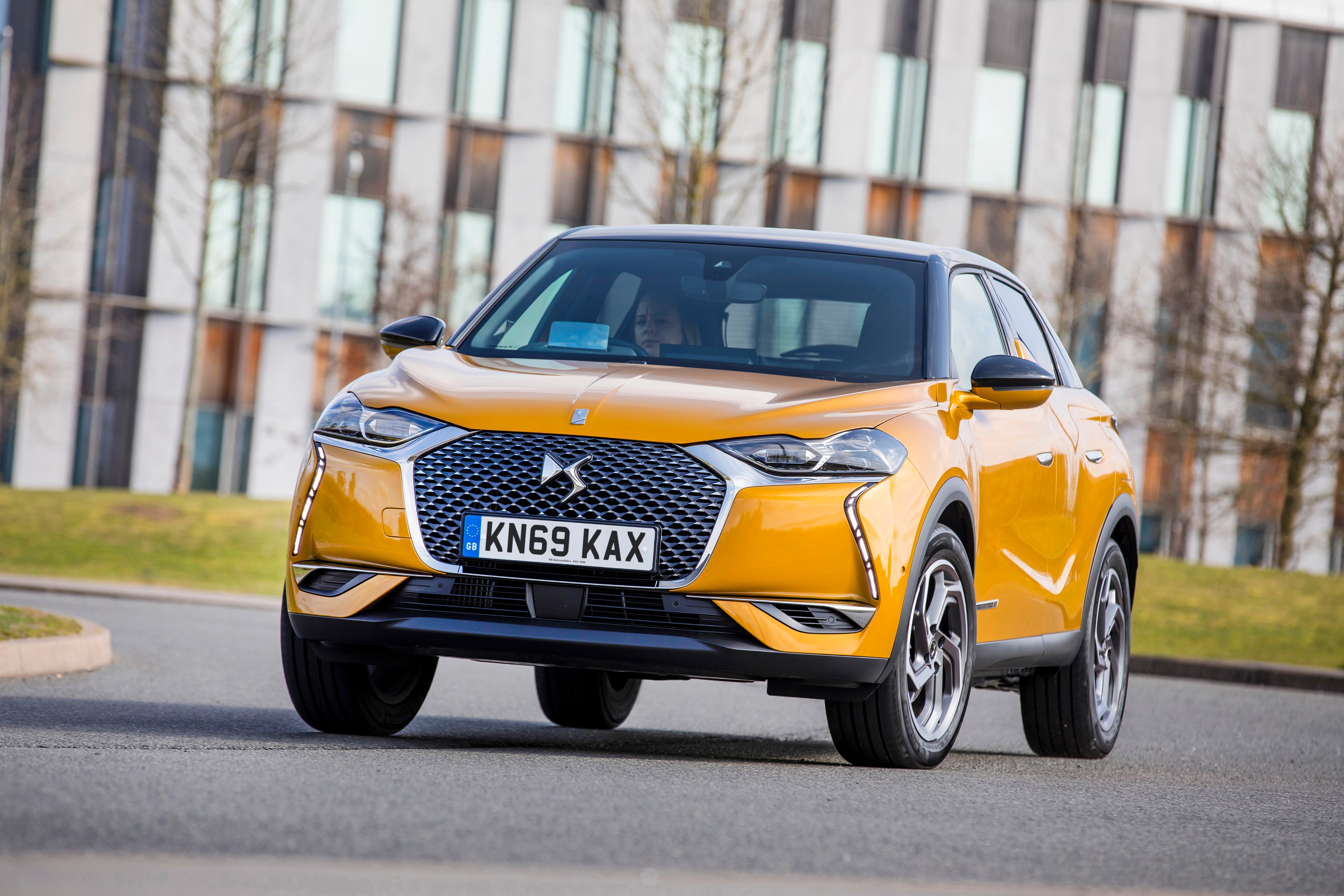 Want a trendy crossover but you're turned off by the Fiat 500X and MINI Countryman? Well, there's another way – the DS3 Crossback. Unlike its alternatives, which get a retro look, the DS 3 Crossback looks like it's come from another planet, not another era. It's awash with curves, creases and slashes.
The interior is just as interesting, with a diamond theme featuring throughout, it's dominated by a pair of large infotainment screens which, helpfully, come with Apple CarPlay and Android Auto as standard. Adults will fit fine upfront, kids will have plenty of room in the back and you get a boot capacity about the same size as you'll find in a Ford Focus.
Unlike the Ford, the DS focuses on comfort more than sporty handling and is best sampled with one of its mid-range petrol or diesel engines (an EV joins the range soon). A £25,000 budget is enough to get you a high-spec prestige model with kit like an upgraded infotainment screen and climate control, with the 130PS PureTech petrol engine that is nippy and cheap to run.
Jaguar E-Pace
Year launched: 2018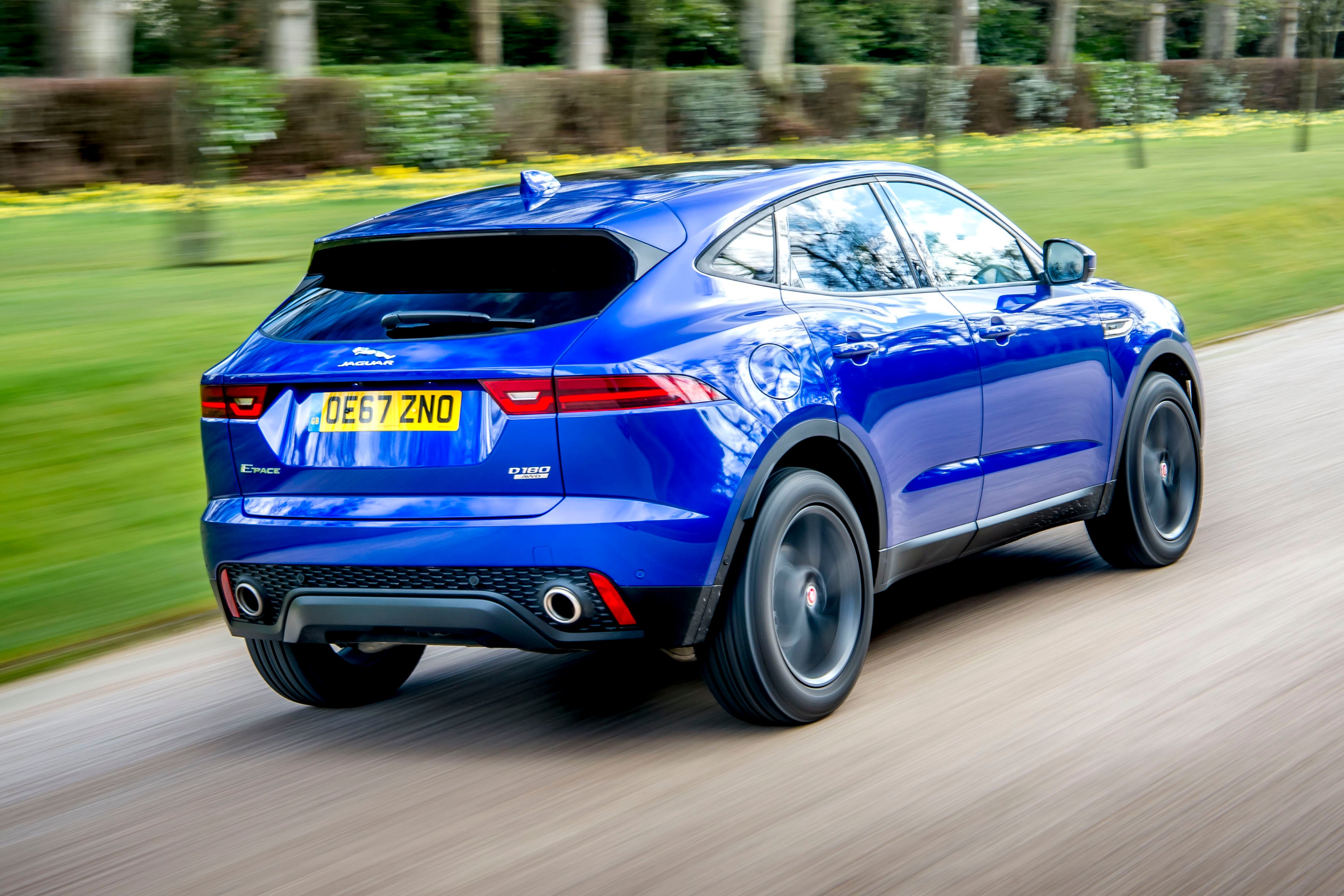 The Jaguar E-Pace is the car for you if you want a posh crossover but don't fancy the offerings from Japan or Germany. It's a smart-looking car with piercing headlights and sporty grille that could have been lifted straight from Jaguar's F-Pace sports car.
Thankfully, you get a lot more space in the E-Pace. It'll happily swallow four adults, the boot is large and the cabin is awash with smaller storage spaces and handy USB charging ports. Avoid the basic S model and you also get an infotainment screen fitted with Apple CarPlay and Android Auto.
We'd also avoid the entry-level engine and go for the mid-range 180PS diesel model which strikes the best balance between performance and economy. Its lazy power delivery matches the E-Pace's more comfort-biased setup, although we should also note that four-wheel-drive models are surprisingly capable off-road. With £25,000 to spend, you'll get yourself a basic model with the preferred diesel engine.
Crossovers look like SUVs but drive like a normal car – this crossover of characteristics is where they get their name from. What does that mean in the real world? Well, it means you get a tall, upright body that has loads of interior space and a large boot that'll gobble up almost anything you care to fit in it. That said, crossovers have more car-like qualities when it comes to driving. They feel composed and predictable on twisty roads and they also don't have the high running costs of a traditional SUV.
Crossovers cover almost any budget but our £25,000 limit gives you lots of options. You can have one of the latest models – like the Ford Puma – in like-new condition, or choose a slightly older car from a premium badge such as Lexus, BMW, Audi, Mercedes or Jaguar. This budget is also enough to get you behind the wheel of a pure-electric crossover that'll slash your running costs if you live in town and have somewhere to charge the car.
The heycar choice for the best small crossover for £25,000 is the Volvo XC40. Thanks to its chunky styling it looks great and you get a range of personalisation options that aren't available on Volvo's larger models. The same is true on the inside, where Volvo's trademark iPad style infotainment screen is found in combination with bright trim pieces that give the XC40 youthful appeal. It's spacious inside and is available with a great choice of engines. The XC40 focuses on being comfortable rather than sporty to drive which is just how things should be in a family car like this.
Volvo XC40
2.0 D3 Momentum 5dr
Manufacturer Approved
Volvo Stoke

Staffordshire, ST16AT
PCP: £338.26/mo
Representative example: Contract Length: 37 months, 36 Monthly Payments: £338.26, Customer Deposit: £3,637.00, Total Deposit: £3,637.50, Optional Final Payment: £12,336.79, Total Charge For Credit: £3,901.65, Total Amount Payable: £28,151.65, Representative APR: 7.9%, Interest Rate (Fixed): 4.07%, Excess Mileage Charge: 14.9ppm, Mileage Per Annum: 10,000
Volvo XC40
2.0 D3 Momentum 5dr
Stoneacre Volvo Grimsby

Lincolnshire, DN364RJ
PCP: £342.89/mo
Representative example: Contract Length: 37 months, 36 Monthly Payments: £342.89, Customer Deposit: £3,374.00, Total Deposit: £3,374.25, Optional Final Payment: £11,977.26, Total Charge For Credit: £5,200.55, Total Amount Payable: £27,695.55, Representative APR: 11.3%, Interest Rate (Fixed): 11.3%, Excess Mileage Charge: 14.9ppm, Mileage Per Annum: 10,000