Best SUVs 2021


One of the best SUVs should be high up on your new car shortlist if you're looking for a stylish new car that can carry all the family and perhaps even venture into the wilderness.
While the SUV market is a diverse one, the best SUVs featured here have some key factors in common. They all boast MPV-like practicality, high-up seating positions and big boots. Some are four-wheel drive, some are two-wheel drive, while many are available with a range of petrol, diesel and even hybrid engines.
SUV stands for 'sport utility vehicle'. The boundaries of what is officially classed an SUV has blurred over time. Traditionally, an SUV was a car like a Range Rover, with a high seating position and four-wheel drive providing off-road capability. Now, not all SUVs are four-wheel drive and most drive a lot like a normal car. We usually consider the best SUVs as fairly big cars – often with seven seats – with smaller SUVs like the Volkswagen T-Roc are often referred to as a 'crossover' vehicle.
We think that the cars below are the best SUVs you can buy right now. So whether you're looking for a large family SUV with bags of space of something that'll fit in with your active lifestyle, you'll find it here. Read on for our guide to the top SUVs on sale right now...
BMW X3
Year launched: 2018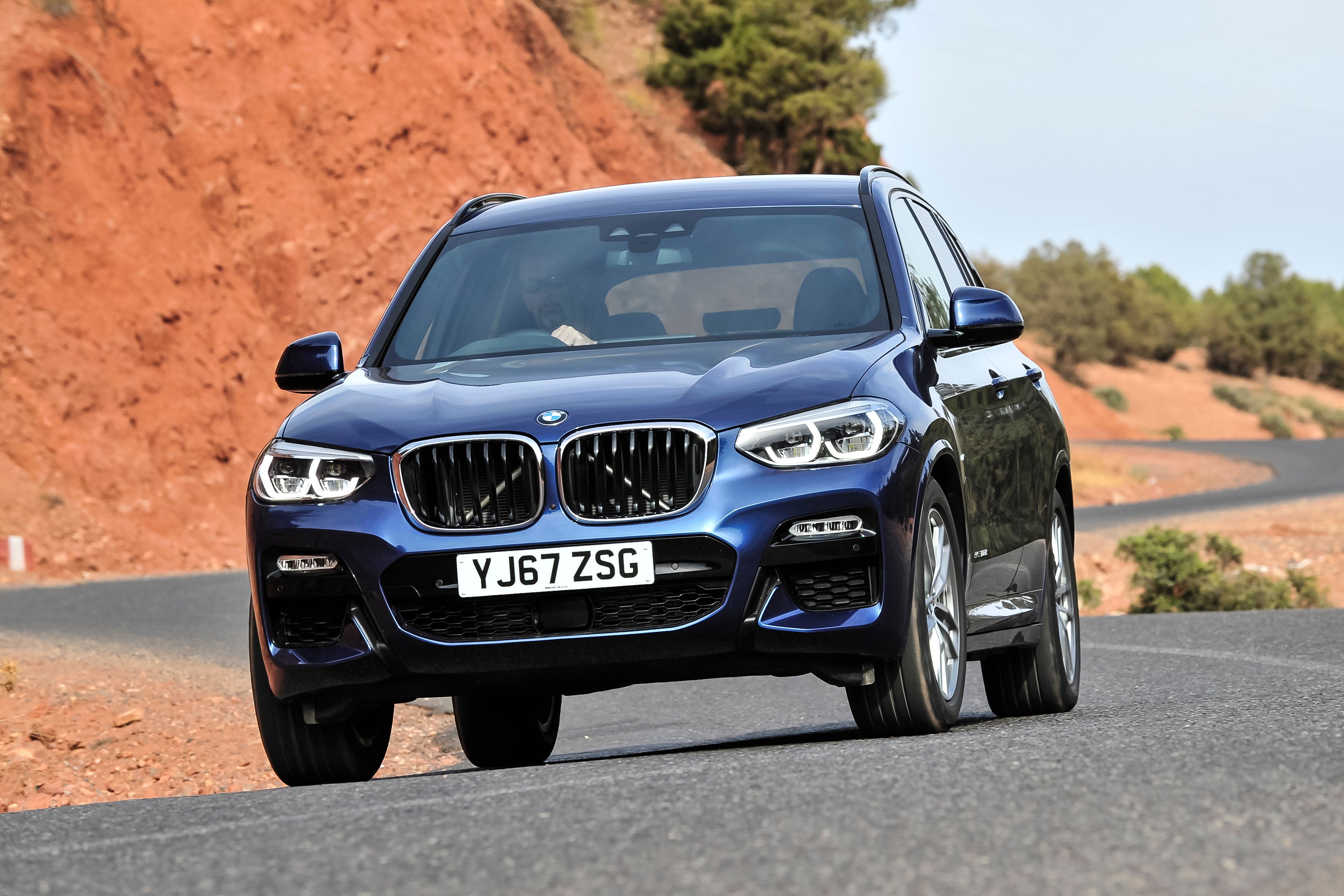 If you're in the market for an SUV that'll make you feel good every time you drive it, look no further than one of BMW's X models. Some of the best SUVs going, they range from the BMW X1 to the X7, with the odd-numbered cars being the more practical choices and the even-numbered cars slightly sportier.
You won't go wrong with any of them, really, but our pick of the bunch is the X3. It's a mid-size SUV that rivals the Volvo XC60 and Audi Q5, and does what BMW does best. That means it's brilliant to drive, no matter which engine you choose, while the interior feels a cut above mainstream competition.
If we had one criticism of the BMW X3, it's that the most desirable models are loaded with expensive optional extras. But look out for a well-specced model on the used market and the original owner will have taken care of the depreciation, meaning you can bag a bargain.
Kia Sorento
Year launched: 2020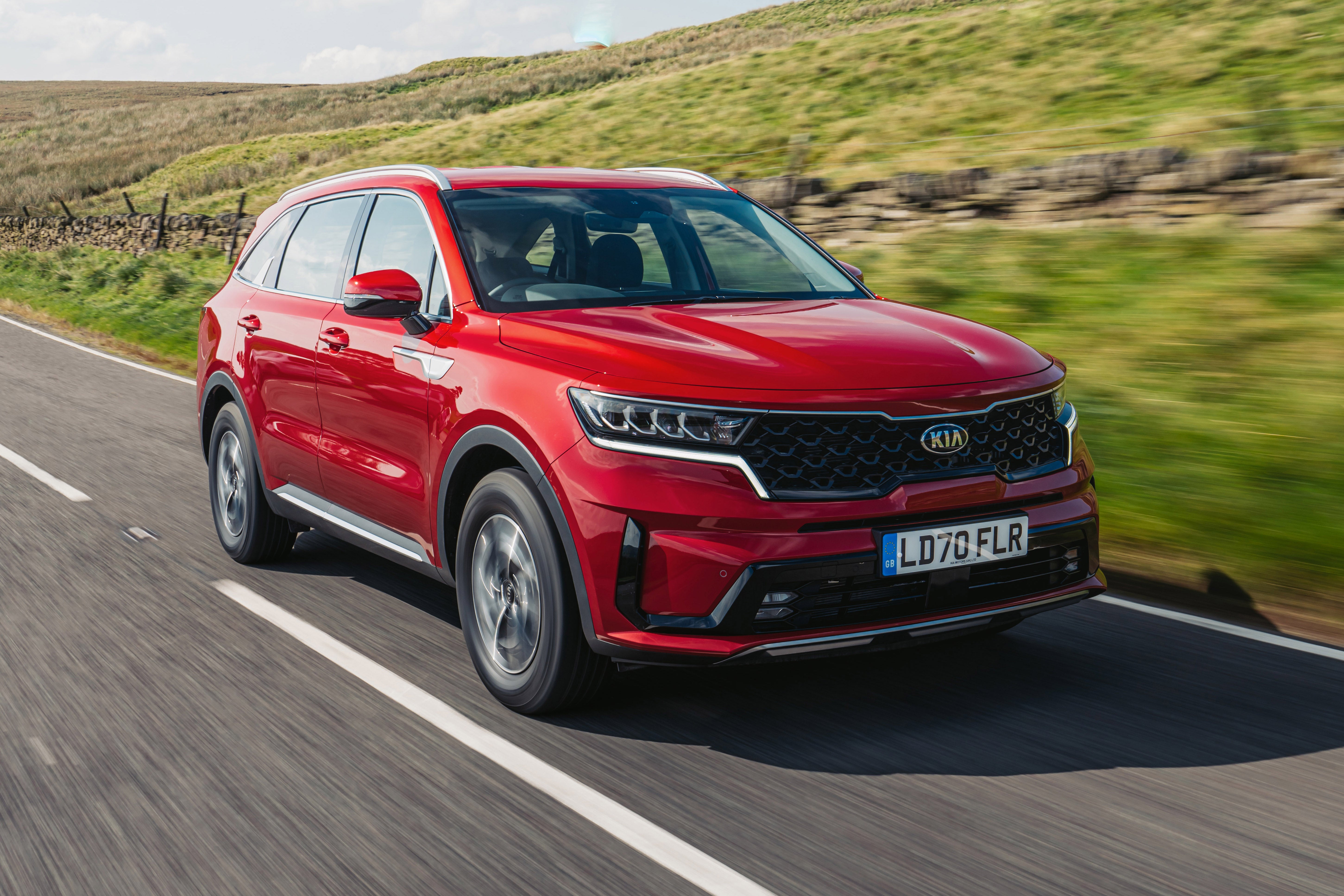 The Kia Sorento has changed markedly over the fourth generations it's been on sale. We reckon the latest model is one of the best SUVs you can buy today, especially if you need a lot of space. All models come with seven seats and, unusually, they can all comfortably carry an adult.
On the face of it, the Sorento is significantly more expensive than competitors like the Skoda Kodiaq and Peugeot 5008. That's because all Kia Sorento models are powered by punchy hybrid or diesel engines, while all are four-wheel drive and come with an automatic gearbox. And sure, a Land Rover Discovery Sport might appeal due to its premium badge and lifestyle image, but the Sorento is significantly bigger and more practical.
If you want a seriously luxurious Sorento, look for a top-spec '4' model. This is lavishly equipped with ventilated seats, a panoramic sunroof and window blinds for the second row.
Audi Q7
Year launched: 2015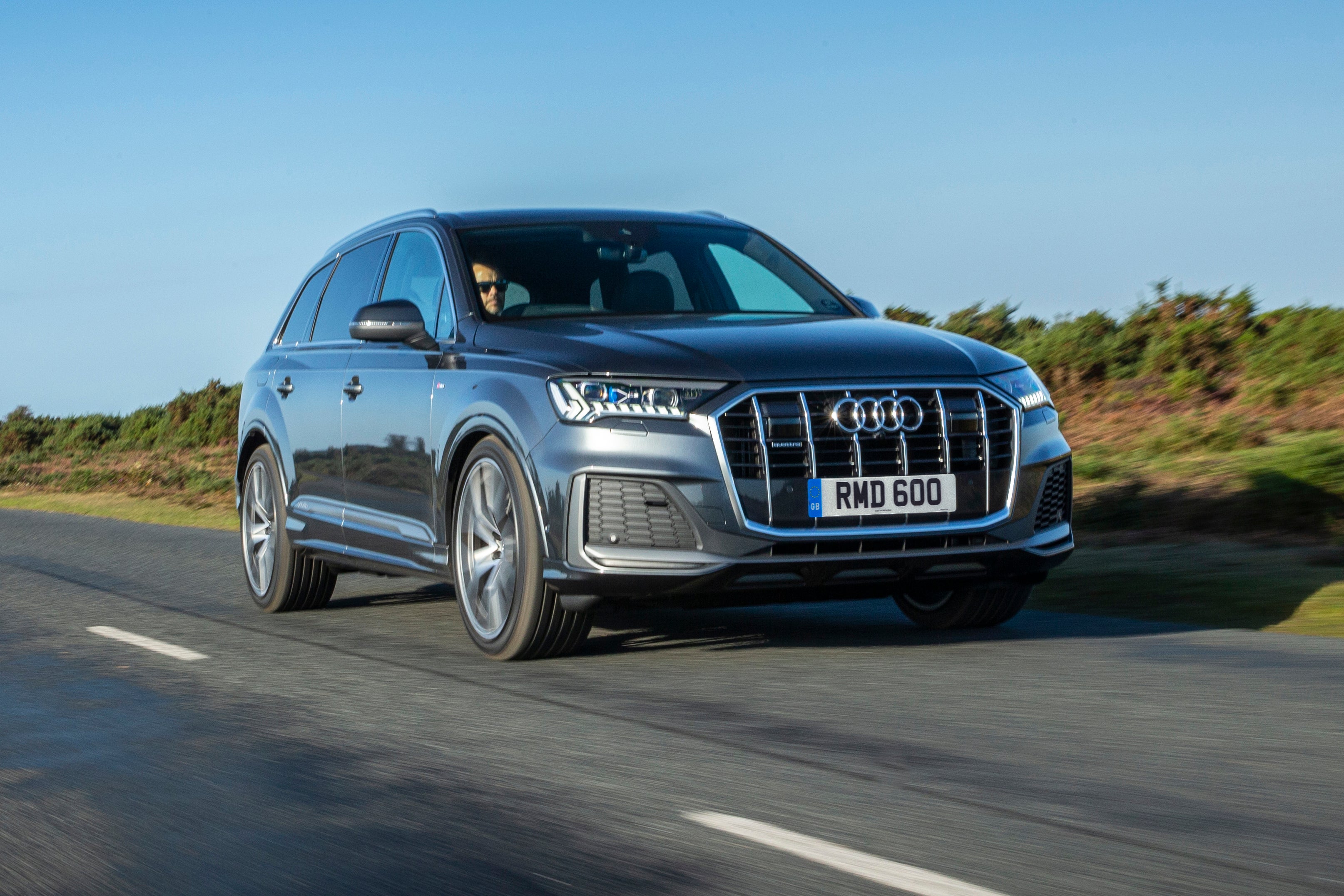 If you're looking for a truly luxurious 7-seater SUV, the Audi Q7 should be on your shortlist. It's simply huge, meaning there's a massive amount of space for all three rows of passengers as well as a big boot. It's certainly one of the best large SUVs you can buy.
Audi's attention to detail is impeccable, with lots of neat touches and superb finishes everywhere you look. And it's very comfortable – the kind of car, in fact, that could transport you across continents and leave you feeling as fresh as the moment you set off.
A big car needs a big engine. Our pick of the bunch is the 3.0-litre V6 diesel engine which is available with two power outputs: 231PS or 286PS (badged 45 TDI and 50 TDI respectively). Both are plenty punchy enough for most drivers, although there's also the SQ7 range-topper with its thunderous 4.0-litre diesel V8 engine. Or, if you cover a lot of town driving, look for the TFSIe badge. This means it's a plug-in hybrid pairing a 3.0-litre V6 petrol engine with an electric motor.
SEAT Tarraco
Year launched: 2019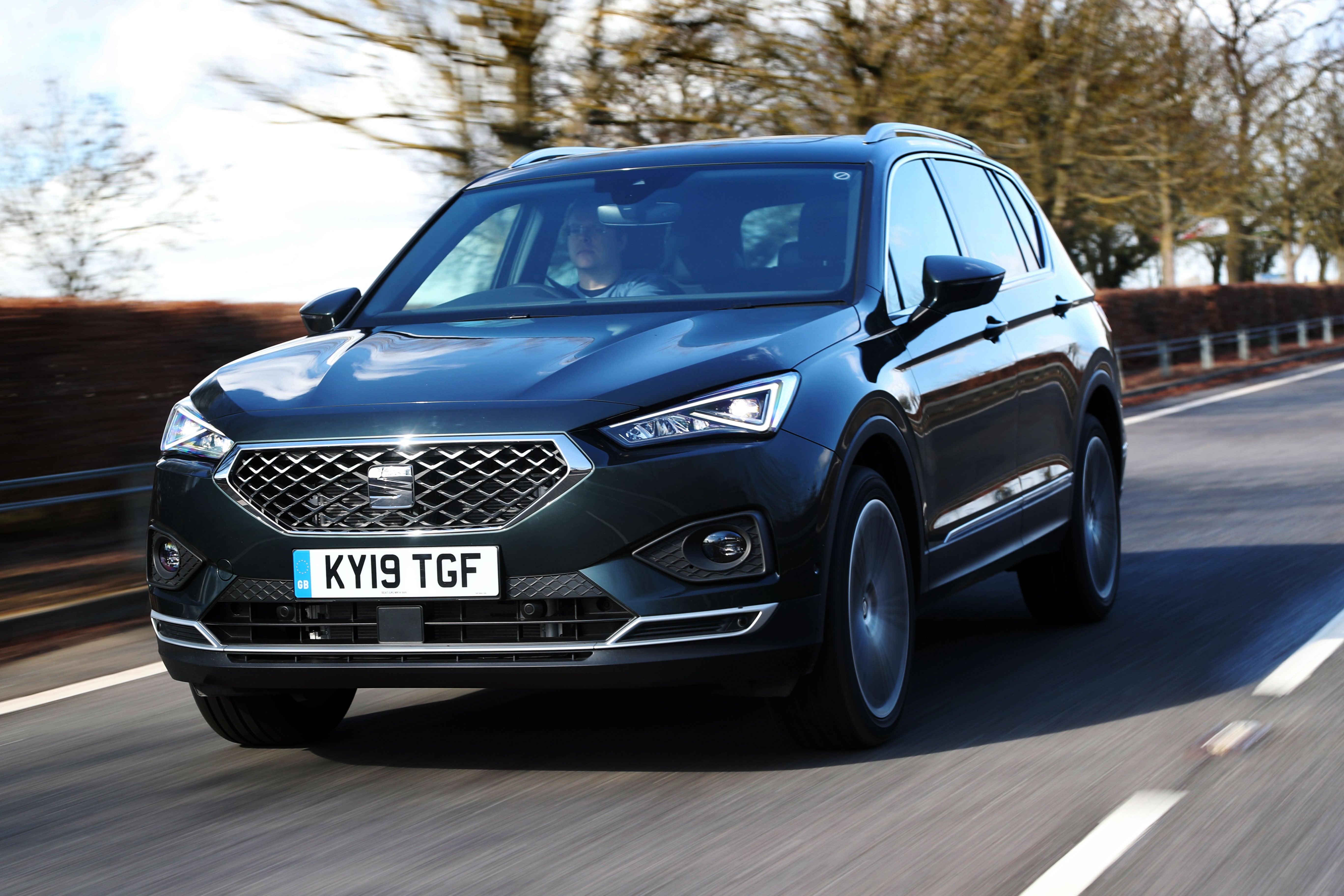 The SEAT Tarraco is a relative newcomer in terms of SUVs. It's very similar to the Skoda Kodiaq and Volkswagen Tiguan Allspace (more on both below), but with a bit of Spanish flair chucked in. In true SEAT style, it's more fun to drive than most of its rivals, and it won't cost a great deal to run either.
There's a range of petrol and diesel engines available. Although it's not fashionable to say so, our choice would be a diesel – the 2.0-litre diesels provide a useful amount of grunt, especially if you regularly drive with a car full of passengers or plan to tow a caravan.
It's not the most practical of SUVs, particularly if you actually need to use all seven seats, but it's more versatile than cars like the SEAT Ateca or Nissan Qashqai. SEAT doesn't really go big on options, which makes looking for the perfect used vehicle that little bit easier. All models are well-equipped, but we reckon the mid-level SE Technology strikes the right balance between desirability and affordability.
Citroen C5 Aircross
Year launched: 2019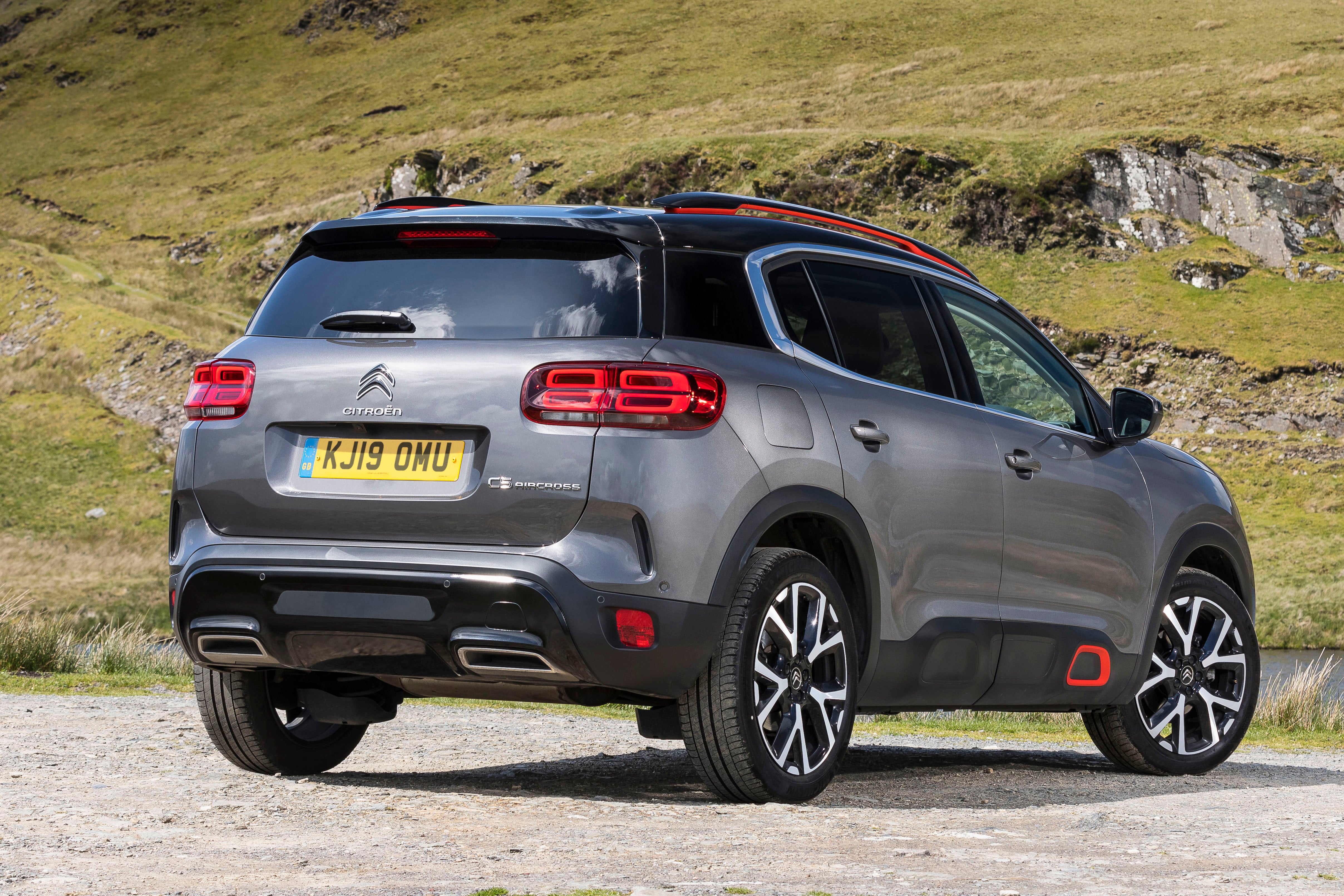 It sometimes feels like carmakers forget what buyers really want in an SUV. So many try very hard to look stylish or drive like a sports car, but people often buy cars like this because they want to carry all their family in comfort. The Citroen C5 Aircross does this very well indeed.
For a start, it's one of the most comfortable SUVs on the market today. The seats are supportive and you sit rather high up, giving you that feeling of safety (and allowing you to see over hedgerows). Citroen's clever suspension means it soaks up lumps and bumps exceptionally well, too.
And it's also incredibly practical. Its boot is one of the biggest in an SUV of this size, while the three individual rear seats should prevent any arguments about who has to sit in the middle. You can slide the rear seats backwards and forwards, too, allowing you to prioritise passenger or boot space. It's just a shame that Citroen doesn't offer a seven-seat C5 Aircross – if you need more seats, look at the bigger Peugeot 5008 or Skoda Kodiaq instead.
Land Rover Defender 110
Year launched: 2020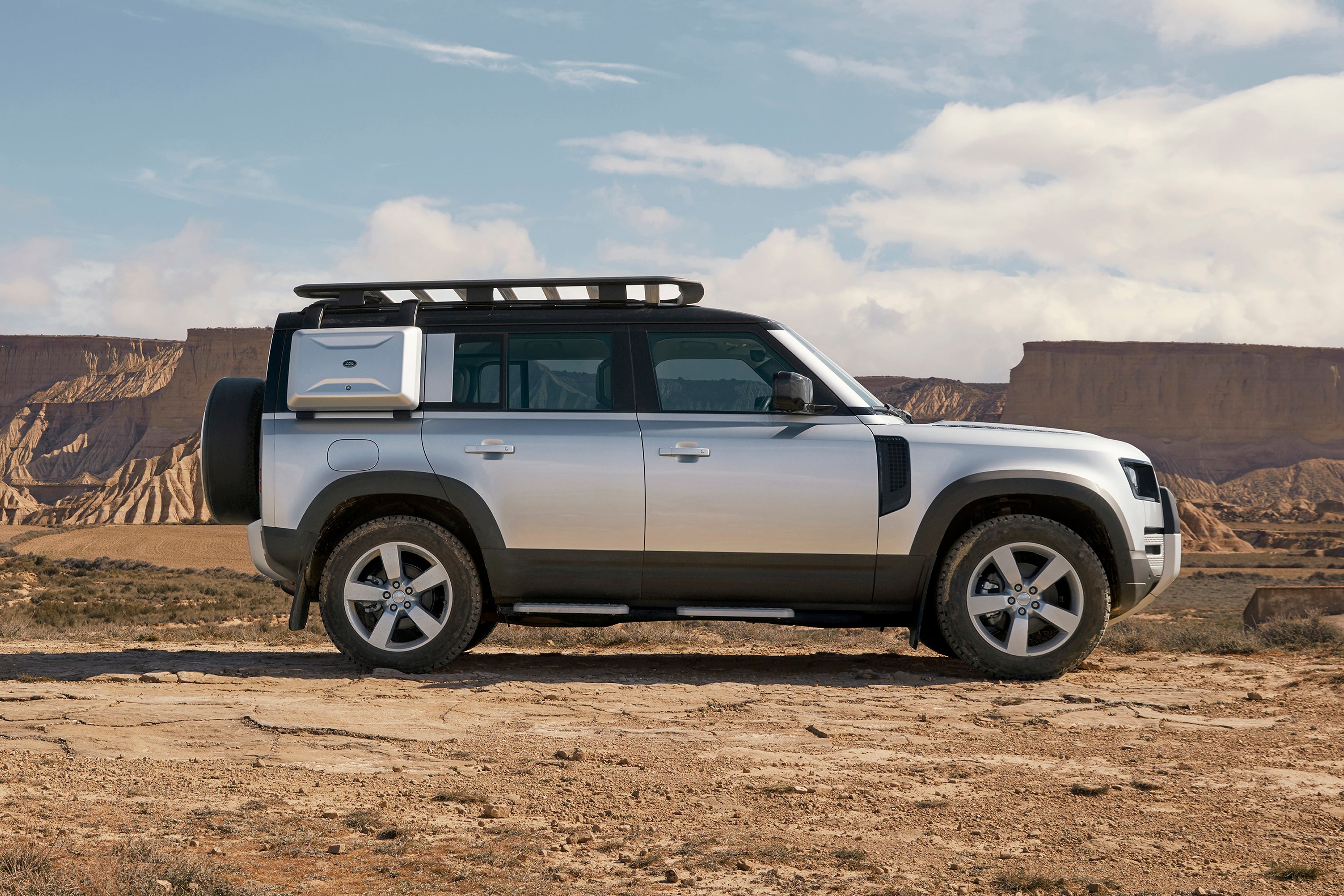 If you're in the market for an SUV that can take you across the Serengeti, look no further than the Land Rover Defender. The latest model, on sale since 2020, is very different from the long-selling original model. But different isn't necessarily a bad thing – it's much more comfortable, easier to drive yet retains the original's character. Oh, and if you really want to go off road, no other SUV featured here will keep up with a Defender when the going gets tough. It's simply the best SUV when going off-road.
You'll pay strong money for a Defender but residuals are good, so you'll also get a decent chunk of it back at resale time. You can buy short- and long-wheelbase models, badged the 90 and 110 respectively. We'd opt for the latter – it's a lot more practical, even if there is an appeal to the pint-size Defender 90.
Land Rover initially launched the Defender with four-cylinder diesel and four- or six-cylinder petrol engines. We'd recommend the later 3.0-litre six-cylinder diesels, while a bonkers 525PS V8 petrol motor is sure to win Top Trumps competitions. There's also a plug-in hybrid model with an electric range of up to 27 miles.
Mazda CX-5
Year launched: 2017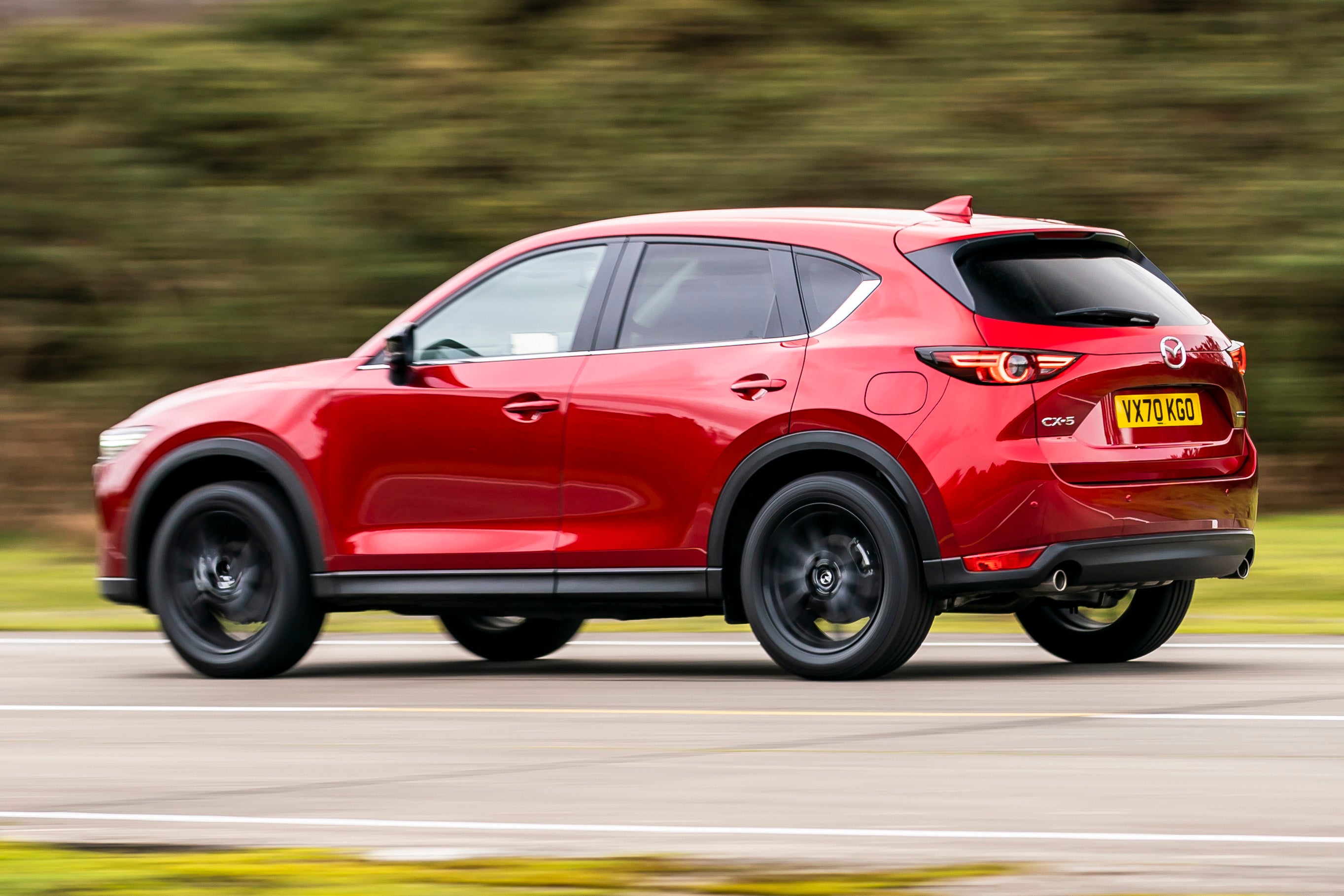 How does a stylish yet understated SUV with a superb interior that's great to drive sound? That'll be Mazda's CX-5.
It's a bit old-fashioned in some ways. The petrol engines are big old-naturally aspirated units that aren't as punchy or as efficient as smaller turbocharged rivals (you can get a 2.5 petrol that's only marginally quicker than 1.5-litre Ford Kuga) and the media system is operated via a rotary controller when moving rather than a touchscreen.
Still, sometimes going against the norm is a good thing. And it's hard to underemphasise how good the CX-5 looks in our eyes – find one in a good colour and it'll turn more heads than a premium offering like a BMW X3. Talking of premium, the Mazda CX-5's cabin is simply superb, with loads of classy materials and big, comfortable seats. It's practical, too, although it's a shame you can't buy a seven-seat version.
Skoda Kodiaq
Year launched: 2016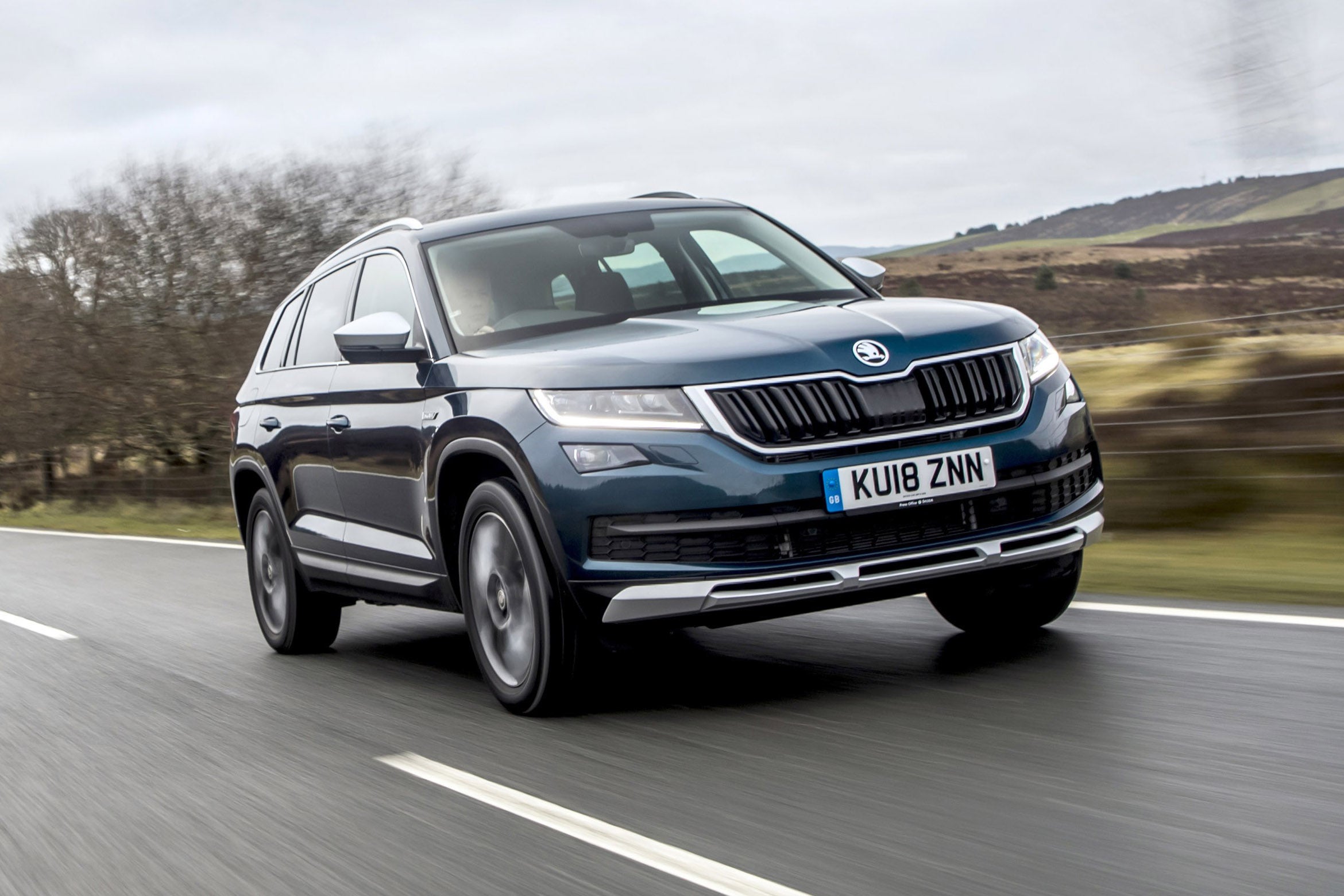 If you're serious about getting the most bang for your buck, head straight down to your nearest Skoda dealer. The Skoda Kodiaq is packed with clever ideas that will make family life easier – from the second row of seats which slides back and forth to the umbrella in the doors. It's the perfect car for someone who needs a people carrier but doesn't want a people carrier.
Avoid the weedy 1.4-litre and 1.5-litre petrol engines; the diesels are much better suited to the Kodiaq. You can buy one with two- or four-wheel drive (go for the former unless you're planning to lug a caravan across a muddy campsite), and there's even a sporty vRS model if you're really not over your Max Power days.
A new Skoda Kodiaq starts from around £27,000 (making it one of the most affordable SUVs to feature here), but you can pick up a lightly-used example for as little as £15,000. It's definitely the best SUV for the money.
Volvo XC40
Year launched: 2018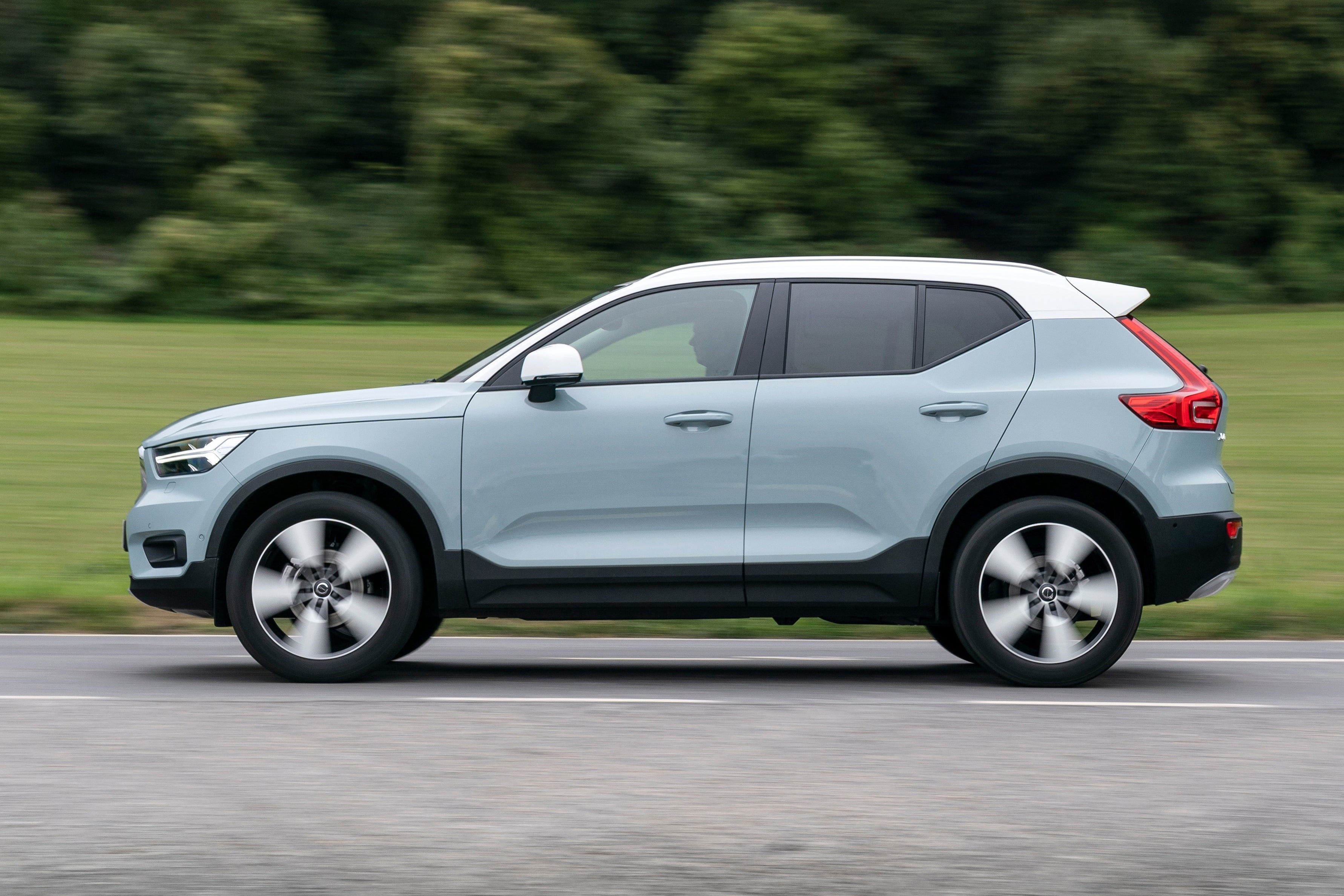 If you still associate the Volvo brand with boxy old estate cars or three-box saloons, you're in for a shock with the XC40. It's the smallest (but also the most stylish) of the firm's SUV line-up and it's one of our favourite premium SUVs on the market today.
The XC40 just oozes Scandinavian style while some bold colour choices will mean it's sure to turn heads. The interior is equally impressive, and see if you can hunt one down with the optional orange seats if you really want your passengers to be impressed by your boldness (or question your senses).
Being a Volvo, the XC40 is an extremely safe choice, which makes it a very desirable family SUV. There are a wide range of engines to pick from... including punchy petrols, frugal diesels, a plug-in hybrid and even a fully-electric model. Which one you go for will depend on your needs, but we reckon the 163PS T3 petrol strikes a sweet spot between performance and economy.
Volkswagen Tiguan Allspace
Year launched: 2018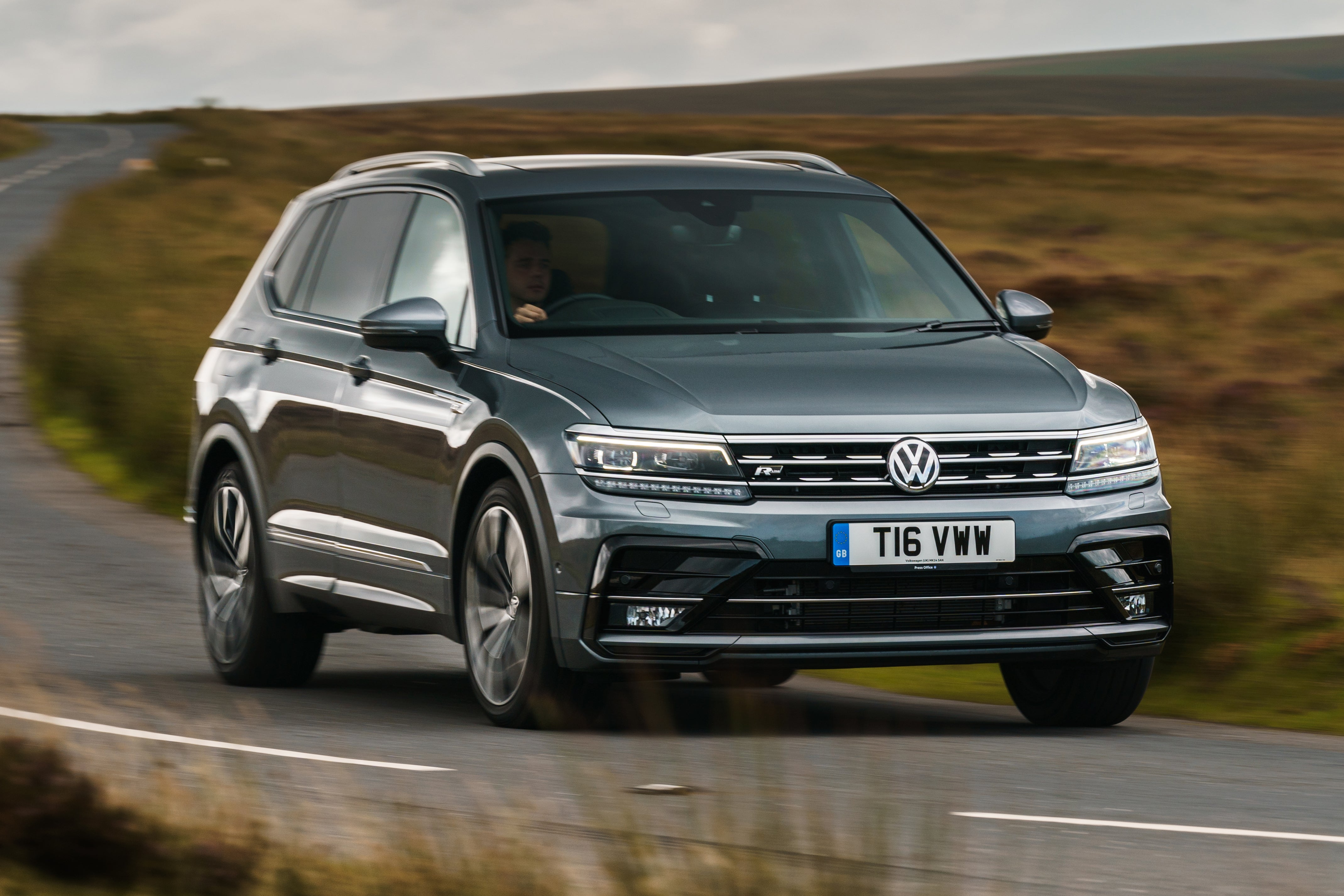 If you fancy a stylish Volkswagen Tiguan but need a little more space, the Tiguan Allspace is the car for you. It's essentially a slightly longer Tiguan, with seven seats and a big boot. It's very similar to the Skoda Kodiaq and SEAT Tarraco (so similar, it shares a platform and engines), but the Volkswagen badge packs a little more cachet and it has a slightly nicer interior than its more affordable rivals.
Diesel engines dominate the Tiguan Allspace market. That's a good thing as they pack more grunt for shifting a fully-loaded family SUV, although you should consider a petrol model if you mainly expect to use it for short journeys around town.
We reckon the most affordable Match model will tick all the boxes for a lot of buyers, with standard kit including alloy wheels, an electric tailgate and a reverse parking camera. Hunt out an SEL for such luxuries as massage seats, while the sporty R-Line Tech gets a range of styling upgrades as well as lowered sports suspension.
Your SUV questions answered
What is a SUV car?
SUV stands for 'sports utility vehicle' which is about as clear as mud. Traditionally, an SUV combined characteristics of four-wheel-drive off-roaders with the road manners of a hatchback or saloon car. Today, SUVs are ultra-fashionable choices with stylish looks, high seating positions and, usually, a much bigger boot than an equivalent hatchback. They're often available with four-wheel drive but many are now two-wheel drive.
What's the best SUV in the UK?
The best SUV on sale depends on your requirements. If you just need a lot of space for your money, we'd recommend the excellent Skoda Kodiaq as the best SUV you can buy right now. If you can stretch the budget to a BMW X3 or Volvo XC40, we doubt you'll regret it – they're two very desirable premium SUVs with stylish looks and versatile, well-finished interiors.
What's the cheapest SUV on sale today?
The cheapest SUV on sale today is the Dacia Duster. Prices start from as little as £12,000 for the basic Access model, which does without unnecessary extras like alloy wheels, a radio and electric windows for rear-seat passengers.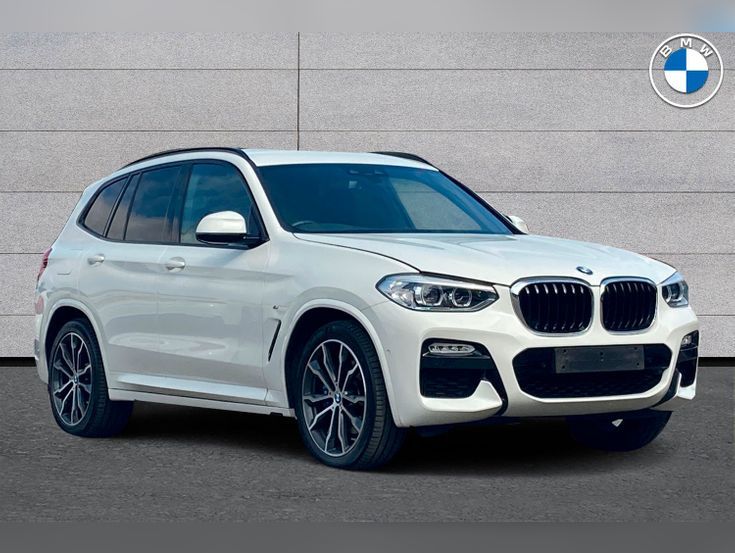 BMW X3
xDrive20d M Sport 5dr Step Auto
Manufacturer Approved
Marshall BMW Salisbury

Wiltshire, SP13YU
PCP: £618.34/mo
Representative example: Contract Length: 36 months, 35 Monthly Payments: £618.34, Customer Deposit: £5,533.00, Total Deposit: £5,533.50, Optional Final Payment: £16,608.89, Total Charge For Credit: £6,894.29, Total Amount Payable: £43,784.29, Representative APR: 9.9%, Interest Rate (Fixed): 9.9%, Excess Mileage Charge: 9.38ppm, Mileage Per Annum: 10,000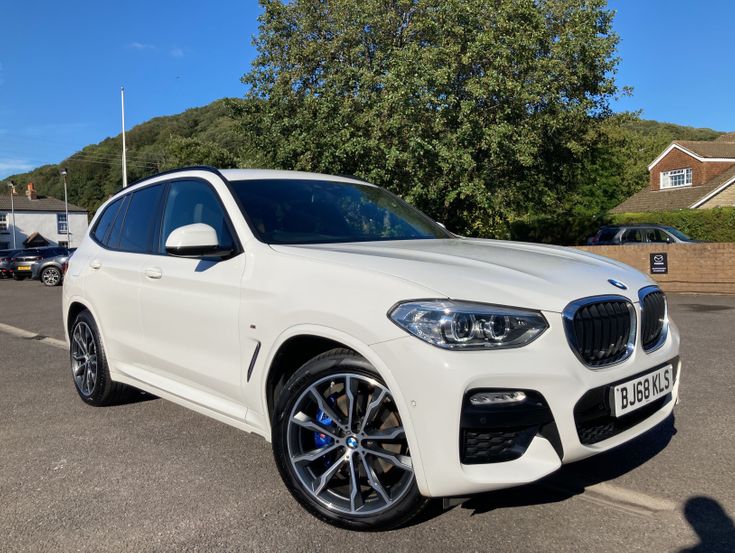 BMW X3
xDrive30d M Sport 5dr Step Auto
Clevedon Garages Mazda Clevedon

Somerset, BS216AB
Finance is available. Speak to the dealer to find out more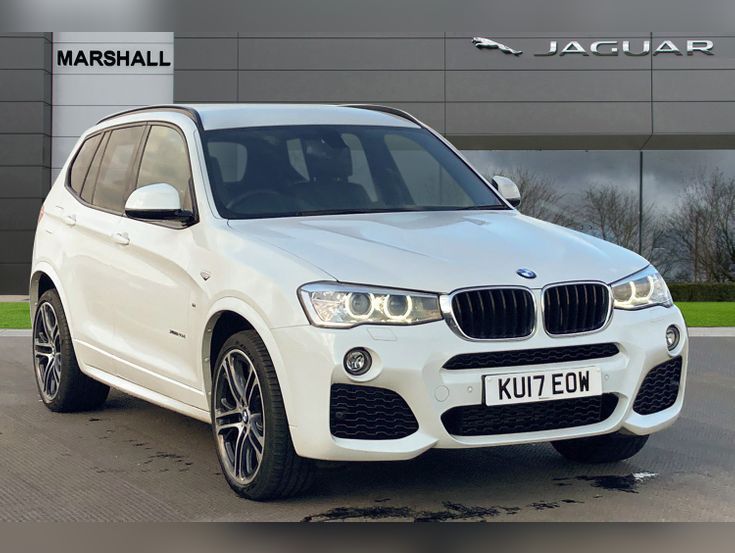 BMW X3
xDrive20d M Sport 5dr Step Auto
Marshall Jaguar Whisby Road

Lincolnshire, LN63QZ
Finance is available. Speak to the dealer to find out more
Discover more expert guides from heycar