Best used cars under £10,000
Best used cars under £10,000

Are you looking for a used car for under £10,000? Well you've come to right place. Proving you don't have to break the bank to get a good quality used car, our team of second-hand car experts have searched heycar to find the best used cars you can buy right now.
Each of these used cars have been hand-picked because they have a spacious interior, good fuel economy and excellent ride comfort. Our used cars for £10,000 list includes some of the UK's best-selling cars like the Ford Fiesta, Vauxhall Astra and Volkswagen Golf. All of these cars are cheap to run with advertised fuel economy on some models peaking at 60+mpg.
In some cases, like the Kia Picanto, you'll also get a long manufacturer warranty with the car, plus the choice of a manual or automatic gearbox. Read on to find the best used cars you can buy right now.
If you're looking for something practical, why not take a look at our guides to the top used SUVs for under £10,000, our used estate cars and our pick of the best MPVs? We also have suggestions for the best family cars for £10,000.
After something smaller? Then check out our best hatchbacks and best used city cars, while if you want an EV we have you covered with the best used electric cars.
And if you hanker after something a bit more plush, we have the best used convertibles and the cheap luxury cars.
Ford Fiesta
Year launched: 2017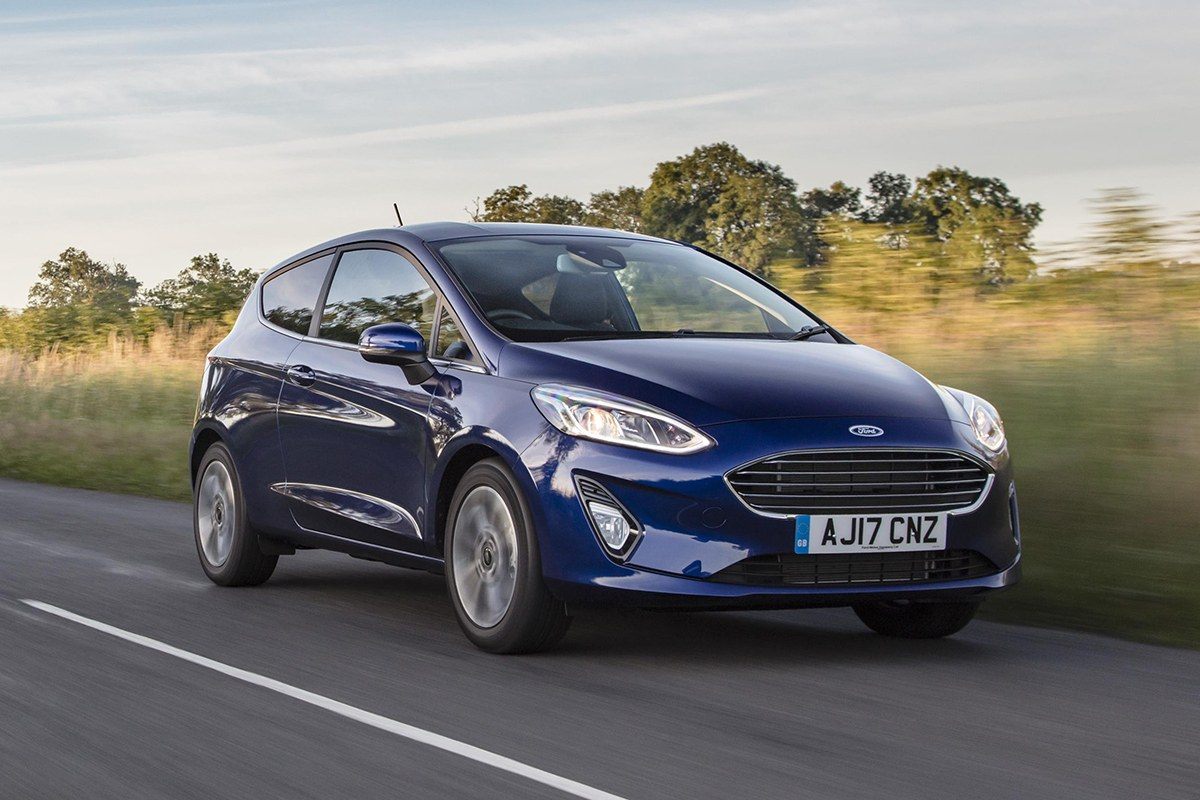 Cheap to run, easy to drive and capable of carrying four adults in snug comfort, the Ford Fiesta is one of the UK's most-popular budget used cars. All versions are smartly styled and generously equipped. If you need a cheap and comfortable small hatch, the Fiesta will not disappoint you.
A budget of around £10,000 will get you a nearly new Fiesta with Ford's excellent 1.0-litre EcoBoost petrol engine. It comes in 100PS, 125PS and 140PS outputs and all are good on fuel and rewarding to drive. In fact, when it comes to road handling, we rate the Fiesta as one of the best in the small hatch class. Its sharp steering and zesty turbocharged engine is a lot of fun, especially if you buy the punchy 140PS version.
Both the three- and five-door Fiesta models provide the same level of passenger space. This means you get lots of head and legroom in the front, and enough space in the rear for two adults to fit in comfort. You also get a generous level of standard equipment, with mid-spec models getting air conditioning, touchscreen infotainment and alloy wheels.
Volkswagen Golf
Year launched: 2013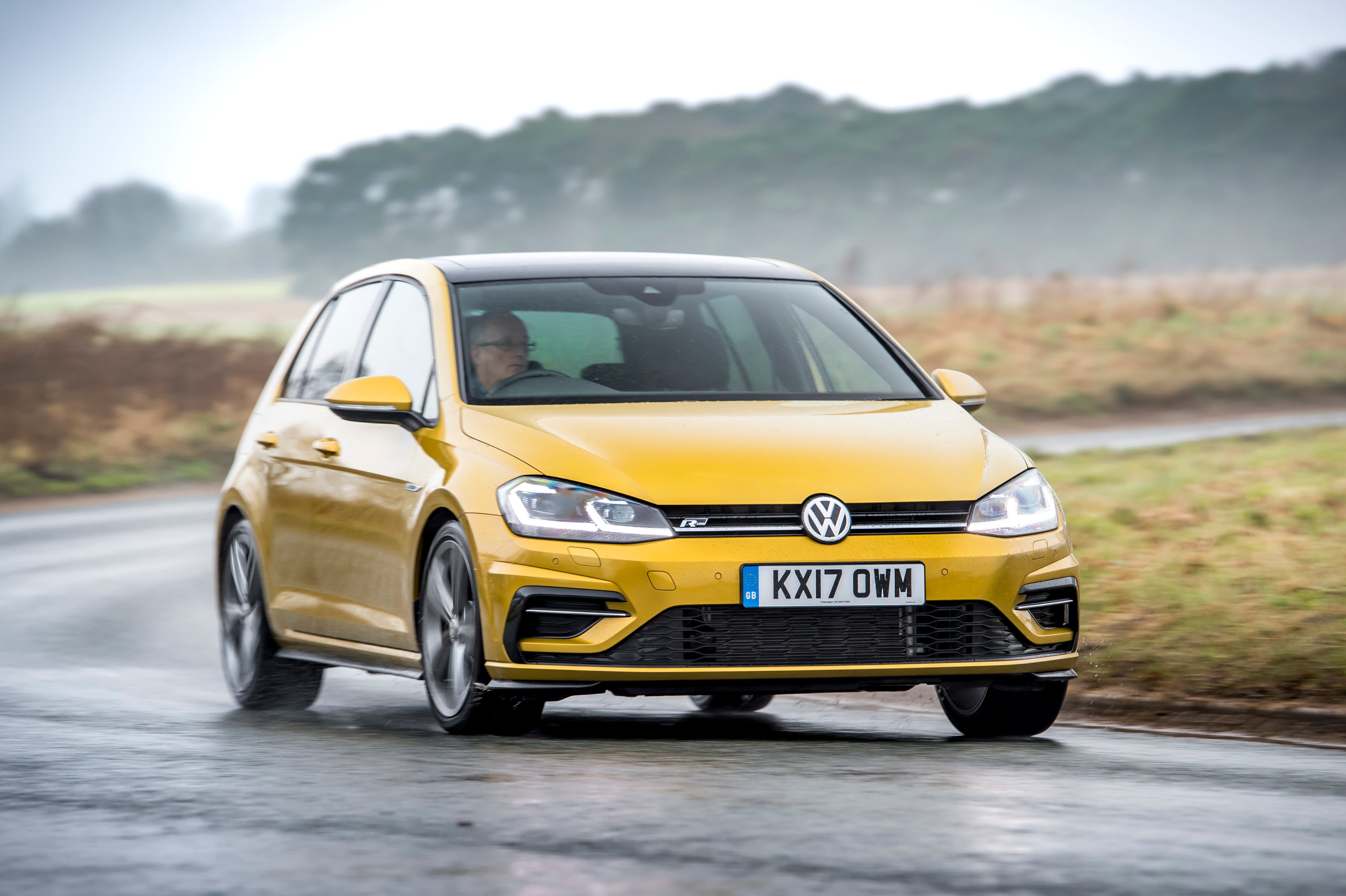 Proof that you can have a premium small family car for under £10,000, the Volkswagen Golf offers excellent value for money as a second-hand buy. You also get a good choice of petrol and diesel engines, with a manual or fully automatic gearbox.
The Golf is offered with Volkswagen's family 1.6 and 2.0-litre TDI diesel engines, which officially return 60+mpg. There is a good choice of efficient petrols, too, with the 1.0 and 1.5-litre TSIs blending low running costs with good performance.
It may be more expensive than rivals like the Ford Focus or Skoda Octavia, but most people buy a Golf because they want a comfortable family car with a nice premium feel. We think this Volkswagen delivers on all three fronts, with its high-quality interior and supportive seats making it relaxing on a long journey.
Kia Picanto
Year launched: 2017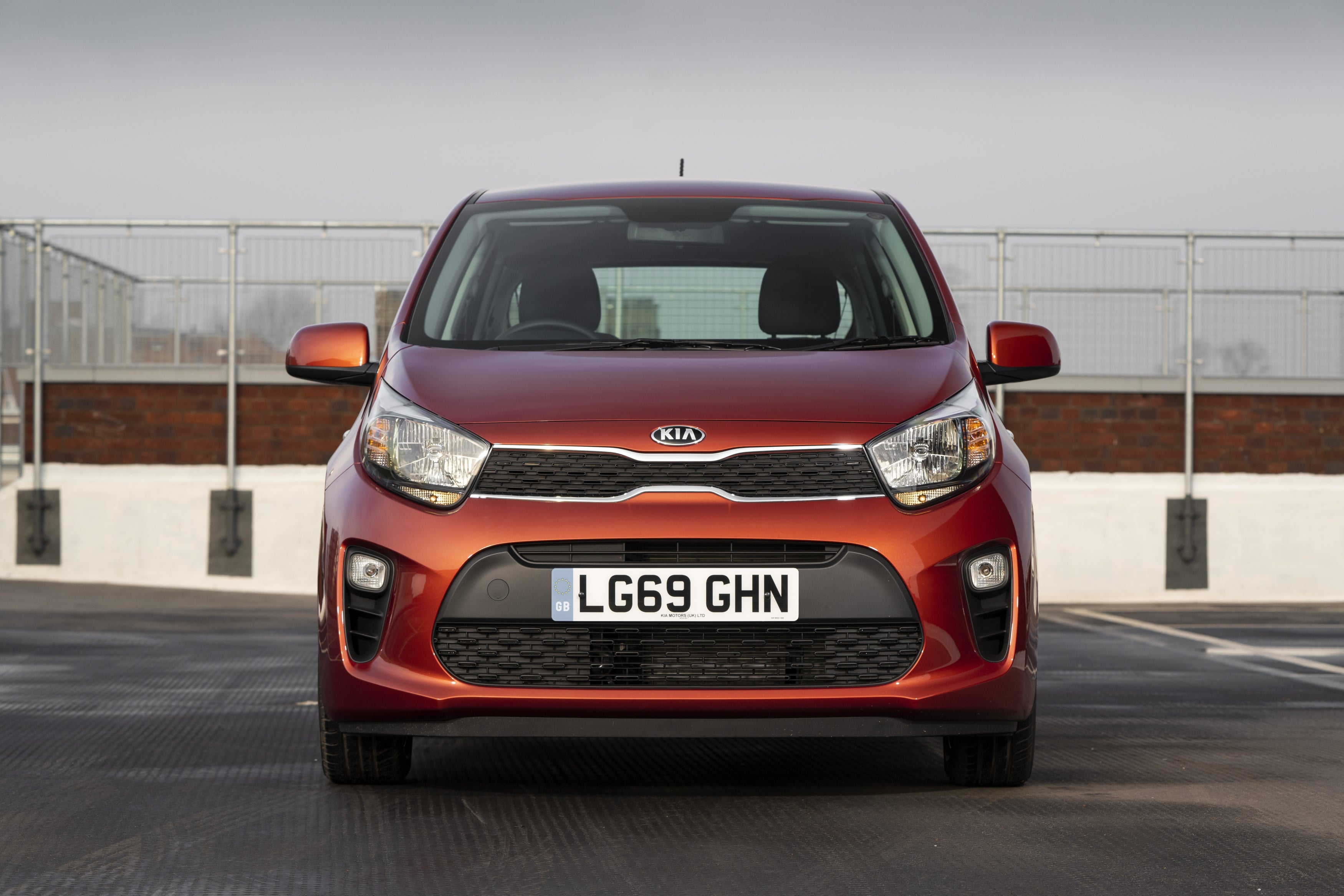 We would encourage you to find a city car that can match the Kia Picanto for value. Similar to the Hyundai i10, the little Picanto is easy to drive, smartly styled, fun to drive and backed by Kia's comprehensive seven-year warranty. The Picanto has everything and it does it all for under £10,000.
Mid-spec '2' versions of the Picanto are extremely well-equipped, with air conditioning, electric windows and a leather multi-function steering wheel fitted as standard. However, we'd recommend finding a Picanto in '3' trim, which adds climate control and a swish 7.0-inch touchscreen and reversing camera.
The three-cylinder 1.0-litre petrol engine is perfect for drivers who rarely venture out of the town or city. If you want a Picanto with longer legs, we'd recommend the four-cylinder 1.25-litre petrol - it feels much more assured at cruising speeds and is quieter than the three-cylinder unit. Both engines are frugal, however, with an advertised 50mpg.
SEAT Mii
Year launched: 2012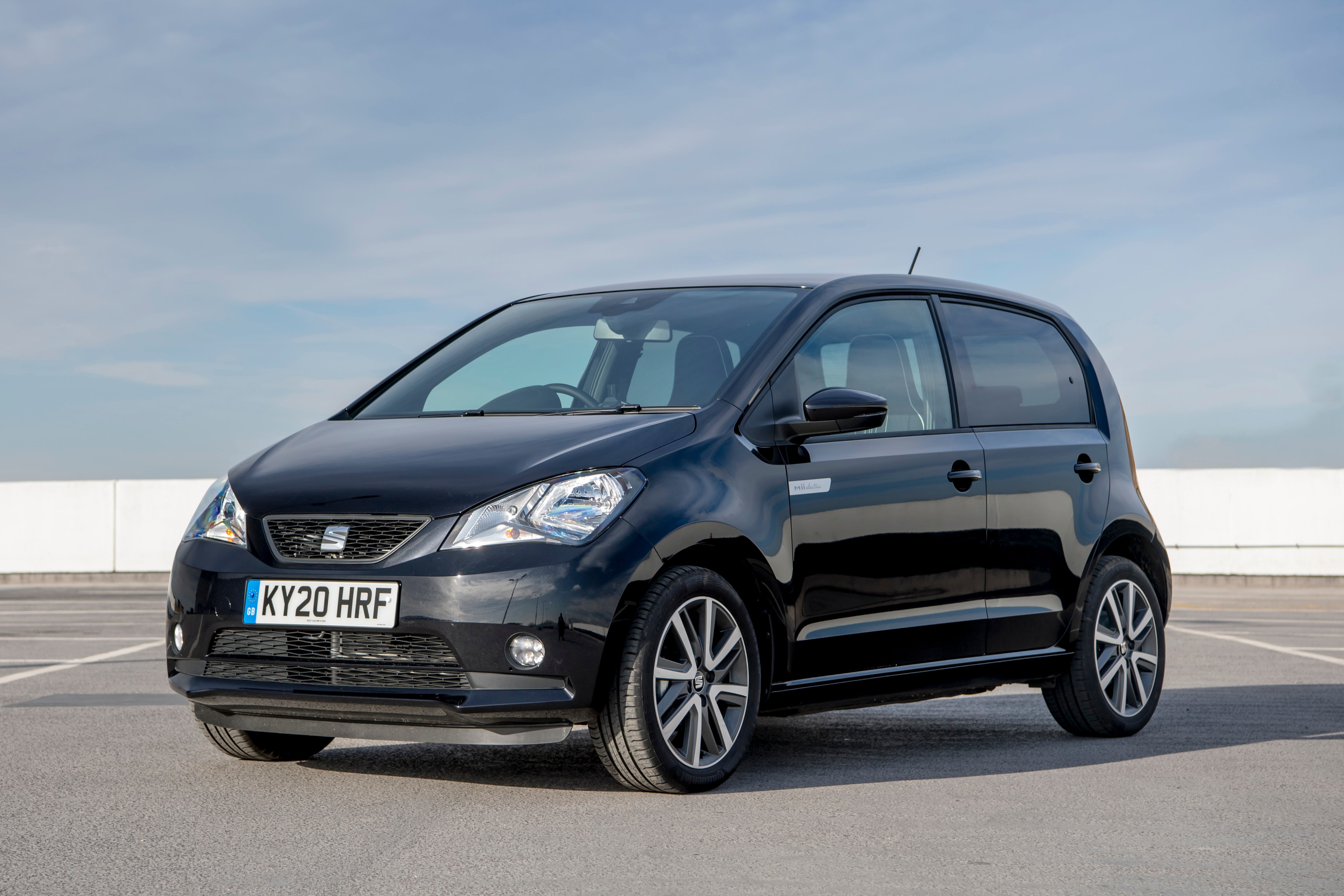 Looking for a city car with a dash of class? The SEAT Mii is one of the best in the market and you can have the pick of the crop with a budget of around £10,000. Indeed, we think you'll comfortably get a nearly new petrol model with all of the latest in-car tech.
The sister car to the Volkswagen Up and Skoda Citigo, the Mii's engine choices are simple - you get the choice of a petrol 1.0-litre engine with 60PS or 75PS. We rate the higher-powered engine as the best, thanks to its peppy acceleration and better refinement at motorway speeds. You also get the choice of a manual or automatic gearbox.
The Mii measures just 3.6 metres in length, but SEAT has packed a lot of usable space inside this likeable little city car. The driving position is excellent and even tall adults will find a comfortable fit, thanks to the good range of adjustment in the seat position. Admittedly, the rear seats are a little cramped for adults, but they are perfect for children and this makes the Mii a good choice for families who want a small car for urban journeys.
Mercedes A-Class
Year launched: 2012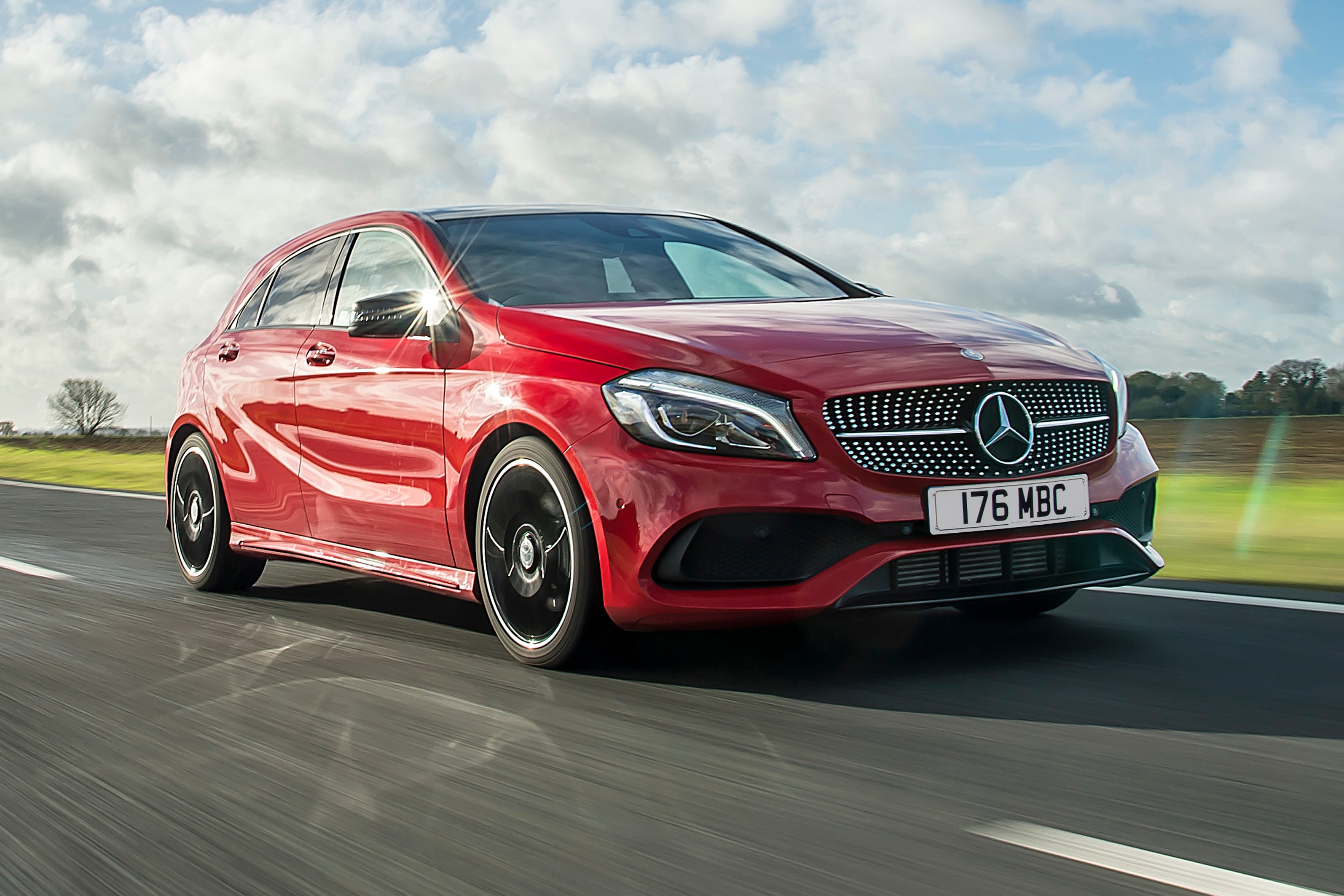 If you want a bit of premium quality for your £10,000 you can't go wrong with the previous generation Mercedes A-Class. A big step up from its predecessor in terms of quality and style, the A-Class has aged well and still looks fresh today. True the BMW 1 Series is better to drive, but we find it hard to pick fault with the A-Class at this money.
You can get a five or six year old example for under £10,000 with below average miles with the A 180 CDI diesel (actually a 1.5-litre diesel despite the name) the most popular model on the used market. It should prove economical and cheap to run, expect to see close to 60mpg in real world driving.
Room is a tight for those in the back and the infotainment is a bit old hat but the boot is a decent size and the A-Class feels like a well made car that will go the distance. Go for an SE if you want comfort or a Sport if you're willing to sacrifice that for flashier looks.
Hyundai i30
Year launched: 2017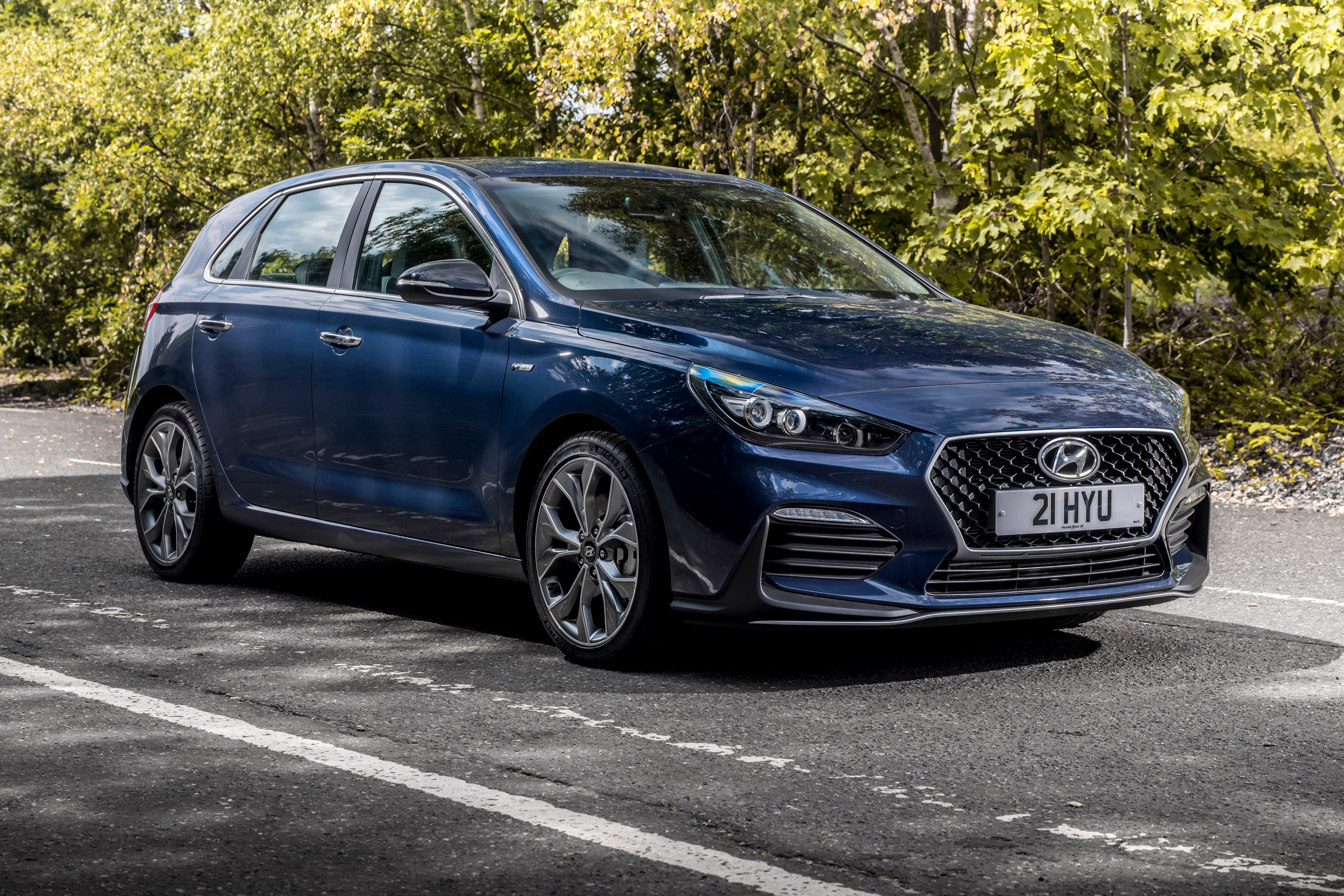 The Hyundai i30 is one of the unsung heroes of the family car market, with its long warranty and comfortable ride quality making it an excellent choice for car buyers who are operating on a budget.
If you have less than £10,000 to spend then you should have little trouble getting a two or three-year-old i30 with modest mileage and a big chunk of its five-year manufacturer warranty still left on its books. The 1.0-litre petrol engine is also a good choice for drivers who want a punchy but efficient family car, with the three-cylinder engine returning around 50mpg.
The i30 offers a similar level of space to the Ford Focus, while its smooth ride quality and comfortable seats make it good for long journeys. Mid-spec models are generously equipped, too, with alloy wheels, a leather-wrapped steering wheel and a reverse parking camera with rear parking sensors all included. You also get an eight-inch touchscreen media display with Apple CarPlay and Android Auto, which makes the i30 something of a bargain for under £10,000.
Toyota Yaris
Year launched: 2011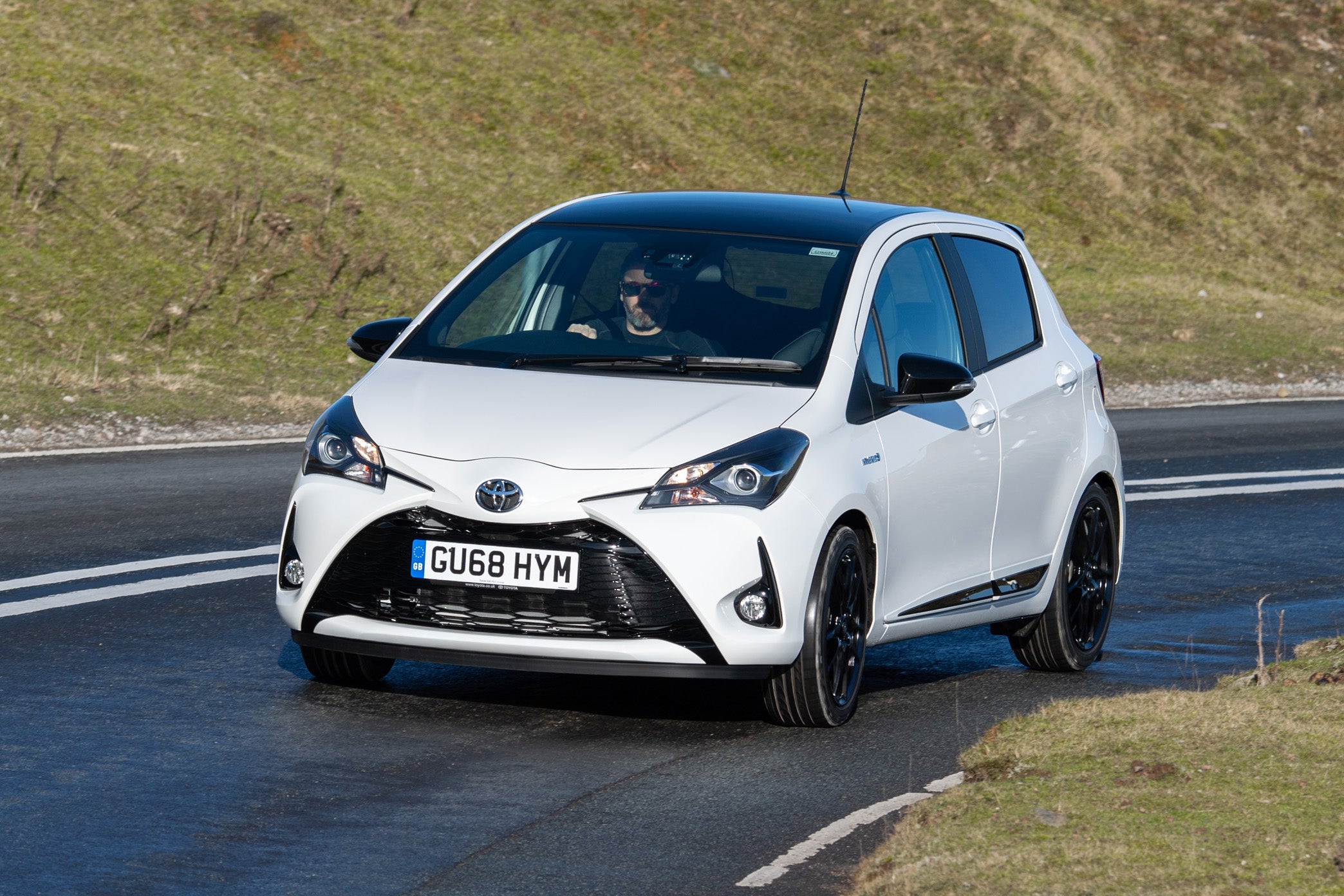 Few hatchbacks are as tough or as dependable as the Toyota Yaris. Over the years it has earned itself a reputation as being one of the most reliable small cars money can buy, which means a budget of around £10,000 will get you a nearly new car with tank-like toughness.
True, the likes of the Volkswagen Polo feel more modern, but the Yaris is a very difficult car to pick faults with. But, if pressed to identify one, we'd say it's not the most exciting of small cars to drive. However, when it comes to the build quality, fuel economy and comfort, the Yaris is a class leader.
The 1.5-litre petrol engine is excellent and will return 50+mpg, while returning meaningful performance in and out of town. The interior is also comfortable and spacious, which means tall drivers will find the Yaris a comfortable car to drive on a long journey.
Mazda 2
Year launched: 2015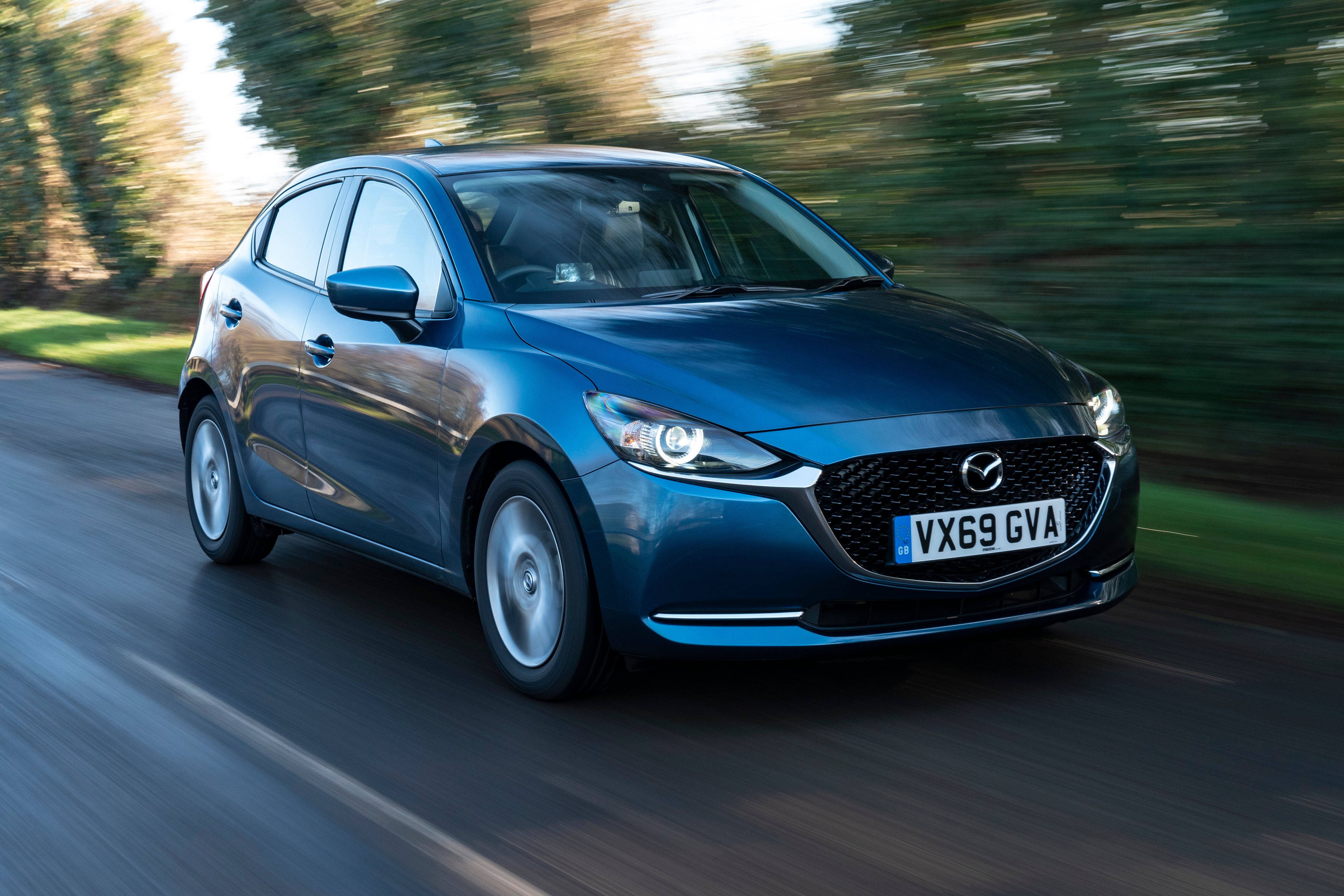 The Mazda 2's sporty styling and sharp handling make it a popular car with new and young drivers. We actually rate it as one of the smartest cars in the small hatch class, while its range of efficient petrol and diesel engines also make it a frugal option for older drivers who want something that's comfortable and good on fuel economy.
Mazda knows a thing or two about cars that are rewarding to drive - just ask any Mazda MX-5 owner. It may a little long in the tooth compared to the Hyundai i20, but Mazda's car building know-how shines through in the '2', with its nicely weighted steering and grippy mechanical set-up making this little Mazda terrific fun to drive.
Most cars for sale under £10,000 are powered by Mazda's impressive 1.5-litre petrol engine. We'd recommend finding a car with the 90PS version of the 1.5 petrol, as this gives the '2' some added zip through the gears. All versions of this car have a high quality and sporty themed interior, while the driving position is very good, thanks to the fact the pedals line-up perfectly with the seats.
Dacia Duster
Year launched: 2018
The Dacia Duster is a cheap and cheerful crossover that wears its budget price tag with pride. The Duster might not win any prizes for refinement or style, but it's easy to drive and hugely practical. Compared to other small crossovers like the Renault Captur, we rate it as a steal for under £10,000.
Duster buyers tell us they love Dacia's no-nonsense approach to car building. This means the interior has some hard and harsh materials, which are designed to be easy to clean and last a long time. However, if you can find a mid-spec version of the Duster, you can get some upmarket luxuries like touchscreen navigation and a rear-view camera with parking sensors.
For the money, the Dacia Duster is very practical. In fact, we think it's almost as spacious as pricer cars, like the Kia Sportage and Skoda Karoq. What's more, the Duster is available with a good range of Renault-sourced petrol and diesel engines with two-wheel or four-wheel drive.
Vauxhall Astra
Year launched: 2015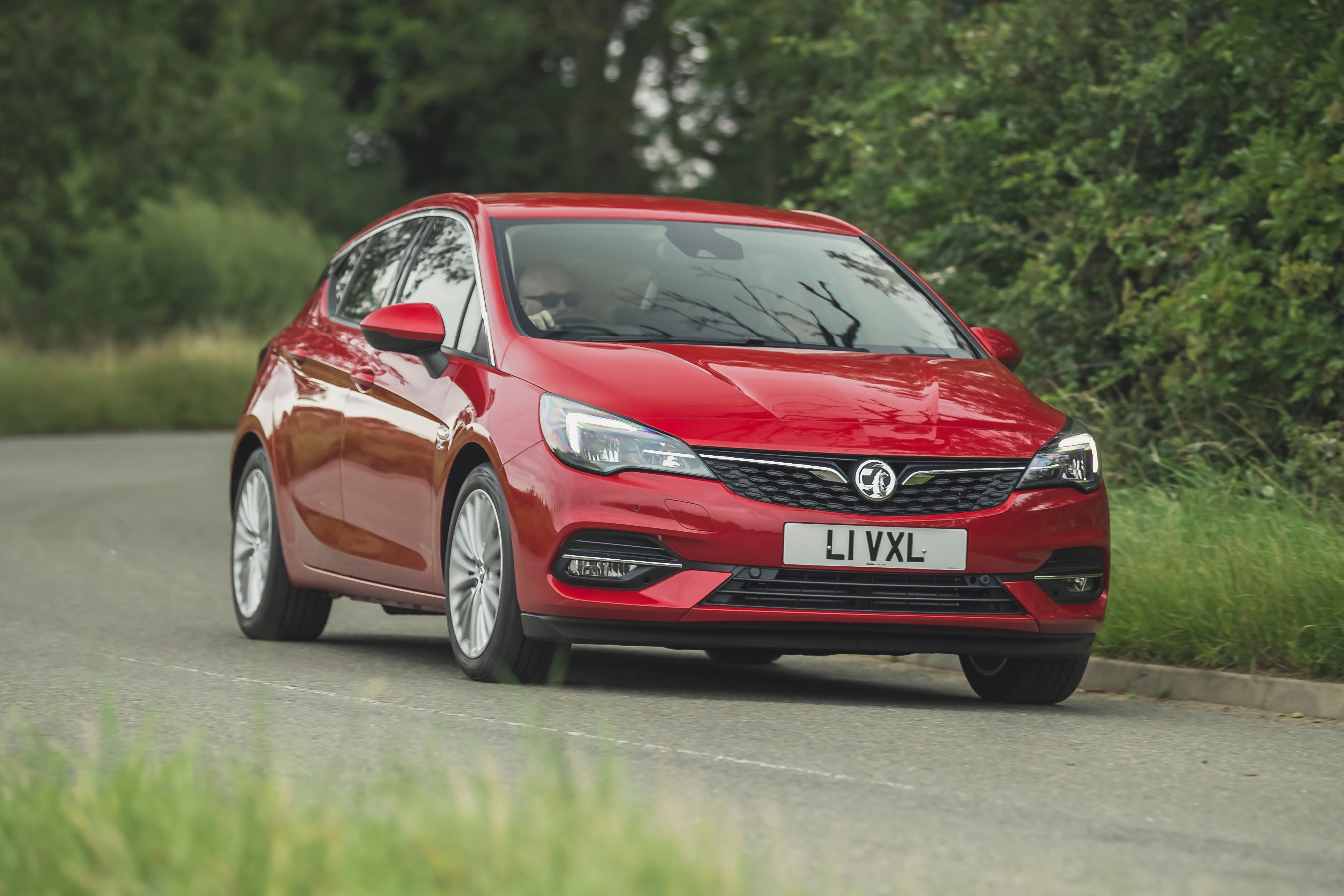 The Vauxhall Astra is a compact but capable small family hatchback that punches above its weight when it comes to practicality and space. If you want a cheap car with a good-sized boot, the Astra will be right up your street.
Few cars in this list get anywhere near the Astra for all-round usability. The boot provides 370 litres, which is more than you'll find in the Ford Focus. The loadspace is also easy to use, thanks to its wide opening and flat vertical sides.
Over the years the Astra has been famed for its excellent engines. Both the 1.0-litre and 1.4-litre petrol are impressive. The 1.6 diesel is smooth and efficient - it should be your default choice if you plan to use the Astra for high mileage motorway use.
The best family car for £10,000 is the Volkswagen Golf. The Golf was replaced in 2020 with an all-new model, but we think the previous generation of the Golf (built from 2013 to 2020) offers excellent value for money. Other used family cars we rate highly include the BMW 2 Series Active Tourer and the Ford Focus.
The Ford Fiesta is the best used small car for under £10,00. The Fiesta is available with efficient petrol and diesel engines, with good fuel economy and good levels of comfort and refinement. Mid-spec models offer the best value for under £10,000, with air conditioning and Quickclear heated front windscreen fitted as standard. What's more, because the Fiesta has been on sale for a number of years, there is a lot of choice on the second-hand market.
If you want reliability, the answer is to always choose a Japanese brand. The Toyota Yaris and Auris have proved exceptionally reliable and for £10,000 will give you years of trouble free motoring.
Dacia Duster
1.5 dCi 110 Laureate 5dr
Renault Retail Group Watford

Hertfordshire, WD188JG
HP: £272.19/mo
Representative example: Contract Length: 36 months, 36 Monthly Payments: £272.19, Customer Deposit: £1,500.00, Total Deposit: £1,500.00, Total Charge For Credit: £1,298.84, Total Amount Payable: £11,298.84, Representative APR: 9.9%, Interest Rate (Fixed): 9.9%
Dacia Duster
1.5 dCi 110 Laureate Prime 5dr
Drive Motor Retail Leicester

Leicestershire, LE27SL
HP: £257.85/mo
Representative example: Contract Length: 36 months, 36 Monthly Payments: £257.85, Customer Deposit: £1,348.00, Total Deposit: £1,348.80, Total Charge For Credit: £1,639.40, Total Amount Payable: £10,631.40, Representative APR: 13.9%, Interest Rate (Fixed): 7.15%
Dacia Duster
1.6 SCe Access 5dr
Toomey Dacia Southend-On-Sea

Essex, SS41GP
PCP: £144.77/mo
Representative example: Contract Length: 36 months, 35 Monthly Payments: £144.77, Customer Deposit: £1,380.00, Total Deposit: £1,380.15, Optional Final Payment: £4,525.00, Total Charge For Credit: £1,771.10, Total Amount Payable: £10,972.10, Representative APR: 9.9%, Interest Rate (Fixed): 9.48%, Excess Mileage Charge: 9ppm, Mileage Per Annum: 10,000