Can I buy a used car online?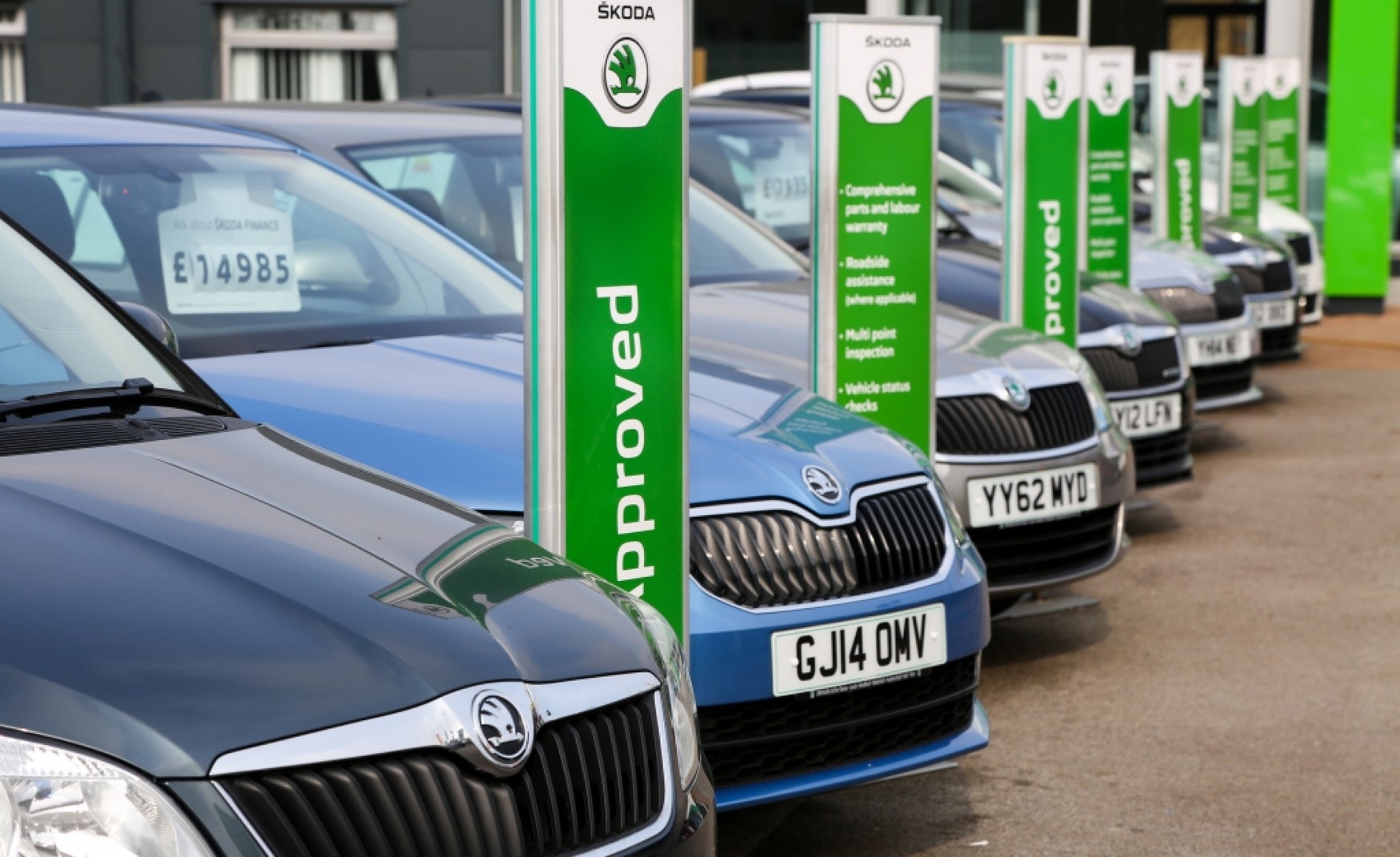 The rise of shopping sites like Amazon – the UK spent more than £100 billion online in 2020 – means you can buy almost anything online and used cars are no different.
As well as used car classifieds that have moved from print to digital, a huge range of new and used car buying sites have sprung up over the past few years. But how do they work, how can you keep safe and why might you buy your used car online rather than in person? Keep reading for the answers to these and more questions.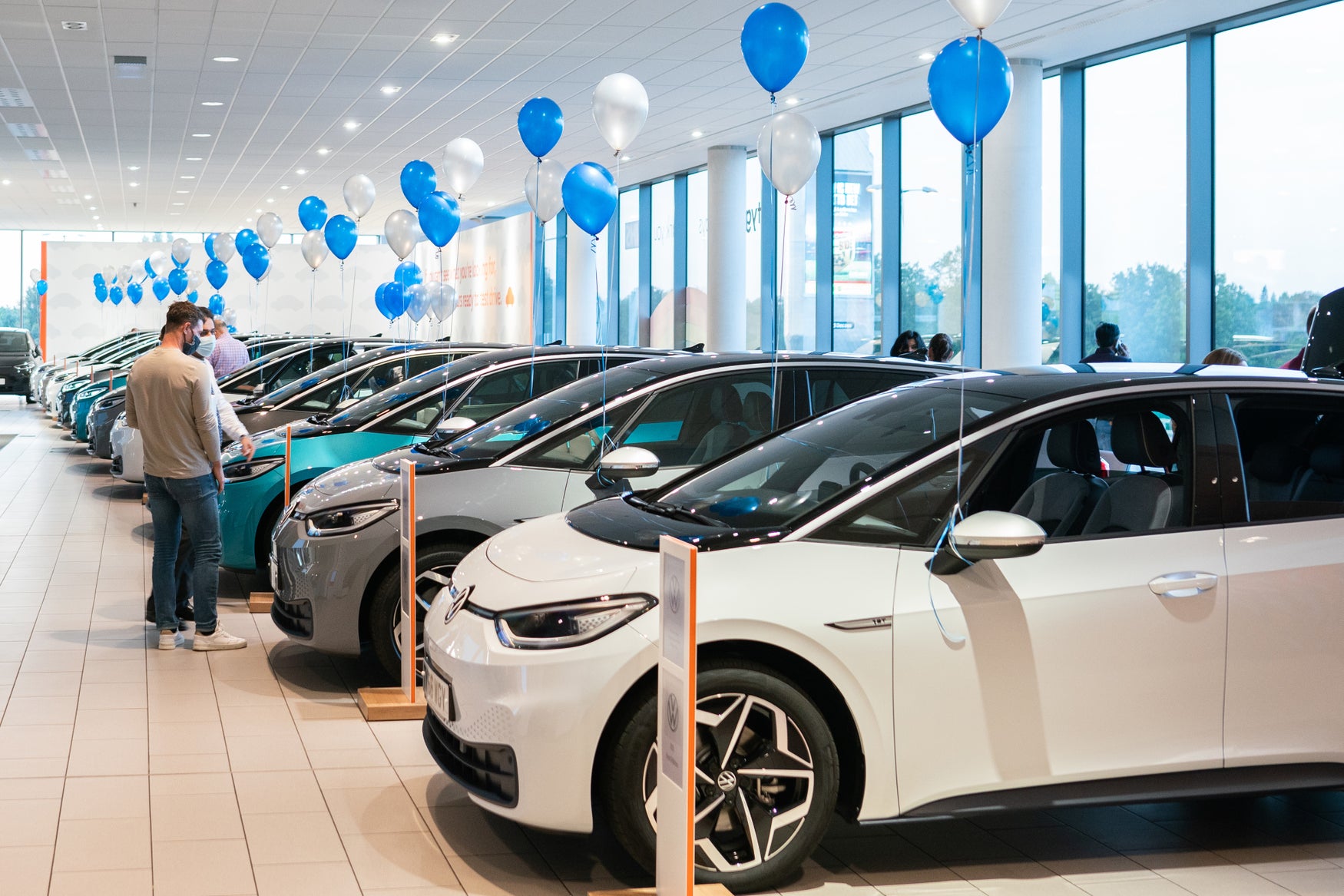 Where can I buy a used car online?
The question should almost be – where can't you buy a used car online? As well as buying direct from a manufacturer's approved used scheme, you can buy a used car from classifieds sites such as Gumtree and AutoTrader or from numerous car-buying comparison and lead-generation sites.
What are the advantages of buying online?
One of the big advantages of buying online is ease of use. Instead of having to physically drive to used-car showrooms, pace the forecourts, while fending of sales people – buying online means you can check a garage's inventory from the comfort of your living room. It'll save you loads of time and money.
Buying online also makes finding the right car for you a lot easier. Most car-buying sites will allow you to search for a car by make and model, it's age, mileage, power, full economy and many, many more variables. You're much more likely to get exactly the car you want.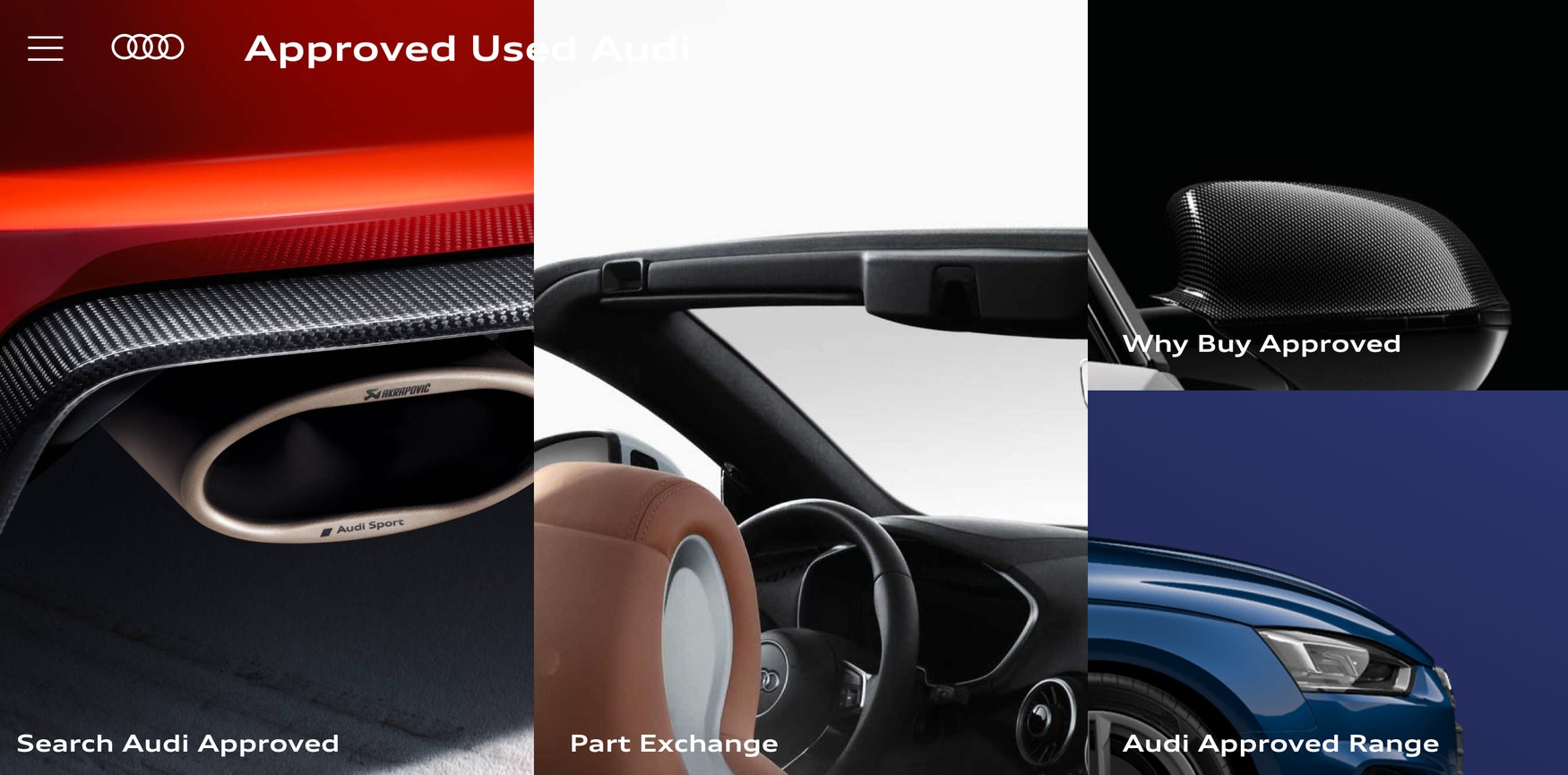 Buying a used car online: how does it work?
Different sites have different way's of doing things, but for now we'll take a closer look at buying a used car from one of the UK's most popular brands – Audi.
The Audi UK approved used car site's buying process starts by asking you which car you're interested in – from the A1 to the R8, they're all there – you then punch in your location, hit the results button and all the available cars of your chosen type and location (to a mile radius) are listed on your screen, along with key information such as their year of registration, mileage and engine type.
You also get handy features like a comparison box so you can compare up to three cars that you have shortlisted, as well as finding out about possible financing options.
Click on the advert and you get more features – you can request a video presentation on the car you're looking at or type an enquiry to the dealer. The only downside is that once you've chosen your car, you'll need to visit the dealer to make the transaction and buy it.
The benefit of buying from Audi's approved used scheme – all the cars the company advertises online - is that you get a warranty, a full-service history, breakdown cover and other useful benefits.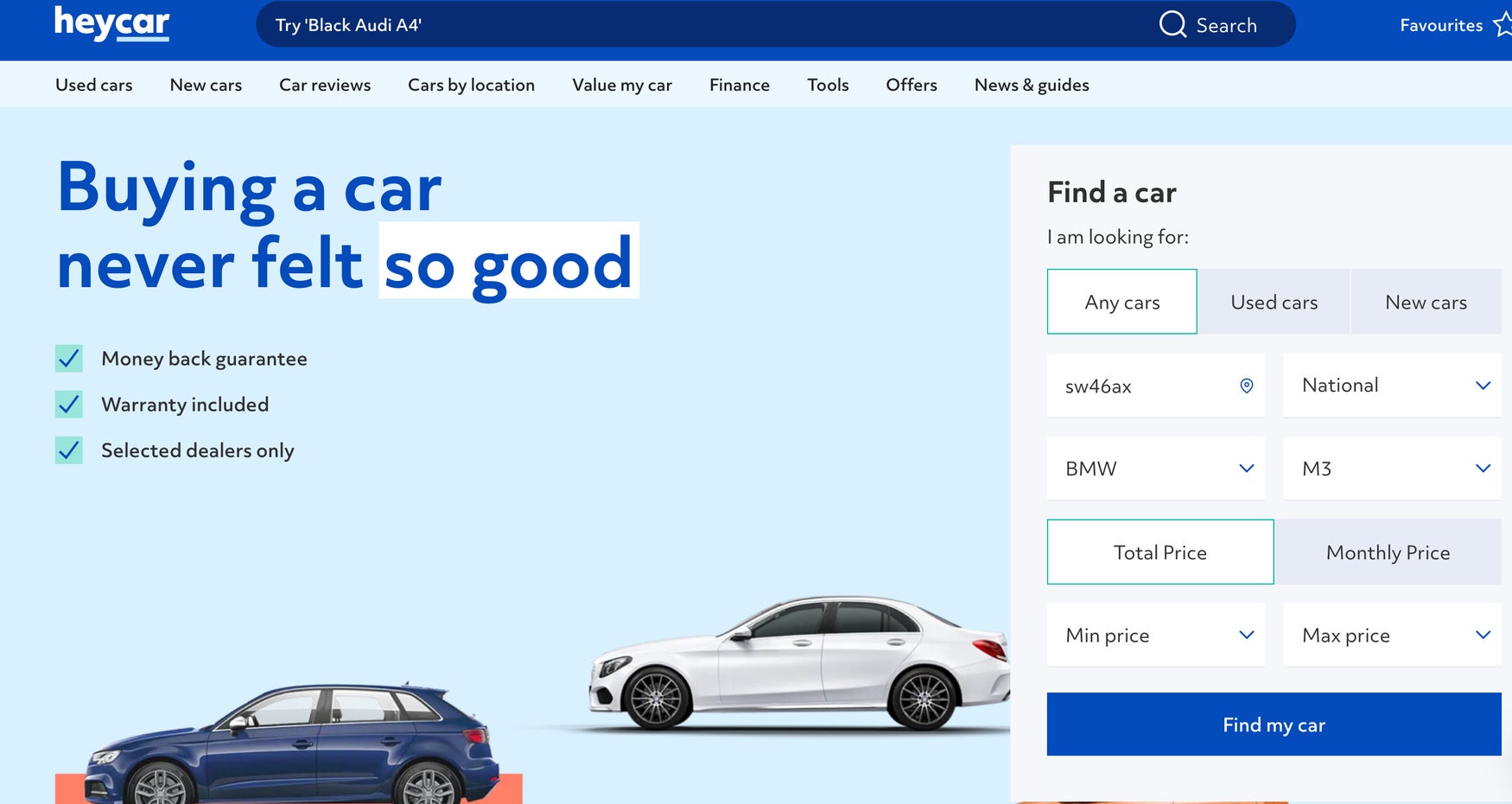 You don't have to buy direct from a manufacturer, however, you might find it easier to buy your car from an online used car marketplace like heycar, which pulls all the UK's big car brands under one umbrella. This has several benefits. You're not looking at one brand so your pool of new (to-you) cars is bigger and you're also more likely to find a car that suits your needs.
Just like a classifieds site you have various search parameters at your disposal including price, age and distance. Most dealers will take payment over the phone and deliver the car to your door. The difference between buying from heycar and a regular classifieds site is that you get a better quality of car. All the cars on heycar are less than eight-years old, have less than 100,000 miles one the clock, come with a guaranteed history and are checked before sale.
Classifieds site's like AutoTrader don't guarantee any of these because as well as advertising the cars for big main-dealer dealerships, they also advertise the stock of hundreds of independents and private sellers. That's their strength – you get a huge variety of cars to choose from with prices stretching from hundreds to several hundred thousands.
What used-car checks can I carry out online?
One of the best free tools available if you're buying a used car online is the government's free MoT check. This give you the full MoT history of a car that's three-years old or older. As well as telling you exactly what has been done to the car at each MoT you get a good idea of whether it's been looked after. If it's never failed an MoT then you can hazard a guess that preventative maintenance has been carried to the letter.
Equally, if a car passes an MoT with advisories which are immediately rectified, this shows the previous owner was willing to spend their money keeping their car tip top. Checking the MoT history of various cars gives you a good feel for what problems certain cars suffer from, which you can check when you view the car in person.
If you live in London, it's also worth running your potential new car through the ULEZ and Congestion Charge checker. The last thing you want to do is to unwittingly buy a car that's liable for either of these because they'll send your running costs sky high.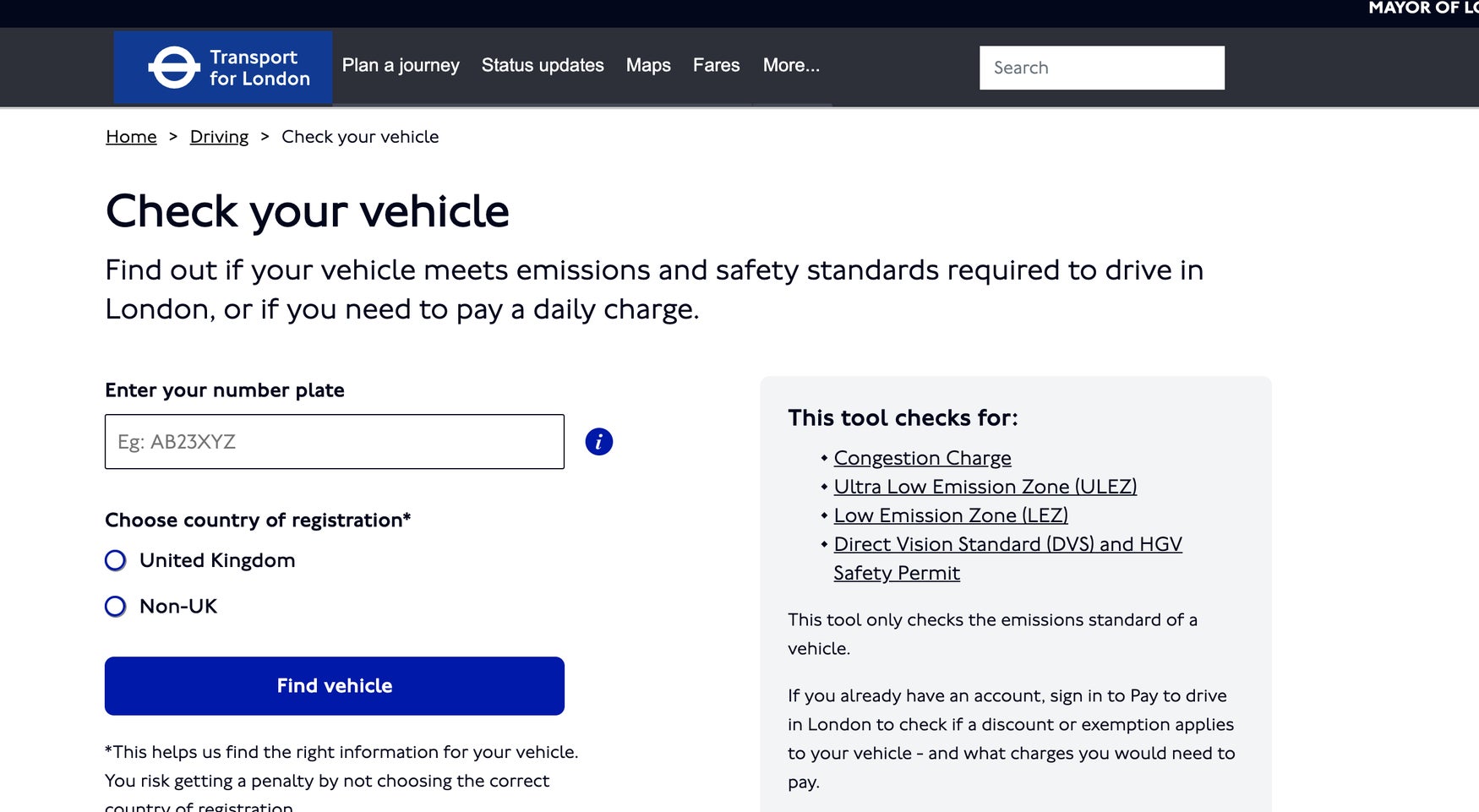 Is it safe to buy a used car online?
It is safe to buy a car online, but there are hard and fast rules that make it even safer. One of those is to buy from a legitimate dealer like a manufacturer main dealer or a known website. Another is that if a price looks too good to be true then it probably is. There have been cases in the past where legitimate websites have been hijacked by scammers selling cars at crazy low prices, so beware.
If you're buying privately or from a small independent dealer, it makes sense to see the car in person – scammers will very rarely meet you in person so alarm bells should be ringing if you can't see the car. Scammers can produce professional looking paperwork that appears to have been sent from a legitimate domain name, so be extra cautious. Known scams will usually be highlighted online, so it makes sense to check.
Finally, never give out your personal details over the phone or by email to someone you have never met – it's probably a scam if you do.
Is it better to buy a car online or at the dealership?
We've covered the advantages of buying online above, so why would you ever buy from a dealer?
Well, it's more time consuming but what better way to check a car is as described than checking it yourself? Photos tend hide paint work scratches and interior wear that's very noticeable in person and, if you're handy with a spanner, you can also inspect the car's underside for condition and to ensure that advertised work has been carried out.
Looking at a car yourself also gives you a better idea of what you like. Find a hatchback too low? Then a high-up SUV might be better for you. Want something that's a comfortable place to while away the miles? Then you'll probably be better of which a saloon than a noisy sports car. Checking a car in person gives you a better idea of what you want from a car and could throw up some factors that you wouldn't have considered otherwise.
There are benefits of each. Buying from a dealer gives you more protection under the Consumer Goods Act – the car has to be correctly advertised, for example, and if it isn't you can get your money back. Buying from an individual, meanwhile, carries more risk but usually means you can pick up a car for a better price. There's nothing to say it won't be in better condition than a car you buy from a dealer.
This depends a lot on the car and how it has been looked after. For example, a Ford Mondeo with 100,000 miles on the clock is going to be less of a risk than a Ferrari with the same mileage. Conventional wisdom would say: low miles equals better. But this isn't always the case. Cars like to be used and a car that's only ever been taken on short journeys – which has gone through multiple starts on cold oil – will likely have suffered more mechanical wear than a car that's does frequent long journeys, where it has time to get up to operating temperature.
It all comes down to history and condition. If a car's done 100,000 miles with no maintenance or service history, it's a risky buy. A car with 100,000 miles and a full service history is, by comparison, a safe bet.
Volkswagen approved used benefits
Read reviews of some of the best used cars on sale
Volkswagen Golf
2.0 TSI R 5dr DSG
Vertu Volkswagen Lincoln

Lincolnshire, LN2 4HW
HP: £513.57/mo
Representative example: Contract Length: 36 months, 36 Monthly Payments: £513.57, Customer Deposit: £2,830.00, Total Deposit: £2,830.20, Total Charge For Credit: £2,450.72, Total Amount Payable: £21,318.72, Representative APR: 9.9%, Interest Rate (Fixed): 9.48%
Volkswagen Golf
1.6 TDI Match 5dr
Manufacturer Approved
Marshall Volkswagen Reading

Berkshire, RG20JZ
PCP: £266.91/mo
Representative example: Contract Length: 36 months, 35 Monthly Payments: £266.91, Customer Deposit: £2,443.00, Total Deposit: £2,443.50, Optional Final Payment: £7,583.50, Total Charge For Credit: £3,078.85, Total Amount Payable: £19,368.85, Representative APR: 9.9%, Interest Rate (Fixed): 9.87%, Excess Mileage Charge: 8.38ppm, Mileage Per Annum: 10,000
Volkswagen Golf
1.0 TSI 115 Match 5dr
Manufacturer Approved
Trust Group Volkswagen Redditch

Warwickshire, B980HX
PCP: £230.15/mo
Representative example: Contract Length: 36 months, 35 Monthly Payments: £230.15, Customer Deposit: £2,328.00, Total Deposit: £2,328.75, Optional Final Payment: £7,855.75, Total Charge For Credit: £2,714.75, Total Amount Payable: £18,239.75, Representative APR: 8.9%, Interest Rate (Fixed): 8.84%, Excess Mileage Charge: 4.78ppm, Mileage Per Annum: 10,000