Cheapest city cars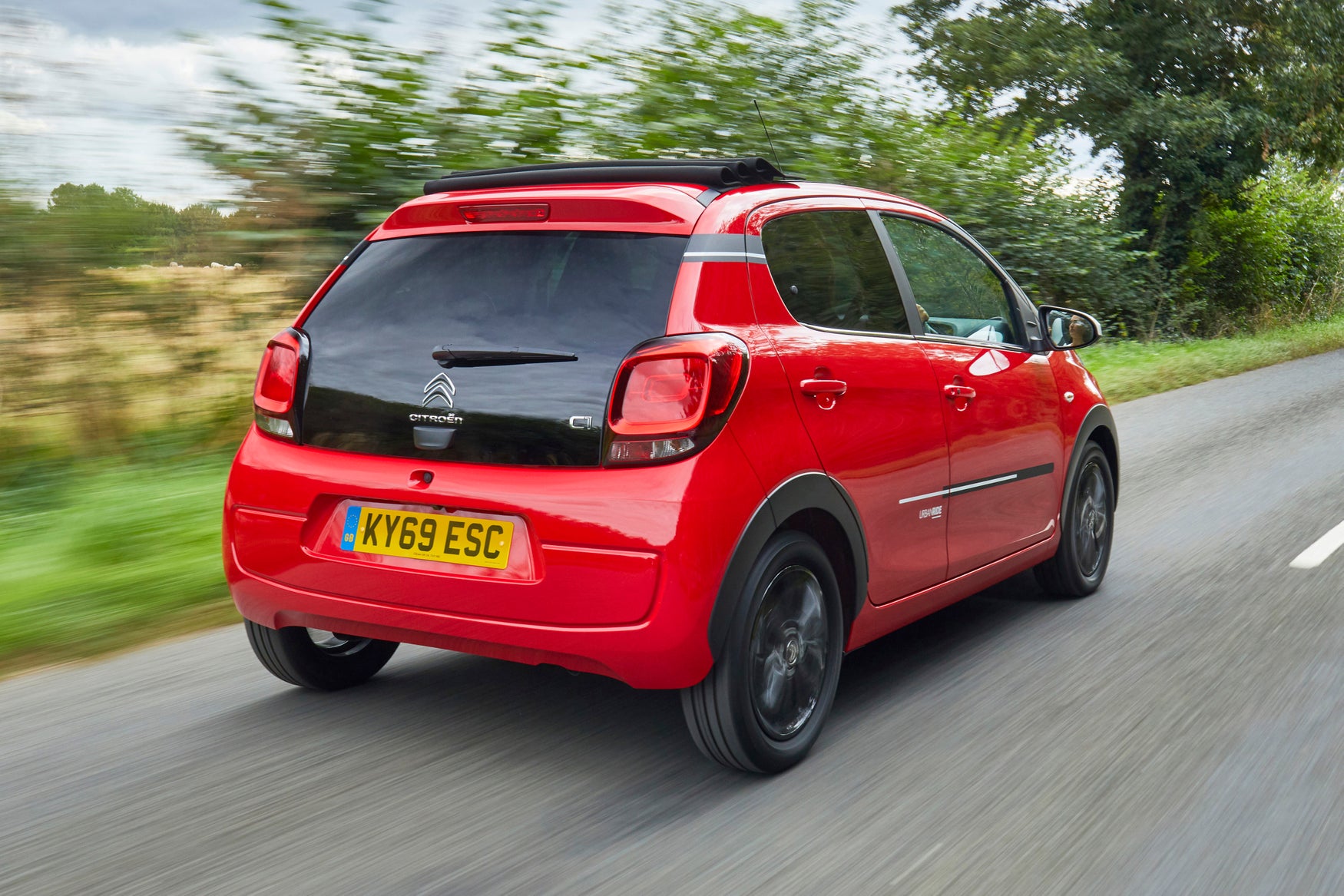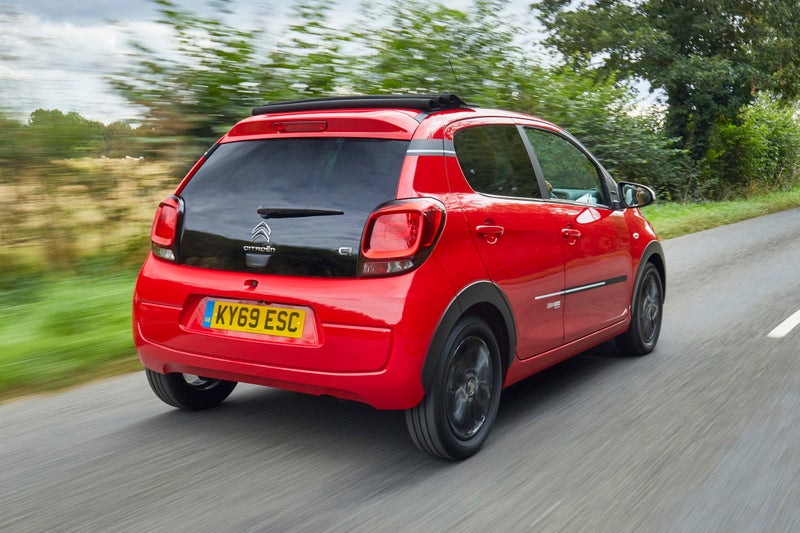 Are you looking for a cheap petrol or electric city car with low fuel costs and cheap road tax?
We've asked our team of car experts to shortlist the UK's top 10 city cars for sale. Each of these pint-sized champions provide excellent comfort, practicality and style.
These small cars are great for getting around town. What's more, with many powered by 1.0-litre petrol engines, they cost very little to run. We've also included a selection of electric city cars, which are perfect for city commuting and weekends away. From the Volkswagen Up to the Fiat 500, these are the top 10 city cars you can buy right now.
Kia Picanto
Year launched: 2017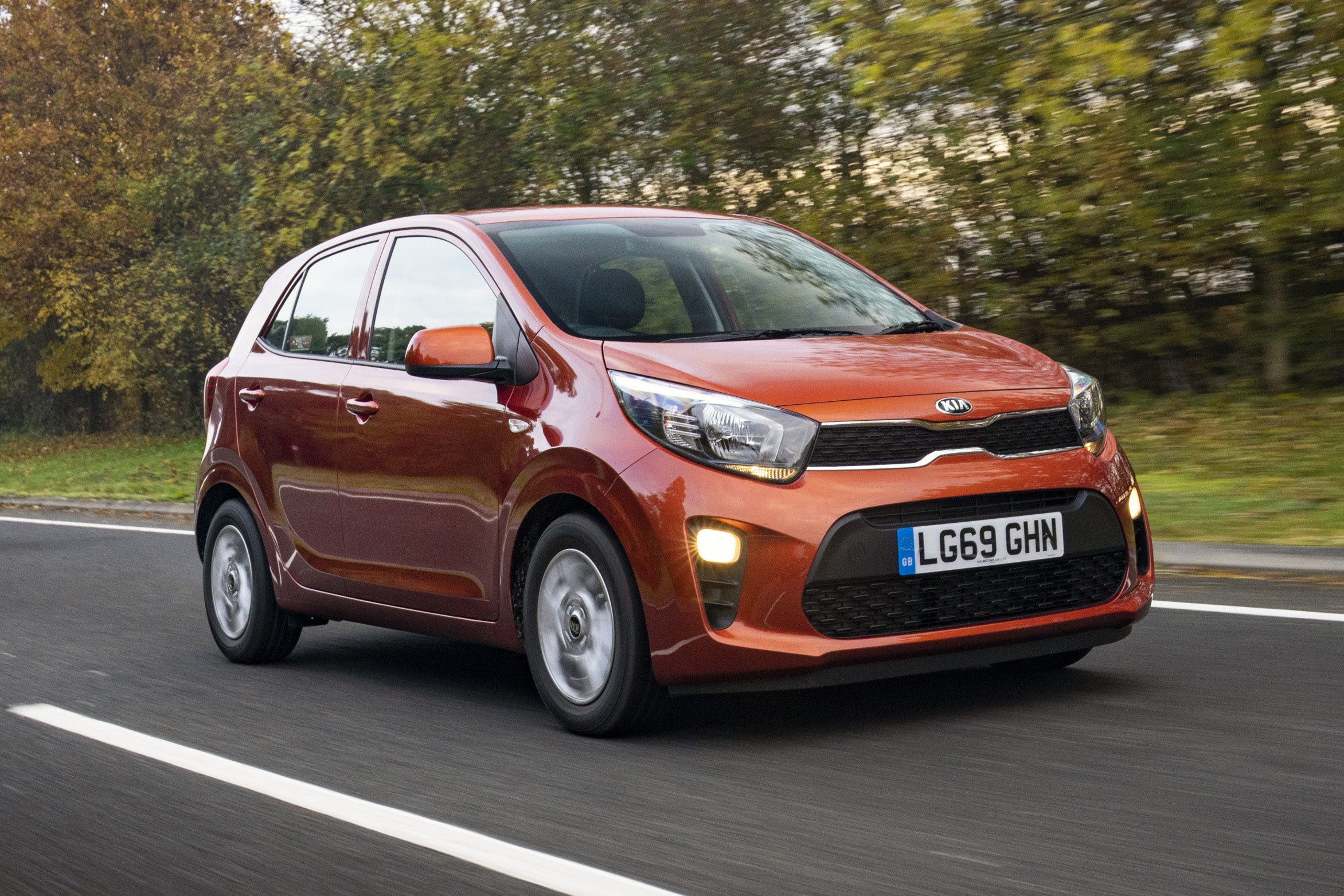 Priced from £10,480, the Kia Picanto is a likeable and affordable city car, similar to the Hyundai i10. Admittedly, the most basic model is missing some important kit - like air conditioning - but it's difficult to deny the Picanto's strong value. Especially when you factor in Kia's comprehensive seven-year-warranty.
The entry-level model is powered by a modest 1.0-litre three-cylinder petrol engine that's perfect for short runs around town. It'll also provide meaningful acceleration on the motorway, but don't expect any breathtaking acceleration because you'll be waiting for a leisurely 14-seconds before the Picanto reaches 62mph from a standstill.
The interior is comfortable and surprisingly roomy. All models get five-doors and this means it's easy to get people in and out of the rear seats. You also get decent levels of head and shoulder room in the back, while the 255-litre boot makes it one of the most practical cars in this list.
Toyota Aygo
Year launched: 2014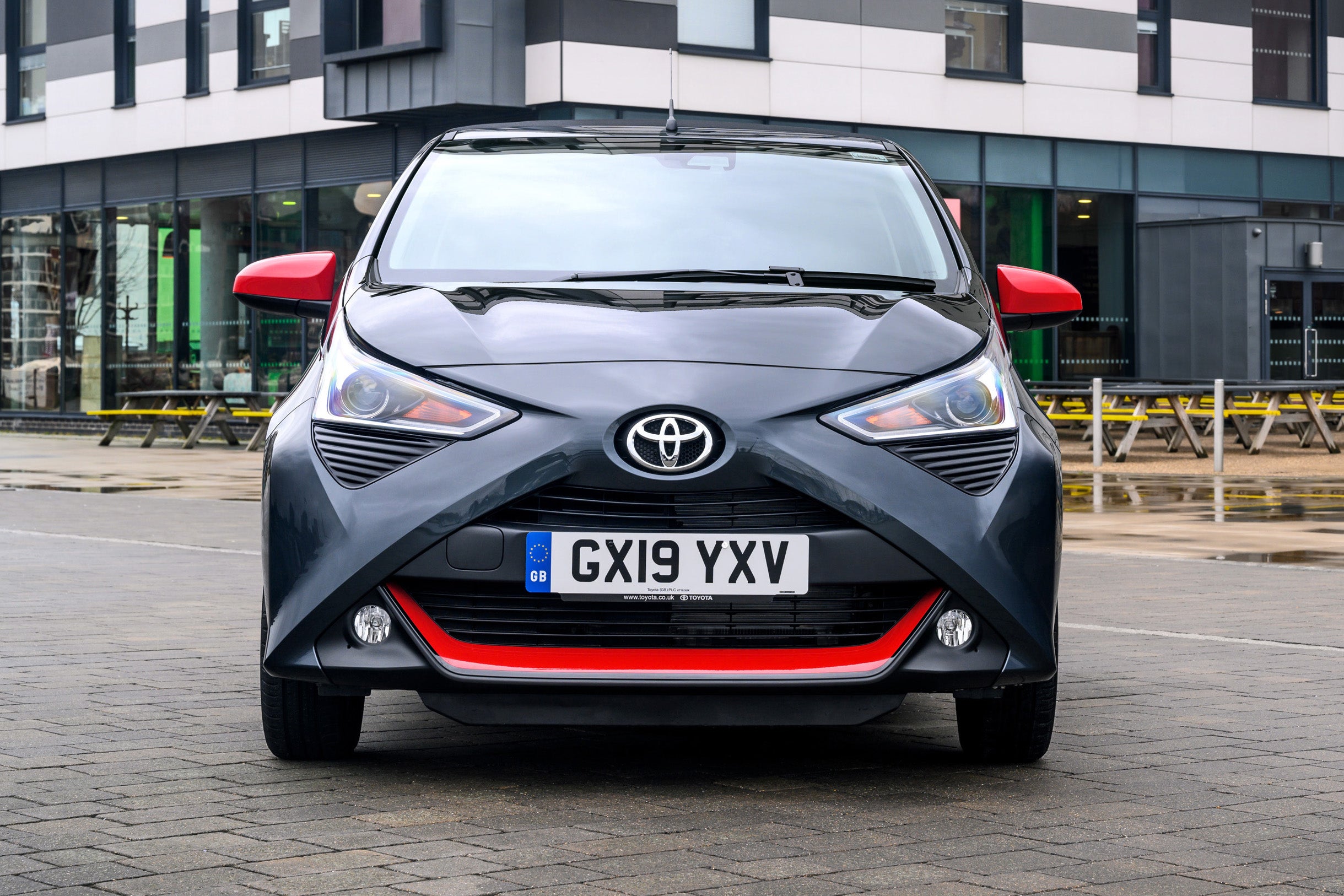 The Toyota Aygo is a small city car that majors on ease of use, low running costs and everyday useability. Both the fuel and insurance costs are cheap. What's more, being a Toyota, it's unlikely to ever let you down. It also has two equivalents - the Peugeot 108 and Citroen C1, with all three sharing the same base.
Prices for a new Aygo start in the region of £12,440 and all models are powered by Toyota's trusty 1.0-litre petrol engine. The Aygo's power output is a modest 72PS, which might not sound like much. But it's important to note that the Aygo doesn't weigh much (840kg) and this means it has a peppy nature on the road.
The dashboard has a simple but effective layout, with all of the important controls clustered at the centre. The driver gets an excellent view of the road, too, thanks to the large windows and thin corner pillars. Basi models only get three-doors, but they are wide and this makes it easy for passengers to navigate the rear seats. The boot is on the small side, however, with just 168 litres on offer.
Volkswagen Up
Year launched: 2012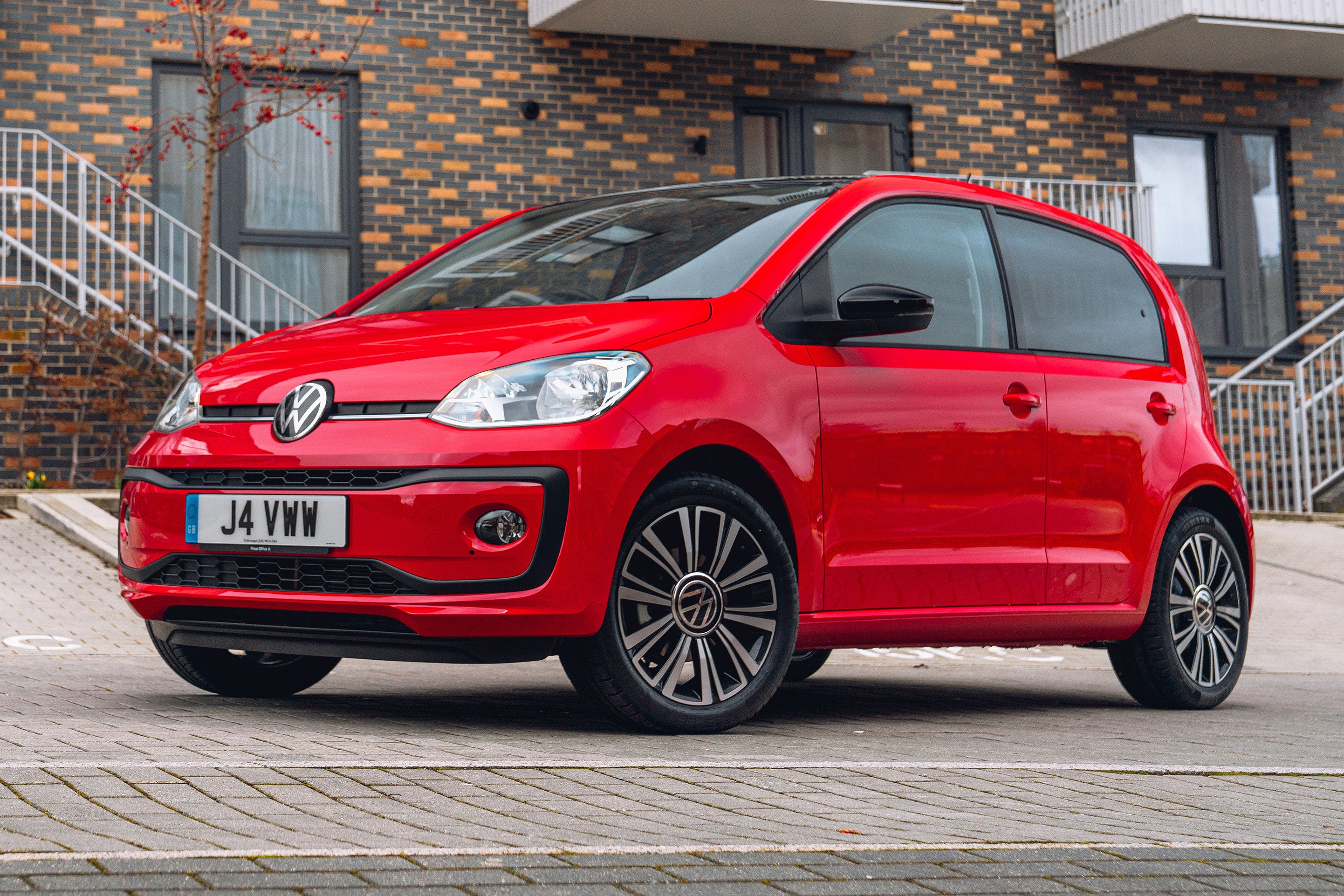 Good to drive, upmarket and spacious enough to carry four adults, the Volkswagen Up is one of the best city cars on sale today. A budget of £12,700 will be enough to get a brand new model that's powered by Volkswagen's excellent 1.0-litre petrol engine.
Unlike some of its rivals, the Up has a premium feel to it. The road handling is very good, with nicely weighted steering and a firm but comfortable ride quality that makes it easy for the driver to build confidence. The 1.0-litre petrol engine is also willing and rev-happy, which means there's a lot of fun to be had on a twisty A road.
Despite measuring 3.6 metres in length, the Up will comfortably carry four adults. The high roofline also means no one will be complaining about headroom. There is also a good scattering of pockets and cup holders, while the 251-litre boot is among the largest in this segment. Alongside the Up, there are its sister cars - the SEAT Mii and Skoda Citigo.
Fiat 500
Year launched: 2008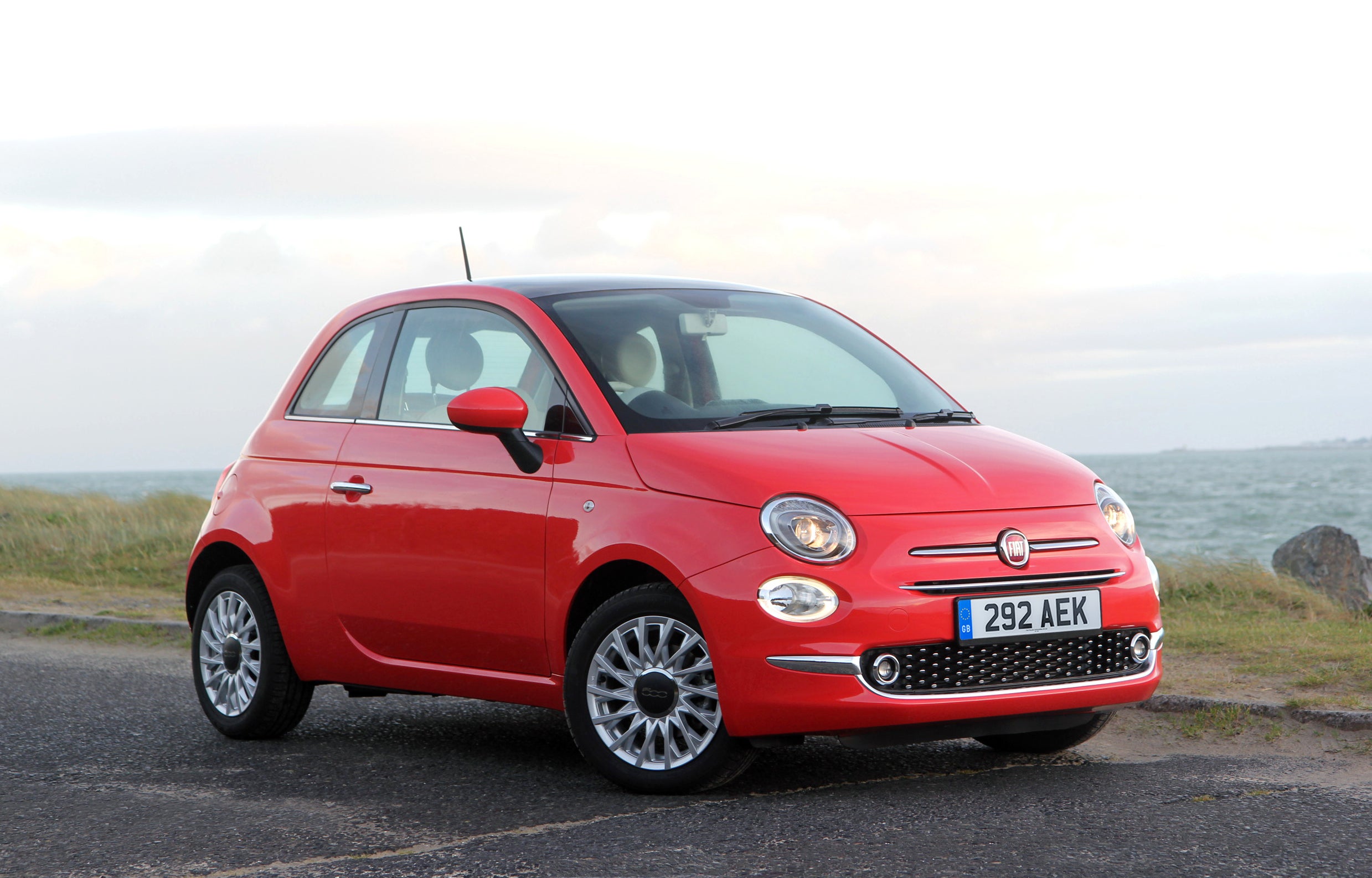 The Fiat 500 was relaunched in 2008, which makes this Italian city car one of the oldest models in this list. However, over the years, Fiat has given its chic small car a number of updates and this means it's still competitive against newer rivals with prices starting at £12,770.
The latest 500 is powered by a 1.0-litre petrol engine that uses a mild hybrid system to reduce emissions and boost fuel economy. Officially the Fiat 500 will return 50+mpg, which isn't bad given its 70PS output and three-cylinder engine.
The interior is both the 500's strongest and weakest area. The styling harks back to the 1950s' original, with a round speedometer dominating the instrument display and lots of large buttons and dials to operate the air conditioning and radio. However, while the retro styling is appealing to the eye, the tiny rear seats will test adult friendships on a long journey. There's even a hot hatch version, the Abarth 595.
Peugeot 108
Year launched: 2014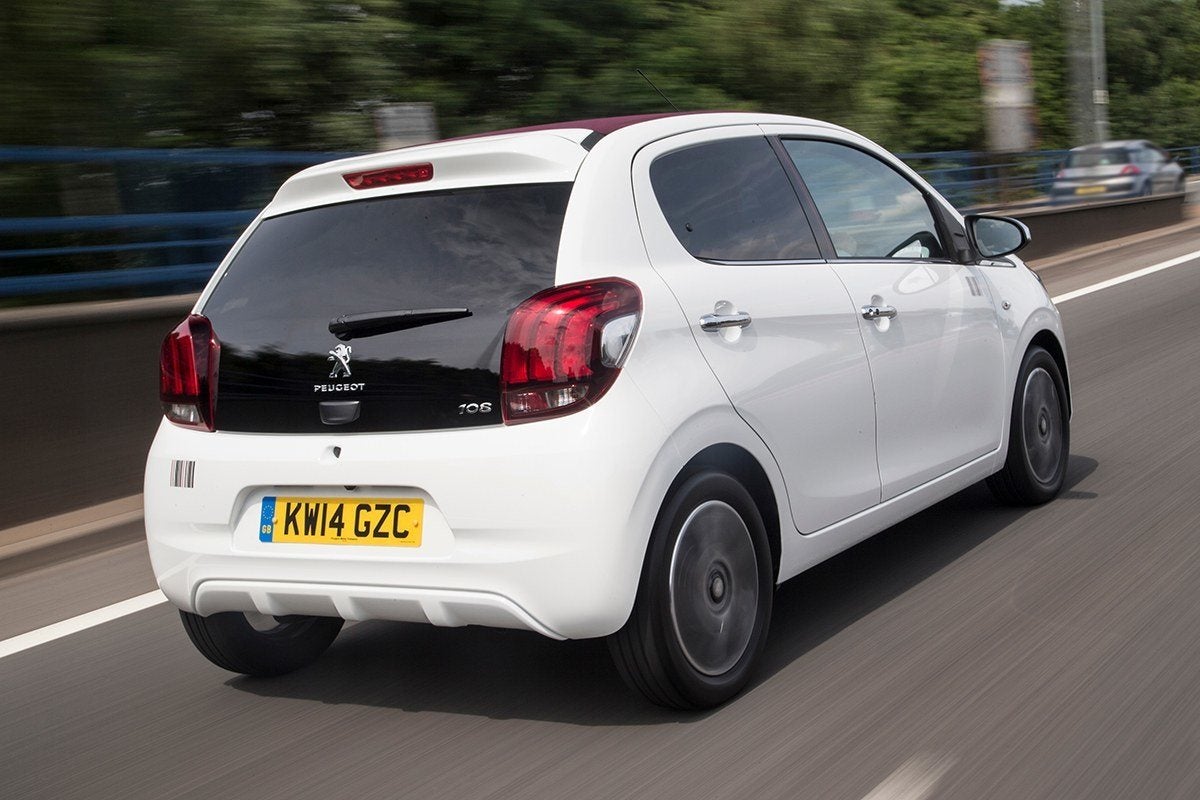 Peugeot has form when it comes to building capable and affordable small cars. Both the 106 and 107 were big-sellers for Peugeot, due to their agile handling and rock bottom running costs. The 108 is another successful story, helped in part by its partnership with Citroen and Toyota - with the C1 and Aygo. And it's great value with prices starting at £12,785.
Peugeot has always had a knack for building small cars that are fun to drive. The 108 is no exception, with its lightweight steering making it easy to use in town. The powered steering builds its weighting with the speed and this means you also get a good feel for what's happening at high speeds, while the soft suspension does a good job of ironing out imperfections in the road.
Like many cars in this list, the 108 uses a 1.0-litre petrol engine that strikes a good balance between performance and fuel economy. The engine isn't turbocharged, but it does generate 72PS which provides zesty performance. Unlike some of its rivals, the three-cylinder engine is smooth and refined, which means very little noise or vibration is transferred into the cabin, either.
Citroen C1
Year launched: 2014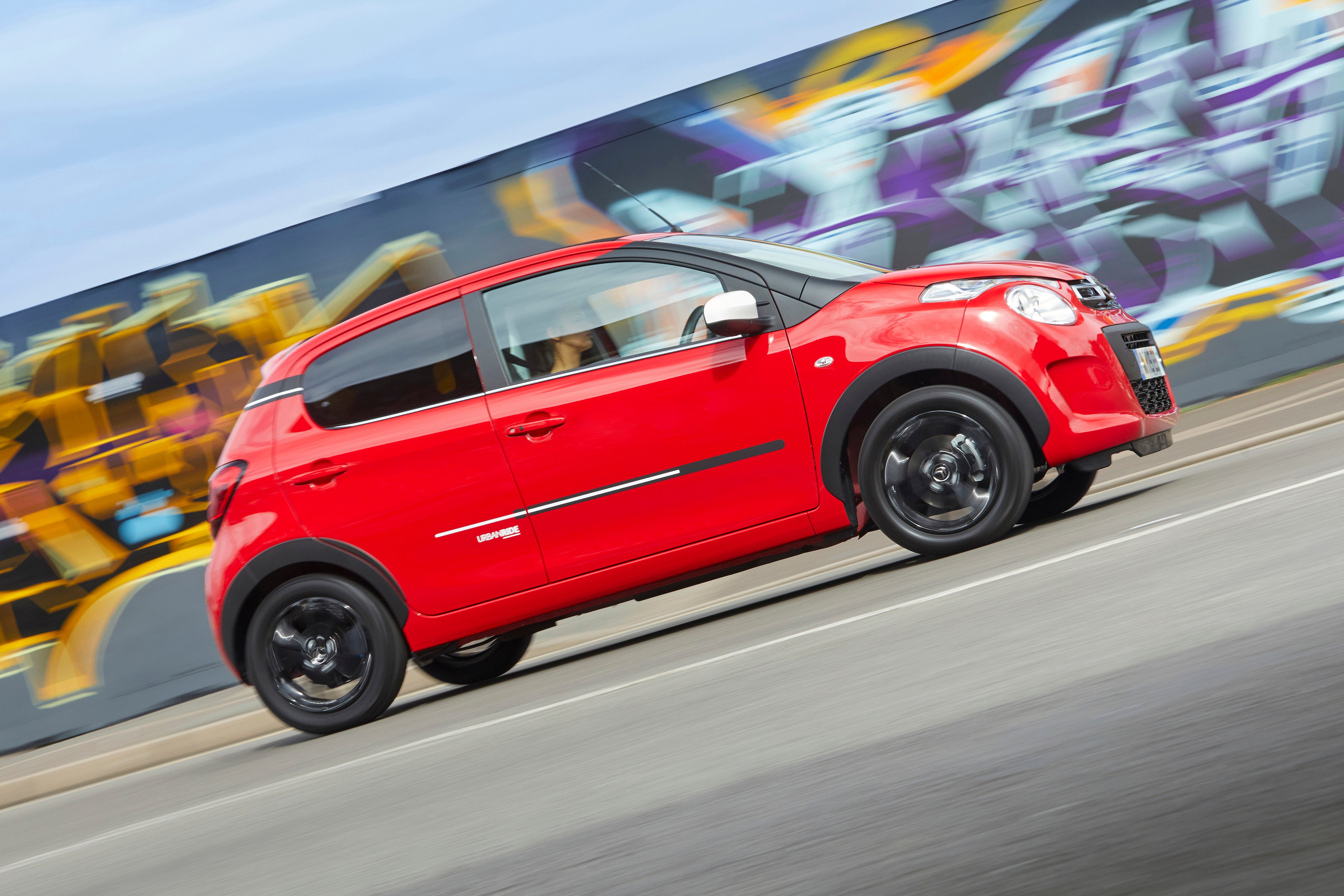 Built-in partnership with Peugeot and Toyota, the Citroen C1 mirrors its stablemates on performance and comfort. However, while it shares many of its mechanic bits with the Aygo and 108, we think the C1 has some standout qualities of its own, with its quirky styling and generous equipment levels being two of its chief attributes.
Spend £12,795 and you'll get a city car that's comfortable and easy to use. You'll also get useful features, with air conditioning and a height-adjustable steering wheel fitted as standard to all cars. You also get a colourful interior, while all of the in-car controls are grouped high up at the centre of the dashboard so they are easy to find and operate on the move
Like the 108, the C1 is powered by a peppy 1.0-litre three-cylinder petrol engine that provides meaningful performance through all of the gears when pushed. The suspension is soft, too, which means even the harshest of speed humps will be comfortably dispatched with ease.
Hyundai i10
Year launched: 2014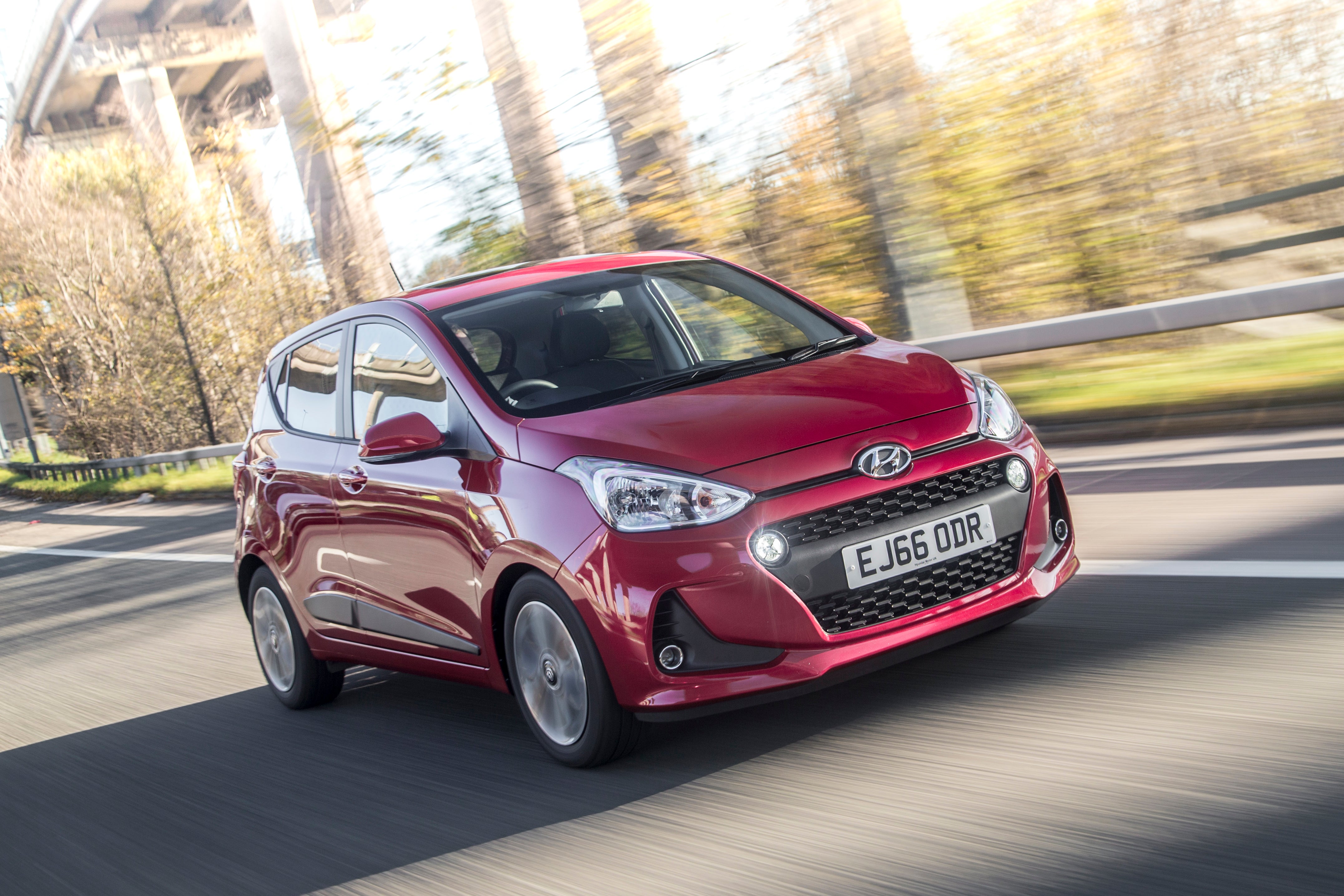 We think the Hyundai i10 is the best city car money can buy. Priced from £12,820, you get a roomy interior with excellent comfort and lots of upmarket touches that give the impression you are driving a much larger and more expensive car. We like it. A lot.
The i10 has notably more interior space than its rivals. In fact, given the abundance of head and legroom in the rear, this compact Hyundai has enough in its locker to rival the Ford Fiesta and Volkswagen Polo. Plus you get the added peace of mind of Hyundai's five-year warranty.
Ride comfort and refinement are two areas where the i10 stands head and shoulders above the competition. The engine is smooth and quiet, while road and wind noise is suppressed to exceptionally low levels. The 1.0-litre petrol engine is excellent, too, with smooth power delivery and a hush nature at cruising speeds.
Suzuki Ignis
Year launched: 2017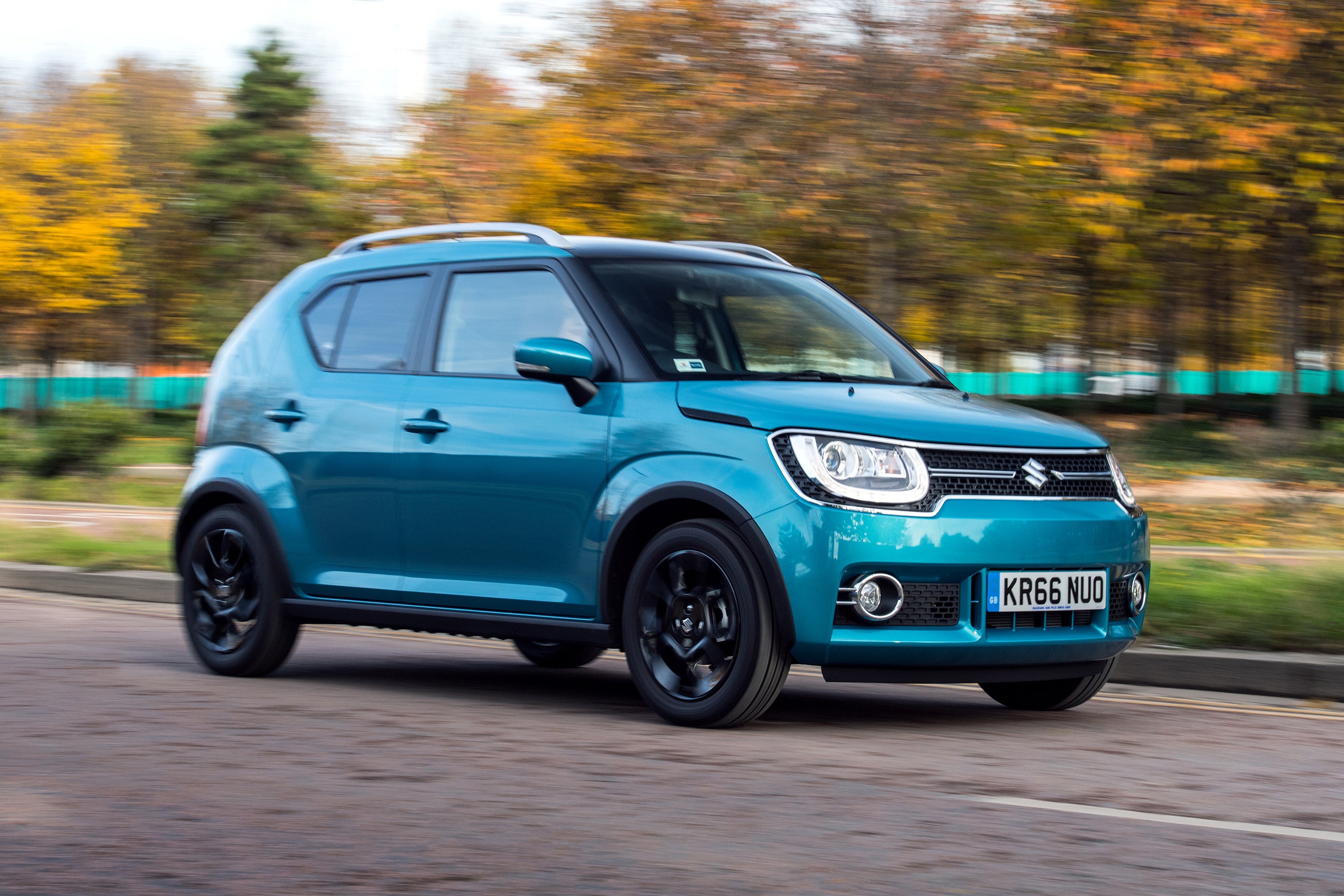 If you want a city car that stands out from the crowd then the Suzuki Ignis could be the small car for you. Its retro styling is inspired by the 1970s' Suzuki Whizzkid, while its efficient mild-hybrid petrol powertrain will return 50+mpg.
That hybrid tech comes at a price, however, with the Ignis starting at £13,249. However, while this little Suzuki isn't the super bargain it once was, you do get a sophisticated hybrid system and lots of equipment as standard. Even the most basic of models come with LED daytime running lights, DAB audio and front fog lights.
The Ignis is fun to drive with its 1.2-litre petrol engine providing 90PS that gives this little Suzuki a rewarding zip through the gears. The interior has good levels of head and legroom for the car's size, too, while the 267-litre boot will happily accommodate a pair of large bags.
Skoda Citigo-e iV
Year launched: 2020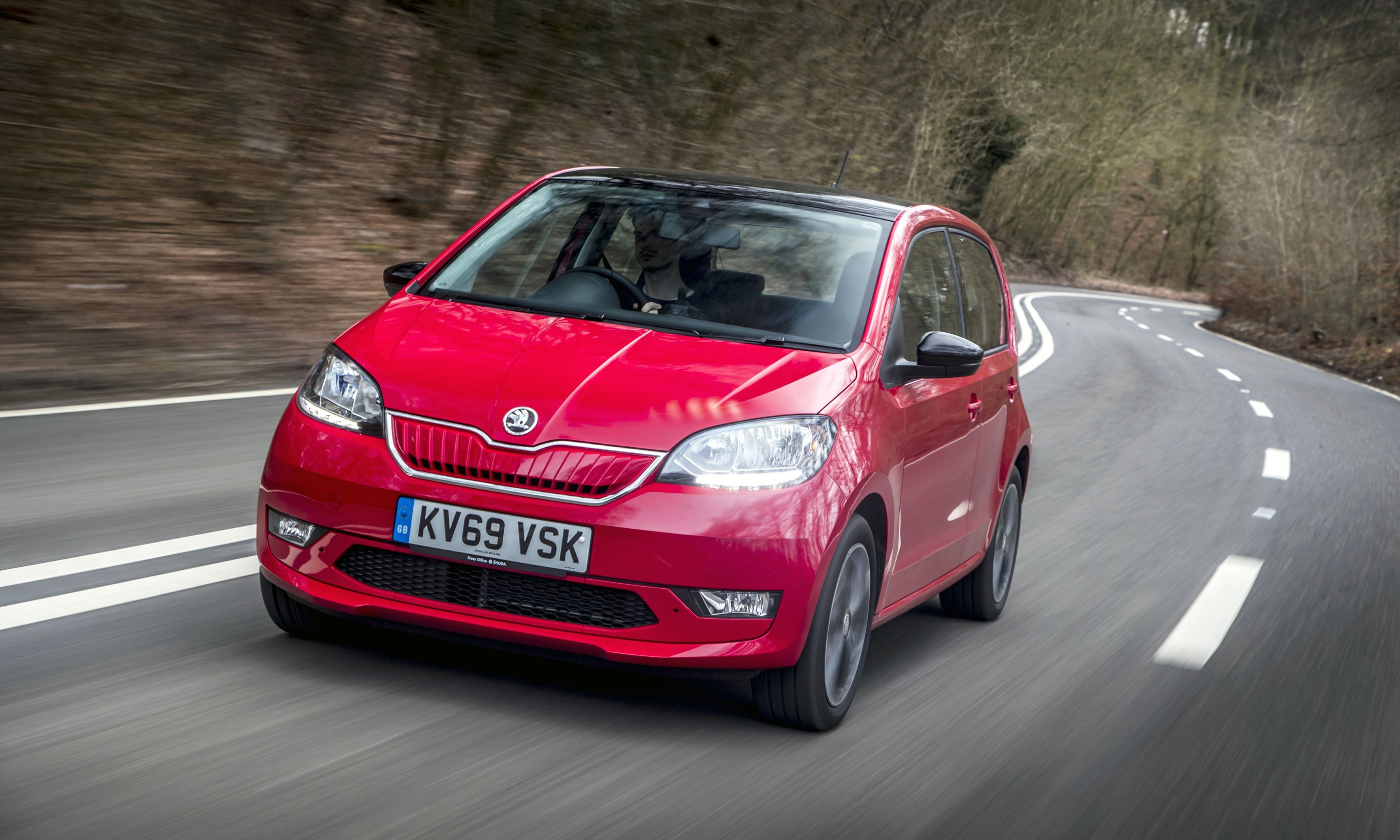 The Skoda Citigo-e iV is one of the cheapest electric cars on sale in the UK, with prices starting from £17,455 which makes the Renault Zoe look distinctly pricey. That outlay gets you a high-quality city car with an upmarket interior and an electric car range of 170-miles.
The Citigo's 61kW electric motor generates 90PS, while its instant power delivery makes this compact Skoda incredibly capable. What's more, being electric, the Citigo does everything in silence, which means it's very smooth and relaxing to drive. Perfect for navigating congested city streets at the end of a long day at the office.
The interior is pretty much identical to the petrol-powered CItigo, with firm but comfortable seats and space for four adults. However, being the iV model, there are some premium touches here and there with a leather-trimmed steering wheel and climate control fitted as standard to all models.
SEAT Mii Electric
Year launched: 2020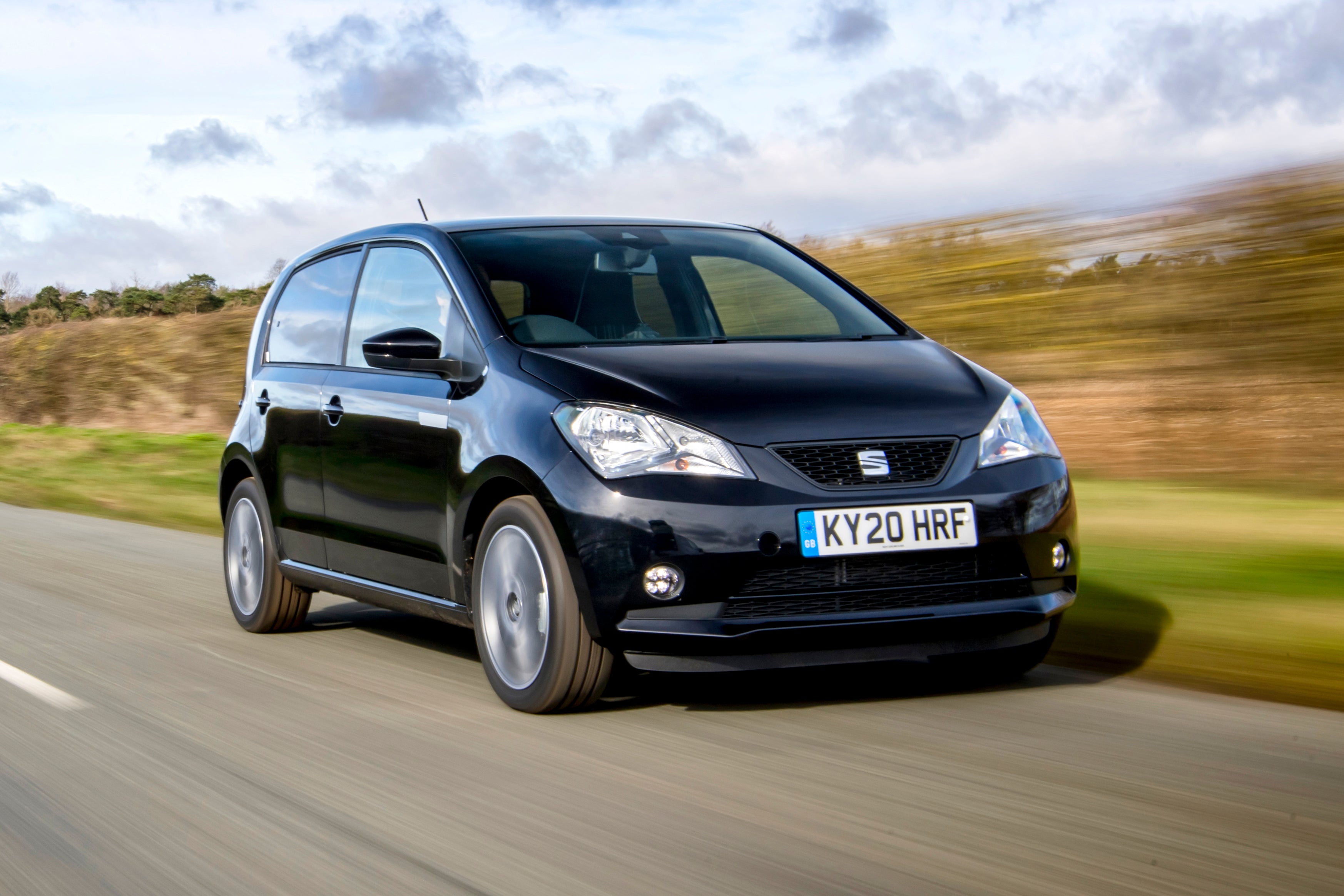 The SEAT Mii electric is based on the same mechanical platform as the Skoda Citigo-e iV, but costs more to buy new due to its higher standard spec and posher interior. This means prices start at £19,800.
The Mii is very well equipped as standard. Even the basic model comes with important safety features like LED daytime running lights, lane assist and rear parking sensors. You also get a pair of comfortable sport seats in the front, which provide excellent support for your head and upper back.
The Mii's electric range is 10-miles shorter than the Citigo at 160-miles, but the road handling is excellent and very much on point with the Skoda with light steering and punchy performance. The Mii is at its best in the city and town, with its smooth electric powertrain and compact shape making it easy to navigate traffic and glide into the smallest of parking spaces.
The city car is usually the smallest and cheapest model in a carmaker's line-up. Most are powered by small and efficient petrol engines or electric power. However, despite their size, a good city car will have space for up to four adults and a usable boot that will hold a pair of cabin-sized suitcases.
The Kia Picanto is the UK's cheapest city car, with the entry-level '1' model starting in the region of £10,500. The Picanto is also one of the cheapest cars to insure, sitting in insurance brand four.
The Hyundai i10 is the best new city car. It's easy to drive, comfortable and well-equipped as standard with all models getting air conditioning, automatic headlights, cruise control and electric door mirrors. Other city cars we rate highly include the Volkswagen Up, Kia Picanto and Skoda Citigo.
Kia Picanto
1.0 GT-line 5dr
Manufacturer Approved
Stoneacre Kia Lincoln

Lincolnshire, LN63SR
PCP: £151.15/mo
Representative example: Contract Length: 37 months, 36 Monthly Payments: £151.15, Customer Deposit: £1,200.00, Total Deposit: £1,200.00, Optional Final Payment: £3,014.22, Total Charge For Credit: £1,655.62, Total Amount Payable: £9,655.62, Representative APR: 11.3%, Interest Rate (Fixed): 11.3%, Excess Mileage Charge: 14.9ppm, Mileage Per Annum: 10,000
Kia Picanto
1.25 2 5dr Auto
Citygate Kia Slough

Berkshire, SL25EA
PCP: £159.29/mo
Representative example: Contract Length: 37 months, 36 Monthly Payments: £159.29, Customer Deposit: £1,318.00, Total Deposit: £1,318.50, Optional Final Payment: £3,160.03, Total Charge For Credit: £1,422.97, Total Amount Payable: £10,212.97, Representative APR: 8.9%, Interest Rate (Fixed): 4.58%, Excess Mileage Charge: 14.9ppm, Mileage Per Annum: 10,000