Cheapest convertibles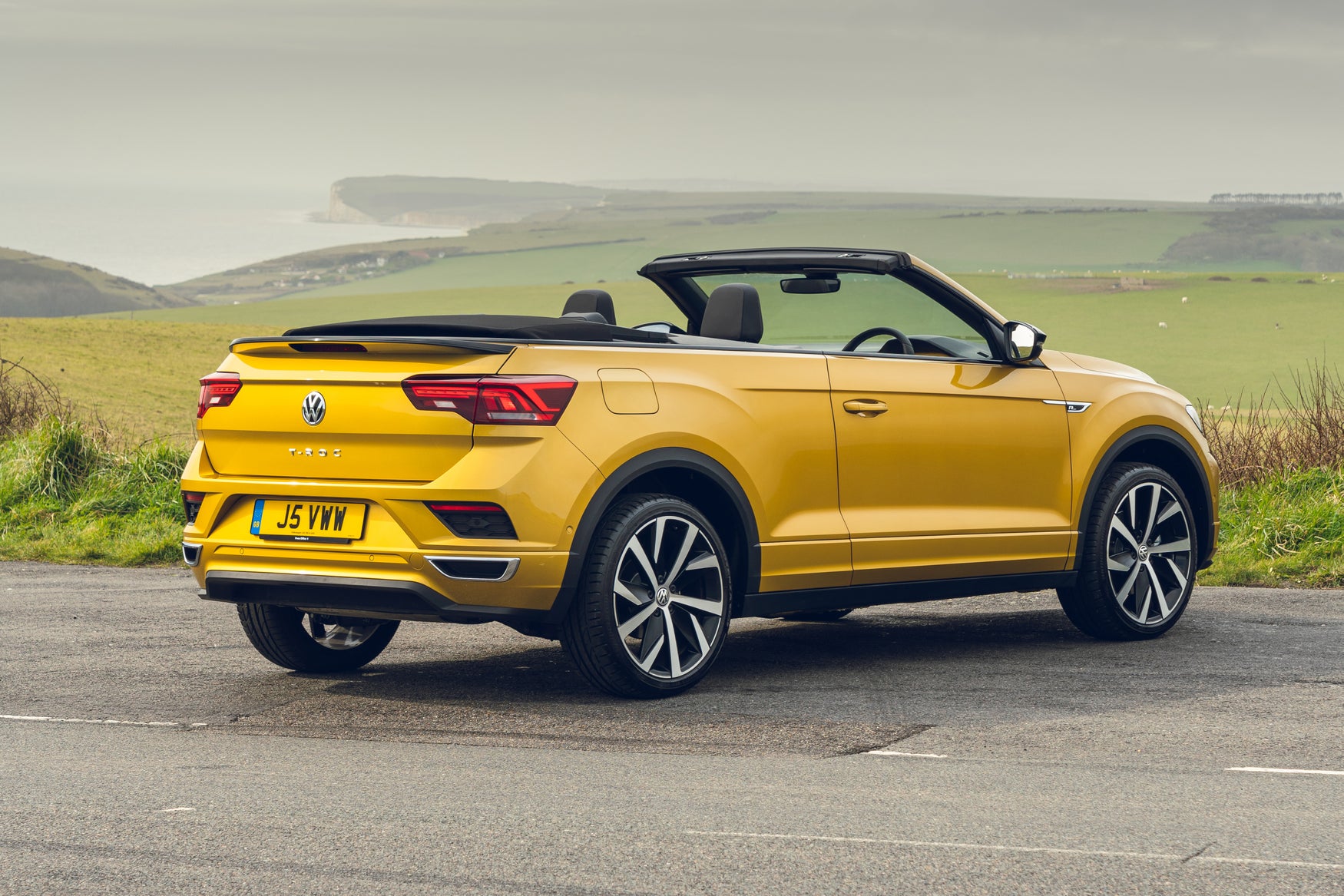 For many car buyers, there's nothing that can match the feeling of an open-top car on a sunny day. It's why convertibles continue to prove very popular, especially with buyers in the UK.
The current range of convertibles and cabriolets on sale offers everything from city car fun to premium luxury - but all have one thing on the common - that wind in your hair feeling on a summer day.
You don't need to spend a fortune on a convertible either with plenty of more affordable models on the market. Here are the cheapest convertibles you can buy right now.
Citroen C1 Airscape
Year launched: 2014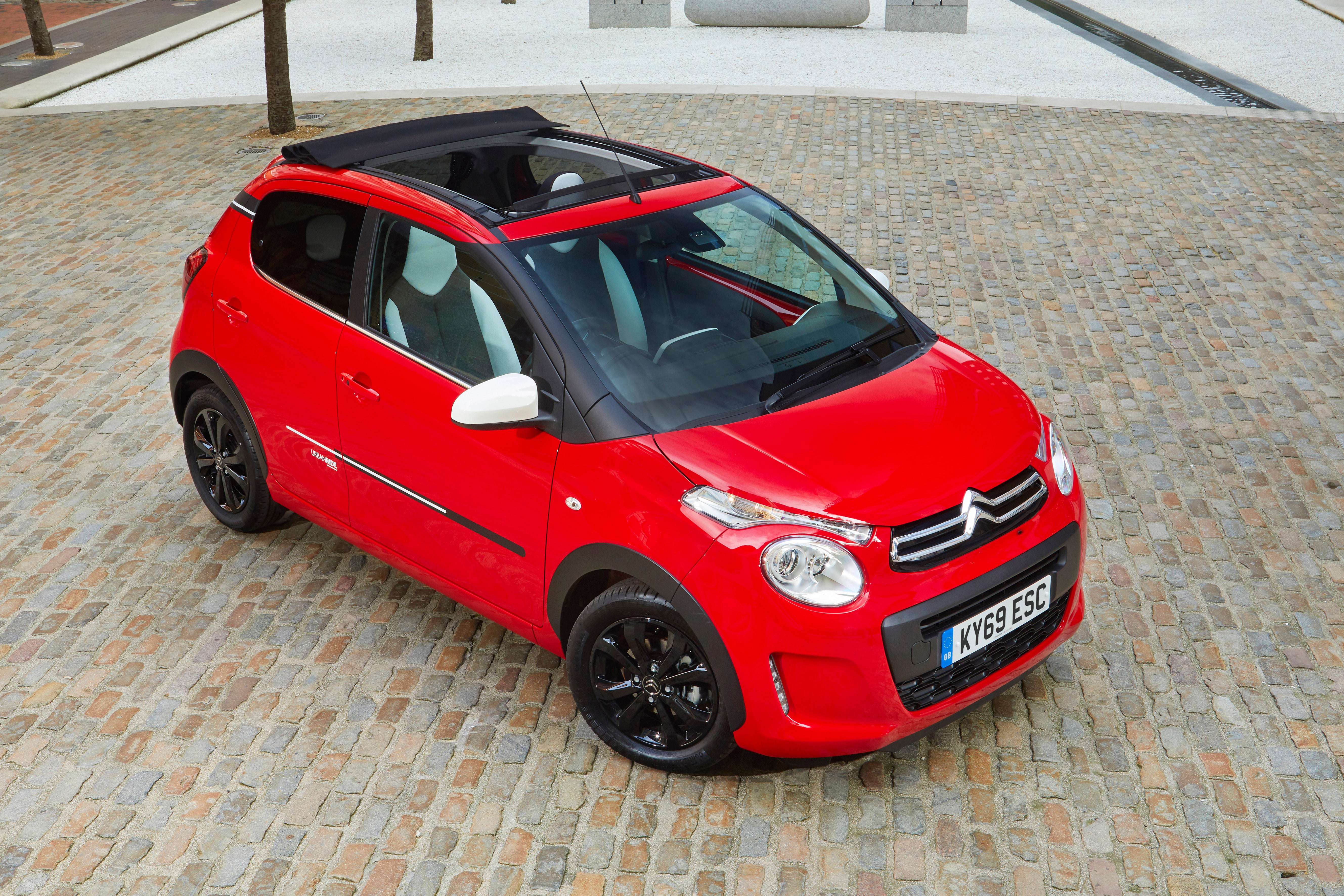 One of a trio of cars alongside the Peugeot 108 and Toyota Aygo, the Citroen C1 is the only one still available as a convertible. Called the C1 Airscape, we use the term convertible quite loosely here as this isn't a true cabriolet in the sense of a folding roof. Instead the C1 Airscape has a fabric roof that slides back electrically.
It may not be roof down motoring in the true sense that other cars here offer, but for not a huge outlay, list prices start at less than £15k, you can still enjoy open top motoring and add a bit more fun to the little C1.
It may be an older design but the C1 remains good fun to drive and affordable too, with economical engines and low insurance groups. The C1 Airscape is well equipped too and comes in Flair trim which gets 15-inch alloys, a reversing camera, heated door mirrors plus Apple CarPlay and Android Auto as part of the easy to use touchscreen system.
Fiat 500C
Year launched: 2009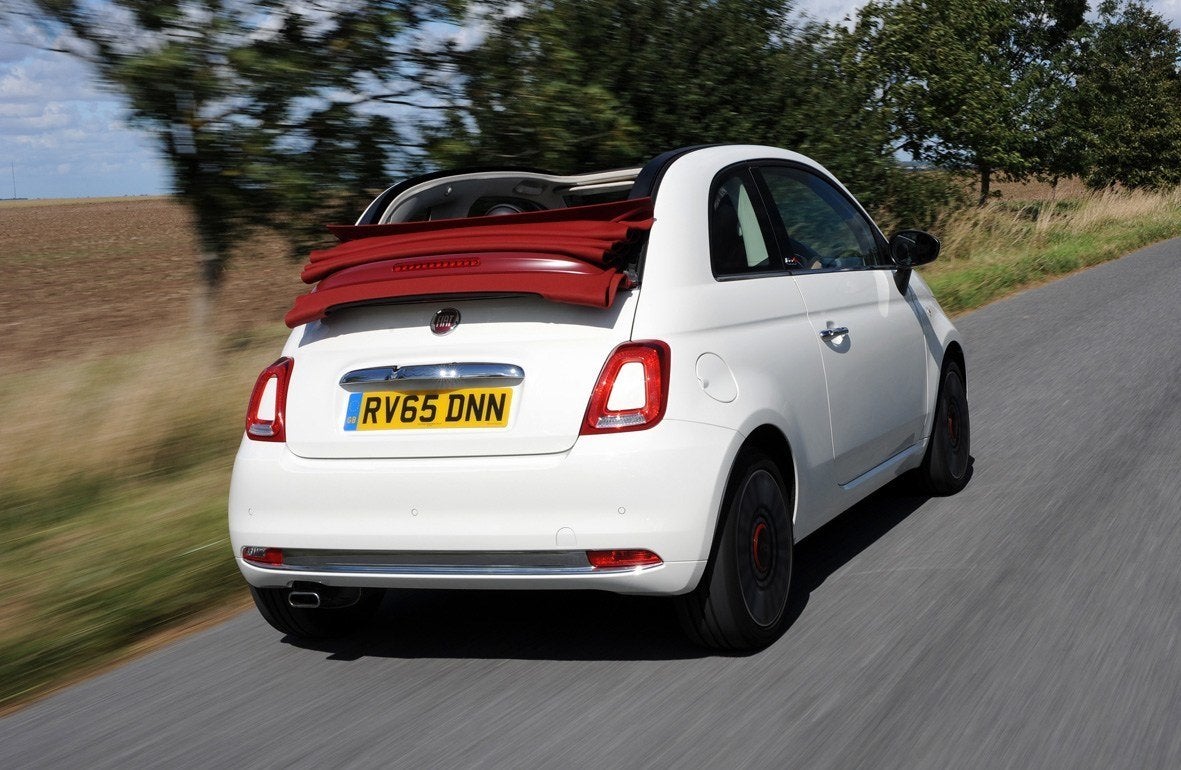 Compared to the little Citroen C1, the Fiat 500C is more of a convertible, if not quite a full drop-top . The roof folds down all the way at the back and retracts smoothly at the touch of a button. You can operate it at up to 37mph - handy if you have to put it back up when there's a sudden downpour. Usefully, you can stop it wherever you like if you only want a gentle breeze rather than the full wind in your hair experience.
The main issue is that with the roof all the way down, there's pretty much zero visibility out the back, such is the way it's designed to fold up. But that's a small price to pay for open-top fun in a stylish small car such as the Fiat 500.
The Fiat 500C Pop is the cheapest model and while you do have to make do with steel wheels rather than alloys, it does have air conditioning, DAB radio and electric heated mirrors.
MINI Convertible
Year launched: 2016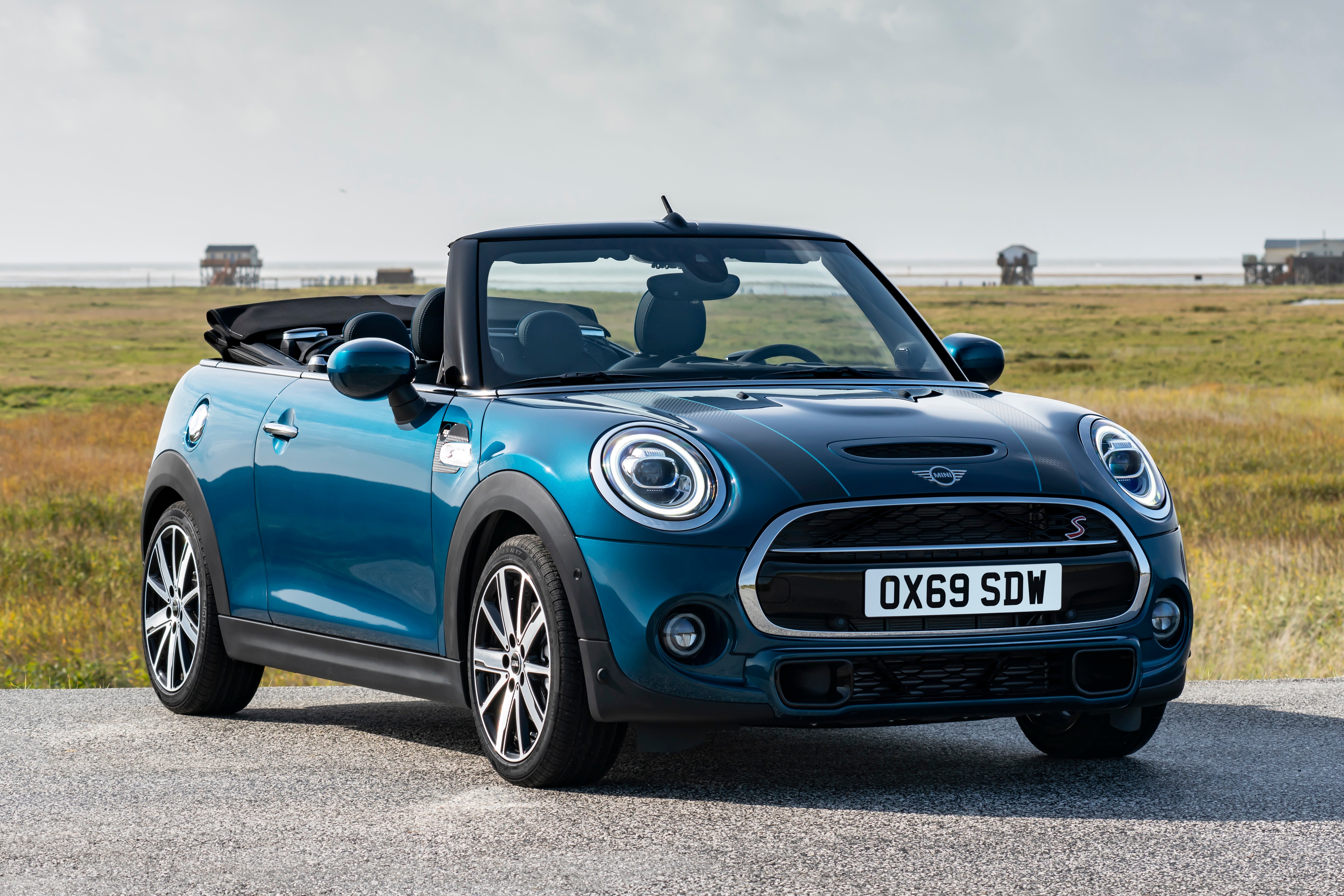 There have been plenty of pretenders to the throne but when it comes to classy, small four-seat drop-tops nothing has come close to usurping the MINI Convertible's blend of style, great driving characteristics and sheer sense of fun.
Nothing this side of a Mazda MX-5 is as fun to drive and while the MX-5 is excellent, the MINI arguably feels more special inside. The cheapest model is the entry-level Cooper model with its 1.5-litre three-cylinder engine, which still has plenty of get up and go about it. Even in basic Classic trim, it handles as well as a MINI should.
A word of caution though. While prices start at around £20,000, making this look surprisingly affordable, it's unlikely you will leave the showroom paying that as there's a huge range of options including the must-have Chili Pack which costs £2500 for starters. This upsizes the alloys and bags you half-leather seats and a sportier steering wheel.
Smart EQ Fortwo Cabrio
Year launched: 2018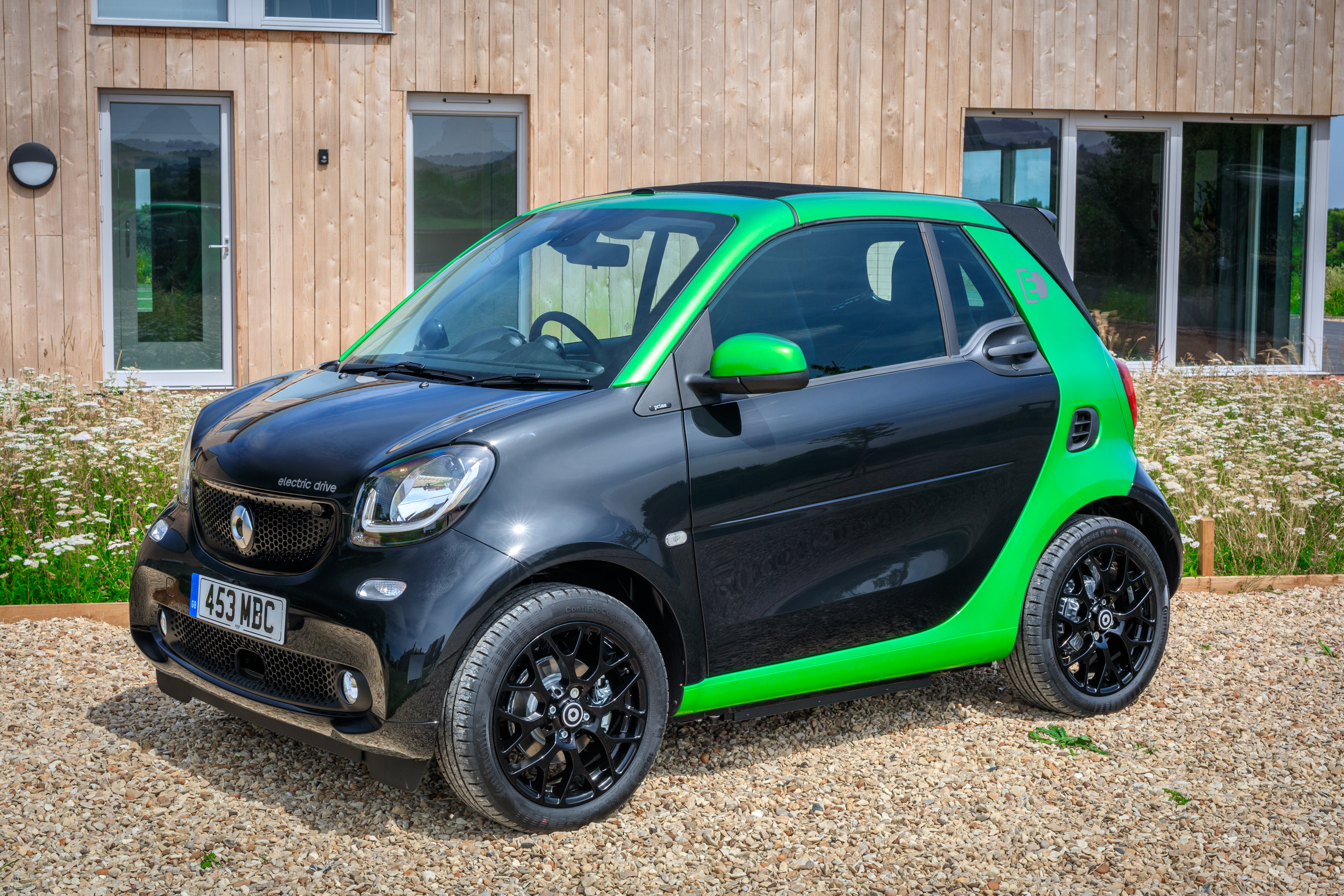 The Smart Fortwo Cabrio would usually appear further up this list but with Smart dropping conventional engines for EV power only, it means prices have gone up. As a result, if you want a Smart Fortwo Cabrio, you're now looking at a new price of more than £23,000. That's an awful lot of money for a car with only two seats.
Still, the Fortwo is still an ideal car for busy cities thanks to its diminutive size and the fact it's now an EV will mean low running costs. The maximum range is 70 miles which may not seem very much but is more than adequate if you spend all your time in town. Charging is quick and takes 2.5 hours from a standard 7kW home charger.
It's fun to drive too with the electric motor giving instant power away from a standstill. The Smart EQ Fortwo Cabrio is also unique - there's no other EV convertible on sale.
Mazda MX-5
Year launched: 2015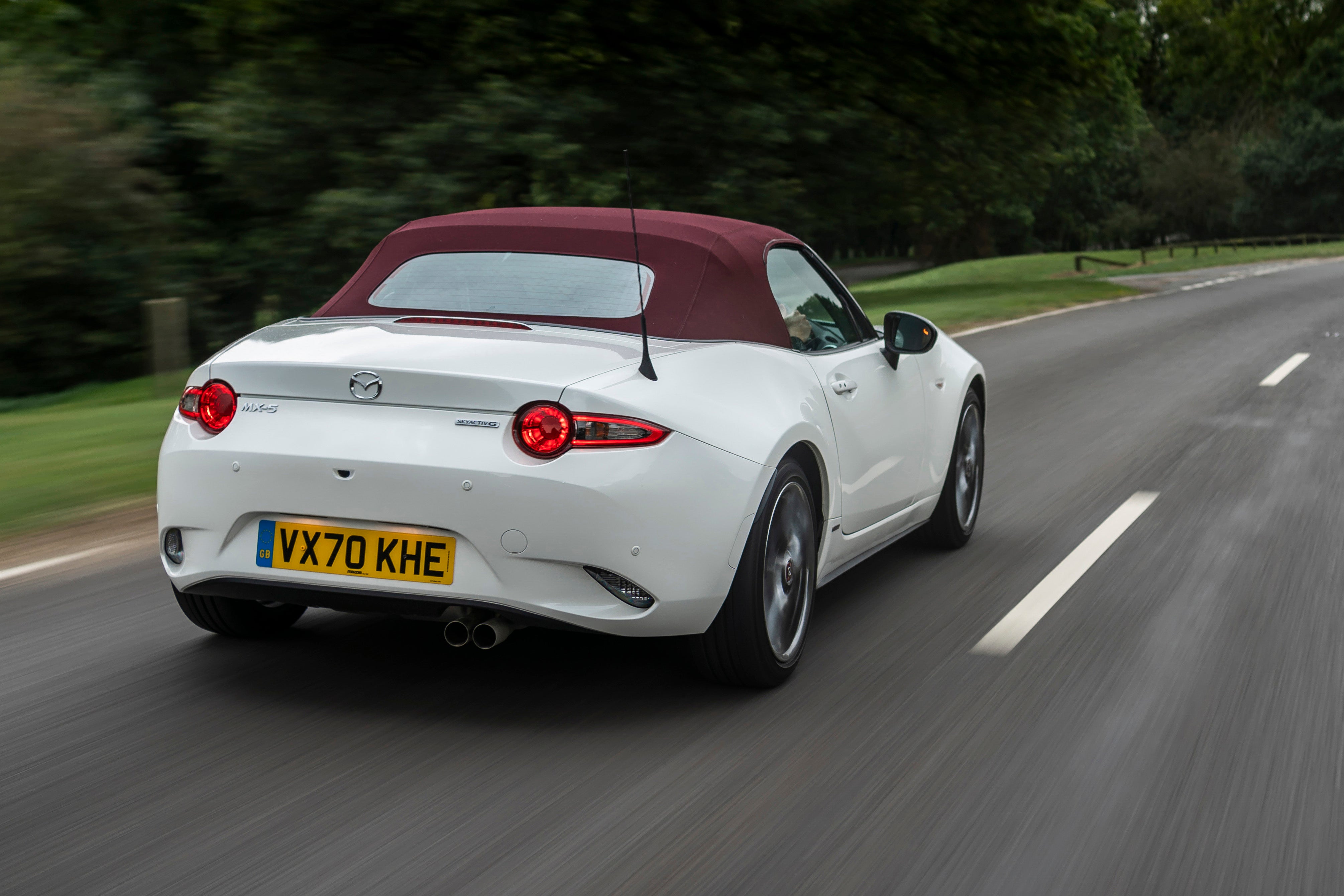 Our favourite convertible, the MX-5 has never been about 0-62mph times, majoring instead on a pure, lightweight driving experience made up of incredible handling and a short, snappy gear change. A rev-hungry four-cylinder petrol engine combined with a raspy exhaust note makes this a joy to drive at any speed.
It may not be quite the bargain it once was but at just under £24,000 new, we still think this represents great value for money. Aside from the MINI Convertible, there's little else at this price that will give you as much fun with your trousers on. The entry 1.5-litre petrol engine gives the MX-5 more than enough power and you won't feel shortchanged in choosing it over the 2.0-litre.
Yes it's not very spacious or practical, plus the ride is bumpy and there's a lot of road noise, but you can forgive all those things in a convertible that handles so beautifully and is so enjoyable to drive.
Volkswagen T-Roc Cabriolet
Year launched: 2020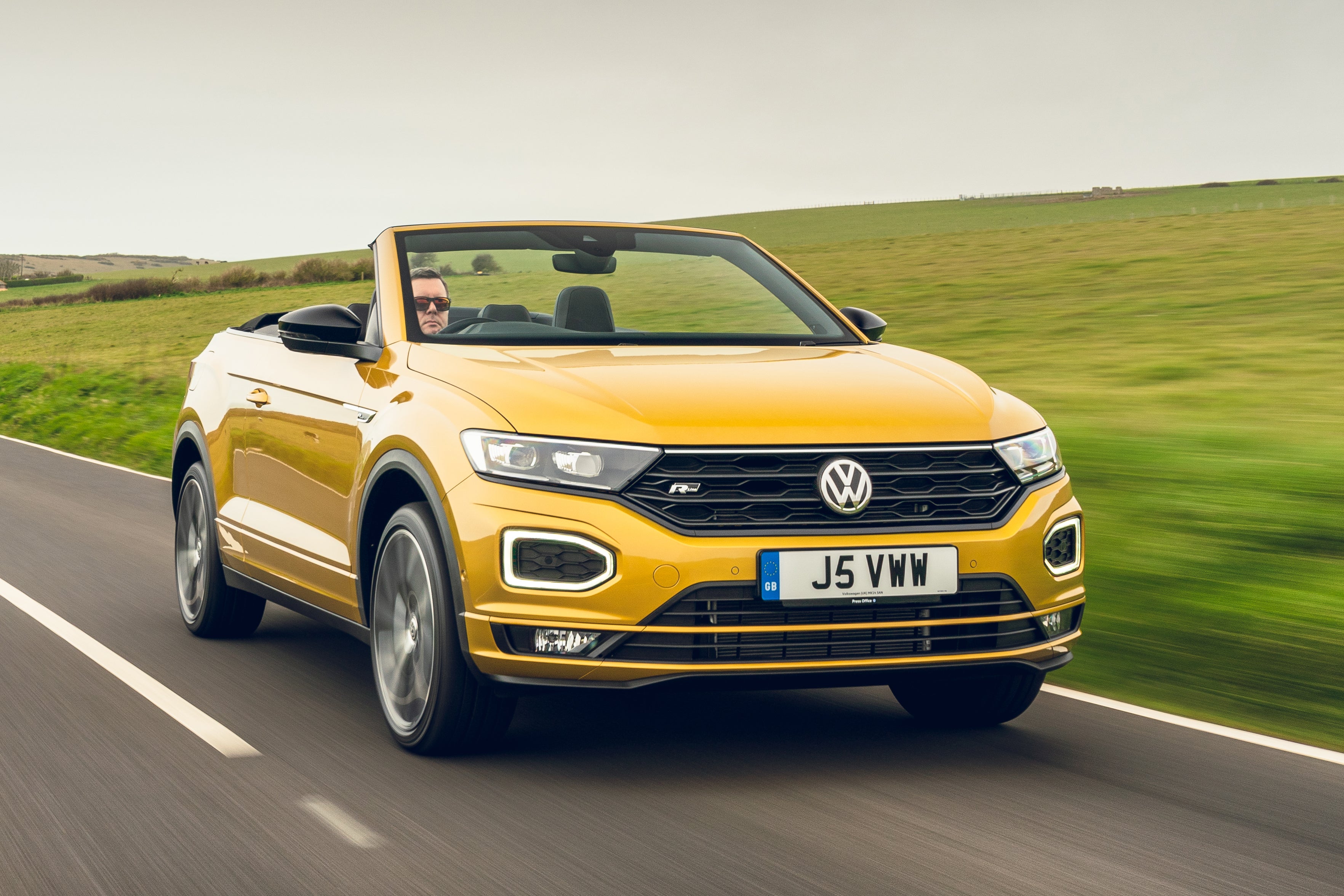 Among all the usual convertibles you'd expect to feature here, this is a bit of a quirk. The Volkswagen T-Roc Convertible isn't the first soft-top crossovers (that honour goes to the Range Rover Evoque), but the T-Roc is the only one currently on sale. It's actually built in the same factory that produces the Porsche 718 Cayman and that previously built convertible versions of the Volkswagen Golf and Volkswagen Beetle, as well as the Karmann Ghia. It's in good company then.
The fabric roof folds down in just nine seconds and neatly slots down behind the rear seats. It's a much more elegant solution than the MINI Convertible. It also means there are two proper rear seats although unlike a standard T-Roc, there are only two seats, so you'll have to clamber into the back.
The cheapest model in the range is actually the best. The 1.0 TSI Design comes with all the kit you'll need and the turbocharged 1.0-litre three-cylinder engine has more than enough power.
BMW 2 Series Convertible
Year launched: 2015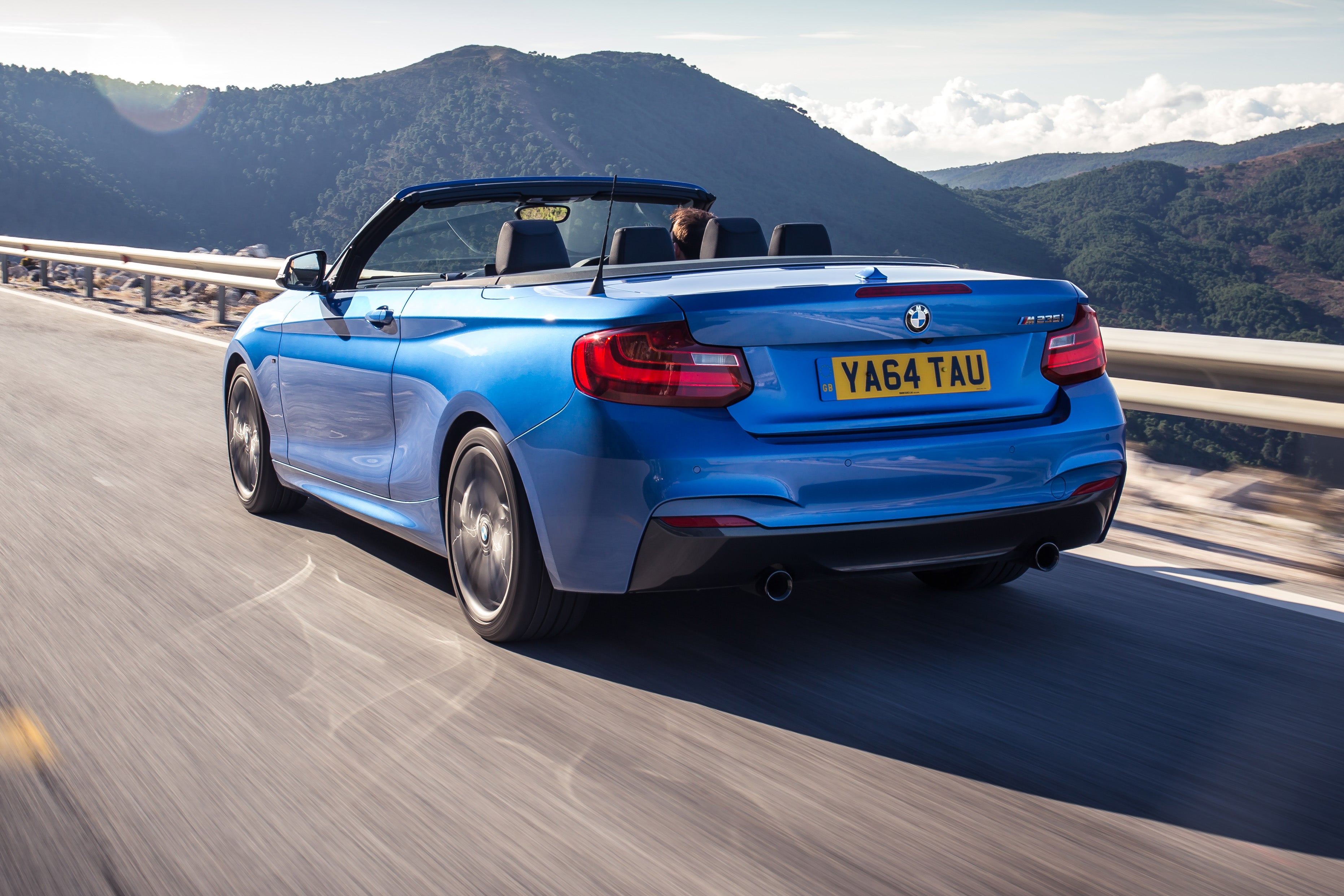 While we would hardly consider a £30,000 convertible (or anything for that matter) cheap, the fact not one but two BMWs appear in a list of cheapest convertibles shows how the market has changed in recent years with smaller and more affordable convertibles, such as the Vauxhall Tigra and short-lived Renault Wind, no more.
While it may not be exactly cheap, the 2 Series Convertible is a car that feels worth the money. With its high quality cabin, refined ride and superb handling - this is a BMW after all - this is a classy convertible which will always be a pleasure to own.
The cheapest model is the 218i SE which uses the same 1.5-litre three-cylinder engine as the MINI Cooper Convertible. It may seem small in size, but with 136PS, it's a real gem of an engine with eager performance and plenty of character.
Audi TT Roadster
Year launched: 2014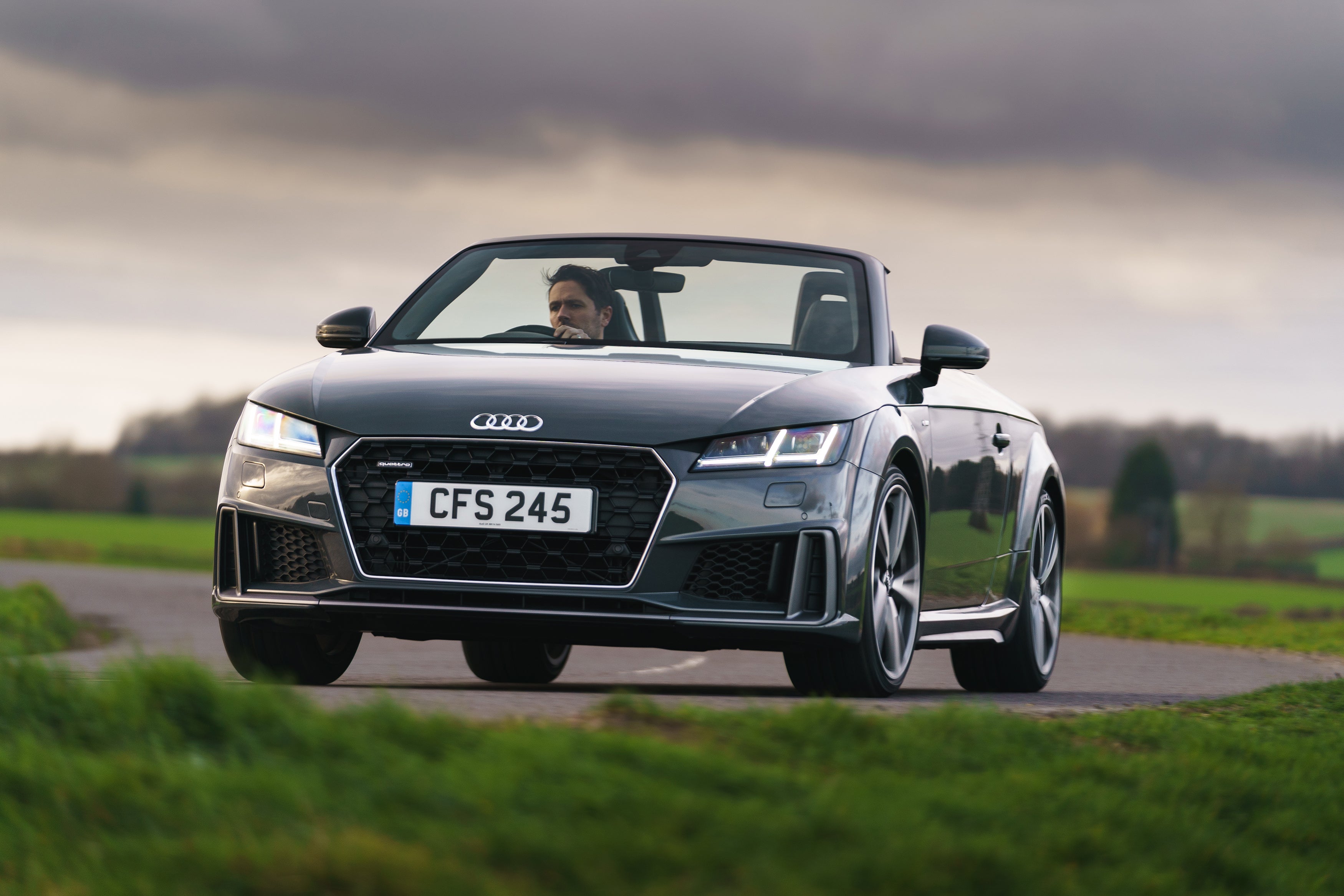 With the Audi A3 Cabriolet now discontinued - a big shame in our opinion - it's the Audi TT Roadster which is now the cheapest convertible in the Audi range. Not that this is a bad thing. The TT Roadster manages to blend the comfort of a smooth ride around town - along with an easy to drive nature at low speeds - with impressive capability when you push it a bit harder.
The cheapest 40 TFSI model isn't quattro, only front wheel drive, but for the majority of the time you won't miss that extra traction. It comes with a seven-speed S tronic automatic gearbox as standard while power is supplied by a 197PS version of the 2.0 TFSI. It's not the fastest convertible around, but it's more than enough power for most.
Desirable, stylish and high quality, the TT Roadster is the perfect blend for a convertible sports car and one we think will be a future classic.
Mercedes-Benz SLC
Year launched: 2016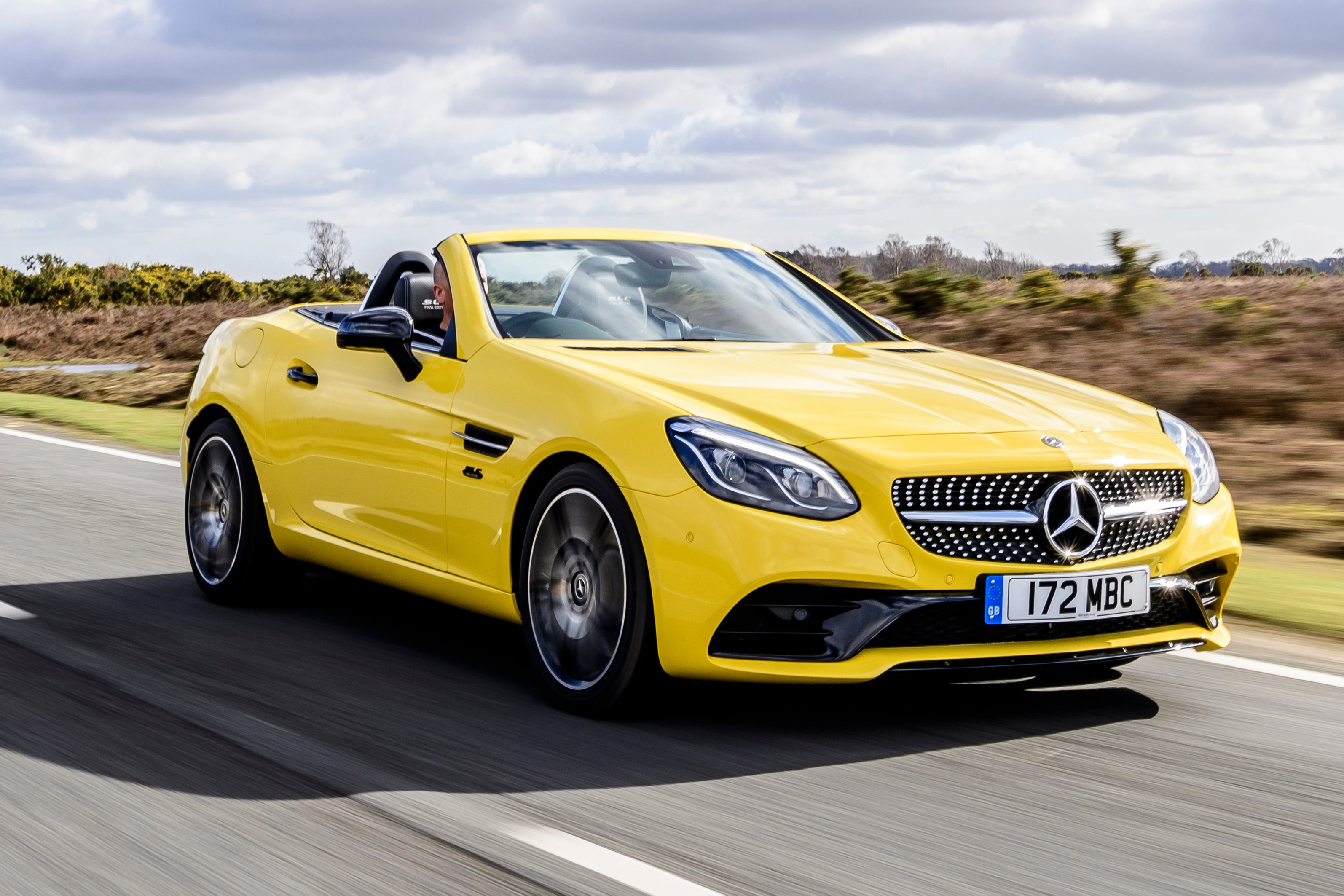 Launched in 2016, the SLC was starting to show its age when it was new, not helped by the fact it was simply a rebodied and revamped version of the Mercedes SLK which preceded it. Time has not been kind to the SLC and compared to the likes of the Audi TT, it feels several generations old.
There are some positives, not least the good looks, while the compact size of the SLC mean it's ideal for driving in town. It handles well thanks to the nicely-weighted and precise steering, plus suspension keeps body roll at bay, but the ride is bumpy and not comfortable.
But the interior is really old fashioned now. The centre stack looks like it's been borrowed from a 15-year-old Mercedes C-Class with a numeric keypad. Virtual cockpits and touchscreens suddenly seem a long way off. The SLC is now being discontinued with final edition models the only ones available. Don't hold your breath for a replacement...
BMW Z4
Year launched: 2019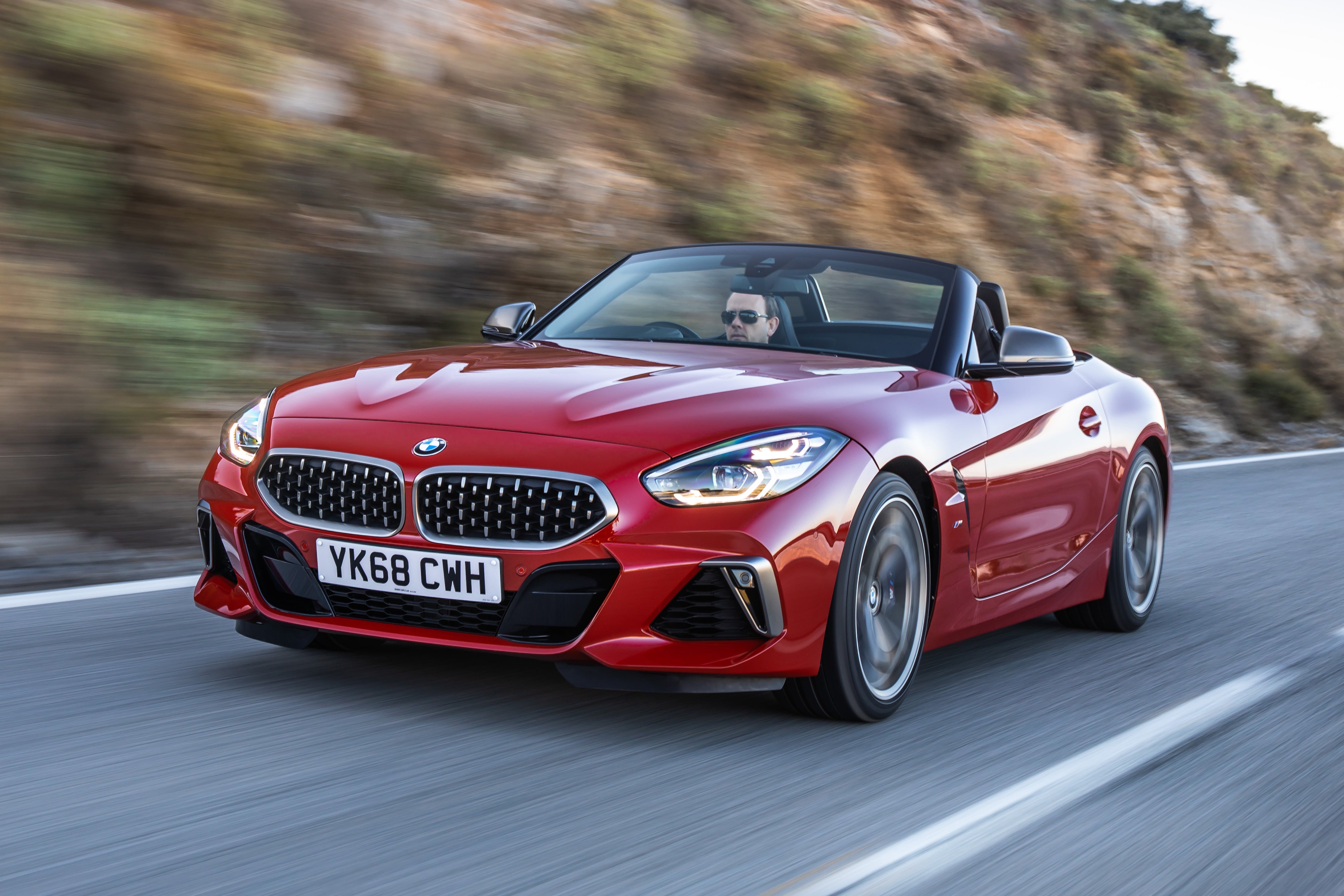 The new Z4 is a bit of a departure for BMW as rather than go it alone, it has co-developed this with Toyota, the Japanese firm having its own version in the form of the Toyota GR Supra. But the big difference is that while the Supra is a coupe only (for the time being), the Z4 is solely a convertible. Admittedly, it makes some compromises when it comes to handling - it's no match for the Porsche 718 Boxster - but the Z4's quality shines through with a refined and comfortable drive that makes it apt for long-distance travel.
The cheapest model is the sDrive20i M Sport and while you may hanker after the M40i, the smaller engine with 197PS still feels pretty eager. Not shoved-back-in-your-seat quick, but rapid enough for it to be fun. You could almost say it offers the perfect level of performance for British roads.
In fact, we reckon the entry-level sDrive20i in Sport trim is arguably the sweet spot in the Z4 range, too. It's quick enough for most drivers and it provides a compliant ride while still being fun to drive.
While it's not quite a true 'convertible' the Citroen C1 Airscape gets a canvas roof which electrically slides back. Prices start at just under £15,000 making it the cheapest convertible on sale in the UK. There's also the Fiat 500C which starts at closer to £16,000.
The Mazda MX-5 RF starts at less than £26,000 making it the cheapest hardtop convertible on sale in the UK. The BMW 4 Series Convertible has a folding hardtop as well as four seats, with prices starting at around £42,000.
If you want a fun convertible that's also reliable as a used buy, a Mazda MX-5 makes the most sense. It's a car that's great to drive at any speed, so you don't have to worry about losing your licence in the pursuit of a bit of driver enjoyment. As for four seaters, the Mercedes E-Class Cabriolet is the most refined and sophisticated convertible around.
Mazda MX-5
2.0 SE-L Nav 2dr
T W White & Sons Mazda Orpington

Kent, BR52LF
PCP: £279.86/mo
Representative example: Contract Length: 37 months, 36 Monthly Payments: £279.86, Customer Deposit: £2,467.00, Total Deposit: £2,467.50, Optional Final Payment: £7,014.20, Total Charge For Credit: £3,106.66, Total Amount Payable: £19,556.66, Representative APR: 9.9%, Interest Rate (Fixed): 5.1%, Excess Mileage Charge: 14.9ppm, Mileage Per Annum: 10,000
Mazda MX-5
2.0 Z-Sport 2dr
Manufacturer Approved
Mazda Hanley

Staffordshire, ST16AL
PCP: £320.17/mo
Representative example: Contract Length: 37 months, 36 Monthly Payments: £320.17, Customer Deposit: £2,775.00, Total Deposit: £2,775.00, Optional Final Payment: £7,661.44, Total Charge For Credit: £3,462.56, Total Amount Payable: £21,962.56, Representative APR: 9.9%, Interest Rate (Fixed): 5.1%, Excess Mileage Charge: 14.9ppm, Mileage Per Annum: 10,000