Cheapest electric cars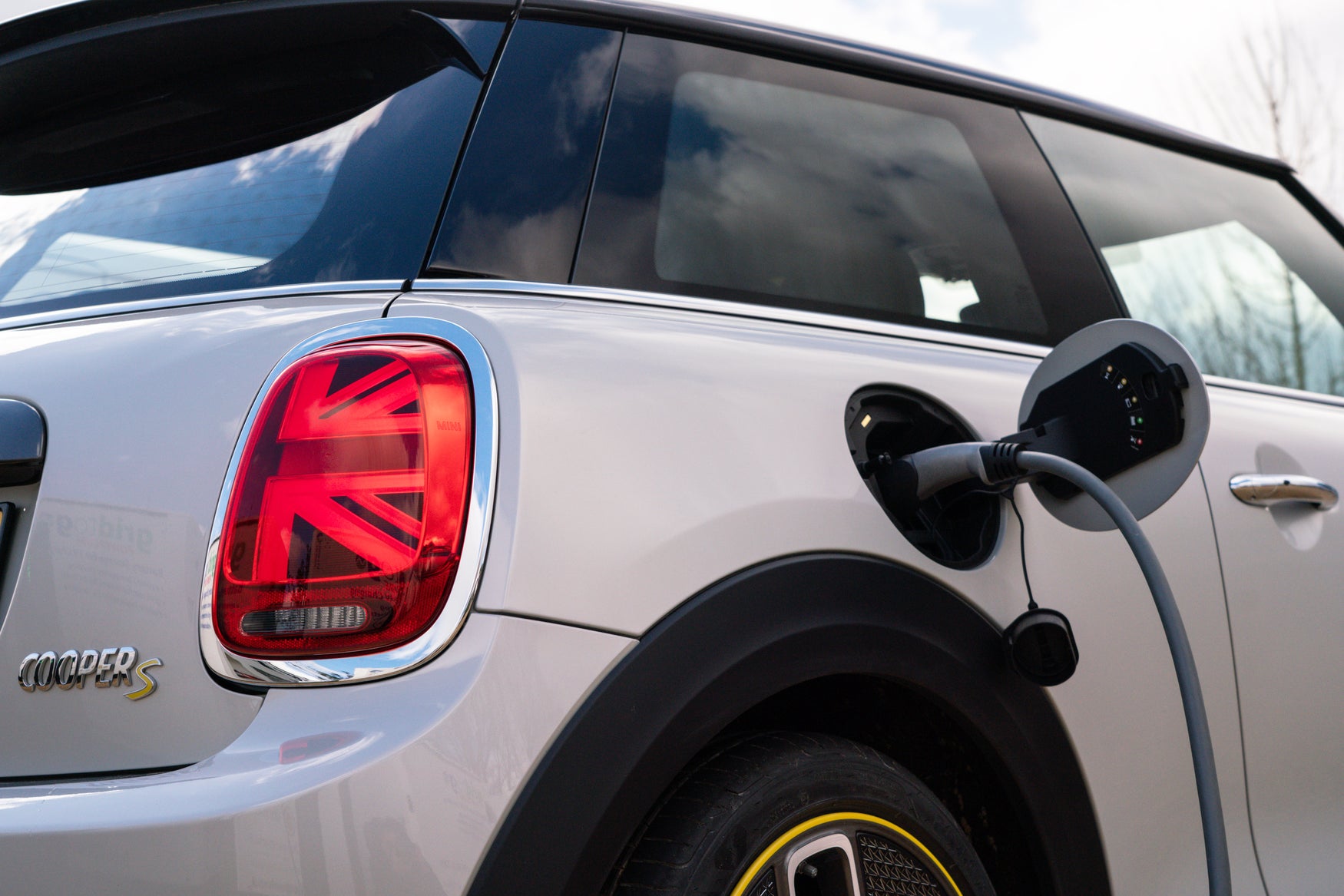 What's the cheapest electric car you can buy? While electric vehicles (EVs) have traditionally been seen as quite expensive, they're coming down in price and - once you take the reduced running costs into consideration, they can actually present very good value for money.
We've analysed the price lists and worked out the 10 cheapest electric vehicles on sale today. These are based on list prices of new cars after the Government's plug-in car grant has been applied (if applicable).
Renault Twizy
Year launched: 2012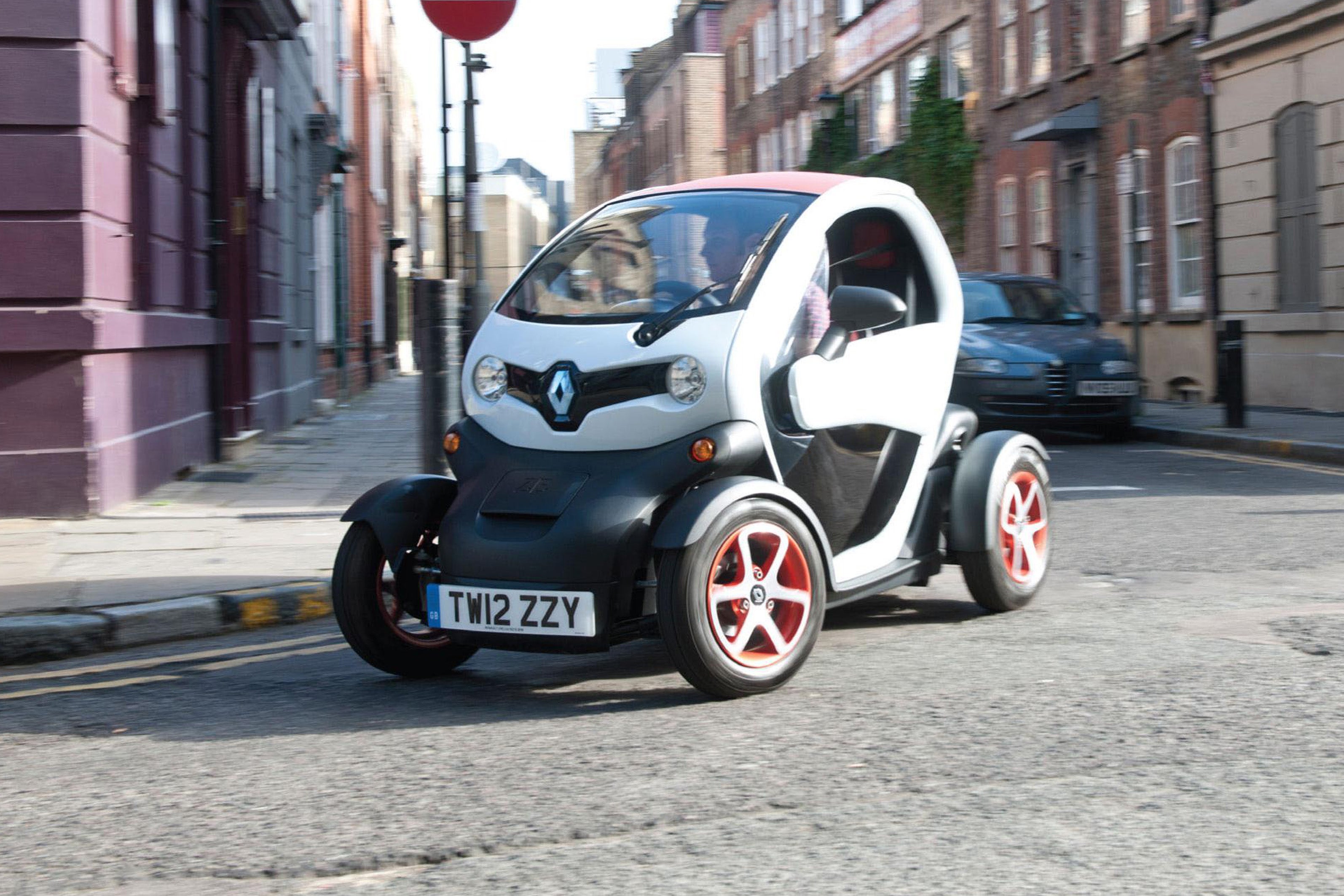 Here it is: the most affordable electric car on the market today. Okay, doors are an optional extra. And you could even question whether it technically counts as a car. But it's got four wheels and is powered by electricity, so that's good enough for us.
Prices start from £10,995 for the Expression trim level, while the Dynamique is priced from £11,895.
With a top speed of 50mph and an official range of 62 miles, it's probably (well, definitely) not a car for long-distance motorway driving. But it is a huge amount of fun in town, while its compact dimensions mean you'll be able to find a space to park it in the busiest of cities.
Smart EQ Fortwo
Year launched: 2018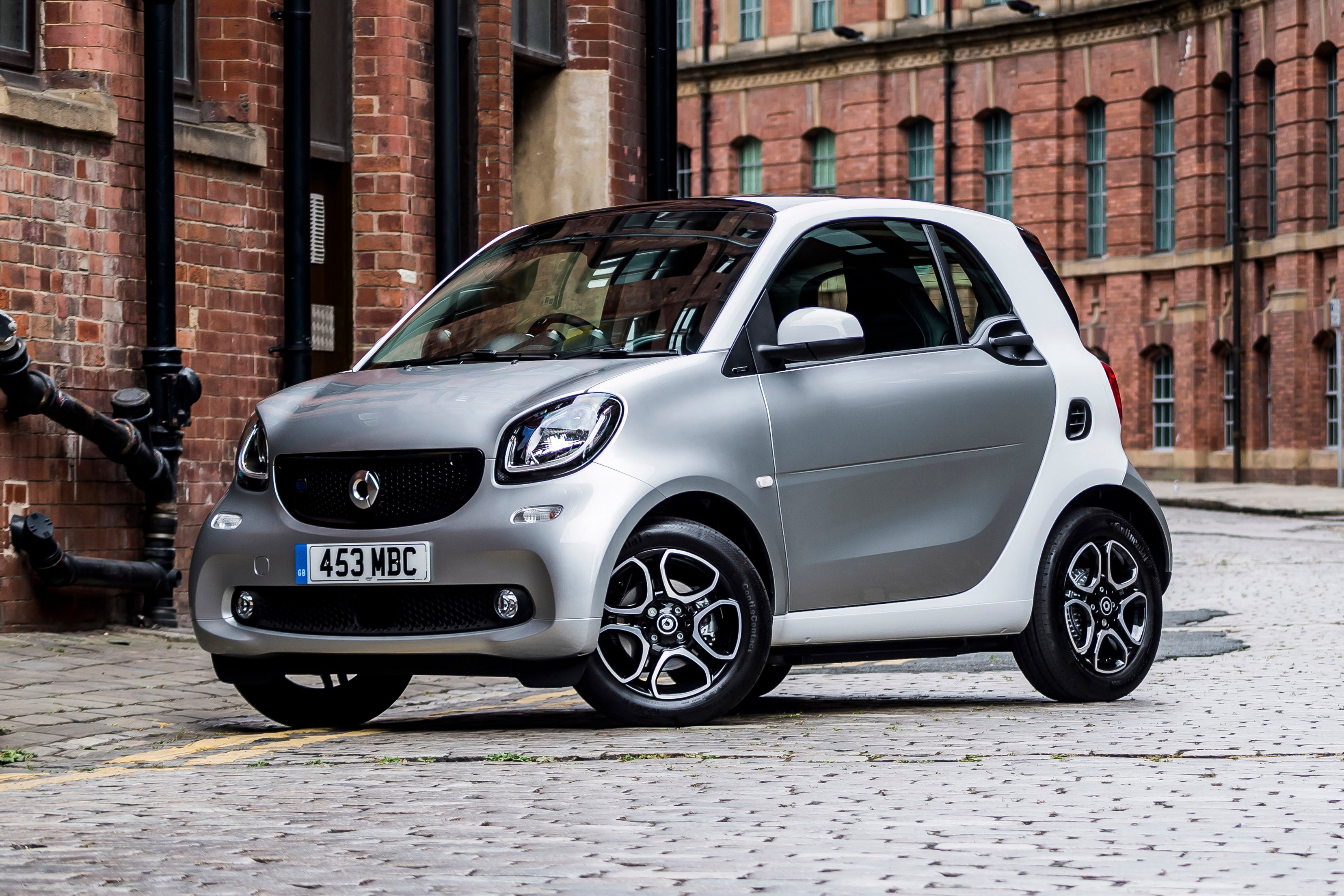 You may have heard Smart is now an electric vehicle brand – headed up by this, the Smart Fortwo EQ. It makes perfect sense. Ever since the original Smart car arrived in the late 1990s, the Mercedes-Benz offshoot has produced vehicles with tiny footprints that cost peanuts to run.
The Smart EQ Fortwo is the cheapest new electric car you can buy (aside from the not-really-a-car Renault Twizy) - with prices starting from £17,350.
It has a range of up to 82 miles, which will be plenty for pottering around town. Unless you live in a pretty enormous town. There's a Cabrio version, too, while the Smart EQ Forfour caters for those who need four seats (as its name suggests).
Skoda Citigo-e iV
Year launched: 2020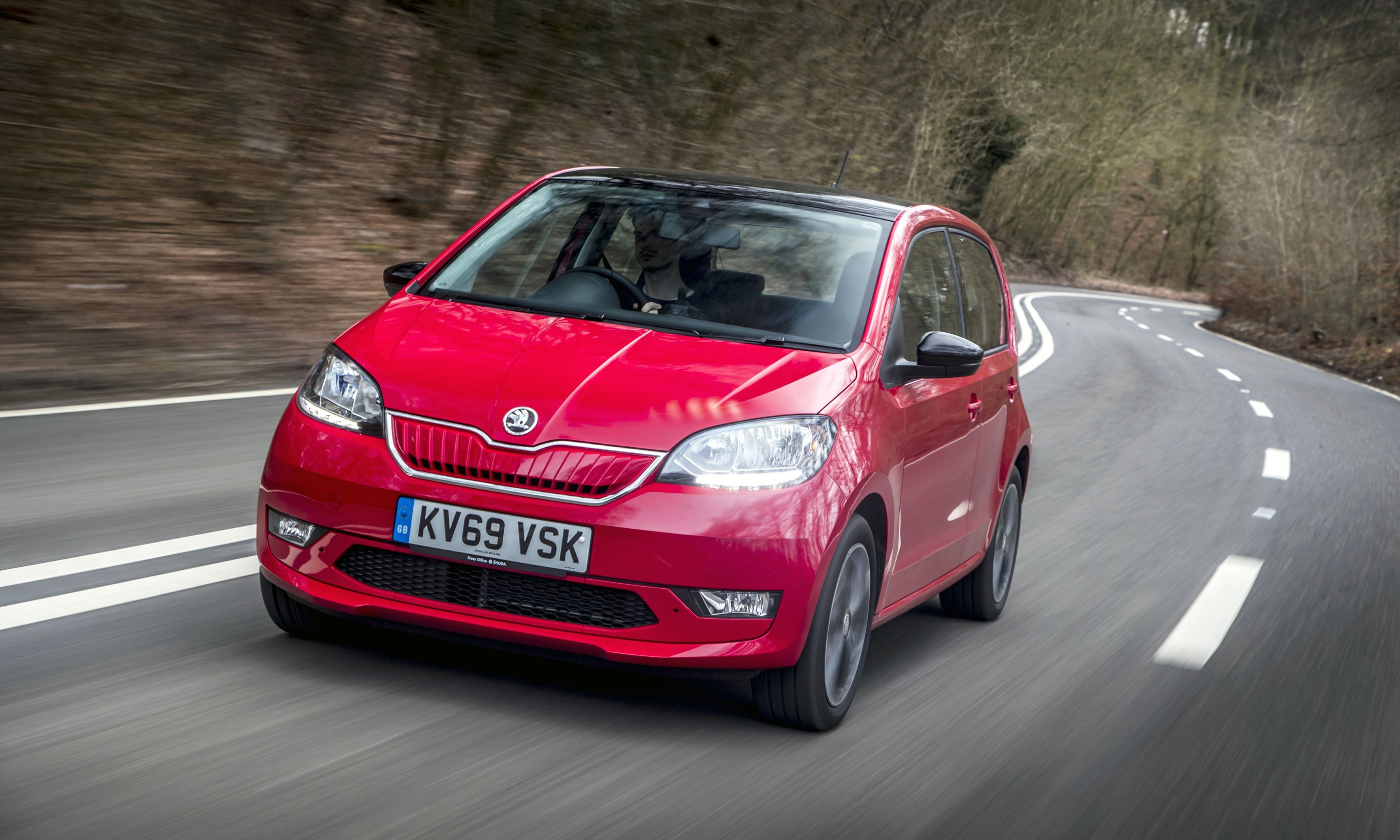 Let's not mess around: if you want a no-nonsense electric car, you should be looking at the Skoda Citigo-e iV. We rate it very highly.
It's very similar to the Volkswagen e-Up and SEAT Mii Electric but undercuts them thanks to an entry-level model which does away with rapid charging. That's fine if you rarely venture far afield from your home. Prices start from £17,455.
The Skoda Citigo-e iV can cover up to 170 miles from a charge and it's practical enough to carry four people (at a push). We'd suggest stretching to the top-spec SE L if budget allows. As well as the CCS charging capability, this also adds 16-inch alloy wheels, ambient interior lighting and the comfort pack (with heated front seats and rear parking sensors).
MINI Electric review
Year launched: 2020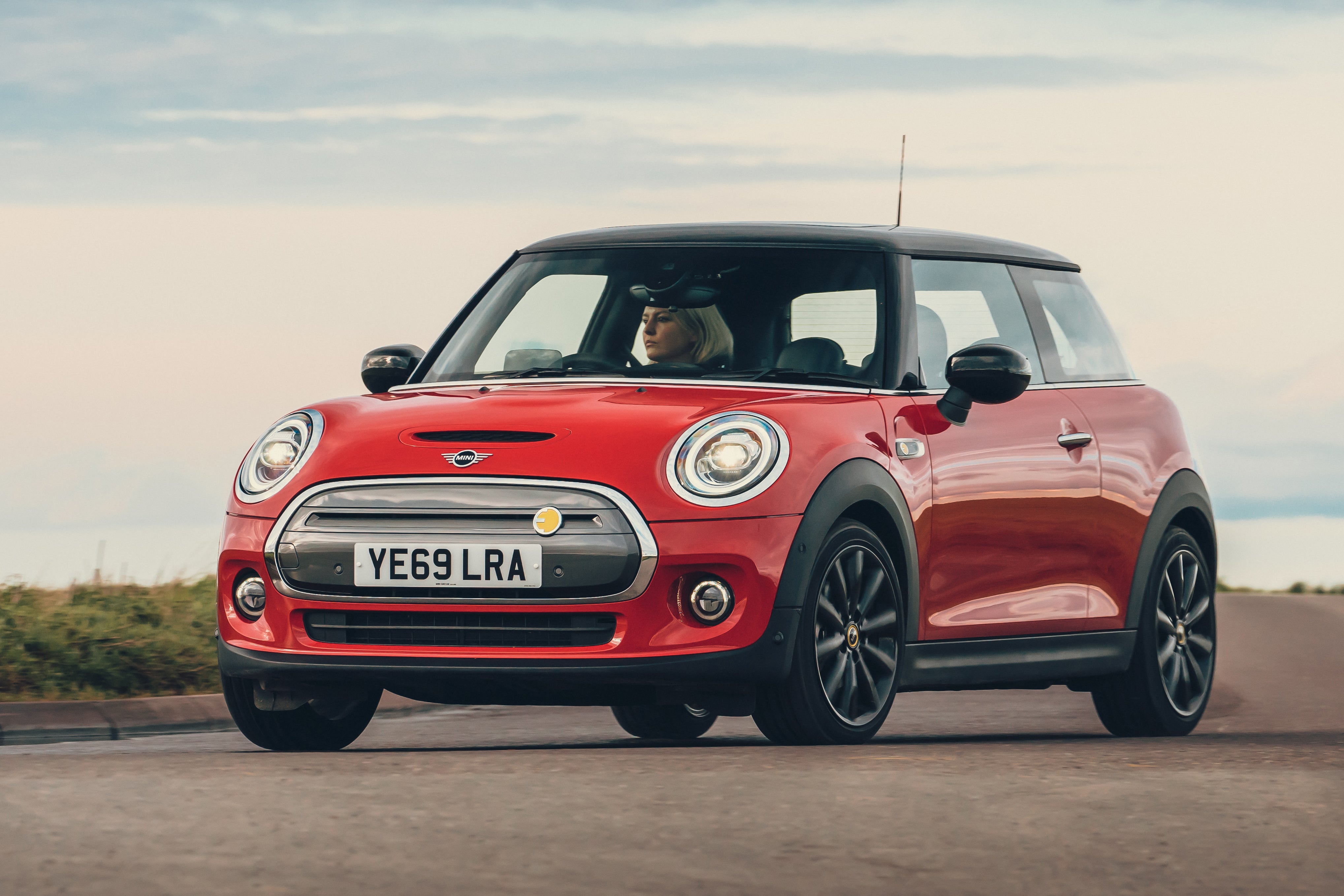 If you're on a budget but still want a fashionable electric city car, you'll be pleased to know the MINI Electric starts from less than £25,000. It's great to drive and has a plush interior, just like a standard petrol or diesel MINI.
With a 145-mile range and the ability to rapid charge to 80% in just 36 minutes, the MINI Electric is a really easy to use electric car.
You can also customise it to make it look more or less like a conventional MINI - you can decide if you want to shout about your green credentials or not.
MG ZS EV
Year launched: 2017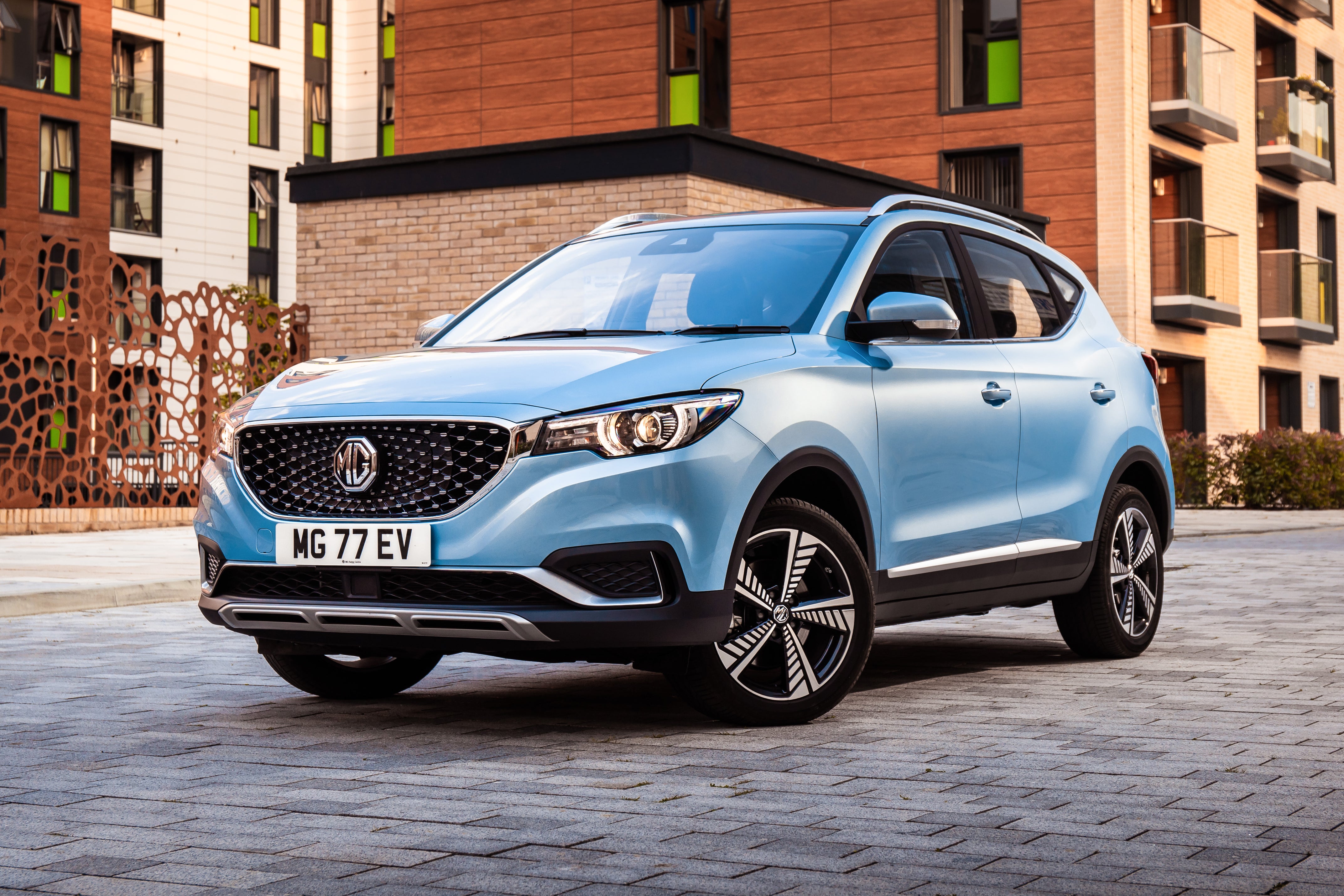 Looking for an electric vehicle which is practical enough to replace your family car? Say hello to the MG ZS EV. It's one of the new Chinese-built MGs, which represent very good value for money and come with generous equipment lists as standard.
MG provides a seven-year warranty and says the ZS was originally designed as an EV, and this means the electric version looks and feels identical to the standard car.
You also get the same 488 litres of boot space as before - which is far more than you'll get in any of its EV rivals, like the Hyundai Kona Electric and Kia e-Niro. While its 163-mile range isn't as impressive as pricier alternatives, it'll be sufficient for a lot of buyers.
Peugeot e-208
Year launched: 2020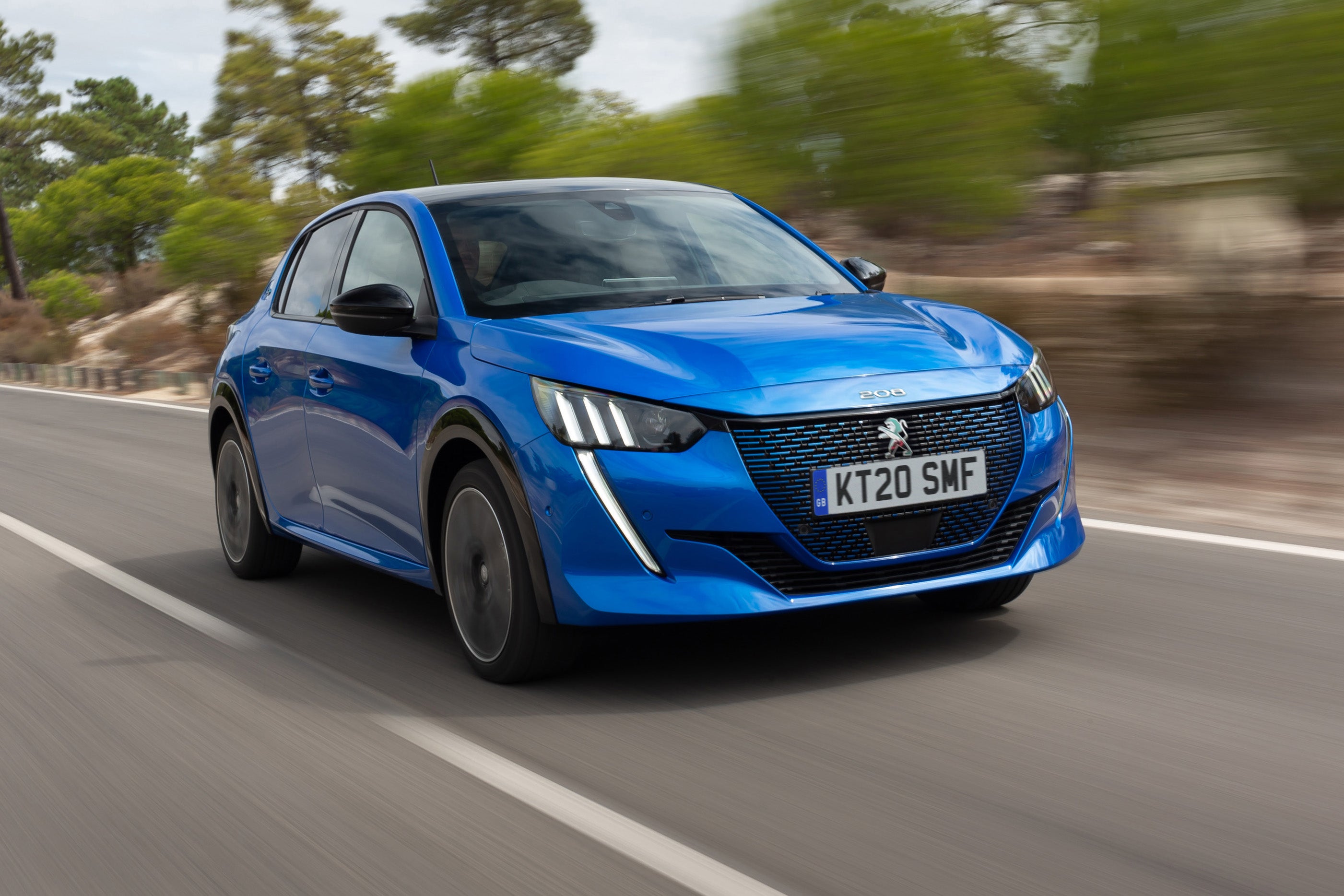 You can still buy a petrol or diesel Peugeot 208 but, for a lot of buyers we reckon the e-208 is the best choice. It's capable of covering up to 217 miles between charges - a genuinely impressive figure.
It also has a much classier interior than most affordable electric cars and, thanks to its eager motor and nimble handling, it's also a lot of fun to drive.
Prices for the Peugeot e-208 in Active trim start from £26,025 (after the Government's plug-in car grant). If you're tempted, you should also consider the very similar Vauxhall Corsa-e.
Nissan Leaf
Year launched: 2018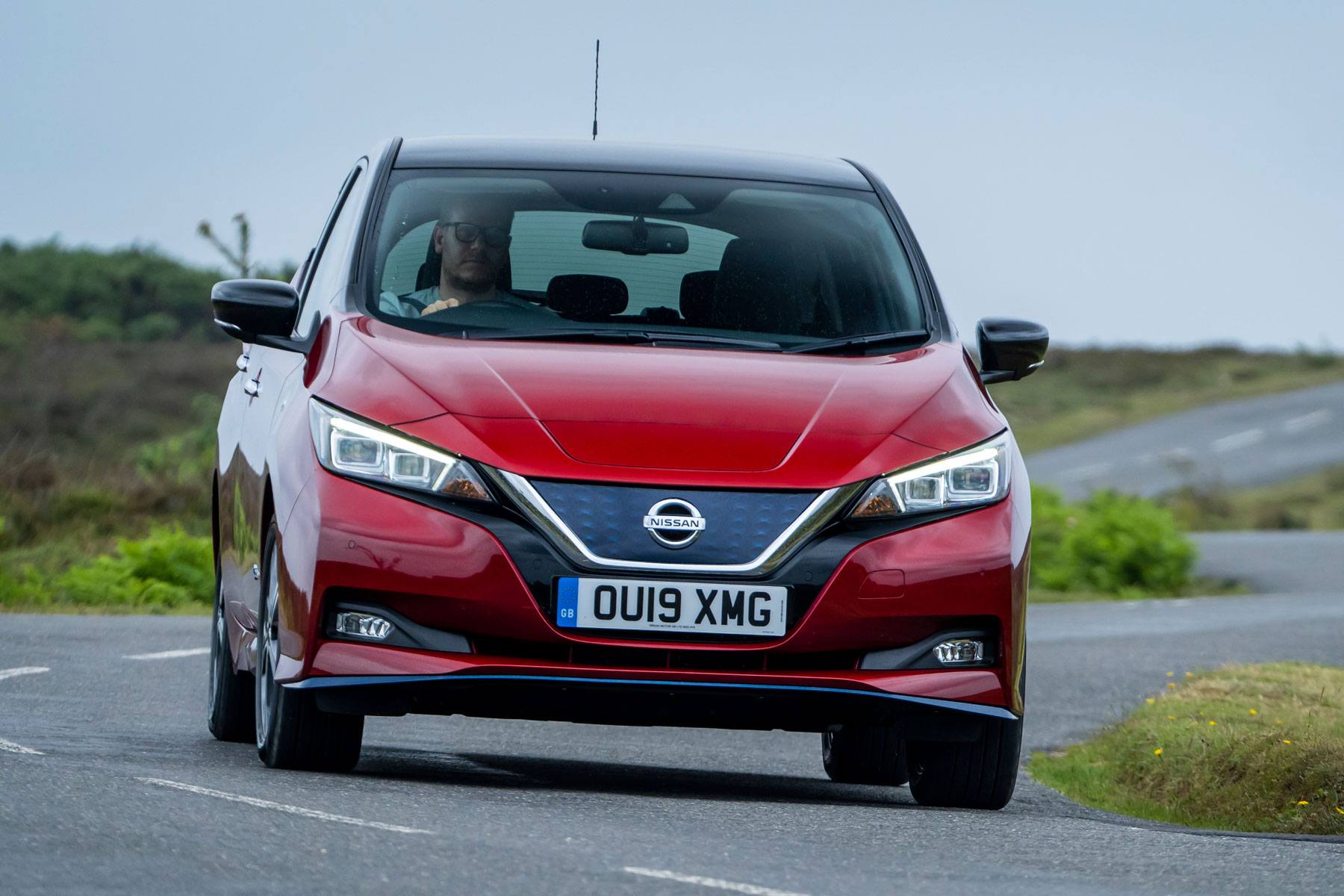 As more and more electric cars hit the market, the Nissan Leaf is starting to be eclipsed by some very desirable vehicles. It's still an incredibly competent (and great value) choice, though, with enough space for all the family and a proven electric powertrain.
There are two models available: the standard Leaf and the Leaf+. The latter has a larger 62kWh battery, giving it a range of up to 239 miles.
It's the standard car you'll be looking at if you're on a budget, though. This can cover 168 miles between charges and is priced from £26,845. That's not a great deal more than some much smaller alternatives.
Honda e
Year launched: 2020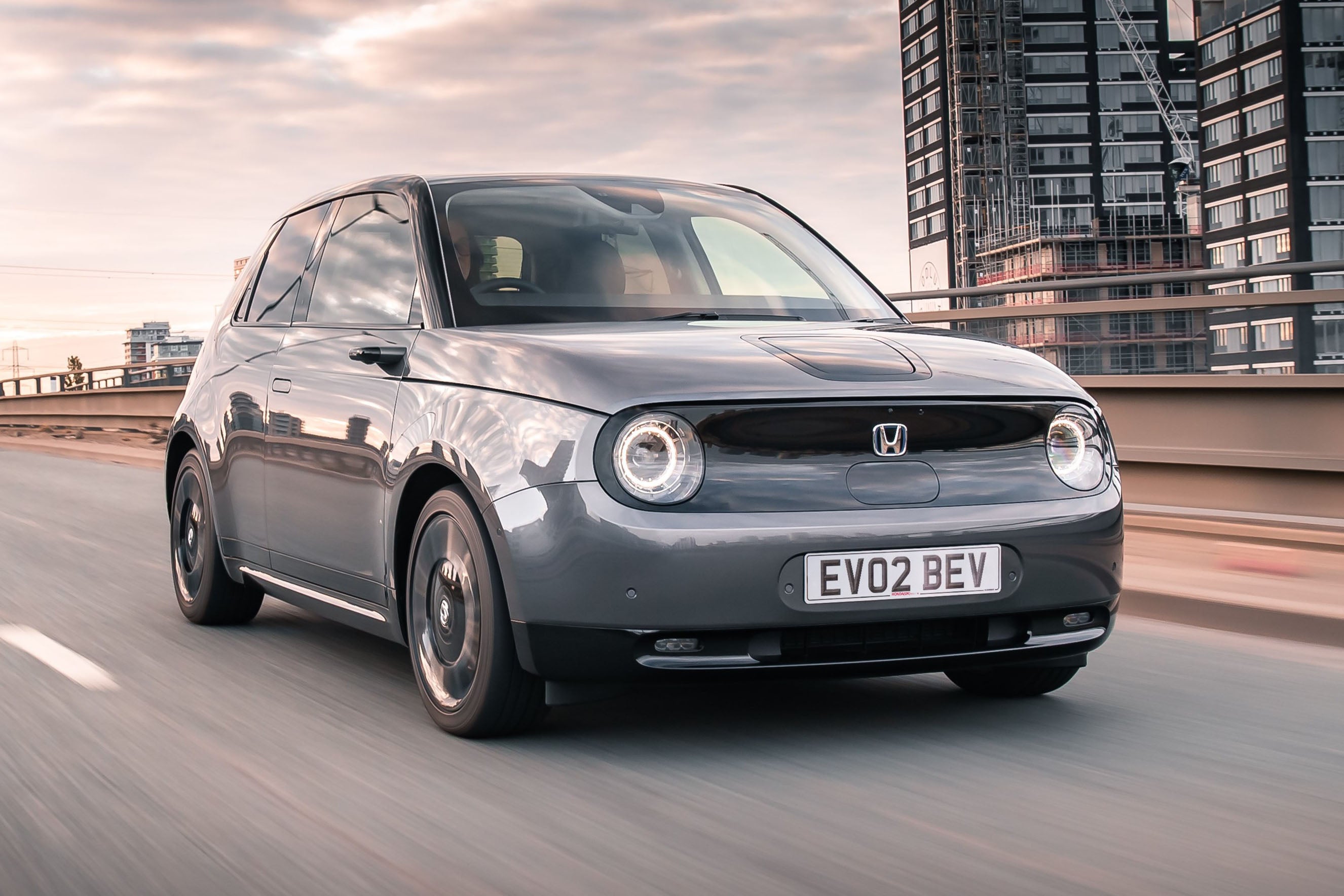 The Honda e is one of the most desirable electric cars to go on sale in recent years. It just looks awesome, with retro styling that has barely changed since Honda's Urban EV concept car (which was never intended to hit the market).
We love how it drives (especially the 154PS Honda e Advance), with zesty performance and nimble handling. Its 137-mile range is plenty for scooting around town.
It's just as impressive inside, where you'll find a dashboard-full of digital screens (covering everything from infotainment to the rear-view mirror). With prices starting from £26,660, it's one of the pricier electric cars to feature here but it'll also feel the most special.
Hyundai Kona Electric
Year launched: 2019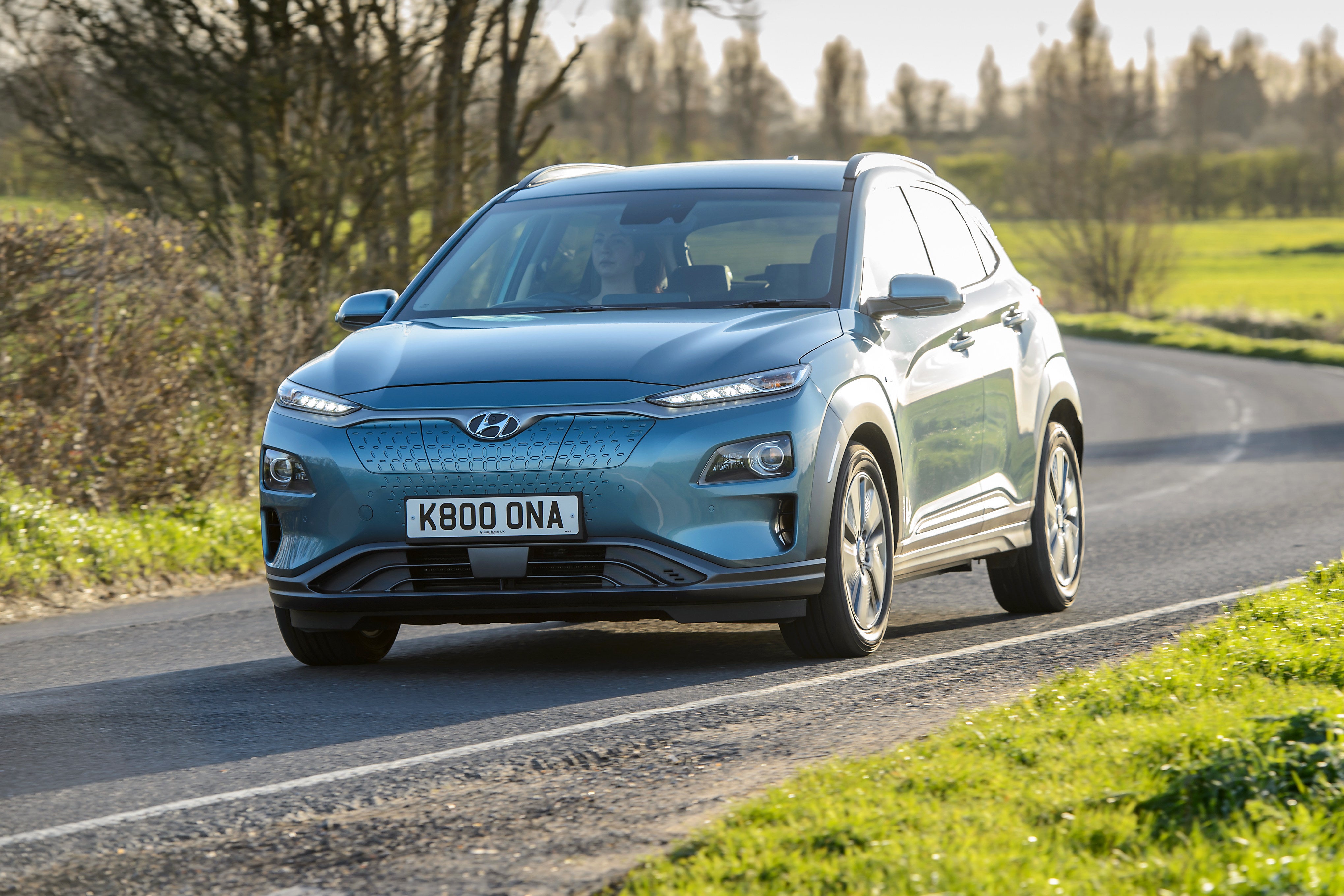 With a range of up to 278 miles, trendy crossover looks and practicality to match, it's no wonder the Hyundai Kona Electric is flying off the shelves.
If you're on a budget, you'll want the 39kWh model (which can cover up to 189 miles between charges), but that'll be sufficient for lots of buyers. Even the entry-level model is great to drive and comes packed with equipment.
Prices for the Hyundai Kona Electric in SE trim with the smaller battery pack start from £33,150. You can easily spend a lot more (the Premium SE starts from £41,250), but it's not really necessary as even the most affordable models are generously equipped.
Renault Zoe
Year launched: 2013

The Renault Zoe is one of the original electric cars, on sale since 2013. It's been comprehensively updated in recent years, however, meaning it now has an incredible 245-mile range and optional CCS rapid charging.
Prices for the Zoe Play model start from £26,495, rising to £29,995 for GT Line models. There are two motors available: the R110 and R135 - each with 110 and 135PS respectively.
The more powerful model is slightly quicker, obviously, but range isn't affected. Go for the R135 if you're planning to cover long journeys as this one comes with CCS rapid charging.
An electric car is one that uses an electric motor rather than a petrol or diesel engine. Obviously, rather than refuelling with petrol or diesel, you'll need to plug an electric car in to charge it.
Electric cars can be more expensive than petrol or diesel rivals, but they're coming down in price. You can buy a used electric car from around £5000, while new ones start from around £17,000 (after the Government's plug-in car grant).
The best electric car depends on your priorities, but we think the Volkswagen e-Up, Skoda Citigo-e iV and SEAT Mii Electric trio represents excellent value for money. They're a perfect introduction to electric vehicles but, if you need something more practical, we'd recommend a Kia Soul EV or Hyundai Kona Electric.
Reviews of more the cheapest electric cars
Renault Zoe
80kW Dynamique Nav R110 40kWh 5dr Auto
Martins Group Renault Basingstoke

Hampshire, RG247NZ
HP: £322.37/mo
Representative example: Contract Length: 36 months, 34 Monthly Payments: £322.37, Customer Deposit: £1,821.00, Total Deposit: £1,821.75, Total Charge For Credit: £1,576.07, Total Amount Payable: £13,721.07, Representative APR: 9.9%, Interest Rate (Fixed): 4.14%
Renault Zoe
68kW Dynamique Nav 41kWh 5dr Auto
Renault Retail Group Cannock

Wolverhampton, WS118XR
HP: £277.61/mo
Representative example: Contract Length: 36 months, 36 Monthly Payments: £277.61, Customer Deposit: £1,530.00, Total Deposit: £1,530.00, Total Charge For Credit: £1,323.96, Total Amount Payable: £11,523.96, Representative APR: 9.9%, Interest Rate (Fixed): 5.09%
Renault Zoe
100KW i GT Line R135 50KWh Rapid Charge 5dr Auto
Pentagon Subaru Lincoln

Lincolnshire, LN24LD
PCP: £344.75/mo
Representative example: Contract Length: 36 months, 35 Monthly Payments: £344.75, Customer Deposit: £3,524.00, Total Deposit: £3,524.85, Optional Final Payment: £12,049.75, Total Charge For Credit: £4,141.85, Total Amount Payable: £27,640.85, Representative APR: 8.9%, Interest Rate (Fixed): 4.34%, Excess Mileage Charge: 14.7ppm, Mileage Per Annum: 10,000