Cheapest small crossovers

Written by
Russell Campbell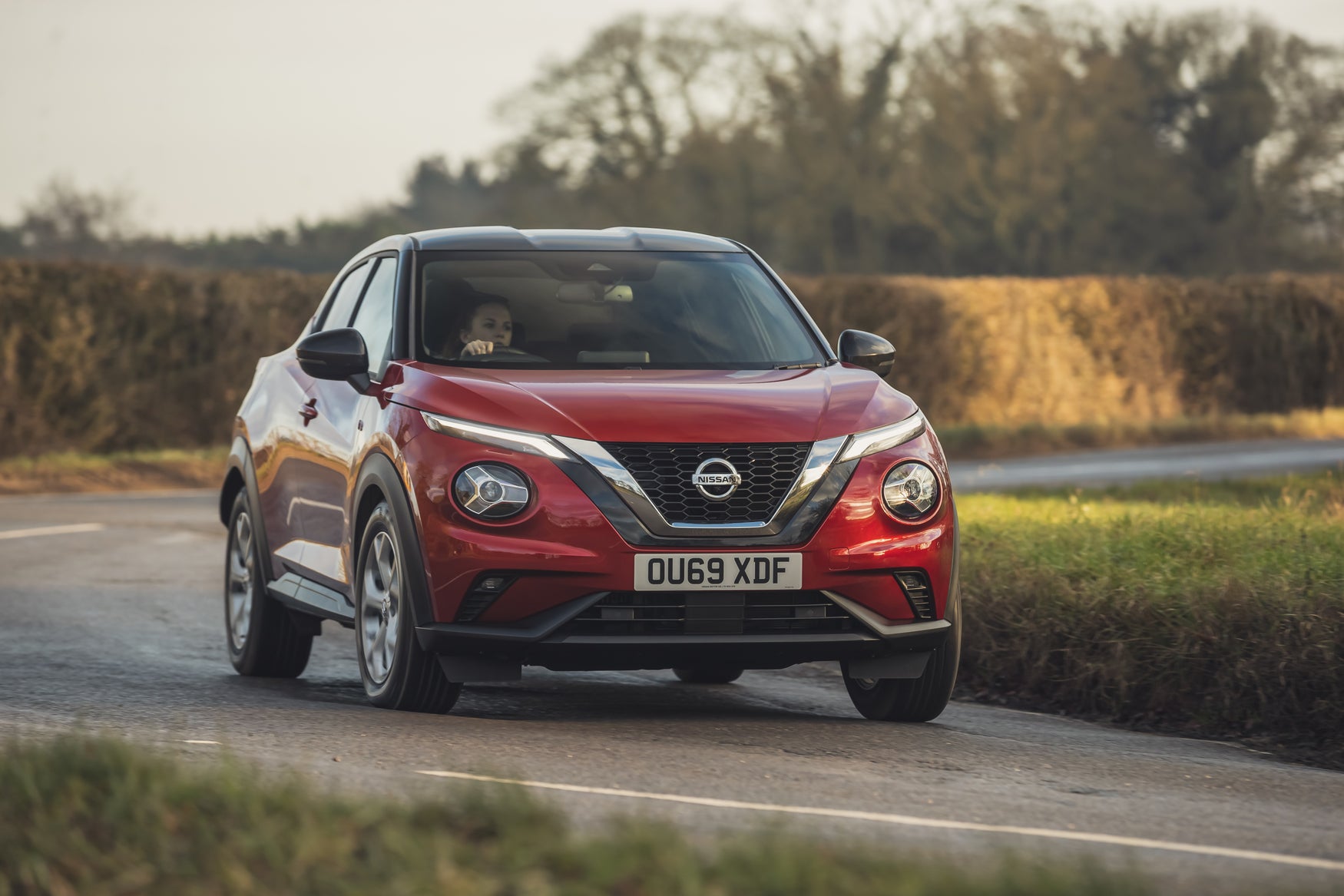 What is the cheapest small crossover in the UK? We've searched our latest cars for sale to reveal the best and cheapest small crossovers that offer great value, comfort and fuel economy.
Our guide to the cheapest small crossovers is designed to help you choose a car that'll slot into your life perfectly. We've chosen a mixture of models from the very best on sale to cars that offer something unique in the segment such as the MG ZS EV electric crossover or the rugged off-road-ready Dacia Duster.
While the cars here offer a broad range of talents, they also share lots in common – all have upright bodies that give you a great view out but also mean they're relatively spacious for their size. Compared to a small car of the same dimensions, you get a lot more room in a crossover and their height means you'll also feel less exposed when sharing the road with towering SUVs. Keep reading for the heycar guide to the best cheapest small crossovers.
Ford Puma
Year launched: 2019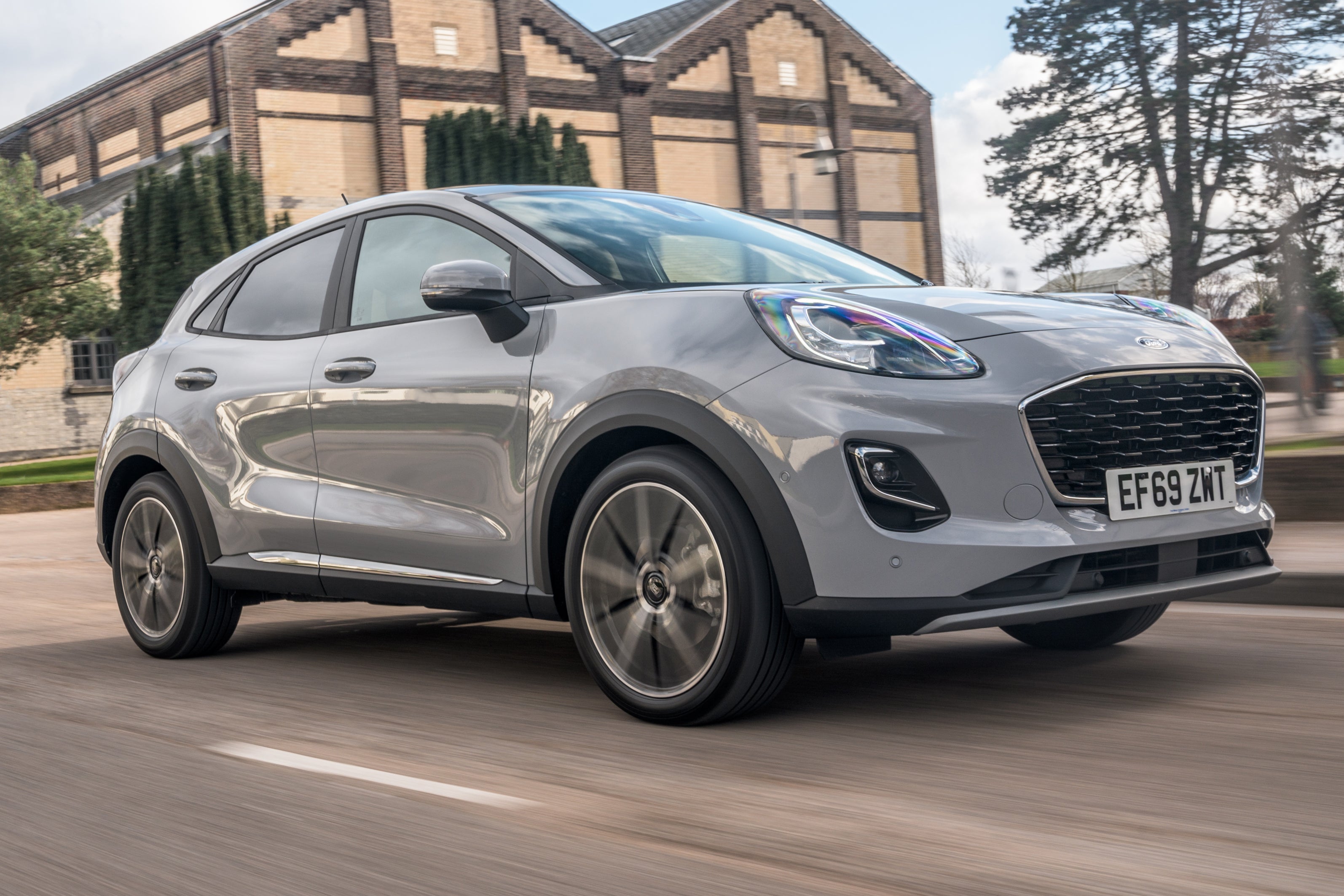 The Ford Puma shares a surprising amount in common with its namesake coupe from the 1990s – both are cars of their time built to appeal to the buying habits of the nation, they're stylish-looking and great to drive, hence why it tops this list of the best cheapest small crossovers.
Of course, the new crossover pulls well ahead of the old two-door model when you consider practicality. The current Puma will happily accommodate four adults, its boot is big and under its floor, you'll find Ford's Megabox. While it might sound like something you'd buy in a Scottish kebab house, the Megabox is, in fact, a large hidden compartment with a plugable drain in the floor for easy cleaning. It's perfect for muddy boots or dirty kit.
Thankfully, Ford's managed to combine this practicality with its trademark agile handling and you can have the Puma with a variety of frugal petrols, including a particularly thrifty mild-hybrid. You'll pay from around £20,500 to get your hands on a new Puma.
Skoda Kamiq
Year launched: 2018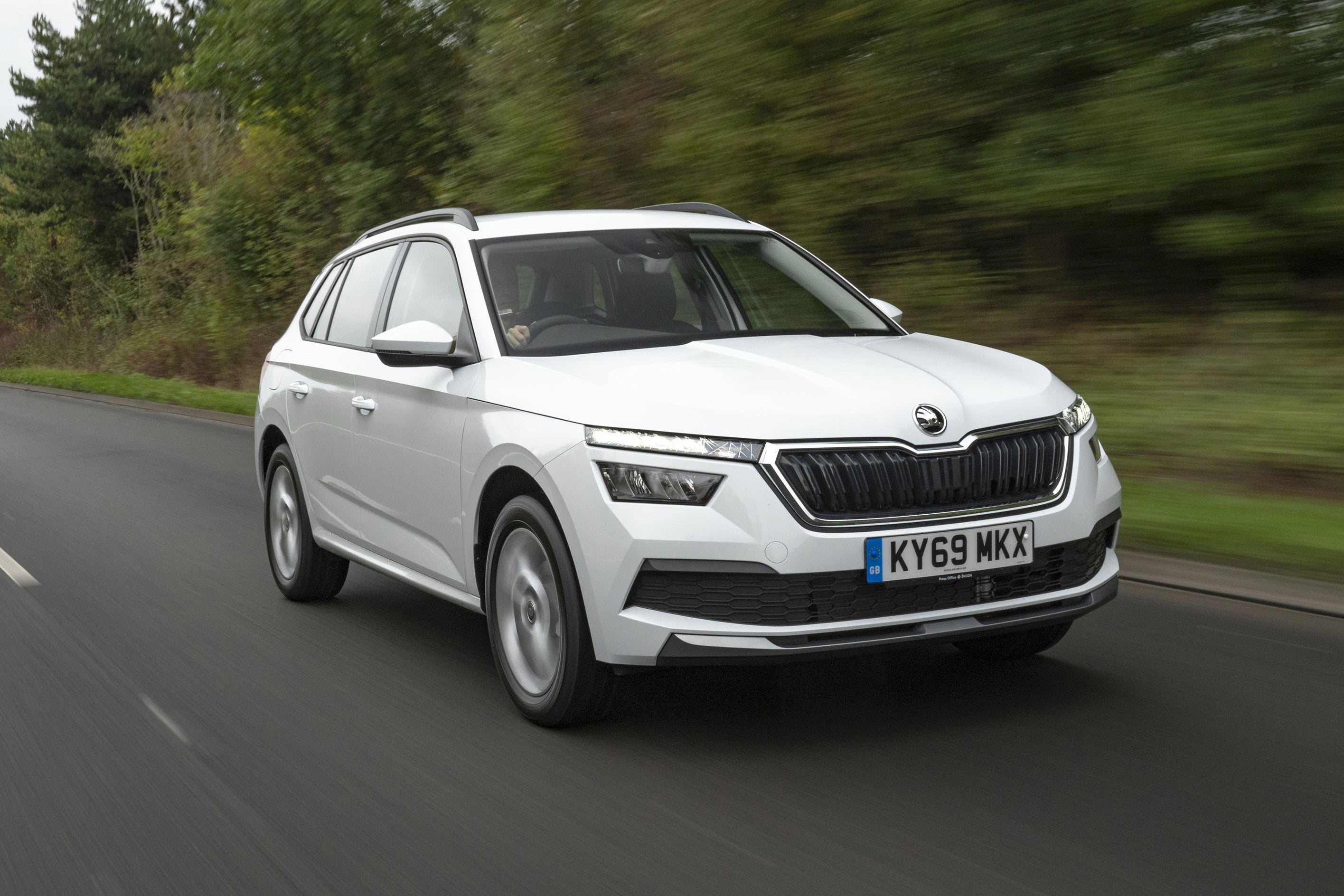 If you're looking for a great family car then the Skoda Kamiq is arguably the best cheapest small crossover on this list – after all, offering great value is a cornerstone of Skoda's success. Not that the Skoda's handsome styling gives the game away that this is one of the thriftier options.
The same is true on the inside. Most of the areas you'll touch are made from soft and spongy plastics and you get an intuitive infotainment screen that makes counting one-two-three seem complicated. There's loads of space in the front, enough room for tall adults in the back and you get a boot that's large, square and easy to load.
'Easy' is how we'd describe the driving experience. The controls are light, the suspension smooths out bumps and all the engines have enough power and they're all cheap to run. We'd go for a 95PS 1.0-litre petrol in SE trim for its improved infotainment and rear parking sensors. All yours for less than £20,000 new.
SEAT Arona
Year launched: 2017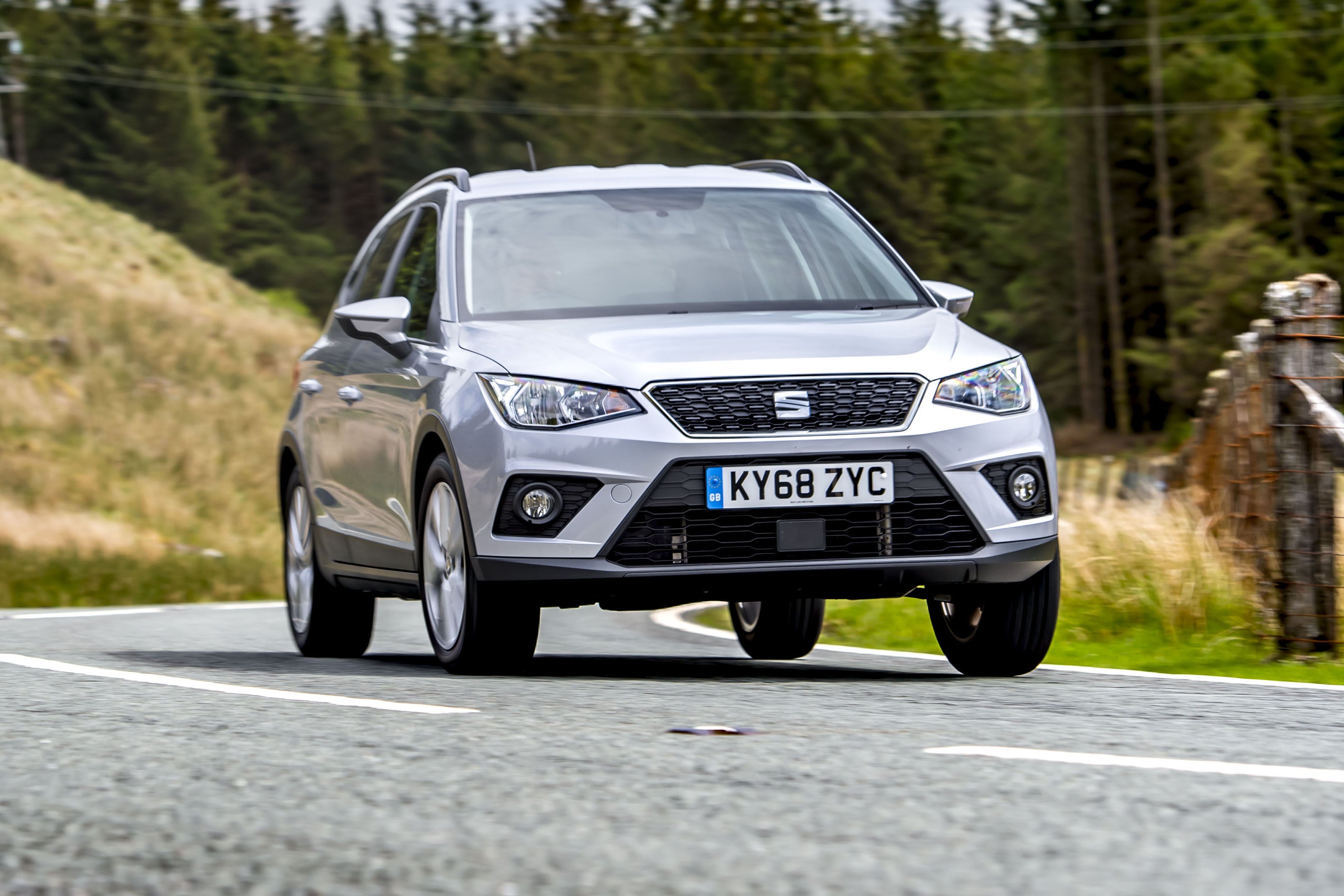 The SEAT Arona shares most of its parts with the Skoda Kamiq and Volkswagen T-Cross but adds a sportier slant to the recipe, evident by its sharp styling and chiselled body creases.
You keep all the practical bits though. That means you get an interior that looks nicely built, is logically laid out and comes with Apple CarPlay and Android Auto as standard, so you can use your phone's sat-nav through the car's big screen. You also get just enough room for four tall adults and a boot that'll carry a week's worth of their luggage.
Out on the road, the Arona feels nippy and agile and the basic 115PS petrol delivers balanced performance. We'd choose it in FR trim for its sportier styling and rear parking sensors, LED headlights and electric foldaway mirrors – expect to pay about £21,500 new.
Volkswagen T-Cross
Year launched: 2018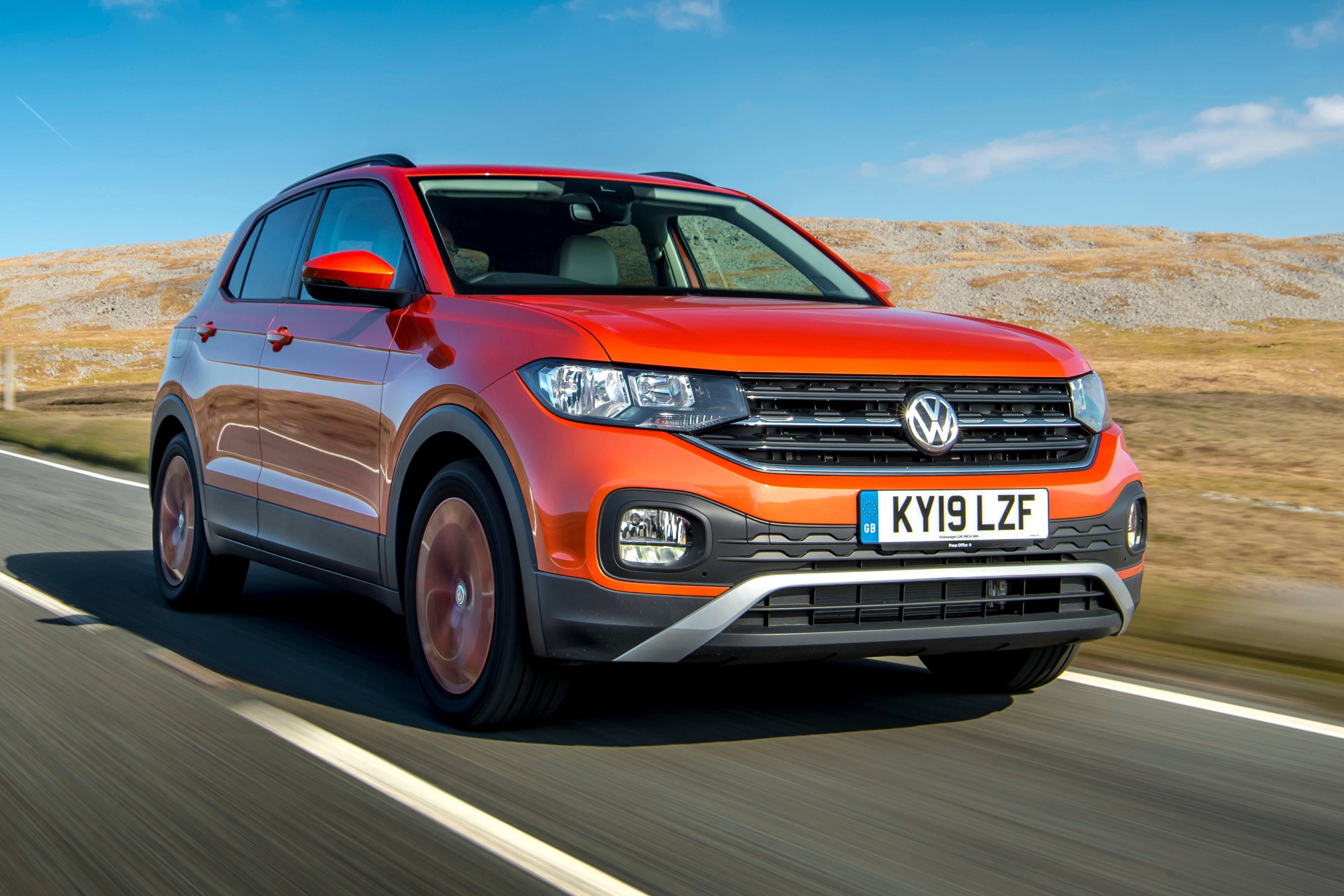 The Volkswagen T-Cross is the final instalment in the VW Group (Skoda, SEAT and Volkswagen's) crossover trilogy, it costs a little more than the Kamiq and Arona compared like-for-like, though the extra outlay buys you the most desirable badge of the three.
On the inside, it feels very similar to its sister cars. Gaps between trims are consistent and the interior feels like it will deflect the worst your family can throw at it. You can have colourful trims and spec up to a large multi-function screen that replaces the conventional analogue dials. The interior is also practical enough to carry four adults and a couple of large suitcases.
SE models get all the kit you need – including adaptive cruise control and alloy wheels – and the 95PS petrol engine copes well with a variety of driving. New, this basic specification will set you back about £19,000.
Peugeot 2008
Year launched: 2019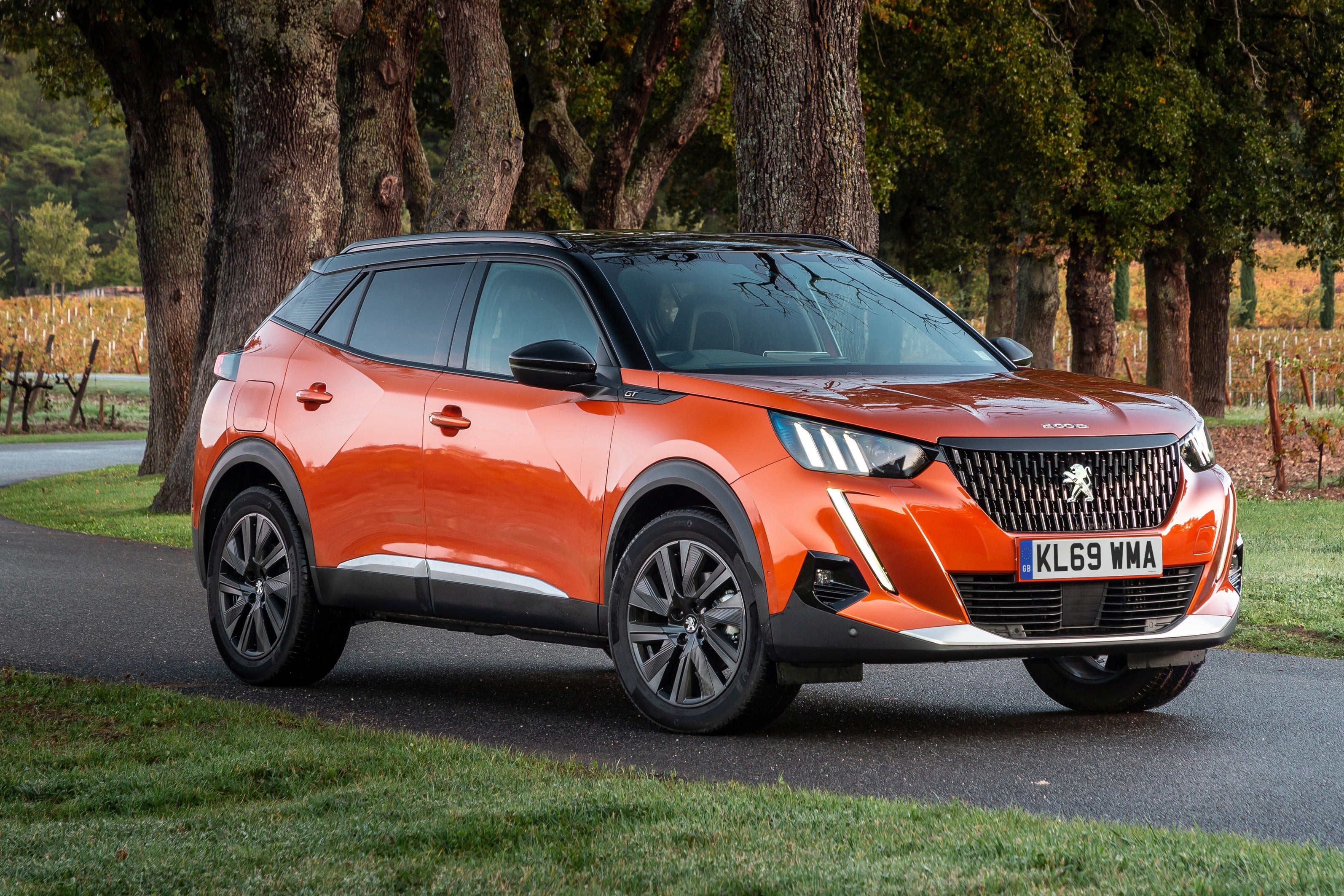 Better than any other car here, the Peugeot 2008 shows how a crossover can offer a striking design in a practical package. It has a toothy grin, a smattering of curves and creases, plus taillights that look like they have been swiped into the back of the car by a marauding big cat.
Its capacity to dazzle continues on the inside where you'll find a pair of large infotainment screens that have pretty graphics and slick animations. It's cool then, but also practical. There's plenty of room for tall adults upfront and you'll get two more giants in the back without having to field too many complaints. Meanwhile, the boot is large and you get loads of useful storage areas sprinkled around the cabin.
Our £20,000 budget is enough to get you behind the wheel of a 2019 Peugeot 2008 Allure with the desirable 130PS PureTech 1.2-litre petrol engine which gets great fuel economy and actually feels quite quick. Allure models, meanwhile, get a sporty body kit, upgraded infotainment and front and rear parking sensors.
Nissan Juke
Year launched: 2019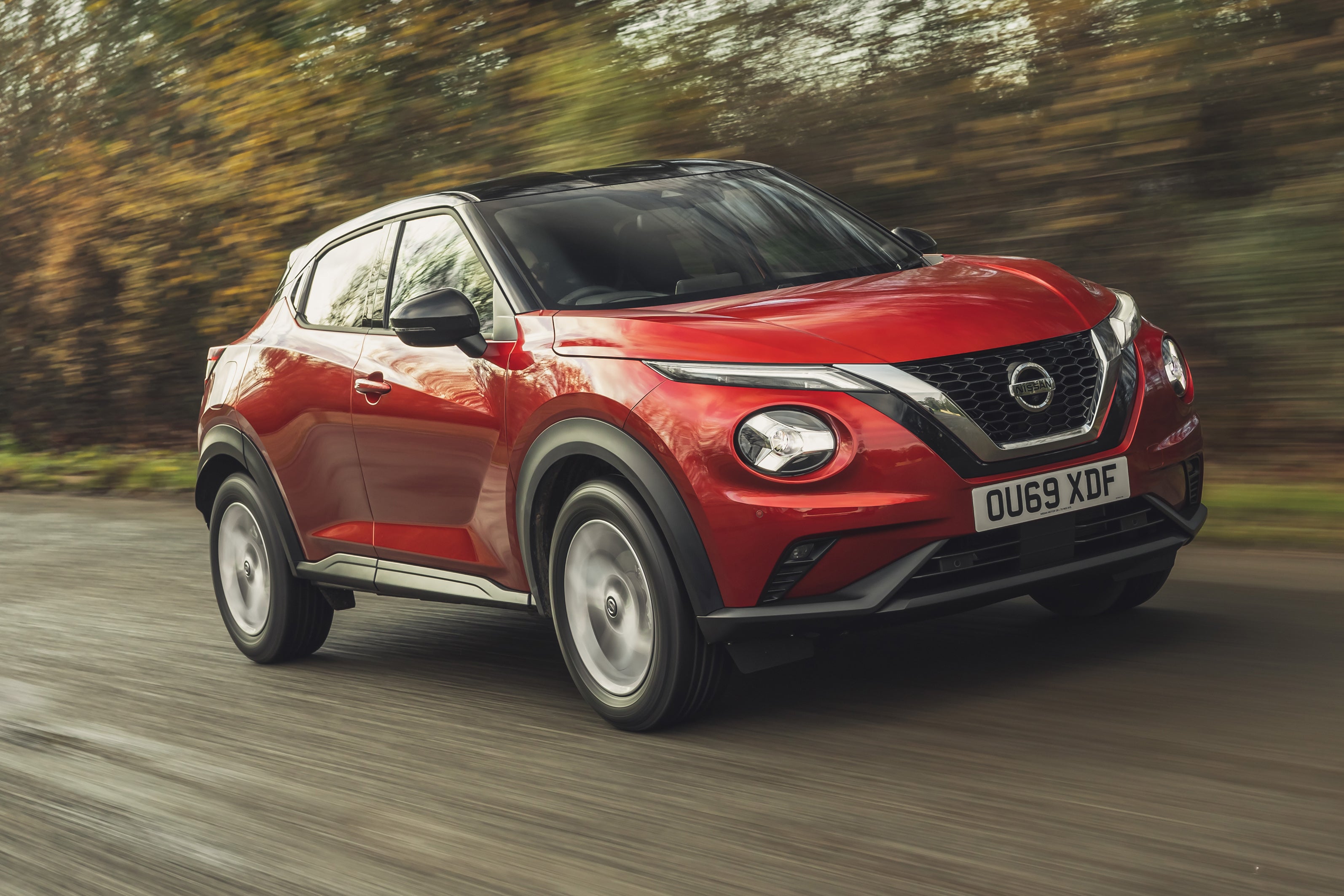 Back in 2010, the original Nissan Juke sparked the crossover craze by applying sporty looks to a jacked-up body. Nine years on, this new model launched offering improvements across the board, while keeping the striking design that proved such a hit with the original.
That said, the changes are most notable on the inside. The Nissan's sporty design has a new sense of quality to it and you get more space – four adults will fit inside without complaint and the boot is large and flexible. Avoid the basic model and you also get a decent infotainment system.
There's only one engine to choose from, but the 115PS petrol is nippy and cheap to run, plus the Juke is tidy in corners and – so long as you avoid cars with 19-inch alloy wheels – is reasonably comfortable. Acenta models come with 17-inch alloy wheels, an eight-infotainment screen with Apple CarPlay and Android Auto and a rearview camera and, with a starting price of less than £19,500, they're our pick of the range.
Renault Captur
Year launched: 2020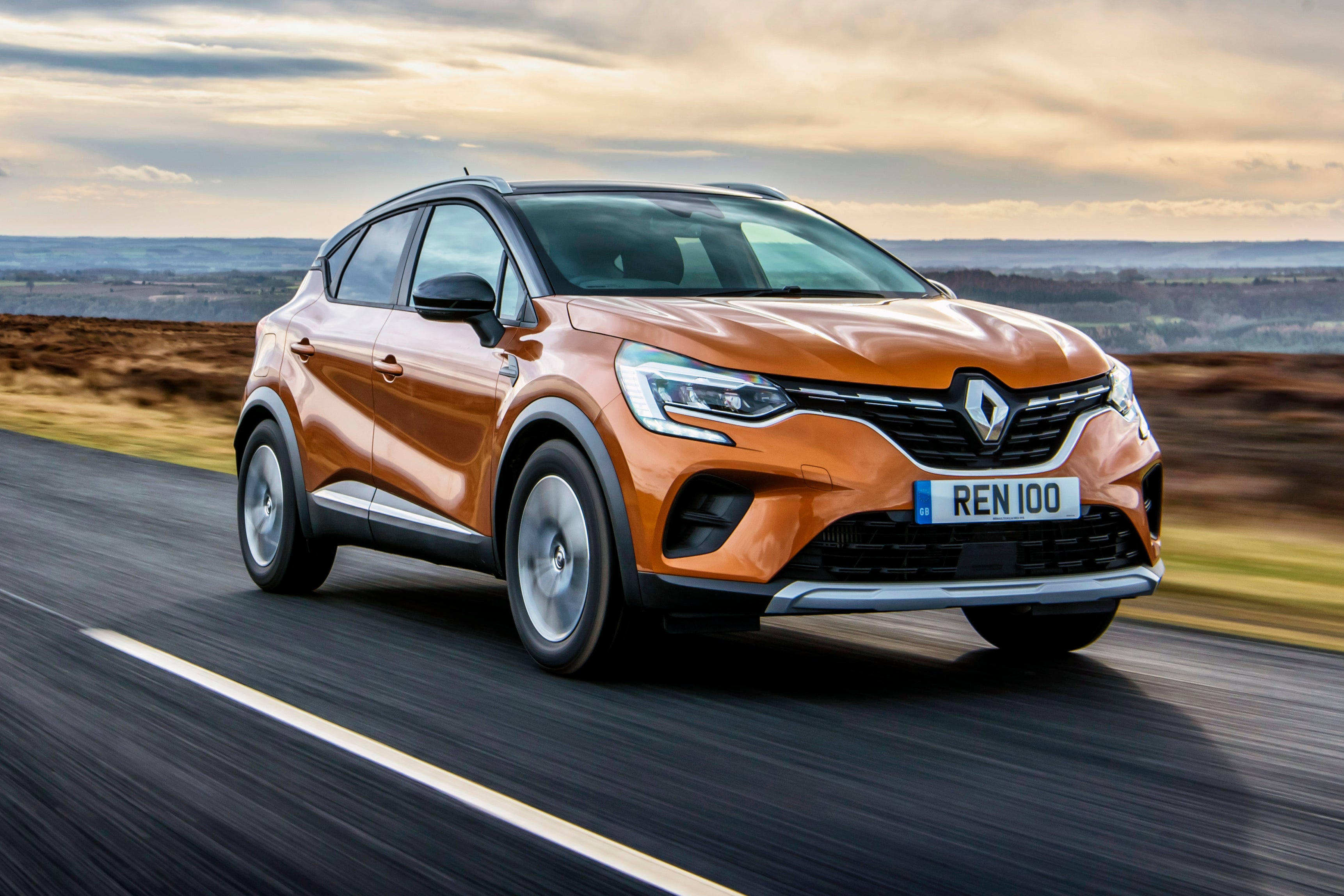 The Renault Captur is another pioneer of the crossover genre – it's based on the firm's small car, the Clio, but has jacked up suspension and a higher, flatter roofline.
The former of those two qualities give you a raised driving position with a good view of the road ahead, while the latter means the Captur has enough interior space for four adults and a boot that's significantly bigger than the Clio's. Even basic Play models get an infotainment screen with Apple CarPlay and Android Auto, keyless entry and cruise control. However, we'd upgrade to Iconic trim for its smart alloy wheels and rear parking sensors.
Paired with the 130PS petrol engine, which is brisk but not expensive to run, the Renault is a comfortable way to transport the family. Expect to pay just under £23,000 for a 130PS petrol Iconic model.
Citroen C4 Cactus
Year launched: 2014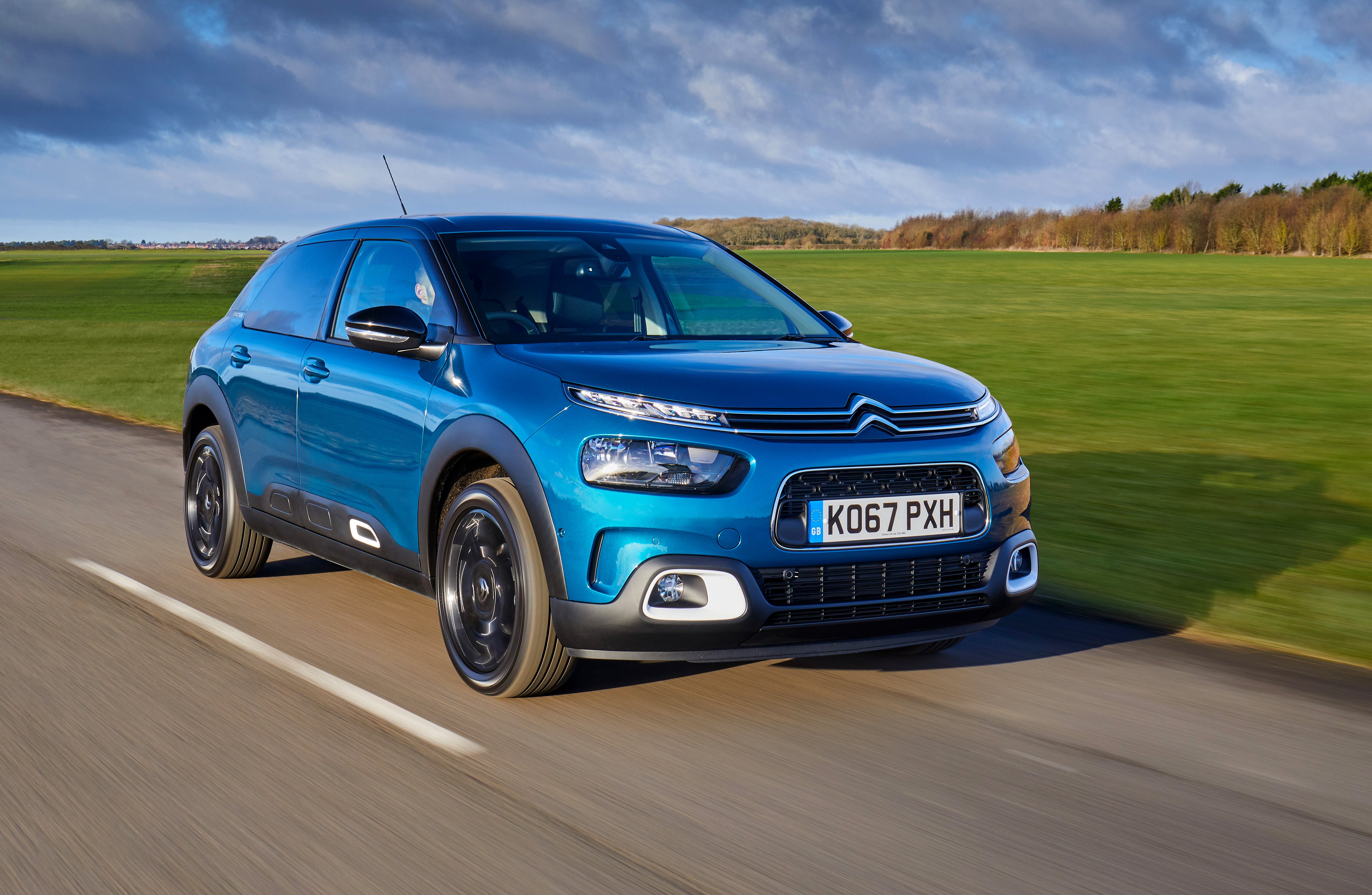 Although the Citroen C4 Cactus was launched in 2014, a comprehensive update in 2018 means it has been significantly improved since and now gets new toned-down styling with smaller sections of the Airbump plastic body cladding that proved controversial on the original car. That said, there's still plenty of scope to get an eye-catching contrast paint job.
Improvements were also made to the inside in line with Citroen's drive towards comfort. Increased sound deadening means it's now quieter and you get thicker, memory-foam seats that reduce aches on long journeys. As before, there's space for four, the boot is big for this size of car and Apple CarPlay and Android Auto are fitted to the infotainment screen as standard.
Avoid the 82PS petrol engine – we'd go for the perkier 110PS petrol – and you also get Citroen's fancy hydraulically cushioned suspension which suits the car's comfort focus. Flair's the only trim level available and includes things like 17-inch alloy wheels, keyless entry and cruise control. Prices start from a little over £22,500 for a new car fitted with the 110PS petrol engine.
Dacia Duster
Year launched: 2017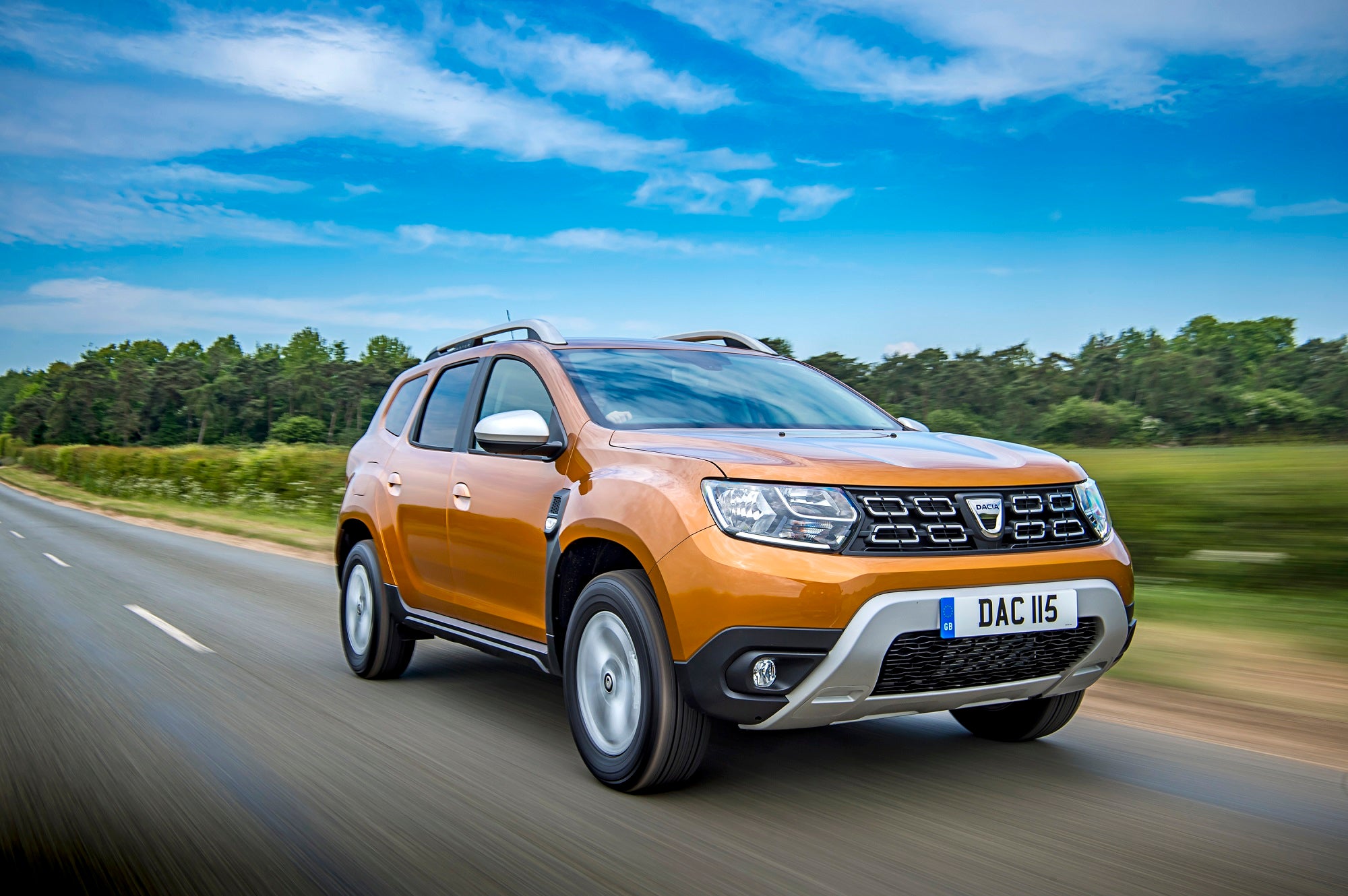 Crossovers don't get much cheaper than the Dacia Duster which can be yours for less than £10,500 brand new. That buys you a car with rugged SUV styling and impressive go-anywhere ability if you buy a model with four-wheel drive.
Whichever version you choose, though, the Duster has space for four adults and a big boot. Sure, there's a no-frills air to the cabin quality, but circular air vents give it a sporty design and everything feels robust.
It's worth going for a mid-range Comfort model which adds kit like a seven-inch infotainment screen with Apple CarPlay and Android Auto, cruise control and a reversing camera. That'll set you back about £15,500 in combination with Dacia's well-balanced 100PS petrol engine and – unless you plan to go off-road or tow – we'd go for a two-wheel-drive model that'll improve fuel economy.
MG ZS EV
Year launched: 2019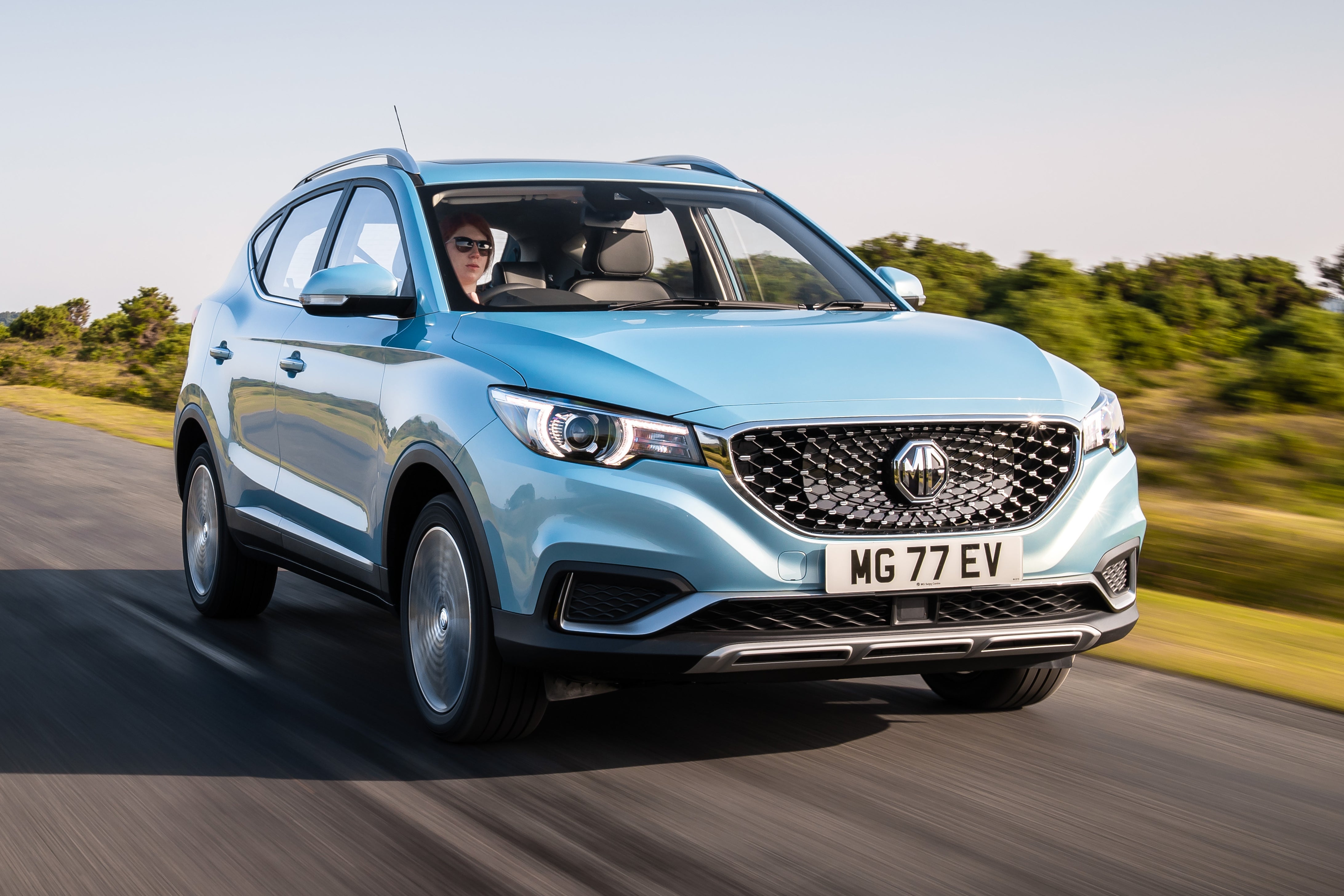 Okay, so £25,500 for a brand new MG ZS EV might sound quite pricey - but when you realise this is an all-electric crossover it starts to look like an absolute bargain.
MG is, of course, now under Chinese ownership and the MG ZS EV is central to its resurgence. Like all the cars here, it's a practical crossover with plenty of room for four adults and a boot that'll happily swallow a couple of large suitcases. It's significantly more spacious than any other EV at the price.
The electric drivetrain meanwhile gives you a range of up to168 miles and surprisingly pacey performance. The ZS EV is likely to appeal most if you live in a large city and have somewhere to charge the car – allowing you to make huge savings on fuel and giving you an exemption from tariffs like the London Congestion charge.
The Dacia Duster is the cheapest crossover currently on sale with brand new cars starting from a little over £10,000. Despite its rock-bottom price, the Dacia is quite large for a 'small' cheap crossover, it has room for four and a large boot. You can choose from a range of petrol and diesel engines and trim levels that range from very basic to reasonably generous.
Making the distinction between SUVs and crossovers is a tricky business but generally speaking, an SUV is capable off-road while a crossover looks the same, but has little of the capability. As a result, the cheapest small SUV is a Dacia Duster fitted with optional four-wheel drive, which transforms it into a surprisingly capable off-roader.
At under 4m in length, the Fiat Panda City Cross is the smallest crossover on the market. It's based on the Panda city car but adds pumped-up looks and raised suspension to make it look like a pint-sized off-roader, while a clever electronic differential means it'll actually perform well on snow and mud-covered roads. It may be small, but the Panda's tall roof means it's relatively spacious and all models come with five doors – not a given on a small car like this.
Ford Puma
1.0 EcoBoost Hybrid mHEV ST-Line 5dr
Foray Motor Group Ford Shaftesbury

Dorset, SP78PL
HP: £581.52/mo
Representative example: Contract Length: 37 months, 35 Monthly Payments: £581.52, Customer Deposit: £3,225.00, Total Deposit: £3,225.00, Total Charge For Credit: £2,660.72, Total Amount Payable: £24,160.72, Representative APR: 8.9%, Interest Rate (Fixed): 4.72%
Ford Puma
1.0 EcoBoost Titanium 5dr
Perrys Ford Aylesbury

Buckinghamshire, HP198BY
PCP: £292.79/mo
Representative example: Contract Length: 37 months, 36 Monthly Payments: £292.79, Customer Deposit: £2,714.00, Total Deposit: £2,714.85, Optional Final Payment: £9,586.00, Total Charge For Credit: £4,742.29, Total Amount Payable: £22,841.29, Representative APR: 12.9%, Interest Rate (Fixed): 6.6%, Excess Mileage Charge: 15ppm, Mileage Per Annum: 10,000
Ford Puma
1.0 EcoBoost Titanium 5dr
Perrys Ford Aylesbury

Buckinghamshire, HP198BY
PCP: £291.69/mo
Representative example: Contract Length: 37 months, 36 Monthly Payments: £291.69, Customer Deposit: £2,714.00, Total Deposit: £2,714.85, Optional Final Payment: £9,634.00, Total Charge For Credit: £4,750.69, Total Amount Payable: £22,849.69, Representative APR: 12.9%, Interest Rate (Fixed): 6.6%, Excess Mileage Charge: 15ppm, Mileage Per Annum: 10,000