Cheapest van MPVs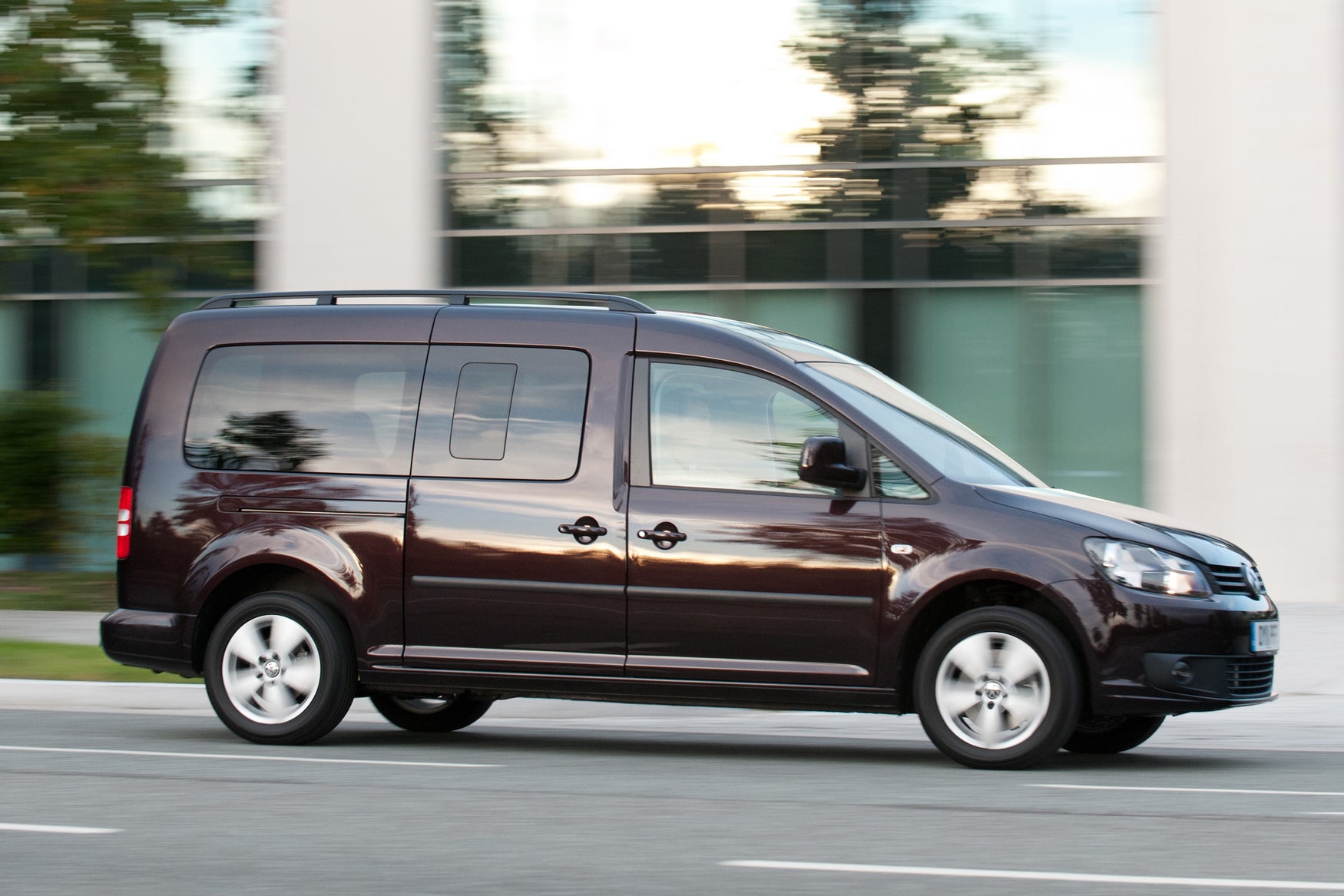 Few family cars can match the van-based MPV for comfort, space or value. Easy to drive, good on fuel economy and roomy enough to carry up to seven people in comfort, these practical people movers have lots to offer used car buyers operating on a budget,
We've searched the market to find the cheapest petrol and diesel van-based MPVs. Prices start around £6000 and all of these family cars offer good comfort and lots of storage space.
The low loading floor also makes these cars good options for older drivers who need a wheelchair-friendly car. From the Ford Tourneo Connect to the Volkswagen Caddy Maxi Life, these are the cheapest and best van-based MPVs you can buy right now
Ford Tourneo Connect
Year launched: 2015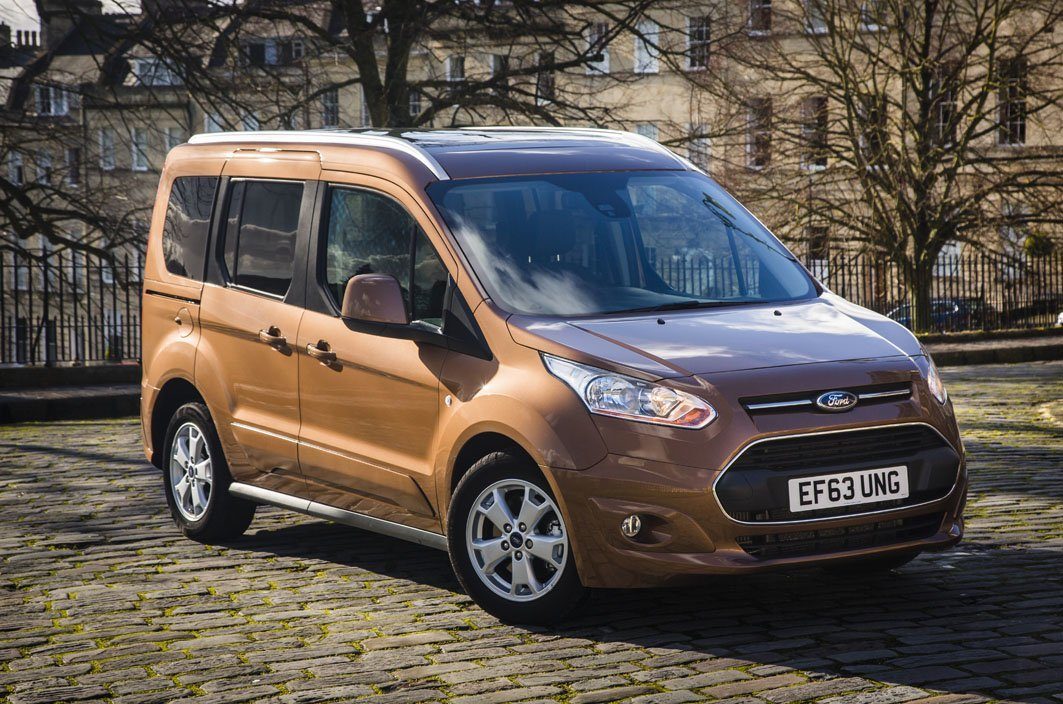 Good to drive, comfortable, spacious and cheap to run, the Ford Tourneo Connect is one of our favourite van-based MPVs. Both the petrol and diesel models are affordable to buy and run. You also get the option of five or seven-seats, with the latter offered on Grand Tourneo Connect models.
Prices on the used market start at under £10,000 for five-year-old Tourneo Connect. Most cars for sale are powered by Ford's efficient 1.5-litre diesel engine, while the 1.0-litre petrols are rarer and tend to command higher prices due to their desirability with low-mileage drivers.
Standard equipment is generally high across the range. But we'd recommend finding a Tourneo Connect in Zetec trim or better, to get things like front fog lights, electric door mirrors and DAB radio. Titanium models are the most sought after and add a panoramic glass roof, seatback trays (for the rear seats) and climate control.
Citroen Berlingo Multispace
Year launched: 2008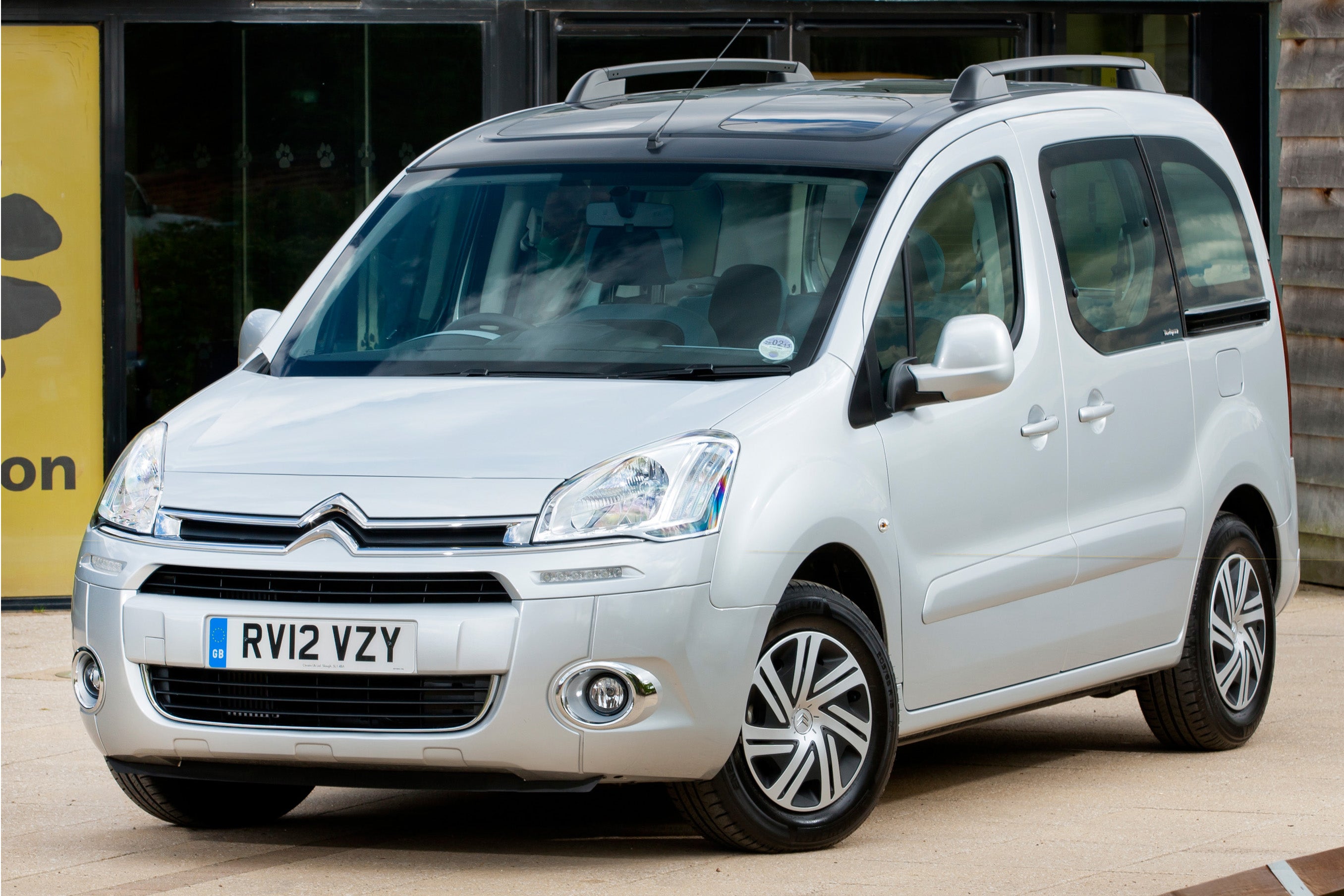 It won't win any beauty contests, but the Citroen Berlingo Multispace is our idea of a big and boxy used car bargain. All versions are easy to drive, roomy and comfortable, while the 1.6-litre diesel will return 60+mpg.
The Berlingo Multispace offers lots of luggage space. Lower the rear seats and you'll get a massive 3000 litres. Most models have independent folding seats, which can be lifted or lowered with a small lever or cloth tag. You also get lots of handy pockets, cup holders and cubby holes, which means you are never short of interior space.
Most of the interior is finished in hard scratchy plastics, but they are hardwearing and easy to clean. The cloth seats are firm but supportive. This makes the Berlingo good for long journeys. If you want a tough and practical car with cheap fuel costs and lots of everyday useability, the Berlingo is very hard to fault.
Peugeot Partner Tepee
Year launched: 2008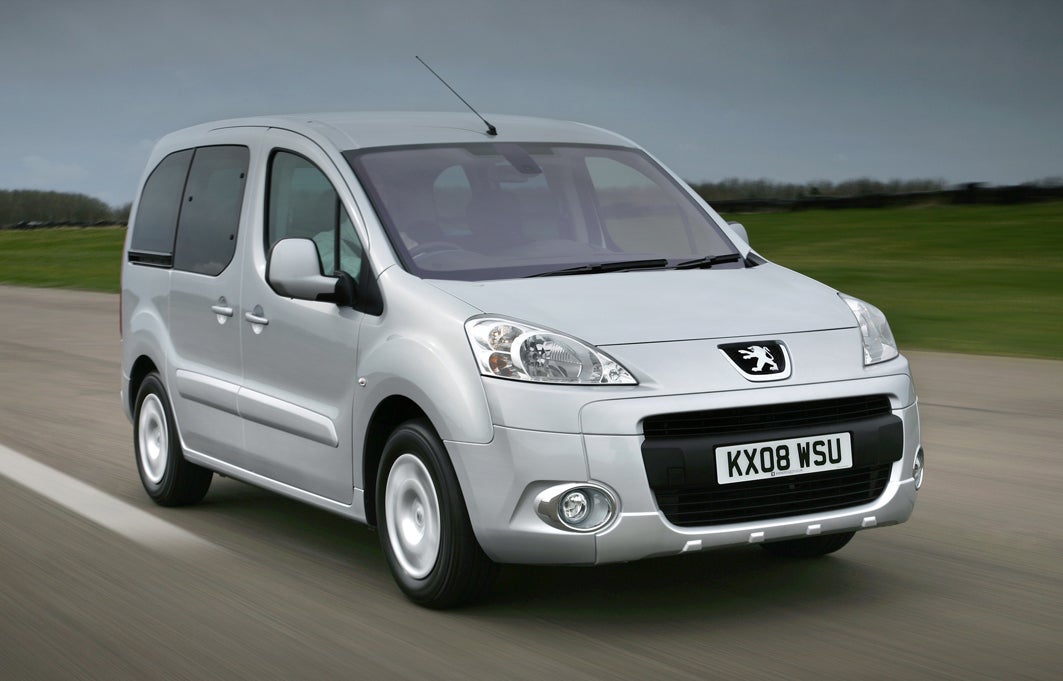 The Peugeot Partner Tepee was built alongside the Citroen Berlingo Multispace, which means you get a cheap and practical family MPV with the choice of efficient petrol or diesel engines. What's more, the Partner Tepee is offered with five or seven-seats, which makes it a tempting choice with prices starting under £7000.
The 1.6-litre diesel engine is offered with 75PS, 100PS or 120PS, while the 1.6 VTi petrol can be specified with 98PS or 110PS. Claimed economy for the petrols peaks at 55mpg for the 110PS version, while the 100PS diesel will return close to 70mpg. Peugeot also offered the Partner as EV for a limited time, with a 100-mile range.
The Partner Tepee is offered in Active and Outdoor, with the latter getting rugged bodystyling and featuring touchscreen infotainment system and DAB audio. Some used models will also have navigation and a rear-view camera, which were popular optional extras when the Partner Tepee was built between 2008-2018.
Volkswagen Caddy Maxi Life
Year launched: 2008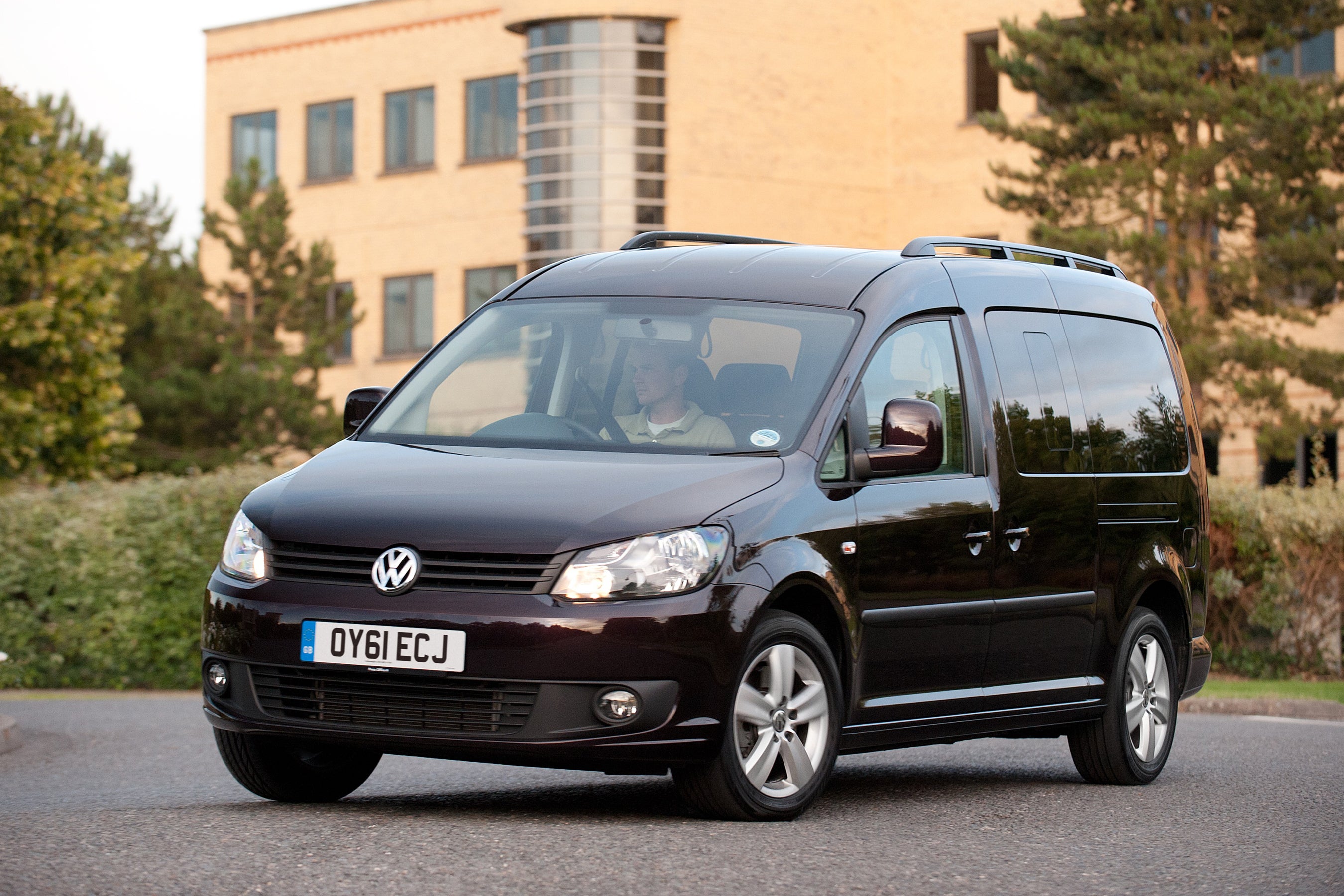 Volkswagen has been building award-winning van-based people carriers for over 70 years and the Caddy Maxi Life is a textbook example of a brilliant seven-seat family car,
Prices start at under £10,000 for six-year-old models and engine choices, on the used market, are usually limited to 1.6 and 2.0-litre diesels. However, with fuel economy peaking at 50mpg, the Caddy is a likeable and affordable used car.
The quality of the Caddy's interior feels a step above its rivals from Citroen and Peugeot, with higher quality cloth seats and plastic trims. The layout is very similar to the Golf hatchback and many used models are fitted with the same touchscreen navigation system. Both the second and third row of seats can be folded completely flat, while the wide side sliding doors make access easy.
Fiat Qubo
Year launched: 2009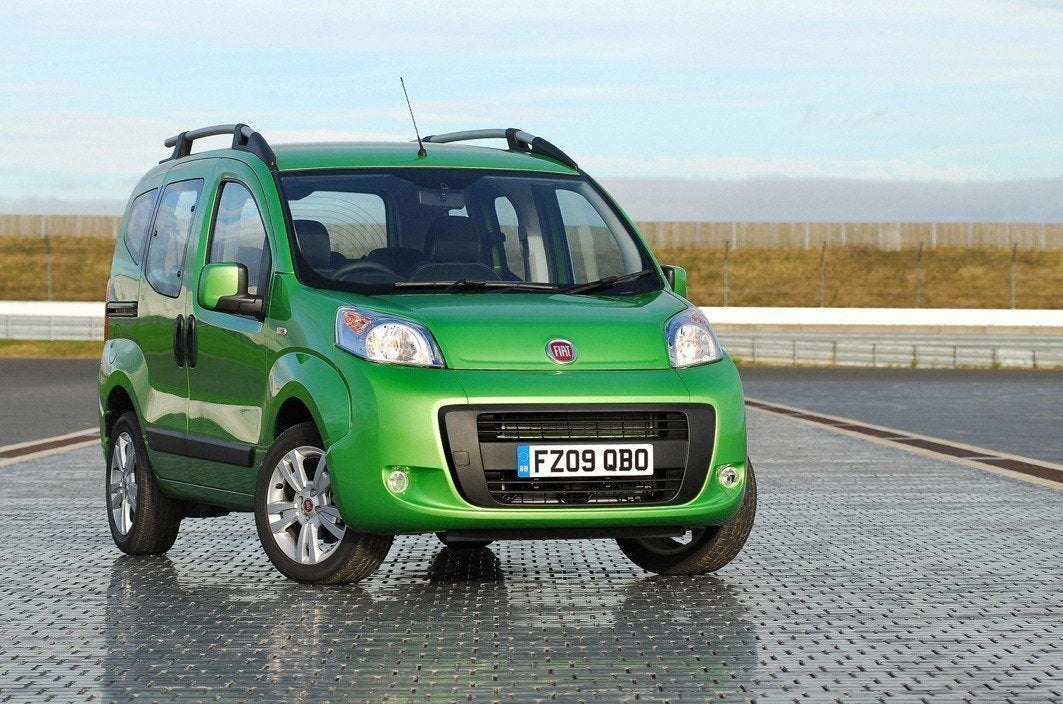 The Fiat Qubo is one of the cheapest routes into van-based MPV ownership. Seven-year-old models start at under £6000 and there is a good choice of petrol and diesel Qubos on the second-hand market.
Measuring less than four metres in length, the Qubo is really easy to drive and park. The turning circle is just 10.5 metres, which means this is a very agile little car. If you live in a town or city and want a car that can cut its way through the congestion clogged streets in a laid back manner then this likeable FIat will be very appealing.
You get five seats and twin sliding doors, while the rear seats can be folded or removed to increase practicality. The low loading floor makes it easy to load heavy or bulky objects into the back, owing to the fact you don't have to strain your back by lifting things in/out.
If you're looking at used vans, you will find plenty of cheap Ford Transit models around due to its phenomenal popularity. If it's a new van you want, the cheapest on sale in the UK are the Ford Transit Courier and the Ford Fiesta Van. Need something bigger? Check out the LDV V80.
Insurance for drivers is expensive at the best of times, but things get decidedly worse when you add vans into the mix. Indeed, during our research, a driver who is just 18-years-old can be quoted at least £3734 for 12 months' cover for something as common as a second-hand Ford Transit Custom.
In terms of fuel economy, insurance and tax, the Ford B-MAX 1.5 TDCi is one of the cheapest MPVs to run. You can expect to see more than 55mpg on average.
Ford Tourneo Connect
1.5 EcoBlue 120 Zetec 5dr
TrustFord Staines

Middlesex, TW184JQ
PCP: £304.60/mo
Representative example: Contract Length: 36 months, 35 Monthly Payments: £304.60, Customer Deposit: £2,520.00, Total Deposit: £2,520.00, Optional Final Payment: £7,694.00, Total Charge For Credit: £4,075.00, Total Amount Payable: £20,875.00, Representative APR: 12.9%, Interest Rate (Fixed): 12.17%, Excess Mileage Charge: 4ppm, Mileage Per Annum: 10,000
Ford Tourneo Connect
1.5 EcoBlue 120 Zetec 5dr
Stoneacre Ford York

Yorkshire, YO329GY
PCP: £272.06/mo
Representative example: Contract Length: 36 months, 35 Monthly Payments: £272.06, Customer Deposit: £2,549.00, Total Deposit: £2,549.85, Optional Final Payment: £8,692.91, Total Charge For Credit: £3,765.86, Total Amount Payable: £20,764.86, Representative APR: 11.3%, Interest Rate (Fixed): 5.81%, Excess Mileage Charge: 5.27ppm, Mileage Per Annum: 10,000
Ford Tourneo Connect
1.5 EcoBlue 120 Titanium 5dr
TrustFord Birmingham - Erdington

Birmingham, B249QB
PCP: £300.89/mo
Representative example: Contract Length: 36 months, 35 Monthly Payments: £300.89, Customer Deposit: £2,548.00, Total Deposit: £2,548.50, Optional Final Payment: £8,083.00, Total Charge For Credit: £4,172.65, Total Amount Payable: £21,162.65, Representative APR: 12.9%, Interest Rate (Fixed): 12.17%, Excess Mileage Charge: 4ppm, Mileage Per Annum: 10,000