How to fit golf clubs in almost any car

Written by
Russell Campbell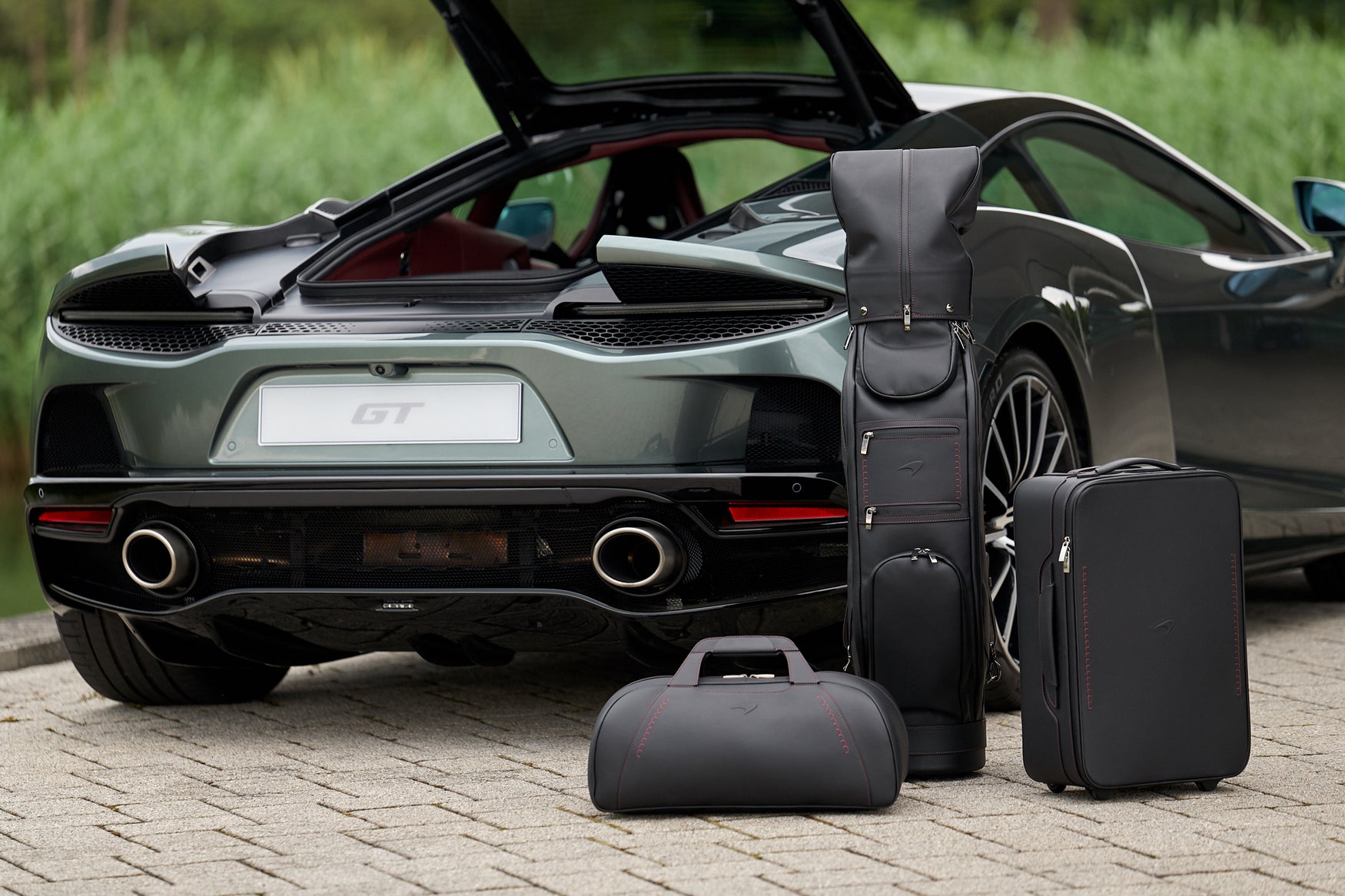 It's an age old question up there with 'What is the meaning of life?' and 'Are we alone in the universe?'... the question is, of course: 'how can I fit golf clubs in my car'?
Whatever car you have, golf clubs are bulky items so they're not always easy to fit – sure a big estate or SUV will swallow them no problem, but how do you get them into a tiny city car? What if you're a keen driver who owns a sports car, but loves golf? Worse still, what if you own a supercar? Great fun, but not known for their practicality...
Worry not, this guide will answer all of the above, so gather up your golf balls, pack away your putter and go relax in the clubhouse as we guide you through: how to fit golf clubs in almost any car.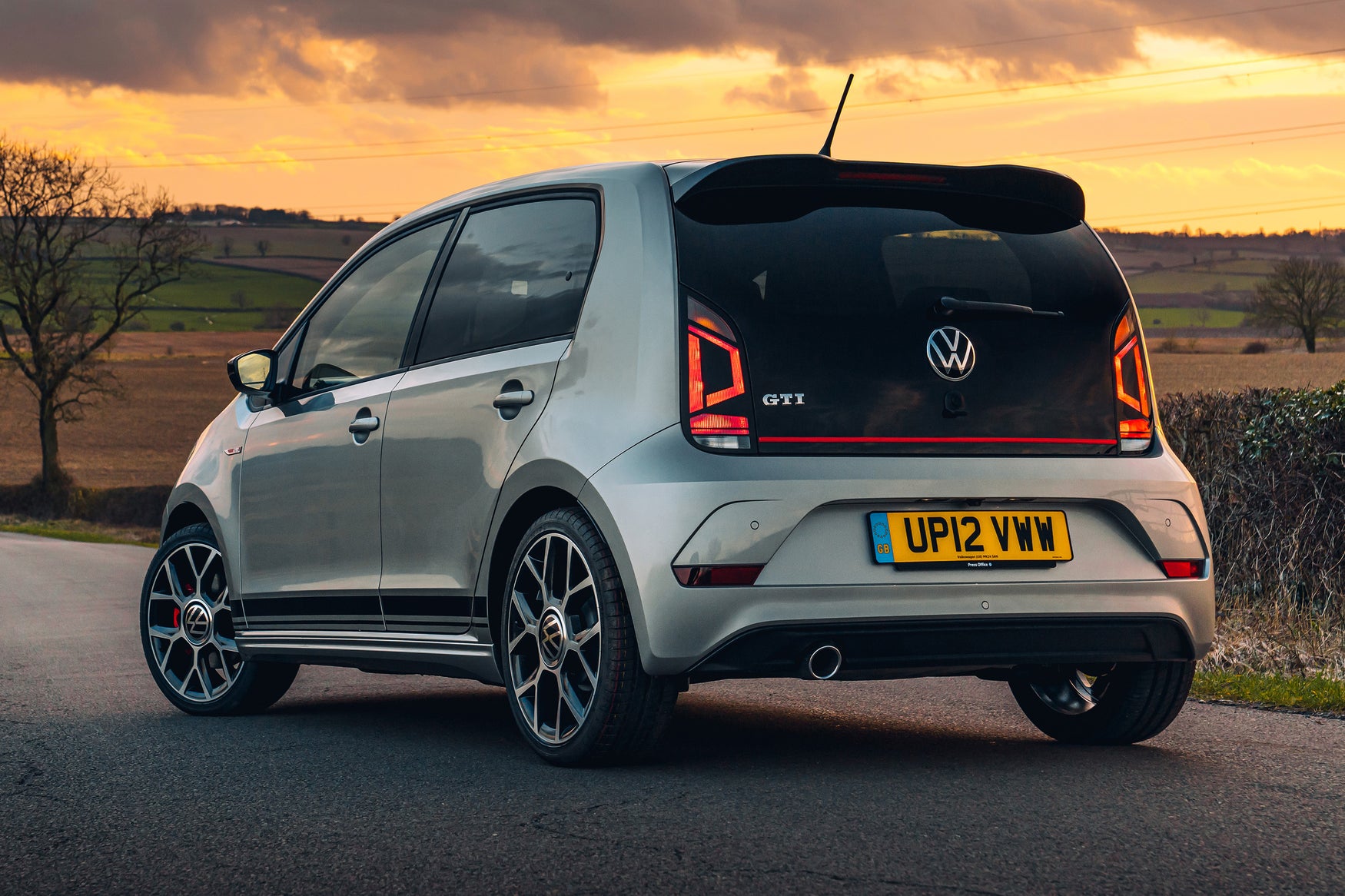 Getting your golf clubs packed neatly into your car might require smart thinking if you have a small city car like the Volkswagen Up GTI, but it's certainly not impossible.
If it's only you and your other half in the car, why not fold the back seats down and treat it as a golf-club friendly two-seater? Flipping the seats down is as simple as pulling a couple of latches and letting them fall into place. The resulting 1046-litre capacity is impressive, the huge Audi Q7 SUV only has 770 litres to play with, with its five seats in use.
Okay, so fitting your clubs in the Up will be a tad tricky. The stepped boot opening means you can't just slide them straight in but once you've cleared the opening, the floor is flat. Wedging them in longways might be too much to ask, the Up is only 3540mm long after all, but squeezing them in diagonally – from corner to corner – should do the trick.
Bought a five-door up? All the better, no need to deal with the tricky boot opening, just slide them straight in via one of the rear passenger doors.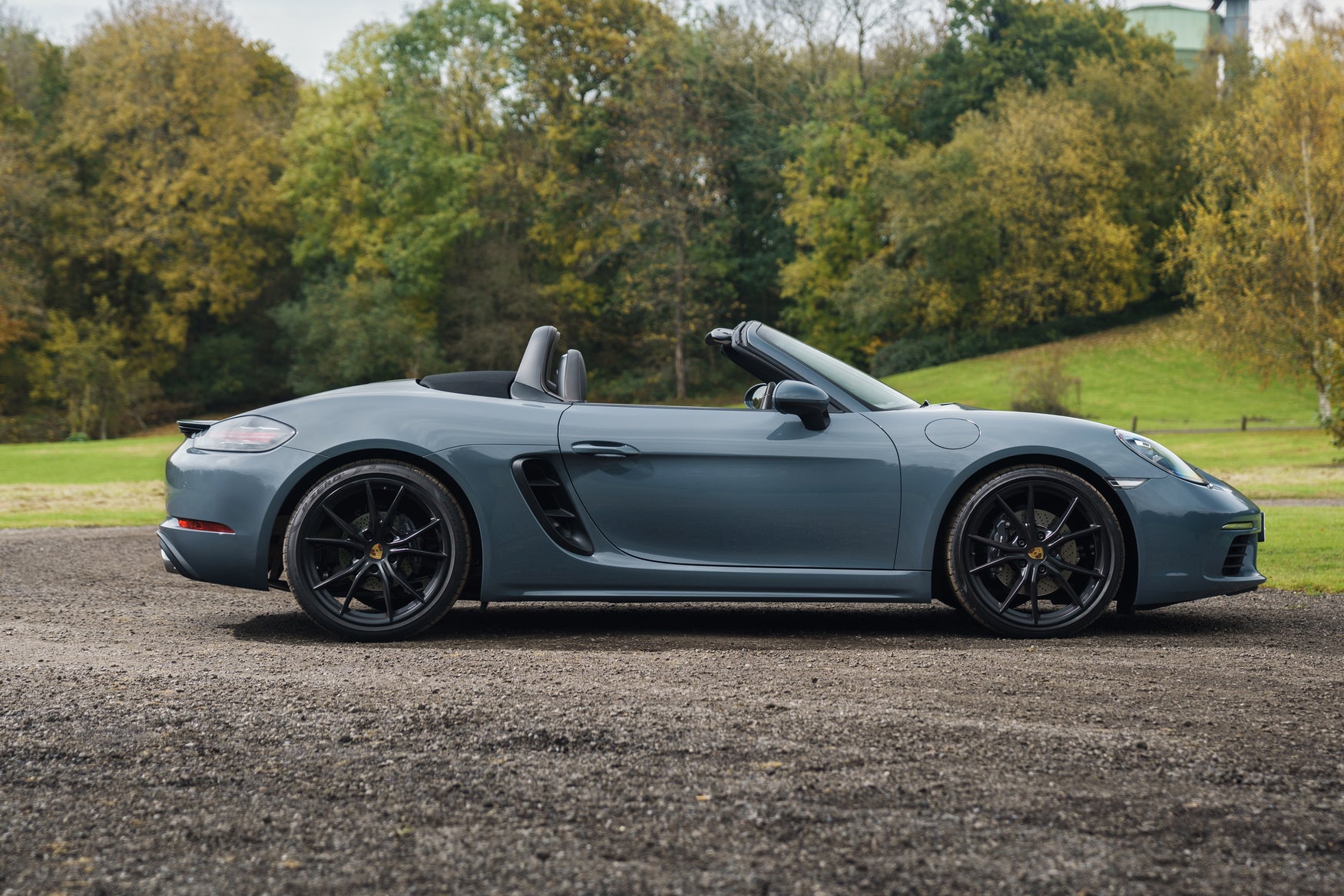 Getting your golf clubs stored away safely in a sporty little number like the Porsche Boxster requires, how best to put this – a little 'creativity'. But it can be done.
You need to think strategically, the golf bag will fit but those pesky drivers do not, so get them out of there and drop the bag in diagonally through the Porsche's saloon-style boot lid – owners assure us this can be done even with only 130 litres of storage space to play with.
But what about your drivers? That's quality yardage you may be giving up on the fairway... Panic not, they'll fit tight behind the passenger seat or indeed in the passenger seat, held snugly behind the seat belt. Sure, the latter option means your two-seater becomes a one seater but if you play golf to get away from it all, this might not be such a bad thing.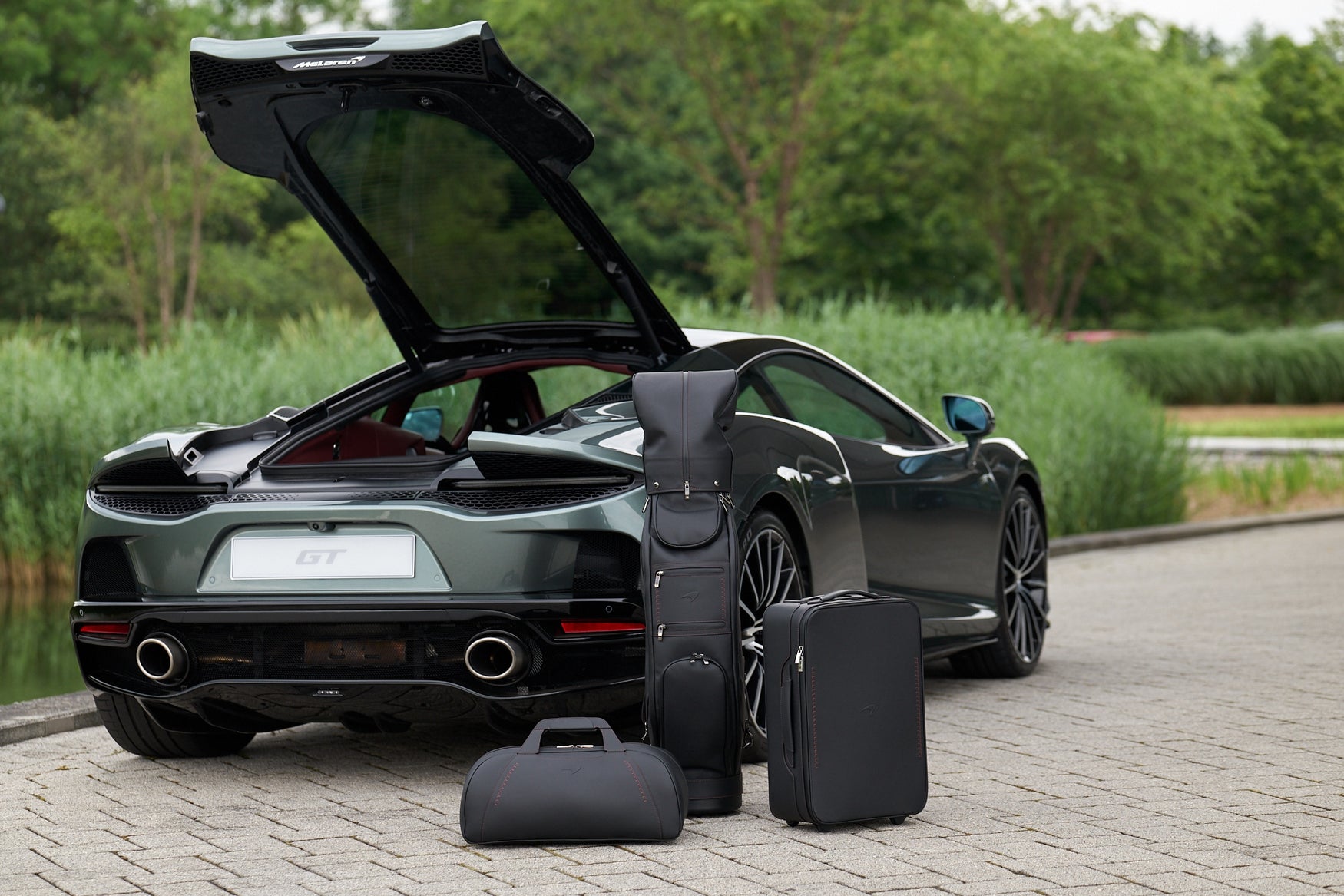 So golf clubs will fit in small cars and sports cars, but supercars... a step too far, surely?
You would think so but we have a solution – it's called bespoke luggage. The McLaren GT is just one example of a supercar that can be had with luggage that's purpose-built to fit perfectly in its boot. In fact, the GT has bespoke luggage for every occasion, be it a garment case, weekend bag or cabin bag – you name it, it's got it.
It's the golf bag that's of most interest to us. Now, put 'bespoke' and 'McLaren' into a sentence and you can bet it will not also include the word 'cheap'. And you'd not be wrong, McLaren wants 5000 – yes, five thousand – of your British pounds for its golf bag, a lot when you can pick up a decent bag (admittedly, one that doesn't fit in your McLaren) for £150.
On the other hand, if you're splashing £160,000+ on a supercar, what's another £5000 between friends? You'll know the bag fits and it'll also be secure – a quality you'll appreciate when you're testing the McLaren's performance (0-62mph in 3.2 seconds) to the max. A 200mph golf club is not something you want zooming about in the GT's fishbowl cabin.
So there you have it, 'how to fit golf clubs in almost any car' isn't really one of life's great mysteries, but it is an important question if you're a golfer shopping for your next set of wheels. Let's just say, where there's a will there's a way.
Cars that *are* ideal for carrying golf clubs
Volvo V90
2.0 D4 Cross Country 5dr AWD Geartronic
Manufacturer Approved
Marshall Volvo Cambridge

Cambridgeshire, CB58SQ
PCP: £503.88/mo
Representative example: Contract Length: 37 months, 36 Monthly Payments: £503.88, Customer Deposit: £4,800.00, Total Deposit: £4,800.00, Optional Final Payment: £14,288.17, Total Charge For Credit: £5,227.85, Total Amount Payable: £37,227.85, Representative APR: 8.4%, Interest Rate (Fixed): 4.32%, Excess Mileage Charge: 14.9ppm, Mileage Per Annum: 10,000
Volvo V90
2.0 B4D R DESIGN 5dr Auto
Manufacturer Approved
Volvo Cars Dundee

Angus, DD23QR
PCP: £507.02/mo
Representative example: Contract Length: 37 months, 36 Monthly Payments: £507.02, Customer Deposit: £5,400.00, Total Deposit: £5,400.00, Optional Final Payment: £17,325.83, Total Charge For Credit: £4,978.55, Total Amount Payable: £40,978.55, Representative APR: 6.9%, Interest Rate (Fixed): 3.55%, Excess Mileage Charge: 14.9ppm, Mileage Per Annum: 10,000
Volvo V90
2.0 D4 Inscription Pro 5dr Geartronic
Endeavour Volvo West London

London, W45PY
PCP: £400.13/mo
Representative example: Contract Length: 37 months, 36 Monthly Payments: £400.13, Customer Deposit: £4,153.00, Total Deposit: £4,153.20, Optional Final Payment: £12,918.69, Total Charge For Credit: £3,788.57, Total Amount Payable: £31,476.57, Representative APR: 6.9%, Interest Rate (Fixed): 6.9%, Excess Mileage Charge: 14.9ppm, Mileage Per Annum: 10,000