What is AdBlue and does your diesel car need it?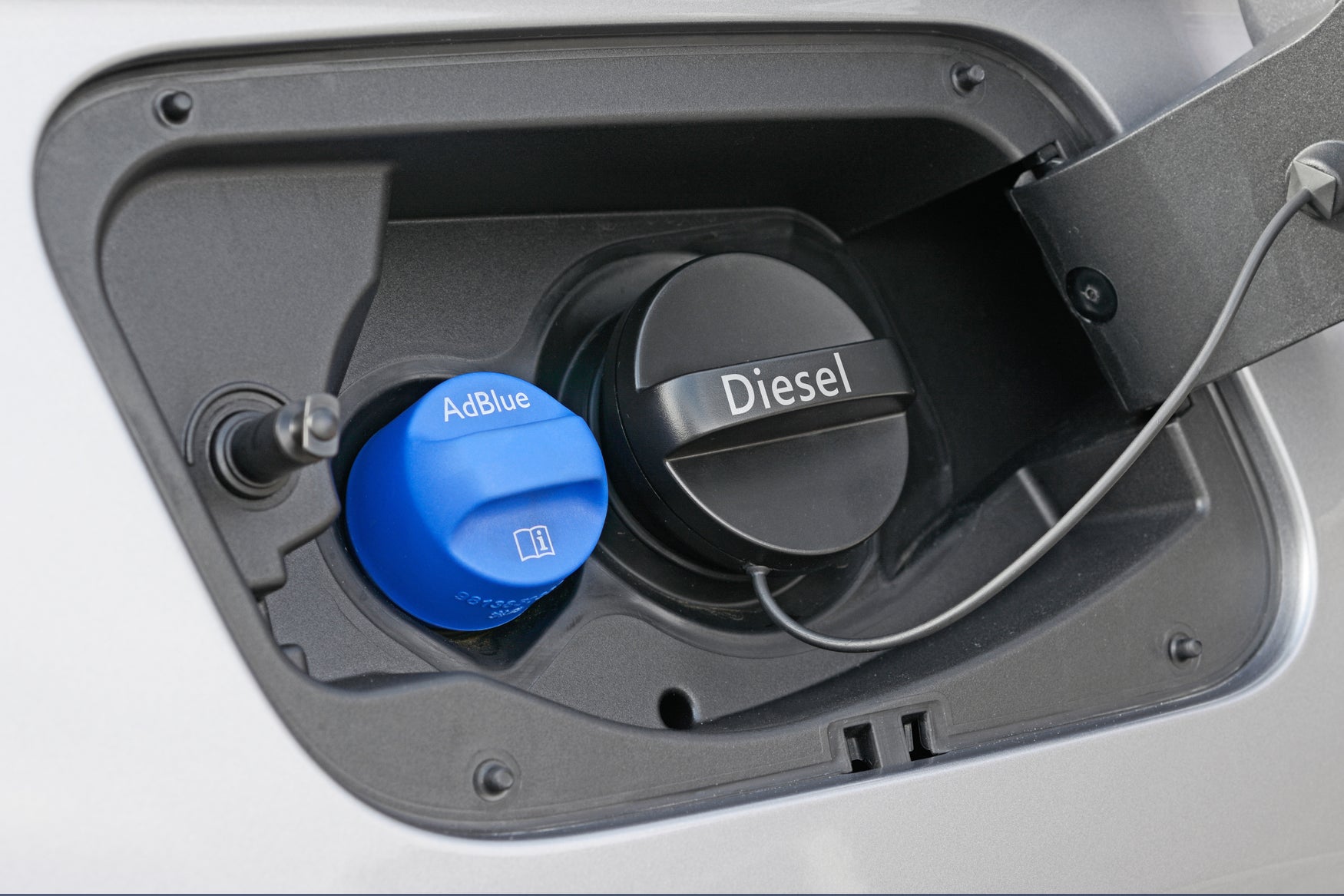 What is AdBlue? AdBlue is a fluid that helps reduce the release of harmful NOx gases from a diesel car's exhaust.
The use of AdBlue became more widespread when tough Euro 6 emission standards came into force in September 2015.
The new rules are particularly pertinent in London because, if your car doesn't correspond to Euro 6 rules, you'll be subject to an Ultra Low Emissions Zone (ULEZ for short) charge in the city centre. Worse still, the ULEZ borders have expanded significantly since October 2021.
But what exactly is AdBlue? We'll uncover how effective it is, why we need it, what cars can use it and what it's made off. Read on to find out everything you need to know about AdBlue...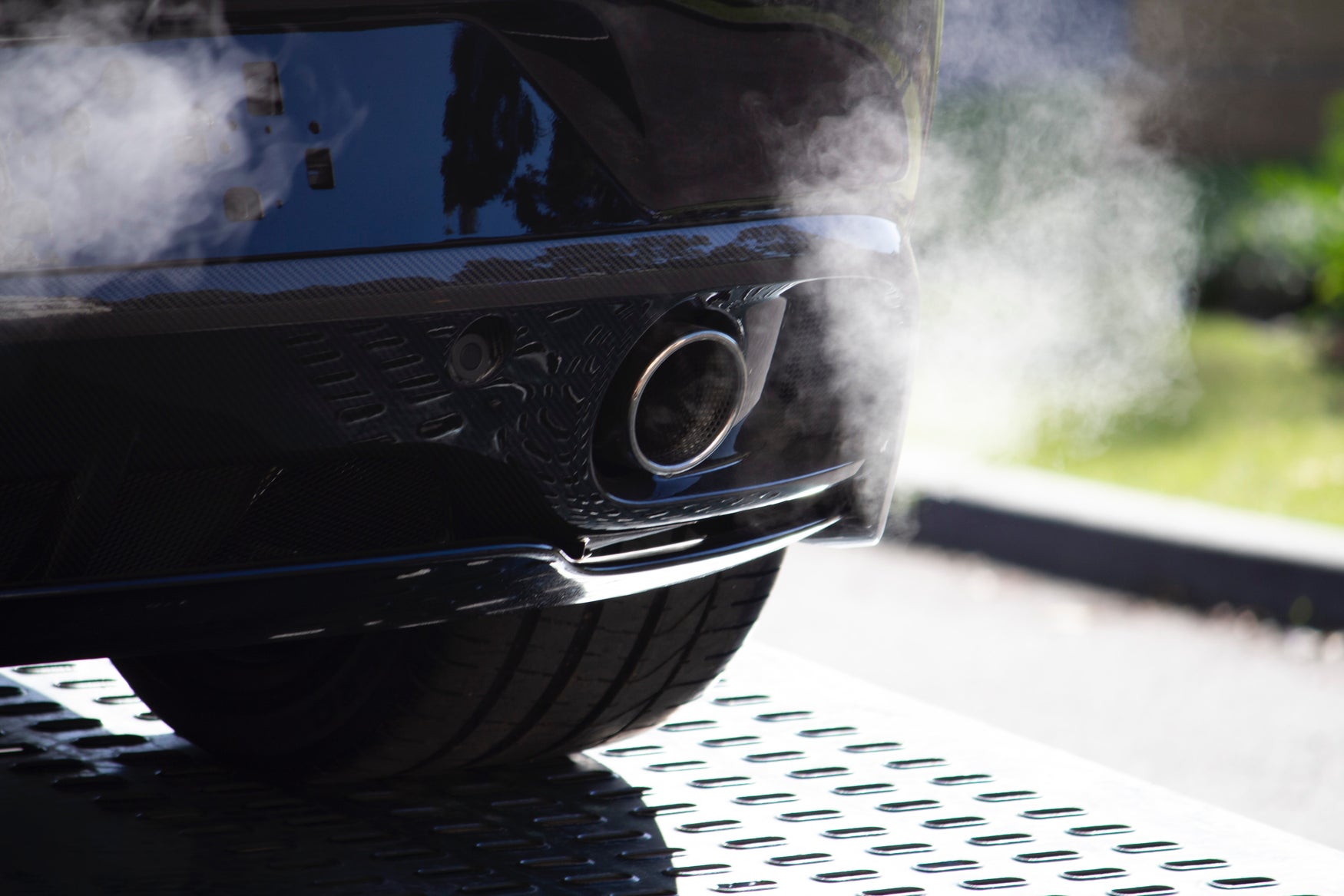 What is AdBlue and why do we need it?
We need AdBlue to make the exhaust gases of diesel cars cleaner. The introduction of Euro 6 emissions standards – which required modern diesel cars to produce 80mg/km of NOx or less – made the introduction of AdBlue a necessity on modern diesel engines.
New Euro 6d-TEMP testing is even tougher and is designed to give real-world data. It's collected using measuring gear attached to the car's exhaust when it is driven on the road rather than under laboratory conditions. The latter gave skewed results that were all but impossible to replicate on the road.
What is Selective Catalytic Reduction (SCR)?
Selective Catalytic Reduction is the name for the science behind what makes AdBlue tick. When your car's diesel engine is running, tiny amounts of AdBlue are squirted into the exhaust, the ammonia in the liquid reacts with harmful NOx gases and it is converted into nitrogen and water.
What is AdBlue made of?
AdBlue is made from about ⅔ deionised water and ⅓ high-purity urea – the latter contains ammonia which neutralises NOx gases before they're released into the atmosphere. Despite this, it's a myth that urine – which does also contain urea – can be substituted for AdBlue. As well as being pretty unpleasant, you'll likely cause your car significant damage if you try to fill its AdBlue tank with your toilet's liquid contents.
How much AdBlue will my car use?
AdBlue consumption varies from vehicle to vehicle (for example a Volkswagen Passat gets through about 1.5 litres every 620 miles). But - like fuel consumption - the faster you drive, the more AdBlue you'll burn through.
Most AdBlue tanks hold around 10 litres or more, so most average drivers will find that AdBlue - like screenwash - will be topped up at the annual service, but unless you drive a low mileage it is likely you will need at least one top up between services.
Where can I buy AdBlue?
You can buy AdBlue anywhere you'd buy other products for your car – including at petrol stations and stores like Halfords. You can expect to pay around £20 for 10 litres.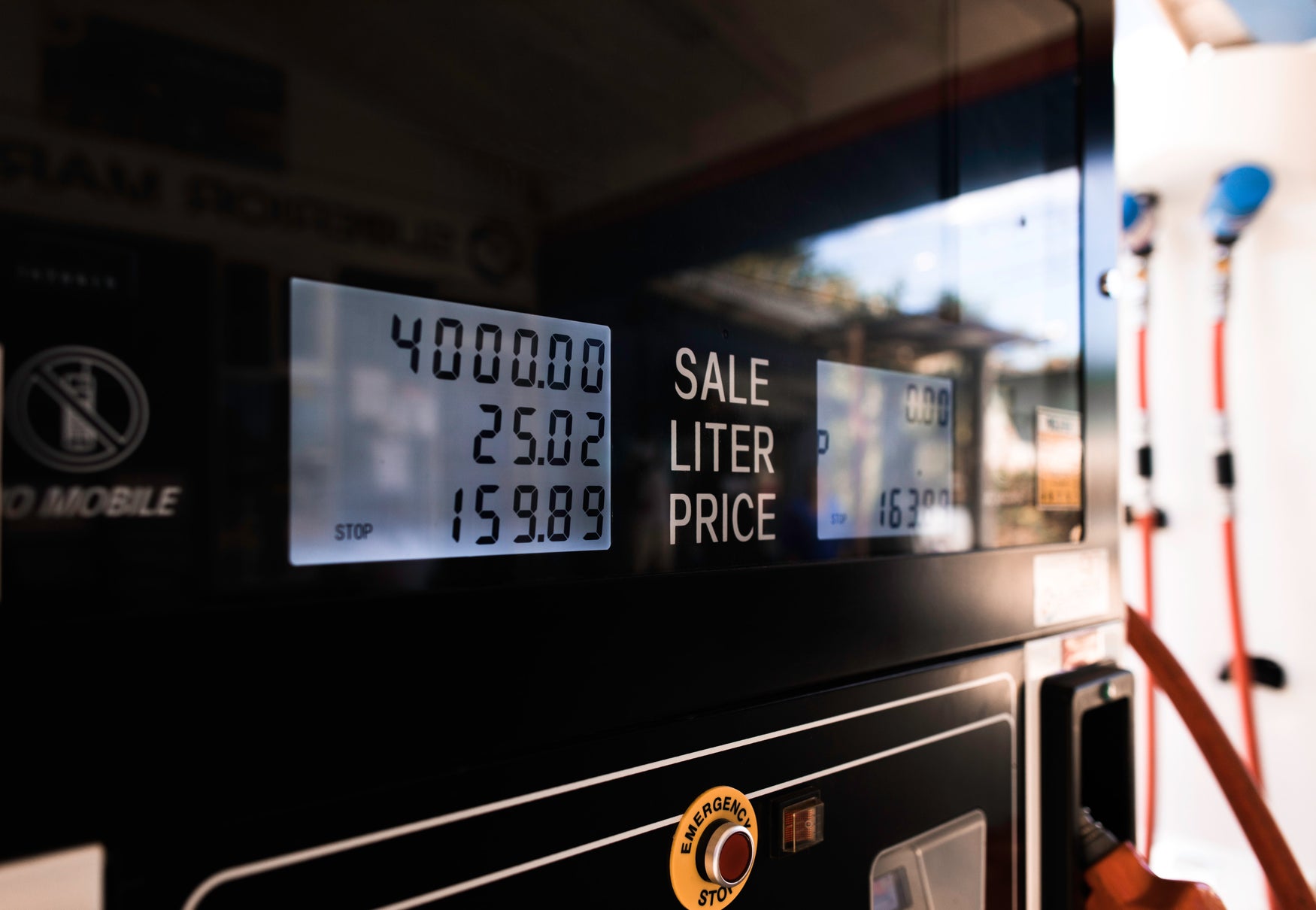 Where can I find an AdBlue pump?
AdBlue pumps are usually reserved for HGVs and coaches and their nozzles are too small to fit into a car's tank. That said, pump AdBlue is cheaper than buying it in bottles and also less messy. You will see a few AdBlue pumps springing up in places such as motorway service stations.
I have an AdBlue warning light, what should I do?
An AdBlue warning light can mean different things. Most cars have a staged system to tell you when your AdBlue tank is running low or is empty.
In Volkswagen models, a yellow warning light will flash and a tone chime when the car's AdBlue is running low, it will continue to do this every 31 miles (50km) until you fill the tank. Ignore it and the symbol will eventually turn red, meaning your AdBlue has run out and the car won't start until it's been filled.
This system varies between manufacturers – some will use a mileage countdown to the next fill up, for example – but all cars will warn you before your AdBlue runs out, one way or another.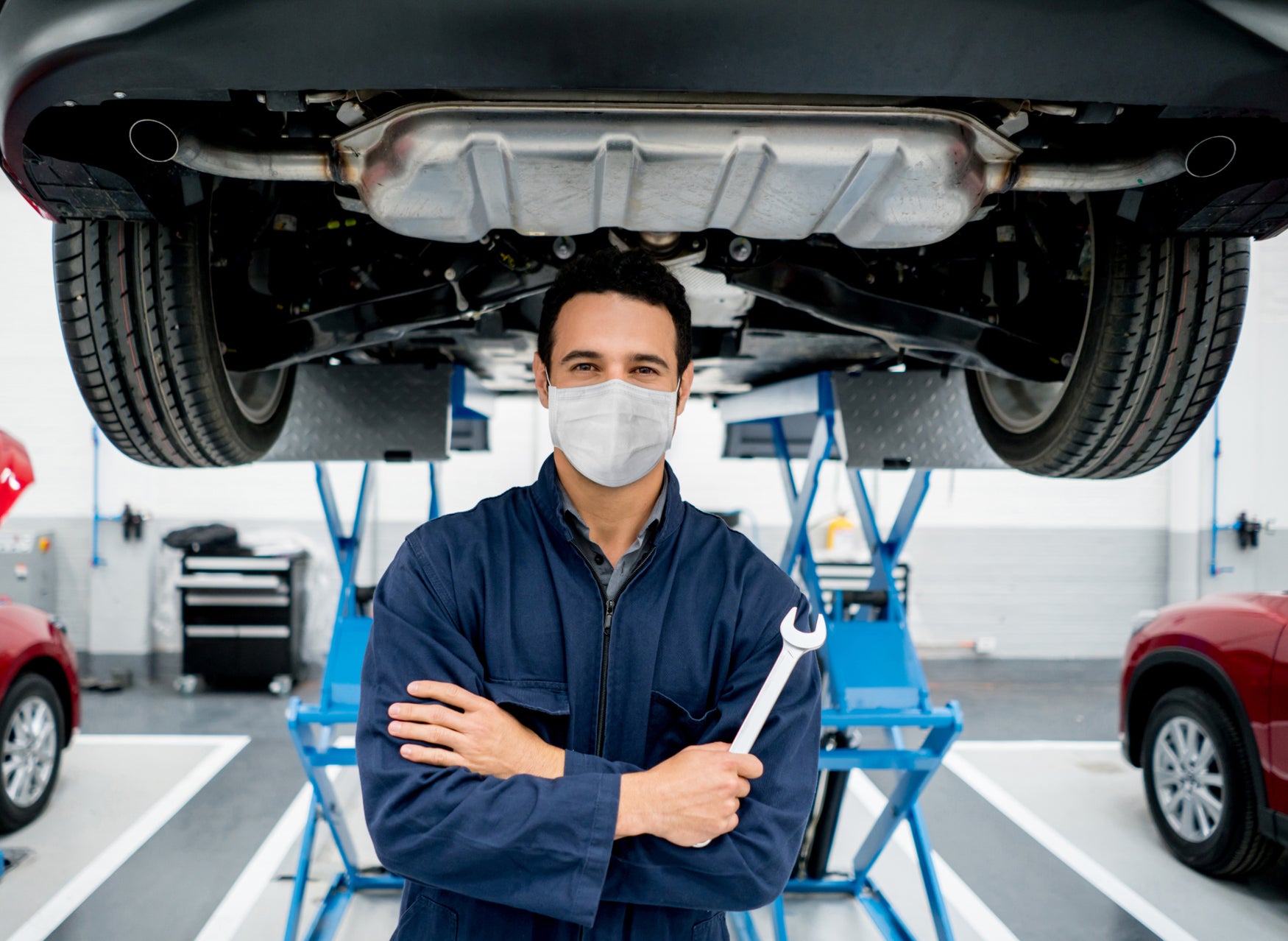 Can AdBlue - or a lack of it - cause problems?
AdBlue, or a lack of it, can cause problems to your car – a major one being that your car won't start if you let it run out.
Because the system has a significant effect on the emissions performance of the engine, they are designed so that they cannot be driven in a normal fashion if there is no AdBlue available. That means most cars will go into limp mode in this instance.
If you've not experienced limp mode, this is when the car's Engine Control Unit (ECU) reduces engine power and can even lock out some higher gears in automatic transmissions, so you have to literally crawl along at low speeds. If the car is dry when you try to start it, it may not even fire up at all until the tank is replenished.
It's also worth noting that, unlike a petrol tank, you can't just stick a fiver's worth of AdBlue in to get going. Most systems will require a significant top-up before it will operate normally once more, so it's worth buying enough to fill the tank.
That's not all. If you keep your AdBlue stored in your garage or shed, make sure you put it in an expandable container because at -10ºC it will freeze and expand by 7 per cent causing an unpleasant smelling mess if the container bursts.
It's also worth noting that AdBlue naturally degrades over time – it's good for 12 months at best. Something else to remember is that AdBlue is not an additive you pour straight into the fuel tank, it'll have a separate filler usually under the fuel flap, but some cars have their AdBlue fillers under the bonnet or in the boot.
AdBlue tank fillers tend to have a smaller opening than your diesel tank and have a blue cap. Check your owner's manual to find out exactly how to fill your car's AdBlue tank. Starting your car with AdBlue in its fuel tank can cause serious damage – if you're in any doubt, call for roadside assistance and don't start your car.
Can you refill AdBlue yourself?
It depends entirely on your particular model of car as to whether you can refill it yourself. Some vehicles have the re-filler located underneath the carpet, under the bonnet or other places that are intended to discourage you.
However, those that are designed to be topped up at home put the filler next to the fuel filler cap, so it is an easy job.
As always, check the vehicle handbook for the correct information, particularly if you are filling at home. Although AdBlue isn't a fuel and so isn't flammable, it is worth treating it with care.
Mop up any spillages, avoid contact with clothing and wear gloves, or wash your hands thoroughly afterwards. AdBlue only lasts for 12 months, so don't be tempted to stockpile, and ideally it should be kept in storage above -10C and below +30C.
Which cars use AdBlue and SCR?
AdBlue was introduced so that diesel cars could meet Euro 6 emissions standards which launched in September 2015 – so any diesel cars built on or after this date should comply.
That said, some manufacturers brought the technology in earlier. The easiest way to check is to use the Government's online checker for the London Ultra Low Emissions Zone (ULEZ) – if you're free from paying the ULEZ, your diesel is Euro6 compliant.
It doesn't matter what AdBlue you use. AdBlue is simply a proprietary name but it all works the same no matter which brand it is sold by. That said, make sure you buy the correct AdBlue for cars, with the label ISO 22241 (including ISO-22241-1, ISO-22241-2 or ISO-22241-3) which will ensure it doesn't damage the catalytic converter in your car's exhaust – an expensive component to fix.
AdBlue is very effective. A study conducted by Leeds University in 2017 found that a Volkswagen Polo with a 1.4-litre diesel engine and no AdBlue system produced more NOx gasses than a 13-litre diesel lorry with the system fitted.
AdBlue doesn't increase performance, in fact, running out of AdBlue could have the opposite effect – some cars will revert to a limited-performance limp mode if they run out of AdBlue or not start at all.
How to fill your car's AdBlue tank
Volkswagen Golf
1.6 TDI GT Edition 5dr
Manufacturer Approved
Citygate Volkswagen Watford

Hertfordshire, WD258HL
PCP: £298.92/mo
Deposit cont. £250
Representative example: Contract Length: 36 months, 35 Monthly Payments: £298.92, Customer Deposit: £2,938.00, Total Deposit: £3,188.50, Lender Deposit Contribution: £250.00, Optional Final Payment: £9,482.50, Total Charge For Credit: £3,543.20, Total Amount Payable: £23,133.20, Representative APR: 9.4%, Interest Rate (Fixed): 9.41%, Excess Mileage Charge: 6.98ppm, Mileage Per Annum: 10,000
Volkswagen Golf
2.0 TDI 184 GTD 5dr DSG
Manufacturer Approved
Cameron Motor Group Volkswagen Perth

Perthshire, PH15AS
PCP: £392.66/mo
Representative example: Contract Length: 36 months, 35 Monthly Payments: £392.66, Customer Deposit: £3,569.00, Total Deposit: £3,569.85, Optional Final Payment: £10,720.00, Total Charge For Credit: £4,233.95, Total Amount Payable: £28,032.95, Representative APR: 9.4%, Interest Rate (Fixed): 9.39%, Excess Mileage Charge: 6.98ppm, Mileage Per Annum: 10,000
Volkswagen Golf
2.0 TDI R-Line 5dr
Murray Group Volkswagen Plymouth

Devon, PL13FQ
PCP: £256.43/mo
Representative example: Contract Length: 36 months, 35 Monthly Payments: £256.43, Customer Deposit: £2,398.00, Total Deposit: £2,398.50, Optional Final Payment: £7,502.50, Total Charge For Credit: £2,886.05, Total Amount Payable: £18,876.05, Representative APR: 9.4%, Interest Rate (Fixed): 9.39%, Excess Mileage Charge: 6.98ppm, Mileage Per Annum: 10,000