What is Apple CarPlay and how does it work?
What is Apple CarPlay and how does it work?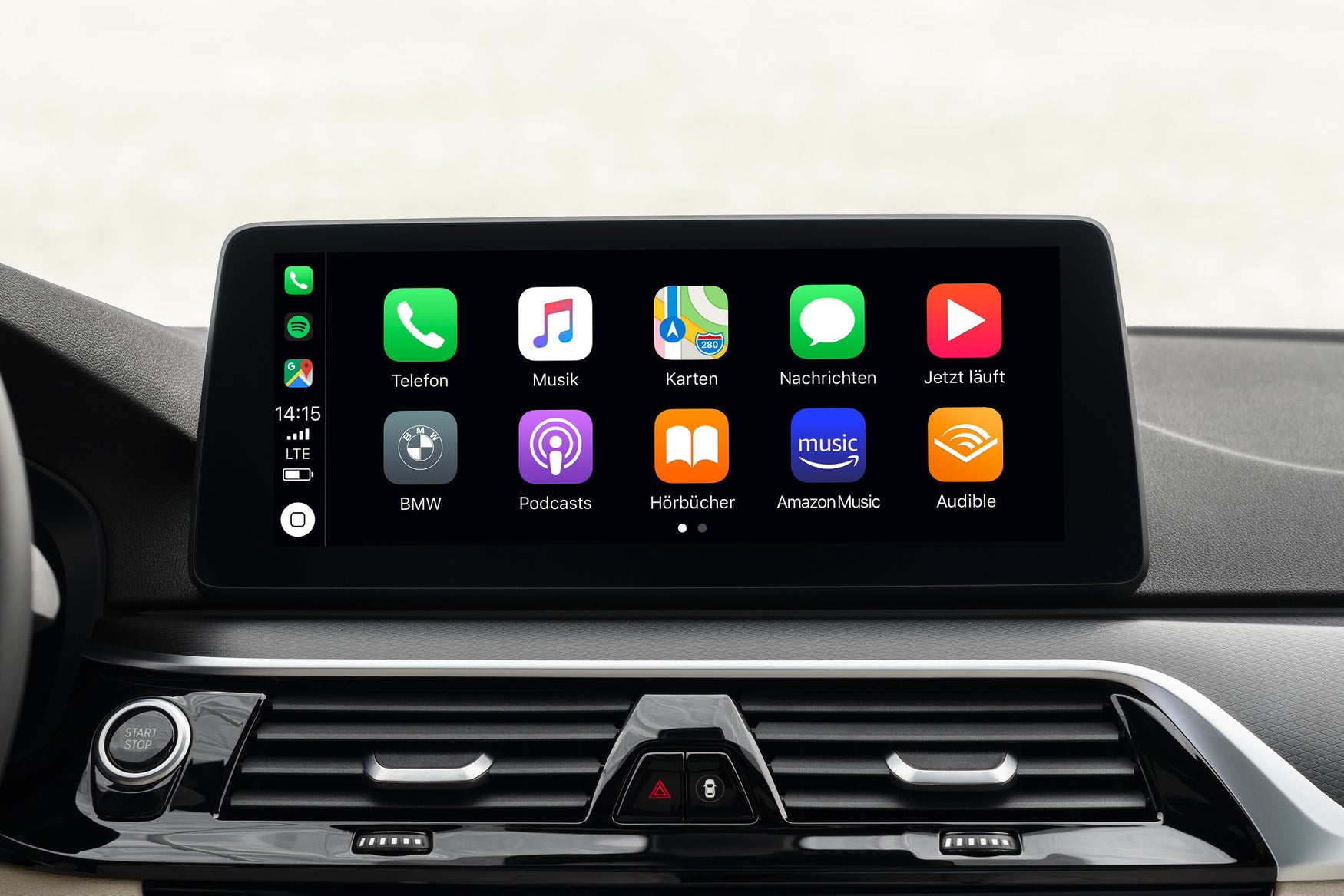 But what is Apple CarPlay, how does it work, why's it good and why isn't it so good? Keep reading as heycar explains all.
If you already own an iPhone, Apple CarPlay could be the single most useful feature you'll find fitted to a new car – allowing you to use the best apps on your iPhone on your car's large infotainment screen.
What is Apple CarPlay?
Apple CarPlay brings all the functionality of your iPhone to your car's big screen.
That means you can use apps like Waze to navigate to your destination. It tends to be more accurate than the built-in nav fitted to your car and it is also connected to the internet – so it can route around congestion and check for parking spaces. It wil usually give you more accurate arrival times and stop you getting held up in motorway tailbacks.
Want to listen to music? Sweet, CarPlay can also mirror apps like Spotify and iTunes on your car's infotainment display so it's easy to scroll through music when you're driving.
Using CarPlay in general is very easy because it utilises the same menu layout as your iPhone. It also means you can use Apple's voice activated Assistant, Siri, so you can choose music, set a nav destination, make calls and send messages or check your calendar without having to take your hands off the steering wheel. This will also ensure you don't get caught out by tougher mobile phone rules (see our guide to the Highway Code).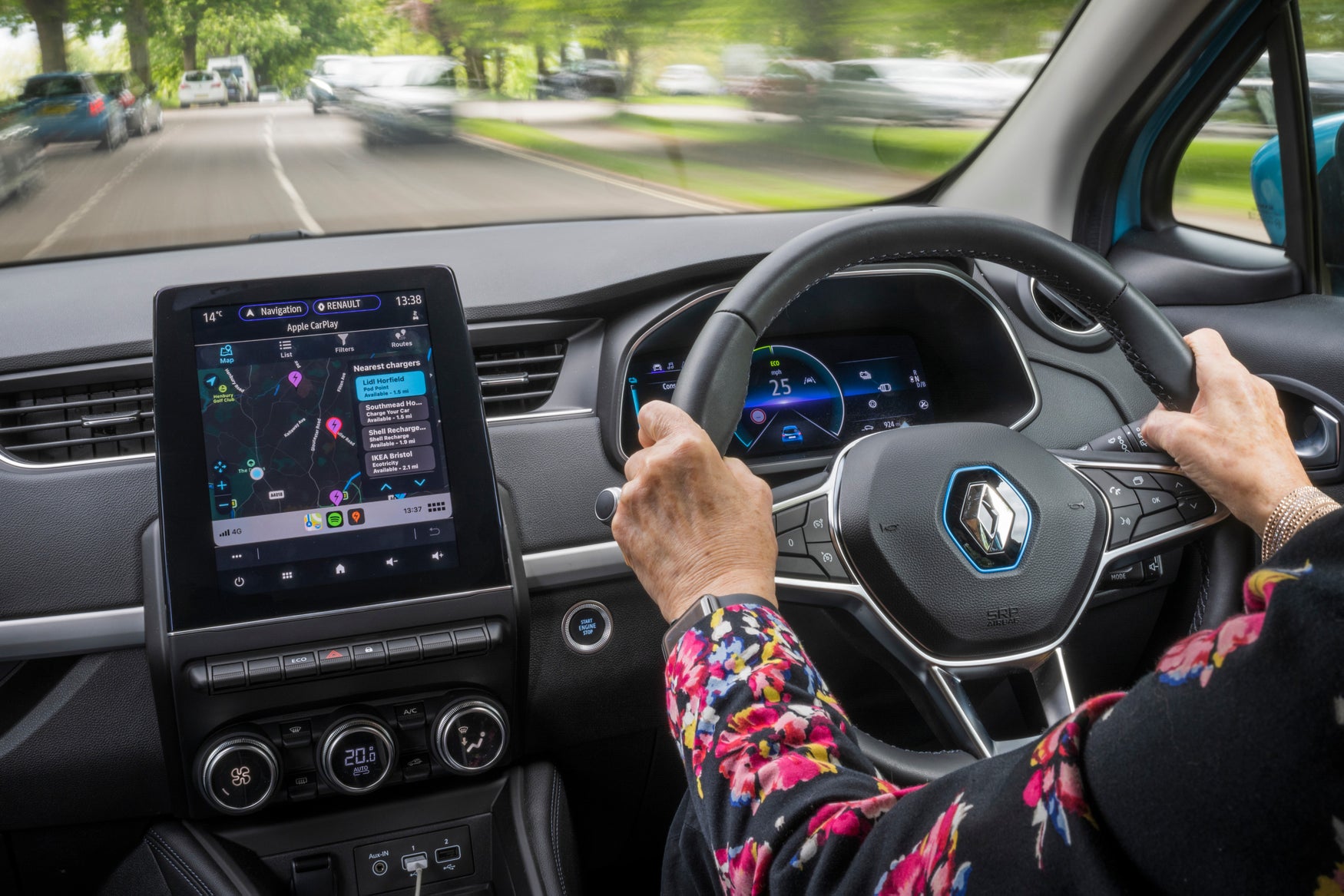 How does Apple CarPlay work?
Getting Apple CarPlay to work is easy. You either plug your phone into your car – using a USB or USBC socket – or connect wirelessly using Bluetooth.
The first time you use Apple CarPlay you'll have to set it up, which takes less than a minute, from then on, it should (in theory) spark into life every time you connect your phone to your car. Usually you'll see an Apple CarPlay start-up screen on your car's infotainment display or it may just appear as an icon in the menu.
Does Apple CarPlay use my data plan?
Apple CarPlay does use your data and this is something you'll want to factor in if you're renewing your phone contract. How much data you'll use depends on what you do – nav tends not to be too data intensive, but streaming lots of music at a high sound quality will quickly eat through your data.
Can I add Apple CarPlay to my older car?
It's an emphatic – yes – to that question. Almost all cars can be upgraded with a double din head unit that includes Apple CarPlay. As well as giving you CarPlay, these newer stereos will usually include modern functions like a digital radio and a Bluetooth phone connection. A good system costs around £300 and most shops that sell them will also fit the unit for you for around £50. As upgrades go, this is arguably one of the easiest ways to modernise an old car.
What cars are fitted with Apple CarPlay?
All the cars below are fitted with Apple CarPlay – including a number of models which aren't sold in the UK. The list of cars fitted with Apple CarPlay is always growing so it makes sense to double check the Apple website for new additions.
Is there a monthly charge for Apple CarPlay?
There is no monthly charge for Apple CarPlay – not from Apple, anyway. That said, for a brief period BMW charged a subscription for Apple CarPlay, a decision it quickly rowed back – meaning it's now free to use on any car makes and models that have it fitted.
Do you have to have an iPhone to use Apple CarPlay?
Yes, you do have to have an iPhone (5 or later) to use Apple CarPlay. That said, Android Auto is an identical system that mirrors the display and functions of Android Phones – it works equally well.
F12 tdf
F8 Tributo
SF90 Stradale
C-MAX
Fiesta
Focus
Edge
Mondeo
Galaxy
S-MAX
Transit
Transit Connect
Mustang
EcoSport
Puma
Mustang Mach-E
i10
i20
i30
i40
Tucson
Santa Fe
Ioniq
Kona
Nexo
E-Pace
F-Pace
I-Pace
XE
XF
XJ
F-Type
Compass
Grand Cherokee
Renegade
Wrangler
2014–2020 Soul
2015–2020 Optima
2015–2020 Optima Hybrid
2015–2021 Soul EV
2017–2020 Sorento
2017–2020 Sportage
2017–2020 Niro
2018–2020 Niro Plug-In Hybrid
2018–2020 Rio
2018–2020 Stinger
2019–2020 Range Rover
2019–2020 Land Rover Discovery
2019–2020 Land Rover Discovery Sport
2019–2020 Range Rover Evoque
2019–2020 Range Rover Sport
2019–2020 Range Rover Velar
2020 Land Rover Defender
2019–2020 ES
2019–2020 LC
2019–2020 LS
2019–2020 NX
2019–2020 RC
2019–2020 RC F
2019–2020 UX
2020–2020 RX
2017–2020 Ghibli
2017–2020 Levante
2017–2020 Quattroporte
2018–2020 GranCabrio
2018–2020 GranTurismo

2018-2020 Mazda6
2019–2020 CX-5
2019–2020 CX-9
2019–2020 Mazda3
2020 CX-3
2020 CX30
2020 Mazda2
2020 MX-5
2016–2020 A-Class
2016–2020 B-Class
2016–2020 CLA-Class
2016–2020 CLS-Class
2016–2020 E-Class Cabriolet
2016–2020 E-Class Coupe
2016–2020 GLA-Class
2016–2020 GLE-Class
2017–2020 E-Class
2017–2020 GLS-Class
2017–2020 SL-Class
2018–2020 GLC-Class
2018–2020 S-Class
2019–2020 C-Class
2016–2020 MG5
2017–2020 GS
2017–2020 ZS
2019–2020 HS
2019–2020 ZS EV
2018–2020 Clubman
2018–2020 Countryman
2019–2020 Convertible
2019–2020 Hatch
2019–2020 Hatch 5 Door
2017 i-MiEV
2016–2020 Shogun
2016–2020 Shogun Sport
2016–2020 Mirage
2017–2020 Outlander
2017–2020 Outlander PHEV
2017–2020 ASX
2018–2020 Eclipse Cross
2017–2020 Micra
2018–2020 GT-R
2018–2020 Leaf
2019–2020 Qashqai
2016–2020 208
2016–2020 2008
2016–2020 308
2016–2020 3008
2017–2020 308 SW
2017–2019 508
2017–2020 5008
2016–2020 Expert
2016–2020 Partner Tepee
2016–2020 Traveller
2018–2020 Rifter
2017–2020 718 Cayman
2017–2020 718 Boxster
2017–2020 Panamera
2017–2020 Macan
2017–2020 Cayenne
2017–2020 911
2020 Taycan
2017–2020 Clio
2017–2020 Kadjar
2017–2020 Mégane
2017–2020 Mégane Estate
2017–2020 Scénic
2017–2020 Grand Scénic
2018–2020 Koleos
2018–2020 Fluence
2019–2020 Twingo
2020 Cullinan
2020 Dawn
2020 Ghost
2020 Phantom
2020 Wraith
2016–2020 Alhambra
2016–2020 Ibiza
2016–2020 Leon
2016–2020 Toledo
2017–2020 Ateca
2018–2020 Arona
2020 Tarraco
2016–2017 Yeti
2016–2020 Fabia
2016–2020 Octavia
2016–2020 Rapid
2016–2020 Superb
2017–2020 Karoq
2017–2020 Kodiaq
2017–2020 Scala
2018–2020 Kamiq
2017–2020 Impreza
2018–2019 BRZ
2018–2020 Legacy
2018–2020 Outback
2019–2020 Forester
2019–2020 WRX
2019–2020 WRX STI
2016–2020 Baleno
2016–2020 Ignis
2016–2020 SX4 S-Cross
2016–2020 Vitara
2018–2020 Jimny
2018–2020 Aygo
2019–2020 Corolla
2019–2020 Camry
2019–2020 C-HR
2019–2020 RAV4
2020 Prius
2020 Supra
2020 Yaris
2016–2020 Adam
2016–2020 Astra
2016–2020 Corsa
2016–2020 Insignia
2016–2020 Viva
2017–2020 Crossland X
2017–2020 Mokka
2017–2020 Zafira
2016–2018 CC
2016–2018 Scirocco
2016–2020 Amarok
2016–2019 Beetle
2016–2019 Beetle Cabriolet
2016–2019 Golf R
2016–2020 Caddy
2016–2020 California
2016–2020 Caravelle
2016–2020 e-Golf
2016–2020 Golf
2016–2020 Golf SV
2016–2020 Golf GTI
2016–2020 Passat
2016–2020 Polo
2016–2020 Sharan
2016–2020 Tiguan
2016–2020 Touran
2016–2020 Transporter
2016–2020 Passat
2017–2020 Crafter
2018–2020 Arteon
2018–2020 T-Roc
2016–2020 XC90
2017–2020 S90
2017–2020 V90
2018–2020 XC60
2019–2020 S60
2019–2020 V60
2019–2020 XC40
How to use Apple CarPlay on your Volkswagen
Volkswagen Passat
2.0 TDI EVO SCR SE Nav 5dr DSG
JCB Volkswagen Gillingham

Kent, ME80PZ
PCP: £535.02/mo
Deposit cont. £250
Representative example: Contract Length: 36 months, 35 Monthly Payments: £535.02, Customer Deposit: £4,798.00, Total Deposit: £5,048.50, Lender Deposit Contribution: £250.00, Optional Final Payment: £12,497.50, Total Charge For Credit: £4,281.70, Total Amount Payable: £36,271.70, Representative APR: 7.4%, Interest Rate (Fixed): 7.39%, Excess Mileage Charge: 6.98ppm, Mileage Per Annum: 10,000
Volkswagen Golf
1.5 TSI Life 5dr
Manufacturer Approved
Parkway Volkswagen Leicester

Leicestershire, LE13EA
PCP: £351.08/mo
Representative example: Contract Length: 36 months, 35 Monthly Payments: £351.08, Customer Deposit: £3,427.00, Total Deposit: £3,427.50, Optional Final Payment: £11,305.00, Total Charge For Credit: £4,170.30, Total Amount Payable: £27,020.30, Representative APR: 9.3%, Interest Rate (Fixed): 9.33%, Excess Mileage Charge: 6ppm, Mileage Per Annum: 10,000
Mercedes-Benz A-Class
A200 Sport 4dr
Motorpoint Burnley

Lancashire, BB126EH
PCP: £339.64/mo
Representative example: Contract Length: 36 months, 35 Monthly Payments: £339.64, Customer Deposit: £3,449.00, Total Deposit: £3,449.85, Optional Final Payment: £11,703.00, Total Charge For Credit: £4,041.25, Total Amount Payable: £27,040.25, Representative APR: 8.9%, Interest Rate (Fixed): 8.54%, Excess Mileage Charge: 4.8ppm, Mileage Per Annum: 10,000