What is high mileage?


What is high mileage? A high-mileage car has an above average mileage for its age.
High mileage cars cost less than cars that are considered to have a low mileage, although covering a lot of miles isn't necessarily a bad thing. In fact, cars that are used regularly are often in better shape than cars that sit for weeks on end not moving. But what is a high-mileage car, what should you look out for when buying one and which cars deal with high miles the best?
What is considered high mileage for a used car?
Up to 1000 miles a month – or 12,000 miles per year – is seen as average car use, any more than that would be considered high mileage – a two-year-old car with 40,000 miles, say.
That said, the term 'high mileage' is usually reserved for cars that have covered 100,000 miles or more. That sort of mileage can put a lot of owners off and most cars don't come with warranty cover for more than 100,000 miles although there are exceptions – Hyundais come with a five-year/100,000-mile warranty, for example.
How do I tell if a car has too many miles?
There's no hard and fast rule for deciding if a car has too many miles, but looking at its history can give you an idea of the type of life it's lived.
For example, if you were asked to choose between two identical cars – one with 40,000 miles and the other with 80,000, most people would choose the former – it has the least miles so it stands to reason it has had an easier life. Doesn't it?
Not always. What if you find out the 40,000-mile car was previously part of a London car-share scheme, while the 80,000-mile car was privately owned by a sales rep who spent their life on the motorway – would that change your opinion?
It should. The car-share car has likely spent its life in town. That's hard on a car – it means its brakes and clutch are subjected to more wear, and its mileage is accumulated over short journeys, so the engine is often cold when its oil is at its least protecting. A car share car has also likely not been shown a lot of love by the people who use it because, well, it is not their car.
A single owner is much more likely to look after their car and motorway driving is easy on a car's components. On the motorway, you barely use the clutch or the brakes and the car runs at a relatively low engine speed well within its tolerances. Long drives give the car plenty of time to reach its optimum temperature and you're much less likely to pick up the scrapes and dings that are a reality of city driving.
That 80,000-mile car is starting to sound more appealing, isn't it?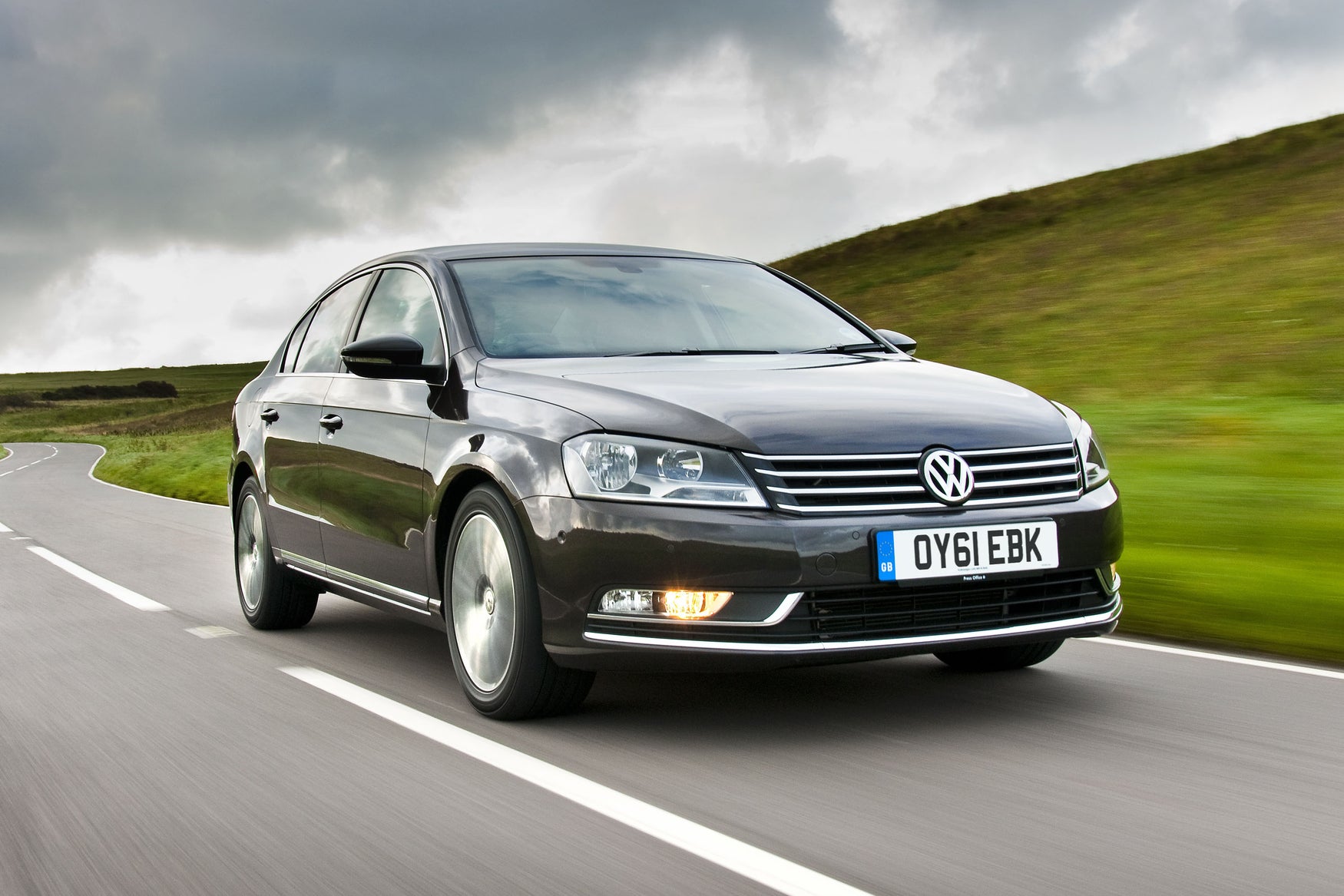 What problems can arise with high-mileage vehicles?
A car's components are important because they each have their own potential issues. Transmission failure can be very expensive, and can occur on high mileage cars or those that have been used heavily in cities as they often shift between the lower gears, rarely going into higher gears. Lack of proper maintenance can cause a transmission to fail sooner, too.
Lots of town driving can mean more wear and tear on the clutch, suspension and brakes.
Water pump failure can cause an engine to overheat, which is very serious. Most mechanics will replace the timing belt and the water pump simultaneously, and we recommend replacing the belt, tensioner and water pump every five years or 50,000 miles (whichever comes first). Timing belts don't give warning before they break, but can cause damage to your engine if they do.
Oil changes should be part of a regular maintenance routine, along with filters and other fluid changes. Service intervals are set up to catch this sort of thing, so if a previous owner has missed a service - it could have bad consequences for you if you buy the car.
Is mileage or age more important when buying a used car?
Mileage isn't the only thing to take into account when looking at a used car - the age is important too. A newer car with more miles on should theoretically be a better buy, but that's not always the case. The overall condition of the vehicle and service records are also invaluable.
A badly maintained interior and exterior might indicate that the owner didn't put a lot of effort into keeping the vehicle in good shape. An owner that doesn't keep the car in good condition is also unlikely to have kept all the service records we would be asking to see.
A smart habit to get into when you're used car shopping is to research the service intervals for the model you're looking at to find out what typically needs to be done at certain mileage levels. You can use these as a checklist when you talk to the owner and look over the car's maintenance records.
Do some models last longer?
Brands like Toyota, Honda and Hyundai are known for having reliable cars. A long warranty is a good sign that a manufacturer believes in the build quality of its vehicles too. If you like two models from different brands, it's worth looking into the reliability of both to see which is more likely to be hit with mileage-related issues in the future.
That question isn't as simple as it sounds because there are a few factors to consider. High mileage cars can be a smart, bargain buy - but the car should have a full service history and we advise a history check, too. For a car that's done more miles than an average car of the same age, we'd want to know everything's in order before putting any money down.
Lots of miles on a relatively young car can be indicative of a hard life, but with proper maintenance, cars can have a life expectancy of over 200,000 miles. In that time, you need to make sure the car's had all the oil changes, services etc it needs to have had to be in good running order.
Between 10,000 and 15,000 miles per year is what's considered average. A car that's done 100,000 miles in 3 years - for example - is high mileage.
That really depends on the make and model, how well it's been maintained, how it's been driven etc. In fact, condition is more important than mileage in some situations.
For example, a five year old diesel car that's only done 15,000 miles would be a big cause for concern because that indicates it hasn't done enough mileage or the right type of driving to have burned the soot in the Diesel Particulate Filter. Getting a DPF cleaned or replaced is a very costly job so beware of suspiciously low mileage cars just as you would be of a high mileage motor.
Reviews of cars designed for high mileages
Toyota Prius
1.8 VVTi Business Edition 5dr CVT
Manufacturer Approved
Desira Nissan Norwich

Norfolk, NR66AQ
PCP: £276.86/mo
Representative example: Contract Length: 37 months, 36 Monthly Payments: £276.86, Customer Deposit: £2,848.00, Total Deposit: £2,848.50, Optional Final Payment: £10,028.25, Total Charge For Credit: £3,853.71, Total Amount Payable: £22,843.71, Representative APR: 9.9%, Interest Rate (Fixed): 5.1%, Excess Mileage Charge: 14.9ppm, Mileage Per Annum: 10,000
Toyota Prius
1.8 PHEV Excel 5dr CVT
Vertu Toyota Loughborough

Leicestershire, LE111ND
PCP: £478.67/mo
Representative example: Contract Length: 36 months, 35 Monthly Payments: £478.67, Customer Deposit: £4,498.00, Total Deposit: £4,498.50, Optional Final Payment: £14,474.00, Total Charge For Credit: £5,735.95, Total Amount Payable: £35,725.95, Representative APR: 9.9%, Interest Rate (Fixed): 9.48%, Excess Mileage Charge: 4.8ppm, Mileage Per Annum: 10,000
Toyota Prius
1.8 VVTi Plug-in Business Edition Plus 5dr CVT
Manufacturer Approved
Steven Eagell Toyota Bishops Stortford

CM235HW
PCP: £268.92/mo
Representative example: Contract Length: 36 months, 35 Monthly Payments: £268.92, Customer Deposit: £2,849.00, Total Deposit: £2,849.25, Optional Final Payment: £8,906.25, Total Charge For Credit: £2,172.70, Total Amount Payable: £21,167.70, Representative APR: 5.9%, Interest Rate (Fixed): 4.49%, Excess Mileage Charge: 9ppm, Mileage Per Annum: 10,000