What is Android Auto and how does it work?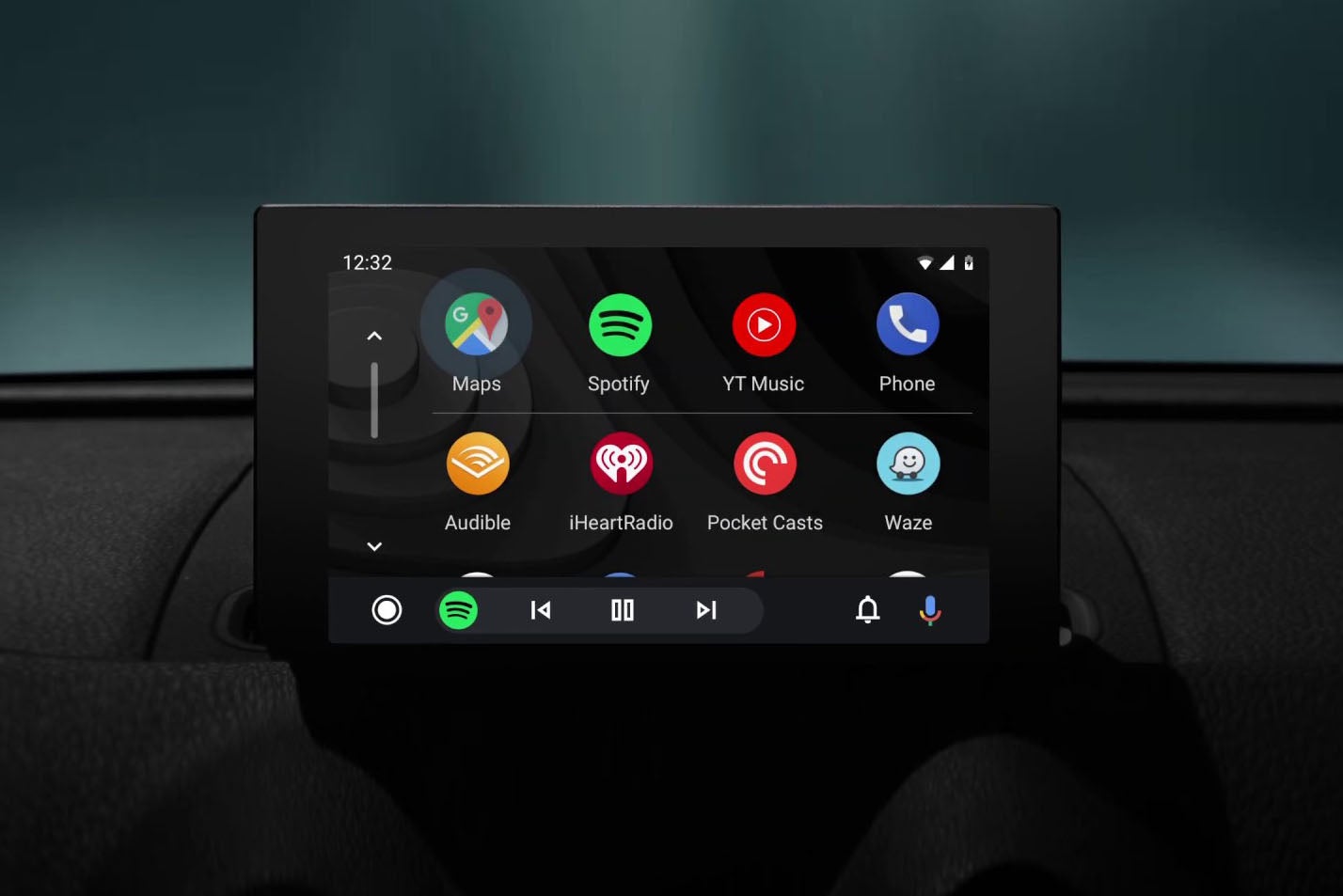 What is Android Auto? Essentially, Android Auto mirrors the the display of your Android smartphone, meaning you can use many of your phone's features.
If you have a compatible smartphone, Android Auto is one of the handiest features you can have fitted to your car as it brings its familiar menus, useful apps and reliable voice activation system – through your car's larger central display.
What is Android Auto?
The best thing about Android Auto is its simplicity. All you have to do is connect your Android phone to your car via a USB or USB-C – or in some cases, wirelessly using Bluetooth – and then go through a quick setup process. You'll only do this the first time you connect your phone, it's plug-and-play from then on it. Next time you plug in your phone, your car's infotainment screen will ask if you want to connect Android Auto, you answer 'yes' and you're good to go.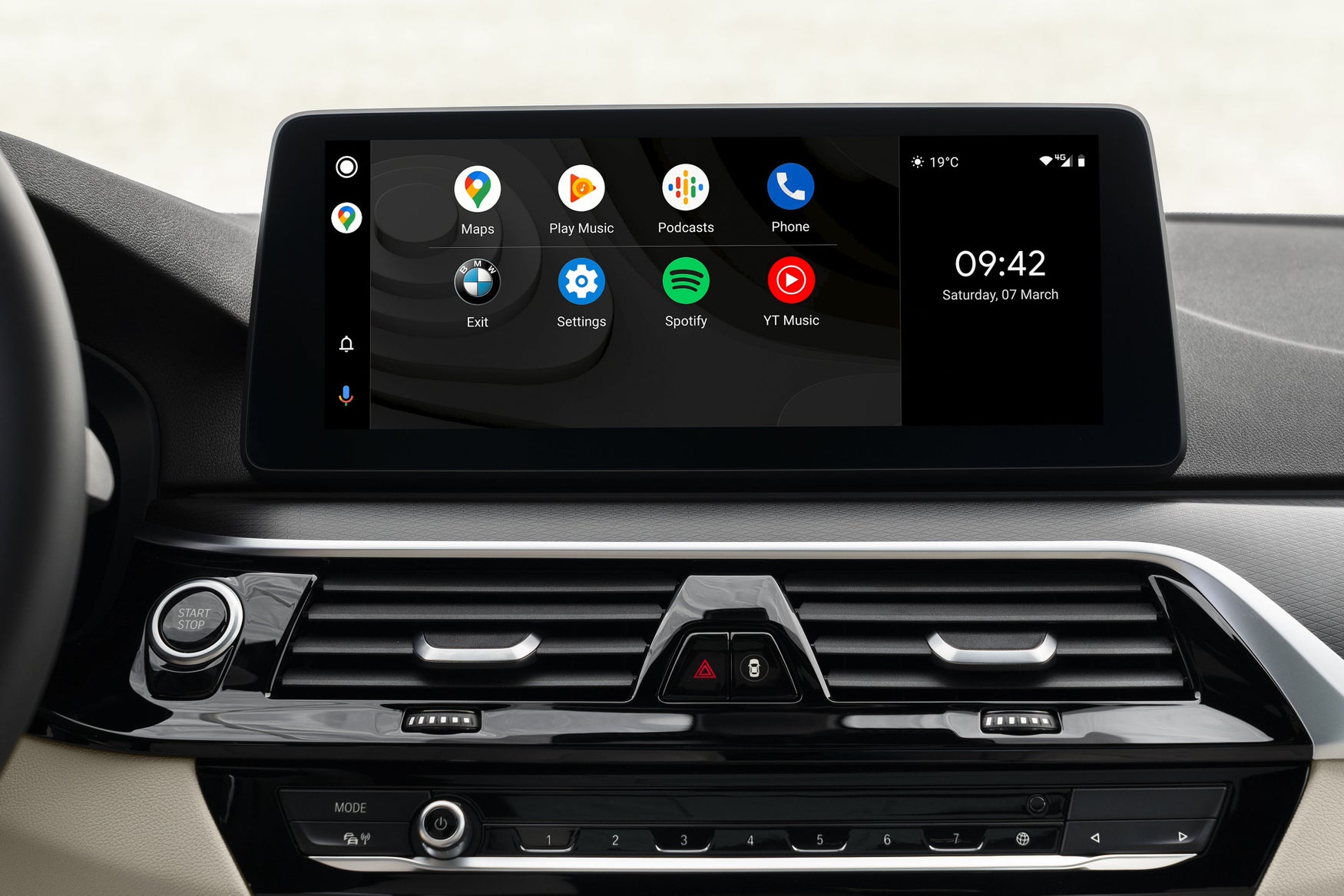 What can Android Auto do?
Essentially, Android Auto move everything you love about your Android phone onto your car's big screen. That means you get your phone clear and familiar menus and also its excellent voice voice activation system – which is more reliable than the built in system in your car.
Apps are also carried over, so you can use Google Maps and Waze to navigate to your destination and because they uses your phones internet connect, they can route around congestion, check for local parking and give you live fuel prices at petrol stations. These apps tend to give more efficient routes and more accurate arrival times than your car's built in system.
You can also uses music apps such as Spotify. This gives you an almost unlimited selection of music and podcasts complete with it's well organised menus, search functions and cover art.
All of this will help ensure you stay the right side of updated legislation on mobile phone use while driving, which is set to follow the new Highway Code.
Does Android Auto use my data plan?
Yes. If you have a limited data plan, you'll want to be careful. Sat-nav apps like Google Maps and Waze tend not to be too data intensive, but playing high-quality music from the internet will chew through your data at an alarming rate.
Can I add Android Auto to my older car?
Yes, is the answer in most cases. Some cars can have Android Auto retro downloaded to their infotainment systems in the from of an update – pre-2021 versions of the current Toyota Corolla are an example of this – but even in older cars it's relatively easy to add a double-din system that is compatible with Android Auto. Budget around £500 for a fitted system.
What cars are fitted with Android Auto?
Scroll below for an up-to-date list of all the cars that are currently fitted with Android Auto
Alfa Romeo Giulia
Alfa Romeo Giulietta
Alfa Romeo MiTo
Alfa Romeo Stelvio
Aston Martin Rapide
Aston Martin Vanquish
Aston Martin Vantage 2018
Audi A1
Audi A1
Audi A3
Audi A4
Audi A5
Audi A6
Audi A7
Audi A8
Audi Q3
Audi Q2
Audi Q3
Audi Q8
Audi Q5
Audi Q7
Citroen Berlingo
Citroen C-Elysée
Citroen C3
Citroen C3 Aircross
Citroen C4
Citroen C4 Cactus
Citroen C4 Picasso
Citroen Grand C4 Picasso
Citroen C4 SpaceTourer
Citroen Grand C4 SpaceTourer
Citroen SpaceTourer
Citroen C5 Aircross
Citroen Jumpy
DS3
DS3 CROSSBACK
DS4
DS4 CROSSBACK
DS5
DS7 CROSSBACK
Fiat 500
Fiat 500L
Fiat 500X
Fiat Tipo
Android Auto is compatible with the following vehicles.
Ford C-MAX
Ford Ecosport
Ford Edge
Ford Escape
Ford Everest
Ford Expedition
Ford Explorer
Ford F-150
Ford Fiesta
Ford Flex
Ford Focus
Ford Fusion
Ford Galaxy
Ford GT
Ford KA+
Ford Kuga
Ford Mondeo
Ford Mustang
Ford Ranger
Ford S-MAX
Ford Super Duty
Ford Taurus
Ford Tourneo Connect
Ford Tourneo Courier
Ford Tourneo Custom
Ford Transit
Ford Transit Connect
Ford Transit Courier
Ford Transit Custom
Honda Accord 2016
Honda Civic 2016
Honda Clarity Fuel Cell
Honda CR-V 2017
Honda Fit 2018
Honda Freed 2017
Honda Odyssey 2018
Honda Pilot 2017
Honda Ridgeline 2017
Hyundai Avante
Hyundai Azera
Hyundai Creta
Hyundai Elantra
Hyundai Elantra GT
Hyundai Grand i10
Hyundai Grandeur
Hyundai i10
Hyundai i20
Hyundai i30
Hyundai i40
Hyundai Ioniq Electric
Hyundai Ioniq Hybrid
Hyundai Ioniq Plug-in Hybrid
Hyundai Kona
Hyundai Maxcruz
Hyundai Palisade
Hyundai Santa Fe
Hyundai Santa Fe Sport
Hyundai Sonata
Hyundai Sonata Hybrid
Hyundai Sonata Plug-in Hybrid
Hyundai Tucson
Hyundai Veloster
Jaguar XJ
Jaguar XF
Jaguar XE
Jaguar F-Pace
Jaguar F-Type
Jaguar E-Pace
Jaguar I-Pace
Jeep Compass
Jeep Grand Cherokee
Jeep Renegade
Jeep Wrangler
Kia Cadenza
Kia Carens
Kia Carnival
Kia cee'd
Kia Forte
Kia Forte Koup
Kia Forte5
Kia K3
Kia K5
Kia K7
Kia K9
Kia Morning
Kia Niro
Kia Optima
Kia Optima Hybrid
Kia Optima Plug-in Hybrid
Kia Picanto
Kia Pride
Kia Rio
Kia Rondo
Kia Sedona
Kia Sorento
Kia Soul
Kia Soul Booster
Kia Soul Booster EV
Kia Soul EV
Kia Sportage
Kia Stinger
Kia Stonic
Lamborghini Aventador
Lamborghini Centenario
Lamborghini Huracán
Lamborghini Urus
Land Rover Range Rover
Land Rover Range Rover Sport
Land Rover Range Rover Velar
Land Rover Range Rover Evoque
Land Rover Discovery
Land Rover Discovery Sport
Lexus ES
Lexus NX
Lexus RC
Lexus RX
Lexus UX
Maserati Ghibli
Maserati GranCabrio
Maserati GranTurismo
Maserati Levante
Maserati Quattroporte
Mazda CX-3
Mazda CX-30
Mazda CX-5
Mazda CX-8
Mazda CX-9
Mazda2
Mazda3
Mazda6
Mazda MX-5
Mercedes-Benz A-Class
Mercedes-Benz B-Class
Mercedes-Benz C-Class Cabriolet
Mercedes-Benz C-Class Coupé
Mercedes-Benz C-Class Sedan
Mercedes-Benz C-Class Wagon
Mercedes-Benz CLA Coupé
Mercedes-Benz CLA Shooting Brake
Mercedes-Benz CLS Coupé
Mercedes-Benz CLS Shooting Brake
Mercedes-Benz E-Class Cabriolet
Mercedes-Benz E-Class Coupe
Mercedes-Benz E-Class Sedan
Mercedes-Benz E-Class Wagon
Mercedes-Benz G-Class
Mercedes-Benz GLA
Mercedes-Benz GLC Coupe
Mercedes-Benz GLC SUV
Mercedes-Benz GLE
Mercedes-Benz GLE Coupé
Mercedes-Benz GLS
Mercedes-Maybach
Mercedes-Benz S-Class Cabriolet
Mercedes-Benz S-Class Coupé
Mercedes-Benz S-Class Sedan
Mercedes-Benz SL
Mercedes-Benz SLC
Mitsubishi ASX
Mitsubishi Delica D:2
Mitsubishi Delica D:2 Custom
Mitsubishi Pajero
Mitsubishi Pajero Sport
Mitsubishi Eclipse Cross
Mitsubishi i-MiEV
Mitsubishi Mirage
Mitsubishi Mirage G4
Mitsubishi Outlander
Mitsubishi Outlander PHEV
Mitsubishi Triton
Mitsubishi Coming soon: Xpander
Nissan LEAF
Nissan NV200 2020
Nissan Versa Note
Nissan Versa Sedan
Vauxhall Adam
Vauxhall Ampera-e
Vauxhall Astra
Vauxhall Combo
Vauxhall Corsa
Vauxhall Crossland X
Vauxhall Grandland X
Vauxhall Insignia
Vauxhall Mokka
Vauxhall Vivaro
Vauxhall Zafira
Vauxhall Zafira Life
Peugeot 108
Peugeot 208
Peugeot 2008
Peugeot 301
Peugeot 308
Peugeot 308 SW
Peugeot 3008
Peugeot 508
Peugeot 508 SW
Peugeot 5008
Peugeot Expert
Peugeot Partner
Peugeot Rifter
Traveller
Renault Captur
Renault Clio
Renault Clio Estate
Renault Espace
Renault Grand Scénic
Renault Kadjar
Renault Kangoo
Renault Koleos
Renault Master
Renault Mégane
Renault Mégane Estate
Renault Scénic
Renault Talisman
Renault Talisman Estate
Renault Trafic
Renault Twingo
Renault ZOE
SEAT Alhambra
SEAT Arona
SEAT Ateca
SEAT Ibiza
SEAT León
SEAT Toledo
Skoda Fabia
Skoda Fabia Combi
Skoda Kamiq
Skoda Karoq
Skoda Kodiaq
Skoda Octavia
Skoda Octavia Combi
Skoda Rapid
Skoda Rapid Spaceback
Skoda Scala
Skoda Superb
Skoda Superb Combi
Skoda Yeti
Smart Fortwo
Smart Fortwo cabrio
Smart Forfour
SsangYong Rexton
SsangYong Musso Sports
Subaru Ascent
Subaru BRZ
Subaru Forester
Subaru Impreza
Subaru Legacy/Liberty
Subaru Outback
Subaru WRX
Subaru XV/Crosstrek
Suzuki Ignis
Suzuki Swift
Toyota Aygo
Toyota Yaris
Toyota Corolla
Toyota Camry
Toyota Prius
Toyota RAV4
Toyota CH-R
Vauxhall Adam
Vauxhall Astra
Vauxhall Combo
Vauxhall Corsa
Vauxhall Crossland X
Vauxhall Grandland X
Vauxhall Insignia
Vauxhall Mokka
Vauxhall Viva
Vauxhall Vivaro
Vauxhall Zafira
Vauxhall Zafira Life
Volkswagen Arteon
Volkswagen Beetle
Volkswagen Beetle Cabriolet
Volkswagen CC
Volkswagen e-Golf
Volkswagen Fox
Volkswagen Golf
Volkswagen Passat
Volkswagen Polo
Volkswagen Scirocco
Volkswagen Sharan
Volkswagen T-Cross
Volkswagen Tiguan
Volkswagen Tiguan Allspace
Volkswagen Touareg
Volkswagen Touran
Volkswagen Amarok
Volkswagen Caddy
Volkswagen California
Volkswagen Caravelle
Volkswagen Crafter
Volkswagen Multivan
Volkswagen Transporter
Volvo XC90
Volvo S90
Volvo V90
Volvo V60 Cross Country
Volvo V90 Cross Country
Volvo XC60
Volvo S60
Volvo V60
Volvo XC40
Android Auto Connection | Knowing Your VW
These are the best family cars with Android Auto
Skoda Kodiaq
1.5 TSI SE Drive 5dr DSG [7 Seat]
Manufacturer Approved
Marshall Skoda Northampton

Northamptonshire, NN15NS
PCP: £424.18/mo
Representative example: Contract Length: 36 months, 35 Monthly Payments: £424.18, Customer Deposit: £4,192.00, Total Deposit: £4,192.50, Optional Final Payment: £14,072.50, Total Charge For Credit: £5,161.30, Total Amount Payable: £33,111.30, Representative APR: 9.4%, Interest Rate (Fixed): 9.39%, Excess Mileage Charge: 7.2ppm, Mileage Per Annum: 10,000
Skoda Kodiaq
2.0 TDI 190 SE L 4x4 5dr DSG [7 Seat]
Manufacturer Approved
Specialist Cars Skoda Dundee

Angus, DD24SU
PCP: £530.24/mo
Representative example: Contract Length: 36 months, 35 Monthly Payments: £530.24, Customer Deposit: £5,175.00, Total Deposit: £5,175.00, Optional Final Payment: £15,985.00, Total Charge For Credit: £5,218.40, Total Amount Payable: £39,718.40, Representative APR: 7.9%, Interest Rate (Fixed): 7.87%, Excess Mileage Charge: 6.98ppm, Mileage Per Annum: 10,000
Skoda Kodiaq
1.5 TSI SE Drive 5dr DSG [7 Seat]
Motorpoint Swansea

Swansea, SA79AG
PCP: £402.73/mo
Representative example: Contract Length: 36 months, 35 Monthly Payments: £402.73, Customer Deposit: £4,199.00, Total Deposit: £4,199.85, Optional Final Payment: £14,676.00, Total Charge For Credit: £4,972.40, Total Amount Payable: £32,971.40, Representative APR: 8.9%, Interest Rate (Fixed): 8.54%, Excess Mileage Charge: 4.8ppm, Mileage Per Annum: 10,000