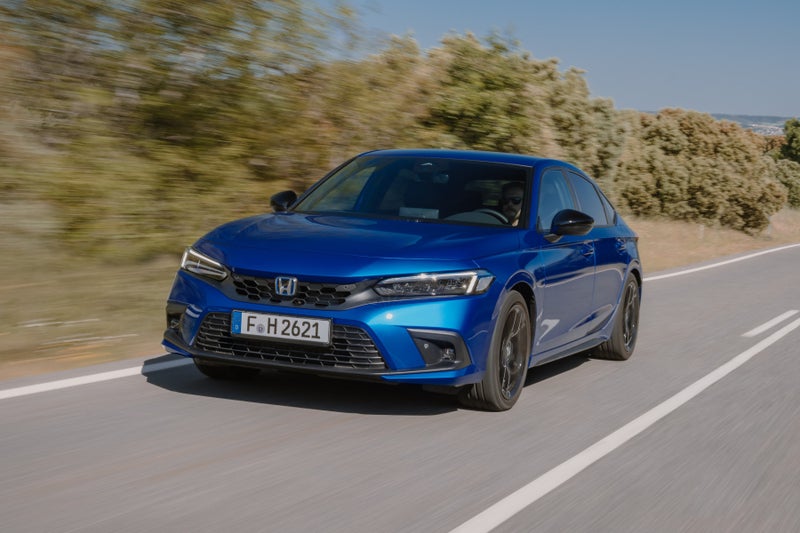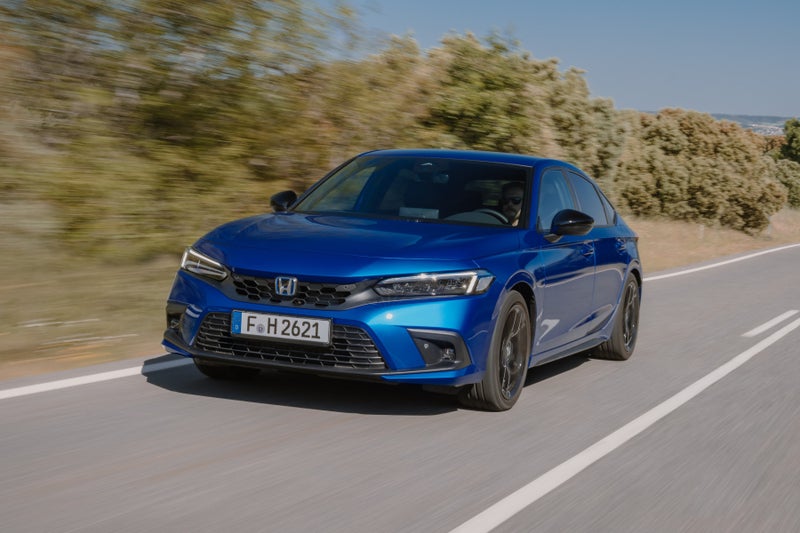 1/9
heycar rating
"More enjoyable than it looks"
Launched: 2022

Family hatch

Hybrid
Quick overview
Pros
Smart and spacious cabin
Surprisingly enjoyable to drive
New hybrid system is Honda's best yet
Cons
Only offered with single hybrid option
Priced to compete with premium hatchbacks
Slightly anonymous styling
Overall verdict
On the inside
Driving
Cost to run
Prices and Specs
Common questions
Overall verdict on the Honda Civic
"Honda's latest Civic has finally landed in Europe, but its conservative looks might not cause a stir. What will, as our review outlines, is its impressive hybrid driving experience which is more fun than you might expect, its solid and classy cabin and its good amount of space, plus the usual Honda reliability reputation."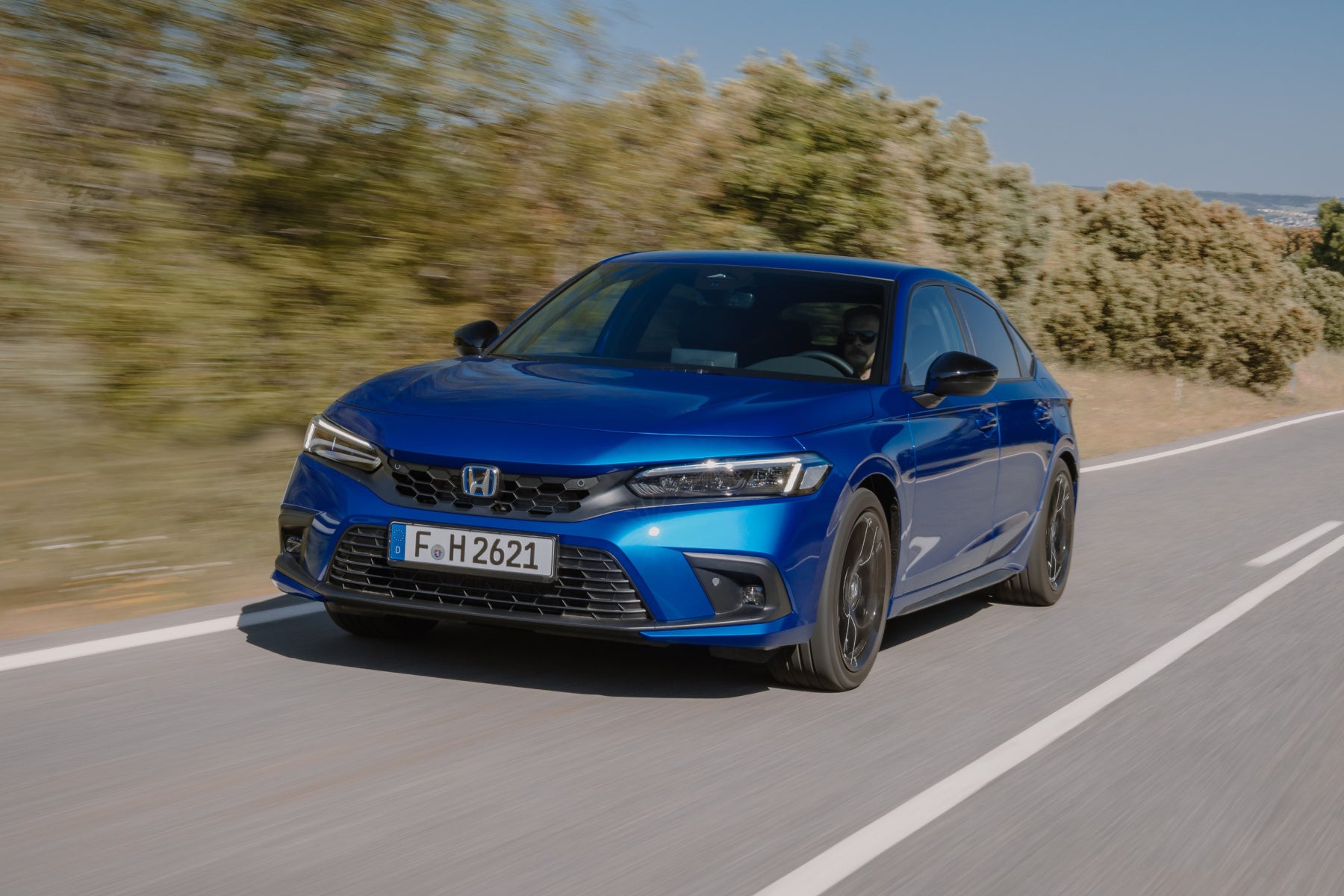 Like when Vauxhall launches a new Astra and Volkswagen reveals a new Golf, a new Honda Civic arriving on the scene is a big deal - even if it might not be the most exciting thing to happen in the motoring calendar. However you might not look at the latest, eleventh-generation Civic and think it's all that new.
Part of that is the design, which isn't a dramatic departure from the old Honda Civic. As a hatchback it's smart and neatly proportioned, and probably a bit less divisive than the old car, while colour choices like the nice blue in our pictures help it avoid looking dull. But it's not exactly showy or striking, is it?
The other reason you might recognise it is that over in markets such as the U.S. this Civic has been on sale for several months now. It's a global car, this, but Honda has bigger markets than Europe to satisfy. Those other markets also get more engine choices including a 200PS 'Si' model, but here there's only one and it's a self-charging hybrid mated to a CVT gearbox.
Sounds boring? Well, Honda has worked hard to make this Civic as engaging as possible to drive, with lots of technical upgrades over the old car. The result is an efficient hybrid that's actually quite enjoyable on the road, with good performance, a CVT that does a decent impression of a traditional automatic and improved refinement over other Honda hybrids such as the HR-V.
What's more the Civic is as capable in the bends as it is in a straight line, with keen steering, sorted handling and loads of grip. Granted, a Ford Focus is still more fun on the limit, but the Honda still impresses and balances that with a firm yet composed and refined ride.
Inside, too, it's an improved Honda, largely because the firm's really outdated old infotainment has been ditched for smarter, more responsive tech. But there's also a smarter design and classier materials that help the Honda go some way to competing with posher rivals such as the Audi A3.
The old Civic was already one of the most spacious cars in its class, and this larger-than-ever Civic still excels. It's clear that Honda wanted to make sure nobody missed the old Accord, so you get a big boot and plenty of space in the cabin, although the sloping roof means those after more headroom would be better off with the bigger CR-V SUV.
Yes, it might be far from the cheapest family hatchback around - certainly a Skoda Octavia is better value for money- but you get a strong level of standard equipment, that hybrid power and Honda's strong reputation for reliability and quality. All in, the new Civic is a great addition to the family car class.
If you're looking for the older version, you need our used Honda Civic 2017-2022 review
Is the 2022 Honda Civic right for you?
The new Honda Civic makes a lot of sense for everyone from family buyers who don't want an SUV, commuters who pile on the miles and folk who just want a nice and dependable new car that'll last as long as they need it to. Yet there's some appeal here for keen drivers that also need good fuel economy.
It's maybe not the most fashion-conscious choice, unlike Honda's HR-V which is surprisingly stylish. The Civic's more restrained look means it isn't likely to stand out in the car park much, so a Peugeot 308 or Mazda 3 is a better bet for that. Neither of those cars are as practical as the Civic, however, nor do they offer a smooth full hybrid engine option (the Peugeot is plug-in, which can be a mixed bag, and the Mazda only has a mild-hybrid petrol).
What's the best Honda Civic model/engine to choose?
In terms of engine you won't be laying awake at night worrying about the choice, because there's only one. Happily it's a good all-rounder, offering enough performance to suit the majority of buyers' needs, strong real-world efficiency and the ability to roll around town at low speeds on electric-only power.
The Civic's pricing is towards the premium end of the family hatch sector, and it's more expensive than its closest competitor: the hybrid Toyota Corolla. Happily, entry-level Elegance trim offers plenty of kit as standard, and the only reason we'd bother upgrading to Sport trim is to get the more stylish design.
What other cars are similar to the Honda Civic?
In many ways the Honda Civic's main competitor is the Toyota Corolla. It's also hybrid-only, although it can be had with a more affordable lower powered version, plus Toyota has the same expectation of quality and reliability. It's arguably more striking to look at on the outside than the Civic, but counters that with a duller interior.
Other key challengers for the new Civic with hybrid options include the Volkswagen Golf, the Vauxhall Astra, the Mercedes A-Class and the Audi A3. There's also the mild-hybrid Ford Focus, the Peugeot 308, the Hyundai i30 and the Kia Ceed to consider, too - with the Korean models undercutting the Honda on price.
Comfort and design: Honda Civic interior
"Like the outside, the Civic's interior isn't dramatic or exciting to look at. But it is smart and sophisticated, with neat touches, a simple and logical design and good quality materials."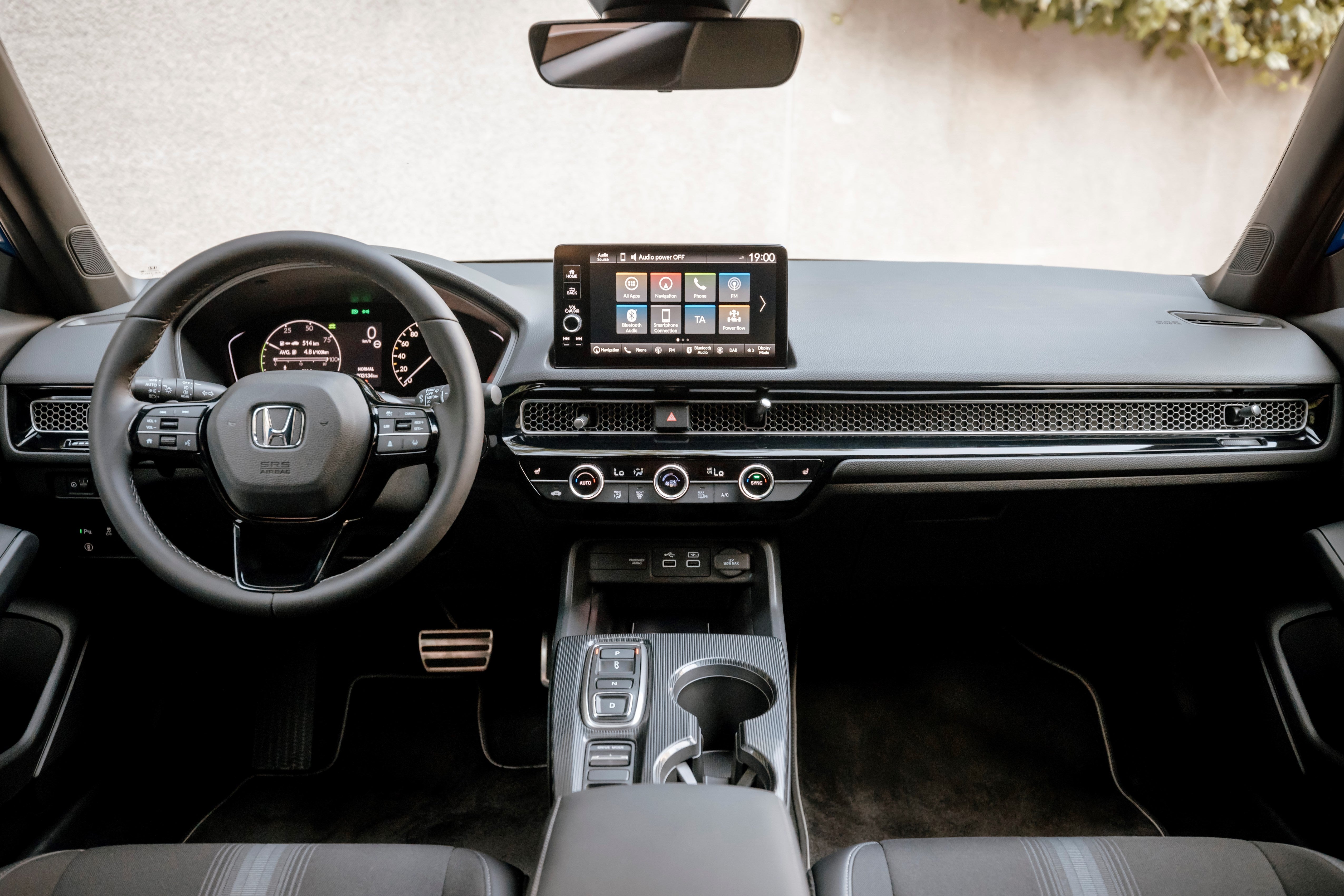 There's lots to like about the interior of the new Civic, even if at first glance it doesn't wow you with a bold design and bright colours. Instead Honda has gone for a sophisticated, classy design that makes it look and feel more upmarket than a Toyota Corolla or Ford Focus.
It's perhaps a less driver-focused cabin than the old Civic, but there's a definite uplift in the quality feel (as you'd expect given the price increase). We like the simplicity and Honda's decision to avoid over-styling (something older generation Civics were guilty of), while there's neat details such as the full-width air vent strip across the dash. It's not actually all made up of air vents, but it's a nice touch.
The layout is really simple and logical, too. The touchscreen now sits on its own plinth on top of the dash to put it more in the driver's line of sight, with (depending on trim) either part or fully digital dials in the instrument binnacle. The tech is thankfully much improved over the old Civic, but Honda hasn't forgotten good ergonomics, with simple and solid-feeling switchgear for the climate control stack below.
With plenty of space, storage and equipment, and a quality look and feel, there isn't really anything missing in the 2022 Civic to give cause for complaint.
Quality and finish
Honda has always managed a good level of fit and finish, and the new Civic is no different. But where it improves is perceived quality, with nicer soft-touch finishes than models of old. The doors close with a satisfying thunk, most of the touch points feel pretty classy and the upholstery is of decent quality. It's more Mazda 3 than Ford Focus, which we like.
Our only complaints surround the lower parts of the centre console, with a centre armrest that wobbles if you provoke it and a questionable bit of trim around the cupholders. Honda says it doesn't show up fingerprints and scratches as much as the usual gloss black trim, and they're right. But it's not a very pleasant texture to touch - something like faux aluminium or wood grain would've been nicer.
Infotainment: Touchscreen, USB, nav and stereo in the Honda Civic
This is where there's real room for improvement over the old Civic. The old car's infotainment screen had dated colours, confusing menus and poor touch responses making it feel several years behind the best competition, and frankly one of the worst systems on the market. Honda has ditched all that with a completely new setup, similar to that in the latest HR-V.
Although the nine-inch display isn't the largest in its class, It's much easier to use with simple menu layouts, sharp graphics and speedy responses. Also, Apple CarPlay and Android Auto are standard across the range if you'd rather bypass most of Honda's system. That means you can mirror apps such as Google Maps or Spotify onto the display, although it's a shame only Apple's version is wireless here.
While the infotainment can't be controlled via a rotary controller (like in the Mazda 3), there are a few shortcut buttons if you get lost and a rather dashing knurled knob for adjusting the volume.
The Civic also has a 10.2-inch digital dial display on top-spec trim, which is smart but not ultimately as customisable as the VW Group's system. Lesser versions get a smaller instrument display flanked by some analogue dials, which is fine. We like that Honda has avoided touch-sensitive buttons on the wheel, too.
The standard stereo in the Civic gets eight speakers and sounds pretty good, but if you plump for the Advance trim you'll get a punchy twelve-speaker BOSE sound system that enhances your favourite tunes. You also get USB ports and a 12V socket below the climate dials, plush a wireless phone charging pad on top trims.
Space and practicality: Honda Civic boot space
The old Honda Civic was a big car - one of the largest in its class, in fact - and the new model doesn't grow massively in size. It didn't need to, but there is some gains anyway because that's just how the car industry works.
In terms of exterior dimensions the new Honda Civic hatch is 4549mm long, 1414mm tall and 1800mm wide. That makes it 30mm longer than the old car, yet it's virtually the same width and has a lower roofline. Only the Skoda Octavia is larger in this class.
Honda has increased the wheelbase by 35mm over the old car, which was hardly cramped to begin with. The result is a comfortable place to sit in the rear for two adults, and three for short journeys, although those well over six foot will have their comfort limited by a roofline that their heads will brush. There seems to be more glass area in the back than the old car, which makes it feel less claustrophobic, but you can't fully slide your feed under the front seats because they sit quite low.
There will be no complaints from those in the front, however. With those seats able to sit fairly low for a front-wheel drive hatch there's a nice driving position, with plenty of adjustment in the seats and wheel. Storage is okay but not outstanding, with a pretty small glovebox, reasonably sized door bins and cupholders and a cubby under the centre armrest.
Where the Civic does impress is the boot space. At 410 litres it's actually smaller than the old Civic, but most of that is because the hybrid's battery is under the boot floor. Even allowing for that it's still very competitive, beating almost all its rivals for space bar the gigantic Skoda Octavia. Advance models lose six litres of space because of the BOSE sound system's subwoofer, but that'll hardly make a difference.
The tailgate has a wide opening, but the seat folding is unremarkable with a 60/40 split and no ability to fold the seats via boot-mounted levers. However there is one clever touch - the parcel shelf is actually a piece of tough fabric that comes out of the side of the boot and is pulled across. It means that when you don't want it to be there you don't have to find storage for a bulky cover somewhere.
Handling and ride quality: What is the Honda Civic like to drive?
"The new Honda Civic is hybrid-only, but it's quite a bit more fun to drive than you might think. A SEAT Leon or Ford Focus are more engaging overall, though."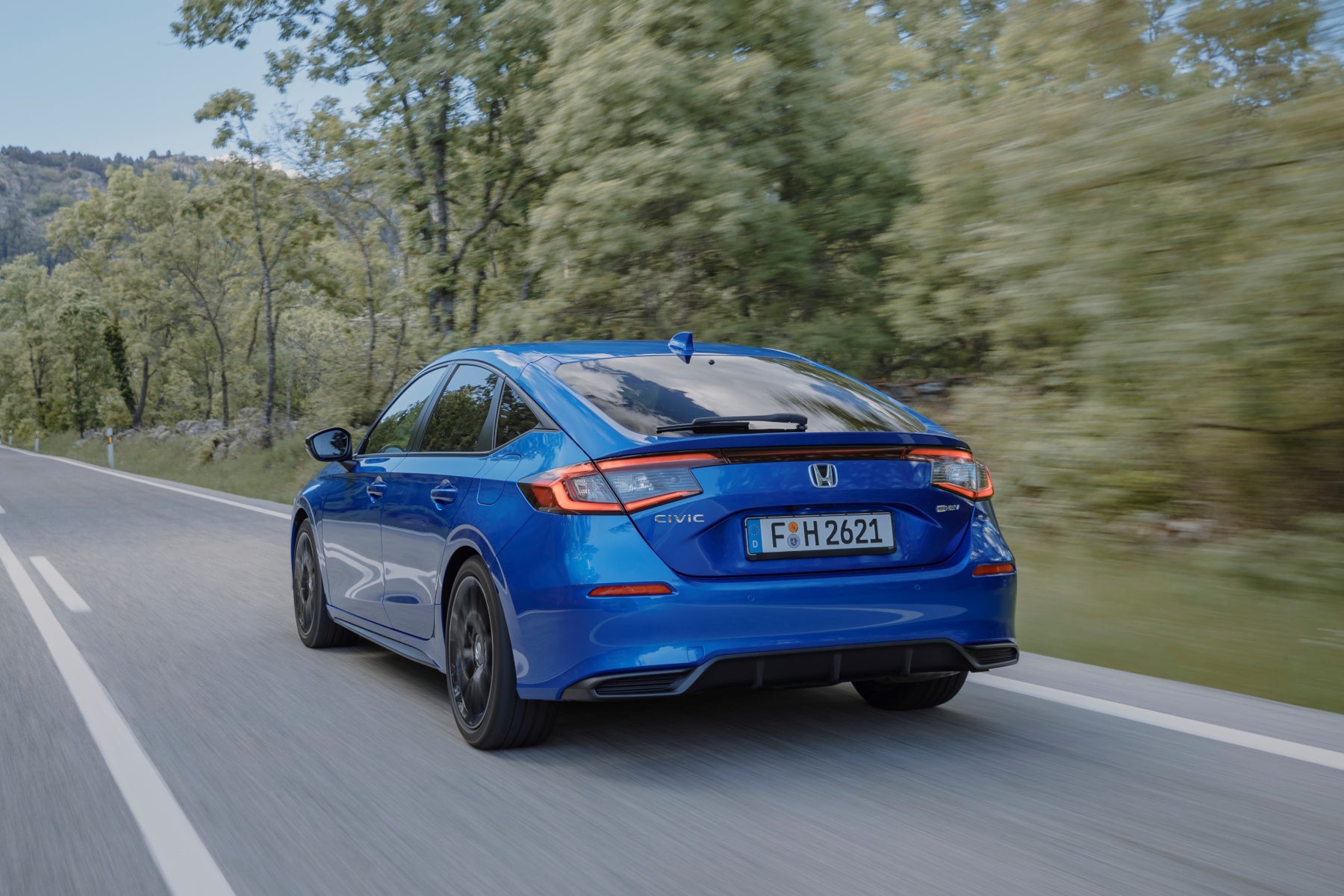 Honda's engineering team talks at great length about how much focus there has been on improving the Civic's driving experience. A lot of that has gone into the hybrid system to make it more engaging, but some of it's also gone into the ride and handling.
The 2022 Honda Civic has a longer wheelbase and wider rear track than the old car, which boosts stability, while there's also new suspension tuning, a 22% more rigid body and details such as an aluminium bonnet, which reduces weight.
The result is a car that strikes a nice balance between handling composure and ride comfort, although we need to reserve full judgement on the latter until we've driven it in on more familiar roads. The steering is nicely positive, with good weighting and a keen turn in helping it feel fairly agile. Body roll isn't quite as tightly controlled as a Focus, but it doesn't wallow around, and there's plenty of grip from the front tyres.
Honda has added a system called Winding Road Detection, which is supposed to sense when you're giving it some on a twisty road and keep the petrol engine in its optimum bandwidth for acceleration. It's not as dramatic difference, but then the engine is responsive enough anyway.
Sure, it isn't as playful and entertaining as the Ford, nor does it quite match the Mazda 3 and SEAT Leon's agility. But it really isn't far off, and counters with a more refined ride than the latter two on these initial impressions. One black mark is the amount of road noise there is - it's not intrusive but it is noticeable on some surfaces.
What engines and gearboxes are available in the Honda Civic?
It doesn't seem that long ago that most family hatchbacks had an almost baffling array of engines and gearboxes to choose from. Those days are gone as carmakers prioritise the popular models, and Honda reckons the only Civic that European buyers need is the hybrid model.
The raw stats are pretty good, though. With a non-turbo 2.0-litre four-cylinder petrol engine mated to two electric motors and a battery pack, power is put through an electric CVT gearbox (not a traditional mechanical one). Honda says they went for this because it's the best of all worlds - it's more powerful than the old Civic's 1.5-litre turbo petrol, is more efficient than the 1.0-litre and has more torque than the diesel.
Unlike some hybrids, which directly power the wheels through both power sources, the Civic's petrol engine is a generator to produce electricity which drives the motors (and wheels) and charges the battery. The Honda CR-V, HR-V and Jazz also do this, and none of them are particularly fun to drive.
There's some key differences in the 2022 Civic, however. The first is that the 2.0-litre engine here is now direct injection (making it more responsive and efficient) and the second is a new generation 'e-CVT' gearbox that's been worked on to feel more like a regular automatic.
Like all full hybrids it'll pootle around in electric mode for short distances around town, and be kept in that mode up until about 30mph. Press the throttle harder and the engine kicks into life, but does so quietly and smoothly thanks to good sound insulation. You can also press the throttle further before the motor starts revving up than in the HR-V and Toyota Corolla.
Ask for full power and it's a fairly brisk performer - hardly a hot hatchback, but not slow either, with 184PS and 315Nm of torque resulting in a 0-62mph time of 7.8 seconds. The engine revs do rise as you do, but it's not a particularly intrusive noise, and Honda has added simulated stepped 'gears' to reduce the constant max-rev thrashing that other CVT hybrids often have. It works pretty well overall - in fact it could be the best CVT hybrid we've tried in a mainstream model.
If you do want more theatre, putting the Civic into Sport mode brings an active sound generator. Honda says this makes it sound a bit like the revvy old 'VTEC' engines, although we're not totally convinced. You can turn it off in Individual mode, which also lets you play around with the throttle response and steering weight.
Refinement and noise levels
The new Civic is of course refined around town, with no engine noise in electric mode and a nicely insulated sound when the petrol unit does kick in. The traditional problem with CVT hybrids is that the calm is shattered out of town as the gearbox makes the engine groan in protest.
Newer hybrids are getting better at this, and the new Civic is one of the best. You can get up to speed quickly without the engine howling in protest, and even if you do mash your foot into the carpet the revs soar up and then fall a bit as the gearbox simulates the gears of a normal automatic, to some success.
Elsewhere, wind noise is well insulated and there's no suspension noise to intrude. However, the Civic does seem to transmit more road noise into the cabin than something like a Volkswagen Golf.
Safety equipment: How safe is the Honda Civic?
Euro NCAP is yet to give the Honda Civic the full crash test experience, so for now we'll have to look at the specs. We'd be surprised if it wasn't a safe bet, however.
Honda claims crash protection should be 'class-leading' thanks to eleven airbags as standard and a stiffer body structure. Standard safety kit includes automatic emergency braking with pedestrian and cyclist detection, plus road departure mitigation, an improved lane keeping assist system, traffic sign recognition and intelligent speed assist.
Adaptive cruise control is also standard across the range, something which only only really applies to the Toyota Corolla as a rival. It's an improved system on the old car, and now comes with Traffic Jam Assist for low-speed driving. All models get auto high beam, but only Advance grade gets adaptive matrix LEDs.
MPG and fuel costs: What does a Honda HR-V cost to run?
"The Civic might not be that cheap to buy but it will be cheap to run, with the new hybrid system providing impressive economy."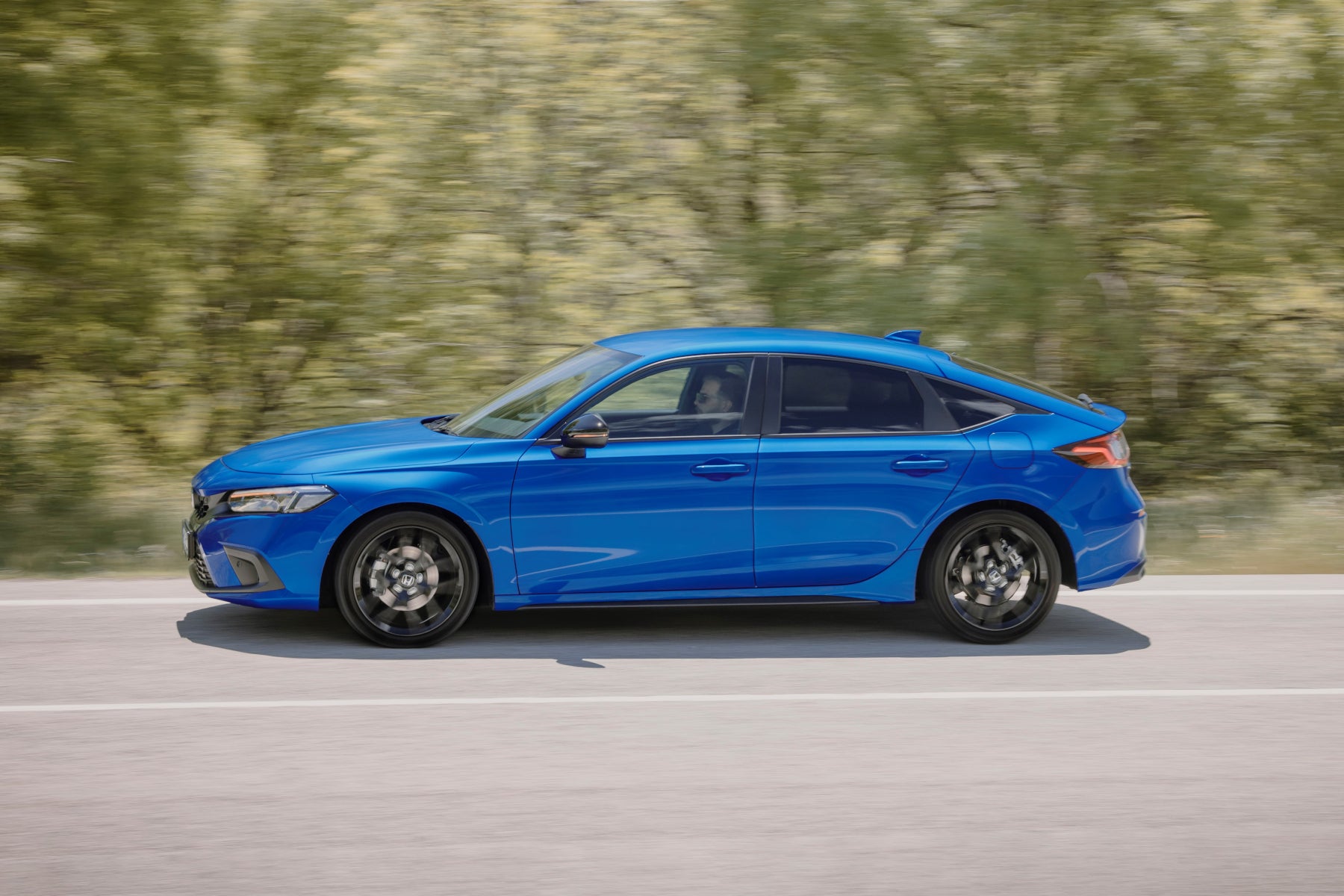 In combined cycle WLTP tests, the Honda Civic returned around 51mpg. Given the performance on offer that's a very strong figure, if not quite diesel-beating, and in our experience it's a pretty realistic figure as we managed more than that without much effort.
As it's a 'self-charging' hybrid rather than a plug-in hybrid, you don't have to do anything particularly arduous (like plugging it in) to see impressive fuel economy. You'll find our guide to hybrid cars useful if you want to know more about these two hybrid systems.
As there's no diesel engine available in the Honda Civic, you might wish to look elsewhere if you cover a lot of motorway miles as a similarly powered one might manage over 60mpg on a long run. Still, diesel is dropping in popularity and there are fewer options left nowadays.
How reliable is the Honda Civic?
Honda generally performs well in terms of reliability, ranking highly in the annual HonestJohn.co.uk Satisfaction Index.
We can't say for sure if the new Civic will be as reliable as older versions, but equally we've seen no reason for it not to be. Also, the self-charging hybrid is traditionally a very dependable and long-lasting setup in other models.
Insurance groups and costs
Honda is yet to release full insurance costs and groupings for the Civic. Expect it to be slightly pricier to insure than the old car on account of its higher price and hybrid system.
VED car tax: What is the annual road tax on a Honda Civic?
The first year's VED (road tax) is lumped into the on-the-road price and is based on CO2 emissions. With emissions of 108-110g/km, the Honda HR-V's first-year VED will cost £170.
As a hybrid model, you'll save £10 a year on the annual VED road tax. That means you'll pay a flat rate of £155. If you want to pay less, you'll have to look at a pure-electric alternative like Citroen e-C4.
How much should you be paying for a Honda Civic?
"Because there is only one engine option - and it's a pretty good one - the new Honda Civic isn't exactly a class bargain"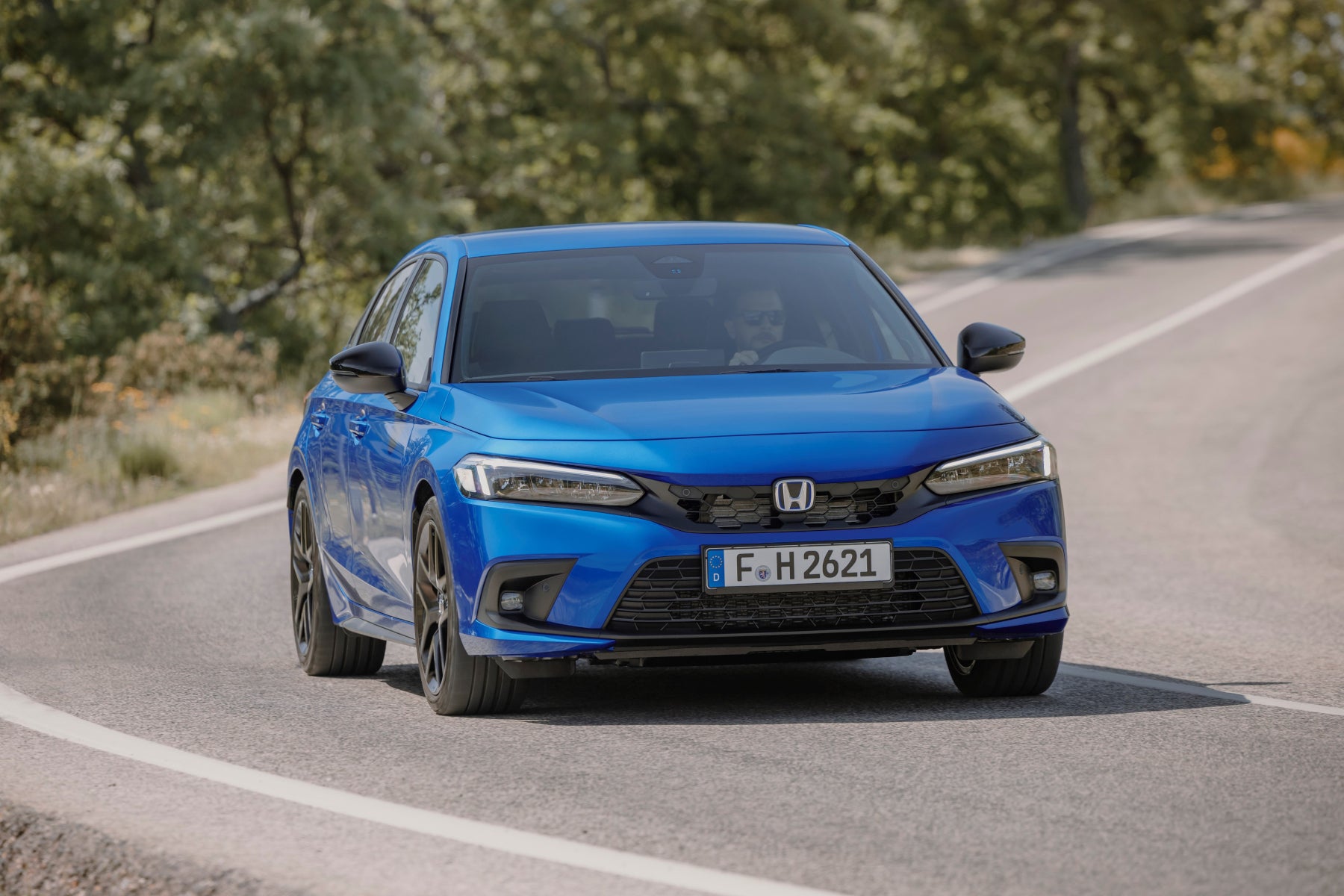 The new 2022 Honda Civic starts at £29,595, with orders starting in July. That seems like a lot, especially when you consider that the Toyota Corolla is a few thousand pounds cheaper, as is an entry-level Audi A3 or BMW 1 Series.
But we're not comparing apples with apples in that respect. Yes, every Corolla is hybrid, but all you get at the base point is the 1.8 version with a measly 122PS. You'll need over £28,000 for a 2.0-litre Corolla with the same output as the Civic. There's no hybrid version of the 1 Series at all, while the plug-in hybrid A3 starts at nearly £38,000.
Stepping up to Sport trim increases the price to £30,595, with top-spec Advance coming in at £32,995. In terms of finance, Honda is advertising a fairly competitive base leasing cost of £349 a month for the Civic Elegance, with Sport trim commanding just £20 a month more and Advance trim another £30.
Trim levels and standard equipment
The Honda Civic is available in three trim levels, all of which are pretty comprehensively kitted out. Certainly if you could only stretch to the base model you wouldn't feel short changed.
The entry-level Honda Civic Elegance comes with 17-inch two-tone alloy wheels, LED headlights with auto high beam, sat-nav, heated front seats, front and rear parking sensors, a rear view camera, dual-zone climate control, adaptive cruise control and the full roster of airbags and active safety kit.
Stepping up to the Honda Civic Sport gets you bigger 18-inch black alloy wheels, gloss black exterior trim, LED front fogs, part synthetic leather upholstery, a wireless phone charging pad, an auto dimming rear view mirror and rear air-con vents.
And finally the top-spec Honda Civic Advance adds two-tone 18-inch alloys, a larger digital instrument display, electrically adjustable front seats, full leather, passenger electric lumbar support, a heated steering wheel, a Bose premium sound system with 12 speakers, adaptive LED headlights and a panoramic glass sunroof.
Ask the heycar experts:
common questions
Is the Honda Civic any good?
Yes, the latest Honda Civic is a very good all-rounder even if you choice is limited to the hybrid version here. It's solidly built, should be reliable, well-equipped, neatly designed and good to drive.

Do Honda Civics have problems?
Hondas are generally considered reliable, and many of its models have finished highly in the HonestJohn.co.ukl Satisfaction Index in recent years. This new hybrid model could be even more reliable than before as the self-charging hybrid system is considered very durable.

Why is the new Honda Civic a hybrid only?
Honda made a commitment to make either hybrid or fully electric power the focus of its European model lineup. Many brands are slowly removing their combustion engine variants as the world looks to cut emissions and use of fossil fuels, and self-charging hybrids are a popular stepping stone to full EV.

Answered by
Lawrence Allan
Honda Civic cars for sale on heycar
1,231
Number of cars available
£8.2K - £38K
Price bracket of these cars
Colours available on heycar
Keep me updated by email with the latest advice, news and offers from heycar
By submitting, you agree to our
privacy policy
.
Popular models
Similar models