Honda Civic Review

Written by
heycar editorial team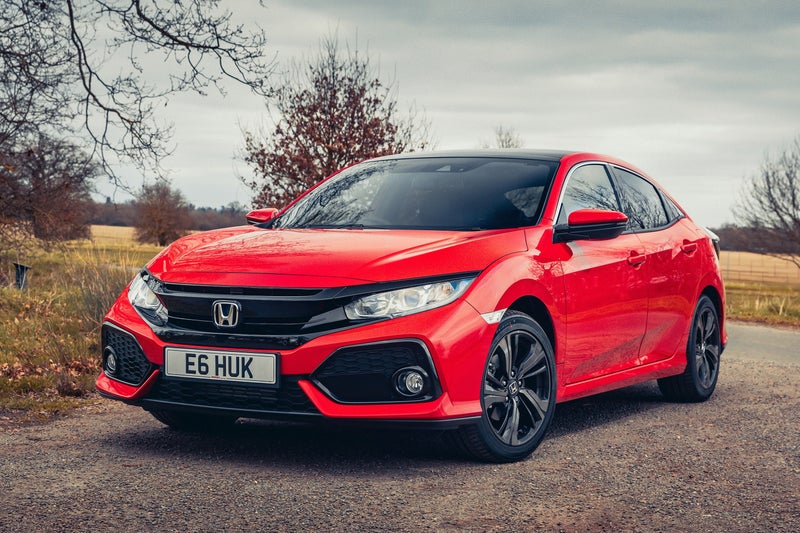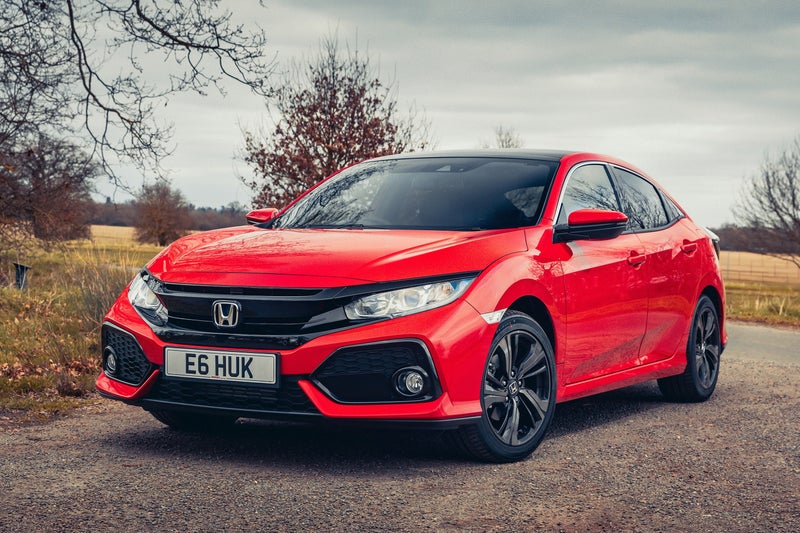 1/10

heycar rating
"Quality hatch rivals the best"
Launched: 2017

Family hatch

Petrol, Diesel
Quick overview
Pros
Comfortable and enjoyable to drive
Lots of standard safety equipment
One of the biggest boots in the class
Cons
Infotainment system isn't good enough
Entry-level versions poorly equipped
Interior is rather drab
Overall verdict
On the inside
Driving
Cost to run
Prices and Specs
Overall verdict
"You have to feel a bit sorry for Honda. The firm comes up with a car that looks as unconventional, as outlandish and as in-your-face as the latest Civic. And yet still, it can't shake its image as the car brand for those with a blue rinse and a pension book. It's a shame, too, because getting around in one of these is far more pleasurable than using your bus pass."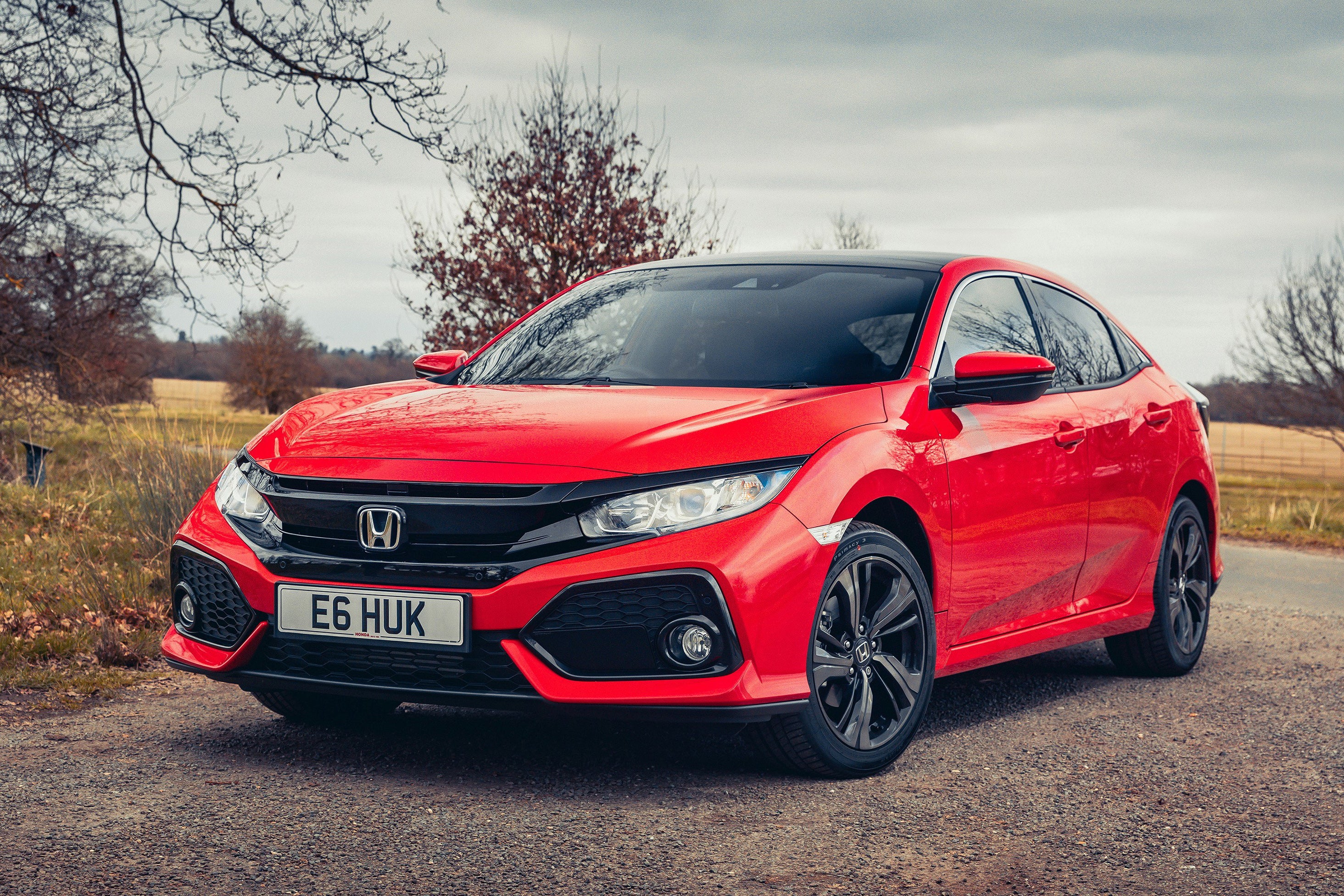 The fact is, there's also plenty to like for those who aren't quite so long-of-tooth. The styling might be overly fussy in places, but we like the fact that it looks like nothing else in the class, especially when that class is packed full of such conservative-looking machines.
One of the biggest boots in the class also means it does a thoroughly decent job on practicality, while the list of cutting-edge safety kit you get as standard might have you rubbing your eyes in disbelief. Honda's record on reliability is the envy of the motor industry, which should provide plenty of peace-of-mind, and you get all this in a car that's very competitively priced.
What's most impressive about the Civic, though, is how good it is to drive. It's comfortable enough to keep the family happy, yet nimble enough to keep its driver entertained. The engines, meanwhile, deliver a very tempting mix of flexibility, refinement and economy.
Don't get us wrong, things are by no means perfect. The interior is rather drab, especially considering the glitziness of the outside, while the rear visibility is shocking and the entry-level trims are poorly equipped. The infotainment system, meanwhile, is nothing short of pathetic, and whoever signed it off should've fallen on their sword long ago.
However, while these shortcomings prevent the Civic being the best car of its type, they don't prevent it from being a very good car overall. And if its attributes sound appealing to you, it's well worthy of your consideration.
If you're looking for the older version, you need our Honda Civic (2012-2017) review.
Is the Honda Civic right for you?
Before you ask, no we're not going to be uncharitable to Honda by suggesting that you might be looking for a car to match your zimmer frame.
We find the Japanese brand's reputation as the Octogenarian's choice rather unfair and there's lots for everybody to like about the Civic. Particularly if you spend a lot of time driving, because the Civic is really good on that score. Most importantly, it's comfortable at all times, but it also has enough agility to make you smile and keep you safe. It also has one of the biggest boots in the class, making it perfect for young families with pushchairs and nappy bags to lug around, and the trim we recommend comes with plenty of luxury kit.
What's the best Honda Civic model/engine to choose?
For us, this is a very easy choice. If you're a high-mileage driver, you'll probably want to go for the impressively economical 1.6-litre diesel, but for everyone else, the entry-level 1.0-litre turbo will be plenty. It's a fabulously fizzy little engine, with surprisingly eager performance and good refinement, and it keeps purchase prices low. We haven't tried it with the continuously variable automatic transmission yet, but we can't see any reason not to stick with the wonderfully snicky six-speed manual.
On the trim front, it's the mid-range SR you'll be wanting. It doesn't cost too much more than S and SE cars, but comes with all the kit that they're missing, plus a bit more besides. EX and EX Sport Line add more, but they're too pricey to recommend.
What other cars are similar to the Honda Civic?
This class of car sells more than most others, so it's no surprise that there are seemingly countless contenders hoping to get a piece of the action. Very close on size and price are the Vauxhall Astra, Honda Civic, Skoda Octavia, SEAT Leon, Peugeot 308, Renault Megane, Hyundai i30, Kia Ceed, Toyota Corolla, Mazda 3 and Fiat Tipo. Plus of course the Ford Focus.
The Volkswagen Golf costs buyers a little bit more and bridges the gap to more premium offerings like the Audi A3, BMW 1 Series and Mercedes A-Class. You also have dozens of small SUVs competing for the same cash, so they should be considered as rivals, too.
Comfort and design
"Given how flamboyant and fussy the Civic's exterior design is, you'd expect the interior to have a fair bit of flounce, too, but it's actually very sombre."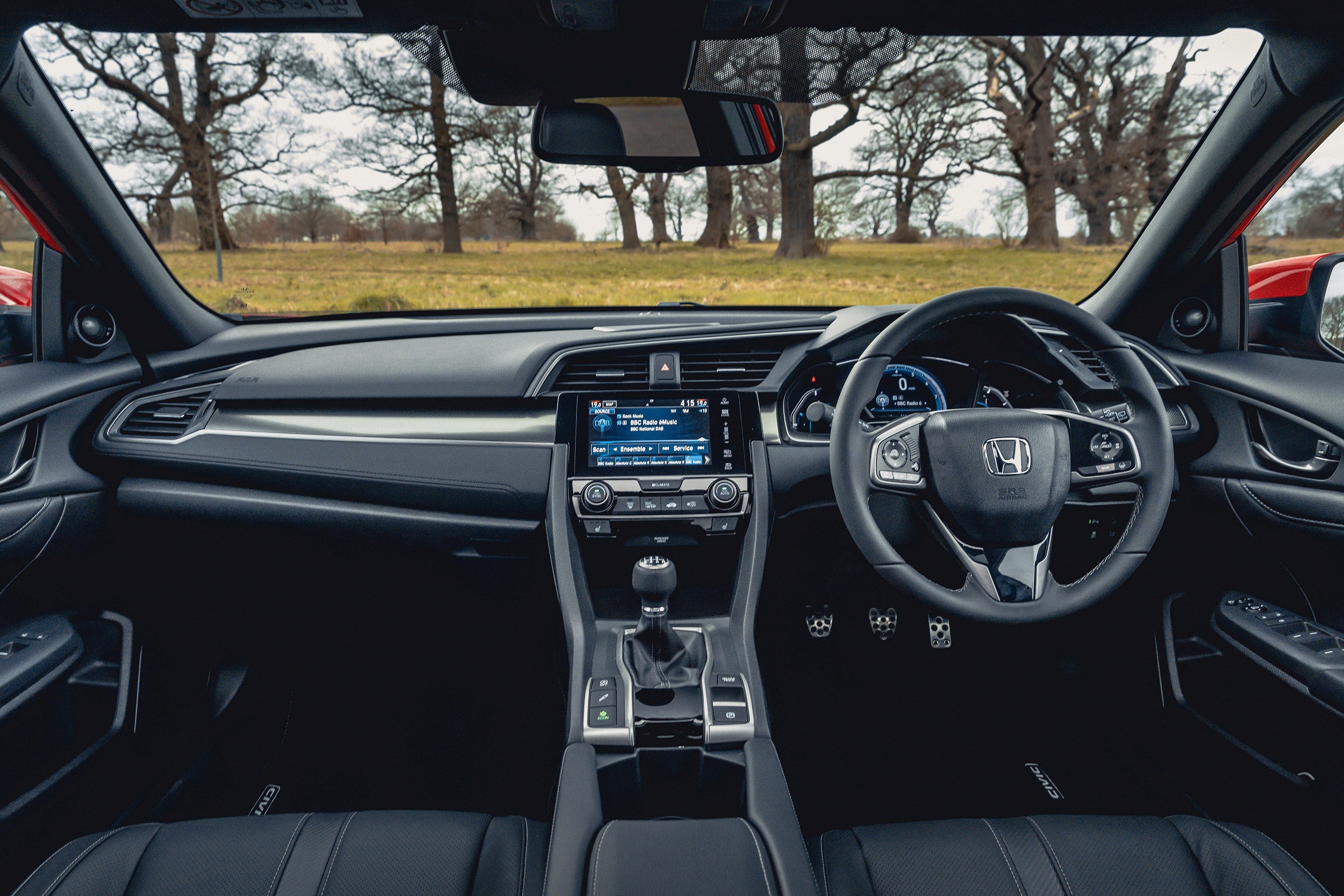 here isn't a great deal of imagination in the design, the dark colour scheme is rather monotonous and there isn't much variation in the texture or appearance of the various panels, either.
Having said that, though, the conventional layout means most of the various buttons and controls sit where you expect to find them, and most of them are chunky, well marked and easy to hit at a glance.There's a small cluster of buttons hidden away underneath the right-hand side of the steering wheel, but because most of these are for turning off the various safety systems, you probably won't be going near then too often anyway.
The driver's seat is very supportive, and there's enough adjustment in both it and the steering wheel to allow drivers of all shapes and sizes to get comfy. Visibility is pretty good at the front of the car, too, although it's woeful at the rear, because not only are the windows small, there's a rear spoiler that slashes right across the rear screen.
Things get worse in the rain, because the rear wiper (which the entry-level car doesn't even have) only clears a small section of the glass. All the more reason to upgrade to SR trim, because this is the cheapest version with all-round parking sensors and a reversing camera.
Quality and finish
The Civic does an entirely reasonable job in this area, but it doesn't exactly dazzle, either. The materials are fairly nice in the places you interact with most often, with some squishy cushioned surfaces and the odd glossy panel.
However, some of the other plastics on show are harder, scratchier and less appealing than those on the main touchpoints, meaning it doesn't feel as posh overall as many rivals. The monotone colour scheme doesn't do much to spice things up, either. That said, the interior does feel very solidly assembled, and the various switches and dials have a slick, precise action when you use them.
Infotainment
If this is an area that's particularly important to you, then you might want to consider one of the Civic's numerous rivals, because it's not an area in which the car excels.
First of all, the entry-level S car doesn't get any infotainment at all. That's right, not even a radio. In this day and age, that's scarcely believable. Make the very affordable upgrade to SE trim, meanwhile, and you do get a very basic system with DAB, Bluetooth one USB socket, eight speakers and a 5.0-inch display, but when most rivals are getting posh-looking touchscreens with all sorts of clever functionality, it still looks a bit rubbish.
From then on, all versions get the same 7.0-inch touchscreen system with an additional USB, a parking camera display and Apple Carplay/Android Auto. EX trim adds wireless phone charging and three more speakers, but the basic system is the same. Unfortunately, it's nothing short of terrible.
The graphics are fuzzy and outdated, the screen transitions are slow and glitchy, and because the screen isn't sensitive enough, you find yourself jabbing away at the screen repeatedly, waiting for a command to register. What's more, the user interface is so illogically arranged that performing even the simplest tasks is far too difficult. And that's before you've even mentioned the fact that touchscreens are more distracting to use on the move than other forms of operating system.
Space and practicality
The Civic is a muddling mix of positives and negatives in this area. There's as much space as you could ever want in the front, and in the back, legroom is extremely generous. However, headroom isn't quite so generous due to the way the roof slopes down towards the rear of the car.
Most passengers will be fine, but tall ones - anyone much over six foot - might find their hairdo getting messed up by the headlining. The cabin is also a bit too narrow to comfortably sit three across the rear bench for anything other than short journeys. What's more, the high shoulder line and small rear windows means the back of the car doesn't get an awful lot of natural light, giving a rather gloomy feel, and kids might struggle to see out.
You'll fit a pair of bulky shield seats in with no problem, but the Isofix mountings are annoying to use because the anchor point is buried deep inside a miniscule gap between two seat cushions. It's really hard to see and even harder to get at with the fastening clasp.
It's a similar story in the boot. In terms of sheer volume it's one of the largest in the class, so there's enough space to comfortably satisfy most families' needs. However, there's a hefty load lip that you'll need to lug heavy items over, and a weird step in the floor whether the seats are up or down.
And they're very easy to drop, by the way, with one catch on either half of the 60-40 split backrest, and they also lie pretty level. You don't need to remove a parcel shelf every time you extend the loadbay, either, because instead, there's a (slightly strange) fabric load cover mounted on one side of the boot that extends over your luggage space to conceal its contents.
Handling and ride quality
"This is an area in which some previous Civic's have struggled, but it's safe to say that the latest car is a real return to form for Honda. It's not the sportiest family hatchback you'll ever drive, and nor is it the most cosseting, but it provides a really good balance of both abilities."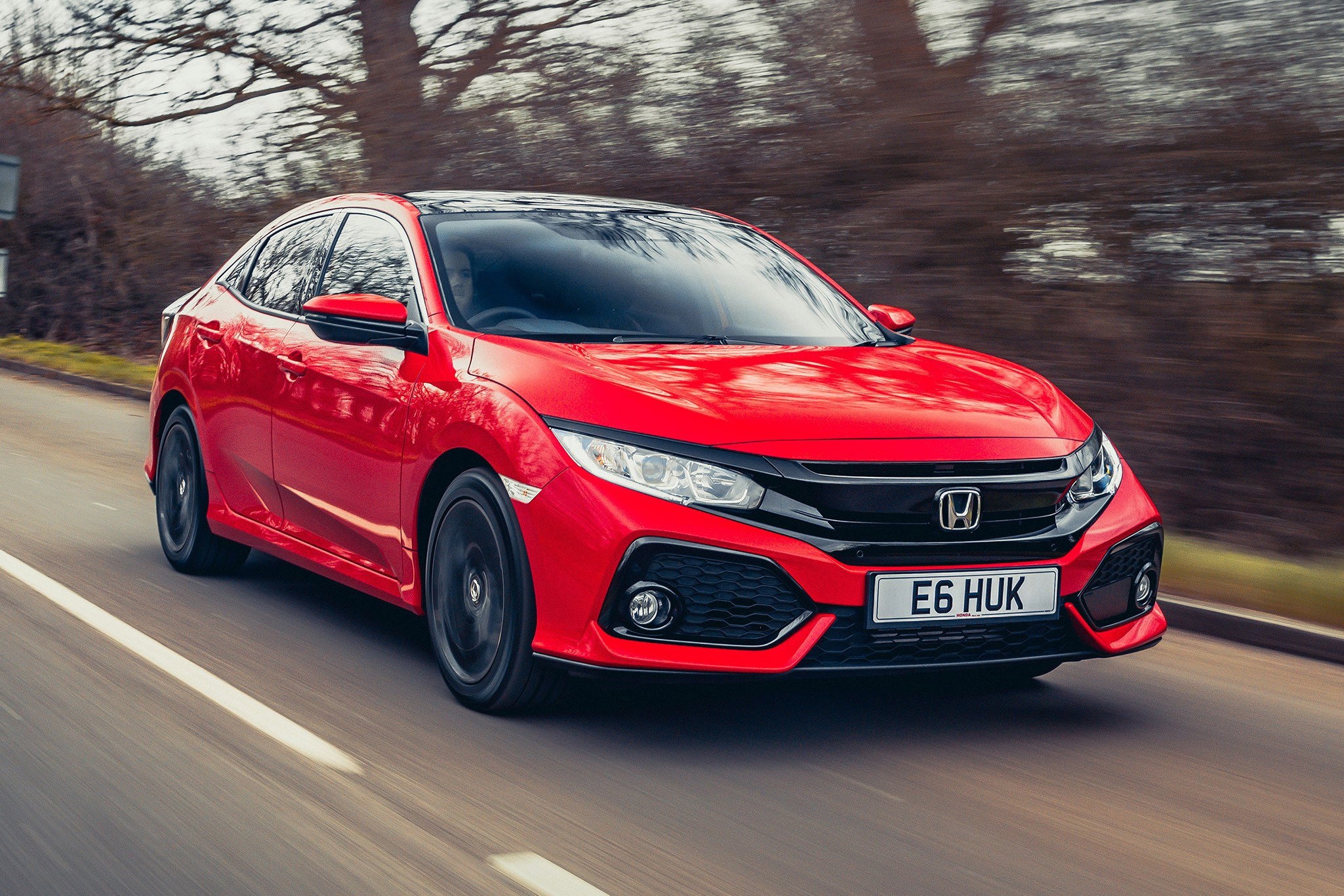 The suspension is forgiving enough to deal with the majority of bumps and potholes without virtually zero fuss, but there's also enough firmness to ensure that body movements are kept tightly controlled, both in bends and on undulating roads. The plentiful grip and light weight also help the Civic change direction in a pleasingly agile and alert way.
The controls, meanwhile, are all really responsive. The steering is nicely and consistently weighted, and it even offers decent feedback on what the front wheels are getting up to. The pedals are all consistent in their weighting and travel lengths, and the snappy gearshift is an absolute joy. Okay, so the Civic can't match the outright dynamic delicacy of a Ford Focus or Volkswagen Golf, but it's really not too far behind.
Engines and gearboxes
Just three engines are offered in the Civic and they're all crackers. Perhaps the best of them is the entry-level choice, a 1.0-litre turbo with 126PS.
Despite its modest size and power, it pulls strongly and keenly right from the bottom of the rev range giving it effortless flexibility and a surprisingly brisk turn of pace. The more powerful petrol, a turbocharged 1.5 with 182PS, is even faster and has more low-down pull, but to be honest, you probably won't notice it in 95 percent of driving situations, so you're better off sticking with the smaller engine and saving your pennies.
The one diesel engine on offer is a 120PS 1.6, and it'll be plenty quick enough for most people, although it doesn't feel quite as eager as the others. That said, it's actually quicker than the 1.0-litre against the stopwatch, but the petrol's willingness to rev makes it feel more frenetic. Even so, this will be the choice for high-mileage drivers.
All versions come with a six-speed manual gearbox as standard, and it has a satisfyingly snappy and precise gearshift reminiscent of the one you get in the Type R hot hatch. The two petrol can also be specified with a continuously variable automatic transmission, but we haven't tried this yet.
Refinement and noise levels
You'll have no complaints on this score with the 1.0-litre engine. Its flexible nature means you hardly ever have to rev it hard, but even when you're merciless with your right foot, the engine stays impressively smooth and quiet. The equivalent engines in a couple rivals are even smoother, but that's splitting hairs.
The 1.5 is more hushed still and allows even fewer vibrations through the pedals and floor. It can start to sound a wee bit thrashy if you really rev it close to the redline, but you hardly ever will.
The diesel is a bit more grumbly than the others, with a pronounced clatter, both when it's idling and when you're picking up speed. It does settle down to a gentle background hum once you're up to cruising speeds on the motorway, but on the whole, it's not as cultured as the diesel engines in some rivals. You'll hear more wind noise and road noise than in the very best rivals, too, but to be fair, neither is at a level that's really going to bother you.
Safety equipment
This is an area in which all Civics are very impressive.Even though the entry-level cars are poorly equipped in other ways, they have most of the same safety kit as posher versions, and most of it is very clever.
Automatic emergency braking is standard across the rage, along with lane departure warning, lane keeping assistance and adaptive cruise control that maintains a safe distance to the car in front and automatically amends your speed when it reads a nearby road sign. On top of that, all versions get automatic LED headlights and running lights, as well as all the usual airbags and electronic stability aids. The only difference between the trims is that EX cars also come with blind spot monitoring and cross traffic alerts.
It's a bit surprising, then, that when the car was first crash tested by Euro NCAP in 2017, it only scored four out of five stars. The culprit was poor protection for children on chest and whiplash injuries. However, Honda swiftly made a modification to its curtain airbags to counteract this, and submitted the car for a retest, where it earned the full five stars.
MPG and fuel costs
"The official WLTP figures suggest that the diesel will give you a maximum average of almost 63mpg, making it by far and away the most efficient Civic on offer."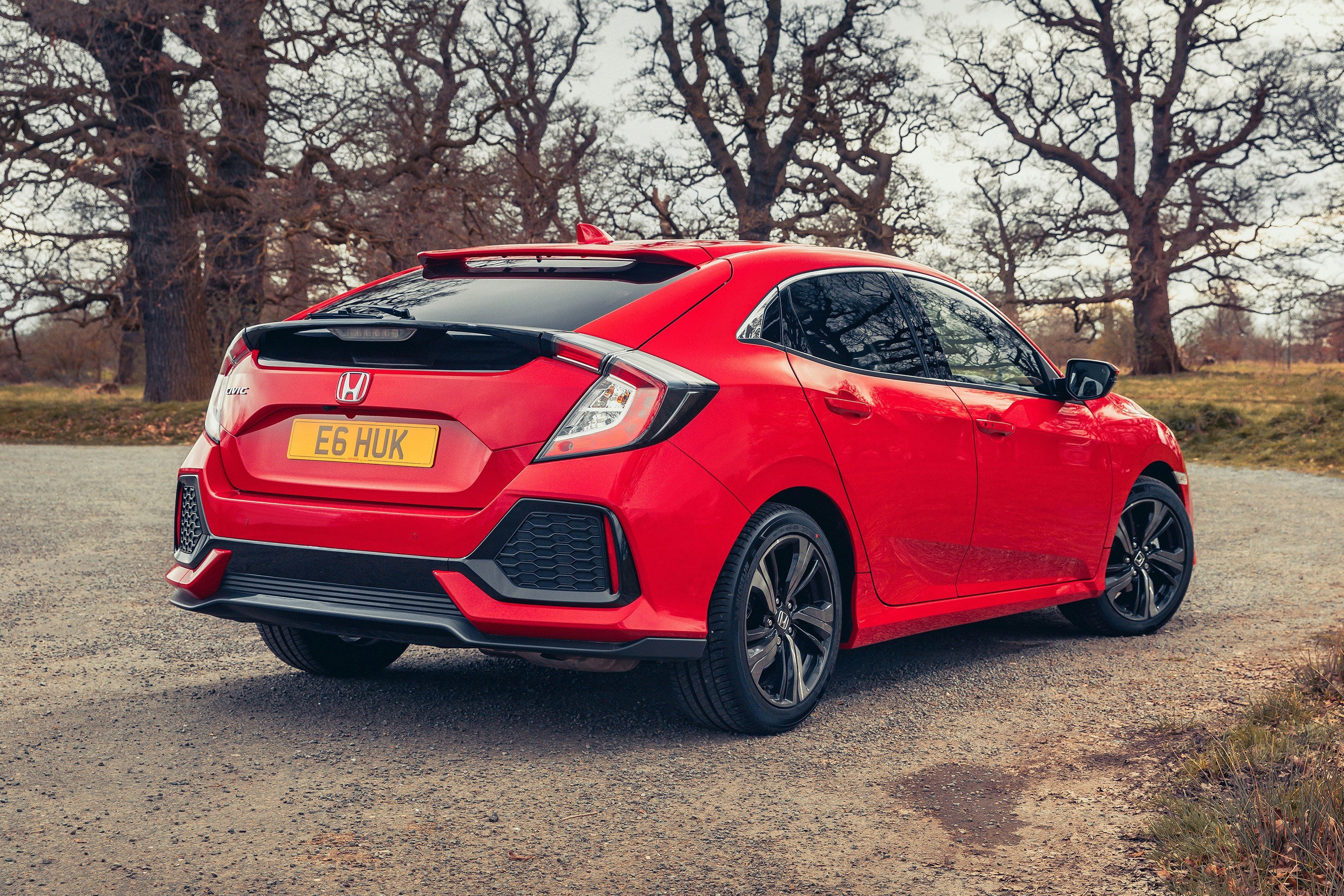 Both the petrol, meanwhile, have a similar figure of about 46mpg, despite their difference in power output. However, those are laboratory figures that you shouldn't bank on getting in the real world.
The 1.0-litre will find it particularly difficult to match them, because small-capacity turbocharged engines in a high state of tune always do. Indeed, we've experienced regular returns in the mid thirties over extended periods of time with the car, and Real life MPG figures also suggest that this is the engine that's most likely to struggle in matching the published numbers.
Insurance groups and costs
Premiums will be cheapest on the 1.0-litre cars, as these versions all have an insurance grouping of either 15 or 16. Next up is the diesel with groupings of 18 or 19, while both 1.5s slot into group 22. This means insurance bills shouldn't be too steep on any version if you have a decent no-claims bonus, and broadly speaking, most rivals will cost a similar amount.
VED car tax
The Honda Civic was released a couple of months before the Government changed the tax rules on April 1st 2017. If you can find an early car registered before this date, then you'll pay VED based on CO2 emissions.
That's a good thing, because they're mostly very low. The 1.0-litre will cost you between £20 and £30 per year in tax, while the 1.5 costs you £125. Happy days. The diesel would've been low, too, but it wasn't introduced until later on, way after the cut-off. All Civics registered after this date pay the same flat rate of £150 per year for petrol and diesel cars, and happily, none of them cost enough when new to make them liable for the temporary £325 annual surcharge.
How much should you be paying for a used Honda Civic?
"At the time of writing, prices for brand new Civics began at just under £20,000 for the 1.0-litre manual in S trim, and rose to £25,925 for the 1.6 diesel in EX trim."
Our favourite version, the 1.0-litre SR manual checked in just below £22,000, while if you wanted a 1.5, the cheapest one would've set you back almost £24,000.
Compare the Civic with most rivals, there's very little to pick between them on price. The Volkswagen Golf will cost you a chunk more change, but most other cars in the class are very closely matched indeed. There isn't a massive amount to separate them on resale values, either - the Golf included - so the price comparisons are likely to be proportional on used examples. Have a browse of our listings, and you'll find plenty of early SEs and SRs with reasonable mileage for well below the £13,000 mark.
Trim levels and standard equipment
The entry-level S version is a very strange car. Despite all the clever, high-tech safety equipment it has, it misses out on several other items that we'd deem essential.
You get four electric windows and remote locking, but you don't get alloy wheels, a stereo, a rear wiper or air-conditioning. Even more bizarre is that you only have to pay less than £200 to upgrade to the SE, which checks all those boxes. Makes you wonder why Honda bothered with the S at all.
However, we'd still suggest upgrading a step further to SR trim. This gives you two-zone climate control, privacy glass, automatic wipers, , all-round parking sensors, a reversing camera, front foglights and leather wrappings for the steering wheel and gear shifter, as well as the touchscreen system mentioned earlier. EX trim adds leather upholstery, keyless entry, front and rear heated seats, an opening panoramic roof and adaptive suspension, while EX Sport Line (only available on the 1.0-litre) adds a few sporty styling touches, but nothing else.
Early on in the car's life, the 1.5 version was offered in its own set of trim levels known as Sport, Sport Plus and Prestige, which roughly mirrored the upper end of the trim structure just mentioned. Nowadays, the 1.5 is offered only in Sport trim, which is very similar to the SR version in terms of the kit it gets.
Honda Civic cars for sale on heycar
522
Number of cars available
£8.9K - £48K
Price bracket of these cars
Colours available on heycar
Keep me updated by email with the latest advice, news and offers from heycar
By submitting, you agree to our
privacy policy
.