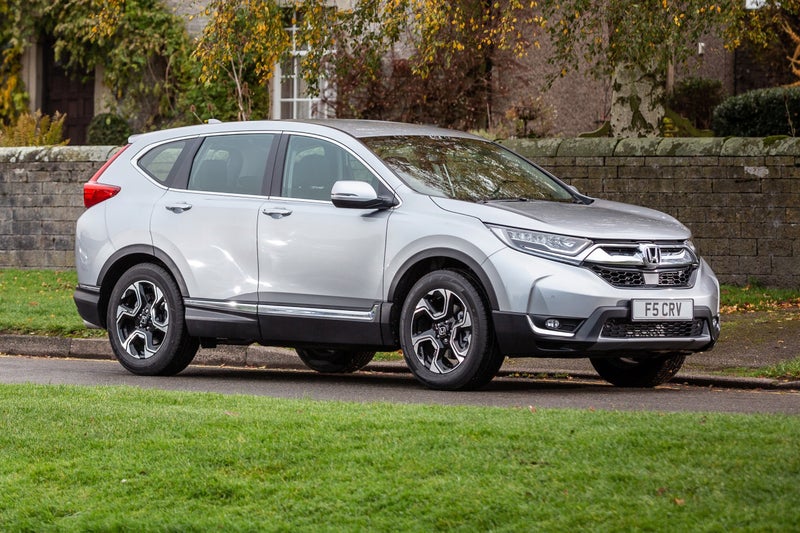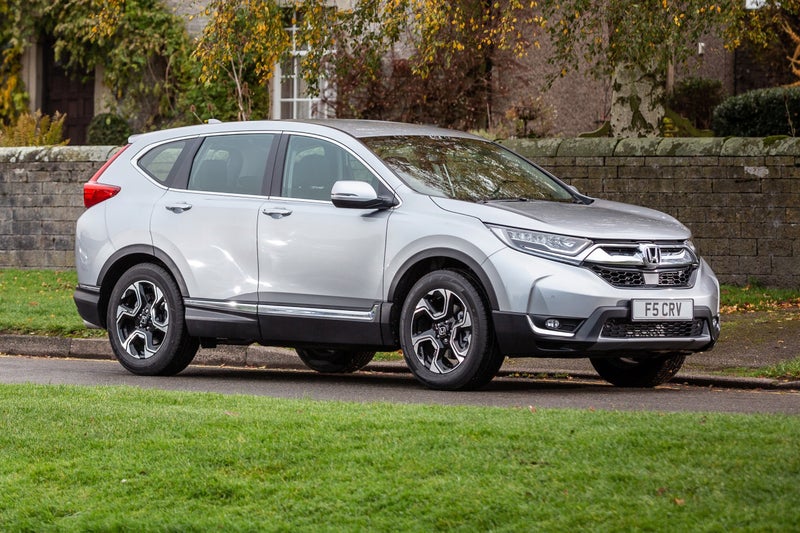 1/10
heycar rating
"Practical and comfortable. No diesel"
Launched: 2018

SUV

Petrol, Hybrid
Quick overview
Pros
Extremely comfortable SUV
Spacious interior
Hybrid model is very refined
Cons
Seven-seat CR-V isn't as practical as you might expect
No diesel option
Dated infotainment lets it down
Overall verdict
On the inside
Driving
Cost to run
Prices and Specs
Common questions
Overall verdict on the Honda CR-V
"The Honda CR-V is an utterly dependable SUV that'll tick a lot of boxes for a lot of buyers. We like how comfortable it is, while there's enough space for most families (providing you don't actually need to use seven seats regularly). The lack of a diesel engine limits its market quite significantly, but the petrol and hybrid offerings are pretty good."
If you're looking for a sensible family car, you'd be hard pushed to beat the Honda CR-V. It's a practical SUV, with a comfortable cabin and up to seven seats. Unfortunately, a lack of a diesel engine means it won't be for everyone - but the hybrid alternative is extremely refined and fairly efficient, making it one of the best hybrid SUVs you can buy. Find out why in our Honda CR-V review.
The latest Honda CR-V also benefits from a considerably plusher interior than before. The seats in particular are of note - they're very comfortable and supportive, making the CR-V a brilliant long-distance companion. It's a shame the infotainment isn't as good as you'd find in a Volkswagen Tiguan Allspace, for example, but that shouldn't be enough to put you off the CR-V entirely.
For the first time, the Honda CR-V is offered with seven seats. We'd recommend sticking with a five-seater, though, for a number of reasons. For a start, the third row of seats are very cramped and really only suitable for children (who'll soon get bored once the novelty of travelling in the boot has worn off).
They also hinder boot space. Even with them dropped flat, the seven-seat Honda CR-V's boot isn't as big as the five-seat model. And when they're in use, there's hardly any space for anything other than a shopping bag or two.
Honda initially offered two engines in the CR-V: a 1.5-litre petrol and a 2.0-litre self-charging hybrid. The 1.5-litre is fine, especially if you look for one with the CVT automatic gearbox that removes the need to change gears yourself.
The 2.0-litre hybrid is the one to go for, though, and just as well really as Honda's recently dropped the 1.5-litre petrol from the range. It's only available with five seats (another reason to avoid seven-seat models) and comes with the CVT transmission as standard. It's also available with front- or four-wheel-drive, with the latter not impacting fuel economy as much as you might think.
Once you've decided which engine you'd like with your Honda CR-V, there are four different trim levels available. We'd avoid the entry-level S model (it's very basic), but the rest of the range is fairly well equipped. The SEs come with desirable features like 18-inch alloy wheels, a rear-view camera and the seven-inch navigation system (with Apple CarPlay and Android Auto).
The high-spec Honda CR-V SR adds luxurious leather seats, ambient interior lighting and privacy class, as well as some useful extra safety systems. Topping the range is the Honda CR-V EX, with 19-inch alloy wheels, a panoramic glass sunroof and a heated steering wheel.
There's the usual lengthy list of safety equipment on the Honda CR-V. That's a good thing for a family SUV. These include things like lane assist, autonomous emergency braking and ISOFIX child seat mounting points - all standard across the range, contributing to a five-star Euro NCAP safety rating.
Honda's limited its market by not selling the CR-V with a diesel engine. But if it works for you, it's a very practical SUV that'll be fairly cheap to run and should be an extremely dependable choice. It's a very easy car to recommend in a very crowded marketplace.
If you're looking for the older version, you need our used Honda CR-V (2012-2018) review.
Is the Honda CR-V right for you?
If you're not fussed about a diesel engine and don't need to use seven seats regularly, the Honda CR-V is an extremely practical and comfortable family SUV. We like how refined the new hybrid models are, and it represents good value for money on the used market (even if it is a bit pricey when new).
What's the best Honda CR-V model/engine to choose?
Go for the hybrid model if you can, while deciding between two- or four-wheel-drive is down to your individual requirements. We'd suggest mid-level SE or SR trims represent the best value for money.
What other cars are similar to the Honda CR-V?
Comfort and design: Honda CR-V interior
"The Honda CR-V is a big, comfortable SUV. Front passengers will have loads of room and most will appreciate the supportive seats and high seating position. Those in the back will find plenty of space, too, although only seven-seat models get a sliding rear bench."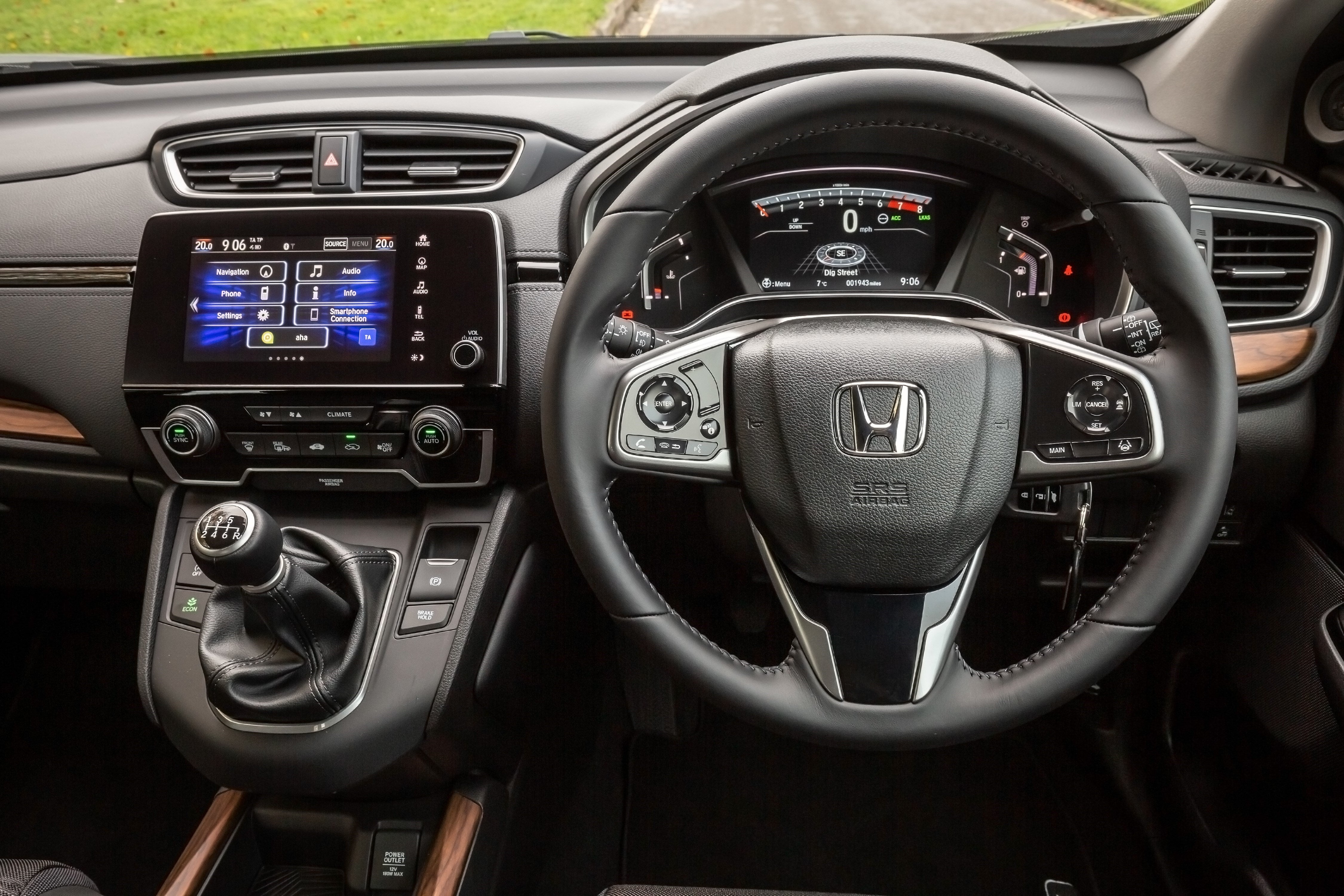 You can't ignore the the dated infotainment system in the Honda CR-V - it's really below par for a car of this class, but at least there's Apple CarPlay and Android Auto on SE models are higher to mean you rarely have to both with the interface once you've got things set up.
The 7.0-inch screen is positioned in the centre of the console (though there's a 5.0-inch display on the basic S trim car) and not has high up as some rivals like the Ford Kuga, so you might find yourself glancing downwards now and again. Otherwise, the cabin and controls have been really well thought out. It's also nice to see some manually controlled climate control dials, rather than relying on a fiddly touchscreen process that rivals like the SEAT Tarraco inflict on users. Honda's also opted to drop the manual handbrake from the CR-V, favouring an electric parking brake instead. This has allowed the designers to make the interior in the front of the CR-V feel nice and spacious.
There's plenty of adjustment in the steering wheel column and driver's seat. The seats are also incredibly comfortable, really making the Honda CR-V a great choice if you've got a lot of miles to cover.
Quality and finish
Overall and the finish of the Honda CR-V is good, but not excellent. There are some nice soft-touch plastics used in the cabin, as well as some leather effect materials used higher up. The smooth plastic on the central console is a little disappointing though and it's scratchy feel is a little bit of a let down.
While there are some grumbles about the interior trim, the Honda CR-V is well put together, feeling nice and sturdy.
Infotainment: Touchscreen, USB, nav and stereo in the Honda CR-V
The biggest weak point in the Honda CR-V's interior is the infotainment. It's way behind the systems found in most rivals.
Entry-level S models get a 5.0-inch display (with no built-in sat nav), with models SE models and above getting a larger 7.0-inch touchscreen display and if we're honest, it's clunky and slow to respond. Just as bad is how unintuitive it is to use. Fortunately Apple CarPlay and Android Auto are standard on SE models and above, allowing you to mirror some of your phone's features and bypass the car's annoying navigation system.
For audio, you get eight speakers as standard with the S, then nine speakers with SE models and beyond. S models only get a single USB socket, while SE models and beyond get four USB connections.
Space and practicality: Honda CR-V boot space
The Honda CR-V measures 4600mm long and 1855mm wide, giving it roughly the same proportions as a Ford Kuga.
Honda's been clever with the CR-V and managed to include plenty of useful storage areas - there's a large box under the central armrest for starters, while the large door pockets are great for stowing away large bottles and coffee cups.
There's ample space upfront and rear passengers aren't short-changed either. There's loads of legroom even if you shove the front seats all the way back, while there's plenty of headroom as well. Petrol versions of the Honda CR-V could be spec'd with seven seats before Honda went hybrid-only with the CR-V, but it's not the best seven-seater out there to be honest, with space a bit thin on the ground compared to larger rivals. Best stick to the five seat variant as it works much better.
Because the batteries sit underneath the boot, the Honda CR-V with the hybrid engine has had the boot space compromised a little. This sees the boot capacity of the CR-V reduced to 500 litres - 60 litres down on the now discontinued petrol model.
Handling and ride quality: What is the Honda CR-V like to drive?
"With not a diesel in site and Honda dropping the petrol engine from the range, CR-V is now only offered with a 2.0-litre hybrid engine."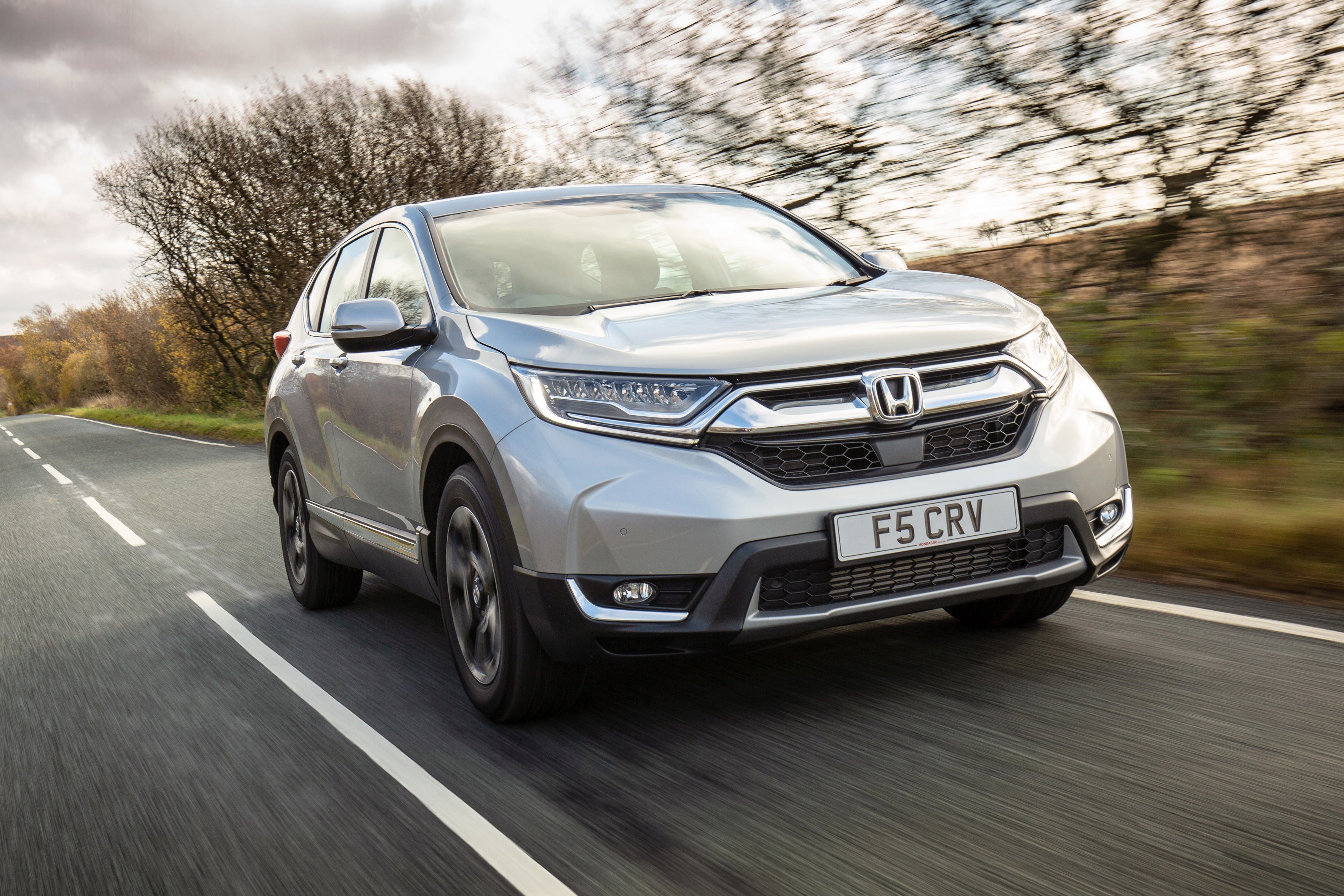 Luckily though, the hybrid was the pick of the range before Honda culled the petrol unit. It's very refined, running in electric power for around half the time during a 40mph cruise. You'll hardly notice the petrol engine kicking in and out, while the eCVT gearbox (which is a clever single fixed-gear system) isn't as frustrating to use as other CVT transmissions.
Whether you opt for the hybrid engine, or you seek out a petrol engine model, the Honda CR-V is a good drive. You'll find that the steering is nicely weighted, while for an SUV, the CR-V is nice and stable in the corners. It's not quite as sharp as some rivals like the Volkswagen Tiguan, but you'll be able to happily guide it along windy roads in full confidence.
And if you're looking for a comfortable car, then the CR-V is one of the most relaxing drives out there. Ride quality is very good, with the CR-V happily tackling rough or poor quality roads without any fuss at all.
The CR-V is much better suited to on-road driving than any off-road exploits if you're looking at buying a four-wheel drive version. It's more than up to the job of tackling muddy lanes, but if you're going to be traversing anything more tacking on a regular basis, you might want to look at something like a Land Rover Discovery Sport.
What engines and gearboxes are available in the Honda CR-V?
The Honda CR-V always used to be a favourite amongst caravanners and it's been one of the best cars for towing you can buy, but Honda boldly ditched the diesel engine with the latest model.
The latest Honda CR-V launched with a 1.5-litre petrol engine with 173PS or a 2.0-litre self-charging hybrid engine with 184PS, though Honda's since ditched the 1.5-litre unit from the range, leaving the hybrid engine your only choice if you're buying new. However, expect to find a decent selection of petrol versions on the used market.
Which ever one you pick, both are available with two- or four-wheel drive, while the 1.5-litre is available with manual or CVT automatic gearboxes. The 2.0-litre hybrid is only available as an auto.
Refinement and noise levels
With the Honda CR-V relying on the electric motor when driving at lower speeds, you'll find it a very calm and refined place to be. It pulls away effortlessly, while the transition to petrol-power is very smooth.
Plant your foot down and you can expect the revs to soar and become quite audible in the cabin, but once it's settled into a cruise, there's no real engine noise to speak off. There's a bit of wind noise at these higher speeds though, and spec it with larger alloy wheels and you'll get a bit more road noise than usual.
Safety equipment: How safe is the Honda CR-V?
The Honda CR-V scored a five-star rating when it was tested by Euro NCAP in 2019. Breaking down the result, and the CR-V scored 93% for adult occupant protection, 83% for child occupant protection, while pedestrian protection is rated at 70%.
The Honda CR-V also scored highly for the amount of safety tech that comes as standard. This includes Autonomous Emergency Braking (AEB), Forward Collision Warning, Lane Keep Assist, Lane Departure Warning, Road Departure Mitigation and an Intelligent Speed Limiter. On top of this, there's a suit of airbags to protect both front and rear occupants. SR models and up also get Blind Spot Information and Cross Traffic Monitoring.
MPG and fuel costs: What does a Honda CR-V cost to run?
"The Honda CR-V is a big, heavy SUV and, with no diesel option, you'll have to be prepared for quite a few visits to the petrol station."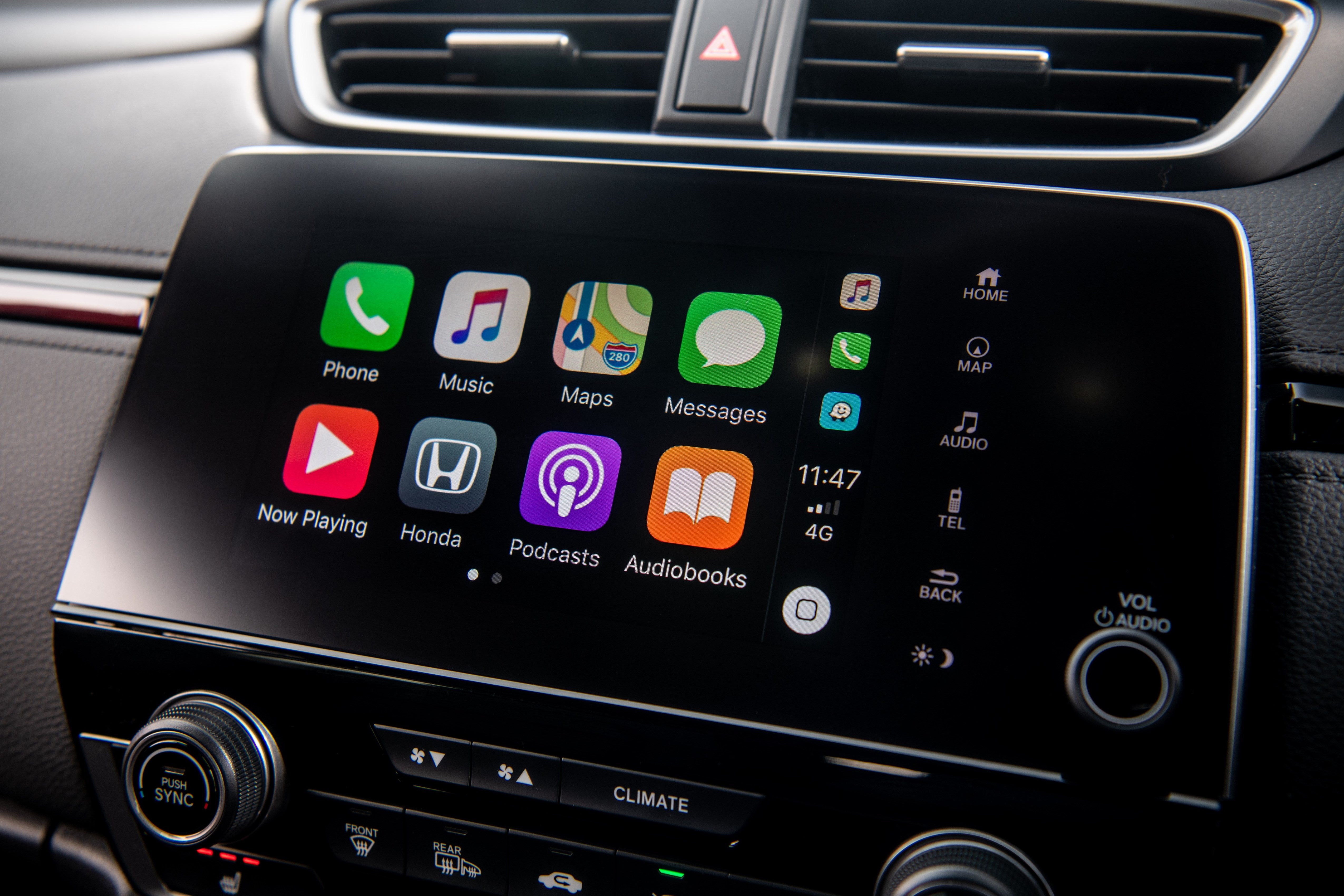 Depending on specification and gearbox you opt for, the standard 1.5-litre petrol officially returns up to 38.7mpg in combined WLTP fuel economy tests. That's with the manual gearbox and two-wheel-drive - opting for four-wheel drive and the CVT auto will see it drop as low as 31.7mpg.

Of course, buyers looking for a frugal option should look at the newer Hybrid Honda CR-V, though it still isn't that cheap to run. Officially, it'll return up to 40.9mpg depending on specification.
How reliable is the Honda CR-V?
It's probably no surprise to hear that Honda performs very well for reliability. That's underlined by the fact it ranks very highly in the annual HonestJohn.co.uk Satisfaction Index.
Previous generations of CR-V have built up an enviable reputation for reliability and it looks like the latest CR-V will continue that trend, with no common issues of note so far. There's also a three year/90,000 mile warranty that comes with a new Honda CR-V, which also includes breakdown assistance.
Insurance groups and costs
The cheapest new Honda CR-V to insure is the entry-level S trim model with a i-MMD Hybrid engine and eCVT gearbox. This falls into insurance group 22 - quite a bit more than something like the Ford Kuga, which is on insurance group 10 for the base Zetec model with the 1.5-litre EcoBoost petrol engine.
The good news though is that insurance premiums shouldn't go up that much if you plump for one of the better spec'd cars, with the CR-V in EX trim and with a now discontinued 1.5-litre VTEC Turbo power plant topping out at insurance group 25. The newer i-MMD Hybrid engine brings that down to insurance group 24 and while a little more than an equivalent Ford Kuga for example, it's still a long way from the highest Group 50.
VED car tax: What is the annual road tax on a Honda CR-V?
After the first year, car tax will set you back a flat rate of £155 a year for the standard CR-V, dropping to £145 for hybrid models.
If you're tempted by a fully loaded EX model or go crazy with options on an CR-V in SR trim, it's worth watching out for premium tax, too. Any car with a list price of more than £40,000 costs an extra £325 a year in road tax for the first five years (after the first year). It won't affect a lot of CR-Vs, but you'll want to keep an eye out for it on high-spec cars.
How much should you be paying for a used Honda CR-V?
"Prices start out around £10,000 for a 7-year-old car, while you'll have to pay over £20,000 for one of the latest generation CR-Vs."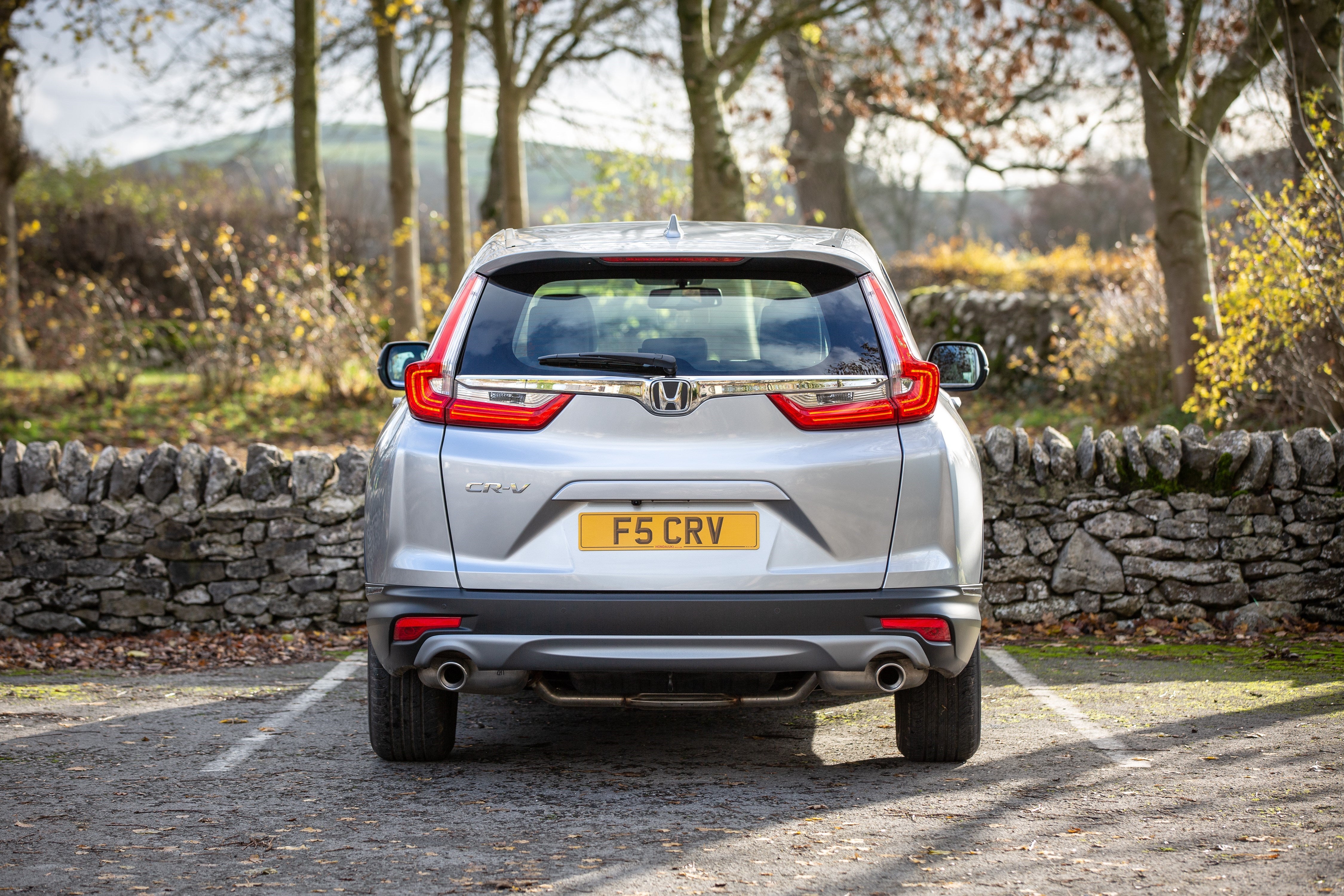 Honda tried to move the CR-V upmarket when its latest model arrived in 2018. That means a new one will be a bit more expensive than its predecessor, with prices starting at £31,470 for an entry-level 'S' spec car, with the fully-loaded EX model starting at £40,420.
If you're looking at getting a the latest-generation CR-V on the used market, then you'll be paying upwards of £20,000 for one. This will get you a CR-V in SE trim with a 1.5-litre VTEC petrol engine and around 20,000 miles on the the clock, while there are some good nearly-new deals available as well.
There's lots of choice on the used market for the previous-generation CR-V though, with prices starting at around £10,000, but lots to choose for around £15,000, including those with a 1.6-litre diesel.
Trim levels and standard equipment
The S trim level is the entry-level model in the Honda CR-V range. Highlights include 17-inch alloy wheels (18-inch on Hybrid models), a 5.0-inch media system with DAB radio and a host of safety systems (ranging from an autonomous emergency braking to a road departure mitigation system).
Most buyers will find the SE more appealing, with things like 18-inch alloy wheels, dual-zone climate control and a rear-view camera. There's a seven-inch navigation system (complete with Android Auto and Apple CarPlay), while a leather-wrapped steering wheel gear knob makes it feel a bit plusher inside.
Moving up the range, the SR adds highlights like leather seats (heated in the front), ambient interior lighting and privacy glass. Blind spot information and cross traffic monitor systems are both useful safety features, while keyless entry and start makes life a little easier.
Topping the range is the CR-V EX, which adds 19-inch alloy wheels (the Hybrid sticks with 18s), an opening panoramic glass sunroof, a heated steering wheel and heated rear seats. It also gets an electric tailgate and an electrically adjustable driver's seat.
Ask the heycar experts:
common questions
How much does a new Honda CR-V cost?
Prices for a new Honda CR-V start at £31,470 for an entry-level 'S' spec car, rising to £40,420 for a top-of-the-range Honda CR-V in EX trim. We'd avoid the Honda CR-V in S trim and look at the SE.

Is the Honda CR-V a 4x4?
The current CR-V is available as both a front-wheel drive car and with four-wheel drive if you need something with more traction.

Is the Honda CR-V a good car?
If you're looking for a reliable and practical family-sized SUV, then the Honda CR-V is a very sensible choice.

Honda CR-V cars for sale on heycar
1,217
Number of cars available
£9K - £44K
Price bracket of these cars
Colours available on heycar
Keep me updated by email with the latest advice, news and offers from heycar
By submitting, you agree to our
privacy policy
.
Popular models
Similar models