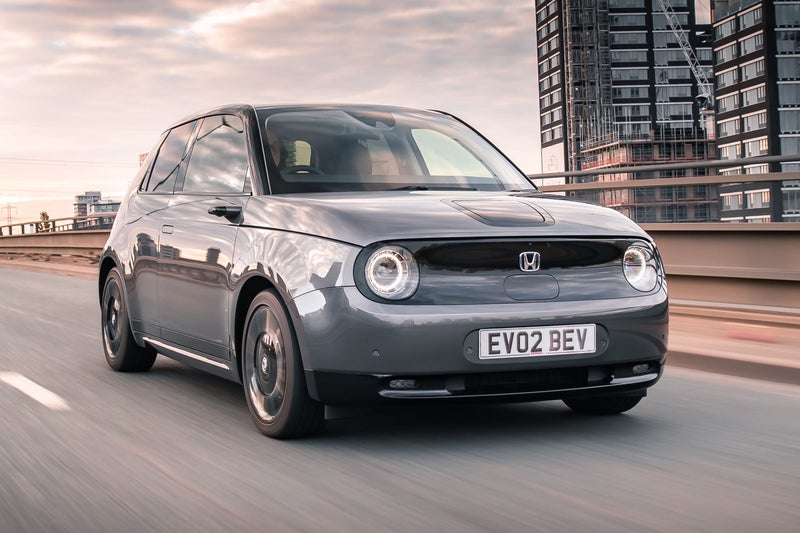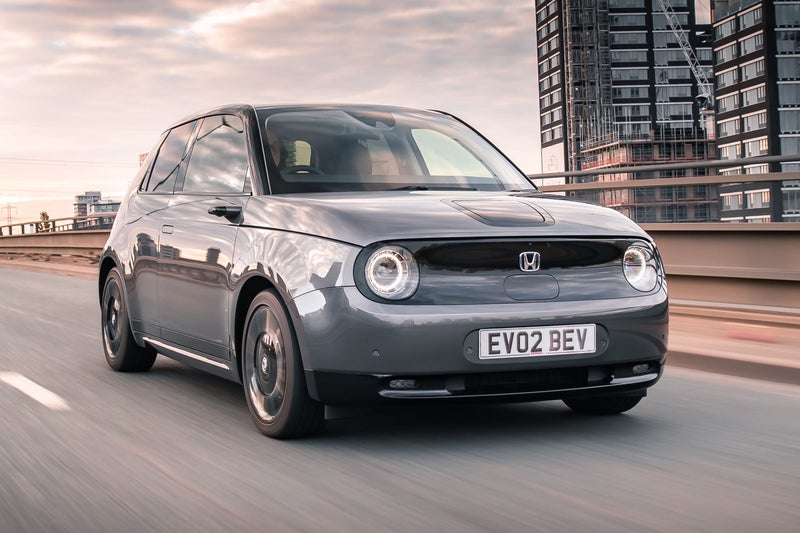 1/10
heycar rating
"Fun yet flawed electric car"
Quick overview
Pros
Trendy little electric city car
Superb interior with lots of technology
Fun to drive
Cons
Expensive to buy compared to more established electric cars
Limited range means it won't appeal to everyone
There are more practical EVs available for the money
Overall verdict
On the inside
Driving
Cost to run
Prices and Specs
Common questions
Overall verdict on the Honda e
"The Honda e is the must-have car of the moment. It combines quirky looks with a superb, modern interior and technology to keep even the most flippant of car buyers entertained. Its limited range means it won't suit everyone's needs, and there are more practical options on the market. Finding one could be tricky and, if you do, you'll have to be prepared to dig deep to beat the waiting list. But that's the price you pay for fashion..."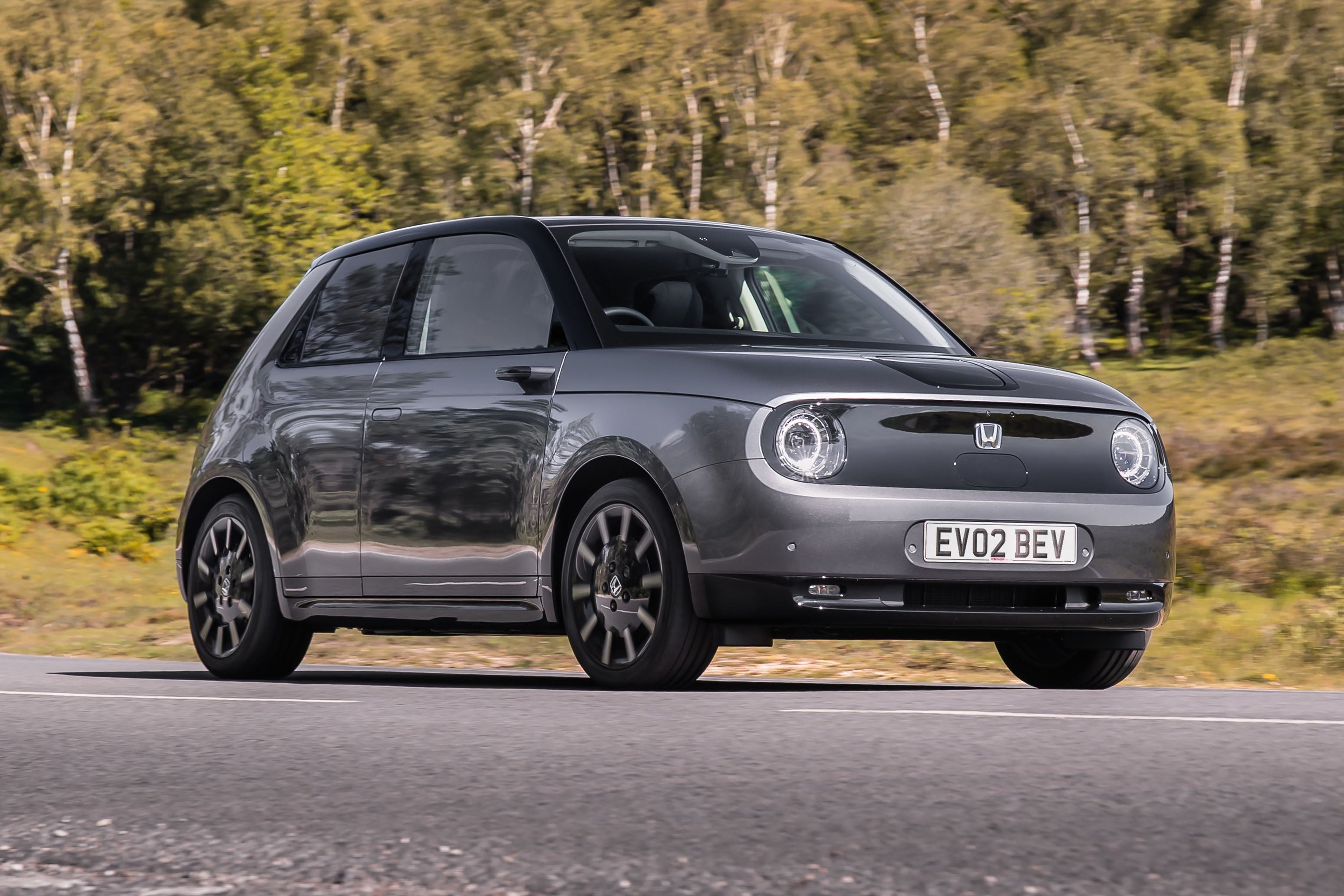 Putting form over function, the Honda e is an electric car with bags of desirability. It features quirky looks (albeit not quite so cutesy as the original Honda Urban EV concept car which previewed it), a techno-fest of an interior and practicality which makes the tiny Skoda Citigo-e iV look like a versatile family car. Continue reading our full 2022 Honda e review to find out if it's the perfect electric car for you.
Let's start by tackling the thorny issue of the Honda e's range first. Officially it can travel 136 miles between charges, and that drops to 125 miles if you buy a Honda e Advance model with the pretty 17-inch alloy wheels. Even in summer, you're going to start stressing out about finding a charger after 100 miles. In winter, you'd be lucky to cover 80 miles in the real world before having to stop for a top-up.
Who buys city cars - even petrol ones - to cover long distances, though? The majority of Picanto or Aygo drivers live in urban areas and just use their cars for popping to the shops. If you don't plan to cover more than 100 miles a day, the Honda e is more than adequate.
A home charger will fully charge the Honda e in around four hours, so about the same time it takes to charge an iPhone. If you do venture further afield, around half an hour should add 80 per cent of range.
As well as not having to pay for petrol (it'll cost around a fiver to fully charge the Honda e at home, depending on your electricity tariff), you'll save money in other areas. You won't pay any car tax, for example, while the E is also congestion charge exempt. For the time being.
Another advantage of electric cars - and we realise we might be preaching to the converted here - is how relaxing they are to drive. The Honda e ticks that box, with instant acceleration and high levels of refinement - but it's also a lot of fun. The electric motor's positioned in the back, driving the rear wheels, so it's ultra agile and boasts a tiny turning circle. Whether you mainly driving in the city or out in the sticks, the Honda e is more fun to drive than most of its peers.
Where the Honda e really stands out is its interior. It looks like no Honda ever sold before - heck, we'd even say it looks more desirable than the majority of electric cars on the market. There are no fewer than five screens spread across the dash, showing you everything from the infotainment to what's going on behind you.
It's not a practical choice, though. The boot's tiny and rear-seat passengers will grumble about the value for money a used Nissan Leaf represents.
It is, however, a car that'll appeal to millennials. If you can justify splashing out on an electric car for local use only, the Honda e is sure to turn heads while also being a huge amount of fun to drive. The Honda e is one of the best small electric cars out there.
Is the 2022 Honda e right for you?
The Honda e meets a very specific set of requirements. If you regularly cover more than 100 miles a day, searching for public charge points could soon get tiring, and rivals are able to travel further between charges. It's also woefully impractical with a tiny boot and rear seats which are suited to occasional use only.
On the plus side, it's got more showroom appeal than any of its competitors. It combines retro looks with an incredible, tech-packed interior and loads of standard equipment. It's also great to drive - fun, while also feeling more grown-up and refined than competitors. The biggest issue is the price. It's expensive and, even on the used market, will remain that way for the foreseeable.
What's the best Honda e model/engine to choose?
The standard Honda e isn't going to leave you wanting. It comes loaded with technology and looks every bit as upmarket as the more expensive Honda e Advance model. It's down on power slightly, but it's certainly not slow, and the difference is marginal in the real world.
That said, the majority of new buyers are expected to splash out the extra £50 a month in finance for the Honda e Advance. That's likely to hit the used market, too, with more Honda e Advance models trickling through to second-hand buyers. Features like the digital rear-view mirror and Honda's Parking Pilot system are a bit gimmicky, but they do add to the Honda e's 'car of the future' vibe. The extra power could come in handy if you're planning to venture out of town, too.
What other cars are similar to the Honda e?
The MINI Electric is a similarly fashionable electric car and probably even more fun to drive, albeit more conventional in its approach while if you like the retro appeal, there's the Fiat 500 Electric. You should also be considering the latest Renault Zoe and Peugeot e-208 - both of which are great little electric cars that are more practical than the Honda.
The Volkswagen e-Up, Skoda Citigo-e iV and SEAT Mii Electric all do a similar job to the Honda but a fraction of the price. Despite their compact dimensions, they're very practical choices but lack the Honda's wow factor.
If you need a longer range, consider Korean alternatives in the form of the Kia Soul, Hyundai Ioniq and the Kona Electric. These are pricier than the Honda e when new but used examples are tempting thanks to their long warranties.
You should also be considering EV stalwarts like the Nissan Leaf and Volkswagen e-Golf. They might not be as trendy as the Honda e, but you'll get more for your money.
Comfort and design: Honda e interior
"Remember a time when the interior of electric cars felt like an afterthought? All of the development budget was spent on the tech, so the cabin was often drab and disappointing. We're looking at you, Nissan Leaf."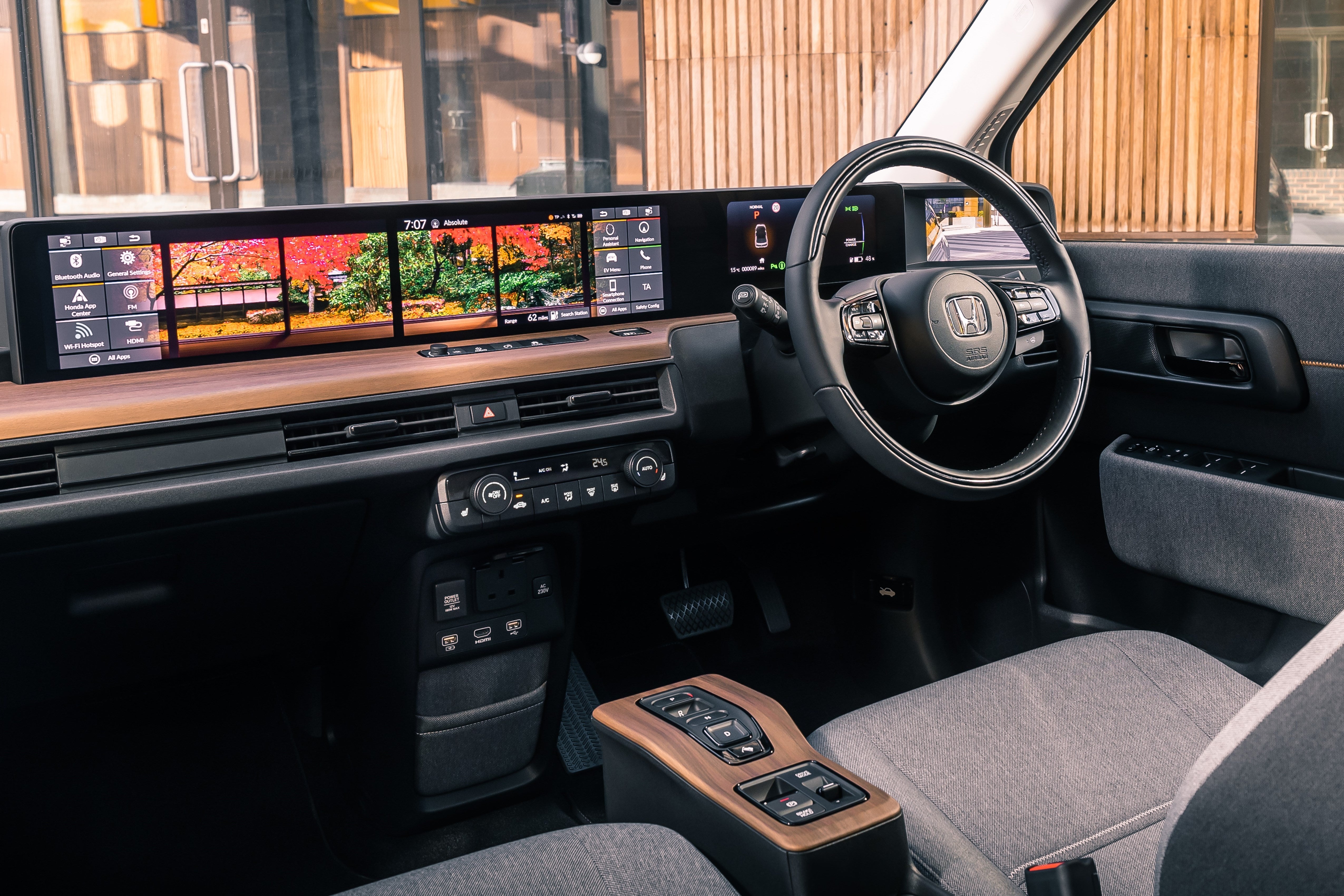 Well, the Honda e gives the impression of a car that's been designed around the interior. Its creators have been given free rein to create something that's genuinely special. With contemporary fabrics and not-at-all-tacky wood finishes, it's more like a living room than a car and completely different from anything else on the market.
It's hard to ignore the spread of screens covering the entire width of the dashboard which makes the Honda e feel like a car of the future. Buttons on the centre console let you select driving functions like drive or reverse, rather than an old-fashioned gear lever.
The camera-based rear-view model of the Honda e Advance is yet another tech highlight, while the two-spoke steering wheel is a neat retro touch in an interior which strikes a superb balance between old and new.
The seats are comfortable and supportive, while the steering wheel can be adjusted for rake and reach meaning it's very easy to find a suitable driving position.
Quality and finish
While the Honda e's cabin has been cleverly designed, it could so easily have been let down in its execution. Japanese - and particular, Honda - interiors aren't often known for being plush and premium in their approach.
Fortunately, the Honda e's very good in terms of quality and finish. The wooden dash trim is surprisingly tasteful, while everything you touch feels like it'll last a lifetime. Even the buttons feel slicker to use than those we'd normally expect to find in a Honda.
The interior does an excellent job of having the wow factor and, pleasingly, you're not going to find any flimsy materials which'll make you doubt your decision. Even at a few years' old, it ought to still feel fresh in there. OK, it's not quite as upmarket inside as the MINI Electric, but you can tell its significantly more expensive than a Skoda Citigo-e iV.
Infotainment: Touchscreen, USB, nav and stereo in the Honda e
The Honda e is a car created for the iPhone generation, with a huge dual-screen display running along the entire width of the dashboard. An 8.8-inch digital display acts as the instrument cluster, while additional small screens on each side of the dash display images from the camera door mirrors.
This entirely digital setup will take a little while to get used to and, if you favour the simplicity of physical buttons and a CD player, you should probably be searching for a 10-year-old Honda Jazz instead.
That said, Apple CarPlay and Android Auto are included as standard. These make things a little easier, as you can simply mirror apps from your phone onto one of the car's many displays. Use Google Maps to navigate and Spotify to stream your favourite playlists without having to negotiate the Honda e's many infotainment menus.
The displays aren't quite as crisp as we'd like and responses can be a little tardy, but it's still a solid effort from a brand that has previously given us woeful infotainment systems like those used still in the Civic and CR-V, amongst others.
There are plenty of USB ports and even an HDMI port which can be used to plug a Chromecast or a games console of your choice. Perfect for passing time while you wait for the Honda e to charge.
Space and practicality: Honda e boot space
The Honda e feels so grown-up in some respects, it's easy to forget that it is in fact a small city car. At 3894mm long, 1752mm wide and 1503mm tall, its dimensions are smaller than a Ford Fiesta, yet its price tag means you could easily be comparing this with bigger used electric cars like the Nissan Leaf and Volkswagen e-Golf.
Those in the front seats of the Honda e ought to be perfectly happy with the space on offer. A flat floor without a physical divide between the front-seat passenger and driver makes for an airy and spacious feel, also helped by the relatively large windows and thin windscreen pillars.
Headroom's pretty generous, but the Honda e is let down slightly by stowage space. There's a handy storage area in the centre console as well as a pop-out cupholder, but the door bins aren't very accommodating and the glove box is small.
With only two seatbelts in the back, this isn't a car for carrying all the family, but a pair of adults can fit in the back seats at a push. It's pretty cramped back there - adults will find their knees digging into the backs of the front seats and there's not much in the way of foot room.
Isofix points are fitted to the rear seats meaning you can fit child seats fairly easily and, being a five-door, access is easier than in something like the MINI Electric.
The boot is so tiny it'll barely carry an overnight bag, never mind the weekly shop. By positioning the electric motor in the back, there are just 171 litres left for luggage. That's considerably less than rivals like the Volkswagen e-Up (with 250 litres) and Renault Zoe (338 litres).
If you don't need to carry passengers in the rear, the back seats are easily dropped to provide a flat boot space capable of lugging up to 861 litres of luggage.
Handling and ride quality: What is the Honda e like to drive?
"Any misconceptions that electric cars are boring will be quashed the second you take a Honda e for a test drive."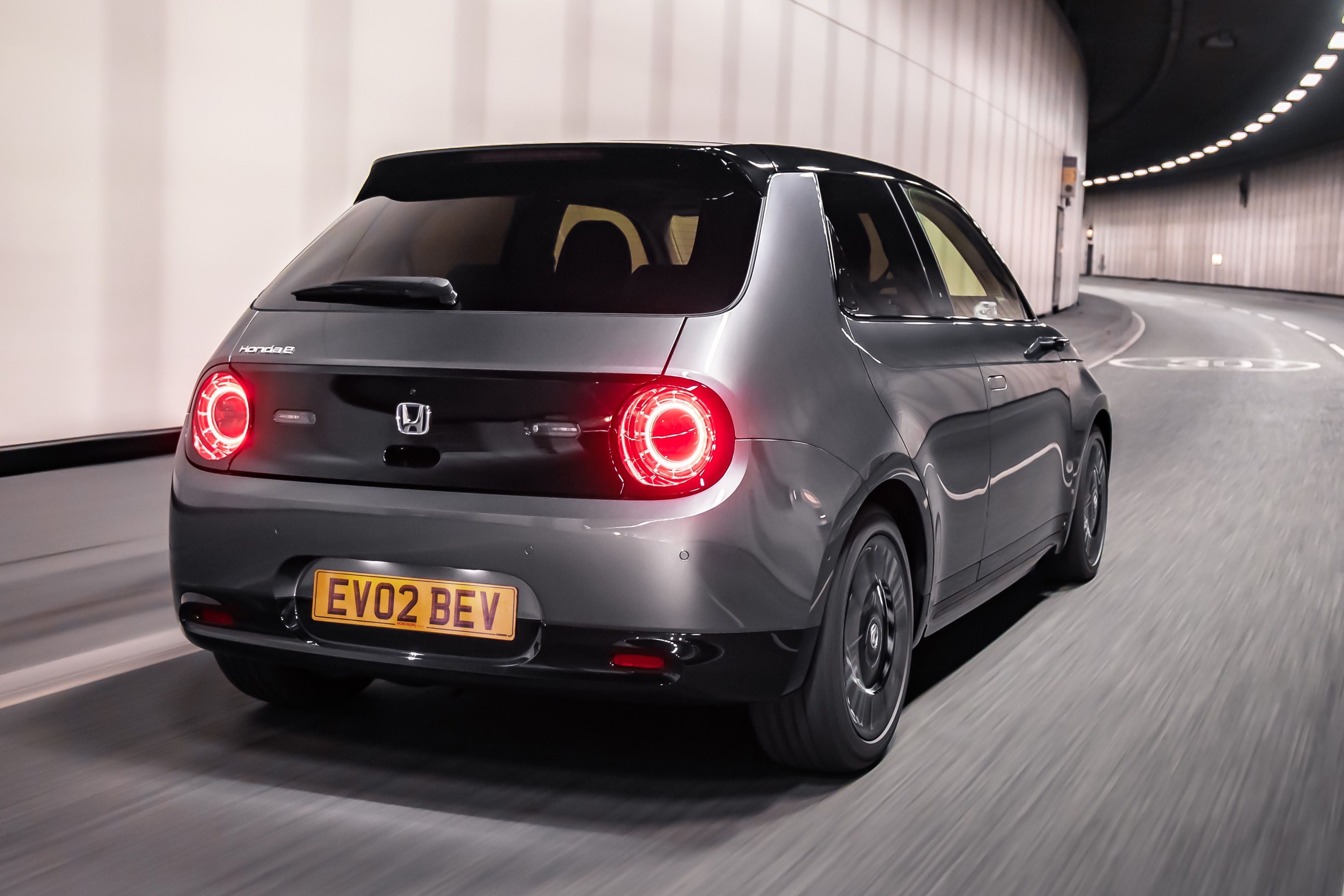 By positioning the electric motor in the back powering the rear wheels, Honda's created a very agile little car that's keen to change direction and has the kind of turning circle that would impress a London cab driver. A variable steering lock means you can wind the steering wheel from lock to lock in just 3.1 turns, mean you won't be waving your arms around when negotiating a congested car park, either.
Excellent visibility from that upright windscreen combined with thin pillars and relatively horizontal bonnet means the Honda e's an easy car to thread around town. Both models get parking sensors and a rear-view camera, while the high-spec Honda e Advance comes with the brand's clever parking pilot system. At the touch of a button, this can search for a space and park in it - without you needing to steer or use the pedals.
The batteries are positioned under the floor, contributing to a very low centre of gravity, while 50:50 weight distribution means it's just as fun to drive on open roads as it is around town.
Although the steering is a little lifeless, it's more communicative than that found in any of the Honda e's rivals. While some electric cars feel out of their element as soon as you leave the city centre, the e is happy to hurry along an open road.
That's partly thanks to the independent rear suspension which copes with the weight of the batteries much better than the more basic setup used in alternatives. Sure, it can be overwhelmed by hitting a pothole at speed (especially with the optional 17-inch rims available on the Honda e Advance model), but it's generally more comfortable than most small electric cars.
What engines and gearboxes are available in the Honda e?
The standard Honda e uses a 100kW (136PS) electric motor, providing 315Nm of torque and 0-62mph acceleration in 9.0 seconds flat. The Honda e Advance ups the power to 113kW (154PS), shaving 0.7 seconds off the 0-62mph time - taking 8.3 seconds to reach 62mph.
The difference between the two is negligible, really, with both models considerably quicker than other electric city cars like the Renault Zoe and Volkswagen e-Up (although not quite as rapid as the MINI E).
If you haven't driven an electric car before, you're sure to be impressed with the Honda e's turn of pace. As soon as you hit the accelerator, it'll surge forwards with little in the way of noise. There's no delay while you wait for the gearbox to drop down gears or for the engine to build revs… it just goes. Even if you're heavy with the throttle in sports mode, you'll struggle to overwhelm the rear wheels - all that weight over the rear wheels prevent them from spinning up, even in wet weather.
There are many (almost too many…) brake regeneration modes to choose from. Essentially, when you lift off the accelerator, you can use the paddles behind the steering wheel to control how much the car uses the electric motor to slow down, pumping energy back into the battery.
Hit the 'single-pedal' button and, with some careful driving, you can pretty much avoid using the brake at all around town. It's the equivalent of extreme engine braking, slowing down with enough force as soon as you lift off the accelerator to bring you a halt entirely. It sounds a bit odd but you'll soon get the hang of it.
Refinement and noise levels
If you find city driving a stressful experience, it probably isn't too much of an exaggeration to say an electric car could change your life - a serene cabin, no gears to change and instant acceleration make the Honda e an absolute pleasure to pilot.
Of course, that could also be said for most of the Honda's electric rivals. Despite being a lot of fun to drive, the Honda e manages to feel like a much more grown-up electric city car than a lot of its contemporaries. The independent suspension ensures it travels down the road in a much more refined manner than cars like the SEAT Mii Electric.
Noise levels are good. You obviously don't have a petrol or diesel engine to hear, yet that means wind noise is slightly more noticeable at speed. Things like the fancy, aerodynamic digital door mirror help to reduce this, though.
Safety equipment: How safe is the Honda e?
Honda says the introduction of a new high-definition and camera and radar set-up means the e has improved awareness of its surroundings compared to other Honda vehicles. That means it's packed with clever features to prevent you from having a crash.
New functions of Honda's Sensing package include a lead car departure notification system (it'll notify you when the car in front starts moving in traffic), a collision mitigation throttle control (preventing sudden acceleration when starting if there's an obstacle in the way), and a low-speed brake function which applies the brakes if it detects a potential collision at low speed.
Other highlights include a collision mitigation brake system, which can apply the brakes if it detects a collision at higher speeds. This now has improved night-time operation to detect pedestrians and cyclists when there is no street lighting.
Further handy safety tech includes adaptive cruise control, automatic high-beam headlights and traffic sign recognition. The lane-keep assist system will keep the E in the centre of the lane at speeds above 44mph, while a range of connectivity services will alert emergency services if you're involved in a crash.
The Honda e was awarded four stars when it was tested by Euro NCAP.
Maximum EV range in the Honda e
The first question many electric car buyers ask is, "how far will it travel between charges?". And that's one area where the Honda e performs pretty poorly. Officially, under WLTP tests, both models will return 136 miles between charges. In the real world, you're going to be getting pretty anxious about finding a charge point after 100 miles - even less in winter.
Charging times: How much does it cost to charge the Honda e?
"A 50kW public rapid charger will top up the 35.5kWh lithium-ion battery to 80 per cent in around 30 minutes."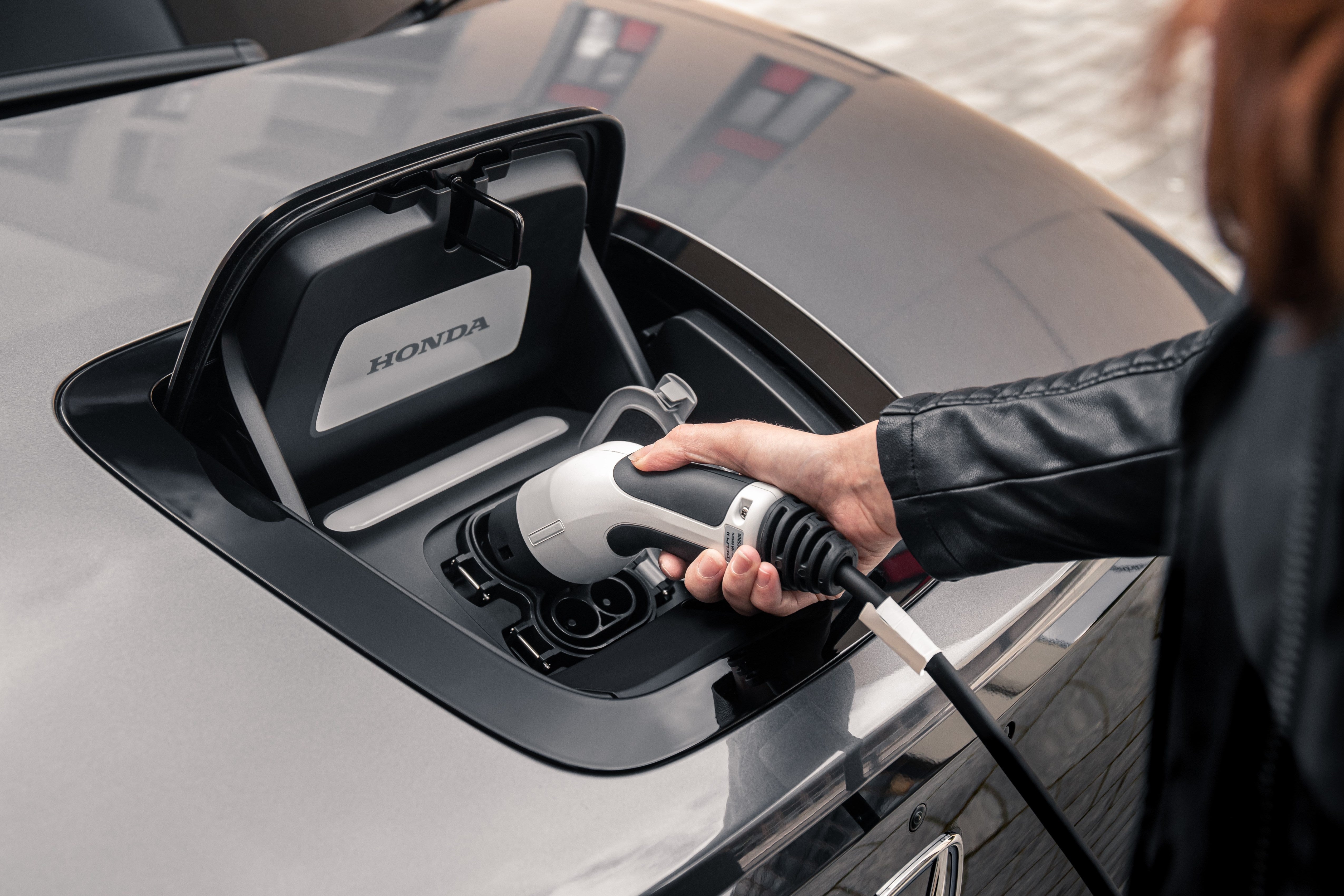 A 7kW home wallbox will take just over four hours for a full charge, while a three-pin domestic plug charge will take 18.8 hours.
How reliable is a Honda e?
Honda has an excellent reliability record, and we have no reason to suspect the Honda e will do anything to damage that. Electric cars are generally very reliable, thanks to a smaller amount of moving parts compared to a petrol or diesel model. A new Honda e comes with a three-year manufacturer warranty, while its batteries are covered for eight years/100,000 miles.
Insurance groups and costs
The Honda e is in insurance group 25 while the Honda e Advance is in 29. That's surprisingly high for a tiny city car but, in our experience, electric cars often cost more to insure than petrol-powered alternatives. This ought to be changing as they become more widespread, but we'd recommend seeking out a few quotes before you part with your cash - especially if you're a relatively new driver. There are a number of companies that specialise in insurance for electric cars.
VED car tax: What is the annual road tax on a Honda e?
A perk of an electric car is you won't pay any car tax. Nil. Ever.
It's also exempt from London's Congestion Charge and the Ultra-Low Emission Zone.
How much should you be paying for a used Honda e?
"With the Honda e as new as it is, you're going to struggle to get a pre-owned bargain. You might find a few dealers with ex-demo models on their forecourt, but don't expect a significant saving over the £26k start price of a new model."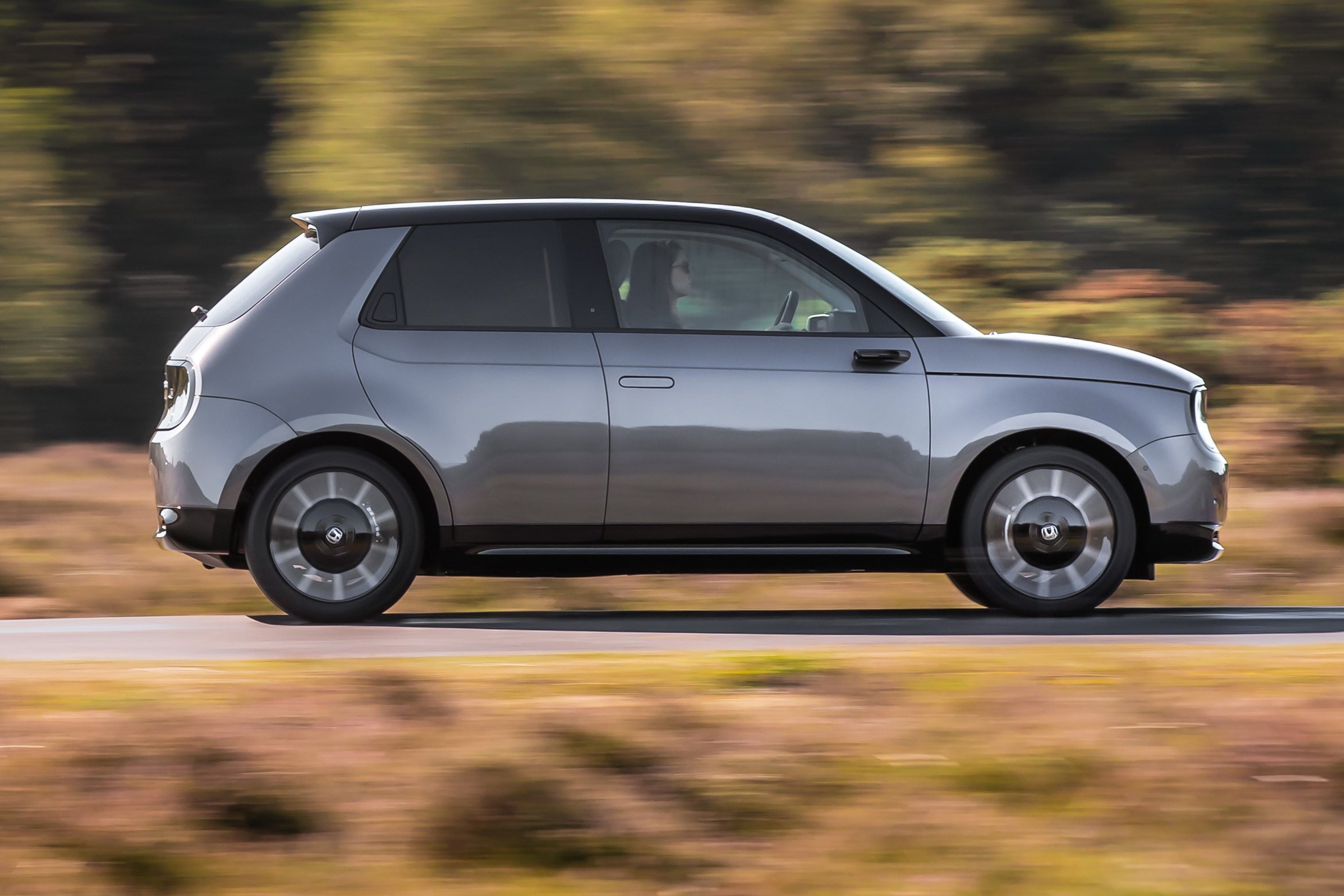 The advantage of buying one of these is the opportunity to skip the waiting list. Honda's been taking reservations since May 2019 and demand is expected to exceed supply for the foreseeable. If you find one offered at a sensible price, don't hesitate.
Trim levels and standard equipment
The Honda e line-up is pretty simple. There's the standard Honda e, and the Honda e Advance.
The standard specification list on the Honda e is pretty extensive. It comes with the fancy dual screen providing access to DAB radio, Bluetooth, navigation and Apple CarPlay/Android Auto. There's even an HDMI socket so you can connect a Google Chromecast, for example - or a games console of your choice.
It also comes with the futuristic digital door mirrors (a similar set-up is an option on the much more expensive Audi e-tron). Parking sensors are included, as is a rear-view camera.
Getting comfortable is easy thanks to manual height adjustment on the front seats and lumbar support for the driver. As you'd expect, there are electric windows in the front and rear, and climate control air conditioning.
The Honda e comes with 16-inch alloy wheels shod on 185/60 tyres at the front and 205/55 at the rear. A tyre repair kit is included - there isn't a spare wheel available.
Highlights of the pricier Honda e Advance include such luxuries as a heated steering wheel and front seats. There's also Honda's Parking Pilot which, at the touch of a button, will find an empty spot on the street or in a car park and reverse into it for you, taking the hassle out of parking.
The Honda e is available with optional 17-inch alloy wheels. We'd look for one with the standard 16-inch rims to avoid the range penalty provided by the bigger wheels.
Ask the heycar experts:
common questions
How much is a Honda e?
A new Honda e has a start price of £29,195 (after the government's plug-in car grant), while the Honda e Advance starts from £31,665.

Is the Honda e a good car?
The Honda e is an excellent electric car with stylish looks and lots of technology. It's expensive to buy, though, has a limited range, and isn't as practical as bigger rivals like the Volkswagen ID.3.

What is the range of a Honda E?
Officially, the Honda e can travel 136 miles between charges, and that drops to 125 miles if you buy a Honda e Advance with the pretty 17-inch alloy wheels.

Honda Honda E cars for sale on heycar
1,458
Number of cars available
£10K - £44K
Price bracket of these cars
Colours available on heycar
Keep me updated by email with the latest advice, news and offers from heycar
By submitting, you agree to our
privacy policy
.
Popular models
Similar models