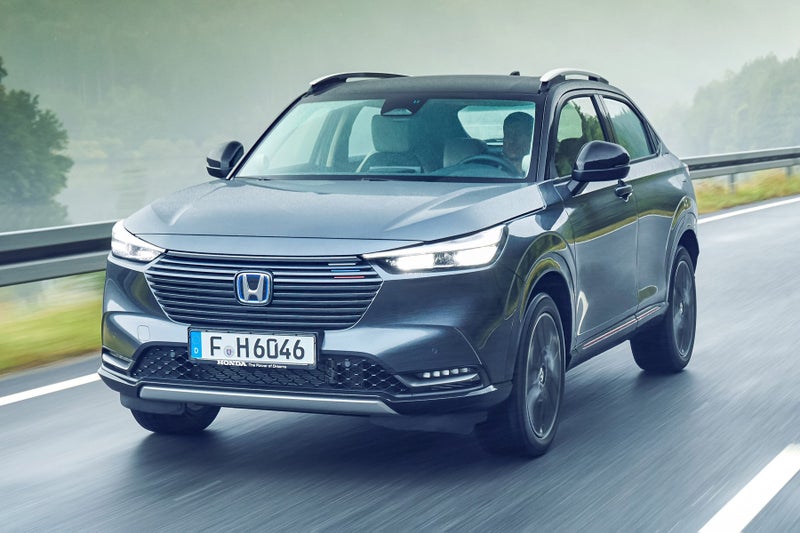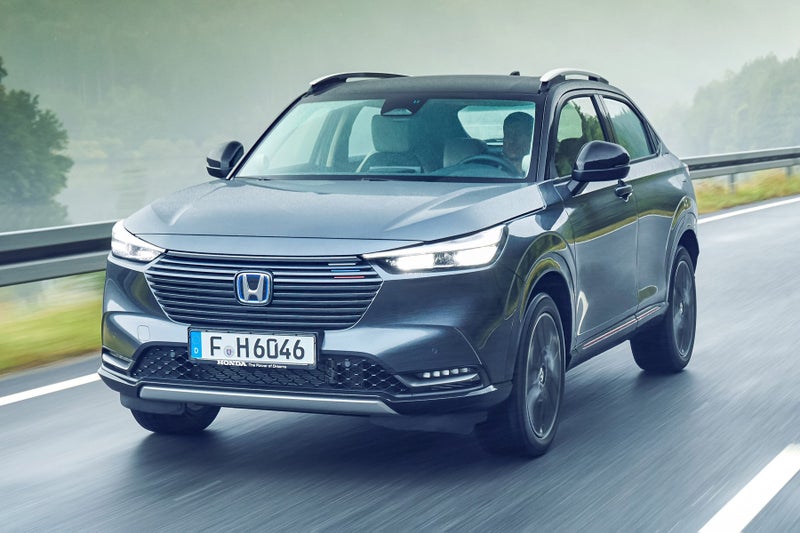 1/10
heycar rating
"Honda's surprisingly appealing hybrid SUV"
Launched: 2021

Small SUV

Hybrid
Quick overview
Pros
Honda HR-V is more stylish and more desirable than ever before
Impressive navigation system is standard across the range
Should be cheap to run and very reliable
Cons
The boot is pretty small with the rear seats in use
Only offered with one hybrid motor
Looks quite expensive on paper
Overall verdict
On the inside
Driving
Cost to run
Prices and Specs
Common questions
Overall verdict on the Honda HR-V
"It's probably an exaggeration to say that the Honda HR-V has matured from an ugly duckling into a beautiful swan, but the latest model is a surprisingly appealing alternative to more mainstream small SUVs. Combining stylish looks and an impressive interior with impressive efficiency and versatile Magic Seats, the HR-V will tick a lot of boxes for a lot of buyers."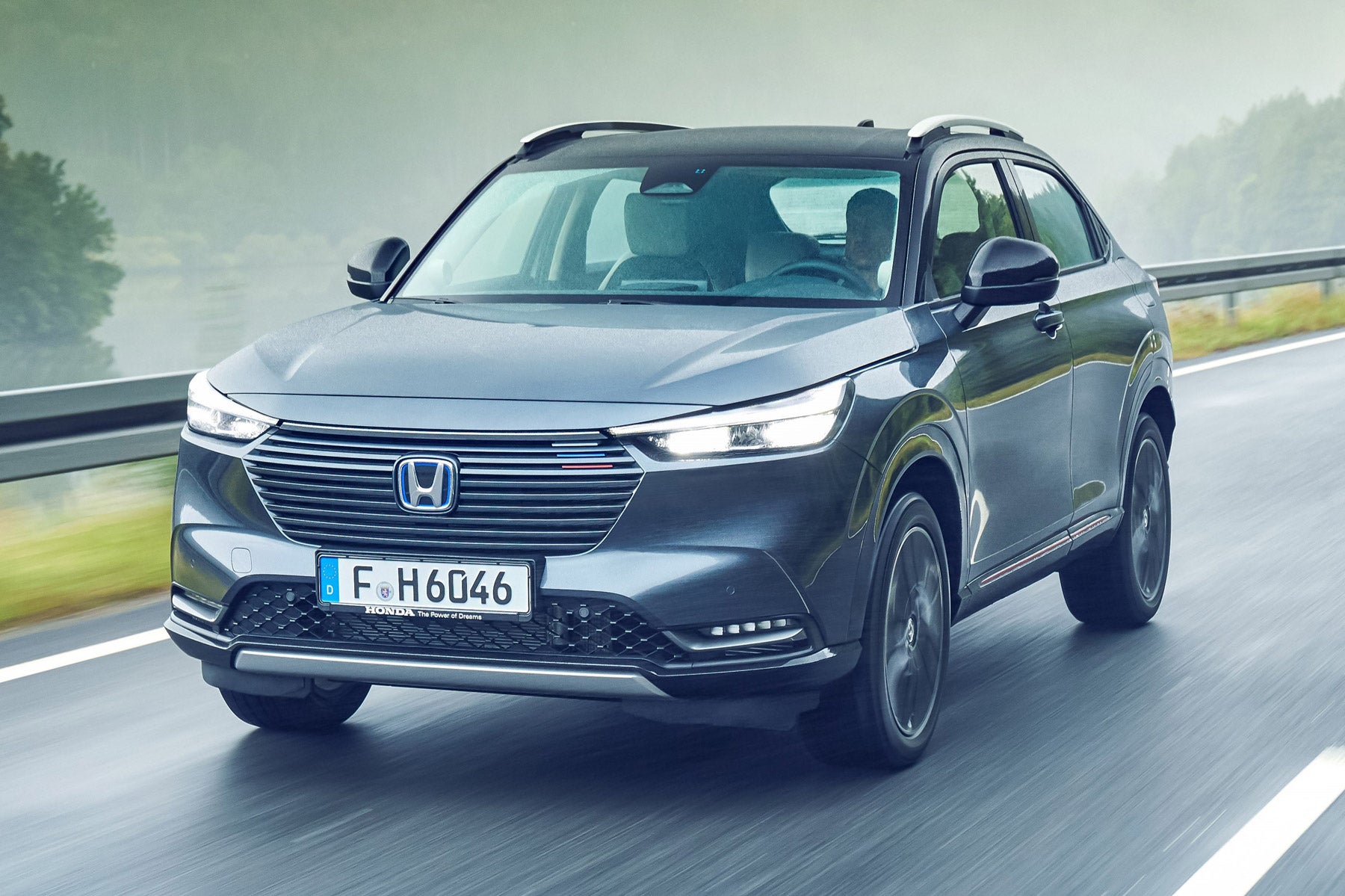 In some ways, the new 2022 Honda HR-V is quite a challenging car to pigeonhole. It's traditionally a competitor to small SUVs like the Skoda Kamiq, Ford Puma and Nissan Juke.
But it's grown in size and is now more of a coupe-SUV – pitching it against the Toyota C-HR, Renault Arkana and Mazda CX-30. In terms of price, you could almost compare it to premium models like the Audi Q2, MINI Countryman and even the excellent Volvo XC40. Continue to read our full Honda HR-V review to find out if it stacks up against the competition, or use the links above to skip to the sections which matter to you the most.
It's based on the latest Honda Jazz – a car we rate highly for its practicality and low running costs – and shares its twin-motor hybrid setup. As a result, it should be cheap to run, although its official 52.3mpg WLTP fuel economy figure is only marginally more impressive than some rivals with small turbo petrol engines (a Volkswagen T-Roc 1.0 TSI can manage up to 47.1mpg, for example).
While the Honda HR-V has been given a power boost over the Jazz, it's far from quick. Indeed, the unpleasant roar from the engine combined with the eCVT gearbox will soon put you off trying to make progress. It's better around town, though, where the petrol engine can switch off entirely for short periods and let the two electric motors do the work.
It's not as sharp to drive as a Mazda CX-30 or Toyota C-HR, but it feels composed and there's plenty of grip on offer (although you can't buy a Honda HR-V 4x4). It's refreshingly soft in its setup, although you will notice imperfections a little more than you would in a Citroen C4.
The 2022 Honda HR-V's interior feels delightfully modern, while all trim levels are well-equipped. There are just three trim levels to choose from (Elegance, Advance and Advance Style), with most people expected to opt for the mid-range HR-V Advance. Highlights of include a power tailgate, part-synthetic leather seats and a heated leather steering wheel – not things you can expect as standard in premium alternatives for the same money.
There's plenty of space for passengers, while the Magic Seats in the back mean the HR-V can comfortably do a tip run or trip to your favourite Swedish furniture store. With the rear seats in use, though, the boot is smaller than before, able to accommodate just 319 litres of luggage. If you're looking for Honda's answer to the Qashqai, we'd recommend looking at the bigger Honda CR-V.
With prices starting at around £27,000, the Honda HR-V isn't really a strong enough all-rounder to justify its hefty price tag. That said, you do get a lot for your money (including a hybrid), and there's a lot to be said for the peace of mind provided by Honda's strong reliability record.
If you're looking for the older version, you need our used Honda HR-V (2015-2021) review.
Is the 2022 Honda HR-V right for you?
If you're the kind of person who buys a car to keep forever, the Honda HR-V could be a good choice. It's likely to be very reliable, while its hybrid system means it's cheap to run.
It's more stylish than before, so should appeal to the fashion-conscious – although we reckon style aficionados will still be better looking at a Volkswagen T-Roc or Mazda CX-30. The Honda is a bit of a mixed bag in terms of practicality too – teenagers can squeeze into the back seats without any fuss, while the Magic Seats are pretty impressive if you regularly carry big loads. The boot is only just big enough for the weekly shop, though.
What's the best Honda HR-V model/engine to choose?
This is a simple choice as the Honda HR-V's line-up isn't exactly big. The only engine option is the 1.5-litre hybrid, while the model range is limited to just three trim levels. The entry-level Honda HR-V Elegance is well kitted out and will be fine if you're on a budget (in which case you should probably be looking at cheaper alternatives), although we expect most people will pay the premium for a mid-range HR-V Advance.
This would be our choice – it has pretty much everything you could possibly want, without getting into the realms of premium car territory. The range-topping Honda HR-V Advance Style is appealing but you could get a more desirable car for that money.
What other cars are similar to the Honda HR-V?
Comfort and design: Honda HR-V interior
"Too many small SUVs have disappointingly drab interiors but, fortunately, the Honda HR-V isn't one of them. It looks stylish and modern, while that doesn't come at the expense of usability."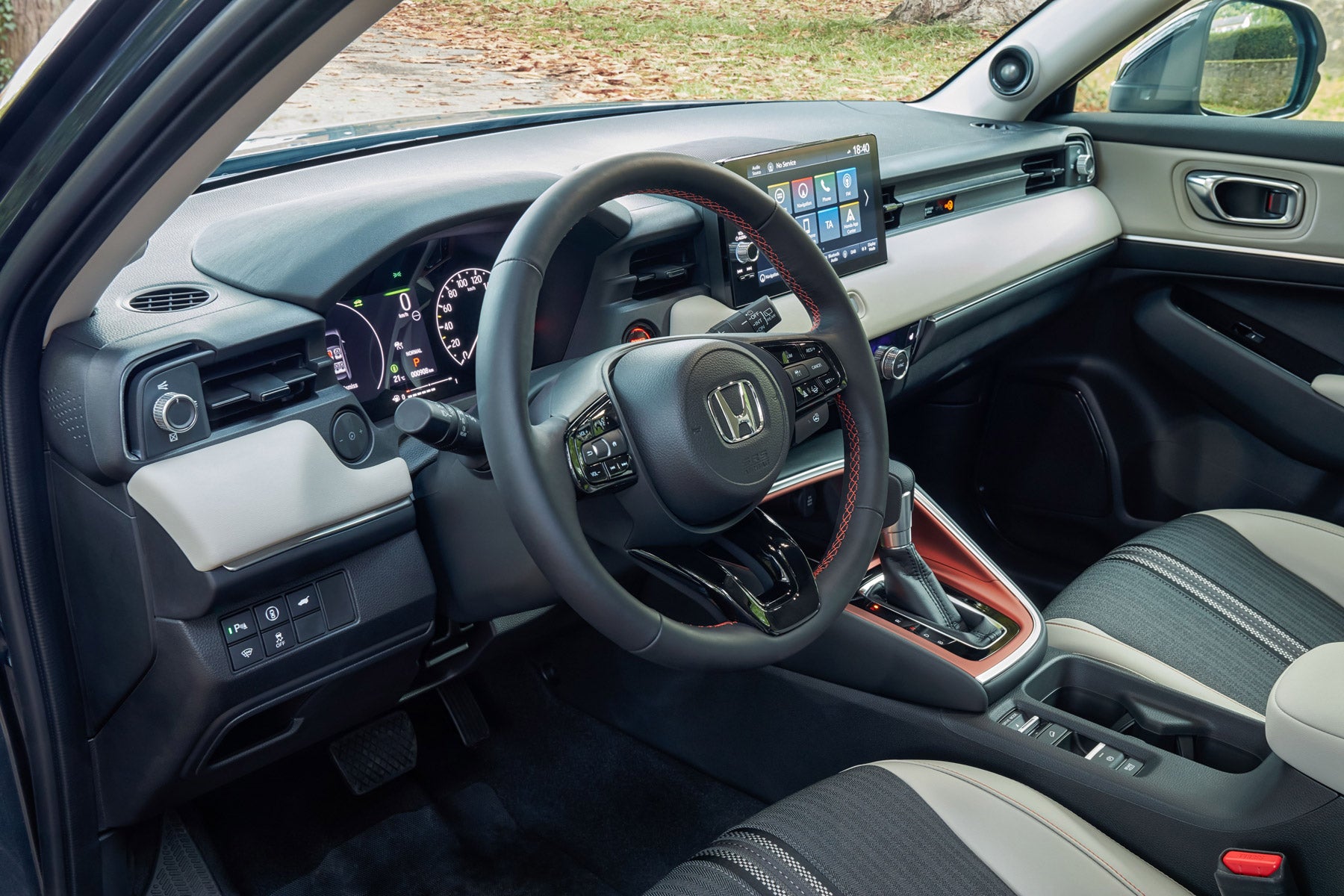 It's easy to get comfortable in the Honda HR-V, with plenty of (manual) adjustment in the seats. You sit higher up than you do in some small SUVs – a bonus if you're wanting to lord it over other motorists or just want a car you can get in and out of with little effort.
We like that Honda's resisted the minimalist approach. There are buttons everywhere – all in places where you'd logically want them. Looking to adjust the speed of the heater fans? Yup, there's a knob for that. Finding the instrument cluster too bright? Don't worry, there's a button for that. Volkswagen could learn a lot from Honda here.
All HR-V models come with electric windows in the front and rear, while heated front seats are also standard across the range (trust us, this is a feature you won't want to live without on a cold morning). The Honda HR-V Advance and Advance Style trim levels come with a heated steering wheel, too, as well as dual-zone climate control.
Quality and finish
The Honda HR-V's interior feels solid. Like it will last the apocalypse. But that doesn't come at the expense of premium materials or soft-touch finishes. It's certainly much easier on the eye than the old HR-V and, in some ways, better finished than a Volkswagen T-Roc's cabin (which itself is surprisingly flimsy). We like the padding that runs across the dashboard, while the top-spec Honda HR-V Advance Style comes with orange stitching which looks pretty smart.
Note that, if you want some of the nicer features, you'll have to hunt out one of the higher-spec models. Our mid-range Honda HR-V Advance test car came with part-faux-leather seats, for example (black cloth is standard on the HR-V Elegance), as well a leather-covered steering wheel.
Infotainment: Touchscreen, USB, nav and stereo in the Honda HR-V
This is one area in which the new Honda HR-V has improved enormously over its predecessor. All models get the same nine-inch sat-nav, positioned usefully high up on the dashboard (convenient for glancing at while driving without having to take your eyes off the road for a moment too long).
It's easy to use with simple menu layouts, sharp graphics and speedy responses. Also, Apple CarPlay and Android Auto are standard across the range. Phew. That means you can mirror apps, such as Google Maps or Spotify, onto the digital display.
While the infotainment can't be controlled via a rotary controller (like in the Mazda CX-30), there are some useful shortcut buttons and a rather dashing knurled knob for adjusting the volume.
Space and practicality: Honda HR-V boot space
Versatility has always been the Honda HR-V's key selling point. And it still is... to an extent.
There's certainly plenty of space for those in the front, while the seats offer a high seating position (certainly more commanding than you'll get in a Skoda Kamiq or similar), and there's plenty of little storage areas for your odds and ends.
In the back, you get Honda's clever Magic Seats, which allow the rear bench to drop and leave an entirely flat boot floor. Alternatively, you can flip up the seat bases, leaving enough room to carry upright objects. On those occasions when you actually want to use the rear seats for carrying people, they do that very well, too – with loads of headroom and legroom, even for the tallest of adults.
You can sense a 'but' coming, right? And that's the boot space. You see, the HR-V's coupe-SUV sloping roofline combined with the positioning of the hybrid batteries under the boot floor means there's not actually much space left for carrying luggage. There's only 319 litres of boot space, which is significantly less than the old model (which could carry 480 litres of luggage), and less than alternatives like the Volkswagen T-Roc, Toyota C-HR and Nissan Juke. A ball dropped?
In terms of dimensions, the Honda HR-V is 4340mm long, 2028mm wide (including door mirrors) and 1582mm high. It has a ground clearance of 188mm, which drops to 150mm with a full load, and a turning circle of 11.3m.
Handling and ride quality: What is the Honda HR-V like to drive?
"The Honda HR-V isn't as fun to drive on the open road as a Ford Puma or Toyota C-HR. It feels safe and secure, though, while light steering means it's easy to squeeze into tight spots."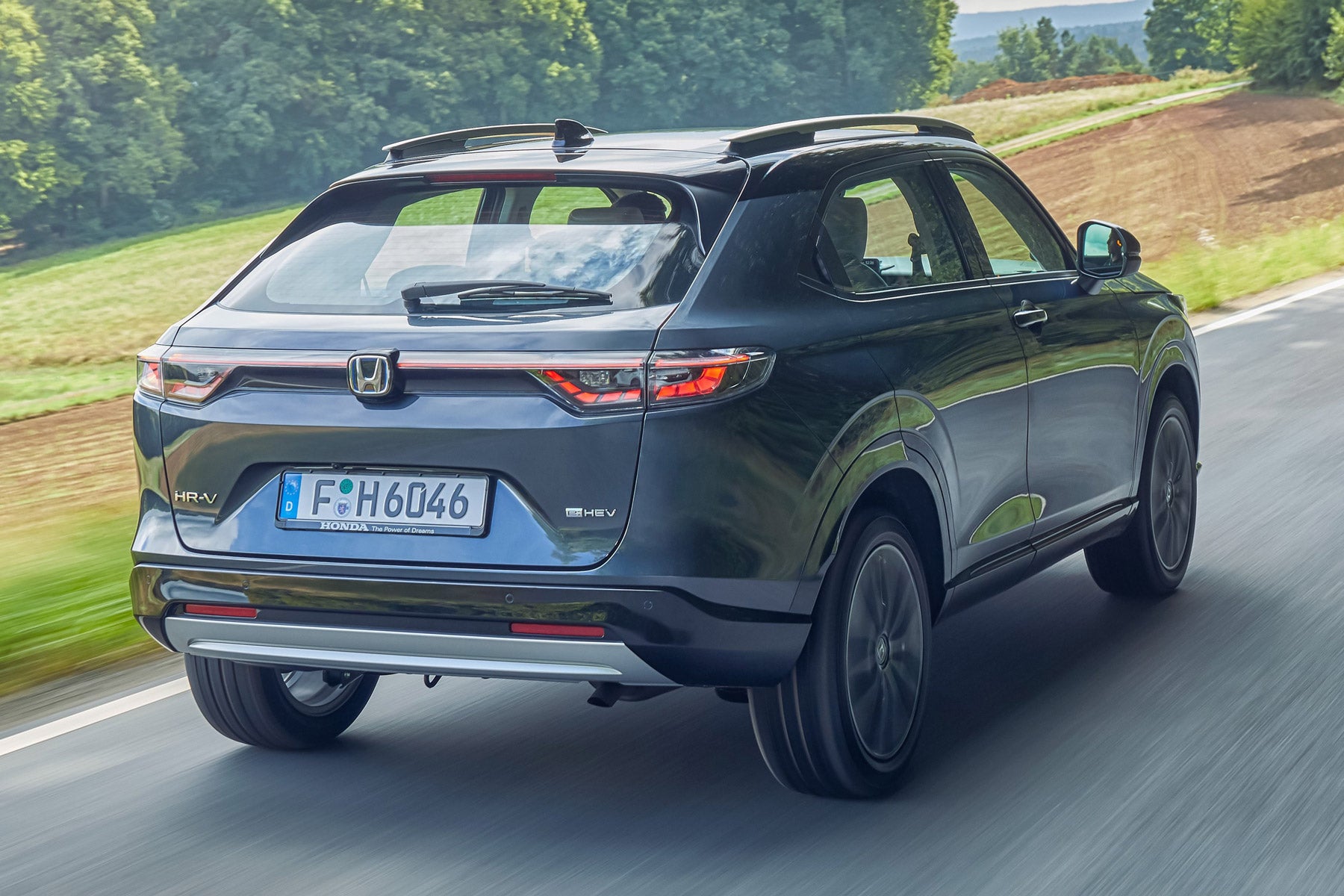 Refreshingly, the Honda HR-V has been set up with comfort in mind rather than outright sportiness. It's not as compliant as a Volkswagen T-Roc (the suspension has to cope with the weight of the batteries), but it won't cause too much discomfort on uneven road surfaces. All HR-V models are fitted with 18-inch wheels combined with chunky tyres, which help with ride comfort.
The steering, while light, feels a bit remote – which doesn't provide a great deal of confidence during high-speed cornering. There's plenty of grip available but if you want a bit more reassurance (particularly on snowy roads) you might want to look at a four-wheel-drive alternative. You can't buy an all-wheel-drive Honda HR-V, unfortunately.
What engines and gearboxes are available in the Honda HR-V?
You get a limited choice of engines and gearboxes in the Honda HR-V: it's offered exclusively with a petrol engine combined with a pair of electric motors, producing 131PS and 253Nm of torque. An eCVT automatic transmission is used, while the HR-V is strictly two-wheel drive. And that's your lot.
It's the same system as you'll find in the latest Honda Jazz Hybrid, albeit with a minor power boost. As you'd expect from those figures, it's not the feistiest of things, taking 10.6 seconds to accelerate from 0-62mph.
Refinement and noise levels
When you're bimbling in traffic, the Honda HR-V is a very refined car. It can set off under electric power, and you can barely tell when the petrol engine starts up. If you spend a lot of time in congested city centres, it's a much more pleasant car to spend time in than a non-hybrid.
If you want a driving experience more akin to an electric vehicle, select 'B' mode. This allows you to use the paddles behind the steering wheel to increase the amount the car slows down when you lift off the accelerator. With the regenerative braking ramped up to the max, you won't have to use the brakes as much to slow down, although it's not quite severe enough to resort to one-pedal driving.
Refinement takes a noticeable knock when you leave the city centre. The engine isn't the most responsive of units and eCVT gearboxes aren't known for their responsiveness. If you try to accelerate with any degree of urgency, the revs will flair and you'll hear quite an unpleasant drone from the engine.
Safety equipment: How safe is the Honda HR-V?
The Honda HR-V uses a wide-angle HD camera to monitor the road ahead and act as a second pair of eyes for the driver. Paired with artificial intelligence, this can recognise other road users (including cyclists, pedestrians and motorbikers), taking steps to prevent a collision as part of the Collision Mitigating Brake System.
If it thinks you're about to collide with a low wall or another car in a car park, the Low Speed Brake System will apply the brakes, while the Front & Rear Collision Mitigation Throttle Control will limit the power if you suddenly hit the accelerator (seemingly inadvertently) when stationary or travelling at low speeds.
These systems are standard across the Honda HR-V range, as well as adaptive cruise control with an intelligent speed limiter. Front and rear parking sensors are also fitted across all models, as well as a reversing camera. There's also a Hill Descent Control system, which will help out when descending steep, slippery slopes.
Euro NCAP awarded the Honda HR-V four stars for safety when it was tested in 2022.
MPG and fuel costs: What does a Honda HR-V cost to run?
"You shouldn't need to work particularly hard to extract the best from the Honda HR-V in terms of efficiency. Its petrol engine works with two electric motors to provide impressive efficiency, with mid-40s MPG likely to be a realistic figure in the real world."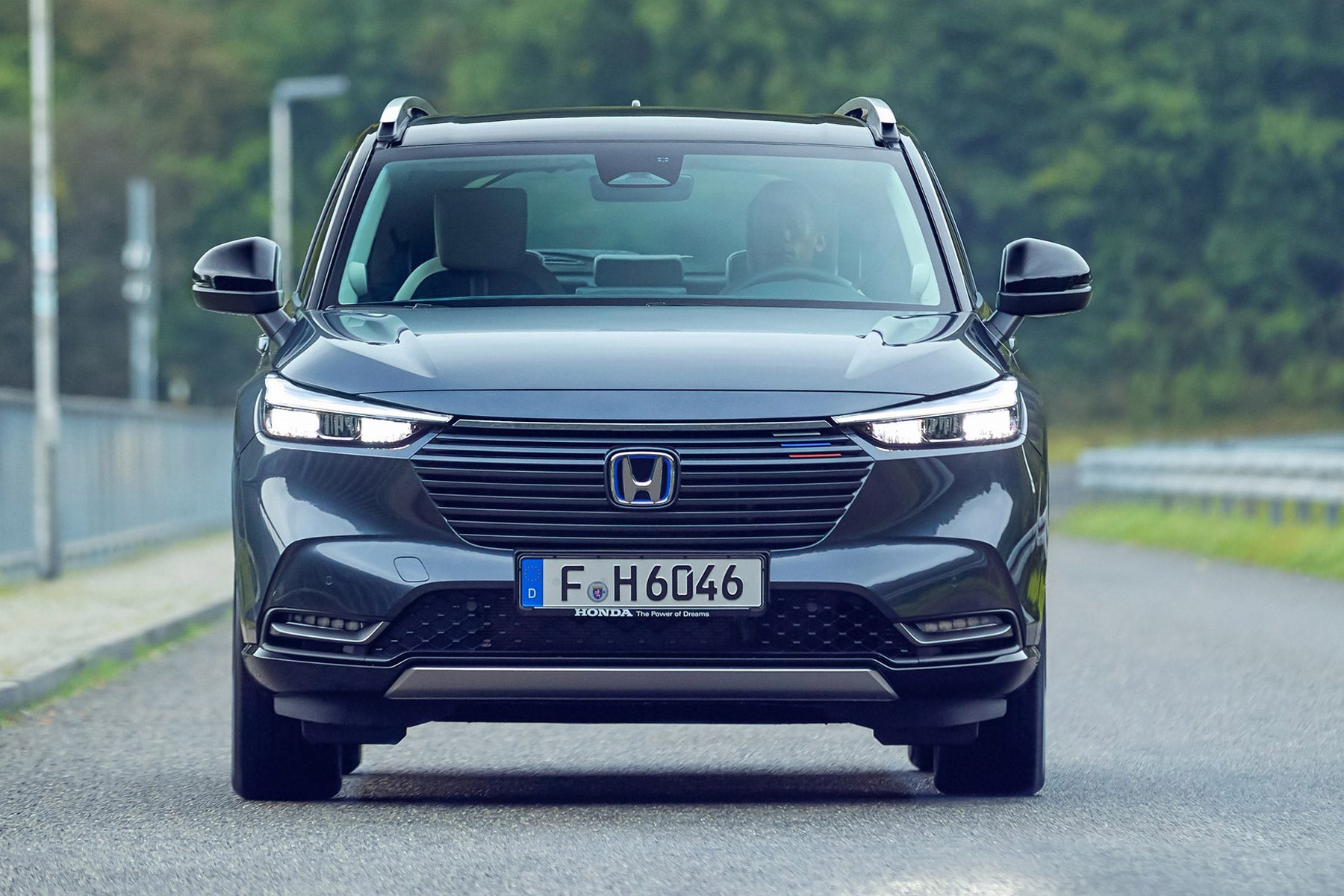 In WLTP tests, the Honda HR-V returned up to 52.3mpg. As it's a 'self-charging' hybrid rather than a plug-in hybrid, you don't have to do anything particularly arduous (like plugging it in) to see impressive fuel economy. You'll find our guide to hybrid cars useful if you want to know more about these two hybrid systems.
As there's no diesel engine available in the Honda HR-V, you might wish to look elsewhere if you cover a lot of motorway miles. That said, there are very few small SUVs offered with a diesel engine these days.
How reliable is the Honda HR-V?
Honda generally performs well in terms of reliability, ranking highly in the annual HonestJohn.co.uk Satisfaction Index. It's too new to know for sure how reliable the latest Honda HR-V will be, but it's based heavily on the latest Jazz which is proving to be very reliable.
Insurance groups and costs
The cheapest Honda HR-V to insure will be the HR-V Elegance, which has been placed into insurance group 30A. Both the Honda HR-V Advance and Advance Style are in insurance group 31A.
In reality, the difference in insurance costs between models is likely to be negligible. It will, of course, depend on factors like your age, home location and annual mileage. We'd always recommend shopping around for insurance quotes when buying a new car.
VED car tax: What is the annual road tax on a Honda HR-V?
The first year's VED is lumped into the on-the-road price and is based on CO2 emissions. With emissions of 122g/km, the Honda HR-V's first-year VED will cost £170.
As a hybrid model, you'll save £10 a year on the annual VED road tax. That means you'll pay a flat rate of £145. If you want to pay less, you'll have to look at a pure-electric alternative like the Hyundai Kona Electric.
How much should you be paying for a Honda HR-V?
"A new Honda HR-V is priced from around £27,000, which is a higher start price than an Audi Q2 or Volvo XC40. You do get a hybrid powertrain and more standard equipment for your money, though, while Honda quotes a monthly finance figure of £269."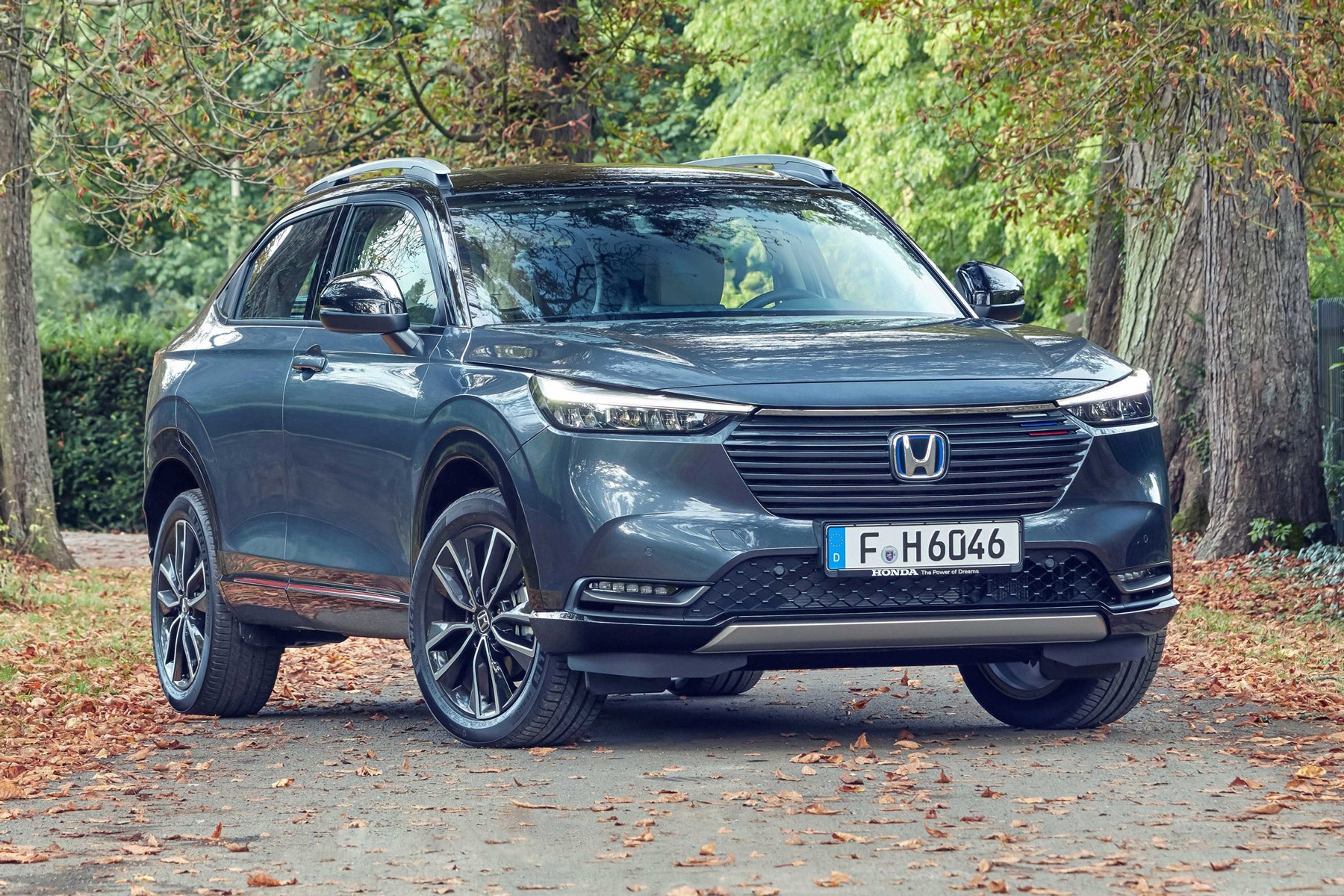 Most buyers are expected to stretch to a mid-spec Honda HR-V Advance, which starts from £29,210, while the range tops out with the £31,660 Honda HR-V Advance Style.
It's still a very new model, so we're yet to see pre-registered or ex-demonstrator examples appearing on the market.
Trim levels and standard equipment
The Honda HR-V is available in three trim levels, all of which are pretty comprehensively kitted out.
The range starts with the Honda HR-V Elegance, which comes with LED headlights, heated front seats, 18-inch alloy wheels and a nine-inch navigation system (with Apple CarPlay and Android Auto).
The Honda HR-V Advance adds a heated leather steering wheel, faux-leather and fabric interior trim and a power tailgate, while the range-topping Advance Style comes with a premium sound system, orange interior detailing and a two-tone exterior paint finish.
Ask the heycar experts:
common questions
Is the Honda HR-V a hybrid?
The Honda HR-V is now sold exclusively as a 'self-charging' hybrid model. It combines a 1.5-litre petrol engine with two electric motors and an eCVT automatic gearbox. It's very efficient as a result, officially returning up to 52.3mpg.

Is the Honda HR-V a 4x4?
The Honda HR-V is not a 4x4. It's sold exclusively as a two-wheel-drive SUV, with power going to the front wheels.

Is the Honda HR-V reliable?
The Honda HR-V is likely to be a very reliable car. Its hybrid setup is very similar to that used in the Honda Jazz Hybrid, which is already proving to be very dependable. Honda has a good reliability record.

Honda HR-V cars for sale on heycar
1,465
Number of cars available
£10K - £38K
Price bracket of these cars
Colours available on heycar
Keep me updated by email with the latest advice, news and offers from heycar
By submitting, you agree to our
privacy policy
.
Popular models
Similar models