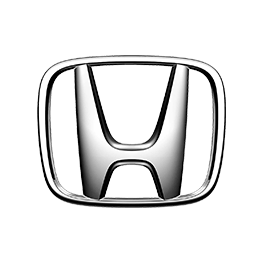 Honda HR-V Review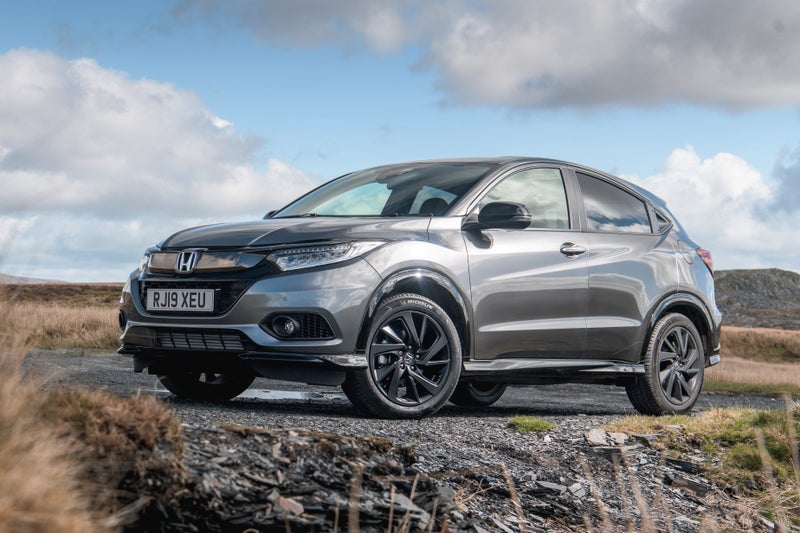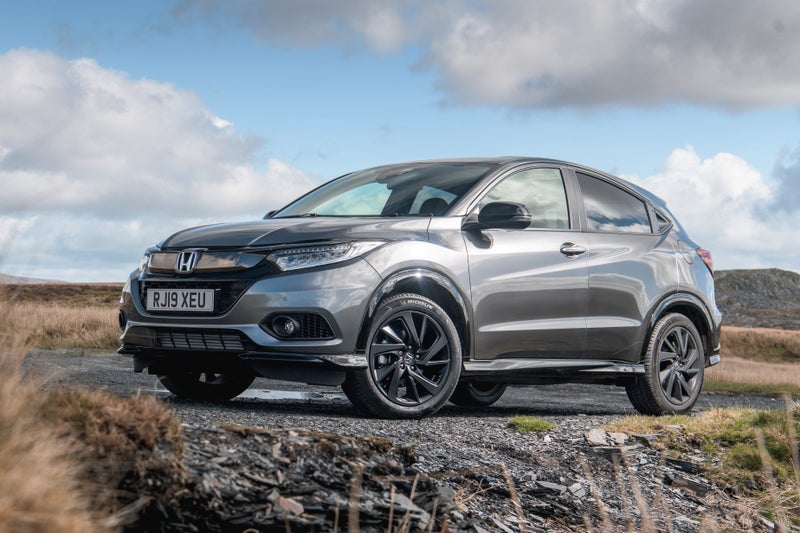 1/10

heycar rating
"Versatile car, rubbish infotainment system"
Launched: 2015

Crossover

Petrol, Diesel
Quick overview
Pros
Good to drive in and out of town
Very practical with a big boot and versatile 'Magic Seats'
Honda has a well-deserved reputation for reliability
Cons
The best engine is only available on Sport models
Interior's well built but not particularly pleasing on the eye
Infotainment is rubbish
Overall verdict
On the inside
Driving
Cost to run
Prices and Specs
Overall verdict
"The Honda HR-V combines a reputation for reliability with a big boot and stylish crossover looks, making it a superb buy on the used market. It represents decent value for money, too, although it's a shame you'll have to hunt out an expensive Sport model for the most desirable features. And don't get us started on that infotainment system..."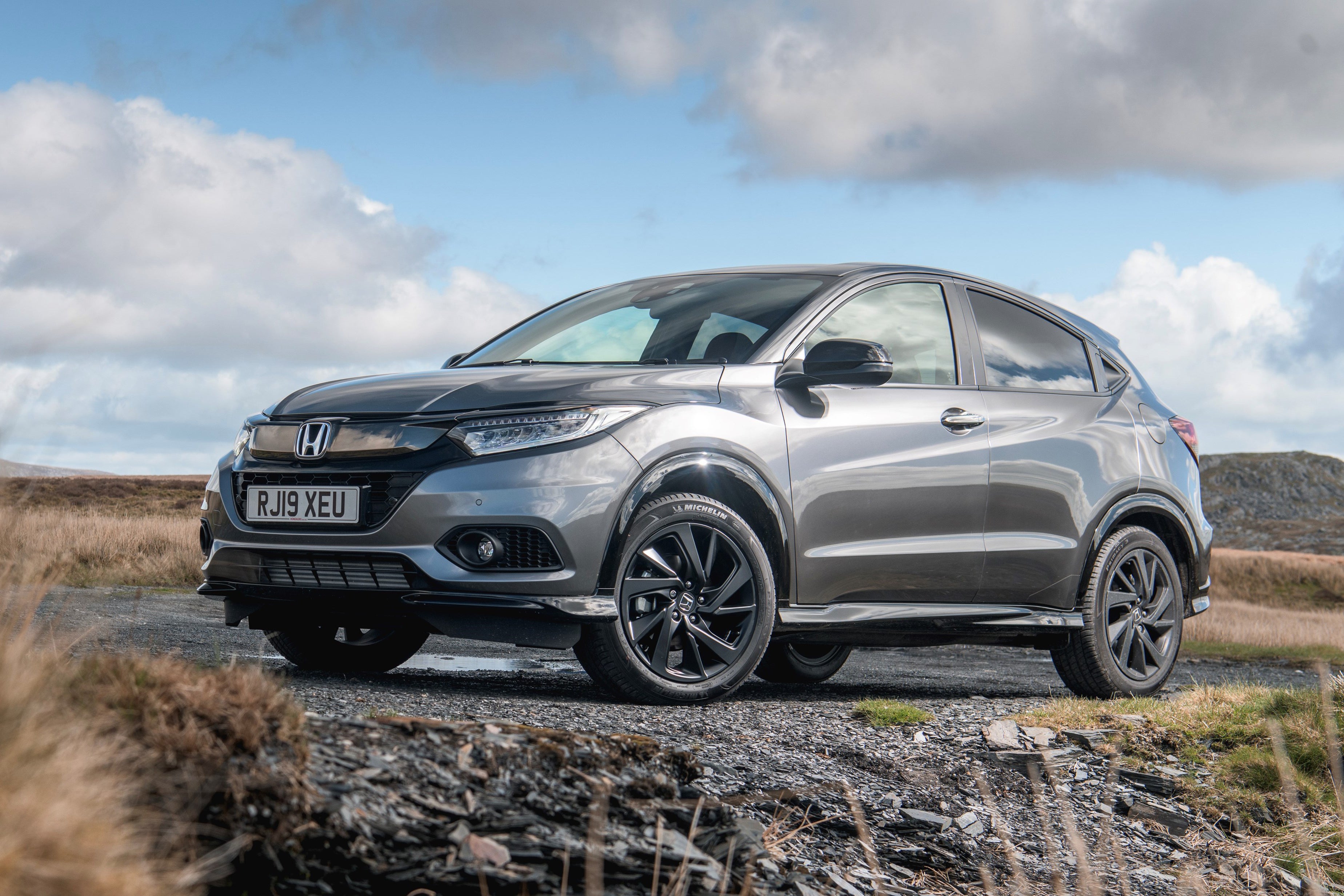 Want a versatile car with a bit more style than the Honda Jazz? You're not alone. Everyone these days wants a crossover SUV, so Honda brought back the HR-V name in 2015. It's a small SUV, based on the Jazz and intended to rival the likes of the Nissan Juke, Skoda Kamiq, SEAT Arona and Renault Captur – something it has done so well, Honda will soon launch a new one.
Just like the Jazz, the HR-V majors on practicality. It's incredibly spacious, with a boot big enough to rival much bigger cars and a clever rear bench which can flip and fold to accommodate whatever you might throw at it.
The cabin feels well made and functional, if not particularly exciting. But who wants an exciting interior, if it does the job of transporting your family in comfort? Higher-spec models have a few nice touches, and the touch-sensitive climate control buttons look pretty cool (even if they're not that easy to use on the move).
The seven-inch media system which is standard across most of the range is clunky to use, and not a patch on the display used in the latest Jazz. It combines dated graphics with slow responses and isn't even available with Apple CarPlay and Android Auto. Not good.
The HR-V's engine line-up was initially fairly simple. Older models are available with a 1.5-litre petrol engine, producing 130PS, or a 1.6 diesel with 120PS. Neither are particularly quick, especially as the petrol is a naturally-aspirated unit that saves its maximum power for the upper echelons of the rev range.
This was addressed in 2019 when the Sport was added to the HR-V line-up. This used a turbocharger to boost power from the petrol engine to 182PS. It's surprisingly fun to drive, with a decent turn of pace and darty handling thanks to its performance suspension.
No matter which engine you go for, the HR-V is quite a harsh-riding car. This isn't conducive to comfort. We'd much rather Honda had dialled it back a bit to compete with the bouncy Citroen C3 Aircross, but some will appreciate its agility.
Anywho, there's plenty to like about the HR-V. It represents decent value for money (especially once depreciation's taken a few grand off the list price), and it's a lot more practical than the likes of the Nissan Juke.
Is the Honda HR-V right for you?
Whether you're a trendy young city slicker or a family wanting a versatile and reliable little SUV, the Honda HR-V is a very good choice. It's more spacious than rivals like the Nissan Juke and Renault Captur, while also being better to drive.
There are downsides. Its ride will shake out your fillings - particularly on models with big alloy wheels - and the standard engines are a little underpowered. Not everyone will get on with the CVT automatic gearbox, either. Our biggest criticism is the abysmal infotainment system, but that needn't be a deal-breaker.
What's the best Honda HR-V model/engine to choose?
If it's within budget, we'd recommend the HR-V Sport. Its turbocharged engine has the grunt that's missing from the standard petrol (and even the diesel), while its red interior injects a bit of much-needed brashness.
If you're not fussed about performance, the SE model will have all the kit most buyers will need. Things like a reversing camera, extra safety kit and dual climate control are all desirable features. If you'd prefer something a bit more luxurious, look for a top-spec EX with its leather seats and a panoramic sunroof.
What other cars are similar to the Honda HR-V?
Comfort and design
"You're not going to get excited about the HR-V's cabin. It's a functional affair, with a rather generic-looking dashboard and gawpy steering wheel. There's a large 3D instrument cluster behind the steering wheel. This might not be quite as impressive as the digital display used in the latest Jazz, but it's clear to read."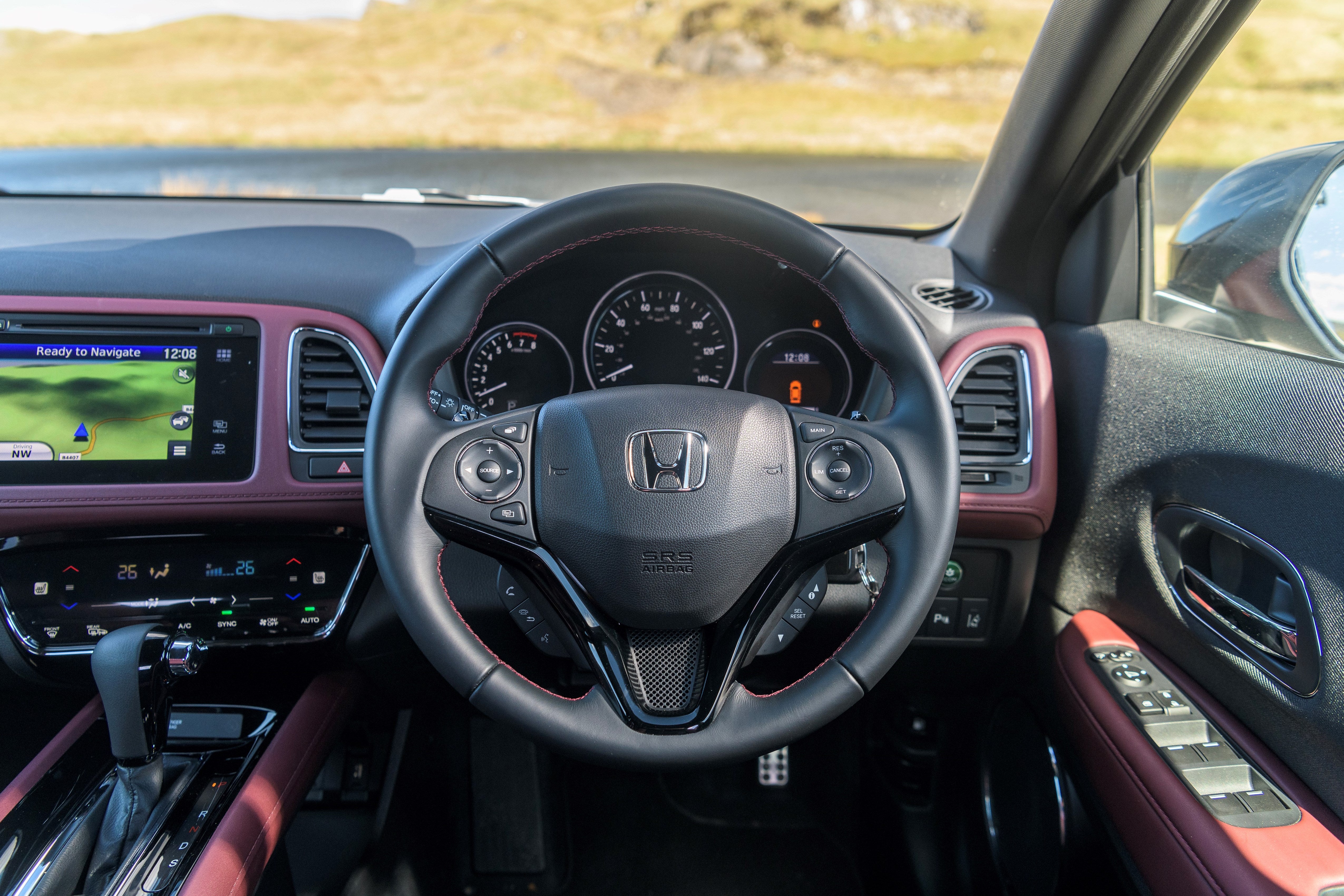 There are touch-sensitive heating controls in the centre of the dash. These look pretty smart, but mean you'll have to glance away from the steering wheel to adjust the temperature. Give us a knob or physical buttons any day.
Sport models are a bit more interesting to look at, as they come with red leather trim on the dashboard and seat bolsters. This won't be to everyone's tastes, but we kinda like it. There are aluminium sports pedals, too, although these look a little aftermarket to us.
It's easy to get comfortable in the HR-V, with loads of adjustment in the driver's seat and steering wheel. You won't find an HR-V with electric seat adjustment or adjustable lumbar support, unfortunately - neither are even offered as an option when new. Only Sport and EX models are sold with a height-adjustable passenger seat.
Surprisingly, even with the driver's seat in its highest position, the HR-V doesn't feel that much higher than a Jazz. If it's a commanding view you're after, you'd be better looking for the bigger CR-V.
Anyway, the seats are comfortable enough and you're not going to suffer from aches and pains any more so than in alternative crossover SUVs.
Quality and finish
While the HR-V's cabin might look a little bland, it's certainly well made. You'll find a few flimsy plastics here and there, but generally it's better finished than most of its rivals. There are shiny gloss-black inserts on the dash, while a leather steering wheel and gear knob on all but the cheapest models add a touch of class.
Although there aren't many buttons and switches inside the HR-V, those that are there feel good to use. As much as using a switch to open a window can feel good.
Honda cabins generally take abuse very well and, even with the earliest HR-V models now several years old, they rarely show signs of excessive wear and tear. It's a popular car with families thanks to its impressive versatility, but you needn't be too worried about a neglected interior showing its age.
Infotainment
The infotainment is one feature in the HR-V which dates it terribly. The cheapest S models come with a small screen flanked with buttons and a CD player. This isn't actually that offensive if you're not fussed about having a navigation system. It comes with Bluetooth connectivity and USB inputs, and there's even an auxiliary input.
Higher-spec models come with a seven-inch media system with Garmin sat-nav. It's a bit rubbish, frankly. It's touchscreen-only (no rotary controller here), with slow reactions to inputs and Windows 95 graphics. You can't even swerve some of its clunkier functions by connecting your phone - Apple CarPlay or Android Auto haven't even been offered as options.
If you want a slick media system, you'd be better looking at the Volkswagen T-Cross.
Space and practicality
What the HR-V lacks in snazzy infotainment, it makes up for in versatility. It might be a small crossover to rival the Nissan Juke, but it's big enough to use as your main family car.
We'll start with the boot. There's a whopping 480 litres of luggage space back there, which is more than a Nissan Qashqai. It's not quite as big as the huge CR-V, but it's not far off.
The boot has a nice, wide opening, which means access is easy - helped by a false floor on all but the entry-level S model. Not only is this useful for hiding things from prying eyes, but it also reduces the amount of lip for lifting things over. Annoyingly, you won't find a spare wheel underneath the boot floor. Instead, there's a tyre repair kit.
All trim levels get Honda's fancy Magic Seat feature. This allows you to flip and fold the rear bench - whether you want to drop it and create a flat floor or lift the base of the seats to carry tall items in the footwell.
If you wish to carry people in the rear seats, you'll be pleased to read that the HR-V can do that too. The sweeping rear roofline does hinder headroom, unfortunately, particularly for taller adults. There's a decent amount of legroom, though. You can squeeze a third individual in the middle seat if you really must but, like most cars of this size, it's not recommended unless you really have to.
All models get Isofix points on the outer rear seats, so you can easily fit child seats - and access is pretty good, thanks to the HR-V's highness compared to low-down hatchbacks.
Up front, the HR-V is a satisfyingly spacious car. There's loads of headroom and you won't find yourself clashing arms with your co-driver. You'll find enough storage for your bits and bobs, including generous-enough door pockets and large cup holders in the centre console.
Handling and ride quality
"Despite the HR-V's SUV appearance and astonishing practicality, it has a smaller footprint of a Honda Civic. That means it's a really easy car for negotiating city centres, helped by a high seating position and a good view of the road ahead."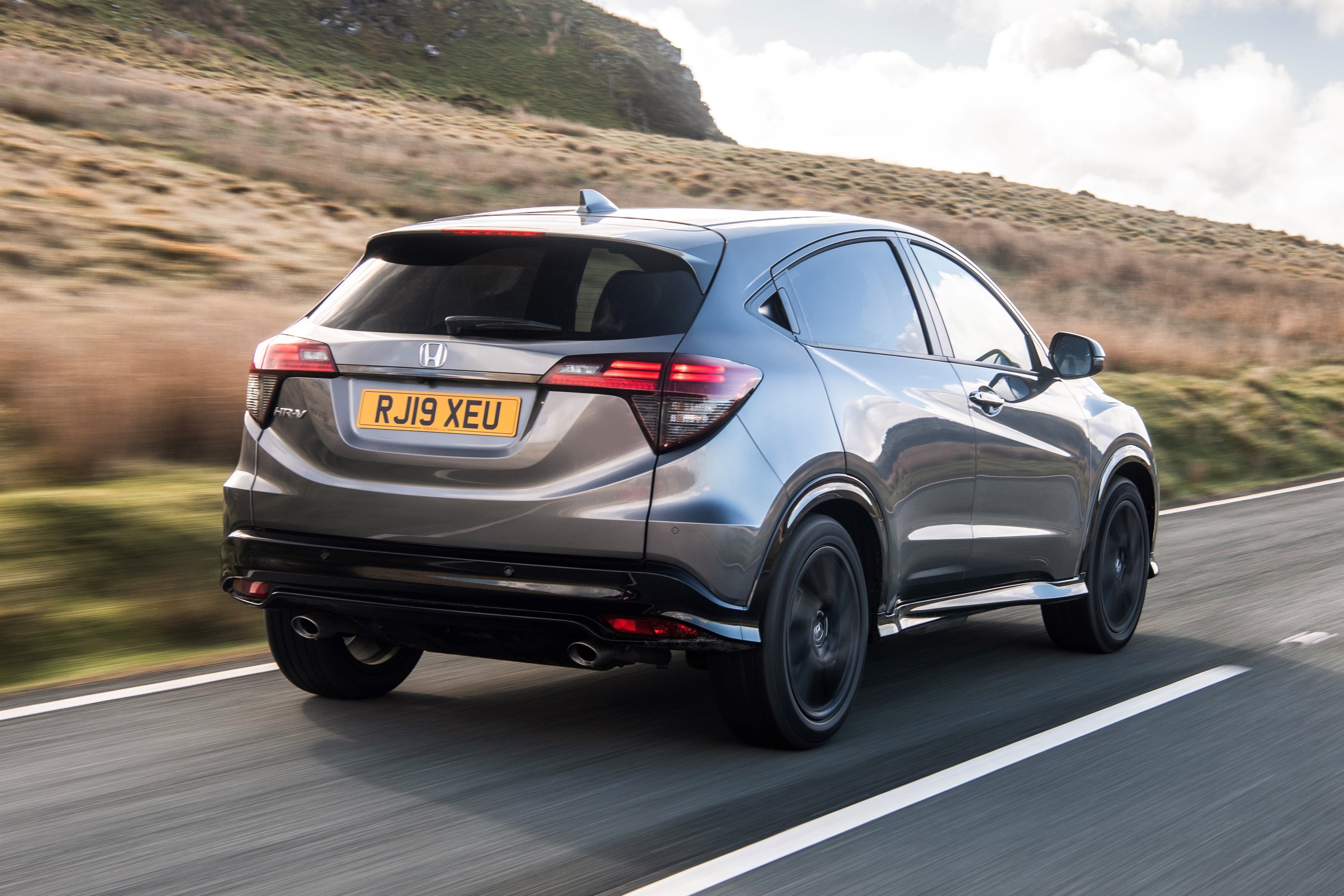 Despite the HR-V's SUV appearance and astonishing practicality, it has a smaller footprint of a Honda Civic. That means it's a really easy car for negotiating city centres, helped by a high seating position and a good view of the road ahead.
Most models come with a reversing camera as well as front and rear parking sensors, which make things easier when parking. Light steering helps here, too.
You'll notice, particularly on higher-spec models with big wheels, the HR-V provides quite an unforgiving ride around town. Hit a pothole and it'll shudder through the cabin much more than it would in a Skoda Kamiq or Citroen C3 Aircross, for example. That's particularly true of the Sport model, which comes with performance suspension as well as 18-inch alloy wheels with rubber-band tyres.
On the plus side, that firm suspension means it feels quite an agile choice - particularly out of town, where it can be hustled down a country road pretty well. It's not as fun to drive as a SEAT Arona or Ford Puma, but it feels reassuring composed in the bends, even if there is a bit more lean than you'd get in a small hatchback like the Ford Fiesta. The steering is light yet precise, which adds to that confidence.
The Sport model is particularly fun to chuck around. Its suspension features performance dampers, while Honda's Agile Handling Assist can brake individual wheels to assist cornering.
Engines and gearboxes
The petrol engine is by far the most popular. That's good news as it'll suit the majority of buyers best, although the standard unit isn't the most eager of engines. It's a naturally-aspirated engine, which means there isn't a turbocharger to help performance. As such, peak torque is reached at 4600rpm. In plain English, you'll have to work it very hard to actually get anywhere.
The turbocharged engine used in the HR-V Sport is much better. It packs 182PS, with peak torque coming in below 2000rpm - so it'll pull from very low down and doesn't require working anywhere near as hard. The Sport actually feels amusingly quick for an otherwise fairly staid crossover from Honda.
Both petrol engines are available with a manual or automatic gearbox. If you're a fan of changing gear yourself, you'll like the six-speed manual transmission - it feels superbly direct to use, bettered only by the Mazda CX-30 in the small crossover class.
The diesel transmission is a 1.6-litre unit which does the job perfectly well, particularly if you cover lots of miles. With 120PS, it's not the quickest motor, but a useful amount of torque means it feels more eager from a standstill than the entry-level petrol.
Refinement and noise levels
It's a shame that you can't get the turbocharged petrol engine with models other than the Sport. This is the most refined unit - its extra grunt meaning you don't have to rag it everywhere, which translates to a more relaxed drive. The Sport model's firmer suspension and big wheels take away some of that extra comfort, while there's quite a considerable amount of road noise generated by the big standard-fit wheels.
Both of the petrols are offered with a CVT automatic transmission, which is favoured for its reliability and efficiency. It's not a great choice for refinement, though, making an audible din as the revs flare during acceleration. Dual-clutch automatic transmissions used in alternatives like the Volkswagen T-Cross are better for refinement levels.
The diesel is typically clattery in its approach, and its relative lack of power means you'll have to work it pretty hard to build speed. Still, it settles down into a quiet enough cruise.
On the plus side, no matter which engine you opt for, you won't notice much in the way of vibration as a standstill. Wind noise is pretty well hushed, too, despite the HR-V's upright stance compared to a small hatchback.
Safety equipment
There's a host of safety equipment available on the HR-V - but not all of it is included as standard across the range.
Highlights on the basic S model includes a host of airbags (driver, passenger, front side airbags, front and rear side curtain airbags… you get the idea), Isofix child seat mounting points and hill-start assist, taking the skill out of hill starts. Its City-Brake Active System can apply the brakes to prevent a crash at low speeds.
For the ultimate in crash prevention tech, you'll need an SE model or above. This adds a Forward Collision Warning, Traffic Sign Recognition System, Intelligent Speed Limiter and Lane Departure Warning. None of these make a huge difference, but you might be very thankful you had them one day…
When Euro NCAP crash tested the Honda HR-V in 2015, it was awarded a maximum five-star safety rating. It achieved an 86% rating for adult occupants, 79% for children, 72% for pedestrian protection and 71% for its safety assist features.
MPG and fuel costs
"As is usually the case, the diesel HR-V returns the best fuel economy. It's slightly dependent on trim level (and particularly wheel size), with official combined fuel economy ranging from 54.3 to 56.5mpg. This is under the latest WLTP fuel economy tests, so these figures should be fairly achievable in the real world."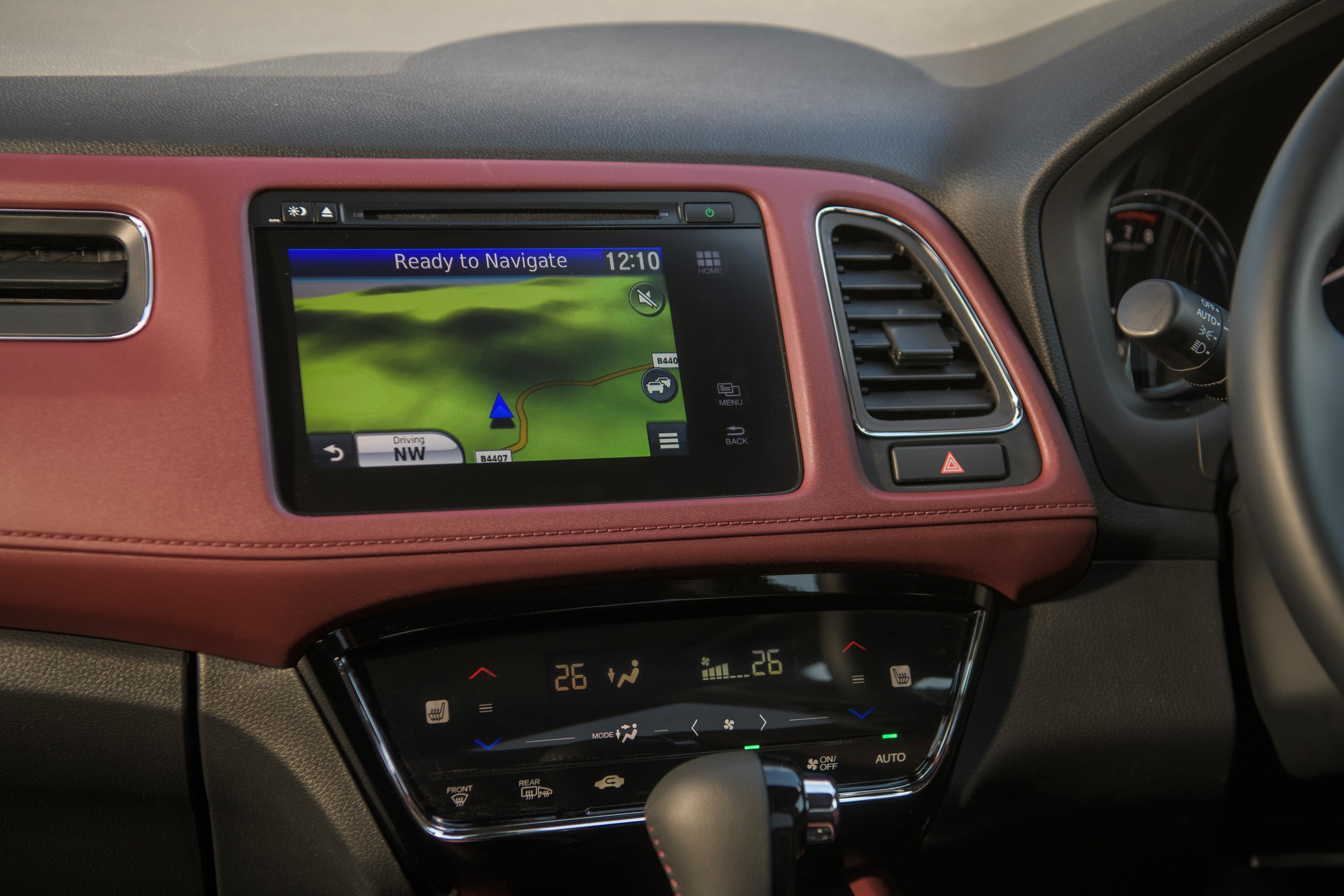 Petrol models returning between 41.5 and 42.8mpg with the manual gearbox, while the CVT transmission lowers this to between 40.9 and 41.5. The turbocharged Sport models return 42.2mpg with the manual transmission and 39.2mpg as an auto.
Insurance groups and costs
The cheapest Honda HR-V to insure the 1.5 i-VTEC S, which is in insurance group 19. The most expensive is the Sport model, which falls into group 27.
That's actually quite high compared to rivals. The Suzuki Vitara falls between insurance groups 11 and 21, while the Nissan Juke ranges from 11 to 20. The Honda HR-V shouldn't be particularly expensive to insure, but we'd recommend shopping around for a few quotes - particularly if you're an inexperienced driver.
VED car tax
Honda doesn't sell a hybrid or electric HR-V, so you're looking at a flat rate of £150 a year in tax after the first year. That's for cars registered since 1 April 2017. Earlier HR-V models will be taxed based on their emissions, so a pre-2017 diesel could cost as little as £20 a year in tax, while petrol models will set you back around £130 depending on specification and gearbox.
How much should you be paying for a used Honda HR-V?
"Values depend heavily on specification. You'll pay around £18,000 for a three-year-old EX model with the 1.5 petrol engine and CVT automatic gearbox. In entry-level S trim with the petrol engine and manual gearbox, you're looking at £12,000 for an example the same age."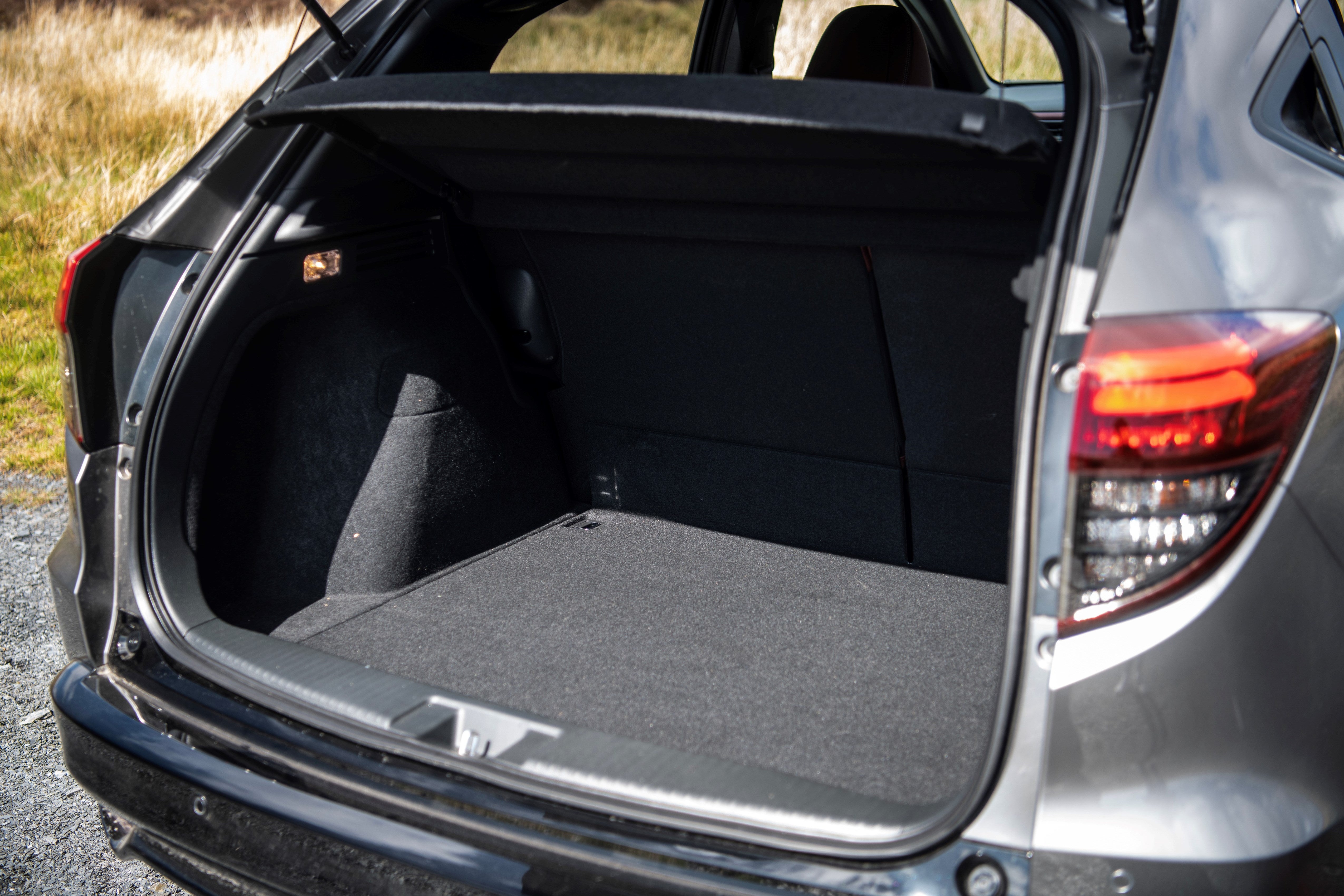 If you'd prefer something nearly-new, we'd recommend an ex-demonstrator or pre-registered example. These are cars that have been registered by dealers in order to meet targets, but are available in as-new condition for substantial savings over list price. We've seen S models with less than 100 miles on the 1.5-litre petrol engine selling for below £18,000 - a saving of nearly £3000.
There are even bigger savings available on higher-spec models. An as-new EX with the diesel engine can be bought for £22,000 - a saving of more than £6000. Sport models seem to be in greater demand, but you should be able to save £1000 over retail price with a bit of shopping around.
Trim levels and standard equipment
The cheapest S model covers the basics - things like 16-inch alloy wheels, fabric seats, cruise control and climate control. It comes with a CD player (remember those?) with an auxiliary jack, the clever magic seats and an electric parking brake.
Unless you want a particularly basic HR-V, we'd suggest looking for an SE model. This adds 17-inch alloys, front and rear parking sensors and even a reversing camera. Leather trim for the steering wheel and gear knob is a nice touch, while the seven-inch navigation system is a desirable feature.
The sporty, er, Sport looks the part - with 18-inch black alloy wheels, a black exterior highlights, and twin exhaust pipes. It comes with LED headlights, performance suspension and dark chrome exterior door handles. Inside, you'll find part-leather seats and sports pedals.
Topping the range is the EX model, also with 18-inch alloy wheels, keyless entry and start, an opening panoramic sunroof and roof rails. Leather seats (heated in the front) add a touch of luxury.
Keep me updated by email with the latest advice, news and offers from heycar
By submitting, you agree to our
privacy policy
.
Popular models
Similar models