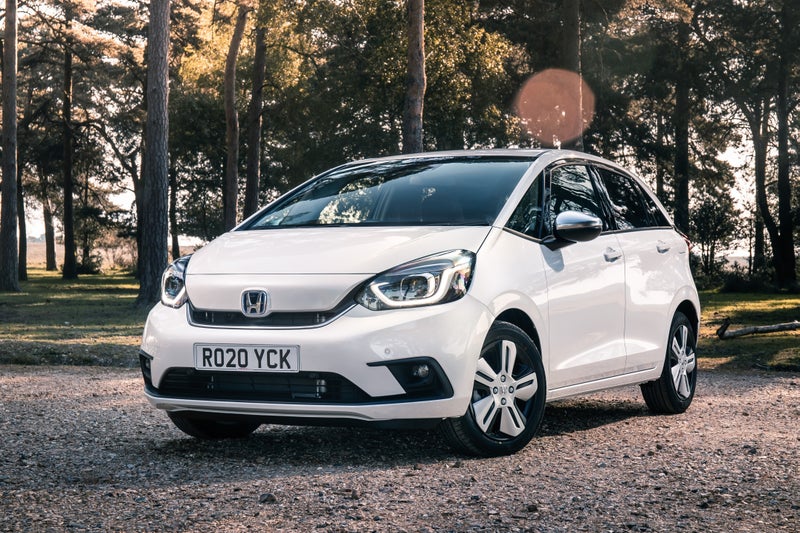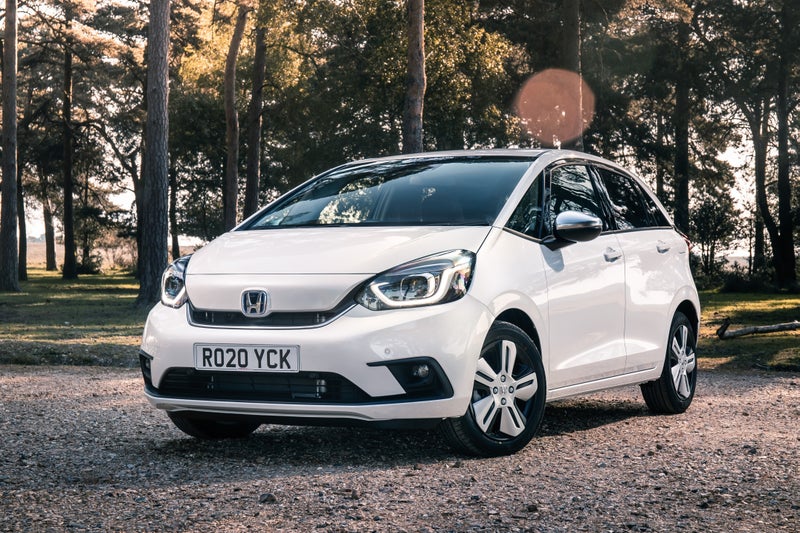 1/10
heycar rating
"Practical yet trendy little car"
Launched: 2020

Small hatch

Hybrid
Quick overview
Pros
Extremely versatile with big boot and 'Magic Seats'
Hybrid setup means it's relaxing to drive and ultra efficient
Trendier than you'd expect
Cons
Pricey compared to mainstream alternatives
Firm ride with 16-inch alloy wheels
Fuddy-duddy image won't appeal to everyone
Overall verdict
On the inside
Driving
Cost to run
Prices and Specs
Common questions
Overall verdict on the Honda Jazz
"No one ever regretted buying a Honda Jazz. It's the sort of car that'll continue to surprise you with its practicality, reliability and frugal fuel economy. The latest model is more appealing than ever, thanks to a modern cabin and clever hybrid engine setup."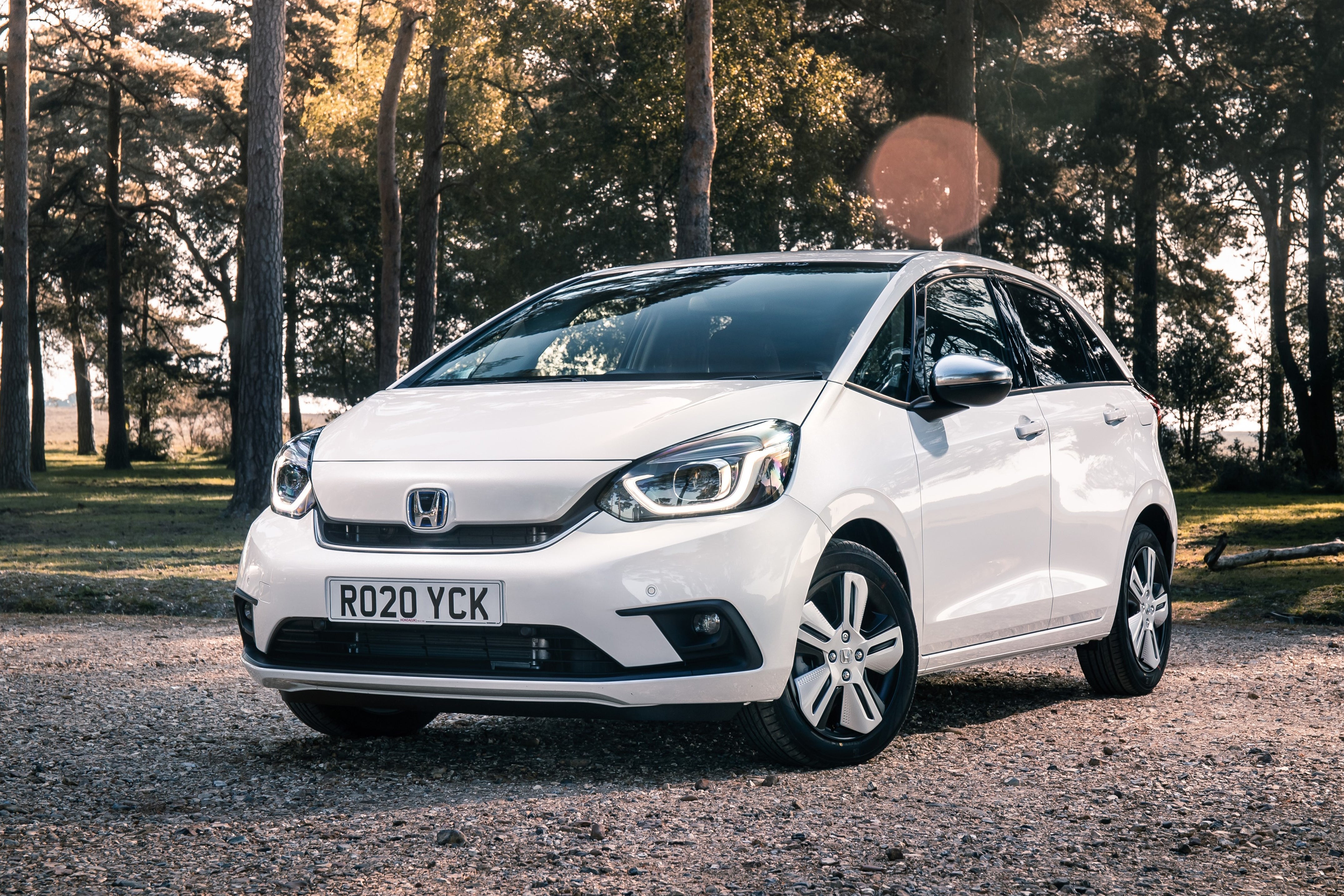 The Honda Jazz has always been popular with buyers looking for a small car with big car versatility. It's earned itself a strong following over the years, with owners praising its incredible practicality, low running costs and reputation for dependability. We'll explore all of this in our 2022 Honda Jazz review.
The latest Honda Jazz is trendier and more tech-packed than ever - yet it's retained many of the features which its loyal buyers have come to love. It's easier than ever to drive, with a comfortable (higher than normal) driving position, while its hybrid engine means it's incredibly efficient.
In true Honda Jazz form, the latest model is infinitely more practical than conventional small cars like the SEAT Ibiza or Ford Fiesta. There's a huge amount of headroom and fully-grown adults ought to be very happy sitting in the back - not least because someone else is doing the driving. The rear bench can flip and fold to provide people-carrier levels of practicality, while there's plenty of storage space for your odds and ends.
The new Honda Jazz combines a 1.5-litre petrol engine with not one but two electric motors and a single-speed gearbox. It drives just like an automatic petrol car, albeit one that can set off in silence. It's not a plug-in hybrid, so you don't have to faff around charging the Jazz, yet fuel economy should be very good. Officially it can return 62.8mpg.
With excellent visibility and an impressive turning circle, the Jazz is in its element around town. It can dart in and out of spaces, while parking is easy thanks to parking sensors across most of the range, and a reversing camera on high-spec models.
The Honda Jazz is also surprisingly refined on the motorway, meaning you can travel hundreds of miles in comfort. That 'big car' feel means you're well insulated from the outside environment, which is a good thing at 70mph.
Surprisingly, for a car that focuses on comfort and practicality, the Jazz does feel rather firm over less-than-ideal roads. You'll find yourself flinching if you hit a pothole at speed. As is often the case, you may wish to opt for one of the models fitted with smaller wheels if comfort is a priority.
While the Honda Jazz is well-equipped (provided you avoid the cheapest Honda Jazz SE) and ticks many boxes, you'll pay more for one compared to a regular little hatchback - especially as its newness means it's yet to trickle down onto the used market. Prices start in the region of £19,000, which will get you a pretty high-spec Fiesta.
If you're looking for the older version, you need our used Honda Jazz (2015-2020-) review.
Is the 2022 Honda Jazz right for you?
Do you want a small car that's still capable of carrying many people and things? Do you fancy a hybrid engine that'll provide very frugal economy? Do you want a car that'll be cheap to run in other ways, too, with a reputation for reliability? If so, yes, the Honda Jazz probably is the right car for you.
It's not perfect (that harsh ride and high price tag), but it's a really easy choice to justify - especially if you need a big boot or wish to carry people in the back. Traditionally the Jazz has always appealed to an older clientele, but it ticks the boxes for a wide variety of buyers - thanks to fresh new technology (the media system is leagues ahead of the old one) and trendy looks.
If you want the more 'SUV' version (and we use that in the loosest sense), you need our 2022 Honda Jazz Crosstar review.
What's the best Honda Jazz model/engine to choose?
There's only one engine available with the Honda Jazz, so that's a simple choice. It's just a matter of deciding which trim level you want, and that'll depend on how much you're prepared to spend and which features you think are essential.
We wouldn't bother with the spartan Honda Jazz SE, unless you really must stick to a strict budget. The mid-range Jazz SR is probably the sweet spot in the range, with the smaller (and therefore more comfortable) alloy wheels, the nine-inch media system and some nice interior touches to make it feel a bit more special. The top-spec Honda Jazz EX is more difficult to justify, but it does come with nice-to-have things like a reversing camera, navigation and heated seats.
What other cars are similar to the Honda Jazz?
Comfort and design: Honda Jazz interior
"The Jazz's interior uses features from the modern Honda E electric car to make it feel ultra-contemporary. A large windscreen lets in lots of light, while the sleek, fabric-covered dashboard is a classy touch. Throw in a retro twin-spoke steering wheel, and the Jazz's cabin looks considerably more fashionable than its dated predecessor."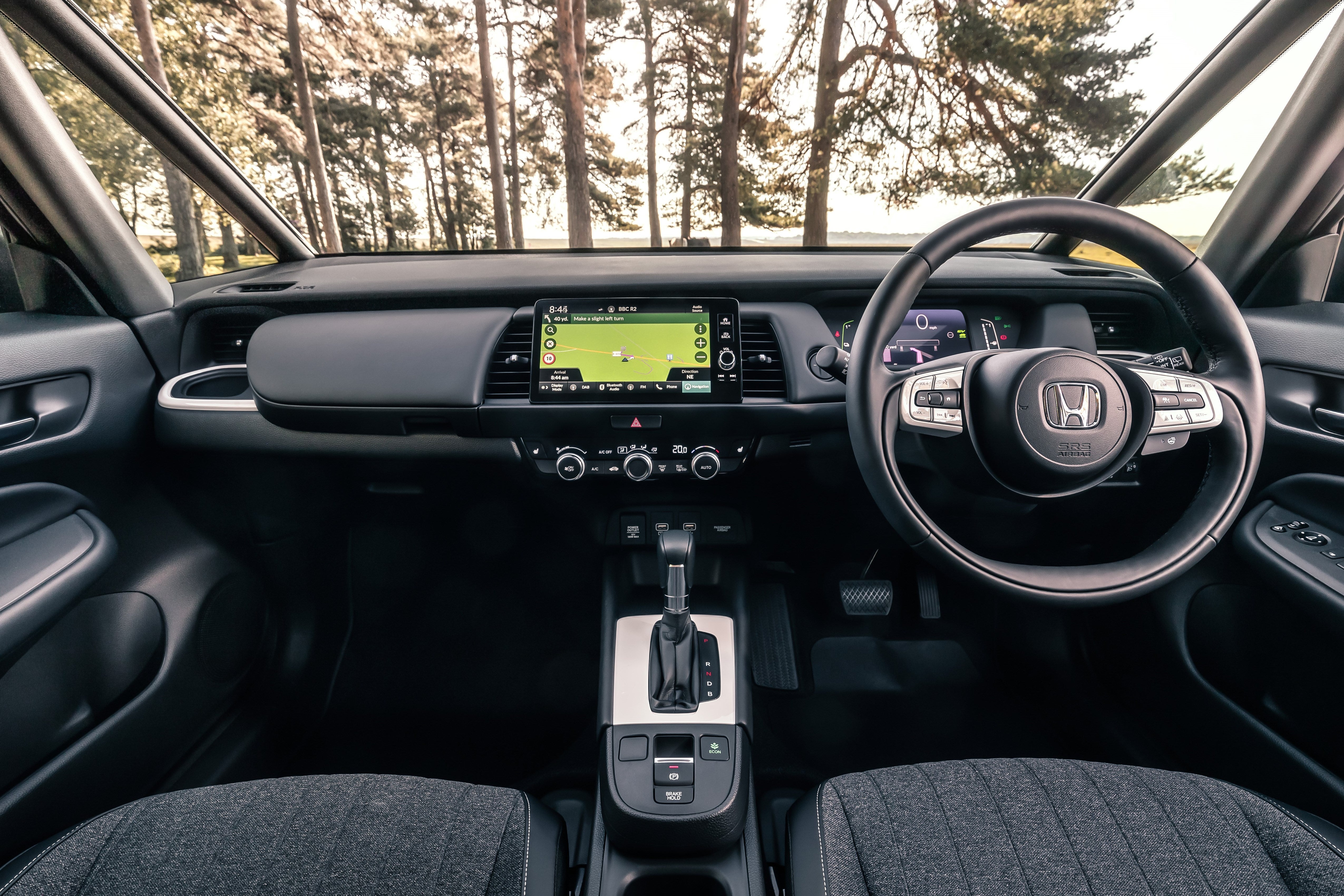 The Honda Jazz is comfortable, too. The seats are wider and more cushioned than before, while the part-leather upholstery fitted to most models looks particularly smart. Unfortunately, there's no adjustable lumbar support, but we found the seats to be pretty supportive after several hours in the car.
All models get a digital instrument cluster instead of normal, analogue dials. You can't modify this like in posher models but it still looks pretty modern. There's a lot of information on there - from the current speed to the temperature, mileage, time, speed of the cruise control, average fuel consumption… you get the idea. It looks a bit overwhelming at first, but your current speed is displayed in a usefully big font.
Quality and finish
As well as being considerably more stylish than before, the Honda Jazz's cabin feels better built, too. We wouldn't go as far as describing it as premium, but it's certainly more than acceptable for a car of this size and price.
A swath of fabric across the dash is a homely touch, although it's clear that it's hiding what would otherwise be a huge chunk of dark, shiny plastic. Start feeling around the top or the bottom of the dash and it's anything but soft-touch.
There are a few other tell-tale signs that you're sitting in a Honda rather than a Volkswagen. The shiny silver switches for things like the volume control and climate control might look swish, but they feel a bit naff to use. Little effort has been made to jazz up the staid plastics around the electric window buttons on the door cards, either.
It's generally a very well-finished cabin, although it is spec-dependent. You'll need to look for a Honda Jazz SR for soft leather interior panels and the smart black fabric/leather upholstery, while only top-spec Jazz EX models come with a leather-wrapped steering wheel and gear selector. Without these features, the basic Honda Jazz SE feels a bit drab.
Infotainment: Touchscreen, USB, nav and stereo in the Honda Jazz
While the entry-level Honda Jazz makes do with a small five-inch audio system with DAB radio and just the four speakers, the rest of the range comes with a slick nine-inch display. Designed to be operated like a smartphone, with a tiled home screen and customisable shortcuts, it's night-and-day better than the dated media system used in the old Jazz.
Our main gripe with the infotainment screen is its position on the dash. It's angled slightly upwards and not in the direction of the driver, meaning it can often reflect sunlight and make it difficult to read.
Still, the graphics are sharp and it's quick to respond while, unlike a lot of modern cars, you don't have to use the touchscreen to operate everything from the climate control temperature to the radio station. There are physical dials below the media system for the air conditioning, while buttons allow you to easily skip tracks, adjust the volume and skip to the home screen on the infotainment screen.
Of course, you'll still have to use the touchscreen for certain functions, like inputting addresses into the navigation or selecting a radio station. To help with this, Honda's provided a useful finger rest below the screen. There's a voice recognition system on hand, too. This virtual assistant can perform a wide variety of tasks, from answering questions about the car to searching for navigation destinations.
Talking of navigation - that's only available on top-spec Honda Jazz EX models. This isn't a big deal, though, as Apple CarPlay and Android Auto are standard on mid-range SR trim. These are great for mirroring apps like Google Maps from your phone onto the car's media system. In-car wifi is available, too, so you won't have to worry about running out of data.
Space and practicality: Honda Jazz boot space
At 4044mm long, the Honda Jazz is only a cigarette paper longer than a Ford Fiesta. It's 1694mm wide and 1526mm high, while its 2517mm wheelbase means there's more room inside than alternatives.
Indeed, practicality has always been one of the Jazz's selling points over more conventional rivals. When the latest model was in development, Honda says its designers were briefed that practicality simply couldn't be affected by the hybrid setup, even though they had a combustion engine, two electric motors, batteries and a fuel tank to contend with.
No one's going to have any issues with the amount of space in the front of the Jazz. There's a huge amount of headroom, while the driver's seat across all models adjusts for height. The seating position is on the high side (even in its lowest settings), but that gives you a good view of the road ahead and makes getting in and out of the car easy.
There's enough adjustment in the steering wheel for most Jazz buyers to find a comfortable driving position, too.
In terms of storage up front, there's a useful cubby box under the central armrest, while there's space in front of the gear lever to rest your phone. The door bins - while not massive - can take a small bottle of water and a few other odds and ends. If you're a fan of a grande latte, you might be disappointed as the cup holders aren't particularly big. There are four of them, though - two between the front seats and two in the dash.
If you're planning to regularly carry passengers in the back, something like a Fiesta simply doesn't compare. The Jazz's relatively boxy shape means there's a huge amount of headroom for rear-seat passengers, and six-foot adults can fit comfortably behind six-foot adults in the front. The one small caveat is that you shouldn't expect to carry a third person in the middle seat - it's too narrow for anything but occasional use. By a child. Talking of which - there are ISOFIX points on the outer seats, helping you fit child seats.
With the rear seats in use, the boot is a decent size if not a huge amount bigger than rivals. Officially it can swallow up to 304 litres of luggage, while it's a fairly practical shape. Access is easy, with only a small lip, and there's a useful cubby under the floor for hiding away anything you may wish to hide.
Like its predecessors, the Jazz has a party piece in the form of its Magic Seats. Essentially, the rear bench can flip and fold to provide up to 1205 litres of luggage space. Doing so is child's play, and it's genuinely incredible what you can fit in the back of the Jazz - from a mountain bike to plants from the garden centre (and you can keep them upright). Maybe we're just easily impressed.
Handling and ride quality: What is the Honda Jazz like to drive?
"The Honda Jazz is a really easy car to drive around town. The steering is usefully light, while a surprisingly tight turning circle means you can change direction without too many awkward shuffles of the steering wheel."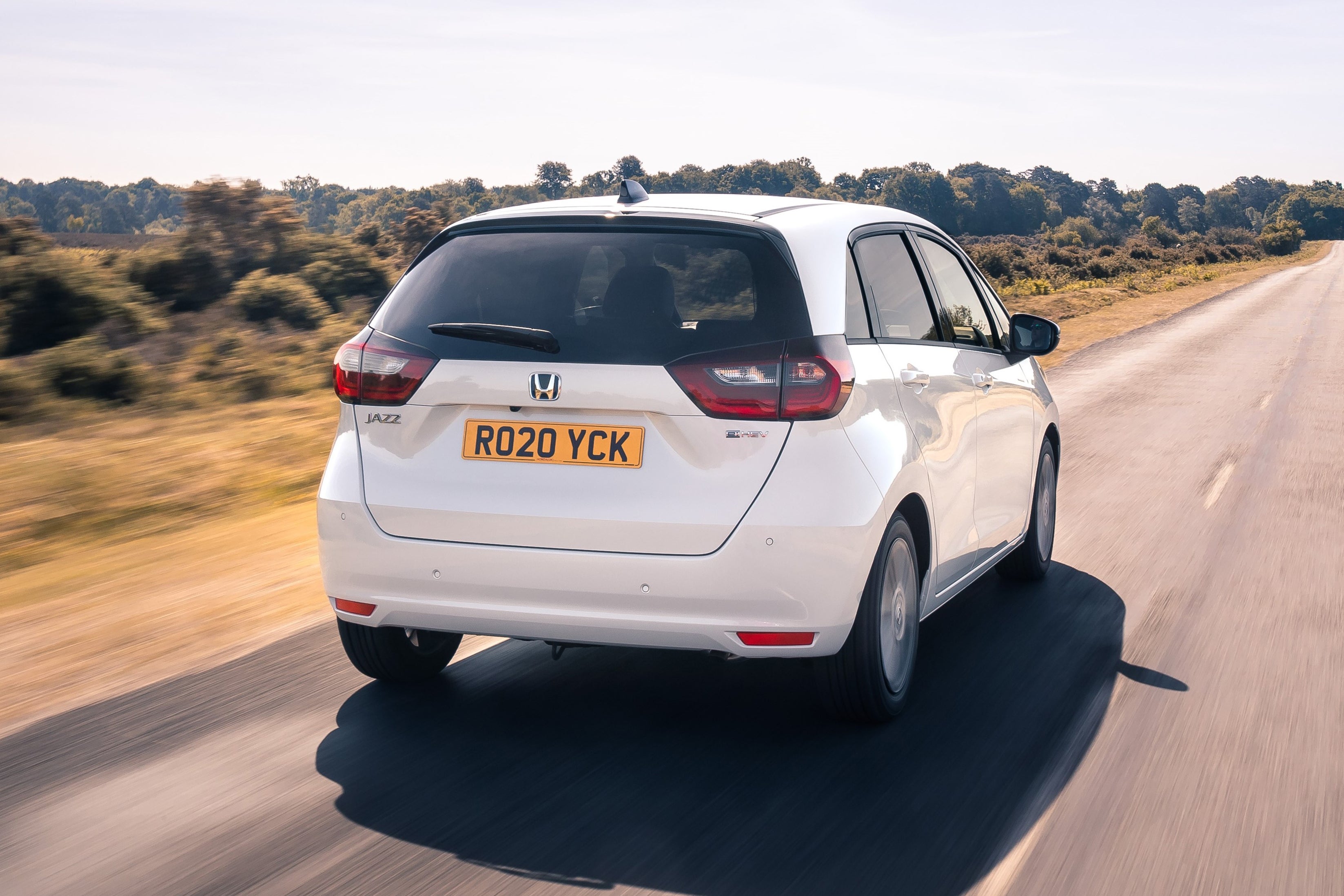 Visibility is excellent in the Honda Jazz, thanks to a slightly higher than normal seating position and a huge front windscreen with ultra-thin pillars. The sloping bonnet design makes it difficult to judge where the front of the car is, but that's true for most modern small cars - and front parking sensors are standard on all but entry-level Honda Jazz SE models.
Big door mirrors help with city driving, too, although it's a shame that the Jazz doesn't get the same clever digital rear-view camera as the Honda E electric car. Its relatively boxy shape and compact dimensions mean the Honda Jazz is quite an easy car to slot into parking spaces, helped too by the rear-view camera of Jazz EX models.
Out of town, the Honda Jazz does a commendable job of feeling like a much bigger, grown-up car. It's not as fun to drive as a Ford Fiesta down a winding road, but it feels safe and assured, without leaning too much in bends.
It's a shame, however, that the Jazz rides so harshly on bumpy roads. Hit a pothole and you'll notice a severe 'thwack' as it shudders through the cabin, and your passengers will complain if you don't slow down to near-walking pace for potholes. You might find that models fitted with 15-inch wheels are slightly more compliant than those we've driven with the bigger 16-inch alloys. Don't go thinking the rugged Crosstar model is any more comfortable in this regard, either.
What engines and gearboxes are available in the Honda Jazz?
The Honda Jazz is only sold with one engine and gearbox in the UK. This is a hybrid setup, comprising of a 1.5-litre petrol engine combined with two electric motors and a compact lithium-ion battery pack.
The Jazz's total power output of 109PS might not sound a lot, but its hybrid system - including a single fixed-gear ratio gearbox - means it actually feels pretty eager. It'll accelerate to 62mph in 9.4 seconds, which is comparable to a mid-range Ford Fiesta EcoBoost.
Under normal driving, the Jazz will run in Hybrid Drive mode, using both petrol and electric power to provide the best combination of performance and efficiency. At high speed, it'll resort to Engine Drive, saving electricity for when it'll be best utilised - such as around town. During low-speed driving, the petrol engine can cut out entirely, allowing the car to run under electric power.
It's all quite complicated stuff but it suits the car very well and it won't take long for you to get used to how it works. As there are no gears to worry about and acceleration is pretty much instantaneous, the Jazz is a very easy and relaxing car to drive and one of the best hybrid cars going.
Refinement and noise levels
Pleasingly, the hybrid system is so good at what it does that you'll struggle to distinguish which mode it's in. Listen carefully and there's a slight thrum as the petrol engine kicks in but, with the radio on, you're not going to notice it. When the petrol's running, it's considerably quieter than three-cylinder alternatives.
The engine and motor combination also makes stop-start traffic a relaxed affair. Most modern petrol cars will turn the engine off when you come to a complete halt, but the hybrid Jazz will do this before you come to a stop - relying on electric power to keep things like the lights, radio and power steering working. It can set off in electric mode, too, meaning you don't have to wait for the engine to start up - helping refinement levels.
There's a fair amount of road noise, not helped by the firm suspension and 16-inch alloy wheels. Wind noise is pretty well hushed, though, especially considering the Jazz's fairly upright shape. Indeed, it feels a very relaxed motorway car with the cruise control set at 70mph.
The single-speed transmission does make a bit of din if you floor the throttle. Under normal driving, though, this isn't really necessary and you'll soon learn to avoid doing that apart from the occasional overtake or on the shortest of motorway sliproads.
Safety equipment: How safe is the Honda Jazz?
All Honda Jazz models use a wide-view front camera to monitor the road ahead. This enables features like the Collision Mitigation Braking System, which can notify the driver and even apply the brakes to prevent a collision (or at least reduce the impact). Honda claims that it goes further than more rudimentary systems, able to spot pedestrians in the road at night or identify an oncoming vehicle during turning.
Further clever features designed to prevent a crash include the Road Departure Mitigation System, which will nudge the steering if it looks like you're about to venture off the road. There's also automatic high-beam headlights, adaptive cruise control and an intelligent speed limiter, which can adjust the top speed of your car depending on the current speed limit.
If you are involved in an accident, the Honda Jazz is a very safe car to be in. It uses more high-strength steel compared to the previous model, while no fewer than 10 airbags will keep passengers cushioned in a crash.
Unfortunately, there isn't room for a spare wheel in the Jazz. All models make do with a tyre inflation kit.
Euro NCAP awarded the Honda Jazz a five-star safety rating when it was crash-tested in 2020.
MPG and fuel costs: What does a Honda Jazz cost to run?
"Officially the Honda Jazz returns 62.8mpg. The most impressive thing about this is, in our experience, that should be fairly achievable."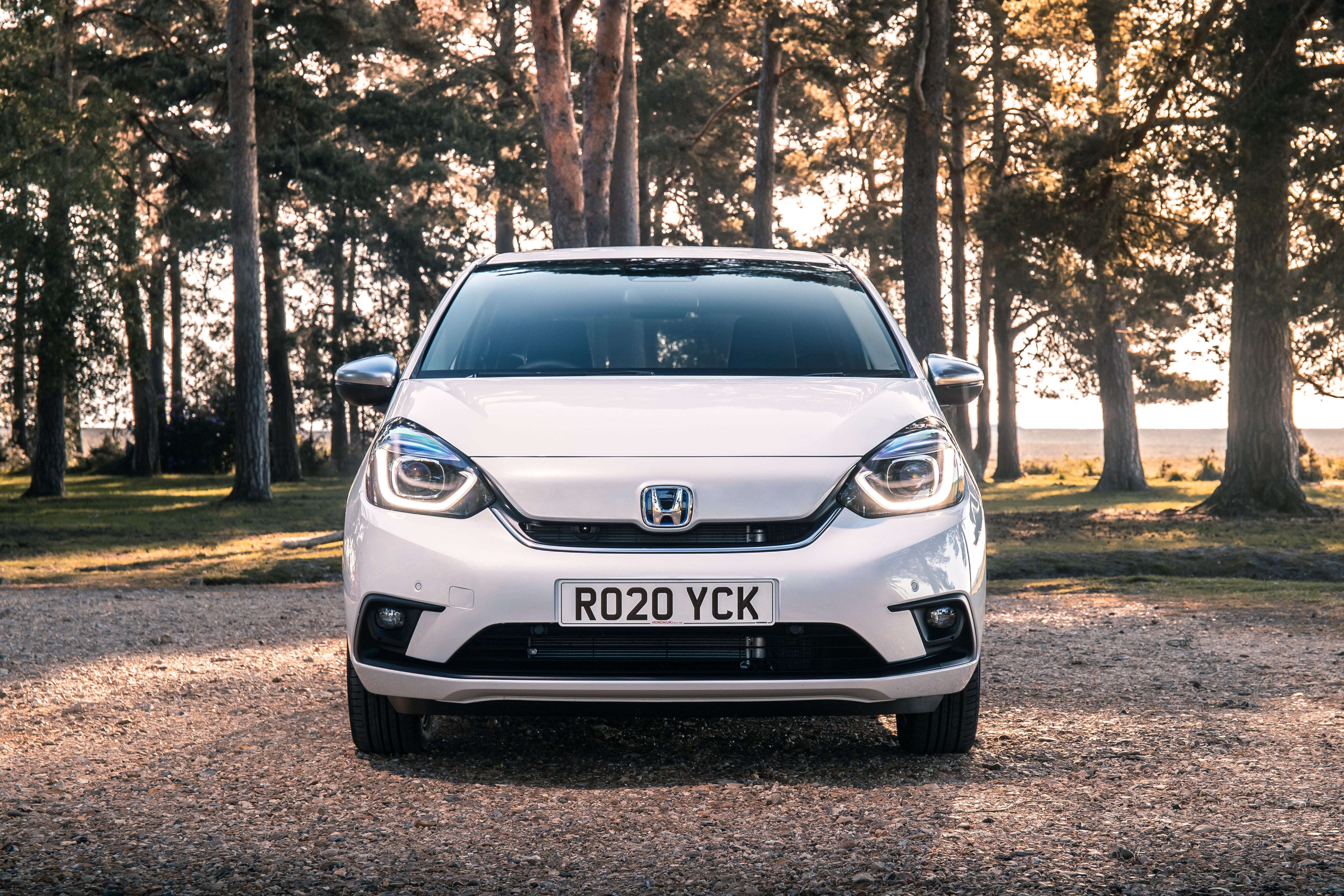 During our time in the Honda Jazz, we saw early-60s MPG with little in the way of effort. Rivals with small-capacity turbocharged engines might be similarly efficient on paper, but tend to be a lot thirstier in the real world.
With a 40-litre fuel tank, you shouldn't spend much more than £40 to fill the Jazz entirely. With some gentle driving, you might be able to get 450 miles out of a tank.
How reliable is a Honda Jazz?
If you're looking for a reliable used car, you could do a lot worse than buying a Honda Jazz. Over four generations, it's earnt itself a reputation as a totally dependable little car.
While the latest model is too new for any real reliability data, we don't foresee any issues on the horizon. Honda scored an impressive 9.36 out of 10 for reliability in the 2020 HonestJohn.co.uk Satisfaction Index.
Insurance groups and costs
Honda Jazz insurance groups are yet to be confirmed. A leading UK car insurer quoted us £309 a year for fully-comprehensive cover for a 40-year-old teacher with no motoring convictions. That's slightly more than a more conventional alternative like the Ford Fiesta.
VED car tax: What is the annual road tax on a Honda Jazz?
As the Honda Jazz is now a hybrid, it qualifies for a £10-a-year discount on its car tax. Don't expect VED rates from 10 years ago, though – you'll pay £140 a year in road tax, which is equal to other hybrids like the Toyota Yaris.
How much should you be paying for a used Honda Jazz?
"The latest Honda Jazz is still a very new model, but ex-demonstrator and pre-registered models are already trickling down onto the used market."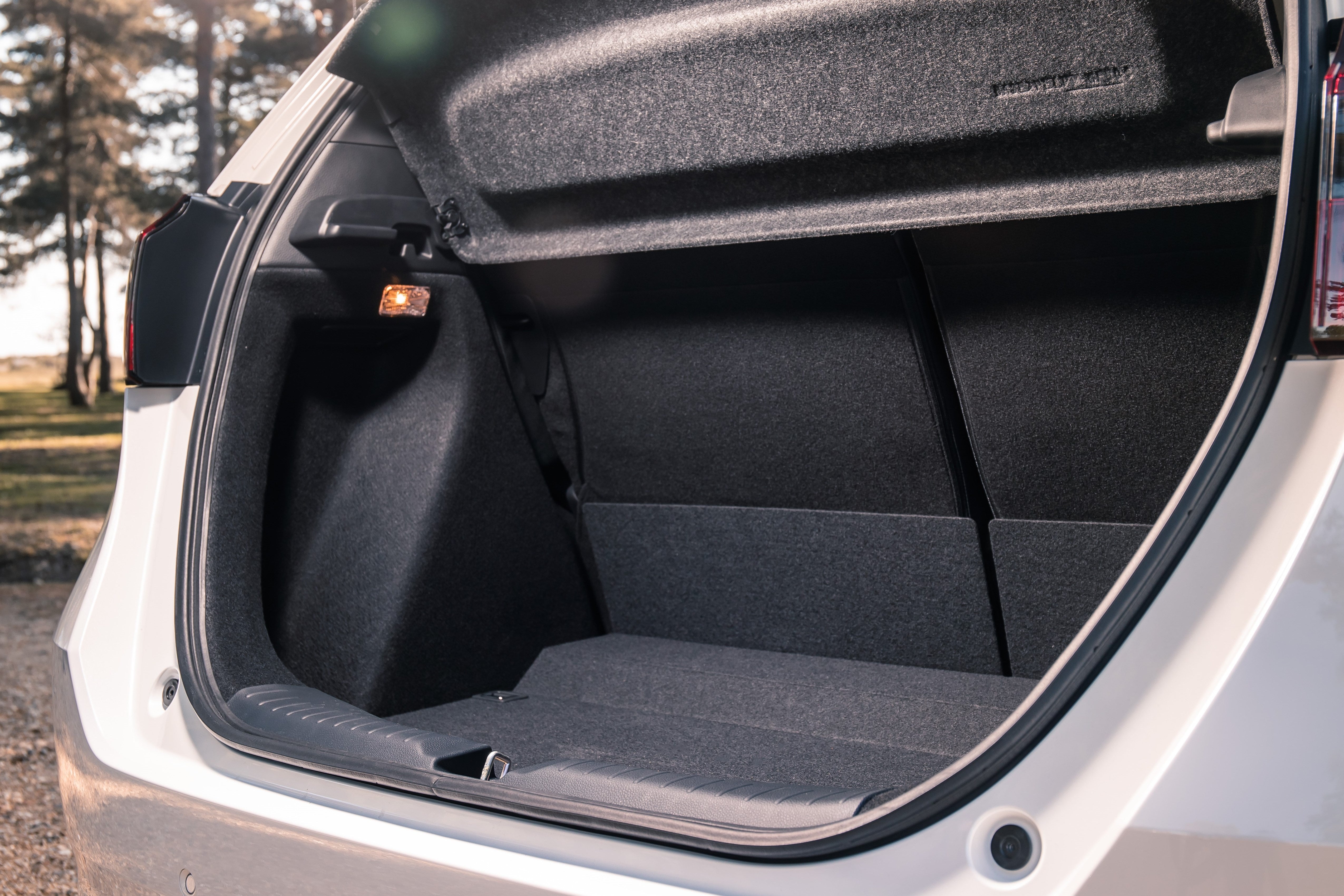 The latter are cars registered by dealers in order to meet targets, before being offered to customers at a reduced rate. Expect a small saving over the list price and the chance to skip the waiting list. We've seen Honda Jazz SE models on sale for around £17,000 – that's quite a hefty £2000 saving and puts the Jazz in line with more affordable hatchbacks. A high-spec Jazz EX with delivery miles on the clock can be picked up for around £20,000 – again, a saving in the region of £2000.
Trim levels and standard equipment
The most affordable model is the Honda Jazz SE, which is priced in the region of £19,000 when new. Standard kit includes 15-inch steel wheels, LED head and tail lights, DAB radio, an electric parking brake with hill-hold assist, air conditioning, front and rear electric windows, fabric seats and Honda's Sensing safety tech.
Most buyers will be better looking for the mid-range Honda Jazz SR, which adds the slick nine-inch infotainment display with Apple CarPlay and Android Auto, front and rear parking sensors, 15-inch alloy wheels and part-leather upholstery. That's quite a few nice-to-haves for not a considerable amount of extra cash - priced around £1200 over the SE when new.
Getting posh is the Jazz EX, which includes a rear-view camera, smart entry and start, heated front seats and steering wheel, blind-post information and Garmin navigation. The alloy wheels are upgraded to 16-inches.
On top of the EX is the Honda Jazz Crosstar EX, which we've covered in the separate Jazz Crosstar review but adds features like roof rails, a two-tone roof, a water-resistant fabric interior and a premium sound system.
Ask the heycar experts:
common questions
Is the Honda Jazz a reliable car?
Yes, the Honda Jazz is very reliable. There are very few reports of problems with the Jazz and it has a well deserved reputation for reliability. The Honda Jazz was the 9th most reliable car according to owners in the 2020 Honest John Satisfaction Index, scoring 9.78 out of 10.

Is a Honda Jazz worth buying?
If you want a practical, versatile and comfortable small car, the Jazz is an excellent choice. It may not have the youthful image of some of the competition, but it's very cheap to run and reliable, making it a great choice as a used car.

Which is better Honda Jazz or Suzuki Baleno?
The Suzuki Baleno may be bigger but the Jazz makes a case for itself as the better car all round. It offers a huge amount of space for such a small car and is very practical too. Plus the Jazz has a better quality interior than the Baleno.

What is the difference between the Honda Fit and Jazz?
Another quirk of this interesting little car is its double identity. In Japan, Sri Lanka, China and the Americas it's the Fit, but for the rest of the world, including Europe, it's badged as Jazz.

Can I buy the Jazz with a hybrid engine?
Honda doesn't get enough credit for its pioneering approach to hybrids. The previous Jazz (2008 - 2015) was the first small hatch to use petrol/electric power when a hybrid version was introduced in 2011. Even though the previous model was available with a similar powertrain in its native Japan, it was never sold in the UK. However the 2020 Jazz is hybrid only.

Honda Jazz cars for sale on heycar
1,604
Number of cars available
£8K - £27K
Price bracket of these cars
Colours available on heycar
Keep me updated by email with the latest advice, news and offers from heycar
By submitting, you agree to our
privacy policy
.
Popular models
Similar models