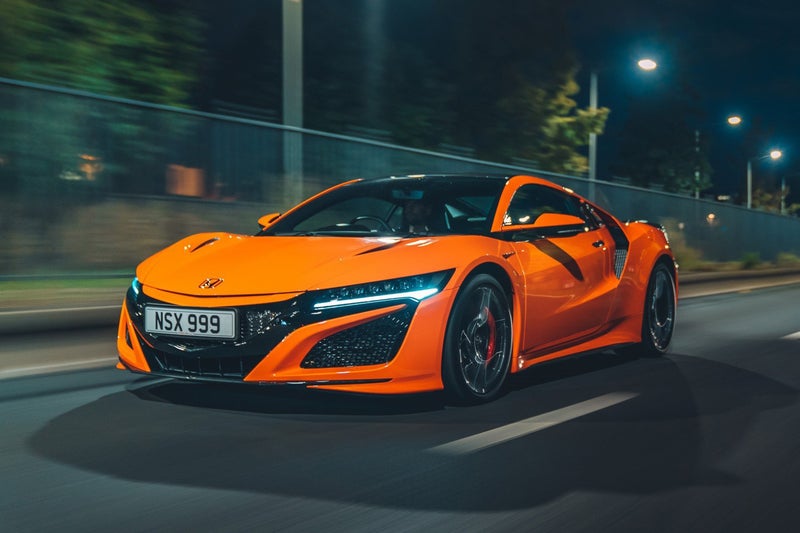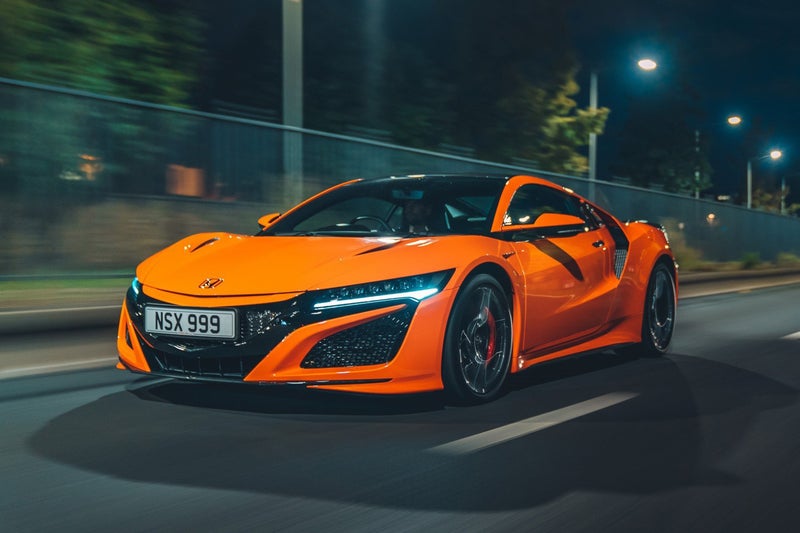 1/10
heycar rating
"Honda's daily, enviro mental supercar "
Launched: 2019

Performance

Petrol
Quick overview
Pros
A new kind of supercar, that's refreshingly different from its rivals and fast and able
Silent pull away mode under electric only power will please neighbours
If you like technology there's tons to geek out with the NSX
Cons
The interior is more Civic than supercar, which at £150,000 isn't good enough
It weighs a lot, and feels heavy on the road
We can't help thinking the twin turbo 3.5-litre V6 without all of the hybrid tech would be more fun
Overall verdict
On the inside
Driving
Cost to run
Prices and Specs
Common questions
Overall verdict
"With Honda's second NSX it's moved the supercar genre in an entirely new direction – at least in the price point it finds itself competing in. Technologically it's a marvel, though there are some weighty trade-offs, not least that bulk and lack of brand image and interior."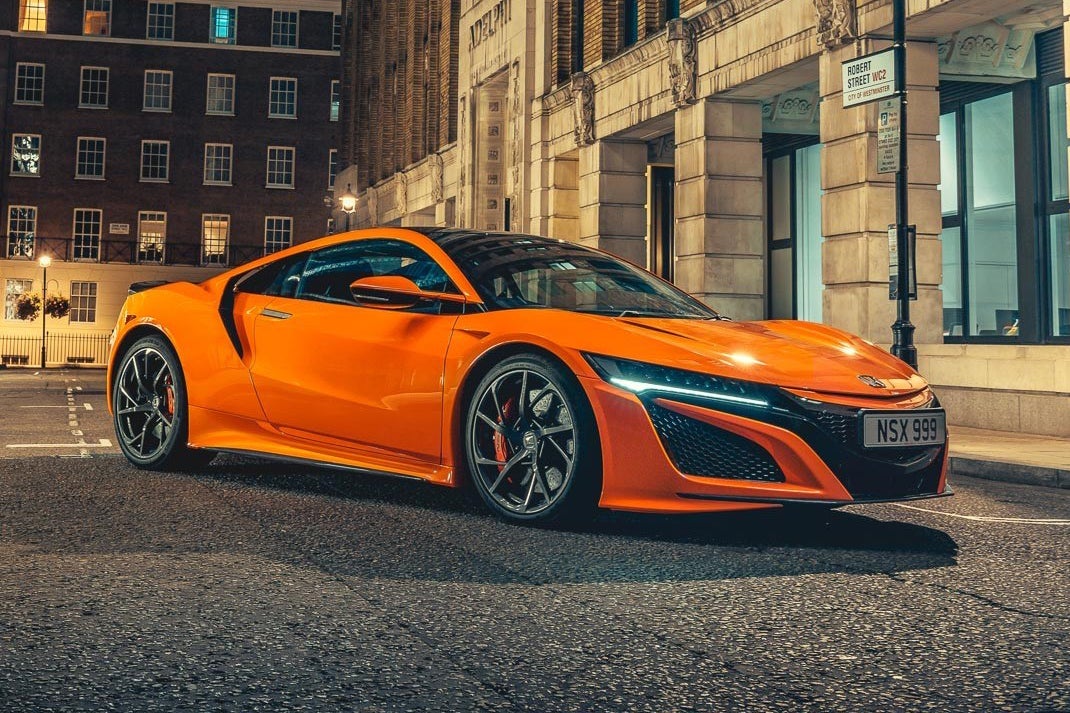 If you can live with these, it's an incredible machine. A new kind of supercar, for a new age, the NSX is ahead of the curve, but it's a tough car to recommend against conventional competition.
The Honda NSX was always a considered sports or supercar choice against the established norm in the marketplace, Honda creating its first New Sports eXperience model in 1990, it surviving through to 2005.
That original NSX revolutionised the sports car marketplace, and with it having some input from F1 driver, Ayrton Senna, the NSX has long been a cult car among enthusiastic drivers, it genuinely standing up for comparison alongside its contemporary Ferrari, Porsche and many other exotics alternatives.
Its eventual replacement arrived in 2016, Honda once again carving its own path in the supercar market. That new experience for the next generation means the NSX now comes with hybrid drive, it adding three electric motors to a twin-turbocharged 3.5-litre V6 petrol engine. Unconventional, and arguably the future, but well in advance of any rivals adopting a similar drivetrain strategy, outside occasional, limited run hypercars like the McLaren P1, LaFerrari and Porsche 918 Spyder.
Honda's NSX isn't priced up in the lofty £1m arena such machines operate in, but the near £150,000 it costs is quite a tricky number to swallow, as for all Honda's well-known engineering prowess, it's a brand more associated with pensioners driving Jazz hatchbacks than a genuine Ferrari alternative.
The performance is right up there though, Honda not actually quoting a 0-62mph, just saying that it's 'less than three seconds'. To match that, then, you'll need something like a 911 Turbo, McLaren 720S or Ferrari 488 GTB. Exalted company indeed.
That twin turbocharged V6, in combination with the three electric motors of the hybrid system, produce a combined output of 581PS and 646Nm of torque.
Two individual electric motors drive the front wheels, the third electric motor effectively providing a torque filling effect to the 3.5-litre V6 twin turbo petrol engine. What that allows Honda to do is juggle the power around, even though the electric motors are comparatively small in their output, creating a torque vectoring effect, giving the NSX remarkable agility.
That agility is despite the NSX's ample bulk, three motors and the battery pack that's required to power them, and all the associated control electronics meaning the NSX tips the scales at over 1,800kg, that about 150kg more than something like an Audi R8, and 300kg more than a Ferrari 488 GTB.
There's only so much that the clever technology can mask. Likewise, the NSX's interior just doesn't stand up to scrutiny alongside its more exotic rivals, Honda's mainstream manufacturing status very evident inside. That's a price some will be willing to pay, not least because the NSX is so different, not just in its technical specification, but overall, it's very deliberately not a Ferrari, Porsche, Lamborghini or suchlike, and that's got its own draw to some buyers in this marketplace.
They're rare cars as a result, though should you see one you'll not be left guessing to its status, its wedge shape, defined by the wind tunnel, and mid-engined (at least the combustion one, that is) layout being genuinely exotic, even if the badge attached to it isn't.
Is the Honda NSX right for you?
Only you'll know that, but if you're reading this you're at least interested in it. It's might be a hybrid, but its electrical power isn't really about environmental performance, and instead delivering greater performance, and agility. The likelihood is you'll have lusted after the original, or, indeed, have been an owner, and enjoy the eccentricities and engineering behind Japanese cars.
There's a good chance you'll have considered a Nissan GT-R at some point, too, or own one, though, likewise you might well be a serial super and sports car owner and want something a little bit different.
The NSX is certainly that, and will mark you out as daring and not slavish to the sports and supercar norm. Either that, or you've gone into the one of the only two UK Honda dealers set up to sell NSXs (both in London) looking to buy a Jazz and decided that, hell, life's too short, cashed in a chunk of your pension and ordered one.
What's the best Honda NSX model/engine to choose?
One choice of NSX, from those two UK dealers, though if you've a holiday home, or work in Europe there are NSX dealers in Frankfurt, Leipzig, Dusseldorf, Padua, Zurich, Paris and Monaco – of course. That single specification means you're pretty much left with choices like what colour, and which, of the limited, options you'll want over the standard equipment.
Those options include things like carbon fibre trim inside and out, the combined cost of both being around £10,000, while you'll want a rear parking camera. Garmin nav is standard, but we'd use our phone (Android Auto and Apple CarPlay being supported) for navigation, as the standard system is pretty poor. Just don't order it painted red, otherwise you'll get tired of being asked all the time what kind of Ferrari it is.
What other cars are similar to the Honda NSX?
In relation to drivetrain, with the exception of a those all sold £1m+ hypercars, no other manufacturer offers a hybrid supercar presently. BMW i8's is more of a sports car in comparison, lower powered and far more economically focussed than the NSX.
That means the NSX is stacked up against conventional super and sports cars, while it's difficult to ignore the, much cheaper, Nissan GT-R here, too, as it's another Japanese performance car icon. Of the conventional competition cars like the Audi R8 and Porsche 911 Turbo S are the most obvious rivals, as they're both four-wheel drive and available for around the same price point as the NSX.
Comfort and design
"For a car that can list Audi's R8 and Porsche 911 as rivals the NSX is up against some tough foes for interior design, and we'll cut to the chase, it's just not up to the job."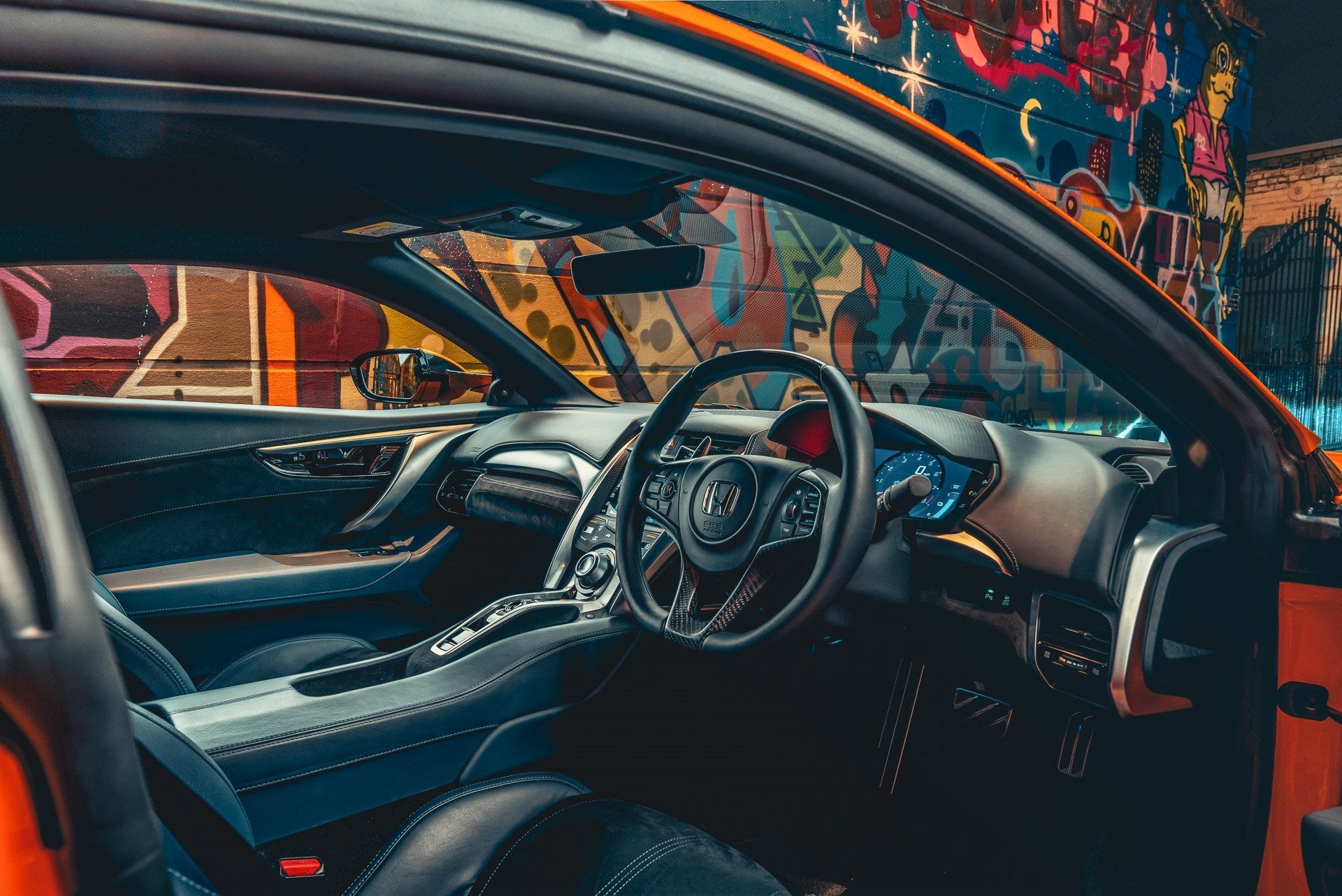 Like the busy exterior design the interior is a riot of shapes and surfaces, though outside at least they make a bit of sense. Inside it's just a mess, with a high central vents and low outriding ones, the centre touchscreen small by today's standards, the whole interior not particularly cohesive in its design, Honda's not even been able to resist over-designing the steering wheel, it being an odd square(ish) shape.
Comfort is decent, though, the sports seats support you well, even if they do feel like they're positioned a touch high in the cabin, giving you a more upright seating position than you might expect in something so overtly sporting.
With its original NSX Honda is said to have taken inspiration from jet fighter's canopies, with their good all-round vision. While the over the shoulder view is limited, that inspiration is evident in deep windscreen, which gives a great view out, the large rear view mirrors also helping you in traffic. For a mid-engined supercar, visibility is good, if bettered by the class-leading McLaren 720S in this respect. From the 2019 facelift the sports seats gained standard powResolved.
Quality and finish
You'll not find soft touch buttons or the sort of delightfully tactile materials you'd expect in a car with the NSX's price tag. Instead it's switches and controls that would be acceptable in a Civic or Jazz, but they are way too cheap feeling and looking to have any chance of creating a special, appealing interior. The digital numbers on the climate control have no place in any car these days, let alone a supercar.
There's lots of shine, whether it's the plastics, or the leather covering the seats, the NSX's materials as busy and mixed as the design, and the glossy gearshift buttons on the centre console do attract messy fingerprints. The paddle-shifters for the nine-speed automatic transmission feel unforgivably cheap, too, and the clicking action they provide feels more arcade wheel than real supercar.
For all its visual and tactile ordinariness, being Honda does at least reassure you that the interior will last forever, but we're not sure longevity factors high on the typical supercar buyer's list of desires. Indeed, the expectation that a car as dramatic as the NSX should have an interior that wows, and it does so, but for all the wrong reasons.
Infotainment
There's a nine-speaker 580 Watt ELS Studio Premium Audio system fitted as standard, it specifically tuned to work in the NSXs interior. It, amusingly, still features a CD player, but it's not at the expense of modernity, with the centre touchscreen allowing control of your smartphone, be it via Apple's CarPlay or Android Auto connection.
You'll be grateful for that, because the standard sat nav, a system that prior to 2019 you had to pay for, is very old-school in its looks and operation, looking like an aftermarket fitment. There's Bluetooth connection and USB connection, too while most of the touchscreen's functions can be accessed via the controls on the steering wheel.
The instruments ahead of you are largely contained within a screen, too, these changing as you switch between the various driving modes. The central 7-inch touchscreen is small by today's standards and its operation isn't particularly clever, with plenty of confusing menus to navigate, it not helped by being slow to respond, either. At least the stereo does sound good, but, like the rest of the interior, you'll have to be a committed NSX buyer/owner to consider it against its rivals.
Space and practicality
It's a mid-engined supercar, so the expectation is of compromises when it comes to space and practicality, and so it transpires. There's decent space if you're under 6ft, but taller drivers might find it a touch cramped behind the wheel, thanks to the relatively upright driving position.
There's plenty of shoulder room, but you're separated by a relatively wide centre console, to which there's an awful (removable) cupholder sticking out of it into the passenger seat space. It looks exactly like the afterthought it clearly was.
Oddment storage throughout is very limited, too, there being no door bins, and the centre console area is so heavily contoured you'll be doing well to find anything that can fit in the spaces within it. There's a glovebox, but it's not huge, and while most rivals offer a little bit of space for slim bags or suchlike behind the seats, there's no such gap here.
There is a boot, accessed by a large hatchback that also reveals much of the plastic surrounding the engine. The boot volume is 110 litres, which is just a couple of litres shy of the similarly mid-engined Audi R8.
Unlike the Audi though the NSX's boot is positioned behind the engine, instead of in the front, and its narrow, high opening makes getting things in tricky. The pronounced hump in the boot floor also makes getting hard carry-on luggage tricky, if not impossible, meaning you'll be limited to soft, small bags if you're heading off for a weekend. The luggage compartment's proximity to the 3.5-litre turbocharged V6 does also mean that the boot get very hot, so if you shop at Iceland, admittedly unlikely, you might have to get them to deliver…
Handling and ride quality
"Given the complexity of what's going on underneath the NSX's skin it's a credit to Honda that it has managed to retain some natural feel to how it drives, despite its clear differences to the supercar norm."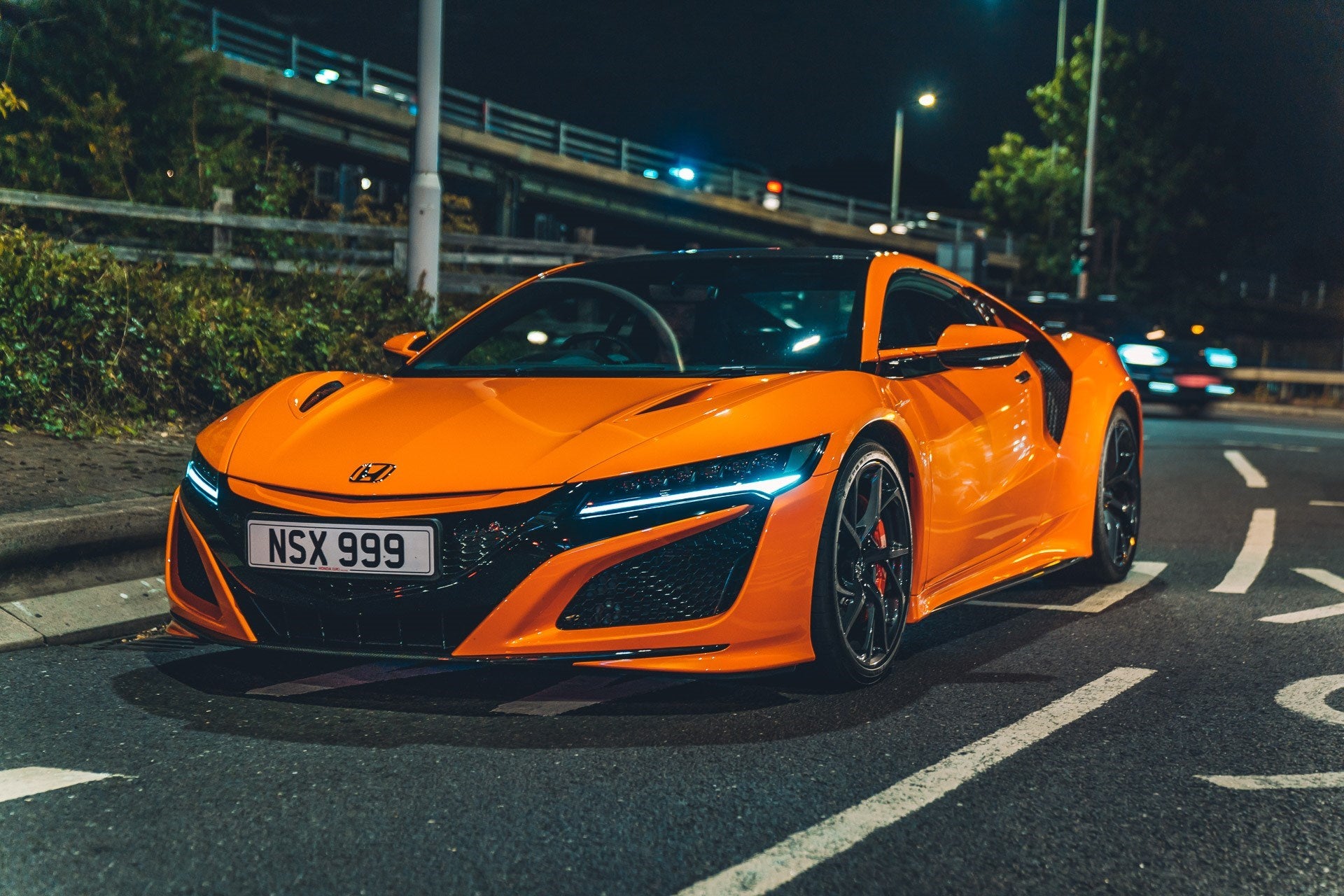 The hybrid system means the electric motors can help with the car's handling, those motors working on the front wheels allowing individual control of them, adding torque to under power, or even on the overrun, to aid the NSX's turn in ability, or its mid- or exit of corner balance. It's all hugely clever, and does mask the NSX's ample bulk quite convincingly, those electric motors adding instant input, which is so instrumental in making it feel lighter and more agile than it should be.
Honda revised the NSX in 2019, addressing some criticism that for all its ability it was a bit anodyne, the efforts are tangible, too, with the steering feeling better weighted and more responsive, while the chassis gained new Continental tyres, as well as revisions to the suspension bushes and the thickness of the anti-roll bars.
Correspondingly, the adaptive, variable magnetic dampers were re-calibrated to suit, giving a broader spectrum of choice, with the softest setting of the dampers now far more supple, which improves control on poorer road surfaces, or just comfort if you're not in such a hurry. Even so, bigger bumps aren't dealt with with quite the composure of McLaren's fine-riding 570S, or, indeed, the Audi R8's similarly magnetic fluid filled dampers.

The differing driving modes impact on the suspension, steering, gearbox and engine responses, through Quiet, Sport, Sport+ and Track modes, with Sport best for road use, though these are outlined in greater detail below.
Engines and gearboxes
Not just one engine, but four combined, with the 3.5-litre twin turbo V6 aided by a pair of electric motors acting on each of the front wheels, and a third electric motor helping torque fill the gaps that come from the internal combustion engine.
The NSX is four-wheel drive then, driving via a nine-speed dual clutch transmission, though the that broad spread of gears allowing both excellent acceleration and response, combined with a long ninth gear for decent economy during sustained high speed cruising.

The 3.5-litre twin turbo V6 delivers 507PS on its own, which is impressive enough, but those two front electric motors (with 37PS each) working the front wheels and the rear 'Direct Drive Motor' add 74PS to that. The Direct Drive Motor, with 48PS and 147Nm is coupled between the dual clutch transmission and that V6, its primary purpose to provide instantaneous torque when moving off, supplementing the V6's power and filling in at low revs. It also acts as a generator to recharge the hybrid system's batteries, as well as acting as the engine starter.
If you're adding up all those PS numbers and wondering why the combined total isn't higher than Honda's quoted 581PS and 646Nm total system power figures then you need to speak to a Honda engineer to explain why it isn't, but apparently the way it's calculated is correct.
Refinement and noise levels
Select Quiet mode from the driver choices and the NSX will prioritise the front electric motors, allowing a silent get-away, if you're leaving early in the morning, or arriving home late at night. When the V6 is required – quite soon, the electric only range of the NSX is extremely limited – then it fires as quietly as possible, the exhaust using its silencers to keep it as quiet as possible. In Sport mode, the one you'll likely use on the road, the V6 is mode dominant, likewise Sport+ and Track seeing the exhaust bypass its silencers to make a more authentic sports car sound.
There's a bit of tyre noise, as is the norm in cars like this, likewise, wind noise is obvious at speed, too, but in both respects it's no worse than its key rivals.
Safety equipment
Like all super and sports cars the NSX is too niche and small volume to be a target for independent crash testing like EuroNCAP's tests, but it'll have passed all the necessary safety and crash tests to allow it to be sold worldwide.
Standard equipment includes anti-lock brakes, driver and passenger front, side, knee and overhead airbags, electronic stability control, traction control and seatbelt pre-tensioners.
The NSX's largely aluminium structure should also provide good protection in the event of an impact. Optionally, the NSX can be specified with Carbon Ceramic brake discs, which removes brake fade in the extremes of track driving, but the NSX doesn't feel like a car that owners will be likely to take to a circuit, so they're a bit unnecessary, and hugely expensive, too.
Maximum EV range
The NSX will run briefly at speeds up to 50mph in electric only mode, but it's an add-on feature to the hybrid system, opposed to its primary purpose. Do it and you'll be lucky to get more than a mile or two on battery power alone, it operating in EV mode, however briefly, if you select Quiet mode in the driver choices.
MPG and fuel costs
"Don't think that the hybrid means that you'll be cruising past fuel stations with a glow of environmental smugness, the hybrid system here is about power and dynamics, not fuel economy."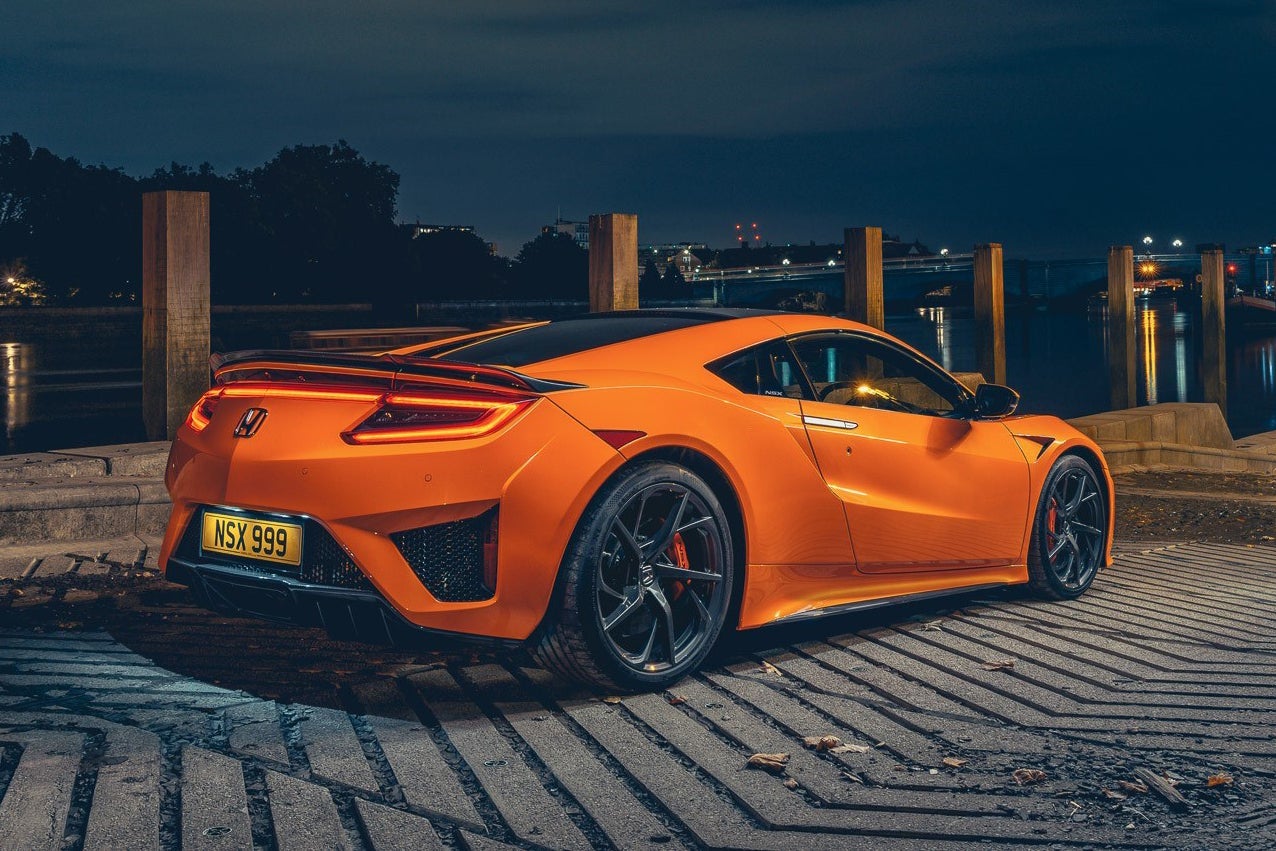 It does help, a bit, but the weight it also brings does mean that the improvements it brings are pretty limited. Honda quotes 28.2mpg on the official combined cycle, and CO2 emissions of 208g/km, and, certainly, on a cruise 30mpg and more is possible. Start to dig into the NSX's sizeable performance though and you'll see that mpg tumble, think late teens or early 20mpg sphere, while a track visit will easily see the NSX record single-digit consumption. That's true of every car in this category, though.
Insurance groups and costs
While it might not be as expensive to buy as its most exotic alternatives, we're pretty sure insurance will be as high as them – largely because of the huge complexity of it should it need to be repaired. Running costs will be in the realms of any car offering this kind of performance, then, and you'd better hope you live near London, as the only two dealers that can work on it are located in the UK capital. If you're further afield and it breaks down, Honda's recovery will get it back, and put you up in a 4/5 star hotel for the night if you're stranded.
VED car tax
208g/km CO2 might mean a slightly more palatable VED bill, but the near £150,000 cost of it puts it well into the higher payment category for the first 5 years of ownership. At this level of car ownership, though, VED rates just aren't a consideration, it's unlikely an NSX buyer will care about it.
How much should you be paying for a used Honda NSX?
"Higher mileage, relative here, we're still in the sub-10,000 miles sphere, NSXs are dipping below the £100,000 mark in the UK in 2020. That'll be for an early 2017 car, or higher mileage newer model. The bulk of those on sale are still very low mileage, so under 2,000, and most under 1,000 miles, for a decent circa £30,000 saving on a new one."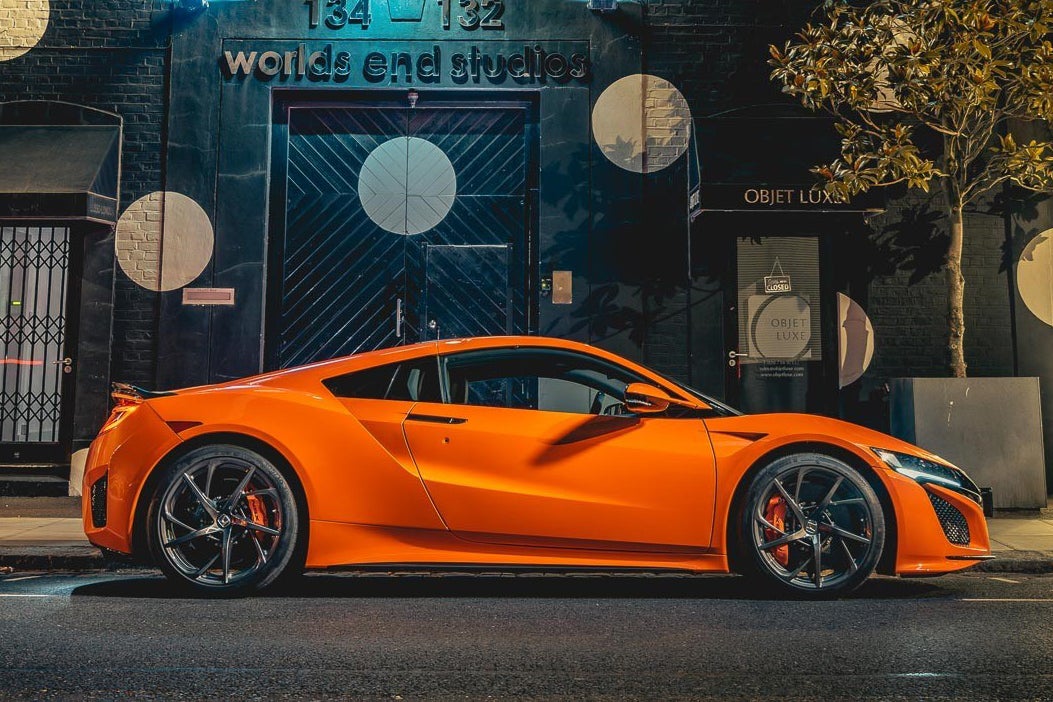 There are enough out there to find one in with the options you want, but not so many you'll be bamboozled by choice. It'll be a while before they're much cheaper, Honda only brings a handful into the UK each year, and that helps keep used values up, even for what's a niche car within an already niche marketplace.
Trim levels and standard equipment
There's only one NSX, and it comes very well specified as standard. The only options you might want to choose are manual sports seats to replace the electric ones, and different leather or Alcantara finishes inside. Otherwise it's pretty much a case of selecting the colour you want it painted.
Ask the heycar experts:
common questions
Is the Honda NSX a supercar?
It is. And anyone who disagrees hasn't felt the brutal thump of power as it gets to 62mph in under three seconds.

Is the NSX a Honda or Acura?
Some people think that an Acura is the same as a Honda. And they're right. Acura is owned by Honda and its models are generally a bit more poshed up.

How fast is a Honda NSX?
The Honda NSX has a 3.5-litre twin-turbocharged V6. It's good for 573PS and will get you to 62mph from standstill in 2.9 seconds.

What does Honda NSX stand for?
The letters NSX stand for New Car eXperimental and date back to the 1989 show car.

Answered by
heycar editorial team
Keep me updated by email with the latest advice, news and offers from heycar
By submitting, you agree to our
privacy policy
.
Popular models
Similar models