Hyundai Bayon Review 2022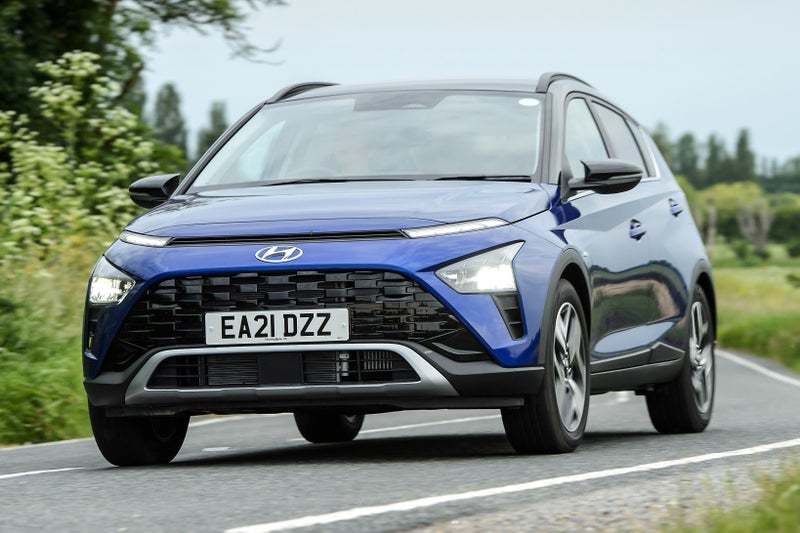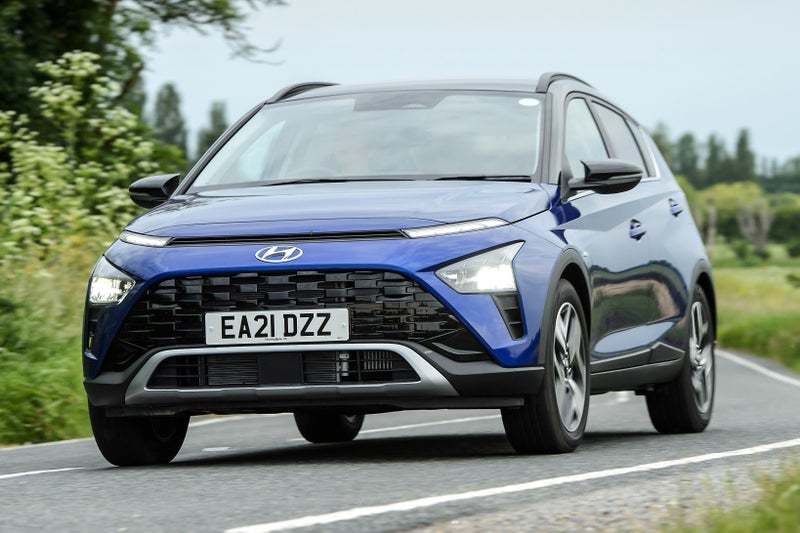 1/10
heycar rating
"Competent but unexciting small SUV"
Launched: 2021

Small SUV

Mild hybrid
Quick overview
Pros
Fancy digital dials as standard across the range
Efficient mild-hybrid petrol engines
Excellent value for money
Cons
There are more stylish small SUVs
Limited engine line-up
Not the most practical in its class
Overall verdict
On the inside
Driving
Cost to run
Prices and Specs
Common questions
Overall verdict on the Hyundai Bayon
"The Hyundai Bayon is a genuinely no-nonsense small SUV. It's not the flashiest, sportiest or even the most spacious crossover on the market, but it does represent impressive value for money. It'll be cheap to run, too, thanks to mild-hybrid technology that's standard across the range."
Essentially a slightly SUVified Hyundai i20, the little Bayon is smaller than the Kona and Tucson in the Korean brand's line-up. It's competing for much the same buyers as the Kona, though, as well as a long list of very good small SUVs including, to name a few, the Ford Puma, Skoda Kamiq, Volkswagen T-Cross, SEAT Arona, Peugeot 2008, Renault Captur, Nissan Juke, Toyota Yaris Cross... you get the idea.
So what's the Hyundai Bayon's unique selling point? The one thing that's going to tempt you into a Hyundai dealer when there are so many other excellent small SUVs on the market? Well, it looks pretty smart, while its starting price of a smidgen over £20,000 means it's fairly affordable as far as compact SUVs go.
The Bayon's interior is much like the Hyundai i20's. You don't even get a particularly high seating position, but all trim levels do come with an impressive digital instrument cluster rather than conventional dials. It's available with one of the best infotainment systems in the sector, too, in the form of a 10.25-inch central navigation system with Apple CarPlay and Android Auto. Maybe that's the Bayon's USP.
There are just three trim levels available: SE Connect, Premium and Ultimate. It might have a low price tag, but even the most affordable Hyundai Bayon SE Connect isn't exactly sparsely equipped. You get things like Apple CarPlay and Android Auto, a reversing camera and 16-inch alloy wheels – but, crucially, not the aforementioned 10.25-inch nav display.
It's worth hunting out a mid-spec Hyundai Bayon Premium for that alone, along with LED headlights, heated front seats, climate control and 17-inch alloy wheels. The posh Hyundai Bayon Ultimate, meanwhile, comes with gloss black exterior highlights, smart keyless entry, a Bose sound system and added driver-assistance tech.
There aren't a great deal of engine choices in the Bayon. In fact, the biggest decision you'll need to make in this regard is whether you'd like your 1.0-litre petrol engine with 100PS or 120PS. We'd recommend the latter.
You can pick between a six-speed manual or seven-speed dual-clutch automatic gearbox, which probably comes down to personal preference. All Hyundai Bayons come with mild-hybrid assistance – it's not a full hybrid (like the Toyota Yaris Cross), but it does have a small electric motor on hand to provide a tiny performance boost and help improve fuel economy.
It's an easy car to drive, its compact dimensions helping around town (not to mention the standard-fit parking sensors and reversing camera). It's comfortable on national speed limit roads, too – not as soft as a Citroen C3 Aircross, but not as firm as a Ford Puma.
We're not entirely sure the world needed the Hyundai Bayon. But it's a strong competitor in a crowded market and, in many ways, it's better than the pricier Hyundai Kona. You get a lot of standard equipment for your money, along with some impressive technology, and it'll be cheap to run.
Is the 2022 Hyundai Bayon right for you?
If you want a small SUV with lots of impressive technology (such as the standard-fit digital dials, slick infotainment and an array of driver-assist features), the Hyundai Bayon should be on your small SUV shortlist. It's not quite as practical as a Skoda Kamiq or as sporty as the Ford Puma, but it strikes a good balance and represents good value for money.
What's the best Hyundai Bayon model/engine to choose?
The engine choice is limited. We'd go for the 1.0-litre mild-hybrid with the slightly more powerful 120PS output, unless you're on a strict budget (in which case, the 100PS variant ought to be more than sufficient). The six-speed manual gearbox is fine, although we're yet to try the seven-speed dual-clutch auto.
In terms of trim level, the mid-spec Hyundai Bayon Premium offers a good compromise between desirable equipment and affordability. It comes with the desirable 10.25-inch navigation system, as well as nice-to-have features like the wireless phone charger, LED headlamps, privacy glass and heated front seats/steering wheel.
What other cars are similar to the Hyundai Bayon?
Comfort and design: Hyundai Bayon interior
"The Hyundai Bayon's cabin looks much the same as you'll find in the latest Hyundai i20. You get a sleek dashboard with a widescreen infotainment display perched on top, some snazzy finishes and a slightly gawpy steering wheel."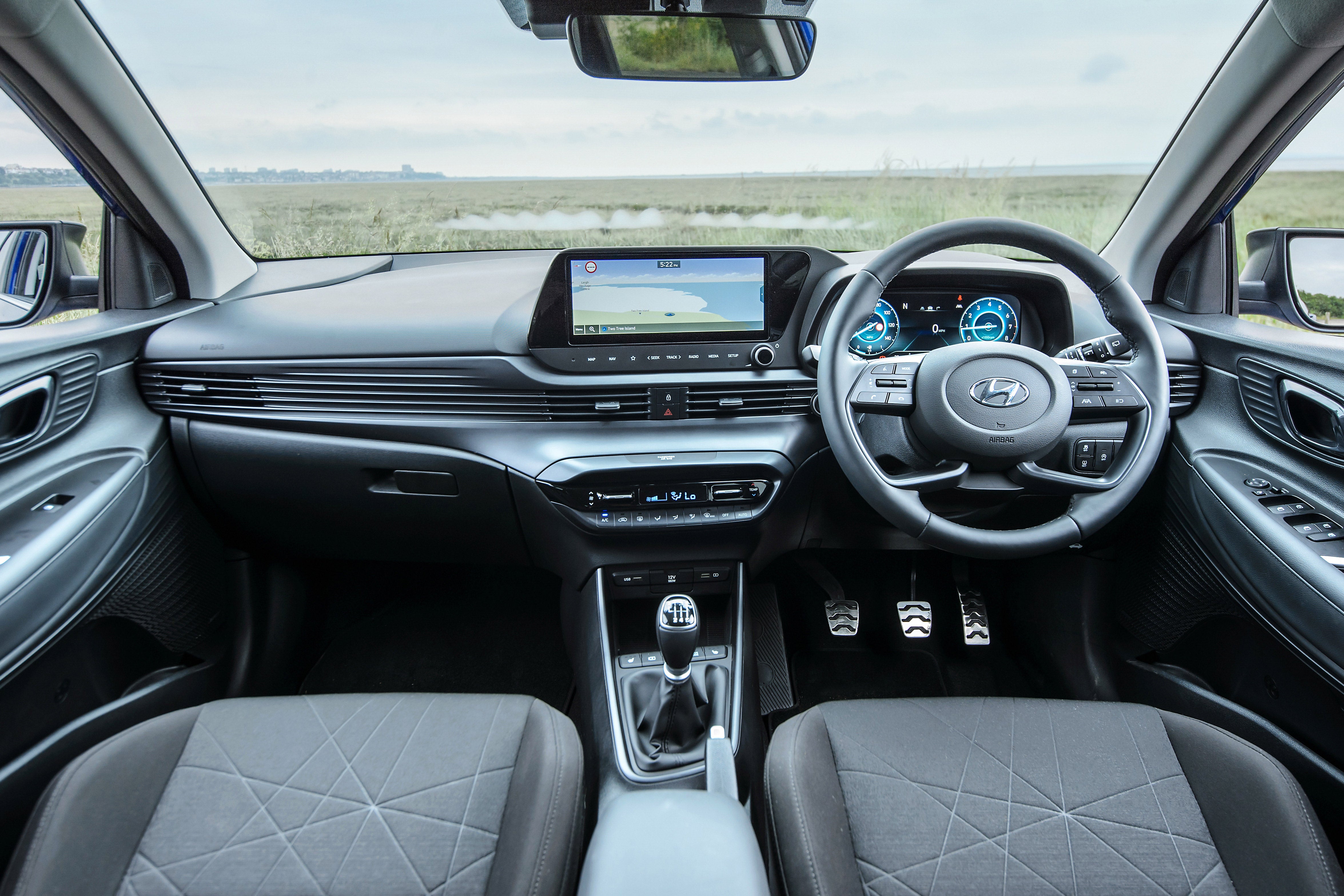 The Bayon's a comfortable car but it's worth noting that you hardly sit any higher in it than you do in the i20. People buy small SUVs like this for a high seating position but they don't always deliver. If that's what you're after, take a look at the slightly bigger Volkswagen T-Roc instead.
One of the most impressive features of the Hyundai Bayon's interior is its 10.25-inch digital instrument cluster. This is standard across the range, so even the most affordable Bayon SE Connect trim level doesn't come with conventional analogue dials. It looks really sharp and lifts the cabin from being a bit drab to borderline impressive.
Low down on the centre console, Bayon Premium and Ultimate models get a climate control system that can be operated via toggle buttons. It might look a bit old fashioned but it's much more user-friendly than touch-sensitive buttons or, even worse, the climate control being lumped into the infotainment system.
Quality and finish
Perceived quality is so-so. We doubt the Bayon's interior will fall apart within a few years, but would it have hurt Hyundai to fit a few more soft-touch finishes? There are quite a few hard slabs of plastic dotted around the cabin.
It's not all bad news, though. You do at least get a leather-wrapped steering wheel and gear knob as standard across the range, and it's fair to say even the entry-level Hyundai Bayon SE Connect could hardly be described as downmarket.
Infotainment: Touchscreen, USB, nav and stereo in the Hyundai Bayon
The entry-level Hyundai Bayon SE Connect comes with an eight-inch central touchscreen display which we're yet to sample – but it's probably worth looking for a Premium or Ultimate model for the more impressive 10.25-inch navigation system. This is one of the best in the class, with sharp graphics and logical menu layouts. Apple CarPlay and Android Auto are standard, too, so you can access your Spotify playlists when you're sitting in traffic.
Both Hyundai Bayon Premium and Ultimate models also come with a wireless phone charging pad, which is a nice-to-have feature, while the top-spec Ultimate also gets a classy Bose sound system.
Space and practicality: Hyundai Bayon boot space
The Hyundai Bayon measures 4180mm long and 2023mm wide, while it's 1490mm tall. That means it's one of the smaller small SUVs, if that makes sense, sitting beneath the likes of the Hyundai Kona, Skoda Kamiq and Renault Captur in size.
It doesn't feel particularly cramped inside, though. Sure, a family might be better looking at a Hyundai Tucson instead, but it's a bit more versatile than the i20 hatchback. There's loads of headroom, while it's wide enough to ensure those in the front aren't awkwardly bashing elbows. You get plenty of interior storage, too, including a generous glovebox and fairly big door bins.
You can squeeze three into the back of a Bayon if you really must, while there are Isofix child seat mounting points fitted to the outer rear seats. Adults will find their knees touching the front seats, while there's no sliding rear bench like you'd get in a Volkswagen T-Cross.
In terms of boot space, the Hyundai Bayon can take 334 litres of luggage, which is pretty mediocre for this class. If you need a bigger boot, we'd recommend a Skoda Kamiq instead.
Handling and ride quality: What is the Hyundai Bayon like to drive?
"The Hyundai Bayon slots nicely between the Citroen C3 Aircross and Ford Puma in the handling stakes – meaning it strikes the right balance of comfort and agility."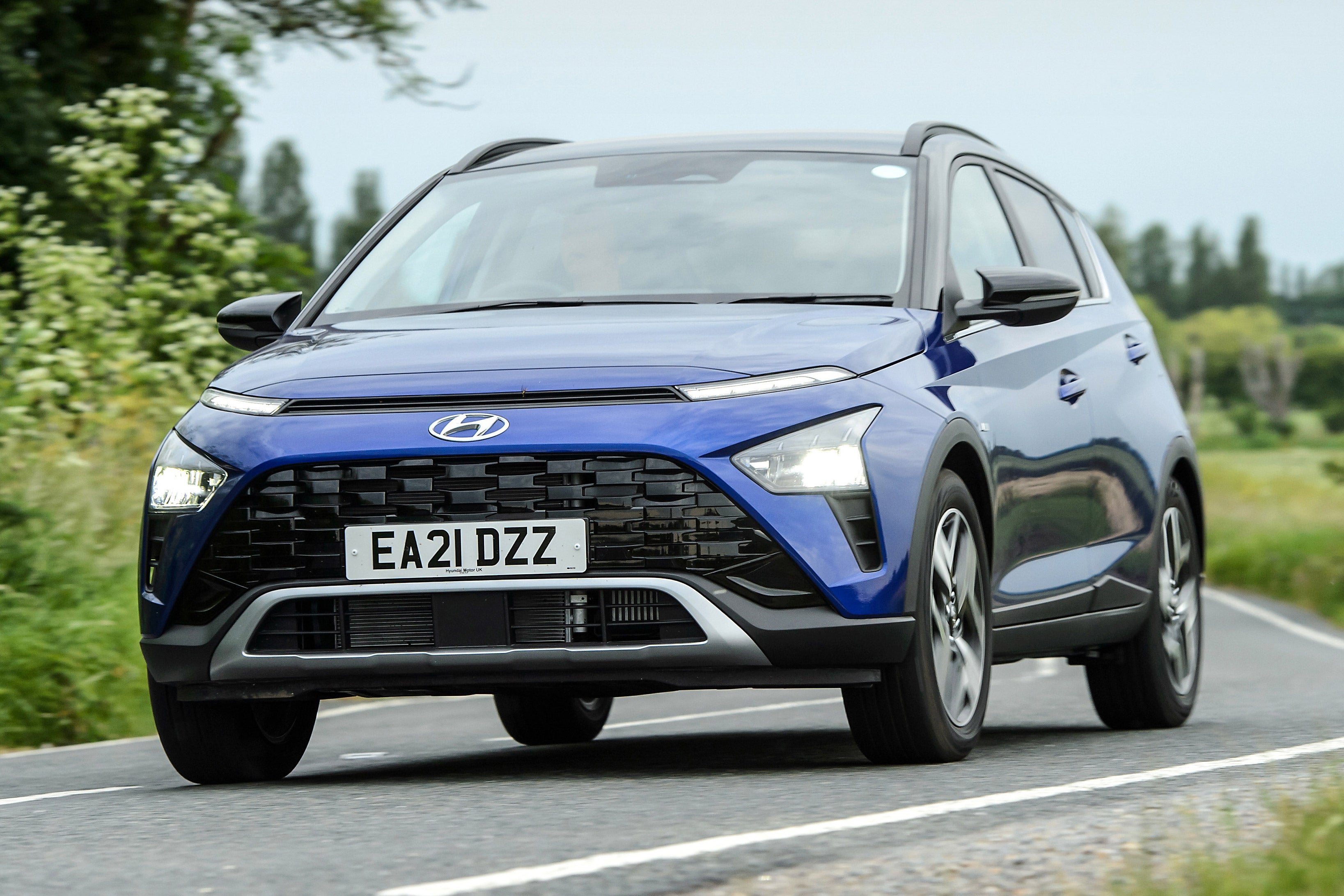 It drives just like a slightly higher riding Hyundai i20, really, with light yet precise steering and a plethora of tech on hand to keep you on the straight and narrow.
Selecting sport mode on the centre console adds a bit of weight to the steering but it otherwise a bit pointless. If you want a small SUV that's fun to drive, you'd be much better looking at the aforementioned Ford Puma instead.
Ride quality is pretty good, coping well with bumpy road surfaces. It helps that you can't buy the Hyundai Bayon with anything bigger than 17-inch alloy wheels, while the entry-level Bayon SE Connect comes with 16-inch alloy wheels. Generally, the smaller the wheel the bigger the tyre, and that provides a squishier ride quality. It's certainly the case here.
What engines and gearboxes are available in the Hyundai Bayon?
The Hyundai Bayon is offered with a 1.0-litre mild-hybrid engine available with a choice of two power outputs (100PS or 120PS) along with a six-speed manual or seven-speed dual-clutch automatic gearbox.
Don't get too excited about the word 'hybrid' – this isn't a proper ('self-charging') hybrid, rather a 48-volt system which uses a degree of electrical assistance to help out the petrol engine. As such, the car can't travel under electric power alone (aside from, perhaps, as you coast to a stop). It ought to be very efficient, though, and the mild-hybrid setup provides a small boost in performance.
Not that the Hyundai Bayon is particularly rapid. The 100PS model accelerates from a standstill to 62mph in 10.7 seconds (the auto takes an extra second), while the 120PS version takes 10.4 seconds (with either the manual or auto gearbox).
We've only sampled the 120PS Bayon so far with the manual transmission and it feels pretty sprightly, with enough get up and go for out-of-town driving. The gearbox is fine, as is the light clutch pedal, so there's not necessarily any need to splash the cash on an automatic model.
Refinement and noise levels
Despite only having a little 1.0-litre petrol engine, the Hyundai Bayon's motor isn't as burbly as you'll find in alternatives like the Citroen C3 Aircross. The mild-hybrid setup is unobtrusive, too, while wind and road noise are relatively well hushed. It certainly seems calmer inside than the sportier Ford Puma.
Safety equipment: How safe is the Hyundai Bayon?
The Hyundai Bayon failed to achieve the full five-star Euro NCAP rating when it was crash-tested in 2021. That doesn't mean it's fundamentally an unsafe car, though – it was awarded four stars out of five, with NCAP's criticisms including poor pedestrian protection and marginal protection of the driver's chest in a crash.
Standard safety kit includes an autonomous emergency braking system which can detect pedestrians and cyclists, while Ultimate models get a blind spot collision warning system and lane follow assist (which'll keep you central in your lane on the motorway).
MPG and fuel costs: What does a Hyundai Bayon cost to run?
"Mild-hybrid tech brings a useful boost in fuel economy for the Hyundai Bayon. Officially, it'll return up to 53.3mpg no matter which engine you go for."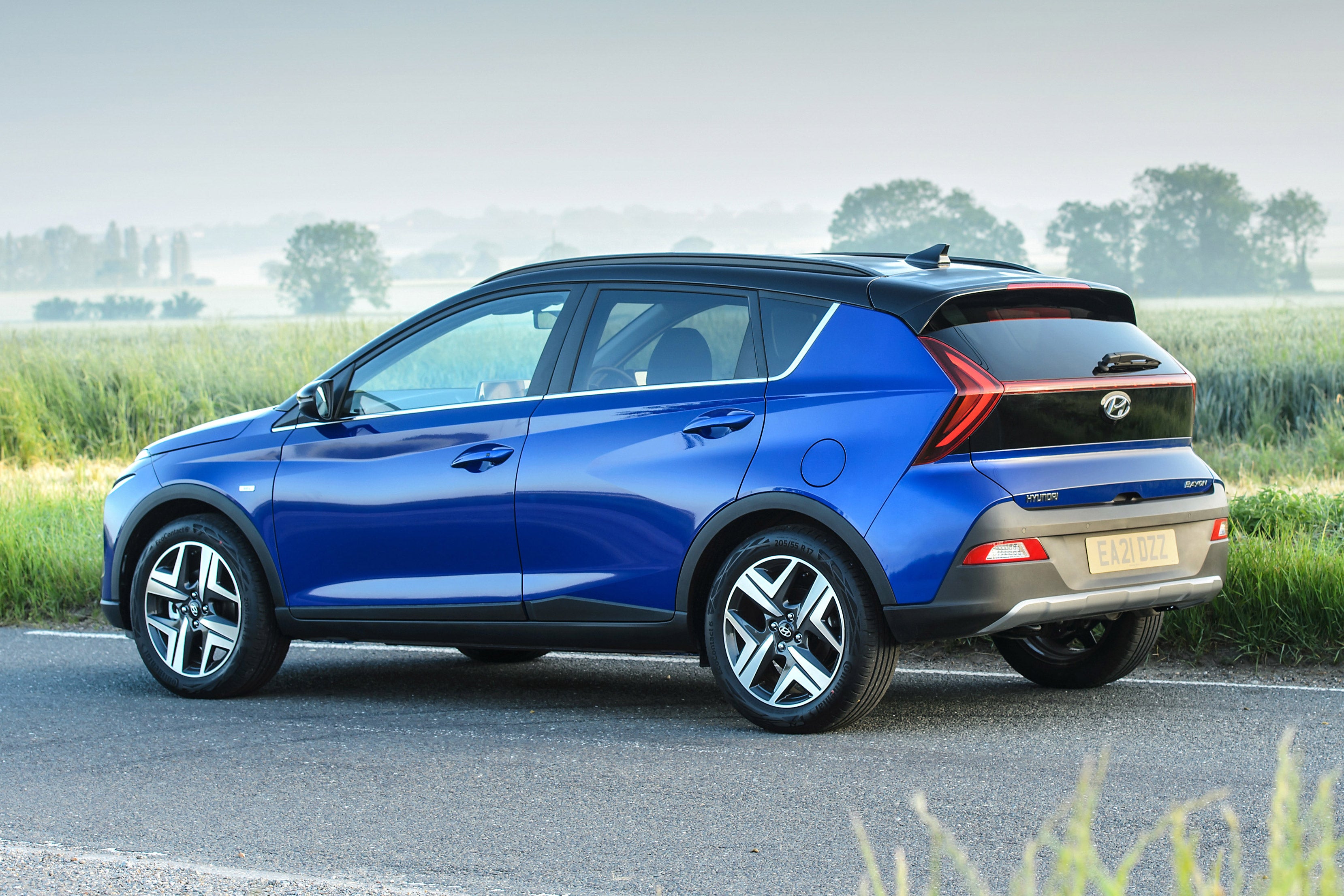 That's according to WLTP figures which are designed to be fairly representative of the real world but, obviously, the actual fuel economy you'll see will depend a lot on the kind of driving you cover. The Bayon ought to be more efficient than alternatives without mild-hybrid assistance, though.
With a 40-litre fuel tank, you'll pay around £60 to fully fuel the Bayon, and (by our admittedly very unscientific calculations) you can expect to get around 400 miles between top-ups.
If you're looking for something a little more efficient, the Toyota Yaris Cross returns up to 64.1mpg. The plug-in hybrid Renault Captur E-Tech, meanwhile, can travel up to 30 miles under electric power alone.
How reliable is the Hyundai Bayon?
While the Hyundai Bayon is too new for any scary reliability horror stories to emerge, the brand generally makes some exceptionally reliable cars. Indeed, Hyundai ranked third in the latest HonestJohn.co.uk Satisfaction Index, while we haven't heard of any common issues with cars such as the Hyundai i20 or Kona SUV. A five-year, unlimited-mileage warranty is a big selling point, too.
Insurance groups and costs
The Hyundai Bayon's insurance groups range from 13 to 18 with, predictably, the lower-powered and less expensive models being the cheapest to insure. If you're looking for cheap insurance, we'd recommend seeking out a Hyundai Bayon SE Connect with the 100PS mild-hybrid petrol engine. It's worth shopping around for quotes, though, as you might find the difference in the real world is negligible.
VED car tax: What is the annual road tax on a Hyundai Bayon?
As the Hyundai Bayon is a mild-hybrid, it's classed as an 'alternatively-fuelled' vehicle in the eyes of the DVLA. That means you'll get a £10/year discount on your annual VED bill – so you'll pay a flat rate of £155/year. For free road tax, you'll need to look at a pure-electric alternative like the Hyundai Kona Electric.
How much should you be paying for a used Hyundai Bayon?
"A new Hyundai Bayon starts from around £20,500 in entry-level SE Connect trim, while a mid-spec Premium model will cost you upwards of £22,500. The top-spec Hyundai Bayon Ultimate starts from around £24,000, while the range tops out at closer to £26,000 with the 120PS engine and DCT automatic gearbox."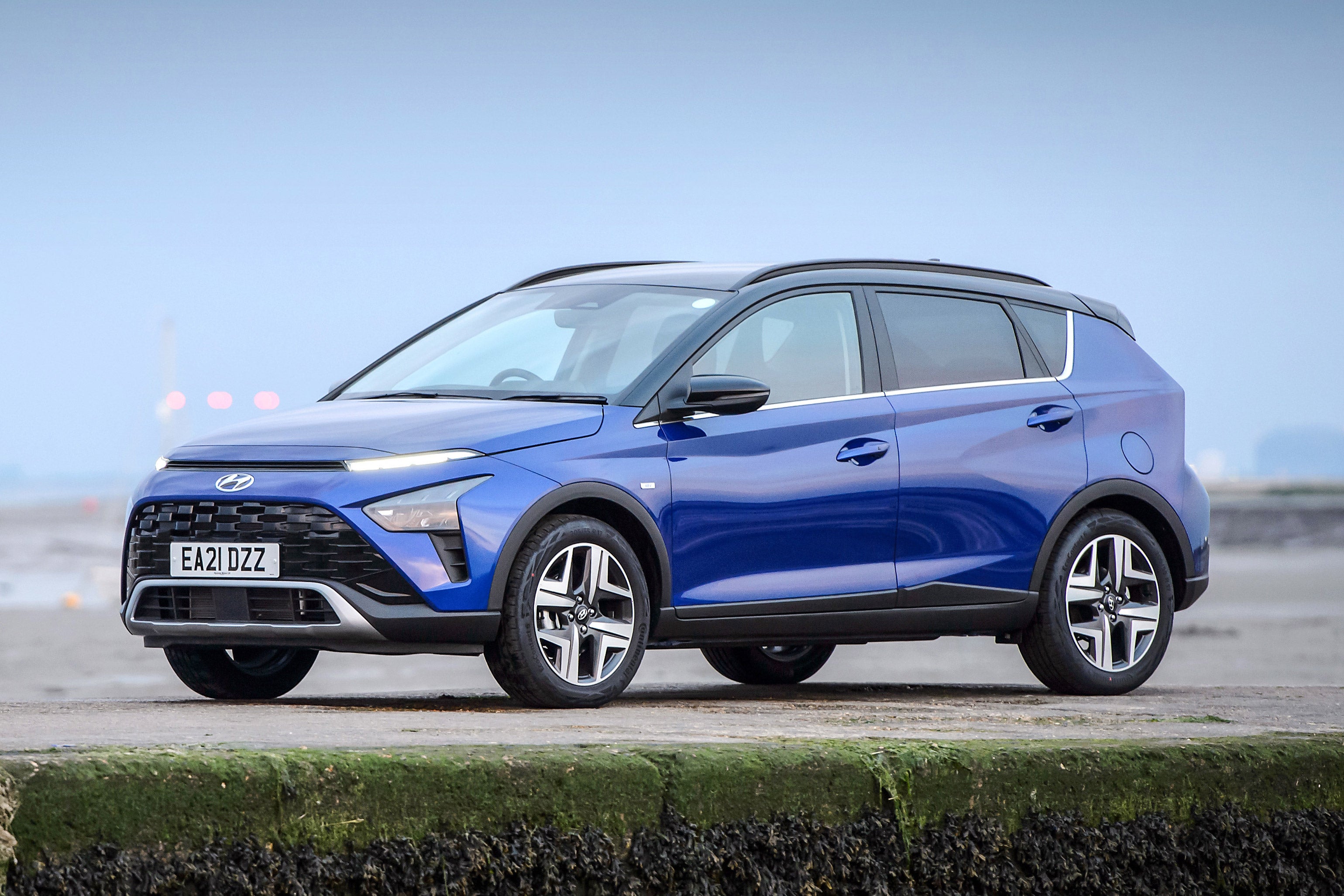 That means the Hyundai Bayon is at the budget end of the small SUV market, sitting beneath the Kona in the brand's line-up. It's pretty comprehensively equipped for the cash, too (see below for exact details), which makes the Bayon a bit of a rare new car bargain.
Of course, if you want to save even more cash, look for a nearly-new or pre-registered example. We've seen lightly used examples available from as little as £17,500 – representing a saving of more than £2500 compared to new. A top-spec Hyundai Bayon Ultimate with delivery miles on the clock can be picked up for around £22,500 – a saving of more than £1500.
Trim levels and standard equipment
There are three Bayon trim levels available: SE Connect, Premium and Ultimate.
The most affordable is the Hyundai Bayon SE Connect. Standard equipment on this entry-level car includes 16-inch alloy wheels, a leather-wrapped steering wheel and gear knob, a reversing camera and an eight-inch media system with DAB radio and Apple CarPlay/Android Auto. There's also the impressive 10.25-inch digital drivers display.
The mid-level Hyundai Bayon Premium includes 17-inch alloy wheels, heated front seats, a heated steering wheel and automatic cliamte control. The Bayon Premium also features LED headlights, electrically folding door mirrors, a 10.25-inch navigation system and a wireless charging pad.
The top-spec Hyundai Premium Ultimate adds black gloss door mirrors, a black roof, black and grey interior, keyless entry and a Bose premium sound systme. You also get a Blind Spot Collision Warning system and Lane Follow Assist.
Ask the heycar experts:
common questions
How much is the Hyundai Bayon?
Prices start from around £20,500 for an entry-level Hyundai Bayon SE Connect. The Hyundai Bayon Premium starts from around £22,500, while a top-spec Hyundai Bayon Ultimate is close to £24,000.

Answered by
Lawrence Allan
Is the Hyundai Bayon bigger than the Hyundai Kona?
The Hyundai Bayon is actually slightly smaller than the Kona. It measures 4180mm long (Kona: 4205mm), 2023mm wide (Kona: 2070mm) and 1490mm tall (Kona: 1565mm).

Is the Hyundai Bayon a hybrid?
The Hyundai Bayon uses a 48-volt mild-hybrid system. It's not a 'full' hybrid like the Toyota Yaris Cross; nor a plug-in hybrid like the Renault Captur E-Tech. Instead, it has a tiny battery and a 48-volt electric motor to support the engine, providing a small boost in torque and help improve fuel economy.

Hyundai Bayon cars for sale on heycar
2,045
Number of cars available
£18K - £25K
Price bracket of these cars
Colours available on heycar
Keep me updated by email with the latest advice, news and offers from heycar
By submitting, you agree to our
privacy policy
.