heycar rating
"Great city car all round"
Best bits
Ideal city car that offers more space for the money than many rivals
Comes with comprehensive five year warranty
Very comfortable thanks to excellent ride quality
Not so great
Sluggish automatic gearbox is best avoided
No adjustable boot floor
1.0-litre engine is a little strained at motorway speeds
Read by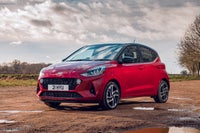 Overall verdict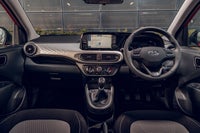 On the inside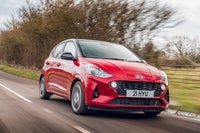 Driving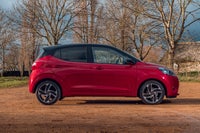 How much does it cost to run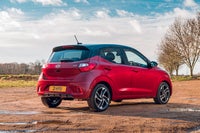 Prices, versions and specification
Overall verdict
"The Hyundai i10 is pretty much the perfect city car. It offers more space than most, is incredibly comfortable yet remains good value for money. We'd put it on par with the excellent Volkswagen Up."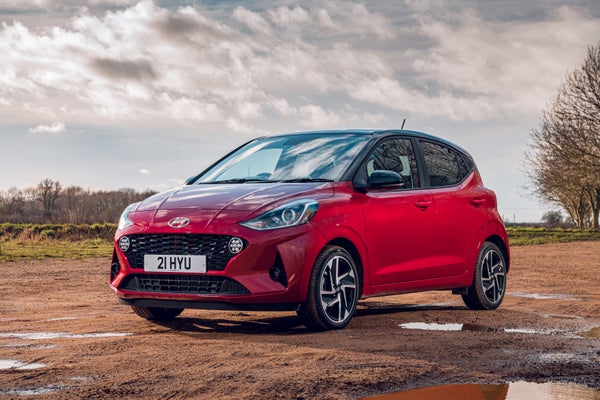 When it comes to good quality city cars, buyers are spoilt for choice, so it takes something special to stand out - step forward the Hyundai i10. In our opinion, this is one of the best all round city cars and not merely because it's such good value.
Put the price to one side for a moment because the Hyundai i10 is simply a great little car in its own right. And when we say 'little' we don't mean that in a bad way - this is a car that is easy to stick in a small space or whizz around a multi-storey car park. Yet, according to Hyundai at least, it can carry five adults, albeit that's quite a squeeze.
The Hyundai i10 is a little unusual in terms of size as it straddles the gap between a city car like the Toyota Aygo and a small hatch (think Vauxhall Corsa). It certainly feels more roomy than the average city car, with good space in both the front and back.
If you've got young children to carry, that space will be a godsend when it comes to fitting car seats in the back. The boot is decent enough and more than enough for a big weekly shop, although you'll struggle with a pushchair.
What really makes the i10 stand apart from the competition is its blend of ride and handling. The well-weighted steering and plenty of grip make it genuinely fun to drive, albeit not quite on the same level as the Volkswagen Up, yet the excellent suspension set up means it's the most comfortable city car around.
It is more than capable on the motorway where it feels composed and relaxed, not something you can normally say about all city cars … especially over the noise of the engine doing 70mph.
Of the two engines, the smaller 1.0-litre MPi is actually the better choice. Despite its modest 67PS, it has a really nippy character around town thanks to the fact it's a three-cylinder unit. The 1.2-litre is less fun although being a four-cylinder, it is more relaxed at motorway speeds. Both are cheap to run though and you should expect fuel economy of around 45mpg.
Go for a mid-level SE Connect model and you'll get pretty much all the kit you'll need including air-con, a rearview camera, Android Auto and Apple CarPlay plus an impressive touchscreen system. The Premium really stands out, though, with heated seats and even a heated steering wheel. How many other city cars come with that?
Hyundai doesn't do 'cheap and cheerful' any longer but it still stays true to its ethos of offering value for money. You get a lot of Hyundai i10 for the money. Put simply, if you're in the market for a city car, the i10 is a great benchmark by which to judge everything else. We don't think you'll find much that can match it as an all round package.
Is the Hyundai i10 right for you?
If you want a small car but don't want to compromise on quality or comfort, the i10 will fit the bill perfectly for you. It may be classed as a city car but it offers more space than others like the Volkswagen Up and in fact it can easily rival bigger stuff like a Ford Fiesta.
It's also good to drive with well-weighted steering. That means it's easy enough to park at low speed, but not so totally devoid of feel at higher speeds that it feels like you're driving a clown car. But its best feature is the excellent ride quality which makes the i10 incredibly comfortable.
Hyundai as a brand is certainly on the up and the sharp design of this i10 means it's a car we'd be proud to have sat on the driveway.
What's the best Hyundai i10 model/engine to choose?
The standard Hyundai i10 1.0-litre three-cylinder engine will suit most owners and has good get up and go around town so would be our choice. It's also the cheapest option in the i10 range.
However, if you're going to be spending time on the motorway and want a bit more oomph, go for the 1.2-litre. In terms of gearbox choice, unless you must have an auto, stick with the manual, it's a much better gearbox. The auto is slow and frustrating.
The SE Connect is the most popular model you'll see around and the best trim to go for in terms of value for money. There are no 'base' models as such and even the SE comes with air conditioning
The i10 Premium is much rarer but definitely worth seeking out as it comes with heated seats and even a heated steering wheel, so you'll have nice warm hands on a cold winter morning.
What other cars are similar to the Hyundai i10?
There's no shortage of good city cars on the market with the Volkswagen Up regarded by us as the best and that's certainly the benchmark (see also SEAT Mii and Skoda Citigo), although we'd argue the i10 is better value for money and offers more space. However, the Up is more fun to drive.
If it's a long warranty you want, consider the Kia Picanto or Toyota Aygo but both are older designs than the i10. After something cheaper and a little quirky? Have a look at the Suzuki Ignis, although the interior is not a match for the i10 in terms of quality. Unless you are still living in 1985.
Learn more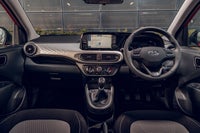 On the inside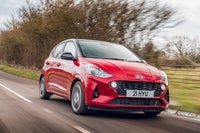 Driving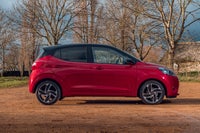 How much does it cost to run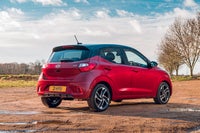 Prices, versions and specification
Ask the heycar experts:
common questions
Is the Hyundai i10 reliable?
Yes. There have been very few reported problems with the previous generation of i10, and those that have been (sticky rear brake pads, slipping clutches) are very cheap to fix. Hyundai offers to repair major issues free of charge for the first five years of ownership, and as a result this i10 a brilliant used buy; second hand examples are plentiful and very affordable too.

Reviews of similar cars
Quality checked, all cars less than 8 years old and warranty included