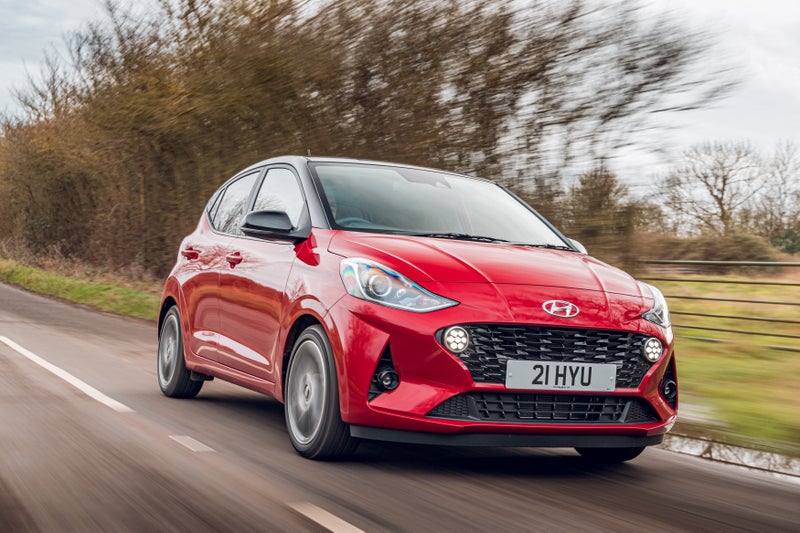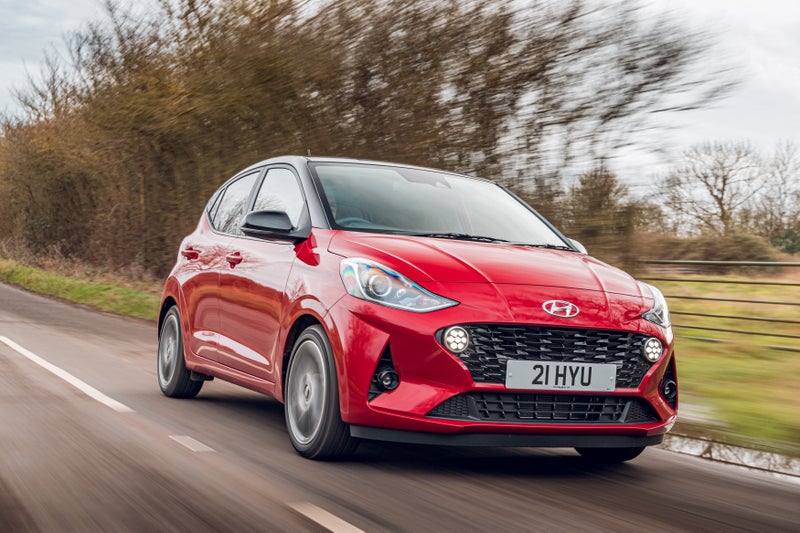 1/10
heycar rating
"Great city car all round"
Launched: 2020

City car

Petrol
Quick overview
Pros
Ideal city car that offers more space for the money than many rivals
Comes with comprehensive five year warranty
Very comfortable thanks to excellent ride quality
Cons
Sluggish automatic gearbox is best avoided
No adjustable boot floor
1.0-litre engine is a little strained at motorway speeds
Overall verdict
On the inside
Driving
Cost to run
Prices and Specs
Common questions
Overall verdict on the Hyundai i10
"The Hyundai i10 is pretty much the perfect city car. It offers more space than most, is incredibly comfortable yet remains good value for money. We'd put it on par with the excellent Volkswagen Up."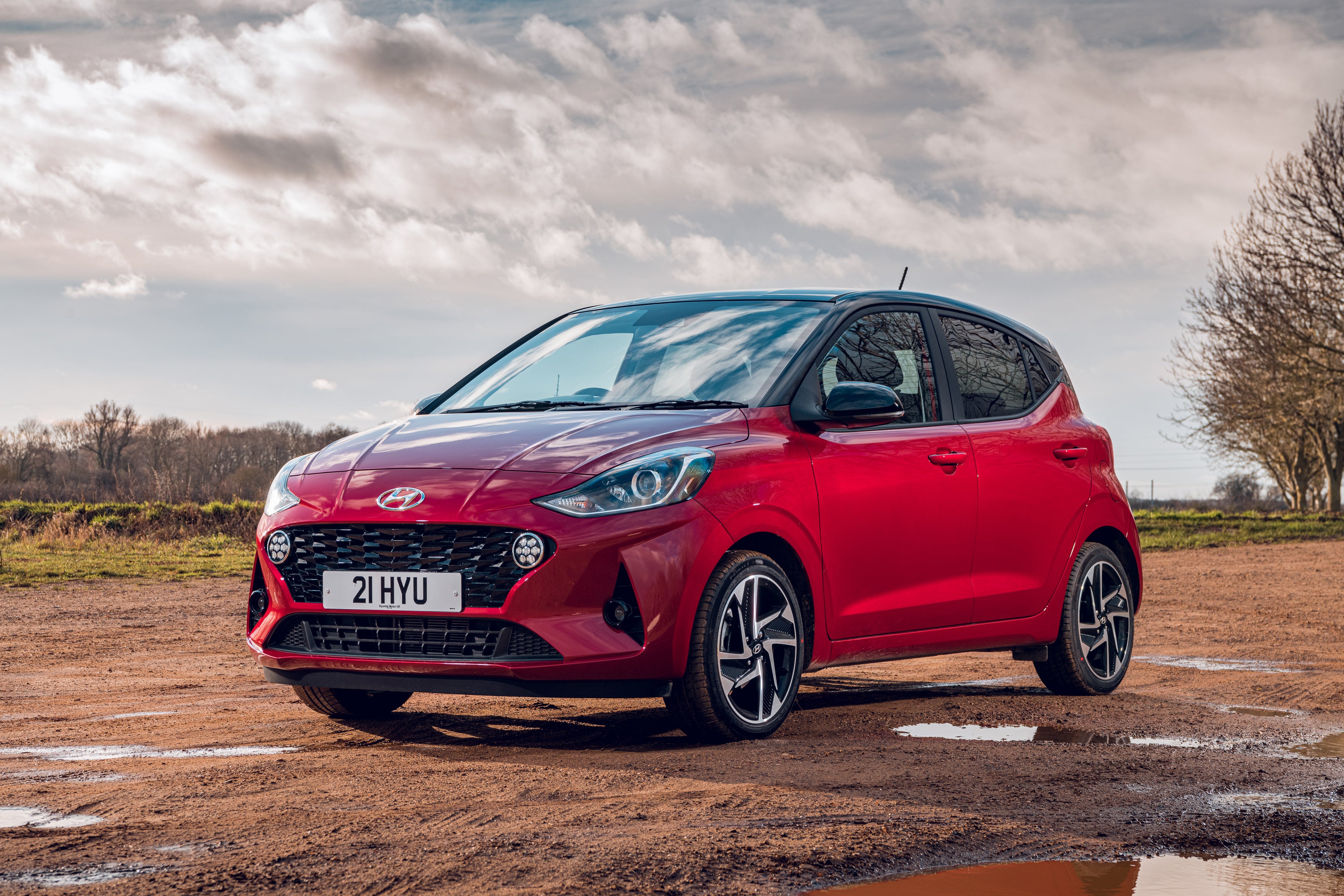 When it comes to good quality city cars, buyers are spoilt for choice, so it takes something special to stand out. As you'll read in our Hyundai i10 review, this is one of the best city cars on sale, and not merely because it's such good value.
Put the price to one side for a moment because the Hyundai i10 is simply a great little car in its own right. And when we say 'little' we don't mean that in a bad way - this is a car that is easy to stick in a small space or whizz around a multi-storey car park. Yet, according to Hyundai at least, it can carry five adults, albeit that's quite a squeeze.
The Hyundai i10 is a little unusual in terms of size as it straddles the gap between a city car like the Toyota Aygo and a small hatch (think Vauxhall Corsa). It certainly feels roomier than the average city car, with good space in both the front and back.
If you've got young children to carry, that space will be a godsend when it comes to fitting car seats in the back. The boot is decent enough and more than enough for a big weekly shop, although you'll struggle with a pushchair.
What really makes the i10 stand apart from the competition is its blend of ride and handling. The well-weighted steering and plenty of grip make it genuinely fun to drive, albeit not quite on the same level as the Volkswagen Up, yet the excellent suspension set up means it's the most comfortable city car around.
It is more than capable on the motorway where it feels composed and relaxed, not something you can normally say about all city cars … especially over the noise of the engine doing 70mph.
Of the two engines, the smaller 1.0-litre MPi is actually the better choice. Despite its modest 67PS, it has a really nippy character around town thanks to the fact it's a three-cylinder unit. The 1.2-litre is less fun although being a four-cylinder, it is more relaxed at motorway speeds. Both are cheap to run though and you should expect fuel economy of around 45mpg.
Go for a mid-level SE Connect model and you'll get pretty much all the kit you'll need including air-con, a rearview camera, Android Auto and Apple CarPlay plus an impressive touchscreen system. The Premium really stands out, though, with heated seats and even a heated steering wheel. How many other city cars come with that?
Hyundai doesn't do 'cheap and cheerful' any longer but it still stays true to its ethos of offering value for money. You get a lot of Hyundai i10 for the money. Put simply, if you're in the market for a city car, the i10 is a great benchmark by which to judge everything else. We don't think you'll find much that can match it as an all round package.
If you're looking for the older version, you need our Hyundai i10 (2014-2020) review.
Is the Hyundai i10 right for you?
If you want a small car but don't want to compromise on quality or comfort, the i10 will fit the bill perfectly for you. It may be classed as a city car but it offers more space than others like the Volkswagen Up and in fact it can easily rival bigger stuff like a Ford Fiesta.
It's also good to drive with well-weighted steering. That means it's easy enough to park at low speed, but not so totally devoid of feel at higher speeds that it feels like you're driving a clown car. But its best feature is the excellent ride quality which makes the i10 incredibly comfortable.
Hyundai as a brand is certainly on the up and the sharp design of this i10 means it's a car we'd be proud to have sat on the driveway.
What's the best Hyundai i10 model/engine to choose?
The standard Hyundai i10 1.0-litre three-cylinder engine will suit most owners and has good get up and go around town so would be our choice. It's also the cheapest option in the i10 range.
However, if you're going to be spending time on the motorway and want a bit more oomph, go for the 1.2-litre. In terms of gearbox choice, unless you must have an auto, stick with the manual, it's a much better gearbox. The auto is slow and frustrating.
The Hyundai i10 SE Connect is the most popular model you'll see around and the best trim to go for in terms of value for money. There are no 'base' models as such and even the i10 SE comes with air conditioning
The Hyundai i10 Premium is much rarer but definitely worth seeking out as it comes with heated seats and even a heated steering wheel, so you'll have nice warm hands on a cold winter morning.
What other cars are similar to the Hyundai i10?
There's no shortage of good city cars on the market with the Volkswagen Up regarded by us as the best and that's certainly the benchmark (see also SEAT Mii and Skoda Citigo), although we'd argue the i10 is better value for money and offers more space. However, the Up is more fun to drive.
If it's a long warranty you want, consider the Kia Picanto or Toyota Aygo but both are older designs than the i10. After something cheaper and a little quirky? Have a look at the Suzuki Ignis, although the interior is not a match for the i10 in terms of quality. Unless you are still living in 1985.
Comfort and design: Hyundai i10 interior
"Sometimes simple is best and the interior layout of the Hyundai i10 is the perfect example of this. It has a much more appealing design than the previous Hyundai i10, yet it's still easy to use and well laid out. "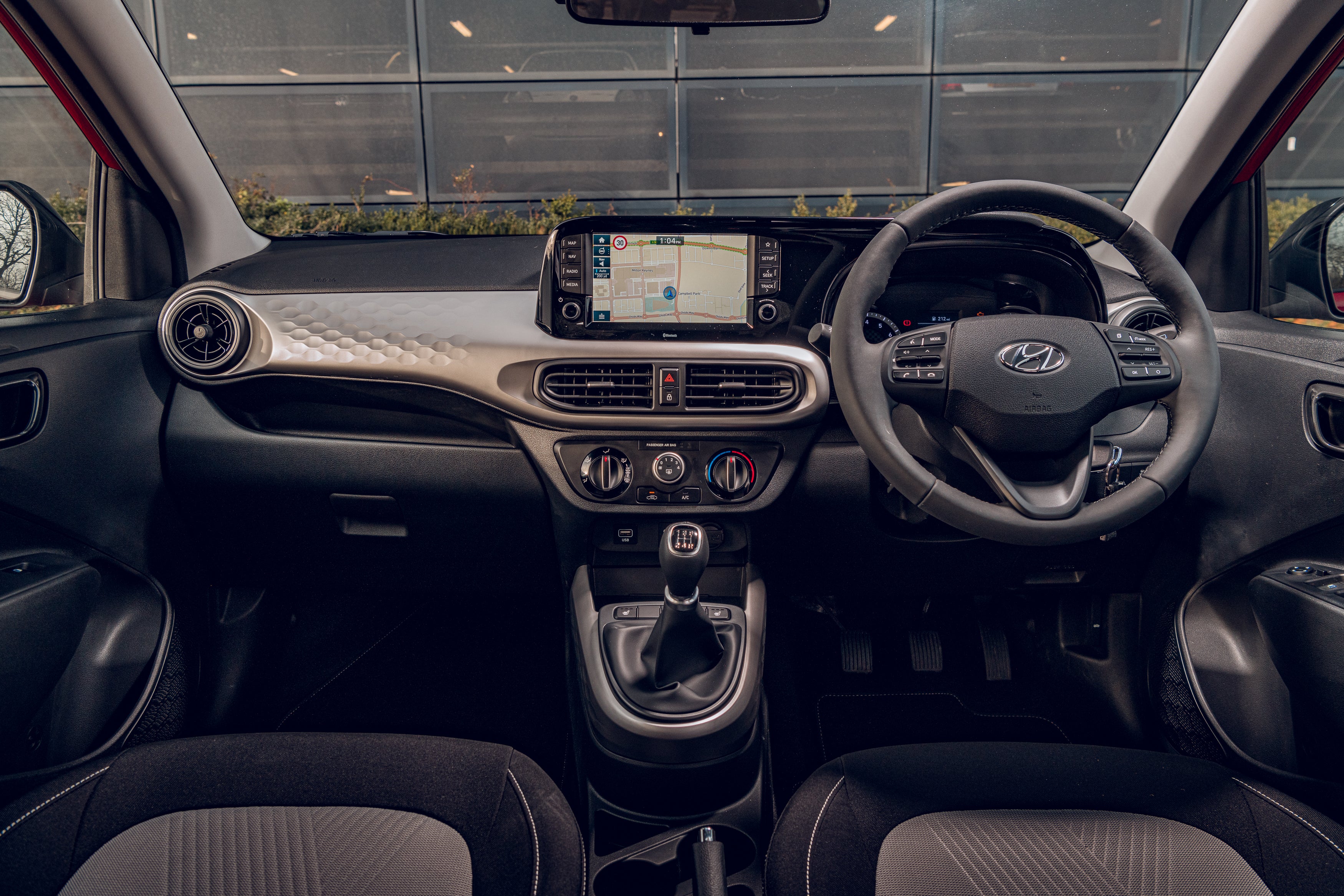 It gets the basics spot on. The driving position is excellent with the pedals, steering wheel and seat all aligned plus the clutch isn't too heavy and nor is the pedal too high up, an annoying quirk of some city cars. There's even decent room for your left foot in the footwell (as long as you're not above a size 9)
Like a Friends rerun, the seats are comforting and supportive plus all models come with a driver's seat that can be adjusted for height - something which taller drivers will find very welcome. As with most city cars, there's a height-adjustable steering wheel in the i10 but no reach adjustment. However, thanks to the good driving position, that's not really an issue for most drivers.
The gear lever sits high up, close to your hand, while the air-con controls are nice and high so easy to use - there are no complicated touchscreen controls here, just simple rotary dials, so it's simple to get some cold air without going for a deep dive in the menus.
True, the interior of the Hyundai i10 may not be as stylish or as design-led as the Volkswagen Up - you won't find many bright colours or funky designs here - but that shouldn't detract from the fact that this is a very comfortable cabin.
All this means the i10 is a car that feels very comfortable and easy to drive every time you get behind the wheel. Yet even after several hours of driving, you won't come away with back ache or cramped legs.
Quality and finish
While the Hyundai i10 doesn't have much in the way of soft touch plastics, the materials used don't look or feel cheap. It's on a par with cars like the Volkswagen Up in those stakes. In fact we'd go as far to say that the i10 is nicer inside with less exposed metal and a more 'big car' feel.
If you still have any notions that Hyundai is a budget brand, think again. The i10 is really impressive inside especially if you go for a Premium trim model, which gets nicer details inside such as a honeycomb 3D effect on the large dash panel, privacy glass plus heated seats and a heated steering wheel - rare things to find on a city car let along as standard.
Adding to the quality feel of the Hyundai i10 you'll find that doors close with a satisfying thud and all the controls work with neat precision. Features like the soft leather on the steering wheel and gear lever - standard on all models - only enhance this.
Infotainment: touchscreen, USB, nav and stereo in the Hyundai i10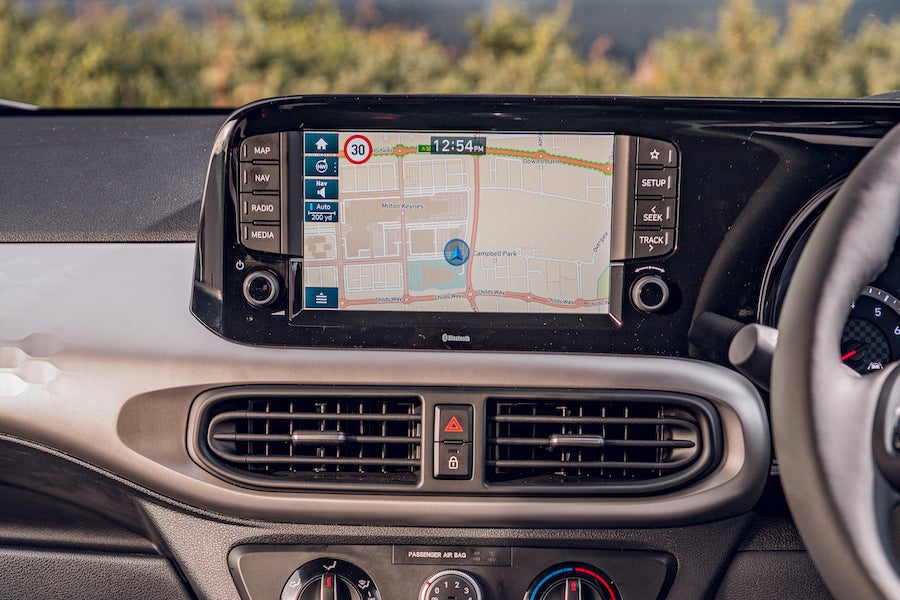 The standard Hyundai i10 SE comes with a DAB stereo with Bluetooth which does the job, although it only has two speakers and a small 3.8-inch black and white display. If you're going to be doing more than listening to The Archers, the i10 SE Connect and Premium models get a big 8.0-inch colour touchscreen with a bright and sharp display. It's bigger than anything else you'll find in a city car. You also get two more speakers in the back so everyone can enjoy Ed Sheeran with you.
The screen is mounted high on the dash so it's easy to glance at without taking your eyes off the road for too long. The system is easy to use and the 'touch' bit is responsive, so it's not frustrating or crash-inducing when trying to navigate menus.
Usefully, there are still buttons and controls around the display, so getting to the right menu is a doddle. We also like the standard old school volume knob rather than anything more complicated, it makes turning up (or down) what the kids want to listen to on the school run much less stressful...
The other great feature in the i10 is Apple CarPlay and Android Auto. You can control your phone through the touchscreen and listen to podcasts, music on Spotify, books Audible and use navigation apps such as Google Maps or Waze. It's standard on all but the SE.
Space and practicality: Hyundai i10 boot space
Measuring 3670mm in length, 1480mm in height and 1680mm in height, It may be classed as a city car, but the i10 feels more like the bigger Ford Fiesta in terms of passenger space. It's very roomy, especially for elbow and shoulder room. You're not going to get five burly rugby players in here, but Hyundai does say you can fit five adults in, although we'd suggest that would be quite a squeeze…
The rear seats are usable though and that's especially handy when it comes to fitting a car seat. It means you can have a Group 1/2/3 car seat in the back and still have just enough space for someone in the front. However, if you've got a rear-facing seat, it's going to be tight for room.
The Isofix points in the back are hidden away so it's fiddly to fit a car seat, but once in, the headrest is easy to move up out of the way. Most usefully, you can easily get the seatbelt in the buckle, something we've found impossible in cars like the larger Mazda 2.
There's decent storage in the i10 with a handy tray for phones and wallets in front of the gear lever, plus another above the glovebox, which has plenty of room for odds and ends such as ice scrapers or those sweets you'll forget about for several months. There are also spacious door pockets and even two cupholders, even if they are a bit shallow.
The official boot capacity is 252 litres which is on a par with the Kia Picanto although neither are as good as the Ford Ka+ with 270 litres. The one thing you'll notice is that the boot is very deep and not very long.
There's no adjustable boot floor either but you can fit a surprising amount in the i10 easily enough with room for a three-figure supermarket shop. You will struggle with a pushchair unless it's a particularly compact design. The other oddity here is the parcel shelf which doesn't flip up with the tailgate and can get in the way.
Handling and ride quality: What is the Hyundai i10 like to drive?
"Ride quality is one area where the Hyundai i10 stands head and shoulders above the competition. The suspension is balanced to deliver a comfortable and forgiving ride without being all soft and bouncy in corners."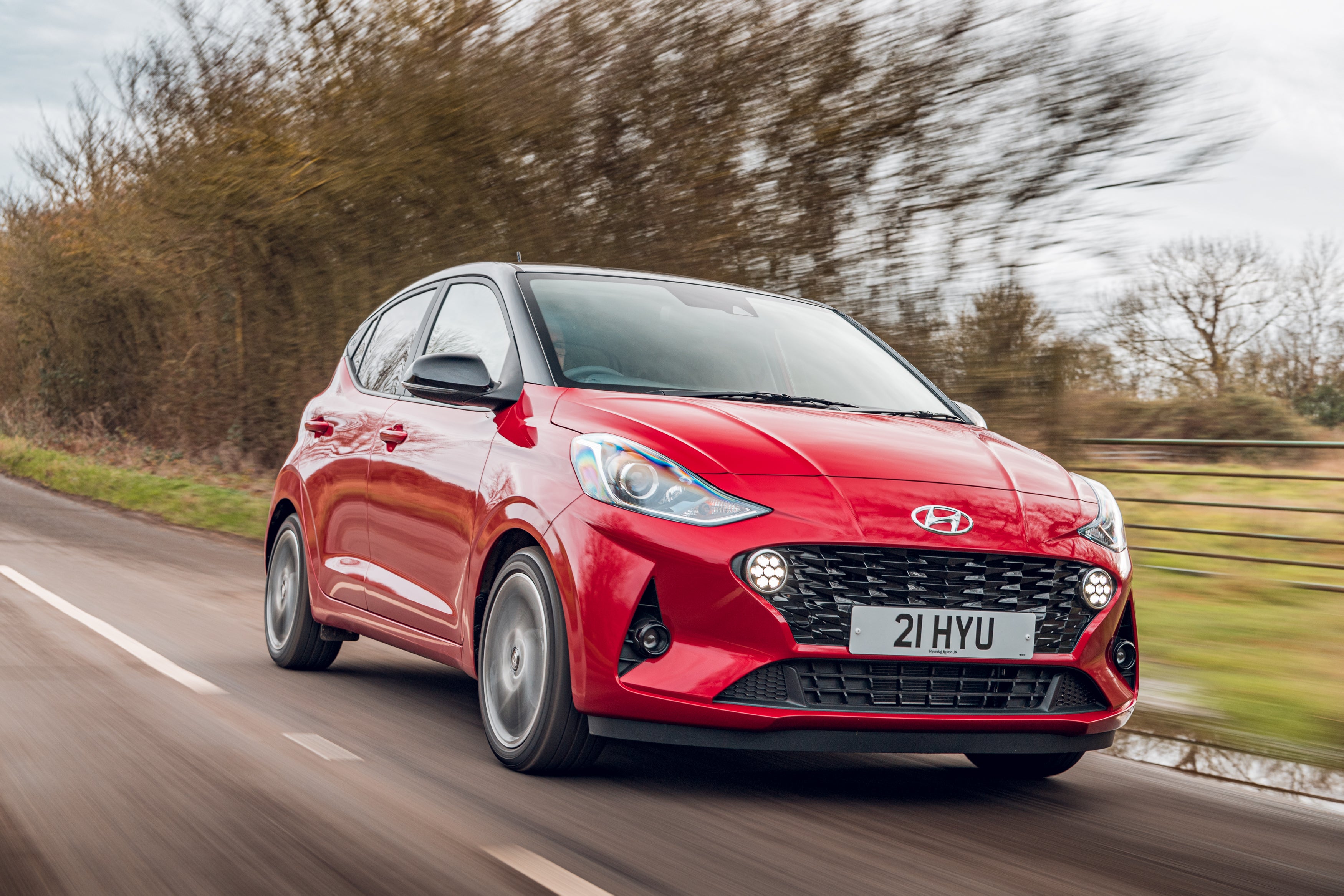 Even if you go for a model with larger 16-inch alloys, the i10 still smooths out potholes and doesn't fidget over rough road surfaces. That said, we'd stick with the 15-inch alloys on the Hyundai i10 SE Connect if you want the edge on comfort.
Either way, very few city cars ride as comfortably. It's not just in town that the i10 performs well either, get it on the motorway and it impresses, being supple yet secure at speed, helped by the accurate steering.
That responsive steering comes into its own when it comes to corners. The little i10 is surprisingly enjoyable to drive on the twisty stuff and while not quite as much fun as a Volkswagen Up, we still think it's entertaining.
It never becomes skittish and has plenty of front end grip, so even in the wet you know the i10 will easily handle tight turns. There's a bit more body roll in corners than the similar Kia Picanto, but the Hyundai i10 feels like a better all-rounder with its combination of a comfortable ride and sharp handling.
Around town, the steering becomes lighter, making tight parking or getting around a tight multi-storey that was designed entirely by CAD much easier. The i10 may not be quite as small as a Fiat 500, but it's still a doddle to slot into a tight spot. SE Connect models and above come with a reversing camera, too.
What engines and gearboxes are available in the Hyundai i10?
The Hyundai i10 was launched with two petrol engines. There's no mild hybrid or similar in the line up and no EV either, unlike rivals such as the Skoda Citigo and SEAT Mii.
The most popular engine you'll find is the 1.0 MPi which we think is the perfect choice for the i10. Its 67PS may not be much to tweet about, but thanks to the fact it's a three-cylinder engine, it has plenty of get up and go, making it nippy away from a standstill and ideal for around town.
The one fly in the ointment here is that you may find it a little strained at motorway speeds. Not that most people will buy an i10 for its motorway prowess, but if you do intend to spend the majority of the time rocking the national speed limit , the four-cylinder 1.2-litre with 84PS is the better choice.
Both engines come with a five-speed manual gearbox as standard which has a nice positive shift. As an option, there's an automated manual transmission or AMT, which costs an extra £500.
A lot of small cars are fitted with similar gearboxes instead of a 'proper' automatic, mainly because they are lighter and cheaper. The problem is they are sluggish and jerky, making for a less than pleasant driving experience. The i10 auto is the same so we'd stick with the manual, unless you must have an automatic.
Refinement and noise levels
The Hyundai i10 feels more refined and is quieter than many other city cars. A lot more in fact. There's better insulation from road noise than many others. As we've mentioned, it's more than a match for cars in the class above, stuff like the Suzuki Swift. There's not much wind noise and even at motorway speeds, the little i10 feels like a bigger car.
The 1.0-litre MPi engine is smooth and quieter than many other three-cylinder engines, such as the Aygo, C1 and 108. It still has a zesty and keen character that makes it fun. One thing we did notice occasionally is that the engine can seem to bog down a little, so you might need to give it more revs when pulling away.
It's no surprise that the 1.2-litre is smoother (thanks to the extra cylinder) and so it doesn't need to be worked as hard, for instance when joining a fast-flowing dual carriageway (rare these days) from a short slip road.
Safety equipment: How safe is the Hyundai i10?
City cars have come a long way in recent years and are no longer the basic A to B transport they once were. The i10 comes with what Hyundai labels 'SmartSense' safety features and it certainly boasts a comprehensive list.
As standard, all Hyundai i10 models come with a host of acronyms. There's FCAA or Forward Collision-Avoidance Assist which uses a camera at the front to detect other cars and also pedestrians and cyclists. It will warn you if an impact is imminent and automatically brake if the driver doesn't.
There is also Hyundai's e-call system, which will call the emergency services if you're unfortunate enough to be in an accident and the airbags are deployed.
The i10 is fitted with high-beam assist, which automatically dips the main beams when another car is approaching or it detects streetlamps. Other features that are rare in the city car class include a TPMS tyre pressure monitoring system and hill-start assist control.
Of course there is also all the standard safety equipment you'd expect such as electronic stability control (ESC), plus front, front side and curtain airbags. There are two Isofix child seat mounting points in the back and a mount for a top tether, although it's not that obvious at first glance.
This Hyundai i10 hasn't been crash tested by Euro NCAP yet the two previous models both achieved a four-star rating so we'd expect this model to gain five stars given the level of active safety kit that comes as standard. There's no spare wheel in the new i10, there'd be no room in the boot, so instead you get a tyre repair kit. Fortunately, Hyundai's five-year warranty includes roadside assistance.
MPG and fuel costs: What does a Hyundai i10 cost to run?
"Both engines are cheap to run with the official (or WLTP as it's called these days) economy figures seeing the 1.0-litre MPi returning around 55mpg, although that depends on the trim level. In real world driving you should see around 50mpg."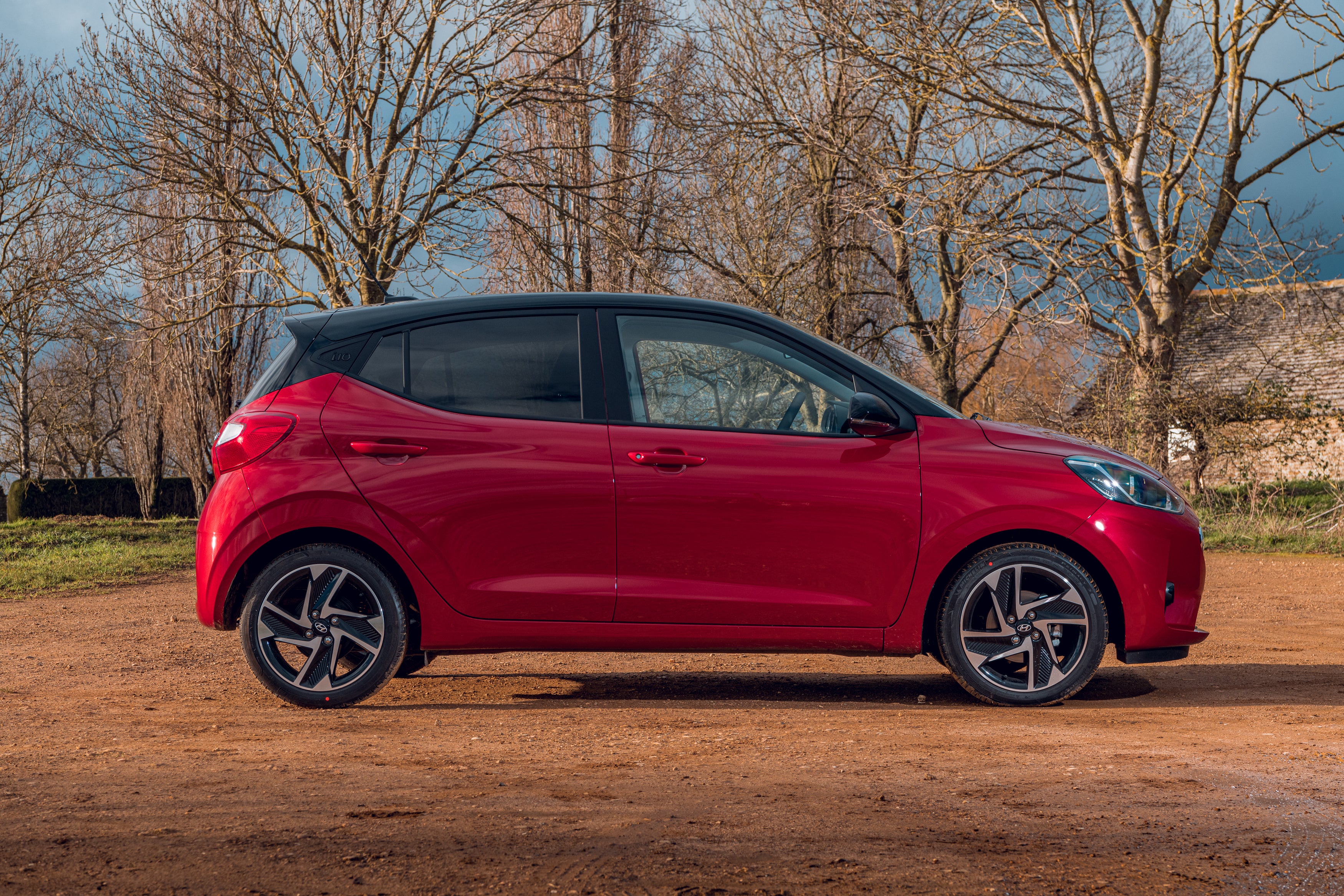 The 1.2-litre has claimed figures of around 50mpg and the real figure should be around 47mpg. Opt for the AMT gearbox and you'll see economy drop quite a bit for both. Another reason to give it a swerve.
With a 36-litre fuel tank, you should get around 400 miles on a full tank if you go for the 1.0-litre MPi and around 370 miles in the 1.2-litre.
How reliable is a Hyundai i10?
Hyundai performs exceedingly well in the annual Honest John Satisfaction Index, coming third in the latest survey. A number of its models were also rated some of the most reliable used cars you can buy, suggesting you should have very few issues with the little i10.
Insurance groups and costs
The i10 makes a decent first car thanks to the fact it's cheap to run, although insurance ratings have gone up compared to the old model which was group 2A.
The Hyundai i10 SE and SE Connect with the 1.0-litre MPi engine are now a group 5A, with the AMT automated manual model classed as a group 3A. The takeaway: it's more expensive to insure.
Compare this to other cars such as the Ford Ka+, Smart Forfour and Volkswagen Up which are all Group 1E and it would make a big difference in the price of insurance for a young driver who has just passed their test.
VED car tax: What is the annual road tax on a Hyundai i10?
This generation i10 was first launched in early 2020 so you'll pay £150 a year for your VED regardless of what model you choose. No model in the i10 line-up emits more than 130g/km of CO2 so the first year VED rate for every model in the range is £175.
If you're looking at the Hyundai i10 as a company vehicle, the SE is the most affordable with a 25% BIK rate while the SE Connect with the 1.2-litre engine is 27%.
How much should you be paying for a used Hyundai i10?
"The i10 may not be the cheap city car it once was, but it still represents good value."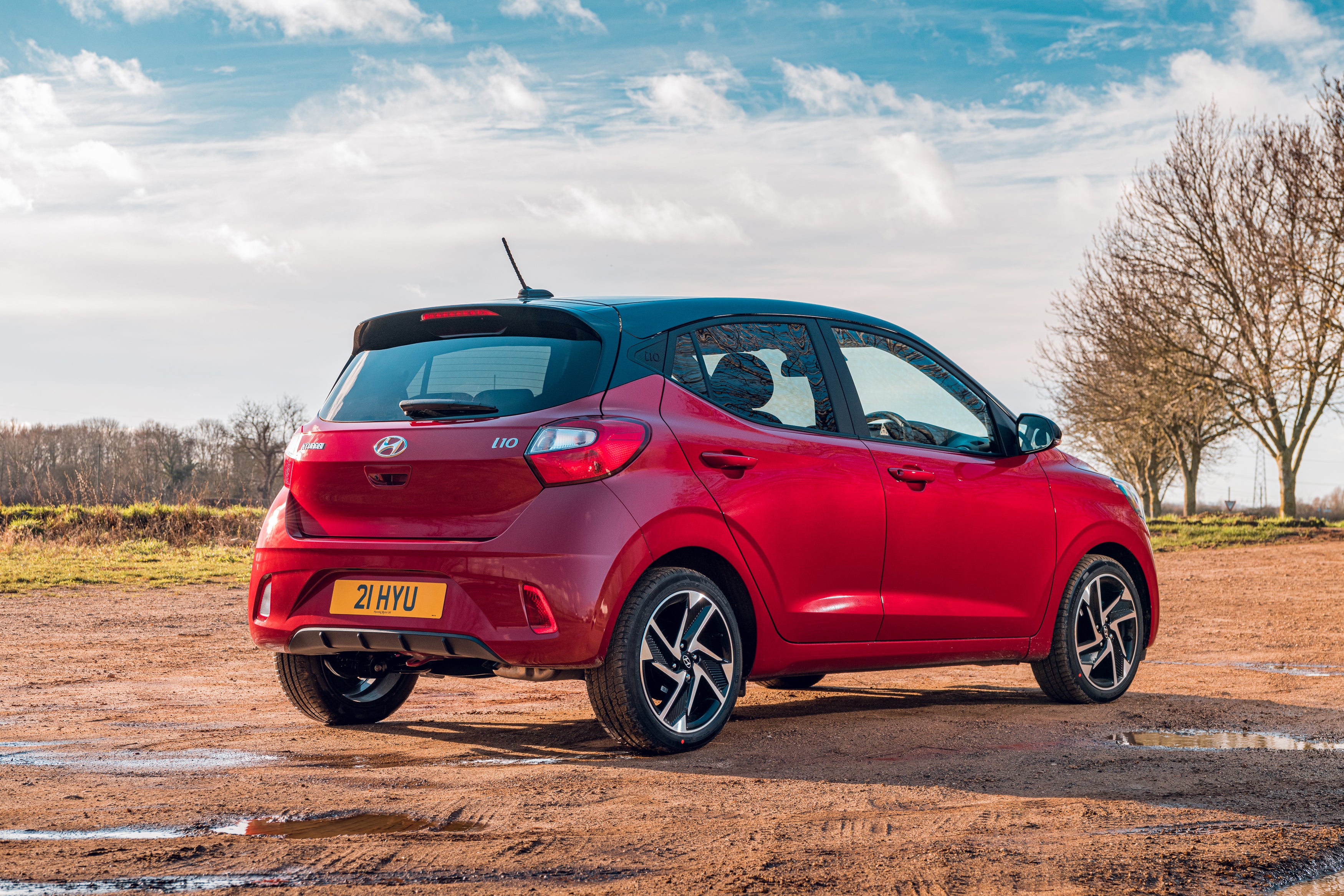 For starters it's bigger and more spacious than most city cars and it comes well equipped with some big car features.
When it was launched, list prices started at £12,820 for the Hyundai i10 SE. Hyundai has chosen to avoid doing a bog standard model, so all i10s come with lots of standard equipment. The i10 SE Connect 1.0 MPi which we recommend starts at £13,820 with the 1.2 engine costing an extra £800.
The Hyundai i10 Premium comes really well equipped but looks expensive with a list price of close to £15,000. These are quite rare, however you can find the odd one for not much more than an SE Connect if you keep looking.
You'll usually find a reasonable number of pre-reg Hyundai models, although it's the much bigger Tucson that tends to be the most popular. It means you may have to be patient and be prepared to travel to find one. The good news is that most dealers will throw in delivery free of charge or at a discounted rate to make a sale.
Trim levels and standard equipment
While the Hyundai i10 SE comes with all the basics, the SE Connect is the model to go for, if only because it gets the proper colour touchscreen (the black and white one is very 90's…) and includes Apple CarPlay and Android Auto plus adds two more speakers in the rear.
SE Connect replaces the basic steel wheels with proper 15-inch alloys and adds features like the rearview camera but if you want all singing and dancing, the Premium is really impressive.
It gets luxuries like heated front seats and even a heated steering wheel, something that's rare in many high-end premium cars let alone small city runarounds. It also adds front fog lights, LED daytime running light, rear privacy glass and 16-inch alloys. Do you need all these?
Not really, but if you thought like that you'd be driving the same car as Fred Flintstone. So if you can find a Hyundai i10 Premium model that's not much more expensive than an SE Connect, it's well worth it.
There aren't many options, but the metallic paint at £550 is something you should expect on most used models, although the £500 two tone roof is much rarer and not worth paying extra for.
Another rarity is the additional Tech Pack which was a hefty £1000 option when new. This adds navigation, LIVE services, a wireless charging pad, Bluelink and Intelligent Speed Limit Warning System. Again, we wouldn't be paying extra for this on a used car.
Ask the heycar experts:
common questions
Does the Hyundai i10 make a good first car?
Absolutely. Space for four, low insurance groups regardless of the engine you pick, and cheap running costs make it an ideal first car and it's very easy to drive, another plus.

Is the Hyundai i10 reliable?
Yes. There have been very few reported problems with the previous generation of i10, and those that have been (sticky rear brake pads, slipping clutches) are very cheap to fix. Hyundai offers to repair major issues free of charge for the first five years of ownership, and as a result this i10 a brilliant used buy; second hand examples are plentiful and very affordable too.

Has the Hyundai i10 been discontinued?
Definitely not. In fact, the brand launched this all-new version of the i10 in January 2020, so while some manufacturers have stopped building city cars, Hyundai isn't one of them.

Which i10 model is the best?
The standard 1.0-litre three-cylinder engine is a perfect fit for the Hyundai i10 and is our choice in SE Connect trim which comes very well equipped for the money.

Hyundai i10 cars for sale on heycar
1,956
Number of cars available
£5K - £17K
Price bracket of these cars
Colours available on heycar
Keep me updated by email with the latest advice, news and offers from heycar
By submitting, you agree to our
privacy policy
.