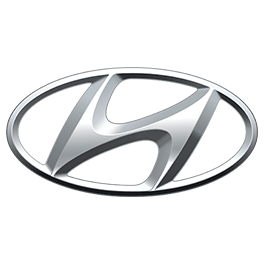 Hyundai i10 (2014-2020) Review

Written by
heycar editorial team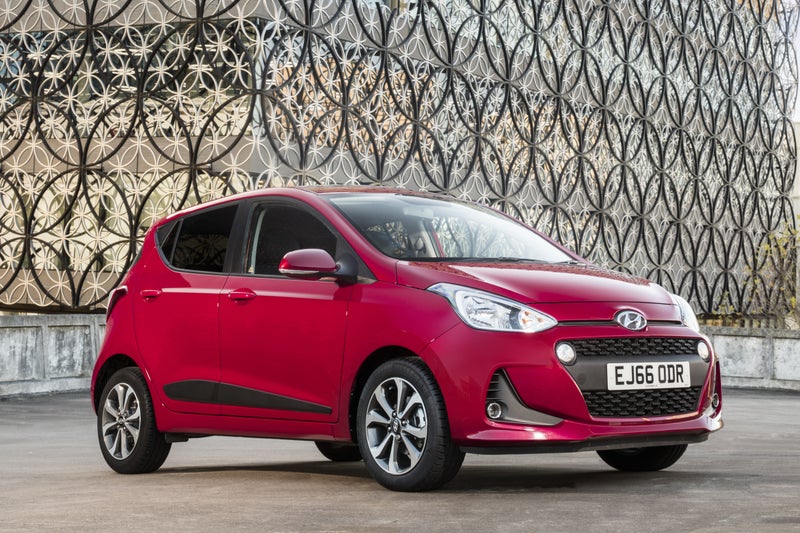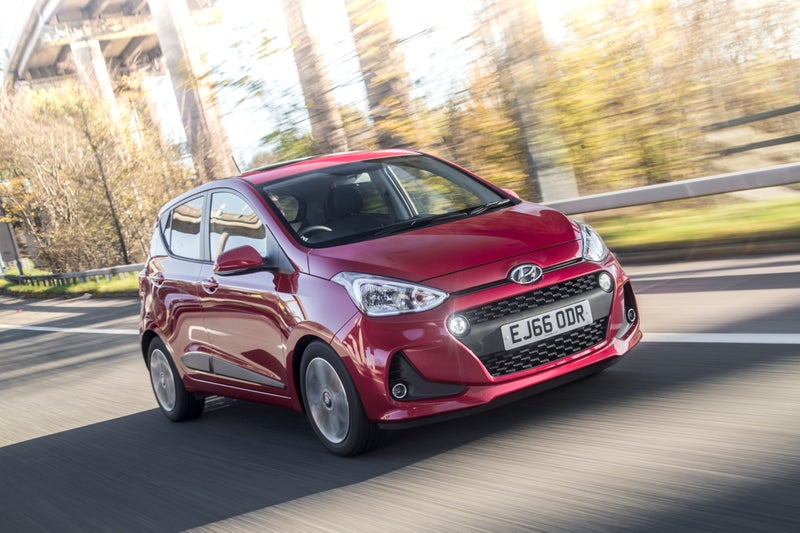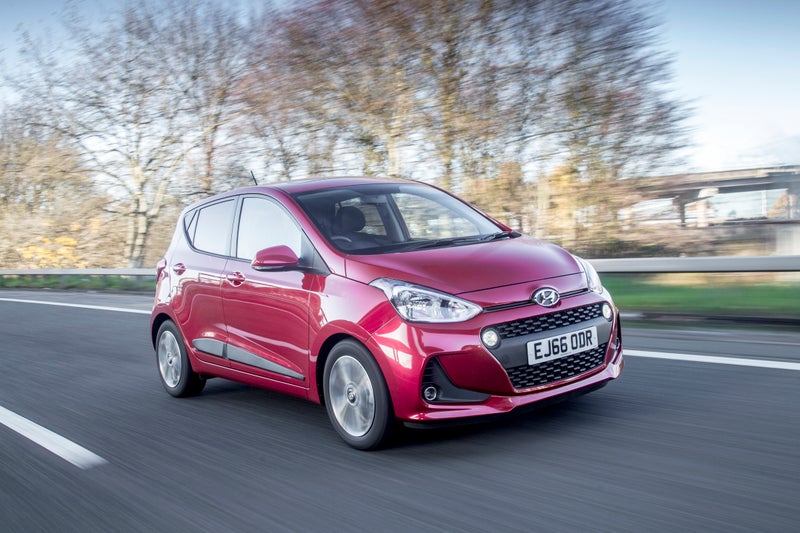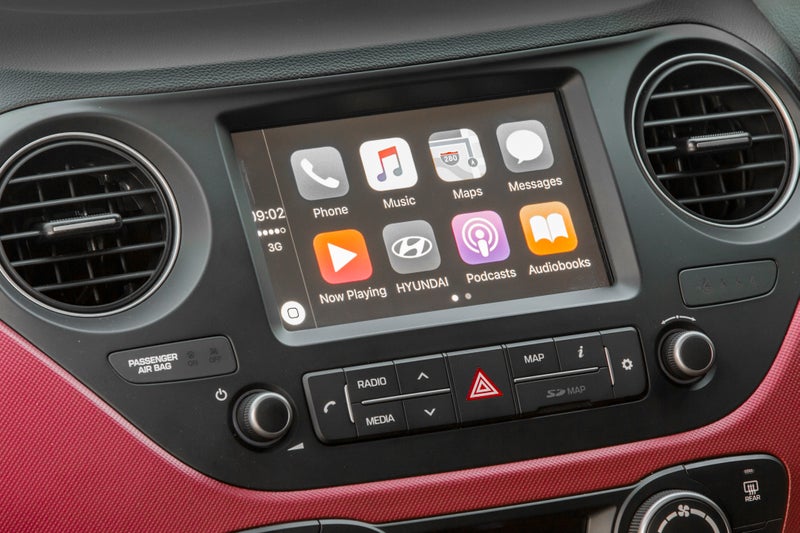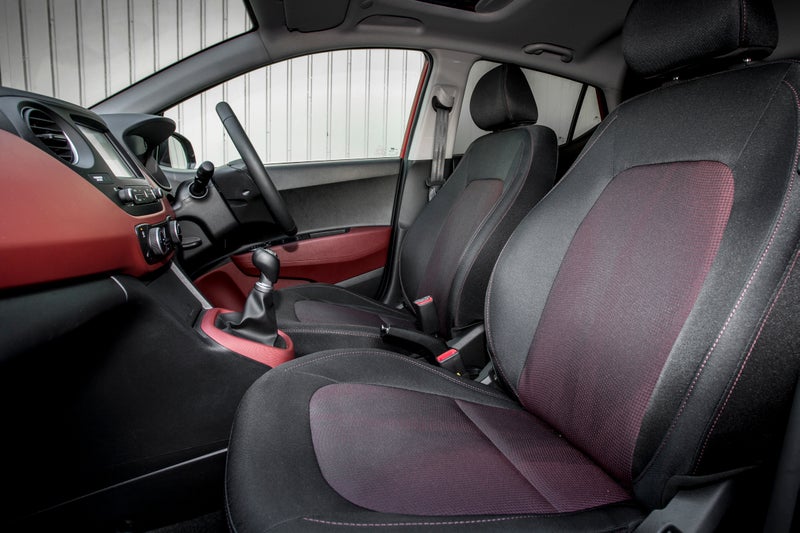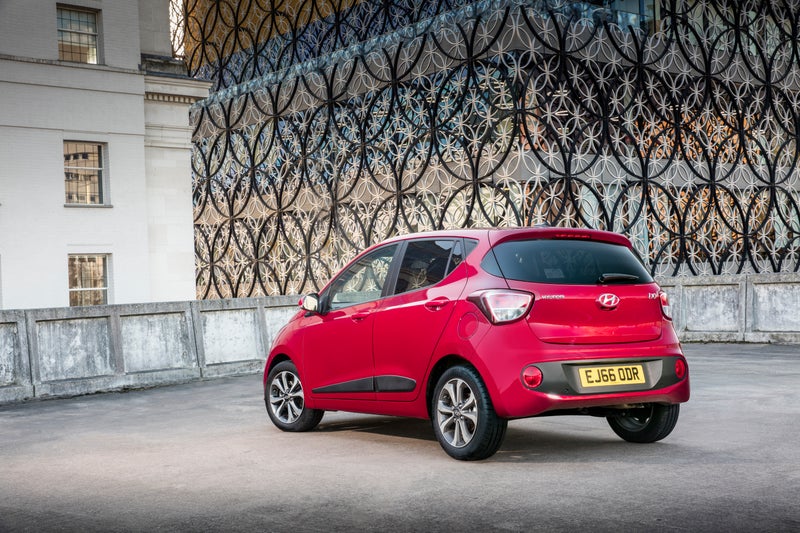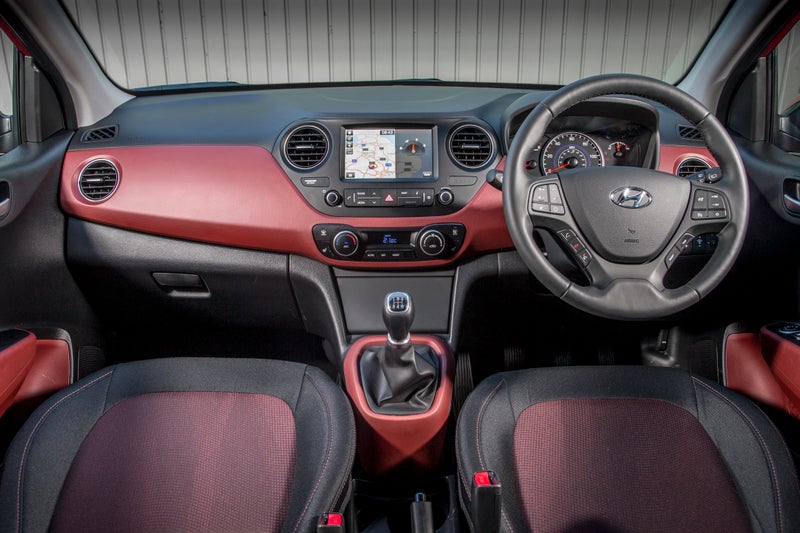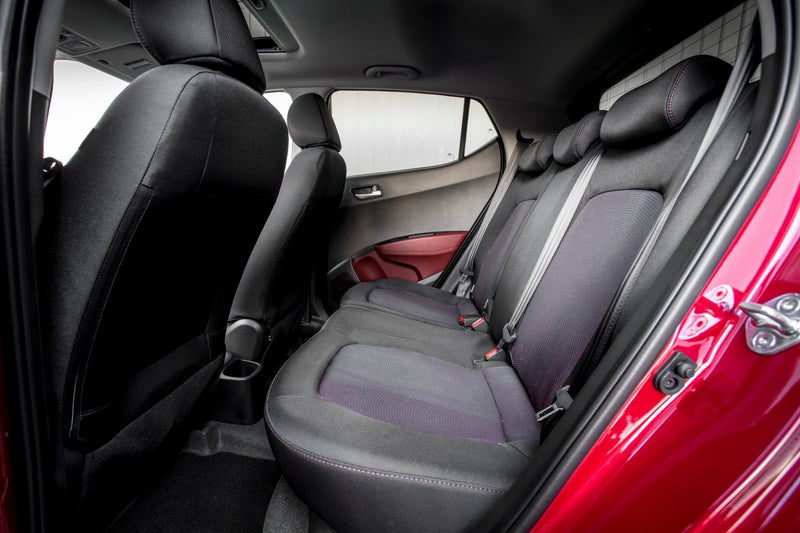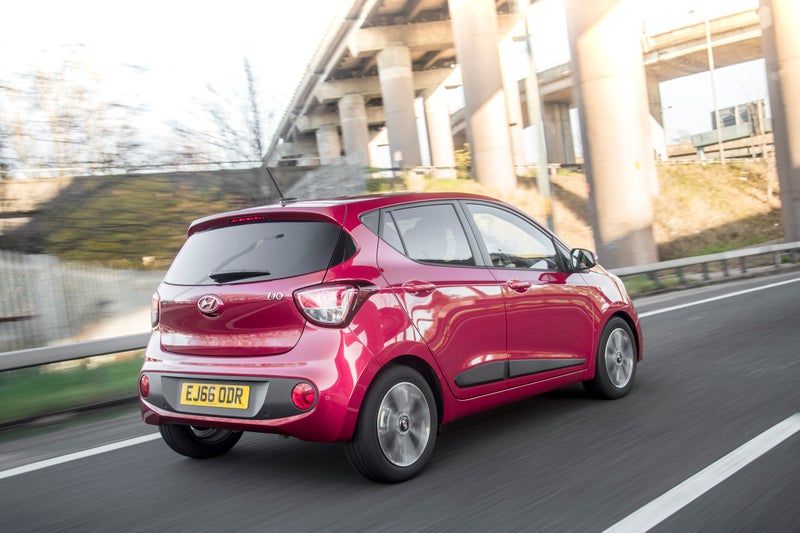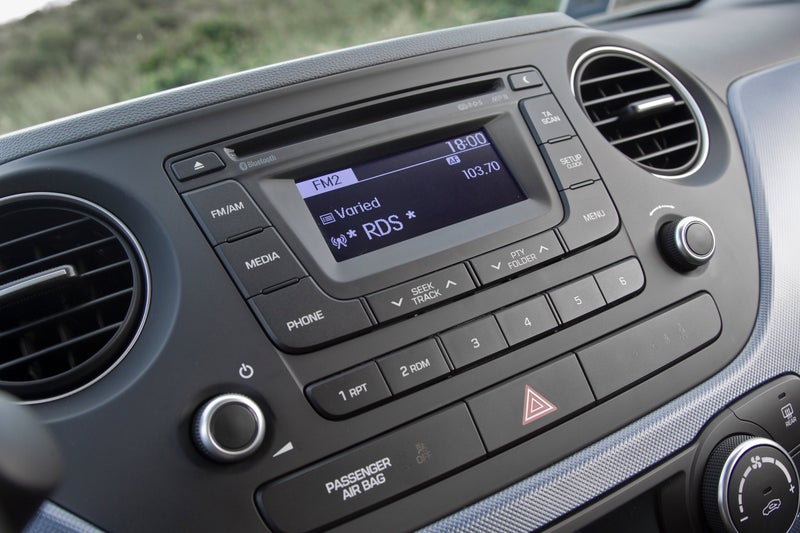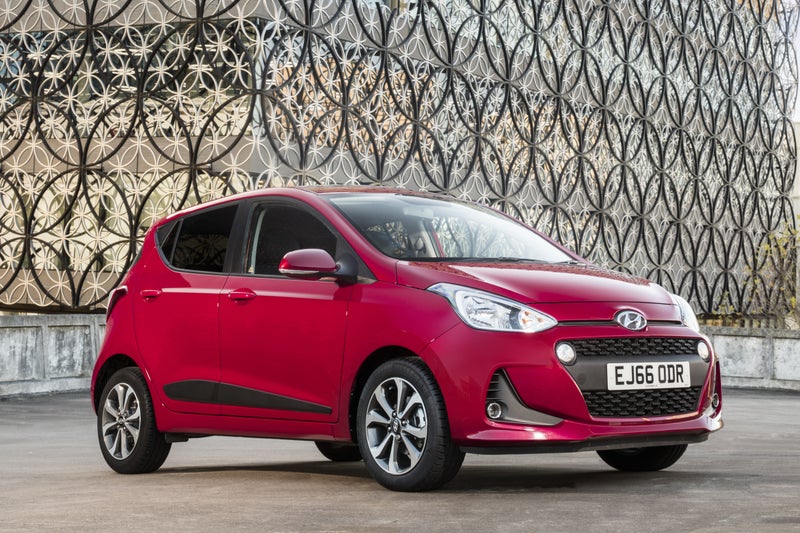 1/10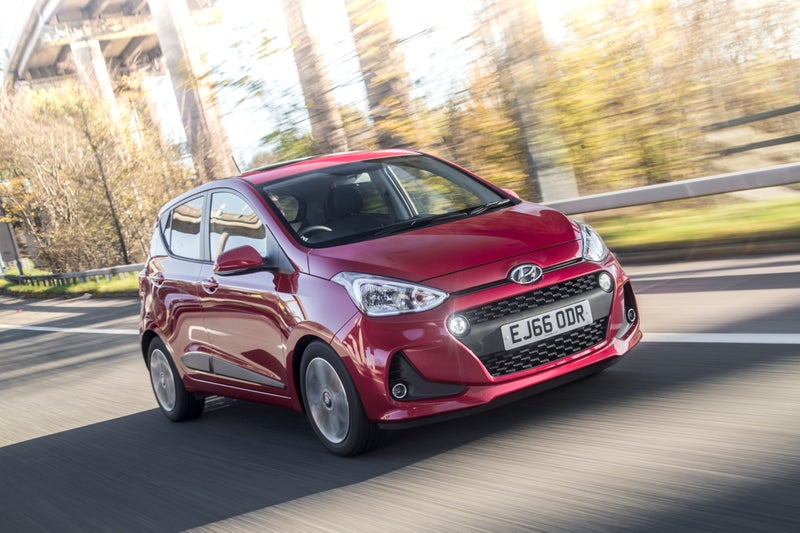 2/10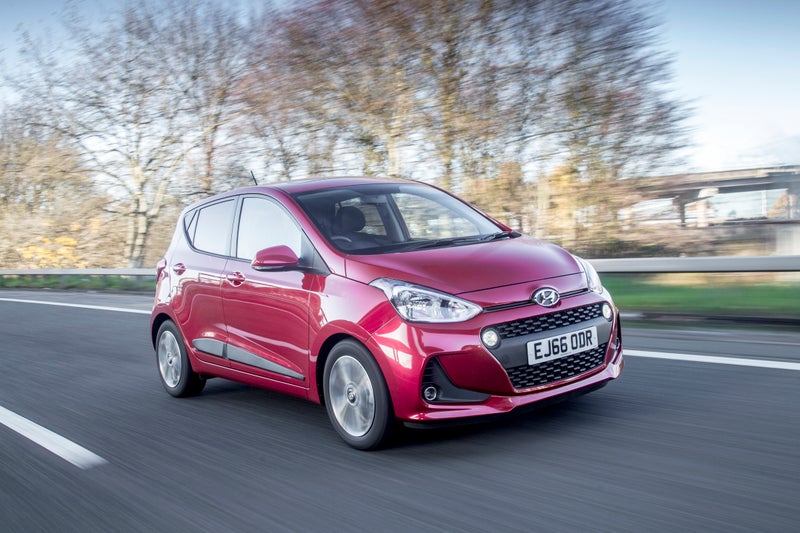 3/10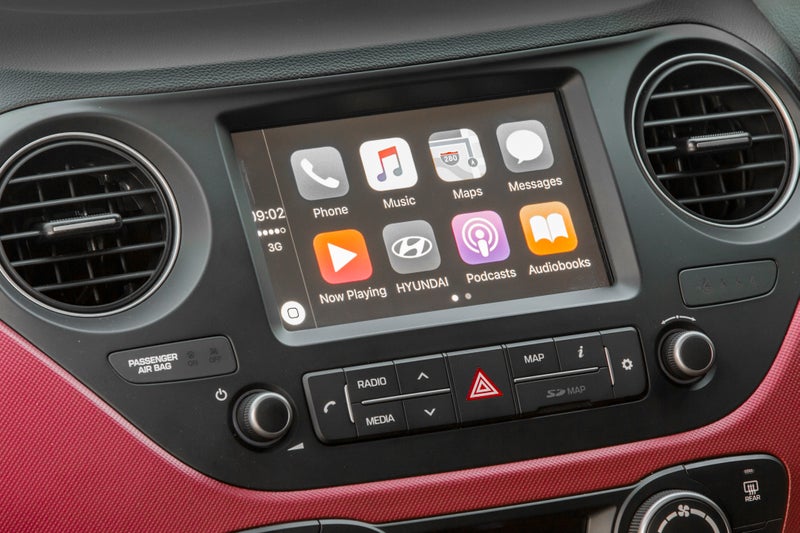 4/10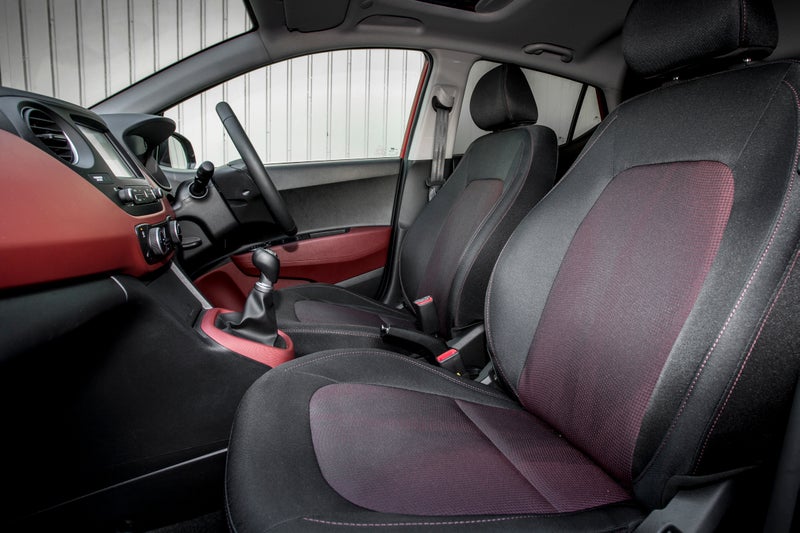 5/10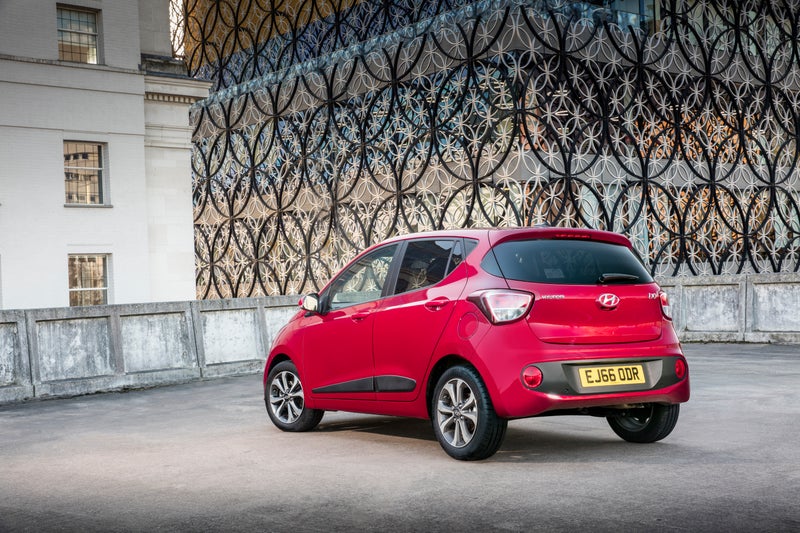 6/10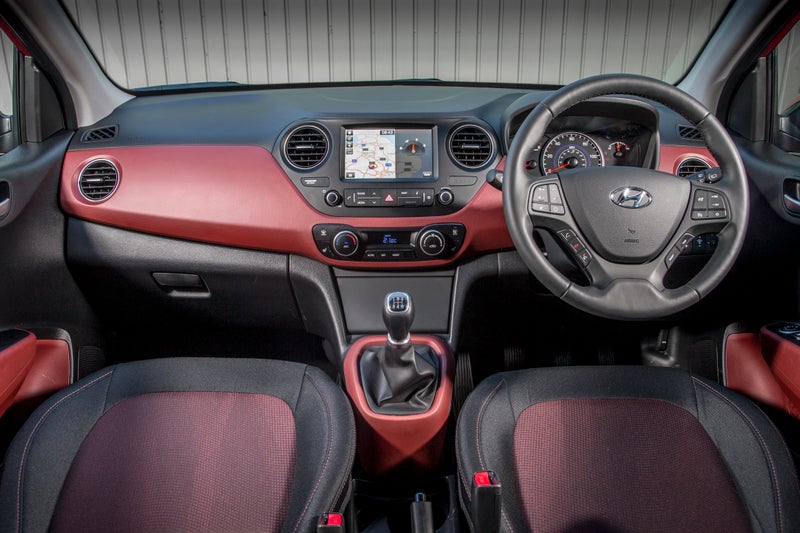 7/10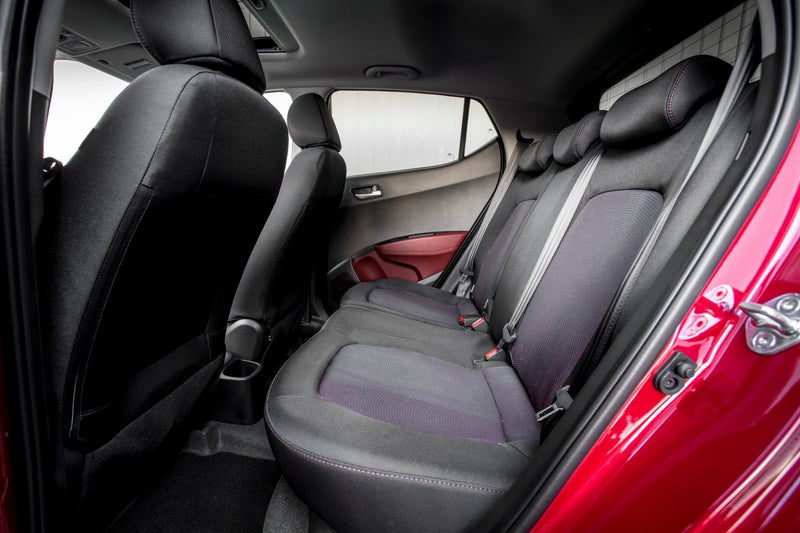 8/10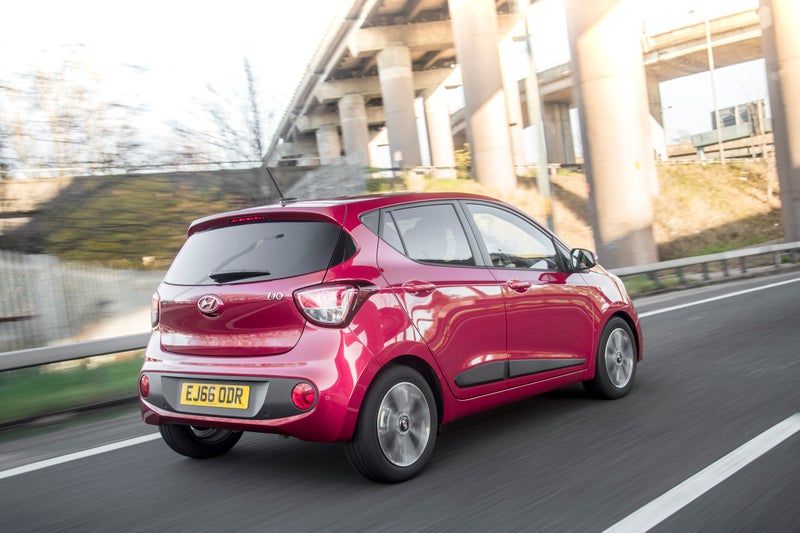 9/10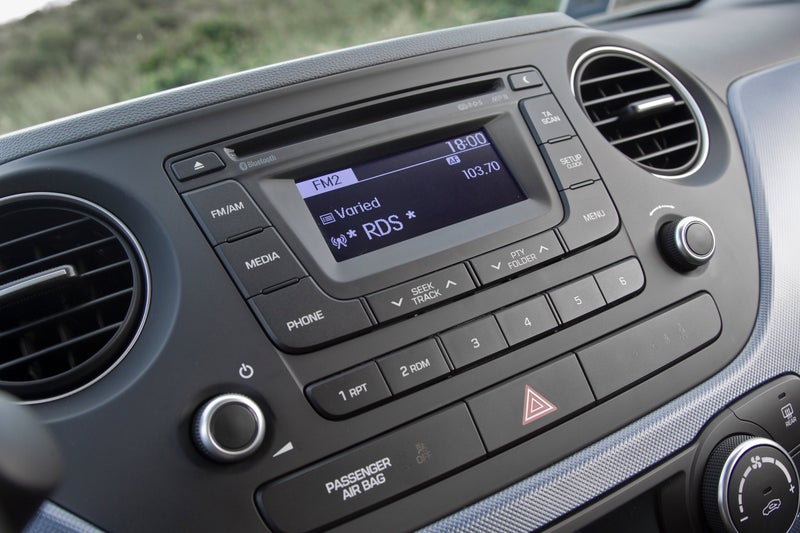 10/10

heycar rating
"Roomy, comfortable, easy to drive"
Launched: 2014

City car

Petrol
Quick overview
Pros
Compact yet spacious
Comfortable ride in town
Smooth automatic gearbox
Cons
Entry-level models sparsely equipped
Not the most efficient city car
Harsh brake pedal
Read by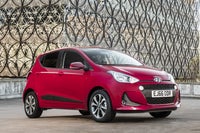 Overall verdict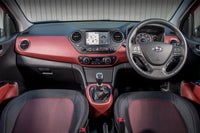 On the inside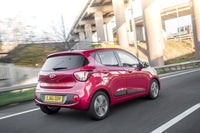 Driving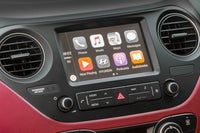 Cost to run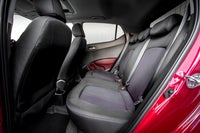 Prices and Specs
Overall verdict
"Buy yourself a Hyundai i10 and we promise you won't ever feel shortchanged. Yes, it's affordable and cheap to run, but it never feels like a budget car. It's got a smart cabin, lots of space, plenty of kit in Premium trim and is comfortable and secure to drive. What more could you possibly want from an everyday runabout?"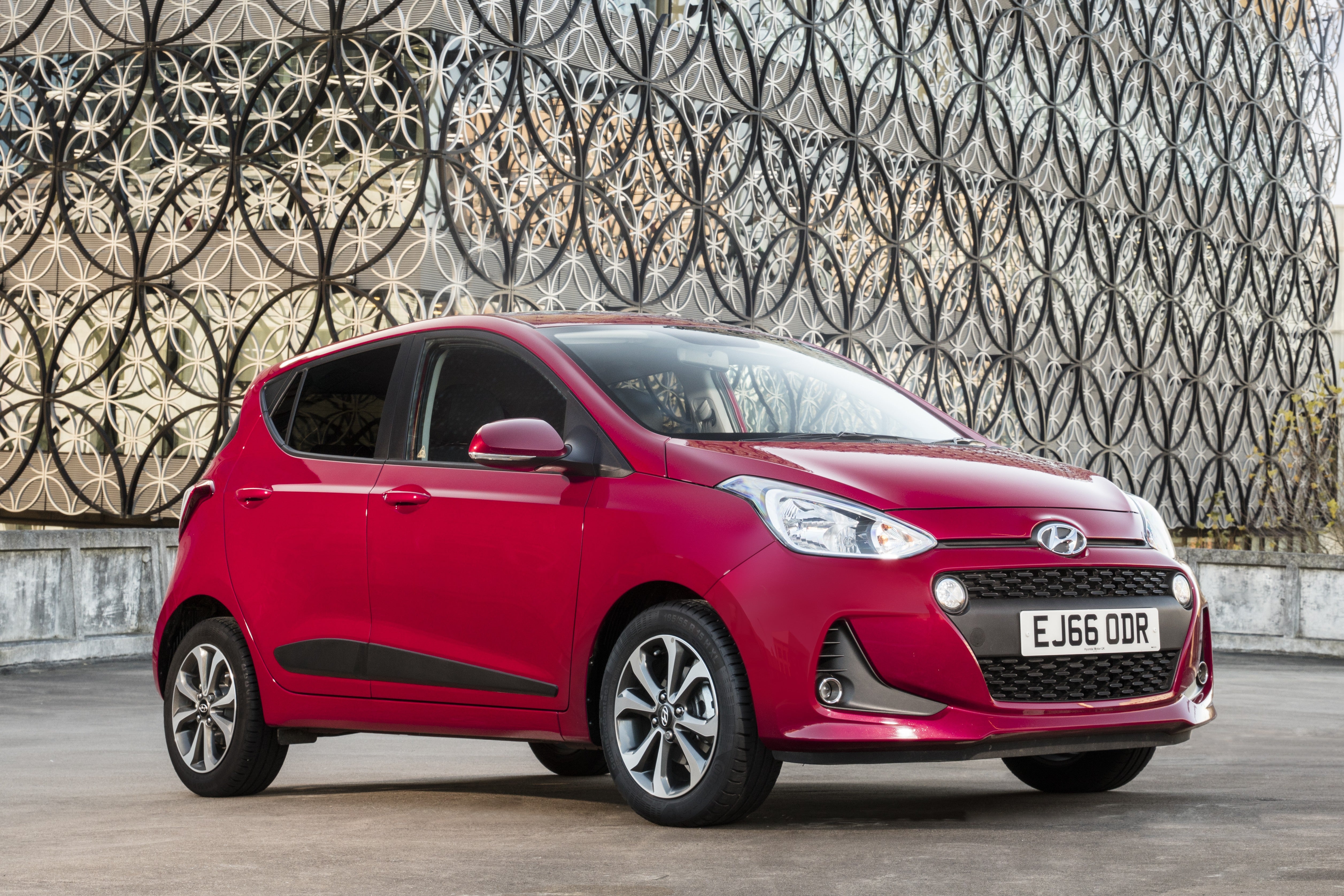 The Hyundai i10 is a dinky city car that offers a surprising amount of interior space, and impressive ride comfort in spite its diminutive size. Its predecessor was affordable, good to drive, and came well-equipped, and this version builds on those strong foundations to become one of the very best small cars on the market.
The Hyundai i10 has now been replaced, and we've reviewed the new model separately, but don't write off its older brother just yet. Unlike many rivals, it's only available with five doors (rather than three) and the design was given a refresh in 2016, with a range of styling upgrades including a new grille, front bumper and LED daytime running lights.
What makes it so good? Well, by focusing on space and a grown-up 'big car' feel Hyundai managed to build a city runabout that can also confidently tackle family duties and longer trips too. This versatility is rare in this class, and its affordable price and cheap running costs only add to its appeal.
It still has all the qualities you'd want from a compact car. Visibility is good, the driving position is well-judged, and the controls are light, so it's an easy car to weave through traffic or park in a crowded multi-story. Yet there is enough room for even taller adults to sit comfortably in the back for hours on end, and a big boot.
The cabin manages to be both cheap and cheerful, avoiding the dreary grey tones that plague so many cars at this price. Build quality is top notch, and the simple, intuitive layout is a joy to use. Avoid the most basic i10 and you'll get lots of standard equipment, with top Premium SE models fully loaded with luxury features that include smartphone mirroring, a heated steering wheel and front seats, climate control and parking sensors.
Power comes from two small petrol engines; a 1.0-litre three-cylinder with 67PS or a 1.2-litre four-cylinder with 87PS. Neither engine has a turbocharger, so performance is not exactly brisk, especially with the optional four-speed automatic gearbox on the 1.2 (a five-speed manual is standard fit on both).
The smallest engine is fine if you mainly drive in town. It's smooth, eager to rev, and doesn't feel as slow as its official performance figures imply, although it can feel out of its depth on faster roads and motorway trips. It's also the most efficient i10, although an official figure of just over 50mpg is nothing to write home about.
If you often visit relatives in Scotland or have a lot of burly mates, you'll want the 1.2-litre model. It's not a lot quicker, and needs working quite hard to get it moving, but requires fewer down changes for climbing hills. It also comes with the option of a proper traditional automatic, which is much smoother than most semi-autos.
For buyers looking for fun, you may be disappointed. The i10 feels nimble and light, gripping well in corners and keeping an impressively tight rein on its body movements over bumps, but rivals have sharper steering.
The latest i10 is safer, even more refined and better equipped, but this generation still has a lot going for it. On the used market, it's exceptionally good value, especially in the highest trim levels. If you need a roomy and relaxing small car with all the toys, it remains one of the smartest choices around. Highly recommended.
If you're looking for the newer version, you need our Hyundai i10 (2020-) review.
Comfort and design
"What the i10's cabin lacks in personality, it more than makes up for with its ease of use. We wish all small cars were this logically laid out. The simplicity and sheer clarity of the design helps add to an upmarket feel that is unusual at this price point."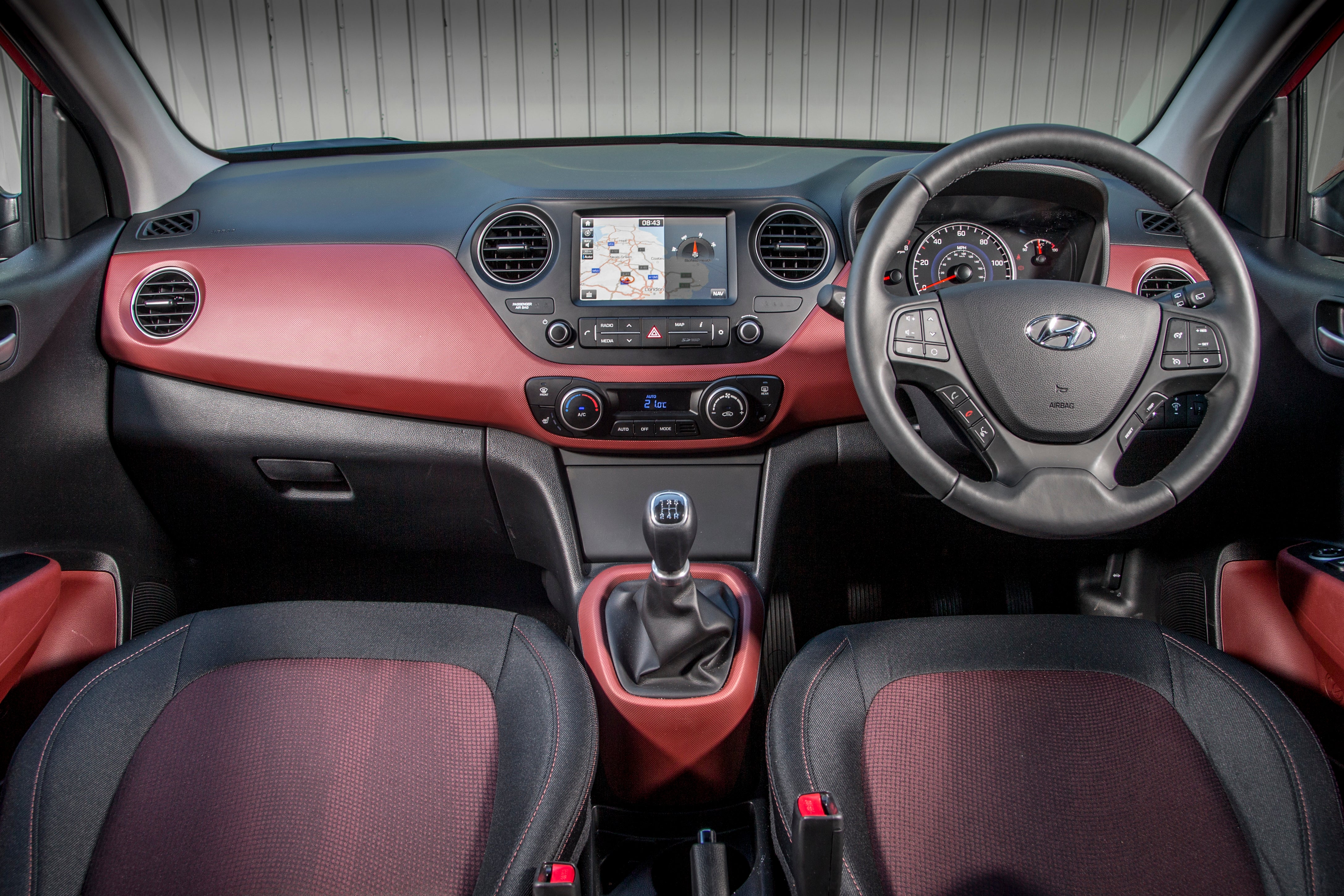 All but the entry-level S versions get a variable height driver's seat, helping to accommodate taller drivers. Some longer-limbed folk will bemoan the lack of reach adjustment for the steering wheel, but it's a common trait on cheaper small cars, and shouldn't prevent you from finding a driving position that suits your shape.
The front seats are supportive, and should keep you relatively comfy on long trips, with good cushioning and thigh support. There's even a foot rest, an unexpected feature that you'll wonder how you ever did without. It's not the sort of cabin that's set to win any style awards, but when everything works this well, most owners will have few complaints. This means you'll have a comfortable, hassle-free experience every time you take it for a drive.
Handling and ride quality
"The biggest compliment we can pay the i10 is that is feels like a bigger car to drive. Smaller, lighter cars are not supposed to be able to deal with bumps and tackle corners in such a comfortable, composed fashion."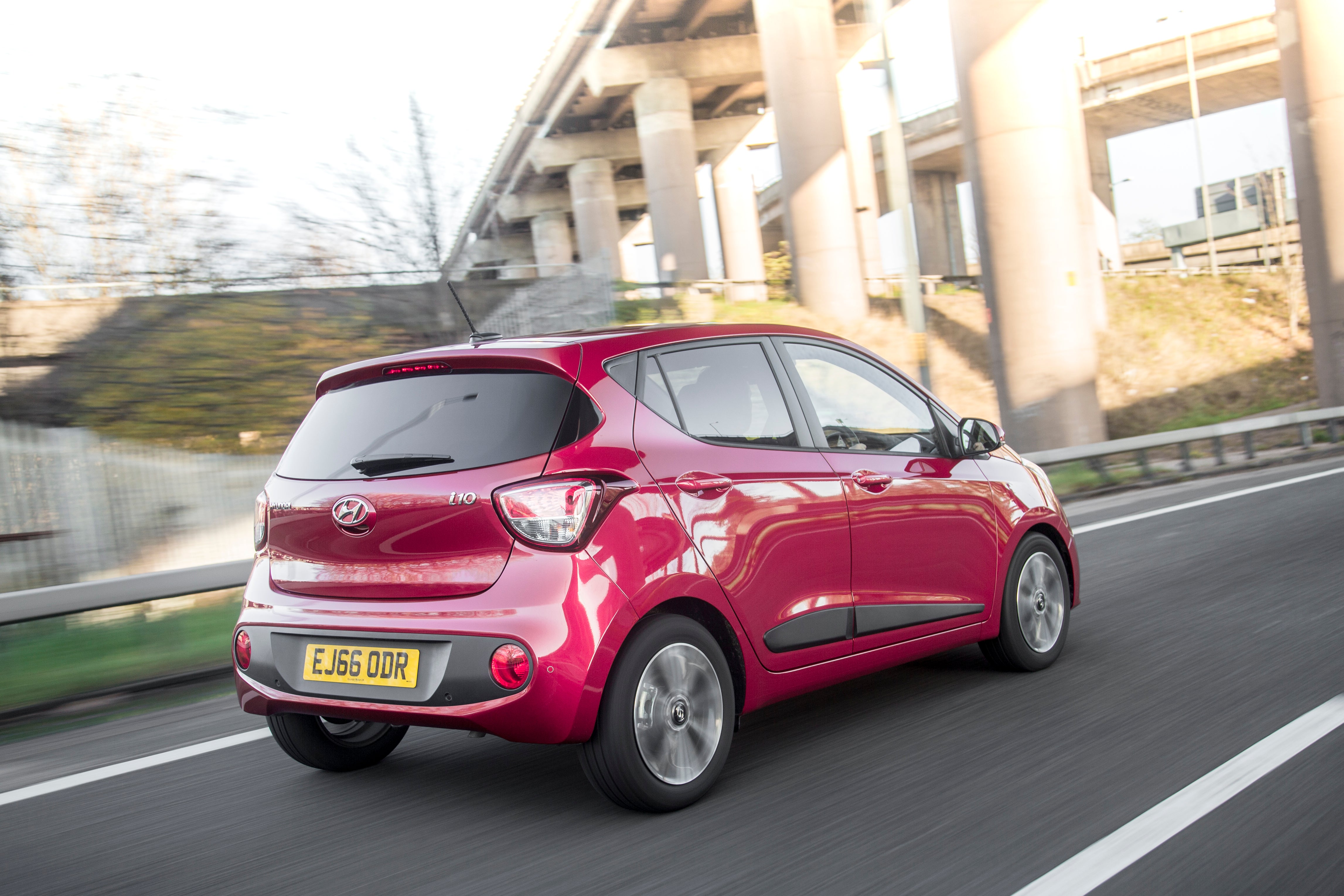 The i10's suspension has been setup to cushion you from the worst imperfections, doing an excellent job of ironing out pockmarked urban streets. It'll also smother dips and crests on lumpy B-roads, keeping its body in check.
Strike a pothole, and the initial impact will be absorbed without sending a judder through the whole car, and it quickly regains its dignity, where softer sprung city cars would still be wobbling much further down the road.
This high level of comfort really comes into its own on short suburban trips, where the i10 feels very relaxing to drive. The steering has an odd, elasticated feel, but is also fingertip light, so parking manoeuvres are easy.
Hustle it through a series of corners, and it resists body lean gamely. It grips harder than say, a Fiat Panda, but the rather remote steering means its not quite as fun or agile in this setting as a Skoda Citigo or Volkswagen Up. This grown-up character means the Hyundai feels very stable and reassuring at motorway speeds too, giving its drivers the confidence to dice with lorries and SUVs without needing to tighten their grip on the wheel rim.
One word of warning though, as earlier models were less impressive to drive on UK roads. Hyundai made a number of tweaks to the steering and suspension for the 2016 facelift, so for the best i10, get the newer car.
MPG and fuel costs
"Fuel economy is reasonable on the standard i10, with the 1.0-litre car capable of over 50mpg, and the 1.2-litre reaching a combined WLTP figure of just over 46mpg. There's a special 'BlueDrive' version that features a number of fuel saving measures for a claimed NEDC figure of 70mpg."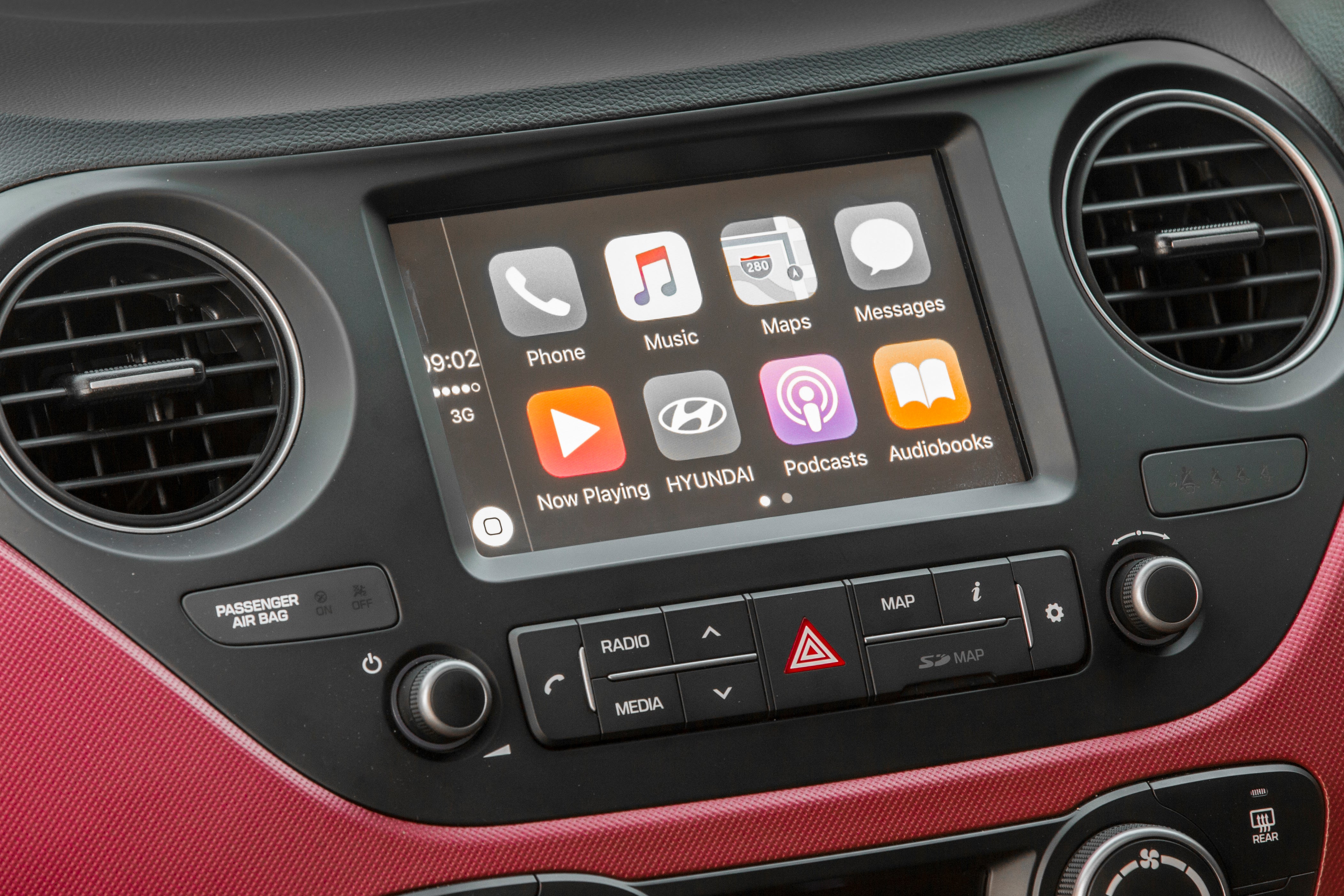 Be aware that the four-speed automatic really saps the economy you're likely to get, and our own Real MPG testers recording an average of just 38.4mpg, compared with 49.4mpg for the popular 1.0 model. That's very similar to a Volkswagen Up or Kia Picanto, but some way short of the 58.9mpg you can squeeze out of a Citroen C1. With a 40-litre tank, it should manage well over 400 miles between stops, if you drive the i10 gently enough.
How much should you be paying for a used Hyundai i10?
"As you would expect from such an affordable city car, there are good deals to be found on the used market. Some high-mileage 2014 cars start from below £3000."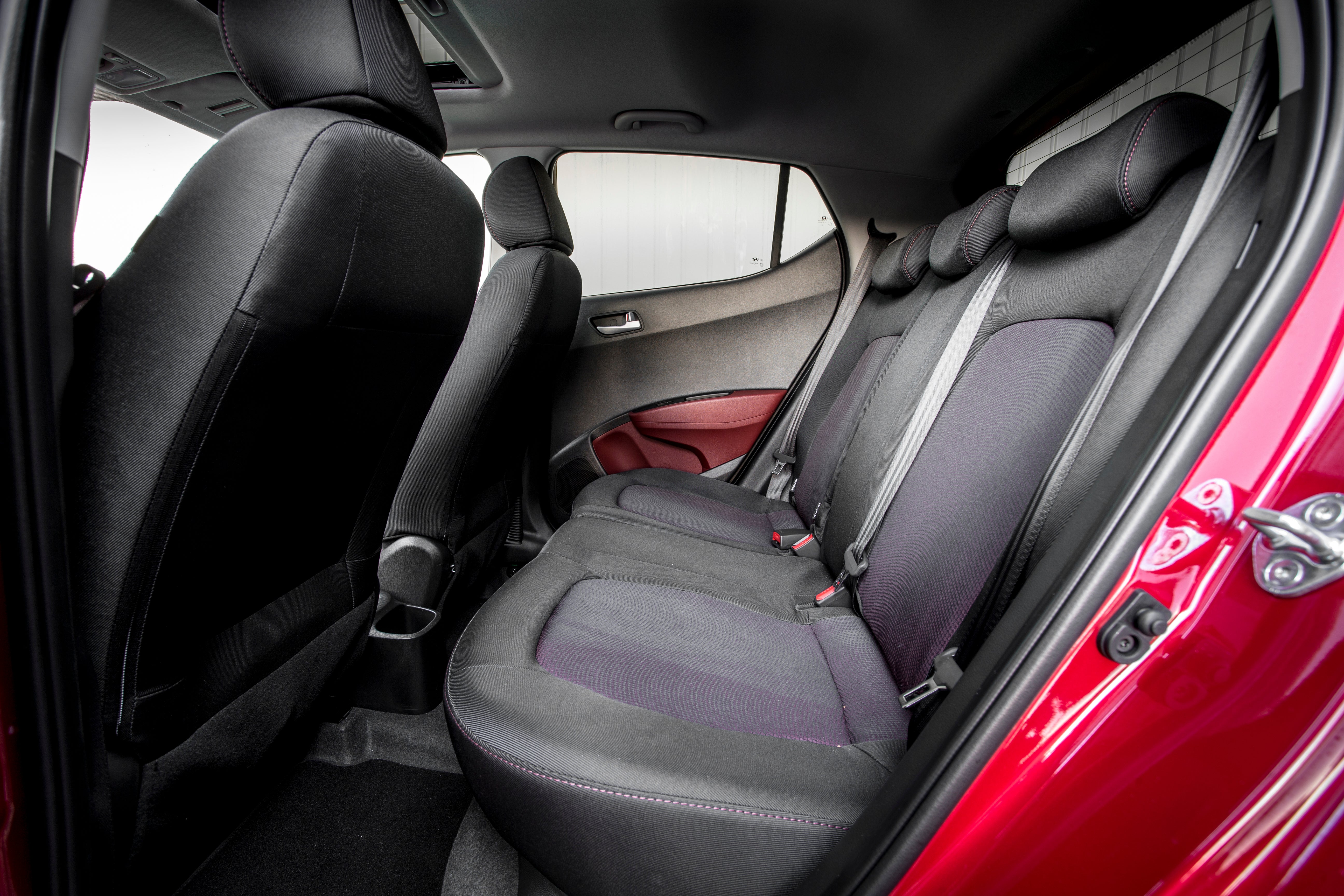 We would steer clear of the cheapest used i10 models and push the budget out to between £4000 and £5000 - this tidy sum will net you a cleaner car with a full service history, modest miles on the clock, and a choice of engines and trim levels.
Spend a little more and you'll be able to get the revised model with the 1.0-litre engine. Automatics are much rarer than manuals, kicking off just over £5000 for an early model, rising to over double that for the 2019 car. Still, stick with the manual (which we recommend) you can bag a Premium SE 1.2 from 2019 for under £10,000.
Is the Hyundai i10 right for you?
City car buyers want a pocket-sized runabout that's easy to drive. It needs to be small enough to squeeze into tight parking bays and narrow lanes, and the Hyundai i10 has the small footprint to do exactly that. Yet its petite dimensions conceal a surprisingly roomy and practical interior, with space for adults and a big boot.
With five doors, a generous level of equipment in the top trims, and a comfortable ride, the i10 is a great car for young families who'll use it as their sole means of transport; as it can handle town work and longer trips. It's an affordable car, and shouldn't cost you much to buy or run day-to-day, yet avoids feeling cheap inside.
Insurance and maintenance costs will also be very reasonable, and the only black marks against it are the rather sluggish engines (which are fine in town but can struggle on faster roads) and a lack of safety kit.
What's the best Hyundai i10 model/engine to choose?
Choosing between the two petrol engines will come down to your individual needs. Do a lot of your driving in town? You'll be fine with the 1.0-litre model, which is slow, but smooth and refined, and fairly efficient on fuel.
If you plan to take regular motorway trips, or carry more than two passengers at a time, you'll be needing the extra grunt that the 1.2-litre model delivers to get you up hills and past slower traffic. This engine is the only one that comes with the option to fit an automatic, so if you don't fancy shifting gears yourself, buy this one.
Avoid the most basic S model, it's too sparsely equipped, even by the low standards of the class (it doesn't even have driver seat height adjustment). SE models will suit price-conscious buyers, but we'd plump for the Premium models that bring big car features for only a modest extra outlay, and make the Hyundai feel plush.
What other cars are similar to the Hyundai i10?
For carrying passengers and luggage, not many city cars can compete with the i10. One of the few that can is the Ford Ka+, which actually has a usefully bigger boot and higher level of standard kit, but a low rent cabin.
If you live in a rural part of the country and need the reassurance and capability of four-wheel drive and a tall driving position in a dinky package, the Suzuki Ignis and Fiat Panda 4x4 are the perfect set of winter wheels.
However for buyers keen to cut down their environmental impact with an all-electric model, five door options such as the Smart EQ Forfour and Volkswagen e-Up both start from well over £20,000, off-setting their fuel savings.
Conventional rivals include the Kia Picanto, which is a bit more fun to drive, and slightly smaller city cars that are bursting with personality but less space, such as the Peugeot 108, Toyota Aygo, and the Renault Twingo.
Quality and finish
The financial constraints of building a small car to a strict budget mean that cost-cutting is inevitable. Yet the i10 manages to pull off the impressive trick of looking (and feeling) more expensive than it actually is inside. True, you won't find an abundance of plush materials lining the dash or door tops, but it all feels solid and looks smart enough, and unlike some city cars, there are no exposed metal surfaces letting the side down.
On all but the most basic model, Hyundai offered buyers a choice red or blue dash plastics and seat fabrics that really help to brighten up the cabin, adding a much needed splash of colour to the fascia and door cards.
Most cars get soft leather coverings for the steering wheel and gearstick, door handles in a chrome finish, sun visors with vanity mirrors for both the driver and passenger, and an illuminated glovebox. These might sound like small niceties, but when combined they all contribute to the i10 feeling like a bigger, pricier car.
Even minute details like the satisfyingly tactile click of the audio buttons on the steering wheel, and rear windows that lower right the way down into the door frame show an attention to detail that's rare to find in any city car.
Infotainment
If your idea of in-car connectivity is turning on the radio to listen to the post-match sport reports or finding your favourite station and never touching any of the dials except the volume again, then you're in luck in the i10.
The basic 'S' model has just two speakers, a 3.8-inch monochrome screen, and a single USB port, and does without modern essentials like Bluetooth phone pairing and DAB radio. You need to step up to the SE to get either, and upgrade again to either of the Premium models if you want a 7-inch colour touchscreen display.
Although the standard setup looks seriously dated, it is user-friendly. A set of large, clearly labelled shortcut buttons frame the retro black and white screen, and are big enough to hit first time, even while you're driving.
Obviously, no matter how nostalgic you're feeling, the upgraded system is the one you really want. It doubles the speaker count to four, and includes Apple CarPlay and Android Auto smartphone mirroring software too. The convenience of using your normal music and navigation apps via the built-in display can't be overstated.
Premium SE models are the only i10s to come with integrated navigation, but since you can plug your phone into the Premium model's screen and use Google Maps instead, it's not a reason to upgrade in and of itself.
The touchscreen is one of the better ones we've tried. It gets nice and bright, with colourful graphics and big icons, but be aware that only models from after the 2016 facelift come with it fitted - all older cars miss out.
Space and practicality
Spacious and sensible are the best words to describe the i10's cabin. Its five-door only layout means easy access to the interior, and there's room inside for taller passengers to get comfy, even in the back seats.
In fact, the Hyundai is one of just a few city cars that can carry five (although doing so will create a distinct lack of personal space for everyone in the rear) but it's nice to know it's possible when the need arises.
Having plenty of knee and headroom for a pair of imaginary mates is all well and good, but it's far more likely that you'll use them to fit a child seat. There are Isofix anchors on both outer spots, and having that extra inch or so to manoeuvre in means you'll be able to slot a group 1/2/3 seat inside without much persuasion. Finding the mounting points is a challenge though, and if you put a bulky rear-facing seat in then whoever is in the front will have their knees pushed right up against the dashboard. That's the same on most rivals, too.
When it was launched the i10 had one of the biggest boots in this class at 218 litres, but now it falls a couple of shopping bags short of cars like the Kia Picanto (255), and a small suitcase less than the Ford Ka+ (270).
If you go for the entry-level S model you'll get extra stowage under the boot floor to bring that capacity up to 252 litres, but you lose out on the space saver spare wheel that normally lives there, and we'd rather keep it.
The back seats split in a 60:40 configuration across the range, and once they are folded away (leaving a bit of a hump in the floor) it can carry over 1000 litres of luggage; impressive stuff for such a compact car. It has clever touches too, including a slot to keep the seatbelts from snagging the backrests as they tumble away.
On board storage is good too, with decent door bins, three cupholders, and a couple of spots for hiding your valuables, including a big glovebox and a lidded cubby in front of the gearstick big enough for a smartphone.
Engines and gearboxes
Hyundai has used the same pair of modestly powerful petrol engines throughout the i10's five-year life span. The entry-level 1.0-litre three-cylinder produces a humble 67PS, but because it only needs to haul around a small and lightweight body, it feels nippier and more eager than its pedestrian performance figures suggest.
It'll happily whizz in and out of city traffic, and pulls keenly right across its rev range. That means that while it does require some encouragement to get going, it never feels laboured doing so. It's a good fit with the i10. Once you break out of urban centres though, its relative lack of performance does come home to roost. Take it on the motorway and you'll need to stick to the inside lane, and plan any overtaking very carefully indeed.
That's where the larger four-cylinder 1.2-litre comes in. It makes do without a turbo, so power only climbs to a humble 87PS in total. Still, it feels meaningfully quicker than the 1.0 car when fully laden, or going up hills. This is the model we'd recommend for any drivers doing higher mileages, and the occasional longer journey.
Both drive the front wheels via a five-speed manual gearbox, with the larger engined version offering buyers the choice of a four-speed automatic. It's one of the smoothest self-shifters fitted to any city car, and although it does put a dent in the straight-line performance and fuel economy, it makes the i10 incredibly easy to drive.
Refinement and noise levels
The i10 might not be setting any speed records, but goes about its business in a calm, and civilised manner. In town - where it should spend most of its life - it's smooth, with very little vibration disturbing its occupants.
Although it has one less cylinder to work with, the 1.0-litre engine is actually smoother when worked than its 1.2-litre sibling. The latter can get a bit thrashy and strained when you put your foot down, making a racket. The five-speed manual has a nice positive action, and the optional automatic is a traditional torque converter, which simply means that its a lot smoother in operation than some of the jerky semi-autos fitted to its rivals.
Venture onto faster roads and motorways, and the Hyundai is more of a mixed bag. Wind noise is kept to a quiet rustle, but tyre roar echoes around the cabin at higher speed, reminding you that you're in a cheap car.
While both engines settle into a muted cruise once you're up to the legal limit, changing down a cog or two in an attempt at overtaking or getting up a steeper incline will be met with noisy protests from under the bonnet.
Safety equipment
Titchy city cars built on shoestring budgets have struggled to keep up with the latest safety standards, as it's hard for manufacturers to add in sophisticated crash preventions systems without the price shooting up too.
Most models in this class achieve three or four stars (out of five) in Euro NCAP crash tests. Although the i10 falls into the latter category, it was tested back in 2014, when the assessment protocol was a lot less strict. That's why the Volkswagen Up (tested in 2019) got higher individual scores for adult and child protection than the Hyundai, but only three stars overall. If the i10 was tested now, it would likely be a three-star car.
Let's not get lost in the figures though. The i10 has above average safety performance, backed up by a good level of standard passive equipment, including anti-lock brakes, electronic stability control (ESC), six airbags, and tyre pressure monitors that will alert the driver to any loss of pressure when you've picked up a puncture.
The Premium models benefit from additional safety equipment, with height adjustable seat belts in the front, a hill start assistant that'll stop you rolling back on steep junctions, and a feature that will flash the hazard lights if you brake very hard, alerting the drivers behind you to any potential obstruction in the road ahead.
On all but the entry-level 'S' model, buyers can specify a Driver Assist Pack for a reasonable £275. It brings a Lane Departure and Forward Collision Warning system, which shows an audio and visual cue if you start to stray out of line without indicating first, or it senses a dangerous situation that you may not have spotted yet.
Parking sensors are only standard on the most expensive trim, and you can't get this generation of i10 with a reversing camera, as you can on some rivals. Still, most versions do come with a space saver spare wheel.
Insurance groups and costs
The 1.0 petrol will be kindest to your wallet if you're buying the i10 as a first car or looking to cut down your premiums. In S or SE trim this engine sits in group 2 (out of 50) so it should be very inexpensive to cover.
Upgrading to the Premium trim pushes you into group 3, while the punchier 1.2-litre model starts in Group 6. Some city cars (including the Citroen C1, SEAT Mii and Nissan Micra) manage to sneak into Group 1, which will make a big difference to how much you'll pay for new teenage drivers, but the i10 is an affordable choice.
VED car tax
Your annual bill for keeping your car on the road will vary depending on the age of your car, and its engine and CO2 emissions. Most older models registered before April 2017 will pay between £20 and £30 per year, with the exception of the efficient 'BlueDrive' model, which is tax exempt, and the 1.2 auto, which costs £150.
Newer examples from after that cut off date pay the same flat-rate applied to all petrol and diesels that cost less than £40,000 when new (and the i10 gets nowhere near that), currently this charge is £150 per year.
The eco-conscious BlueDrive is also the best choice for company car drivers, with a reasonable BIK rate of just 23% that equates to just over £500 a year for a low rate taxpayer, compared to 30% for a 1.2 Premium.
Trim levels and standard equipment
As is the case with many city cars trying to pinch every penny, it does feel quite basic in the entry-level i10, but all cars do come fitted as standard with electric front windows, USB connectivity, and a radio. It might be cheap, but we'd avoid this one, it's too sparse to be a comfortable everyday car.
It's well worth upgrading to the SE to get your hands on essentials like air-con, DAB radio, Bluetooth and cruise control. Go SE trim adds alloy wheels and privacy glass, while Premium cars get climate control, and a sharp 7-inch touchscreen media system with integrated Apple CarPlay and Android Auto (post the 2016 facelift).
Top spec Premium SE models get the sort of luxuries that would have been unheard of in city cars a few years ago, with rear parking sensors, toasty heated front seats and steering wheel, keyless entry and start.
Hyundai don't tend to offer options, so you can't add useful stuff like the touchscreen to lower models, but it does offer a couple of extras, including a sunroof (on Premium SE only) and a driver assistance safety pack.
Normally we'd advise going for a cheaper trim level, but in this case we think the top spec Premium models actually offer the best value. Pick either and you'll have one of the most fully loaded city cars on the market.
Learn more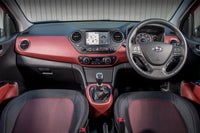 On the inside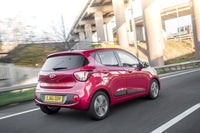 Driving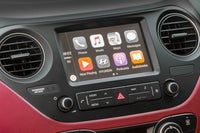 Cost to run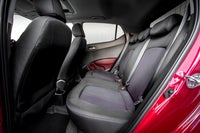 Prices and Specs
Reviews of similar cars
Quality checked, all cars less than 8 years old and warranty included
Looking for other Hyundai cars?
Quality checked, all cars less than 8 years old and warranty included
Keep me updated by email with the latest advice, news and offers from heycar
By submitting, you agree to our
privacy policy
.