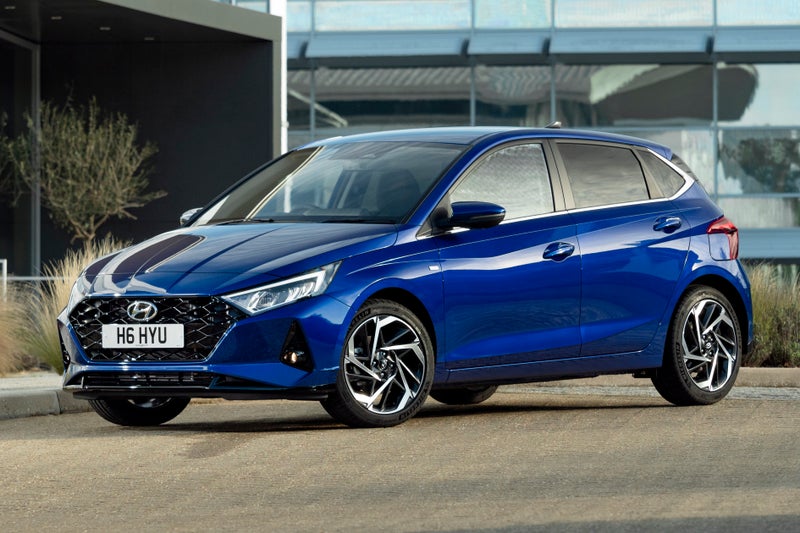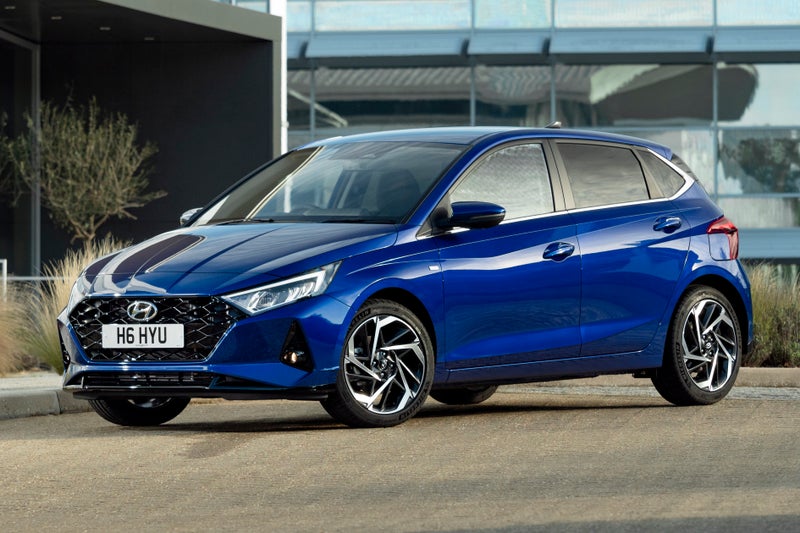 1/10
heycar rating
"Small car heaped with kit"
Launched: 2020

Small hatch

Petrol
Quick overview
Pros
Generous equipment levels
Spacious back seat
Mild-hybrid engine is nippy and cheap to run
Cons
Drab interior fails to inspire
Ride isn't very comfortable
Rivals are more desirable ownership propositions
Overall verdict
On the inside
Driving
Cost to run
Prices and Specs
Common questions
Overall verdict on the Hyundai i20
"Ten years is a long time in the car world and the Hyundai i20 is a small car that shows you just how far things have come, thanks to an equipment list that would match a top-of-the-range saloon from a decade ago."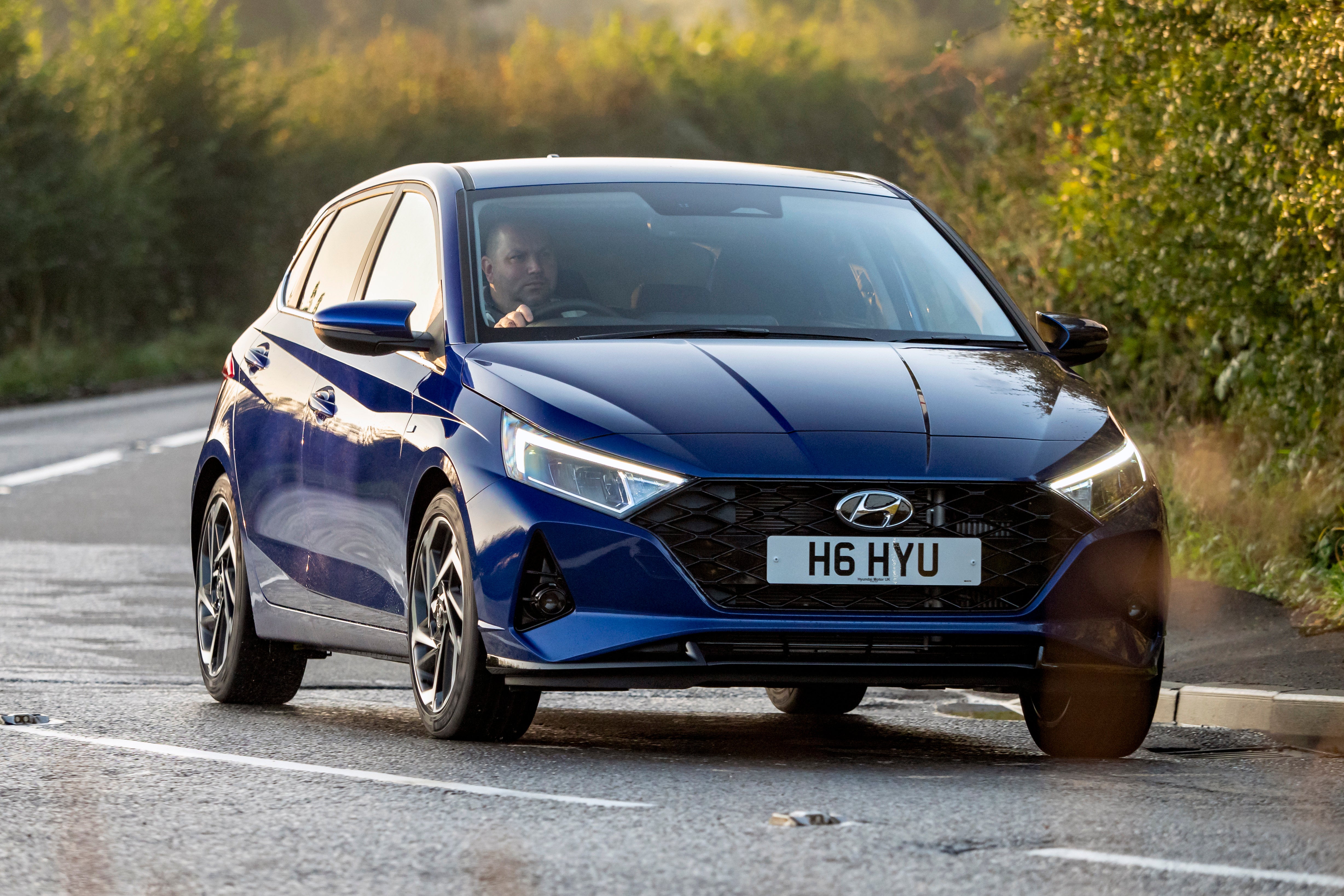 It's certainly one of the most complete and best small cars available today and we'll explain why in our in depth 2022 Hyundai i10 review.
Jump inside the Hyundai i20 and you're met by two large displays including a digital instrument binnacle that used to only be an option on posh Audis. The centre touchscreen, meanwhile, is quick and slick to use and comes as standard with Apple CarPlay and Android Auto so you can use your phone's apps on the car's big screen.
Okay so the Hyundai i20's interior quality isn't brilliant – a couple of levels down from a Volkswagen Polo, in fact – but hey, even basic models get cruise control and air conditioning, while mid-range cars add heated seats and a heated steering wheel.
Space is another Hyundai i20 strongpoint. There's loads of room up front for tall adults and even if you're a towering specimen, tall passengers behind you won't find their knees jammed against the back of your seat. Factor in the relatively large and well-shaped boot and this is the perfect small car for you if you have a growing family.
The old Hyundai i20 was practical too, but what it didn't have is the high-tech engine you get in this new car. As well as being a tiny, three-cylinder turbocharged petrol engine, it has a 48V power supply that allows for mild-hybrid technology giving decent performance and excellent fuel economy – you'll get 50mpg without even trying. It's the only engine available with the exception of the 1.6-litre turbocharged petrol engine used in the i20 N hot hatch.
Sadly, in standard form, at least, the Hyundai i20 isn't the kind of small car you'll long to drive but it grips well in corners and doesn't suffer from pronounced lean. That said, a Volkswagen Polo does both those things but is better at soaking up bumps in the road and is quieter.
Fact is, the Hyundai i20 lacks a little bit of polish but it makes up for this with a comprehensive suite of electronic driving aids. Top-of-the-range models can steer themselves on the motorway and have active cruise control that can accelerate and brake for you.
You still have to do the driving in town, but the i20's excellent visibility makes it easy to negotiate your way through bustling streets. Plus, rear parking sensors and a boot-mounted camera come as standard so you can easily squeeze into tight parking spaces.
But can the i20 squeeze into your life? Well, the Ford Fiesta is more fun to drive, while the Toyota Yaris and VW Polo are more comfortable and feel posher, but the Hyundai gets close to its rivals on all of these fronts, is more spacious and has more equipment, if you like the sound of that it should be right up your street.
If you're looking for the older version, you need our used Hyundai i20 (2015-2020) review.
Is the 2022 Hyundai i20 right for you?
If you're not swayed by badges, a sporty drive or try-hard posh interiors then, yes, the Hyundai could be the car for you. Its pair of large infotainment screens make it feel very high tech and even the basic model has plenty of equipment.
Factor in the spacious interior and Hyundai's excellent five-year warranty and this is a car that could give your family half a decade's worth of fault-free motoring.
What's the best Hyundai i20 model/engine to choose?
There's only one engine to choose from at the moment and while the 1.0-litre 48V mild-hybrid motor is neither the punchiest nor the quietest amongst its peers, it's nippy and returns extremely strong fuel economy.
The Hyundai i20 Premium gets a lot of useful kit – in addition to the strong levels of equipment offered by the basic car, you can get things like heated seats, a heated steering wheel and driving aids that mean the i20 can drive itself on the motorway. The step up to Ultimate spec, meanwhile, buys you a powerful Bose stereo and keyless entry.
What other cars are similar to the Hyundai i20?
Comfort and design: Hyundai i20 interior
"The Hyundai i20 gets all the basics right. Its interior has an intuitive design that's easy to use with reactive infotainment screens that are logically laid out and simple to navigate."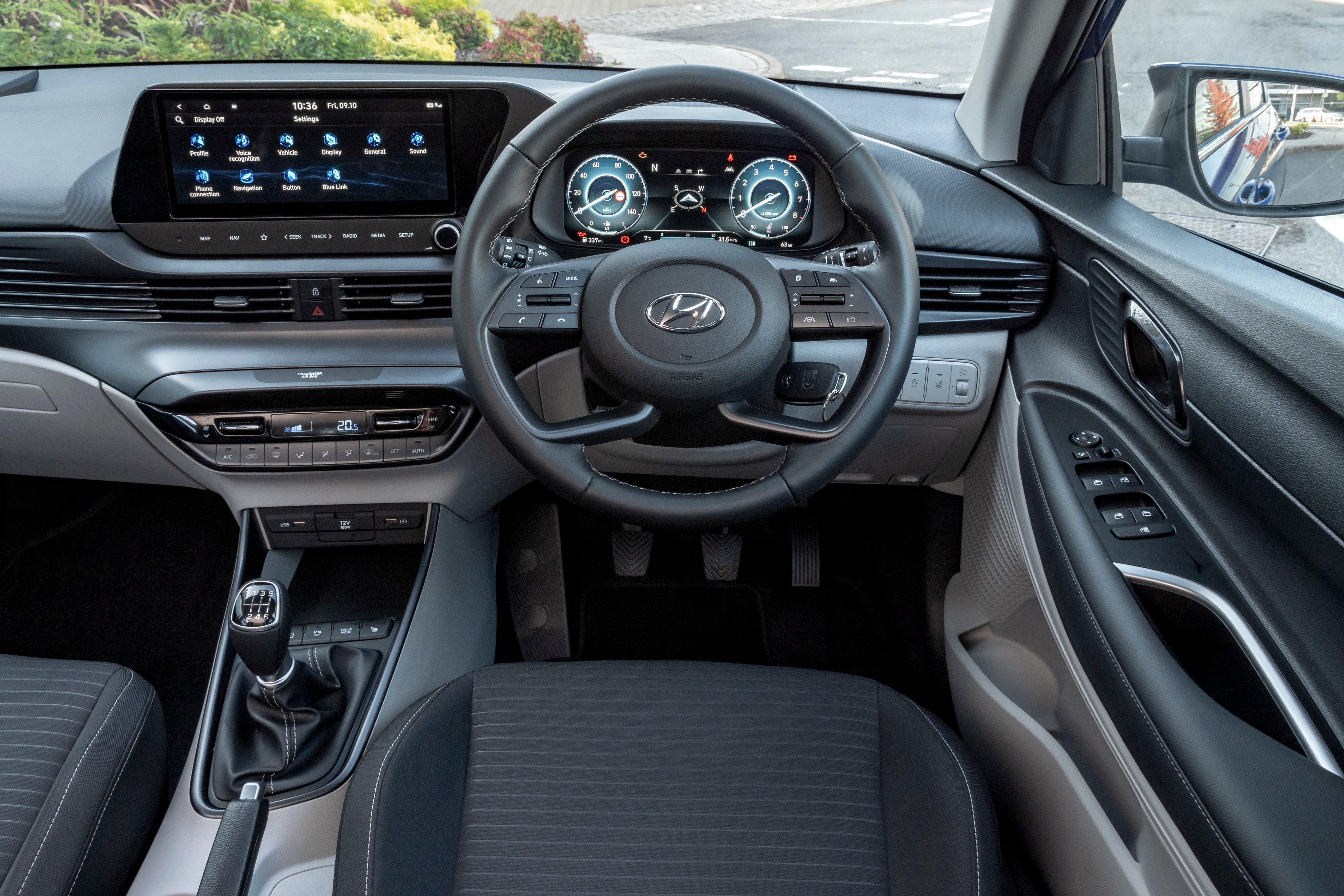 The driving position of the Hyundai i20 is also spot on. You can get your seat low into the floor for a hunkered-down feel or ratchet it up for a better view out. The steering wheel also offers lots of movement up and down and in and out.
There's loads of room for your size tens in the pedal box and you also get somewhere to rest your left foot when it's not pumping the clutch pedal. Even the gear shifter is within easy reach of your hand and its precise action makes it easy to slot in and out of gears.
But while it's easy to get on with, there's not much inspiring about the Hyundai i20's cabin. The plastics are dark and shiny and even the car's screens – big though they are – aren't as colourful or as crisp as the ones in a Volkswagen Polo.
What you can't quibble with is the amount of standard equipment that's on offer with Hyundai i20. All cars get a leather-trimmed steering wheel and gear knob so the main touchpoints feel posh, cruise control and air conditioning, while Premium models and above add heated seats and a heated steering wheel.
Quality and finish
Interior quality isn't one of the Hyundai i20's strong points. None of its plastics are soft to the touch like in a Volkswagen Polo, Ford Fiesta or Toyota Yaris.
Sure, you get some interesting ribbed trims that intersect between the air vents and lighter plastics in the lower half of the cabin help brighten it up. But this doesn't make up for the large swathe of plastic that sweeps across the bottom of the dashboard and looks like it had a past life as chocolate box packaging.
The design itself is also a bit plain with neither the high-tech feel you get in most Polos or the sculpted shapes found in a Yaris. If plain and simple works for you, though, the Hyundai i20 will be just the ticket.
Infotainment: Touchscreen, USB, nav and stereo in the Hyundai i20
While its not the prettiest looking, the Hyundai i20's infotainment is very good. Even the basic model comes with an eight-inch central touchscreen and a 10.25-inch digital instrument binnacle. You also get Apple CarPlay and Android Auto so all the apps you love on your phone – like Google Maps and Spotify – work on the car's big screen.
Go for the Premium model and you swap the eight-inch central touchscreen for a 10-inch version. It comes with a five-year free subscription to Hyundai's connected service so you can do things like check on the car's location and open it remotely using Hyundai's Bluelink app.
The infotainment's graphics have a blue hew that looks a bit 90s hi-fi and the graphics themselves aren't the sharpest. But while it already looks dated, its quick reactions and recognition of gestures such as 'pinch' and 'swipe' mean it is one of the slickest systems to use that you'll find fitted to a car this size.
Ultimate models go a step further than the rest of the range by swapping the weedy standard stereo for an eight-speaker Bose system with eight speakers including a subwoofer, though we've yet to sample how good it is in practice.
Space and practicality: Hyundai i20 boot space
In the front, the Hyundai i20 has all the room tall adults need and the cabin is wide enough that you don't have to worry about bashing your passenger's knee when you're changing gear.
The front seats slide far back on their runners so even if you're tall, you'll have room to spare and the seats' flat squabs make them comfortable on long journeys.
The biggest revelation comes in the back seat where your six-foot passengers will find they have plenty of knee room even if you're a similar height sitting in front of them. Again, the width of the car means two people in the back have loads of elbow and hip room and you'll squeeze a third passenger in the middle without hearing too many grumbles.
Small rear doors mean squeezing a child seat into place is a little tricky and because of the Hyundai's low body, you'll have to lean down to get it located into the car's ISOFIX points. But that's also true of all the i20's rivals.
The Hyundai i20's boot space is also comparable to the competition, the i20's 352-litre load capacity is just three litres smaller than you get in the Volkswagen Polo and its square shape makes it easy to fill. With the adjustable boot floor in its highest setting, you get a tiny load lip to lift luggage over and with the back seats folded down total capacity sits at a healthy 1165 litres.
If you're buying a small hatchback to fit in a small garage or narrow parking space, you'd be interested to know the Hyundai i20 is 4040mm long (exactly the same as a Ford Fiesta), 1775mm wide (not including door mirrors) and 1450mm high.
Handling and ride quality: What is the Hyundai i20 like to drive?
"The Hyundai i20 isn't as entertaining as a Ford Fiesta or as comfortable as a Volkswagen Polo, but it manages to be a jack of all trades in a cut-throat class."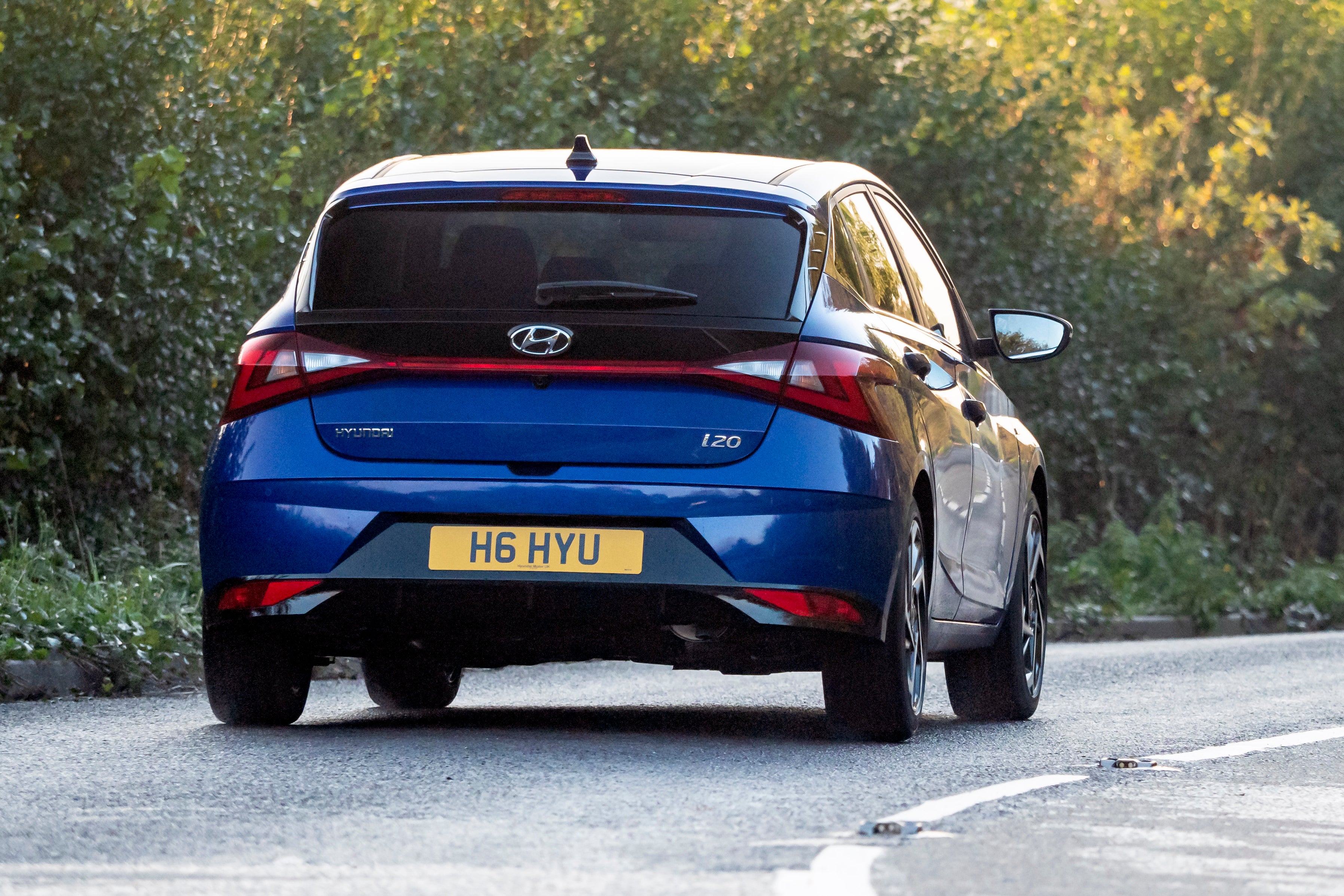 Not many people buy a small family car with the sole intention of ragging it around corners but compared to a model like the Ford Fiesta, the Hyundai i20 feels a bit stodgy.
Its steering is about as communicative as someone who's just been hit over the head with a cricket bat and the fake resistance engineered into it – for a sporty, weighty feel – really just makes it numb and obstructive, you'll be much better served by a Ford Fiesta if you want a car you can enjoy in corners. A shame because the i20 grips with tenacity and doesn't list in corners.
That said, the Hyundai i20 is a little crashy over bumps. It doesn't breath with the road like a Volkswagen Polo can and doesn't have the Polo's unflustered nature of a car that feels larger than it is. The i20 we drove had 17-inch wheels so it might be worth trying one with the smaller 16-inch options.
In most other respects the i20 is a comfortable car on a long-distance hoof. It's relatively quiet and is available with a full suite of autonomous driving aids that take the stress out of monotonous motorway work.
The Hyundai i20 is also an easy car in town. At slower speeds, the steering sheds its fake weightiness, being light and precise and you get decent visibility through all corners. Even if you're not a huge fan of backing into spaces, all cars come with the safety net of a reversing camera and rear parking sensors which makes it a simple job.
What engines and gearboxes are available in the Hyundai i20?
Hyundai only offers the i20 with one engine but it's a high-tech 1.0-litre three-cylinder that's boosted by a turbocharger to produce 100PS and 172Nm of torque. That gets it from 0-62mph in 10.4 seconds in six-speed manual form or 11.4 seconds if you go for the optional seven-speed dual-clutch automatic.
Keep the gears low – the i20 does 70mph in second – and you'll be rewarded with reasonable performance, although the i20 doesn't have the lazy mid-range you get from other small turbocharged petrols like this and it's also more noisy than tuneful when you give it some.
The gearshift is surprisingly tight and precise, though, so stirring the gears is no hardship. Okay, so you get some throbbing vibrations through the steering wheel and pedals, but that's true of all three-cylinder engines .
Also worthy of note is the Hyundai i20's fuel-saving 48V power supply and oversized starter motor. It's a combination that means the i20 can turn off its engine before you've come to a stop, coast on the motorway and can even provide a boost of power getting off the line. Don't expect to bimble around town under electric power alone, though - this isn't a full hybrid setup.
Refinement and noise levels
The Hyundai i20 doesn't quite give you the big car refinement you'll find in rivals like the Volkswagen Polo and Toyota Yaris, but it's still pretty comfortable.
Alright, so you get more tyre roar than in the aforementioned competition – we'd advise going for a car with 16-inch alloy wheels instead of the 17s fitted to our test car – but there's not much wind noise to speak of. Engine noise, meanwhile, is noticeable under acceleration, but settles down once you're cruising.
Safety equipment: How safe is the Hyundai i20?
The i20's list of standard safety kit wouldn't have looked out of place in a flagship Mercedes S-Class brochure from 10 years ago.
Under Hyundai's umbrella of SmartSense safety features, you get six airbags, automatic emergency braking, a blind-spot warning system, and eCall which can call the emergency services and share your location if you're involved in a serious accident.
It's also available with Hyundai's active cruise control. It can brake the car when there's slower-moving traffic in front before returning to a preset cruising speed when the way is clear, but it can also use information from the sat-nav to slow for corners and rear road signs to adhere to the speed limit.
This version of the i20 has yet to be tested for safety by Euro NCAP but expect it to improve on the four stars the old model scored back in 2015.
MPG and fuel costs: What does a Hyundai i20 cost to run?
"Thanks to its small capacity and 48V mild-hybrid technology, the i20 is very economical on fuel with more than 50mpg readily achievable and up to 60mpg possible at a steady cruise."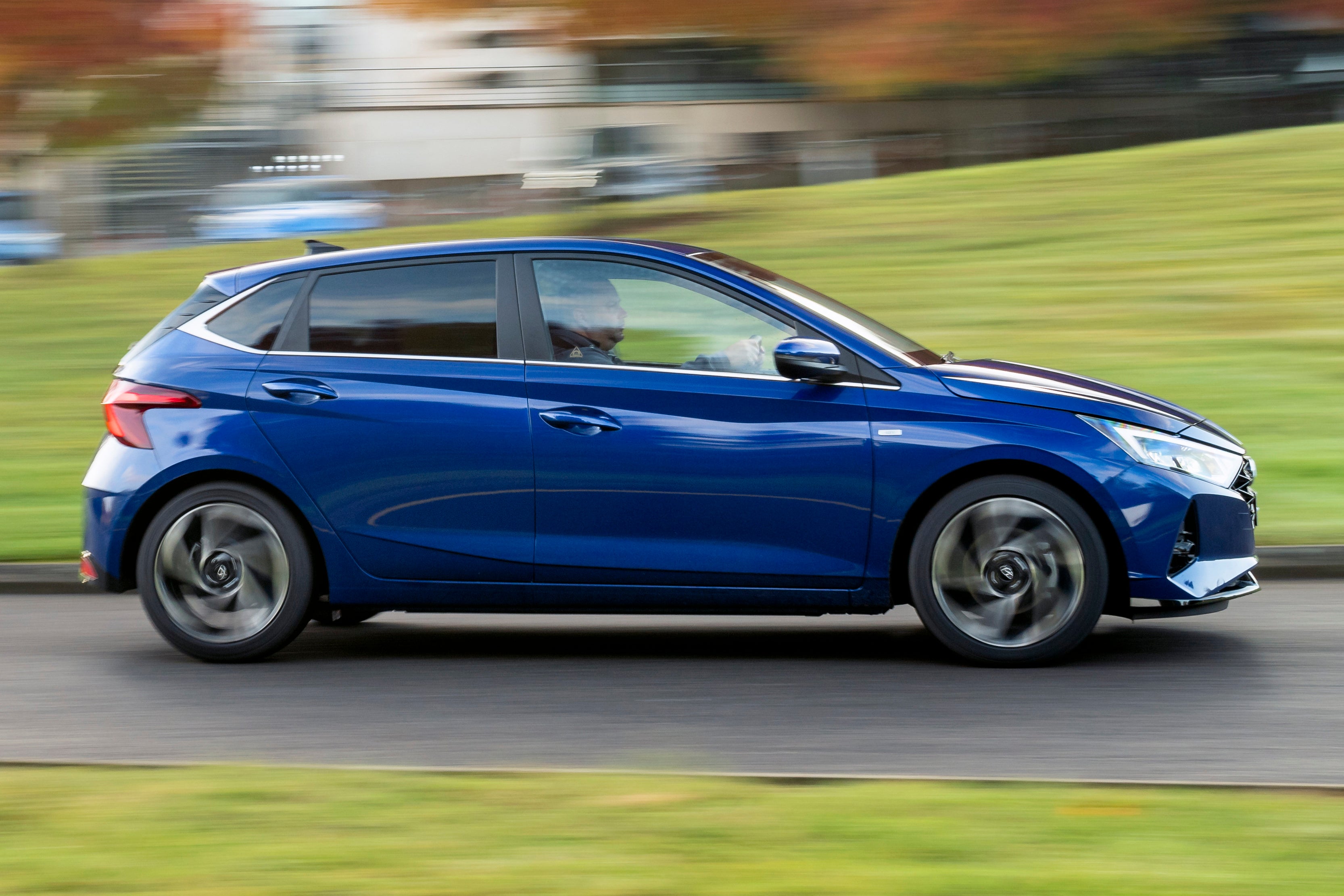 That means a range of 500 miles is doable from the Hyundai i20's 45-litre fuel tank – surprisingly long legged for a small petrol-powered car.
How reliable is a Hyundai i20?
Hyundai makes some very reliable cars, backed up by a transferable five-year, unlimited mileage warranty.
While the latest i20 is too new for us to have any concrete reliability data, its predecessor proved to be a very dependable little car. In the HonestJohn.co.uk Satisfaction Index, it scored an impressive 9.42 out of 10 for reliability.
Insurance groups and costs
Insurance Groups have yet to be confirmed for this latest version of the Hyundai i20 but the old model spanned Groups 4-12 so similar is likely for this new model – it won't break the bank to get cover.
VED car tax: What is the annual road tax on a Hyundai i20?
The i20 only comes with one engine currently and it produces CO2 emissions of 118g/km (manual) and 121g/km (automatic) so you'll pay tax of £175 in the first year and £150 thereafter.
How much should you be paying?
"This may be the new i20 but there are already some cracking deals to be had on pre-registered cars. We saw a brand new mid-range premium model fitted with a twin-clutch gearbox up for sale for £21,000 – a £1500 saving on the car's list price."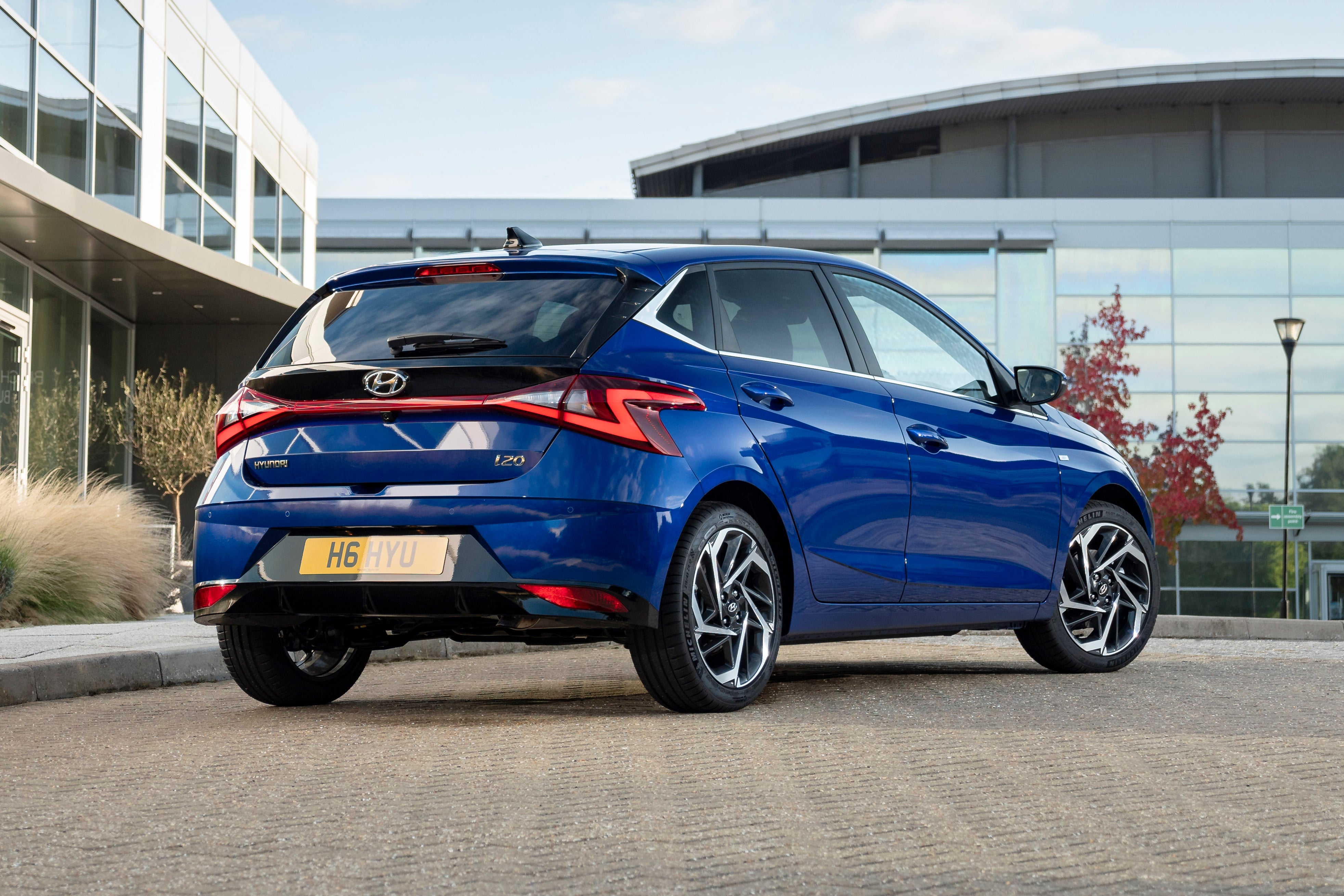 Wait a year for depreciation to do its thing and you can expect to get the same car for as little as £15,000 if you hunt about. Not bad when you'll still have the peace of mind of the balance of Hyundai's five-year warranty to fall back on.
Trim levels and standard equipment
One of the Hyundai i20's most obvious strengths is its extremely generous level of equipment.
Standard kit on the outside includes 16-inch alloy wheels and LED daytime running lights with fog lights that light up corners at night. Inside, you get an eight-inch centre touchscreen and 10.25-inch digital instrument binnacle, plus air conditioning, cruise control, reversing sensors, a rearview camera and electrically adjustable and heated door mirrors.
The Hyundai i20 Premium looks more sporty thanks to its larger 17-inch wheels, tinted windows and chrome trim. The i20 Premium also gets bright-shining LEDs front and rear which look prettier than the filament bulbs on basic SE Connect cars.
Inside, you'll find handy features such as auto wipers, a dimming rearview mirror and climate control that maintains a set cabin temperature automatically. It looks nicer inside thanks to the glowing mood lighting and you also get heated seats and a heated steering wheel that help take the sting out of a chilly winter morning. Finally, the infotainment screen is updated with a 10.25-inch touchscreen which you can connect to remotely using Hyundai's Bluelink app to do things like check the car's location and unlock it remotely.
The ultimate trim level is called, well, the Hyundai i20 Ultimate. It gets a two-tone paint job as standard while inside kit includes keyless entry, wireless phone charging and an eight-speaker Bose stereo.
Ask the heycar experts:
common questions
Which car is better – Volkswagen Polo or Hyundai i20?
The Volkswagen Polo feels posher inside and is more comfortable – it's the car we would choose. That said, the Hyundai i20 has a longer warranty and more equipment so we wouldn't rule it out entirely.

Is the Hyundai i20 good on a long drive?
The Hyundai i20 is good on a long drive, its relatively quiet at motorway speeds and mid-range models come with autonomous driving aids that make concentrating for hours less mentally draining.

Is the Hyundai i20 safe?
The Hyundai i20 is very safe for its size. Even the old model got a four-star rating for safety from Euro NCAP and you can expect this new car – which has more safety kit fitted as standard – to improve on that score when it's evaluated in the coming months.

Hyundai i20 cars for sale on heycar
2,067
Number of cars available
£6.8K - £26K
Price bracket of these cars
Colours available on heycar
Keep me updated by email with the latest advice, news and offers from heycar
By submitting, you agree to our
privacy policy
.