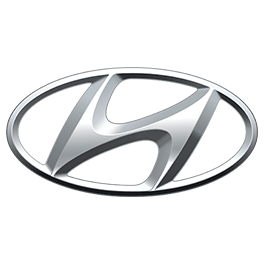 Hyundai i30 Review

Written by
heycar editorial team

heycar rating
Sensible and good value hatch
Best bits
Better value for money than a Volkswagen Golf
Comfortable ride quality
Lots of standard safety equipment (including a spare wheel)
Not so great
Entry-level S models are a bit drab
Kia Ceed has a flashier interior with more tech
Not as good to drive as rivals
Read by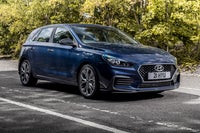 Overall verdict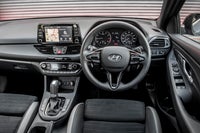 On the inside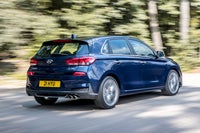 Driving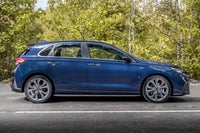 How much does it cost to run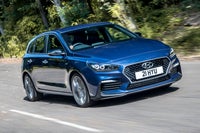 Prices, versions and specification
Overall verdict
"The Hyundai i30 is the automotive equivalent to a white good. If you buy your car like you buy a washing machine - looking for something that ticks all the boxes, represents good value for money and has a decent warranty, the i30 could be the family hatchback for you."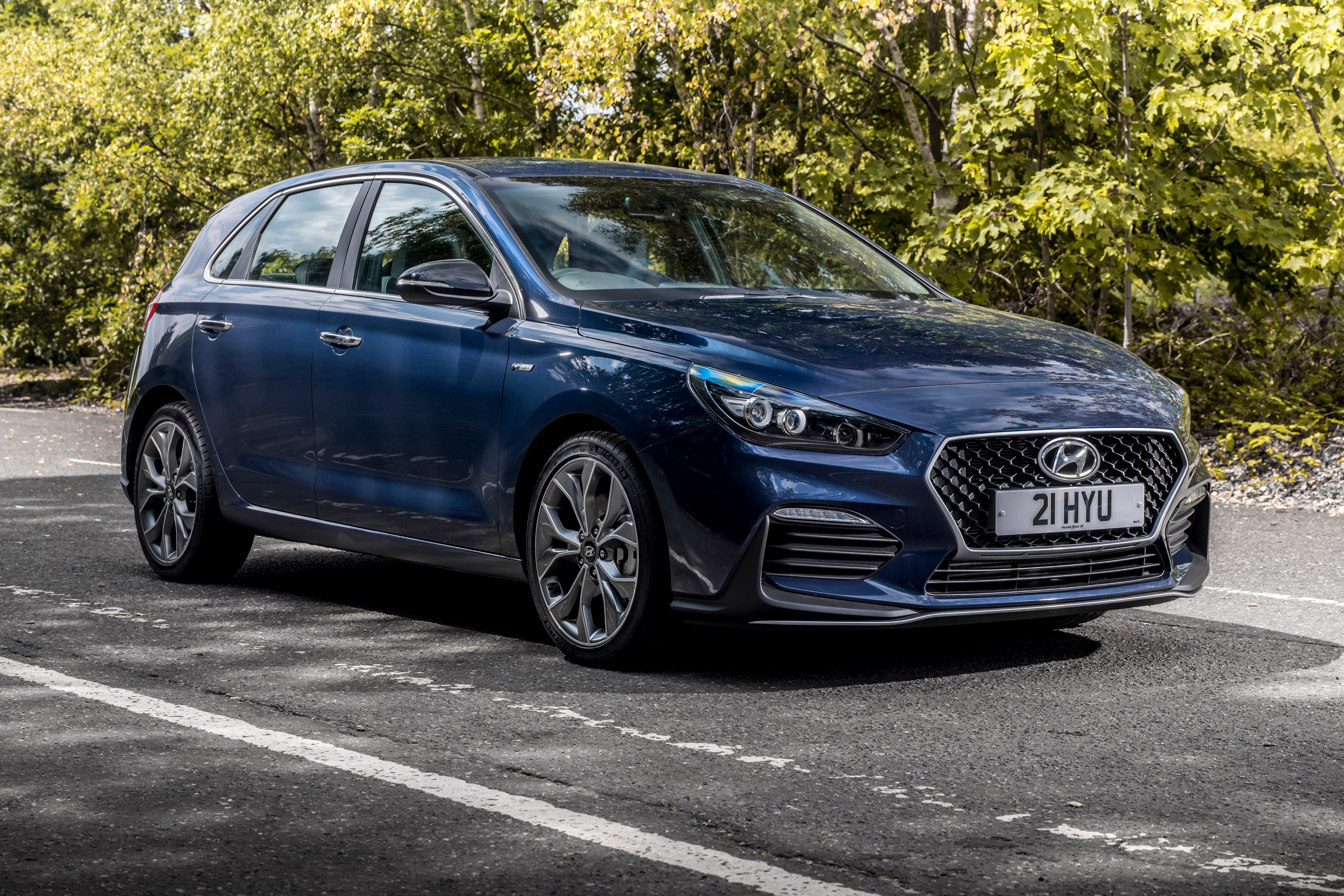 It's not as desirable as a Volkswagen Golf, doesn't drive as well as a Ford Focus and lacks the premium cabin of the Mazda 3 - but that doesn't mean it isn't worthy of your consideration.
It's closely related to the Kia Ceed. By that we mean it shares a platform and engines, yet each sport different badges and are marketed slightly differently. While they're both value offerings, the i30 undercuts the Ceed thanks to a more affordable entry-level model.
Badged the S, the most affordable Hyundai i30 is very basic. It does without a whizzy infotainment screen, there are no shiny chrome finishes or leather trim, and you're on your own when it comes to parking. This'll appeal to some buyers, but we'd recommend narrowing down your search to SE models or above.
The engine line-up is made up of two petrols (a 1.0-litre three-cylinder unit and a 1.4 four-cylinder) and a diesel (a 1.6 badged the CRDi). We actually rate the littlest 1.0-litre highly, but you'd be better with a 1.4 if you regularly drive out of town. The diesel is very efficient and will do the job for high-mileage drivers, but there's nothing spectacular about it. It'll cost more to buy, too.
The Hyundai i30 is pretty soft in the way it drives, soaking up bumpy road surfaces and wafting along in comfort. Even bigger wheels won't really upset the ride. On the downside, it doesn't feel very agile in the bends, but it's fairly planted and feels safe to drive.
Talking of safety, it scores highly on that front. There are loads of safety assist systems fitted as standard, even on the most affordable models. Lane guidance systems will nudge your steering if you stray from your lane, while a driver attention alert will tell you to take a break if you appear to be getting tired.
There are Isofix points for fitting child seats in the back, which is pretty easy thanks to wide-opening rear doors. Space in the back isn't that great for adults, but it's spacious enough for occasional rear-seat passengers. The boot is slightly bigger than alternatives like the Golf, while an adjustable boot floor and dropping rear seats help versatility.
No one's going to get excited about the Hyundai i30, but it's a very competent car that puts the focus on comfort and value for money. A transferable five-year, unlimited mileage warranty makes it a sensible used proposition, too.
While the Hyundai i30 perhaps doesn't excel in any particular area, it also isn't shockingly bad in any way. It just quietly does the job, saving you money thanks to its low running costs and affordable used prices. We like how comfortable it is and the amount of kit you get as standard, provided you avoid the cheapest S trim level. It's certainly an easy car to recommend, even if it lacks the appeal of a Volkswagen Golf.
If you're looking for the older version, you need our Hyundai i30 (2012-2017) review.
Comfort and design
"The Hyundai i30 is a popular choice with high-mileage company car drivers, and that's reflected in how comfortable it is. The seats are very supportive, no matter which model you buy, and there's loads of adjustment in the driver's seat and steering wheel, making finding a suitable seating position child's play."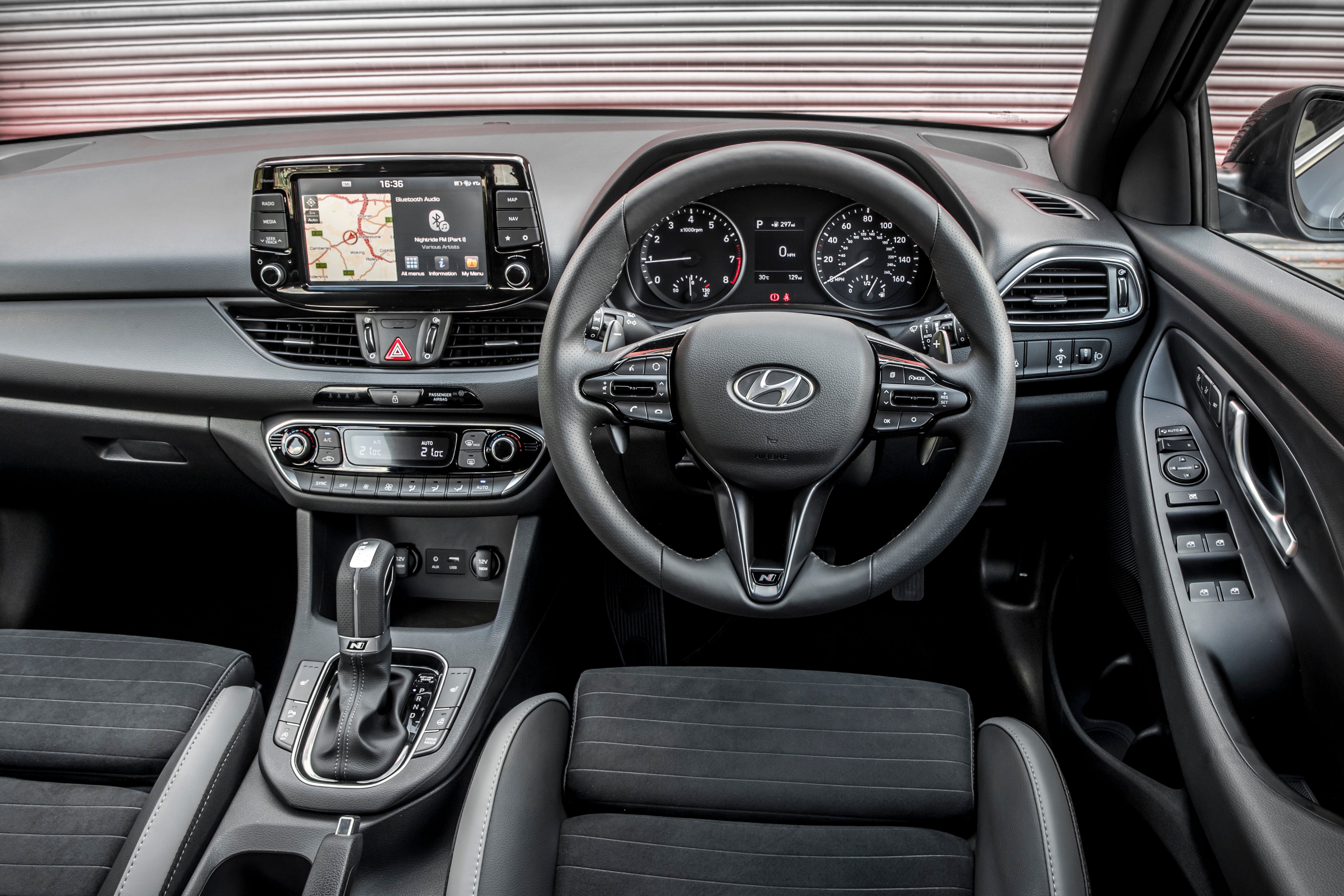 Adjustable driver's lumbar support is standard on all but entry-level S models - as is driver's seat height adjustment, allowing you to prioritise between a commanding driving position or feeling close to the road.
Premium and Premium SE models come with electric driver's seat adjustment, which is particularly useful if there's going to be more than one person driving your car. Simply take a seat, fiddle with a few buttons and voila - a comfortable seating position.
While the i30's cabin isn't going to win any awards for style, it's not going to infuriate you, either. It's functional and well laid out with lots of buttons logically positioned for easy, intuitive operation.
We'd recommend looking for an SE trim or above with its chrome interior trim, which manages to make the cabin look a bit smarter than the entry-level car.
Handling and ride quality
"The Hyundai i30 takes a comfort-biased approach, while means it floats over bumpy roads yet doesn't feel as agile as a Ford Focus. It's refreshing, actually, as most of us would rather a car like this transported us to our destination in comfort rather than make us feel like Lewis Hamilton."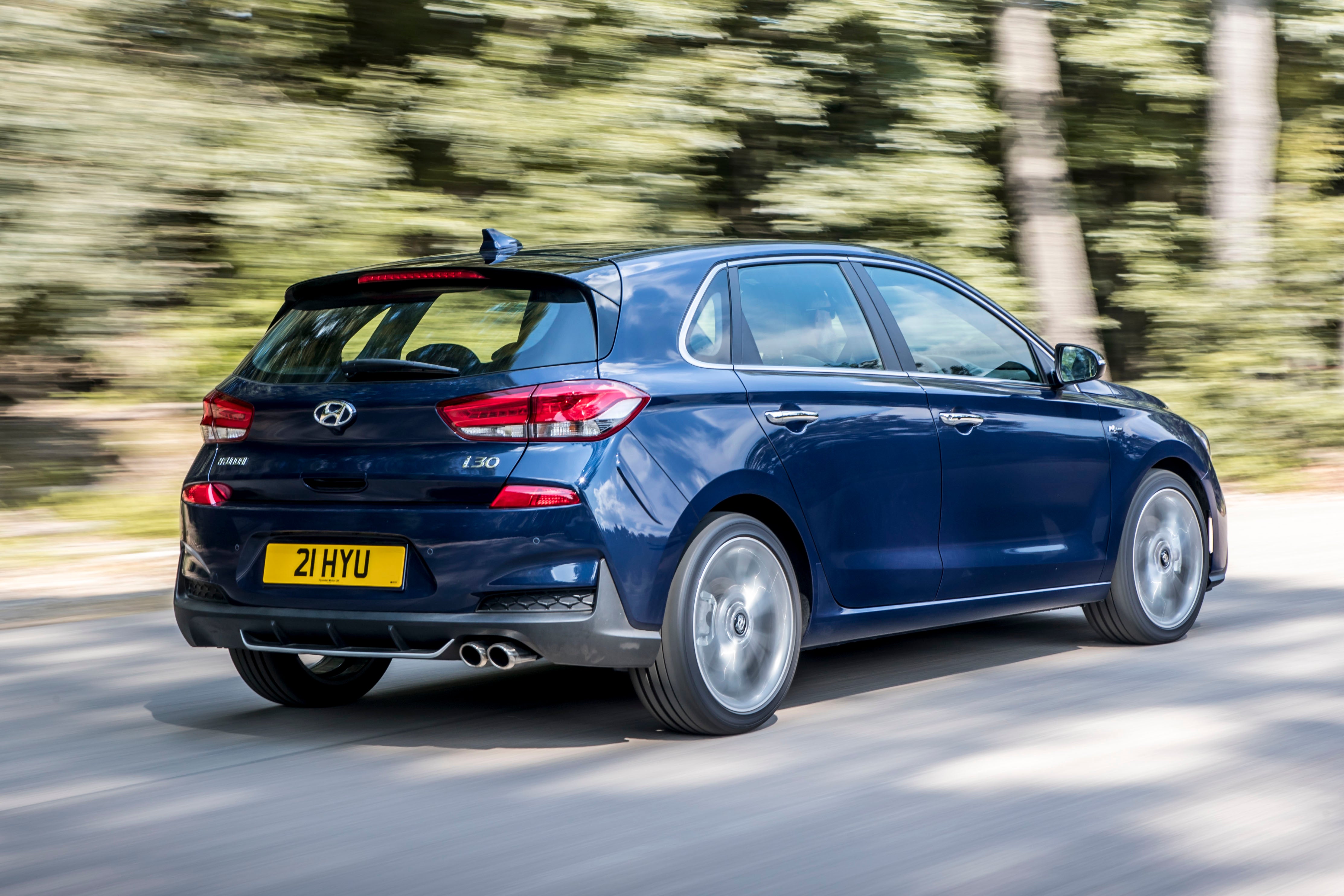 Even with the bigger alloy wheels, the suspension isn't really phased by less-than-ideal roads. It takes everything in its stride, only passing the harshest thuds and bumps into the cabin.
It leans a bit in corners which isn't conducive to preventing travel sickness for children in the back, but you soon learn to dial it back a bit and enjoy the comfort on offer. The steering feels pretty neutral yet safe, and it's not going to run out of grip unless you're very optimistic with your entry speed. If you are, it'll simply run wide in a relatively controlled manner.
Decent forward visibility and relatively compact dimensions mean the i30 is an easy car to drive around town. The view behind isn't great, but that's true for most of the i30's rivals, too. Fortunately, all but the most basic SE models get a very good reversing camera and rear parking sensors, which is very useful when backing into tight spots.
The i30 feels like a grown-up choice on the motorway, where the relaxed steering means it doesn't dart around too much. The comfortable suspension, meanwhile, makes it feel like a much bigger, more premium car.
MPG and fuel costs
"While a diesel might be tempting because of its impressive fuel economy, don't dismiss the petrol models. The 1.0-litre T-GDi returns up to 49.6mpg on the combined WLTP cycle. This is obviously dependent on how you drive it - work it hard and the little three-cylinder turbocharged engine will be considerably less efficient in the real world."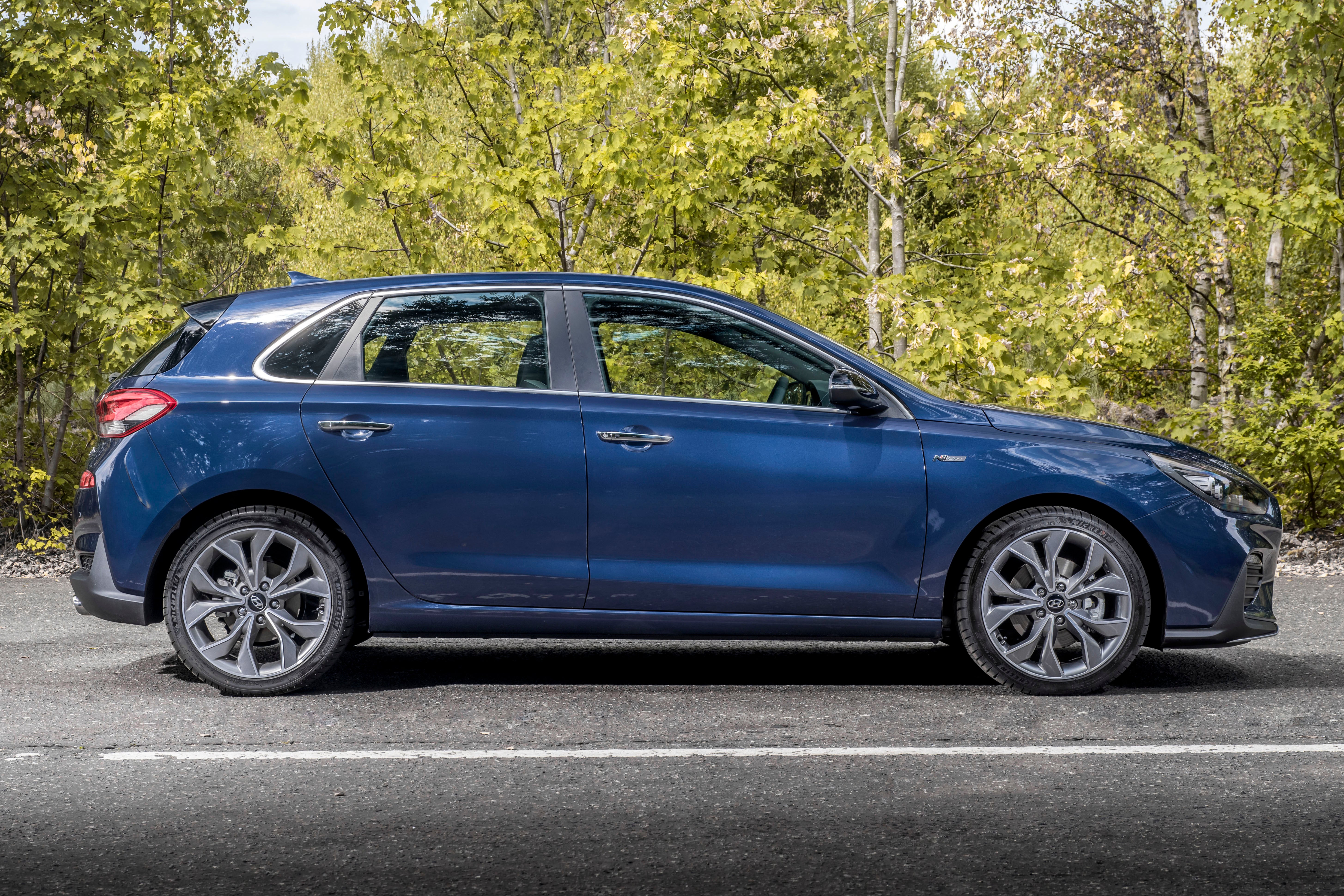 While a diesel might be tempting because of its impressive fuel economy, don't dismiss the petrol models. The 1.0-litre T-GDi returns up to 49.6mpg on the combined WLTP cycle (subject to things like trim level and wheel size). This is obviously dependent on how you drive it - work it hard and the little three-cylinder turbocharged engine will be considerably less efficient in the real world.
The 1.4-litre petrol is a little thirstier, officially returning up to 44.1mpg, although you might find that the difference between the two petrols is negligible in the real world. The 1.4 is actually slightly more efficient with the DCT automatic gearbox, returning up to 45.6mpg.
If you do want a diesel, the 115PS 1.6 CRDi returns 58.9mpg with the manual gearbox, and 60.1mpg with the DCT auto transmission.
How much should you be paying for a used Hyundai i30?
"With the Hyundai i30 lacking the showroom appeal of a Volkswagen Golf, it represents very good value for money on the used market - especially as it comes with a transferable five-year, unlimited mileage warranty."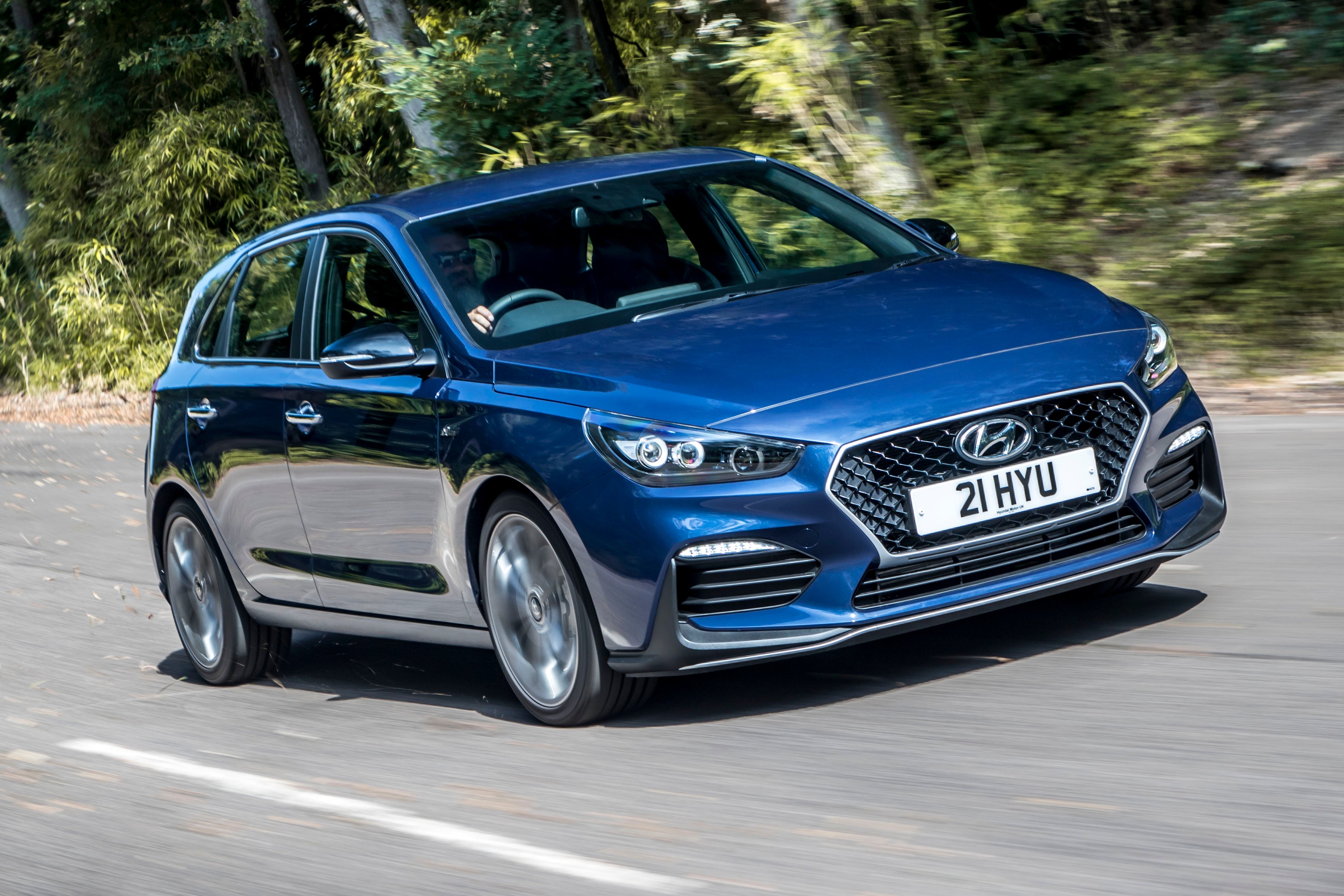 A budget of £10,000 will get you a two-year-old SE model with the 1.0-litre petrol engine. If you want something a little more upmarket, a Premium trim level of the same age will set you back around £12,500 with the 1.4 petrol engine, or £13,000 as a diesel.
If you want an as-new car, we'd encourage you to look at pre-registered models. These are cars that have been ordered by dealers but are sold as-new, registered and ready to go. You can usually get a healthy discount compared to retail price and you'll be able to skip the waiting list - although you can't be fussy about the colour or options.
We've seen as-new SE Nav models with the 1.0 T-GDi engine and just 100 miles on the clock advertised for around £17,500 - that's a saving of £2000 compared to list price. Bigger savings are available on pricier models. An N Line+ with the 1.4 petrol engine and DCT automatic transmission can be bought for £21,000, saving more than £3500 compared to retail.
Diesel models are rarer and command a premium on the used market. You'll pay around £11,000 for a two-year-old example in fairly basic SE trim, while a Premium of the same age could fetch in the region of £14,000.
Is the Hyundai i30 right for you?
The Hyundai i30 isn't a car that's going to make a statement about your success in life. It won't attract admirable glances on your driveway like a Volkswagen Golf, nor will it impress on the school run in the same way as a crossover SUV like a Nissan Qashqai.
But as a car for getting from A to B, it ticks all the boxes. It's comfortable, represents good value for money, and doesn't feel as cheap and nasty as you might expect for a budget Korean offering. With frugal engines, low servicing costs and an extensive warranty, the Hyundai i30 is ultimately a very sensible choice.
What's the best Hyundai i30 model/engine to choose
We reckon the middle trim levels represent the best combination of affordability and relative plushness. Avoid the cheapest S model, but the SE and SE Nav models are well-equipped and cheap to buy. N Line models are a bit sportier while Premium trims are classier, but if that's what you're after you should probably look at more conventional alternatives.
In terms of engines, don't bother with the diesel unless you cover mega miles. The 1.0-litre petrol will be powerful enough for a lot of drivers, but the 1.4's a more refined choice if you plan to use the i30 but motorway journeys. No Hyundai i30 will be expensive to run.
What other cars are similar to the Hyundai i30?
Don't buy a Hyundai i30 without considering the closely-related Kia Ceed. It's actually better-equipped for the money and comes with a longer warranty (albeit limited to 100,000 miles).
The Vauxhall Astra is as dull as ditchwater but another competent (and affordable) family hatch, as is the newer Skoda Scala. Then there are the slightly classier choices, including the Volkswagen Golf, SEAT Leon, Ford Focus and Mazda 3. All have slightly better interiors and are more enjoyable to drive, but you don't get as much for your money as with the i30. If outright practicality is important, we'd recommend a Honda Civic or Skoda Octavia.
Quality and finish
The Hyundai i30 isn't as plush as a Volkswagen Golf or Mazda 3, but it feels well-finished and more than up to the task of withstanding family life.
It's very dependent on specification. Entry-level S models feel pretty drab, with SE trim adding a leather-wrapped steering wheel and gear knob as well as the aforementioned chrome interior trim - both of which make the i30's cabin feel that little bit more cossetting.
The part- or full-leather seats of the higher-spec models also give the cabin a useful lift in terms of quality but, even then, it's not on a par with a Golf. None of the plastic finishes feel particularly brittle, though, and it certainly doesn't feel like the budget option a Hyundai would have been a few years ago.
Infotainment
The infotainment is another area in which the S will leave you wishing you'd plumped for a higher-spec model. The cheapest i30 doesn't get a conventional touchscreen media system, instead making do with an old-fashioned radio system with buttons alongside. It looks pretty naff, perched on top of the dash and reminding you that you didn't buy a pricier model.
It's the sort of thing that's acceptable on a bargain-basement city car, but it's not quite good enough on a car the size (and price) of a Hyundai i30. On the plus side, it does have DAB radio and Bluetooth connectivity - allowing you to make and receive phone calls on the move or stream music from your phone. If you don't want the complication of a fancy touchscreen display, this is the car for you.
Go for an SE model or above and you'll get a much better eight-inch media system with Apple CarPlay and Android Auto. This is smaller than the 10.25-inch display used across most of the Kia Ceed range, but it's easy to use and looks pretty smart.
Only certain trim levels (SE Nav, Premium and Premium SE) get in-built navigation, but that's no great hardship in our view. Provided you've got a smartphone with a decent amount of data each month, connecting your phone and using third-party apps like Google Maps or Waze actually works better.
Music fans might be disappointed - there's no fancy premium sound system offered on the Hyundai i30. Premium and Premium SE models get a 4.2-inch LCD instrument cluster, but this isn't as impressive as the 12.3-inch digital instrument cluster offered on the Kia Ceed.
Space and practicality
The Hyundai i30 isn't anything to shout about when it comes to interior space, but it is on a par with rivals like the SEAT Leon and Ford Focus. If practicality's important, Hyundai does sell an estate version of the i30 (as well as a sporty Fastback model), but you should also consider something a bit bigger like the Skoda Octavia or even a crossover SUV like the Hyundai Tucson.
There's a reasonable amount of room up front, with a height-adjustable driver's seat allowing you to lower the seat if you require more headroom. This is missing on the passenger side on S models, but the rest of the range gets a height-adjustable passenger seat, too.
There's plenty of storage, with generous cupholders, big door bins and - on most models - useful stowage space underneath the front armrest. Go for one of the Premium or Premium SE models and you'll even get a sliding front armrest with a 12V power output socket.
In the back, tall adults will feel a bit cramped but no more so than in most rivals (this side of a Skoda Octavia, anyway). Like the Kia Ceed, there's a near-flat floor, which means middle-seat passengers would feel deprived of foot space. The same can't be said for elbow room…
Wide-opening rear doors help when loading children, while the outer rear seats are fitted with Isofix mounting points which are easily accessible.
Capable of lugging 395 litres of luggage, the i30's boot is the same size as the Kia Ceed's, and marginally bigger than a Volkswagen Golf or Ford Focus. Access is easy thanks to a low lip and a variable-height boot floor, while the boot's shape is usefully square. The rear seats drop easily, providing up to 1301 litres of space if required.
It's worth noting that all but the entry-level S model come with a space-saver spare wheel, which could save you a lot of hassle in the case of a puncture.
Engines and gearboxes
The 1.0-litre petrol is usually the cheapest on the used market. Don't dismiss it because of its size - it's a really peppy little engine which packs quite a punch and makes town driving a breeze. It's slightly slower in the Hyundai i30 compared to the very similar Kia Ceed, taking 11.1 seconds to reach 62mph, but it's more than up to the job of keeping up with traffic, provided you don't mind regular gear changes.
The manual gearbox, incidentally, is fine - not as precise as that used in the Ford Focus, but it does the job with a light change and effortless clutch pedal.
If you regularly drive on national-speed-limit roads, you might want the extra power of the bigger 1.4. This is a four-cylinder unit which means it feels a bit more grown-up than the little 1.0-litre. With 140PS, it'll accelerate to 62mph in 8.9 seconds - plenty quick enough for building up speed on a motorway slip road or when overtaking. This engine is also available with a dual-clutch automatic gearbox which is fine if you really want an auto, but not as smooth as the torque-converter transmission used in the latest Ford Focus.
We'd avoid the diesels unless you cover lots of motorway miles. If you do, the 1.6 CRDi is fine, if nothing special. Its low-down torque means there's plenty of pull at low revs, but it's no quicker than the petrols.
Refinement and noise levels
Just like the Kia Ceed, the Hyundai i30 isn't quite as refined as you might expect. There's quite a considerable amount of road and wind noise, especially at high speeds. It shouldn't be enough to put you off the i30, but drive one back-to-back with the class-leading Golf and you'll notice the difference.
In typical three-cylinder fashion, the 1.0-litre unit makes quite a distinctive noise, particularly when it's worked quite hard (something you'll have to do to actually get anyway). It's not unpleasant but is a little wearing, especially if you cover a lot of miles. It's not helped by the amount of vibration that feeds back through the pedals and gear lever, either.
The 1.4 T-GDi is the most civilised, only making a distinctive noise at high revs - something you won't have to do as much thanks to the extra torque on offer. Opting for one with the automatic gearbox won't help refinement levels, though, as it sometimes gets flustered and selects a lower gear than is strictly necessary.
Like most diesels, the 1.6 CRDi makes quite a distinct grumble, but it isn't really any noisier than alternatives like a diesel Ford Focus.
Safety equipment
The Hyundai i30 is loaded with standard safety equipment and, pleasingly, most of it is standard across the range.
All models get things like an autonomous emergency braking system (which'll apply the brakes if it detects an impending collision), a lane guidance system which can nudge the steering if you start straying from your lane, and a driver attention alert to remind you when to take a break.
Premium and Premium SE models come with a blind spot detection system, which warns you if there's a vehicle in your blind spot, and rear cross-traffic alert - which'll notify you if there's an approaching car when you're reversing out of a space. Both useful features that could easily prevent a collision.
If there is a crash, the Hyundai i30 is a very safe car. Euro NCAP awarded an impressive five stars (out of five) when it was crash tested in 2017. That includes an 88 per cent score for adult occupants and 84 per cent for children. Its pedestrian safety features were given a 64 per cent rating, while its safety assist tech was award 68 per cent.
Insurance groups and costs
The cheapest Hyundai i30 to insure will be the S model with the 1.0-litre T-GDi petrol engine. This falls into insurance group 8.
Aside from the hot i30 N, no i30 should cost a fortune to insure. You'll pay a bit more insurance for the 1.4 petrol compared to the 1.0-litre, with the cheapest being an SE Nav or N Line model - both of which are placed in insurance group 14.
Diesel insurance groups range from 11 to 13 depending on trim level.
VED car tax
Under the latest car tax rules, you'll pay a flat rate of £150 a year to tax a Hyundai i30 following the first registration. That's the same as all rivals, apart from hybrid models (like certain versions of the Toyota Corolla), which attract a £10/year discount.
Trim levels and standard equipment
The Hyundai i30 range is pretty extensive. We'd avoid the cheapest S model unless it's a really good deal - it's pretty basic, with spec highlights including 15-inch alloy wheels, manual driver's seat height adjustment, manual air conditioning, cruise control and DAB radio with Bluetooth connectivity.
An SE shouldn't be considerably more expensive on the used market, adding desirable features such as 16-inch alloy wheels, a leather-wrapped steering wheel and gear knob, electric driver's seat lumbar support adjustment, front passenger seat height adjustment, front and rear fog lights, front and rear armrests, electric folding door mirrors, a reverse parking camera with rear parking sensors and an eight-inch touchscreen media display with Apple CarPlay and Android Auto. If you want navigation, look for an SE Nav model - although we think Google Maps via Apple CarPlay/Android Auto does a better job.
Sporty N Line models add 18-inch alloy wheels (17-inches with the 1.0 120PS T-GDi engine), bespoke from and rear bumpers, N Line branding on the gear stick and steering wheel, N Line cloth seats, an auto-dimming rear-view mirror, door mirror puddle lights, LED rear lights and keyless entry with engine start/stop button.
N Line+ builds on this with a driver's seat memory function (great if you regularly swap drivers), front passenger seat electric lumbar support adjustment, heated front seats, N Line leather and suede seats, climate control, automatic windscreen wipers and LED headlights.
Posh Premium models feature 17-inch alloy wheels, chrome window surrounds, driver's electric seat adjustment, cloth and artificial leather seats, automatic front windscreen de-fog system, rear privacy glass, rear air vents on the centre console, solar glass, a front sliding armrest with 12V power outlet, automatic folding door mirrors, electronic parking brake with auto-hold function, front and rear parking sensors, 4.2-inch LCD driver's supervision instrument cluster, navigation, wireless phone charging, a blind-spot detection system and rear cross-traffic alert.
Topping the range is the Premium SE, which builds on the Premium with full leather seats, a heated steering wheel and a panoramic sunroof. Fancy.
Learn more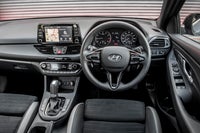 On the inside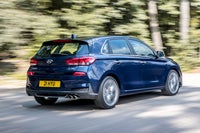 Driving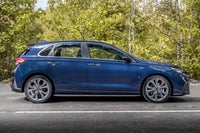 How much does it cost to run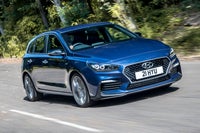 Prices, versions and specification
Reviews of similar cars
Quality checked, all cars less than 8 years old and warranty included
Looking for other Hyundai cars?
Quality checked, all cars less than 8 years old and warranty included