Written by
heycar editorial team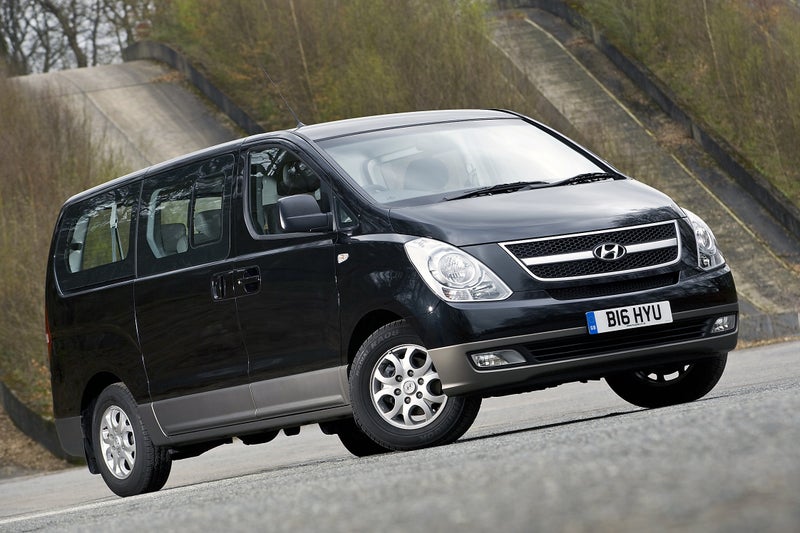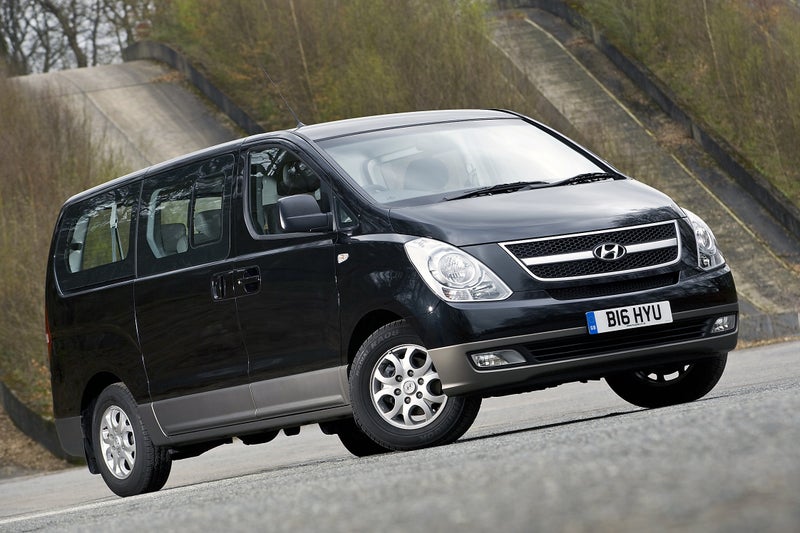 1/10
heycar rating
" Big, practical, tricky to park"
Quick overview
Pros
Loads of space for people and luggage
Diesel engine's refinement
Keen prices
Cons
Sluggish lower-powered engine
Bouncy suspension
Feeling its age in every way
Overall verdict
On the inside
Driving
Cost to run
Prices and Specs
Common questions
Overall verdict
"The Hyundai i800 is a big people carrier that majors on value and space. It also does something that most other people carriers can't because it can seat eight with a decent amount of room left over for luggage. On the downside, the i800 looks and feels like an old van, largely as this is what it's based on, but on price and warranty few large MPVs come close to matching the Hyundai."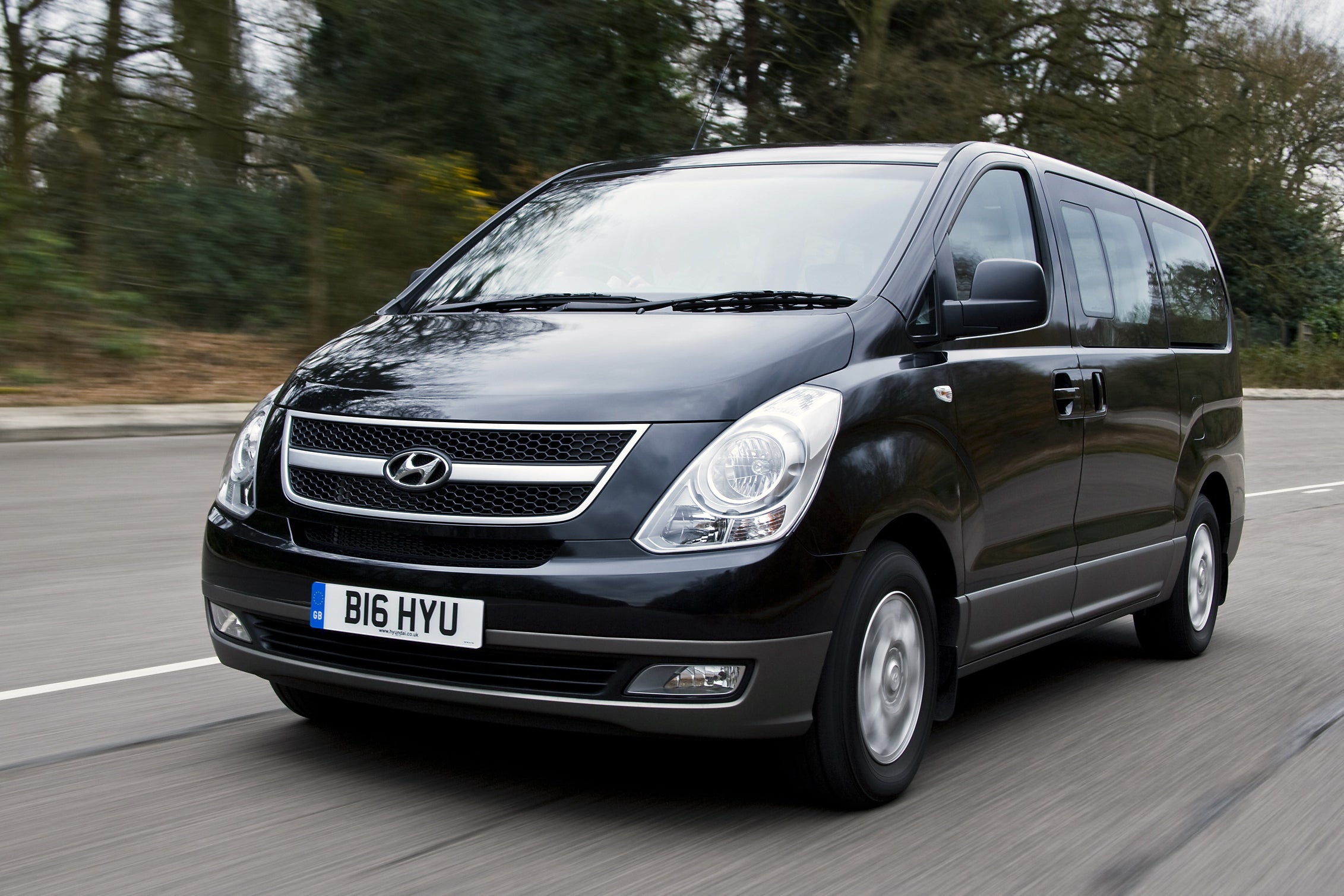 The i800 is built on the iLoad van, which is obvious from its looks and is a major plus point if you're looking for loads of room inside. The strong 2.5-litre turbodiesel engine makes light work of motorways and means the i800 can tow up to 2300kg with a braked trailer and with a manual gearbox. However, that drops to 1500kg when you fit an auto 'box.
It's out on the road that some of the commercial vehicle origins start to surface. Although the interior is great for space and there's a decent driving position, it's awkward to park, has poor rear visibility and feels unwieldy in town. Even so, it's great for long-distance motorway trips and is a cost-effective option for larger families if you really need an eight-seater
The only engine available in the i800 at launch was the 2.5-litre CRDi diesel with 170PS. From November 2008 a 135PS unit was added. Where it impresses most its low-down pulling power. With 392Nm available at 2000-2500 rpm, it makes a decent tow car. On the motorway is where the i800 is happiest as its engine can turn over quietly and with just enough in reserve for overtaking.
Hyundai quickly added a 136PS version of the four-cylinder turbodiesel motor to broaden the range, but there was little advantage to this option. If you intended to make full use of the i800's considerable capacity for people and cargo, the more powerful engine was always the one to choose.
Hyundai swapped the crude rear leaf springs of the H-1 panel van to coil suspension when it converted it into the i800. The ride is much less bouncy and better controlled as a result. It's smooth on the motorway and adept at soaking up lumps and ruts on bumpier roads, but it's not as composed as a Ford Galaxy or Volkswagen Sharan.
The i800 doesn't handle like its immense proportions suggest. It's more than five metres long and two metres wide, but it doesn't feel like it on A and B roads, where the steering is well-weighted, the body roll is contained and there's a good amount of grip. Don't be fooled, it's no hot hatch, but at least you won't be causing a tailback by holding up other traffic. In town it's a bit of a handful as parking can be challenging and changing lanes or filtering into traffic can take some planning. Still, in its natural environment on the motorway, it's comfortable, refined and there's little in the way engine noise.
 Is the Hyundai i800 right for you?
Are you a family of eight? Or do you routinely carry seven passengers? If so, the Hyundai i800 is ideal for you because it's one of a handful of people carriers able to seat eight in comfort and still have space left over for their luggage. Everyone gets plenty of room for heads, legs and shoulders, so even Grandma won't complain on longer trips.
The i800 is at its happiest on longer motorway trips where it's long-legged turbodiesel engine lopes along with surprisingly little noise from under the bonnet. An automatic gearbox is standard on the more powerful 170PS version of this engine and is well matched to the engine. Choose the less powerful 136PS version with its five-speed manual, or from May 2013 a six-speeder, and you'll find any out of town trip a laborious chore.
In town, the engines are hushed and the suspension is squishy enough to soak up bumps, but don't expect any great handling finesse. What hampers the i800 in the city is its size, which can make finding a parking spot a tough challenge.
What's the best Hyundai i800 model/engine to choose?
There's not a lot of choice when it comes to engine size with the Hyundai i800 as all are 2.5-litre turbodiesel units. What you can pick between is the engine's power as it's offered in 136- and 170PS versions. We'd head straight for the 170PS motor that comes with a five-speed automatic gearbox only. It suits the laid-back nature of this Hyundai while offering better acceleration and some overtaking ability compared to the less potent unit.
During its lengthy life, the i800 was only offered in three trims, comprising SE, SE Nav and Style. There's not much to separate them other than the obvious addition of satellite navigation with the SE Nav. All have air conditioning with individual controls for the front and second rows, reversing sensors and electric windows. As a result, you can choose the i800 in a colour choice to suit your tastes safe in the knowledge it's equipped to the same level as any other.
What other cars are similar to the Hyundai i800?
There are an eyebrow-raisingly large number of eight-seat MPV options out there, including the excellent Volkswagen Transporter Shuttle. It's not cheap, but it's very well made and comfortable.
You could also look at the Citroen SpaceTourer and Peugeot Traveller that are the same vehicle just with different badges. Like the Hyundai, they're van-based but hide it well. The Toyota Proace Verso doesn't mask its van origins quite as well, but it's strong on quality and decent for comfort.
Other to consider are the classy but expensive Mercedes V-Class and the Ford Tourneo Custom that's one of the best to drive in this sector.
Comfort and design
"As you might expect of an MPV based on a van, the Hyundai i800's driver is placed much higher up than in most of its hatch-derived competitors. This is great for the view ahead, but the driver's vision to the sides is hampered by the thick window pillars and the rear view isn't great either. All of this adds to the i800's considerable size to make it difficult to park, even with the help of rear parking sensors."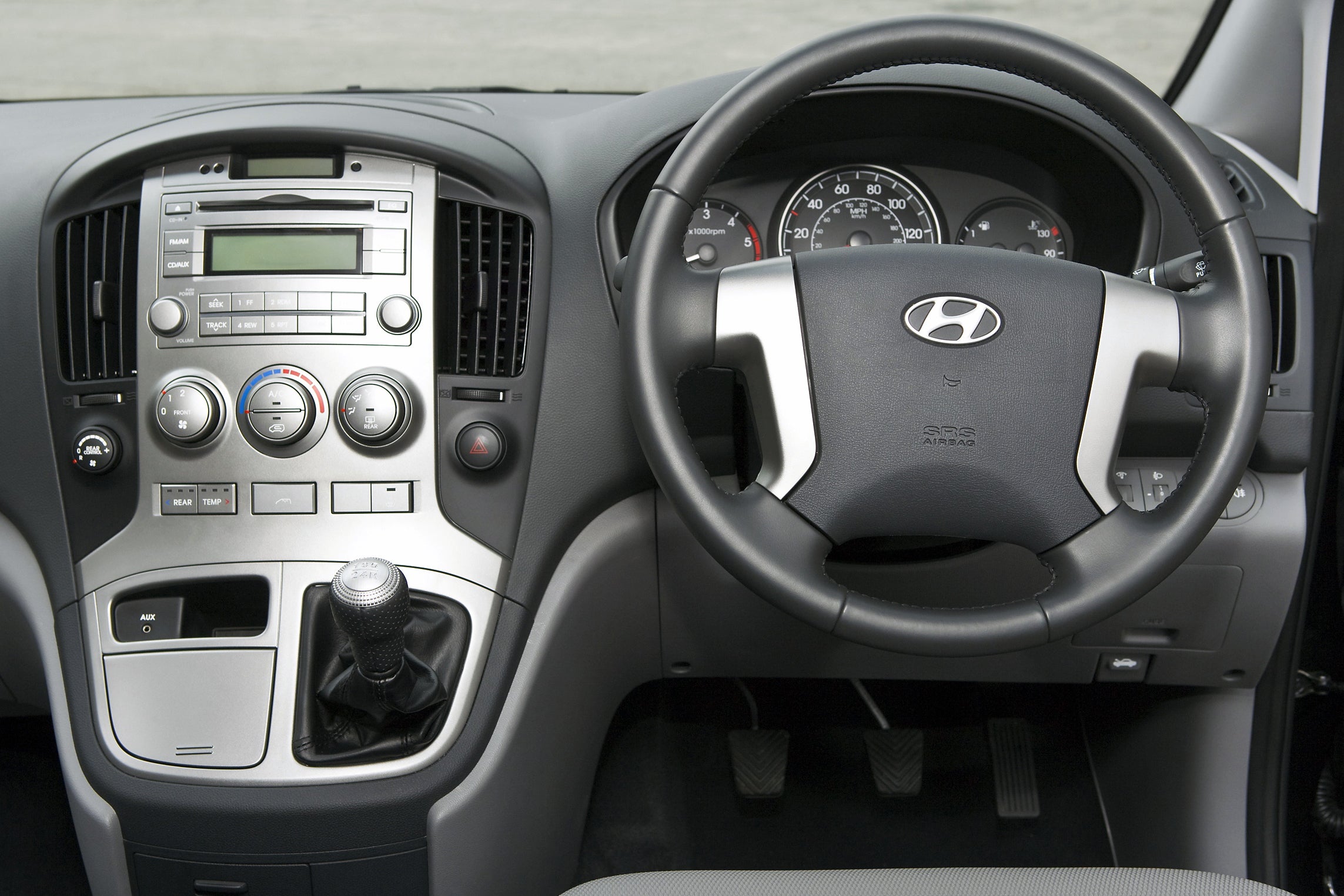 The driver is afforded plenty of space in every direction and the seat adjusts for height, though the steering wheel can only be moved for angle and not depth. As for the seat itself, it's quite soft, but there's not enough lumbar support for longer journeys to be completed without a twinge or two.
You could never accuse the i800's dash of being fussy, but nor could you say it's classy or stylish. The best we can say of it is that its main dials are clear to read and the rotary controls for the heating are easy to use on the move. However, the stereo's controls are a bit of stretch from the lofty driver's perch, so be prepared to lean forward to swap stations or change the volume.
The gear lever juts out from the centre console, which is not a problem with either the manual or automatic gearbox options. With the manual, the clutch pedal is fairly light to depress and set at an easy angle to operate with your foot comfortable, which is not always the case with van-based MPVs.
Quality and finish
The i800 hails from a time when Hyundai was still relying on a value for money proposition rather than the high quality and badge appeal it has built up to now. As a consequence, the i800's cabin belies its van origins all to readily with the swathes of hard, easily scratched plastics. There's no doubt they are durable in everyday use, but just don't expect them to stay looking pristine for very long in normal duties.
This feeling of the car being built down to a budget can be felt throughout the cabin. However, even if the materials are not particularly enticing to look at or feel, they are well put together, so you should not experience much in the way of squeaks and creaks from the i800's interior.
Another plus for the i800 over some of its eight-seat van-derived rivals is the cabin feels more like a hatch's than a van with windows. All of the surfaces are covered with trim and there is no bare metal, so you do feel this is a big car rather than a commercial vehicle with some seats bolted into the back.
Infotainment
Infotainment might be stretching the limits of what's on offer in the Hyundai i800 as the car pre-dates the modern trend for large touchscreen displays. With the SE and Style models, you get a small digital screen to show the simplest of information about which radio station you are listening to. There's also a CD player with slot for the disc just above the radio panel that's integrated into the central dash console.
Choose the SE Nav and, as the name tells us, you get built-in satellite navigation. This comes with a larger screen for a clearer view of the map and instructions. However, it feels very dated by modern standards and there's no ability to pair the screen with your phone to access or music.
Whichever i800 model you find yourself driving, you will find the centrally-mounted stereo is a bit of a reach from the driver's seat. It means you have to lean forward to get to the buttons, though some models have steering wheel-mounted buttons to work the radio. Thankfully, Bluetooth is common on most i800s, so at least you have the chance to make hands-free phone calls.
 Space and practicality
Space may be the final frontier, but it's not the be all and end all of MPVs. It's how you use that space to best effect that determines whether or not a people carrier is the outright best in its class. In this respect, the Hyundai i800 falls some way short of fulfilling its massive potential.
The reason for this is the way the rear seats are arranged and fixed in position. The second and third rows of seats both have three chairs, so fitting in eight people is, theoretically, very simple. The problems begin with the rear-most row of seats being solidly fixed in position rather than having a sliding base as you find in the likes of the Volkswagen Transporter Shuttle. It results in the third row occupants often having to sacrifice their knee room so those in the middle pews can sit comfortably.
Next issue is none of the i800's two rear rows of seats can be folded flat into the floor. Instead, you end up with a seat backs that tip forwards to free up a lot of length for longer loads, but not nearly as much depth in the cargo bay as you might want. So, the i800 is very much a people carrier rather than a multi-purpose vehicle. However, we should state that all occupants get a three-point seat belt, so it's no problem with giving half the football team a lift to the match.
The flipside of this is the i800 always offers a large luggage space even when all eight seats are filled. Lift the large tailgate and you're presented with 851-litres of load carrying capacity, which is blessed with no interruptions from the sides of floor, so it's a doddle to slide in even the heaviest suitcase when picking up relatives from the airport. However, that's about as clever as the i800's load bay gets, so don't go looking for clever hidden storage areas or load dividers because they aren't there.
Handling and ride quality
"First things first, the Hyundai i800 is big, even by MPV standards. It sits are more than five metres long, which is in the same ball park as a Rolls-Royce, and it's tall as well, which all has a bearing on how this vehicle drives. Because of the distance between the front and rear wheels, the i800 is passably good at absorbing bumps and its relatively titchy 16-inch alloy wheels on a car of this size mean it passes over most ruts and ridges with little disturbance to its occupants."
Hyundai swapped the iLoad van's crude rear cart springs for more sophisticated coils and dampers in the transition to it becoming the i800 people carrier. The work was worth the effort and, though the ride is quite bouncy when there's only the driver or a couple of passengers onboard, it rides well when fully loaded.
In town or on the motorway, the i800 feels stable and cushy, so you have the confidence to strike out on long trips. This is aided by steering that is more direct in its response than you might reckon for a van-based vehicle. However, the downside to this is in town where the i800 feels its size, even though it has a tighter turning circle than a Volkswagen Sharan and this should make it feel more nimble.
The scale of the i800 also comes into sharp relief when you come to a corner and the body begins to lean. It's not alarming, but it does require the driver to scrub off more speed than you would in other MPVs to avoid your passengers suffering from sea sickness as the Hyundai lolls into and through a bend. Even so, it grips well and the rear-wheel drive set-up of the i800 even means it can be quite fun to steer on twistier roads when it's just the driver in the car.
Engines and gearboxes
You have two choices when it comes to the engine and the gearbox respectively in the Hyundai i800, though you cannot mix and match them. So, if you want the 136PS lower-powered version of the 2.5-litre four-cylinder turbodiesel engine, you get a manual gearbox and that's your lot.
With earlier i800s, this meant a five-speed manual transmission, but from mid-2013 this was upgraded to a six-speeder. The later 'box is the one to aim for as it makes the 136PS engine a little more flexible, though it still feels very sluggish when getting up to speed out of town and on the motorway. Around the city, it's acceptable, but you will soon learn to give best to almost everyone else when pulling away from traffic lights.
A much better, swifter bet is the 170PS 2.5-litre turbodiesel, though this is more relative to its 136PS sister than most of its rivals that are noticeably quicker off the mark and through the gears. It comes with a five-speed automatic gearbox as the only way to change ratios.
For those looking to tow a caravan or trailer with the i800, the manual gearbox model is the one to choose as it has a maximum braked trailer capacity of 2300kg compared to the 1500kg of the i800 with a manual gearbox. Despite this, we'd take the smoother automatic and its punchier engine to have some power in reserve for overtaking and motorway cruising.
Refinement and noise levels
The Hyundai i800 may be a car with its roots back in 2008 when it was launched, but it still puts in a good account of itself for the hush of its cabin. In either power configuration, the turbodiesel engine doesn't become intrusive or too loud when worked hard, which is not always the case with larger capacity four-cylinder diesels.
Hyundai has also pulled off a good job of isolating road noise from the i800's interior. This is another welcome trait as many van-based MPVs can suffer from reverberation where insufficient sound-proofing has been used. In the i800, it's quite and wind noise is not a particularly obvious until up to motorway pace where the large door mirrors generate some whirr and whistle.
From the driver's seat, the foot pedals all work with consistent feel and the brakes are strong, which is just as well for a car that carry up to eight plus luggage. The automatic gearbox is smooth enough not to be noticeable in most driving situations, but the manual box's lever has a vague, sloppy action that deters using it unless strictly necessary.
Safety equipment
For a car with moving people in large numbers as its main selling point, the Hyundai i800 falls short on looking after them in the event of a collision. Only the driver and front passenger get an airbag and there are no side or curtain 'bags. This is a consequence of the i800's age and van origins as many of its rivals offer these vital safety aids.
You do get ABS anti-lock brakes and ESP traction and stability control, so the i800 will keep you going in a straight line even when the road is slippery.
It also has Isofix child seat mounting points in the two outer seats of the middle row, as well as three-point belts for all eight occupants.
The i800 has not been tested by Euro NCAP, but Hyundai's identical H-1 people carrier has been and it scored a fairly desultory three-star result in 2012. That was achieved with a 55 per cent adult occupancy score and 75 per cent for child passenger safety. It's worth noting that Euro NCAP crash tests are more stringent now, so the Hyundai would fare less well in today's testing regime.
MPG and fuel costs
"If you want to eke out the most from each fill of the tank in a Hyundai i800, the lower power 136PS engine is the one to look for. It returns an official combined economy of 37.7mpg according to pre-WLTP figures. However, Real MPG numbers show this is optimistic and you can expect consumption pegged at 28.9mpg."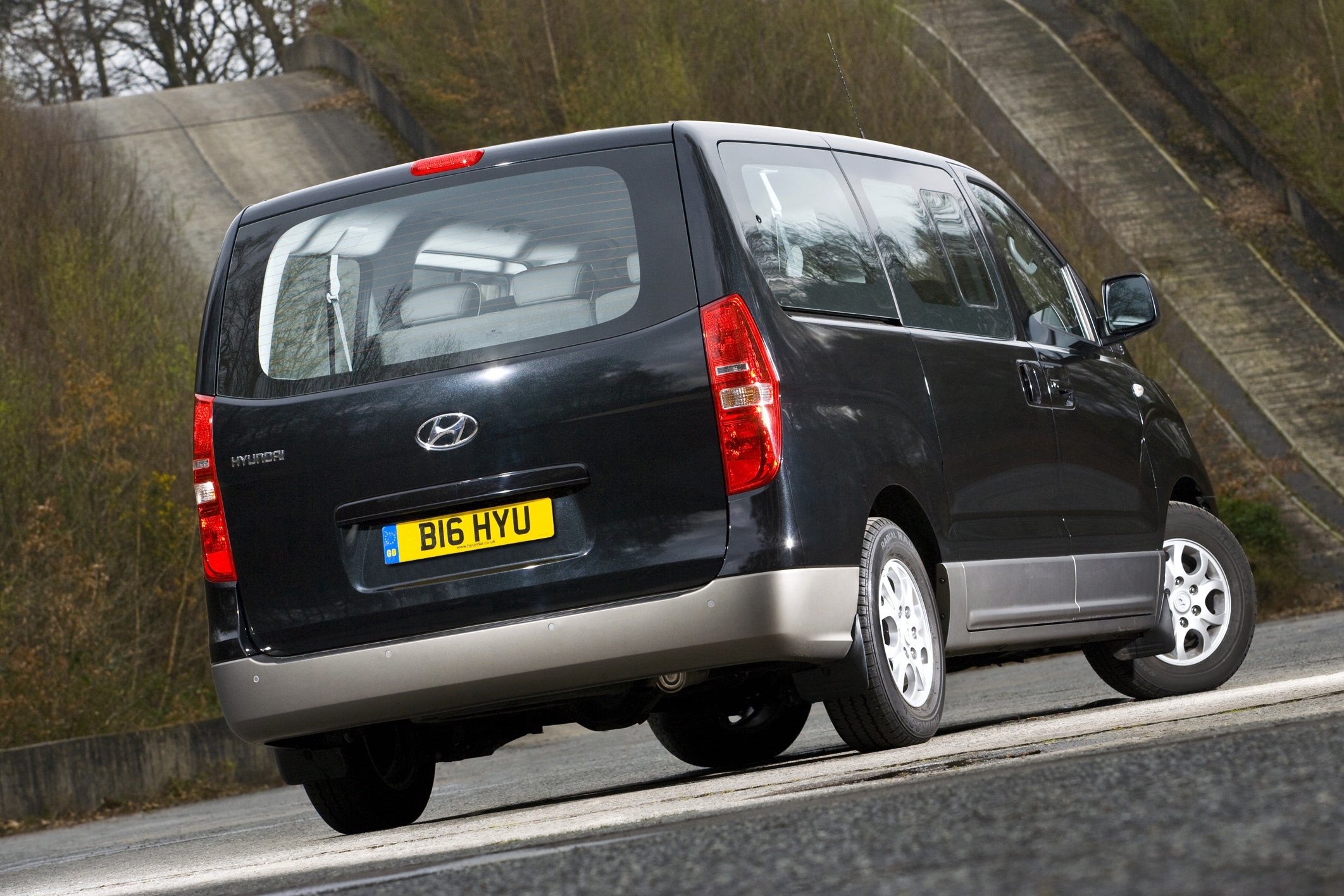 That is still better than the 27.2mpg recorded by Real MPG for the 170PS engine with its automatic gearbox. The official claimed economy for this version of the i800 is 33.2mpg, which is far from impressive in this day and age.
Insurance groups and costs
The least expensive Hyundai i800 to get insurance cover for is the less powerful of the two turbodiesel versions with its 136PS. In basic Style trim, it falls into group 28, though some later models crept up into group 30.
Take the 170PS version of the i800 and you'll be paying your annual premium based on an insurance ranking of group 33 or 35 depending the exact specification of the car. This is higher than you will find with a comparable Ford Galaxy.
VED car tax
Hyundai i800s registered from 1 April 2017 onwards will pay road tax at a flat rate of £150 per year regardless of which engine is fitted to the car.
For i800s registered before this date, the 136PS model falls into Band J due to its 197g/km carbon dioxide emissions and that means paying out £305 per year for road tax. Choose the 170PS version with its 225g/km CO2 emissions and you'll be paying the annual tax at £330.
How much should you be paying for a used Hyundai i800?
"Look for an early Hyundai i800 from its launch in 2008 with around 80,000 miles on the clock and you'll pay from around £7000. This will get you a car in good condition with full service history."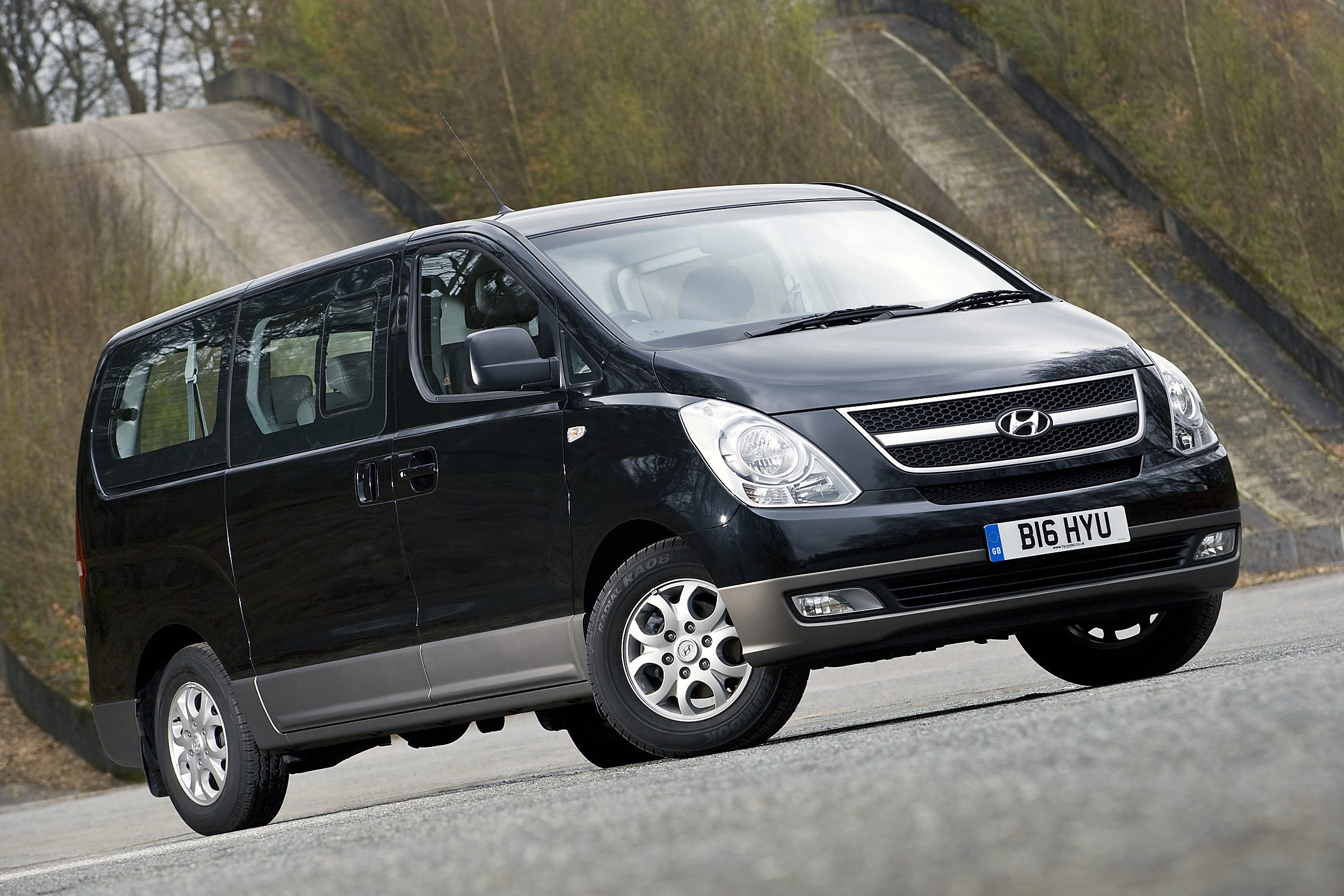 If you'd rather have a newer i800, prices for a four-year old SE with the 170PS engine and auto 'box begin at £14,000. That will get you a car with approximately 40,000 miles on the clock, while a newer one with 10,000 miles will cost around £18,000.
Trim levels and standard equipment
The Style trim was the entry point to the Hyundai i800 range and came with alloy wheels, two-tone paint scheme, rear privacy glass, and parking sensors at the back. It also has a heated driver's seat, air conditioning and an onboard trip meter for fuel economy.
When Hyundai added the 136PS engine, it also offered a more basic Comfort model that did without the Style's rear privacy glass, parking sensors or auto dimming rear view mirror. It also missed out on the two-tone paint.
The SE model replaced the Style and offered the same level of equipment, while the SE Nav came with integrated satellite navigation and a larger screen in the centre console. SE models have a multi-function steering wheel with remote buttons for the stereo.
Hyundai offered very few options for the i800, so customers were limited to a choice of upgrading with metallic paint and half-leather upholstery.
Ask the heycar experts:
common questions
Can you take the seats out of a Hyundai i800?
No. None of the i800's two rear rows of seats can be folded flat into the floor nor can they be removed. Instead, you end up with seat backs that tip forwards to free up a lot of length for longer loads, but not nearly as much depth in the cargo bay as you might want. So, the i800 is very much a people carrier rather than a multi-purpose vehicle.

Is the Hyundai i800 front or rear wheel drive?
The Hyundai i800 is rear-wheel drive. You also have two choices when it comes to the engine and the gearbox respectively in the Hyundai i800, though you cannot mix and match them.

Does the Hyundai i800 have cruise control?
Yes. Look for cruise control on SE Nav models

Hyundai I800 cars for sale on heycar
2,094
Number of cars available
£15K - £25K
Price bracket of these cars
Colours available on heycar
Keep me updated by email with the latest advice, news and offers from heycar
By submitting, you agree to our
privacy policy
.