Hyundai Ioniq Review 2022

1/10
heycar rating
"Hyundai's Prius loves the city"
Launched: 2016

Family hatch

Hybrid, PHEV, EV
Quick overview
Pros
Well priced and cheap to run
Choice of three electric powertrains
Premium specification comes well equipped
Cons
EV is range not as good as rivals
Tight rear-seat headroom
Toyota Prius is even cheaper to run
Overall verdict
On the inside
Driving
Cost to run
Prices and Specs
Common questions
Overall verdict on the Hyundai Ioniq
"If you want to embrace our electrified future (in a car sense) but aren't quite sure which form of electrification to go for, the Hyundai Ioniq has all the options – self-charging hybrid, plug-in hybrid (PHEV) or a full electric – only the Kia Niro offers the same variety."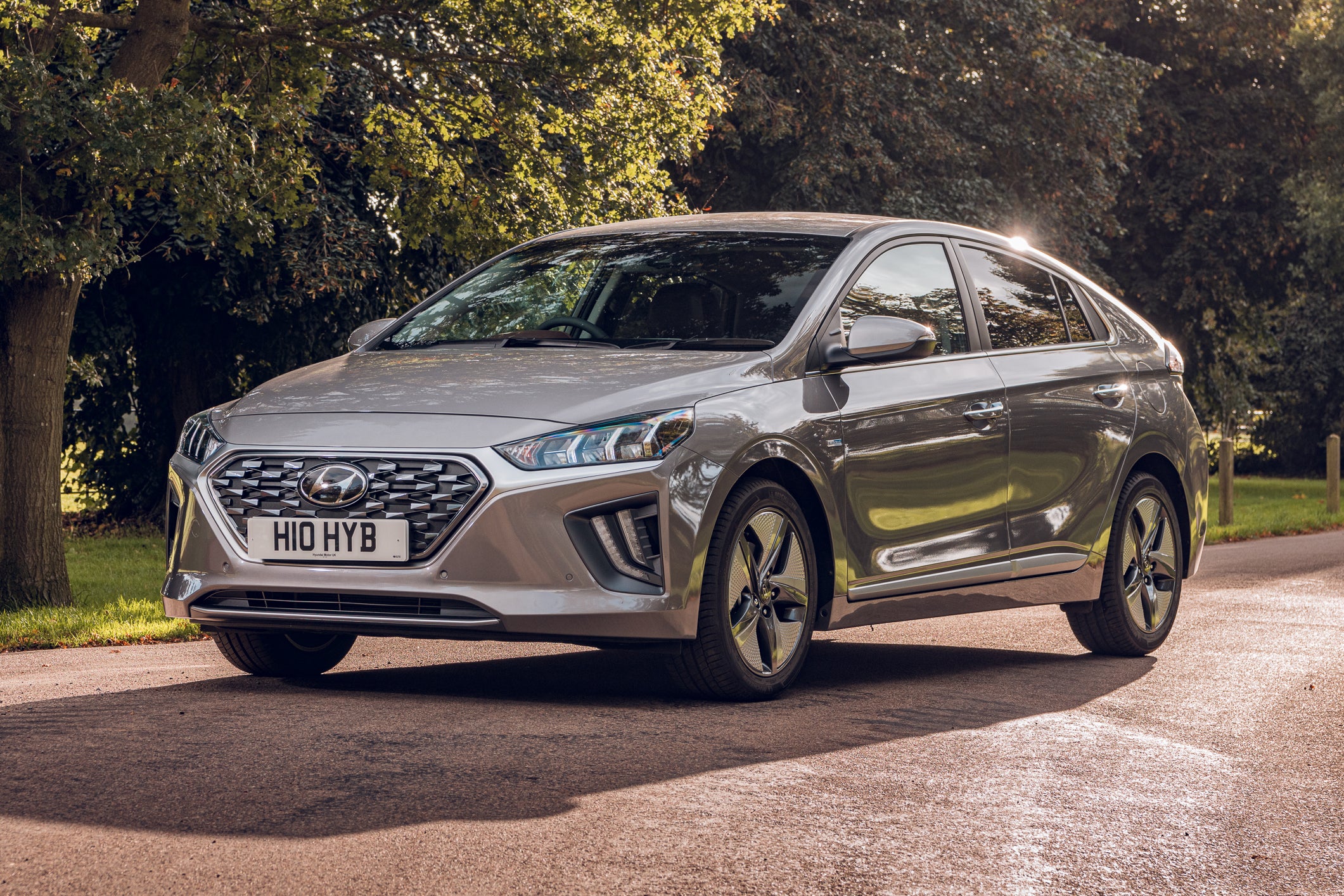 Whichever Hyundai Ioniq you go for, they look almost identical – squint and you'll see the all-electric version has a blanked off grille – but they all share a rakish rear window tapering to an upright tail for excellent aerodynamics without seriously compromising the Ioniq's practicality. But which one should you buy? We'll explore all the options in our Hyundai Ioniq review.
The standard Hyundai Ioniq self-charging hybrid uses a 1.6-litre petrol boosted by an electric motor that blends in power to save fuel or can revert to a full electric mode at low speeds for short periods. The small battery that powers it scavenges its power back when coasting, braking or by using the petrol engine as a generator.
If you want a bit more electric-only range, you'll want the Hyundai Ioniq PHEV, which has a larger battery and can run for 32 miles on electric power alone - enough to cover most daily commutes. That means you can slash your running costs – charging takes a little over 2hrs from a home wall charger and costs pence rather than pounds – while still having a conventional petrol engine to fall back on for longer journeys. Our guide to what is a hybrid car explains in more detail the differences between PHEVs and self-charging hybrid cars, while you might want to take a look at our rundown of the best hybrid cars as well.
Above that plug-in model sits the pure electric Hyundai Ioniq, which has an electric only range of up to 193 miles but not a conventional engine safety net for big trips. It's ideal if you only ever drive in the city, where an electric car is at its most efficient.
Whichever Hyundai Ioniq you go for, you'll find they're all easy to drive with light controls and easy performance, while reversing sensors and a camera are fitted across the range. The hybrid and PHEV Hyundai Ioniq models, meanwhile, have a twin-clutch gearbox that's a big improvement on the droning CVT gearbox that's fitted to the Toyota Prius hybrid.
Inside, the Hyundai Ioniq's cabin is dominated by an 8-inch infotainment screen that shows you exactly what its high-tech powertrain is getting up to, but everything else is pretty conventional. Interior quality is good with soft-touch plastics used on the dashboard and the tops of the doors.
What's not so good is rear seat space, which is eaten into by the car's sloping roofline and will leave your taller passengers brushing their heads off the headlining. Up front, you'll get comfortable even if you're more than six-foot tall and the boot is also large enough for a set of suitcases.
As a result, if you're looking to buy your first electric, PHEV or hybrid the Hyundai Ioniq should make the transition as smooth as possible while providing a worthy alternative to the default choice that is the Toyota Prius.
Is the Hyundai Ioniq right for you?
The Hyundai Ioniq provides electrification for everyone's needs. The self-charging model is perfect as an alternative to a diesel hatchback, while the plug-in Hyundai Ioniq PHEV is an excellent pick for those wanting emissions free short journeys, with the additional peace of mind of plentiful range from the petrol engine should you need it. For those wanting an inexpensive fully electric car then the Hyundai Ioniq's also got you covered.
What's the best Hyundai Ioniq model/engine to choose?
That really depends on your circumstances. The standard hybrid Hyundai Ioniq model will return excellent fuel economy and makes most sense if you don't have somewhere to charge a car. On the other hand, if you do have somewhere to charge it and have a short commute, the Hyundai Ioniq PHEV could save you a fortune getting you to and from work. The Hyundai Ioniq electric model, meanwhile, could be the car for you if you have room to charge it and don't need a car for long hauls up the motorway.
What other cars are similar to the Hyundai Ioniq?
The most obvious rival to the self-charging and plug-in models is that hybrid trailblazer the Toyota Prius or Toyota Prius Plug-In. That's not offered as a pure electric though so you'll need to visit Nissan for a Nissan Leaf, or Volkswagen for its Volkswagen ID.3.
The Ioniq's closest rival, and the only other model to offer the three differing powers within a single body is the Kia Niro and Kia e-Niro. It's more SUV-like in its looks, though rather than the more conventional look of the Ioniq. There is also Hyundai's own Hyundai Kona and Hyundai Kona Electric.
Comfort and design: Hyundai Ioniq interior
"Hyundai might be a bit radical in offering a trio of powertrain choices with the Ioniq, but, sensibly, it's not gone too wild with the interior styling."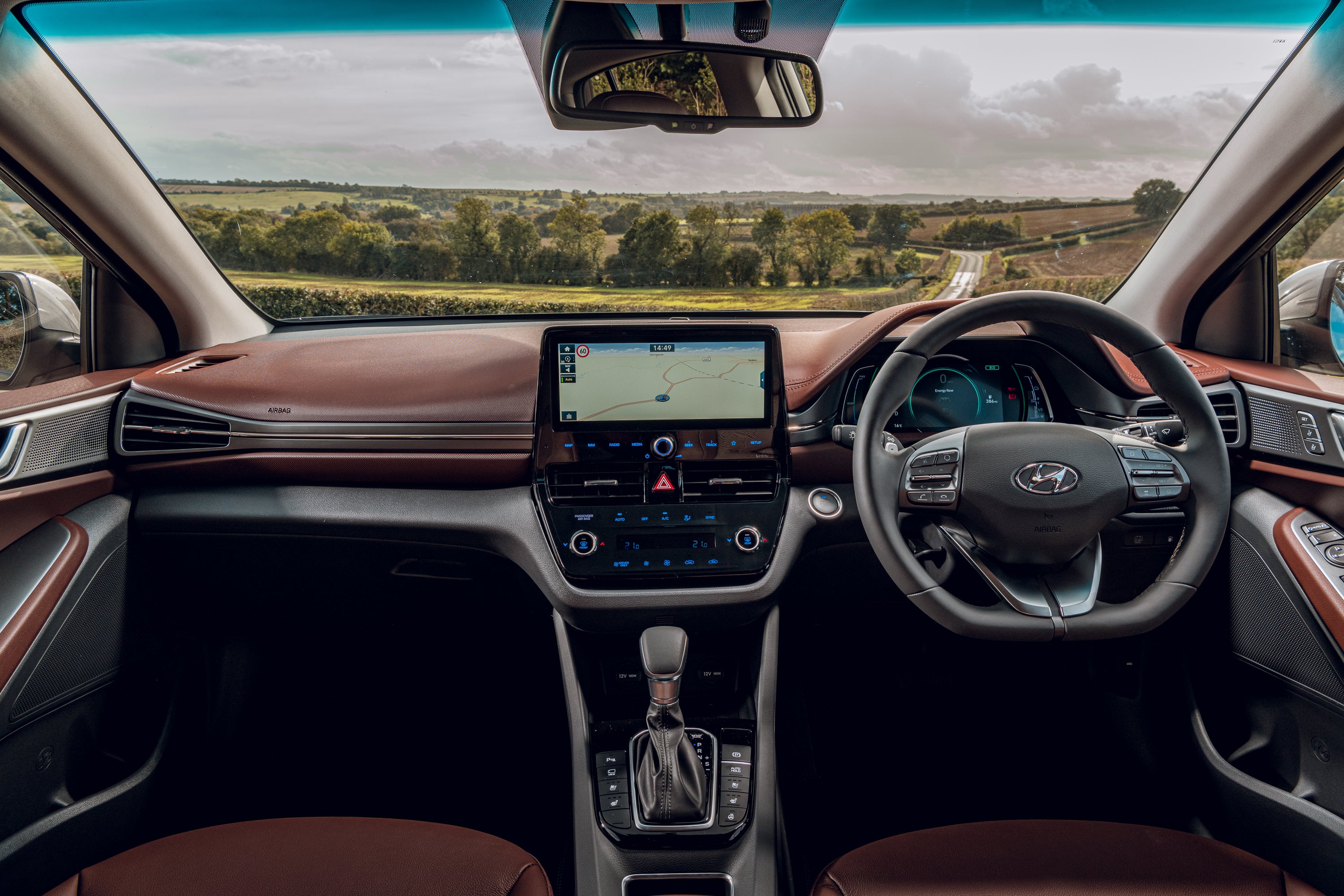 That was particularly true of the launch models, which were very ordinary inside, though Hyundai has added a bit of flair – not too much, mind – to the post-2019 facelifted models. The changes are mostly centred around the large touchscreen in the dash of the Hyundai Ioniq, though the dashboard itself gets a nice tapered shape that adds some visual interest without being as odd as its key Toyota Prius rival. A pleasant enough looking cabin, then, that all works with clarity and ease.

Getting comfortable behind the wheel of the Hyundai Ioniq is just as simple, as there's plenty of adjustment to the driver's seat and steering column, it's manual on SE Connect and Premium models, with Premium SE gaining electrical adjustment with a memory function.
All come with electrically controlled driver's lumbar support, two-zone climate control, rear parking sensors and a reversing camera. SE Connect cars are the only ones to do without heated front seats, keyless entry and a rear seat vent.
Hyundai Ioniq Premium SE models, meanwhile, gain ventilated front seats and heated outer rear seats, while all but the SE Connect come with keyless go and push-button start.
Quality and finish
Time was you paid for Hyundai's generous standard equipment and attractive pricing with interior materials that were a little bit sub-par for the mainstream class, but that's no longer the case with the Hyundai Ioniq, with most of its cabin materials being soft to touch.
There is some evidence of the sort of hard, scratchy plastics that used to dominate, but they're positioned low in the cabin of the Hyundai Ioniq and in areas you'll rarely, if ever, touch. That's more apparent in the post-2019 facelifted cars with their smarter interior styling, the cabin not just getting a visual lift but a boost in quality.
The heater controls are an exception, with Hyundai replacing the simple physical buttons of the pre-facelifted Ioniq with touch sensitive ones that are a pain to use.
Infotainment: Touchscreen, USB, nav and stereo in the Hyundai Ioniq
Avoid the SE Connect Hyundai Ioniq if you're after the best infotainment, it is only offered with the regular hybrid and makes do with conventional instruments instead of the 7-inch TFT screen in every other Hyundai Ioniq.
Likewise, it has a smaller 8-inch touchscreen, though it does have Android Auto, Apple CarPlay, Bluetooth connectivity, USB inputs and DAB radio as standard.
Hyundai Ioniqs above it in the range add sat nav, with Bluelink (Hyundai's connected services), Infinity Sound System, a wireless charging pad for your phone and that larger 10.25-inch central touchscreen and 7-inch screen in place of conventional instrumentation.
Hyundai's touchscreen system operates with real ease, with clear sub menus and simple navigation, with key functions of Map, Nav, Radio, Media and Set Up all having shortcut buttons below the main screen, likewise there's a physical volume knob.
Steering wheel controls for audio, cruise control and your telephone are also included as standard on every model.
Space and practicality: Hyundai Ioniq boot space
The Hyundai Ioniq measures 4470mm long and 1820mm wide, which sees you get plenty of space up front for the driver and passenger, with ample seat adjustment, a pair of cupholders and useful cubby storage throughout.
It's not quite so generous for space in the rear seats of the Hyundai Ioniq, and that's due to the sloping profile of the roof. Headroom is at a premium, especially if you're above average height.
That sloping roof of the Hyundai Ioniq also makes getting children into child seats in the back, with the two outer seats having ISOFIX child seat mounts. There's a third, rear, central seatbelt, but the seat it covers is narrow and high, so it's only really for occasional, short trip use, though that's true of all of the Ioniq's direct rivals.
The Hyundai Ioniq's boot is accessed by a large hatchback and its size varies depending on what powertrain you go for. The largest boot capacity comes with the standard Hyundai Ioniq hybrid, with 443 litres with the seats in position, or 1505 litres when folded. The electric Hyundai Ioniq model sees those figures drop to 357 litres and 1417 litres, respectively, while the Hyundai Ioniq PHEV has the smallest boot capacity of the lot with the seats up at 341 litres and 1401 litres with them down.
Handling and ride quality: What is the Hyundai Ioniq like to drive?
"Built for economical motoring, it's no real surprise that the Hyundai Ioniq isn't the last word in excitement on the road."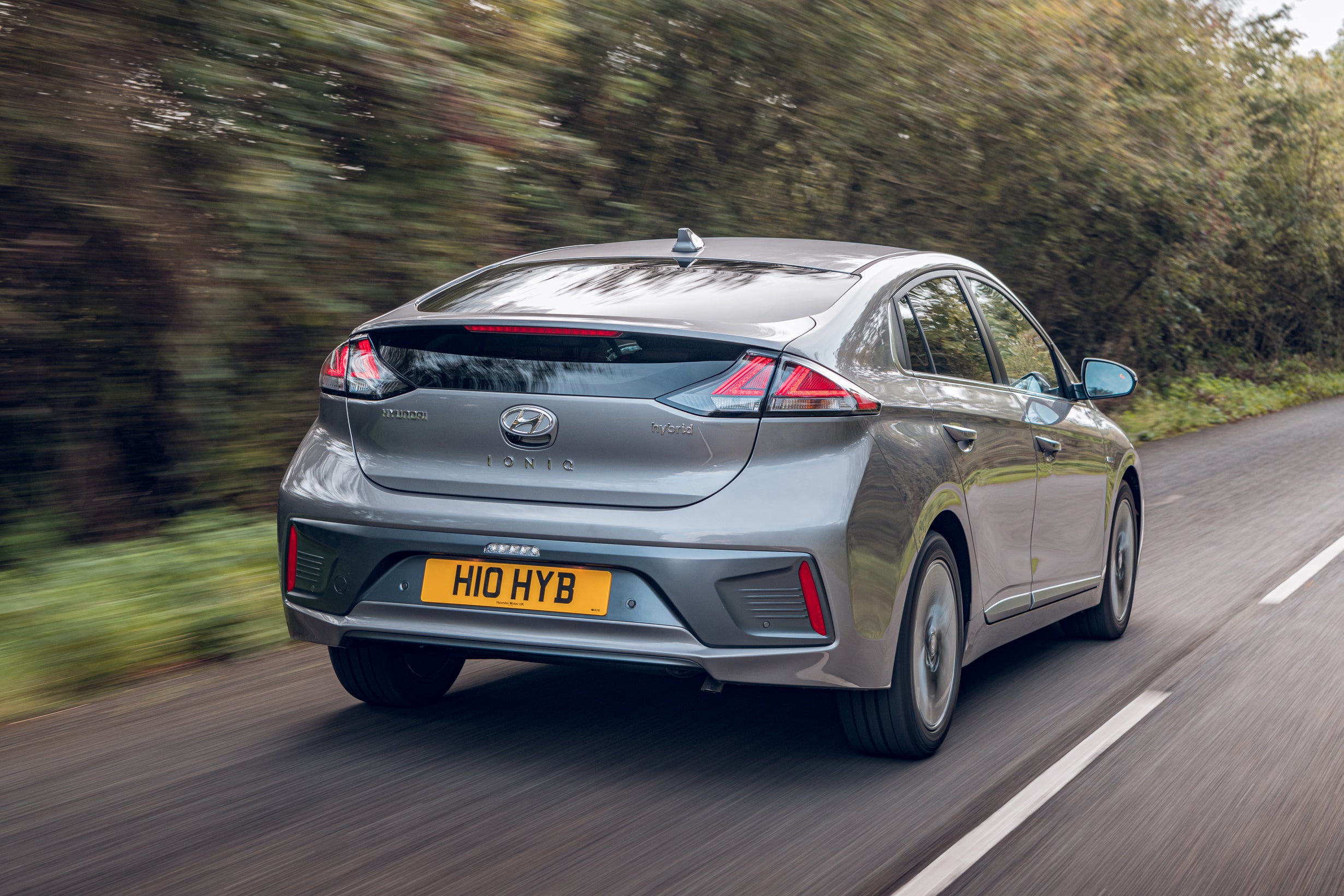 Indeed, the Hyundai Ioniq is all about competence, so you'll find light and easy steering mated with surefooted handling. There's a fair amount of body roll in the bends, underlining that the suspension is focussed on soft-riding comfort rather than high-speed corner control. But, while around town the suspension takes the edge off the poor surfaces, the worst of the bumps do knock through to the interior.
There's a little bit more heave in the bends with the Electric Hyundai Ioniq, largely thanks to its greater mass, though all in all Hyundai has done a commendable job in making the brake pedal feel natural, despite having brake regeneration which often makes brakes hard to modulate.
In fact, you can change the level of regeneration, giving the effect of engine braking when you lift off the accelerator, doing so allows you to drive virtually with one pedal. That makes the Hyundai Ioniq extremely comfortable to drive in town, particularly when you factor in its quiet electric running and standard automatic gearbox (actually a single gear in the electric model).
What engines and gearboxes are available in the Hyundai Ioniq?
There's no gearbox on the electric Hyundai Ioniq model, but the hybrid and plug-in hybrid Hyundai Ioniq models get a six-speed twin-clutch automatic and it is responsive in a way the CVT that's favoured by the Toyota Prius isn't.
Leave the Hyundai Ioniq hybrid to its own devices and it'll do a good job of juggling the electric and petrol motors to produce their best economy and performance.
Both hybrids produce combined power output of 141PS and 147Nm of torque, despite the plug-in Hyundai Ioniq hybrid having a more powerful 60.5PS (over 43.5PS) electric motor helping it. The latter gets from 0-62mph in 10.8 seconds while the former manages it in 10.6 seconds.
The electric motor in the Hyundai Ioniq Electric produces 136PS, its set off acceleration feeling brisk and it covers the 0-62mph dash in 9.9 seconds in Sport mode, or 10.2 seconds in Normal mode.
Maximum EV range in the Hyundai Ioniq
The Electric Hyundai Ioniq manages an official range of 193 miles, so a real-world 150 miles should be possible. The plug-in hybrid has a 32-mile electric-only range on a full charge, too, again, that a best case scenario, it's likely to be closer to 25 miles if you're driving it sensibly. It's worth noting that both go further than pre-facelifted models which has less power dense batteries.
Refinement and noise levels
Good refinement is a by-product of hybrid and EV propulsion and that's clear with the Hyundai Ioniq, the Electric being hushed on the move, with only the faintest hint of electrical noise from the motor, and a bit of road and wind noise as the speeds rise. Even so, it's largely quiet, particularly so at urban speeds.
The hybrid Hyundai Ioniq models transit between their electric motor and engine smoothly, though ask a lot from the powertrain and the engine does get a bit boomy at higher revs.
Low rolling resistance tyres and the slippery body shape of the Hyundai Ioniq, meanwhile, do their bit across the range as your speed rises.
Safety equipment: How safe is the Hyundai Ioniq?
The Hyundai Ioniq achieved a five-star score in 2016 when it was crash tested by independent safety body Euro NCAP.
All Hyundai Ioniqs come with traction and stability control, automatic emergency brakes and a driver attention alert system that warns you when you need to take a break. A lane departure warning system and lane assist help keep you in lane, you get tyre pressure monitors and ISOFIX mounts for the safe fitting of child seats. All models also come with front, side, curtain and driver's knee airbags.
Even if you are involved in an accident, Hyundai's e-call can summon the emergency services – sending them the location of the accident.
Premium SE models of the Hyundai Ioniq also benefit from Blind Spot Detection, active cruise control, and rear cross traffic assist – or automatic emergency brakes that work in reverse.
MPG and fuel costs: What does a Hyundai Ioniq cost to run?
Charging the Hyundai Ioniq Electric to 80 per cent can take less than 1 hr on a 50kW public high capacity charger. It could be as much as 19 hrs from a typical home three-pin socket, so you're much better off getting a home wallbox fitted to slash that time to 6 hrs.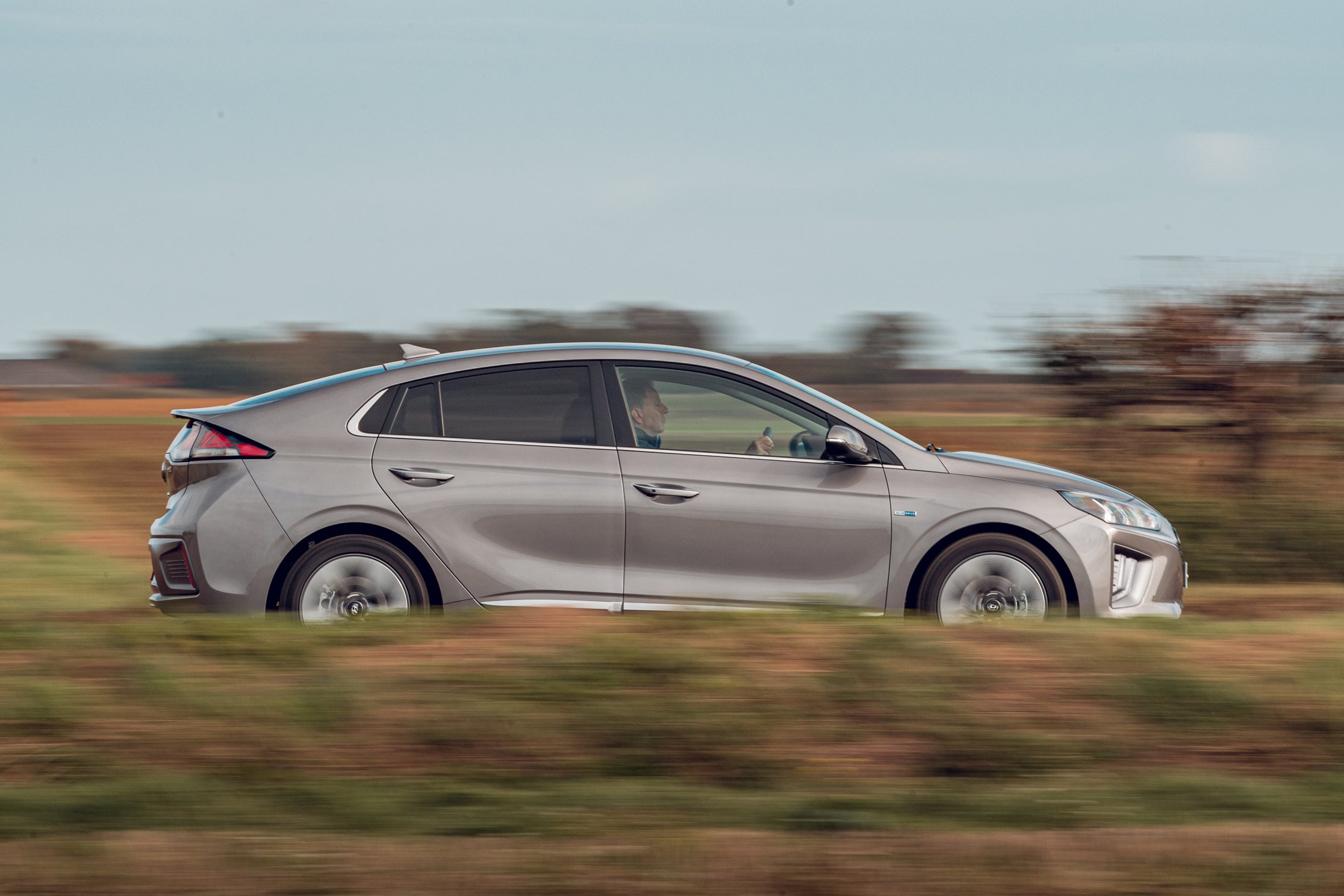 The same 7kW charger will fill the plug-in hybrid Hyundai Ioniq to full in 2 hrs 15 minutes, or use a three-pin home socket and it'll take between five and six hours. The official WLTP mpg for the plug-in is 256.8mpg, but the reality is more likely to be around 70-80mpg on longer drives. The regular hybrid Hyundai Ioniq will get around 60mpg if you drive it sensibly.
How reliable is the Hyundai Ioniq?
Hyundai as a brand performs very well in HonestJohn.co.uk's Satisfaction Index, achieving a score of 9.38/10 for reliability. It's also ranked fifth out of 34 car manufacturers overall while the Hyundai Ioniq was the highest rated car overall with a very impressive satisfaction score of 93.7 per cent. The Hyundai Ioniq also scored a stunning 9.79 reliability average (out of 10), ranking it among one of the highest in the index.
Insurance groups and costs
The Hyundai Ioniq is in groups 10 and 11 for the Premium and Premium SE hybrids, with the plug-in Hyundai Ioniq going up a group to 12. The more expensive Hyundai Ioniq electric is in groups 21-22 depending on trim level.
VED car tax: What is the annual road tax on a Hyundai Ioniq?
If you're looking to slash your road tax bill, choose the Hyundai Ioniq Electric – its zero emissions mean you'll pay no road tax at all.
The Hyundai Ioniq Hybrid will cost you £155 in the first year, then £150 a year thereafter, while the Hyundai Ioniq Plug-in Hybrid emits just 26g/km on the WLTP test consumption cycle, which means a first year VED rate of £10, with £150 annually after that.
How much should you be paying for a used Hyundai Ioniq?
"If you're prepared to put up with minicab-like high miles then you can pick up an Hyundai Ioniq for less than £10,000 used, though there aren't many at this level."
Best think of that £10,000 as a starting point then, and doing so will get you into a number of Hybrid Hyundai Ioniq models with mileages between 60,000-80,000.
There's a good deal more choice from around £12,000, but even here the majority are the standard Hybrid, with the PHEV and Electric Hyundai Ioniq models coming in at around £16,000.
Hyundai offers a five-year warranty that's transferrable, so only the oldest Hyundai Ioniqs will now be running out of that cover.
Trim levels and standard equipment
The Hyundai Ioniq range kicks off with Connect trim. That includes 15-inch alloy wheels, an eight-inch touchscreen media centre with Android Auto and Apple CarPlay, Automatic headlamps, cruise control and climate control. Ioniqs are born for the city so it's good to see all models have reversing sensors and a camera.
Hyundai Ioniq Premium models take that list and add to it. You get heated front seats and a heated steering wheel, keyless entry, a more powerful infinity stereo, wireless phone charging and a larger 10.25-inch touchscreen. Premium models look a touch more modern on the outside thanks to their bright-shining LED headlights.
Hyundai Ioniq Premium SE models take another step up the ladder most easily spotted by their 17-inch alloy wheels. They feel significantly posher on the inside thanks to their leather seats, which are electrically adjustable, heated and ventilated up front, and heated in the back.
Automatic Wipers, Blind Spot Detection System, Cruise Control with Adaptive Speed Control with Stop & Go, Driver's Seat Electric Adjustment and Memory, Leather facings on seats, Heated and Ventilated front seats, Lane Follow Assist, Rear Cross Traffic Alert, Heated outer rear seats.
Ask the heycar experts:
common questions
Is the Hyundai Ioniq a good car?
If you're looking for an alternative to the Toyota Prius then the Hyundai Ioniq is a good car well worth considering. The Hyundai has a more responsive gearbox that makes it a touch nicer to drive, while the Prius counters with slightly better fuel economy. Both are great options if you're looking for efficient city transport.

Is the Hyundai Ioniq self charging?
The Hyundai Ioniq is a self-charging hybrid – so there's no need to plug it in to charge the battery – but you can also have it as a plug-in hybrid (PHEV) or as a pure electric car, which have a progressively longer electric-only range.

Are all Hyundai Ioniqs automatic?
All Hyundai's drive like an automatic, although the electric model actually relies on a single tall gear which is possible because of its high torque electric motor. Both the hybrid and PHEV versions have a dual-clutch automatic that's quicker and quieter than the CVT in the Toyota Prius.

Answered by
heycar editorial team
Are hybrid cars worth it?
Hybrid cars are worth it if you do lots of driving in town, where they are generally cheaper to run than a petrol or diesel. That said, if you predominantly drive on the motorway, you'll probably still be better off with a diesel.

Hyundai IONIQ cars for sale on heycar
2,067
Number of cars available
£16K - £34K
Price bracket of these cars
Colours available on heycar
Keep me updated by email with the latest advice, news and offers from heycar
By submitting, you agree to our
privacy policy
.