Hyundai Ioniq 5 Review 2022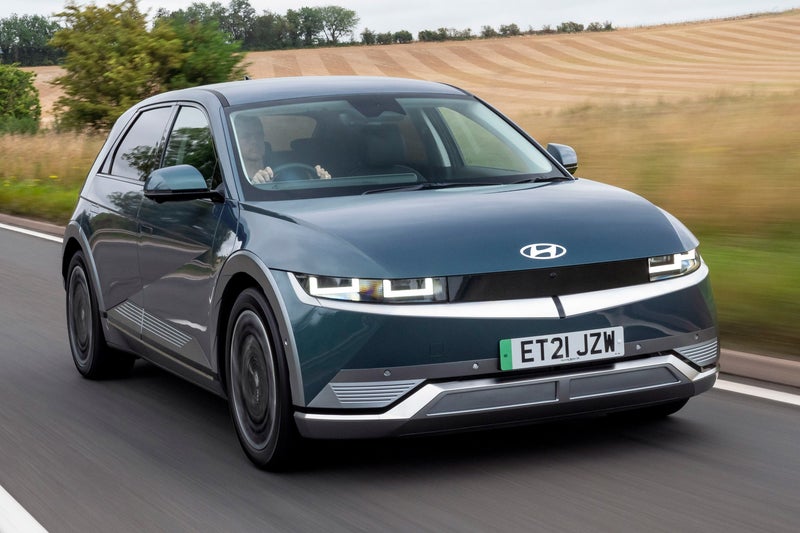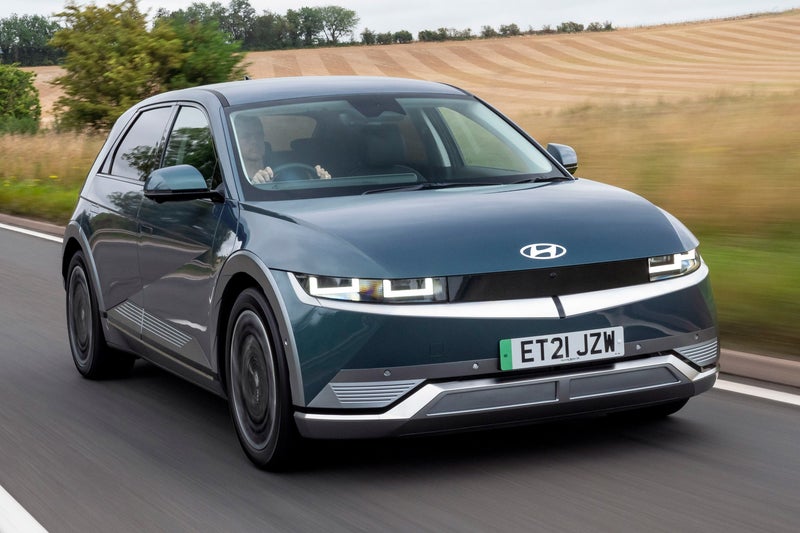 1/10
heycar rating
"Possibly the best electric car"
Quick overview
Pros
Spacious cabin
Impressive range of up to 300 miles
Looks a bit like a spaceship
Cons
Not as nimble as the Kia EV6
Lack of rear wiper irritates in winter
Does it need to be quite so big?
Overall verdict
On the inside
Driving
Cost to run
Prices and Specs
Common questions
Overall verdict on the Hyundai Ioniq 5
"The Hyundai Ioniq 5 is one of the most appealing electric cars on sale right now. Not only does it look both futuristic and retro at the same time, it's more than competitive in terms of electric range and its interior is surprisingly spacious. Our biggest criticism is that the most desirable versions are as expensive as premium rivals – but do you really need ventilated seats and a power output for your kettle?"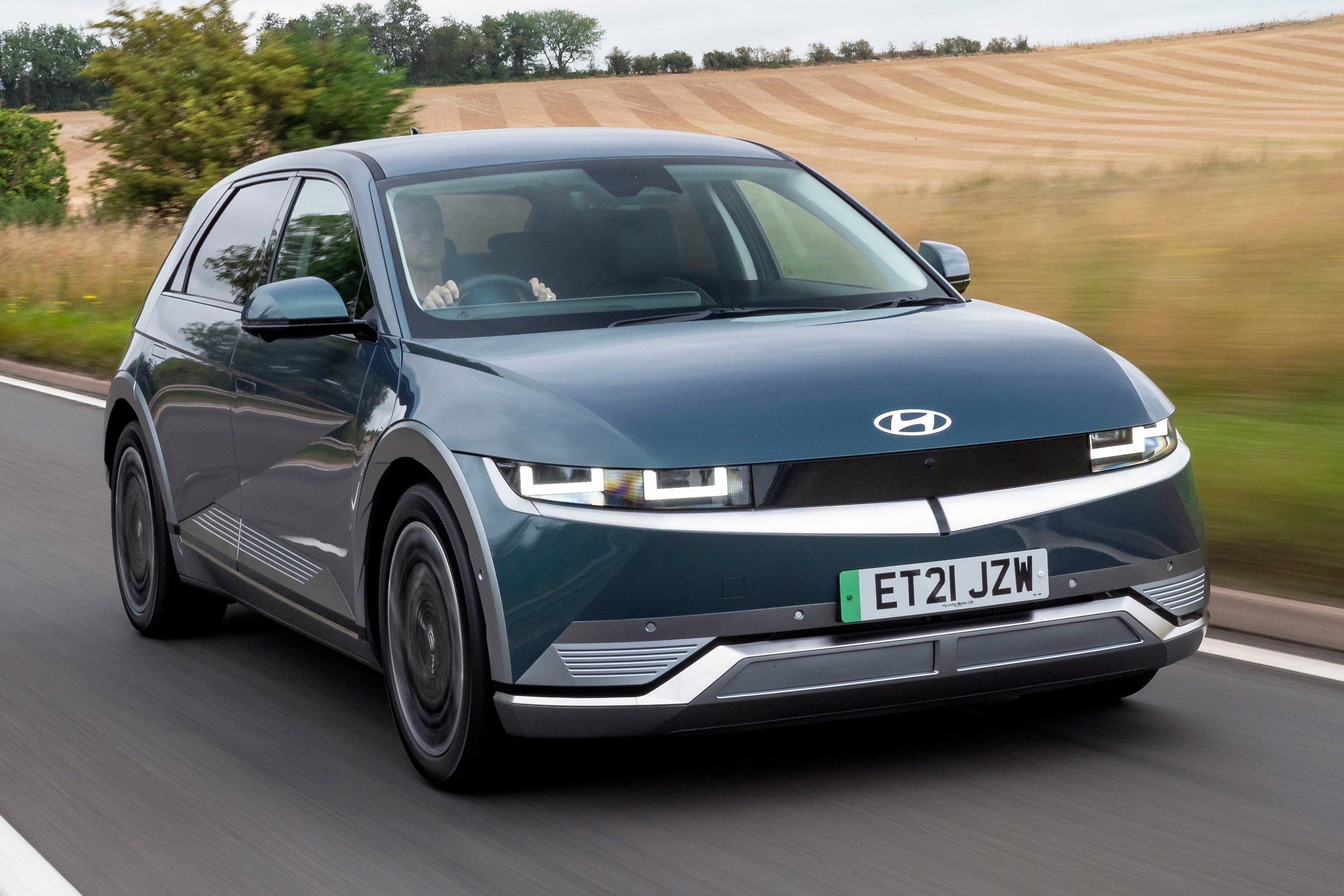 Following on from the excellent Hyundai Kona Electric, the Ioniq 5 represents a new generation of electric vehicles for the Korean carmaker. It's the first of a new Ioniq sub-brand (the Ioniq 6 and 7 are both on their way), based on a fresh electric car platform shared with the Kia EV6 and upcoming Genesis GV60.
As you might have gathered from the way the Hyundai Ioniq 5 looks, it's not trying to be mainstream. In fact, it's anything but. If you want to blend in, you should probably buy a Skoda Enyaq iV or Volkswagen ID.4 instead.
But that doesn't mean the Hyundai Ioniq 5 represents a compromise. For a start, top models can travel up to 300 miles between charges. And when you do wish to travel further, it can be charged exceptionally quickly – find a capable enough rapid charger and it'll add 62 miles of range in just five minutes. An 80% charge can be completed in less than 20.
Although it's not quite as pacey as a Tesla, the Hyundai Ioniq 5 is one of the more comfortable electric cars to drive. It won't crash around over bumpy road surfaces, while the light steering and extensive list of driver assistance tech mean it's easy to steer around town. It's also immensely relaxing – you feel isolated from the outside world, while the instant acceleration takes any stress out of joining a busy roundabout or pulling off a quick overtake.
It is quite a big car, but its electric vehicle platform means the Ioniq 5 makes the most of the space available. It's got a flat floor inside, while the front seats are designed to recline almost into a bed (perfect for taking a quick kip during a charging session). The top-spec Hyundai Ioniq 5 Ultimate comes with a sliding centre console, as well as some other cool features. These include 'vehicle to load' capability, which essentially uses a three-pin socket to turn the Ioniq 5 into a mobile power source. Plug whatever you like into this – a kettle, your lawnmower or even a stranded electric vehicle to give it a range boost.
Just like the exterior, the Hyundai Ioniq 5's interior looks both stylish yet retro. It combines two digital displays (both easy to operate with fast responses and sharp graphics), while there are still some old-school buttons acting as shortcuts to key features. It's not particularly minimalist but it is very user-friendly.
Hyundai Ioniq 5 prices start from around £37,000 for the entry-level SE Connect with the smaller 58kWh battery. Top-spec models, with the bigger 73kWh battery pack (a 77kWh version is on its way) and twin electric motors are nudging £50,000.
That means the Ioniq 5 isn't a cheap electric car in the same way as the MG ZS EV, but we do think it represents good value for money. It's just as desirable as premium alternatives like the Polestar 2 and Audi Q4 e-tron, in our view, even if strong demand means the Ioniq 5 is holding its value on the used market.
Is the 2022 Hyundai Ioniq 5 right for you?
If you're looking for a modern, spacious electric SUV (of sorts) that's capable of travelling long distances on a charge, the Hyundai Ioniq 5 is an excellent choice. We actually think it's one of the best electric vehicles on sale.
However, it's more of a large hatchback than a true SUV, so if that's what you want above all else then a Skoda Enyaq or Volvo XC40 Recharge might suit your desires more. Also, if the boxy shape and retro details aren't really your bag, then the Kia EV6 has the same platform and tech but a swoopy coupe-like body.
What's the best Hyundai Ioniq 5 model/engine to choose?
While it's tempting to jump straight to the 73kWh Ioniq 5 model for the security of the longer range, don't dismiss the entry-level Ioniq 5 58kWh straight away. Its smaller battery will reach 100% charge in a shorter time period, while its 240-mile range will be more than sufficient for a lot of drivers.
Equally, the most affordable Hyundai Ioniq 5 SE Connect is pretty well equipped. We'd hunt out a mid-spec Premium model, though, for things like the fancy headlights, a heated steering wheel and electric driver's seat adjustment. The Ultimate trim level is, well, the ultimate model – it's expensive, but comes with desirable 64-colour interior ambient lighting, ventilated front seats and a premium Bose sound system.
The entry-level model isn't exactly slow, but the bigger battery rear-wheel version is slightly faster and more effortless when overtaking, The all-wheel drive model is knocking on the door of sports car pace, but it's not really a driver's car - a Tesla Model 3 will engage you more if that's what you want.
What other cars are similar to the Hyundai Ioniq 5?
Comfort and design: Hyundai Ioniq 5 interior
"As the Hyundai Ioniq 5 is based on a new electric car platform, its interior designers have been given a great deal of freedom they wouldn't be afforded in a petrol or diesel car. There's no engine, obviously, or a gearbox eating into interior space."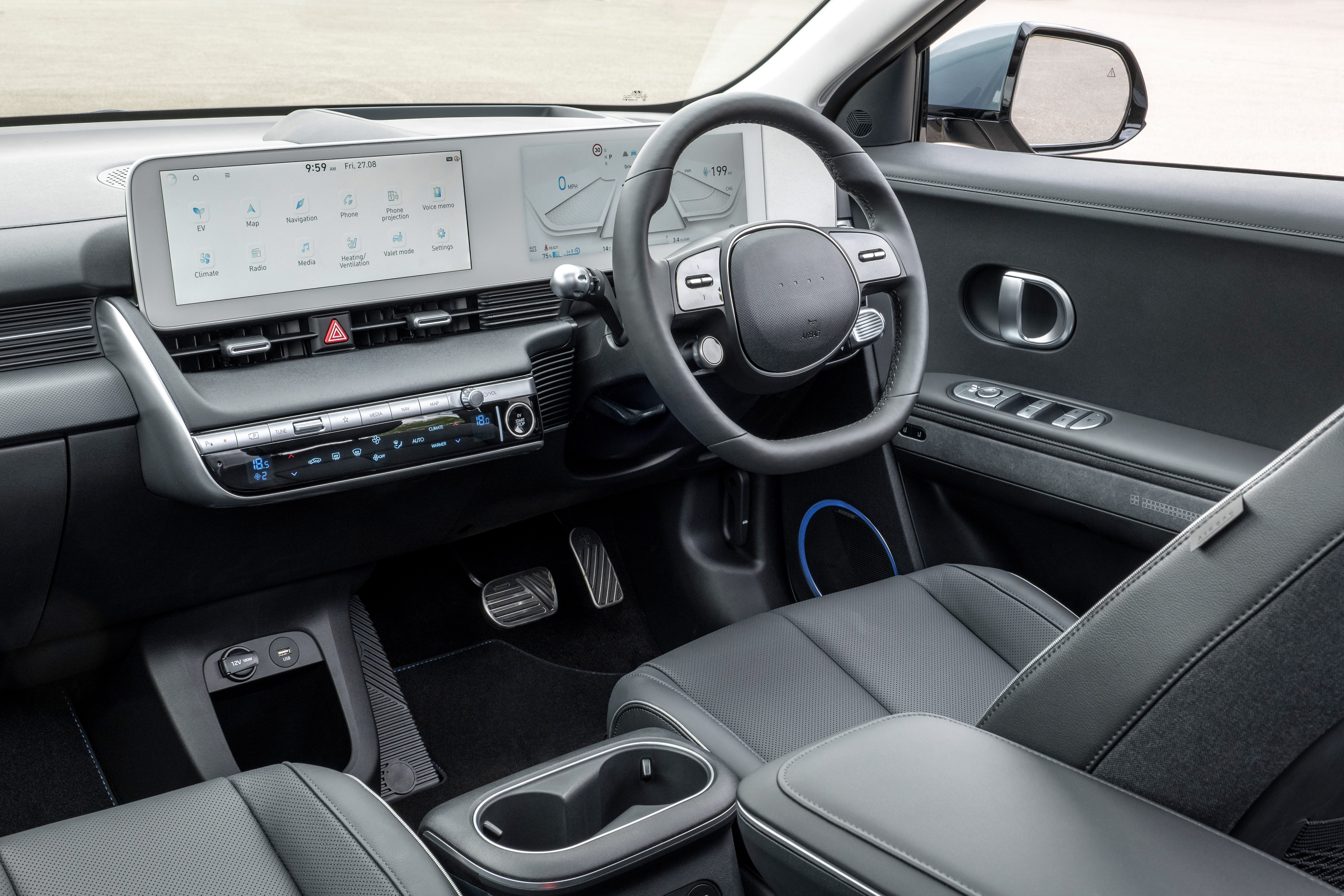 Not only is the Hyundai Ioniq 5 exceptionally spacious inside, but it's also much less claustrophobic than a lot of similarly sized petrol or diesel SUVs. There's an entirely flat floor, while there's quite a lot of flexibility in the seating arrangement. The rear seats can slide backwards and forwards, for example, while you can recline the front seats almost flat.
While there is a centre console (sliding on the top-spec Ultimate), it doesn't form a complete barrier between the driver and front seat passenger like you'd usually find. That's partly because there isn't a traditional gear selector here – instead, you engage drive or reverse via a nifty twisty controller to the right of the steering wheel.
We like the grey cloth interior on SE Connect and Premium models, although leather is standard on the top-spec Hyundai Ioniq 5 Ultimate. The seats are very comfortable and you sit fairly high up, although it's not quite as lofty as some traditional family SUVs.
Quality and finish
Start poking around the Ioniq 5's cabin and you will find a few flimsy finishes to remind you that it's not quite a premium alternative to the Audi Q4 e-tron or Volvo XC40 Recharge. It looks pretty smart, at least, while a leather-wrapped steering wheel and some fancy ambient lighting mean it's not exactly drab inside.
Overall, it's a step above Hyundai's conventional family hatchback models and SUVs, helping justify the price jump.
Infotainment: Touchscreen, USB, nav and stereo in the Hyundai Ioniq 5
The Hyundai Ioniq 5 might be a futuristic electric car but it hasn't prioritised a minimalist cabin at the expense of usability. You do get two 12.3-inch digital displays positioned alongside each other – one acting as the central touchscreen infotainment, and the other an impressive digital instrument cluster.
The widescreen navigation system is easy to operate with super slick graphics and rapid responses. There are also some physical shortcut buttons and even a knob for adjusting the volume – features which are dying out even in petrol or diesel cars. They might look a little old fashioned but you'll appreciate them when you need to jump between navigation and entertainment menus on the move.
Sitting below these are touch-sensitive climate control buttons. These aren't quite so easy to operate but at least they're separate from the main infotainment system.
All Hyundai Ioniq 5 models come with Apple CarPlay and Android Auto, as well as a wireless phone charger and a three-year subscription to Hyundai's connected car services. If you like your music, you might want to look for a top-spec Hyundai Ioniq 5 Ultimate for its standard-fit Bose surround sound system.
Space and practicality: Hyundai Ioniq 5 boot space
Don't be fooled by the pictures – the Hyundai Ioniq 5 might look like a family hatch, but it's actually longer and wider than the latest Tucson SUV. It measures 4635mm in length, 1890mm in width (and that's not including the door mirrors), and 1605mm tall.
It's big. But it also makes the most of that by providing a huge amount of interior space. This is most obvious for rear-seat passengers, where there's loads of headroom and legroom. There isn't a lump in the floor where you'd ordinarily find a transmission tunnel, while the rear seats can be moved backwards and forwards to help you prioritise people or boot space.
Space in the front is impressive, too. Again, there's a flat floor, while Ultimate models get a sliding centre console. Considering its lack of a panoramic sunroof, the Hyundai Ioniq 5 feels surprisingly light and airy inside, while the seats can be cranked up high for the proper SUV driving position.
There has to be a compromise somewhere, and that's the boot. It's pretty big, capable of carrying up to 527 litres of luggage. It's shallow, though, and some alternatives (we're looking at the Tesla Model Y) are a little more versatile.
One detail worth mentioning is that the Ioniq 5 has no rear wiper blade on any trim level. That might not seem that important, but because of its hatchback shape the rear window is a magnet for dirt and spray on wet, wintry country roads - we found after less than an hour on the road you'd need to stop and wipe it down. It seems a strange omission on a very well thought-out car otherwise.
Handling and ride quality: What is the Hyundai Ioniq 5 like to drive?
"The Hyundai Ioniq 5 doesn't try to be sporty in the way it drives. It's actually very comfortable – unusually so for a big, heavy electric car. Stick with the 19-inch alloy wheels and you'll find it makes light work out of deteriorating British roads."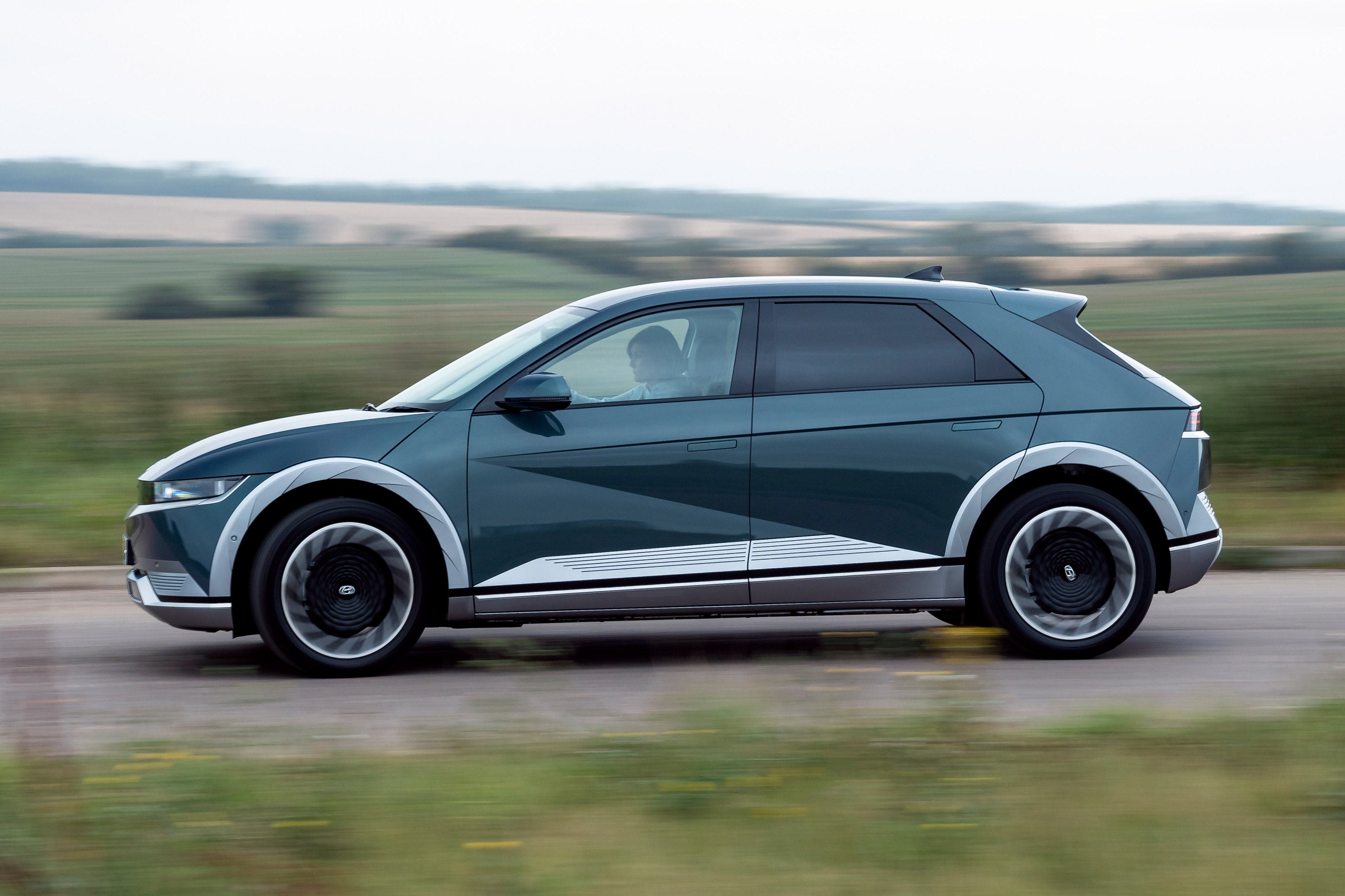 If you're looking for a sporty electric car, the Hyundai Ioniq 5 isn't it. The light steering is great around town but means it doesn't feel particularly agile on rural roads. If you want an EV that's fun to drive, you might want to look at the Kia EV6 or Ford Mustang Mach-E instead.
That's not to say it's a complete mess in the handling stakes. Its weight is positioned low down, which means it doesn't roll about too much in corners. And there's plenty of grip on hand – even on rear-wheel-drive models. For the most part all-wheel drive models feel broadly similar, but in wet conditions they're more adept at putting their power down coming out of a bend.
The Hyundai Ioniq 5 impresses most in how easy and relaxing it is to drive. Sure, it's physically huge, but there are cameras and sensors everywhere to prevent you getting into too much trouble. Visibility is decent, too, apart from out of the wiper-less rear window in wintery conditions (from MY2023, Hyundai's fitting digital mirrors as a solution to this).
You press a start/stop button to start the 'engine', while there's a toggle behind the steering wheel to select drive. There are paddles, too, allowing you to select the level of regenerative braking (how much the car uses the electric motor to slow down when you lift off the accelerator pedal). Essentially, you can coast along freely (ideal for motorway driving) or lose speed quite dramatically, allowing you to drive with just the accelerator pedal with a bit of practice.
What motors and batteries are available in the Hyundai Ioniq 5?
The entry-level Hyundai Ioniq 5 is driven by a single 170PS electric motor powered by a 58kWh battery pack. Although its 8.5 second 0-62mph time isn't particularly rapid, it'll feel quick enough – particularly if you're not used to driving electric cars. It'll dart off the line, with the entirety of its 350Nm torque figure on hand the second you toe the accelerator pedal.
Most Hyundai Ioniq 5 buyers go for the bigger 73kWh battery. This powers a 217PS motor in rear-wheel drive form, which means it'll accelerate to 62mph in a sprightlier 7.4 seconds. We've spent a considerable amount of time in this Ioniq 5 and, while it's not going to impress your Tesla-driving mates, it's eager enough for most driving situations.
For the ultimate shove, the 73kWh battery pack is also available with an extra electric motor on the front axle. That means it's four-wheel drive, with a maximum power output of 305PS and a huge 605Nm of torque. That's sufficient for a 0-62mph time of 5.2 seconds.
That makes it quicker than many of its 'conventional' electric rivals, particularly the Volkswagen ID 4. It'll just about keep up with a Tesla Model Y Long Range, too. But in practice it delivers more of a satisfying surge rather than pinning you in the back of your seat, and the extra performance seems more in-keeping with the sportier Kia EV6 than the laid-back Ioniq 5.
Maximum electric range in the Hyundai Ioniq 5
The Hyundai Ioniq 5 with the longest range is the rear-wheel-drive 73kWh model, which can officially travel up to 300 miles between charges. This drops to 287 miles with four-wheel drive. Although official range figures haven't been announced, the 77kWh version should be able to travel slightly further between top-ups.
Don't dismiss the smaller battery 58kWh Ioniq 5. It can still travel further than a lot of electric cars, with an official WLTP range of 240 miles.
These figures are based on scientific tests but, likes all electric cars, the actual real-world range will depend a little on the kind of driving you cover and even factors like the temperature and how much you're using the heating.
Refinement and noise levels
Refinement is generally superb. You'll barely notice a whine from the electric motor, while there's little in the way of wind noise making its way into the cabin.
Road noise is a little more noticeable, but that's partly due to the big alloy wheels fitted (19-inch across most of the range; 20-inch on 73kWh Ultimate models). But overall it's among the best EVs at this price point for noise isolation.
Safety equipment: How safe is the Hyundai Ioniq 5?
With numerous sensors and cameras acting as a second pair of eyes, the Hyundai Ioniq 5 is a very safe electric car. All models come with a Forward Collision Avoidance system as standard, ready to apply the brakes if it detects a potential collision. You also get a Level 1 Highway Drive Assist which can adjust your speed on the motorway and keep you in your lane.
The optional Tech Pack (offered on the Ultimate trim) adds a Parking Collision Avoidance Assist system as well as a Remote Smart Parking Assist feature. With this, you can use your phone to slot the car in or out of a parking space.
The Hyundai Ioniq 5 comes with seven airbags as standard as well as Isofix child seat mounting points on the outer rear seats. It's been awarded the maximum five stars by Euro NCAP.
Charging times: How much does it cost to charge the Hyundai Ioniq 5?
"Find a quick enough charger and you can add 62 miles of range in just five minutes. You'll have an 80% top up in less than 20 minutes, which makes the Hyundai Ioniq 5 a pretty convincing long-distance proposition."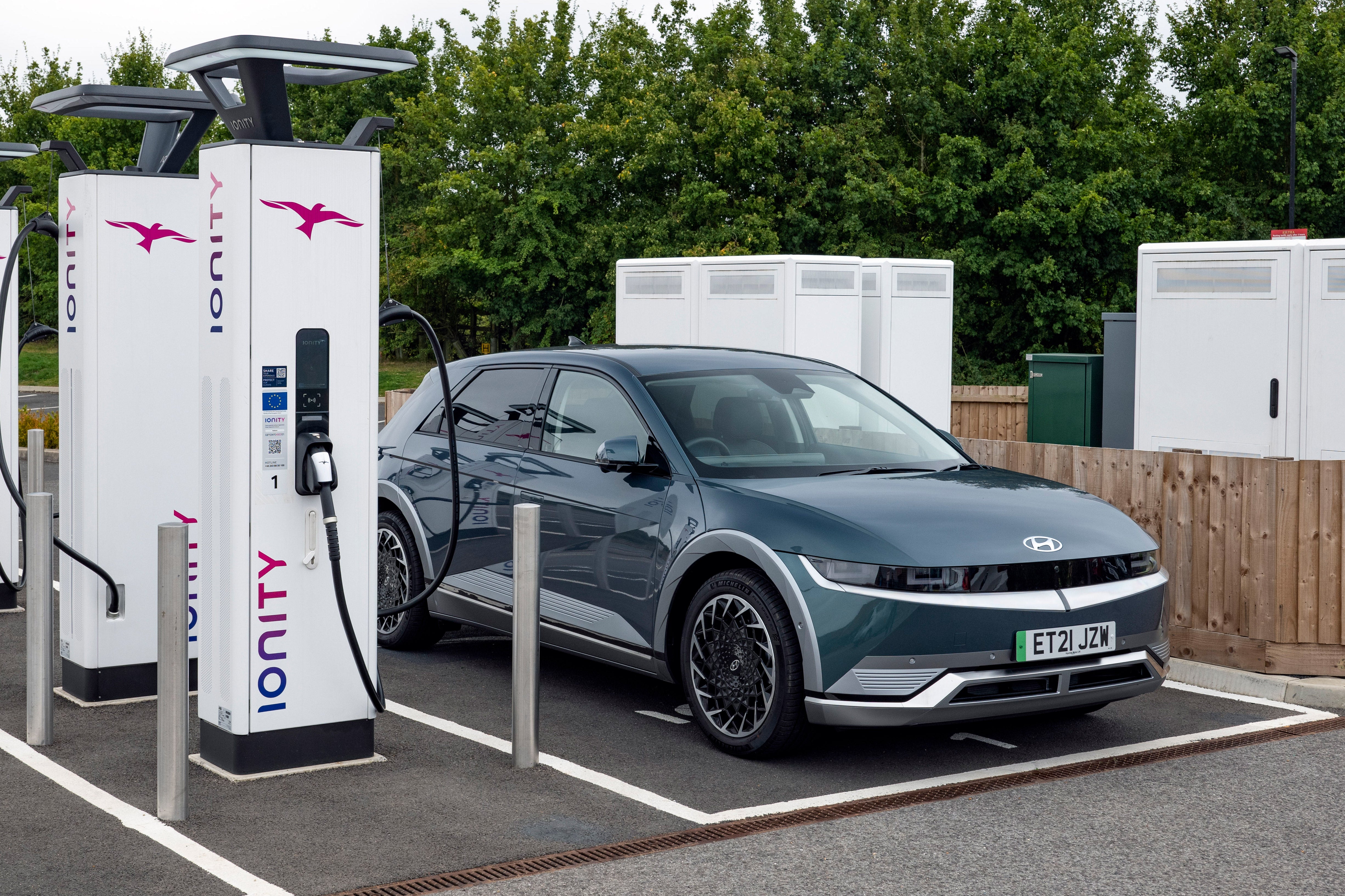 You'll pay a pretty penny to charge the Hyundai Ioniq 5 at the fastest rapid chargers, but a 50kW unit will add 80% range to the 58kWh model in around 45 minutes (and within an hour for the bigger-battery Ioniq 5).
If possible, we'd recommend investing in a home charger for your Hyundai Ioniq 5. A 7kW wallbox will fully charge the Ioniq 5 58kWh in around eight hours, while the 73kWh version will take nearly 11 hours. Depending on your home electricity tariff, you'll be looking at around £15 to £20 to fully charge an Ioniq 5 at home.
You can charge the Hyundai Ioniq 5 using a three-pin socket but you'll have to take two or three days out of your schedule to do so... no, we're not exaggerating.
How reliable is a Hyundai Ioniq 5?
An electric Hyundai Ioniq 5 only has a handful of moving parts in its drivetrain, compared to thousands in a petrol engine. That means it ought to be very reliable. We've certainly heard very few reports of issues, while Hyundai provides a five-year, unlimited mileage warranty for the Ioniq 5. The battery is covered for eight years or 100,000 miles.
While that doesn't mean it won't require servicing and maintenance (suspension, brakes and steering components all still wear over time) it should make it cheaper and easier to keep it in tip-top condition.
Insurance groups and costs
If you're a young driver or concerned about insurance costs, it might be worth hunting out a Hyundai Ioniq 5 with the smaller 58kWh battery as this is in insurance group 29E (30E in Ultimate trim). Models with the bigger battery are in insurance groups 34E to 40E depending on trim and whether you go for a RWD or AWD model.
VED car tax: What is the annual road tax on a Hyundai Ioniq 5?
Nothing. Like all zero-emission electric vehicles, the Hyundai Ioniq 5 qualifies for free road tax. That's a saving of £520 a year compared to a petrol or diesel car with a list price of more than £40,000.
How much should you be paying for a Hyundai Ioniq 5?
"Prices for a new Hyundai Ioniq 5 start from around £37,000 – which gets you an entry-level SE Connect with the smaller 58kWh battery."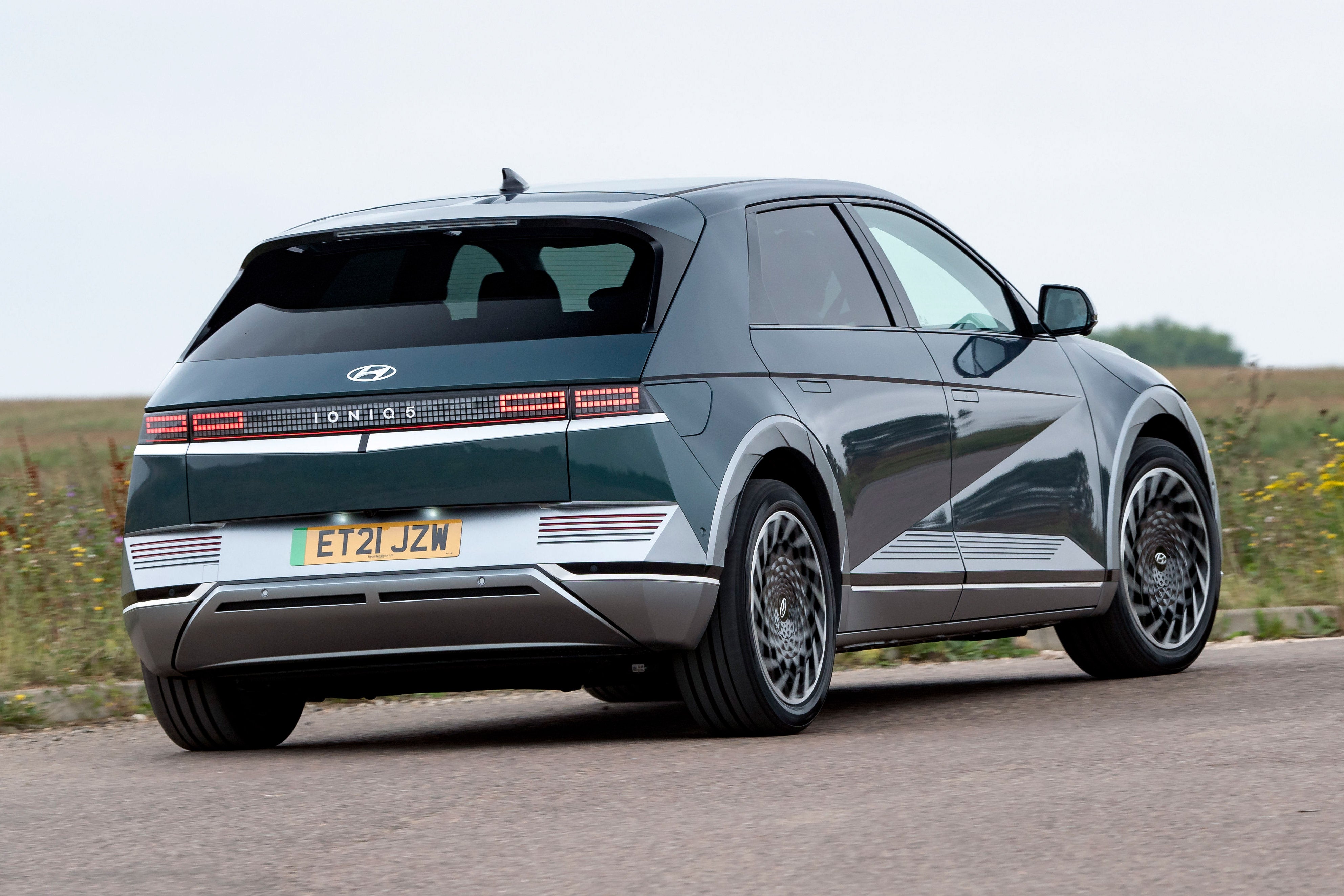 You'll need closer to £40,000 for a mid-spec Hyundai Ioniq 5 Premium, while the bigger 73kWh battery starts from £43,000 (also in Premium trim). You'll pay around £46,000 for a Hyundai Ioniq 5 Ultimate with the 73kWh battery pack.
Strong demand means the Hyundai Ioniq 5 holds onto its value very well, so there are few pre-reg or nearly-new deals available. You might be able to save £300 on the price of a new Hyundai Ioniq 5, though, especially if you're lucky enough to find a dealer with an ex-demonstrator model in stock.
Trim levels and standard equipment
The Hyundai Ioniq 5 SE Connect comes with 19-inch alloy wheels, electric driver's seat lumbar support, sliding rear seats, dual-zone climate control, automatic windscreen wipers, LED daytime running lights, LED headlights with smart high beam, a heated rear windscreen, an electric parking brake, rear-view monitor, smart cruise control, keyless entry with a power on/off button, 12.3-inch touchscreen navigation with Apple CarPlay and Android Auto and a wireless phone charging pad.
The Hyundai Ioniq 5 Premium adds electric seat adjustment for the driver, heated front seats, grey cloth seat trim, dual LED headlights, a heated steering wheel, front/rear parking sensors and an electric tailgate.
The top-spec Hyundai Ioniq 5 Ultimate features 20-inch alloy wheels (on Ioniq 5 73kWh models), 64-colour interior ambient lighting, alloy pedals, electric passenger seat adjustment and lumbar support, ventilated front seats, outer heated rear seats, leather seat trim, privacy glass, laminated glazed windows, a sliding centre console and a vehicle-to-load adapter. A head-up display and premium Bose sound system are also standard on the Ioniq 5 Ultimate.
Ask the heycar experts:
common questions
What is the range of the Hyundai Ioniq 5?
The Hyundai Ioniq 5 can travel up to 300 miles, depending which model you choose. The 73kWh RWD variant has the longest range, while the AWD version is good for 287 miles according to official tests. The smaller battery 58kWh variant can travel up to 240 miles on a charge.

Answered by
Lawrence Allan
Is the Hyundai Ioniq 5 better than a Kia EV6?
The Hyundai Ioniq 5 and Kia EV6 both share the same E-GMP platform, so technically they're extremely similar. Deciding between them probably comes down to which you prefer the look of – the Hyundai Ioniq 5 is a little more retro in its styling, while the Kia EV6 is quite futuristic. The Kia EV6 does have a slightly firmer suspension setup than the Ioniq 5, which means it loses a bit of comfort but is more engaging to drive.

How much is the Hyundai Ioniq 5?
Prices start from £37,600 for a Hyundai Ioniq 5 SE Connect with the 58kWh battery and 170PS motor. The Hyundai Ioniq 5 Premium is priced from £39,840, while the Ioniq 5 Ultimate starts from £42,840.

Hyundai IONIQ 5 cars for sale on heycar
1,956
Number of cars available
£47K - £49K
Price bracket of these cars
Colours available on heycar
Keep me updated by email with the latest advice, news and offers from heycar
By submitting, you agree to our
privacy policy
.