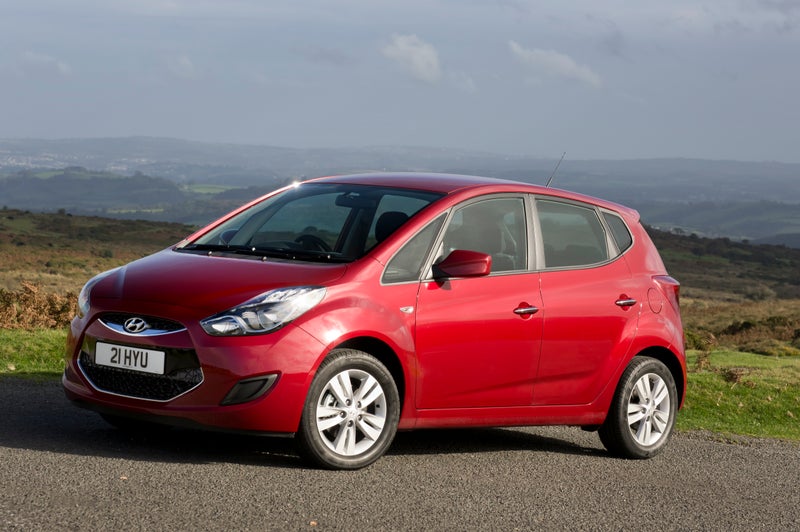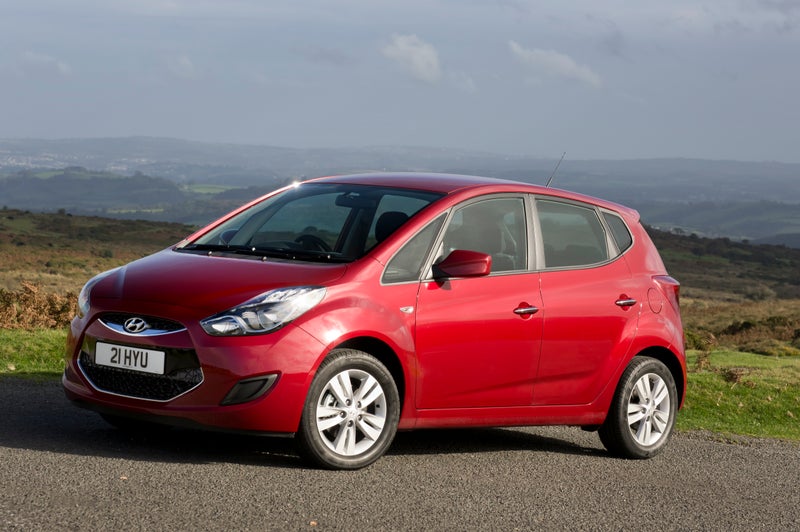 1/10
heycar rating
"Attractive mix of value, space"
Launched: 2010

MPV

Petrol, Diesel
Quick overview
Pros
Impressive practicality
Good specification on all models
Frugal engine range
Cons
Plain exterior
Adequate engine performance
Dull to drive
Overall verdict
On the inside
Driving
Cost to run
Prices and Specs
Overall verdict
"The Hyundai ix20 is not a car for the thrill-seeker, but it is either competent or impressive in so many areas it deserves consideration if you need the most amount of practicality in the smallest wrapper. It should provide trouble-free, good value motoring, which for many buyers is the most important thing."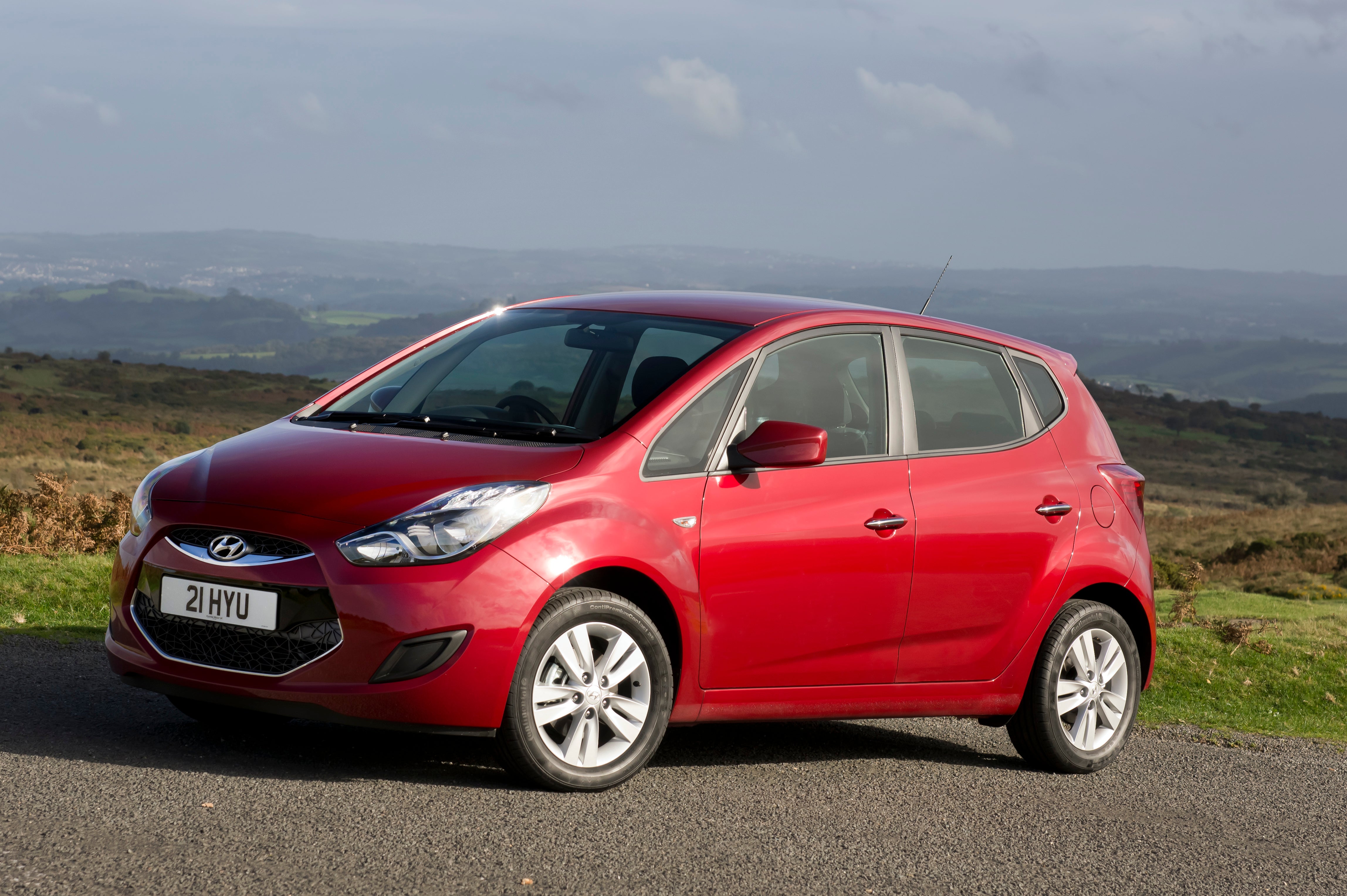 Hyundai is a remarkable example of how far a brand can travel in a relatively short space of time. At one time it was known for selling rebuilt versions of old designs, and latterly producing cars that were good value but had little else to recommend them.
That has changed significantly, with the firm investing heavily - and developing its cars - in Europe as well as Asia, and as a result producing more rounded and attractive products.
The ix20 was introduced in 2010, alongside the very similar Venga model from partner brand Kia. The ix20 was designed and marketed as a small MPV; occupying roughly the same road space as a conventional B segment small car like a Polo or Fiesta, but with a taller body to give more interior space for passengers and luggage. Although somewhat out of favour now, small MPVs like this were seen as an effective way to downsize the versatility of larger MPVs.
From the outside it's easy to see how the ix20 has been designed to increase the interior space. It has a high roofline and a steeply-raked bonnet and windscreen, and by making the bonnet shorter and moving the base of the windscreen forward it allows more of the area within the cabin to be utilised. Even so, the looks of the ix20 fall somewhere between a supermini and an MPV; it's neatly-styled rather than hugely attractive, but neither does it look like a badly-disguised van.
Step inside the ix20 and the good news continues. For starters, getting inside in the first place is very easy, as the floor is low but the seating position is relatively high in relation to it, so it's not a long way down into the seat. There's plenty of space in here too, particularly headroom thanks to the high roofline, and legroom is good for all occupants too. The layout of the cabin is straightforward and attractive also, with instrument displays and controls, a discreet blue hue to the illumination and good quality materials. It might not be exciting, but it looks and feels like decent quality.
Mechanically the ix20 sticks with the conventional approach. At launch it was offered with 1.4- and 1.6-litre petrol engines alongside a 1.4-litre diesel in two power outputs, giving a total of four engine options. Within two years a 1.6-litre diesel was also added, also with two power outputs, although the engine choice was largely restricted by the trim level. Hyundai also offered high-economy, low-emission versions of its range dubbed BlueDrive.
To drive, the ix20 is as low effort as you could hope for. The engine range delivers a mix of performance and economy, the weight of the controls is light enough to be easy but with a positive response to inputs. Hyundai made a point of developing the ix20 on UK roads and it shows; it rides very well indeed, doing an excellent job of filtering out road imperfections while staying safe and secure through corners.
Overall, the ix20 is good value, easy to drive, spacious and well-built. It may not have a premium badge or offer huge thrills, but as a practical proposition it has a great deal to offer.
Is the Hyundai ix20 right for you?
Not everyone needs this much space in a car this small; new drivers would probably be happier with something more conventional, but being able to fit four or even five people in relative comfort is a real bonus. It's versatile enough to make a family car of sorts, ideal if you can't accommodate a larger car but need the space. The ix20 would also be a sensible option for drivers who are less physically able, thanks to the good driving position and spacious interior.
What's the best ix20 model to choose?
The standard specification of the ix20 is very good, a frequent occurrence on Hyundai models, with even the basic Classic model offering a height-adjustable driver's seat, ESC, air conditioning, electric front windows and a CD tuner with AUX and USB inputs. This is a sound choice, although the Active models add alloy wheels, Bluetooth, heated mirrors and steering-wheel mounted controls.
The range was revised in 2015 into SE and Premium models, with all versions now with alloy wheels, projector headlights and improved connectivity including a 1GB music storage system. Both versions were also available in 'Nav' specification that added sat-nav, and of the two we'd choose the higher-spec Premium trim.
What other cars are similar to the ix20?
One car that is very similar to the ix20 is the Kia Venga. The two models were effectively developed together, although the ix20 was given additional tuning that the Venga did not benefit from, so it offers a slightly less impressive driving experience.
The Vauxhall Meriva and Ford B-MAX are two other models that are similar in execution and design as the ix20, both being spun off existing small car platforms but with a greater emphasis on space and practicality. Both also have an unusual rear door arrangement - rear opening on the Meriva and sliding doors on the B-MAX - to improve access.
Comfort and design
"Hyundai clearly put plenty of thought into the kind of buyers who would be interested in the ix20, because it is a breeze to climb aboard and find a comfortable driving position."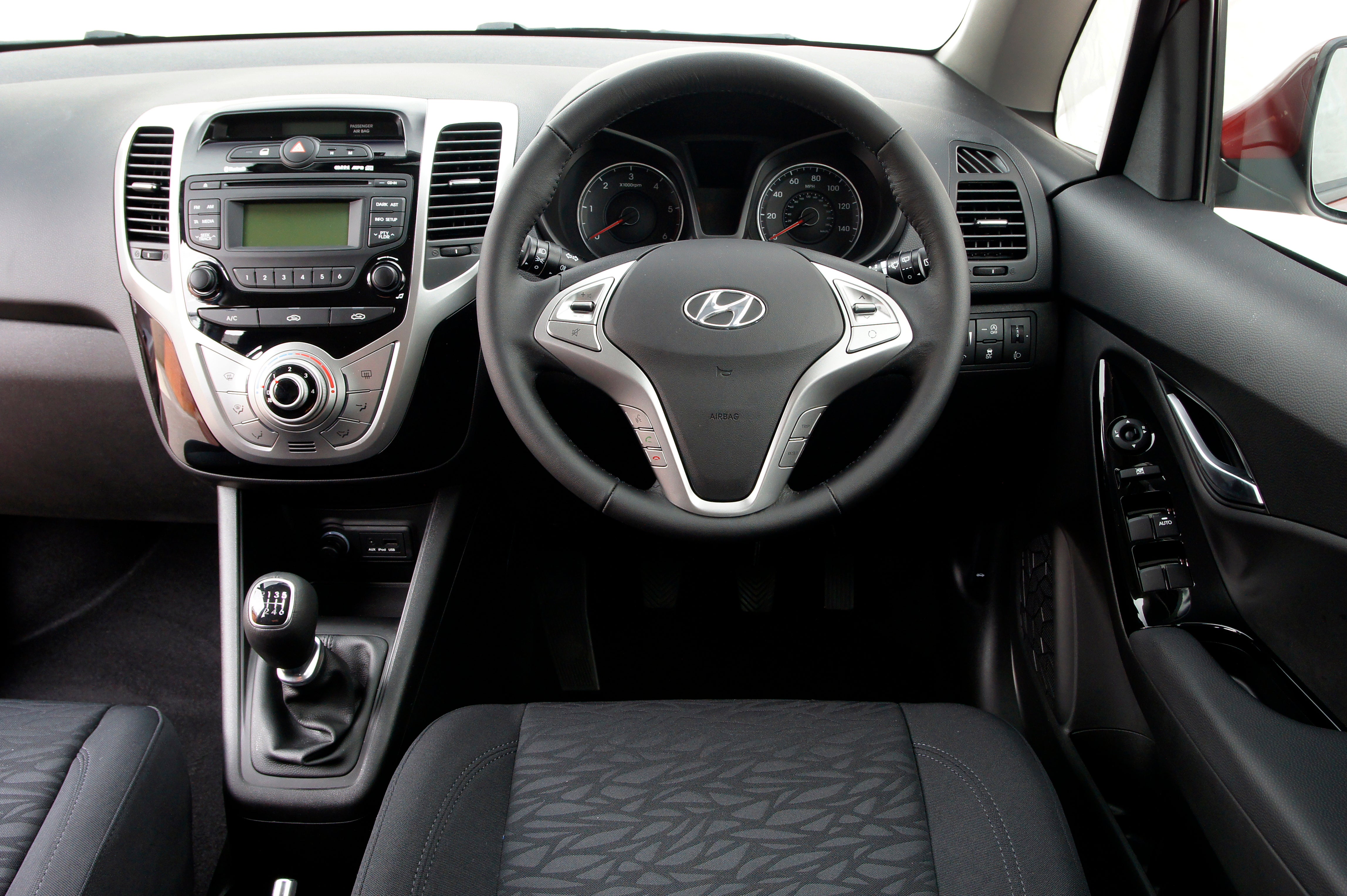 Due to the roof being relatively high the seats are also placed slightly higher than normal - not quite an SUV driving position, but high for a car of this size - and that means you don't have far down to go to get in. That's good news for all ages and physical abilities. All versions also have seat height adjustment and both reach and rake adjustment in the steering wheel, so getting a good driving position should be possible for everyone.
The design of the ix20 also helps the view out. Not only is there a large glazed area, including a deep windscreen that extends well in front of the driver and passenger, but also the high seating position. Hyundai have also added an extra window ahead of the front doors but behind the windscreen pillar that helps visibility - often an issue with cars like this that have a steeply-raked windscreen.
As far as the layout of the cabin is concerned, everything is logical and sensible. The ventilation controls and the audio system are mounted high up on the dashboard where they can be easily reached, the instruments are large and clearly marked, and the steering wheel has the key controls added to it, rather than being swathed in buttons and switches. It doesn't look terribly exciting, but neither is it likely to frustrate or irritate in use.
Quality and finish
Some of the biggest strides than Hyundai has made in recent years is in the field of quality. Wind back to the 2000s and some of its lesser products were low cost and felt it, but its modern offerings have closed the gap to the long-established brands. Step inside the ix20 and you can see where the progress has been made; cover up the badge and you'd struggle to tell it apart from its European rivals.
The design may be quite conservative, with shades of black and grey rather than bright colours, but there are some appealing flashes of interest. All models have a part-silver finish on the steering wheel and dashboard, and in a small but very effective touch, the dashboard uses blue illumination for the buttons and switches rather than the more commonplace white or orange.
The quality of the materials is generally strong too. There are some hard plastics in the cabin of course, but plenty of soft-touch ones too. Even the less-impressive plastics at least feel solidly-built, and a leather covering on the steering wheel and gearlever on most models is a welcome additional boost.
Infotainment
As standard, all versions of the ix20 are fitted with a CD radio unit that includes an AUX and USB input. Mid-range Active and Style models add Bluetooth functionality for telephone calls and audio streaming as well steering wheel controls.
Post-facelift cars from 2015 onwards have an improved standard specification, with a My Music system that allows you to upload up to 1GB of music files via the USB port and store them internally for playback. Bluetooth connectivity also became standard on all models, alongside improved connectivity with iPods.
Hyundai again delivered over and above what you might expect on an entry-level car, and the ix20 provides enough functionality and quality to keep the majority of buyers happy. With Bluetooth also standard on all models bar the first generation Classic models, only the most discerning of audiophiles will have anything to complain about.
The sound quality is respectable, the main controls are easy to read and to operate and the additional controls on the steering wheel are a welcome extra. The only demerit is the lack of full smartphone integration, but this is due to the age of the design.
Space and practicality
Where the ix20 really plays its ace card is when you use the space inside. From the front seats you can really appreciate how much room is created by the high roofline and the far-forward windscreen. The ix20 feels like a car with space from the class above.
Head and legroom is excellent for front seat passengers, even for those who are significantly over six feet tall, and perhaps even more impressively the rear seats are almost as accommodating. The roofline does descend a little, so headroom isn't quite as generous but it is sufficient to carry an adult - you can get three across the back with a gentle squeeze, so it really does offer more space than most of its rivals.
Although it's unlikely that family buyers will need to carry three adults on a regular basis, the ease of which the ix20 can carry two child seats on the rear bench is a boon, with Isofix anchor points on the outside seats also.
There's more good news when you get to the rear, where there's a boot that puts some bigger cars to shame. There's 440 litres of boot space with the rear seats in place, which is 100 litres more than a Ford Focus or Volkswagen Golf. There's a low loading lip too so it's easy to make the most of the space, and the boot floor has a false bottom so you can divide up the space too.
Should that not be enough, you can fold the rear seats to open up a massive 1486 litres of space - that's only 14 litres fewer than a BMW 3 Series Touring provides with the seats down too. It genuinely provides as much space as you could reasonably expect from a car of this footprint, and on this fact alone it makes a strong case for itself as a cost-effective load carrier.
Its practical nature continues in the cabin, where there are lots of useful storage areas and good-sized door bins, enough to handle the usual rubbish that family life accumulates.
Handling and ride quality
"Hyundai took a slightly different route from Kia when developing the ix20 and brought prototype vehicles to the UK in order to improve their ability to cope with (awful) roads. The extra homework paid off, because the ix20 is quite adept at coping with poor road surfaces. The suspension is understandably soft as a result, but the upshot is good bump absorption on a variety of surfaces and at varying speeds. It's a sensible tack to take, given that a car this practical won't pique the interest of racing drivers enjoying a day off."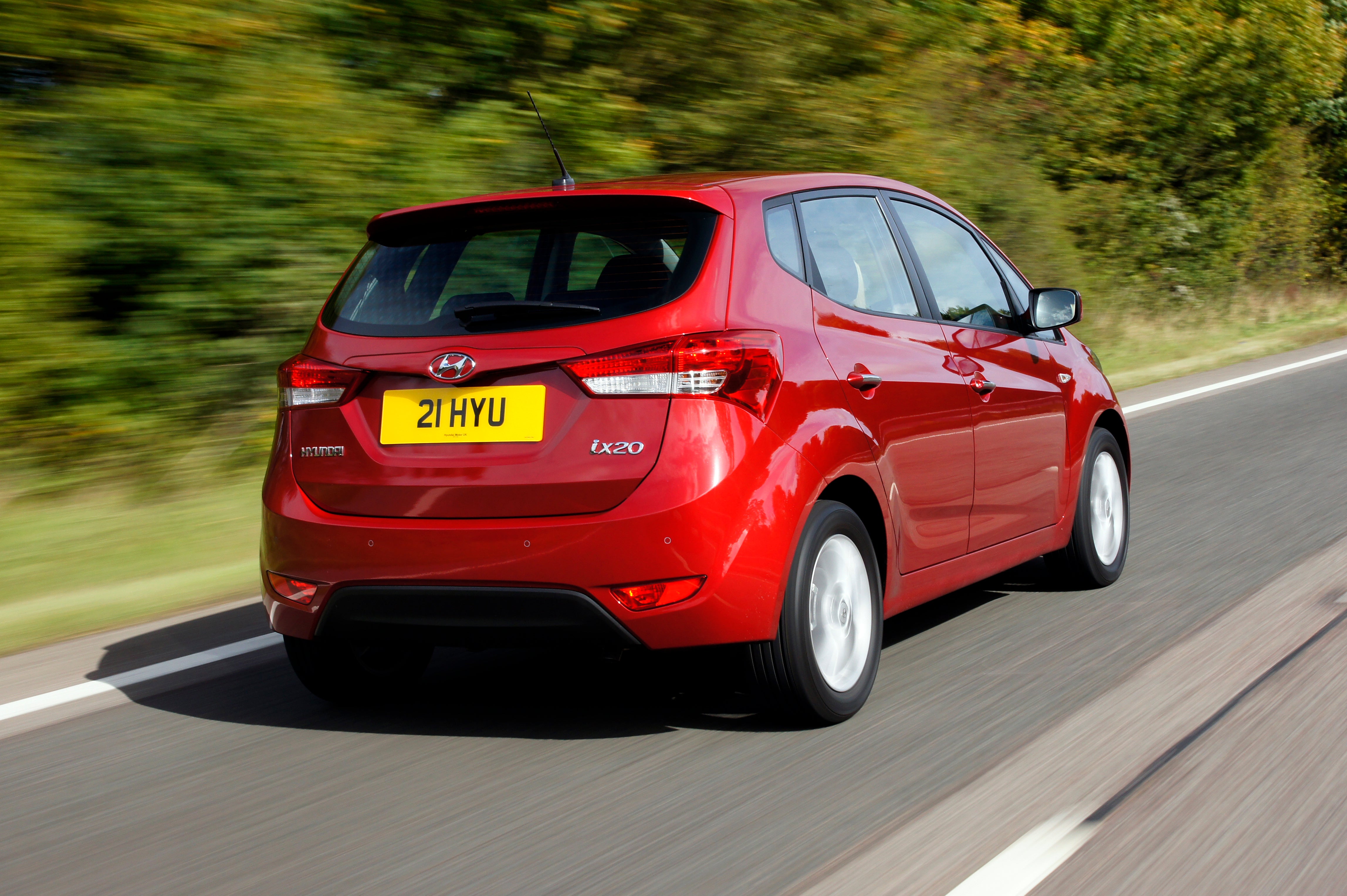 With that focus on ride quality it is inevitable that the handling of the ix20 is far from exciting, but that doesn't mean it drives poorly. For starters, the steering is well-weighted and sufficiently accurate. It doesn't offer a huge amount of feedback to the driver, but enough that you feel fully in control, and it's light enough to make parking a cinch too. Should you start to press on a little you'll find the ix20 is willing to do as it is asked, and will turn into a corner obediently and with little fuss. There's quite a lot of body roll, inevitable when the suspension is set up to be so soft, which does tend to discourage this kind of behaviour, but ultimately there is a good amount of grip available, more than enough for the vast majority of buyers.
Engines and gearboxes
The ix20 has had a number of different engine options during its lifetime. At launch in 2010 it was offered with a 1.4-litre 90PS and 1.6-litre 125PS petrol - the latter only available with an automatic gearbox. A 1.4-litre diesel was also offered at launch, in 77PS and 90PS outputs although the torque figure of 240Nm was identical for both versions. With the 2016 facelift a 1.6-litre diesel was also added to the range, coming in 115PS and 128PS outputs, and a six-speed manual transmission was made standard on all engines except for the base 1.4-litre petrol.
Of the early engine range, the 1.4-litre petrol provides an adequate mix of performance and fuel consumption, and is reasonably refined too with little noise getting into the cabin. The 90PS diesel is a more appealing option however, as it has strong torque from low revs and is also pretty refined, with very little diesel clatter intruding. A stop/start system as standard helps to cut fuel consumption, with an official combined figure under NEDC rules of 65.7mpg, making 50-plus an easy real-world prospect.
Of the engine latterly available on the ix20, the 1.6-litre diesel is a further improvement on the 1.4-litre. Of the two options the 125PS version offers more useful performance, but either one would make a good choice for a strong blend of useful performance and good fuel consumption.
Refinement and noise levels
Almost regardless of which engine option you decide to go for, the levels of refinement and noise insulation in the ix20 are impressive. Even from the moment you get behind the wheel and turn the key, there is a distant hum from the engine - it is on par with the key rivals in this class and is a big plus in a small car like this.
The diesel units are only fractionally more noisy than the petrol offerings, so the other performance advantages make this a worthwhile compromise. All the engine options are pleasingly free from unwanted vibrations, even at idling speeds.
The same good standards are maintained in respect of other noise sources. No doubt helped by the relatively small wheel sizes, tyre noise is kept at bay at most speeds, although rougher road surfaces do make themselves known. Wind noise is also well controlled even at motorway speeds, despite the big doors and large glazed area. The ix20 is sufficiently refined to make long motorway journeys perfectly viable, and avoids increasing driver fatigue too.
Safety equipment
The ix20 was tested by EuroNCAP when the car was first launched in 2011, and was not tested again before it was discontinued in 2019. However, it scored an impressive five stars overall, with a rating of 89 per cent for adult protection and 85 per cent for child protection. It scored a reasonable 64 per cent for pedestrian mitigation, but a strong 71 per cent for safety assist.
As standard, all ix20 models were fitted with six airbags including front, side and curtain airbags for the front seat occupants, seat-belt pretensioners and load limiters, two Isofix mounting points in the rear outside seats as well as a seat-belt reminder. Although EuroNCAP's report says that ESC is optional, UK specification cars were fitted with this as standard from launch.
Parking sensors were not fitted to Classic models, but were standard on Active and Style trims for early cars. Latterly these were standard on all face-lifted models, while these later-generation cars also benefited from projector-style headlamps and LED taillights for improved visibility in tricky conditions.
All ix20 models were fitted with a space saver spare wheel as standard, and although a full-size spare was available as an option it is unlikely that many used examples will have had this feature added.
MPG and fuel costs
"It might be a big car inside, but it's still a small car on the outside, and with a range of modern, fuel-efficient engines to choose from, it should still be as cheap as a small car to run, too."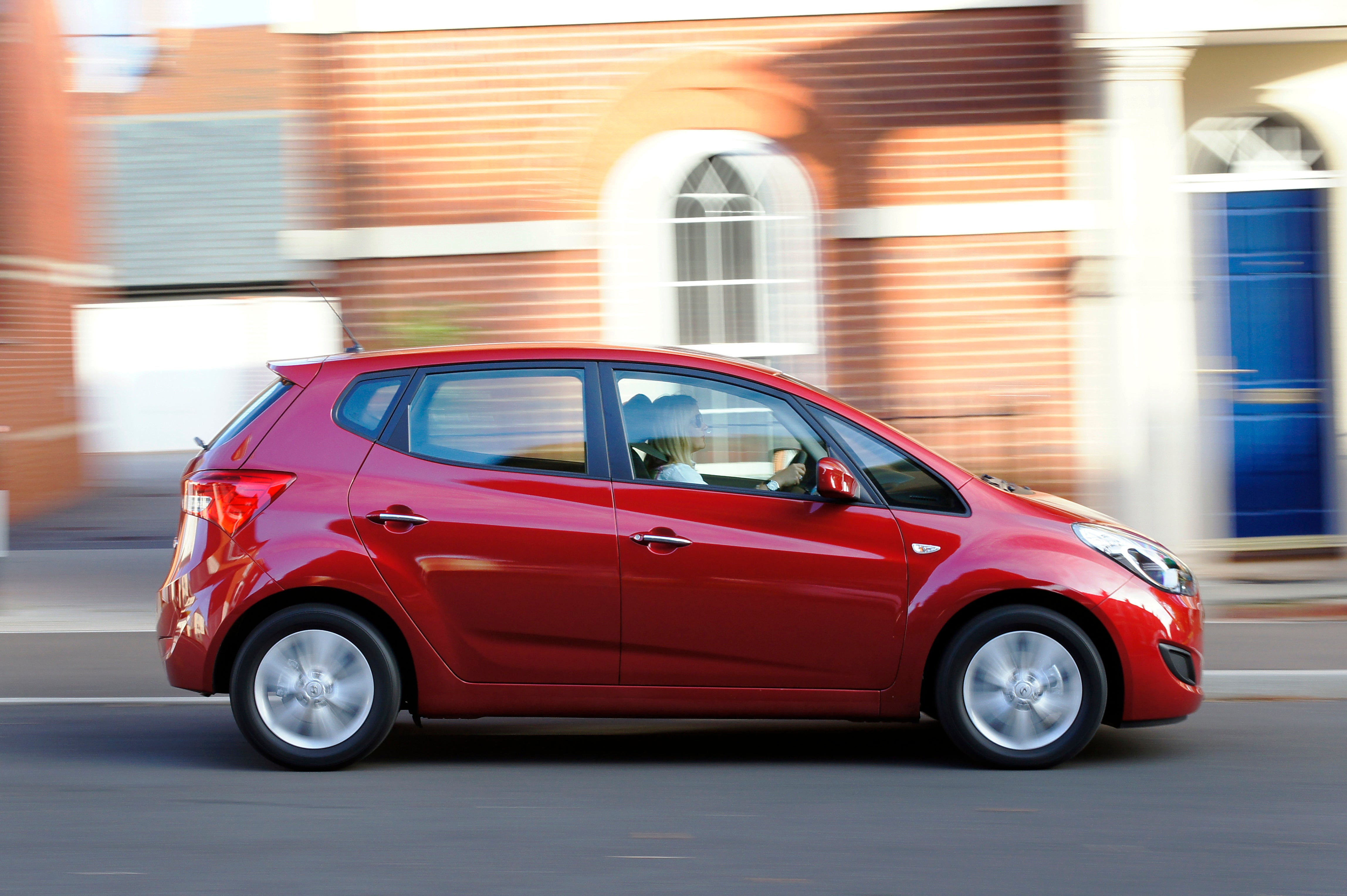 Of the petrol engines, the 1.4-litre came with an official combined figure of 50mpg under the old NEDC rules, which should make 40mpg or more a reasonable expectation. The 1.6-litre petrol and its automatic gearbox performs less well, with a combined figure of 43mpg, so you should expect this to dip into the 30s in everyday use.
Inevitably the diesel perform more strongly here. The 1.4-litre and 1.6-litre diesel offerings claim almost identical combined figures - 65mpg and 64mpg respectively - so either should be more than capable of achieving 50mpg and more without too much effort.
Insurance groups and costs
The spread of insurance groups for the ix20 is relatively narrow, so you won't be paying too much extra on your premium for choosing a higher-group model. The basic 1.4-litre petrol Classic is the lowest in group 7, while the 1.6-litre diesels drop into group 13. For most buyers that shouldn't add more than a few pounds to your premium, which will likely be outweighed by the potential savings on fuel and road tax by going for the diesel option.
VED
The ix20 was first launched before the VED rules changed more often than the date, but it was still on sale during the most significant changes in 2017. None of the models were efficient enough to have dropped below the magic 100g/km CO2 mark, but the most efficient diesels, if registered before April 2017, qualify for a £30 per year annual rate.
These same cars jump up to £150 per year from April 2017 onwards. As for the petrol, 1.4-litre versions cost £125 pre-April 2017 and £150 afterwards, while the 1.6-litre goes from £150 to £165 or £205 with the automatic transmission.
How much should you be paying for a used ix20?
"The ix20 has been a relatively popular car since its introduction in 2010, even if its popularity has tailed off as buyers have moved from MPVs into SUVs, and with almost a decade of sales there are plenty of used buys up for grabs. A quick search of the HeyCar classifieds turned up some 2019 cars with almost delivery mileage; we found a 1.6-litre SE model with just 100 miles on the clock for under £15,000, or a 1.6 SE Nav with 4,000 miles for under £13,000."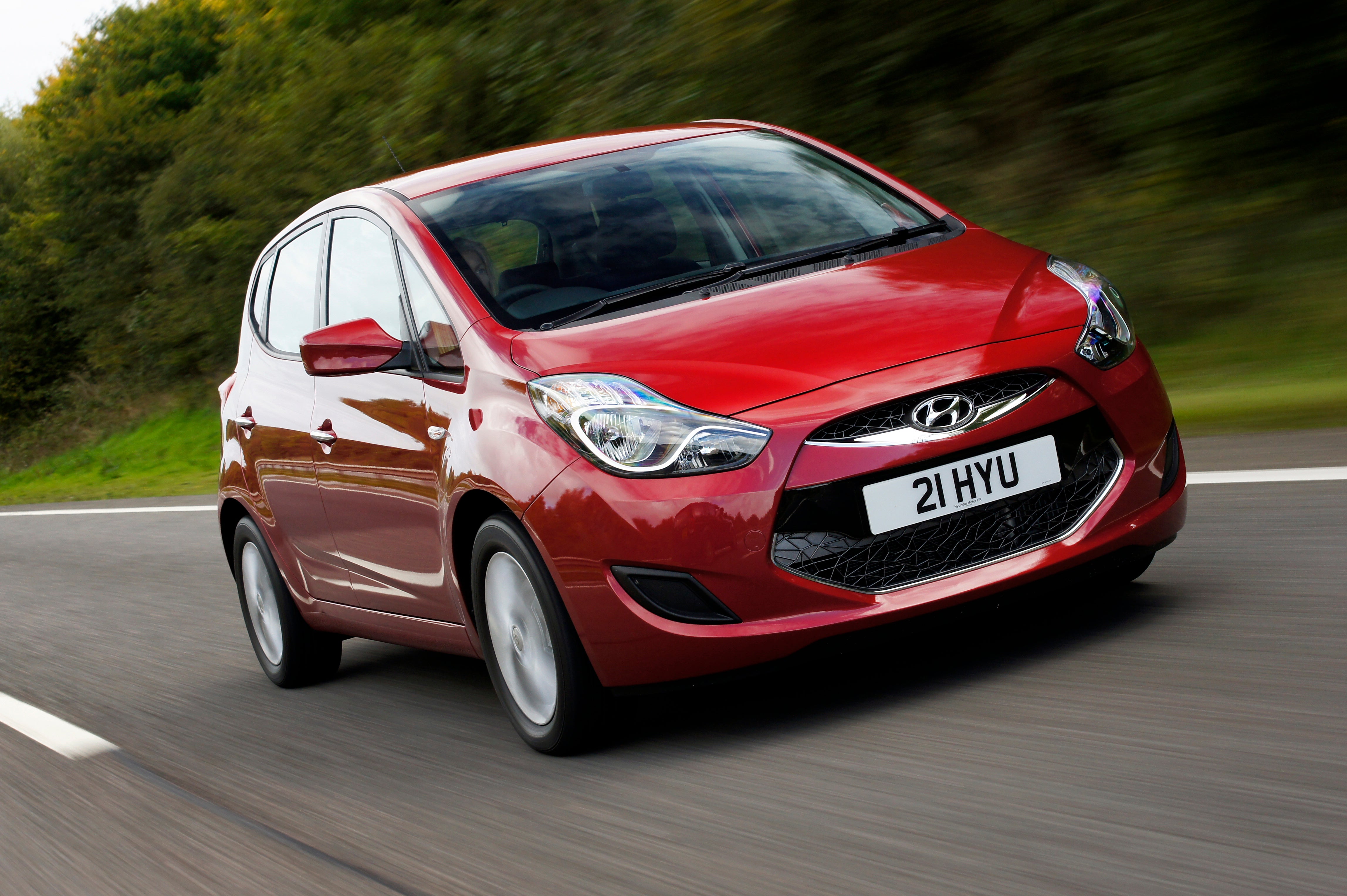 As for older examples, the ix20s that are now approaching six and seven years old are down to around the £5000 mark. The cheapest example we found was a 1.6 CRDi diesel Active with 75,000 miles for a measly £4700.
Trim levels and standard equipment
On the early cars, the basic Classic trim was surprisingly well-equipped, with height adjustable driver's seat, ESC, air conditioning, six airbags, steel wheels, active head restraints, electric front windows, air conditioning, a CD stereo system with six speakers, plus USB, AUX and iPod-input capabilities all as standard.
Active models add some useful elements like Bluetooth, rear electric windows, reversing sensors, and audio controls on the steering wheel, so if you can stretch to it, this would be our preferred choice. The top-spec Style adds folding door mirrors and the full-length panoramic sunroof, but don't pay a big premium over the Active for these extras.
On the newer-generation cars, again the standard SE model is well-specified, but if you can stretch to the better Premium spec it includes climate control and leather trim.
Hyundai ix20 cars for sale on heycar
2,044
Number of cars available
£7.8K - £15K
Price bracket of these cars
Colours available on heycar
Keep me updated by email with the latest advice, news and offers from heycar
By submitting, you agree to our
privacy policy
.