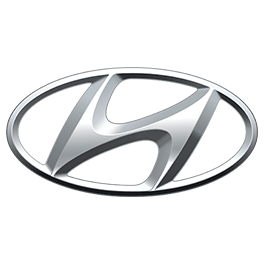 Hyundai Kona Review

Written by
heycar editorial team

heycar rating
Funky looking, average driving crossover
Best bits
Generously equipped
Great infotainment hardware
Five-year-warranty
Not so great
Limited engine range
Drab interior design
Small boot
Read by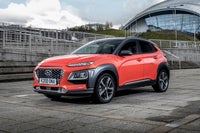 Overall verdict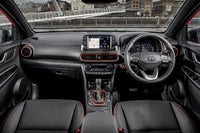 On the inside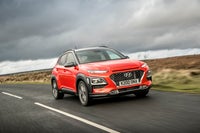 Driving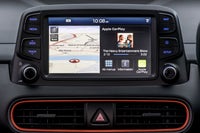 How much does it cost to run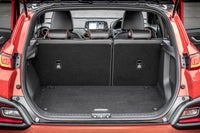 Prices, versions and specification
Overall verdict on the Hyundai Kona
"The Kona ticks plenty of boxes for crossover buyers, with its funky exterior and a lofty driving position that make it easy to drive in town. Still, the bland interior and compromised practicality do mean there are better family cars, and the petrol-only engine range might not suit those buyers looking to cover high annual mileages."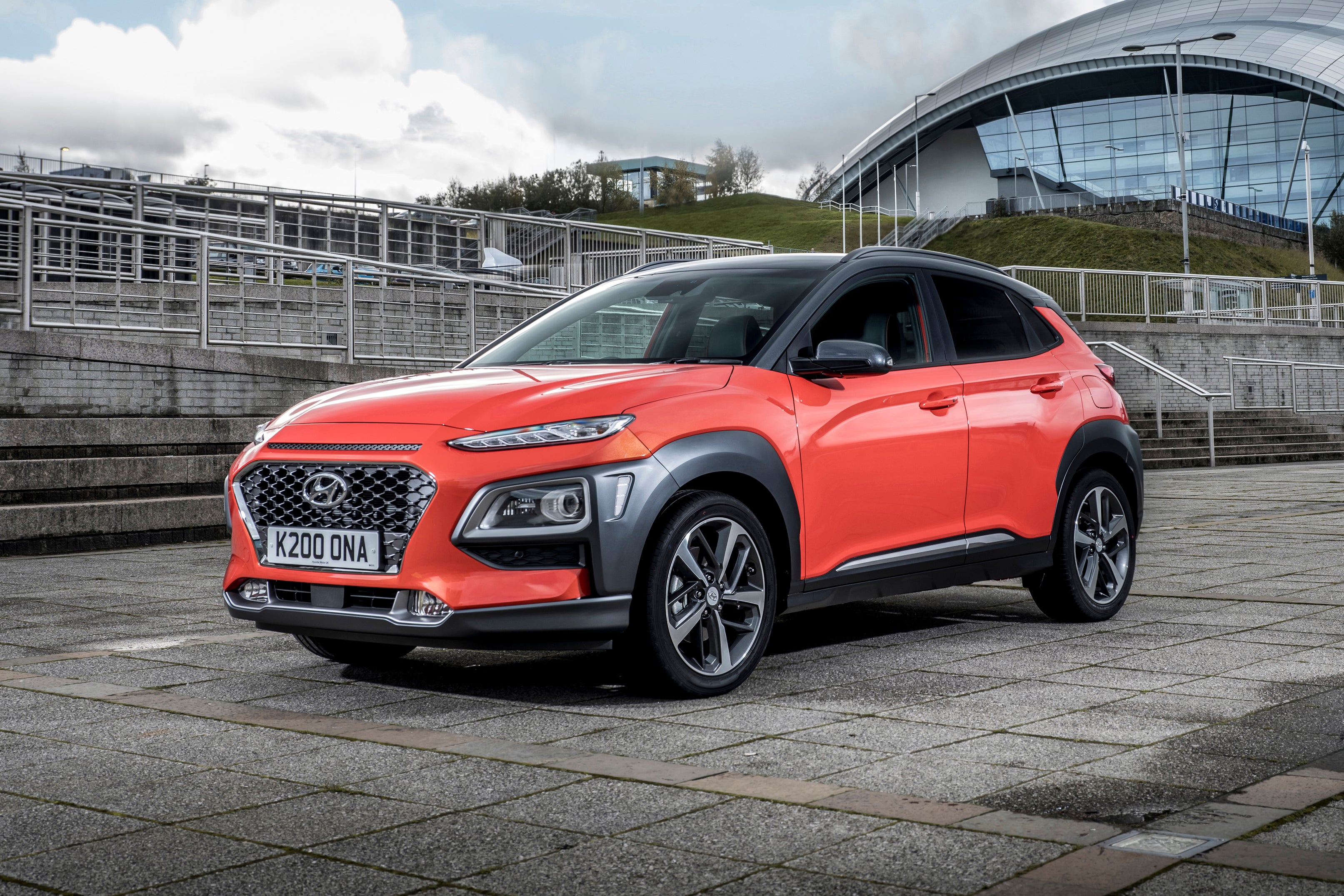 The Hyundai Kona is a small SUV that tries to cash-in on the current crossover craze. It's available in lots of eye-catching colours, a striking design and (as with most Hyundais now) a generous serving of standard kit.
The Hyundai Kona is designed to appeal to buyers who want to marry the tall ride height and usability of an SUV with the convenience and low daily costs of a small hatchback, hence the nickname for cars of this type; crossovers.
Almost every major brand will sell you one of these in a range of sizes, so why should you put the Kona onto your shopping list? Well, despite the funky exterior, it's something of a conservative choice. You get a simple but dull cabin, decent handling, plenty of equipment in the right trim, and a reassuring five-year-warranty too.
As of 2019, you can only get your Kona with petrol or electric power, or a combination of the two. We have written a full review of the battery-powered version separately, but included information on the hybrid model. The rest of the range used turbocharged petrols, as Hyundai dropped the diesel when it launched the hybrid.
Unlike most of these compact crossovers, you can get your Kona with four-wheel drive. This version has a quick 1.6-litre engine and dual-clutch automatic gearbox, but its not the most refined (or fuel efficient) combination.
The range begins with a significantly more sensible 1.0-litre turbo petrol with 120PS and a manual gearbox. It's easily our favourite, since it's a perky motor that's great for town use, but can cope on the motorway too. Although this little engine can't match the running costs of the hybrid, it's still relatively economical, and a lot cheaper to buy. Unless you're a company car driver then, the petrol will probably make more financial sense.
Hyundai has built its reputation on offering strong value for money, and as long as you stick to the mid-range SE, Play and Premium models the Kona stays true to form. If you want luxuries like touchscreen navigation, a premium audio system and a wireless charging pad for your phone, go for the latter..
The cheaper SE version is a bit more comfortable to drive, with smaller wheels that help counter the Kona's stiff suspension. It handles tidily with good grip, but falls between two areas, since it's neither as comfortable on patchy roads than some of its competitors, nor as precise or engaging as others. Many of its rivals will do both.
Perhaps that makes the Hyundai a good middle ground, but for us it makes it decidedly average. The same is true of its practicality. The boot is nicely shaped and cunningly designed to make it easier to load heavier items, but there is no escaping the fact that it's on the small side, and the cramped rear seats are a let down.
As inoffensive family transport, you could do a lot worse than the Kona, but that's damning with faint praise. In such a competitive class, it's hard to ignore the range of alternatives that are better in one area or another.
If you want the EV version, you need our Hyundai Kona Electric review.
Comfort and design: Hyundai Kona interior
"We wish Hyundai had been as adventurous with the Kona's cabin as it was with the exterior, since this is an interior that scores highly for its simple functionality, but disappoints with a lack of visual flair and excitement."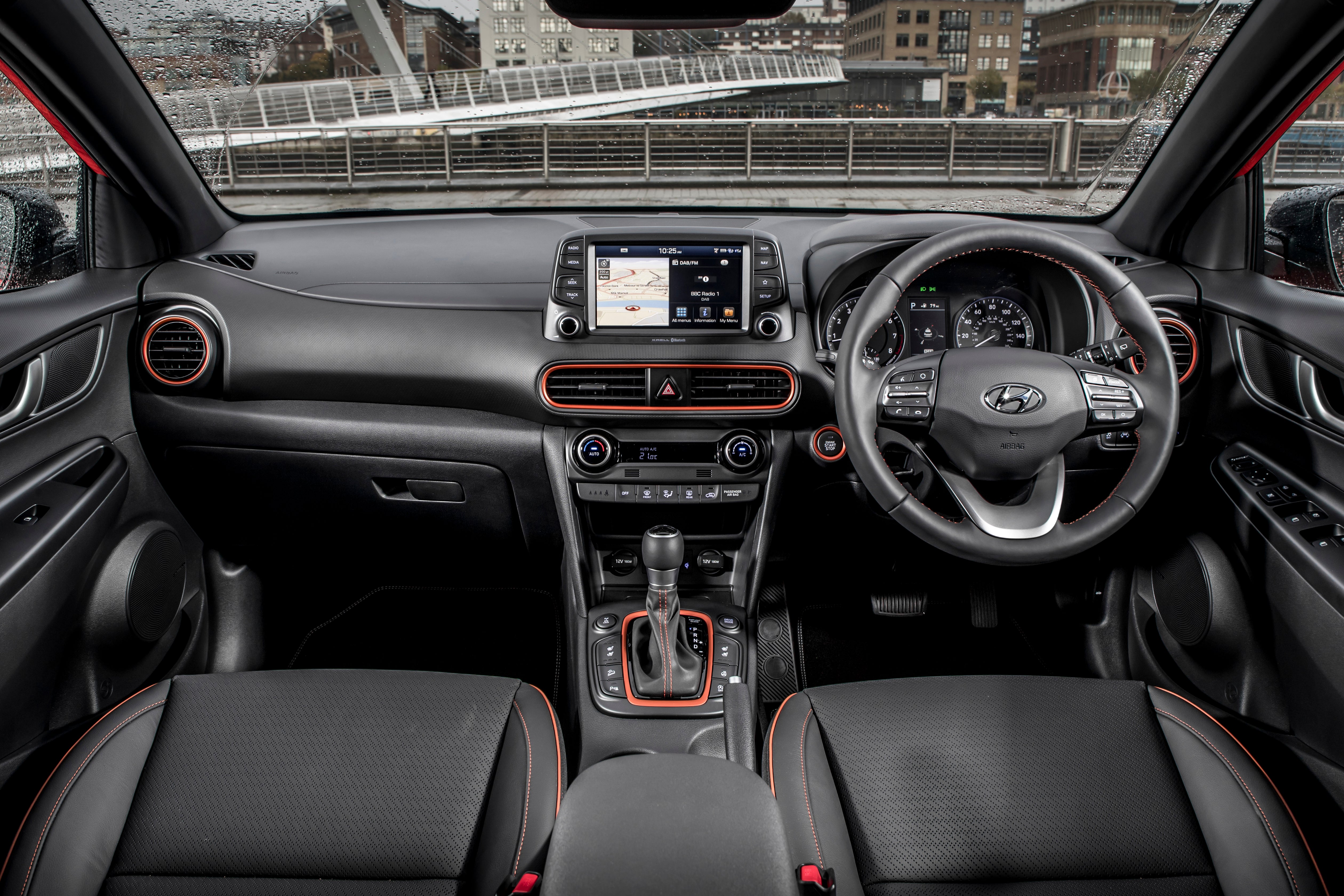 The Kona's controls are very logically laid out, and the 7-inch screen that's standard on most cars is placed right in the driver's eye-line, and within easy reach of the steering wheel, but it's a rather drab place to spend time.
This stuff really matters in a class that contains chic competitors with elegant and upmarket interiors that reflect a bit more individuality, including the ultra-modern Peugeot 2008 or the impeccably finished Audi Q2. There's limited scope for confusion at least, and changing the temperature or radio station is a total doddle.
Still, plenty of crossover buyers will be more concerned with comfort than style, and the Kona scores highly in that regard. The raised driving position has been perfectly judged, but if you want to tailor it to fit your own shape and size, there's a wide range of manual adjustment to the location of the seat and steering wheel.
Another pleasant surprise is the inclusion of electric lumbar support on Premium models. The seats are padded and comfortable anyway, but the ability to alleviate backache after hours at the wheel is a real boon.
Visibility is great in every direction except over-the-shoulder, where the chunky styling means you get a small rear window and big blindspots, but reversing around obstacles is made easier by the rear parking sensors.
Handling and ride quality: What is the Hyundai Kona like to drive?
"It's a simple fact that taller cars tend to handle less fluently than lower ones. The physics involved mean a higher car usually rolls more in corners, requiring stiffer suspension to keep its body movements in check. These drawbacks afflict all raised-up SUVs and crossovers, but in light cars like the Kona it's harder to find the right balance between comfort and composure, since there's less weight to help smooth out the ride."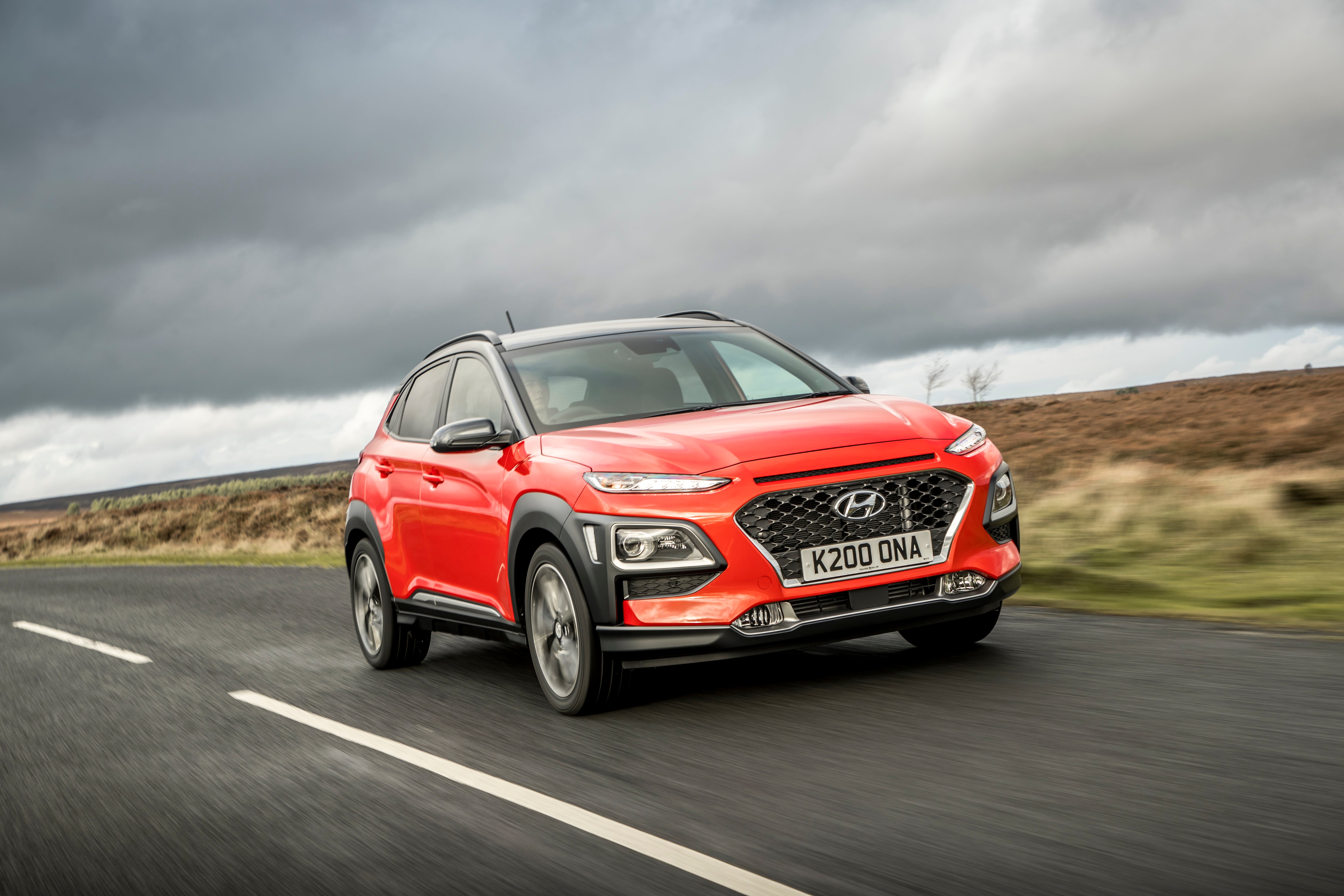 Hyundai has chosen a stiff setup that means you get sharper handling and less body lean than rivals such as the Citroen C3 Aircross or Renault Captur. It stays upright as you turn into corners, generates surprising grip and changes direction deftly, although the lardy hybrid leans over a little more than the featherweight petrol.
Unfortunately that does mean it's quite sensitive to uneven surfaces. Run over a big pothole and you'll feel a nasty jolt that'll make you wince, and the wheels patter over rough roads, picking up every scar and crease. For this reason we'd avoid models fitted with 18-inch alloys, you'll be a lot comfier in a Kona on smaller rims.
On smoother Tarmac, the ride settles down nicely, but its not quite as supple as a Ford Puma or Volkswagen T-Roc. The quicker 1.6-litre and hybrid model get a more sophisticated rear suspension setup than the standard car, but that's more to accommodate the four-wheel drive system and battery pack than to improve the handling.
Around town, buyers will appreciate the light steering. It barely requires any effort to twirl the wheel back and forth when you're parking or making a three-point turn, but doesn't gain meaningful weight in faster driving. It therefore lacks the precision and accuracy present in some rivals, including SEAT's Arona, which is more fun.
MPG and fuel costs: What does a Hyundai Kona cost to run?
"Although the Kona has a similar footprint and the same engine to the i20 hatch, its raised ride height and chunky styling means it'll be slightly less economical in day-to-day driving."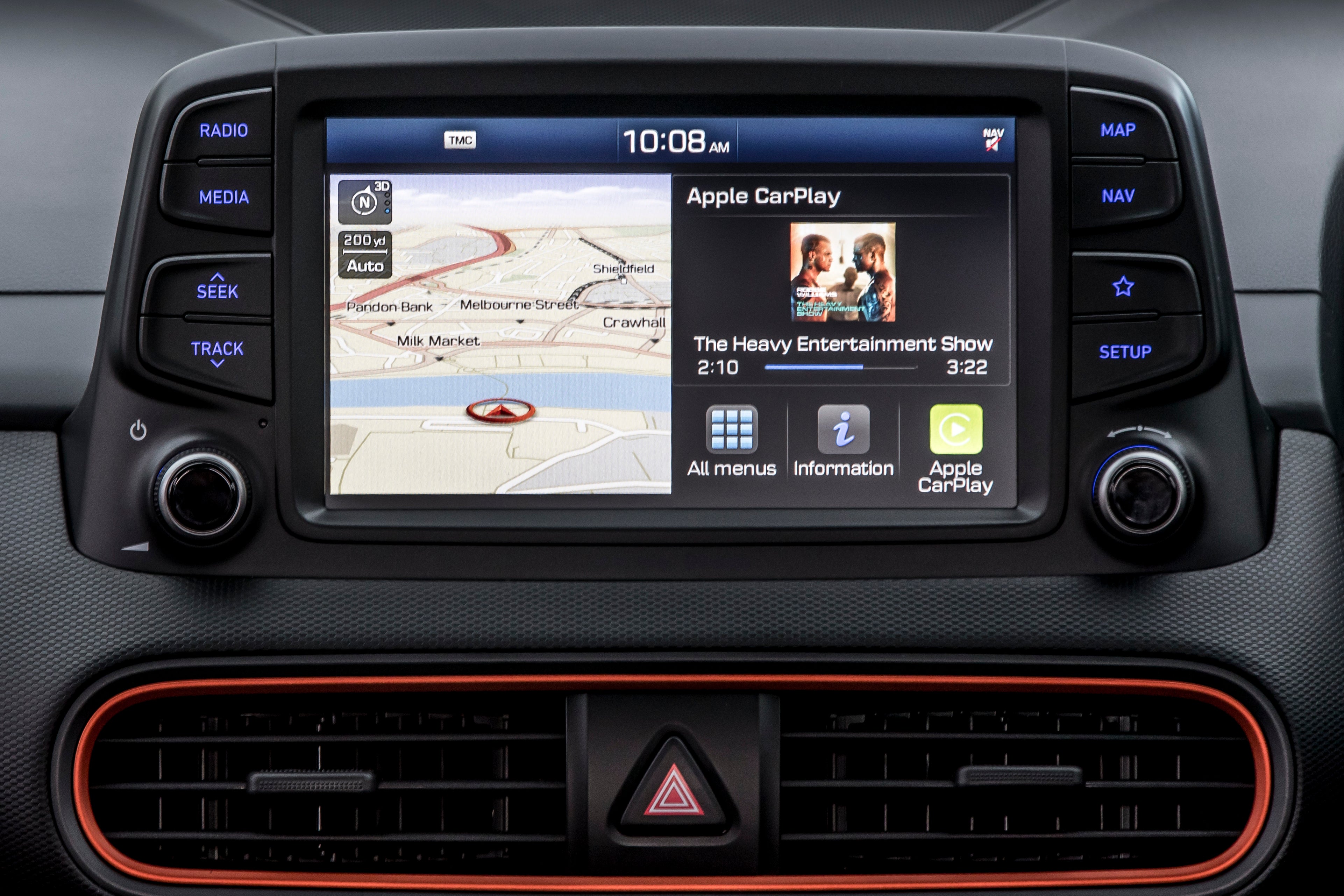 The official WLTP figures for the popular 1.0-litre three-cylinder turbo is 45.6mpg in 'S' trim, falling further as you add kit and larger wheels. However, our Real MPG owners averaged just over 40mpg with this engine, which might give you a taste of what is realistic to expect in normal traffic conditions or with several passengers and their luggage on board.
The newer hybrid version really is the pick of the bunch if cutting your fuel bills is a top priority though. Its official figures suggest it will return well over 55mpg, and our own experience with the car backs that up.
Unlike some rivals, it doesn't need plugging in. The small on-board battery regenerates itself as you drive. One thing to note: the petrol tank in the hybrid shrinks by a quarter, so there's no difference in cruising range.
How much should you be paying for a used Hyundai Kona?
"New prices for the Kona start from £18,000 and climb all the way up to £28,000 for the all-singing four-wheel drive model in the flashiest Premium GT specification. To secure a used model, you'll need at least £10,000."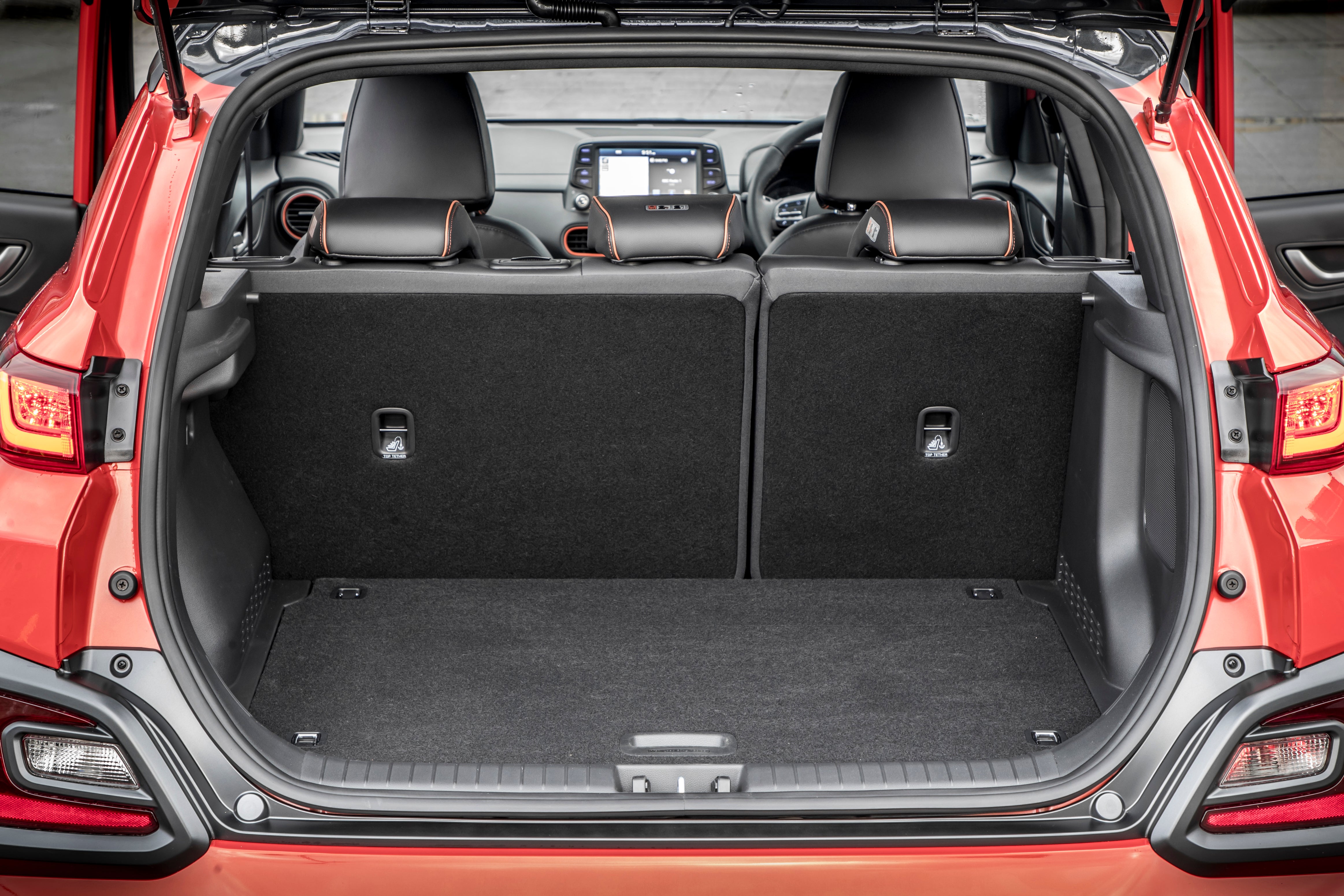 There aren't many used Konas available for £10,000. If you want a quick buy, set your sights on cars that sit between the £12,000 and £13,000 mark, and you'll find an abundance of 1.0-litre petrols, in a choice of trims, all with lowish miles.
Buying a pre-registered car from 2019 could save you several thousands, and we found a number of cars in the attractive looking Play trim with less than 500 miles on the clock, for less than £15,000; a proper bargain.
To get behind the wheel of the four-wheel drive model, they change hands for around £18,000 for a car with a fully stamped service book and less than 20,000 miles showing. That's a good saving on the new list price.
Forget about picking up a diesel. Finding one is next to impossible, and it's priced to match its elusive status.
Ready to get your top quality Hyundai Kona?
All cars come with a warranty
Selected dealers only
All quality checked
Hyundai Kona
150kW Premium SE 64kWh 5dr Auto
Richmond Hyundai Southampton

Hampshire, SO151GY
PCP: £494.06/mo
Representative example: Contract Length: 36 months, 35 Monthly Payments: £494.06, Customer Deposit: £4,633.00, Total Deposit: £4,633.95, Optional Final Payment: £13,566.00, Total Charge For Credit: £4,599.05, Total Amount Payable: £35,492.05, Representative APR: 7.9%, Interest Rate (Fixed): 7.61%, Excess Mileage Charge: 8ppm, Mileage Per Annum: 10,000
Hyundai Kona
150kW Premium SE 64kWh 5dr Auto
Delgarth Motor Group Hyundai Bletchley

Buckinghamshire, MK11DF
PCP: £508.28/mo
Representative example: Contract Length: 37 months, 36 Monthly Payments: £508.28, Customer Deposit: £4,878.00, Total Deposit: £4,878.75, Optional Final Payment: £15,033.66, Total Charge For Credit: £5,685.49, Total Amount Payable: £38,210.49, Representative APR: 8.9%, Interest Rate (Fixed): 4.58%, Excess Mileage Charge: 14.9ppm, Mileage Per Annum: 10,000
Is the Hyundai Kona right for you?
One of the big selling points of the Kona is its distinctive design. Some buyers will love it, for others it will be a turn-off, but either way the colourful exterior, high driving position and easy driving manners are all positives.
It'll suit buyers who want something with a bit more personality than a small family hatchback. Despite the tall suspension, it handles quite tidily, but even in the four-wheel drive model, the Kona is not a proper off-roader. At least you can specify all-wheel drive if you need it, since the vast majority of crossovers have the styling of a 4x4 SUV but not the added capability and grip. Still, it's only available with the thirsty 1.6-litre engine in top spec.
It's not especially practical, with other cars in this price range providing more boot and passenger space, so if you regularly carry adults, there are better options out there. The hybrid is cheap to run but expensive to buy.
What's the best Hyundai Kona model/engine to choose?
The front-wheel drive 1.0-litre petrol turbo will be the best option for the vast majority of buyers. It's not the smoothest, but flexible enough to keep up with motorway traffic, with a tall sixth gear that helps refinement when cruising. It'll be kind on your wallet too, with an official economy of 45.6mpg and just 121g/km of CO2.
Of course, the hybrid is the obvious choice if you are a company car user, or getting a second-hand 1.6-litre diesel. If you choose the latter, remember that its residual value will continue to drop further as buyers flock to hybrids and EVs, and that repairing a clogged filters is expensive, so only get one if you do big mileages on a regular basis.
Avoid the entry-level 'S' trim at all costs. It's too basic to recommend, even as a used bargain, the SE model offers the best balance of equipment and price, and its smaller alloys help to mitigate the Kona's other main issue, a jiggly and firm ride that never truly settles. On larger wheel's you'll be gritting your teeth over bumps.
What other cars are similar to the Hyundai Kona?
The Kona is part of the fastest expanding group of cars on the market: compact crossovers. A segment that exploded in popularity with the arrival of the first versions of Nissan Juke, Renault Captur and Peugeot 2008. Now all three cars have been replaced with a brand new generation that are better to drive, more refined and offer an increasingly level of technology and luxury kit on board, with prices rising to match their new status.
Still, if you want a high driving position on a tighter budget, you could buy a jacked-up version of a small hatch instead. Cars like the Ford Fiesta and Hyundai's own i20 Active give you a mini-SUV flavour for less cash. For a more grown-up driving experience, the Ford Puma is great fun in corners, while the Volkswagen T-Roc is composed and refined. Both are available with punchy 150PS engines that deliver surprisingly brisk pace.
Company car drivers interested in the Kona hybrid should check out Toyota's C-HR, which is even lighter on fuel, managing the transition between petrol and electricity a little more seamlessly than the Hyundai does.
Quality and finish
The Kona has the exact same traits as many of Hyundai's other models when it comes to its fit and finish. It's very sturdily built, and feels robust enough to cope with years of abuse, but the materials used are also tough.
The dash and most of the cabin is covered in a hodgepodge of different hard, scratchy plastics, all of which are varying shades of dull grey. Odd areas get a soft-touch finish, but not enough, and it could really do with a splash of colour to brighten the mood. You can add optional contrasting trim, but only on the pricier models.
On the plus side, all but the entry-level models get soft leather upholstery on the two more important points of contact, the steering wheel and gearstick, while the top spec versions have faux-leather trim throughout.
Flick an indicator stalk, twirl the climate controls or pump up the volume using the buttons on the wheel, and each time you'll be impressed with their tactile precision, but the flimsy gearbox and armrest lids disappoint.
While it's true that many rivals feature some hard finishes and ordinary designs, cars such as the Skoda Kamiq lead the way in this class, proving that with the right approach you can make a crossover feel plush.
Infotainment: touchscreen, USB, nav and stereo in the Hyundai Kona
While every version of the Kona comes packing an infotainment screen, on the most basic models it's a tiny 5-inch monochrome display that's not particularly attractive or slick. Luckily, you only need to up to the SE to get your hands on a bright 7-inch colour touchscreen but both have Bluetooth, DAB and six speakers. However, only the latter features full smartphone compatibility for both Apple and Android phones, with the right software to allow you to use your favourite streaming and navigation apps in a safe way while driving.
The infotainment system itself is reasonably intuitive, with nice physical shortcut buttons flanking the display, which are easy to hit on the move, and scrolling through radio stations or pairing a new device is very simple.
Upgrading to the Premium SE trim or higher brings you a larger 8-inch touchscreen with a built-in navigation system and punchier audio system. It's graphically sharper and quicker to respond than the standard unit, and you get gadgets like a wireless phone charger and a head-up display thrown in that make the Kona feel hi-tech.
That's not the last word in technology though. In the hybrid models, this upgraded system gets a widescreen 10.25-inch monitor that looks super slick, and is one of the most impressive we have used on a car this size.
Space and practicality: Hyundai Kona boot space
The idea behind crossovers like the Kona is that they are more practical than the small hatch they are often based on, yet the Hyundai struggles to match its roomiest competitors for either passenger or boot space.
Up front this still feels like a small car, rather than a SUV. The cabin is narrow, and while you can stretch out without invading anyones personal space, it feels a little more intimate than you might expect. Keeping the car tidy is no hassle though, with a decent glovebox, big door pockets, and a wide phone tray close at hand.
The further back in the Hyundai you sit, the less generous the dimensions become so taller people in the rear seats may find their heads brushing the roof lining. If they're unlucky enough to be behind a tall driver, their kneecaps will be wedged against the front seat backs too; not exactly ideal on a long drive somewhere.
Hyundai at least provides slim rear door pockets and a narrow armrest in each rear door, but on a long journey you'll hear more complaints from your passengers than you would in rivals such as the Volkswagen T-Roc. Unlike the Renault Captur and Citroen C3 Aircross, you can't slide the back seats forward and back, which means less flexibility to prioritise passenger space or boot volume, a feature that family buyers appreciate.
Speaking of volume, at 334 litres, the boot is below average for the class. Still, the opening is wide enough to make it easy to load bulky items, and when you fold down the split-folding seats they leave a flat loading bay. In this mode, the Kona can carry up to 1116 litres of stuff, but again this is less than you can fit into its rivals.
Entry-level S models get fractionally more storage space under the boot floor (where the spare wheel goes on other trims) but even without it, the boot is dwarfed by other crossovers. It's big enough to take carry-on suitcases and shopping bags, but buyers who regularly need to carry larger items will struggle to fit them all.
What engines and gearboxes are available in the Hyundai Kona?
At launch the Kona was available with a 1.6-litre CRDi diesel, and a pair more popular petrol turbos. The first is a 1.0-litre with three-cylinders and 120PS that'll be more than adequate for most buyers, but those seeking a larger dollop of performance could pick a 1.6-litre with 177PS, four-wheel drive, and an automatic gearbox.
In 2019, the diesel was replaced with a petrol-electric hybrid in a similar mould to the Toyota CH-R. This also uses a 1.6-litre engine, paired with a small battery and a 43PS electric motor. It doesn't need plugging in, but helps improve economy and lower emissions significantly, and makes the Kona feel responsive in the city.
A 1.0-litre unit might not sound like much in a chunky crossover, but it's easily our favourite in the range. For starters, it's the most affordable and cheapest to insure. It's no slouch either, feeling eager and happy to rev. It does need some encouragement to overtake, but the six-speed manual is no chore, with a nice light shift.
Still, similarly sized units in the SEAT Arona and Ford Puma pack more of a punch. Both these rivals are over two seconds quicker in a benchmark sprint from 0-62mph, and you will notice the difference in daily driving.
We would avoid the temptation to go for the 1.6-litre model. It's only available with a dual-clutch transmission that can swap through its seven speeds with impressive smoothness, but it's very expensive to buy and run. It's undoubtedly quicker, but the penalties you pay for the boost in speed are just too high. We'd much prefer a middle option with around 150PS and front-wheel drive, like you can get in the Volkswagen T-Roc or Mazda CX-30.
The hybrid is a fine option for those keeping a careful eye on their emissions, but it's quite a pricey upgrade.
Refinement and noise levels
The Kona provides a decent level of accident protection. All models come with six airbags to deploy if the worst happens. A driver attention alert will pop-up to remind you to take a break if the car thinks you are driving more erratically than usual, and there's a lane-keep assistant that can gently steer you back straight.
When it was tested by Euro NCAP in 2017 it managed a maximum five-star rating overall, but when you look closer at the individual grades, you discover that it scored just 87% for adult safety; most rivals get over 90%.
It returned decidedly average results in the pedestrian and safety assist categories too. That's because on all but the most expensive trim levels, automatic emergency braking (AEB) is optional. This critical kit is there to help drivers avoid accidents in the first place. It scans the road ahead with a camera, and if the car detects a potential collision with a cyclist, pedestrian or car in your path, it'll warn the driver and start braking if needed.
Many small SUVs now come with AEB as standard. While you can add it to the Hyundai on every trim level (as part of the brand's bigger SmartSense active safety pack) it's such a useful feature it should be included. On the plus side, it's an inexpensive option, and we'd suggest that for peace of mind, it's a box worth ticking.
Choose this bundle on the hybrid, and you'll get radar-guided cruise control too, while Premium trim includes a set of blind spot monitors, and a system that'll warn you about passing traffic when backing out of a space. Thankfully, rear sensors and a reversing camera are standard on most trims; taking the stress out of parking.
Insurance groups and costs
The good news for teenagers that are hoping to borrow the car from mum and dad, is that the Kona is in such a low insurance group you might be able to sneak onto the comprehensive cover as a named driver.
Pick the 1.0-litre GD-i engine, and in either S or SE trim it sits in group 9 - the same as some city cars. Only the less powerful Renault Captur is lower, with the average for basic versions of most rivals group 13 or so.
That's the same bracket as the considerably more powerful and expensive hybrid model, which drops as low as group 11 if you go for the priciest Premium SE version, thanks to its added active safety equipment.
VED car tax: What is the annual road tax on a Hyundai Kona?
The most affordable version of the Kona to tax is (unsurprisingly) the hybrid model. It won't save you a big heap of cash compared with the standard petrol though; just an extra £10 off the £150 standard rate charge. That's because it qualifies for the alternative fuels discount, although £100 over the course of a decade is not exactly going to thrill your accountant. Things do start to add up once you factor in the first-year rate, though.
This is a CO2 based charge levied against all brand new cars. In the Kona hybrid, it'll cost you £165. Buy the popular 1.0-litre petrol you'll need to pay another fifty quid, but pick the top spec 1.6-litre and it leaps to £870.
It's a different story with company car tax. The hybrid sits in the lowest BIK bracket at 25% in SE trim, but it'll actually cost you a few extra pounds a month because of its higher purchase price than the 1.0 GD-i at 31%.
Trim levels and standard equipment
Hyundai is known for being generous with its standard equipment. The brand usually packs in a wide set of features, especially on its priciest models, and you can often find a nice middle ground between cost and kit.
This holds true in the Kona. There are six trim levels, but we would avoid the bookends (S and Premium GT) and concentrate on the middle four instead. Entry-level cars get basics such as alloy wheels, cruise control, and Bluetooth, but you'll want to upgrade to SE trim for its 7-inch touchscreen and rear parking sensors.
Play models have 18-inch wheels and Metallic paint included, but it's only once you step up to the Premium specification that you'll get goodies like climate control, keyless entry, and an auto-dimming rearview mirror. These versions also benefit from an 8-inch infotainment screen, with built in navigation, double the number of speakers (including a subwoofer) and a punchier audio system, plus fancy gadgets like a wireless charger.
At the top of the tree is the Premium GT and it comes fully loaded, with LED headlights, leather seats that can be heated or cooled to your liking, and even a head-up display, but it's prohibitively expensive when new.
The Kona hybrid is available in SE, Premium and Premium SE guises, with a little bit more kit than standard. As for options, on most versions you'll need to pay for Metallic paint, and you can fit a SmartSense safety kit, but the amount you'll get with it depends on the model. It's £550 to add to an SE, but £950 on Premium cars.
Learn more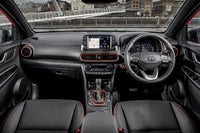 On the inside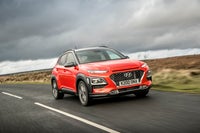 Driving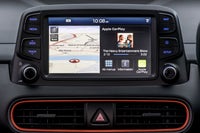 How much does it cost to run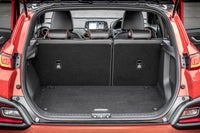 Prices, versions and specification
Ask the heycar experts:
common questions
Is the Hyundai Kona a hybrid?
There is a hybrid model available, which effectively replaces the diesel models, which were dropped from the line-up in 2019. It has a 1.6-litre petrol engine paired to a 43PS electric motor via an automatic gearbox, and emits 99g/km of CO2, and returns a decent 56.5mpg.

Answered by
Russell Campbell
Does the Hyundai Kona come with all-wheel drive?
Unlike some rivals, if you really need it then you can specify a Kona with four-wheel drive. It's a smart system too, with a differential lock, but it's only available on the Premium GT trim and with the 1.6-litre turbocharged petrol engine, which means it's a lot more expensive too.

Is the Hyundai Kona an SUV?
Yes, although it's a small SUV or crossover rather than a proper utility vehicle. It does come with the option of four-wheel drive, but it's more of a 4x4 in its spirit and style than execution.

What about the Hyundai Kona Electric?
Perhaps the most well known Kona is the all-electric model. It's performed brilliantly in recent comparative electric range tests, and offers Tesla-rivalling performance for a lot less money. It comes in 64kWh or 39kWh guises, with the former providing over 300 miles of EV range.

Answered by
heycar editorial team
Reviews of similar cars
Quality checked, all cars less than 8 years old and warranty included
Looking for other Hyundai cars?
Quality checked, all cars less than 8 years old and warranty included