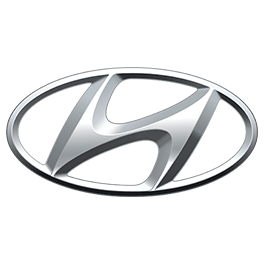 Hyundai Kona Electric Review

Written by
heycar editorial team
heycar rating
"Great introduction to electric cars"
Best bits
Impressive 279-mile electric range
Easy yet fun to drive
Transferable five-year/unlimited-mileage warranty
Not so great
Not as practical as alternatives like the Kia e-Niro
Interior could be more stylish
Little chance of a second-hand bargain
Read by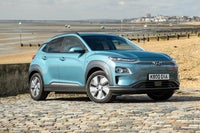 Overall verdict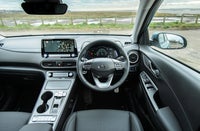 On the inside
Driving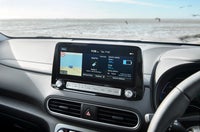 How much does it cost to run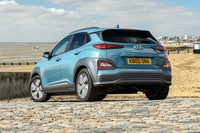 Prices, versions and specification
Overall verdict
"The Hyundai Kona Electric is one of the best electric cars on the market. It'll travel far enough between charges to keep most of us happy, and you get a load of standard equipment for your money. It's so desirable that actually finding one might be tricky, and you'll pay a premium for it."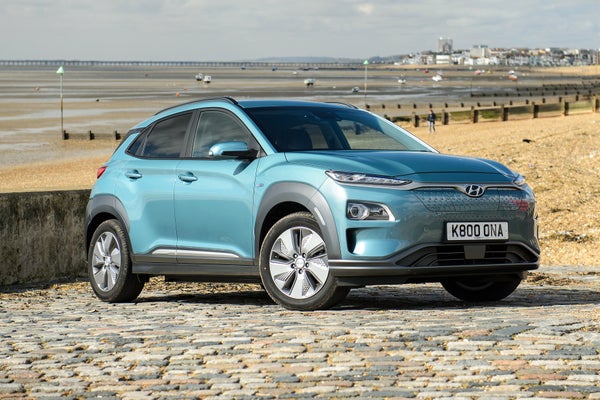 The Hyundai Kona Electric could be the car that convinces you that now is the time to go electric. It's relatively affordable (lightly-used examples start below £30,000), can travel a useful distance between charges (up to 279 miles) and it comes with an extensive list of equipment for the cash.
Chuck in a long warranty and a desirable crossover SUV body style and the Kona Electric is - on paper at least - about as close to perfect as electric vehicles come.
It's easy to see why demand for the Kona Electric is so overwhelmingly huge. At one point, Hyundai had to take it off sale as waiting times extended to beyond a year. The range has now been streamlined to allow faster deliveries and reduce the wait, but you'd still be wise to skip the queue by looking for an as-new previously-owned example.
In typical electric car fashion, the Kona Electric is a lot of fun to drive. It does without a conventional gear selector, instead using four buttons to allow you to select drive, reverse, neutral or park. You'll have to recalibrate your mind if you've not driven an EV before - it'll accelerate instantaneously (there's no waiting for the turbo the spool up or the transmission to find an appropriate gear), and there's little noise to give you an idea of how fast you're travelling.
You can slow down by simply lifting off the accelerator pedal. Increase the regenerative braking if you want to reduce your reliance on the brakes, but it's not as severe as the Nissan Leaf (which has a one-pedal driving mode).
All this means the Kona Electric's in its element around town. It'll down in and out of traffic in a manner that'd look antisocial in a noisy combustion-engined car, while the slightly higher than normal seating position gives you a good view of the road ahead. Its relatively compact dimensions mean it's quite an easy car for squeezing in and out of gaps, too.
While there's plenty of power to get up to motorway speeds, you'll find that the remaining range starts to fall quite quickly if you're hustling in the outside lane - but that's true for most electric cars. It's not as refined as alternatives here, with quite a significant amount of wind and road noise.
The cabin feels modern, but it's far from as futuristic as the new Honda E. Premium and Premium SE models come with a 10.25-inch infotainment system which is simple to operate, helped by useful shortcut buttons alongside the digital display. It looks sharp with clear graphics and fast responses, while Apple CarPlay and Android Auto are welcome standard features.
The Kona Electric's interior isn't as plush as the MINI Electric, either. You'll find a few below-par materials (the plastic on the centre console, for example) and it doesn't look particularly attractive. It's not offensive, though, and it's logically laid out. You'll find it easy to get comfortable, too, thanks to plenty of adjustment in the seats and steering wheel.
Rear space isn't great. Adults will find it feels pretty tight back there, without a great deal of legroom. And the boot's pretty small, too, with the batteries and charging cables leaving just 332 litres of space - less than in a Hyundai Ioniq Electric or Volkswagen e-Golf. You may wish to look at the Kia e-Niro if practicality's important.
Still, these minor gripes aside, the Hyundai Kona Electric is a hugely impressive car. You won't get a bargain - strong demand will see to that - but you will get an electric car that'll be cheap to run, reliable, fun to drive and - the sticking point for many buyers - able to travel fairly long distances between charges.
If you want the standard Kona, you need our Hyundai Kona review.
Comfort and design
"While the standard Hyundai Kona is quite an affordable crossover, the Kona Electric is one of the most expensive models the firm sells. That means it's got quite a few unique touches to lift the cabin over the rather drab affair used in the standard Kona."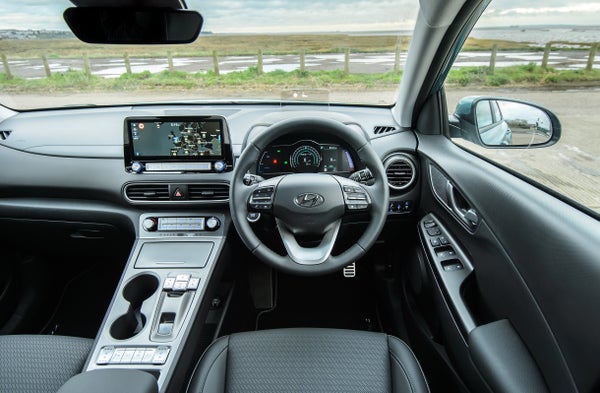 These include a silver centre console, with space underneath it for extra storage, while buttons rather than a conventional automatic gear shifter makes the Kona Electric feel a bit futuristic. It doesn't feel as premium as cars like the BMW i3, though, and you'll find some harsh materials if you go poking around the cabin.
It's worth upgrading to the Premium or Premium SE model for the bigger infotainment display, which is simple to use with clear graphics as well as access to live features such as real-time traffic information and speed camera alerts. Apple CarPlay and Android Auto are standard, too.
In terms of space, the Kona Electric isn't the most practical choice - particularly if you're planning to use it as your main family car. It's fine up front, with loads of adjustment in the driver's seat and steering wheel meaning you'll soon find a comfortable seating position. Adults won't be quite so happy in the rear, however. Headroom is reasonable, but it's pretty tight in terms of legroom.
The boot is pretty small, too - the batteries eating into an already quite small luggage area. By the time you've loaded the charging cables, you're left with just 332 litres of space. The rear bench splits 60:40 and drops easily, but access isn't great - with a high lip over the rear bumper.
Ride and handling
"Hyundai Kona Electric buyers were initially given the choice of two different battery sizes: 39 or 64kWh. While the smaller battery pack was competitive with rivals (it provided a range of 180 miles between charges), most people paid the extra money for the 64kWh version with its 279-mile range."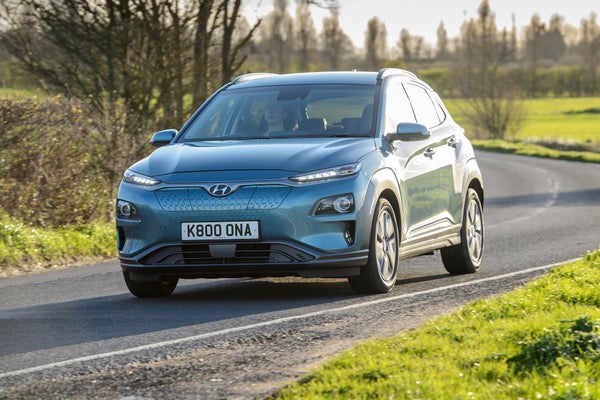 As such, Hyundai dropped the 39kWh model in the UK in January 2020, making it very rare on the used market. That's fine as the 64kWh model is the more desirable option. As well as being able to travel further between charges, it's quicker, too - accelerating from 0-62mph in 7.6 seconds.
If you haven't driven an electric car before, you're in for a treat. The Hyundai Kona Electric surges forward in near-silence, making it a very relaxing car to drive. It's particularly good around town, where there's no grumble from a petrol or diesel engine and you don't have to worry about changing gears.
How much does it cost to run?
"Once you've forked out the cost of buying a Hyundai Kona Electric, it's a very cheap car to run. You won't pay anything in car tax (VED) and, if you venture in Central London, you'll save on Congestion Charge fees too. You might even be eligible for parking permit discounts."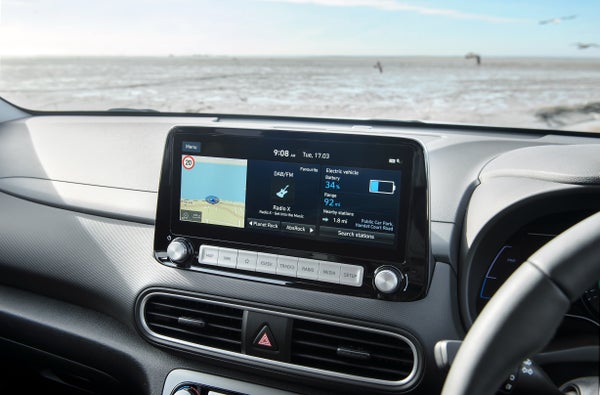 Of course, the biggest attraction is never having to pay for a tank of petrol or diesel again. You'll pay around £9 to fully charge a 64kWh Kona Electric at home, depending on your electricity tariff. From that, you'll be able to cover up to 267 miles - a little more than 3p per mile.
You can charge a Kona Electric using a three-pin plug at home but it'll take about 30 hours to do so fully. We'd recommend having a home charger installed - a 7kW unit will charge the Kona Electric entirely in around 11 hours, meaning you can just get into the habit of plugging it in overnight.
On a longer journey, a 100kW rapid charger will take the Kona Electric from 10 to 80 per cent range in about 45 minutes.
Prices, versions and specification
"There are three trim levels for the Hyundai Kona Electric: SE, Premium and Premium SE."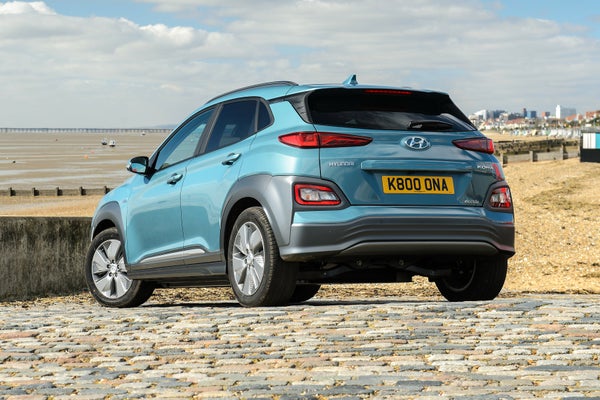 The Hyundai Kona Electric SE comes with a seven-inch touchscreen media system (with Apple CarPlay/Android Auto), 17-inch alloy wheels, climate control and a reversing camera.
The Premium features a bigger 10.25-inch display with navigation, as well as a premium eight-speaker sound system. It also adds a host of driver assistance technology, such as Hyundai's Lane Follow Assist, Rear Cross Traffic Alert and an Intelligent Speed Limit Warning. Front and rear parking sensors are standard too, as well as front and rear parking sensors and privacy glass.
Topping the range is the Premium SE, which builds on the Premium's spec with things like leather seats with electrical adjustment in the front, heated and cooled front seats (heated in the rear), a heated steering wheel and a head-up display. It also gets full LED headlights with high-beam assist.
Is the Hyundai Kona Electric right for you?
If you're wondering about switching to electric but need to cover relatively long journeys without plugging in, the Kona Electric's 279-mile range should give you some peace of mind. It's not as practical as the bigger Kia e-Niro but it's easy (and fun) to drive and comes with a lot of standard equipment.
What's the best Hyundai Kona Electric model/engine to choose?
Don't bother hunting out a 39kWh model unless you find one that's particularly cheap - the 64kWh is much more common and more desirable. It's worth looking for the Premium trim level for the bigger infotainment screen and navigation. The Premium SE comes with some very appealing features, but you'll pay the price.
What other cars are similar to the Hyundai Kona Electric?
You could also look at the Kia e-Niro. It shares the Kona's tech, but it's bigger and more practical (and costlier). Then there's the Kia Soul EV or Hyundai Ioniq - two more brilliant Korean electric cars. The BMW i3 is a strong competitor, as well as the Volkswagen e-Golf and upcoming ID.3. The Nissan Leaf is a popular choice and represents good value for money, but it's far from being ahead of the game.
Learn more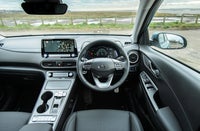 On the inside
Driving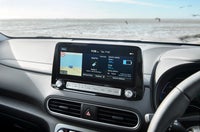 How much does it cost to run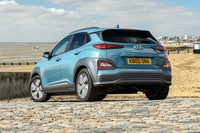 Prices, versions and specification
Reviews of similar cars
Quality checked, all cars less than 8 years old and warranty included