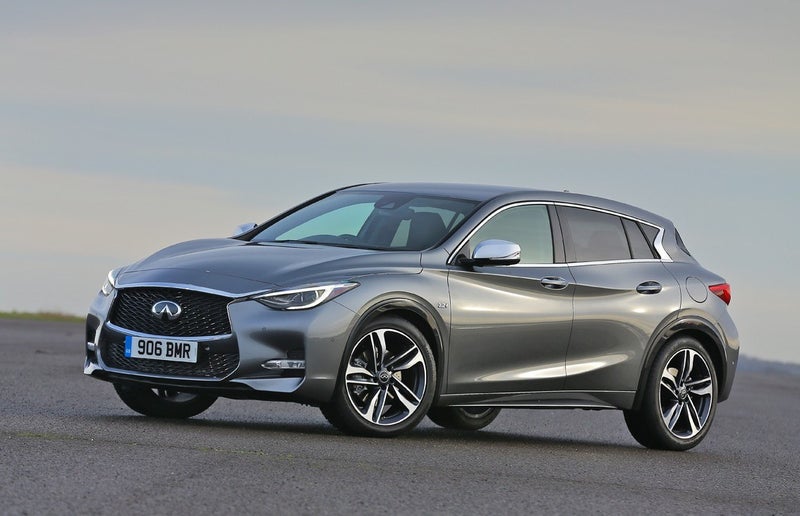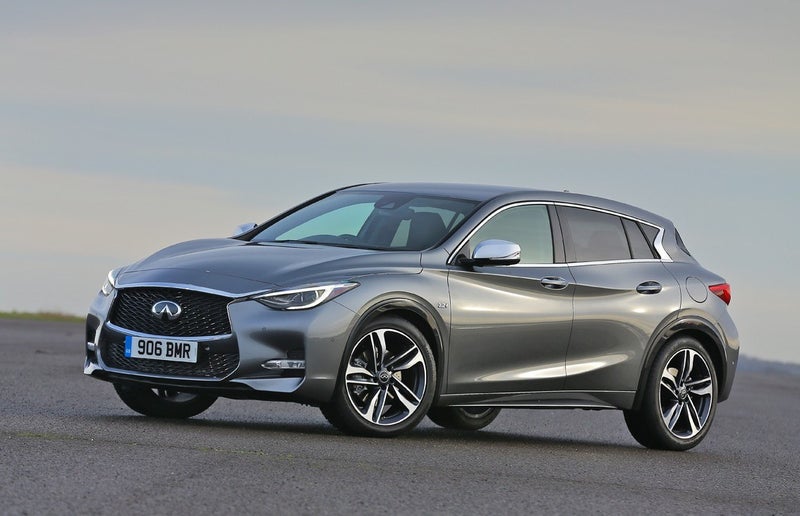 1/10
heycar rating
"Nissan's attempt at Audi A3"
Launched: 2015

Family hatch

Petrol, Diesel
Quick overview
Pros
Very solid build quality
Five-star Euro NCAP rating
Good entry-level diesel engine
Cons
Poor ride and lacklustre handling
Not all that practical
Cheaper versions poorly equipped
Overall verdict
On the inside
Driving
Cost to run
Prices and Specs
Common questions
Overall verdict
"The Q30 was supposed to be the turning point for Infiniti in the UK. With the advent of this premium hatchback, which was designed to dust it with super-popular rivals like the Audi A3, BMW 1 Series and Mercedes A-Class, British people would finally notice the Infiniti brand and take it to their hearts, just as those in Japan and the United States had done."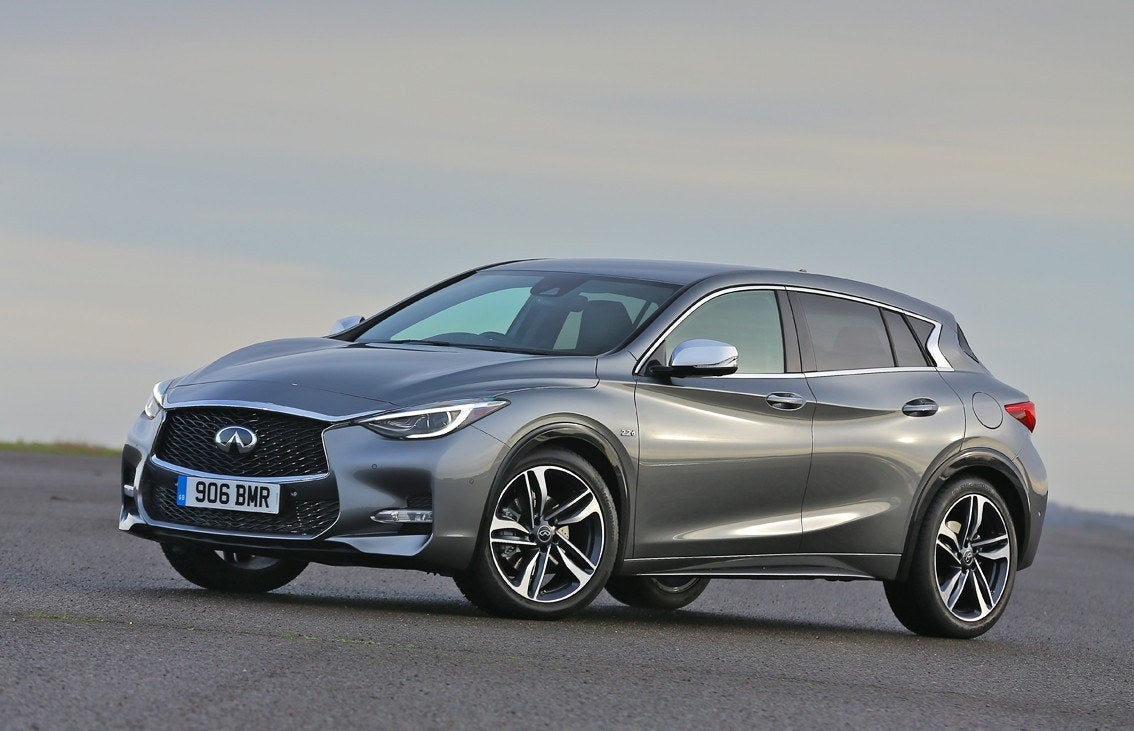 This newfound success and desirability would then filter up to the company's range of big, expensive saloons and SUVs, and before long, those in charge of the firm would skip merrily into the sunlit uplands of financial prosperity, high-fiving and sipping Mai Tais all the way. That was the plan, anyway.
Unfortunately, it didn't quite work out like that. Not by a long shot. So much so, in fact, that it's entirely possible that you've never even heard of Infiniti. Well, for those of you not in the know, Infiniti is - well, was - a luxury brand run by Nissan, in much the same way that Lexus is Toyota's luxury wing.
We say 'was' because the company has since given up trying to sell new cars in the UK - well, the whole of Europe, actually - instead concentrating on the markets where folks are already convinced about its products.
In fairness, this embarrassing climb-down wasn't entirely the Q30's fault. It wasn't a terrible car when judged in isolation. Having said that, though, it wasn't a terribly good one, either, and when competing with the style, desirability and popularity of Germany's finest, it simply didn't stand a chance.
And that's perhaps a little odd, because it had much in common with one of them. Under the skin, the Q30 shares most of the same oily bits as the Mercedes A-Class, except these bits were lashed together in Nissan's factory in Sunderland, rather than on the outskirts of Stuttgart.
Unfortunately, rather than ensure the same level of success as the A-Class, this approach meant that the Q30 inherited many of the A-Class's worst shortcomings. Poor ride comfort was the most problematic (although to be fair, the Infiniti actually does a little better on that score than the Merc), but limited practicality, mediocre performance, lacklustre handling and a few annoyingly un-intuitive controls were also on the list of shortcomings. What's more, refinement wasn't very good, not enough standard equipment was included, cabin quality was behind that of rivals, and - probably worst of all - the prices for the car were nothing short of preposterous.
The car wasn't completely without merit. It had a good entry-level diesel engine, it was very sturdily built (at least the chaps in Sunderland kept up their end of the bargain) and it has a five-star Euro NCAP safety rating. It also looks pretty good, and the fact it's so rare will make it an appealingly left-field choice for some.
And, while the car's catastrophically weak resale value put the final nail in the Q30's coffin, they do mean that used examples are comparatively affordable. So, if you're after a posh hatchback, just not the same one that everybody else has, the Q30 might be worth a look.
Is the Infiniti Q30 right for you?
If you like the idea of a premium hatchback in the mould of the Audi A3, BMW 1 Series or Mercedes A-Class, but you also want your car to be a talking point, then it might well be. Buy any one of the German offerings, and any conversation starting with "what are you driving these days" will be very short indeed, as these cars need no introduction. The Infiniti Q30, meanwhile, will take rather more explaining, because there are lots of people who've never even heard of this Japanese luxury carmaker.
It will also suit you if you want your premium hatchback to be more of a left-field, out-there choice than its rather ubiquitous rivals. After all, not everyone wants to follow the herd. However, there's a reason that the established contenders are established: because they're pretty darn good. In truth, the Infiniti is less so, and in a great number of areas, so you will pay a price for daring to be different.
What's the best Infiniti Q30 model/engine to choose?
The engine you want is very easy. The 1.5-litre diesel is the quieter and smoother of the two diesel engines, and it's also the most efficient. It keeps the car's purchase price down and it's perky and powerful enough to have you rolling along at a very decent rate. We'd also stick with the (slightly notchy) manual gearbox in order to minimise purchase prices, but we wouldn't blame you if you upgraded to the seven-speed twin-clutch automatic.
The trim level you want is less clear-cut, because there were so many of them over the car's lifetime, and each had rather strange differences in spec. Go For a version with the word Tech in the name, and it's likely to have all the luxury kit that you'd want. Bear in Mind, though, that Sport Tech cars will be considerably more expensive than Premium Tech or Luxe Tech cars, and won't come with any more than a few styling goodies.
What other cars are similar to the Infiniti Q30?
We've already mentioned them a couple of times in this review, and we'll mention them lots more by the time we're through, but there's no harm in mentioning them again here. The Q30 has three main rivals, those being the established premium hatchback triumvirate of the Audi A3, BMW 1 Series and Mercedes A-Class. There are others vying for your cash, though. Lexus is a company that's similar to Infiniti in a number of ways, and those guys have a contender in the Lexus CT 200h. You might also consider other posh(ish) hatchbacks such as the Alfa Romeo Giulietta, Volkswagen Golf or Volvo V40.
Comfort and design
"As we've already discussed, the Q30 shares a lot with the A-Class, but Infiniti has gone its own way with the dashboard design."
There are a few interesting shapes, with various swoops and curves, but overall, the layout is pretty conventional, so most things are placed where you expect to find them. What A-Class aficionados will recognise, though is the hardware on display. A steering wheel lifted straight out of the Mercedes parts bin bears testimony to that, while most of the switches and dials, (air-con controls, window switches, indicator/wiper stalks, pretty much everything) are from similar origins.
That's no bad thing, though, because most of them are big, well marked and easy to use. There are rather a lot of buttons too, but we'd rather that than having to fiddle around with a touchscreen just to do something as simple as change the cabin temperature.
This similarity to the Merc isn't without its problems, though, because the Q30 shares some of the A-Class' more annoying idiosyncrasies. The switch for the electronic parking brake is tucked away underneath the dashboard, making it hard to get to, and the way it works is completely counter-intuitive: you push the switch to engage the brake and pull to disengage, and your brain tells you it should be the other way around because that's how a conventional handbrake works.
The pedals are offset to the right too, meaning you sit in a slightly awkward position. There's lots of adjustment for the driving position to help improve comfort, but whatever you do, you sit rather high by class standards, which customers will likely either love or hate. Front visibility is fine, but your rear view is severely restricted by a tinted rear window flanked by bulky pillars.
Quality and finish
Depending on the trim level you choose, the Q30's interior is designed to deliver either a feeling of luxuriousness or a feeling of sportiness. Regardless of which you choose, the cabin looks reasonably smart, with some nice soft-touch materials on display, and some glitzy-looking finishes to brighten things up.
However, once you look beyond the places where your eyes and fingertips fall most regularly, you'll find other surfaces that aren't of the same high standard. It doesn't ruin the illusion of classiness by any stretch, but it does mean the Q30 doesn't feel as posh as rivals from Audi, BMW and Mercedes, which have materials of a uniformly high standard throughout. That said, the standard of assembly feels very tight and together, so it should wear well.
Infotainment
All versions of the Q30 come with the same 7.0-inch screen for the infotainment system, but the amount of functionality it supports will depend on your choice of trim. Entry-level Pure versions have Bluetooth, voice control, three USB sockets and six speakers. Conspicuous by their absence, especially given the price of the car, are a DAB radio and sat-nav.
You get these on Luxe and Sport models, while Luxe Tech and Sport Tech models also add an upgraded ten-speaker Bose sound system. Conspicuous by their absence on all models, though, are Apple Carplay and Android Auto. This isn't available, regardless of trim.
Unlike most other cars of this type, the Q30's system isn't a touchscreen. You scroll through the various on-screen menus using a rotary dial mounted on the central partition between the front seats, which is far less distracting. However, the Q30's user interface is still far from ideal. The graphics are fuzzy, the screen transitions are slow and the menus aren't hugely intuitive. It all makes the system feel rather dated and user-hostile.
Space and practicality
The front seats - as always - have loads of space, but from then on, the news isn't quite so rosy. The rear seats have enough leg room and head room for adults to fit, but even moderately sized ones will find their knees pressing against the front seats, while tall passengers will feel even more short-changed for space. To make matters worse, the roof curves downwards a long way on either side of the car.
Your passengers will have to duck underneath it when getting in and out, and there's a good chance they'll knock the side of their head on it every time you go around a bend. The limited shoulder space, bulky transmission tunnel and a middle seat that's hard, raised and narrow, also make carrying a fifth person a rather uncomfortable experience. Having said all that, you should still be able to fit a pair of bulky child seats in the back, and there are a couple of Isofix points for tethering them down effectively.
The boot is a decent size for the class, but the load space is hard to get at due to a narrow boot opening and a high load lip. The rear seats fold more-or-less flat when you need to boost capacity though, and they do so in a handy 60-40 split configuration.
Handling and ride quality
"The Q30 is off to something of a tricky start where ride comfort is concerned because the previous-generation A-Class it's based on is pretty disappointing on that score."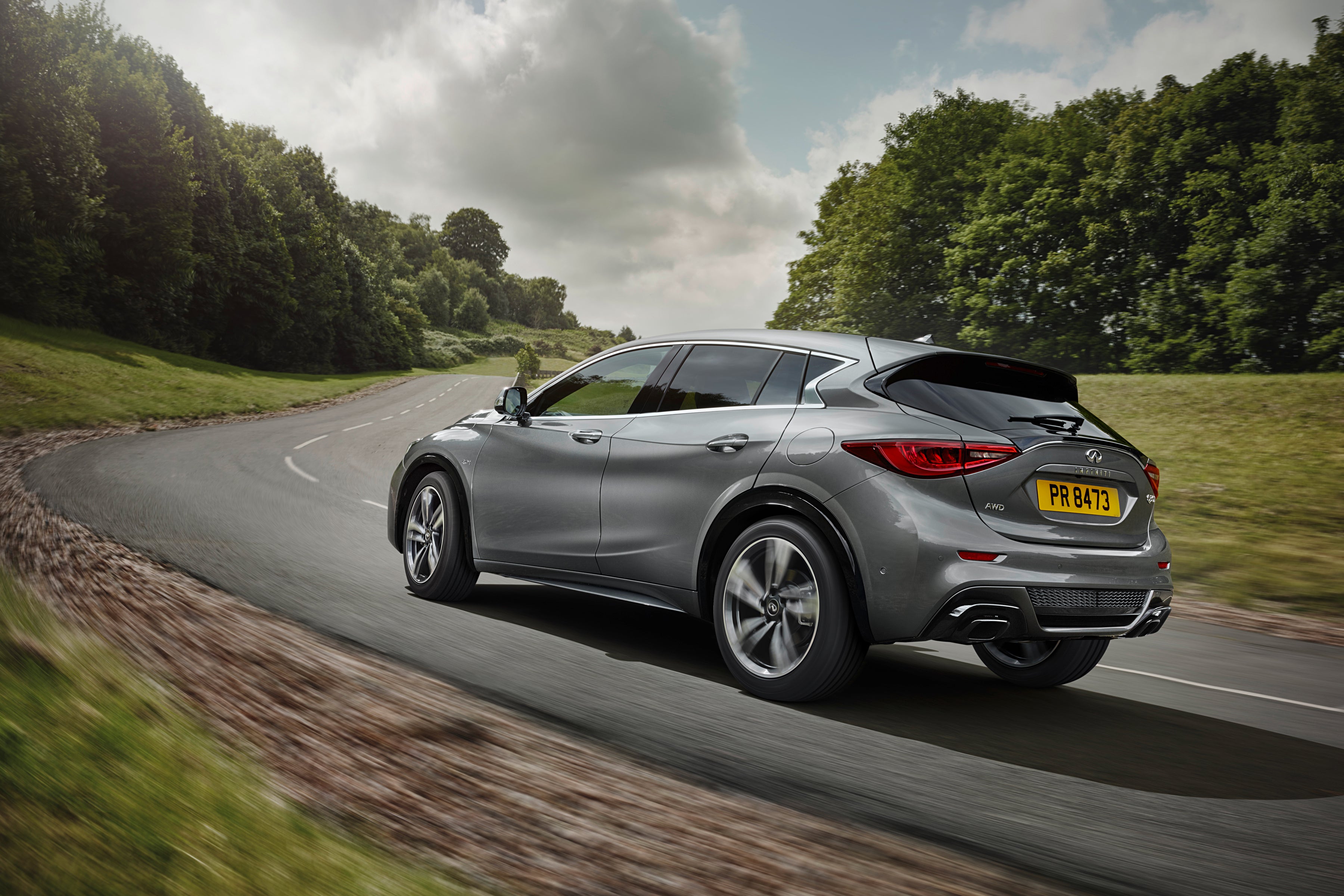 The Q30 does manage to improve things a little by softening off the settings, so it isn't as unsettled, but there are still too many types of road surface where the suspension doesn't keep life smooth enough. That means it's nowhere near as cosseting as its best rivals. Things are worse in the Sport model, which has lowered and stiffened suspension with bigger 19-inch wheels. This makes it bob up and down almost constantly: turn up the Bose stereo, and the sensation is a bit like crowd surfing at Glastonbury. Non-sport suspension and smaller wheels certainly make for the most relaxing experience.
All this would be more forgivable if the Infiniti could out-handle the competition, but it falls short there too. The body control is actually pretty decent once the car settles into a bend, but there's an initial period of sloppiness before that, and it makes the turn-in feel rather laboured. There's lots of grip and reasonably quick steering, but you don't get a great deal of feedback through the wheel, and overall, the car just doesn't have the balance or the sharpness of an Audi A3 or BMW 1 Series. In fact, a whole host of much cheaper hatchbacks are more enjoyable to drive, including the Ford Focus and the SEAT Leon.
Most Q30s are front-wheel drive, but an all-wheel drive option was offered with the more powerful engines. The latter may seem impressive in a showroom, with talk of snowy adventures and what have you, but in reality you're better off with a set of winter tyres. Most of the time your AWD system is undetectable, and simply serves to make your fuel economy worse.
Engines and gearboxes
There are four engines to choose from - two petrol and two diesel - and the diesels were the more popular choices. The 109PS 1.5 is the pick of the pair, and we reckon it's also the best engine in the entire range. Sure, it doesn't make the Q30 all that quick, but it's nice and flexible, making your progress easy and relaxed most of the time. The manual gearshift is a little on the notchy side, but it's nothing that'll annoy you. Infiniti calls its other diesel offering a 2.2, but it's actually a Mercedes-sourced 2.1-litre unit. With 170PS, it's faster than the 1.5, but it's not actually that much more flexible, so isn't really worth the considerable amount extra you'll pay.
The petrol range kicks off with a turbocharged 1.6, which bizarrely, has 120PS if you stick with the manual gearbox, but gets 156PS if you specify the seven-speed twin-clutch automatic. We've not tried the auto', but we can tell you that the manual isn't worth bothering with. It feels as flat as a pound-shop battery at the bottom of the rev range, meaning you need to keep the revs high for half-decent acceleration, and the engine also takes an absolute age to build revs, making it feel even more lethargic.
The 211PS 2.0-litre petrol also feels a little underwhelming. It doesn't feel particularly quick considering its impressive on-paper output, and it's paired exclusively with the twin-clutch gearbox, which isn't a particularly happy union. The gearbox becomes rather schizophrenic in character; it feels too lazy in Eco mode, too hardcore in Sport mode, and there's no happy medium in between.
On top of all that, you'll find that the Q30's accelerator is strangely calibrated so that the first third of the pedal movement is effectively useless. A simple thing, but it can make the car feel more sluggish than it already does, when in actual fact, all that's needed is a heavier right foot.
Refinement and noise levels
The 1.5-litre diesel does a decent job here. It can get a bit vocal if you really work it hard, but you'll very rarely bother because of its low-down flexibility, coupled with the fact that thrashing it doesn't ultimately make the car go that much faster anyway. You won't feel too many vibrations coming at you through the controls or the floor either.
The bigger diesel engine isn't actually as quiet as the 1.5, but it's more refined than it is in the several Mercedes models in which it also sees service. You feel less vibration through the controls, and thanks to active noise cancellation technology (this emits sound waves from the stereo to counteract external noises), it's quieter too.
The 1.6 petrol isn't overly noisy at reasonable revs, but the fact you have to work it so hard for so much of the time to make decent progress makes it a rather thrashy-sounding companion. More disappointingly for what's supposed to be the sportiest version, the 2.0 petrol also sounds decidedly wheezy and whiny. The levels of wind and road noise you hear on the motorway aren't terrible, but there's more of both than you'll hear in most rivals.
Safety equipment
All Q30s come with a total of seven airbags to help keep you safe in a smash, along with a wide range of systems to help prevent you from having one in the first place. Importantly, this includes automatic emergency braking, while stability control, tyre pressure monitoring and advanced anti-lock brakes are all standard.
Upgrading to Premium/Luxe trim also earns you a lane departure warning function, while upgrading a notch further will add a blind spot monitor. The Q30 has been crash tested by Euro NCAP, and has achieved the maximum five-star rating. A pot of tyre sealant is included as standard, but there's no spare wheel, not even a space-saver.
MPG and fuel costs
"The 1.5 diesel is the most efficient version, but oddly, we can't tell you exactly how efficient it is."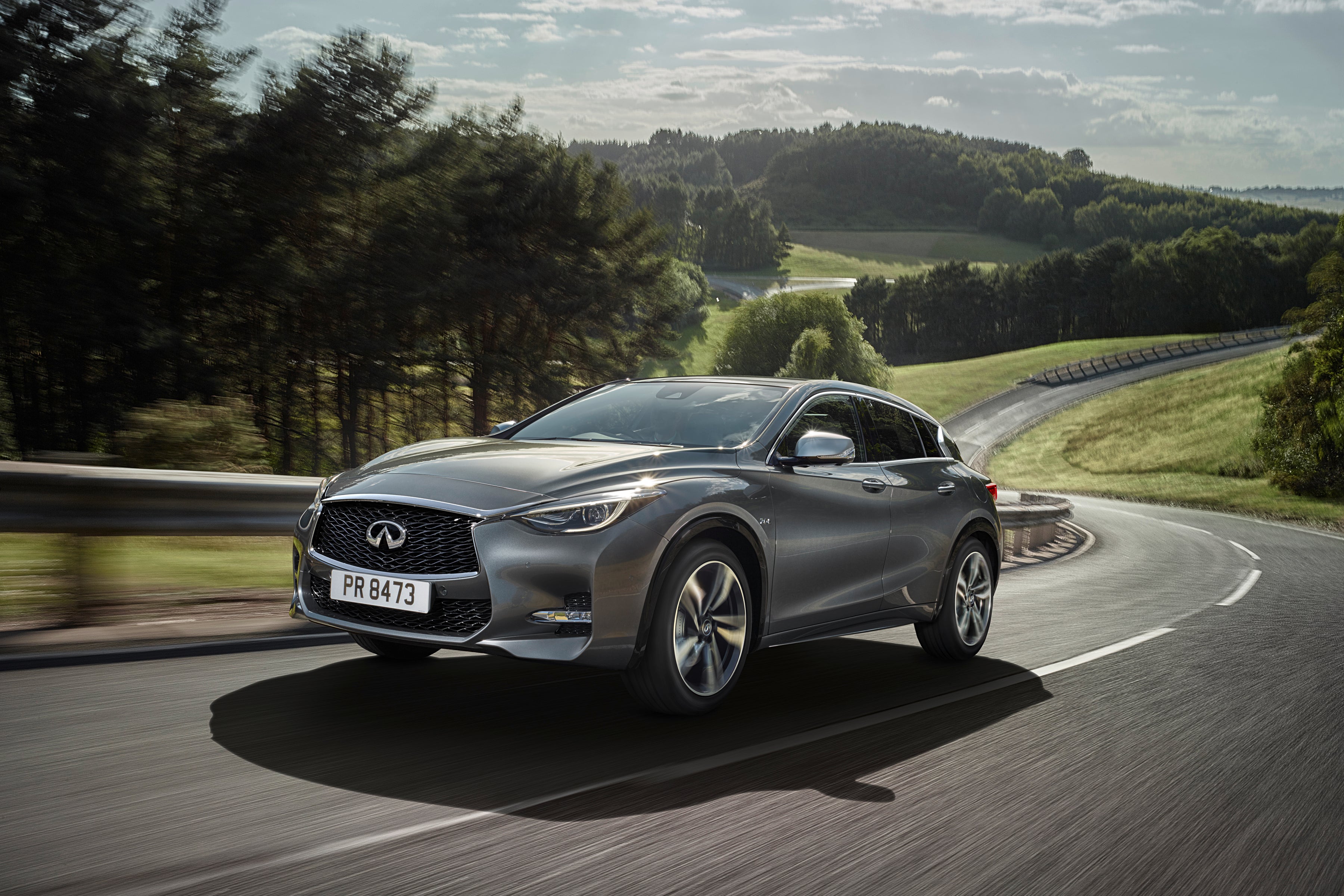 That's because the engine was discontinued before it was tested under the latest WLTP standards, so there's no official figure. It was, however, by far the most frugal version in the previous NEDC tests. The other diesel is the best of the rest with an official WLTP figure of 45mpg, which drops to 40mpg if you specify four-wheel drive.
The 1.6 petrol's figure of 38mpg drops to 37mpg if you add the automatic gearbox, while the 2.0-litre petrol's figure of 35mpg drops to 32mpg with the addition of four-wheel drive. These figures are reasonably competitive, but still a smidge behind those of rivals.
Insurance groups and costs
The Q30 might cost you a ludicrous amount to buy, but at least it shouldn't be too pricey to insure. Insurance groupings start at group 12, and rise to 26, with most versions sitting in the late teens. Sticking with the cheapest, least powerful versions will keep your premiums down, with our favourite engine, the 1.5 diesel, being cheapest of all on that score.
VED car tax
Buy a post-facelift Q30, and it'll cost you £150 per year to tax. That's because a flat rate for that amount was introduced for petrol and diesel cars in April 2017, and the facelift took place in 2018. All other cars registered after that date will pay the same amount, but if it was registered before, then you'll pay VED based on the CO2 emissions of your car.
For most versions, that's good news. Most of the diesels qualify for an annual VED rate of between £20 and £30, and only the most expensive all-wheel-drive versions of the bigger diesel are subject to a £125 annual charge. All 1.6 petrol buyers will pay £150 per year, while buyers of the bigger petrol will pay between £165 and £205, depending on the version.
How much should you be paying for a used Infiniti Q30?
"At the time of writing, the Q30 had already gone off sale, because Infiniti had given up on selling brand new cars in the UK."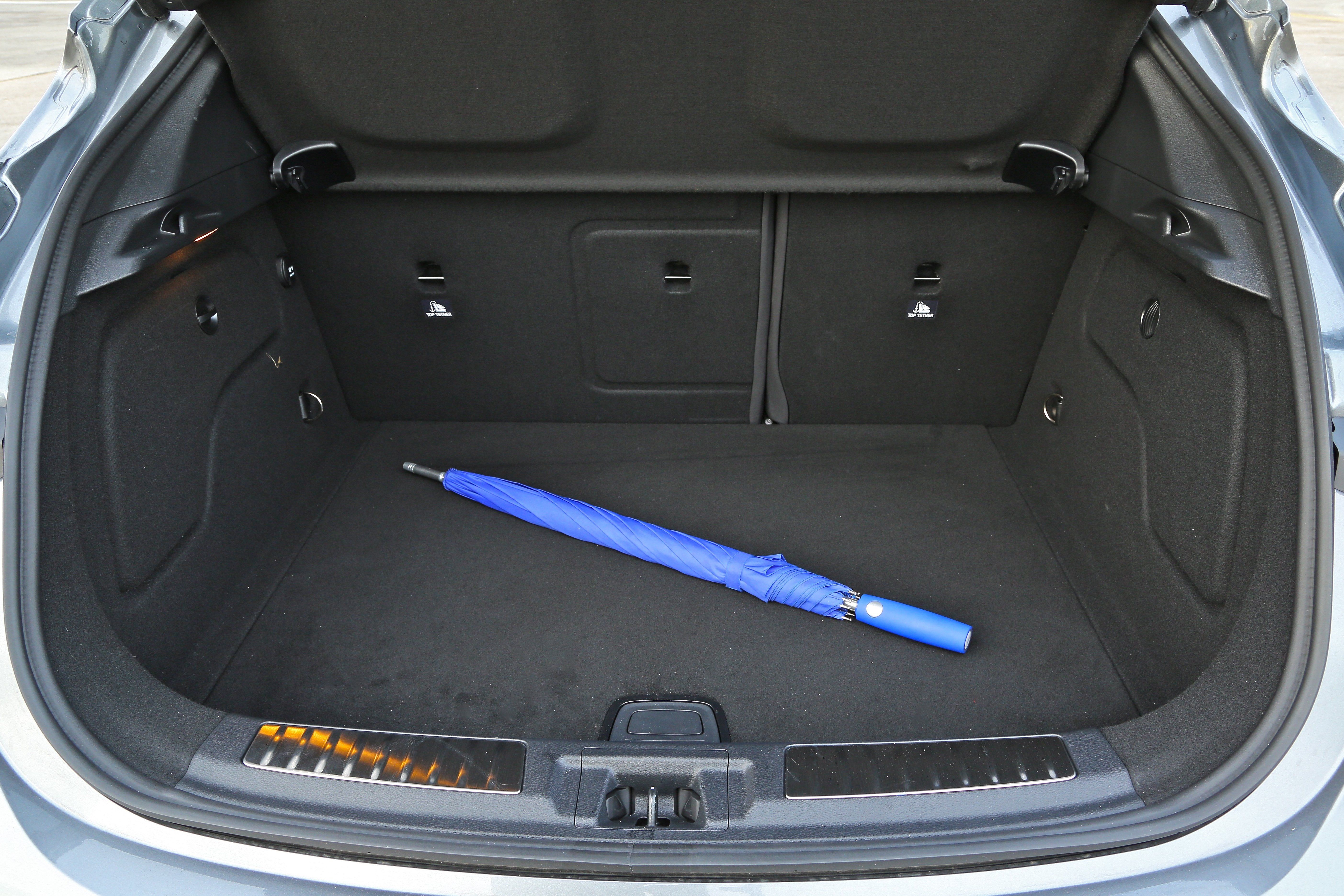 At that point in time, prices started at around £21,000 for the 1.6 Pure Manual, and rose to a frankly ludicrous sum of almost £38,000 for the 2.0-litre petrol automatic in all-wheel drive Sport Tech form. That's laugh-out-loud expensive. What's more, Infiniti had discontinued the best engine - the 1.5 diesel - by this point, so the other diesel, which constitutes our second-favourite engine, cost from £26,000. And that's in basic Pure spec.
Specify the Luxe, and that jumps to £27,000, and in Luxe Tech trim, you're looking at an eye-watering price of almost £35,000. Again that's absolutely ludicrous, and a shade more than most of its more established competitors from Audi, BMW and Mercedes. That said, the Infiniti doesn't hold its value anywhere near as well as the rest.
That's catastrophic news for new car buyers, but it also means that used buyers could be in for a bargain, comparatively speaking. Our listings show lots of examples for well below the £13,000 mark, and not with crazy miles on them, either.
Trim levels and standard equipment
To begin with, the Q30's trim structure was baffling. Essentially, the levels on offer were based on SE, Prestige and Sport trims, but upwards of Prestige trim, there were all sorts of sub-trims that gave you kit with one hand, and took it away with the other, substituting it for different kit. A facelift in 2018 simplified things.
The trims became known as Pure, Luxe, Luxe Tech, Sport and Sport Tech, and option packs were offered on top, rather than having dozens of extra trim levels. The new trims roughly reflected the specifications of the previous trims, with a few minor differences.
Pure-grade Q30s come with four electric windows, manual air-conditioning, automatic headlights, remote locking, alloy wheels cloth upholstery and leather wrappings for the steering wheel and gear lever, while Lux trim added rear parking sensors, cruise control, navigation, DAB radio and powered door mirrors.
Considering the price of the car, neither of these look particularly generous. Luxe Tech was much more like it, with two-zone climate control, heated front seats, rain-sensing wipers, keyless go, electrically adjusting front seats, leather upholstery, adaptive cruise control, an automatic parking function with reversing camera and the upgraded stereo system. Sport and Sport Tech trims were pretty much the same as Luxe and Luxe Tech, just with a sports suspension and various sporty styling goodies thrown in on top.
Ask the heycar experts:
common questions
Who makes the Infiniti Q30?
Under the skin, the Q30 shares most of the same oily bits as the Mercedes A-Class, except these bits were lashed together in Nissan's factory in Sunderland, rather than on the outskirts of Stuttgart.

What is the difference between Infiniti Q30 and QX30?
The QX30 is the more rugged 'crossover' version of the Q30, with pseudo off-roader looks.

Infiniti Q30 cars for sale on heycar
13
Number of cars available
£9.5K - £19K
Price bracket of these cars
Colours available on heycar
Keep me updated by email with the latest advice, news and offers from heycar
By submitting, you agree to our
privacy policy
.