1/9
heycar rating
"Saloon that misses the mark"
Launched: 2013

Premium

Diesel, Petrol, Hybrid
Quick overview
Pros
Comfortable and well finished inside
A rare sight and something different from the usual saloons
Good value used thanks to generous standard kit
Cons
Hard to recommend over much better rivals
Dated interior design
Diesel is noisy and steering lifeless
Overall verdict
On the inside
Driving
Cost to run
Prices and Specs
Overall verdict
"Ultimately it's hard to recommend the Q50 over any of the competition. If there's one thing we can say is that as a used buy, you get a high specification for the money, but there's little else to back that up. Sadly the Q50 misses the mark in too many areas and we can pick out half a dozen competitors that are a better buy."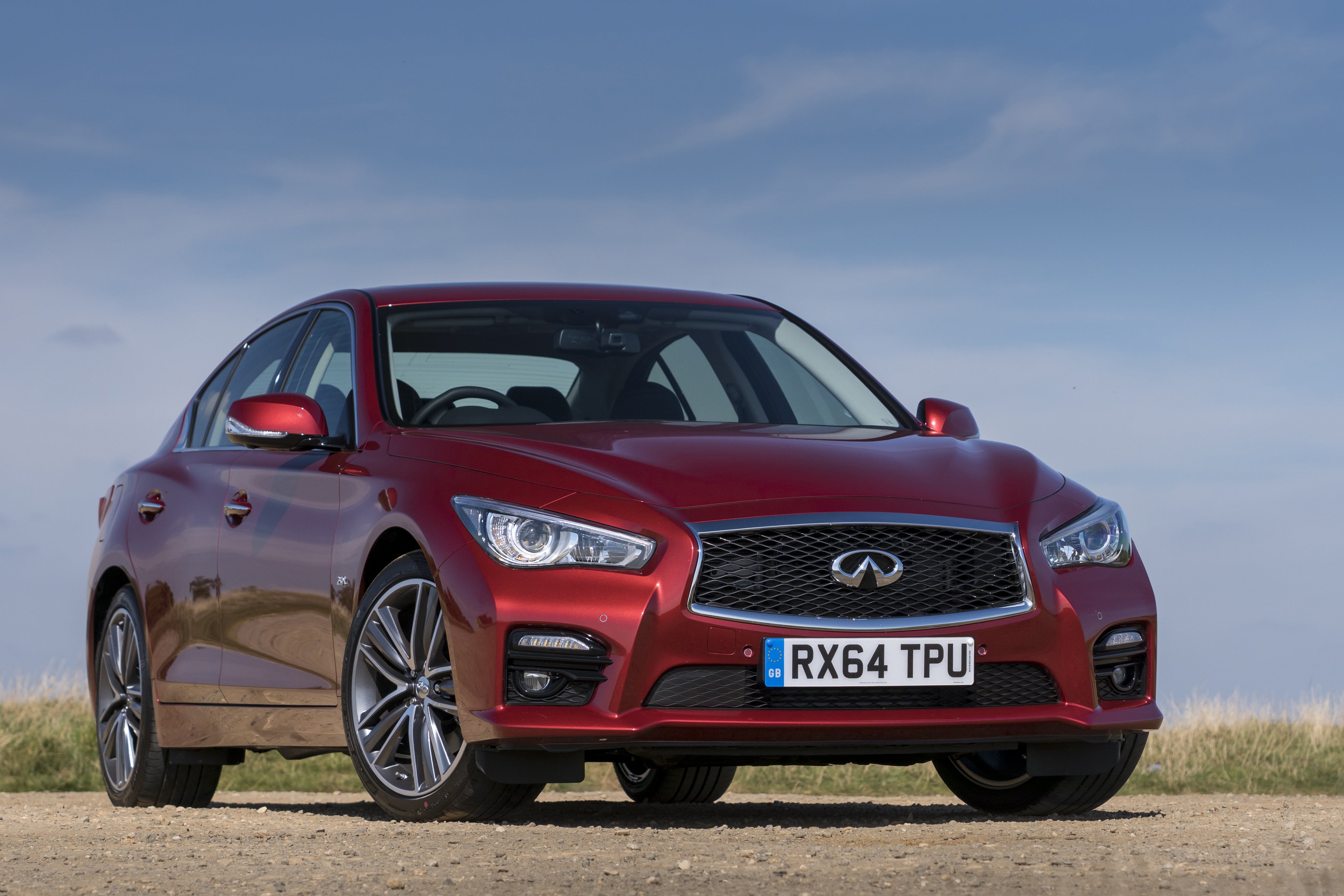 The Infiniti Q50 was one of Infiniti's big hopes. The four-door saloon was, in Infiniti's words, designed to 'push the boundaries with advanced technology and bring a new level of premium motoring and premium style'. Sadly, it didn't.
There's a reason you never see any around. Despite all Infiniti's talk, the Q50 fell well short of the competition in pretty much every area. As a result, few people bought one - at one point Infiniti was selling fewer cars a year than Maserati. It means that the Q50 is a rare sight on our roads.
That has appeal if you want something that's different from the usual rows of BMW and Audi saloons you see everywhere. But while the Q50 different, it doesn't exactly stand out. The styling is generically dull and most people are likely to look at the badge with a puzzled expression under their furrowed brow rather than be impressed.
Infiniti is Nissan's upmarket brand (in a similar fashion to Lexus and Toyota) but while it sells well in the USA, it has been as popular as scurvy over here. So much so that Infiniti pulled the plug in the UK in 2019. If you hadn't heard of Infiniti before, it's unlikely you will in the future…
So why does the Q50 lag behind its rivals? The problem isn't that it's a fundamentally poor car. On paper, it had a lot going for it with Nissan build quality, advanced tech including an innovative steer by wire system and a V6 hybrid model with real pace. But in every area, the Q50 can't match the competition which seems a generation ahead in most respects.
The interior of the Infiniti is like a return to the early 2000s and not in a good way. The various Nissan-sourced switches and buttons do it few favours while the foot-operated parking brake shows you how old fashioned this is. It does at least have very good seats, but overall, there's very little 'premium' here.
The steering is very odd and never feels pleasant let alone engaging while the ride quality is a mixed bag, feeling too firm in some models. The 2.2-litre diesel engine which powers most models was sourced from Mercedes but lacks refinement in the Q50, making it noisy with lots of vibration in the cabin.
The 2.0T is quieter and much better all round but it's thirsty and while the Q50 Hybrid is rapid, it's expensive to run and not as sophisticated as a hybrid from Lexus, BMW or Mercedes. Compare each Q50i to similar rivals and you'll find it's less economical and costs more to insure.
Is the Infiniti Q50 right for you?
If you want something that's comfortable, well built and different to the usual saloons around, the Q50 could be what you're after. It's hardly striking in design but is at least something apart from the rows of 3 Series and A4s you'll see at every motorway services car park.
Infiniti is owned by Nissan, so there are no question marks over the quality and engineering of the Q50. The hybrid version, a rival to the Lexus IS300h, is very comfortable and ideal if you're not covering many miles each year.
Be wary though that with Infiniti no longer sold in the UK, servicing and aftersales care will be handled by Nissan, while long term parts supply could become an issue.
What's the best Infiniti Q50 model to choose?
The best here really comes down to what's available and what kind of driving you're doing. The Q50 did not sell in big numbers so there are few around on the used market.
The 2.2d is the most common and the cheapest, so can represent a bit of a bargain given the huge specification most come with. However, it's the less spotted 2.0T petrol that's actually the best engine in the range.
All models, even the standard SE versions, come with plenty of standard kit. The manual is notchy and unpleasant so the automatic, although sluggish, is the better choice.
The hybrid model with its big 3.5-litre V6 is the top of the range model and makes sense if you want something comfortable and a bit posh but only cover low mileages. Sport Tech is the top trim and worth seeking out if you want a fully-loaded car.
What other cars are similar to the Infiniti Q50?
If you're looking at premium saloons there's no shortage of choice with the usual suspects leading the way. Those being the Audi A4, Mercedes C-Class and everyone's favourite motorway tailgater, the BMW 3 Series. It's hard to make a strong case for the Infiniti against this lot.
The Jaguar XE may not quite be a match for above, but it still handles superbly well and if it's comfort you want, the Volvo S60 is refined and beautifully designed. As for others that are a little different to the mainstream, there's the gorgeous Alfa Giulia or consider the Volkswagen Arteon.
If you want a reliable and well-engineered hybrid saloon, the Toyota Camry is a strong choice or the Lexus IS, despite its ageing years, still offers a very refined and smooth driving experience.
Comfort and design
"One of the highlights of the Q50 is the seats. They're very comfortable and were in fact designed using NASA research. Infiniti says they are designed to give consistent support and lessen pressure on lower and upper back muscles."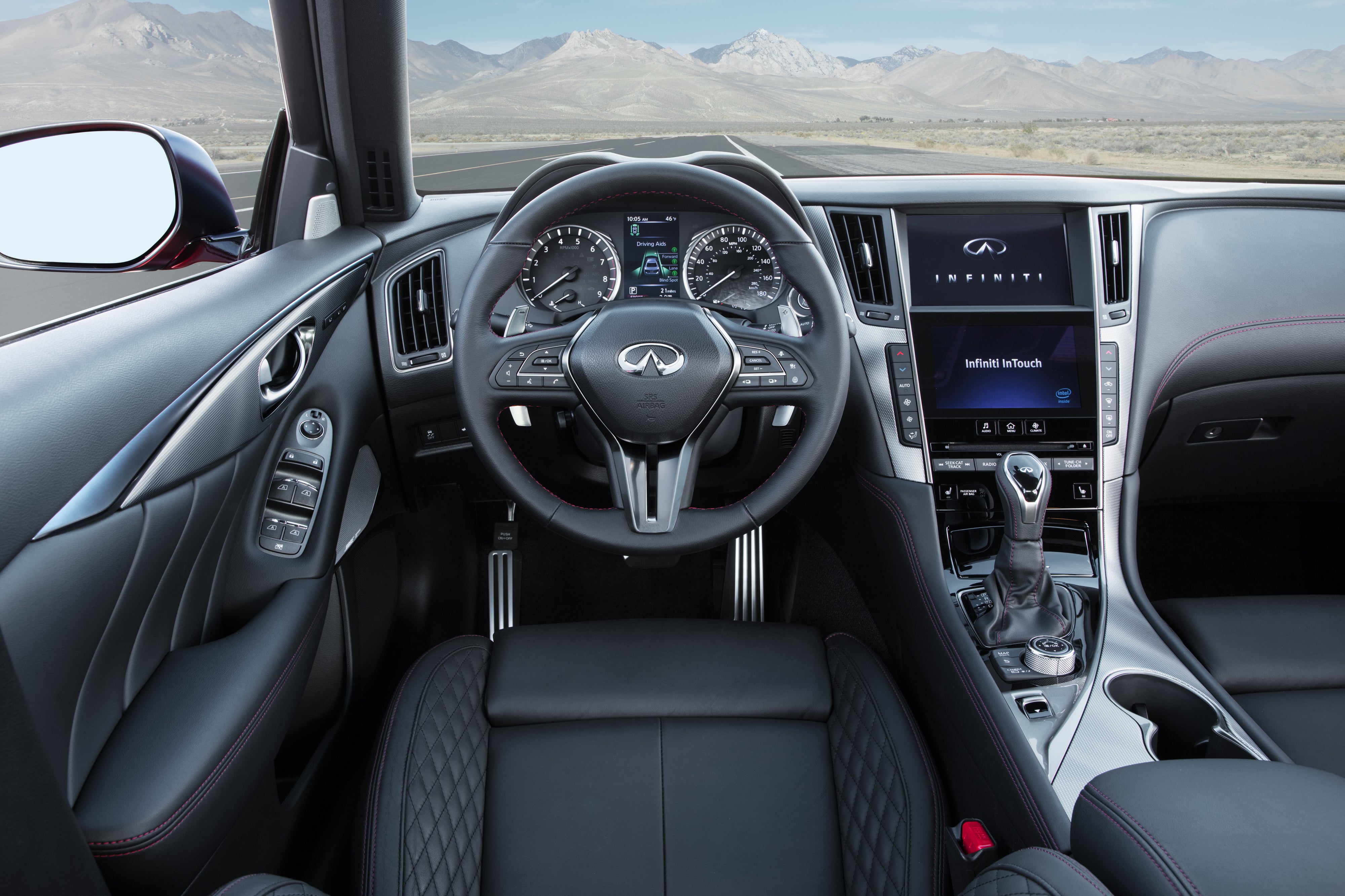 They're not quite as good as the seats you'd find in a Volvo, but they still provide support in the right places which you'll appreciate on long journeys.
The driving position is good too with a low centred seat and well-placed pedals although the fact the Q50 has a foot-operated parking brake makes resting your left foot a little awkward. The steering column has lots of adjustment for height and reach though, more so than a Lexus IS.
However, if you're expecting an interior that's at the vanguard of modern design, prepare to be disappointed. The Q50 interior is stuck in the past with a dated design that does it few favours. It looked old fashioned when it was new and the intervening years have done it few favours.
This is where the Infinit's parentage is most evident with lots of buttons and controls that you'd find on a much cheaper Nissan. Pair that with a very dull design and the Q50 looks aeons behind something like the latest BMW 3 Series.
The controls are at least logically laid out, with the exception of the odd button hidden away by your right knee. It's all easy to use too with clearly marked buttons so everything is intuitive.
Quality and finish
While the cabin may look like it's several generations behind the competition, it is at least well built with a good quality feel. True some of the switches borrowed from Nissan models don't exactly scream 'upmarket' but the Q50 remains a solid and well-built car.
This is good news for used models as you can have some confidence that the interior isn't going to be tired and worn out after a few years, even on high mileage models. The leather upholstery is high quality and should still look fresh after several years use. Some of the black plastic trim on lower-grade models isn't the nicest but top models came with different finishes including a machined effect metal plus they also have extended leather (on the dash and centre console) which lifts the design a little.
Sadly, things like the foot-operated parking brake, the old school clunky automatic gear lever and the lack of a digital speedo (something which you can get on a £12,000 hatchback) make the Q50 feel old hat.
Infotainment
The Q50 has a rather odd twin-screen layout, what Infiniti referred to as its InTouch system. There are two colour touchscreens (we're not sure why…) with the top 8.0-inch screen showing navigation and the lower 7.0-inch one controlling everything else.
The lower screen has a bright high-resolution screen and as well as looking nice, is fairly easy to use. However, what it also does is highlight how dated the top screen is. As though it's been nabbed from an old Nissan Primera.
It's a shame because the system is actually pretty good, albeit slow to respond at times. It works like a smartphone with similar controls plus you can download apps and even get your emails read out to you on the move. That said, Android Auto and Apple CarPlay are both better.
Space and practicality
While the seats are very comfortable, there's not too much space for those in the back. Taller humans or those with quiffs will find their heads too close to the roof lining for comfort.
Similarly, legroom for anyone in the back is average at best while the Infiniti suffers from a big central floor tunnel which means you will struggle to get three in the back without one of them being very friendly with both their neighbours' knees. Cabin storage is pretty good though with two cup holders and a big central cubbyhole under the centre armrest plus there are very good-sized door pockets.
Boot space is about average for this size car with 500 litres of space although this drops to 400 litres if you go for the hybrid version, with the batteries eating into boot space. The boot also narrows towards the back seats and there's a ridge, so it's not that easy to pack boxy items or bigger luggage.
The rear seats split 60/40 and also fold forward, although it's still not especially practical. There is however a ski hatch if that's your thing but it's also handy for long bits of wood from DIY stores...
Handling and ride quality
"Infiniti made much of its new fly-by-wire steering system that debuted in the hybrid version of the Q50 and was also available with the 2.0T. This is different from a standard steering system in that there's no physical link between the steering and the front wheels."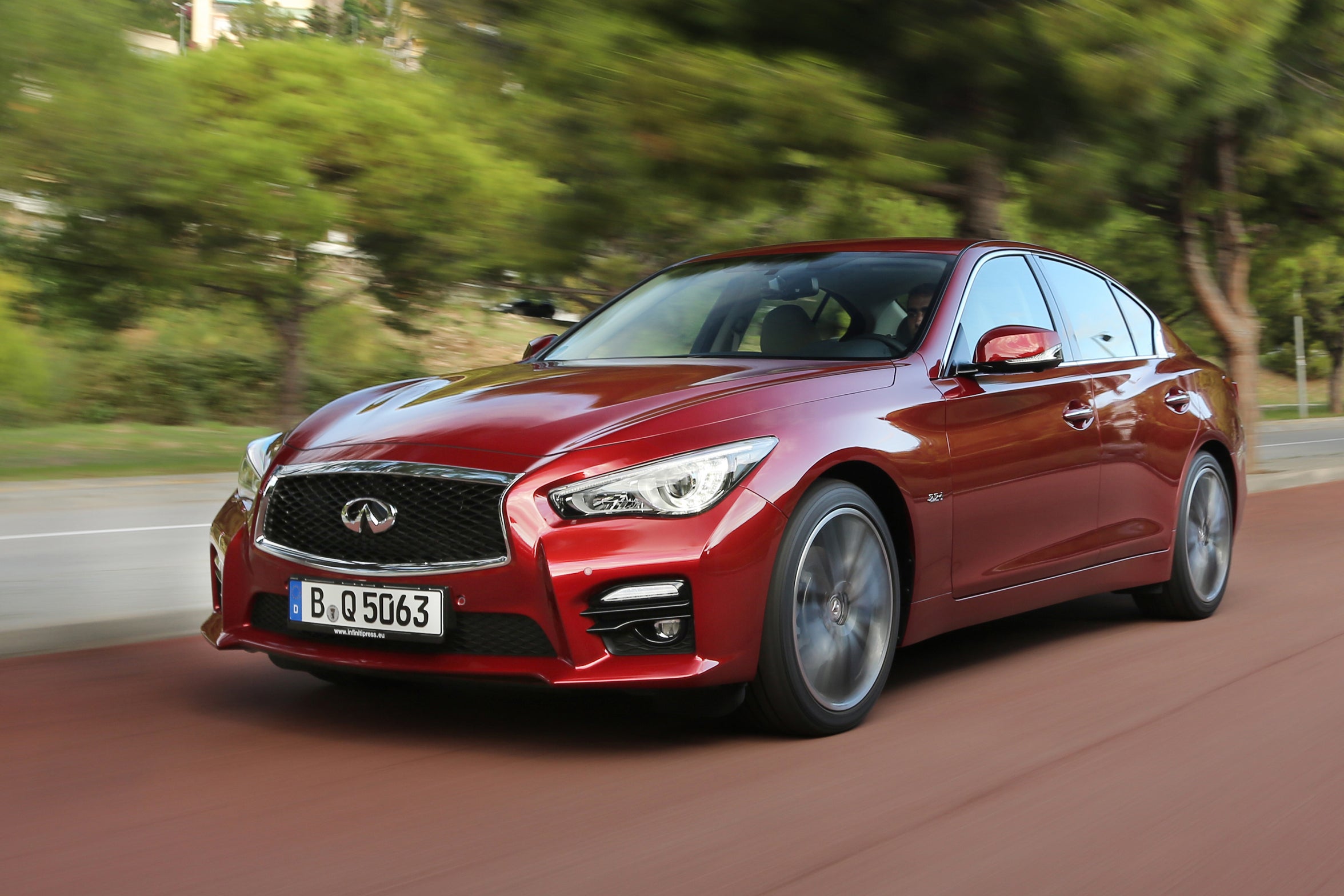 Instead everything is done by computer which you would think be a natural progression given the amount of tech in cars. However, while this may be the future, it's not a success in the Q50. For all Infiniti's talk of handling prowess, the Q50 handling can be summed in one word - strange.
It can't seem to make up its mind what it wants to do. The initial impression you get is one of over-assisted artificial feeling steering which is too light. You can change various settings to adjust the weight and the immediacy of the steering. Go for a setting in the middle and it's better but the direct steering is actually too direct for a saloon like this.
In short, the system never feels particularly natural. Every setting seems to feel odd in a different way and it's not a match for a good conventional power steering system such as that you'd find on a BMW 3 Series. The more common 2.2d model makes do with a standard steering set-up, yet somehow this is even worse than the fly-by-wire, lacking both feel and response without the option of being able to alter the settings.
The Q50 is not exactly lithe or agile in corners, but it rides well and is much happier cruising on the motorway. Here the softer suspension set-up makes for relaxing progress.
Engines and gearboxes
The vast majority of Q50 models around are the 2.2d, powered by a Mercedes-Benz engine that you'll also find in everything from the SLK to the E-Class. It's actually a 2.1-litre diesel (if you're being picky).
It's a trusty mainstay of the Mercedes range and works well enough in the Q50 helped by the fact it has 170PS but more usefully, 400Nm of torque so it pulls strongly from low revs. But like the rest of the Q50, the diesel model is underwhelming and unrefined.
There's a standard six-speed manual which is notchy to use while the seven-speed automatic is slow-witted - not just in the 2.2d but in all models. Of the two, the smoother shifting auto is the best of a bad duo.
There's better news if you don't want a diesel. By far the best engine in the range is the 2.0T which was actually the base model in the Q50 range and cheaper than the diesel when new. It has 211PS but most impressive for a petrol is the diesel-rivalling 350Nm torque, which peaks at very low revs.
It means you don't have to thrash the 2.0T to get meaningful pace from it. The power comes in smoothly and strong, even at low revs, while acceleration is accompanied by an enjoyably dare we say it, sporty-esque exhaust note. For even more power there's the 3.0T petrol which has a V6 engine producing 400PS. It's thirsty as you'd expect but very quick and sounds good.
At the top of the range is the Q50 Hybrid which is fitted with a 3.5-litre V6 engine. It's ideal if lots of your driving is around town, allowing the hybrid system to regenerate. Yet it's still seriously rapid. The V6 is strong and has a nice exhaust note while the seven-speed auto works better in this than the other engines.
Refinement and noise levels
The 2.2d engine undermines any sense of refinement the Q50 has. It's very noisy on start up and even half-decent acceleration results in an unpleasant clattery noise bouncing around the cabin along with lots of vibrations.
In the Infiniti, it lags behind similar diesels from Audi and is even worse than the far from refined 2.0-litre diesel in the Jaguar XE. It means the 2.2d is really not that pleasant a car to drive or be driven in. The others make a better fist of refinement. The 2.0T is a little gruff but settles down at speeds while the Q50 Hybrid is lovely and smooth. If you want something that feels refined and comfortable, this is the model to go for.
Rather than a CVT which we've come to expect with hybrids, the Q50 Hybrid is fitted with a conventional seven-speed automatic. This means you don't get the noisy engine revs that accompany acceleration with a CVT (something most hybrids suffer from).
Safety equipment
The Q50 received the maximum five-star crash safety rating when it was tested by Euro NCAP - those people with the yellow dummies - in 2013.
Adult and child occupancy were awarded 86% and 85% safety ratings respectively. The Q50 was awarded the maximum score for its protection of both 18 month and 3-year-old infants. All models come with plenty of safety kit including ESC, six airbags and an active pop-up bonnet. The latter is designed to minimise the impact on pedestrians in the event of a collision. If sensors detect a pedestrian has been hit, the bonnet automatically raises providing greater clearance to the hard structures beneath.
Higher spec Q50 models come with a back-up collision intervention system which detects moving vehicles if the car is reversing and warns the driver. It will even automatically brake to avoid a collision. Handy for reversing out of tight spots.
MPG fuel costs
"None of the models in the Q50 range is especially economical but as you'd expect, it's the diesels that are the most efficient. The official economy varies depending on trim but in the real world expect to see about 43mpg for a manual and 44mpg if you have the auto, not exactly figures to boast about. A BMW 320d in comparison will do about 52mpg, the Q50's weight counting against it here."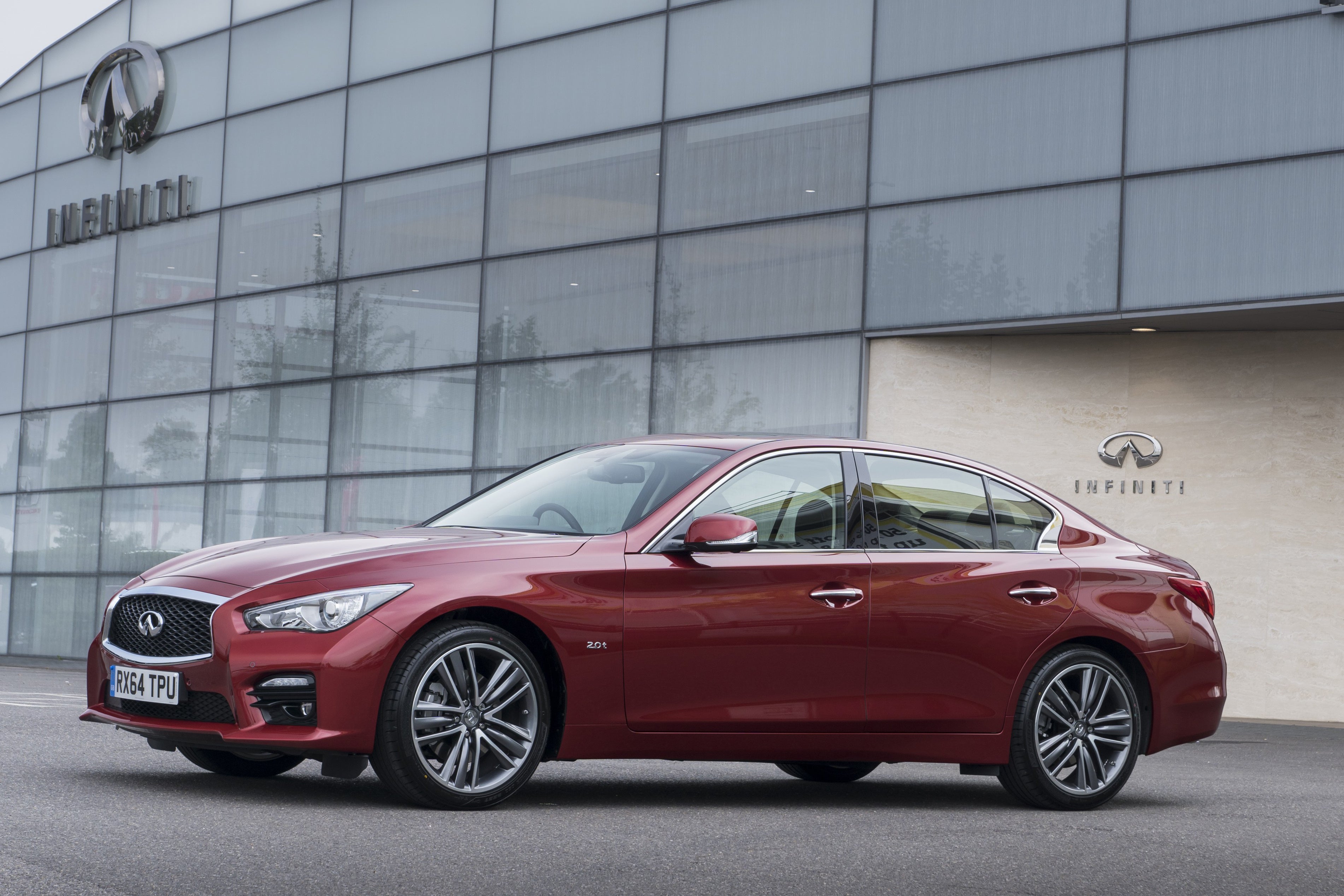 While we think the 2.0T is the best engine in the range, it's not good on fuel at all. In everyday driving, you'll only be seeing around 33mpg and much less if you're heavy with the old right foot.
The Hybrid is marginally better returning around 37mpg while this drops only marginally if you choose the AWD version.
Insurance groups and costs
Pretty much all models in the Infiniti Q50 range sit in group 46 for insurance, which is much higher than rivals like the Lexus IS where even top models are only in group 38. In fact, group 46 is the same as the high-performance Alfa Romeo 2.9 Quadrifoglio which has 510PS...
The Premium Executive and SE Executive 2.2d models are in group 40 and 39 respectively but this still makes them more expensive to insure than many rivals. As a comparison, a top-spec Mercedes C-Class with the same engine is group 36.
VED
If you're buying a Q50 registered before April 2017 then be aware that the annual VED rate will be based on emissions. This not only varies with engine but also trim levels so it's important to check exactly what tax band any car you're going to buy is.
So for example, the early SE Executive models are Band C due to low emissions but the higher spec SE Premium is in Band D which is a difference of £90 a year.
The Hybrid may seem like the efficient choice as it benefits from coming under the alternative fuel banner, which means cheaper annual road tax. But emissions are still knocking on 150g/km which means Band F for most and Band G for AWD models - the latter costing £195 a year.
The 2.0T models are in either Band F or G, again depending on the trim level. The rule here is simple - if it's got more kit, it's going to emit more CO2.
How much should you be paying?
"Our old pal depreciation comes into play here as prices of the Q50 have dropped significantly meaning you can get a whole lot of well equipped Japanese saloon for your money."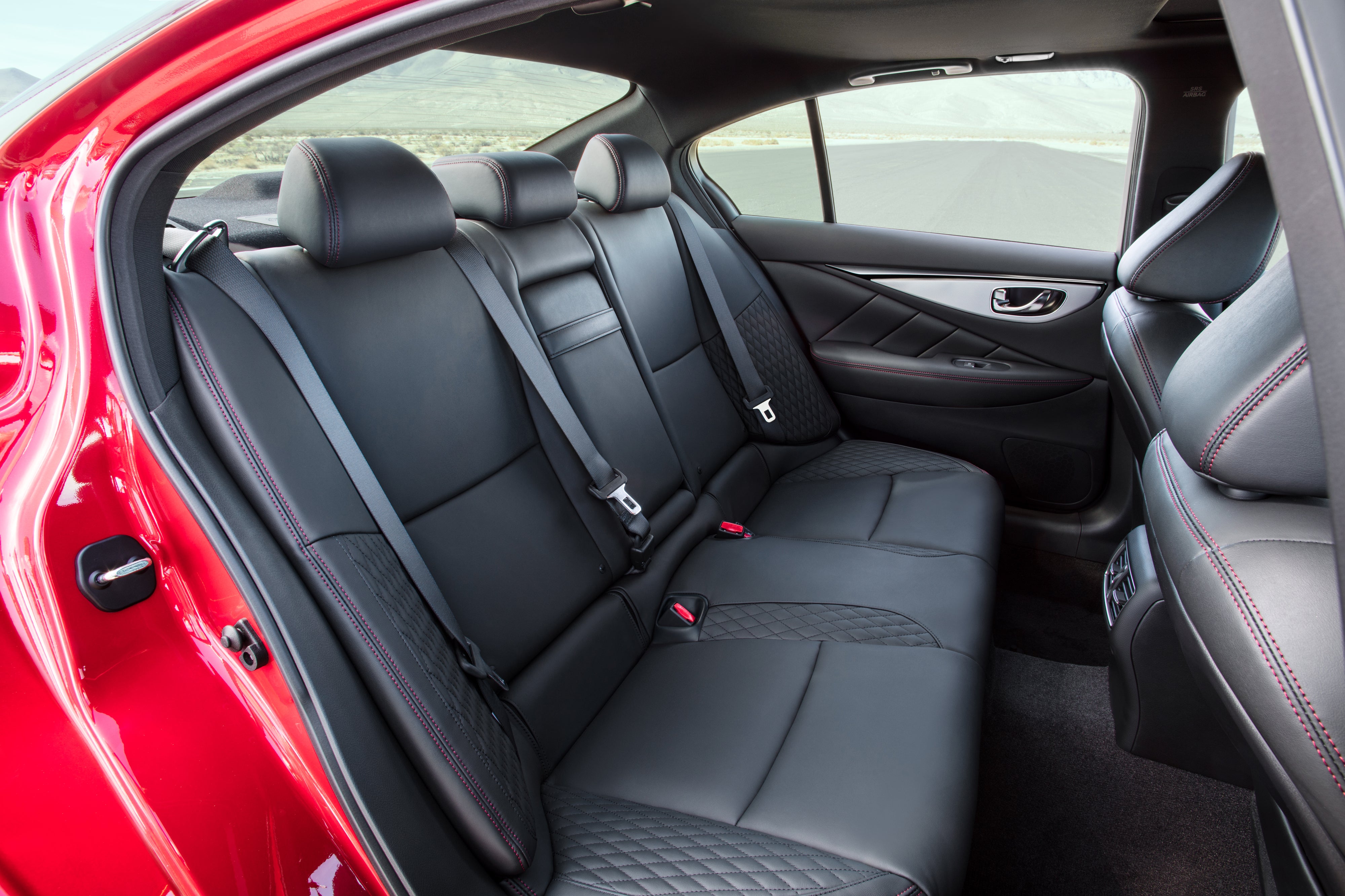 There aren't many on the used market though and with Infiniti now no longer in the UK, you'll have to look at other dealers who may have taken one in as a part exchange.
The diesels are the cheapest (and most common) around and don't be put off by the entry-level SE spec models which still come very well equipped for the money. £8k will get you one with reasonable miles. The Q50 Hybrid is more expensive as you'd expect with prices holding at about £13,000.
With not many about, you may have to be patient (and be prepared to travel) if there's a specific model you're after. There aren't many exciting colours either with most black or silver.
Trim levels and standard equipment
When it was first launched, the Infiniti Q50 came with two trims, SE Executive and Premium Executive. Infiniti likes to appeal to executives it seems. Probably with Filofaxes. The Q50 does come very well equipped though and all models have the twin touchscreen set-up, a rearview camera, dual-zone climate control, Bluetooth with audio streaming.
There's even Nissan's clever Scratch Shield paint, designed to protect the paintwork from small scratches over time, keeping the car looking newer for longer.
Premium models add leather upholstery and heated seats while Sport versions get 19-inch alloys, Direct Adaptive Steering, electric front sports seats and electric steering wheel adjustment.
Options to look out for include the Safety Shield Pack which was £2000 when new and includes intelligent cruise control, lane departure warning and lane departure prevention, blind-spot warning and reversing collision intervention.
Infiniti Q50 cars for sale on heycar
13
Number of cars available
£14K - £19K
Price bracket of these cars
Colours available on heycar
Keep me updated by email with the latest advice, news and offers from heycar
By submitting, you agree to our
privacy policy
.