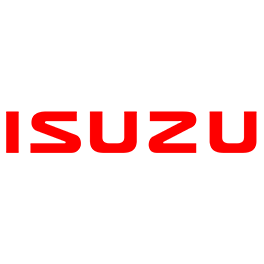 Isuzu D-Max Review

Written by
heycar editorial team

heycar rating
This one's a real workhorse
Best bits
Powerful 2.5-litre and 1.9-litre diesel engines
3.5 tonne towing capacity
Simple and robust interior
Not so great
Limited steering wheel adjustment
Diesel engine is noisy
Ride quality lacks the refinement of its rivals
Read by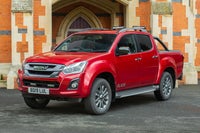 Overall verdict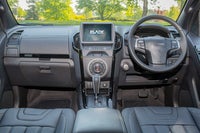 On the inside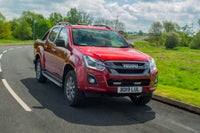 Driving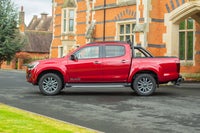 How much does it cost to run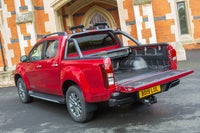 Prices, versions and specification
Overall verdict
"The Isuzu D-Max is one of the most capable one-tonne workhorses on the market, pairing low running costs with gargantuan towing ability. Admittedly, it's not the most refined or advanced pick-up money can buy, but when it comes to hauling up to 4.6 tonnes on a budget, the D-Max is difficult to fault."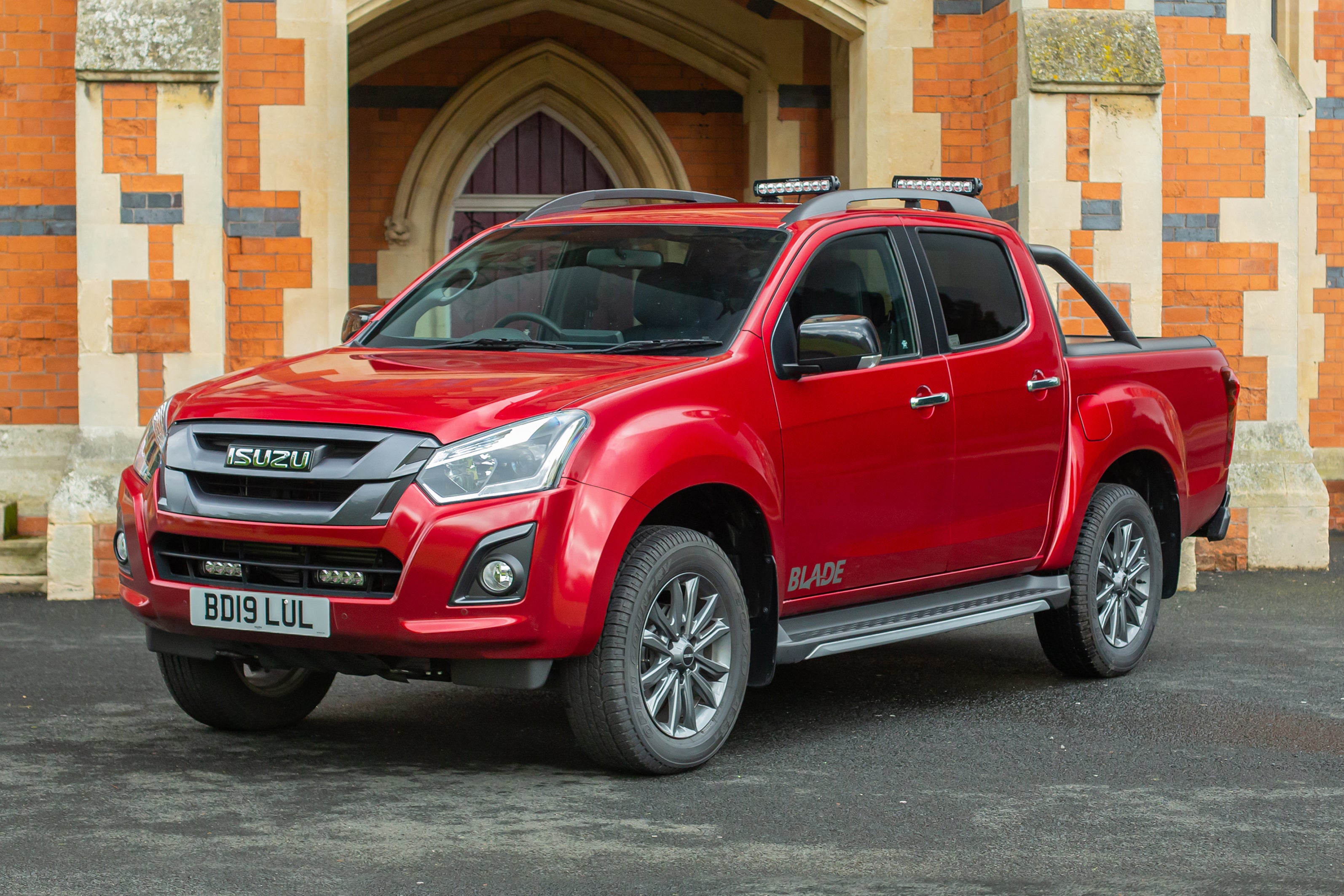 The Isuzu D-Max was launched in 2012 as the replacement for the Rodeo. Unlike some of its rivals, the D-Max doesn't pretend to be an SUV-aspiring lifestyle vehicle, instead it is pitched as a heavy duty work tool aimed squarely at builders, forestry workers and engineers.

The D-Max is certainly a robust workhorse and can tow up to 3.0 tonnes (extended to 3.5 tonnes from July 2013 onwards). It will also carry a 1050kg - 1136kg payload and can be fitted with a huge choice of bedliners and load covers. There are three body styles to choose from - single, extended or double cab - although it's the double cab that provides the most flexibility, given its large interior and five large seats.

Most models are powered by a 2.5-litre twin-turbo diesel engine with a six-speed manual or five-speed automatic gearbox. The engine delivers 163PS and a whopping 400Nm of torque – from as little as 1400rpm – which provides a lot of low-down pull, through all of the gears. Buyers can choose between two-wheel or four-wheel drive, with the latter providing off-road ability. Claimed fuel economy is 38.7mpg for manual versions, while automatics will provide a claimed 33.6mpg.

In 2017 the D-Max's 2.5-litre diesel was replaced with a smaller 1.9-litre unit. As before, the four-cylinder engine produces 164PS, but overall torque levels are lower with the 1.9 unit producing 360Nm. However, while the new engine offers 40Nm less torque, the 2017 D-Max retains its 3.5 tonne towing capacity and 1.0 tonne payload.

The D-Max isn't particularly refined on the road; there's lots of engine and road noise, while the leaf sprung suspension pitches heavily in the corners and under hard braking. However, while the ride can be poor at times, the steering is responsive and the 2.5 engine quiets down on the motorway.

The interior isn't the best, with lots of cheap plastics and flimsy materials, but it's practical enough. Everything feels hard wearing and there are plenty of cup holders and pockets. The tough seat fabrics also feel like they're designed to survive life in a working vehicle.

The D-Max is available in a large choice of trims and can get quite expensive, with the range-topping Blade version breaking the £30,000 barrier when you include VAT. However, if you're planning to use the D-Max for work, then you'd be better with the entry-level versions. Not only are they comfortable, durable and easy to clean, but they also make the D-Max excellent value when you factor in its decent economy and huge load carrying potential.
Similar pick-ups to consider include the Toyota Hilux, Mitsubishi L200 and Nissan Navara. For value look at a Great Wall Steed or a SsangYong Musso.
Comfort and design
"For business users, the Utility versions of the D-Max are more likely to be chosen and they have cabins trimmed in practical, no-nonsense and easy to clean materials. The Premium versions are more sumptuously trimmed but are no less ruggedly built and their swankier cabins are still pleasingly easy to wipe down and keep free of muck and dirt."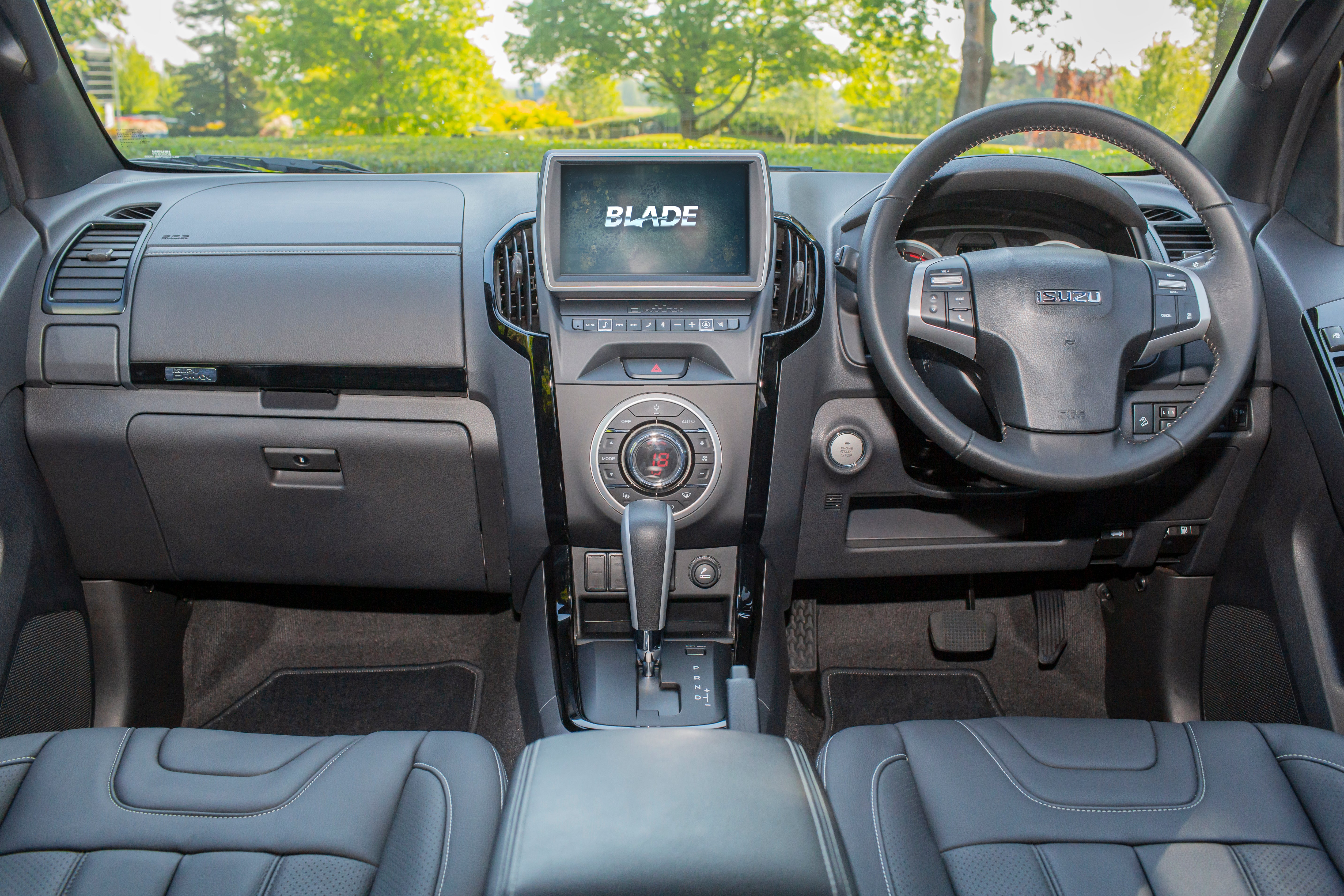 Smaller drivers might find it a bit of a climb into the D-Max's cabin, but the reward for your efforts is an imposing view in all directions. It's easy to spot all four corners of the D-Max when there is no hard-top over the load bed, so parking and reversing manoeuvres are simple. This is especially relevant given the D-Max will be used by a lot of owners for towing trailers and horseboxes.
Helping drivers to get into the cab are a number of grab handles, while three drinks holders mean you don't need to search for somewhere to keep your takeaway latte. There are also plenty of other storage bins, cubbies and boxes all around the D-Max's cabin.
The driver's seat has height adjustment and the steering wheel offers limited rake adjustment but no reach movement. Still, finding a good driving position did not prove difficult for us and the D-Max's driver's seat is large and well padded. There's a clear line of sight to the main dials and steering wheel controls for the stereo mean you don't have to fuss with the miniscule buttons of the rinky-dink stereo. Much better are the large buttons for the ventilation and four-wheel drive selection where it's fitted.
The gear lever is mounted in the traditional position between the front seats rather than the Ford Ranger's that is mounted higher on the dash. Still, it's an easy reach for the driver in the D-Max to the lever and all of the pedals are well weighted and will not test your thigh muscles if you get caught in a traffic jam.
With room for two in the front, the D-Max offers an Extended Cab model for the first time that delivered added storage behind the front seats. This is easily accessed through the rear-hinged mini-doors that meet with the front doors in a clap-hand fashion.
For the Double Cab models, there are front-hinged rear doors that open wide to give a good entrance and exit for rear passengers. Once installed in the rear seats, there's decent but not brilliant head, leg and shoulder room for adults, but the D-Max can cope with three abreast and there is a trio of three-point seat belts, so it works as a crew cab.
Behind the cab lies a load bed that is a little narrower between the wheelarches than a Volkswagen Amarok but is still more than useful in size and payload. There are securing hooks in each corner and the D-Max can be ordered with additional lashing hooks and a roller cover for greater security. The tailgate drops down to sit flat and flush with the load floor and it's at a reasonable height from the ground for lifting in heavier goods.
Driving
"A lusty 2.5-litre four-cylinder turbodiesel with twin turbochargers helps the D-Max offer masses of pulling power almost from tickover."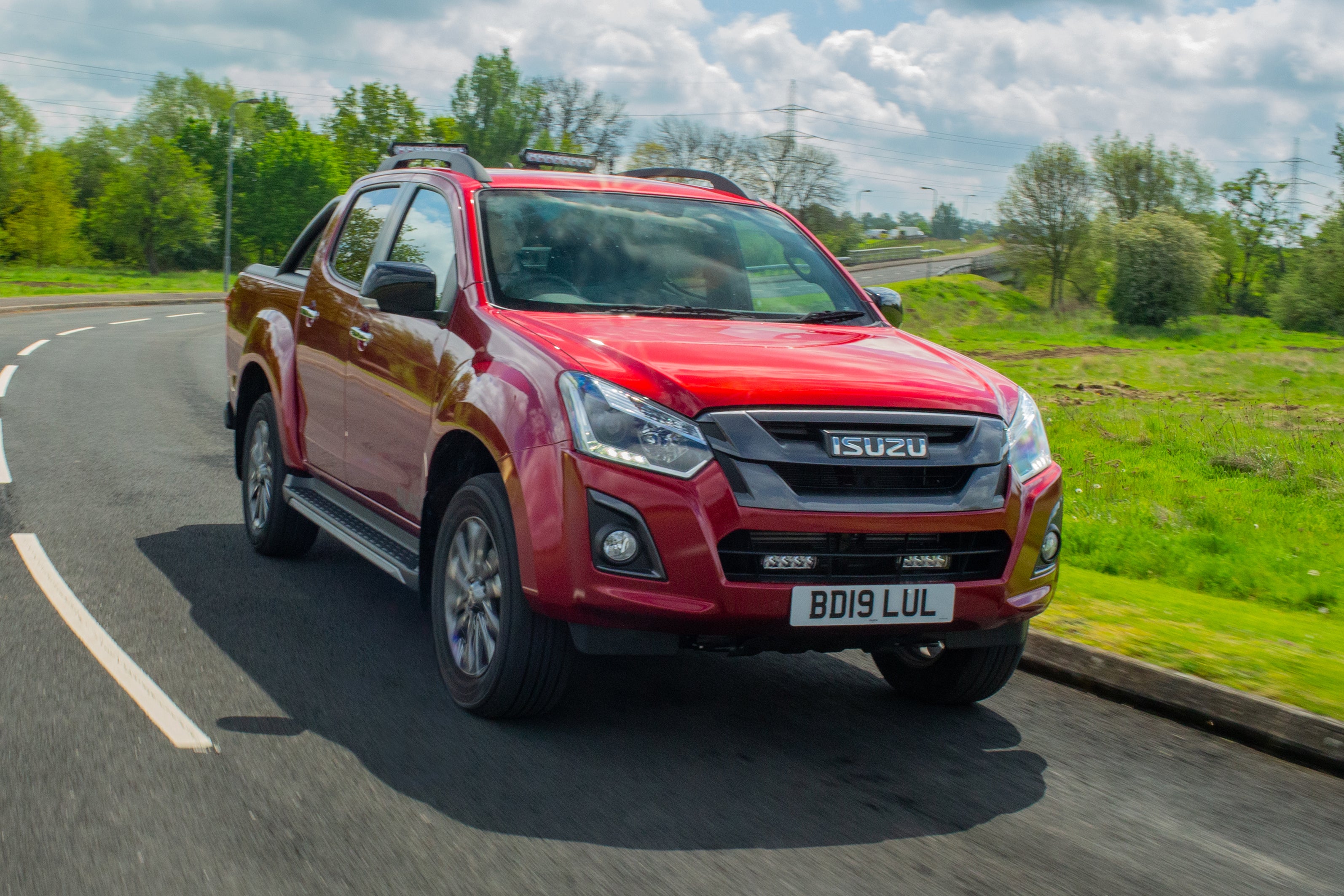 Get the motor spinning and it has all the grunt you could ever want spread between 1500rpm and 3000rpm. With 163PS and 400Nm of shove, the Isuzu makes light work of towing trailers all the way up to its 3.5 tonne maximum and lugging up to one tonne of payload is no problem in the pick-up bed.
It helps that the D-Max comes with a slick six-speed manual gearbox, matching the Ford Ranger on this front, that lets it trickle off the line when you need to make small manoeuvres in tight spaces. Press harder on the throttle and the D-Max displays a turn of speed you might find surprising for a pick-up, though it is accompanied by a fair degree of diesel clatter, so the Isuzu is not quite as refined as the Ranger or Nissan Navara.
However, the D-Max gets back on terms with its rivals when it's cruising along. Thanks to well chosen ratios, sixth gear in the manual gearbox version of the D-Max means easy, relaxed cruising and the engine is whirring away at low revs at the motorway speed limit. Not only does this mean quiet journeys but also good fuel economy and the D-Max will turn in an official 38.2mpg as a two-wheel drive model. Go for the all-wheel drive version and economy comes in at an identical figure but emissions actually drop very slightly to 194g/km from the two-wheel drive's 195g/km.
If you head off-road in the D-Max, it's every bit as able and unstoppable as the Ford Ranger or Volkswagen Amarok and it can even give a Land Rover Defender a taste of its own medicine when the going gets very tough. The only limiting factor here is probably whether you worry about minor bodywork scrapes that come with driving in the rough stuff.
Back on the road, the double wishbone front suspension gives the D-Max good bite into corners and a planted feel to the front wheels. The steering is accurate and light, with a decent turning circle adding to the D-Max's credentials.
However, like its key competitors, caution is needed on slippery roads when the load bed is empty or running light as the leaf-sprung rear suspension can allow the back axle to step out of line. Luckily, the deft steering is more than up to catching any such waywardness and standard ESP means you won't be left flailing at the wheel.
MPG and fuel costs
"Go for a D-Max from after 2017, when improvements to economy were made."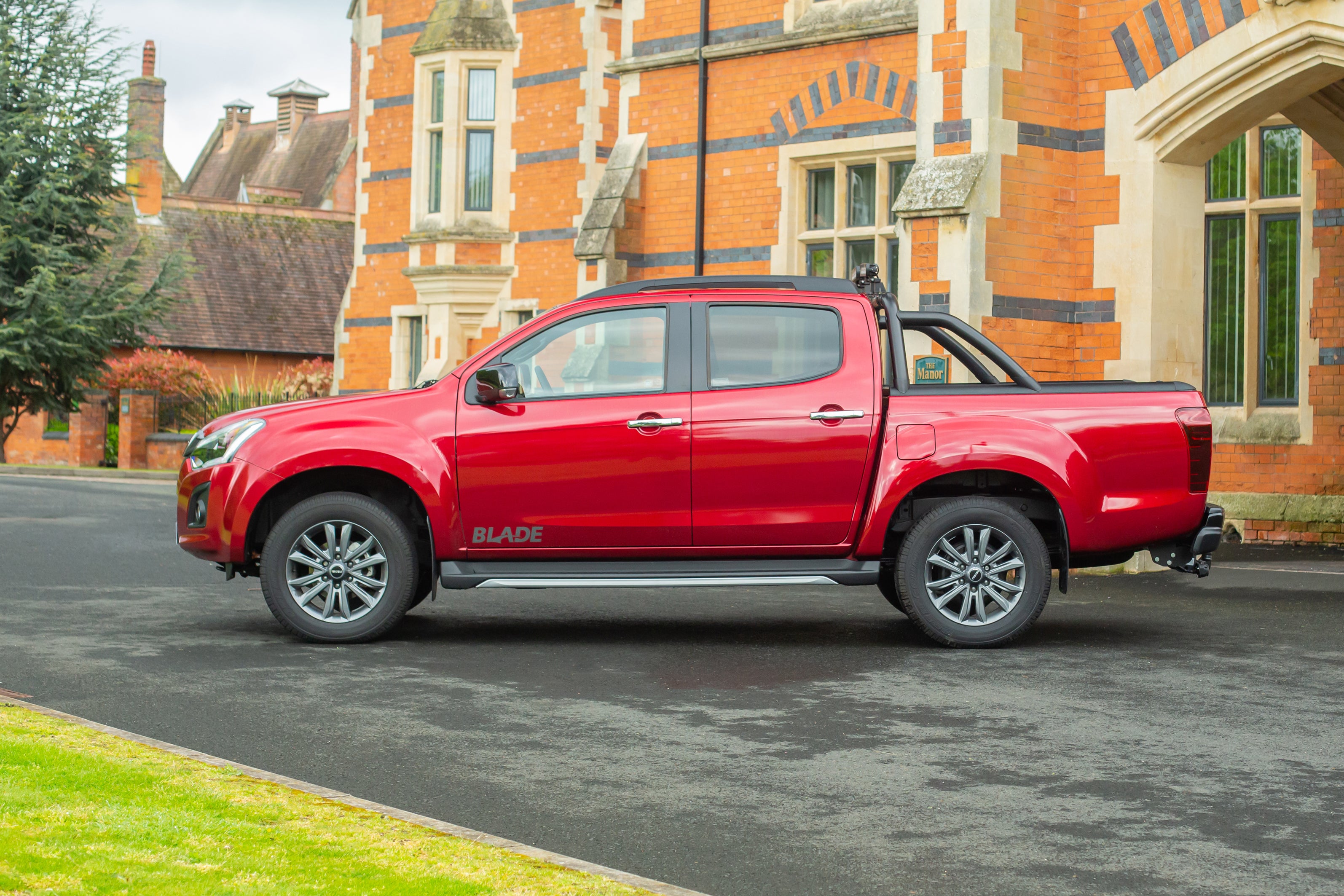 In 2017 the D-Max's 2.5-litre diesel was replaced with a smaller 1.9-litre unit. As before, the engine produces 164PS and maintains the D-Max's impressive 3.5 tonne towing capacity and one tonne payload. Running costs are lower too, with a claimed 40.3mpg.
Trim levels and standard equipment
"Go for a car after 2017 - there was a big upgrade and later cars have better spec."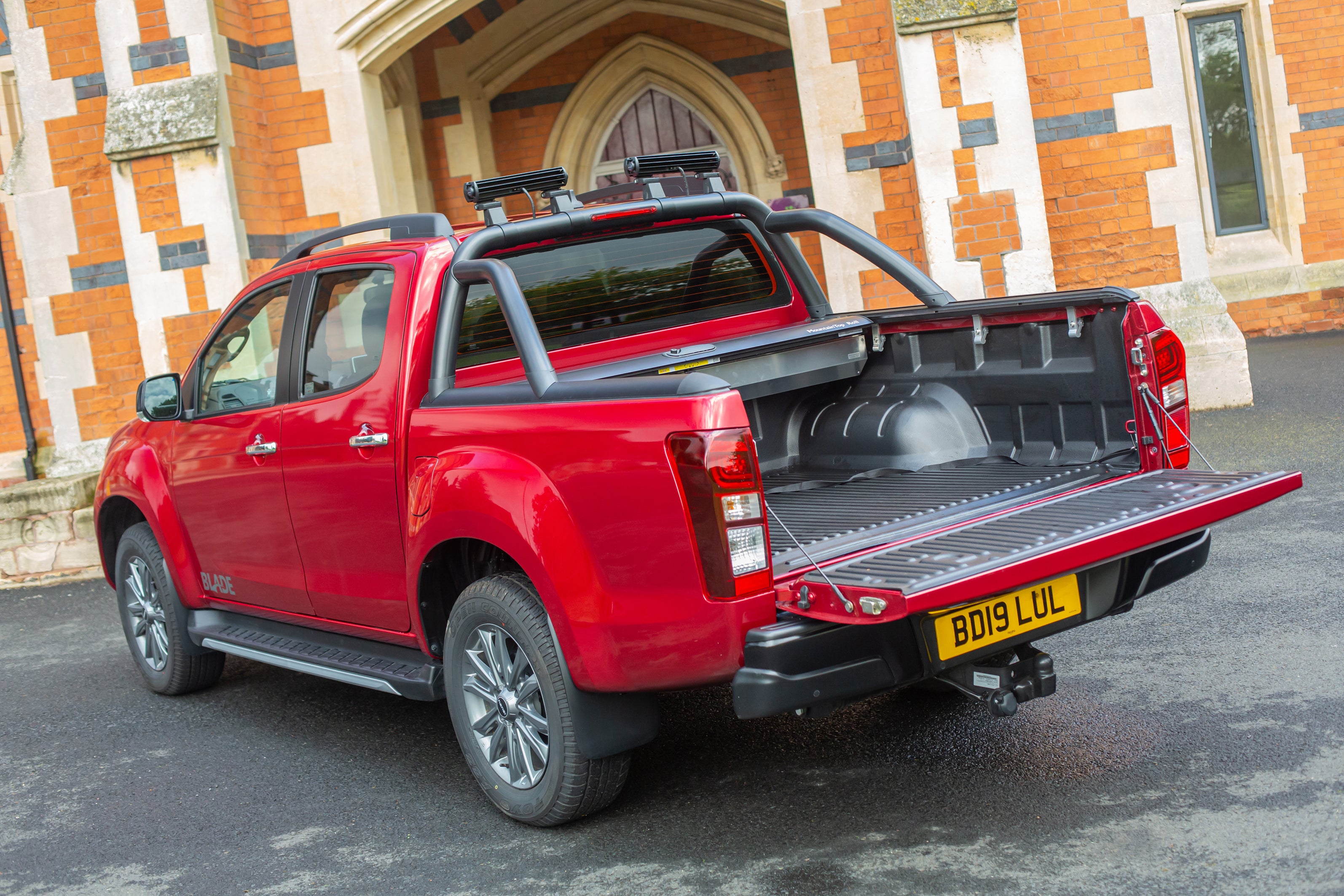 The model line-up from 2017 mirrors the old D-Max, with four trim levels and a range of single, extended and double cab bodystyles. The entry-level Utility trim, priced from £15,749, comes equipped with LED daytime running lights, hill start assist, hill descent control and Bluetooth.
Yukon (from £20,499 CVOTR) adds 18-inch alloy wheels, silver side steps, new 7-inch multi-function touchscreen, LED rear lights, Cruise Control, rear load liner and a leather steering wheel.
Utah (from £24,149 CVOTR) takes comfort up a notch with keyless entry with push button start, Apple CarPlay and Android Auto, satellite navigation, DAB digital radio, roof bars, leather upholstery with heated front seats, rear parking sensors, automatic air conditioning.
Range-topping Blade models (from £26,999) get tinted windows, nine-inch multi-function touchscreen, remote locking lower tailgate and a colour-coded Aeroklas canopy or sports bar with roller cover. As with the previous generation of Isuzu pick-ups, the D-Max will be covered by a manufacturer-backed five-year/125,000-mile warranty.
Ready to get your top quality Isuzu D-Max?
All cars come with a warranty
Selected dealers only
All quality checked
Learn more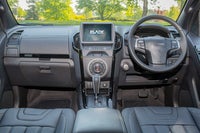 On the inside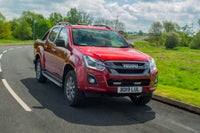 Driving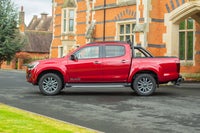 How much does it cost to run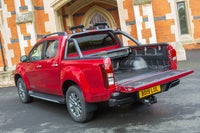 Prices, versions and specification
Reviews of similar cars
Quality checked, all cars less than 8 years old and warranty included
Looking for other Isuzu cars?
Quality checked, all cars less than 8 years old and warranty included