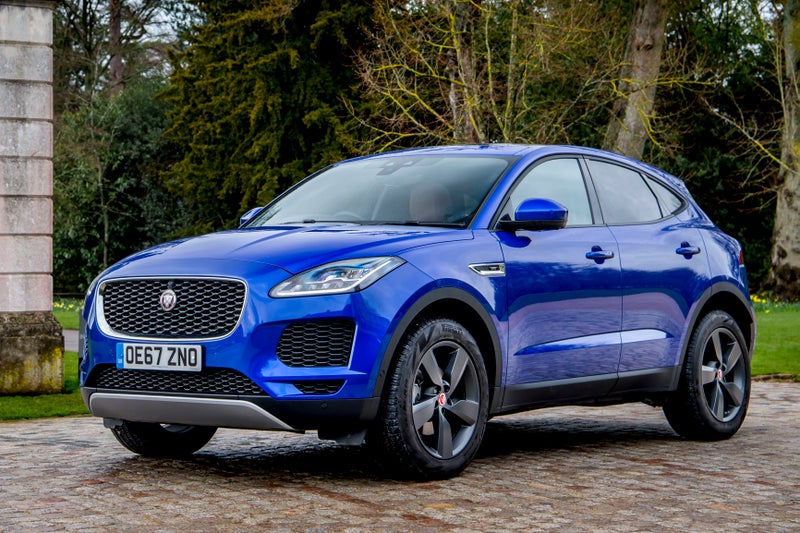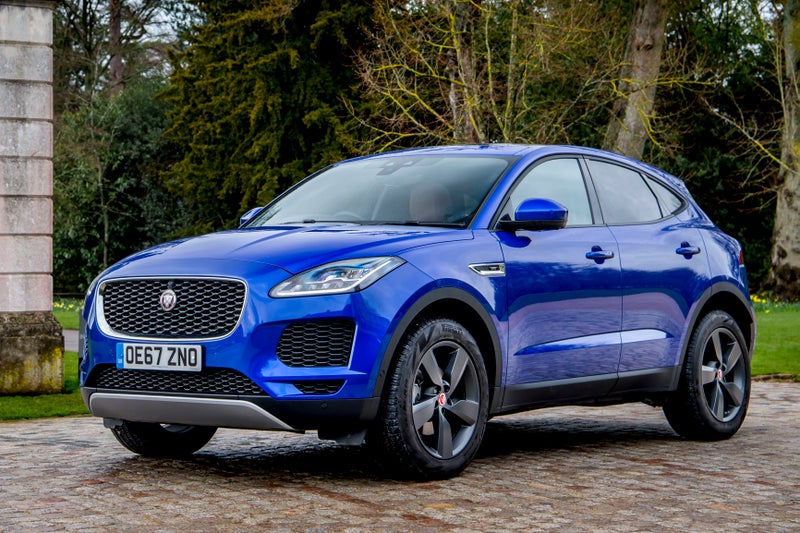 1/10
heycar rating
"Bold looking, firm riding SUV"
Launched: 2018

Crossover

Petrol, Diesel
Quick overview
Pros
Stylish design
Rugged off road
Highly equipped across the board
Cons
Not as spacious as rival SUVs
Sub-par fuel economy across the board
Doesn't drive like a sporty Jaguar should
Overall verdict
On the inside
Driving
Cost to run
Prices and Specs
Common questions
Overall verdict
"The E-Pace is a sporty-looking alternative to the SUV-norm that fails to deliver the drive you'd expect from a Jaguar. Some refined engines, four-wheel drive capability and reasonable practicality can't quite balance out the high price, jittery town ride and poor fuel economy. "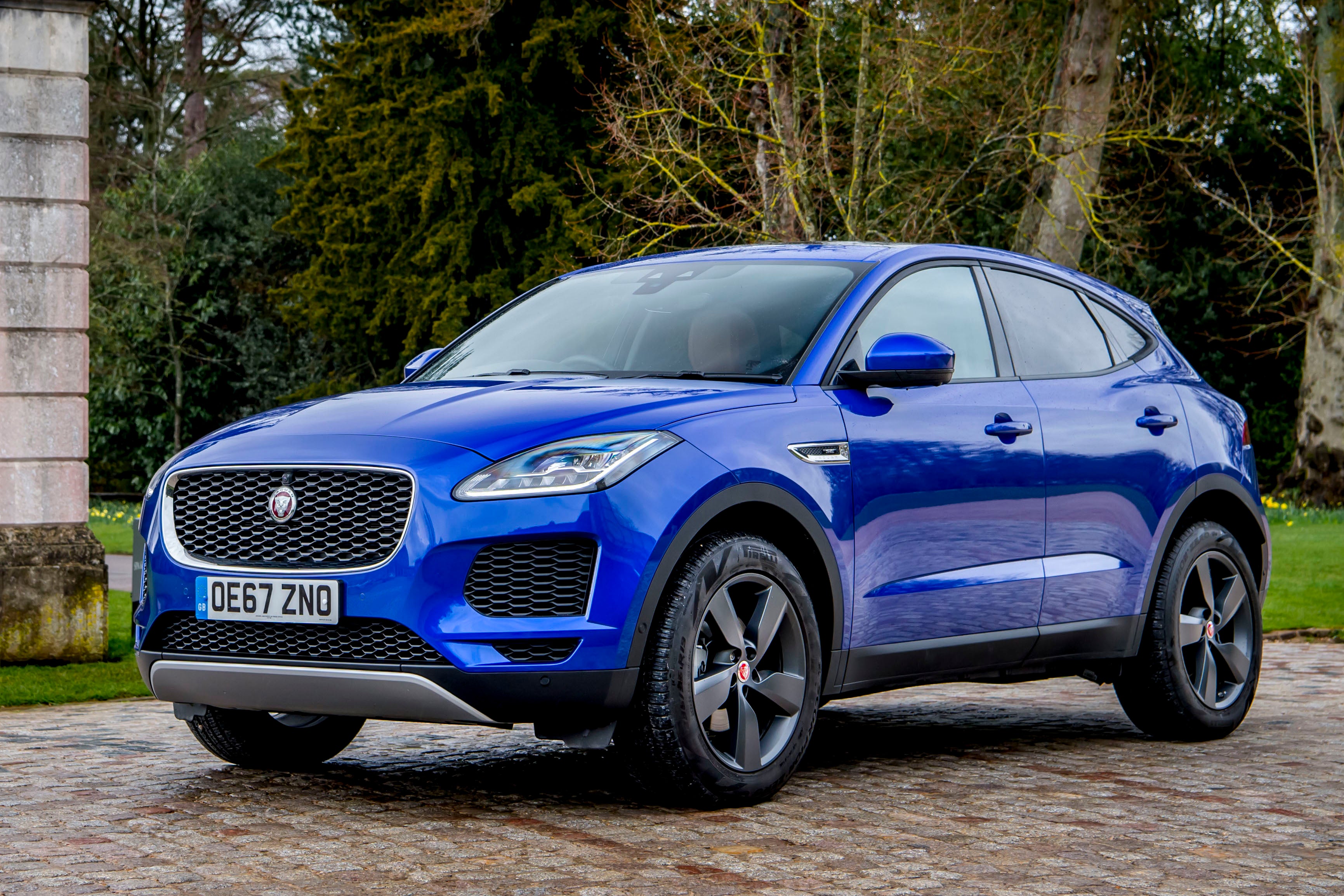 Jaguar took decades to launch its first SUV - the F-Pace - back in 2016, and it rapidly became the brand's best-selling model. To capitalise on this, it quickly rolled out two more SUVs, the all-electric i-Pace at the top of the range, and the smaller, more affordable E-Pace at the bottom.
It competes against a wide variety of premium rivals, including the Volvo XC40, Range Rover Evoque, BMW X2, and Audi Q3, to name just a few. The Jaguar brings to the table a sporty design inspired (loosely) by the F-Type sports car, and a choice of 2.0-litre engines.
Diesels range from 150PS to 240PS, while the petrols start with 200PS and go all the way up to 300PS. All but the least powerful diesel models are fitted with four-wheel drive as standard, and most variants also come with a nine-speed automatic gearbox, although there's also a six-speed manual available on the cheaper diesel models.
Unfortunately, the E-Pace doesn't live up to its sporty styling and it doesn't feel especially agile. It's relatively heavy, rolls in corners and has inert steering that doesn't inspire confidence, even if it does have plenty of grip.That wouldn't usually matter in an SUV but Jaguars have a reputation for sportiness that isn't lived up to here – the larger F-Pace is much more accomplished in this regard.
Its portly weight also blunts the E-Pace's performance. The entry-level diesels feel ponderous, and only the most potent models - which are thirsty on fuel - build momentum with any real urgency. For us, the relaxed D180 diesel automatic is the pick of the bunch, especially if you do a lot of motorway driving.
This engine struggles to compete with its rivals for efficiency though, there's no mild-hybrid technology to help it save fuel and, unlike some rivals, the E-Pace isn't available as a plug-in hybrid, which would make it very cheap on tax.
The news isn't much better when you consider the E-Pace's interior. It feels plasticy and, although it's a five-seater, the middle seat in the back is set quite high, with a narrow base and nowhere to put your feet. It's much better sampled with four on board.
The E-Pace has plenty of clever interior storage which makes up for the fact it's boot isn't as large or as flexible as in rivals such as the BMW X1.
Entry-level models with front-wheel drive are keenly priced, especially considering the level of equipment on board. All have LED headlights, a 10-inch media screen, climate control and all-round parking aids.
However, we would upgrade to the S grade. It brings sat-nav and full smartphone integration, plus luxuries such as leather upholstery and electrically operated seats and a smooth-shifting auto gearbox.
Even in this configuration, though, the E-Pace lags well behind rivals. Okay, so it looks sporty, but the driving experience doesn't live up to the exterior styling, the car's expensive to run, feels dated inside and isn't as practical as rivals. Sadly, the entry point to Jaguar's SUV range is the model most worth avoiding.
Is the Jaguar E-Pace right for you?
The answer to this rather depends on what you want from your compact SUV. The E-Pace is handsome, but feels lead-footed compared to its premium rivals, is quite pricey in its higher specifications with the stronger engines, and is less economical than other SUVs in this price range.
It trades more on its looks and the strong appeal of its badge than anything else, but the market does reflect this and there are some great deals on used and pre-registered cars. At the right money, the E-Pace starts to make a lot more sense.
What's the best Jaguar E-Pace model/engine to choose?
Despite the athletic looking exterior, underneath the E-Pace is on the heavy side for a compact SUV. This means it feels slower than other cars with a similar power output, forcing you to go for the pricier engines.
That takes the entry-level D150 diesel and P200 petrol off the table. While the front-wheel drive, manual versions of the former are the most efficient, they're not the smoothest to drive, and too slow to recommend.
Instead, we would step up to the D180 paired with the optional nine-speed automatic. This combination plays to the car's strengths as a cruiser, and while not especially quick, it is more effortless than the D150 model. Pick one up in S trim and you'll have a luxurious, capable four-wheel drive car that sneaks under the £40,000 barrier - saving you a packet on road tax - but you'll have to skip the R-Dynamic pack to keep below that limit.
What other cars are similar to the Jaguar E-Pace?
Few cars are closer to the E-Pace than its sibling from sister brand Land Rover, the Discovery Sport. It unfortunately is the favourite child of the pair, with newer engines, a smarter cabin, and equally sharp looks.
Further afield, the BMW X1 offers a more car-like driving experience, exceptional build quality and class-best infotainment, but generic looks, while the Volvo XC40 oozes Scandinavian style, is comfortable and practical.
For the same money as a mid-spec D180 automatic, you could upgrade in size, getting yourself an Audi Q5. That car is lighter, faster, and more refined, along with having a bigger boot and fantastically roomy interior.
At the lower end of the spectrum, it's hard to ignore the value you get from cars like the Volkswagen Tiguan. It feels better built and more modern insider than the Jaguar, yet is cheaper to buy and run.
Comfort and design
"The design inspiration from the F-Type sports car comes across loud and clear inside Jaguar's smallest SUV. Its driver-focused cabin makes it feel suitably sporty and matches the sharp exterior."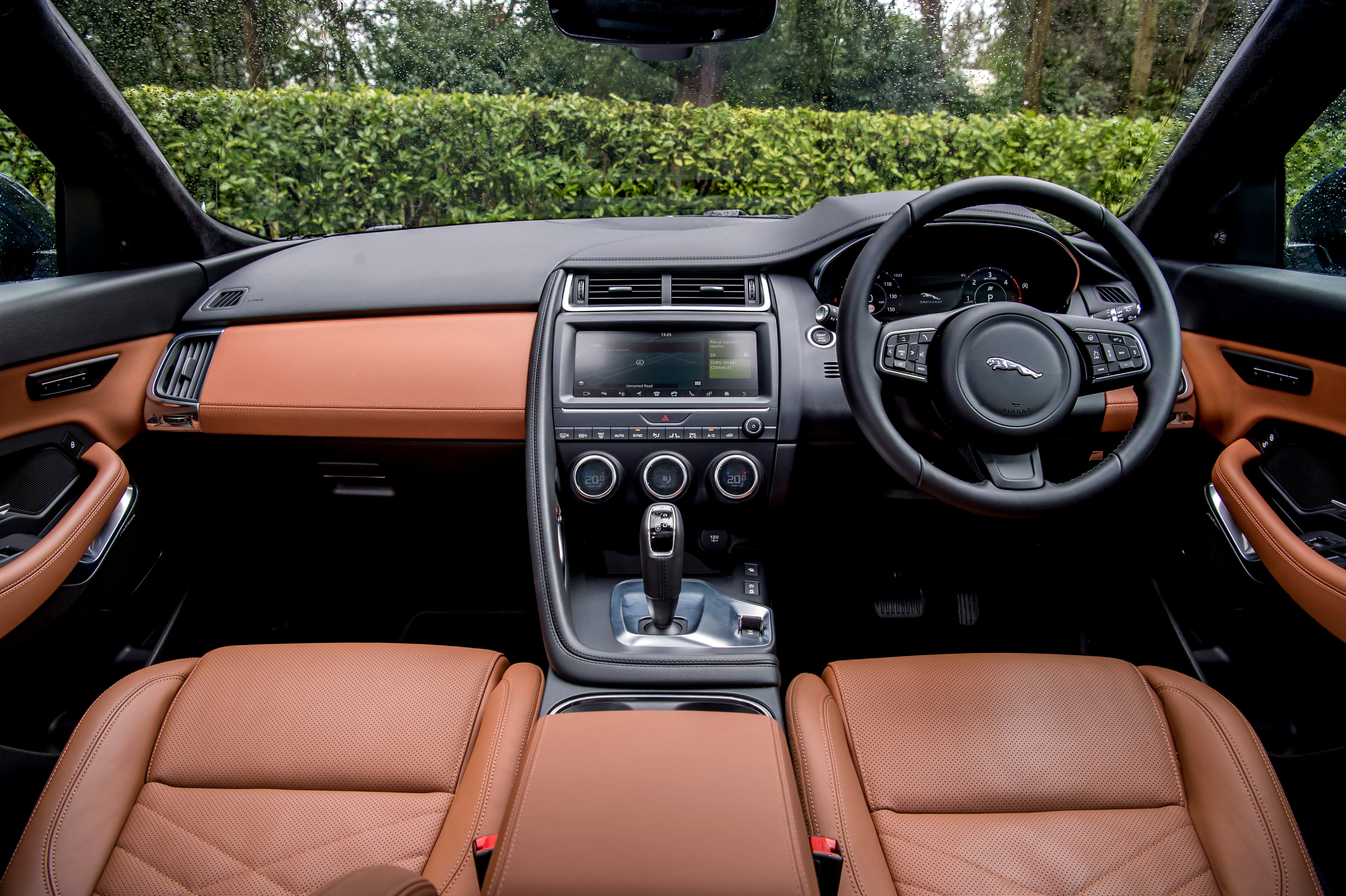 It features a chunky grab handle on the centre console that's lifted straight from the two-seater, and the sleek wraparound dash and high window line make it seem like you're sitting lower in the car than you actually are.
Forward visibility is excellent, but the curvy design wrecks havoc with the rearward view. The shallow screen and thick pillars at the back make reversing tricky, and you'll find yourself relying on the camera and sensors to avoid bumps.
The interior is intuitive and laid out. Three oversized dials in the centre of the stack operate the air-con and heater. Above them is a 10-inch screen that's standard fit on all versions, mounted flush with the dashboard, although the angle it's fixed at does create some glare in bright sunshine.
Apart from the electronic handbrake being hidden away by the driver's right knee, most people won't find it taxing to work out where everything is, and both the standard analogue and optional digital dials are clear.
All but entry-level cars feature electric seat adjustment, so it's easy to find the right driving position, and the seats are grippy and supportive, whilst remaining comfortable.
It's a shame that you have to step-up to pricier SE trim to get lumbar support, as this helpful feature can be the difference between hopping out relatively fresh from a long drive or nursing a stiff, sore back.
Quality and finish
Although it all looks smart enough, material quality in the Jaguar is one rung below what you'll find in most of its rivals. Lower down in the cabin in particular, the hard plastics used don't stand up well to closer scrutiny.
Even areas that should feel really solid - the infotainment screen surrounds for example - feel hollow and will creak if prodded firmly. Not a very encouraging sign in what is supposedly a very posh, premium product.
The leather on the steering wheel and (from S trim onwards) seats feels suitably plush, and you'll find some attractive faux stitching on the chunky grab handle on the centre console. R-Dynamic models add some bling details like bright metal pedals and illuminated scuff plates in the doors, enhancing the sporty interior theme.
Top spec HSE models feature super soft 'Windsor' leather seats, but adding such opulent extras only highlights the patchy quality of other parts of the cabin, whereas German SUVs feel consistently solid.
Infotainment
Every E-Pace comes with a 10-inch Touch Pro screen, punchy six-speaker Hi-Fi, DAB radio and Bluetooth. This display has clear graphics, bright colours, and fairly snappy responses. The menus are intuitive, and Jaguar anchors all the on-screen shortcut buttons to the lower edge of the screen so that they're easier to reach. Trouble is, they're little and tricky to hit.
Still, unlike the Volvo XC40 and Range Rover Evoque, there are separate physical controls for the climate and heater settings, with a large digital read out in the dials making it a doddle to fine-tune the temperature.
However, it's a little tight-fisted of Jaguar to leave smartphone mirroring (via Android Auto and Apple CarPlay) on the options list. It comes standard on S models, and allows you to hijack that nice big screen to use with your favourite navigation, streaming and messaging apps on your smartphone. This model also includes a built-in navigation system, on-board Wi-Fi and connected services like live traffic updates.
Step up to SE trim, and you get a brilliant Meridian sound system with powerful, rich sound, while top spec versions replace the analogue dials with a larger 12.3-inch digital display, although this comes as standard on rivals such as the Q3 and XC40.
Space and practicality
One of the main reasons buyers flock to SUVs is because they offer plenty of space and versatility. Despite its relatively compact footprint, the E-Pace feels roomy inside, especially for those up front. There's ample headroom (even for the tallest of drivers) and plenty of well-placed cubbies for your odds and ends.
Special mention goes to the cavernous glovebox, which could easily swallow a handbag, and door pockets with neat moulded cutouts for drinks bottles. If that's not sufficient, you can open up the central armrest to uncover another large cubby, with a pair of USB ports.
In the back, two adults can fit comfortably. Headroom is reasonable, but a six-footer sat behind an equally tall driver will find their knees resting on the seat backs. Unlike many rivals though, the back seats are fixed, so you can't slide or recline them to free up load space. Adding a third is a squeeze
Ignore the official 425-litre boot capacity - Jaguar measures luggage space in a different way to most brands - which means once you get the tape measure out and compare them like-for-like, it will carry less than most SUVs. At least the boot has a square shape, no load lip and some useful additional storage space under the floor.
Flexibility is not the best, though. The Volvo XC40, BMW X1 and Volkswagen Tiguan come with a three-way 40:20:40 seat configuration – so you better juggle passenger and boot space – in the E-Pace you get a far more conventional 60:40 split.
Handling and ride quality
"We've mentioned this already, but it's worth repeating that the E-Pace is quite heavy for its size and that has an impact on the way it rides and handles."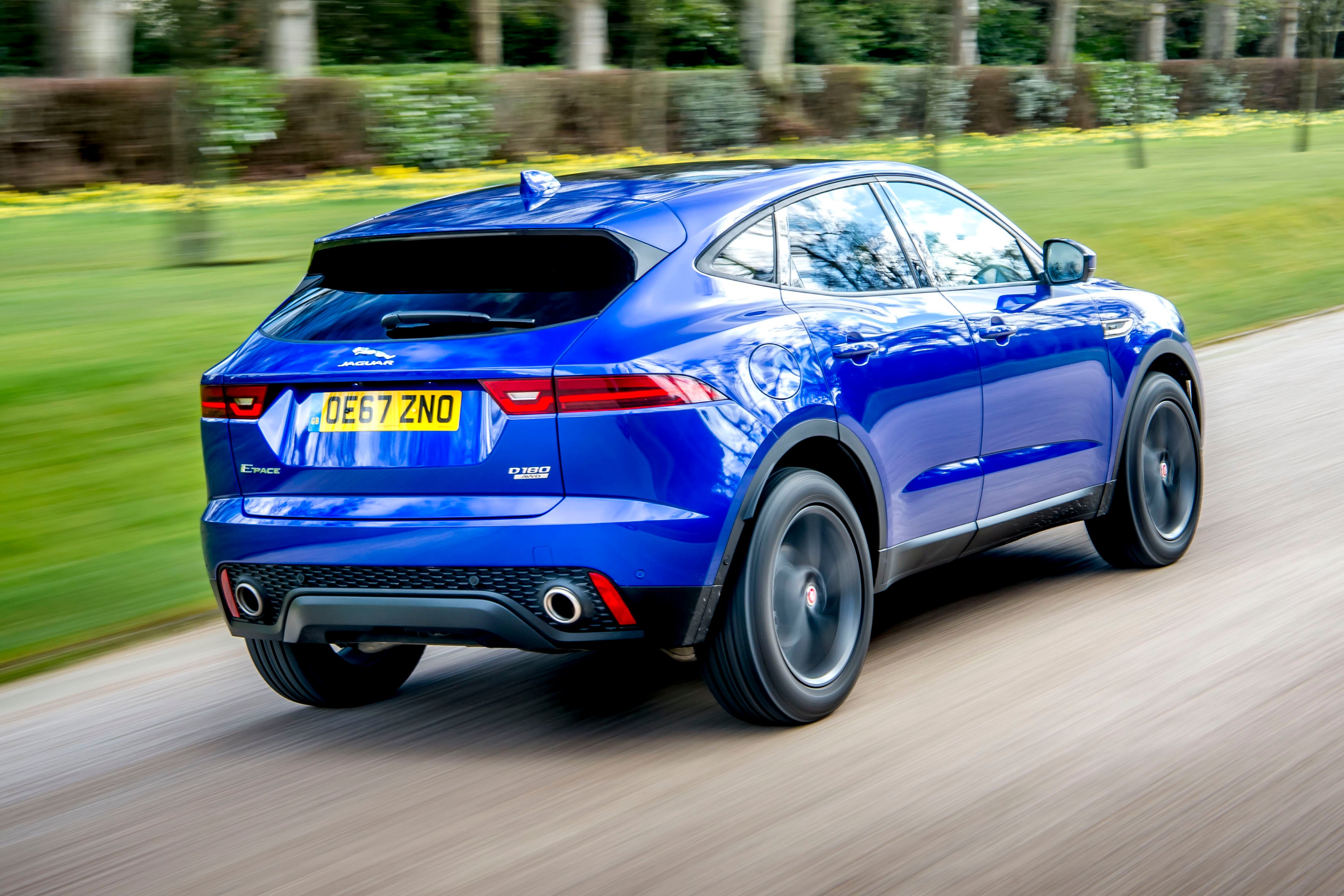 The standard suspension - used on Life and Style models - is pretty compliant, soaking up bumpy roads without being too floaty. This is especially true with the smaller 16-inch alloy wheels. Sure, you might prefer the look of bigger wheels, but the smallest alloys provide an almost magic carpet ride.
R-Line models come with sports suspension which lowers the ride height slightly. As you'd expect, this provides a slightly firmer ride - especially with the bigger wheels fitted to the R-Line. It's far from uncomfortable, though.
Look for a Golf with the optional Dynamic Chassis Control if you wish to tweak the suspension to your liking. Also known as adaptive suspension, this can increase the firmness of the suspension's dampers in Sport mode, or soften them in Comfort mode. With Comfort mode selected, the Golf rides beautifully over broken roads.
Thanks to the Golf's rather compact dimensions and decent visibility, it's a very easy car for negotiating congested streets. You might not get the high-up seating position that attracts many buyers towards SUVs, but no one's going to feel intimidated behind the wheel.
Front and rear parking sensors are standard across the range, but it's worth looking for an example with the optional rear-view camera if you're daunted by tricky reversing manoeuvres. Light, progressive steering helps in tricky situations, although it doesn't feel quite as agile on the open road as a Ford Focus.
It does feel secure and planted, though, even in poor weather conditions. And it doesn't dart around too much at motorway speeds. Look for a Golf with the optional driver profile selection (standard on R-Line) for drive modes which add extra heft to the steering when you're feeling sporty.
Engines and gearboxes
Jaguar offers nine different combos of engine, gearbox and drivetrain. That sounds daunting, but in fact it's deceptively simple, with a pair of 2.0-litre four-cylinder turbos (one petrol, one diesel) in a variety of outputs.
Diesels are badged D150, D180 and D240. The D150 is the only E-Pace offered with front-wheel drive - but only in conjunction with a six-speed manual gearbox - all other versions send their power to all four corners.
Petrol models also come in three flavours – P200, P250 and P300. All have four-wheel drive and a nine-speed automatic gearbox as standard, that's an option on the entry-level diesels.
Buyers who are more interested in fuel economy than performance will be fine with the entry-level D150. It has just enough grunt to make progress, but never feels quick. Avoid the manual gearbox though, it severely blunts performance and is ill-suited to the car's relaxed nature.
The nine-speed automatic is best when left to its own devices, but in R-Dynamic cars you get shifter paddles on the steering wheel if you want to take over. It's a bit dim-witted though, often taking too long to kick down.
Still, if you want to make swift overtaking manoeuvres, regularly tow a caravan, or will regularly have the car fully-loaded,, the D180 is a better all-rounder. It's stronger than the quickest petrol in-gear, but far less thirsty on fuel. The twin-turbo D240 is even more potent on paper, but in real world driving the difference is fairly marginal.
The petrol engines are impressively smooth and quiet at low revs, but sound a bit harsh when extended. If you want them to feel quick, you have to push them hard, and their already poor economy gets even worse.
Currently none of these units feature mild-hybrid or other electrification to help improve things in this regard.
Refinement and noise levels
Choose any of the diesels, and hard acceleration when overtaking or joining the motorway will be accompanied by a fairly gruff soundtrack, and vibrations through the steering wheel.
Once it settles into a cruise however, the engines quieten down, and you can make fairly serene progress. The E-Pace generates less tyre roar than a BMW X1 or X2, although that's not saying a great deal.
Wind noise is less well suppressed, but rarely becomes intrusive. The petrol engines are quieter, and pull more cleanly than their diesel counterparts, although the highly tuned P300 gets a bit droney at higher revs. In Dynamic mode it pipes exhaust noise into the cabin via the speakers, but it's more irritating than sporty.
It's also worth noting that car's fitted with the six-speed manual gearbox suffer from more engine noise when cruising.
Safety equipment
As you would expect of any modern, premium vehicle, the Jaguar E-Pace received a maximum five-star safety rating from crash testers Euro NCAP. It did well in all four test categories, especially child protection.
However, a closer look at the individual scores reveals that it did worse than most rivals for adult protection. It was awarded just 87% (rivals like the Volvo XC40 get 97%) partly due to poor whiplash and driver ratings.
These are fine margins, but another area where the E-Pace gets edged out by its peers. It's not because of a lack of safety equipment though. Every model comes with automatic emergency braking (AEB) that senses any oncoming obstacles, will warn the driver of potential collisions, and can stop the car to help prevent one.
That's just one part of an impressive kit roster that includes a lane keep assistant, a airbag under the bonnet to protect pedestrians if they're unfortunate enough to go over the bonnet, and a clever system that will monitor your driving style, warning you to take a break if your attention is judged to be faltering.
All but the entry-level models get a traffic sign reader, that can work with the cruise control to always keep the car at or below the legal limit.
Travel up the range, and SE includes a Park Pro Pack that adds a set of 360º cameras to the usual sensors, while top spec HSE models get adaptive cruise control that can brake and accelerate the car for you. You can add the latter to cheaper trims as part of the comprehensive Drive Pro Pack, which costs just £780. Great gadgets then, but you still need to pay extra for a small spare wheel, a foam repair kit comes standard.
MPG and fuel costs
"One area the E-Pace struggles to compete is fuel efficiency. It weighs more than the larger F-Pace, and with a heavy four-wheel drive system standard on most, petrols will barely return more than 30mpg, usually less."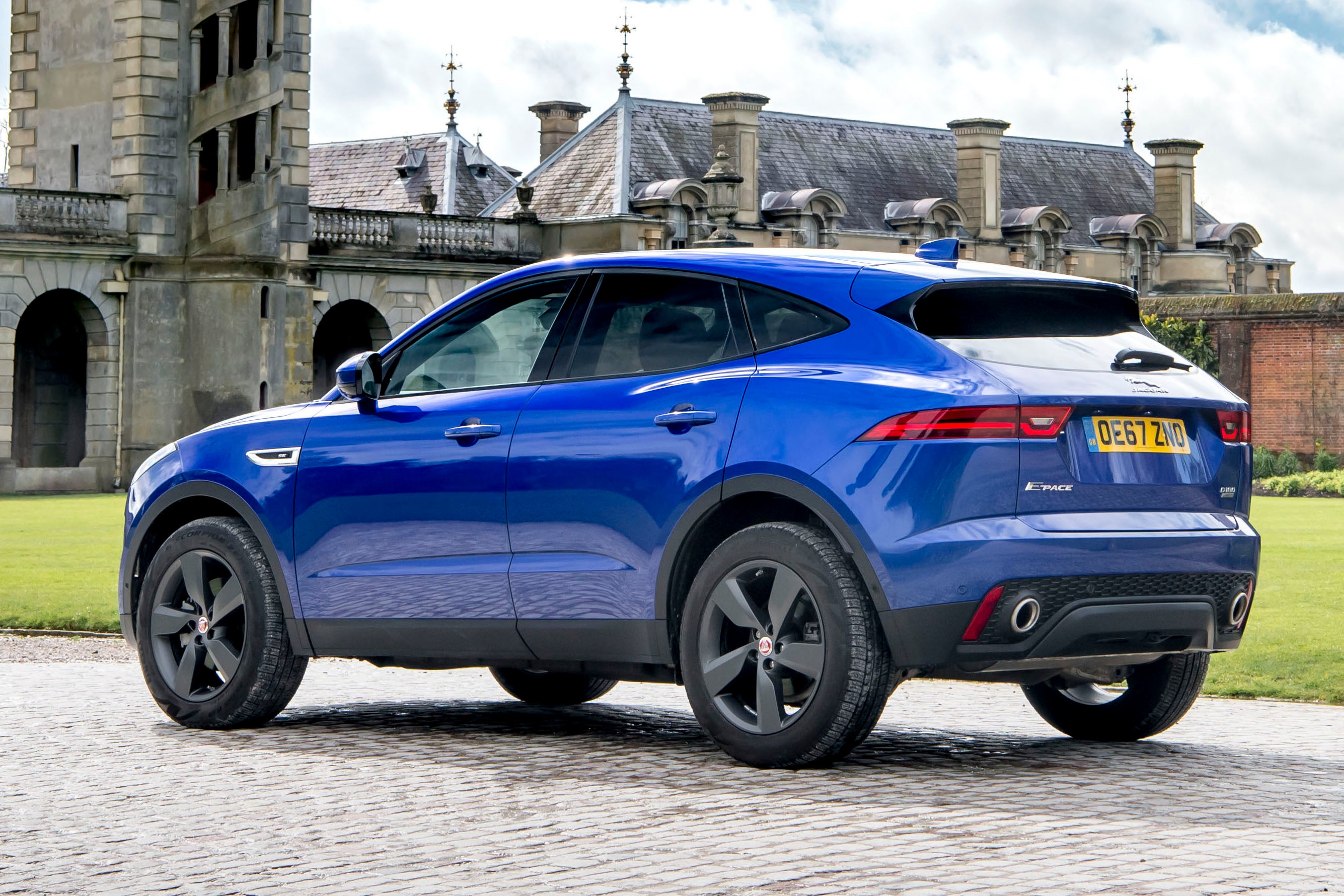 Pick a diesel with the manual gearbox, and things improve to 42.4mpg (for the front-driven D150) at least according to official figures. Adding four-wheel drive drops that down to high thirties, whereas a BMW X1 or Audi Q3 get closer to 50mpg.
Insurance groups and costs
Finding cover for your Jaguar SUV will cost a little more than it would in its premium rivals. The cheapest versions are the D150 diesels with manual gearboxes. They start off in insurance Group 25 in standard trim.
The D180 model jumps up to Group 29, while the brawniest D240 is right up in Group 35. Compare that to the BMW X2 or Volvo XC40, which both start off three bands lower in Group 22 in a similarly spec diesel car.
Picking a petrol means steeper premiums. The P200 starts off in Group 31, the P300 is right up in Group 39.
Things look even worse for the E-Pace when you compare it with, say, a Volkswagen Tiguan. The fastest 240PS twin-turbo diesel version of this car sits almost ten groups lower than the equally powerful D240.
VED car tax
Roughly half of the E-Pace range manages to sneak in under the £40,000 barrier. These cars will all pay the standard £150 fixed rate of road tax (VED) owed by all petrol and diesel cars costing less than this new.
Any that rise above this cutoff (including with options) are liable for a higher Premium rate, not just the regular one. That means they'll cost you an extra £325 during the first five years of ownership.
High CO2 outputs mean all E-Paces are in the maximum 37% BIK tax bracket for company car users. That inefficiency pushes up the on-the-road costs too, since buying a new car from a dealer involves a first-year payment based on emissions. In most versions it's more than £1,300.
How much should you be paying for a used Jaguar E-Pace?
"Go for the highest available spec and you'll make a decent saving over a new E-Pace."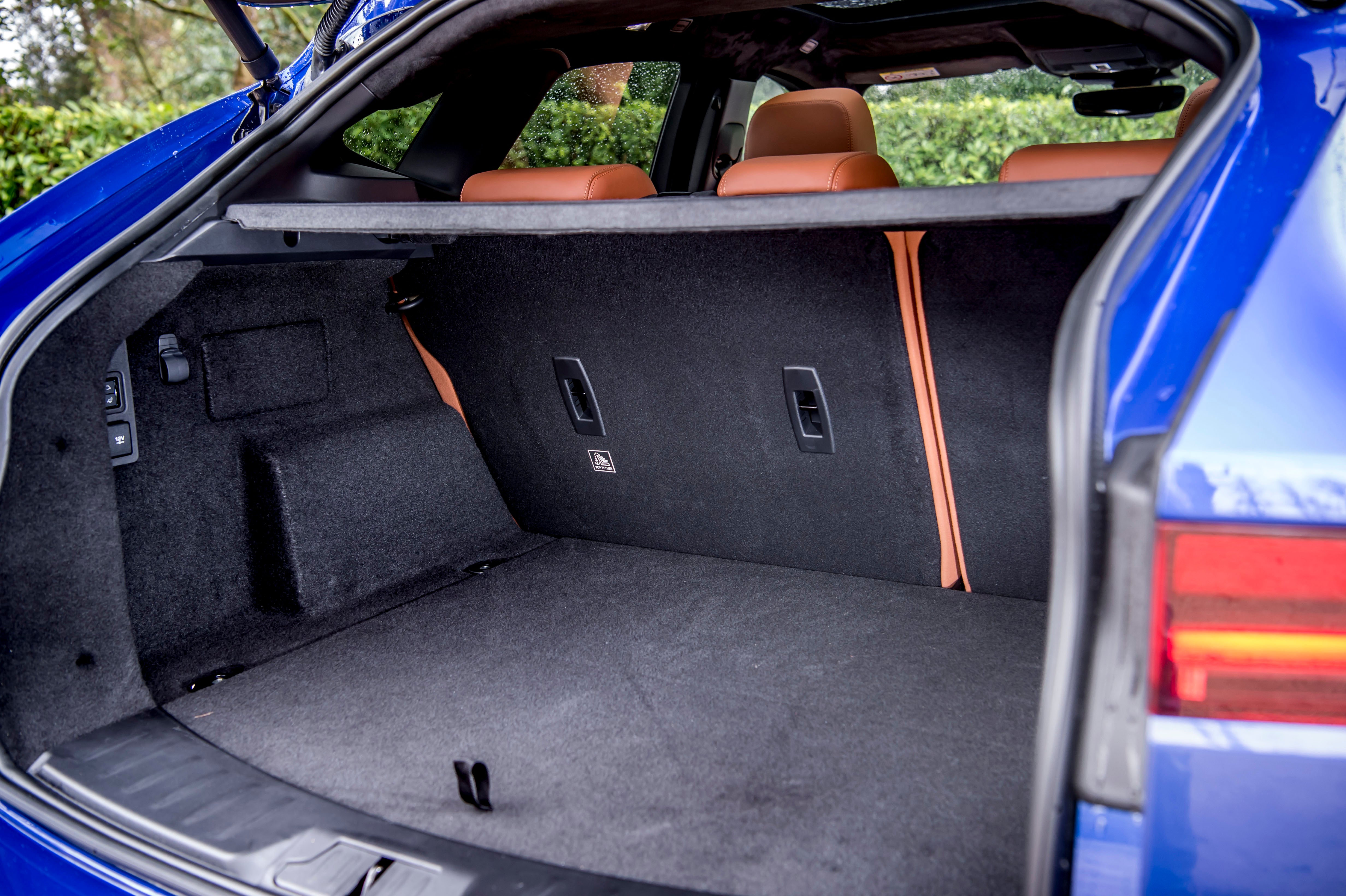 Expect to pay around £23,000 for a D150 with less than 20,000 miles showing, and a manual gearbox fitted. Since we'd avoid that engine and transmission, it's worth upping the budget to just under £25,000. That will get you behind the wheel of the D180 four-wheel drive car with a nine-speed auto, and desirable options.
Petrol cars start from around £1,000 more than that in a similar condition. They're rarer than diesels, but also likely to come finished in the racier R-Dynamic specification, worth bearing in mind if that's what you're after.
You'll need to save up at least £30,000 to drive off in a newer E-Pace in fully-loaded HSE trim specification.
Trim levels and standard equipment
The first thing you'll need to decide when picking your own E-Pace is how you'd like it to look inside and out. Where some brands separate styling by each trim level, Jaguar gives two options, standard or R-Dynamic.
The latter acts as a ready-made sporty makeover. It packs in different alloy wheel designs, glossy black interior trim, and sharper bumpers to help it stand out.
To either of these starting points, you can then add either the S, SE, or HSE specification pack. Every car is already fairly well equipped. The baseline trim includes LED headlights, 17-inch alloys, a heated screen and front seats, reversing camera, climate control, plus a six-speaker stereo with a slick 10.0-inch touchscreen.
Add the S pack (which we recommend doing) to get leather seats with electric adjustment, sat-nav and full Apple and Android smartphone integration via CarPlay and Auto software, and a handy traffic sign reader.
Mid-range SE could be worth stretching to though, as it includes useful convenience features like a powered tailgate, a rather nifty 360 degree parking camera, and a Meridian Hi-Fi with amazing sound quality.
We would stop short of the top HSE though, as it's prohibitively expensive. Although it benefits from softer leather, a 12.3-inch digital driver's display, keyless entry, and a comprehensive suit of driving aids.
Jaguar introduced the Chequered Flag special edition in 2019. It takes the sporty styling of the R-Dynamic, and weaves in lots of choice goodies from higher up in the range. It's available in three colours, grey, white, or a striking photon red, a colour that is unique to this model, but it's priced above the already expensive SE.
Apart from the kit we've already mentioned, options such as the £990 fixed panoramic glass roof that let more light into the cabin, additional USB power sockets in the rear (£160) plus a set of loadspace dividing storage rails for stopping stuff rolling about in the boot (£295) are worthwhile upgrades.
Ask the heycar experts:
common questions
What is the difference between the Jaguar E-Pace and the F-Pace?
The F-Pace is more expensive, larger and more practical than its newer sibling. It features a wider range of engines, including six and eight-cylinder versions that are seriously quick. It has a different automatic gearbox, and either rear or all-wheel drive, instead of front-driven.

Is the Jaguar E-Pace a hybrid?
Don't be fooled by the 'E' in its name, this Jaguar SUV is conventionally powered by internal combustion only, and the brand has no plans for an electrified or hybrid variant before 2021.

How much boot space does the E-Pace have?
Despite its sporty looks, the E-Pace is deceptively practical, with a standard luggage area of 577 litres (far more than most of its rivals) that expands to a slightly less impressive 1234 litres with the seats folded. Still, it has more boot space than many executive estate cars.

Answered by
heycar editorial team
Is the E-Pace a good car?
The answer to this rather depends on what you want from your small SUV. The E-Pace is handsome, capable and refined, but feels rather heavy compared to its rivals, is quite pricey in its higher specifications, and less economical than other SUVs in this price range.

Jaguar E Pace cars for sale on heycar
1,021
Number of cars available
£18K - £57K
Price bracket of these cars
Colours available on heycar
Keep me updated by email with the latest advice, news and offers from heycar
By submitting, you agree to our
privacy policy
.