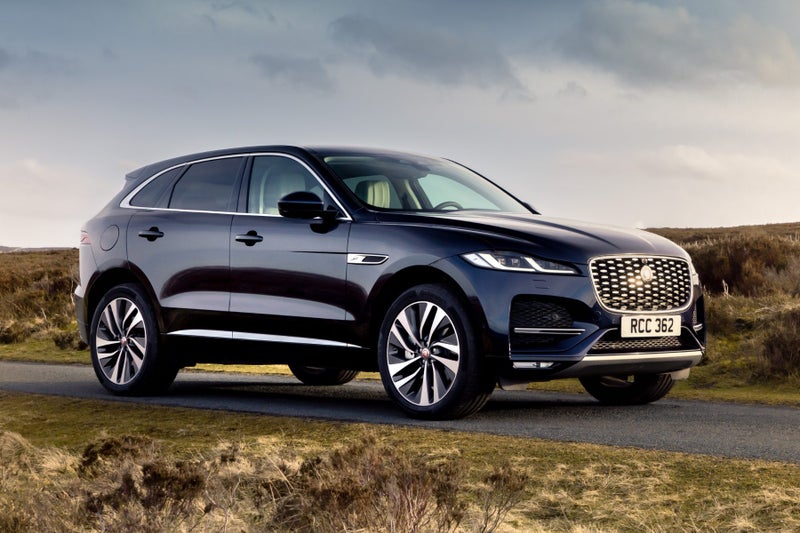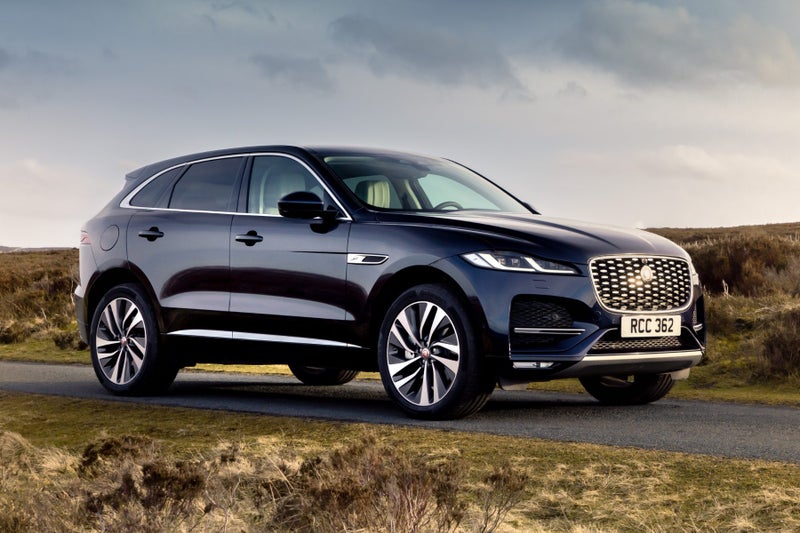 1/10
heycar rating
"Puts the 'sport' into 'SUV'"
Launched: 2016

SUV

Petrol, Diesel, PHEV
Quick overview
Pros
A real head-turning SUV
Great fun to drive
Much posher interior from 2021
Cons
Infotainment on pre-2021 models is frustrating to use
Not the cheapest SUV to buy or run
SVR doesn't feel particularly woke in this day and age
Overall verdict
On the inside
Driving
Cost to run
Prices and Specs
Common questions
Overall verdict on the Jaguar F-Pace
"The Jaguar F-Pace rocked the SUV market when it arrived in 2016. Here's a car that's big enough to carry your family yet still fun to drive, while its head-turning looks are bold enough to make some buyers think twice about a BMW X3 or Audi Q5 – and even the Porsche Macan."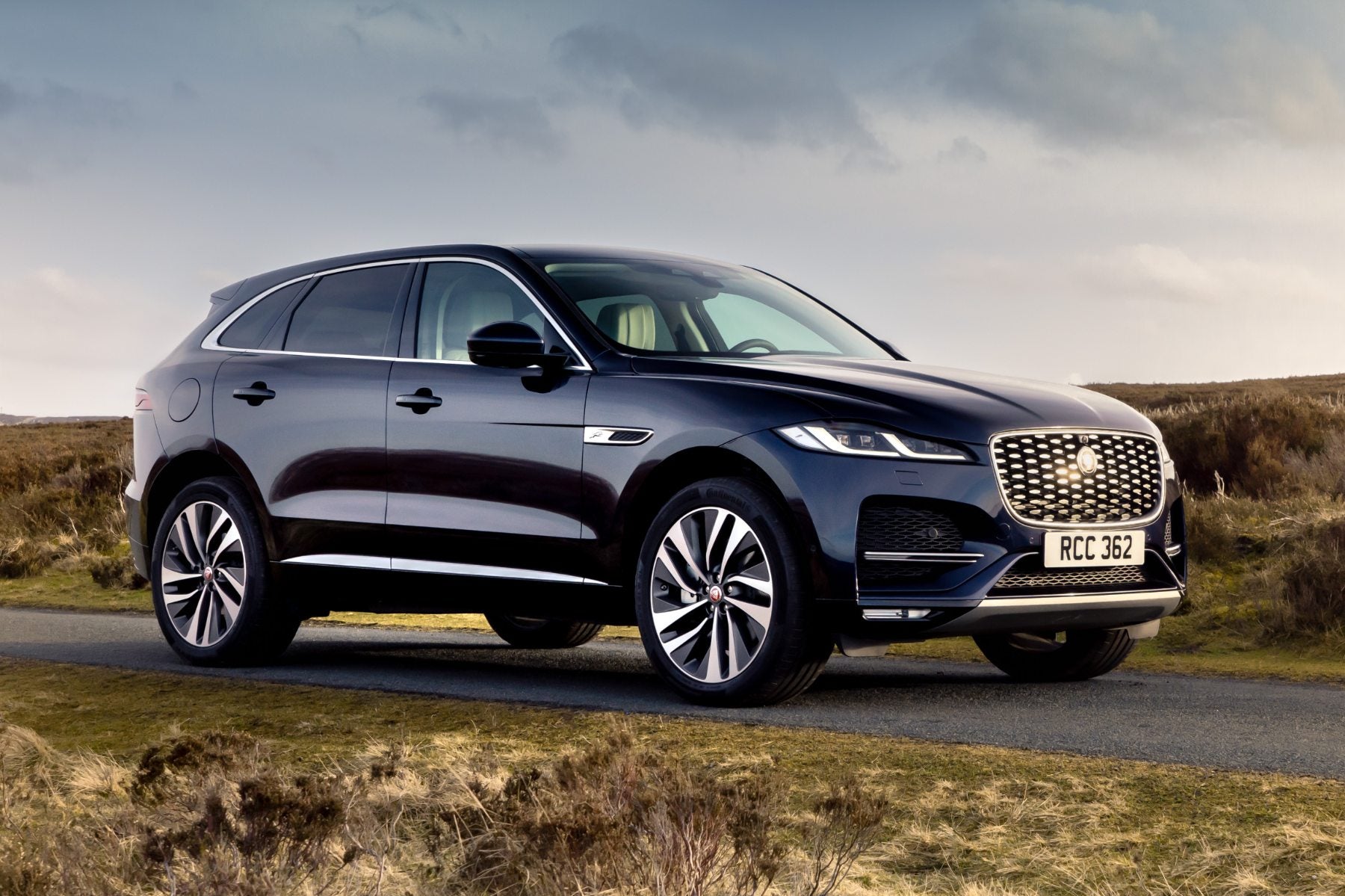 The following years have done little to blunt the F-Pace's left field appeal, although stronger competition in the form of the Volvo XC60 means the F-Pace has to work harder to tempt you into parting with your cash. Quite a significant update in 2021 introduced a revamped engine line-up (including, for the first time, a plug-in hybrid with a 33-mile electric range), while the interior is now up there with the poshest in its class.
The F-Pace emphasises the 'sport' element of SUV, with a fairly firm suspension contributing to agile handling. Models with the adaptive suspension do a better job of ironing out lumps and bumps, but you'd be better looking elsewhere if you want a car that's going to provide a magic carpet ride.
It's on a fast, flowing A-road that the F-Pace really impresses. The steering is unusually communicative for an SUV of this size, and it's only on really twisty roads that you'll start to notice its considerable mass. On the motorway, it becomes the kind of relaxing long-distance cruiser you'd expect for a premium SUV of this size.
The majority of buyers will find the diesel engines are best suited to the F-Pace. Later models come with mild-hybrid power, but don't expect to run around under electric power alone. You'll need the plug-in hybrid model (badged the P400e) for that. If you're not fussed about fuel economy, there's the 5.0-litre V8 SVR. It sounds incredible and has the performance to match, but it's certainly not one for shy and retiring types.
Most F-Pace models come with four-wheel-drive, but this isn't an off-roader. Jaguar's sister brand Land Rover caters for that market. The F-Pace's all-wheel-drive system should provide a little reassurance in slippery conditions, though, and there's a host of driver assistance systems acting as back-up, too. These include autonomous emergency braking, lane keep assist and a driver condition monitor – all of which are standard across the F-Pace range and contribute to its five-star Euro NCAP safety rating.
Even the most affordable models are relatively comprehensively equipped with things like LED headlights, electric seat adjustment and 19-inch (or bigger) alloy wheels standard across the range. The Jaguar F-Pace isn't a cheap car, with the range starting in the region of £40,000, but you can save a healthy amount of cash by looking for a used or nearly-new model.
Less than £30,000 will bag you a lightly-used three-year-old 3.0d in a desirable trim level - representing quite a saving over list price. If you'd prefer a newer F-Pace, there are some strong pre-reg deals on hand. We've seen 2.0-litre diesel examples advertised with delivery miles for below £36,000.
So, there's a lot going for the Jaguar F-Pace. Earlier models might not be quite as well-finished as alternatives like the Audi Q5 and Volvo XC60, and we'd strongly encourage you to look for a 2021-onwards model for its much-improved infotainment. The F-Pace looks the business, though, and is great to drive.
What's the best Jaguar F-Pace model/engine to choose?
The Jaguar F-Pace was pretty heavily improved in 2021 with a revised engine line-up, improved interior quality and fresh technology. If your budget will stretch to a nearly-new model, we'd highly recommend opting for a post-facelift example. The diesels make sense for a lot of buyers (the plug-in hybrid probably isn't worth the expense unless you're a company car driver) – we rate the bigger six-cylinder units, although the entry-level 2.0-litre diesel is fine if you're watching the pennies.
What other cars are similar to the Jaguar F-Pace?
Comfort and design: Jaguar F-Pace interior
"While other SUVs provide lounge-like interiors and high seating positions, the Jaguar F-Pace takes a sportier approach. You sit relatively low down, cocooned by the dashboard and raised centre console. This makes it feel surprisingly sporty - like an SUV F-Type - but it feels slightly more claustrophobic than something like a Range Rover Velar or Mercedes-Benz GLC."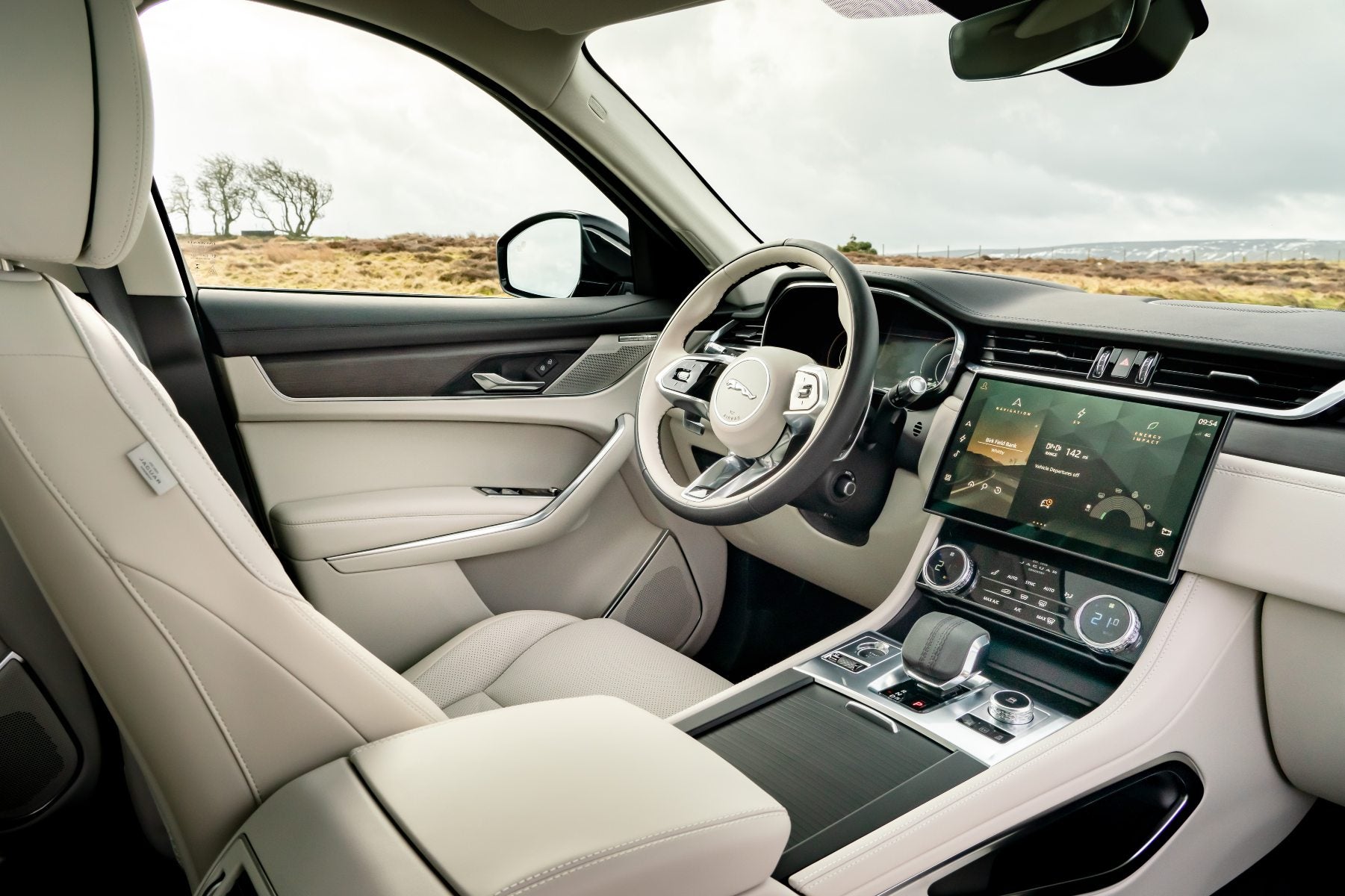 There are a wide range of seats to choose from with various degrees of adjustment depending on how much you're willing to spend. All feature electric adjustment plus tweakable lumbar support and all the ones we've tried have been very comfortable (even the sporty-looking 'performance' seats).
Heated front seats are standard across the range and you shouldn't underestimate their power – they're some of the scorchiest seats in the business. High-spec trim levels even get cooled seats (offered as an option on lower-spec models). There are some bold interior colour schemes available (we quite like the Mars Red upholstery but the Light Oyster does a better job of reducing the claustrophobic vibe).
Earlier F-Paces feature a rotary gear selector which pops up from the centre console. It's quite a cool feature, but later examples use a more conventional shifter which is arguably more intuitive to use. Another thing going for post-facelift F-Pace models are the chunky physical controls for the climate control and heated seats. They're much better than having to wade through menus just to change the temperature. You can even operate them in gloves.
Quality and finish
Earlier Jaguar F-Pace models are a bit of a mixed bag in terms of interior quality. All trim levels come with some kind of leather seats (albeit faux-leather on some) and there are some neat high-quality features (like the pop-up rotary gear selector we mentioned above). That said, some of the buttons feel a bit flimsy and you'll find some below-par materials if you look for them. It's just not as convincing as a Mercedes-Benz GLC.
Things changed dramatically with the 2021 update, though. It's like Jaguar's accountants suddenly found some extra cash for giving the F-Pace the interior it should have. Gone are the cheaper-feeling materials and in their place, you'll find lovely, soft-touch materials. We'd look for one with real leather for the full premium car ambience.
Infotainment: Touchscreen, USB, nav and stereo in the Jaguar F-Pace
As well as improved interior quality, the 2021 Jaguar F-Pace comes with a much more impressive infotainment display. With its stylish 11.4-inch screen and sharp graphics, we reckon it's one of the best systems on the market. Apple CarPlay and Android Auto are standard, meaning you can mirror apps from your smartphone, while all the menus are easy to navigate. If we had one criticism, it's a shame it's reliant on touchscreen operation – there's no rotary controller like that used by BMW's iDrive system.
Older Jaguar F-Pace models come with an 8.0-inch touchscreen display which looked dated even when it was new. The graphics are noticeably low resolution compared to the latest system, while there's no Apple CarPlay or Android Auto either. The bigger InControl Pro system with its 10.2-inch display is better.
While entry-level grades come with old-fashioned analogue dials, higher-spec models come with an interactive display. Although not as customisable as Audi's Virtual Cockpit, these look pretty smart and provide all the information you could possibly need. There's also an optional head-up display available, projecting info like your speed onto the windscreen.
Space and practicality: Jaguar F-Pace boot space
While the Jaguar F-Pace might feel slightly claustrophobic at first (particularly if you buy one without the panoramic roof), it's actually very spacious. It's slightly bigger than cars like the BMW X3, and that means there's more interior space. There's loads of room in the front (even with the aforementioned panoramic sunroof – a feature that can sometimes eat into headroom), while the high-up seating position gives you a feeling of superiority.
Space in the back is more than adequate, especially for children. Three broad-shouldered adults might find things a little tight, but there's more room than in the back of a Porsche Macan. There are Isofix mounting points on the outer rear seats, while easy access helps when fitting child seats.
The boot can lug up to 613 litres of luggage, which is more than the majority of rivals can manage. If you need even more space, the rear seats split 40/20/40 to increase capacity to 1440 litres. An electric tailgate is standard fit on most models – you'll soon appreciate how important this is once you've tried to close the F-Pace's boot while carrying shopping bags.
There's a relatively low load lip, which also helps when carrying luggage, while optional accessories like the loadspace partition net and loadspace storage rails (part of the Loadspace Practicality Pack) will stop your shopping from sliding around.
Handling and ride quality: What is the Jaguar F-Pace like to drive?
"The Jaguar F-Pace is Britain's answer to the Porsche Macan. That means its handling almost defies physics – you can chuck it around like a hot hatch and it'll beg for more."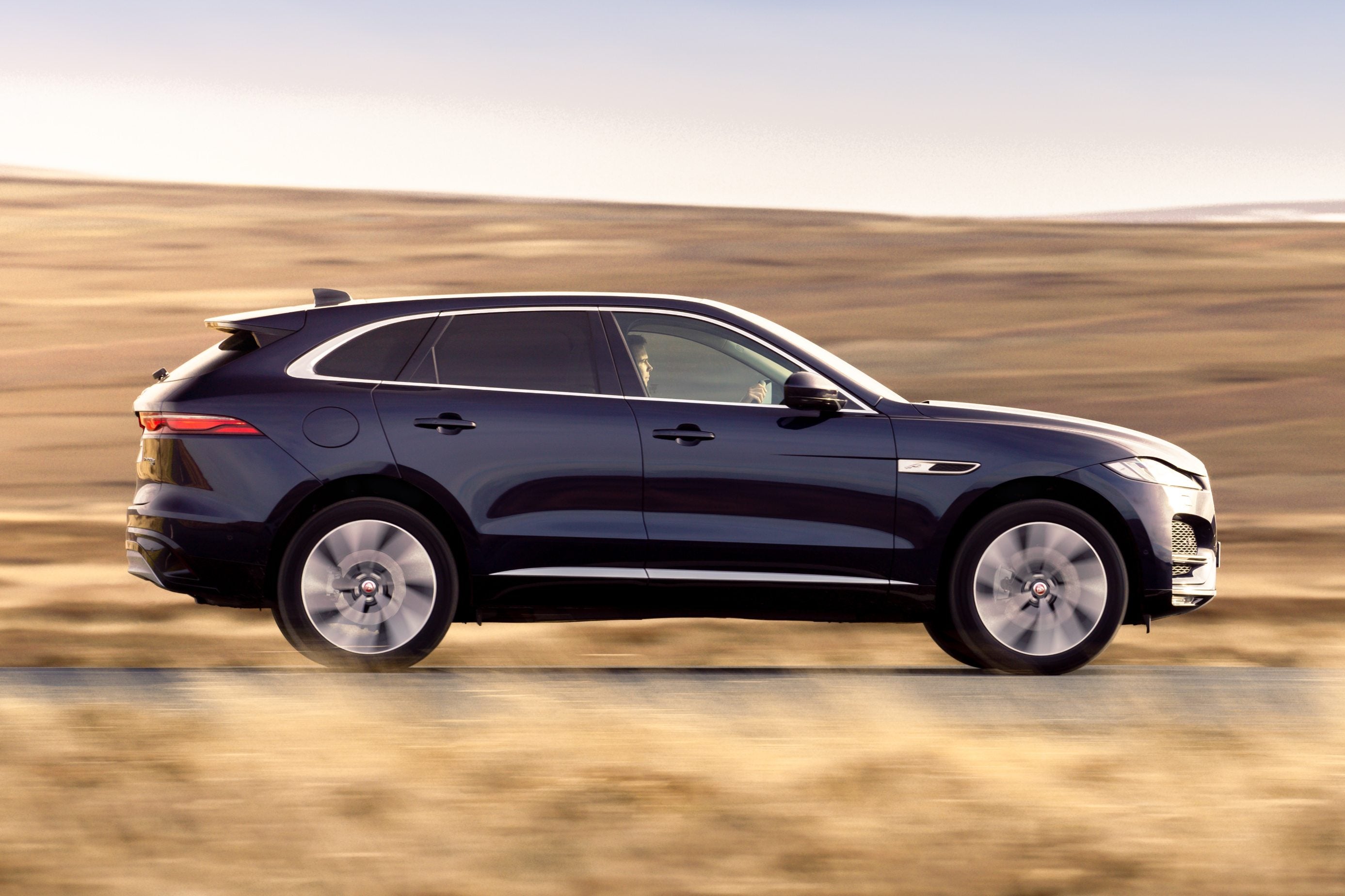 Most Jaguar F-Pace models come with four-wheel drive, with power predominantly being sent to the rear wheels. That means you can feel the car being pushed through bends, while the front wheels are left to handle the steering. It's a lot less boat-like to drive than a Volvo XC60 or Audi Q3, with the body remaining very level during cornering (a good thing if your kids suffer from travel sickness).
It's impressive, though, that this agility doesn't come at the expense of comfort. It doesn't clatter around over potholes (even if you buy one with in-your-face alloy wheels), but the sportier drive modes on high-spec models with the adaptive suspension certainly do give the F-Pace a firm edge.
You'll notice its bulk, too, especially on tight rural roads or when tackling a multi-storey car park. The high seating position means you have an excellent view of the road ahead, but rear visibility isn't quite so impressive. Fortunately, Jaguar includes a heap of technology to make it feel a little less intimidating to drive. All models come with a bird's eye view camera as well as front and rear parking sensors. With a bit of practice, you'll be slotting it into a space like a parking pro.
What engines and gearboxes are available in the Jaguar F-Pace?
There's pretty much an engine to suit every buyer with the F-Pace. The current diesel line-up consists of two four-cylinder mild-hybrid units (badged the D165 and D200), as well as a more potent 3.0-litre straight-six badged the D300. Being 'mild-hybrid' doesn't mean that you can cruise around town in silence – rather, there's a teeny tiny battery and electric motor on hand to provide assistance during acceleration (and allow the car to coast to a stop with the engine off).
The standard petrol engines consist of a straightforward 2.0-litre motor (labelled the P200 and doing without mild-hybrid tech), as well as a punchy six-cylinder 3.0-litre P400 model (this one a mild-hybrid).
While there isn't an electric Jaguar F-Pace (the Jaguar I-Pace caters for that market), a plug-in hybrid model arrived in 2021. This sports a P400e badge and uses the same 2.0-litre petrol unit as the P200, combined with a 17.1kWh battery pack and an electric motor on the front axle. The result is a car that can theoretically travel under electric power alone at speeds of up to 87mph and up to 33 miles in distance.
If you're not fussed about being woke, there's also a range-topping SVR model with the kind of supercharged 5.0-litre V8 engine that eats hybrids for breakfast. With 550PS and 700Nm of torque (up from 680Nm on earlier models), this obliterates the 0-62mph sprint in 4.0 seconds flat (or 4.3 seconds on pre-facelift cars). It's one of the quickest SUVs on sale and feels about as close to a load-lugging supercar as you're going to get.
Older F-Pace models were offered with a manual gearbox and two-wheel drive, but these sold in very small numbers. The range went four-wheel drive and automatic only from 2021.
Refinement and noise levels
As you'd expect for a premium SUV like the Jaguar F-Pace, all models do a decent job of drowning out the outside world. The plug-in hybrid P400e is particularly refined around town, provided the battery's charged and it can run on electric power. You can flick through various modes, choosing to force the car to run under electric power (if possible) or to run the petrol engine and charge the battery. This means you can deploy the electricity when it's best suited, so in town for example. We reckon most drivers will just leave it in auto, though.
The mild-hybrid P400e might not be able to run under electric power, but its six-cylinder burble is quite a distinctive sound - pleasant, without being intrusive. The SVR is much noisier, particularly during harsh acceleration, but that's part of the character of the car. It can certainly settle down into a quiet cruise when you want it to. High-spec models come with active noise cancellation which adds to the hushness of the F-Pace's cabin.
Safety equipment: How safe is the Jaguar F-Pace?
The Jaguar F-Pace is loaded with equipment to help you avoid a collision. Autonomous emergency braking is standard across the range – so the car will apply the brakes if it thinks you're about to crash – while lane keep assist will nudge your steering if you start to inadvertently venture from your lane. There's a driver condition monitor, which will tell you when it's time to take a break, while traffic sign recognition will remind you of the speed limit.
SE models and above come with a few desirable driver-assistance features (available elsewhere as optional extras). These include blind spot assist, clear exit motor and rear traffic monitor – all designed to alert you to other road users that may otherwise be out of your view.
When Euro NCAP crash tested the Jaguar F-Pace in 2017, it awarded it a full five stars for safety. This includes a 93% score for adult occupants and 85% for children.
MPG and fuel costs: What does a Jaguar F-Pace cost to run?
"The Jaguar F-Pace P400e's combined fuel consumption figure of 130.2mpg is incredibly impressive on paper but a lot of drivers will find the diesel engines to be more efficient in the real world."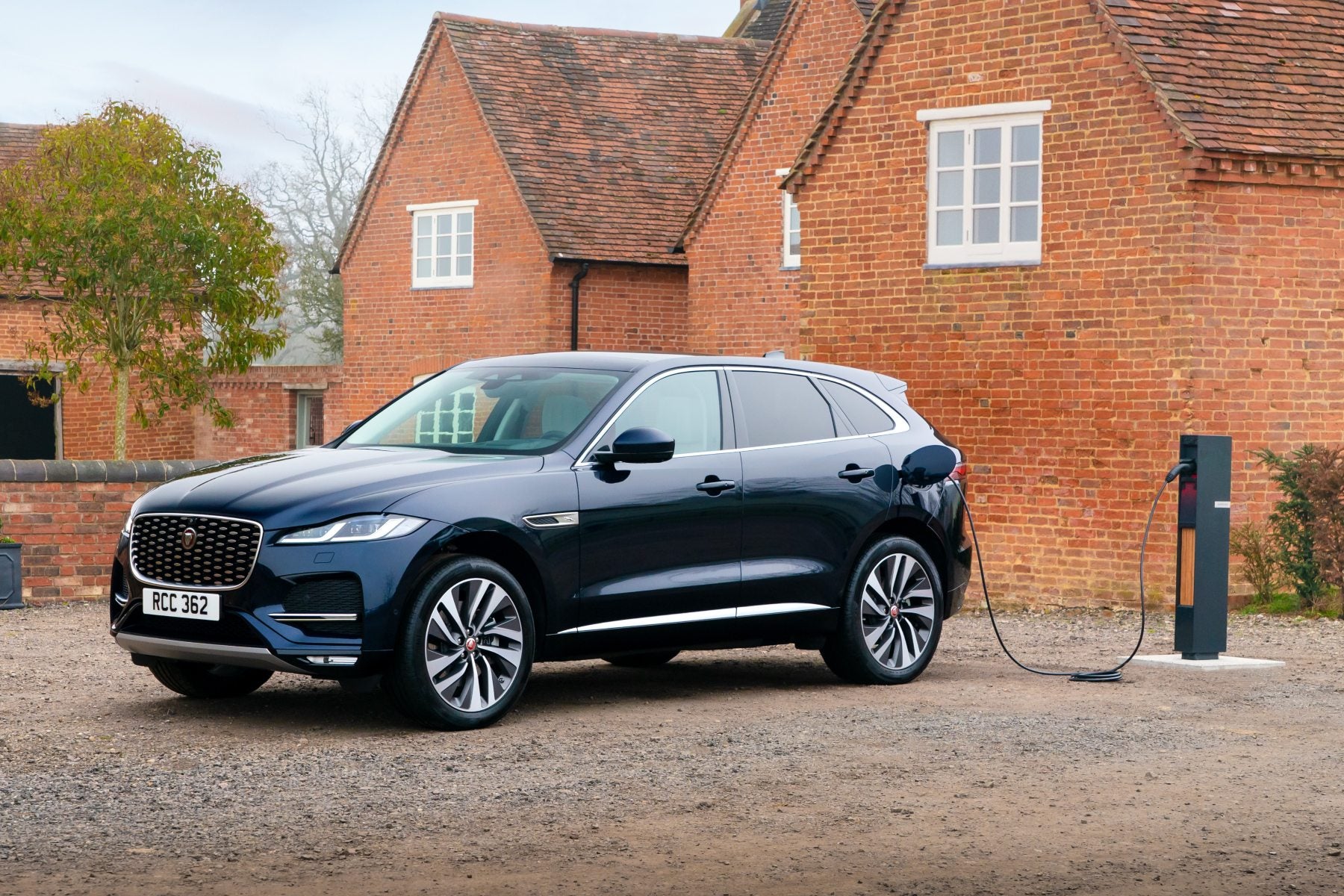 That's all down to the way official fuel economy tests work. The plug-hybrid P400e has an official electric range of up to 33 miles so, if you charge it regularly and only ever use it for short journeys, the petrol engine will rarely kick in. On the other hand, if you never charge it, it will be considerably less efficient.
If you're a long-distance driver, we'd recommend one of the diesel models. Both the D165 and D200 mild-hybrids return 45.4mpg in official tests, while the D300 provides up to 38.1mpg.
The petrol models are pretty heavy on fuel, as you'd expect for an SUV of this size. The P250 returns up to 30.4mpg while the mild-hybrid P400 has an official fuel consumption figure of 28.8mpg. As for the SVR... you're looking at 23.1mpg on a good day.
Insurance groups and costs
A Jaguar F-Pace D165 will be the most affordable to insure thanks to its 28E insurance group. A mid-range R-Dynamic model with the D200 engine falls into insurance group 35E, while the SVR is (unsurprisingly) in the highest insurance category, group 50E.
It's worth noting that the plug-in hybrid P400 is also quite expensive to insure, as it's been placed into group 43e in R-Dynamic trim. That's comparable with rivals, though, and we'd always recommend shopping around for insurance quotes (particularly if you're a relatively new driver).
VED car tax: What is the annual road tax on a Jaguar F-Pace?
Jaguar F-Pace models registered since the beginning of April 2017 will cost £150 a year in VED (road tax), plus an extra £325 a year in premium car tax for five years for those with a list price of more than £40,000 (that's most of them). Plug-in and mild-hybrid options qualify for a £10/year discount.
Cars registered before April 2017 will be taxed depending on their CO2 emissions. This could provide quite a significant saving, so it might be worth hunting out an early model. If you really want free car tax, you'll need to look at an electric alternative like the Jaguar I-Pace.
How much should you be paying for a Jaguar F-Pace?
"A new Jaguar F-Pace starts from around £40,000, while the range tops out with the £77,500 SVR. That's undoubtedly a lot of money, the F-Pace is priced competitively against rivals. The BMW X3, for example, starts from around £42,000, while the most affordable Audi Q5 is another £1500 on top of that."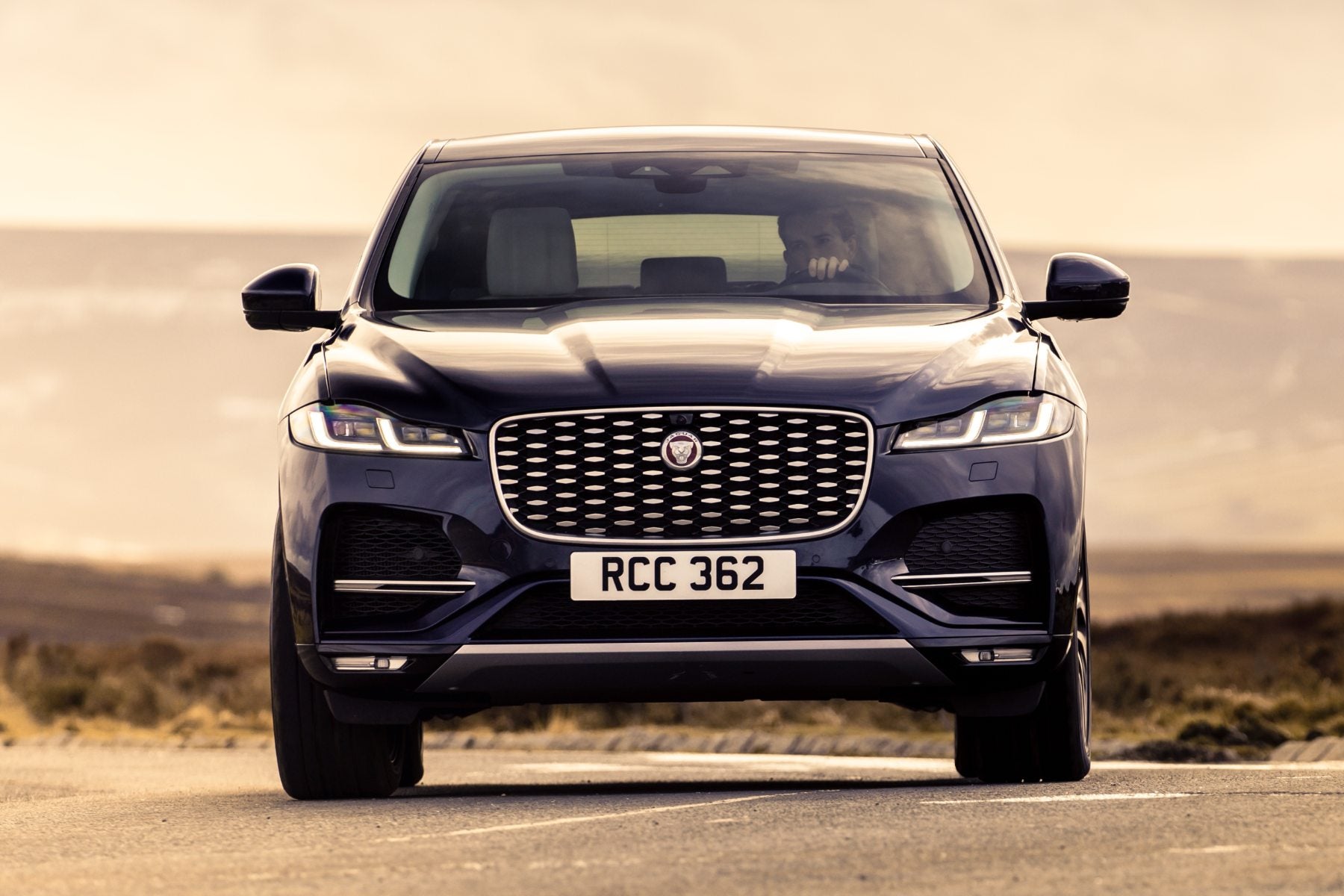 You can save a heap of cash by looking on the used market, though, where prices are now dipping below £20,000. For that kind of money, you'll pick up an R-Sport or Prestige model with the 2.0-litre diesel engine. You'll need around £25,000 for a petrol model with the 2.0-litre engine, while the 3.0-litre petrol starts from around £30,000.
If you want a sporty SVR model but don't want to fork out the full retail price, a lightly used two-year-old example will cost around £55,000 – that's a saving of more than £20,000 compared to new.
Trim levels and standard equipment
The standard F-Pace comes with LED headlights, 19-inch alloy wheels and power-folding door mirrors. Inside, the F-Pace features faux-leather seats, an 11.4-inch touchscreen infotainment system (with Apple CarPlay and Android Auto), and a heated steering wheel and front seats (with eight-way electric adjustment). Tech highlights include a 3D surround camera, lane-keep assist and traffic sign recognition with adaptive speed limiter.
Upgrade to an F-Pace S model and you'll get an electric tailgate and real leather seats (with 12-way electric adjustment in the front). Desirable features on the F-Pace SE include 16-way electric seat adjustment, a digital driver display and the blind spot assist pack. It also comes with 20-inch alloy wheels, keyless entry and animated indicators.
For ultimate luxury, look for a Jaguar F-Pace HSE. Standard kit includes 21-inch alloy wheels, a premium audio system and the driver assist pack (with adaptive cruise control, blind spot assist and rear collision monitor).
Each model's also available in R-Dynamic flavour, with some sporty exterior and interior upgrades (including a body kit and an R-Dynamic brand leather steering wheel).
While most people buy a Jaguar F-Pace SVR for its V8 engine, further highlights include its 21-inch alloy wheels, red brake calipers and quad tailpipes. Inside, you'll find a bespoke steering wheel and 14-way heated and cooled front Performance seats finished in part leather.
Ask the heycar experts:
common questions
Is the Jaguar F-Pace a good car?
The Jaguar F-Pace scores 8/10 in our heycar review putting it alongside rivals like the Volvo XC60 and Audi Q5. It's a sporty choice with a superb interior and big boot.

Is the Jaguar F-Pace good off road?
The Jaguar F-Pace isn't a natural off-roader, although most models come with four-wheel drive. If you plan to venture off road, we'd recommend an alternative like the Range Rover Velar.

How expensive is the Jaguar F-Pace?
A new Jaguar F-Pace starts from around £40,000 while the range tops out with the £77,500 F-Pace SVR. You can pick up a used example for less than £20,000.

Jaguar F Pace cars for sale on heycar
1,018
Number of cars available
£22K - £82K
Price bracket of these cars
Colours available on heycar
Keep me updated by email with the latest advice, news and offers from heycar
By submitting, you agree to our
privacy policy
.