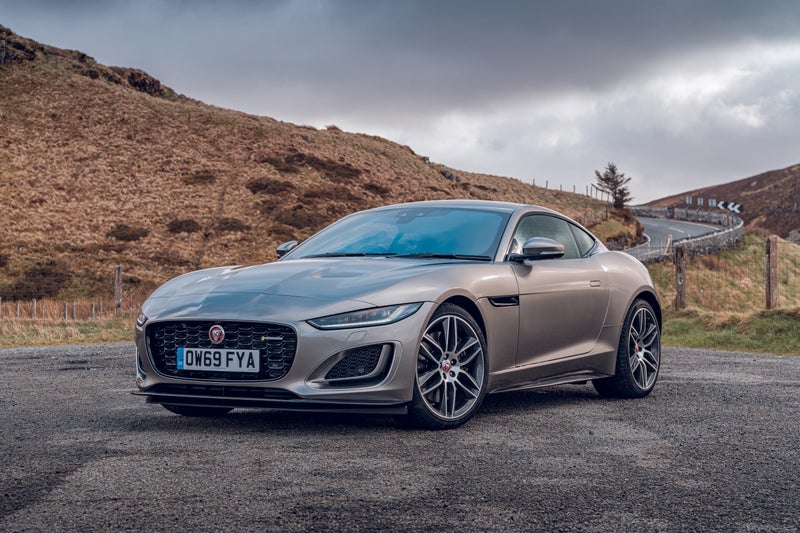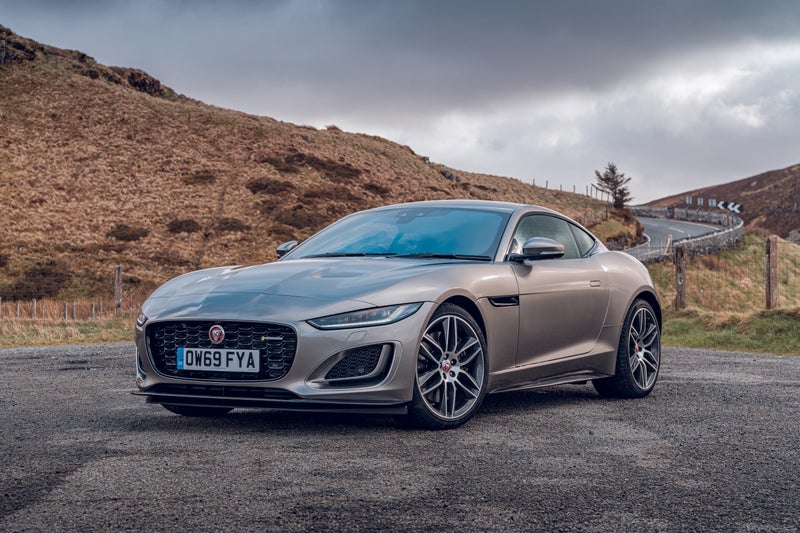 1/10
heycar rating
"Competent, beautiful Jaguar ageing well "
Launched: 2013

Performance

Petrol
Quick overview
Pros
Damn, it's pretty
Those V8s sound magnificent
It's not a Porsche, and that's a good thing
Cons
You still want an Aston Martin Vantage, don't you?
Those V8s will be scarily expensive to run
Infotainment still lags behind rivals on user friendliness
Overall verdict
On the inside
Driving
Cost to run
Prices and Specs
Overall verdict
"Having such a wide range of models to compete against does make the job for the F-Type difficult, but it's a credit to the car's capabilities that it's able to do so pretty convincingly. Sports cars aren't rational and, undeniably, the Jaguar is abundantly endowed with emotional appeal.  The F-Type is aging well, but, inevitably, the gap between it and its rivals is ever-widening, though not yet to the point you shouldn't consider one. "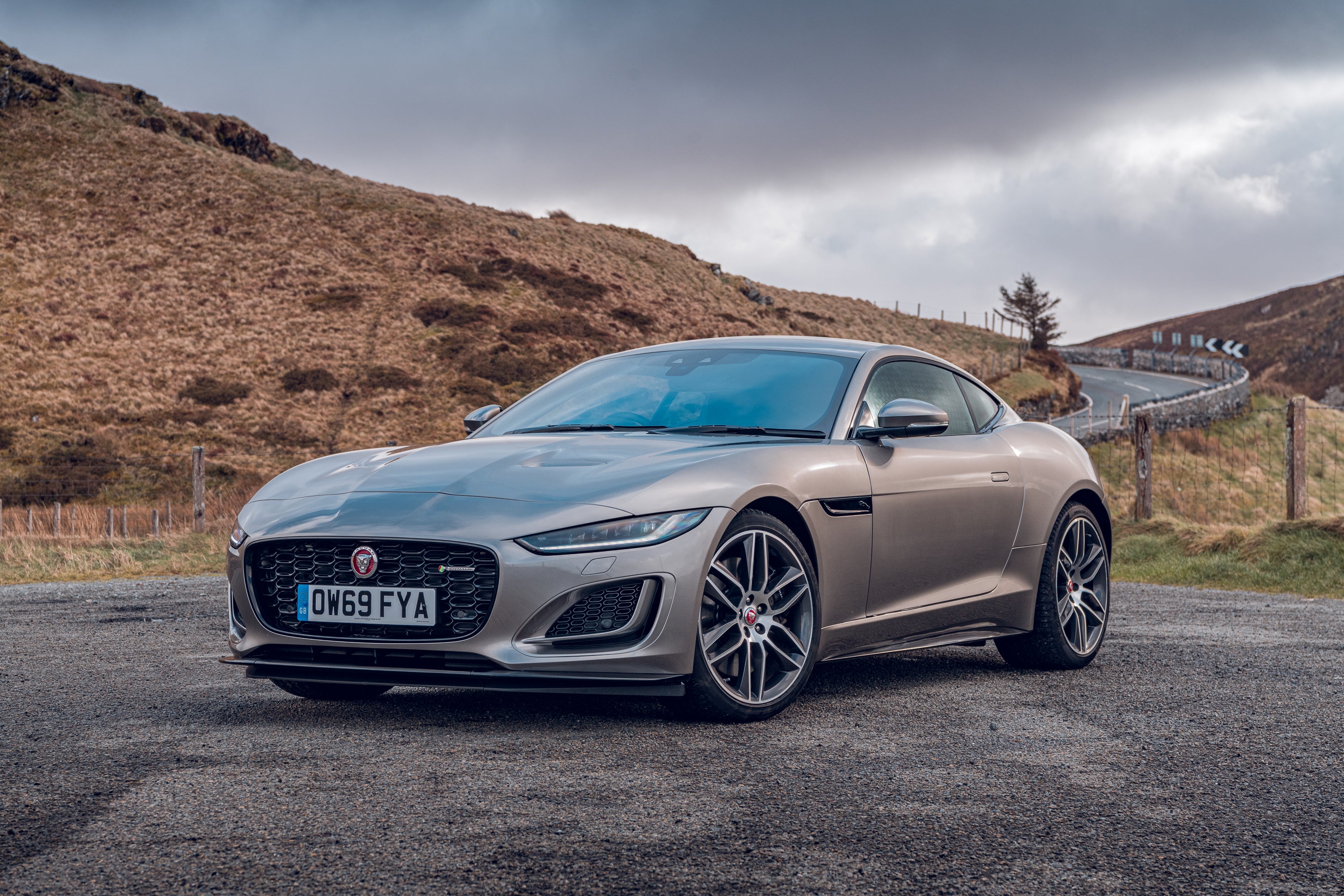 Jaguar introduced the F-Type back in 2013, but it's taken until late 2019 until it's refreshed its sports car offering's looks, taking the opportunity too to rationalise the range a bit, slimming down the engine offering, all of which makes choosing your F-Type simpler.
For all its age, the F-Type remains a real head-turner, which, in this class is a real virtue. It helps it's not one of the Porsches it competes against, with the F-Type's range and pricing spanning the 718 Cayman/Boxster models, as well as Porsche's 911 Carreras, the F-Type a more deliberate choice than the somewhat predictable Stuttgart cars.
Deliberate and good looking, while we'd have applauded you for buying the old F-Type on its looks alone, the face-lifted car's revised styling really does elevate it to a new level. There's some real elegance to the front end, the sharper rear lights adding some sharper definition around its tail too. At the F-Type's launch back in 2013 a lot of noise was made about it evoking its E-Type ancestor, that never really ringing true back then, now the link is a bit more tangible.
Inside, it's largely the same as it has always been, but through time Jaguar has sensibly concentrated on improving the material qualities, as well as the fit and finish. Think finessing then, rather than widespread changes inside, which given its design was fundamentally correct when it was launched is no bad thing. There's improved, if still imperfect, infotainment in the 2020 models, while the simplified engine line up makes it easier to decide which F-Type to choose.
Previously the F-Type's engine heartland was a choice of V6s, but they've been dropped, Jaguar now offering the F-Type with either a turbocharged, 2.0-litre, four-cylinder engine, or a supercharged 5.0-litre V8. There's quite a gap between those powerplants, with that entry-level engine delivering 300PS and 400Nm, compared to the 450PS and 580Nm that the supercharged V8 develops.
If 450PS isn't quite healthy enough an output for you then there's another version of that supercharged V8 available, it being tuned to deliver 575PS and 700Nm of torque – numbers that better Jaguar's old XJ220. Sensibly, given that monstrous output, the range-topping F-Type is only available with four-wheel drive, with the 450PS version being offered with either four- or rear-wheel drive, and the four-cylinder entry-level car being rear-wheel drive only.
Unambiguously, Jaguar names its F-Type line up using its power outputs, so that entry-level car is the P300, with the P450 and P575 above it. All are available in either closed coupe or opening convertible forms and are two-seaters. Jaguar has yet to announce any SVO (Special Vehicle Operations) model spun off the range-topping model, but as sure as rainwater eventually becomes seawater, an SVO model will be offered, it likely to have around 600PS and a more hardcore focus.
Is the Jaguar F-Type right for you?
You've discounted the idea of a Porsche, either the 718 models or 911s, Audi's R8's a bit too compromised, and BMW or Mercedes-Benz don't appeal, either. An Aston Martin Vantage is still a bit out of reach, for now. The F-Type range's breadth really is wide enough to cover all those bases, partially at least.
Chances are you've owned Jaguars before or have always loved the E-Type and want some of that in a more modern package. It's an indulgent car the F-Type, being a two-seater, and while there are obvious compromises because of that, practicalities like boot space being one, potential running costs, another, but you've worked hard for your F-Type, and deserve it.
What's the best Jaguar F-Type model or engine to choose?
Jaguar offers the F-Type with those three power outputs spread over two engine choices, with three trim levels encompassing F-Type, R-Dynamic for the P300 and P450, and R – reserved for that P575 model. A fourth, limited First Edition choice being offered at launch in 2020 on the P300 and P450 for the first year of production only.
It's difficult to argue against the P300 model, which might lack the muscularity of those V8's performance, but also do without their more punitive running costs. It's a fine handling, quick enough car, which in R-Dynamic trim benefits from slightly more assertive styling thanks to some glossy black exterior finishes, while the wheels grow an inch to 19-inches.
Crucially, with the R-Dynamic you get an active, switchable exhaust system, which helps give that four-cylinder a more appealing sound. The only real decision is open or closed, and that probably depends on how you're using it, but if it's a daily driver the coupe makes more sense, though a convertible for the weekend would be very pleasing, too.
What other cars are similar to the Jaguar F-Type?
The F-Type really does line-up against a broad church of potential rivals, at one end it's in the smaller, relatively affordable end of the sports car spectrum, and at the other, it's chasing supercars, on pace, if not necessarily outlay.
That's between around £50,000 and £100,000, so there's the Porsche 718 Cayman and 911 line ups, cars like the BMW Z4 and Mercedes-Benz SLC/SL, purist sports cars like the Alpine A110 and Lotus Evoras or Exiges, as well as things like Audi TTs to R8s. An F-Type buyer might also consider Aston Martin's Vantage, too, even if you could have a pair of F-Types for the sort of money you'd need to find for one Aston Martin.
Comfort and design
"The F-Type's interior might now be, despite revisions, pushing 7-years old in its basic architecture and layout, but it's testament to the quality of the original design that it still looks good today. As standard the F-Type and R Design feature six-way electrically adjusted sports seats covered in ebony leather as well as an electrically adjustable steering column – for rake and reach. Getting comfortable behind the wheel is easy enough."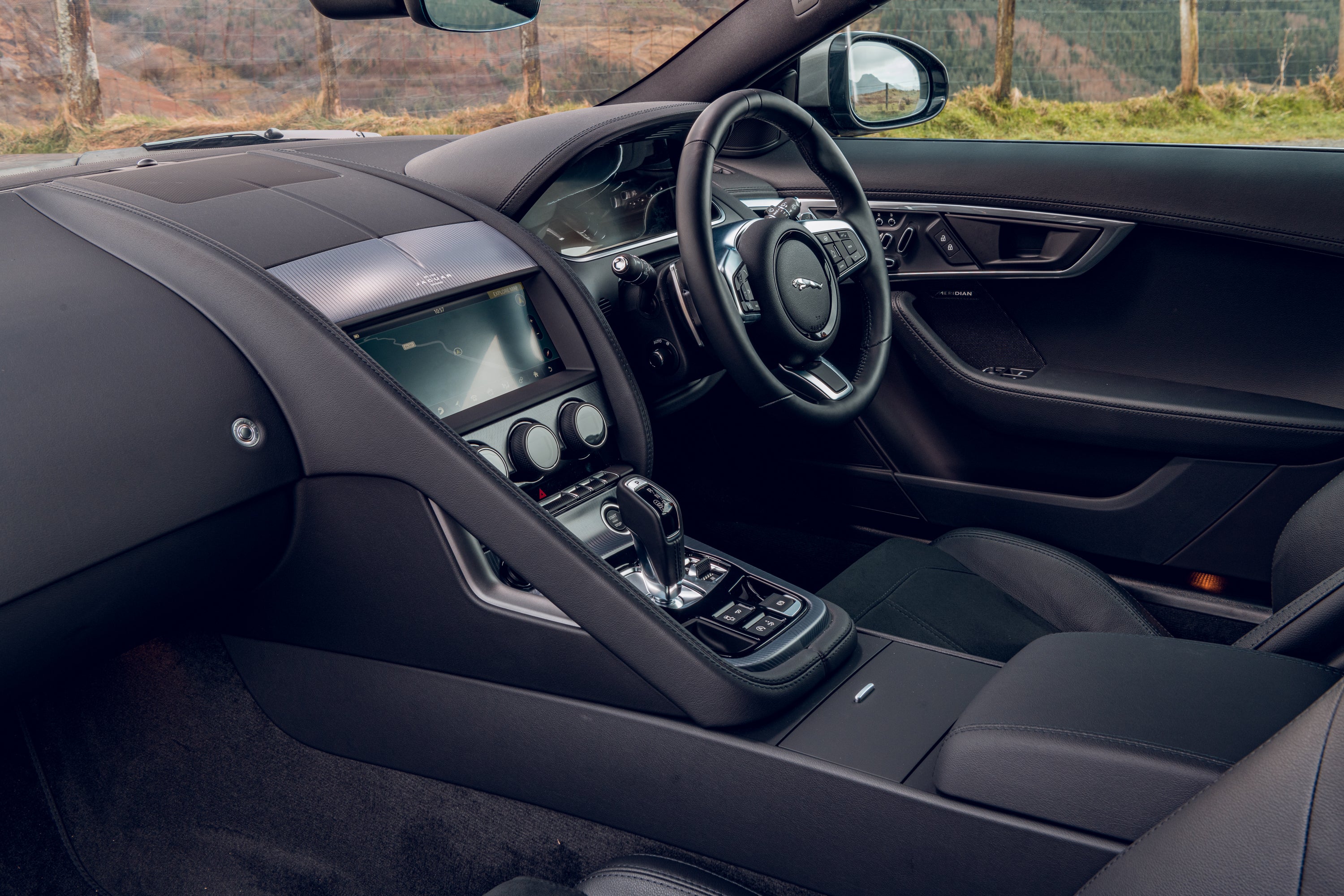 The First Edition adds 12-way electric adjustment to the seats, and the electric, folding mirrors gain a memory function. The range-topping R model, limited to the P575 engine, gets keyless entry, memory added to the steering column adjustment and, if you've gone for the convertible, a wind deflector for when the roof is down. All convertibles get a powered hood, which drops quickly and easily at the push of a button.
Jaguar hasn't gone as far as angling all the centre-console controls towards the driver as you might find in some cars, but it does delineate the passenger and driver's spaces with a large grab handle coming out of the passenger side of the transmission tunnel and rising up the dashboard. While it's likely to be welcomed by a passenger hanging on during a bout of spirited driving, it also makes passenger operation of the climate control a little less easy than it could be. There's a bit of theatre getting in, too, from the pop-out door handles outside, to the way the air vents rise out of the top of the dashboard, small things, but ones that amuse and entertain.
Quality and finish
Get inside and the initial impression is one of a nicely finished interior, and you'd be largely right. The materials that are in your sight look good, even if they lack the tactility of those in something like an Audi TT (or R8 if you're further up the range). Likewise, nobody at Porsche is going to be benchmarking the F-Type for trim materials, but, in fairness, both Audi and Porsche do set a very high bar in this regard.
In isolation it's a special enough cabin, indeed, take into account that Jaguar probably had a budget to develop the entire F-Type's interior comparable to what Audi might spend designing a cup holder, and its actually rather good. There's a but though, and that's that it's okay at P300 levels of outlay, it less tolerable when you're dropping nearly £100,000 on it, as you will with a P575 R.
You should be enjoying it too much to care about the odd cheap feeling bits of plastic secreted away out of your sight, but there if you go looking for them. It all feels decently screwed together, too, however, every time we get in the F-Type we do wonder how problematic and costly those electrically powered vents that rise from the middle of the dashboard would be to fix should they ever go awry.
Infotainment
Like the overall interior, Jaguar's infotainment offering can't quite offer the polish of its bigger rivals, it fiddly to the point of distraction, with sub-menus galore, and a touchscreen that needs a good prod at times to respond to inputs. Superficially it all looks good, but it requires some learning, and even once you've mastered its peculiarities, patience. It's some way behind Porsche, Audi and BMW in regards to user friendliness, and we've encountered a few that are just plain buggy, with the entire system freezing.
The 10-inch central screen contains the Sat Vav, an online pack, Bluetooth and USB connectivity and controls a standard 380W 8 speaker Meridian sound system with DAB. That can be upgraded to a Meridian Surround Sound System, which boasts 770W and gains another pair of speakers. There's Apple CarPlay or Android Auto connection as standard, while Jaguar's remote App allows you to track your journeys, check fuel levels, heat or cool the car before you get in as well as lock and unlock it with your smartphone.
In addition to the main infotainment screen, the instruments are replaced by a 12.3-inch interactive display, which offers configurability to display maps, switch between music tracks and much more, too.
Space and practicality
It's a two-seater sports car, but the cabin will fit a pair of taller adults without any problems, with good headroom, and plenty shoulder space. The impression of space is reduced a bit with the convertible, thanks to the proximity of the folding roof over your shoulder, but it's still not claustrophobic in there. There's a big transmission tunnel dissecting the interior but it doesn't impede your space too much, and gives room for a pair of cupholders and a small lidded storage box. The glovebox is typically small, while the door bins aren't exactly huge, either, but this is a sports car, so it's difficult to be too critical about that.
You're unlikely to be surprised to hear that the boot space isn't exactly vast, either, falling into the clichéd 'squashy bag', and 'best leave your golf clubs in the locker room at the clubhouse' category, if, indeed anyone still plays golf – we reckon an F-Type buyer just might, actually. The coupe significantly betters its convertible sibling here, which, again is no shock, the coupe's hatchback giving better access over the small bootlid of the convertible, indeed, the coupe might fit a suitcase, if you're not too ambitious packing it.
The coupe's measured volume is actually a respectable 310 litres, with the convertible being 207 litres, both of which are smaller than something like their Porsche 718 Cayman/Boxster rivals, but with the F-Type coupe the space on offer is arguably more usefully shaped. There is no ISOFIX child seat mounts in the F-Type's passenger pew, though Jaguar does offer child seats for various age ranges for the F-Type.
Handling and ride quality
"The F-Type covers a wide price spectrum and brief, so it's not surprising that it lacks the clarity of focus of some of its rivals. Most will be happy with it though, the F-Type's ride being supple and composed, it only when you start asking bigger questions of the chassis does the F-Type fail to deliver quite the incisive, predictable responses of the best of its rivals, and at road speeds, it's not really a concern."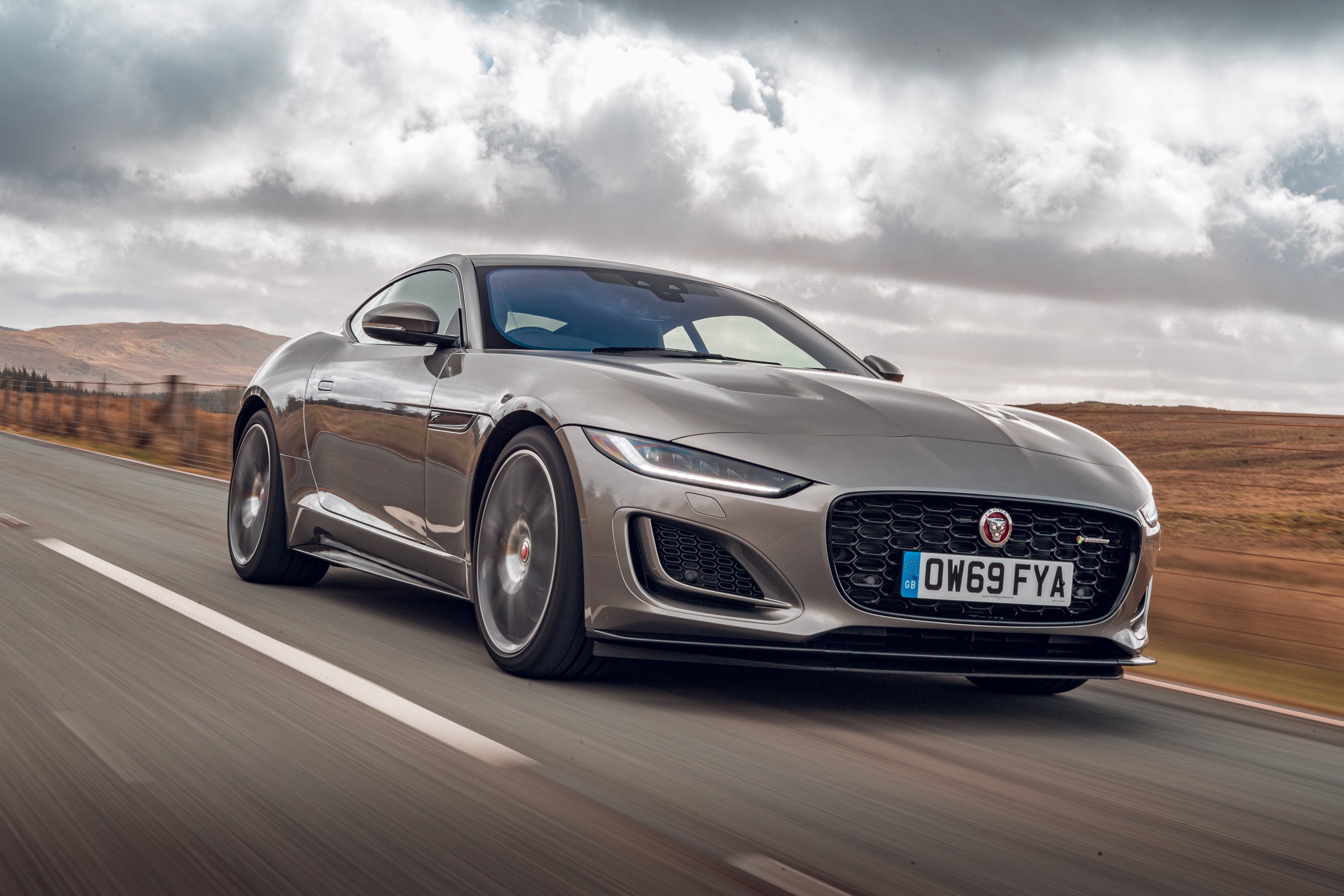 The P300 entry-level F-Type makes do with standard passive suspension, which means there's no possibility to adjust the damper settings via mode buttons inside. That's not really an issue, as it rides commendably, particularly on the standard 18-inch wheels. Opt for the R-Dynamic P300 model and those wheels grow to 20-inches in diameter, but there's not too great a trade-off in ride quality to deny your F-Type the better looks those bigger wheels bring.
The simpler suspension of the four-cylinder P300 cars works well enough, then, largely because they are lighter than their V8 relations. Thanks to the P300's lighter engine as well as the lack of four-wheel drive (the P450 offered in both rear- and four-wheel drive), its lesser mass definitely making the entry car feel a bit more nimble than its bigger performance relations.
The P450 and R both weigh in significantly more, at worst carrying over 220kg more, and while their engines have the performance to cope with it, that bulk needs controlling. Jaguar fits all the V8 cars with adaptive damping as standard, which helps, the does the addition of an Electronic Active Differential with torque vectoring by braking – the P300 getting an open differential but featuring that torque vectoring. That all helps the V8 cars provide prodigious cross country pace, but they lack the finesse of the best of their competition, the steering not as precise or incisive, thought the four-wheel drive system does, largely, retain a rear-wheel drive feel, overall they feel softer, a little bit more GT in character than the best of the F-Type's rivals.
Engines and gearboxes
Two engine choices with the F-Type, and it's a decision between the cylinder count of four, or eight. Both the four-cylinder and V8 engines feature forced induction, so there's turbocharging with the smaller 2.0-litre unit, while that 5.0-litre V8 gets a supercharger to increase its performance. Unsurprisingly, they're quite different in character, but don't think that the P300 shouldn't be considered, as a poor relation, as 300PS and 400Nm of torque is enough to allow a 0-62mph time of 5.7 seconds, which might be bettered by some hot hatches these days, but feels brisk enough in reality. The engine does need working hard to produce its best, but that's part of its appeal, and when you're not in a hurry it works well with the eight-speed automatic transmission – no manual offered with the facelifted F-Type.
The V8 is a different animal, in performance and voice. It's offered in either 450PS (580Nm of torque) and 575PS (700Nm) in the R, allowing a 4.6s second 0-62mph time in that P450, or 3.7 seconds in the R. That latter figure isn't far off supercar quick, as is the R's 186mph top speed. Again, the V8 is mated to Jaguar's eight-speed automatic, which works well enough when you shift it yourself, but it can be a bit slow to react at times when in fully automatic mode. Switching the drive modes helps, with Dynamic speeding up both the gearshift and changing the engine map for a quicker response.
Refinement and noise levels
Sports cars should make a bit of noise, indeed, the old V6 F-Types were particularly overt in the sounds emanating from their exhaust pipes. The P300 four-cylinder is a little bit more muted in character, but opt for the switchable active sports exhaust and you can liberate some more appealing notes, though it's never going to have the character of its V8 relation. It's a particularly vocal engine, though with that switchable exhaust you can quieten it down if you don't want to drive everywhere with a burbling, muscle car-like soundtrack accompanying you.
There's a bit of tyre roar with all, and some wind noise at speed through the convertible's hood, but in these respects it's no worse than its rivals, the F-Type is a car that actually does a long distance cruise rather well.
Safety equipment
Commendably, Jaguar's safety equipment is broadly identical across the entire F-Type line up, so you don't lose elements of it if you opt for a cheaper, entry-level model. As standard all come with Emergency Braking, Emergency Brake Assist, a Driver Condition Monitor, Anti-lock Brakes with Electronic Brake Force Distribution and either four airbags in the convertible, or six airbags in the coupe.
Driving assistance includes the usual traction and stability systems, while there's also Cruise Control with a speed limiter, Lane Keep Assist, front and rear parking sensors, a rear parking camera and a traffic sign recognition system with an adaptive speed limiter. That's fitted to every model, including the P300 F-Type entry trim. There's also a tyre pressure monitoring system fitted to all. A Blind Spot Assist system and rear traffic monitor is a £460 option on all.
The F-Type hasn't been independently crash tested, but it should protect you just as well as its sports car rivals in the event of an impact.
MPG and fuel costs
"If fuel consumption's important in your Jaguar F-Type, there's only one choice, the P300"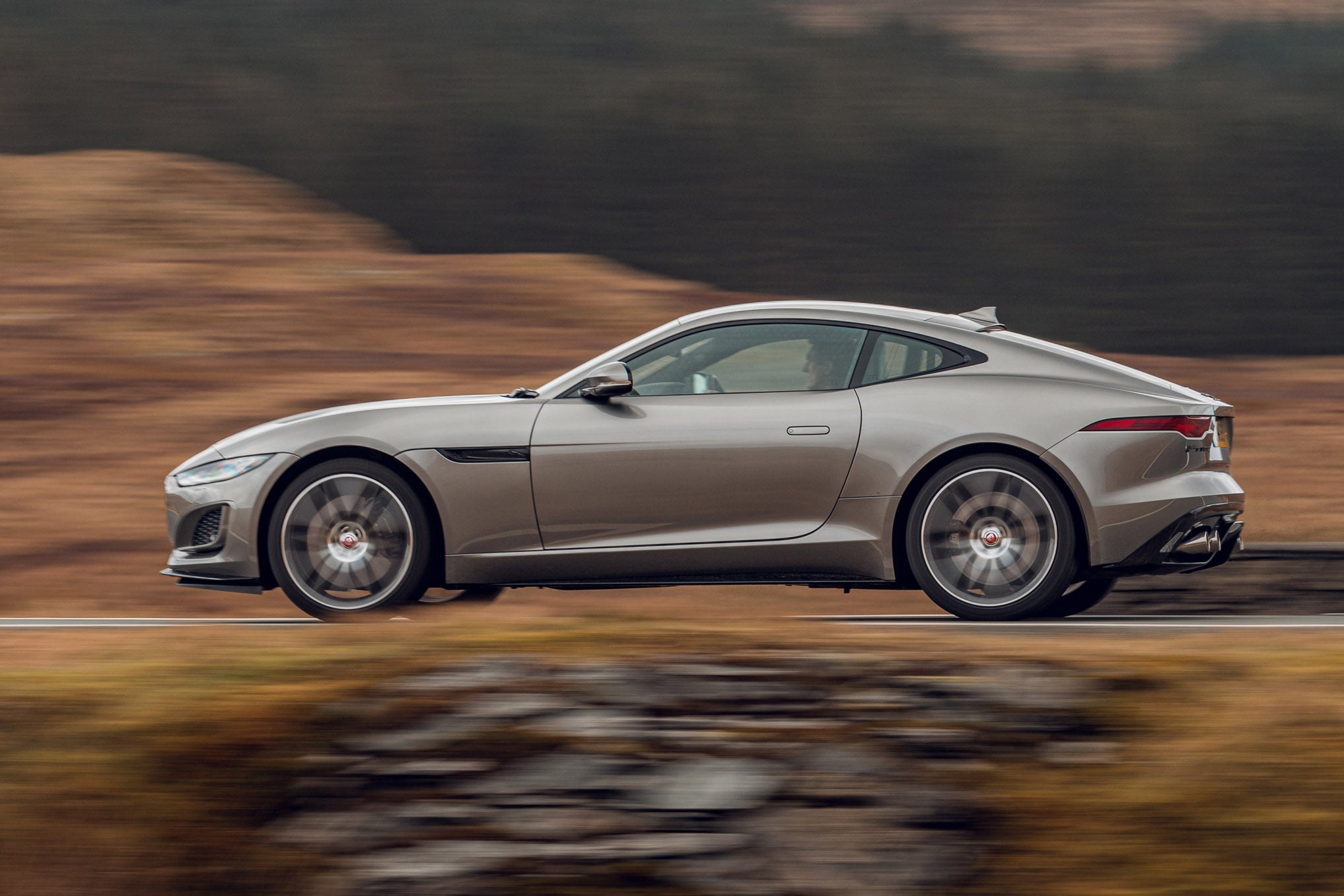 On the WLTP combined test it scores between 29.1-29.9mpg, and on a longer run that'll be possible. Real world use and you can shave a few mpg off that, and if it's occasional weekend blasts, then think early 20mpg, or less. The convertible uses a little bit more fuel, as it's a touch heavier, but it's unlikely you'll really notice the difference. You will with the V8s though, with the P450 and Rs returning a WLTP combined consumption of around 25-26mpg, and use them as intended and it'll be way less.
Insurance groups and costs
All are going to be costly to insure, even that P300 attracting a group 44 insurance rating, largely down to the fact that the aluminium structure won't be cheap to repair if you crash it. Elsewhere it's comparable to run as its competition. Jaguar offers the F-Type with a three-year unlimited mileage warranty.
VED car tax
CO2 emissions are in line with class expectations, and with all being in excess of £40,000 when bought new, you'll pay the premium rate. CO2 ranges from 215g/km on the smallest alloy wheel model F-Type, bigger alloys from the R-Dynamic adding 5g/km to that. Again, if you pick the convertible over the coupe, there's a slight increase in those numbers. The V8s are surprisingly close to the emissions of the P300, with the P450 ranging from 239-253g/km and the R being 243g/km – with either the coupe or convertible.
How much should you be paying for a used Jaguar F-Type?
"Early, high mileage F-Types start at around £22,000, for V6 supercharged models. The premium between coupes and cabriolets isn't particularly noticeable in the used car listings. Even a four-year old V6 supercharged model with under 20,000 miles can be had in the mid-£30,000 sphere."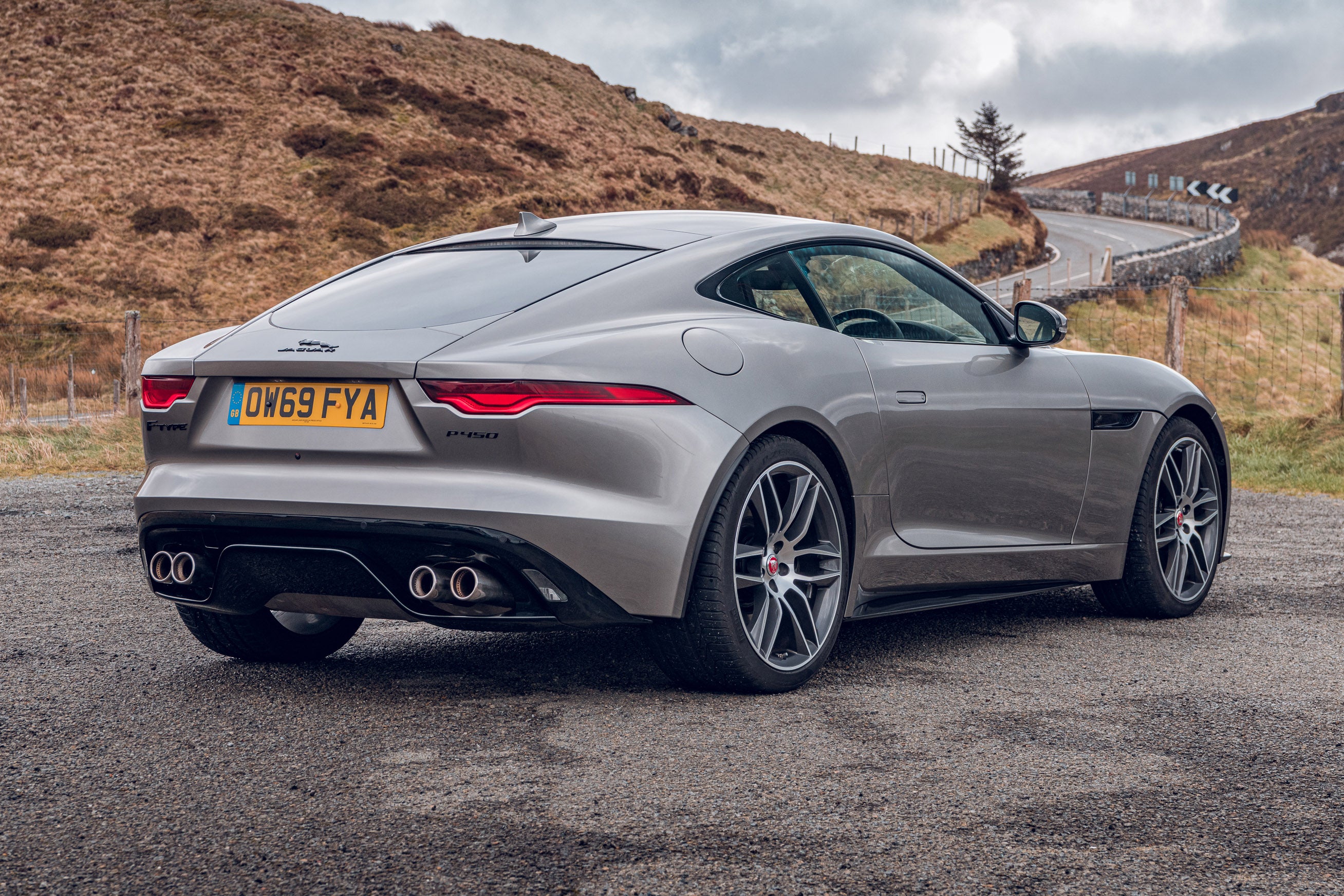 If you're after a newer, 2.0-litre four-cylinder car you'll pay from £30,000 for a car with circa 10,000 miles, these all no older than three-years old, with the 2.0-litre being added in 2017.
V8s aren't quite as common in the classifieds, but they're keenly priced, indeed, you can easily find a sub-35,000 mile early V8 S for under £35,000, which is a huge saving over the new prices.
More specialist choices from Jaguar's SVO department start at around £60,000, while the rare, 250 built, Project 7 cars are still in the £140,000 sphere.
Trim levels and standard equipment
Four different trim levels with the F-Type, spanning the three different engine choices.
F-Type is standard specification for the coupe and roadster with the P300 engine.
R-Dynamic is standard specification for the P450 and available on the P300.
First Edition is available with either P300 or P450 engines, throughout 2020.
The 575R comes with its own specification.
All come with electrically adjusted sports seats with leather and suede finishing, LED headlights, a Meridian sound system, interactive driver display, climate control and Apple CarPlay and Android Auto.
R-Dynamic adds 19-inch alloy wheels to the P300 – the 450 gets 20-inch items, an R-Dynamic body kit, a switchable Active Exhaust, and Configurable Dampers and an Electronically Controlled Active Differential.

First Edition cars get 12-way electrical seat adjustment, 20-inch wheels, smarter interior leather and suede coverings and First Edition metal treadplates as well as a Dark Satin Grey exterior design pack.
R gets R branded highlights throughout, keyless entry, an R specific body kit.
Jaguar F Type cars for sale on heycar
1,018
Number of cars available
£31K - £91K
Price bracket of these cars
Colours available on heycar
Keep me updated by email with the latest advice, news and offers from heycar
By submitting, you agree to our
privacy policy
.