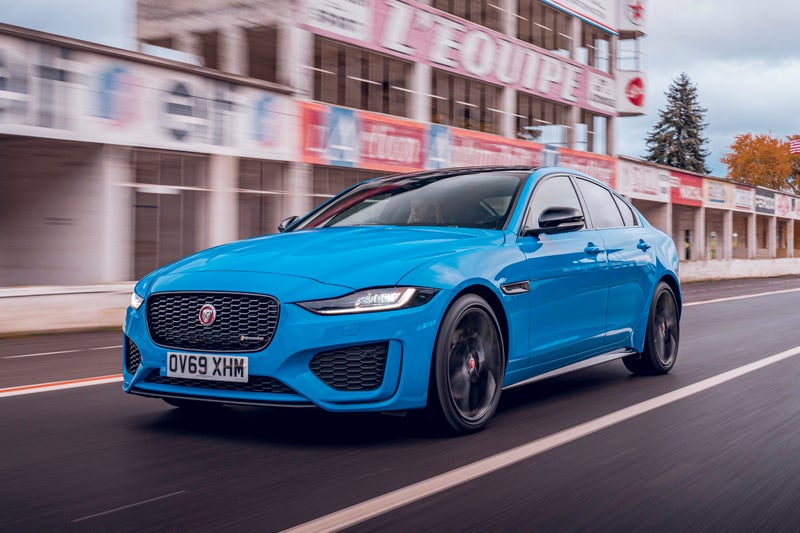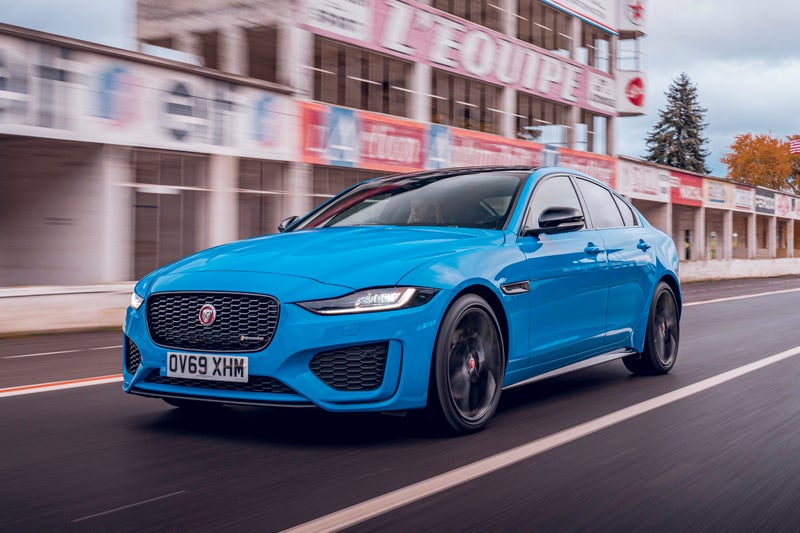 1/8
heycar rating
"Jaguar's sporty German saloon alternative "
Launched: 2015

Premium

Petrol, Diesel
Quick overview
Pros
Fine looks, inside and out
Excellent standard equipment levels, even on the entry-level S model
Tax-cheating turbodiesel
Cons
No plug-in hybrid or smooth 6-cylinder engines
Fiddly infotainment
Rear seat space isn't generous
Overall verdict
On the inside
Driving
Cost to run
Prices and Specs
Common questions
Overall verdict on the Jaguar XE
"Ubiquity in the premium class plays to the Jaguar XE's favour, as people looking for a sporting, enjoyable to drive alternative to the 3 Series, A4 and C-Class are well served by Jaguar's stylish XE. The marketplace might be dwindling overall, and Jaguar's impact on overall sales in it very marginal indeed, but the XE is a good choice if you dare to be different, and enjoy your driving."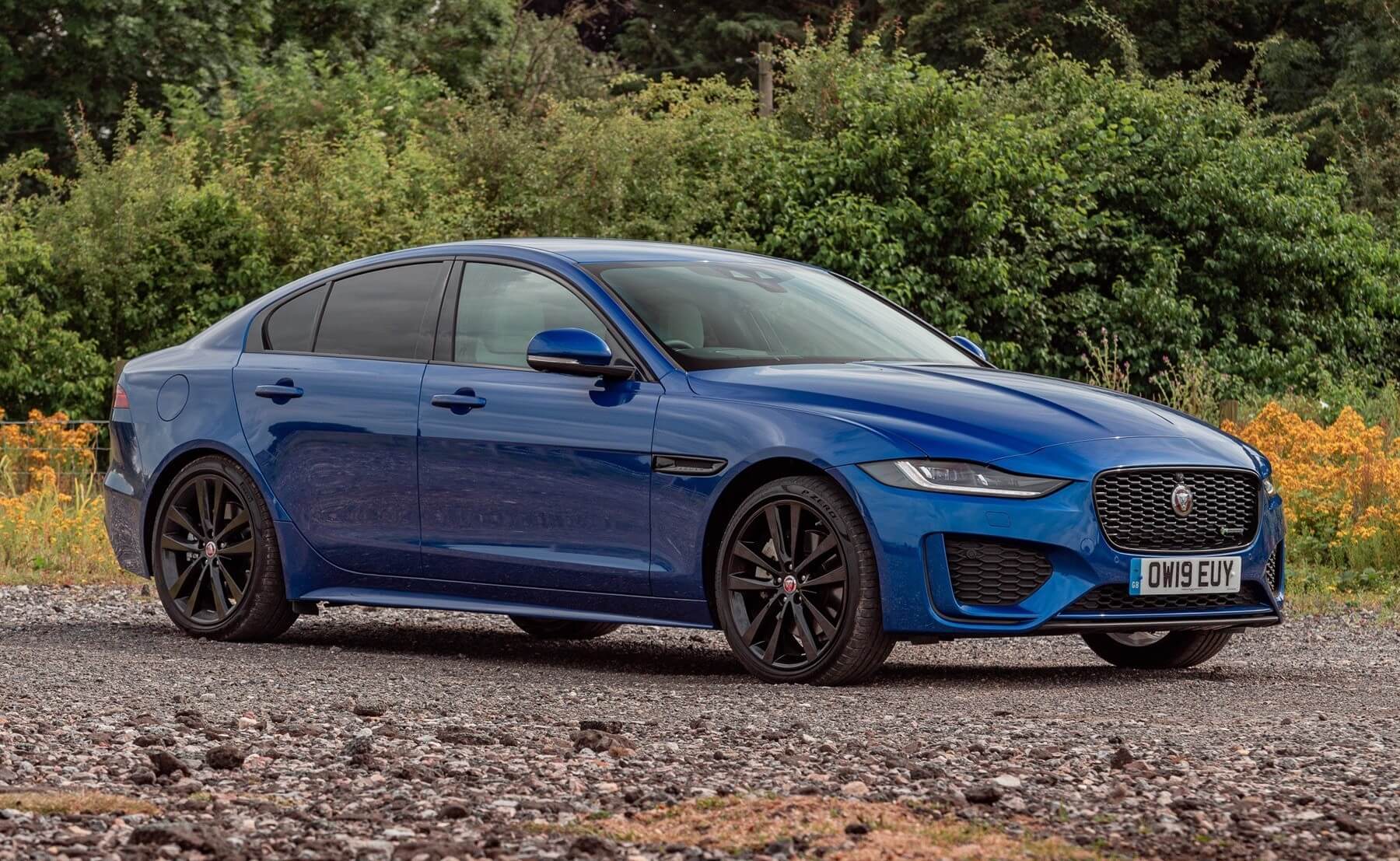 The BMW 3 Series, Audi A4 and Mercedes-Benz C-Class might be the most obvious choices in the mid-sized executive saloon marketplace but, as you'll know if you're reading this Jaguar XE review, that trio aren't the only contenders. Back in 2015 Jaguar added the XE, its take on a smart, sporty and posh saloon, giving buyers bored of the usual suspects in this class, something fresh and new to consider. It's arguably the only genuinely premium-badged competitor now, with Lexus (in Europe, at least) having called time on the IS saloon, leaving the Jaguar as the last stand against the omnipresent German premium saloons.
That's a big ask, because not only is that traditional fleet-buyer's volume heartland being diminished by customers shifting from traditional saloons to SUVs, but the XE's now five years old (in 2020), and while a good facelift in 2019 brought new equipment and an enhanced engine range the XE trails its key rivals for breadth of choice. That's particularly evident in the plug-in hybrid area, where the XE has no presence, nor is there a more practical estate version.
Among its rivals the XE can also count a number of more mainstream brands with upmarket aspirations, cars like the Volkswagen Passat, Volvo S60, Mazda 6 and more besides all offering alternatives to it, while newcomers, Tesla, offers its all-electric Model 3, which is proving hugely disruptive, attracting the sort of global sales Jaguar can only dream of.
The XE might be a small-part player in the market it competes in, then, but it remains a relevant one, which underlines how impressive a job Jaguar had done with it when it was first revealed. Its relative rarity counts for it, the Jaguar XE being a far more considered choice among the market norm, and one which also comes without some of the negative stereotypes associated with its rivals. Add in too that the XE is among the finest to drive in the class and it's still an appealing car.
That facelift in 2019 was successful, too, freshening up the XE's looks, distancing it from its larger XF relation, giving it a sharper bolder look, particularly around the front, as well as adding more standard equipment and rationalising the engine line up.
With the pre-facelifted XE Jaguar had some fun with it, adding the XE SV Project 8, a mad 300 unit limited run model which added a 600PS 5.0-litre V8, wild aero and some uncompromising track-focussed suspension to go out and set lap records, but it's highly unlikely Jaguar will be repeating that stunt.
The fastest XE is the P300, a turbocharged 2.0-litre petrol model with, somewhat unsurprisingly, 300PS, though the most relevant XE, and the one you'll buy with company money, is the D180. That entry-level diesel benefits from being RDE2 (Real Driving Emissions step 2) compliant, which saves not just the first year VED diesel supplement, but also 4% off the BIK (Benefit in Kind) taxation rate, which will appeal to the number-crunching fleet buyers out there.
There's more to the XE than the potential for sensible numbers though, as it's an enjoyable, satisfying drive, that mixes engagement and comfort commendably, in a good-looking saloon car package.
Is the Jaguar XE right for you?
Bored of BMWs, underwhelmed by Audis and Mercedes, then the XE might be just the thing.
Seriously, though, with the choice in this marketplace so dominated by that trio, the Jaguar XE really is a welcome additional choice for those buyers who might have run countless German saloons and be wanting something, anything, a bit different, but still wearing an upmarket badge.
The BMW 3 Series has always been hailed as the driver's choice in this marketplace, but when the XE arrived that top spot was seriously challenged, the XE appealing on the road, and behind the wheel. That remains the case, even if the BMW 3 Series has been replaced in the time the XE has been around, the Jaguar remains a fine-driving choice against it, and its other two rivals.
What's the best Jaguar XE model/engine to choose?
Jaguar's diesel engines once trailed its rivals, but time has seen the company develop them impressively, making the 180PS 2.0-litre turbodiesel a fine choice in the XE. It'll return good economy and emissions, as well as decent performance, too. That's the engine we'd pick, then, the transmission decision taken away from us, with only an eight-speed automatic available. There are rear- or four-wheel drive options, with rear-wheel drive getting better economy so that is the obvious choice, too.
As to trims, Jaguar offers the XE as XE S, and XE R-Dynamic, with XE S being a bit more restrained and dignified, and the R-Dynamic getting a more sporting look and feel, thanks to more overt styling and sports suspension. To that you can add S, SE and HSE trim levels, with all being comprehensively specified with things like 12-way electric seats, sat nav with Apple CarPlay and Android Auto, making that base S appealing, unless you can't live without Keyless Entry, which comes as standard with the SE.
What other cars are similar to the Jaguar XE?
Comfort and design: Jaguar XE interior
"The interior of the XE has always been a classy environment, but the changes in 2019 improved that further, with comfort in particular being increased thanks to Jaguar's equipment revisions."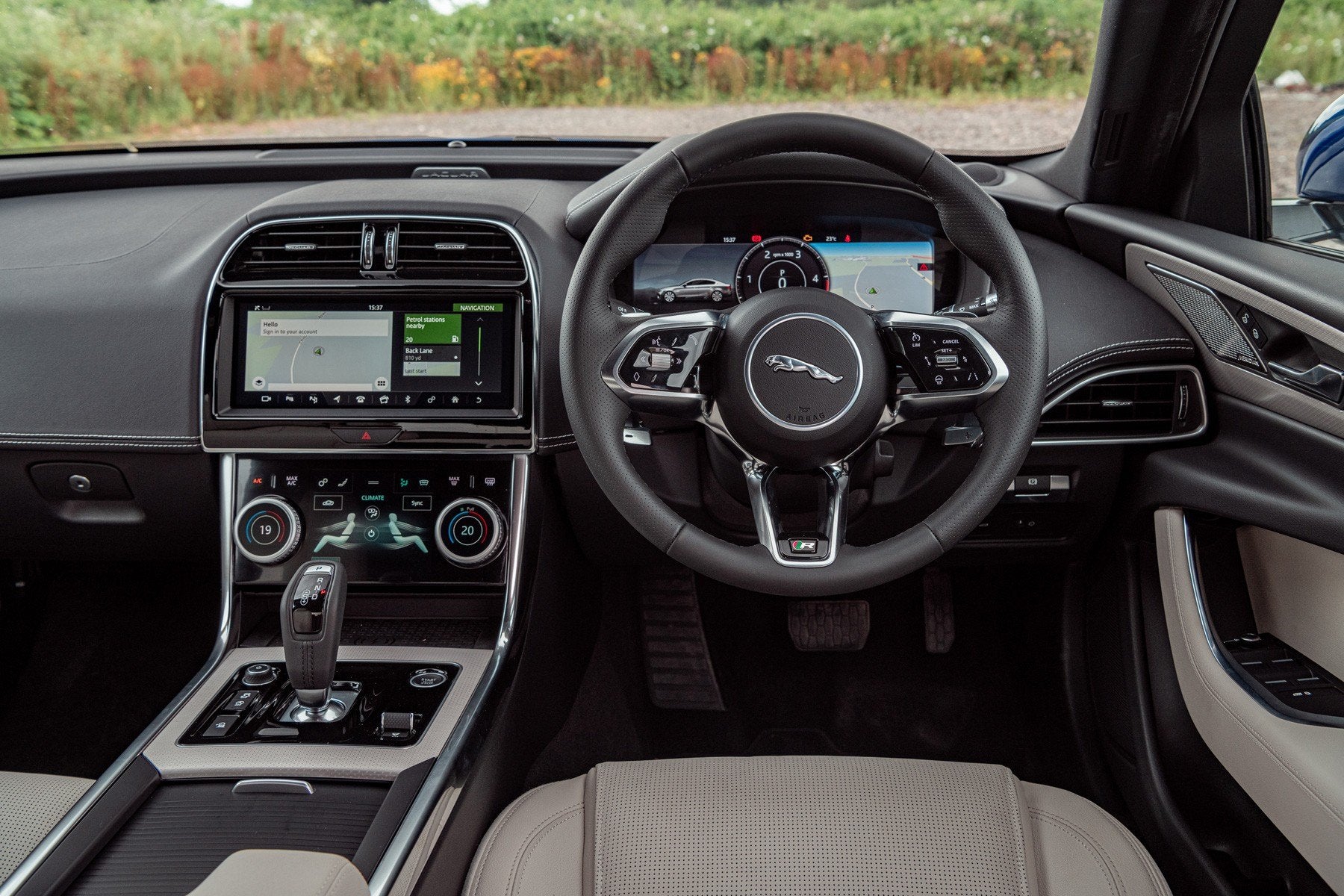 All XEs are fitted with leather seats, these offering 12-way electric adjustment, that amount of electrical adjustment something you'll need to pay for with its key rivals. To have those seats with a memory function you'll need the HSE trim, or optioning them for £530, that also adding heated, electrically operated door mirrors with memory, too.
The seats' range of movement means there' getting comfortable behind the wheel is easy enough, though for that range-topping HSE trim they gain four more ways of adjustment, to allow 16-way movement, again these being optional on all the models. The design inside it pleasingly simple, Jaguar going for a more timeless, restrained look that means the interior's aged very well, and the integration of the inevitable touchscreens is neat.
Heated front seats are optional, as is ventilation, with rear seats also offered heated as an option. All come with standard two-zone climate control, with the standard controls easily operated, the addition of Touch Pro Duo bringing touch-screen elements to the heating and ventilation controls, which isn't as easy to operate as the conventional set-up.
Quality and finish
That timeless design has stood the XE in good stead, and with the 2019 revisions Jaguar has clearly been upping the quality of the materials throughout, with surfaces that might previously have exhibited a whiff of cost cutting now finished in better quality materials. Indeed, the cabin's classy simplicity is welcomed in a marketplace where busy design and many surfaces is increasingly normal – the BMW 3 Series is notable here – that it's now of a quality to at least keep up with the class norm, though it's some way off Audi for a pervading sense of solidity and longevity.
All come with grained leather as standard, with smooth finishes available optionally, the XE's interior a smart environment to sit in, that's now befitting of its upmarket premium badge.
Infotainment: Touchscreen, USB, nav and stereo in the Jaguar XE
As standard all come with Jaguar's 10-inch Touch Pro system, it powering a 125W sound system that's got DAB radio, Bluetooth telephone connectivity and streaming, InControl Apps, Online Navigation an aux-in plug and USB connections and a smartphone pack that includes Apple CarPlay and Android Auto. That standard set-up can be enhanced by upgrading to a Meridian sound system, it seeing the standard 6-speaker set-up gain four more speakers and a subwoofer and the amplifier increase to 380W of power – it coming standard on the HSE model. If that's not enough, Jaguar offers the option of a full surround-sound system, again by Meridian, with sixteen speakers, a subwoofer and 825W.
Jaguar XE SE models see the standard analogue instruments (with central TFT info screen) replaced by an Interactive Driver Display, which offers configurable digital controls incorporating things like mapping, entertainment and differing displays of the instrumentation. Optionally, the XE is also offered with a head-up display, which projects things like speed, nav details and speed limits on to the windscreen in front of you. Another cool bit of optional tech is Jaguar's ClearSight mirror, which uses a camera to display the rear view in the usual mirror position, even if you've passengers in the rear. It comes with the Technology Pack, it bundling in that head-up display, the ClearSight mirror, a wireless charging pad for your phone, the Interactive Driver Display and Touch Pro Duo.
On the Jaguar XE HSE, the Touch Pro system gains that Duo as standard, it adding a second touchscreen below the main central one, it duplicating some of the operations of the upper screen, and incorporating the heating and ventilation controls. It looks very smart, and with practice becomes easy enough to use, but the standard controls are actually more intuitive. The main screen itself works well enough with practice, and has improved with the 2019 revisions, but it's still a bit slow to react at times and there's a lot of sub-menu hunting to find functions, even with the shortcuts at the bottom of the screen.
Space and practicality: Jaguar XE boot space
With all the electrical adjustment to the seats up front there's plenty of opportunity to get comfortable, it spacious for the driver and front passenger, with plenty of headroom. That's not the case in the rear, which isn't so generously appointed in relation to space. Leg and headroom is fairly limited, the XE trailing the surprisingly roomy BMW 3 Series in this respect. There are three seats in the back, but the middle third one is very tight on space, the raised cushion and the transmission tunnel limiting its usefulness – something true of all the XE's rivals, but it's more obvious here with the Jaguar. A pair of ISOFIX mounts are fitted as standard to the outer rear seats, for securely fitting child seats.
Cubby storage is decent, with a pair of map pockets on the back of the front seats a couple of good-sized cup holders between them and a lidded cubby that doubles as an armrest. There's a recess under the heating and ventilation controls that's the perfect place to stow your phone, There are door bins that are shallow, but able to hold a water bottle, while the rear doors offer small door bins, too.
Jaguar quotes the XE's boot space using two figures, one being dry of 291 litres or wet at 410 litres. The first is the accepted VDA blocks method of measurement, the second being if the boot were to be entirely filled with liquid – as opposed to bottles of wine from a Waitrose shopping spree, then. That's less than a BMW 3 Series, and the narrow access to it makes packing larger items like suitcases tricky. The seatbacks fold in a 40/20/40 configuration, to allow longer loads to be carried.
In terms of exterior dimensions, the Jaguar XE is 1410mm high, 4678mm long with 2075mm wide (including door mirrors).
Handling and ride quality: What is the Jaguar XE like to drive?
"The BMW 3 Series has long been the benchmark in this class in relation to ride and handling, but with the Jaguar XE's arrival it finally had some serious competition."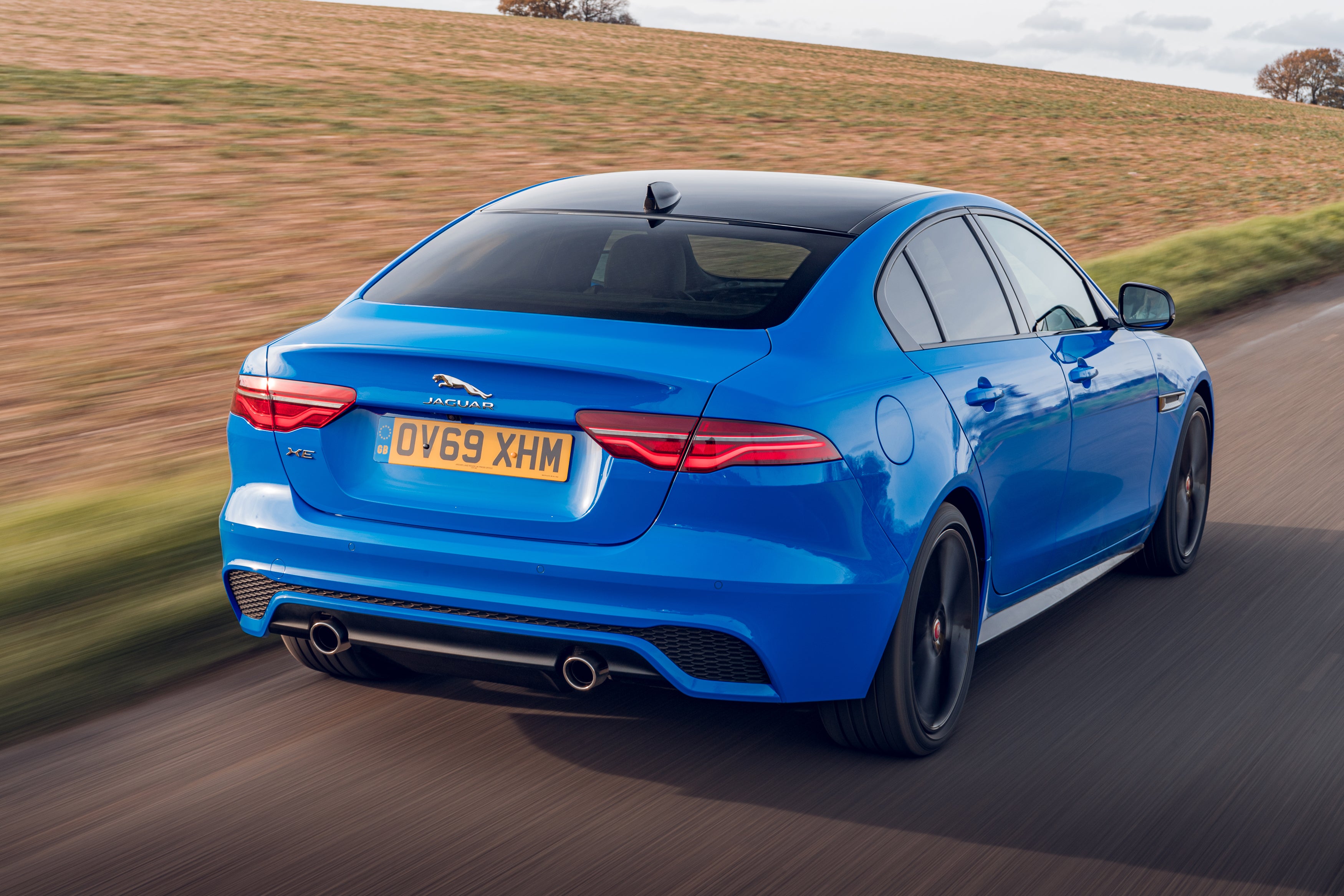 That remains true, even though the XE's BMW foe has been renewed in the time that the Jaguar has been on sale. The XE strikes a very nice balance between ride comfort and engaging, enjoyable handling. Like that BMW and Mercedes-Benz C-Class it's rear-wheel drive, with some models gaining four-wheel drive (but retaining a rear-wheel bias), and the chassis' balance is obvious as soon as you sit in the driver's seat.

Fine weighted steering, with quick, faithful turn in make the XE a very enjoyable and agile car to drive. That's regardless of which model you specify, all exhibiting fine driving characteristics that make it so appealing to get behind the wheel of. Four-wheel drive versions lack a little bit of the crisp steering of the rear-wheel drive choices, but it's marginal, and the quickness of the steering on all doesn't translate to a busy, tiring experience on the motorway.
There are variables in how they drive across the range, but it's to Jaguar's credit that the differences are so slight, with larger wheel choices not detracting from the ride comfort to a significant degree, while even the R-Dynamic S models, which add Sports Suspension (on rear-wheel drive models only) into the dynamic mix, manage to ride with real control without taking away from the supple ride quality. It's so good as standard, we'd not bother with the expense of adding the optional Adaptive Dynamics which adds variable damping, it not adding enough to the ride and handling mix to suggest it's a necessary addition to the XE's specification.
What engines and gearboxes are available in the Jaguar XE?
Jaguar's fairly unambiguous with its badging here, with the number on the boot lid translating to the engine's output and the letter before it being the fuel that you'll pump in it. So there's P or D engines, that being Petrol or Diesel, followed by either 180, 250 or 300, with the D180, P250 and P300. That's it. There's no more choice like you'll find with its competition, no hybrids (either self-charging or plug-in) and if you're after more than four-cylinders then you'll be disappointed, too.
Jaguar's relatively narrow focus on its engine line-up underlines its small position in the segment, but it covers the key (and biggest selling) bases within it well, so that's not really a criticism. Jaguar's diesel engine was a touch disappointing when it was first introduced, but it's been developed very well, to the point that it's rather appealing against its key rivals, it offered in RDE2 form, which sees it circumvent some of the penalty payments that diesel engines attract in taxation over their petrol alternatives – notably the 4% BIK increase for company car drivers.
It's not just appealing for its tax-dodging status, either, with 180PS and 430Nm of torque it's smooth and flexible with decent performance, it taking 8.1 seconds to reach 62mph, but more importantly it returns between 46-50mpg on the WLTP official combined consumption cycle. That status as the most economical/tax efficient choice is dented if you opt for it with four-wheel drive, doing so see it no longer meet RDE2 standards, and attract back those bigger payments to the taxman.
The petrol pairing is good, too, with the P250 being rear-wheel drive, and the P300 being all-wheel drive. The P250 is the pick, not just because the drive is purer thanks to its rear-wheel drive specification, but because it feels like its over-delivering, which, when you compare it to its rivals it is, the XE having a good deal more power than similar price rivals. It'll reach 62mph in 6.5 seconds, the P300 taking 5.7 seconds, both being smooth and responsive, with plenty mid-range power allied to enthusiasm for revs.
There's only one transmission choice, that being an eight-speed automatic which does a good job in most situations, but it can get a little bit flustered if you're in a hurry.
Refinement and noise levels
The XE's refinement is good all-round with wind and road noise nicely contained at all speeds, while the engines are hushed unless you're really pushing them. The diesel isn't quite as quiet as those in the Audi A4 line-up or the BMW 3 Series, but that's only very slightly, and what noise they make isn't actually unpleasant. There's a bit of vibration through the drivetrain with the diesels, but, again, we're being exceptionally picky here, and for the most part you'll not even notice it.
Safety equipment: How safe is the Jaguar XE?
Crash tested in 2017 the Jaguar XE scored a maximum five-star score in the EuroNCAP crash tests, and while those standards have gotten tougher to incorporate mode driver aids, the Jaguar will undoubtedly protect you well should an accident be unavoidable. There's plenty of standard equipment fitted to try and prevent an accident happening in the first place, with traction and stability control, ABS with Emergency Braking, Lane Keeping Assist and Driver Condition Monitor, front and rear parking sensors, a rear camera and Traffic Sign Recognition and Adaptive Speed Limiter. There's tyre pressure and brake pad wear sensors, ISOFIX child seat mounts on the outer rear seats, a front, side and curtain airbags.
From SE upwards there's a Rear Pack, it adding a 360 degree parking aid, Rear Traffic Monitor and Park Assist. The Drive Pack comes as standard with HSE trim it including adaptive cruise control, a High Speed Emergency Braking System and Blind Spot Assist, both these packs offered optionally. Opt for the Technology Pack and you gain Jaguar's clever Clearsight Rear View Mirror, it using a camera image on the interior mirror, meaning unrestricted views from it even if you've passengers in the rear seats.
MPG and fuel costs: What does a Jaguar XE cost to run?
"The Jaguar XE D180 will be the most economical to buy and run, its economy, measured via the latest WLTP testing schedule, rated at 46-50.7mpg on the combined consumption cycle."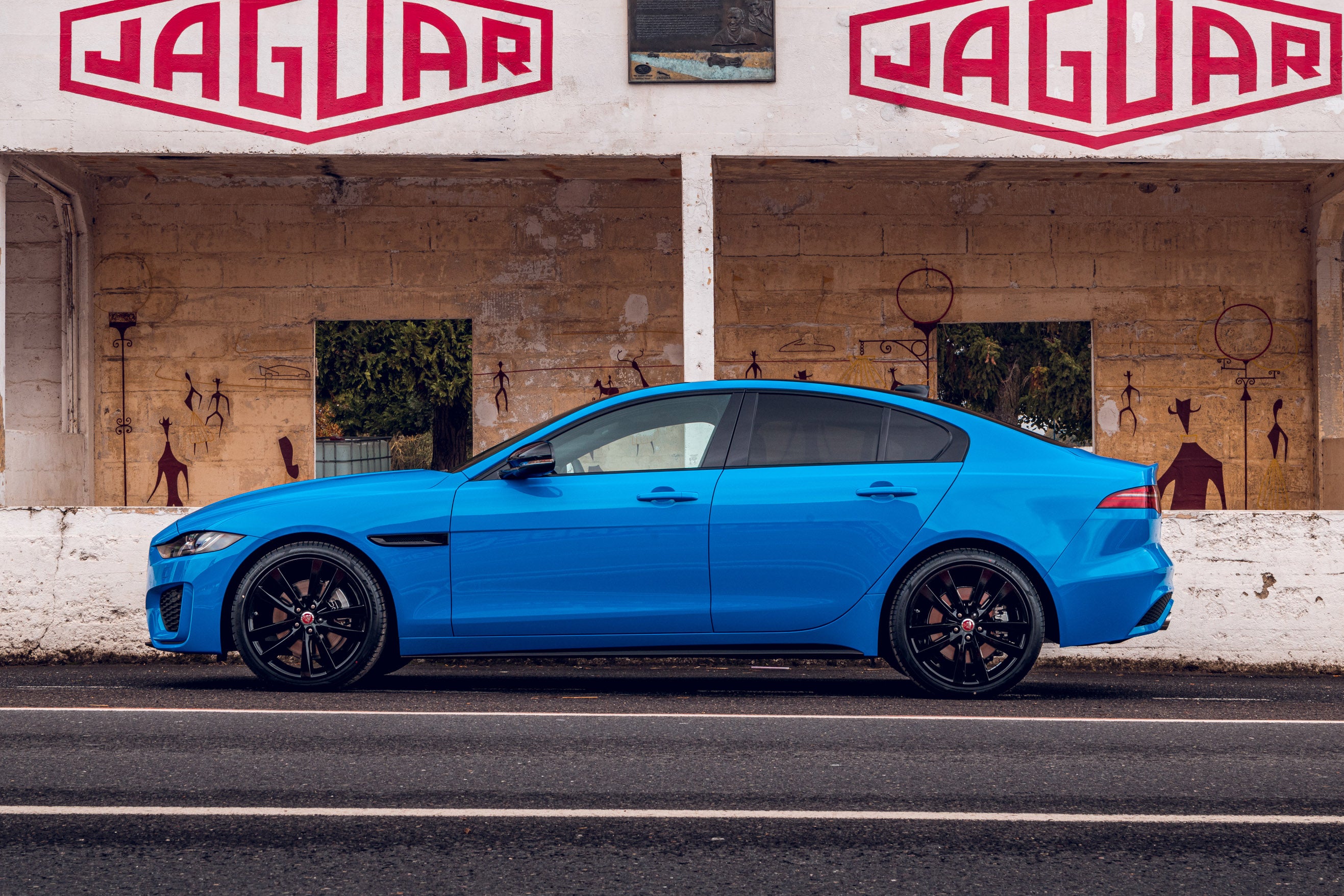 Pick that same engine with four-wheel drive and you lose that RDE2 tax-dodging status, consumption increasing to 41.6-46.4mpg, which is still around 10mpg better than the petrol choices get on the same consumption tests.
How reliable is a Jaguar XE?
As a car manufacturer, Jaguar is generally very reliable – certainly more so than sister brand Land Rover. It was named the third most reliable manufacturer in the latest HonestJohn.co.uk Satisfaction index, while we've not heard of many issues affecting the Jaguar XE in particular. Of course, if you're buying a premium car, you want it to be utterly dependable. We've not heard of any reason why the Jaguar XE won't be.
Insurance groups and costs
The Jaguar XE is competitive across its range in comparison to its German rivals, with the D180 being in group 26 for insurance, with the petrol engines starting group 30 and rising to group 33 for the range-topping P300.
VED car tax: What is the annual road tax on a Jaguar XE?
The D180 rear-wheel drive adheres to RDE2 standard which removes the first year VED supplement to cost £540 in the first year, and £150 a year thereafter. It also drops the 4% diesel surcharge for BIK company car payments. The P250 emits between 177-192g/km of CO2, which means a first year payment of either £870 or £1,305.
How much should you be paying for a used Jaguar XE?
The earliest XEs, dating back to the 2015 launch year are available from around £6,500, the vast majority being 2.0-litre turbodiesel choices, in the older R-Sport and Prestige trims.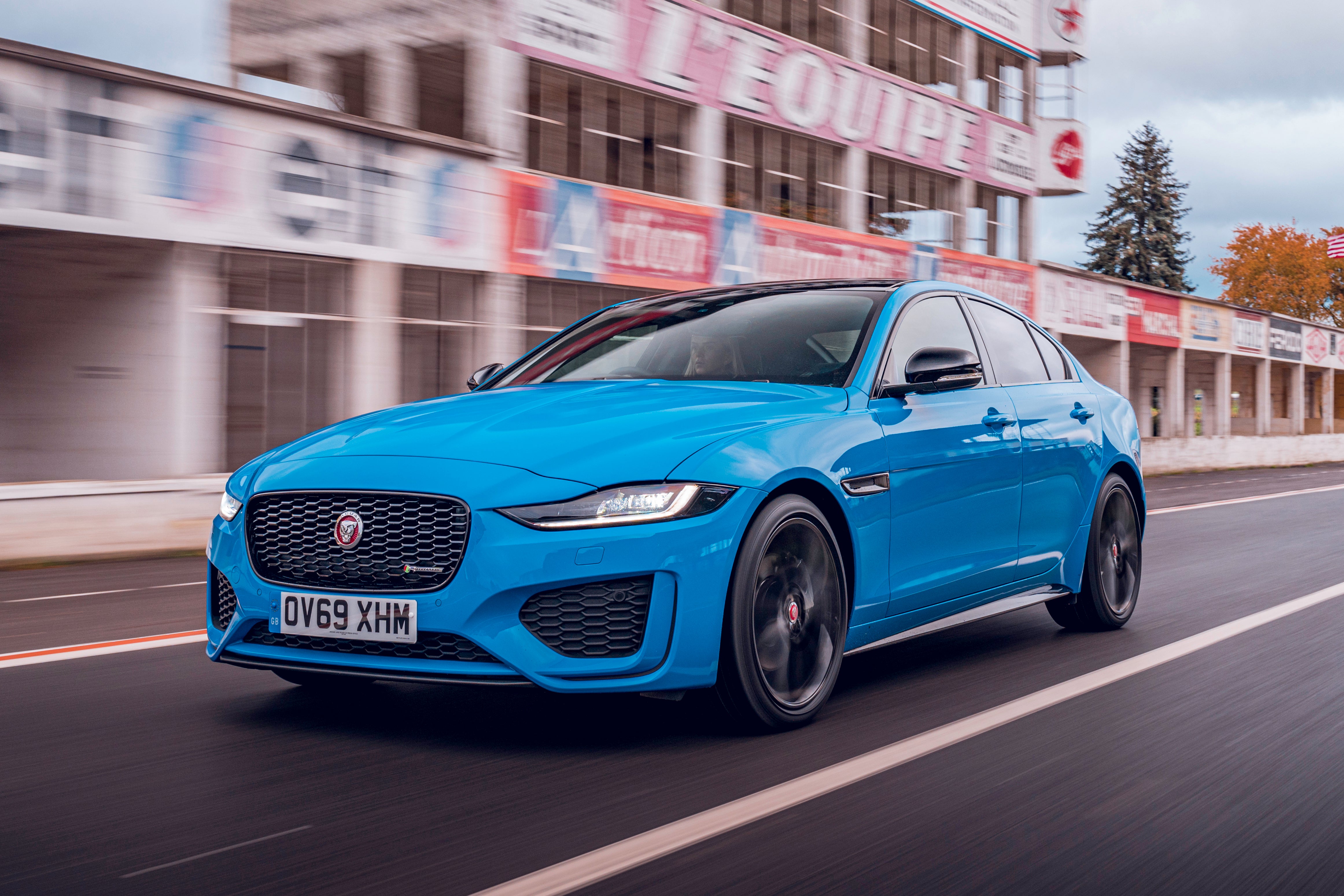 If you're after a post-facelifted model you'll be paying nearly new prices, with £25,000 being the current starting price for low mileage examples that are still within Jaguar's dealer network.
Trim levels and standard equipment
There are two base models of XE S and XE R-Dynamic S to which you can add SE or HSE trims.
The Jaguar XE S features 18-inch alloy wheels, LED headlights, push button start, two-zone climate control, 12-way electric seats, leather covered steering wheel and seats, 10-inch touchscreen, sat nav, online pack, Apple CarPlay and Android Auto, DAB and Bluetooth.
Jaguar XE R-Dynamic S models come with R-Dynamic styling, Sports suspension and Sports Seats with perforated leather.
The Jaguar XE SE features Premium LED headlights, Keyless Entry, Interactive Driver Display and Park Pack.
The Jaguar XE R-Dynamic SE is as the XE SE but with R-Dynamic styling, Sports suspension and Sports Seats with perforated leather.
Building on the Jaguar XE SE, the HSE adds 19-inch alloy wheels, 16-way adjustable electric seats with memory package, Meridian 380W sound system, Drive Pack.
The Jaguar XE R-Dynamic HSE features R-Dynamic styling, Sports suspension and Sports Seats with perforated leather.
Ask the heycar experts:
common questions
Is the Jaguar XE reliable?
Generally, the Jaguar XE is a very reliable choice. It performs well in the HonestJohn.co.uk Satisfaction Index.

Is the Jaguar XE better than the Jaguar XF?
The Jaguar XE and XF are very different cars. The XE is a smaller, compact premium car that feels sporty but still offers efficient engines. The XF on the other hand is bigger, more luxurious, and has more interior space.

Answered by
Georgia Petrie
Is the Jaguar XE worth buying?
The Jaguar XE provides an excellent alternative to its German rivals. On the plus side it offers great looks and lots of kit, but be warned - the infotainment is fiddly and the rear seat and boot space is below par.

Answered by
heycar editorial team
Jaguar XE cars for sale on heycar
966
Number of cars available
£11K - £37K
Price bracket of these cars
Colours available on heycar
Keep me updated by email with the latest advice, news and offers from heycar
By submitting, you agree to our
privacy policy
.