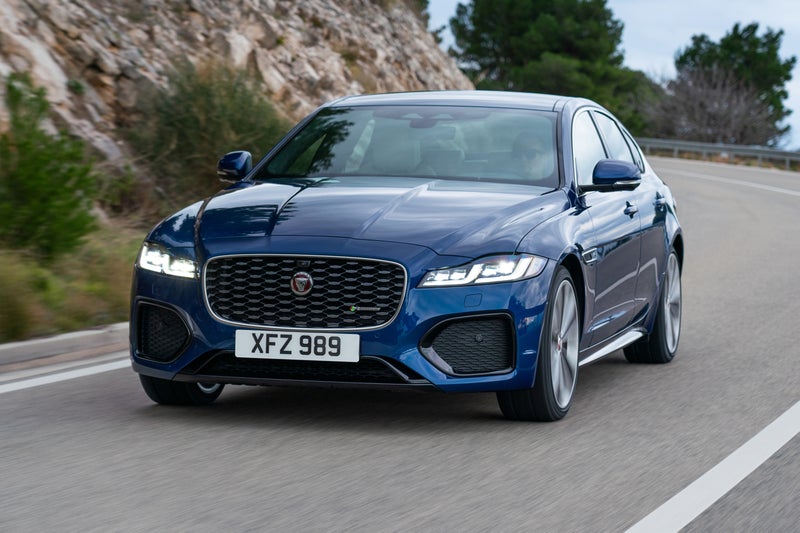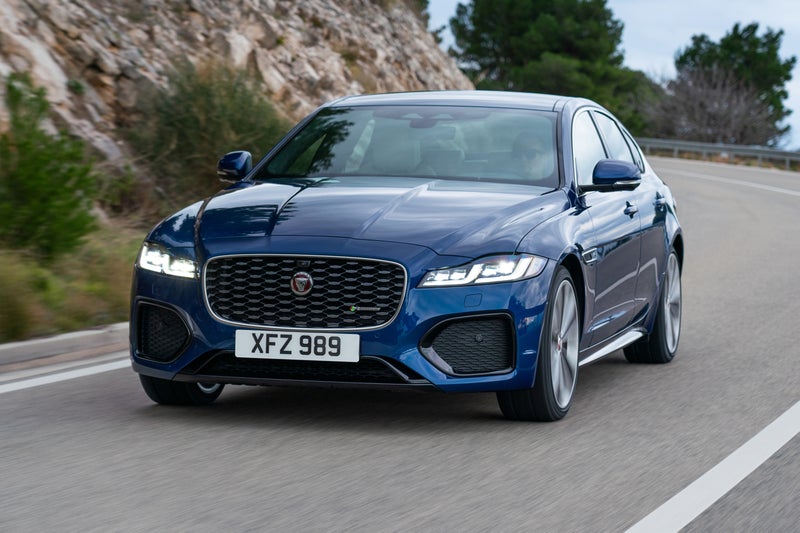 1/10
heycar rating
"Stylish and sharp-handling saloon"
Launched: 2015

Premium

Diesel, Petrol
Quick overview
Pros
Brilliant handling balance
Generously equipped
Lots of safety features
Cons
No plug-in hybrid option
Iffy interior quality
Coarse 2.0-litre diesels
Overall verdict
On the inside
Driving
Cost to run
Prices and Specs
Common questions
Overall verdict on the Jaguar XF
"Now Jaguar sells so many SUVs that it's easy to forget what made the brand famous - big, beautiful saloon cars that were great to look at and thrilling to drive. The XF fits that traditional mould perfectly. It can't quite compete with newer rivals for outright pace, efficiency or technology, but is still a great all-round package."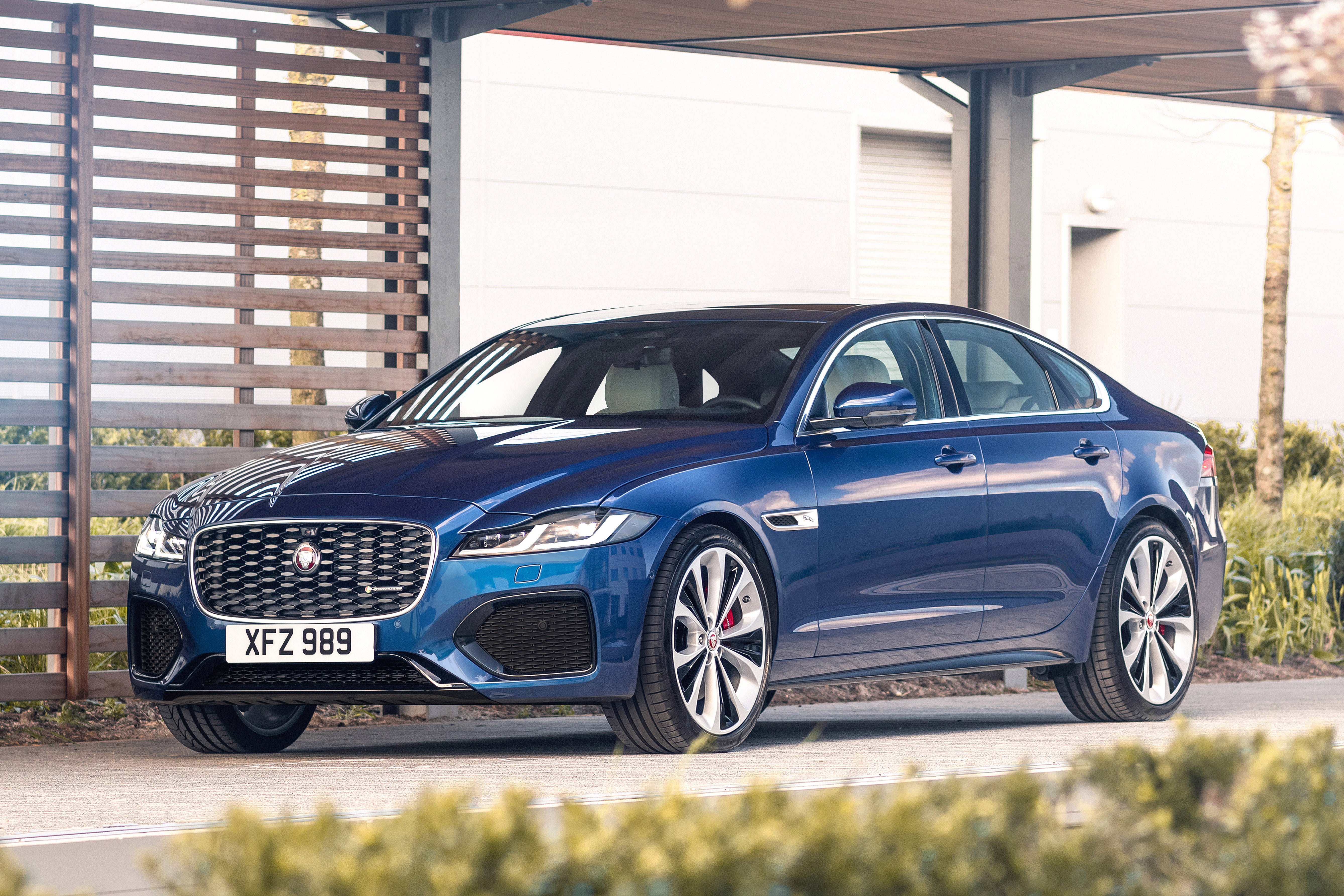 The Jaguar XF is a big executive saloon aimed at company car drivers who drive many miles in a year. These business folk want to spend that time in comfort, luxury, and style and the Jaguar delivers that in spades. Get the lowdown with our Jaguar XF review.
This is a very competitive class, however, and rivals from Mercedes, Audi and BMW all feel more advanced and modern inside than the XF does. Their interiors feature more exotic, expensive-feeling materials, and in some areas are simply finished to a higher standard, but it's the simple layout that makes the Jaguar XF easy to use.

Still, what the Jaguar XF lacks in cutting-edge gadgets, it more than makes up for with genuine driving excitement. It's built from aluminium, which is lighter than steel, so even though this is a large car, it can take on corners and twisty roads with poise and finesse, tackling bends with agility while gliding over any lumps and bumps.

The previous XF was originally only available with big, thirsty V6 and V8 petrol engines, but as fuel economy became increasingly important to fleet managers, the most popular versions are now the 2.0-litre diesels.
Most buyers will be happy with the 180PS Jaguar XF, paired with the optional eight-speed automatic gearbox. In its lowered-powered form this engine is gutless, while the 240PS version is too pricey to recommend. Refinement is not the best though, and these units sound coarse when you try to accelerate in lower gears.
However, once again it feels like Jaguar is one step behind the times. Rivals have offered plug-in hybrids for years in some cases, and the plummeting demand for diesel means having a PHEV is now a must. Sadly, its petrol-powered units are lacklustre, feeling fairly sedate to drive, yet with the running costs of a sports car.
Most rivals make a high-performance variant to get the pulse racing, and with such a superb chassis, we wish Jaguar built a version of the XF that could take on the best from Munich and Stuttgart, as it did before.
The Jaguar XF's a very handsome car, but the interior is surprisingly roomy. Passenger space in the front and the back is up there with the class best, with room to seat four large adults or two parents and three kids with ease. The boot is a decent size, but the narrow tailgate and odd shape mean the XF Sportbrake is a lot more practical.
Both models come loaded with equipment, making the 'entry' level Prestige trim good value, as long as you avoid the juicier options, and cheaper insurance costs than most will help keep your annual bills low. Some newer equipment that's becoming popular, such as LED headlights, are optional extras on all versions.
While the Jaguar XF still stands head-and-shoulders above its rivals when the right piece of road presents itself, it's lagging behind in a number of key areas that will make more of a difference to your ownership experience.
If you like the looks, and are a private buyer uninterested in low CO2, it's a charming alternative to the norm. For most company drivers, and people who value refinement over handling agility, there are better choices.
Is the 2022 Jaguar XF right for you?
A large saloon needs to be comfortable on the commute, yet spacious enough to prove useful for family duty on the weekends. The Jaguar XF does all of those things, but its speciality is the brilliant way that it drives.
If you enjoy taking the long route home, then this Jaguar is one of the most rewarding saloons you can buy. Its sharp responses and agile-yet-supple ride mean you can have your cake and eat it. If you don't want to get suckered into paying a lot for extras, the generous standard equipment list will be a real boon.
Some buyers will find this Jaguar XF's simple, traditional cabin a soothing antidote to the tech-laden and ever more complex interiors in premium German saloons, but the fact is that it looks quite dated now, and not as solid.
Company car drivers will also prefer the lower CO2 emissions and cheaper BIK tax rates on this car's rivals, so until the engine range is updated we'd steer clear of the XF unless you really want to pay for the privilege.
What's the best Jaguar XF model/engine to choose?
The one-two punch of a smooth automatic gearbox and gutsy diesel motor is still a powerful combination in large saloons, and for that reason, we think most buyers are best off with the rear-drive 2.0d with 180PS. It's got enough grunt to feel relaxed on the motorway, striking the best balance between cost and speed.
Yes, it's not likely to be the most popular fuel, but the shockingly high running costs and weaker in-gear stats of the petrols mean they're best avoided. Until Jaguar offers an efficient hybrid, the diesels are the best bet.
Prestige models come with all the kit you'll need, but if you are planning to upgrade, you'll get a lot more for your money by plumping for the luxurious Portfolio trim, instead of the sporty, but sparser R-Sport model.
For those buying used, bear in mind that Jaguar likes to update its cars every year, so the newest car you can afford will usually come with a better standard specification, infotainment system, or a smarter cabin.
What other cars are similar to the Jaguar XF?
The original Jaguar XF was a seminal car for the British brand. It was the first time it had built a credible rival to the big German executives that dominated the reserved spots in business car parks across the UK.
Those same cars, namely the BMW 5 Series, Mercedes E-Class and Audi A6, remain the XF's natural rivals. All of them feel more upmarket and modern than the Jaguar does inside, with impressive built-in technology.
Most are also quieter travelling companions on the motorway, with stronger diesel engines that have the Jag licked both in their refinement and fuel economy, but none handles as sweetly (or looks as good) as the XF.
If you're not fussed about driving thrills and merely want to take it easy, the Lexus ES is a fine choice. Its petrol-electric hybrid drivetrain makes it a cheaper company car, and it's less expensive to buy when new.
To match the Jaguar for style, you might be better off with the elegant Volvo S90. This car is safe, modern to sit in, and very comfortable, but the Swedish brand has now axed the diesel engines, so it's now petrol or PHEV only.
Comfort and design: Jaguar XF interior
"Sitting in the XF is a decidedly sporty experience. The dash wraps around you like a cockpit, and you feel as if you're sat closer to the road than in a normal saloon. The layout is fairly simple, and where its rivals dazzle you with massive screens and bathe the cabin surfaces in neon mood lighting, the Jaguar is more reserved."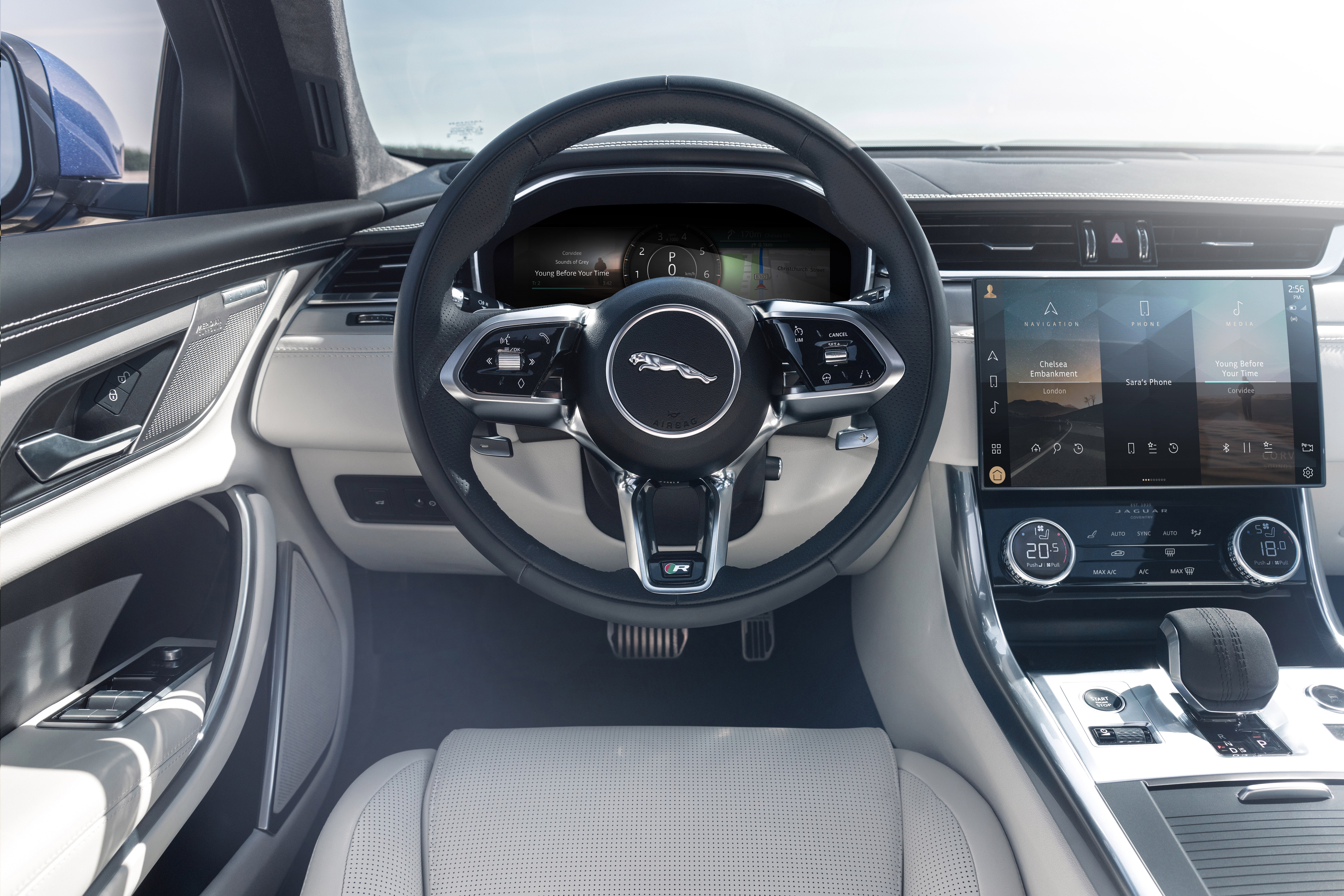 As you would hope from a car designed for long journeys, the driving position is spot-on. The pedals line-up perfectly with the seat base. You can manually adjust the distance to the pedals and seat height, and tweak the angle of the backrest on entry-level XFs, with pricier trims adding fully electric seats and lumbar support.
Its 10.0-inch touchscreen sits flush within the sweeping dashboard of the Jaguar XF, and the rising gear selector and electric handbrake mean the wide centre console is mercifully free from clutter. A Volvo S90 is even cleaner though.
The heating and ventilation controls get their own area below the main display, while switches for controlling the dynamics are right next to where your left arm will rest on the gear selector. All fairly straightforward.
There are fun touches too, including the glowing red 'heartbeat' starter button, and air vents that scroll open when you first start the car, a bit of a novelty gimmick perhaps, but one that comes with a feel-good factor.
The standard analogue instruments on the Jaguar XF are deeply cowled (again for a sportier vibe) but that doesn't make them especially easy to read at a glance. Older cars used to have physical shortcut buttons for the media system, but in newer cars those buttons appear solely as on-screen icons, so are harder to hit when you're driving.
Quality and finish
Time has not been particularly kind to the interior of the Jaguar XF. When it first launched it felt smart enough to go up against its German peers (perhaps a fraction less solid) but now it lags way behind for fit and finish.
Several newer models have raised the bar of what buyers can expect from a posh, expensive saloon. While plush leather seats, a rising gear selector (on automatic models) and some bright metal pedals do their best to distract you from the flimsier materials on show around the centre console and doors, they ultimately fail.
It's not just the hardness of the glossy plastic around the climate controls either. The whole panel creaks if you prod it too firmly, and the small buttons and switches are not nicely damped or clicky in their operation. While it may prove as robust as anything from Audi, BMW or Mercedes, it simply doesn't feel as premium.
That's not to say it's an unmitigated disaster - far from it - but the class standards have moved on. The Jaguar XF still has traditional luxuries if you move up the range, as you can fit a variety of traditional wood veneers for a reasonable price, and Portfolio models have very soft leather, but this all feels a bit old hat in a modern car.
Infotainment: Touchscreen, USB, nav and stereo in the Jaguar XF
Older versions of the Jaguar XF came with a choice of 8.0-inch and 10.2-inch touchscreens, but neither was really at the races, with dated graphics, laggy responses, and lower resolution than the systems in its competitors.
So in 2019, Jaguar introduced a newer 10.0-inch Touch Pro display, with improved processing power and menus, standard in all models. It's a big step on, but still not as cutting edge or intuitive as rival software. The screen sits flush with the dash, but fiddling with it is still more distracting than using a rotary controller.
The Jaguar XF does come packed with features though. All models get built-in sat-nav, DAB digital radio, Bluetooth, and (in another recent addition to the spec) Android Auto and Apple CarPlay smartphone mirroring as standard. You can pay to add a TV tuner (£910) and dual-view screen that lets your passenger watch TV while driving.
A Wi-Fi hotspot and 'Pro' services are included, so you can browse local fuel prices, or search for free parking at your destination. The 500MB data allowance only lasts for three years; the length of the warranty. Audiophiles can upgrade the decent standard stereo for a powerful Meridian branded system, for just £800.
High-spec XF models get a digital screen in the place of the conventional dials. This helps make the interior look more modern, but the display is not as bright or easy to customise as the class best. Truth be told, the XF's infotainment hardware feels like it needs a major overhaul, something on the jobs list for the facelift.
Space and practicality: Jaguar XF boot space
Interior space is a major strength of the Jaguar XF's cabin. Sitting in the front, you'll be a comfortable distance from whoever is sat in the passenger seat, and there's a generous amount of storage dotted about the place too.
There's a hidden cubby beneath the armrest for valuables, and you can cover the two cupholders with a neat retractable lid to keep them free from dust (this won't help with the usual coffee spillages though).
Despite the sporty design, you shouldn't feel too hemmed in, and the good news continues in the back. A pair of six-footers will have no trouble settling in for a long ride, with plenty of knee- and headroom to spare.
The middle seat is narrow and set quite high, and the raised transmission tunnel eats into foot space. All that means it won't be very comfortable with three abreast in the back, but that's the same in other big saloons.
Visibility over-the-shoulder is impaired by the thick C-pillars that form the XF's athletic haunches, so in tight parking spaces you'll be glad that Jaguar fits front and rear parking sensors across the range. The view out front is better, but a low seating position and high window line can make it tricky to see the end of the bonnet.
The rear bench is fixed on Prestige, R-Sport and Chequered Flag trims, but pay Jaguar £450 and you can fit folding seats that split in a flexible 40:20:40 configuration, helping you carry a surprising about for a saloon.
With the seats in place, the Jaguar XF's has a 540-litre boot capacity, matching the competition. While the load space has size on its side, it's not the most practical to use. The boot aperture is narrow, and there's a high loading lip, so heaving broader items (like a buggy or golf bag) into the back can be a challenge. The rear wheel arches also intrude inside the luggage area, so it constricts once it reaches the rear seats, limiting what it can carry.
If you're wanting to measure up the Jaguar XF for your parking space at the office, then the dimensions of the Jaguar XF are 4954mm long and 1890mm wide.
Handling and ride quality: What's the Jaguar XF like to drive?
"Jaguar is a brand with a distinctly sporty heritage, but the way its cars can flow down a twisty country road shows that this reputation is richly deserved. For a worthy four-door saloon the XF is fantastic fun to drive."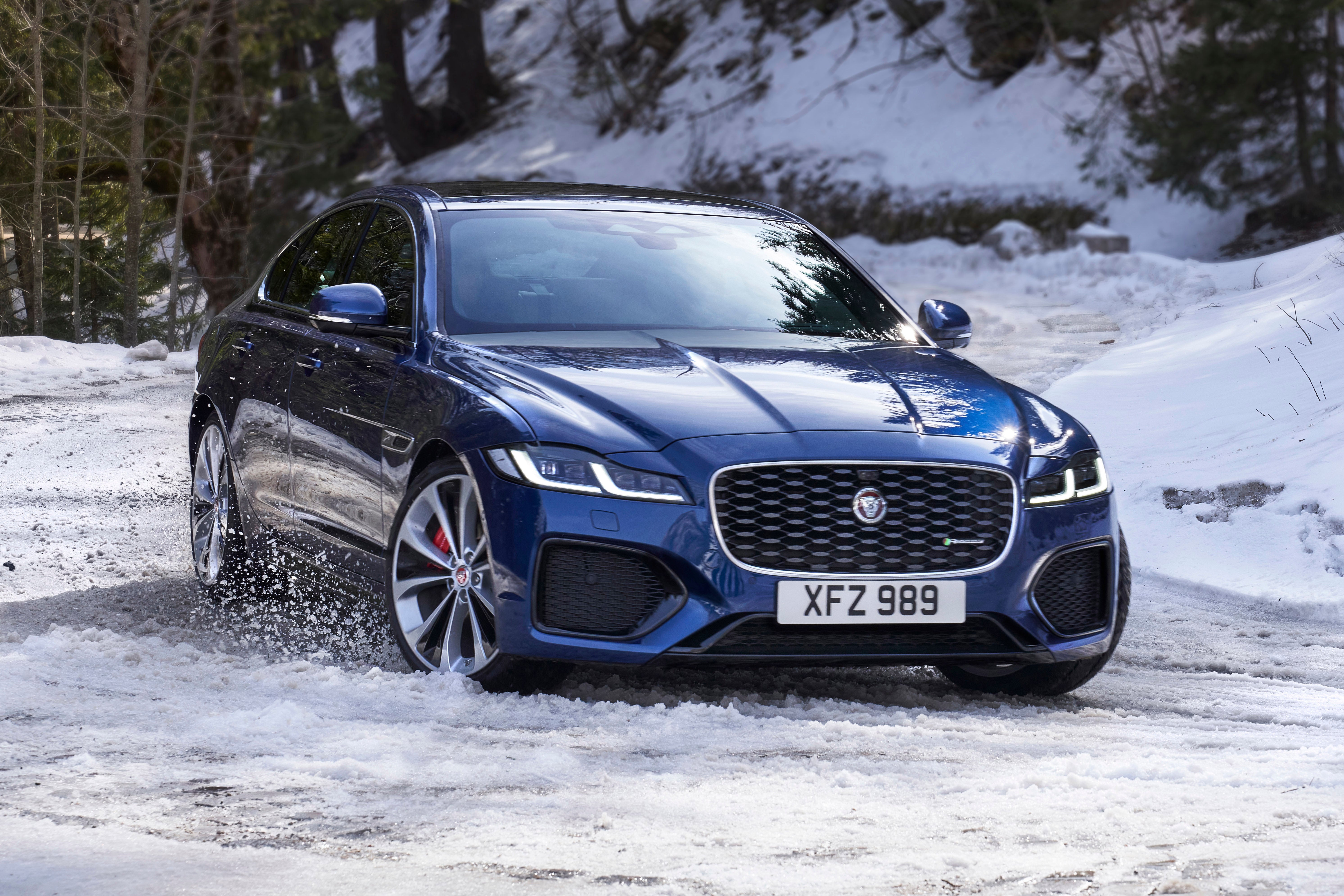 The Jaguar XF sets the class benchmarks for steering feel and response, reacting quickly to your inputs, and weighting up in corners with precise consistency. When a chassis is this finely tuned, you can feel exactly how much grip the tyres have to offer, giving the driver huge confidence to carve a smooth line, and place the car accurately.
The way it changes direction so nimbly, along with the tightly-composed body control, mean the XF feels like a smaller, lighter car when you're hustling it down a narrow country road, and it almost shrinks around you. It's a quality few other saloons possess, they all feel big and flat-footed, where the Jaguar just dances along.
Rear-wheel drive models will put the biggest smile on your face, but still generate plenty of grip on dry roads. Adding four-wheel drive ensures extra traction on slippery surfaces, but in normal driving you won't feel a big difference. Power is only sent to the front wheels if you begin to lose traction at the rear - and that should be a rare occurrence.
All of this handling excitement would be moot if the Jaguar XF rode like a racing car, but in fact the opposite is true. None of its lithe agility comes at the expense of comfort. It rides beautifully over bumps, soaking up bigger crests and sharper ridges with impressive compliance. The R-Sport model with quicker engines does feature a slightly firmer set of springs and dampers that feel stiffer on urban roads, but still supple enough for most.
The standard setup is good in fact, that you can forgo the adaptive dampers, as you don't really need them. Available on all models, they increase the XF's range, feeling really plush in Comfort mode, but tightening everything up dramatically (to the point of being a little too uncomfortable) in the sportiest drive settings.
Some rival saloons can be even more cosseting on scruffy Tarmac, especially those models that offer pricey air suspension, but none feel as naturally agile, balanced, and direct as the Jaguar XF does. It's a brilliant drive.
What engines and gearboxes are available with the Jaguar XF?

Jaguar has recently streamlined the range of engines available with the XF, with either a mild-hybrid 204PS 2.0-litre diesel or the choice of two 2.0-litre petrol units with either 250 or 300PS on tap.
If you're looking on the used market for a Jaguar XF, there's a wide choice of conventional engines and transmissions, the most popular being the ageing 2.0-litre four-cylinder diesel. It's available in three different power outputs. Propping up the range is the 2.0d 163, which feels underwhelming, and will only appeal to buyers who need to save on CO2.

Right in the middle is our favourite 2.0d 180. It's stronger in-gear, and is flexible enough for quick overtakes and effortless cruising, but can't match the performance of similarly powerful engines in its closest rivals. This engine comes with the option of all-wheel drive, where standard cars send power to the rear axle only.
The punchiest 2.0-litre diesel has 240PS and comes with four-wheel drive as standard. It sounds faster on paper than in practice though, and the 300PS 3.0-litre V6 is a lot smoother, and a good deal more efficient.
Jaguar introduced a 2.0-litre petrol turbo in 2018, also available in three states of tune. Buyers can pick from a 2.0-litre with, 200, 250, or 300PS, with the quickest model featuring four-wheel drive. When the lively 3.0-litre supercharged V6 was dropped in the UK, the latter became the quickest (and thirstiest) XF available.
However, those after searing pace will be left disappointed. There's no rip-snorting V8 to take on Mercedes's AMG, BMW's M Division, or Audi's S6, and the standard petrols actually feel quite sedate. The 200PS car has the most palatable running costs, but the others are expensive to buy and run, without feeling very quick.
Both the 163PS and 180PS diesel, come with a six-speed manual as standard, where the rest of the range is fitted with an eight-speed automatic that is optional on these versions. The auto is the transmission of choice though, it makes the XF feel keener to accelerate, improves cruising refinement, and barely dents economy.
Refinement and noise levels
Executive saloons like the XF are designed to travel great distances in comfort, which is why diesel engines and automatic gearboxes are such popular options in this class. However, the XF falls short in this regard.
With such a sophisticated and supple ride, you expect it to waft along like a limo. Yet, it's only the flagship V6 diesel that possesses the mechanical refinement to keep things tranquil in the cabin, no matter your speed.
The popular four-cylinder diesels are noisier. You'll hear them less often than in the smaller XE saloon, and they're only vocal when worked hard, but the equivalent engines from Audi and BMW are much more muted.
Drive the XF in town, and the stop/start system constantly reminds you of their poor isolation, restarting with a nasty jolt and noisy idle. It's a shame because on the motorway they settle down to a fairly civilised cruise.

Picking a 2.0-litre petrol improves matters slightly - certainly at low speeds - and the Jaguar cuts through the air nicely, but it also creates more intrusive tyre rumble than its peers will, especially fitted with larger wheels.
The eight-speed automatic transmission fitted to the majority of the line-up is pretty smooth, whether you let it make its own shifts or take control using the paddles. It can occasionally hesitate when you want a quick burst of speed but has the annoying habit of kicking down through several ratios if you try to make progress.

Safety equipment: How safe is the Jaguar XF?
Every executive saloon at this price does enough to gain a five-star rating from the crash testers Euro NCAP. It doesn't necessarily follow that they're all equally safe though, with some differences in the level protection.
The XF got high scores across all four individual categories, with an impressive 92% for adult protection and 84% for safeguarding children if the worst happens. Still, rivals such as the E-Class and S90 do even better.
Every model comes fitted with a host of active safety kit, including traffic sign recognition, lane departure warning, and auto emergency braking, which can sense potential collisions, stopping the car if necessary.

That's on top of cruise and traction control, six airbags, hazard lights that flash to warn other drivers if you stop suddenly, and a hill launch assistant to get you moving again when you're sitting at a steep junction.
All of this combined should ensure you are thoroughly protected should you have a prang, but there is help on hand to keep your wheels and bumpers looking pristine. All XFs now get front and rear parking sensors, while the Portfolio and S versions add a reversing camera, which will set you back £385 on every other version.
We do think it's stingy that bright LED headlights are optional across the range. Stump up £610 for them and you get a feature that'll dip the main beams to avoid dazzling other drivers, but why isn't this kit standard fit?
For those that want to feel even safer behind the wheel, there's a wide selection of other options. These include surround-view cameras, and a parking assistant, but the Active Safety Pack is the most exhaustive.
It's pricey, but adds blind-spot monitors, a driver fatigue sensor, adaptive cruise control that can come to a stop and set off again without you intervening, and a system that warns you of passing cars when reversing.
MPG and fuel costs: What does a Jaguar XF cost to run?
"Currently, the XF does not feature any of the latest hybrid fuel-saving technology. While we have zero doubt that is about to change very soon, it means that the core four-cylinder diesels are the most efficient models."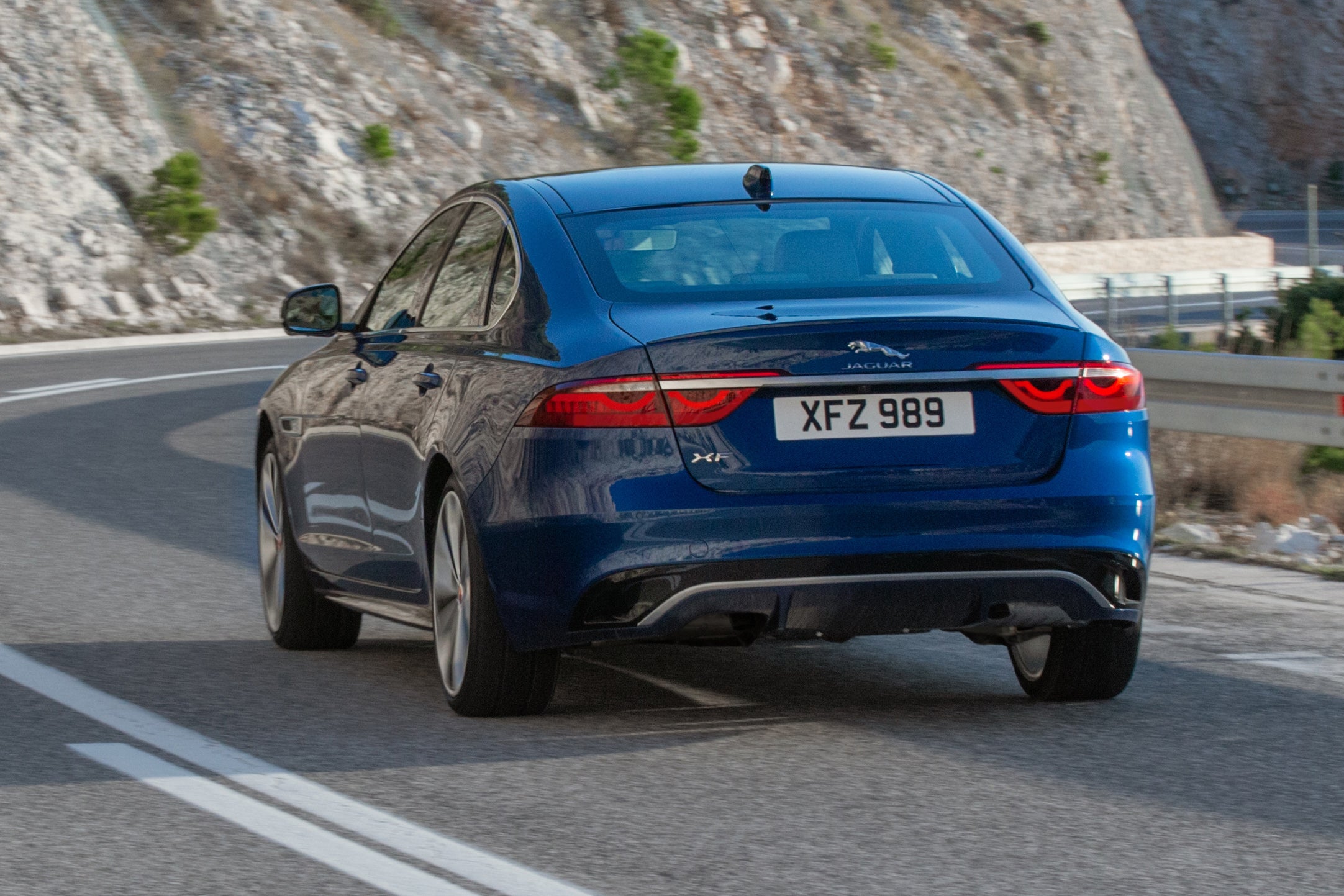 Pair either the 163PS or 180PS with the standard six-speed manual, and their official WLTP figures will rise to over 50mpg. That's a bit behind the class leaders, but our Real MPG owners have managed over 53mpg.

That's the best you can hope for though. Where plenty of plug-in hybrid saloons offer serious speed while emitting less than 50g/km of CO2, any increase in performance will hit your fuel bills in the old-fashioned XF.
For example, add four-wheel drive to the 180PS engine, and the official stats drop to 44mpg, while each of the petrols will return a thoroughly disappointing 33mpg. That could fall a lot lower if you fit larger alloys, or drive them with gusto. It's worth noting too that the cleanest diesels have a smaller tank, cutting your range.
How reliable is the Jaguar XF?
While it hasn't had the best reputation for reliability, Jaguar's turned things round in recent years with the brand coming in third place for overall owner satisfaction in Honest John, our sister website's, satisfaction survey. Impressive stuff, coming in behind first-placed Lexus and second-placed Skoda.
The Jaguar XF comes with a three-year warranty as standard, with the option to buy extended warranties if you wish.
Insurance groups and costs
Insuring your Jaguar saloon should mean parting with less of your hard-earned than any of its German rivals. That's due to the entry-level car's modest output and its manual gearbox, putting it right down in Group 25.
You'll add one insurance band for each step you take up the trim ladder, and upgrading to the quicker 180PS diesel means you'll start off in Group 28. For reference, most rivals are in Group 30 or above, a difference that will undoubtedly save you some cash, especially if you have a few speeding points still on your licence.
Petrol XFs kick-off in Group 30, while the top-spec V6 diesel 'S' sits in Group 42 so will set you back a lot more than any of the four-cylinder models. A similar sized engine in the Audi A6 50 TDI is only in Group 40.
VED car tax: What is the annual road tax on a Jaguar XF?
Jaguar launched the current XF in 2015, and any cars registered before April 2017 will pay road tax based on their individual CO2 outputs. This could be £20 for a low-spec diesel, or up to £305 for the V6 S petrol.

All cars built after that pay the same flat-rate of VED. Currently this is set at £150 for petrol and diesels. Be aware that most of the range cost over £40,000, and those cars attract a higher 'Premium' tax rate as well. This adds an extra £325 a year over the first five years of ownership after registration, before dropping down.
Company car drivers will be most interested in the low-powered diesels, but with new surcharges for this fuel type, even the cleanest are in the 32% BIK bracket, versus 28% for the considerably faster BMW 520d auto.
How much should you be paying for a used Jaguar XF?
"If you were looking to buy a new Jaguar XF at the time of writing, you can expect a wait over some 12 months due to the semiconductor shortage, though there's a good choice of used stock available."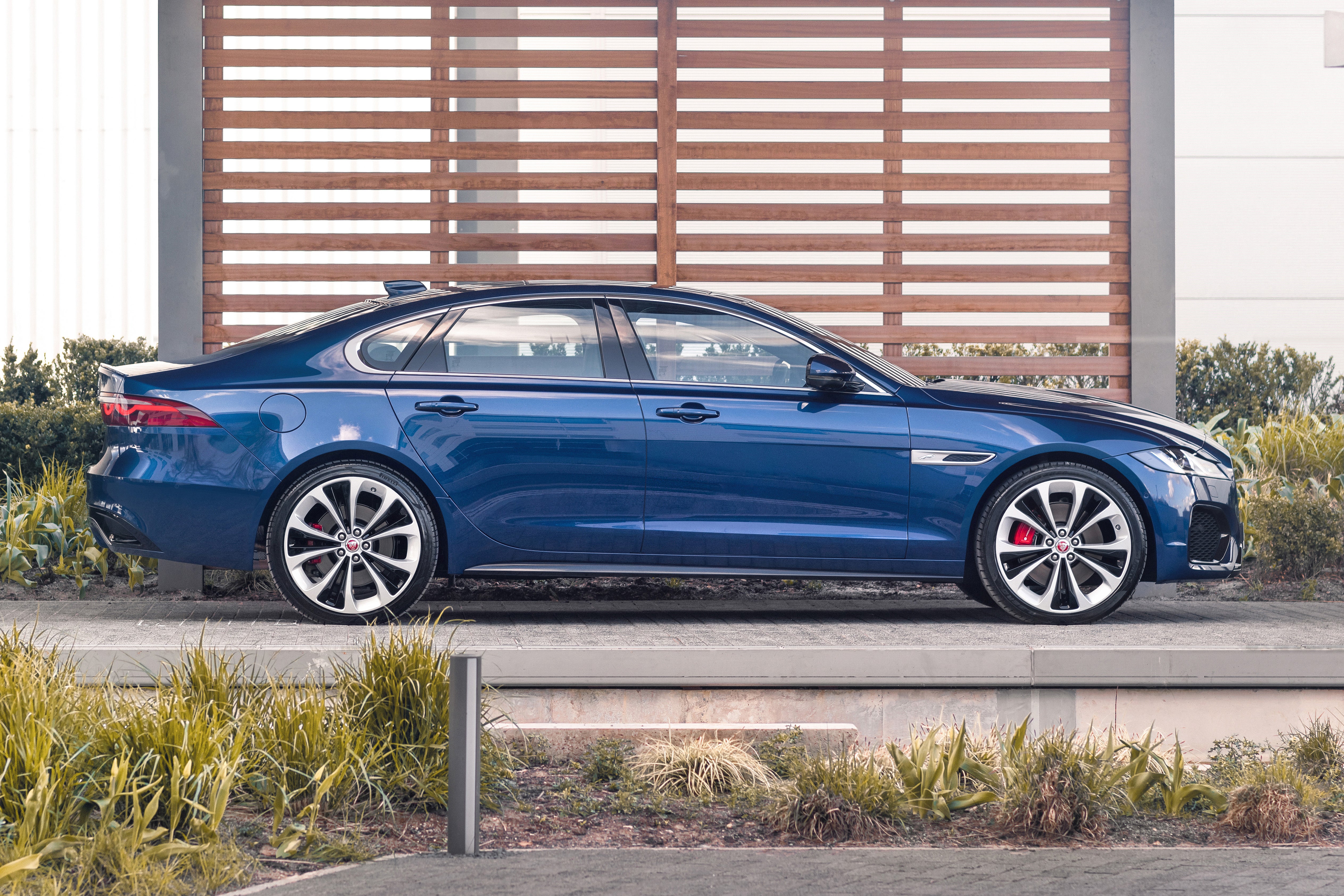 For a new Jaguar XF, prices start at £33,975, which is some £6000 less than the most affordable BMW 5 Series.
Prices for used cars start at just over £12,000. That will get you a seven year old 2.2-litre diesel XF with around 60-70,000 miles under its belt. A budget of £20,000 will get you a four year old car with around 40,000 miles, with the most common engine option the 2.0-litre 180PS diesel.
If you've got £35,000 to spend it will get you behind the wheel of two-three year old XF with a 3.0-litre diesel V6 with as little as 15,000 miles covered.
Trim levels and standard equipment
Buyers of large saloons like the XF expect a high standard of equipment from their cars, which means there is no need to mess around adding too many options. All versions come with leather-trimmed heated seats, with an electric backrest adjustment, parking sensors, a nice touchscreen sat-nav, climate and cruise control.
That's on the Prestige model, which should be more than enough to satisfy most buyers, although moving up pumps up the sporty styling and adds luxury kit. Upgrade to the R-Sport for a larger set of 18-inch wheels, a bespoke body kit, lowered sports suspension, and suitably racy interior, with figure-hugging sports seats
Choose the Portfolio version if you're more interested in luxury goodies than a sporty design. It comes with softer leather seats with 10-way electric adjustment, a reversing camera, keyless entry and a posher Hi-Fi.

The Chequered Flag model is only available with the more powerful engines, and features gloss black alloys, a pumped-up exterior design. On the inside, there's a sharp set of digital dials and chrome gearshift paddles.
At the pinnacle of the range sits the high-performance 'S' model, a trim exclusive to the 3.0-litre V6 diesel. It gets upgraded brakes, adaptive suspension, and the best luxury gadgets borrowed from the Portfolio model.
If faced with the choice of upgrading the looks or the interior, we would choose the latter. So if you plan to upgrade, the plush Portfolio is better value than the R-Sport, and in our opinion at least, looks just as sharp.
Naturally for a swanky premium model, there are a plethora of optional extras, ranging from the modestly priced (£85 for a pair of 12v sockets in the back) to the punitively expensive (£1,725 for advanced park assistance).
Most are unnecessary fripperies, but some of this kit is working seeking out. The boxes we would tick are for LED headlights (£610), Adaptive Dynamics (£720), and the TV tuner for the standard media screen (£910)
Ask the heycar experts:
common questions
Is the Jaguar XF as good car?
The Jaguar XF is one of the most enjoyable cars of its type to drive. The aluminium chassis keeps the weight down and handling is nice and sharp for a pretty big saloon. The interior is very nice, but it's not quite a match for cabins found on the Mercedes E-Class and BMW 5 Series.

Is there a plug-in hybrid version of the Jaguar XF?
While Jaguar has introduced plug-in hybrid engines in some of its other cars like the F-Pace, there's no PHEV option for the XF.

Which is better, Jaguar XF or XE?
It depends what you want. If you're looking for something a little larger and more luxurious, then the XF is the better choice, while the more compact XE is that bit more fun to drive.

Jaguar XF cars for sale on heycar
967
Number of cars available
£12K - £48K
Price bracket of these cars
Colours available on heycar
Keep me updated by email with the latest advice, news and offers from heycar
By submitting, you agree to our
privacy policy
.