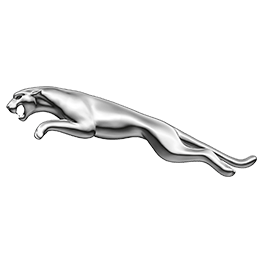 Jaguar XF Sportbrake Review

Written by
heycar editorial team

heycar rating
"Stylish, exciting to drive estate"
Best bits
Attractive design
Great to drive
Oodles of equipment
Not so great
Dated cabin
Higher running costs than its rivals
Poor refinement in 2.0-litre diesels
Read by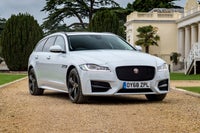 Overall verdict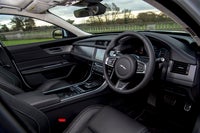 On the inside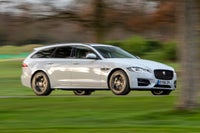 Driving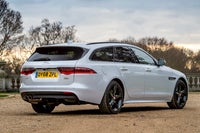 How much does it cost to run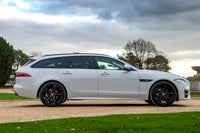 Prices, versions and specification
Overall verdict
"The Jaguar XF Sportbrake is a compelling alternative to an SUV. It has plenty of space, thrilling handling and gorgeous looks. It can't quite compete with the class-leaders for cabin quality or boot volume, but it's a neatly executed estate that comes loaded with kit. We just wish its diesel engines were a tad more refined in town."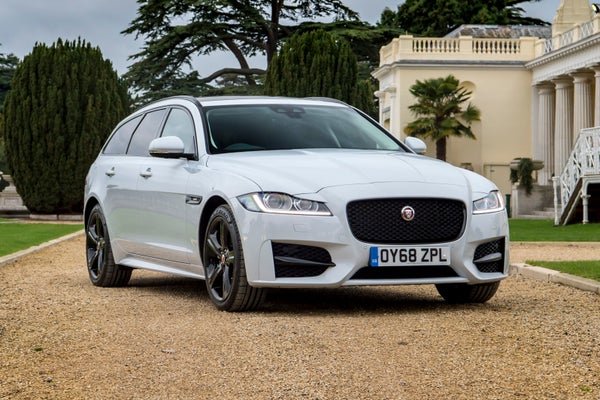 Let's face it, Sportbrake is an odd title for a car. It's supposed to sound more dynamic than just a plain old estate, but that's precisely what it is. An elongated version of the Jaguar XF saloon, with a roomier cabin and boot.
Well, perhaps plain is the wrong word. This is a very handsome car indeed, with neatly balanced proportions that a lumbering SUV could only dream of, and the stylish exterior design is definitely a big part of its appeal.
The other major attraction is its brilliant driving experience. It's a big family-friendly car that stops, steers and turns like a much smaller one, with fantastic steering, loads of grip, and yet an impressively supple ride, too.
Our only gripe is with its refinement, as road and engine noise are both louder than its German-built peers.
Despite the swoopy looks, it can match the competition for luggage space, with a well-shaped 565-litre boot that is deep enough to swallow all but the widest cargo, and has plenty of clever touches for load-lugging. It feels even more spacious than the saloon in the back too, with loads of knee room and a much taller roof line.
It can't carry quite as much stuff as the F-Pace off-roader, but with the option of four-wheel drive and a range of punchy diesel engines to choose from, it's a viable alternative for buyers keen to avoid a high-riding SUV.
Fuel economy is about average though, and many of its contemporaries now offer plug-in hybrid alternatives.
That means that for now, the best engine is the 2.0-litre diesel with 180PS. It comes paired up with a smooth eight-speed automatic gearbox as standard, but doesn't deliver the strongest straight-line performance. You can add all-wheel drive should you need it, and it'll cost less to run than the wonderfully smooth 3.0-litre V6.
Unfortunately, it competes with some incredibly talented luxury estates, including the likes of Audi's A6 Avant, BMW 5 Series Touring, and Mercedes E-Class Estate, along with classy alternatives such as the Volvo V90.
Most of the cars we've just mentioned feature cutting-edge infotainment systems, impeccably built interiors that are draped in expensive-feeling materials, and a wider choice of engines that will suit company car drivers. If the lowest possible tailpipe emissions are a top priority, then the XF Sportbrake probably isn't the car for you.
Prices for used models are strong, but that means you'll end up paying more for a Jaguar XF than you would for any of its rivals in a similar condition and spec, and we're not sure where that added value comes from. It does come nicely equipped - especially in Portfolio trim - with loads of safety assistance, comfort and luxury features that you would be forced to pay extra for by other brands, but there are some notable omissions too.
For potential owners to fall in love with the XF Sportbrake, they need to accept that its exceptional handling, spacious interior and classy exterior design paper over some fairly major drawbacks. We would urge you to sit in all its rivals to make sure that you could live with the flimsy quality before taking the financial plunge.
A facelift due in 2020 is likely to rectify our issues with the XF's efficiency, infotainment software, and engine options, but for now, it's a charming alternative to the most popular luxury estates, rather than a class-leader.
Comfort and design
"The interior layout of the XF Sportbrake matches the saloon exactly, and has simplicity on its side. Where its rivals dazzle you with huge screens and bathe the cabin in neon mood lighting, the Jaguar is more reserved."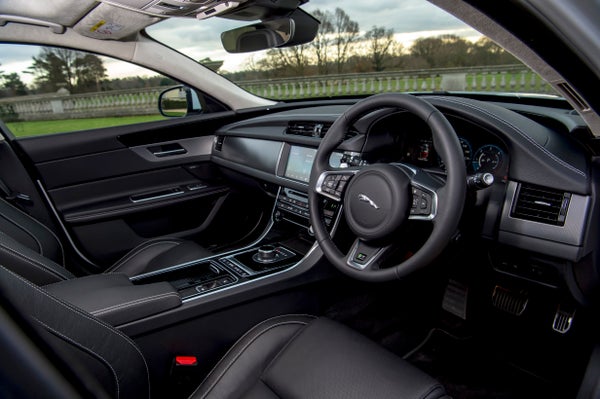 Its 10.0-inch touchscreen is neatly integrated into the sweeping dash board, with a glossy black panel below it housing the heating and ventilation controls, and simple audio and cruise control switches on the wheel. A high window line that comes up to your shoulder gives it a sporty vibe, but can leave you feeling hemmed in.
All fairly straightforward then, but with a few oddities. The window controls on the driver's side are mounted lower down than in other premium cars, and it can be awkward trying to lower the rear window, for example. There are fun touches too, including the glowing red 'heartbeat' starter button, and air vents that scroll open.
The driving position is spot-on. The pedals line-up perfectly with the seat base, and you can manually adjust the base, or change the angle of the backrest with electrical assistance to find a comfortable sitting posture.
Lumbar support is optional on all but the Portfolio and S models, both of which have 10-way electric seats.
Still, there are plenty of creature comforts. Toasty heaters will keep your bum warm on cold days, and if you want them, climate seats to soothe you in warmer weather are offered as an option. The sports seats on the XF R-Sport are also very supportive, holding you firmly in place no matter how enthusiastic your driving style.
Handling and ride quality
"Jaguar is a brand with a distinctly sporty heritage, but the way its cars can flow down a twisty country road shows that this reputation is richly deserved. For a practical family model, the XF estate is stunning to drive."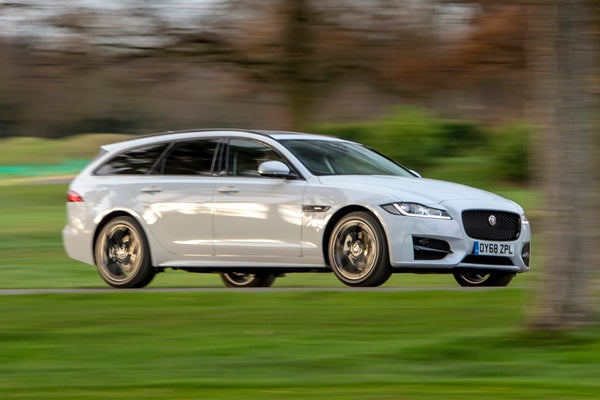 Unlike the four-door, it comes with self-levelling air suspension at the rear axle. This is there to improve ride comfort, but also compensate for heavy loads unbalancing the car when towing, or carrying a packed boot. It helps the Sportbrake stay flat and stable, even if you're carting an old fridge off to the local recycling centre.
Happily, this setup does nothing to spoil the sweet handling balance of the saloon. The steering is dripping in natural feedback, giving you total confidence to place the car, and also about how much grip the tyres have. Turn the wheel and its quick and accurate tuning lends a fluidity to the XF's movements that belies its size.
Rear-drive models give you the wonderful sensation of gently 'pushing' you out of tighter turns, making the XF feel much more nimble and responsive to your inputs than its rivals, which are more neutral in corners.
Adding four-wheel drive ensures extra traction in slippery conditions, for example on muddy winter roads, but both versions generate bags of grip in the dry, with excellent body control and a composed ride over bumps.
None of this impressive poise comes at the expense of passenger comfort. It soaks up most imperfections, and isolates those on board when it does encounter motorway expansion joints or potholes. R-Sport models have a slightly firmer setup that feels a little stiffer around town, but is just as well-judged as the standard car.
For a reasonable price you can add adaptive dampers to any model in the range. These broaden its dynamic ability, feeling really plush in Comfort mode, but tightening everything up dramatically in the sportier settings. Some rivals can be even more cosseting on scruffy Tarmac, but none feel as agile and direct as the Jaguar.
MPG and fuel costs
"Currently, the XF does not feature any of the latest hybrid fuel saving technology. While we have zero doubt that is about to change very soon, it means that the core four-cylinder diesels are the most efficient models."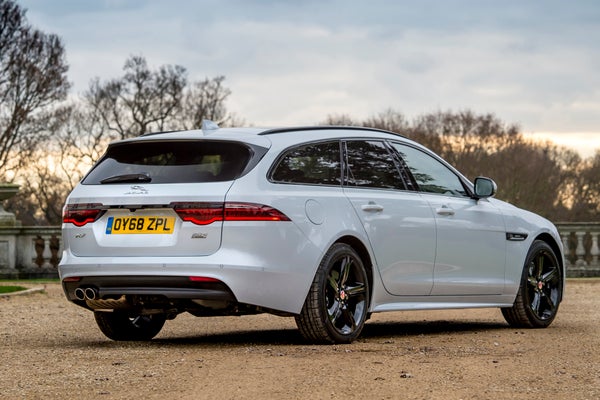 Pair either the 163PS or 180PS with the eight-speed automatic, and they'll return a near-identical official 48mpg (WLTP). That's impressive for a car this size, and our Real MPG owners have managed over 50mpg.
That's the best you can hope for though. Add four-wheel drive to the more powerful model, and those figures drop sharply to just over 40mpg, while both the petrols officially hover around 30mpg. If you're cursed with a heavy right foot (or are towing) that could fall to a ruinously thirsty 24mpg in the all-wheel drive 300PS car.
How much should you be paying for a used Jaguar XF Sportbrake?
"It took Jaguar took two years after launching XF saloon before offering it as a more practical estate, so it's harder to find as many used examples. Saloons outnumber Sportbrakes two to one, keeping prices buoyant."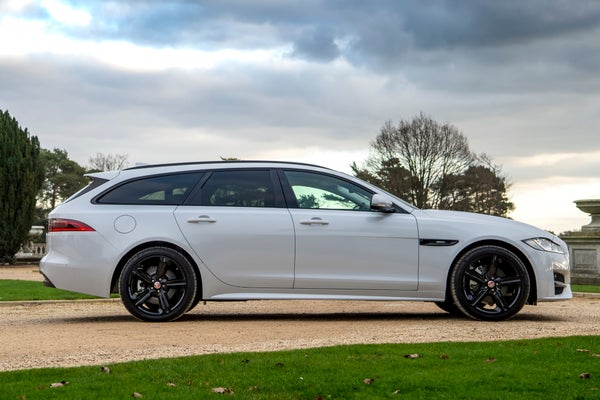 There are a few early examples around for £18,000 or so, but these cars have higher than average mileage. Expect to part with around £20,000 for a tidier 2.0-litre diesel, in your choice of trim, with a full service book. That's a fair wedge more than what you'd be paying for an Audi A6, BMW 5 Series or Mercedes E-Class in estate guise and similar condition, purely because the Germans are all so popular on company car fleets.
Prices for four-wheel drive models start from around £2,000 higher than their rear-drive counterparts, and you might have to travel a bit further to get one in a spec that suits you, although there's a good selection.
Petrols have typically covered much shorter distances, with prices for the 250PS 2.0i starting from £23,000. There are great deals on nearly new cars, with a wide choice of 2019 models with less than 5,000 miles on the clock for well under £30,000. Still, with a heavily updated version of the XF due, they could fall further.
Is the Jaguar XF right for you?
If you enjoy driving, then the XF Sportbrake is one of the most rewarding estate cars money can buy. It has quick and precise steering that lets you know exactly how much grip is available from the tyres. It handles with a level of agility almost unheard of in cars this size, yet also rides smoothly over bumps in the road.
Few rivals handle as sweetly, but it has some rather large drawbacks. The first is the coarse and laboured 2.0-litre diesel motor. It's the most popular choice, but lacks the hushed refinement and efficiency of similar engines from competitors. It never feels as strong or responsive as its official figures would have you believe.
It'll still handle a wide range of load-lugging duties, and the boot can match most of its premium rivals. While those travelling in the back will welcome the spacious cabin and comfortable seats, it falls short on build quality. The infotainment system also feels dated compared to the best systems in any number of different estates.
What's the best Jaguar XF Sportbrake model/engine to choose?
Buyers of large saloons like the XF expect a high standard of equipment from their cars, which means there is no need to mess around adding too many options. All versions come with leather upholstered seats, which are electrically adjustable and heated, all-round parking sensors, a touchscreen sat-nav and cruise control.
We would plump for the Portfolio model if you can though. Its reversing camera will come in handy when you are trying to navigate around obstacles when parking, and its luxurious electric 'Windsor' leather seats and booming Meridian sound system help lift the ambience in the cabin, yet it's not much more than the R-Sport.
Despite their sub-par refinement, the four-cylinder diesels make the most financial sense. The petrols are far too thirsty, and down on pulling power. Still, we'd avoid the entry-level 2.0d 163, as this feels underpowered.
Instead, go for the 180PS version. This gives you the option of four-wheel drive should you need it, and feels strong enough to haul the Sportbrake from A-to-B in a brisk fashion, even when it's stacked to the gunnels.
What other cars are similar to the Jaguar XF Sportbrake?
The Sportbrake goes toe-to-toe with the estate versions of the heavy-hitting German saloons. It comes out of the contest pretty bruised too. The 5 Series Touring, Audi A6 Avant and E-Class Estate bring the full might of their respective companies to bear, with advanced on-board technology, mild-hybrid engines and superior quality.
While none of them are as sharp to drive as the XF, we wouldn't blame buyers for picking one of these classy rivals instead. Purely based on their refinement, speed, and in the Mercedes' case, sheer load-lugging ability.
For anyone seeking comfort and chic styling, the Volvo V90 is softer, equally safe and just as well-equipped. It also (like the Audi and Mercedes) comes in a more rugged guise, with raised suspension and underbody protection to appeal to SUV buyers. These add light mud-plugging ability to the premium estate car recipe.
Still, if all you need is a practical estate with loads of toys, a top spec Skoda Superb Estate is worth a look. It may not have the badge, but features a stronger diesel engine, sturdier cabin and a bigger boot than the XF.
Quality and finish
This is one area where modern Jaguars have traditionally struggled to past muster, and the XF Sportbrake is unfortunately yet another model that can't match the high benchmarks set by the most luxurious big estates.
The major issue is the inconsistency of the materials used in the cabin. For every pleasingly stitched surface or smartly finished area, there is a loose feeling switch, creaking trim panel or hollow sounding plastic mould.
Each time you encounter one of the above, it robs you of any trust in the solidity of the cabin's construction, and while it may prove as robust as anything from Audi, BMW or Mercedes, it simply doesn't feel as plush.
That's not to say it's an unmitigated disaster - far from it in fact - the steering wheel, rising gear selector (on automatic cars) and supportive leather seats do add a sense of theatre and opulence. You can fit traditional wood veneers across the range for a reasonable price, or choose a sportier gloss black or carbon-effect look.
However, problem areas like the tacky climate controls and black plastic steering wheel buttons are there to remind you that Jaguar spend a lot more of its budget honing the handling than it did improving the interior.
Infotainment
Older versions of the XF came with a choice of 8.0-inch and 10.0-inch touchscreens, but the former was a poor relation, and has since been dropped from the range. Jaguar calls the latter a 'Touch Pro' display, but its not as responsive or hi-res as the iDrive or MMI systems offered by BMW and Audi, and less intuitive to use.
It comes packed with features though, and is a vast improvement over the brand's older systems. All cars get sat-nav, DAB radio, Bluetooth, and (a recent edition) Android Auto and Apple CarPlay smartphone mirroring. You can pay to add a TV tuner (£910) and dual-view screen that lets your passenger watch TV while driving.
However, where some rivals offer a variety of ways to control media playback and scroll through menus, the XF forces you to rely on its touchscreen, which can be laggy, and is more distracting than physical controls. Some higher spec models include a digital screen in the place of the conventional dials. This helps make the interior feel more modern, but the display is not as clear to read or easy to customise as the best in the class.
Sound quality from the standard system is surprisingly good, with eight speakers pushing out 180w, but there are two optional Meridian stereos. The first has a punchy 380w output, but you might as well splash out on the 825w system, which costs a little more, and boasts 16 speakers, a sub woofer and 16 channel amplifier.
Space and practicality
Space is the main reason for any buyer to choose an estate. Whether you need a large boot for your family bric-a-brac, a pair of muddy labradoodles or a weekend's camping gear, the Sportbrake has got you covered.
In terms of raw numbers, its 565-litre capacity is bang-on for the class, matching the A6 Avant and bettering a Volvo V90, although for a truly cavernous loading bay, nothing can topple the 640-litre Mercedes E-Class. Fold down the rear seats using the handy triggers in the boot, and this expands to an impressive 1700 litres.
What does that mean in everyday use then? Well, firstly you'll be struck by how cleverly designed the XF is. The tailgate swings open at the push of a button, and the luggage area is wide and flat, with a tiny load lip. You'll find numerous lashing points and aluminium rails for securing loose items, and the seats split 40/20/40.
This configuration gives you the ability to rearrange the interior to carry passengers and bulky loads together, or just flip the middle seat down to stow longer items like skis or fishing poles. Combine this with the massive boot aperture, and you'll be able to fit and carry an impressively wide range of cargo, despite the sleek looks.
Passengers in the rear will have few complaints on long trips. The angle of the back rests means the seats give excellent thigh support, and there are several inches of fresh air between your knees and those in front. Headroom is equally generous, even with the optional glass roof fitted, so even taller teens should be comfy.
The two outer chairs have Isofix mounting points and top tethers for fitting child seats, and the doors open wide enough to allow easy access, even if you're manoeuvring a cumbersome rear-facing seat into position. Fitting three across the back is a rather tight squeeze, as it's a narrow perch with nowhere to put your feet.
There are a few decent spots for stashing bags of Haribo on a lengthy road trip, including map pockets in the front seat backs, a covered cubby in the centre console and a big glovebox, but the door pins are a bit stingy.
All diesel XFs can tow a maximum of two tonnes, but we'd choose the four-wheel drive models for this task. Jaguar also charges quite a lot for a detachable tow bar including fitted - over £1000 in fact, which is steep.
Engines and gearboxes
With growing concerns over large diesel cars, most of the XF's rivals now come with an ultra efficient plug-in hybrid option, or deploy mild-hybrid technology to improve the efficiency of their regular engine line-up. Despite producing its own electric SUV, the i-Pace, Jaguar is yet to spread electrification to its normal cars.
That means the Sportbrake line-up is primarily comprised of 2.0-litre four-cylinder diesels. Propping up the range is the 2.0d 163, which feels a bit underpowered, and will only appeal to buyers who need lower CO2.
In the middle of the range sits the 2.0d 180. It would be our choice, since it comes with greater pulling power that'll come in handy whenever you're carrying loads, and the option of four-wheel drive for towing. It still lacks the pace of its rivals though, delivering oomph in a big lump, rather than smoothly metering it out.
The punchiest 2.0-litre has 240PS and comes with all-wheel drive as standard. On paper it sounds ideal, with loads of low-down grunt, but in practice it lacks the pace you would expect, and is thirstier than the V6.
Speaking of, the 3.0-litre six-cylinder diesel flagship, it's worth the money, if you can afford it. It's the smoothest performer in the range by far, with effortless acceleration and hushed refinement, and will still return 40mpg.
On the petrol side, there's less choice. Buyers can pick a 2.0-litre with rear-wheel drive and 250PS, or the same unit with a 300PS output and four-wheel drive. Word of warning though, neither feels as quick as those power outputs imply, with a significant drop in mid-range grunt compared to the diesels, and worse economy.
Almost every model in the range comes fitted with a traditional eight-speed automatic transmission. The only exception is the entry-level diesel, which is offered with a six-speed manual. The former is the gearbox you want though, improving refinement, straight-line performance and efficiency, and it's fairly responsive as well.
Refinement and noise levels
With such a sophisticated exterior and supple chassis, you would hope that the XF Sportbrake could cocoon you from the world outside, making journeys of hundreds of miles pass by in a flash. However, it's really only the flagship 3.0 V6 that possesses the silky smoothness and cruising refinement to deliver on that promise.
The popular four-cylinder diesels are noisier travel companions. They sound agricultural at low revs, creating an unpleasant clatter on start-up, sending unwelcome vibrations into the cabin, and grow coarser if pushed.
Drive the XF in town, and the stop/start system constantly reminds you of their poor isolation, restarting with an unpleasant jolt and lumpen idle. Almost every rival diesel four-cylinder is quieter and less intrusive to use.
Picking a 2.0-litre petrol improves matters slightly, certainly at low speeds, but once you're on the motorway, the Sportbrake also generates more audible tyre roar on big alloys than its peers will - especially the Audi A6.
Wind noise is less noticeable, and the eight-speed automatic transmission fitted to most models is generally smooth, with barely perceptible shifts. It can occasionally hesitate when you want a quick burst of speed, and seems to have been tuned to feel sporty, so will sometimes kick-down through several gears unnecessarily.
Safety equipment
Every large saloon at this price does enough to earn a full five stars from independent testers Euro NCAP. It doesn't mean that they're all equally safe though, so allow us to rake through the finer points of difference.
Estate versions do not get tested separately to earn their own rating, but since they share identical safety features and crash structures, they share their test scores with the four-door cars, so should prove secure.
The Jaguar got a great score for adult occupant protection (92%) and achieved well over 80% in the three other individual categories; child protection, pedestrian protection and safety assist. Very impressive stuff.
So what do you get included as standard? All XFs come with traffic sign recognition, lane departure warning, and auto emergency braking (AEB) which can sense any oncoming collisions, stopping the car if necessary. That's on top of cruise and traction control, six airbags, hazard lights that flash to warn other drivers if you brake heavily, and a hill launch assistant to get you moving again when you're stopped on a sharp incline.
It's also there to lend a hand with your low-speed manoeuvres. Every model gets all-round parking sensors, while the Portfolio and S versions add a reversing camera, which you can pay extra for in the lesser trims.
Of course, there's a whole heap of optional driving aids, if you have deep enough pockets. These include surround view cameras, and a self-parking assistant, but the biggest bundle is the Active Safety Pack. It's pricey, but comes with blind spot detection, a driver fatigue monitor, adaptive cruise control that can come to a complete standstill and set off again, and a system to alert you to passing cars when reversing into traffic.
Our only complaint? That LED headlights are extra across the range. Cough up the £610 and you get them, plus a high-beam assistant that dips the main beams to stop you dazzling others, but it should be standard.
Insurance groups and costs
Insurance cover for your Jaguar estate should be considerably lower than in any of its German counterparts. That's because of the entry-level model's modest power output and manual gearbox, putting it in group 25.
Audi, Mercedes and BMW all kick off in group 30 for their own swanky large estates, and those five bands could add up to make a big difference to your premiums. Petrol cars start off in group 32, while the top spec V6 diesel 'S' sits in group 42 (out of 50) so will set you back significantly more than the four-cylinder models.
VED car tax
Only a few early XF Sportbrakes registered prior to April 1st 2017 will pay the older CO2-based road tax. It'll range from just £30 for the most efficient 2.0d 163, right up to £205 for the dirtiest petrol automatic versions.
All cars from after that date attract the same flat-rate tax, currently £150 a year for petrol and diesel models alike. However, most XFs cost more than £40,000 new, so incur the higher 'Premium' charge for luxury cars.
This adds an additional £325 per year over the first five years of ownership, bringing your costs up to £475.
Company drivers will need to brace themselves for hefty tax bills too. The surcharges for diesel models now mean that even the cleanest are in the 33% BIK bracket, versus 29% for the considerably faster BMW 520d.
Trim levels and standard equipment
Jaguar refuses to skimp on luxuries, and the XF Sportbrake comes as lavishly appointed as you would hope in such a large, expensive car. There are three core trims: Prestige, R Sport, and Portfolio. Yes, we're aware those all sound like team names from The Apprentice, so allow us to break down the key differences in spec.
Prestige models are the most affordable, but still come packed with goodies, including heated leather front seats with electric backrest adjustment, dual-zone climate control, and a 10-inch touchscreen with nav. The estate comes with more standard features than the XF saloon, since its kit list includes self-levelling air suspension at the rear, a powered tailgate and 40:20:40 split/folding rear seats to improve daily convenience.
It should be all you need, although moving up the range increases the style and luxury stakes even further. Stepping up to the R Sport brings you larger 18-inch alloys, a bespoke body kit and lowered sports suspension. Portfolio is positioned at the luxurious choice, with softer leather, fully-electric seats, and wood dash veneers.
If that all sounds a bit too member's clubby for your tastes, it also adds useful stuff including keyless entry, a reversing camera, heated windscreen, and an upgraded Meridian Hi-Fi with almost double the power output.
The Chequered Flag model is only available on the more powerful engines, and is essentially an R-Sport on steroids, with gloss black wheels, a pumped up design, and on the inside, a sharp set of digital instruments. At the pinnacle of the range sits the high-performance 'S' model, a trim exclusive to the 3.0-litre V6 diesel. It gets upgraded brakes, adaptive suspension, and the best of the luxury equipment from the Portfolio model.
There is a pandora's box worth of optional equipment that is frankly far too lengthy to list in full. Jaguar does group some of it into 'Packs', but it's worth seeking out desirable individual items too. Top of our list would be LED headlights (£610), Adaptive Dynamics (£860), and the clever dual-view TV infotainment screen that lets your passenger watch movies and TV shows while showing the driver the sat-nav screen; that's only £775.
Learn more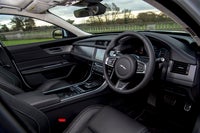 On the inside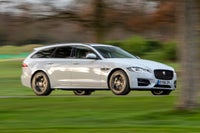 Driving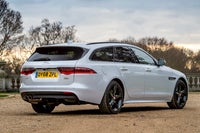 How much does it cost to run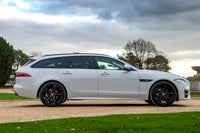 Prices, versions and specification
Reviews of similar cars
Quality checked, all cars less than 8 years old and warranty included