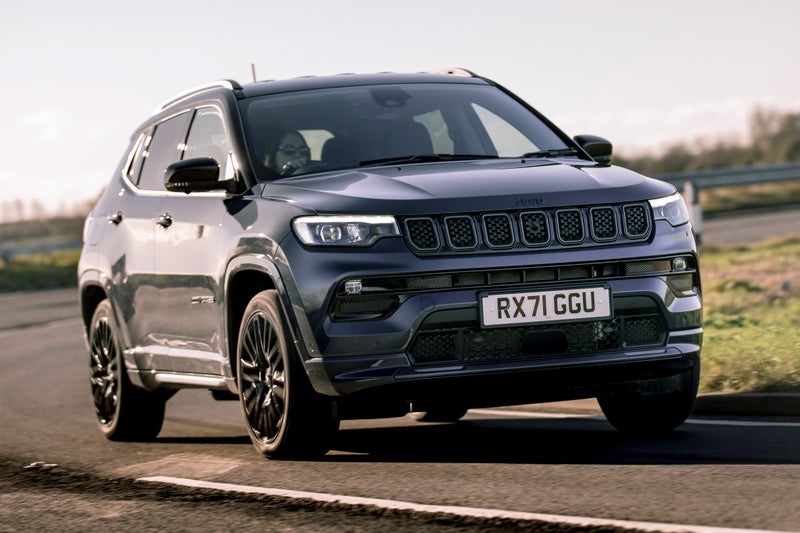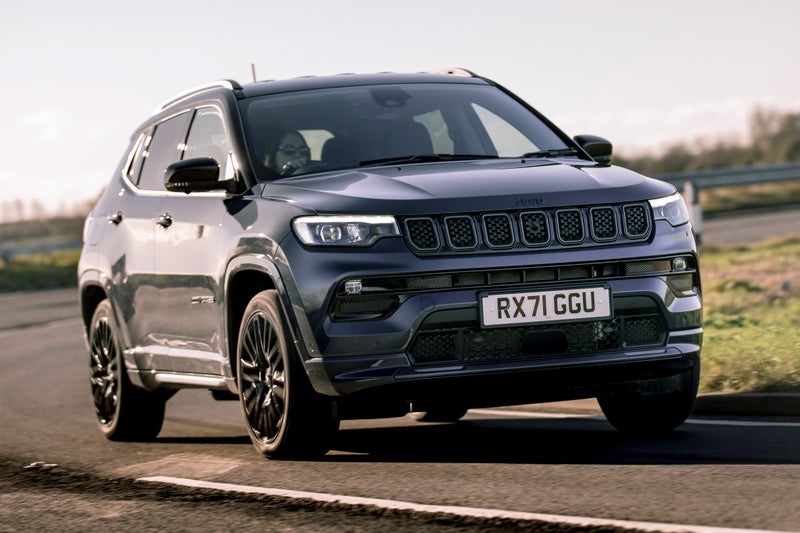 1/10
heycar rating
"Slightly more competitive than before"
Launched: 2018

SUV

Petrol, Diesel, PHEV
Quick overview
Pros
Rugged image
Trailhawk is good off-road
Five-star Euro NCAP safety rating
Cons
Doesn't feel as premium as its price tag suggests
Old-fashioned and unrefined to drive
Base-spec models are particularly grim
Overall verdict
On the inside
Driving
Cost to run
Prices and Specs
Common questions
Overall verdict on the Jeep Compass
"The Jeep Compass is an attempt to tempt buyers away from mainstream SUVs like the Volkswagen Tiguan and Hyundai Tucson. Improvements in 2022 mean it's more competitive than before, but you'd still need a strong desire to stand out to spend actual money on one."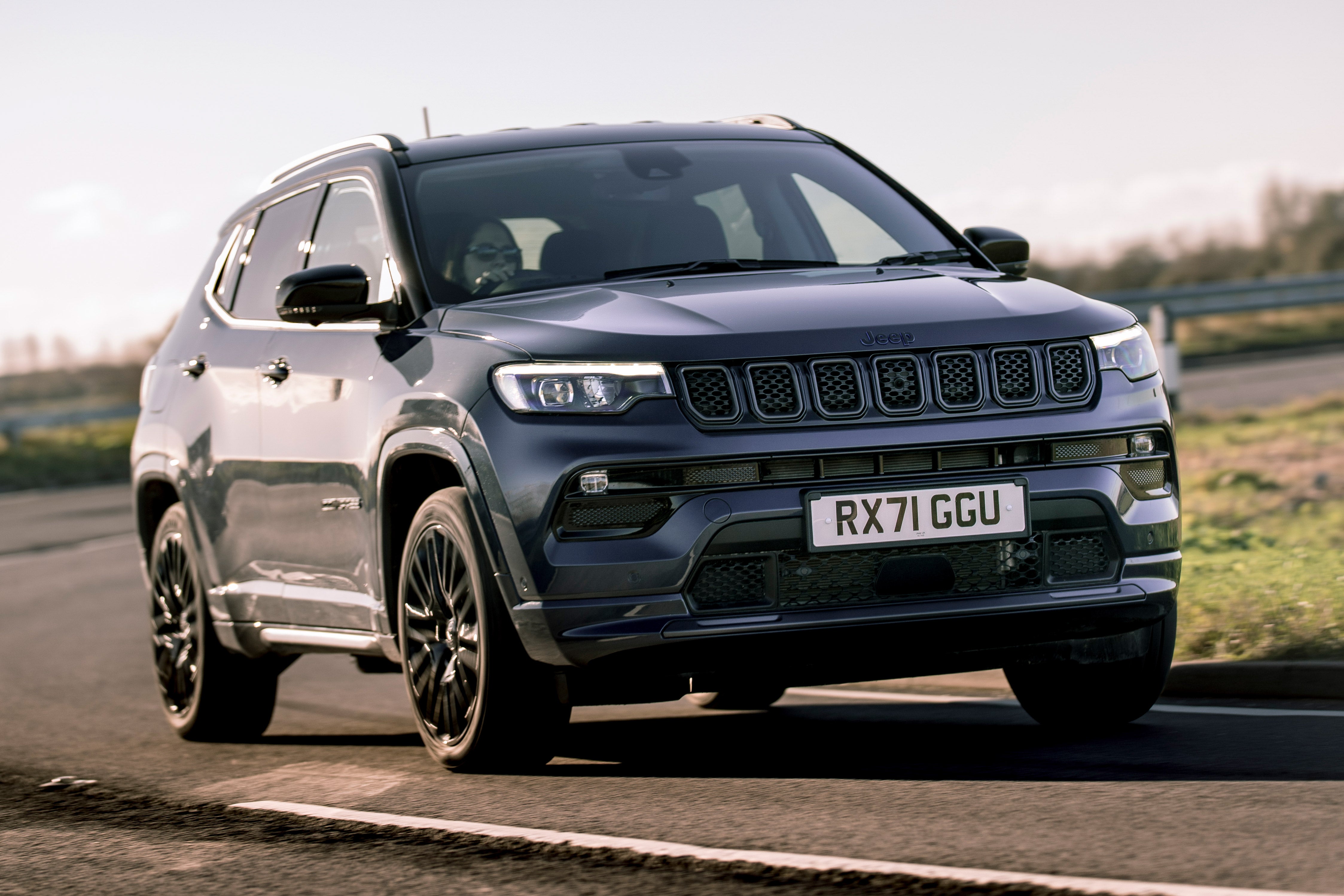 The popularity of the small SUV market means you're not going to turn heads or impress your neighbours if you buy a Nissan Qashqai or Skoda Karoq – no matter how competent they might be. As you'll read in our full Jeep Compass review, the mid-size Jeep offers something a little different, with a rugged image and genuine off-road ability.
It's based on the same platform as the smaller Jeep Renegade and Fiat 500X, initially sharing petrol and diesel engines with other models in the Jeep range. Unfortunately, the diesel engines, in particular, are noisy and unrefined, while the automatic gearbox is frustratingly slow to respond.
The engine line-up was updated in 2022, with the diesel dropped in favour of petrol, mild-hybrid or plug-in hybrid power (read our guide to the best hybrid cars for more info). The petrol is a straightforward four-cylinder 1.3-litre turbo that produces 130PS and 270Nm of torque, combined exclusively with a six-speed manual gearbox and front-wheel drive. The mild-hybrid derivative (badged the Jeep Compass e-Hybrid) pairs a 1.5-litre petrol engine with a small electric motor and a seven-speed dual-clutch automatic gearbox.
The Jeep Compass PHEV combines a 1.3-litre petrol engine with an electric motor on the rear axle. That means it's four-wheel drive, while the petrol-electric combination produces a total of 240PS. More significantly, it can travel up to 30 miles under electric power alone (according to WLTP tests), while CO2 emissions of up to 47g/km will be good news for company car drivers.
No matter which engine you go for, it's not exactly a nimble handler, with overly light steering and roly-poly body control. Still, that's a small price to pay if you wish to venture off the tarmac. It's not going to keep up with a Jeep Wrangler when the going gets tough, but the Compass Trailhawk ticks a lot of boxes for off-road enthusiasts - with its lifted suspension, hill-descent control and underbody skid plates. It's expensive, though.
The interior of the Jeep Compass is practical, with enough room for four adults and a boot that's pretty much as big as alternatives (although it's far from the best in class in this regard). It lacks the showroom appeal of rivals, though, with lots of brittle finishes and an overwhelming amount of buttons.
Interior quality was improved in 2022, although it's still a long way off premium alternatives like the Audi Q3 and BMW X1. At the same time, the range was updated – you can now choose from Jeep Compass Night Eagle, Limited, S and Trailhawk models. The exact model you should buy depends a little on your budget but also on which engine you want – not all trim levels are available with each engine.
The biggest issue with the Jeep Compass is its price. The new Hyundai Tucson, Kia Sportage and Nissan Qashqai all sell in much bigger numbers than the Compass for good reason – you get a lot more SUV for your money, and recent updates mean they feel like anything but value propositions. There's more of them on the used market, too, which makes it easier to find an example in your ideal spec for the right price.
Is the Jeep Compass right for you?
If you're looking for a competent family car that's going to stand out from the usual mix of SUVs, the Jeep Compass is a respectable choice. The updates made for the 2022 model year Jeep Compass mean it's easier to justify than it originally was, while mild-hybrid and plug-in hybrid power also helps its case. It could also be a good option if you actually need or want to venture off tarmac.
What's the best Jeep Compass model/engine to choose
If you can, look for the latest 2022 Jeep Compass. The recent updates, particularly to the interior, make it a lot more competitive than the old pre-facelift model. The plug-in hybrid will be a desirable choice for its low running costs, but a higher purchase price may initially make it harder to justify for many private buyers.
What other cars are similar to the Jeep Compass?
Comfort and design: Jeep Compass interior
"The multi-layered dashboard in the updated Jeep Compass looks a lot smarter than the bland cabin of the original car, while a new infotainment system also makes it more desirable."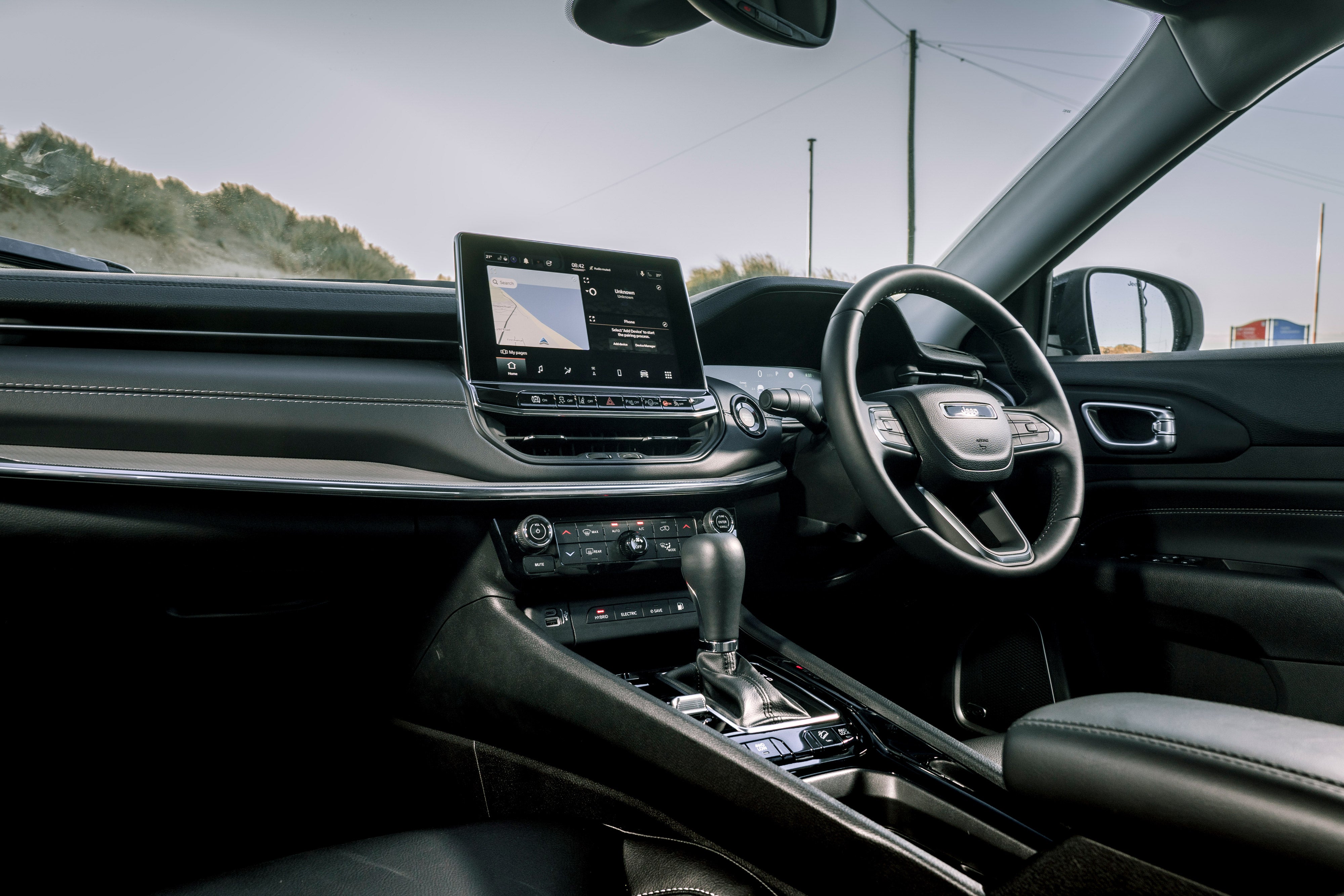 Manufacturers often tweak a car's interior during its lifespan, but the changes to the Jeep Compass for 2022 have been quite significant. From the bold dash to the new steering wheel, it looks significantly more upmarket than when the latest Compass first went on sale in 2018.
It's comfortable, too, with plenty of adjustment in the seats. There's enough space to crank the driver's seat up pretty high, if you want the Compass to feel like a full-sized SUV. That means you get a good view out, too, while the relatively flat bonnet means you've got a good idea of how much space you've got in front.
Quality and finish
For a car priced in line with premium competitors, the interior of the pre-facelift Jeep Compass was pretty dismal. A lot of the finishes were hard to touch – not necessarily a bad thing for longevity, although there were a few flimsy plastics thrown in for good measure, too.
The 2022 update brought with it improved interior quality, with the aforementioned multi-layered dashboard and more soft-touch finishes. It's still disappointing compared back-to-back with an Audi Q3, but it looks (and feels) a bit more competitive than the original Jeep Compass.
Infotainment: Touchscreen, USB, nav and stereo in the Jeep Compass
The infotainment is another area in which the Jeep Compass was improved significantly in 2022. You now get a smart 10.1-inch touchscreen display as standard across the range, including wireless Apple CarPlay and Android Auto.
It's a pretty good system to use, while its positioning high up on the dashboard means it doesn't feel too distracting to use. Oddly, there are actual, physical buttons for some features but not others. You can adjust the temperature of the climate control without having to navigate the infotainment, for example, but the heated seats are part of the touchscreen display. In an ergonomics oversight, the heated steering wheel 'button' is way over on the left hand side of the infotainment display. Oh, and turning off the over-sensitive lane-assist system requires negotiating various sub-menus every single time you get in the car.
All Jeep Compass models since 2022 also come with a digital instrument cluster in place of old-school dials. This lifts the Compass in the quality stakes, although it's not a patch on Audi's Virtual Cockpit.
Space and practicality: Jeep Compass boot space
At 438 litres, the boot is smaller than you'd find in a Skoda Karoq or Peugeot 3008, with the rear wheel arches noticeably intruding on space. A false boot floor reduces the amount of lip for lifting heavy items over (as well as providing room to hide away odds and ends, including cables on plug-in hybrid models).
Access to the back seats isn't particularly easy either, thanks to a rather tight door opening. Things are a bit on the cramped side for rear passengers, while the relatively high window line means it feels fairly claustrophobic for adults and children alike. You can squeeze a passenger in the middle rear seats but it's fairly tight, while a lump in the floor means they'll struggle to find anywhere to put their feet. It's a long way off the three individual rear seats you get in a Citroen C5 Aircross.
Things are a bit more positive in the front, where there's plenty of space to get comfortable and a reasonable view of your surroundings. The centre console prevents any awkward arm or leg bashing with your front-seat passenger, while there are two useful cupholders. There's a fairly small stowage area underneath the central armrest, while the door bins are annoyingly narrow.
In terms of exterior dimensions, the Jeep Compass measures 4404mm in length, 1629mm in height (including roof rails) and 1874mm in width (with folding door mirrors).
Handling and ride quality: What is the Jeep Compass like to drive?
"Unusually for an SUV in 2022, the Jeep Compass has actually been developed with the mindset that it might actually venture off road. Unfortunately, in the real world, that means it never feels quite as agile as something like a Ford Kuga, while the overly light steering doesn't exactly inspire confidence, either."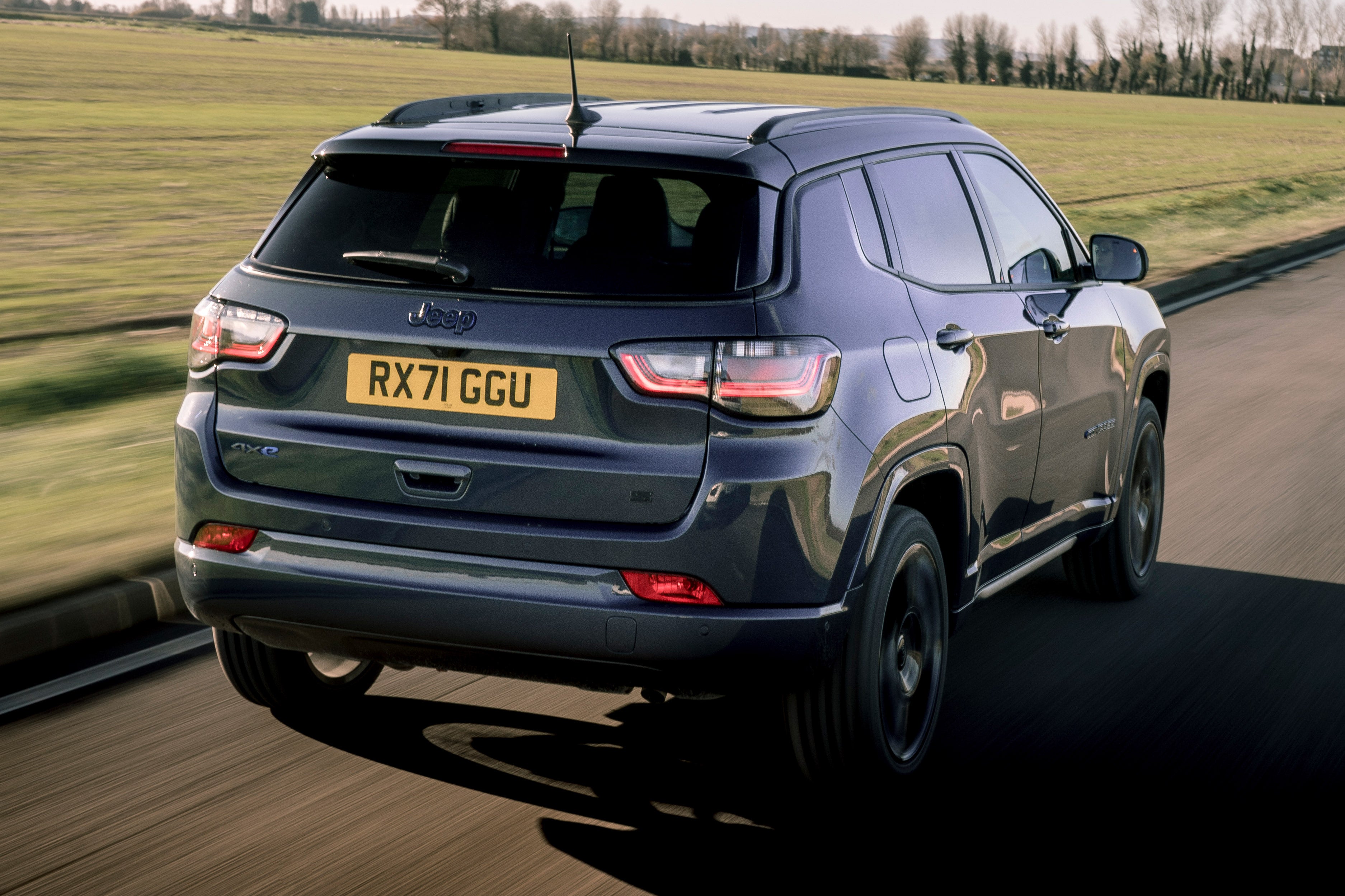 Not so long ago, the handling of the Jeep Compass would have been more than acceptable for a mid-size SUV. No one expects a car of this size to handle like a Mazda MX-5, do they? But, like in many other areas, it's when you start comparing the Compass to its peers that it starts to look a little less than competitive. At least there's a fair amount of grip on offer, and the Jeep Compass certainly doesn't handle erratically.
As with a lot of plug-in hybrids, the Compass 4xe's heavy kerb weight means it struggles to cope with uneven road surfaces. If you're live in an area with a lot of potholes, it might be worth looking for a Jeep Compass Trailhawk. With its relatively small 17-inch alloy wheels and off-road tyres, it's probably better set up for broken roads than the Jeep Compass S (although it will look a bit overkill for commuting to the office every day).
If you do wish to venture off road, the Jeep Compass is likely to make it a lot further than a Nissan Qashqai before it gets stuck. Take a look at the Land Rover Discovery Sport if that's what you really want, though.
What engines and gearboxes are available in the Jeep Compass?
The engine line-up has changed quite significantly in the relatively short time the latest Jeep Compass has been on sale. It was initially offered with a choice of 1.4-litre petrol and 1.6-litre or 2.0-litre diesel engines, as well as two- or four-wheel drive and a choice of manual or automatic gearboxes.
Unless you cover mega miles, we'd pick the petrol 1.4 out of this initial line-up. It's a punchy turbocharged unit available with 140PS or 170PS (the former with two-wheel drive and a six-speed manual gearbox; the latter with a nine-speed automatic gearbox and four-wheel drive).
No doubt reflecting a change in customer demand, Jeep removed the diesels from the Compass line-up when the facelifted model arrived in 2022. Power now comes from a 1.3-litre petrol which delivers 130PS and 270Nm of torque, combined with a six-speed manual gearbox. This entry-level unit is available exclusively with front-wheel drive.
There's also a mild-hybrid Jeep Compass, badged the e-Hybrid, which uses a 1.5-litre turbocharged petrol engine with electrical assistance and a new seven-speed dual-clutch automatic transmission.
Topping the range is the Jeep Compass 4xe (said 'four-by-e', like 'four-by-four'). This is a plug-in hybrid combining a 1.3-litre petrol engine with an electric motor positioned on the rear axle (hence the name). The hefty price premium of the PHEV means it's difficult to justify when new, but a used Jeep Compass 4xe could be a very desirable purchase – especially if you cover a lot of short, urban journeys or want a car that can coast across a campsite in silence.
Refinement and road noise
So far, we've only sampled the Jeep Compass 4xe plug-in hybrid and, like most PHEVs, it's impressively refined around town. It'll bimble about in near-silence like an electric car, but then the petrol engine will kick in and spoil your tranquility. There's a skill in coaxing as much electric range as possible out of the Compass; it's just so much nicer if you can avoid pressing the accelerator too hard and waking up the petrol motor.
Refinement isn't quite so good out of town, where there's a fair bit of engine noise and the 19-inch alloy wheels of our S-specification test car create quite a din. It's nothing that can't be drowned out by turning up the radio, but you're not isolated from the outside world as much as you would be in a Volvo XC40.
Safety equipment: How safe is the Jeep Compass?
The Jeep Compass is available with a wide range of driver-assist systems to make your journey safer. These include a Traffic Sign Recognition system (which reads and interprets road signs), Intelligent Speed Assist (which can automatically keep the car within the speed limit) and Drowsy Driver Alert (which notifies you when you're not paying enough attention).
There's also an Automatic Emergency Braking system that can detect pedestrians and cyclists, slowing the car down to a complete stop if necessary to prevent (or mitigate) a collision. Jeep's new Highway Assist feature is also offered, providing Level 2 autonomous driving by combining the Adaptive Cruise Control and Lane Centering features.
The Jeep Compass was given a full five-star Euro NCAP safety rating when it was crash tested in 2017 – including an impressive 90% score for adult occupants.
MPG and fuel costs: What does a Jeep Compass cost to run?
"The Jeep Compass 4xe is the current economy champion in the range. It can officially travel 30 miles on a charge, while its low WLTP CO2 emissions of up to 47g/km make it the obvious choice for company car drivers seeking low tax."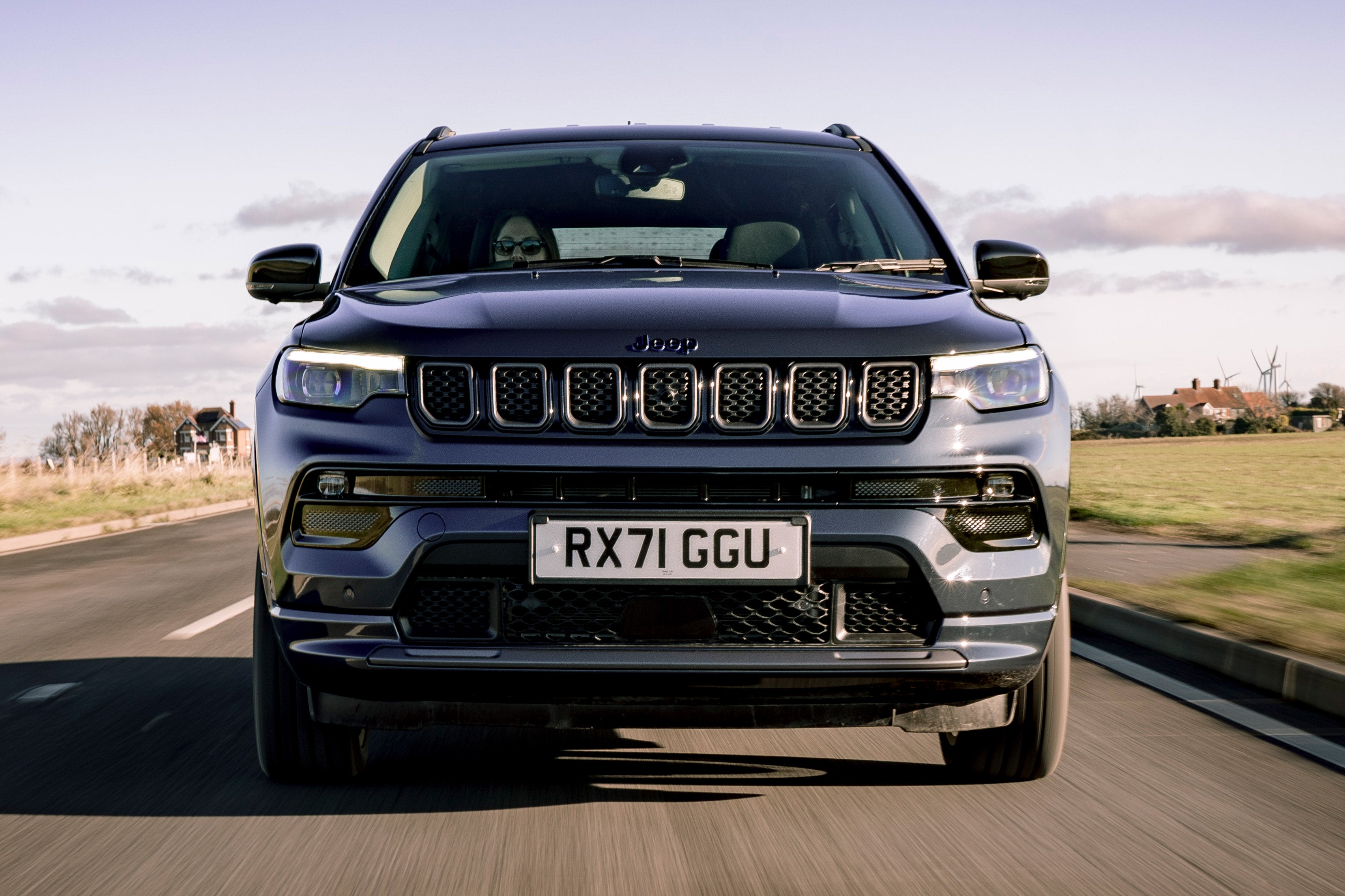 If you cover a lot of motorway miles, you might want to look for a pre-facelift Jeep Compass with the 1.6-litre diesel engine. This officially returns up to 64.2mpg, while the 140PS 2.0-litre diesel is good for 54.3mpg. The 170PS version returns 49.6mpg.
The standard petrol models return anywhere from 40.9 to 45.6mpg, while the mild-hybrid derivatives should be slightly more efficient. Figures are yet to be confirmed, however.
How reliable is the Jeep Compass?
We've heard very few reports of issues with the Jeep Compass. That said, the brand often returns a fairly mediocre performance in ownership surveys. In the 2020 HonestJohn.co.uk Satisfaction Index, the brand ranked bottom of all the car manufacturers. A Toyota RAV4 or Honda CR-V is likely to be a more reliable choice in the long term.
Insurance groups and costs
Petrol versions of the latest Jeep Compass are rated in insurance group 17E, while the Compass PHEV sees this jump to group 29E. As such, the plug-in hybrid could cost considerably more to insure – particularly if you've only recently passed your test. It's worth shopping around for quotes.
VED car tax: What is the annual road tax on a Jeep Compass?
After the first year, all cars registered since 2017 are taxed at a flat rate of £155/year. Alternative-fuel vehicles (including hybrids) qualify for a £10/year discount, meaning you'll pay £145/year for plug-in hybrid or mild-hybrid Jeep Compass models.
There's a 'but'. Vehicles with a list price of more than £40,000 (that's all but the most basic Jeep Compass PHEV models) are stung with a premium-car tax of an additional £335 a year for five years (from the second time it's taxed). This is based on the official retail price of the car and not what you've paid for it – so it's worth double-checking before you hand over a deposit.
How much should you be paying for a used Jeep Compass?
"The Jeep Compass doesn't hold its value particularly well – but that's good news for used car buyers. Around £14,000 will get you an early example of the Jeep Compass Sport from 2018, while you'll need upwards of £17,500 for a Jeep Compass Limited. That's a considerable chunk less than a similarly-specced Volkswagen Tiguan of the same age."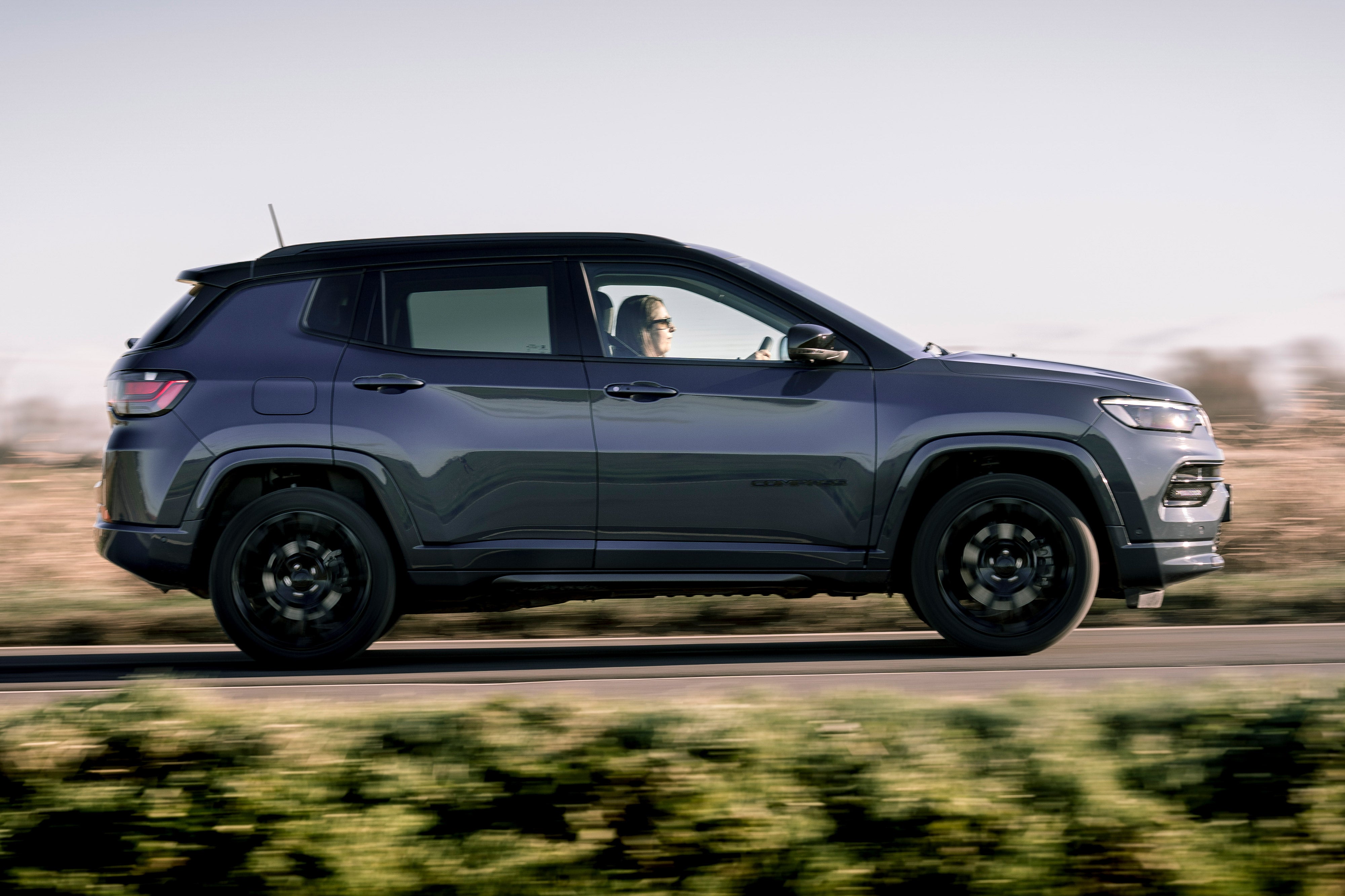 A brand new Jeep Compass starts from around £30,000 for a petrol model in Night Eagle or Limited trim, while the plug-in hybrid commands a hefty premium of around £10,000. Even in the current market, you can save money (and skip the waiting list) by searching for a pre-registered or ex-demonstrator model.
We've seen facelifted cars with delivery miles on the clock for £29,000, while a Jeep Compass PHEV Trailhawk could be yours for £38,000 – a saving of £2000 off list price.
Trim levels and standard equipment
When the second-generation Jeep Compass first went on sale in 2017, buyers were given a choice of four trim levels: Sport, Longitude, Limited and Trailhawk.
The Jeep Compass Sport is a fairly basic model, with highlights including a five-inch touchscreen infotainment system with DAB radio (note: no navigation), cruise control and air conditioning. It rides on silver 16-inch alloy wheels.
The Compass Longitude adds chrome window surrounds, fabric and faux-leather seats with electric lumbar adjustment, ambient LED interior lighting and dual-zone climate control. There's an 8.4-inch touchscreen navigation system with Apple CarPlay and Android Auto, as well as a reversing camera and keyless entry. The wheels are upgraded to 17-inch alloys.
The Jeep Compass Limited looks a bit flashier, with silver and grey 18-inch alloys (diamond-cut alternatives are available as an option), various chrome exterior highlights and LED signature lighting. The interior gets heated leather seats with eight-way adjustment, a heated steering wheel and a seven-inch colour instrument cluster. The radio is upgraded to a Beats unit, while parking is aided by a front and rear park assist system. Blind spot and cross path detection is added too.
If you want to look like an off-road adventurer, look for a Jeep Compass Trailhawk. This gets all of the desirable 4x4 features including hill descent control, rock mode, bespoke front and rear bumpers, raised off-road suspension, skid plates and a rear tow hook. Inside, there's a heated steering wheel, all-weather floor mats and heated leather seats with eight-way electric adjustment.
The line-up was updated when the Jeep Compass range was given a refresh for 2022. It's now made up of Night Eagle, Limited, S and Trailhawk trim levels.
The Jeep Compass Night Eagle is the entry-level version and features, as standard, front and rear parking sensors, a 10.1-inch infotainment system with wireless smartphone integration, a new 10.25-inch full digital instrument cluster and 18-inch alloy wheels.
The Limited trim builds on this with standard Adaptive Cruise Control, exclusive 18-inch alloy wheels, front and side parking sensors with automatic parking function, Keyless Enter & Go and Nappa leather-wrapped dashboard.
Higher levels of refinement and specification come standard on the Jeep Compass S version – the top of the range trim adds body-colour front bumpers and fascias, 19-inch alloy wheels, a new hands-free power tailgate and leather seats that can be electrically adjusted to eight different positions.
As before, the line-up is completed by the Jeep Compass Trailhawk – the off-road specialist model which stands out for its muscular, bold appearance and offers specific equipment for off-road driving. It comes with high-performance suspension and benchmark off-road angles and figures: approach angle of 30.4 degrees, departure angle of 33.3 degrees, breakover angle of 20.9 degrees and ground clearance of 21.3 cm. Standard on Trailhawk is also the five-mode Selec-Terrain traction control system, which includes a specific Rock mode, exclusively available on this model.
Ask the heycar experts:
common questions
Is the Jeep Compass a good car?
Objectively, the Volkswagen Tiguan or new Hyundai Tucson is probably a better choice than the Jeep Compass. That said, we like its image, and improvements made in 2022 mean it's easier than before to justify. The interior is more impressive than it used to be while the new infotainment system and digital instrument cluster look pretty smart.

Is the Jeep Compass reliable?
Jeep didn't appear in the latest HonestJohn.co.uk Satisfaction Index as there weren't enough responses to justify its inclusion. That said, it did appear the year before – ranking bottom of all the manufacturers overall. Owners were generally pretty dissatisfied. We've heard of very few issues with the latest Jeep Compass, though.

Is the Jeep Compass good off road?
The off-road ability of the Jeep Compass is one thing that stands out compared to more conventional alternatives. The Jeep Compass PHEV features an electric motor powering the rear axle, meaning the car is four-wheel drive. Opt for the Trailhawk pack and it'll add an extra-low gear ratio for low-speed rock crawling, as well as an off-road drive mode and hill descent system.

Jeep Compass cars for sale on heycar
188
Number of cars available
£14K - £42K
Price bracket of these cars
Colours available on heycar
Keep me updated by email with the latest advice, news and offers from heycar
By submitting, you agree to our
privacy policy
.