Jeep Grand Cherokee Review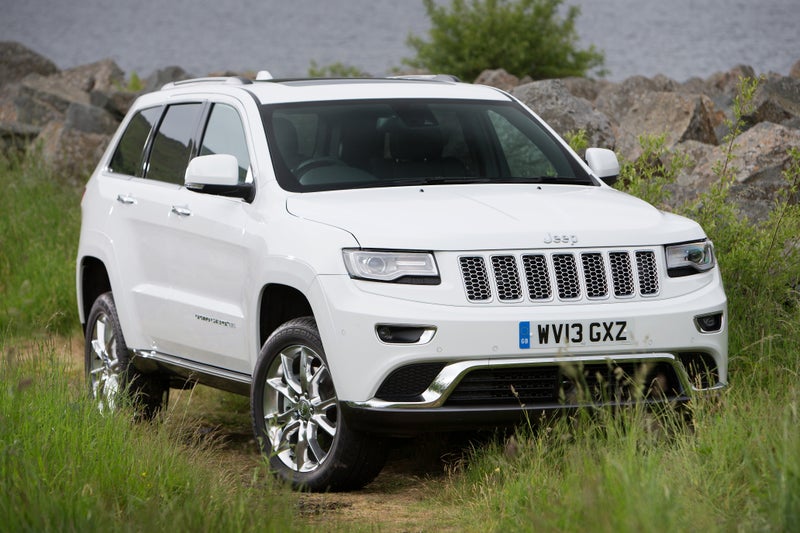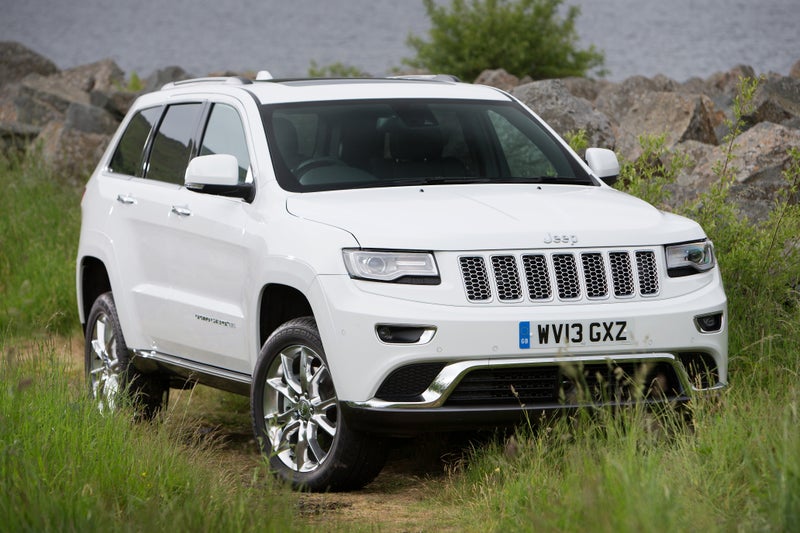 1/10
heycar rating
"Much improved well equipped SUV"
Quick overview
Pros
Big strong 4x4 that's ideal for towing
Vastly improved from 2013 facelift
Has genuine off-road capability
Cons
Steering lacks feel and handling is wooly
Interior quality not up to premium standards
Old fashioned features like foot-operated parking brake
Overall verdict
On the inside
Driving
Cost to run
Prices and Specs
Overall verdict
"When it comes to SUVs, the Jeep Grand Cherokee is one of the elder statesmen in a market that's increasingly dominated by johnny-come-latelies. It's a distinctly old school 4x4 in some respects with a big 3.0-litre V6 engine and proper off-road ability that few rivals can even begin to match."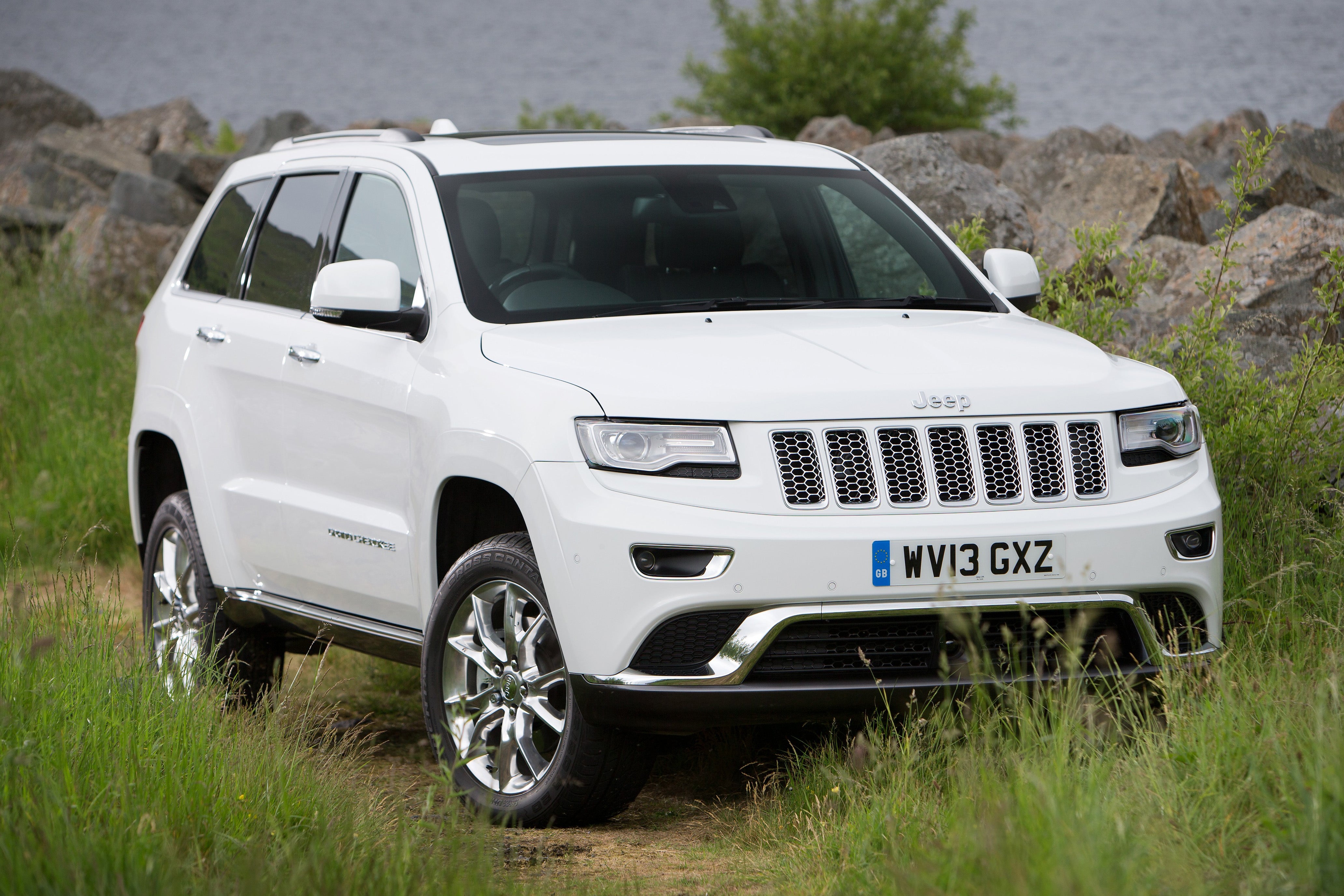 In fact, not much this side of a Land Rover Discovery can cope with the same extreme terrain. Yet the Grand Cherokee does this while still providing good on-road manners and impressive comfort. Yes, it may not have the status of a Land Rover but the Jeep offers a lot for the money.
It's very well equipped as standard and even the mid-level Limited models get things like heated steering wheels, heated seats (even in the back) plus an electric tailgate and a reversing camera. These would all be pricey options on most of the competition.
That helps offset the fact that the interior isn't up to premium standards, despite big improvements that came with a facelift in 2013. Top models get leather on the dash and doors, but that can't hide lots of hard plastics lower down.
The changes in 2013 were more than just cosmetic though. Jeep completely overhauled the Grand Cherokee, so much so that to drive, it's pretty unrecognisable from the original 2011 car. With new steering and suspension plus a stiffer body and a new eight-speed gearbox, the Jeep drives so much better.
It remains comfortable too with an excellent ride quality on cars fitted with self-levelling air suspension. Those who want to tow trailers and caravans will want this too. Even the models on standard springs are smooth, if a little wallowy.
The Grand Cherokee comes with a strong 3.0-litre V6 diesel that gives plenty of pulling power. Another plus for the caravan brigade. But even if you're not towing, you'll appreciate that low down performance when you want to execute a swift and safe overtake. There is also the bonkers SRT model with its 700PS V8 engine.
In 2018 Jeep introduced a five-year warranty (including roadside assistance) which is a useful bit of extra security if you're buying a model that's only a few years old and shows that Jeep clearly has added confidence in the build quality of its cars.
With reasonable running costs for a big SUV, a vast boot and plenty of space for growing teenagers, the Grand Cherokee is an excellent family car. You can also drop the back seats if you're using it for hauling stuff around. It can be both a workhorse and refined cruiser in one day.
A good value for money SUV then and one that makes a refreshing alternative to the usual SUVs you'll see on the neighbours' driveways.
Is the Jeep Grand Cherokee right for you?
If you want something that's a little different from the standard SUVs around, the Jeep Cherokee is an interesting choice. Like a Land Rover, it has genuine off-road ability, especially if you go for an Overland or Summit model as these have a more advanced off-road system and a low 4WD range.
It has lots of appeal to caravan owners or those looking for a strong tow vehicle and as it's well equipped as standard, you're getting a lot of SUV for your money. It may be used as a workhorse but the Jeep is still refined and comfortable, much more so than rivals like the Mitsubishi Shogun.
What's the best Jeep Grand Cherokee model to choose?
It's best to avoid the pre-2013 facelift models as Grand Cherokee models after that are better in every respect. So much so that it's like comparing two different cars. The facelift models are easy to spot by the thinner LED headlights. Aside from the bonkers V8 SRT model, the only engine is the 3.0 CRD but it's plenty strong enough in the Grand Cherokee.
Being a Jeep, there's a high level of standard equipment on all models so you won't find any back to basics models in the range. Limited models represent good value but the Overland has a bit more kit on it and there are plenty on the used market - it's this we'd suggest going for.
The Laredo is the entry-level model and came with a less powerful version of the diesel, so we'd avoid it if you want the Grand Cherokee for its pulling power.
What other cars are similar to the Jeep Grand Cherokee?
If it's a proper strong 4x4 that you're after - and one that can tow - the Mitsubishi Shogun represents a lot of car at an affordable price. It's far from sophisticated but it's excellent off-road and pretty much bulletproof in terms of build.
There's also the Land Rover Discovery 4, although there are question marks over long term reliability. If you want to maximise your money, other Grand Cherokee rivals to look at include the Kia Sorento (a favourite with caravan owners) and the SsangYong Rexton.
Of course, there's no shortage of more road-based SUVs that are equally as strong such as the BMW X5, Mercedes ML or Volkswagen Touareg, although you'd be looking at something a few years older than a Jeep for the same money.
Comfort and design
"This generation of the Jeep Grand Cherokee has been around a long time now but the interior design is ageing well. As you'll find with the rest of the car, it's a case that the interior was vastly improved by the 2013 facelift."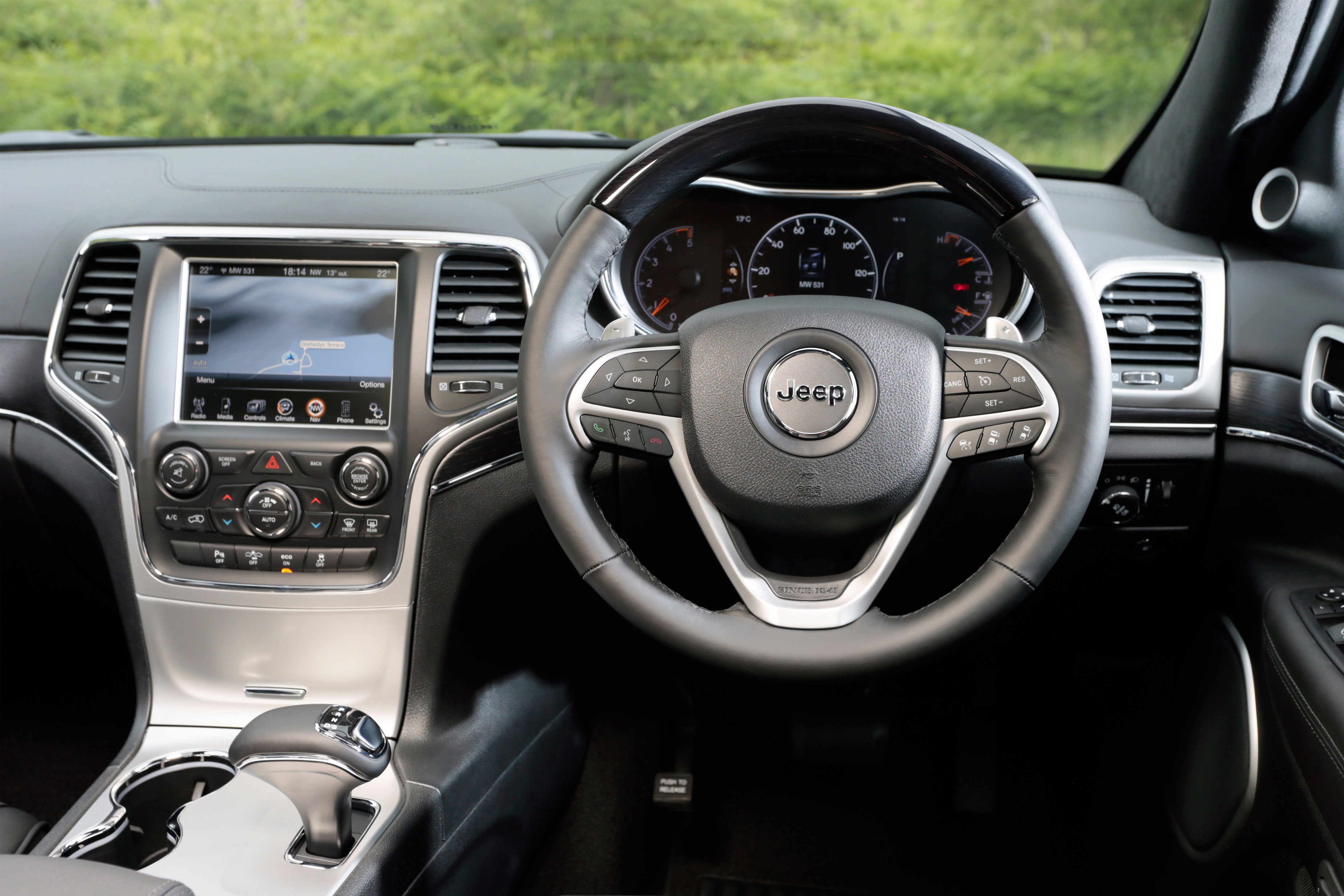 It may not be up to premium standards and there are some distinctly old fashioned features like the foot-operated parking brake. Annoyingly there's no left for rest either so your leg ends up resting against the pedal. At least the driving position is good with a nice raised seat and plenty of adjustment in both the chair and the steering column.
The big leather seats are very comfortable, albeit not that supportive but there's good visibility and we like the simple and clear instrument dials here. It may not be that modern, but it gets the basics right.
Quality and finish
While Jeep may want its Grand Cherokee to rival premium SUVs, the interior is the one area that lets it down in this respect. Again, there's nothing wrong with it as such, but there are far more hard plastics and cheaper trim than in anything from Volkswagen or Mercedes, even on last-generation models.
The unusual gear lever on facelifted models is one nice upmarket touch as is the blue backlighting at night but the rest is a bit of a letdown. The silver-painted plastic on the centre console feels naff and while there's chrome trim around most bits, it doesn't feel especially solid or well finished.
Again, facelifted models are far better in terms of quality but while the buttons and switches all work well enough, there's little to lift it above what you'd get in, say, a Kia Sorento.
Infotainment
Dominating the dash on post-2013 Jeep Grand Cherokee models is a big 8.4-inch touchscreen, what Jeep proudly calls its Uconnect system (see what they did there). All models get this as standard and it includes DAB, Bluetooth and a USB port so there are lots of options for connecting and playing music. It's much better than the dated system used before.
Unfortunately, the one thing most models don't have is Apple CarPlay or Android Auto - this was only added on newer models from 2019. That said, even without it, the system is simple to use with a clear and high-resolution display, so it's no great hardship if you're not too fussed about mirroring your phone. You can still listen to Radio 2 on it…
Most models - Limited Plus, Overland and Summit - come with navigation as standard too and it works well enough with an easy to use menu plus there's no delay between touching a button and it doing what you want as we find in some systems.
Space and practicality
Given that it's close to five metres long, you'd be disappointed if the big Jeep Grand Cherokee didn't have a lot of space inside. There's no seven seat option as with other SUVs like the Skoda Kodiaq but this does at least mean plenty of legroom and headroom for five adults. You can even happily get three in the back thanks to a low central tunnel on the floor that doesn't intrude too much.
The boot is big with a hefty 782 litres of carrying space and there's no load lip so it's easy to slide heavy bags or boxes in and out. Wickes here we come (other DIY stores are available).
The boot opening itself is wide and the boot space itself usefully square so you can really maximise all that space. A Touareg has a slightly bigger boot but the Jeep can still carry significantly more than a BMW X5.
One useful feature is that the Grand Cherokee comes with a proper full-size spare wheel under that boot floor, a much better option than a can of sealant and a compressor. The rear seats fold down completely flat too, giving the Jeep van-like carrying ability.
Elsewhere, there's reasonable storage with two cupholders by the gear lever (or as they are for most people, key and phone holders), big door pockets and a useful storage box under the centre armrest.
Handling and ride quality
"There are big differences in the handling of the Grand Cherokee depending on age. Pre-facelift models are very cumbersome and really not nice to drive at all with slow and unresponsive steering. They're okay on the motorway but generally it feels like you're piloting a barge. And an unwieldy barge at that."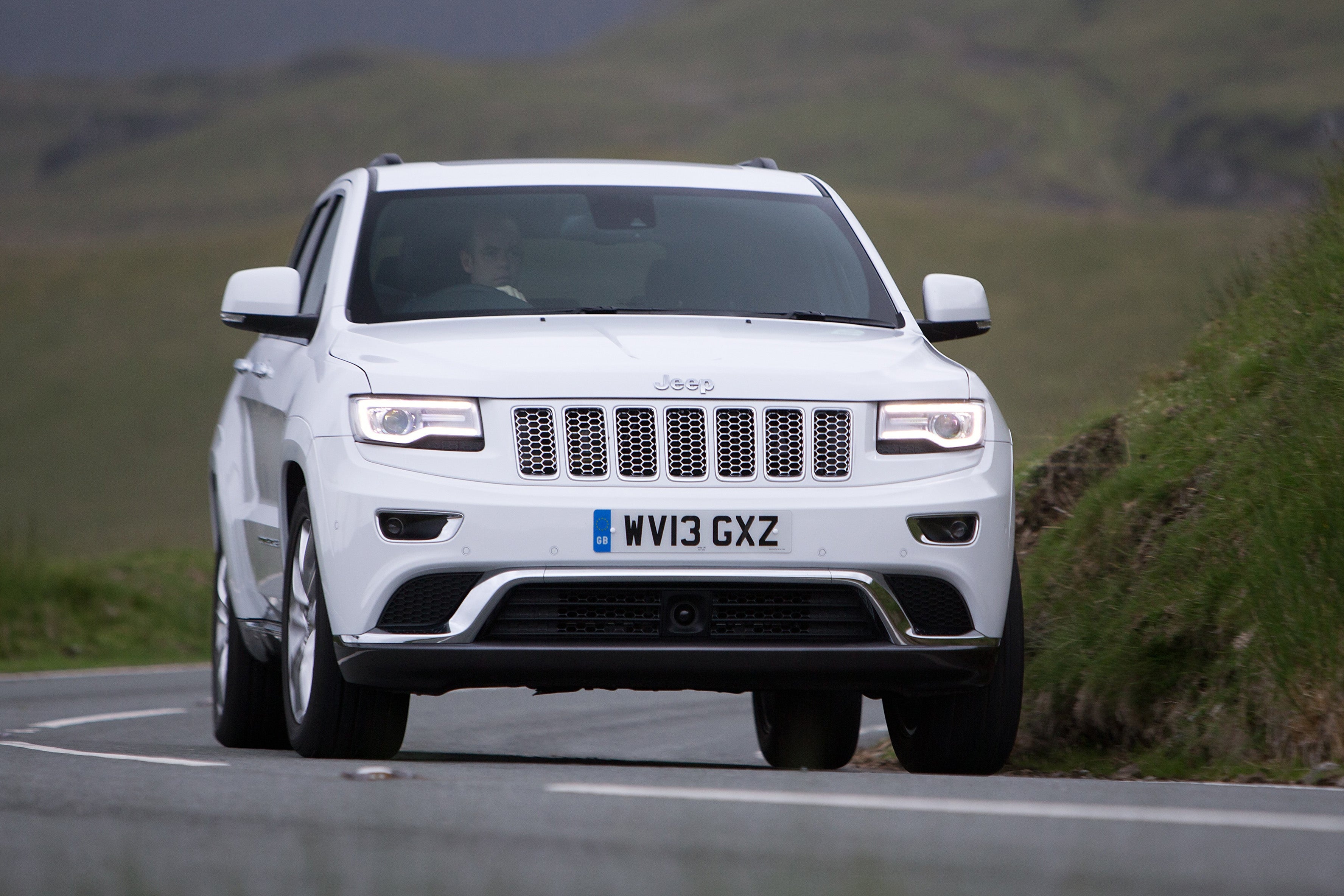 Fortunately, the facelift in 2013 brought with it some sweeping changes under the skin. As well as a stiffer body there's new suspension and steering. The result is so marked that it feels like a completely different car and is more than reason enough to stick to post-2013 models.
The steering is still a little light and over-assisted but at least now when you turn the steering wheel the front wheels actually respond. It means that tackling lots of corners and roundabouts won't leave with arms like Popeye.
There's lots of grip from the front tyres and while you never forget you're driving a big SUV, the Grand Cherokee is a huge improvement on before.
The ride is generally good, even on Laredo and Limited models with their standard suspension. They do feel a little wallowy though which is why Overland and higher-spec models with air suspension are a much better choice, not only for passenger comfort but also if you're towing as the system will self-level.
The Grand Cherokee is unlikely to be a car you'll buy for serious off-roading but it more than has the capability. It's one of the few SUVs that can match the Land Rover in this respect.
All versions are four-wheel drive and have an off-road system that works out what the terrain is and adjusts accordingly. Overland models and above get a more advanced system called Quadra-Drive II. On slippery surfaces, it automatically redirects power to the wheels with the most grip and also includes a low range 4WD setting.
Engines and gearboxes
The mainstay of the Grand Cherokee is the 3.0-litre V6 CRD diesel which although not the most modern of engines, has plenty of pulling power and gives the Jeep a strong turn of pace if the mood takes you.
All models have 250PS apart from the entry-level Laredo which has 190PS. It does the job but if you're going to be using the Grand Cherokee for hauling a caravan or just with a full load of passengers on board, we'd stick with the more powerful version. There's no difference in fuel economy either.
What makes the 3.0 CRD so strong is the enormous amount of torque which comes in smoothly and predictably. Again going for a facelift model makes a big difference here. Post-2013 models come with an excellent eight-speed automatic - the same as that used by Jaguar and Audi. It responds well and delivers quick yet smooth shifts.
Prior to that, the Grand Cherokee was stuck with a ponderous five-speed automatic. If you're buying a Grand Cherokee to tow, the good news is that nearly all models can pull up to 3500kg (the Summit version is limited to 3000kg).
For the very brave, there's the SRT model, which originally came with a 6.4-litre V8 petrol that was later replaced by a 6.2-litre with no less than 720PS. It's certainly quick and definitely a car you'll get noticed in, most likely by the police...
Refinement and noise levels
The big 3.0-litre diesel in the Grand Cherokee is far from the quietest V6 around, especially when compared with newer big diesels from the likes of Audi. The good news is that with all that torque, you rarely have to push it hard and most of the time it pleasantly rumbles away, noticeable but not intrusive. Facelifted models have better sound insulation in the cabin, helping to limit some of that engine noise.
For a big SUV, both wind and road noise are surprisingly low making this a very relaxed motorway cruiser. There's little vibration or harshness in the cabin either, even if you do work the engine a bit harder.
The SRT models are as loud and as brash as you'd expect, which is all part of their appeal. If you're buying one of these, refinement is unlikely to be top of your list of priorities we're guessing.
Safety equipment
Tested by Euro NCAP in 2011, the Grand Cherokee was awarded four stars out of five for its safety and crash protection. Adults occupants are very safe but the child safety rating was much lower and the score for pedestrian safety was, predictably, pretty poor, hence why it lost a star.
The crash test highlighted that the protection provided against neck injuries in a rear-end collision was only marginal while the passenger airbag could not be disabled, so you could not fit a rear-facing child seat in the front.
Fitted with four-wheel drive, the Grand Cherokee does have the added security of extra traction plus if course it has stability control along with front, side, curtain and a driver's knee airbag.
MPG fuel costs
"Tipping the scales at just under 2.5 tonnes, the Grand Cherokee is a heavy car and even with the 3.0 CRD diesel powering it, you're unlikely to see more than about 30mpg over a mix of driving. That's at least better than the SRT version which you'll be lucky to keep in double figures."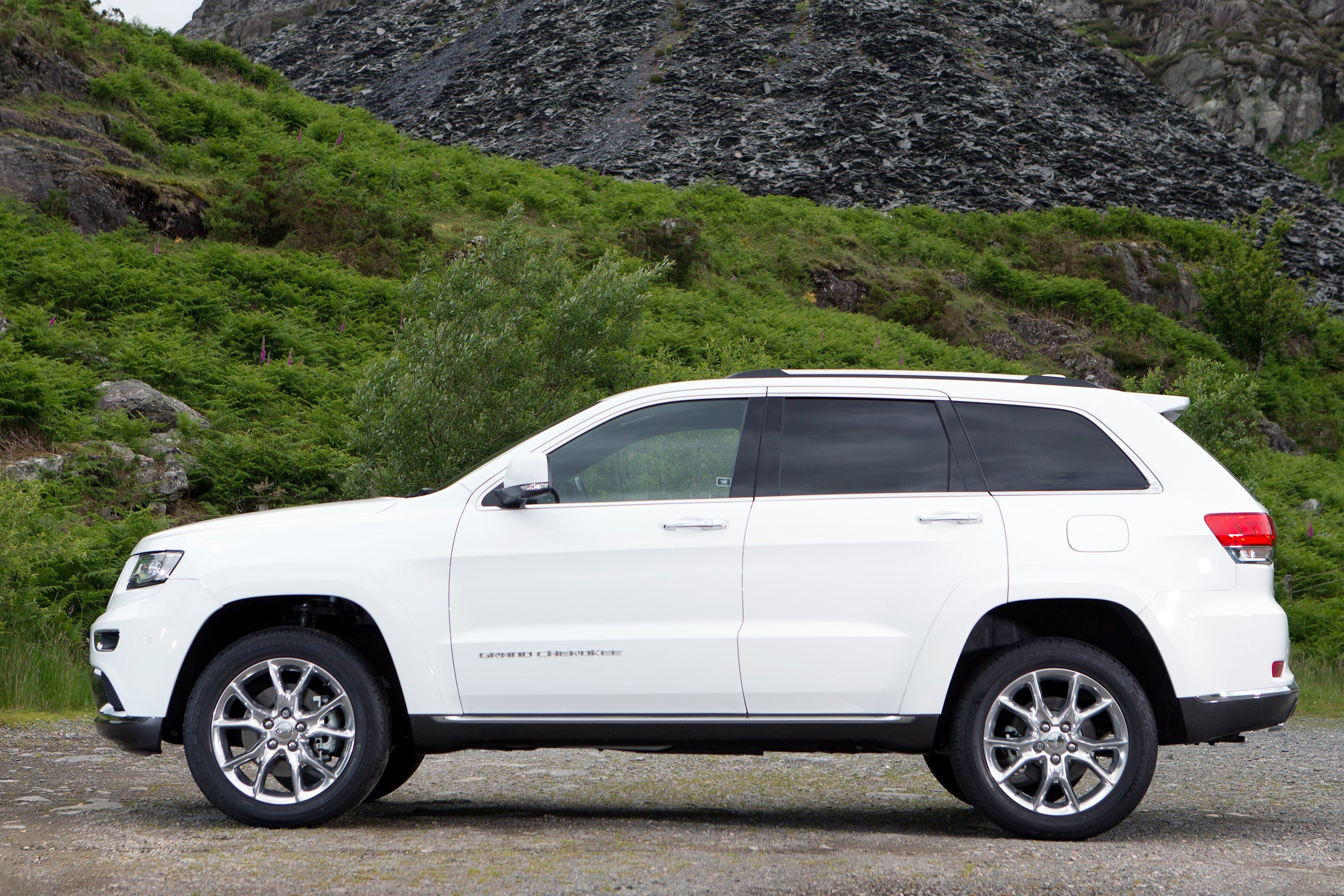 The Grand Cherokee does at least have a big fuel tank at 93 litres and in the real world you can do more than 600 miles on a tank, so trips to the local petrol station shouldn't be too frequent.
Insurance groups and costs
The entry-level Laredo model is the cheapest to insure at group 36 while most of the other sit between group 40 and 42 - the top Summit models will cost you more for your insurance premium.
That's on a par with rivals like the Volkswagen Touareg and BMW X5 so the Jeep won't cost you any more to insure if comparing similar spec models with rivals. You won't be surprised to find out that the SRT models sit in the top group 50 for insurance.
VED
With high CO2 emissions from its diesel engines, older Grand Cherokee models can prove expensive to tax. If you buy a carl registered before April 2017, it will fall under the older VED system which was based on emissions.
Most are Band I or Band J but some sit in Band K which is a hefty £330 a year. Of course, if you buy a model registered after April 2017, this sits at the flat VED rate of £150 so if you're not sure as to whether to go for a 17-plate model, this may help you decide.
Just be aware that all Grand Cherokee models have a list price of more than £40,000 so have to pay an extra £325 a year (on top of the £150) for five years from the second time the car is taxed.
How much should you be paying?
"The Jeep Grand Cherokee doesn't hold its value as well as rivals but that's good news if you're buying used. Early models are now down at £10,000 but it's well worth getting a facelift car from 2013 if your budget will stretch to it. "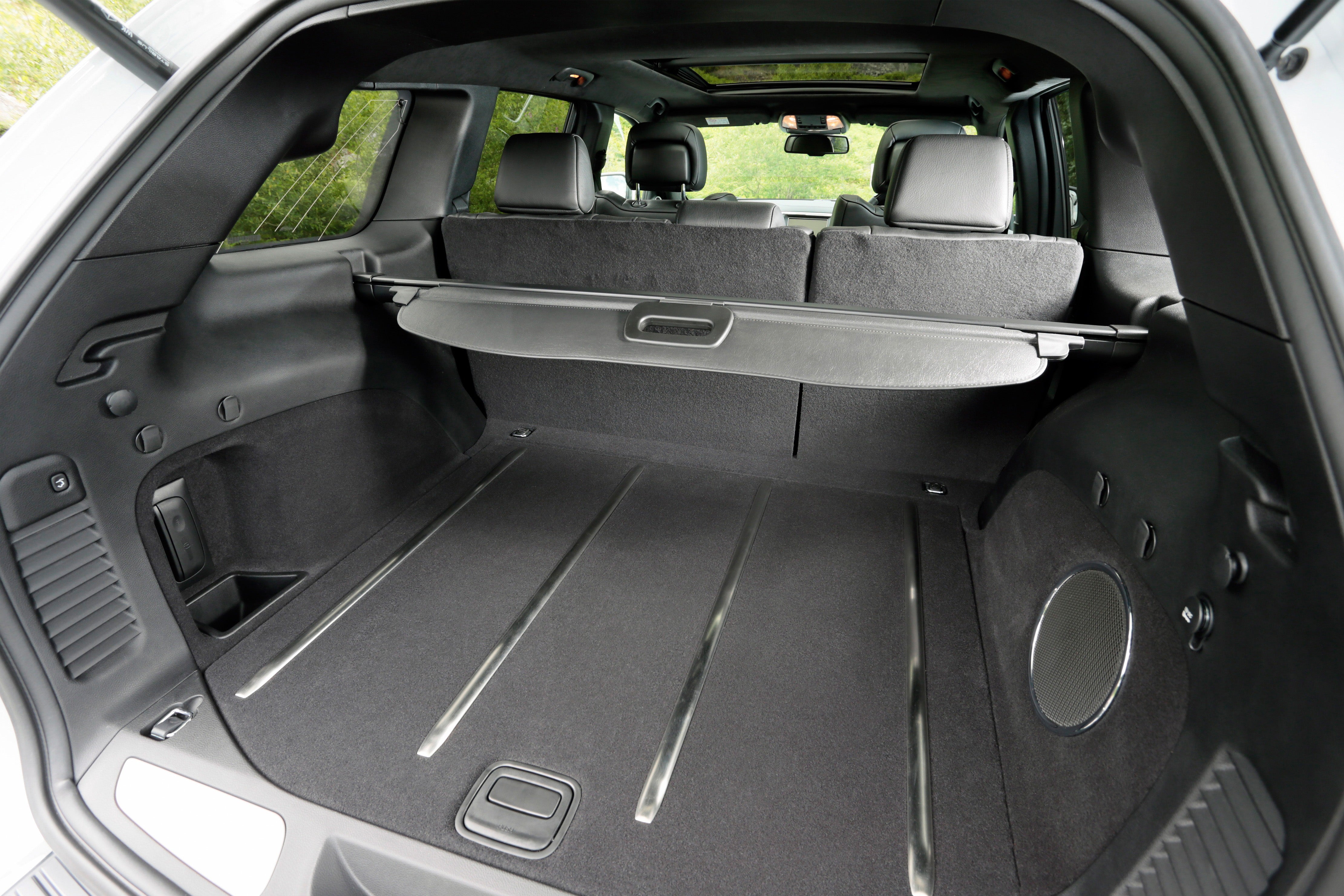 We'd take a lower spec 2013 version over a fully loaded pre-facelift model all day long. You can easily tell the facelifted models as they have thinner LED headlights with a daytime running strip around them.
About £16,000 will get you a good choice of Overland models with sensible mileages and look out for the well equipped Summit models, although not as common.
Trim levels and standard equipment
The Laredo is the entry-level model with the lower powered version of the 3.0-litre engine and cloth seats but it still has plenty of stuff on board with electric lumbar adjustment, dual-zone climate control, hill descent control, tyre pressure monitors plus the big touchscreen with DAB and Bluetooth.
The Limited is a better bet and adds the more powerful 250PS engine and gets niceties such as a power tailgate, leather seats which have eight-way electric adjustment, heated front and second row seats, a heated steering wheel and electric steering wheel adjustment.
There's also a handy reversing camera. You may see the odd Limited+ around which has 20-inch polished alloy wheels, performance brake discs, sports suspension and navigation.
Overland is the model to look out for and gets a panoramic sunroof, Nappa leather seats, leather-trimmed dashboard top, door panels, armrests and console plus ventilated seats and air suspension. The Summit goes all out with adaptive xenon headlights, adaptive cruise control, Forward Collision Warning with crash mitigation, blind-spot monitoring and a Harman Kardon surround-sound stereo with 19 speakers and an 825W amplifier.
Jeep Grand Cherokee cars for sale on heycar
197
Number of cars available
£18K - £38K
Price bracket of these cars
Colours available on heycar
Keep me updated by email with the latest advice, news and offers from heycar
By submitting, you agree to our
privacy policy
.