Jeep Wrangler Review 2022

Written by
heycar editorial team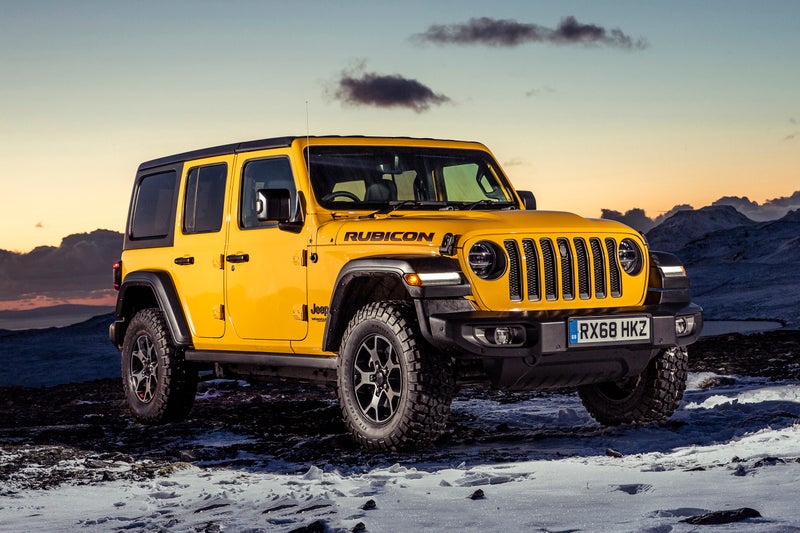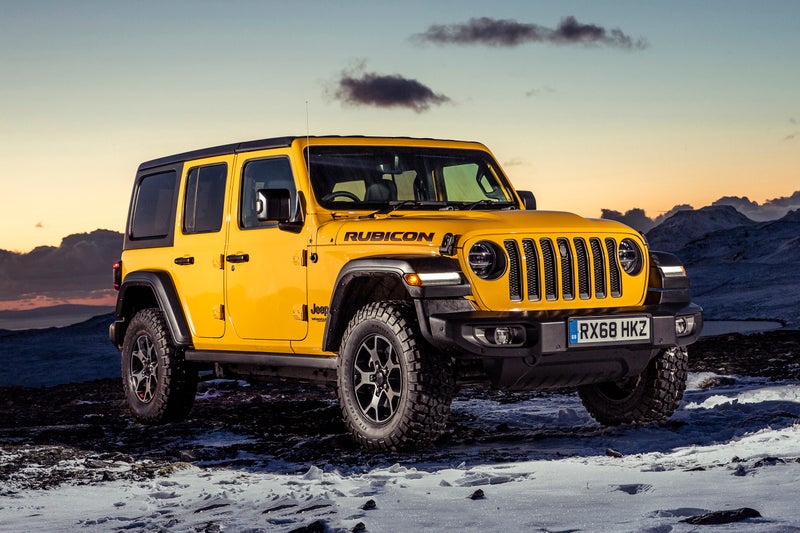 1/10
heycar rating
"Rugged, old-school off-roader"
Launched: 2018

SUV

Petrol, Diesel
Quick overview
Pros
Looks cool inside and out
Four-door is one of the only five-seat convertibles you can buy
Pretty much unstoppable off-road
Cons
Pretty uncomfortable and cumbersome on-road
Two-door is woefully impractical
Relatively expensive to buy and run
Overall verdict
On the inside
Driving
Cost to run
Prices and Specs
Common questions
Overall verdict on the Jeep Wrangler
"The Wrangler story started way back in the 1940s with the birth of the original Willys Jeep. This was a rugged utility vehicle that took the American military over inhospitable lands in all four corners of the globe, made all the more inhospitable by the fact that they were probably having some sort of war with the natives of the area at the time."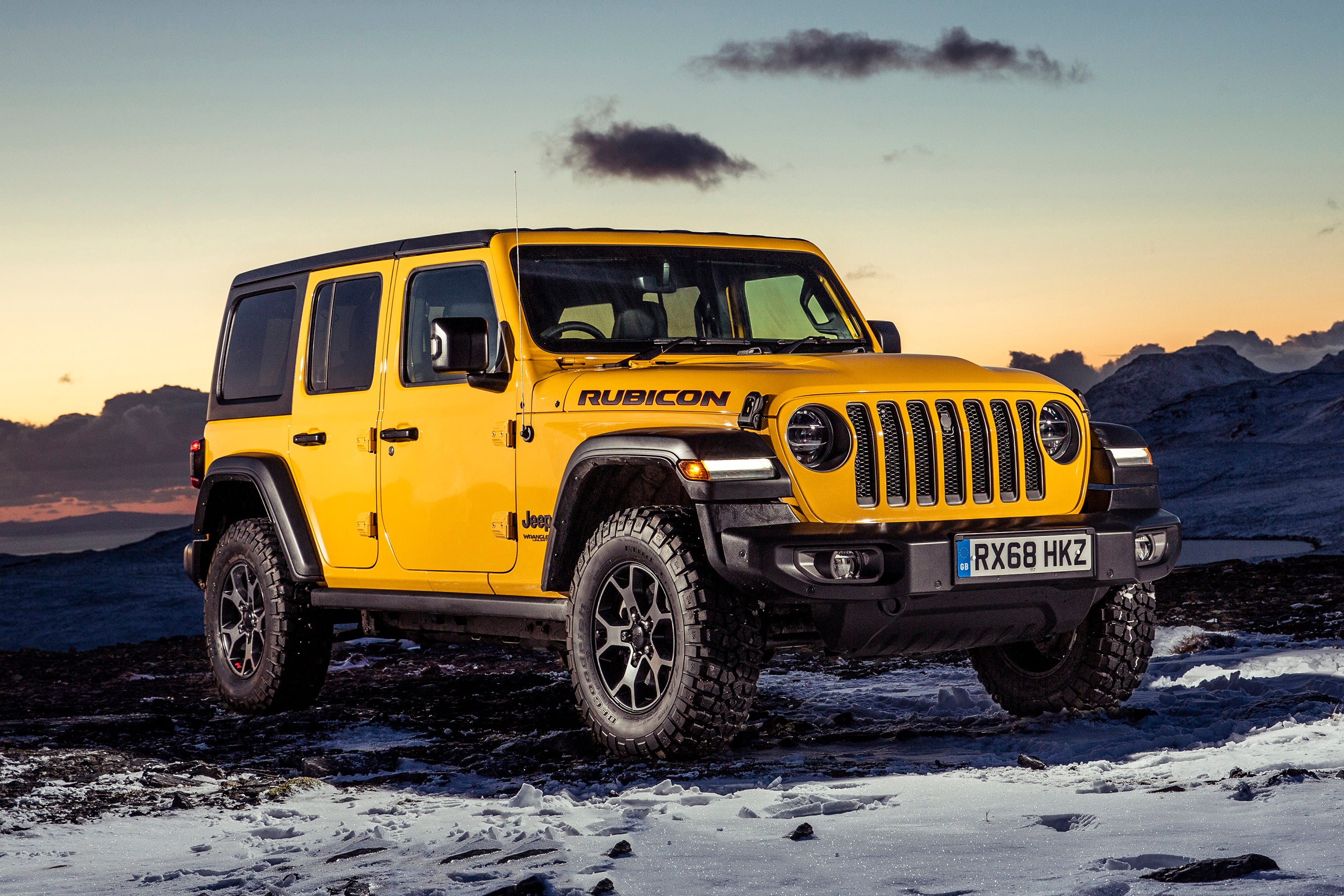 Yes, things have changed since the 40s but, as you'll read in this Jeep Wrangler review, the character and the ethos remain. The iconic upright shape has clear links, and rather than following the crowd of newer SUVs and watering down the ruggedness in pursuit of luxury and sophistication, the Wrangler is still a no-nonsense, rufty-tufty, weapons-grade off-roader. This thing will go places that owners of regular SUVs would fear to even think about, let alone tread.
It also has a few party-pieces up its sleeve that are inherited from its ancestor. Each version has a roof that's removable in some way (a variety of different options are available on that score, from a folding fabric soft-top to a removable hard-top), and if you really want to open yourself up to the elements, you can also remove both the windscreen and the doors if you so wish - try doing that on an Audi Q5. You've also got a spare wheel bolted onto the side-hinged tailgate. No crummy pot of sealant here.
Two body styles are available. The two-door looks good but is woefully impractical, so we'd point you towards the much bigger four-door, which is much better on practicality, not much more expensive and still has loads of charm. Two engines are available, one petrol and one diesel. Both are pretty punchy, and which you prefer will be a personal thing, but we reckon most buyers will probably be better off with the diesel due to its low-down pulling power and better fuel economy.
It should be said that the Wrangler's focus on ruggedness means it's not a civilised car, especially compared to regular SUVs at the same (rather lofty) price point. The ride is jittery, the handling's untidy, the cabin is noisy and the interior is more functional than flashy. So, if you're an average SUV buyer who's merely looking for a stylish family car, pretty much anything else on the market will probably suit you better: those looking for a left-field SUV choice will be biting off way more than they can chew with the Jeep.
That which the Wrangler does, though, it does very well indeed, and it's no accident that this car has legions of dedicated fans the world over.
Is the Jeep Wrangler right for you?
If you're the sort of person who spends your weekends belting along green lanes and winching yourself up mountains, rather than nipping down to Starbucks and getting your nails done, then the Wrangler could well be for you. If you're not that dedicated to the off-roading cause, however, then it very probably isn't.
There aren't many cars of any price that can do what the Wrangler can do off-road. It's packing all manner of mud-plugging hardware that allows it to venture along terrain and up slopes that many people wouldn't think possible in a car. What's more, it also looks really cool and is dripping with charm and heritage.
However, this ability in the rough stuff means it's very compromised on the road in terms of comfort, handling and refinement. It'll also cost you more to buy and run than many rivals, and it won't give you as much practicality or kit. It's safety record is also woeful. Those after a left-field family car need not apply. Those after an off-roading icon really should, though.
What's the best Jeep Wrangler model/engine to choose?
The first choice you need to make is an easy one. The car comes in two main forms, the two-door and the four-door. The four-door is much bigger, much roomier and has a much bigger boot, yet it doesn't cost all that much more to buy or run. Seems like a no-brainer to us.
There's a fifty-fifty choice in the engine department too, either a 200PS diesel or a 272PS petrol. Both are powerful enough, and the petrol is much smoother, while the diesel delivers better fuel consumption, that edges it for us, so the diesel gets the nod. Both engines come with an eight-speed automatic gearbox, so there's no choice to make there.
Regarding trim level, we'd avoid entry-level Sport trim because it misses out on a few things you'll want. The next level Up, Sahara, checks all the necessary boxes, so that's the one that'll suit most regular buyers. However, a decent proportion of buyers will be hardcore off-roading enthusasts, and if you're one of those, you'll want the range-topping Rubicon because it gets all sorts of rufty-tufty off-roading hardware.
What other cars are similar to the Jeep Wrangler?
Over the years, the Wrangler has only had one real rival, another car derived from ancient military field transport: the Land Rover Defender. Otherwise, genuine hardcore off-roader rivals are hard to find. The Suzuki Jimny is much smaller and much cheaper, while the Mercedes-Benz G-Class is much more expensive. However, if you're simply after an SUV rather than an off-roader, there are countless choices, the Audi Q5 and Volkswagen Tiguan, to name but two.
Comfort and design: Jeep Wrangler interior
"The Wrangler's interior design is unsurprisingly utilitarian. You sit right up close to the pretty-much-vertical windscreen, behind a chunky, upright dashboard, with the door shutting right up against your right-hand side and the bottom of the centre console intruding into the left-hand side of your footwell. At first, it all feels very novel, like you're in an old movie about the Vietnam war, keeping tabs on a VC stronghold with an M16 slung over your shoulder. Before long, though, you realise that you're actually in Surrey, and you're more cramped, and ultimately less comfortable, than in a conventional SUV."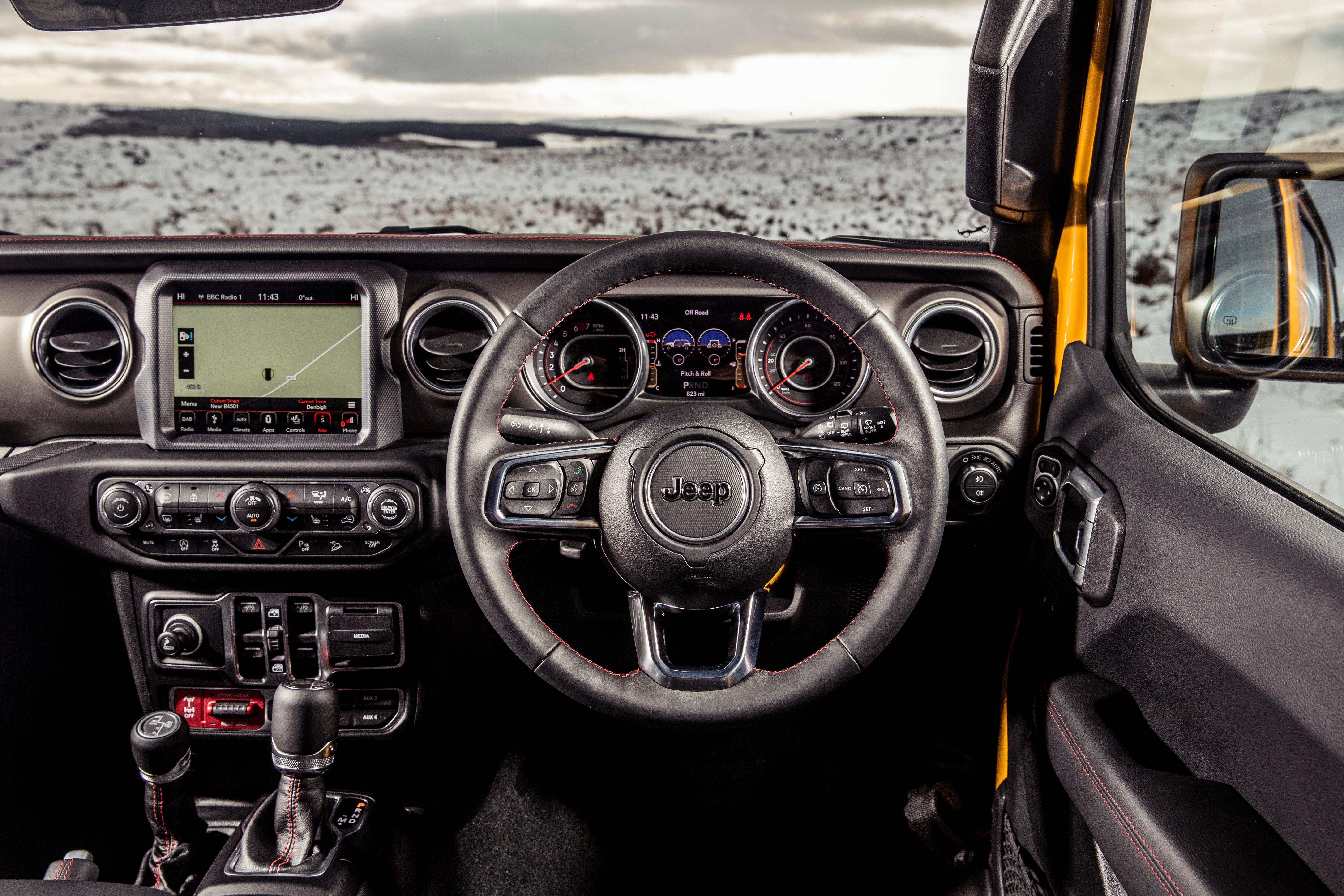 That said, the seats are very supportive, and all versions feature manual seat adjustment with a decent range of movement. However, the adjusters on the side of the seat base are difficult to get at because of how close they are to the door sill, and also, some drivers might wish that there was more movement in the steering wheel.
You get a good view out over the long bonnet, and the design of the wheel arches helps you see where the extremities are at the front quarters of the car. The big, square windows all round give you a decent view out of the back, and all versions come with reversing sensors and a rear-view camera in case you need more help.
Engine revs and speed are displayed on easy-to-read dials with further driver information on a configurable digital display in between. The centre touchscreen is within easy reach and surrounded by a rugged rubberised frame. Below that sits a console that's absolutely covered in buttons and switches. Most of them are suitably big, chunky and easy to hit, but the sheer number of them can be a bit bamboozling.
Quality and finish
If you've had a Wrangler before, you'll be impressed by the quality on show in the latest one, because it's a distinct improvement on what's gone before. While most SUVs have soft, squishy interior surfaces, most of the Wrangler's are hard and robust, but that completely suits the nature of the car.
Indeed, the interior is designed so you can wipe it clean and hose it out, although if you look closer, there are several nooks and crannies in the floor where mud could be very hard to get at. Most importantly, though, everything feels solid and substantial, giving the impression that this car will last a lifetime. Also, there are stitched leather wrappings for the steering wheel, transmission shifters and door pulls to help inject a bit of classiness.
Infotainment: Touchscreen, USB, nav and stereo in the Jeep Wrangler
The entry-level Sport trim gets a different touchscreen system to the rest. We've not had the chance to have a play with it yet, so we can't tell you what it's like to use, but we can tell you it supports DAB radio, Bluetooth and voice control.
From then on, you get an 8.4-inch touchscreen that adds navigation, upgraded sound and Apple Carplay/Android Auto. What's more, the screen is responsive, the graphics are fast and sharp and the menus are reasonably easy to find your way around. Granted, some of the on-screen icons are a little bit on the small side, making them a little bit fiddly to hit, and it'd be even easier to use if it had some physical shortcut buttons, but these really are minor gripes on what is generally a very good system.
All versions also get a digital display between the instrument dials to deliver key information. The display can be configured in a wide variety of ways, and pretty much whatever you do, it's easy to understand and the graphics are clear.
Space and practicality: Jeep Wrangler boot space
The Wrangler is available in two very different forms, the two-door and the much longer four-door, and your car's performance in this area depends greatly on which one you pick.
The two-door's practicality is limited to say the least. The two rear seats are (just about) roomy enough for adults, but they're not awfully comfortable, and you feel very hemmed in by the proximity of bulky parts of the roof to your bonce. What's more, getting into them is a very difficult and ungraceful process due to the tiny aperture that's made by tipping and sliding the front seats forward.
That's on the passenger side; try clambering in on the driver's side, where the steering wheel gets in the way, and things are even tighter. The two-door Jeep Wrangler boot space is tiny – only 203 litres – and if you want any more luggage room, the single-piece rear bench means you have to fold both rear seats down and flip them forwards, effectively making your Wrangler into a two-seater.
The four-door, on the other hand, is much better. There are three rear seats instead of only two, and they're surrounded by a lot more space, allowing adults to travel in some semblance of comfort. The boot is also much larger – the five-door Jeep Wrangler has boot space of 598 litres – so you can take plenty of kit with you on your adventures into the wilderness. The rear bench, meanwhile, folds down in two portions, giving you more versatility when you need to carry big loads. While there is a small sloped step in the load floor, your extended loadby is still reasonably level.
On both versions, the side-hinged tailgate makes the space a little bit awkward to get to when you're in a tight parking space, and you have to flip up the rear window separately.
Both versions of the Jeep Wrangler have bulky dimensions – the two-door Jeep Wrangler is 1872mm wide, 4173mm long and 1867mm tall. The five-door is 4696mm long, 1877mm wide and up to 1848mm tall.
Handling and ride quality: What is the Jeep Wrangler like to drive?
"There's a big difference between an SUV and an off-roader, and the Jeep Wrangler is definitely the latter."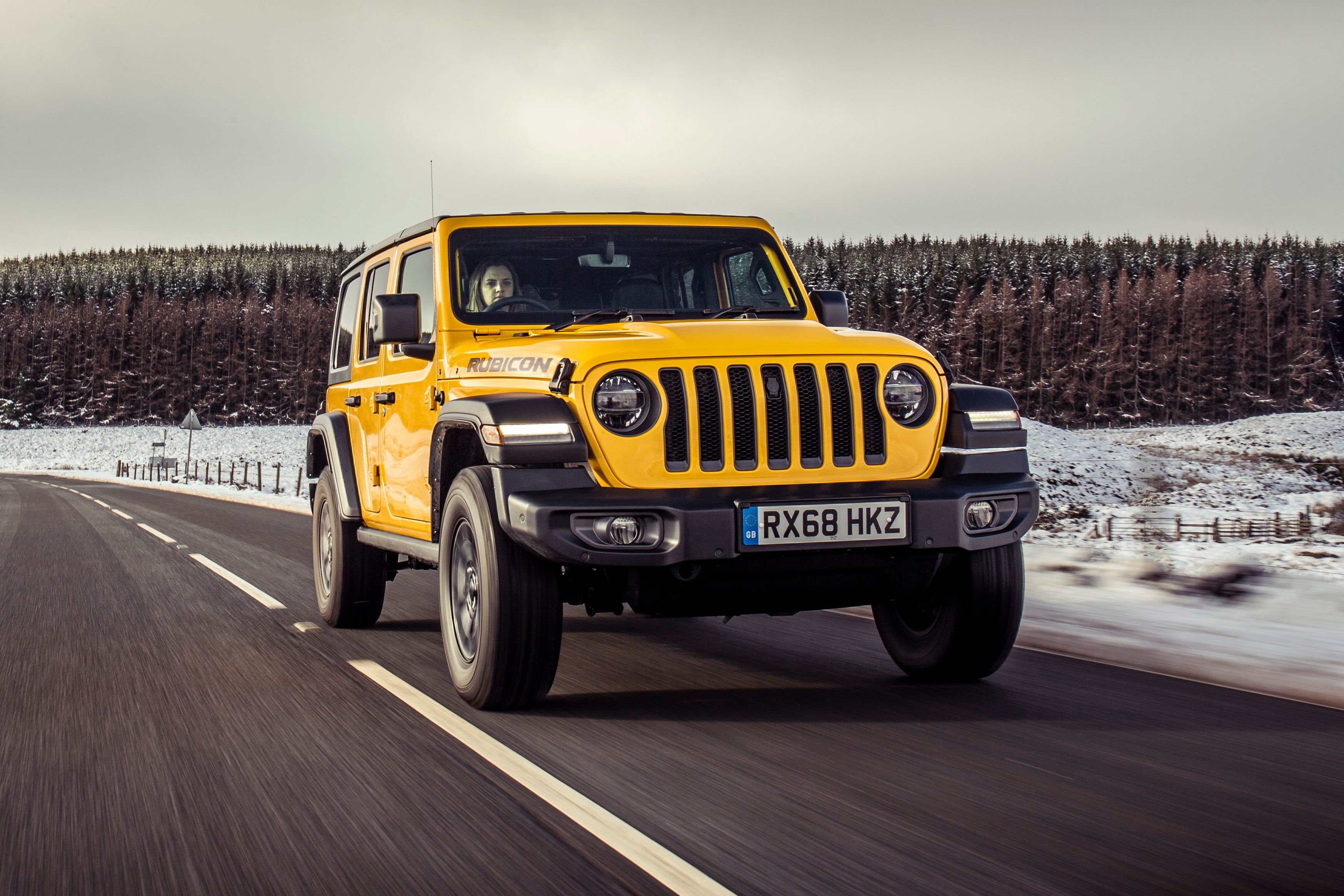 It can go places that owners of most SUVs wouldn't even dream of attempting thanks to its four-wheel drive, low-range gears and selection of other off-roading hardware. It's also partly thanks to soft suspension that allows a lot of wheel movement, and if you select the ultra-hardcore Rubicon model, you also get disconnecting front sway bars that give the wheels even more freedom of movement. Genuinely, there isn't much that can stop a Wrangler, short of a brick wall.
On the road, meanwhile, it can deal with potholes better than most normal cars and you certainly won't have to think twice about mounting a kerb. However, the Wrangler's level of off-road excellence inevitably means some compromises in on-road sophistication. Sure enough, the car jitters and judders its way along the road the whole time, regardless of whether the surface beneath you is messy or immaculate. Just as unsettling is the way that the body bounces around untidily on undulating roads.
You can't really criticise the Wrangler too much for its shortage of handling precision, given the sort of car it is, but you can't ignore the fact that the steering is very slow and overly light, while the sloppy body control means you'll find yourself slowing down for bends much more than you would in a more conventional SUV.
Having said all that, though, it's still true that the latest Wrangler is appreciably less compromised on the road than previous versions, so that's something. It's also worth noting that the four-door Wrangler is rather better on both ride and handling than the shorter two-door model.
What engines and gearboxes are available in the Jeep Wrangler?
The engine choice is nice and simple with the Wrangler: petrol or diesel, and there's one of each. The diesel is the most popular, and it's a 2.2-litre with 200PS. It delivers reasonably brisk performance in most situations, and its generous low-down muscle not only makes it flexible, but it also helps when you're wading through the sticky stuff, too.
The petrol is a turbocharged 2.0-litre four-cylinder petrol engine that delivers 272PS. You can certainly feel its extra power over the diesel, because it feels properly strong, and because the urge is again delivered from low-down in the rev range, it doesn't lose out on flexibility, either.
Both engines are mated to an eight-speed automatic gearbox driving all four wheels. It shifts up and down the ratios smoothly and cleanly, although it could react quicker when you ask it for a sudden burst of acceleration.
Refinement and noise levels
The diesel engine has a distinctly agricultural sound at all times, and the noise and vibration you're subjected to increase as the revs rise, although neither ever gets to intolerable levels. That said, it really suits the rough-and-tumble character of the car. It's funny, because the petrol is considerably quieter and smoother, but somehow it doesn't feel quite as appropriate in a car like this.
Otherwise, the blunt shape of the front end means you hear a fair amount of noise from the wind rushing over the top of the windscreen, and it catches the large door mirrors as well. The wide tyres kick up a fair amount of road noise, too, and if you pick a version with knobbly off-road tyres, noise levels will increase dramatically, turning from a murmur into a proper rumble. This isn't a quiet way to travel, then, but in fairness, that's not what it's built for.
Safety equipment: How safe is the Jeep Wrangler?
There aren't many cars these days that don't manage to achieve the full five stars in Euro NCAP crash tests, so for the latest Wrangler to score just one is a fairly spectacular failure. And, if you read the detailed report, it looks like it was pretty lucky to get that.
While most modern cars offer six or more airbags dotted around the cabin, the Wrangler gets just four, and all of those are up front. So, those in the back have to rely on little more than their seatbelt and crossed fingers for crash safety. There's also a reversing camera on every model, and basic systems such as anti-lock brakes and electronic stability control are provided, but there's none of the fancy automatic braking, automatic parking or adaptive cruise control features that you might - well, should - expect from a modern car.
MPG and fuel costs: What does a Jeep Wrangler cost to run?
"Choose the diesel engine over the petrol if you want to keep fuel bills down. It returns around 37mpg according to official averages, where the petrol returns between 28-31mpg."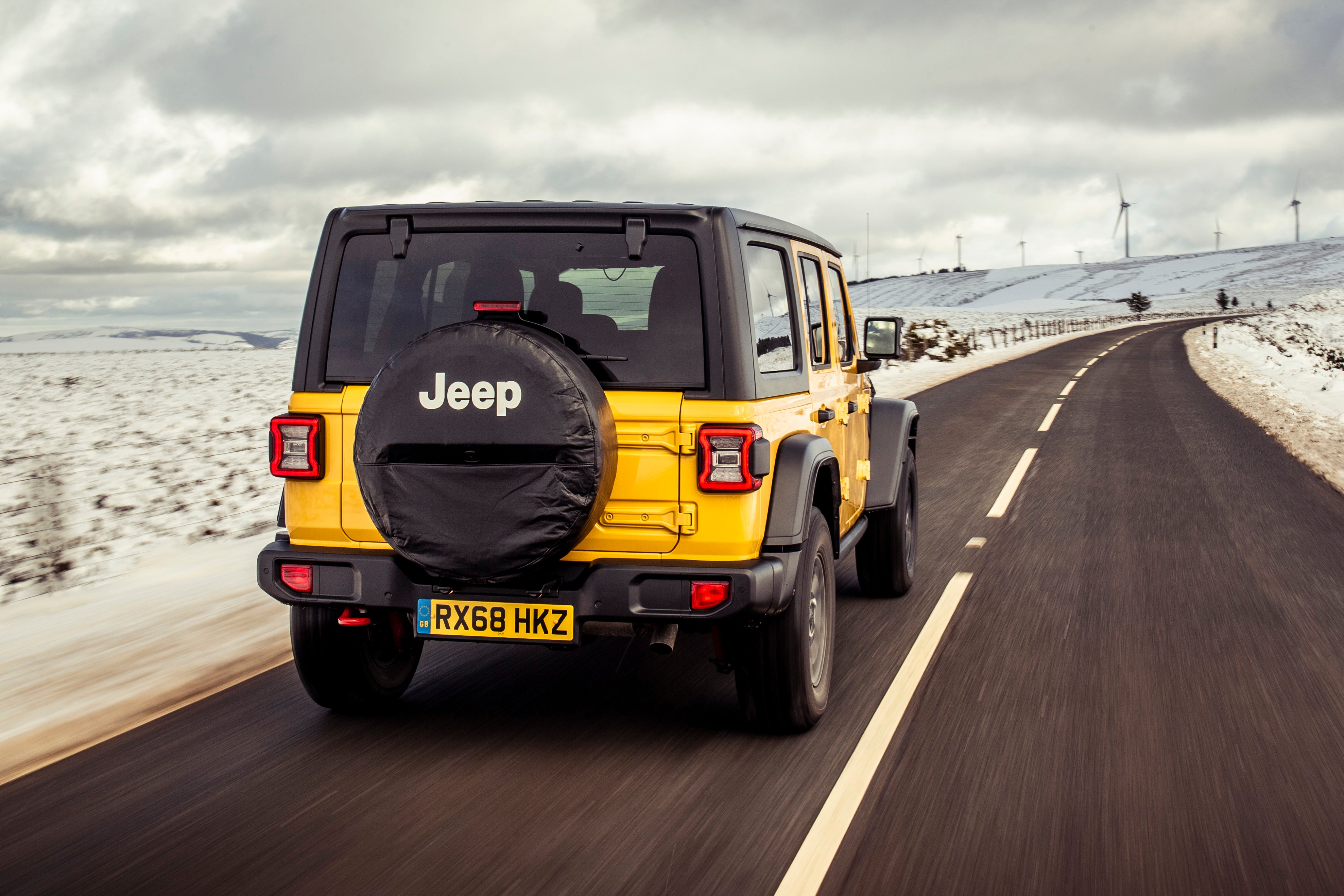 Whichever you choose, though, those figures are still pretty juicy compared to those of most SUVs, so the Wrangler will never be a frugal choice. Strangely, there's not that much difference in official fuel economy between the two-door and the considerably bigger four-door.
How reliable is a Jeep Wrangler?
Jeep Wranglers sell in such small numbers in the UK it's hard to to get an accurate sense of the car's reliability, although we have heard reports that it suffers from leaks around the rear footwells. That said, a three-year warranty comes as standard with all models.
Insurance groups and costs
Depending on the version you go for, insurance groups for the Wrangler lie between 32 and 41. It's worth noting that variations in trim level make more of a difference than which engine you choose. This means that premiums shouldn't be ruinous on the car provided you've got a decent no-claims bonus, but they probably won't be dirt cheap, either. Compare them with those of the Land Rover Defender, and they're pretty much spot-on, and they're also very similar to more conventional SUVs like the Audi Q5.
VED car tax: What is the annual road tax on a Jeep Wrangler?
The latest Wrangler was launched in 2018, after the Government decided to change the VED tax laws to apply a flat rate of £150 to petrol and diesel cars, and to apply a five-year surcharge of £325 to cars that cost over £40,000 when new. All that applies to every version of the Wrangler, so it'll be relatively pricey on VED.
Buy used, and you'll dodge getting clobbered by the hefty first-year tax payment (or 'showroom tax', which is between £1850 and £2175 depending on model), but then between years two and five of the car's life, you'll pay a annual bill of £475. After that, you just pay the £150 flat rate. The hefty CO2 emissions will mean company car drivers are very unlikely to consider a Wrangler, because monthly BIK bills will be very pricey indeed.
How much should you be paying for a used Jeep Wrangler?
"At the time of writing, prices for brand new Wranglers started at just over the £40,000 mark, and rose to just north of £50,000. Compared like-for-like, prices seem very similar to those of the car's only real rival, the Land Rover Defender, while other proper hardcore off-roaders are way off on price. The Suzuki Jimny is much less, the Mercedes G-Class is much more. More conventional SUVs like the Audi Q5 are reasonably similar, if a bit cheaper."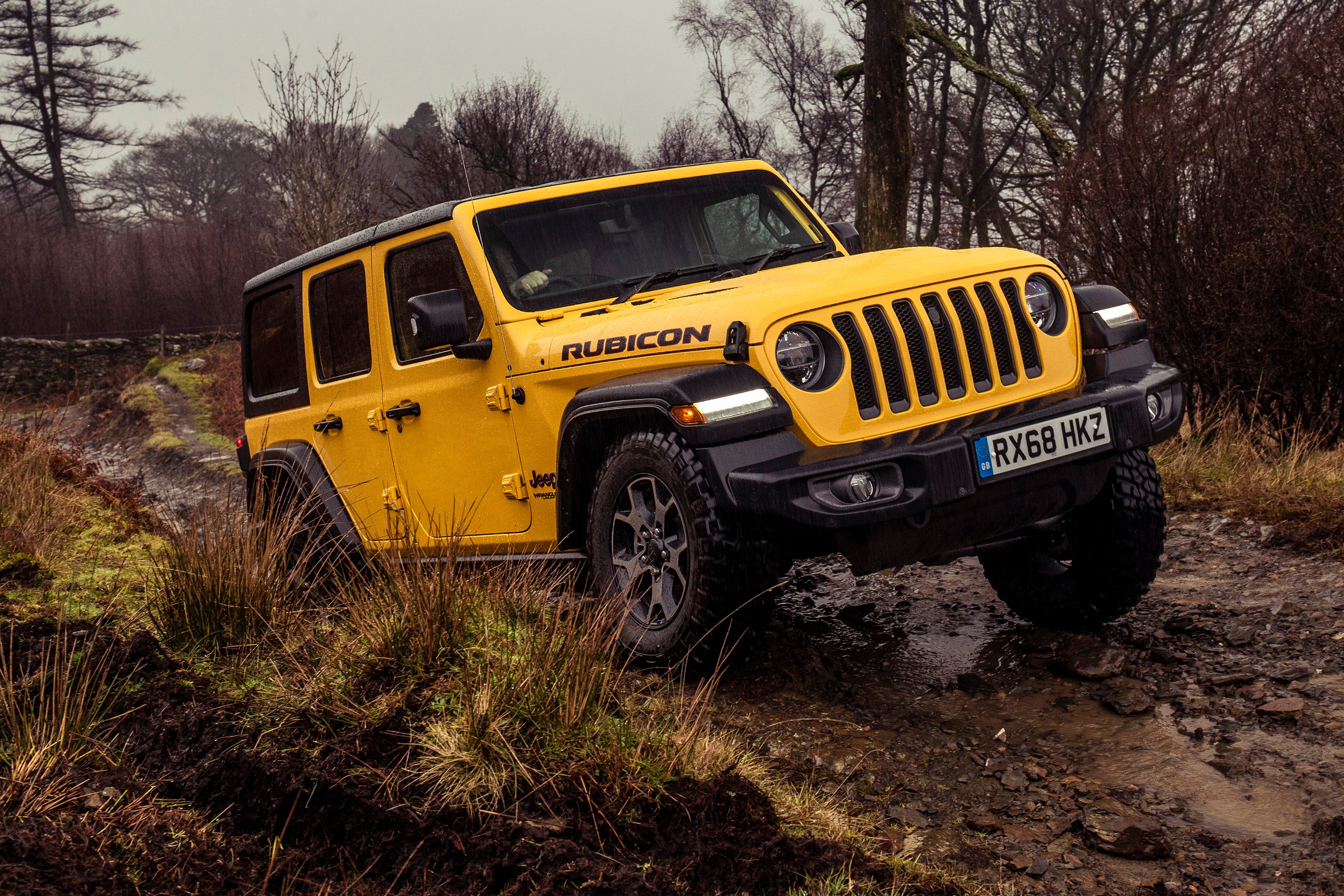 There's a colossal difference in terms of resale values, though. The Wrangler's are terrible compared to the Land Rover's, and while that could prove expensive for buyers of new versions, it means used car buyers will pick up a Wrangler for way less than a Defender.
As an aside, it's also worth noting that the four-door doesn't cost too much more than the smaller two-door, and it's definitely worth paying the extra, due to the added practicality it gives you.
Trim levels and standard equipment
There are four trims available on the Wrangler - Sport, Sahara, Overland and Rubicon - but bear in mind that the two-door isn't available in the most basic of these. That's not great shame, really, because it's not awfully well stocked. Standard kit includes dual-zone air-conditioning, electric windows, powered mirrors and keyless go, rear parking sensors and a reversing camera, but that's about it. Sahara trim is much more like it, if only for the enhanced infotainment system, but you also get LED headlights, climate control and ambient lighting.
From then on, the Overland offers buyers a more luxurious route, while the Rubicon is for proper hardcore off-road fans. Overland gives you leather upholstery, heated front seats, some posher design touches, a hardtop headliner and some extra safety gear, while the Rubicon gives you disconnectable sway bars, extra differentials and an auxiliary switch panel to help with wiring in aftermarket mud-plugging gear such as spotlights and winches. Jeep also did the odd high-value special edition, the fabulously named Night Eagle being one example.
Ask the heycar experts:
common questions
Are Jeep Wranglers good off-road?
Jeep Wranglers are excellent off road thanks to their raised ride height, massive axle articulation, four-wheel drive and low-range gearbox. Rubicon models – which have advanced four-wheel drive and knobbly tyres – are even more capable than the standard cars.

Is the Jeep Wrangler a good daily driver?
The Jeep Wrangler is a tough SUV that's a great choice if you do lots of offroading... or just want to project the image that you do. If neither of those apply to you however, other SUVs are cheaper to run, more practical and feel less wayward on the road – they'll be a better choice for the majority of people.

Where is the Jeep Wrangler made?
The Jeep Wrangler is made in Toledo, Ohio.

Jeep Wrangler cars for sale on heycar
212
Number of cars available
£24K - £50K
Price bracket of these cars
Colours available on heycar
Keep me updated by email with the latest advice, news and offers from heycar
By submitting, you agree to our
privacy policy
.