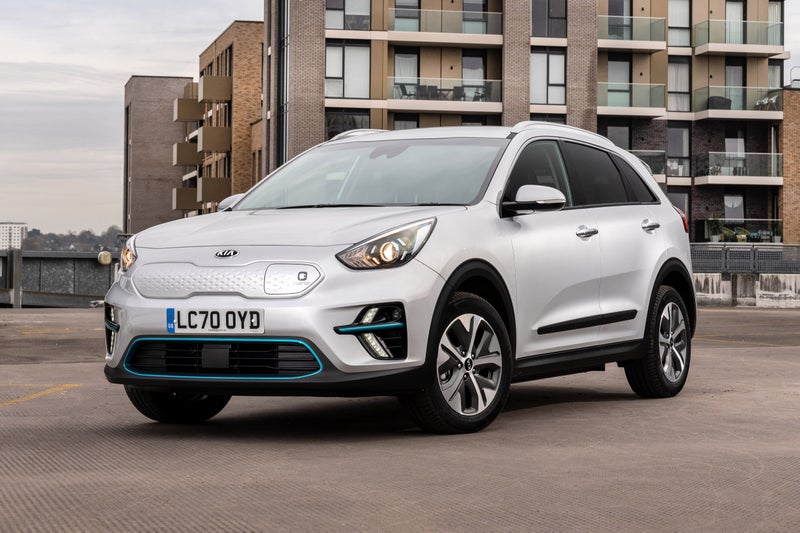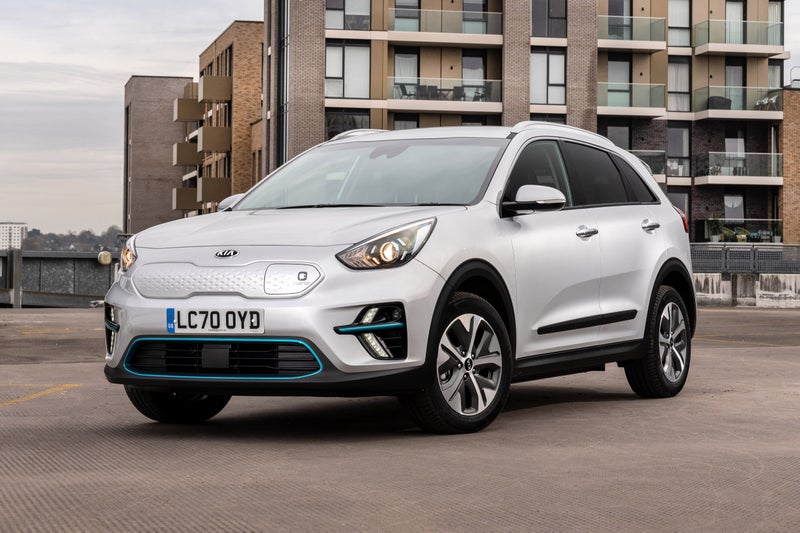 1/10
heycar rating
"Perhaps the ultimate electric car"
Launched: 2019

Small SUV

EV
Quick overview
Pros
Travels up to 282 miles between charges
Versatile enough to be your main family car
Loads of standard equipment
Cons
High demand means you'll pay strong money
Not as quirky as the BMW i3 or Honda E
Do you really need such a long electric range?
Overall verdict
On the inside
Driving
Cost to run
Prices and Specs
Common questions
Overall verdict on the Kia e-Niro
"If the Kia e-Niro won't fit in with your family life, no electric car will. It's good to drive, has a very practical cabin and will travel more than 250 miles between charges. The dependability of the Kia badge (and the long warranty that it brings with it) should give you the confidence to make your first steps into electric car ownership, too. We'd like it to look a bit more exciting, if we're being picky, but that'd only serve to increase demand even more."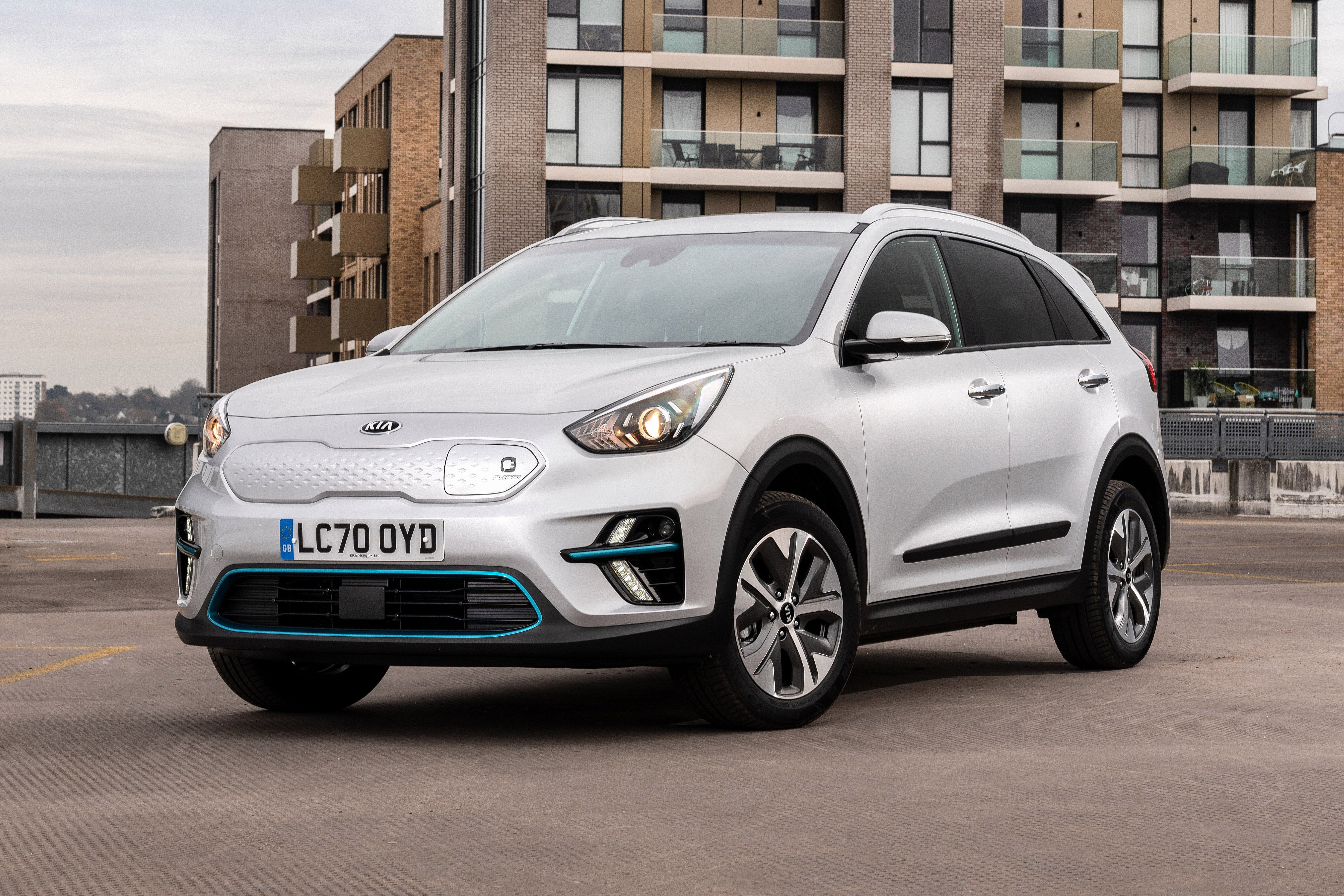 It's all too easy to dismiss electric cars with the usual lazy excuses, but the Kia e-Niro addresses many of the common gripes you might have to make it one of the best electric cars going. We'll explain why in our 2022 Kia e-Niro review.
Let's start with the Kia e-Niro's range. The 64kWh Kia e-Niro can officially travel up to 282 miles between charges. That's far enough for most of us to get to work and back, as well as popping to the shops or calling in on Grandma. It might not be as far as a petrol model, but how often do you drive more than 250 miles in a day without stopping?
Charging the e-Niro is as easy as topping up the battery in your mobile phone. It can be charged overnight using a 7kW home charger, while a motorway rapid charger will provide a healthy boost in the time it takes to buy a coffee and use the facilities.
The Kia e-Niro is a practical choice, too. Four adults can fit inside the e-Niro fairly comfortably, while the boot is bigger than you'd find in the family favourite Nissan Qashqai. The cabin's not going to win any awards for style, but it's functional and feels well made.
So what about affordability? Well, you can pick up a nearly-new e-Niro for around £30,000. This'll be the point that some people stop reading but, once you take fuel and maintenance savings into account, it starts to look like decent value for money. And, unlike some electric cars, the Kia e-Niro's battery is included - so you won't have to pay a monthly rental fee.
It's also absolutely loaded with kit. High-spec models come with seats that'll warm you up in summer and cool you down in winter, while a 10.25-inch navigation system is standard across most of the range. All models come with a reversing camera to help with parking, as well as a long list of driver-assist features to help prevent a prang in your pride and joy.
Talking of which, the e-Niro is an extremely easy car to drive. It's just like driving an automatic petrol car, except you don't have to wait for the gearbox to catch up or for the revs to build. It'll accelerate instantly with no noise, while the regenerative braking means it'll slow down as soon as you lift off the throttle.
Chuck in a long warranty that's transferable to subsequent owners, and the Kia e-Niro is an electric car that should be on the shortlist of the most sceptical of electric vehicle buyers. It's a more practical proposition than a Renault Zoe, can travel further than a Honda e and is more affordable than a Tesla Model 3. There's lots to like, we just wish it was wrapped up in a slightly more exciting package.
If you're looking for the standard version, you need our Kia Niro review.
Is the 2022 Kia e-Niro right for you?
If you want an electric car with a long range and a spacious cabin, you should buy a Kia e-Niro. It's one of the most convincing all-round electric car packages going at the moment, with generous equipment levels and low running costs. Sure, it's a bit on the pricey side, but you get what you pay for.
What's the best Kia e-Niro model/engine to choose?
If you're in the market for a Kia e-Niro, don't dismiss the cheapest models straight away (badged as '2'). They might have a smaller battery but a 180-mile range will be plenty for many buyers, and there's still plenty of standard equipment.
Most buyers will be lured towards the 64kWh e-Niro, though, and for good reason. It's got a very usable real-life range, and all models are well-equipped. Look for a First Edition or 4+ model for desirable features like the premium system and ventilated seats.
What other cars are similar to the Kia e-Niro?
Comfort and design: Kia e-Niro interior
"The Kia e-Niro's cabin isn't as bold as the BMW i3's, but it's better finished than the Nissan Leaf's."
Unlike a typical hatchback, you sit that bit higher up in the Kia e-Niro, though if you're expecting the raised driving position you get with something like a Volvo XC40 Recharge, you'll probably be a little disappointed. Access is painless though and you will sit a bit higher than electric car rivals like the Nissan Leaf.
There's plenty of adjustment in the e-Niro's driver's seat to make finding a comfortable driving position easy. In 2 trim, the e-Niro has a manually adjustable driver's seat, with 3 and 4+ options benefiting from a 8-way electrically adjustable seat as standard, while the 4+ trim sports memory recall settings as well.
There's been a tendency with electric cars to give them a very futuristic design inside, but Kia's opted for a more traditional design that makes it feel like you're getting into any other car. This will certainly make those nervous about making the transition to an electric car a little less anxious, while the interior controls are logically laid out.
Compared to the ultra modern design used by the Volkswagen ID.3 and its heavy reliance on a touchscreen interface to control the majority of the car's features, the Kia e-Niro has plenty of physical buttons and switches, including climate control, making it much more intuitive to use when driving.
Quality and finish
If you're looking for a little bit of luxury with your electric SUV, then the e-Niro doesn't quite hit the mark, with the likes of the BMW i3, Mazda MX-30 and Mini Electric certainly having the edge here.
In contrast, the Kia e-Niro's quality and finish is certainly more functional than tactile. Kia's been clever though, with some pretty nice squishy plastics and gloss trims used higher up the cabin. Move further down the dashboard though and lower down the doors and the plastics used become noticeably more cheap in feel.
While some of the plastics used on the e-Niro might feel a little low-rent, it doesn't detract too much from the overall feel of the car, with the e-Niro feeling nicely put together.
Infotainment: Touchscreen, USB, nav and stereo in the Kia e-Niro
Opt for the entry-level e-Niro in 2 trim and you'll get a 8-inch touchscreen infotainment display that gives you access to the DAB radio, as well as Bluetooth connectivity to wirelessly connect your smartphone for calls and streaming of media. There's also Apple CarPlay and Android Auto smartphone mirroring, which will come in handy as the base model doesn't come with sat nav.
If you make the step up to the e-Niro in trim 3 or 4+ and you'll enjoy not only a larger 10.3-inch touchscreen, but you'll also get a built-in sat nav (though you'll probably prefer using Google Maps or Waze from your phone). There's also wireless phone-charging.
It probably comes as no surprise to hear that the larger display on the 3 and 4+ models delivers better clarity of the 8-inch screen, but the interface used on the e-Niro is one of the easier system to use and navigate.
When it comes to audio, a 6-speaker stereo is standard on the e-Niro, unless you opt for the 4+, with this model coming with a 8-speaker JBL sound system.
Space and practicality: Kia e-Niro boot space
The Kia e-Niro is a small SUV, but it's large enough for you to happily use it as your main family car. The e-Niro measures just under 4.4m long (longer than a Skoda Kamiq for example), while it's just over 1.8m wide (again, a little bigger than the Kamiq).
While the seating position means you feel a little perched on top of the e-Niro, there's still a good amount of headroom up front, while the decent width of the car means there's plenty of shoulder room too. There's a generous sized glovebox and two cupholders between the front seats, as well space for things like your phone and keys. We'd like to have seem some bigger door bins though if we're being picky.
In the back and the Kia e-Niro delivers enough space to fit three adults if you need to, though the one lumped in the middle isn't going to enjoy the journey as much as the two on the outer seats. Headroom and legroom are good, even for taller passengers, but for those after more space from an electric car should look at something like a Skoda Enyaq.
The Kia e-Niro's 451 litres of boot space is even bigger than the standard Niro's. For comparison, the petrol Nissan Qashqai can only carry 430 litres of luggage. Not many electric cars (apart from the MG ZS EV) are as practical as the e-Niro, and you could genuinely use it as your main family car.
Handling and ride quality: What is the Kia e-Niro like to drive?
"Opt for the 64kWh version of the e-Niro and you've got a pretty quick car, while the excellent visibility and smooth power delivery make it a joy to drive round town."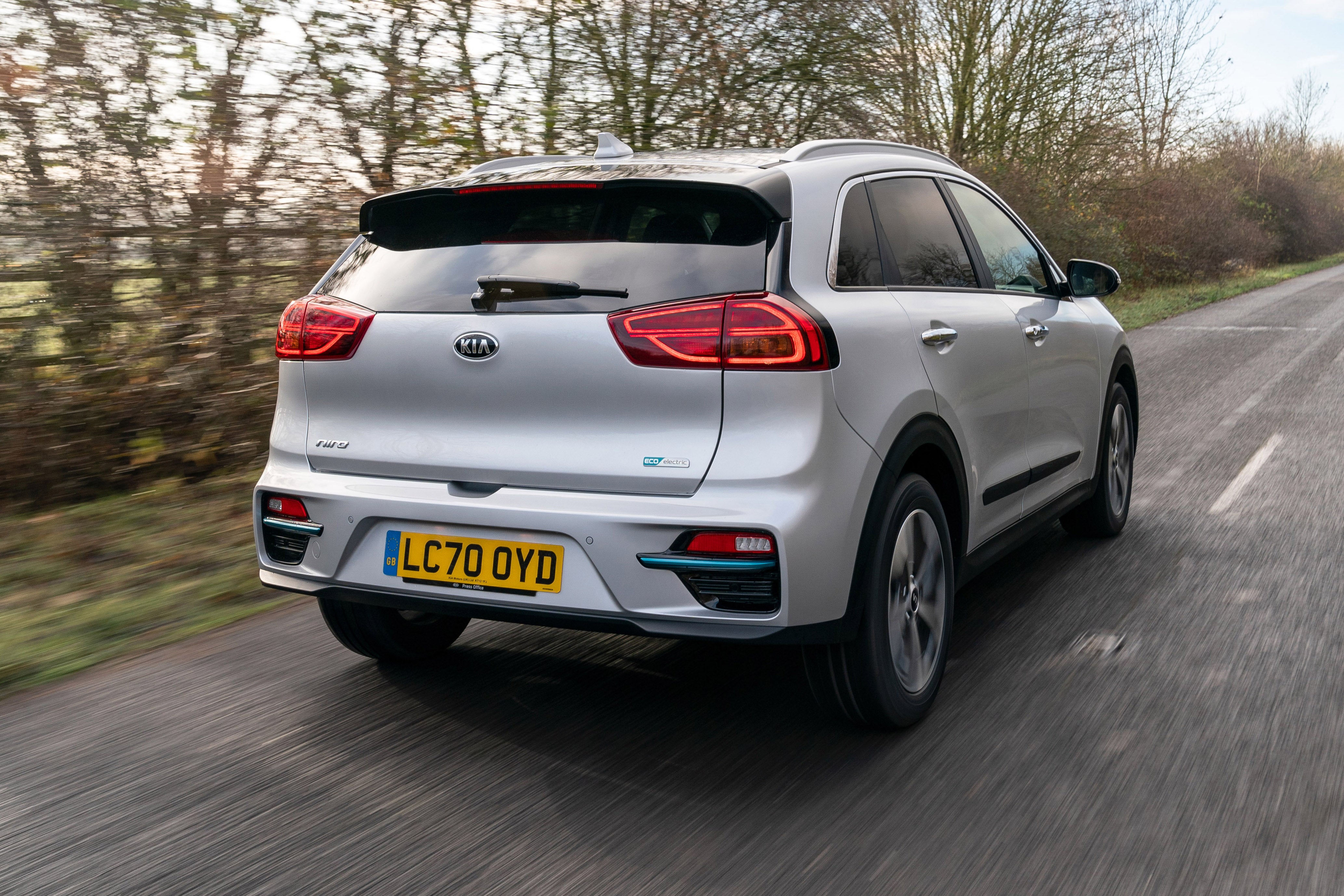 If you haven't driven an electric car before, the e-Niro's performance will certainly catch you off guard. The more powerful 64kWh e-Niro has a impressive 204PS and 395Nm of torque at its disposal, and with a dab of the accelerator will surge forwards instantly. It's certainly quite a different experience from driving a traditional petrol or diesel car with an automatic gearbox, where there's that slight hesitation.
This translates to a 0 to 60mph time of just 7.5 seconds - a time that will begin to trouble some hot hatches. What's just as impressive is that is does this in almost complete silence. The 39kWh variant though isn't quite as impressive, with 134PS delivering a more modest time to 60mph of 9.5 seconds.
While the performance becomes a little breathless over 40mph, there's still enough shove to help you comfortably join a motorway. The e-Niro features three different drive modes: eco, comfort and sport. Our advice is to leave it in comfort as that suits the car best, with sport mode making the steering that bit heavier and the throttle response that bit sharp - probably not want you want in a small family SUV.
As the e-Niro's batteries are positioned under the floor, it's pretty stable for an SUV on twisty B-roads, while the smooth power delivery makes it a joy to use round town. The excellent level of visibility makes it a breeze to position and the rear parking sensors and reversing that come as standard on all trim levels make it nice and easy to park as well. Opt for the 4+ trim and you also get front parking sensors as well.
What engines and gearboxes are available in the Kia e-Niro?
The Kia e-Niro is sold in the UK with two different battery packs: 39 or 64kWh. The smaller battery will provide up to 180 miles of range with the e-Niro, while the bigger unit is good for 282 miles.
The 39kWh version of the Kia e-Niro is only available in the entry-level 2 trim and is fine if you only cover short distances (and, indeed, it's competitive against a long list of electric car rivals). But the 64kWh model turns the e-Niro from an urban runabout to a genuine petrol or diesel car competitor. As such, it's much more desirable and you'll find a lot more of them on the used market.
Refinement and noise levels
With the weight of the batteries to contend with, the e-Niro's suspension has its work cut out. But it does a reasonable job. Sure, it'll thump over potholes and you'll have to slow down for broken road surfaces, but it's rarely uncomfortable.
Get the e-Niro on a faster stretch of tarmac and road noise can be quite noticeable at higher speeds, but overall the e-Niro is an easy and relaxing car to drive everyday. There's plenty of tech on tap as well to make journeys that bit easier and more comfortable, with adaptive cruise control (which slows down and speeds up with traffic) and lane keep assist (which will nudge you back into your lane if you stray without indicating) fitted as standard across all trim levels.
The Kia e-Niro features two paddles located behind the steering wheel that can be used to increase or decrease the regenerative braking depending on your requirements. This means you don't have to use the brakes as often as you would a normal car, with the system using the e-Niro's electric motors to slow the car down without you having to touch the brakes.
Safety equipment: How safe is the Kia e-Niro?
The standard Kia Niro scored 4 out of 5 stars when crash-tested by Euro NCAP, while the standard Niro equipped with the Advanced Driver Assistance Pack scored 5 stars. However, the e-Niro hasn't been been tested by Euro NCAP yet so it's hard to say exactly how it'll perform, though we'd be surprised if it wasn't a million miles away from the petrol and diesel variants.
The Kia e-Niro though comes with a number of safety aids to help avoid an accident, including Automatic Emergency Braking (AEB), Forward Collision-Avoidance Assist (FCA), Lane Keep Assist System (LKAS) are all fitted as started across the range. On top of this the e-Niro also comes with seven airbags.
If you've got children, the e-Niro's rear doors open relatively wide making access to the back seats pretty easy, while there are two ISOFIX mounting points on the two outer rear seats. There are also top tether anchorages across all three rear seats.
Charging times: How much does it cost to charge the Kia e-Niro?
"Charging the Kia e-Niro couldn't be simpler with a flap positioned in the e-Niro's grille that gives access to the charging point."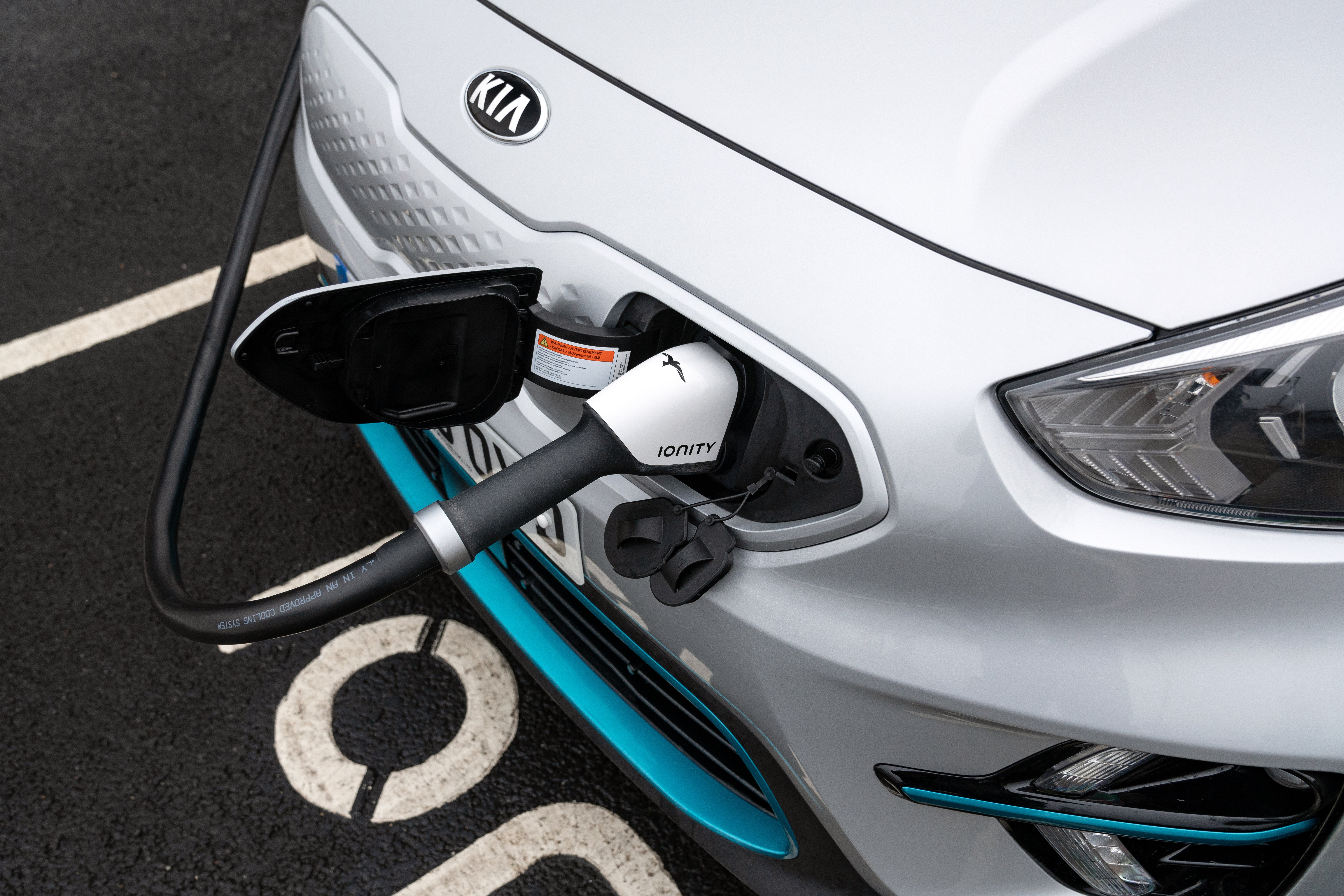 You can charge an e-Niro using a three-pin plug connected to a normal domestic socket you'd find in your house. This is fine occasionally, but it takes forever - up to 30 hours for a full charge, in fact. So we'd recommend getting a proper charger fitted at home. Investing in a dedicated 7.2kW charger will see the e-Niro charged in 9 hours - something you can easily do overnight so it's topped up ready for the morning.
If you're on the road and covering more miles, you can plug the e-Niro into one of the growing number of 100kW fast chargers. Kia states that the e-Niro can be charged from 20 to 80 per cent in just over 40 minutes using one of these rapid chargers.
How reliable is the Kia e-Niro?
The Kia e-Niro is still pretty new so it's hard to gauge it's long-term reliability just yet, though Kia's do come with one of the best warranties on any car available today. Not only do you get cover for an impressive seven years (or 100,000 miles), Kia also bundles in three years of roadside assistance. That's really good, and what's more, the warranty is transferrable. Pick up a used e-Niro that's a couple of years old and you're still looking at a few more years of comprehensive warranty cover.
The standard Kia Niro featured in the top 10 of the most satisfying cars to own in the HonestJohn.co.uk Satisfaction Index 2020 with a score of 91.1%.
Insurance groups and costs
In base 2 trim with the lower powered 39kWh battery, the Kia e-Niro falls into insurance group 20, with the top of the range 4+ model with the more powerful 64kWh battery classed as insurance group 27.
To make sure you get the best price we'd always advise shopping around for the best insurance quote, with some specialist electric car insurance providers vying for your money along with more established names. A comparison website is a great place to start if you want to save more on your car insurance.
VED car tax: What is the annual road tax on a Kia e-Niro?
The low running costs are one of the main selling points of running an electric car like the Kia e-Niro. For a start, you won't pay anything to tax the e-Niro. Nada. Zilch. Nothing.
If that's not tempting enough, if you live in a city centre, you might get a free (or discounted) parking permit. Those that have to drive into London, you won't have to pay the Congestion Charge either.
How much should you be paying for a used Kia e-Niro?
"The Kia e-Niro is in high demand so you might have to wait a while for a new one."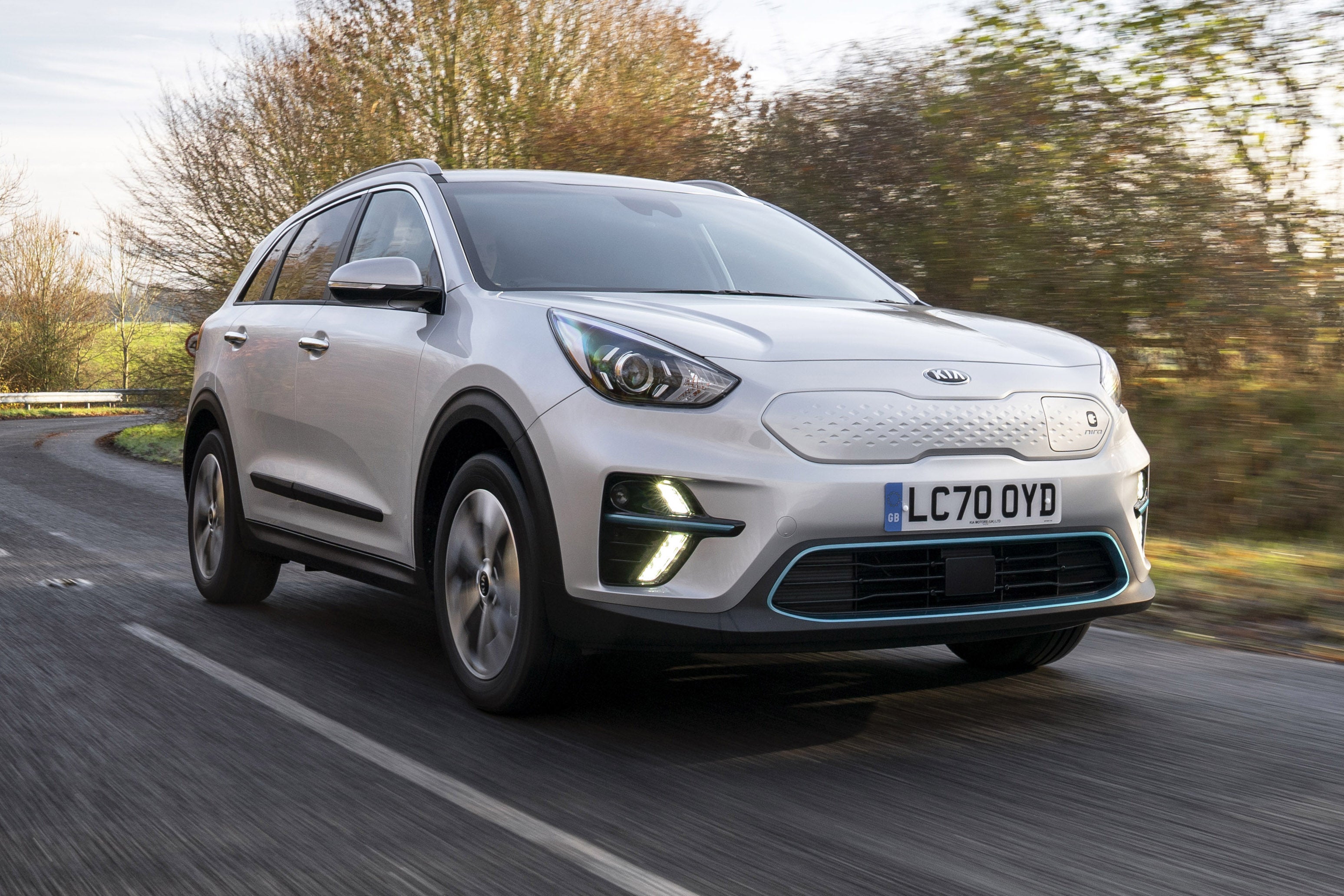 Prices for a new e-Niro start at just under £33,000 (or just over £30,000 after the grant) for the e-Niro 2 with the 39kWh battery pack, which is only a little less than the larger Skoda Enyaq, which starts at around £32,000 (after the grant) for the Enyaq iV 60 with the Loft interior trim. Prices top out at just under £40,000 for the e-Niro 4+.
As the e-Niro is a relatively new model and in pretty high demand, prices are starting at around £30,000. That'll get you a First Edition model that's loaded with kit and under two years old.
Trim levels and standard equipment
Rather than simply being sold as a trim level of the standard Kia Niro range, the e-Niro is a model in its own right, sold in a number of different variants.
First Edition e-Niro models, as the name suggests, were the first to hit the market. These are well-equipped and desirable on the used market, with highlights including 17-inch alloy wheels, a seven-inch digital instrument panel and eight-speaker JBL premium sound system. There's black leather seats, an eight-inch touchscreen display with navigation and European mapping and a plethora of driver-assist features. These include smart cruise control with stop and go, lane-keeping assist with driver attention warning, forward collision-avoidance assist.

The entry-level Kia e-Niro 2 comes with the smaller 39kWh battery giving it a 180-mile electric range. Specification includes an eight-inch touchscreen display with DAB radio as well as Android Auto and Apple CarPlay. It comes with a reversing camera as well as rear parking sensors, while the e-Niro 2 rides on 17-inch alloy wheels.

Look for a mid-spec Kia Niro 3 for the bigger 64kWh battery pack with its 282-mile range. It also comes with a 10.25-inch navigation system, a wireless phone charger and smart cruise control. Black leather seats are standard, including heated front seats and electric driver's seat adjustment.

The top-spec e-Niro 4+ replaced the First Edition model in 2020, with niceties such as LED headlights, an eight-speaker premium sound system and ventilated seats (those in the back are heated, too). Front and rear parking sensors are now standard, as well as an 11kW charger.
Ask the heycar experts:
common questions
Is the Kia e-Niro a good car?
Yes, the Kia e-Niro is a very good car and one of the best electric cars you can buy. If you're looking for a versatile electric family car that's got a good range and ample space for a family of four, you're not going to go wrong with the Kia e-Niro

What is the waiting list for the Kia e-Niro?
The e-Niro has proved to be incredibly popular for Kia, so much so that there's around a 12 month waiting list for a new car. There are a growing number of used e-Niros coming onto the second-hand market if you can't wait that long.

What is the range of the Kia e-Niro?
The top range of the Kia e-Niro is 282 miles between charges. That's with the 64kWh version, the 39kWh version is a little less range at a 180 miles.

Kia Niro cars for sale on heycar
2,625
Number of cars available
£32K - £39K
Price bracket of these cars
Colours available on heycar
Keep me updated by email with the latest advice, news and offers from heycar
By submitting, you agree to our
privacy policy
.
Popular models
Similar models