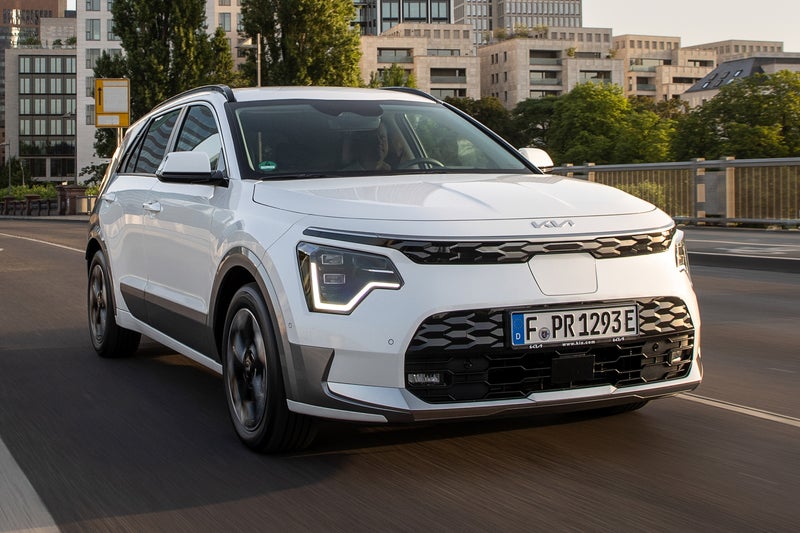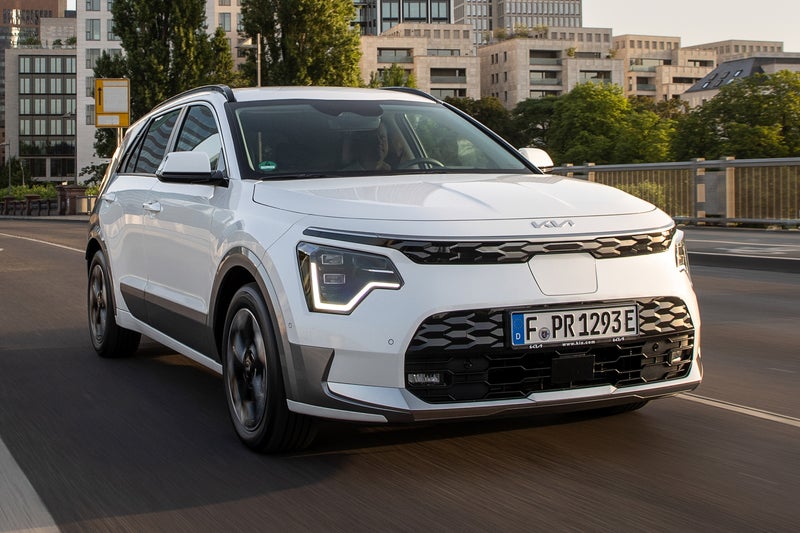 1/10
heycar rating
"EV that requires little compromise"
Launched: 2022

Small SUV

EV
Quick overview
Pros
Brilliant all-rounder
Impressive 285-mile range
Spacious cabin with user-friendly infotainment
Cons
Range and performance are hardly any better than the old Kia e-Niro
Top-spec Kia Niro EV 5 is borderline EV6 money
It's not exactly a looker, is it?
Overall verdict
On the inside
Driving
Cost to run
Prices and Specs
Common questions
Overall verdict on the Kia Niro EV
"It's a case of the 'difficult second album' for the Kia e-Niro – or rather, the Kia Niro EV as it now likes to be known. But Kia's used its electric car expertise (as well as features from the ultra impressive Kia EV6) to make the new Kia Niro EV one of the best all-round electric cars you can buy today."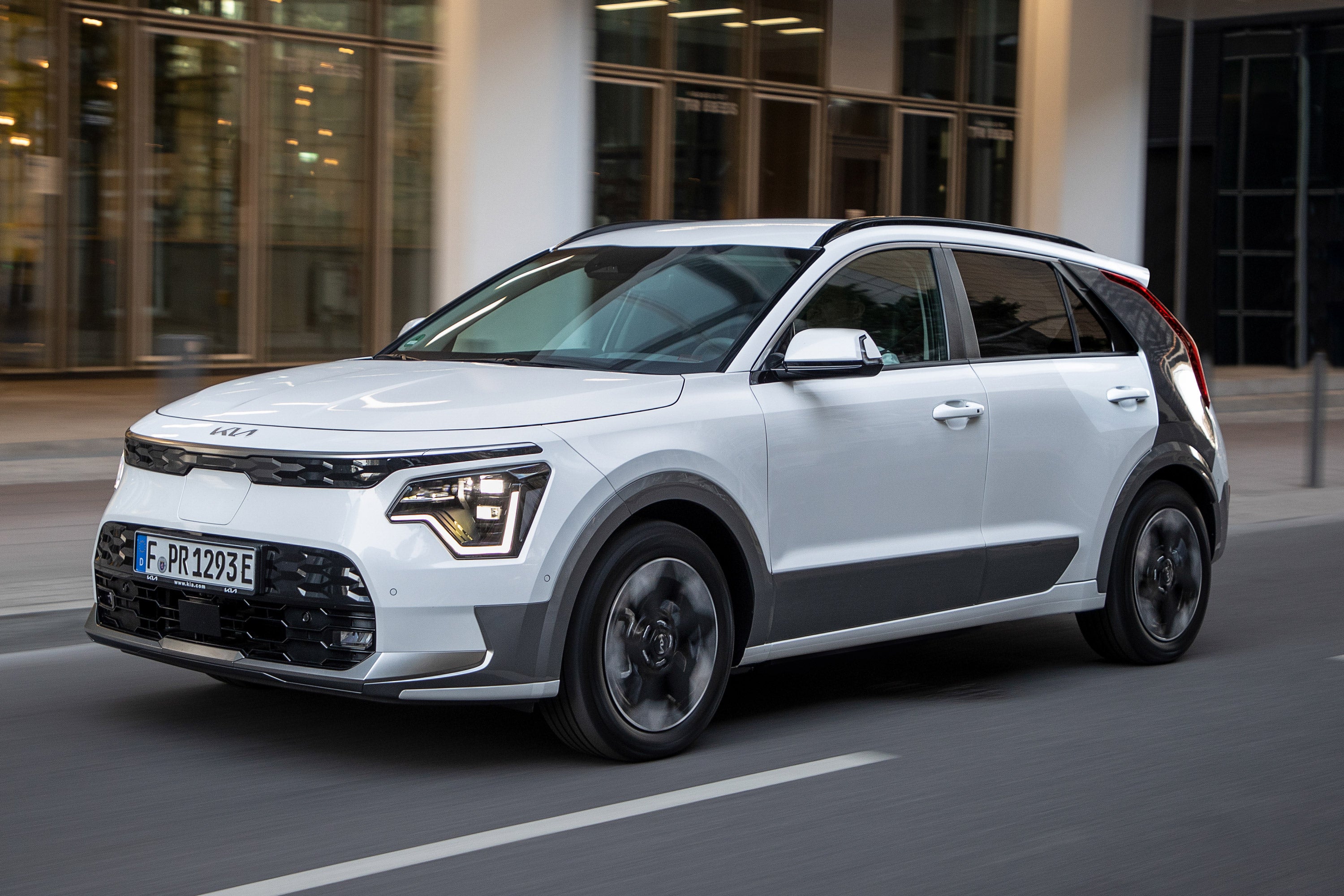 Like it or not, it's clear that we're moving towards a nation of electric car drivers. For many motorists, the big question is 'when' you should make the move to an electric vehicle – not 'if'. And, if you've been waiting for a versatile electric SUV that'll slot seamlessly into your life without breaking the bank, we reckon the new Kia Niro EV could be the car to encourage you to make the switch. Read our full 2022 Kia Niro EV review to find out more.
We described the original Kia e-Niro as "the ultimate electric car" when it first went on sale in 2019. It could travel up to 282 miles between charges, was versatile enough to use as your main family car and came with a long list of standard equipment – not to mention a lengthy warranty, transferable to subsequent owners.
But the market's moved on since then. Electric cars are no longer niche items – almost every manufacturer is churning out new electric vehicles quicker than we can say '2030 combustion engine ban'. If you're in the market for an electric SUV, your options range from the affordable MG ZS EV to the versatile Skoda Enyaq iV to desirable lottery-win offerings like the BMW iX.
Fortunately, Kia hasn't exactly been resting on its laurels. You've probably seen the fantastic Kia EV6 – a desirable electric car with eye-catching styling, impressive performance and a very useable electric range. It's not a cheap option, though, so there remains space in Kia's line-up for more affordable models like the Niro EV and Soul EV.
Just like the old Kia Niro, the new Niro is available as a hybrid, plug-in hybrid or pure-electric model (reviewed here and badged the Niro EV). And, just like the old model in recent years, Kia reckons the electric version will account for the biggest chunk of sales.
The Kia Niro EV uses a 64.8kWh battery (a smaller battery version isn't in the pipeline). This provides a range of up to 285 miles. That's pretty competitive, but it doesn't exactly move the game on compared to its predecessor (the e-Niro could manage 282 miles). It doesn't set records for charging, either – a 10 to 80% charge takes around 45 minutes, which is a long time if you're in a hurry to get somewhere.
It doesn't accelerate any quicker than the old model, either, although few people drove that and wished it had more power. It'll sprint to 62mph in a fast-enough 7.8 seconds, while the instant get-up-and-go provided by the electric motor means it feels pretty urgent around town. If you haven't driven an electric car, you're in for a treat.
Kia's engineers have deliberately set the Niro EV up for comfort, which means it's not quite as pointy as a Cupra Born. The steering is light, though, and you can get a plethora of driver-assistance tech to take the hassle out of day-to-day driving. This includes navigation-based smart cruise control, which can slow down for corners or adjust to match the speed limit.
By positioning the batteries low down under the Niro EV's floor, it's even more spacious inside than the hybrid model. That means you get loads of room for all the family, while a flat floor in the rear means you should be able to fit three teenagers side-by-side with few complaints.
While the stats don't represent a huge amount of progression compared to the old Niro, the new Niro EV's interior really moves the game on. It feels futuristic, but not at the expense of useability – anyone who's tried to turn the heated seats on in a Volkswagen ID.3 will appreciate the buttons and physical controls below the infotainment system.
Kia's gone to town with eco-friendly materials in the e-Niro's cabin but, again, not at the expense of quality. It feels almost as classy as the pricier EV6 – and we reckon that's just as impressive inside as premium alternatives like the Audi Q4 e-tron.
It's likely to be 2023 before we see the Kia Niro EV in the UK and, when it does arrive, we reckon high demand will result in long waiting lists (and keep used prices strong). Still, it could well be worth the wait – the new Kia Niro EV is one of the best all-round electric family cars we've ever driven.
Looking for the old model? You'll need our Kia e-Niro (2019-2021) review.
Is the Kia Niro EV right for you?
If you're looking for a comfortable and versatile electric car with a long range, the Kia Niro EV is a solid choice. It's just as impressive as the old model, albeit with a fancier interior and more head-turning styling. It might not be as rapid as a Tesla, nor does it move the game on in any particular area, but it's still a very well-finished all-rounder.
What's the best Kia Niro EV model/engine to choose?
We'd recommend the mid-spec Kia Niro EV 3. The entry-level Niro EV 2 does without certain desirable features (the bigger infotainment screen, heated seats and driver-assistance tech such as Highway Driving Assist, for example). The top-spec Kia Niro EV 4 is well-equipped but also nudging Kia EV6 prices, which makes it a little more difficult to justify.
What other cars are similar to the Kia Niro EV?
Comfort and design: Kia Niro EV interior
"The Kia Niro EV's cabin is leagues ahead of the old model, with premium materials and infotainment similar to what you'd find in the desirable Kia EV6. There's very little to dislike."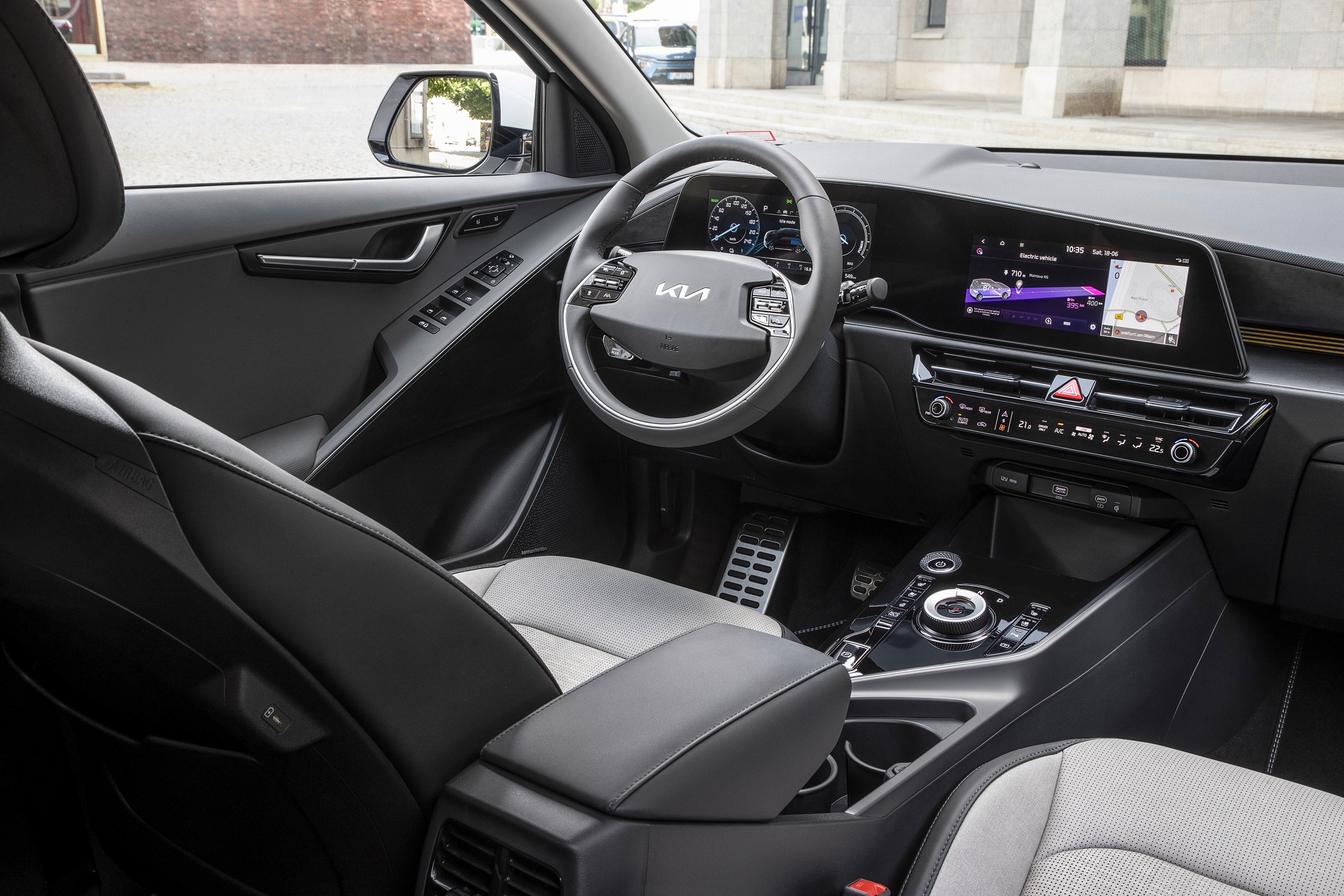 The nice thing about the Kia Niro EV's interior is that, while it feels sufficiently tech-heavy, that doesn't come at the expense of ease of use. It's better than the Volkswagen ID.3 in that regard – everything is pretty self-explanatory and you get easy-to-operate buttons for the climate control as well as a volume knob for the stereo.
It's comfortable, too, with supportive seats and enough adjustment to cater for people of all shapes and sizes. You don't sit particularly high, even with the seat cranked up to the max, but you don't in the bigger Kia EV6 either.
Although it's expensive, the top-spec Kia Niro EV 4 is the one to go for if you desire a fancy interior. Standard equipment includes ventilated front seats, heated seats in the back, an electric tailgate, a sunroof and a premium Harman Kardon surround sound system. You also get lumbar adjustment for the passenger seats, as well as 'relaxation seating' which reclines fully, allowing you to grab 40 winks while the car charges.
Quality and finish
Generally, the Kia Niro EV feels well-finished inside. There are a few hard plastics here and there, but it's a big improvement over the old model (and it feels plusher than the MG ZS EV). The brand is keen to point out the eco-credentials of the Niro's cabin – the vegan leather seats are made using sustainable materials derived from eucalyptus wood, for example, while the headlining is made from recycled paper.
Infotainment: Touchscreen, USB, nav and stereo in the Kia Niro EV
We're yet to sample the eight-inch media system fitted as standard to the entry-level Kia Niro EV 2 but it will tick a lot of boxes for a lot of people. Apple CarPlay and Android Auto are standard, meaning you can access apps from your phone on the central display. You don't get sat-nav on the entry-level car, but we'd recommend using Google Maps anyway as it tends to be slicker and more up-to-date than factory-fit navigation.
Tech fans should look for a Kia Niro EV 3 or 4 as this brings a larger 10.25-inch touchscreen display with in-built navigation. This system was a little bit buggy in our pre-production test vehicle – something we'll be keen to see if Kia's fixed once we drive production models in the UK. That aside, it's logically laid out and quick to respond, so negotiating the menus never feels too much of a faff.
All Kia Niro EV models come with a 10.25-inch digital instrument cluster, which is just as sharp and impressive as the central display. It adds to the upmarket, tech-heavy vibe that the old Kia e-Niro was lacking.
Space and practicality: Kia Niro EV boot space
For a relatively small electric SUV, the Kia Niro EV is incredibly spacious. It certainly feels bigger inside than, say, a Hyundai Kona Electric or Peugeot e-2008, only really beaten by the family-focused Skoda Enyaq iV in terms of outright space.
Rear passengers in particular benefit from an increase in interior space compared to the old Kia e-Niro, thanks not only to a longer wheelbase but also thinner front seats designed to boost rear legroom. There's loads of headroom, good visibility out (so it doesn't feel claustrophobic back there) and a completely flat floor means you won't be struggling for somewhere to put your feet.
The boot can carry up to 475 litres of luggage, which is more than you'd get in a hybrid or plug-in hybrid Niro. There's an extra 20 litres in the 'frunk' at the front of the car, too – ideal for stowing away your charging cables.
Handling and ride quality: What is the Kia Niro EV like to drive?
"The Kia Niro EV is comfortable and easy to drive. It'll be a revelation for anyone who hasn't driven an electric car before, thanks to its effortless acceleration and extensive driver-assistance tech."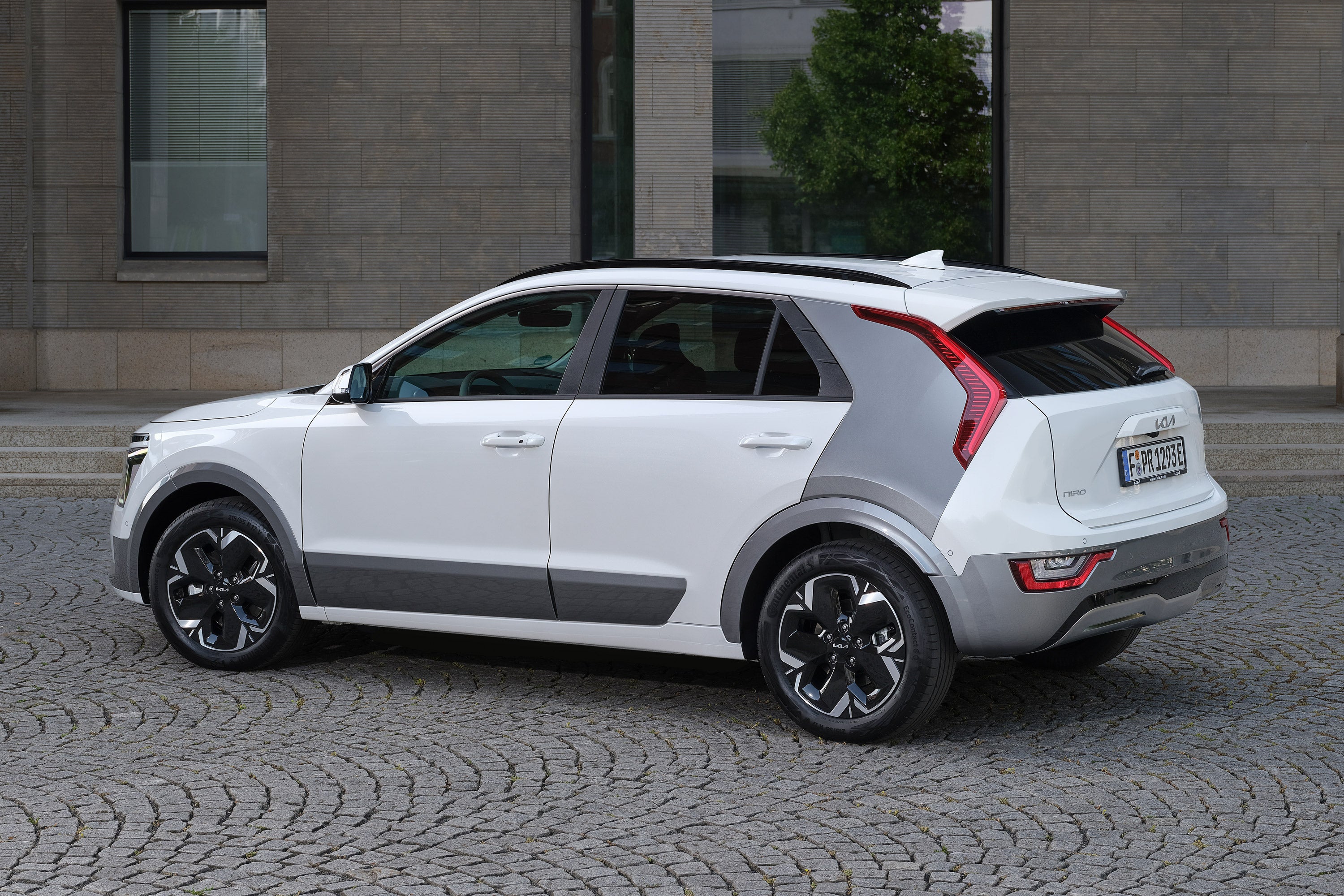 The bigger Kia EV6 is a sportier choice, but we reckon the Niro EV is perfectly judged for the market. The suspension is on the soft side, which means it rides better than a lot of electric cars, yet it's not exactly wayward in the corners.
Visibility is pretty decent, while a standard-fit reversing camera and rear parking sensors help around town. It's not actually that big a car – so you shouldn't feel too intimidated about squeezing it into tight spaces.
What motors and batteries are available in the Kia Niro EV?
In terms of motors and batteries, the Kia Niro EV line-up is pretty simple. There's just one option: a 64.8kWh battery pack paired with a 204PS electric motor. It produces 255Nm of instant torque, providing 0-62mph acceleration in 7.8 seconds.
That's ever-so-slightly slower than the Kia e-Niro, but it's still going to be sprightly enough for most buyers. Stomp on the accelerator too hard and you'll feel the steering twitch as the front wheels struggle to transfer all that power to the road, but drive the Niro EV sensibly and you'll find it pretty user-friendly.
There are three different levels of regenerative braking available, adjusted using the paddles behind the steering wheel. With the regen set to max, the car will slow down significantly when you lift off the accelerator – great for driving around town as you'll hardly have to use the brakes. We'd recommend reducing the regen when you're on the open road, though, allowing the Niro EV to coast at speed.
Maximum electric range in the Kia Niro EV
The Kia Niro EV has an official range of 285 miles. That's likely to drop slightly in the real world but, based on our experience with other Kia electric vehicles (including the old e-Niro), you should be able to get pretty close to the official figure with little effort.
That's pretty much the same as the old model, which isn't particularly surprising as they share a 64kWh battery pack. Unlike the e-Niro, though, Kia isn't planning on offering the Niro EV with a smaller (more affordable) 39kWh battery pack. It says that the demand simply isn't there – buyers want to travel as far as possible between charges and are happy to pay more to be able to do so.
Refinement and noise levels
Refinement is excellent. Obviously there's no engine noise, but Kia's done a commendable job of ironing out other noises, too. You might notice a bit of wind or road noise when you turn the radio off, but none of it is particularly irksome.
Safety equipment: How safe is the Kia Niro EV?
All Kia Niro EV models come with the brand's Forward Collision Avoidance system (FCA 1.5), able to detect other cars, pedestrians and cyclists and apply emergency braking if necessary to avoid a collision. This is upgraded to FCA 2.0 on the top-spec Kia Niro EV 4, adding features like a junction crossing function (which detects vehicles approaching from the side) and evasive steering assist (which can help you swerve around a pedestrian or cyclist if necessary).
Other driver-assist tech available on the Niro EV include Highway Driving Assist (which helps you maintain a safe distance from other vehicles on the motorway as well as keeping you in your lane), an intelligent speed limiter and a blindspot warning system which can apply the brakes to prevent a collision when you're changing lanes or pulling out of a parking space.
The Kia Niro EV is yet to be crash tested by Euro NCAP.
Charging times: How much does it cost to charge the Kia Niro EV?
"The Kia Niro EV takes around 45 minutes to charge from 10 to 80% at a suitable rapid charger, while a full charge using your home wallbox will take 10 hours and 30 minutes."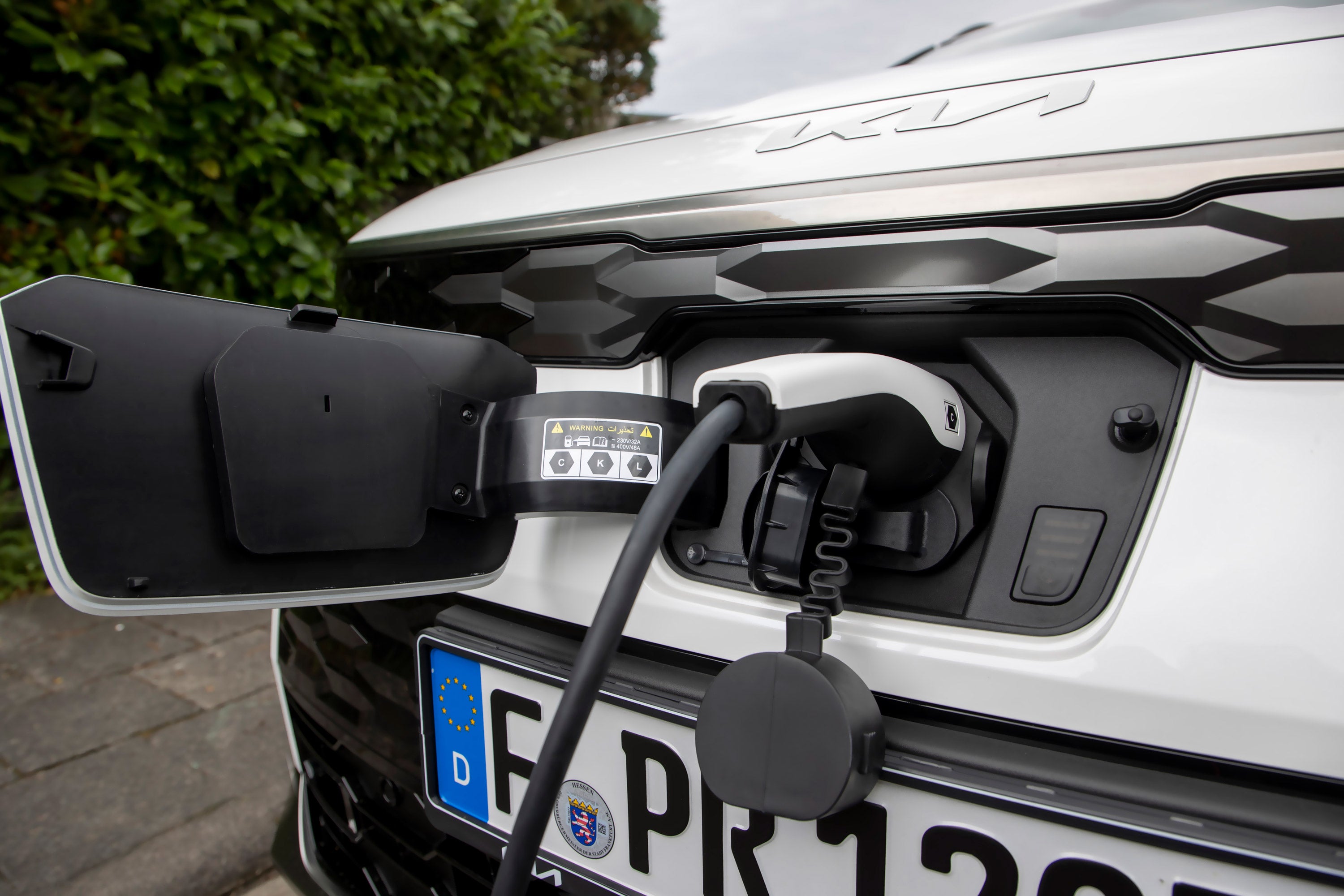 If you're planning to rapid charge regularly, you might want to look elsewhere. The maximum speed that the Kia Niro EV can charge is just 72kW. The bigger Kia EV6 can be rapid charged at a rate of up to 234kW, meaning a 10-80% charge will take just 18 minutes (less than half the time of a Kia Niro EV).
The Niro EV does have a few tricks up its sleeve to help speed up charging, though. If you use the navigation to find a charge point, it'll pre-heat the battery in order to shorten charge times. That means it can actually be charged nine minutes quicker than the e-Niro (although not as quickly as, say, a Volkswagen ID.3).
Rapid charging is expensive, so a lot of electric car buyers are happy to stick to charging at home the majority of the time. We'd recommend having a 7kW home charger installed in your garage or near your driveway – this'll fully charge the Niro EV is around 10 hours and 30 minutes.
How reliable is a Kia Niro EV?
The Kia Niro EV is too new for any solid reliability data or issues to come to light, but we're not expecting to see many on the back of recovery trucks. Kia as a brand has an excellent reliability record, backed up by its generous seven-year/100,000-mile warranty.
Electric vehicles are generally more reliable than petrol or diesel cars. That's because there are much fewer mechanical parts in an EV – there's no engine oil or drive belts to need changing, for example, while the batteries generally last longer than the average lifespan of a car.
Kia came an impressive fourth place in the latest HonestJohn.co.uk Satisfaction Index while the old Kia Niro was ranked in the top 20 most reliable used cars.
Insurance groups and costs
The Kia Niro EV 2 has been placed into insurance group 28A, while the 3 and 4 models are in insurance group 29A. That means the entry-level model should, in theory, be the cheapest to insure – but the difference in reality will probably be minimal.
As always, we'd recommend searching for some insurance quotes before paying a deposit on a new Kia Niro EV. Electric cars are becoming more popular but they are still seen by some insurers as specialist vehicles which could be expensive to repair, so they might attract a premium compared to a petrol or diesel car.
VED car tax: What is the annual road tax on a Kia Niro EV?
As a pure-electric vehicle, you won't pay anything for your annual car tax (VED). Even Niro EV models with a list price of more than £40,000 (that's the top spec Kia Niro EV 4) are exempt from the usual premium car surcharge – which means you could be saving as much as £520 each year in tax alone by going electric.
How much should you be paying for a used Kia Niro EV?
"As you can no longer get a government grant towards a new electric vehicle, the latest Kia Niro EV is slightly pricier than its predecessor. Prices start from £36,245, putting it in the same region as the Volkswagen ID.3 but more than budget alternatives like the MG ZS EV."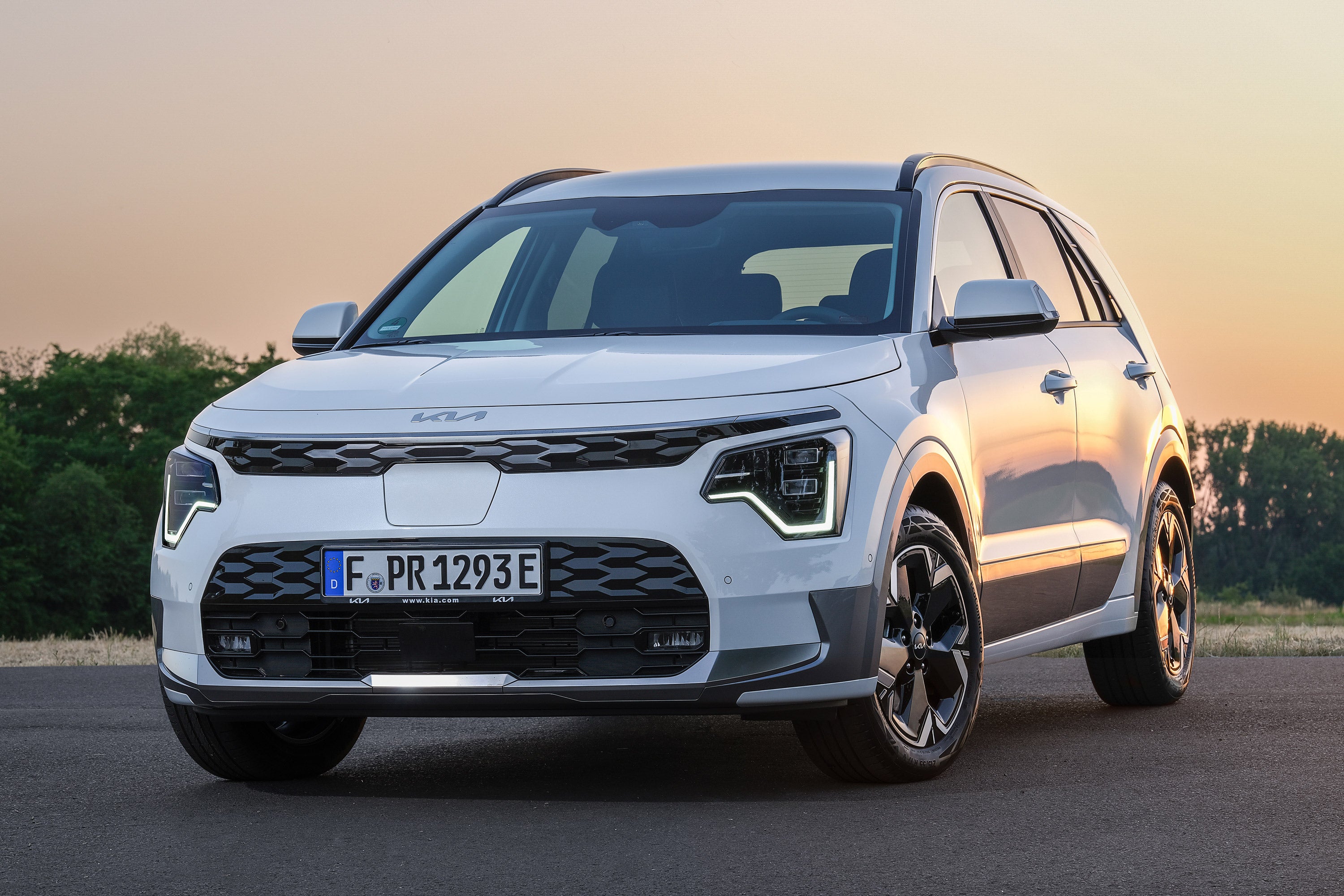 That £36,245 price tag is for the entry-level Kia Niro EV 2 with the 64.8kWh battery pack. A Kia Niro EV 3 is priced from £38,995 at launch, while the top-spec Kia Niro EV 4 is £41,745.
As it's still a very new model, we're yet to see nearly-new or ex-demonstrator examples dripping down onto the used market.
Trim levels and standard equipment
The Kia Niro EV is available in three trim levels: 2, 3 and 4.
The range kicks off with the Kia Niro EV 2, which features 17-inch alloy wheels, LED headlights, cloth seats, a dual-height boot floor, rear parking sensors and camera system, an 8.0-inch touchscreen display with DAB radio, Android Auto and Apple CarPlay, and a 10.25-inch digital instrument cluster cluster. In addition, standard driver assistance technologies include Forward Collision Avoidance with car, pedestrian and cyclist recognition and junction crossing and Smart Cruise Control.
The Kia Niro EV adds a larger 10.25-inch touchscreen with navigation, cloth and faux leather upholstery, front parking sensors, keyless smart entry and start, and heated seats and steering wheel. Equipment also includes rear privacy glass, driver lumbar support, Highway Driving Assist (HDA), Blind Spot Collision Avoidance (BCA) for the rear, a wireless smartphone charger, and adjustable multi-angle rear seats. The Kia Niro EV 3 also features vehicle-to-device functionality with a three-pin socket as standard, allowing you to power external electrical devices.
Topping the range, the Kia Niro EV 4 adds a head-up display, twin 10.25-inch touchscreen and instrument cluster display, heated rear seats and ventilated front seats (trimmed in vegan leather), front passenger premium relaxation seating, a power operated tailgate, electric sunroof, a Harman Kardon premium sound system, driver's side memory seating, and front passenger lumbar support. Additional tech includes Remote Smart Parking Assist, Parking Collision-Avoidance Assist, Highway Driver Assist 2 and Forward Collision Avoidance 2.
Ask the heycar experts:
common questions
Is the Kia Niro fully electric?
The Kia Niro is available with hybrid, plug-in hybrid or pure-electric power. The electric Kia Niro EV, reviewed here, is a replacement for the old Kia e-Niro. It uses a 64.8kWh battery to provide a range of up to 285 miles.

Is the Kia Niro EV a good electric car?
Just like the bigger Kia EV6, the new Kia Niro EV is one of the best electric cars on sale in 2022. It looks great, has a high-tech and versatile interior, while it also represents decent value for money.

How much does a Kia Niro EV cost?
The entry-level Kia Niro EV 2 with the 64.8kWh battery is priced at launch from £36,245. The Kia Niro EV 3 starts at £38,995 while the top-spec Kia Niro EV 4 has an on-the-road price of £41,745.

Answered by
Lawrence Allan
Kia E Niro cars for sale on heycar
2,364
Number of cars available
£31K - £41K
Price bracket of these cars
Colours available on heycar
Keep me updated by email with the latest advice, news and offers from heycar
By submitting, you agree to our
privacy policy
.
Popular models
Similar models