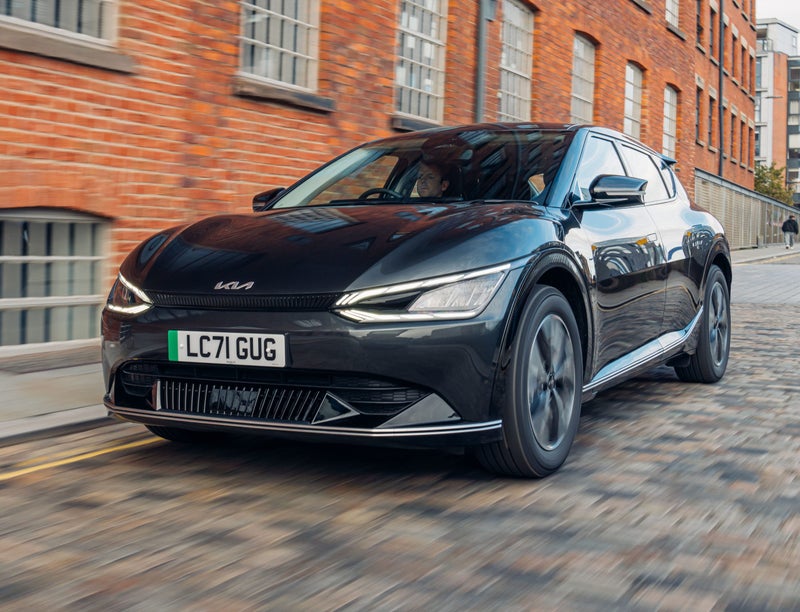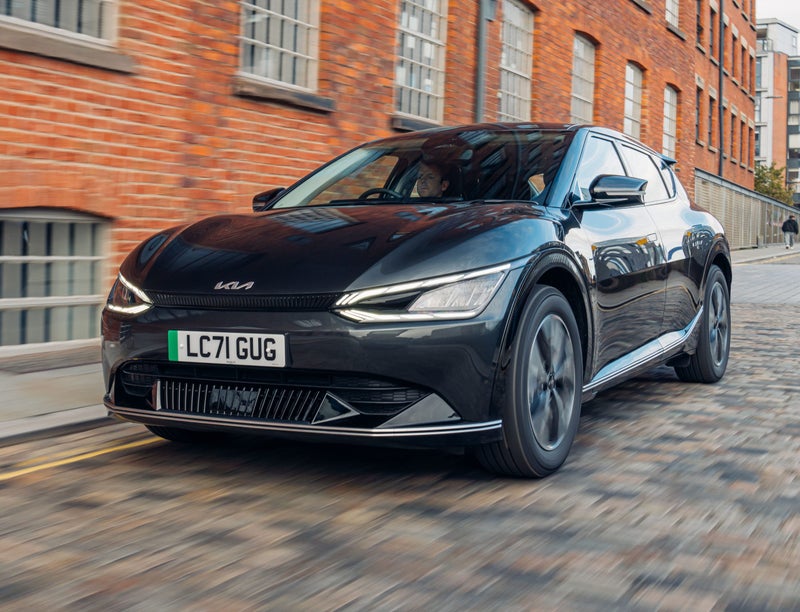 1/10
heycar rating
"Seriously impressive and stylish EV"
Launched: 2021

Large family car

EV
Quick overview
Pros
Striking design inside and out
Great range, charging speeds and driving experience
Spacious for passengers
Cons
Doesn't ride as softly as an Ioniq 5
Boot space isn't the best
A bit less headroom than EV SUVs
Overall verdict
On the inside
Driving
Cost to run
Prices and Specs
Common questions
Overall verdict on the Kia EV6
"The Kia EV6 is a proper, ground-up EV that looks and feels different to other Kias. Its got loads of substance to back up the style, too, with a roomy and tech-filled cabin, great range, fast charging and a fun drive. In this review we'll show why it's one of the best electric cars on the market."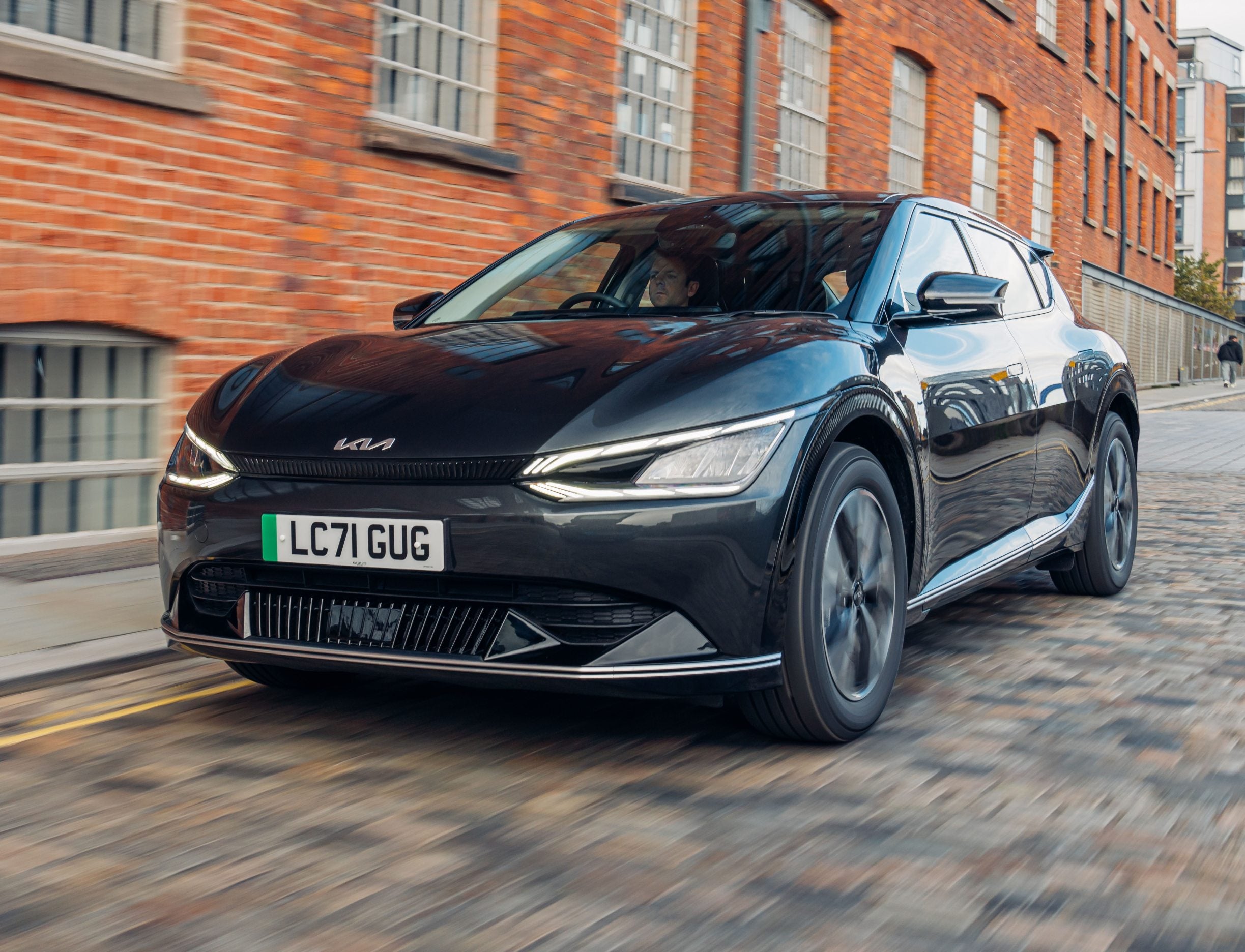 It's not an exaggeration to say the Kia EV6 feels like an iPhone moment. It's a complex piece of hardware but the user experience is joyful in its simplicity and its design gives you the feel-good factor of the best Apple products. In this Kia EV6 review you'll see why it's a watershed moment for the brand.
The EV6 should be right at the top of your hit list if you're considering electric cars like the Volkswagen ID.4, Hyundai IONIQ 5, Ford Mustang Mach-E or Skoda Enyaq. More impressively, it should also be considered against the likes of the Audi Q4 e-tron, BMW iX3, Volvo C40 Recharge and Mercedes EQA. It's that good.
The Kia EV6 is quite unlike any other Kia and it looks it. It's bold and confident with a muscular front end and a sleek profile that hides what is actually a substantial machine – it's longer than a Volkswagen Tiguan SUV. Around the back you get a pretty full-width light bar and, like the front, you'll find Kia's newly designed badge – a fitting feature on such a radical new design.
It's much the same on the inside. Sitting behind the Kia EV6's steering wheel you can imagine being Doc Brown, priming the flux capacitor in preparation for your next trip Back to the Future. Alright, so the Kia EV6 can't bend time (no hoverboards either, sadly) but from the inside it feels like a car from an era others have yet to reach.
From its huge infotainment screens to its dual-purpose controls, augmented head-up display, starship-like floating control console and woven trims, the Kia EV6 is quite different to almost anything else on the road.
Up front, it doesn't have quite the perceived roominess you get in the Volkswagen ID.4, but there's loads of legroom both front and rear and only the really tall will find a slight lack of headroom. The hatchback-style boot lid is a weighty thing but gives you excellent access, although its sloping style does ultimately restrict what you can fit above the glass line.
Yet the Kia EV6 is reassuringly conventional to drive. Sure, it has lots of clever autonomous tech but you still get a steering wheel and (Tesla take note) it's circular. Selecting drive and reverse is a doddle, while you get regenerative brakes you can adjust intuitively using paddles behind the steering wheel.
Get underway and the first thing that strikes you is how easy the Kia EV6 is to drive. Whether you go for the basic two-wheel-drive model or the top-of-the-range all-wheel-drive car, you get an easy surge of acceleration that makes it brilliant for snicking in and out of gaps. There's no need to worry about operating the clutch, the engine bogging down or changing gears, the EV6 just goes where you want on a wave of electric motion.
The power delivery is silent of course which makes the experience doubly relaxing, only the firm ride takes the edge of your in-town experience. It's not uncomfortable (and definitely better than the Tesla Model Y) but you feel more of the road surface than an Ioniq 5. That's a deliberate decision to make the Kia feel more sporty, however.
Clear the bustle and you'll find the Kia EV6 is an excellent open-road companion. It's well behaved in bends and there's fun to be had from zapping effortlessly from one corner to the next, even if it's a couple of points down from being truly engaging.
The ride that improves on A and B roads, feels even more polished when you hit the motorway and the car remains very quiet. A full suite of autonomous driving aids adds another layer of relaxation as does the Kia EV6's range, which doesn't seem to drop with quite the same velocity as other EVs when cruising.
You should get at least 300 miles from a charge in a mixture of driving and fast charging at up to 235kW means long drives shouldn't be the logistical headache they were in older electric cars. Some electric cars have longer ranges, but it's still very impressive.
So it sounds like Kia has hit the EV jackpot? It really has. The Kia EV6 is a usable EV that will slot into most of our lives with relative ease. More than that, it's a car you'll want to own because of the way it looks, feels and drives. For a long time, Kia's talked about plucking sales from the likes of Mercedes, Audi and BMW – the EV6 feels like a car that can do just that.
What's the best Kia EV6 model/engine to choose?
The Kia EV6 is probably best sampled in entry level Air trim. The basic model is well priced and has almost all of the feel-good factor of the pricier models, while also having the longest range of the lot. We doubt you'll ever miss all-wheel drive and while the basic car's 229PS performance is unremarkable on paper, it does the job just fine in practice.
That said, some of the tech on GT-Line S trim is really impressive, while you'll bait sports cars with the all-wheel drive car's performance. It all depends on your budget, really.
What other cars are similar to the Kia EV6?
Similar? The Hyundai Ioniq 5 basically is the Kia EV6 but with a significant exterior and interior restyle. That said, the Hyundai has been set up more for comfort than the sporty driving Kia. There's also now the (equally closely related) Genesis GV60 which has a more premium air.
Other rivals include the cool and classy Polestar 2, Ford's heritage-plugging Mustang Mach-E and Volkswagen electric SUV – the ID.4. The Mercedes EQA is smaller but posher, while there's also the practical Skoda Enyaq and the classy Audi Q4 e-tron. The Tesla Model Y is also worth considering, while we've yet to sample the Nissan Ariya but expect it to be competitive.
Comfort and design: Kia EV6 interior
"The Kia EV6 gets its interior just right – it's interesting enough to feel special, but doesn't bamboozle you when you want to do simple things like turning up the radio".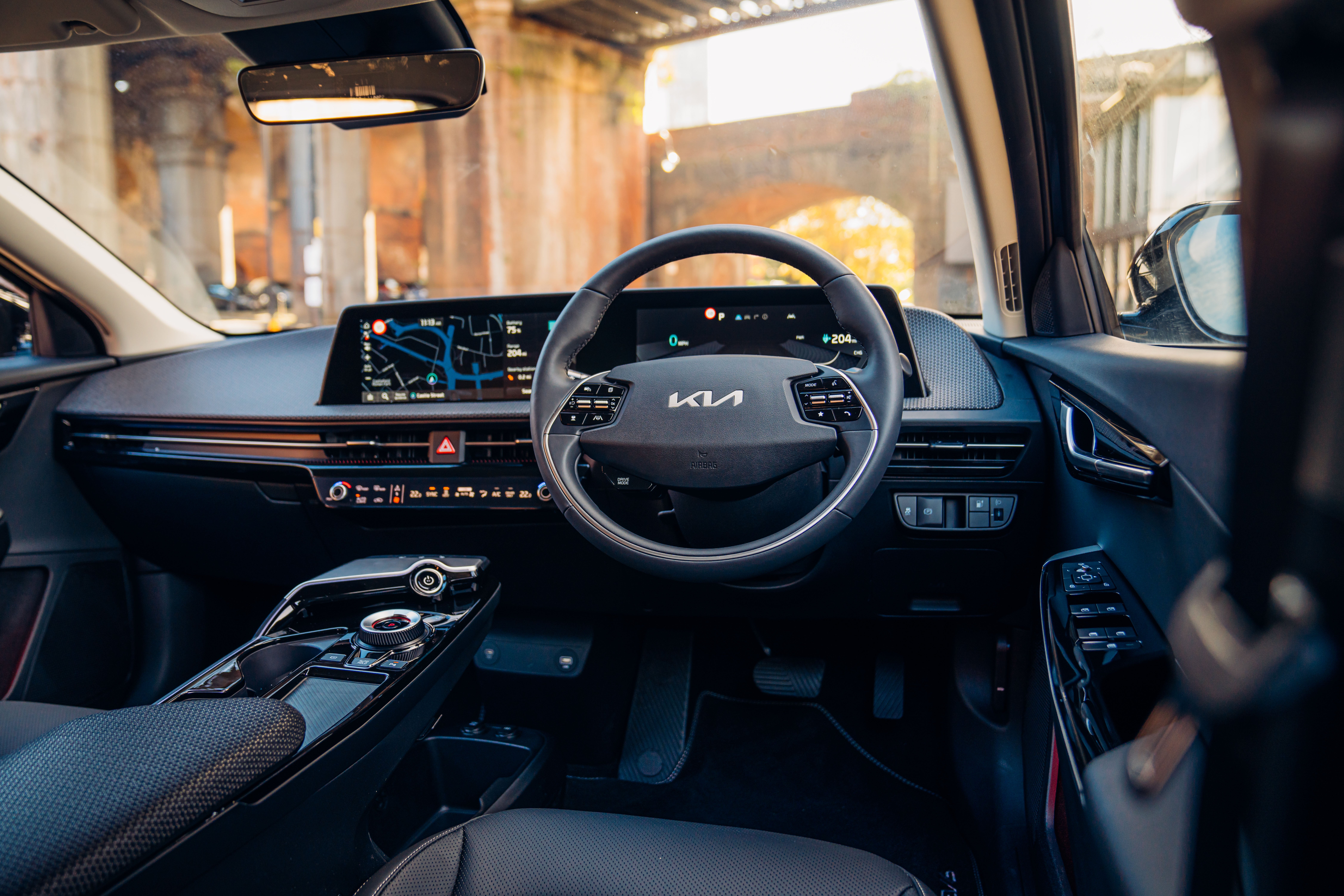 Things get off to a great start in top end Kia EV6 models, which slide their driver's seat back electrically to aid entry, drawing you back towards the steering wheel when you close your door. These seats can also fold down like a bed by holding down a single button for impromptu shut-eye.
Stay awake and you'll discover the Kia EV6 doesn't quite have the airy feel of the Volkswagen ID.4. It's a tricky one – the large centre console is a handy place to rest your hand when you're operating the lower infotainment screen, but it robs the Kia of a little of the inherent airy-ness that makes some EVs feel so unique.
Having said that, you get a great view out the front of the car thanks to the Kia EV6's huge windscreen and bonnet bulges over the front wheels – a bit like a Porsche 911's – help you place the car on the road. The driving position feels tall at first – at least when compared to a conventional saloon like a BMW 3 Series – but you soon get used to it and it gives you a raised view of the road ahead that feels commanding.
Reflections are a bane of the Kia EV6, though, the lighter coloured dashboard tops on some models can be a bit prohibitive when the sun's low in the sky.
Overall, though, we like the technology on offer, the impressive passenger space and the amount of storage on offer. The Kia EV6 manages to tick both rational and subjective boxes at once.
Quality and finish
Sometimes EVs feel like a race to the bottom in terms of interior quality because so much money goes towards the batteries and huge infotainment screens, there's not much left for the soft-touch plastics we used to crow about.
The Kia EV6 hasn't completely avoided this, but it feels nicer inside than some of Volkswagen's latest EV efforts. Pretty wallpaper-like trim coverings do redress the balance, and the doors feel nice and plush - only the wobbly centre armrest disappoints.
Infotainment: Touchscreen, USB, nav and stereo in the Kia EV6
The Kia EV6 has a huge infotainment that stretches from behind the steering wheel to the centre of the dashboard that tech nerds will tell you is actually two 12.3-inch display merged together. Either way, it looks as good as what Mercedes are putting out.
If we were being nerdy again, it doesn't have the bright colours, depth and vibrance of the screens you get in the Volkswagen ID.4 but it's close, and you also don't need a doctorate in computer programming just to operate it. Which we like!
Sticking a postcode in is easy and it'll factor in charging stops on long journeys. It also has the central pillars to any good infotainment screen – Apple CarPlay and Android Auto, both wireless.
Below the centre half of the big screen, you get a crisp-looking dual purpose touchscreen that switches its roles between sat-nav and air-con functions. It's a neat solution, which also looks cool, and although it can be a little more fiddly than conventional buttons you can select either display role to be the default one.
If the dual-purpose screen is cool, the head-up display (HUD) is infotainment hedonism. It does all your standard HUD stuff – projecting things like your speed and sat-nav directions onto the car's windscreen.
But it also interacts with your surrounds, letting you play Maverick – sadly, without the Sidewinders – by tracking other vehicles in your surroundings, highlighting them as they overtake. Even the sat-nav's directions are interactive, as you approach turns and junctions a scrolling arrow directs you where to go.
Space and practicality: Kia EV6 boot space
Getting into the Kia EV6 is easy because the large batteries stored in the floor mean the seat is much higher than you realise, so you slide onto rather than into your driving position.
Unsurprisingly, there's loads of room for tall adults to stretch out in the front, the seats feel heavy and well padded and the width of the car means you'll not be elbowing your front seat passenger.
The back seat is similarly impressive with plenty of head, elbow and knee room, large doors that give decent access and a back rest that reclines a few degrees. Tall people shouldn't have too much issue even if headroom is less than that of the Ioniq 5, although we'd avoid the sunroof of GT-Line S trims if you regularly carry basketball players.
The only downside is that your knees sit at a steeper angle than feels natural thanks to the high floor - a common EV issue, but it's not as bad as some here. That said, the floor is completely flat meaning there's plenty of room for three passengers feet, which leaves you to ask the question: why has Kia has made the centre seat so unsupportive? It's a head-scratcher.
Especially because everything else in the back is so well thought out. Tiny quarter lights at the back of the car keep the cabin bright, you get separate rear air vents, bright white LED lighting and a pair of USB plugs in the backs of the front seats that, unfortunately, look a bit like a dentist's chair from behind.
Even with the Kia filled with people, there's plenty of smaller storage spaces to hide their stuff. There are large felt-lined door bins (a VW trick that stops things jangling about), a huge tray under the control console between the front seats, another lidded cubby under the armrest and a large glovebox that is nicely damped. You'll even find airplane style pockets that won't sag on the backs of the front seats.
Any nasty surprises when you get to the boot? No, not really. The Kia EV6 has a 490 litre capacity and rear-wheel drive models get a bonus 52 litres of storage under the bonnet. That outright capacity is a bit down on rivals like the Skoda Enyaq and Ford Mustang Mach-E, however.
The boot's hatchback style opening makes it easy to load bulky items – even if the sloping roofline makes it less practical than an estate – and there's no lip to lift things over. Fold the back seats down, easily done by yanking a couple of handles at the front of the load bay, and the floor remains flat once the back seats are locked down into position.
Complaints? Well, the hidden storage area under the floor is a little shallow and basic versions of the EV6 don't get an electric opening/closing boot – more of a problem than it sounds because that lid is one weighty puppy.
Handling and ride quality: What is the Kia EV6 like to drive?
"The Kia EV6's electric-car status shapes how it drives in all departments. It's a dream in town, very relaxing everywhere, has instant thrust but ultimately can't disguise the fact that it ain't going to win any slimming contests. "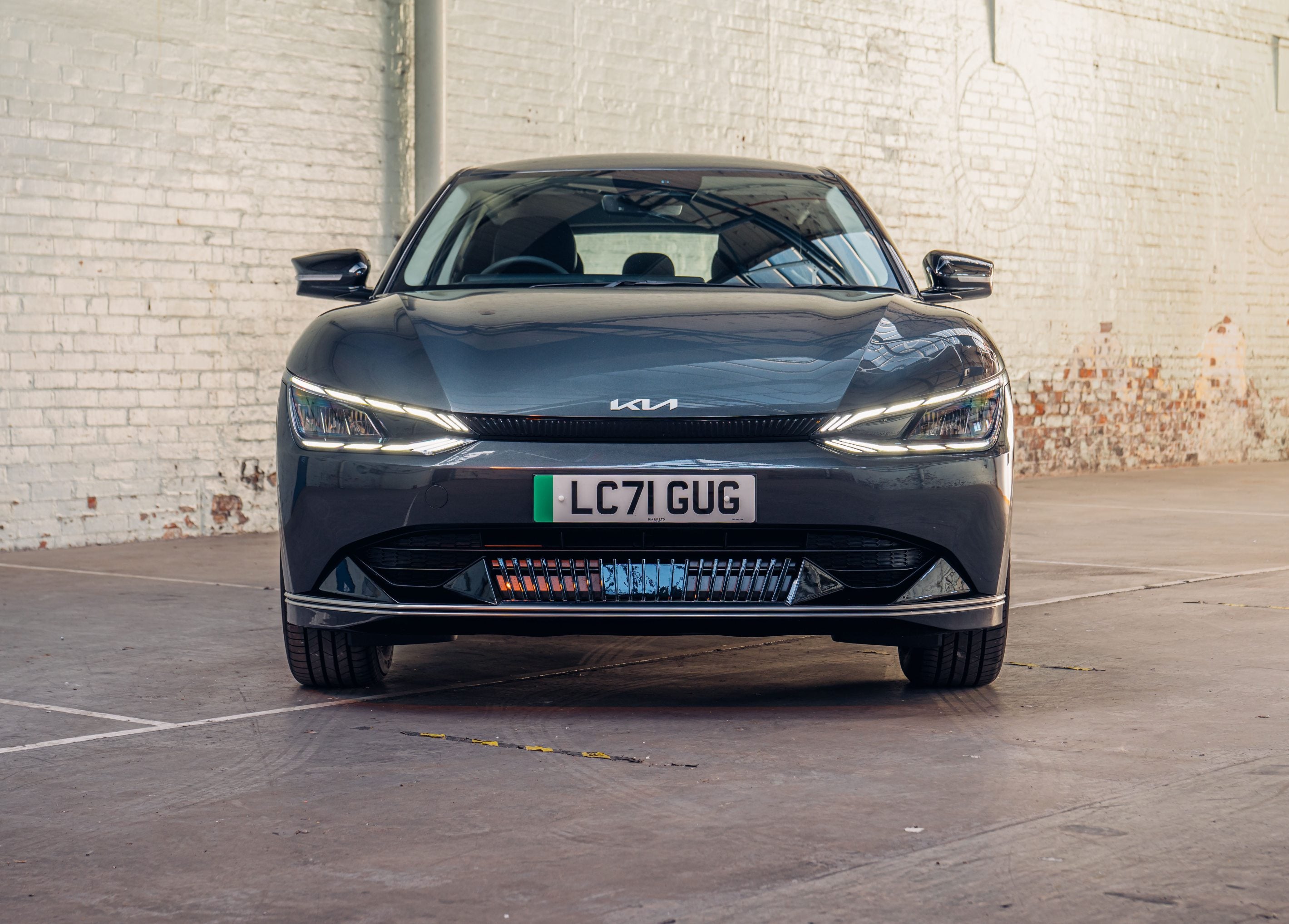 The Kia EV6 isn't a tub by any means – think more athletic rugby prop because, at 2000kg, it's about a third heavier than a petrol car of the same dimensions. We've come to expect that from electric cars, though, and the EV6 isn't a serious heavyweight.
Out on the road you'll need to brake that little bit harder into corners and while it doesn't really lean, you can feel the weight in the floor scrubbing grip from the front tyres like a tractor beam is sucking you off your chosen line.
Even the rear-wheel slides the EV6 serves up (in both RWD and AWD models) are a bit like receiving a Tweet – you get the basic info of what's going, but not much info beyond that. A BMW 3 Series – our go-to sporty family car – heaps on the detail by comparison. Saying that, the EV6's ability to surge from one bend to the next would give most BMW's a run for their money in terms of outright performance.
Fact is, the Kia EV6 does everything else so well, a lack of engagement is nigh on irrelevant. And given only the BMW i4 really offers true driver appeal at this end of the market, we reckon the EV6 is one of the better-driving electric cars out there.
Sample one in town and you'll see what we mean. The EV6's instant pick up and the fact it doesn't have any gears means you get right-now acceleration every time, it's ideal for nipping in and out of traffic, as well as joining roads and roundabouts. Plus, the regenerative brakes mean you only really need to use the accelerator because the car slows automatically the minute you lift your foot off it. If you don't like that, simply pull the paddles behind the wheel to adjust the level of braking.
It does feel quite wide, but the low bonnet (possible because AWD model's front motors are neat to package) gives you a great view out on the move, while the detailed reversing camera – and the fact it's very easy to modulate the power – makes parking in tight spots easy.
Clear the city and the firmish low-speed ride you get on big-wheeled models at slow speeds smooths out considerably and the padded seats make the Kia a great place to soak up the miles. All the autonomous driving aids you need come as standard, too, so the car can drive itself on A-roads and motorways. Throw in the silence you get at speed and you couldn't hope for a better cruiser.
What engines and gearboxes are available in the Kia EV6?
The Kia EV6 is currently available with two power outputs – a rear-wheel-drive, long-range model with 229PS or a 325PS all-wheel drive car that leans more towards performance. All send power through a single gear that makes them more relaxing to drive than snuggling in bed with a hot chocolate.
Which to choose? Honestly, we would stick with the 229PS car. In real-world terms, it has all the performance you'll ever need – all EV6s surge forwards from low speeds with the effortlessness of a Bullet Train riding a power surge – and the basic car is no different. It's acceleration time of 0-62mph in 7.3 seconds doesn't do justice to its big-wave thrust from standstill.
What's more the single speed and the nature of an EV's power delivery – which can be modulated with microscopic precision – means you'll get that performance without having to worry about gear changes and grip. It's perfect for modern driving's cut-and-thrust.
Unconvinced? Okay, we can't deny the 325PS model is quicker – it does 0-62mph in 5.2 seconds, has plenty of performance for faster roads and a four-wheel-drive system that gives uninterrupted power more often. but there is a slight trade off in range, let alone cost.
Maximum EV range in the Kia EV6
Unlike a petrol or diesel, which are at their most efficient at a steady cruise on the motorway, electric cars love driving in the city, where the stop-start traffic gives them the best use of their regenerative brakes, which convert friction back to electricity.
This explains why the 229PS, rear-wheel-drive model (the longest-legged of all Kia EV6s) has an in-town range of 459 miles, dropping to 328 miles on a mixture of slow and fast roads. This falls to 416 and 314 miles, respectively, on the 325PS all-wheel drive model.
Bigger wheels mean smaller prizes (in terms of range), so a Kia EV6 AWD GT Line S rolling on 20s is only good for 300 miles on a mixture of roads. The Kia's impressively accurate range readout should allay any fears that you'll get caught short.
Refinement and noise levels
Quietness is a Kia EV6 selling point over a conventional petrol or diesel family car.
Yes, there's some tyre noise at low speeds and some wind flutter on the motorway, but that's really it. Engine noise is replaced by a synthesised hum that's contrived but unintrusive – GT Line S models produce the sound of pan pipes played by someone who smokes 60 a day. The rest of the range has a more convincing electrical howl like the Millennium Falcon cranking up to hyperdrive.
Safety equipment: How safe is the Kia EV6?
The Kia EV6 has been given the full five-star safety rating by Euro NCAP, with strong scores across the board.
Standard safety kit includes automatic emergency brakes that detect cars, cyclists and pedestrians, plus lane assist and active cruise control that means the car can, more or less, drive itself on A roads and motorways while you keep your hands on the wheel and your foot off the pedals.
Kia EV6 GT-Line S models upgrade the standard car's Highway Driver Assist for Highway Driver Assist 2 – as well as driving you down a road like the standard system, HDA2 can deal with junctions autonomously and, so long as it is safe to do so, overtake other cars on the motorway when you indicate to pull out.
Charging times: How much does it cost to charge the Kia EV6?
"The Kia EV6 has an 800V charging system, meaning its battery is one of the quickest of any EV to top up."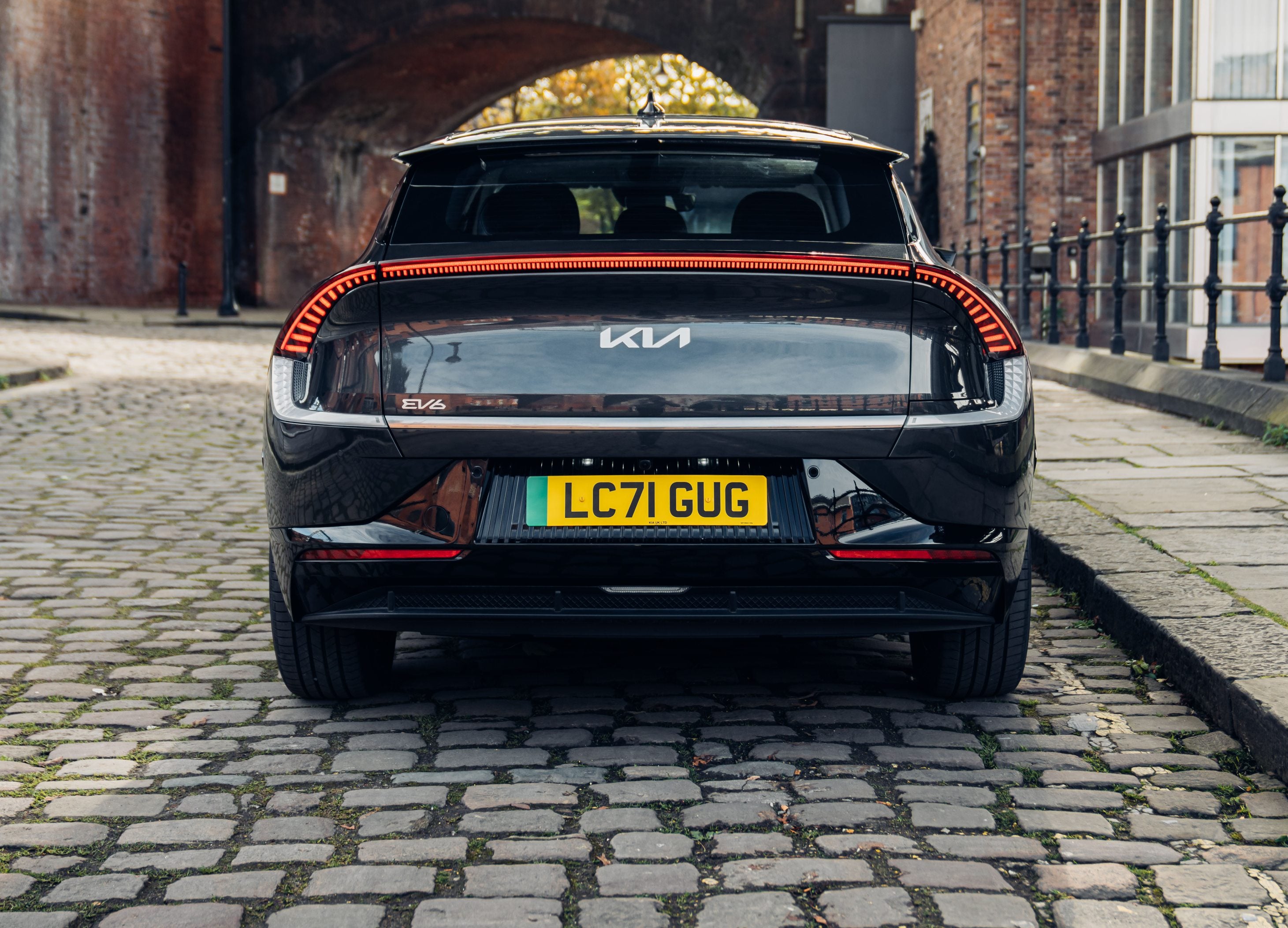 You only can have your Kia EV6 with a 77.4kWh battery in the UK, and 800V charging technology means it can be replenished from 10-80% in less than 20 minutes using a fast public charger.
Charging at home using a 7kWh home charger will be by far the cheaper option, however it'll take in the region of 11hrs to do from empty. From a three-pin socket? You best have a few box sets to watch because that'll be more like 36hrs.
How reliable is a Kia EV6?
It's impossible to say how reliable the Kia EV6 is because it's brand new, but Kia's sector-leading seven-year 100,000 mile warranty – which covers all the EV components – should go some way to temper any fears you have. Electric cars also have fewer moving parts than petrols and diesels, so there's less to go wrong in the first place, their regenerative brakes prolong the life of discs and pads, plus there're no expensive oil and spark plug changes to worry about.
Insurance groups and costs
Insurance groups for the Kia EV6 have yet to be revealed, however a 40-year-old man living in London with a ten-year no-claims bonus can expect to pay in the region of £500 for comprehensive cover.
VED car tax: What is the annual road tax on a Kia EV6?
As an electric car, the Kia EV6 doesn't pay any road tax. Nil. Nothing. Unfortunately, because it has a starting price of more than £40,000 – you (or whoever owns it after you) does have to pay a £335 premium car tax. That doesn't apply if the Kia is registered from April 2022 on, however, as that premium tax was removed for electric cars.
How much should you be paying for a Kia EV6?
"The Kia EV6 has a starting price of £40,945, rising to just under £52,000 for top models"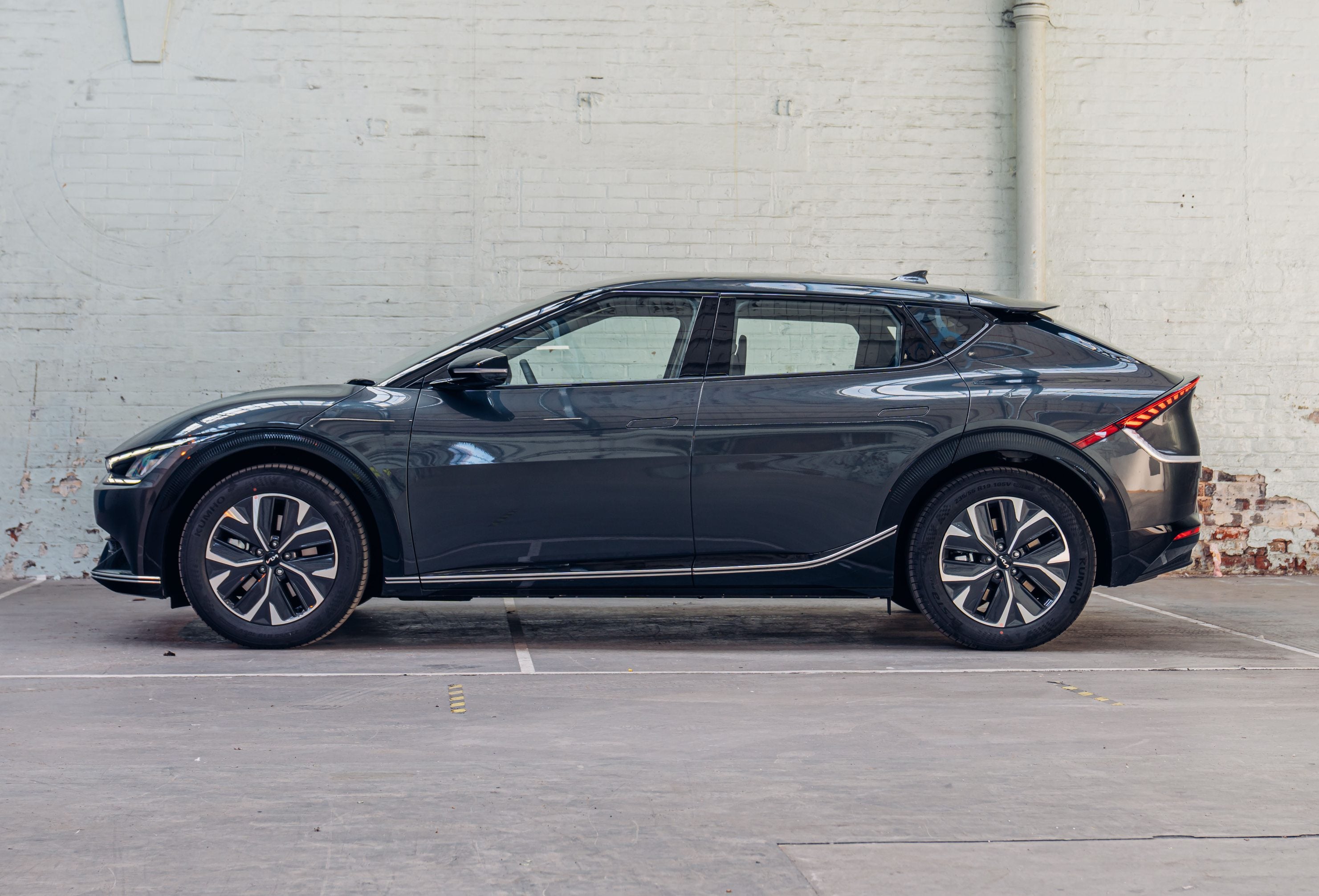 A few years ago buyers might have baulked at paying that much for a Kia, but the brand has really upped its game and the EV6 actually looks good value compared to rivals.
That' because even that £41k base car gets a 328-mile range, while equipment lists are strong across the board. Don't expect to see many bargains with nearly new models yet - and that's not just because demand is so high for used cars right now. It's also because the EV6 is so desirable and sought after that (like the e-Niro when it first launched) Kia might find demand outstrips supply.
Trim levels and standard equipment
The Kia EV6 is available in three trim levels – Air, GT-Line and GT-Line S.
The Kia EV6 Air is easy to spot by its modest styling, 17-inch wheels and lightly tinted rear windows. Inside, you get vegan leather seats that are manually adjustable with electric lumbar support. The front seats and steering wheel are heated, you get two 12.3-inch displays with Apple CarPlay and Android Auto, hooked up to a six-speaker stereo. You also get rear parking sensors and a reversing camera.
The Kia EV6 GT-Line gets black 19-inch wheels, more heavily tinted rear windows and a GT-Line body kit that make them more visually arresting than the basic model. Suede seats mean they also feel posher on the inside and the seats are electrically adjustable in the front. You also get wireless charging and front parking sensors.
GT-Line S models look a tad sportier still thanks to their 20-inch alloy wheels and, from the outside, you'll also notice their electrically operated sunroof. Inside, you get desirable kit like cooled front seats, heated rear seats, plus the heavy boot lid opens and closes electrically. The basic stereo is also replaced with a 14-speaker Meridian system, you get a 360-degree view parking camera and can park the car remotely.
Ask the heycar experts:
common questions
Will electric cars get cheaper?
Yes, experts predict electric cars will reach price parity with cheaper petrol models by 2027.

Can you tow with a Kia EV6?
The Kia EV6 can tow up to 1600kg – more than the vast majority of electric vehicles.

Can I order a Kia EV6?
The Kia EV6 is on sale now with a starting price of £40,945.

Kia EV6 cars for sale on heycar
2,365
Number of cars available
£48K - £52K
Price bracket of these cars
Colours available on heycar
Keep me updated by email with the latest advice, news and offers from heycar
By submitting, you agree to our
privacy policy
.
Popular models
Similar models