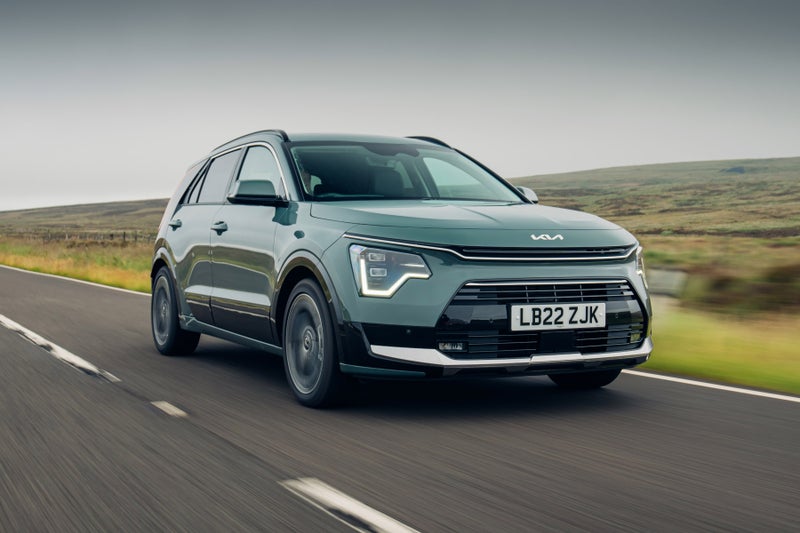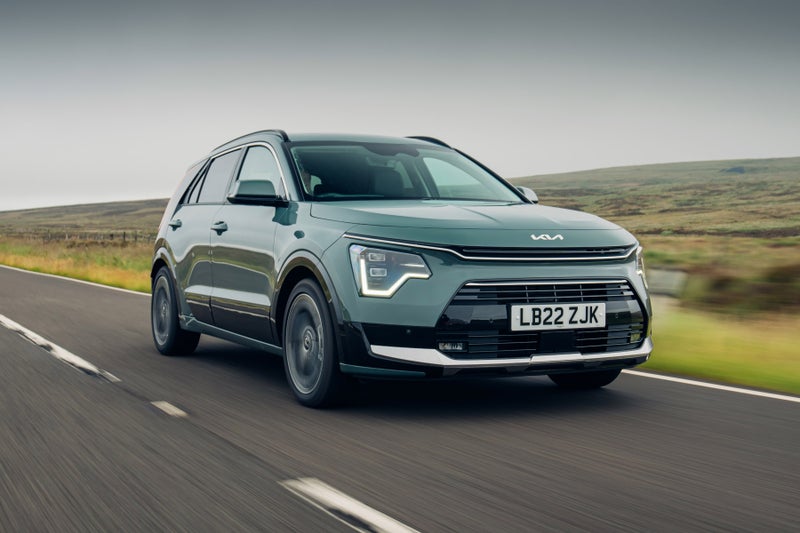 1/10
heycar rating
"Saving money can be cool"
Launched: 2022

Small SUV

Hybrid, PHEV
Quick overview
Pros
Exceptionally low running costs
Practical interior with Kia EV6 inspired design
Also available as the pure-electric Kia Niro EV
Cons
It's no longer a true budget option
Driving experience isn't stand-out impressive
Hybrid model is a bit slow out of town
Overall verdict
On the inside
Driving
Cost to run
Prices and Specs
Common questions
Overall verdict on the Kia Niro
"The new Kia Niro is arguably the perfect family SUV for 2022. Sitting between a Nissan Juke and Qashqai in size, the Niro's unique selling point is its fully electrified engine range: you can buy it with hybrid, plug-in hybrid or pure-electric power. You can read our Kia Niro EV review elsewhere, so for this Kia Niro review we'll be concentrating on hybrid and plug-in hybrid models."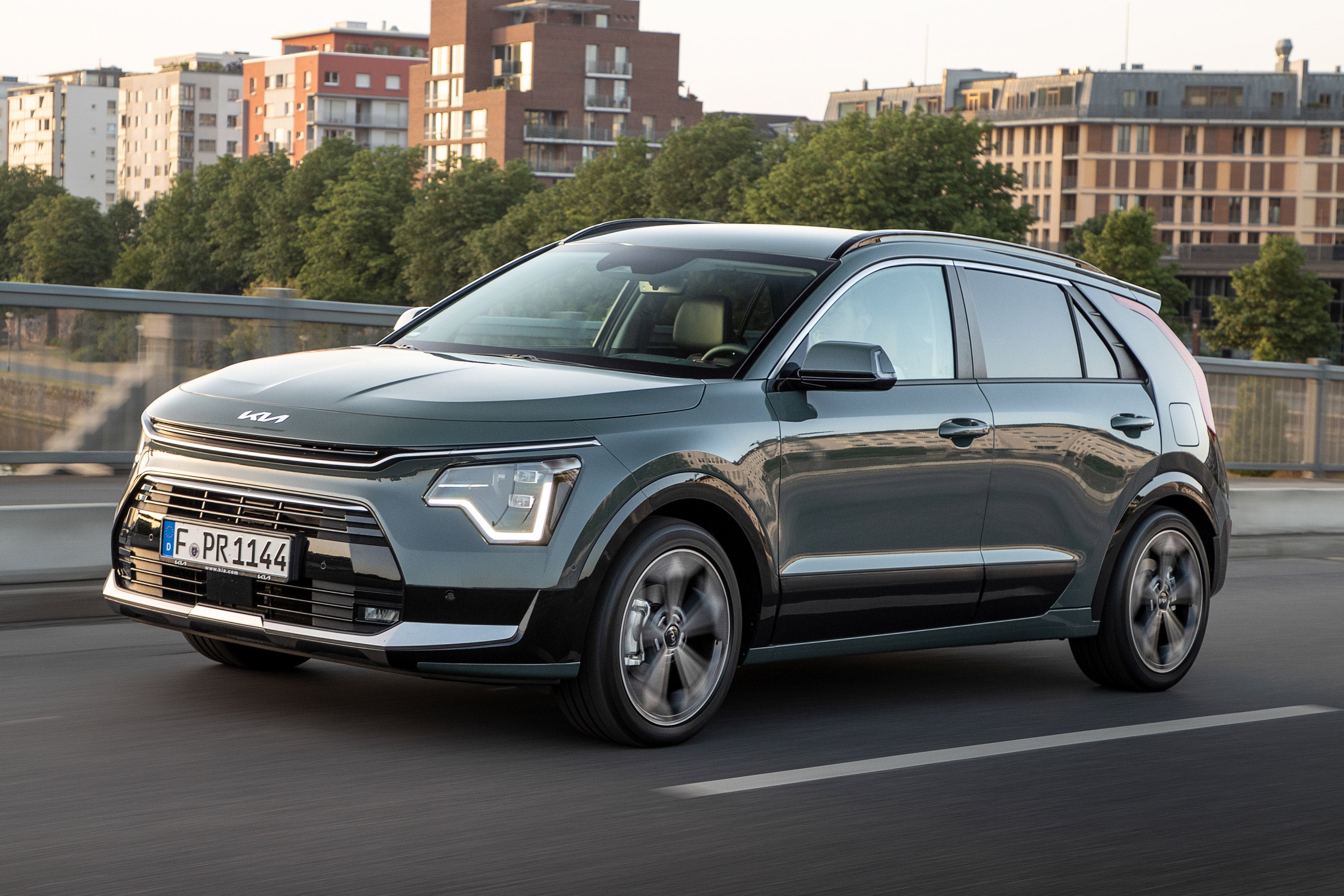 The old Kia Niro was perhaps one of the most unexciting cars you could buy new, yet it made up for its lack of charisma with its low running costs and versatile cabin. Still, you only need to glance at the pictures to see the new Kia Niro has been given a much-needed dose of kerb appeal, while the Kia EV6-inspired interior is also much more attractive than before.
Kia says the Niro PHEV will be perfect for commuters, thanks to its electric range of up to 40 miles. That means you can plug it in overnight, drive to work under electric power and save the petrol for weekend getaways. It'll certainly make sense for business users, however its high purchase price means that the majority of private buyers will opt for the regular Kia Niro hybrid.
And there's nothing wrong with that. Like the plug-in hybrid, the regular ('self-charging', if you like) hybrid combines a 1.6-litre petrol engine with a relatively small battery pack and a six-speed dual-clutch automatic gearbox. That's right, it's a hybrid without a CVT gearbox.
The hybrid system is at its most effective in stop-start traffic, where the petrol engine will switch off entirely and allow the car to mooch about under electric power. You can use paddles behind the steering wheel to adjust the level of the regenerative braking, too (this is how much the car uses the electric motor to slow down when you lift off the accelerator pedal). While you can't quite resort to one-pedal driving (the electric Kia Niro EV is better for that), it does make life easier in city traffic.
One nifty feature of both hybrid and plug-in hybrid Kia Niro models is that, rather than using a conventional reverse gear, they rely solely on the electric motor. This saves crucial weight, apparently, but also means you can reverse until your heart's content without the petrol engine ruining the refinement.
There's also a new Greenzone drive mode which uses data from the sat-nav to automatically put the Kia Niro into electric drive mode in certain areas. These areas can be manually created, meaning you can tell the Niro that you always want to arrive home in silence, for example, or avoid running the petrol engine when you're dropping the kids off at school.
The Kia Niro is slightly bigger than before, which also means it's slightly more spacious inside. The boot is one of the biggest in its class, while there's loads of room for passengers (even when travelling with four adults). You even get a high seating position and plenty of headroom – usually it's a case of one or the other.
There Kia Niro's cabin bears more than a passing resemblance to the electric Kia EV6, which is a good thing. A very good thing. It feels fairly upmarket and infinitely more interesting than before, while features like the multi-mode control display, ambient lighting and a dual-screen infotainment setup (on top-spec models) all feel sufficiently 2022 for a techy hybrid vehicle.
The Kia Niro has a few more hybrid SUV rivals now than the last one did when it arrived in 2016. But it's moved with the times and, using some of Kia's excellent electric and hybrid know-how, we reckon it's one of the most appealing family cars on the market today.
If you're looking for the previous version, you need our used Kia Niro (2016-2021) review. If you're looking for the electric version, you'll need our Kia Niro EV review.
Is the Kia Niro right for you?
If you're looking for a cheap-to-run family SUV, the Kia Niro has always been a solid choice. But now it's genuinely desirable, with bold looks and a more classy interior. We reckon a lot of buyers should also consider the electric Kia Niro EV but, if you're not quite ready for pure-electric power, the Kia Niro is an excellent choice.
What's the best Kia Niro model/engine to choose?
The Kia Niro plug-in hybrid probably isn't worth bothering with unless you're a company car driver seeking tax benefits, or you manage to bag a particularly good deal on the used market. For those able to charge at home or at work who do loads of shorter journeys it may make financial sense, but you'll need to own it for a number of years to offset the price jump.
The Kia Niro hybrid (or the pure-electric Kia Niro EV) will be a better option for most private buyers. In terms of trim level, the mid-level Kia Niro 3 strikes us as the sweet spot in the range. The top-spec Kia Niro 4 has some very desirable kit but, starting at more than £33,000, it's also a lot of money...
What other cars are similar to the Kia Niro?
If you're in the market for a hybrid SUV, you should also be looking at the latest Honda HR-V, as well as the Toyota C-HR and maybe the Renault Arkana. The Nissan Qashqai is now available as a hybrid, too (although it takes a slightly unusual approach to hybrid power and it's slightly bigger than the Kia Niro), while you may also want to look at the Kia Sportage.
We've touched on the Kia Niro's move upmarket, which means you might also be considering it alongside premium competitors like the Audi Q3 or BMW X1. Also consider the fully electric Kia Niro EV.
Comfort and design: Kia Niro interior
"While the new Kia Niro looks pretty bold on the outside, it's also far from drab on the inside. It's taken clear inspiration from the pricier Kia EV6 electric car – and that's no bad thing, with an abundance of stylish detailing and upmarket materials."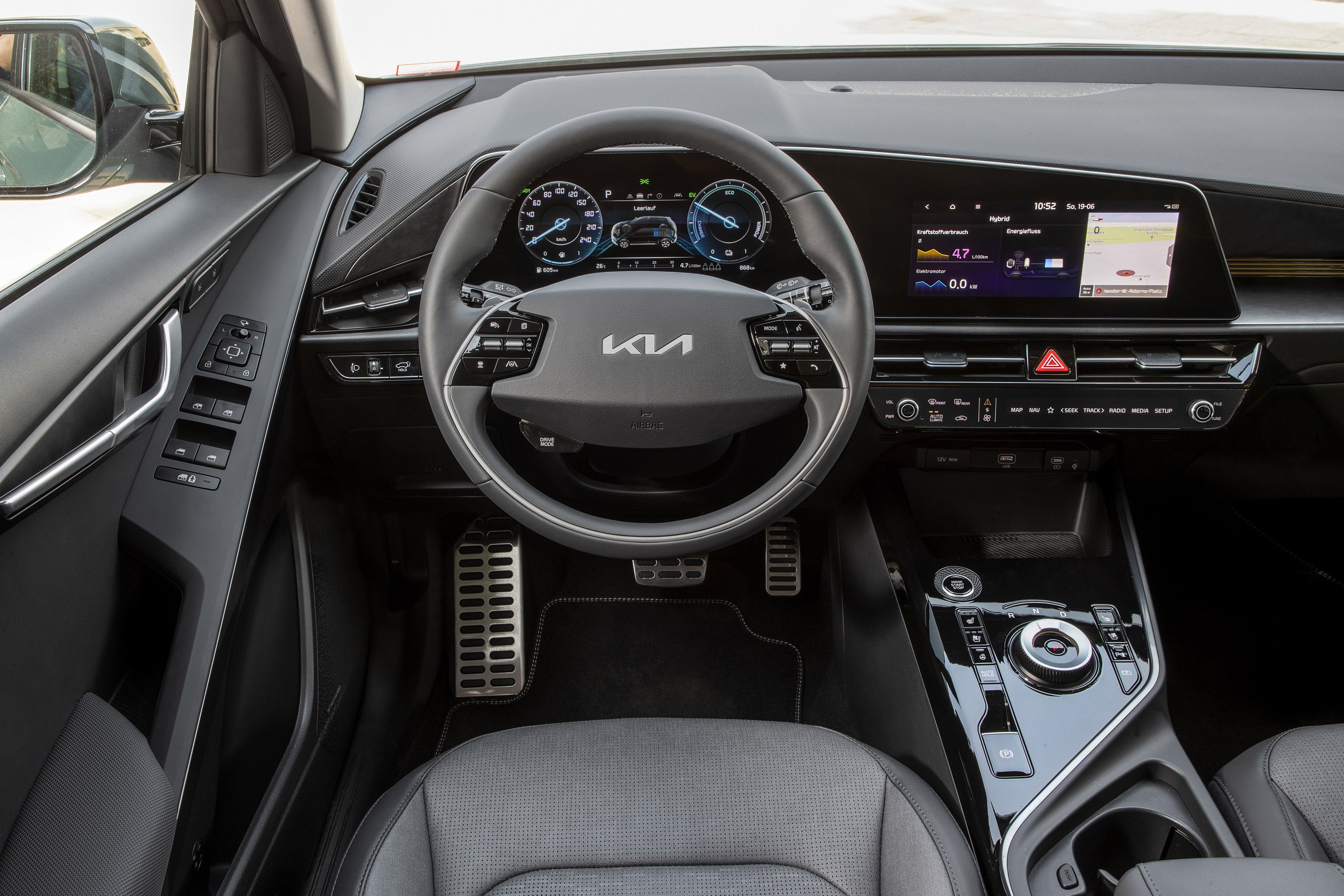 Honestly, the old Kia Niro was a bit of a snoozefest inside. Comfortable and well-equipped, yes, but with as much charisma as an accountant. Fortunately, Kia's changed in recent times, and a clear shift upmarket has done wonders for the new Kia Niro's cabin. It's really rather pleasant - if a bit monotone in colour.
One nifty feature is the multi-mode control display for the infotainment and climate controls. Essentially a single touchbar positioned underneath the main display, this can be changed at the touch of a button to operate either the infotainment or climate controls. It means fewer buttons and a more simplistic look, without everything being lumped into the infotainment system (as you'll find in certain rivals).
As is usually the case, the nicest interior is the preserve of the priciest models. If you want all the flash (for quite a lot of cash), get your order in for a Kia Niro 4 – it comes with heated and ventilated front seats, an electric sunroof, front passenger lumbar support and a fancy twin 10.25-inch touchscreen and digital instrument cluster display. Oh, and you get a Harman Kardon premium sound system as well as fancy vegan leather seat coverings (containing Tencel from eucalyptus trees, apparently).
The Kia Niro 4 also comes with a 'passenger relaxation seat', which allows your passenger to recline their seat when parked and take a kip (provided there isn't anyone in the seat behind).
Quality and finish
While the last Kia Niro was impressive for its hybrid technology, the new model moves the game on in terms of interior finish. It's near-as-dammit as posh as the Kia EV6, which itself stacks up against premium alternatives from BMW and Mercedes.
Everything is soft to touch, yet it feels reassuringly solid – like it's not going to fall apart if your toddler uses it as a play pen. Only time will tell if that's the case, but Kias of old traditionally stand up to family life very well indeed.
Infotainment: Touchscreen, USB, nav and stereo in the Kia Niro
While some of the standard equipment on the top-spec Kia Niro 4 seems a bit excessive, the twin-screen infotainment system might almost justify the extra cash. You get two 10.25-inch displays side-by-side (the central touchscreen display and a digital instrument cluster), adding to the Niro's upmarket vibe inside (helped too by the Harman Kardon premium surround system).
Entry-level 2 models come with a regular 4.2-inch instrument cluster along with an eight-inch central touchscreen display. Apple CarPlay and Android Auto is standard across the range, while 3 models and up come with a handy wireless phone charger alongside an upgrade to the central screen to 10.25-inches.
While the smaller infotainment system in base specs doesn't look as fancy, it's user-friendly and fairly fast to respond. Sat-nav is standard on the Kia Niro 3 and above, although the ability to use Google Maps via Apple CarPlay/Android Auto kinda deems the standard navigation system unnecessary for many.
Space and practicality: Kia Niro boot space
The Kia Niro has always been one of the most versatile family SUVs on sale but the new model has grown in dimensions compared to its predecessor. It now measures 4420mm long (65mm longer than the old model), 1825mm wide (25mm wider than before) and 1545mm high (including roof rails – the same as before).
Inside, there's plenty of room for passengers, with a spacious cabin providing what feels like an infinite amount of headroom. You get a relatively high seating position, something which will appeal to many SUV buyers but shouldn't necessarily be taken for granted in cars like this. There are some fairly large door bins and a pair of cup holders in the front, as well as a small storage cubby underneath a central armrest.
Things are impressive in the back, too, where there's an adjustable backrest allowing you to prioritise passenger or luggage space. The extra length of the new Niro compared to its predecessor will be appreciated by those in the back; there's plenty of space, even for fully-grown adults sat behind other fully-grown adults.
The Kia Niro hybrid's boot can carry 451 litres of luggage, although this drops to 348 litres in the plug-in hybrid model (its bigger battery pack eating into boot space). The boot floor can be raised to reduce the lip for lifting items over, or dropped when carry bulky items. It's a pretty decent boot, while the rear seats can be dropped almost entirely flat should you need to carry extra luggage.
Handling and ride quality: What is the Kia Niro like to drive?
"The Kia Niro does everything right for a family SUV – it's easy to drive, feels reassuringly safe and generally very comfortable. It's not the sharpest handling car in the world, though, and the engines can be a bit noisy under full power."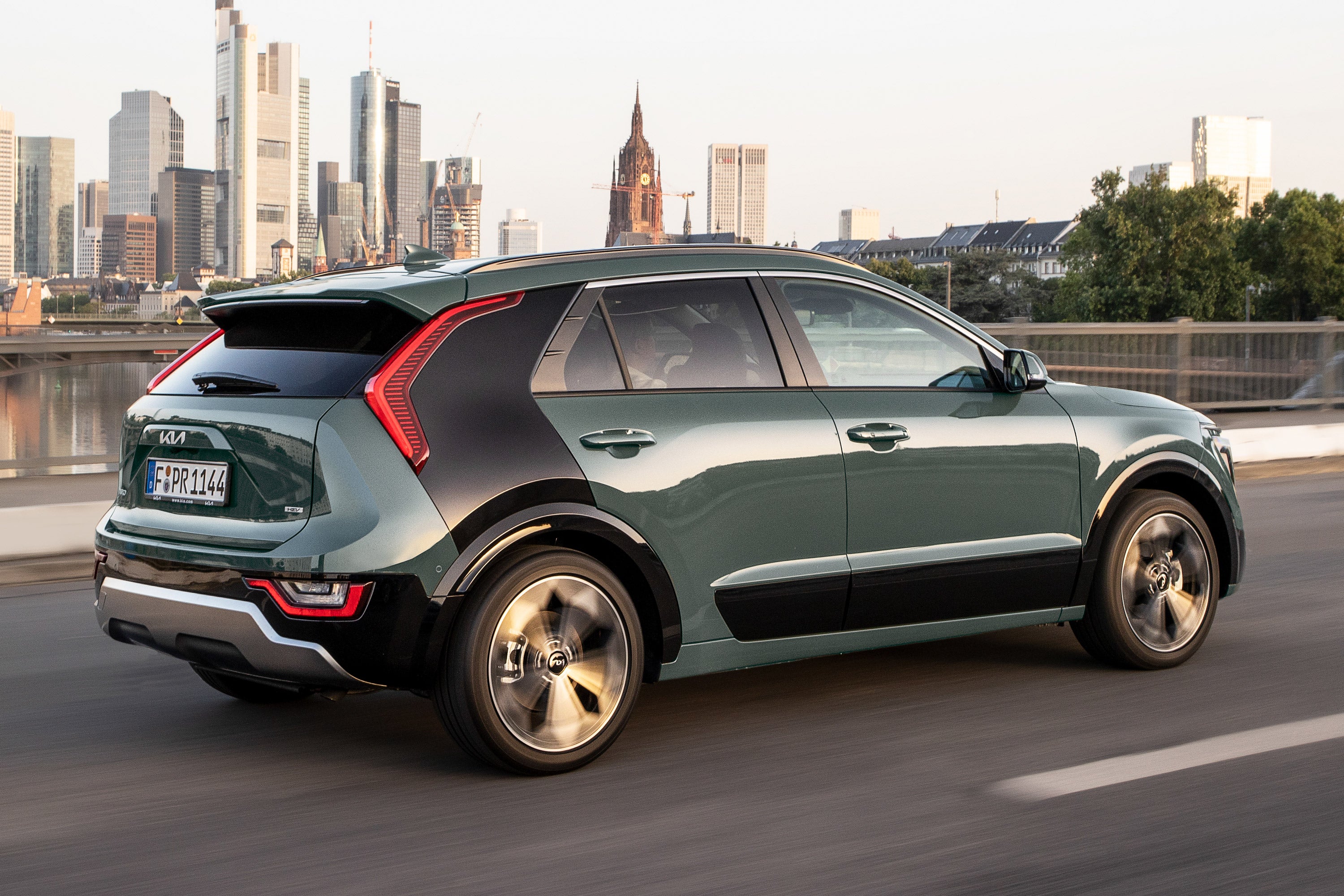 You can flick between eco and sport drive modes on the hybrid and PHEV Kia Niros, not that you'll notice a huge difference by doing so. The steering will feel a little heavier in sport mode and acceleration will be slightly more immediate, but don't expect the Kia Niro to turn into a Ford Mustang at the touch of a button.
The Kia Niro is set up to be softer than the Toyota C-HR, so it copes with broken road surfaces really well - even the top-spec 4 with the biggest wheels is pretty cosseting. Road noise is a little noticeable on some rougher UK roads, but not drastically so.
The bias towards comfort is at the expense of outright body control – it does lean a fair bit in high-speed cornering (particularly the heavier plug-in hybrid), but never to the point that it feels unsafe or will make your kids feel travel sick. The steering is light and a bit vague, which means it's easy to whizz around town but doesn't inspire lots of confidence on a twisty road.
Visibility is pretty good, while there's tech on hand to take the stress out of parking. The Kia Niro's relatively compact dimensions help here, too – it might look like a bulky SUV, but its footprint is about the same as a Volkswagen Golf's.
What engines and gearboxes are available in the Kia Niro?
The Kia Niro is available with hybrid, plug-in hybrid or pure-electric power. We have a separate review for the all-electric Kia Niro EV so we'll concentrate on the Kia Niro Hybrid and Kia Niro Plug-in Hybrid.
The Kia Niro Hybrid uses a 1.6-litre petrol engine combined with a six-speed dual-clutch automatic transmission and an electric motor, providing a total output of 141PS and 265Nm of torque. It's not quick (0-62mph acceleration takes a relatively leisurely 10.8 seconds) but the electric motor and petrol engine work together to ensure it feels suitably peppy around town.
Although the Kia Niro Hybrid can't travel for any significant distance (more than a mile or two) under pure electric power, it does have a few tricks up its sleeve. It doesn't come with a conventional reverse gear, instead relying on the electric motor for backwards propulsion. That eliminates tailpipe emissions during reverse manoeuvres and knocks 2.3kg off the Niro's overall weight.
Another trick is the clever new Green Zone drive mode, which uses navigation data to switch to electric-only driving when appropriate. These areas can be designated by the driver – ideal for when you're pulling up at home, for example, or dropping the kids off at school.
The Kia Niro Plug-in Hybrid uses the same 1.6-litre petrol engine and six-speed DCT transmission as the regular hybrid, albeit paired with a bigger battery and more powerful electric motor. This produces 183PS overall and 265Nm of torque, taking it from 0-62mph in 9.8 seconds. It certainly feels quicker but, with a significant price premium over the regular Hybrid, the PHEV is difficult to recommend to private buyers.
Refinement and noise levels
Although it can't travel for any great distance under electric power, the regular Kia Niro Hybrid defaults to zero-emission running when you first set off. That means it feels ultra refined (and actually very relaxing) to drive around town. When the petrol engine does kick in, you're not going to notice a huge cacophony of noise – just a quiet rumble as the four-cylinder unit starts up and provides power.
One issue that will be apparent for enthusiastic drivers is that both engines make a bit of a din when you ask for full performance. The plug-in hybrid is a bit nicer in that respect, but that's mostly because it's faster so you're not revving the engine for too long.
The Kia Niro PHEV is more refined for longer, but both models isolate wind noise well - although there is some road noise. Obviously, without a petrol engine, the Kia Niro EV is even more hushed on the move.
Safety equipment: How safe is the Kia Niro?
As is the norm these days, the Kia Niro is covered in cameras and sensors essentially acting as a second pair of eyes for the driver. We almost think it'd be impossible to crash a Kia Niro (don't take our word for it), there are that many clever safety systems on hand.
The amount of tech does depend a little on how much money you're willing to splash on a Kia Niro. The Kia Niro 2 comes with the brand's Forward Collision Avoidance (FCA 1.5) system with car, pedestrian and cyclist recognition. This can monitor your surroundings for potential impacts, warning you to a possible collision and even applying the brakes if necessary.
The Kia Niro 3 adds Highway Driving Assist (HDA) which reads the road (i.e. lane markings and other traffic), helping you maintain a set distance from the vehicle ahead and keeping you in your lane. The Niro 3 also comes with Blind Spot Collision Avoidance (BCA) for the rear, warning the driver (or applying the brakes) if it detects a potential collision with a vehicle in your blind spot.
The Kia Niro 4 adds an upgraded version of the Forward Collision Avoidance system (FCA 2) with things like a junction crossing function (which can apply the brakes if it detects an impending collision as a crossroads) and evasive steering assist (which assists the driver's steering when you're taking evasive action... pretty much as it says on the tin, really).
The new Kia Niro is yet to be crash-tested by Euro NCAP.
MPG and fuel costs: What does a Kia Niro cost to run?
"Low running costs are the Kia Niro's raison d'être. Owners of the old model regularly saw nearly 60mpg in the real world – and we reckon the new car will knock that figure out of the park."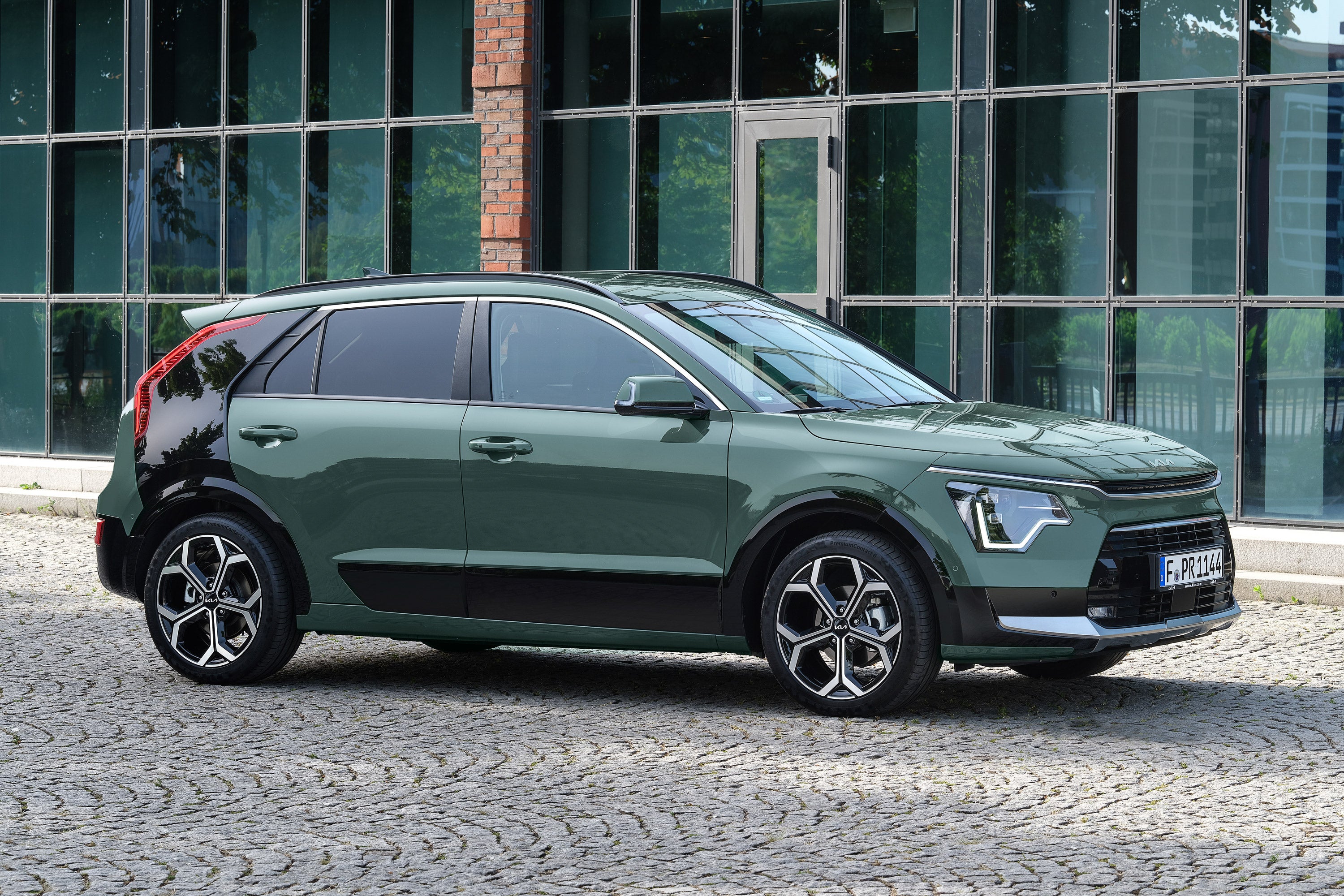 According to the official fuel economy tests that all manufacturers put their cars through, the Kia Niro Hybrid returns up to 64.2mpg. That's diesel-like economy, from a hybrid.
For even more frugality, look at the Kia Niro PHEV. Officially this returns an almost unbelievable 353.1mpg. Ahem. As ever, we'd recommend taking this figure with a pinch of salt where plug-in hybrids are concerned – the actual fuel economy you'll see in the real world will depend a lot on the kind of journeys you cover and how often you charge it.
With its 11.1kWh battery pack, the Kia Niro PHEV can travel up to 40 miles under electric power. If you charge it at home and never travel more than 40 miles in a go, the petrol engine will barely ever kick in and you'll – in theory – make a tank of petrol last forever.
If you really don't want to visit a petrol station ever again, you'd be better looking at the Kia Niro EV.
How reliable is the Kia Niro?
Remember when Jeremy Clarkson failed to kill a Toyota Hilux, crowning it the most reliable car in the world? Well, we haven't tried that with the Kia Niro, but we're pretty confident that it's not going to let you down. Kia is, too, which is why it provides a seven-year/100,000-mile warranty.
Insurance groups and costs
Depending on spec, a regular Kia Niro Hybrid is in insurance group 20A or 21A. The entry-level Kia Niro 2 should, in theory, be the cheapest to insure – but the difference in the real world is likely to be negligible.
The plug-in hybrid is pricier, topping out in insurance group 23A. Again, what that translates to in the real world depends on factors like your age, driving experience, home postcode and annual mileage. It's always worth shopping around for insurance quotes when buying a new car, but it's unlikely that the Kia Niro will be prohibitively expensive to insure for most drivers.
VED car tax: What is the annual road tax on a Kia Niro?
As a hybrid, the Kia Niro qualifies for a £10/year discount on road tax (VED). That means you'll pay £155 a year (after the first year, which is based on CO2 emissions and lumped into the Niro's on-the-road price).
If you're looking for free car tax, you'll need to look at the pure-electric Kia Niro EV instead.
How much should you be paying for a used Kia Niro?
"Launch prices for a new Kia Niro Hybrid start from £27,745 in 2 trim. The mid-spec Kia Niro Hybrid 3 is priced from £30,495, while the Kia Niro Hybrid 4 starts at £33,245."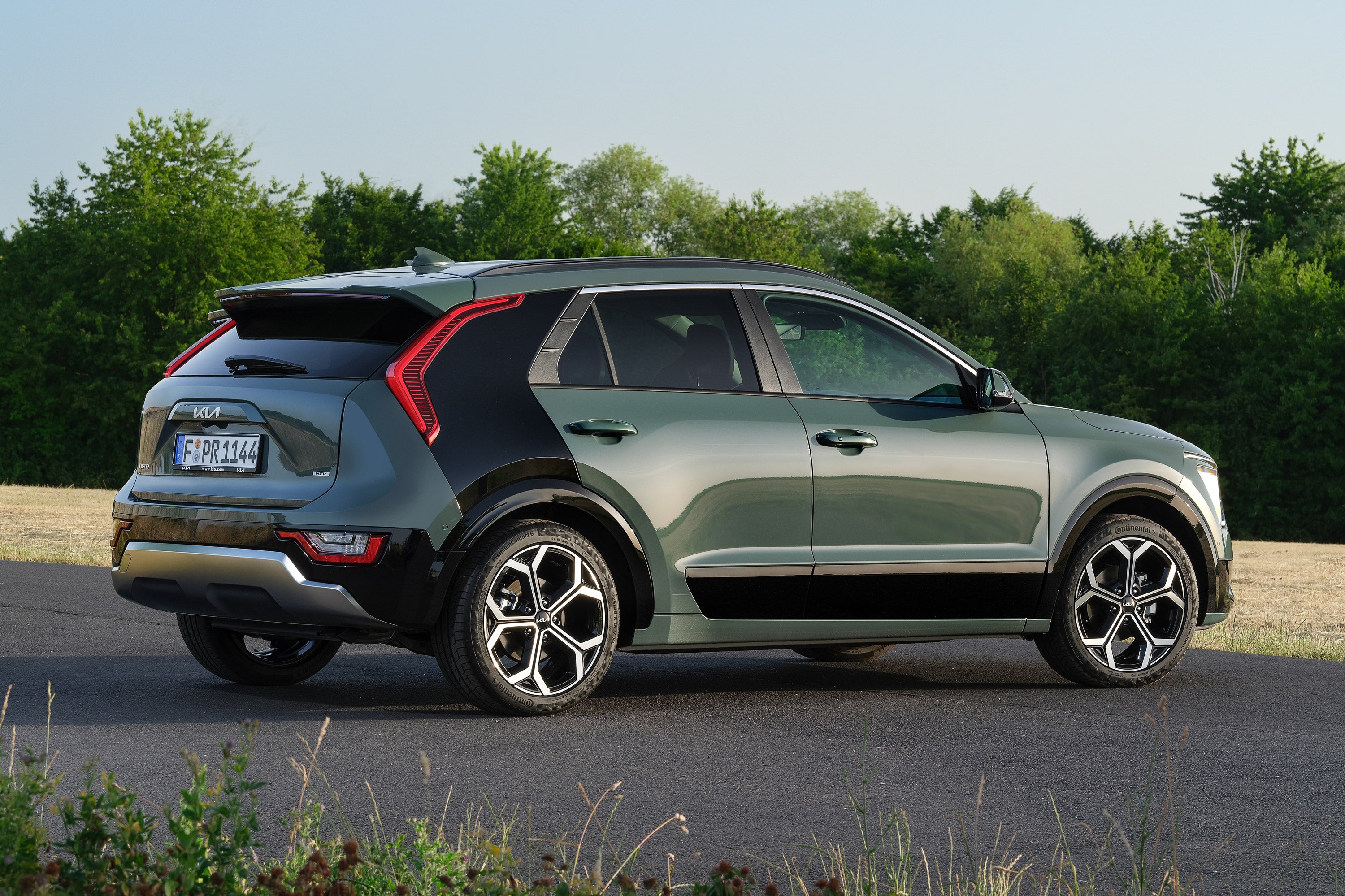 As is usually the case, you'll pay a premium for the Kia Niro Plug-in Hybrid. This starts from £33,525 in 2 trim, while the mid-spec Kia Niro Plug-in Hybrid 3 is priced from £36,275. The Kia Niro Plug-in Hybrid 4 has an on-the-road price of £39,025.
Those prices mean that the Niro is no longer the absolute bargain it once was. But when you look at similarly sized hybrid rivals it's about on a level, but more generously equipped.
UK deliveries of the new Kia Kiro are scheduled to start from autumn 2022. With high demand expected (and the ongoing microchip shortage causing delays for new cars), don't expect any to hit the used market with big discounts.
Trim levels and standard equipment
The Kia Niro is available in three trim levels badged 2, 3 and 4.
The Kia Niro Hybrid and Plug-in Hybrid 2 models features 16-inch alloy wheels, LED headlights, cloth upholstery, a dual-height boot floor, rear parking sensors and camera system, an 8.0-inch touchscreen display with DAB radio, Android Auto and Apple CarPlay, and a 4.2-inch supervision cluster. In addition, standard driver assistance technologies include Forward Collision Avoidance with car, pedestrian and cyclist recognition and junction crossing and Smart Cruise Control.
The mid-range Kia Niro 3 adds 18-inch alloy wheels, a larger 10.25-inch touchscreen with navigation system, cloth and faux leather upholstery, a 4.2-inch TFT instrument cluster, front parking sensors, keyless smart entry and start, and heated seats and steering wheel. Equipment also includes rear privacy glass, driver lumbar support, Highway Driving Assist, Blind Spot Collision Avoidance for the rear, a wireless smartphone charger, and adjustable multi-angle rear seats.
Topping the range is the Kia Niro 4. This adds special vegan leather seats (containing Tencel from eucalyptus trees) – heated in the rear, heated and ventilated in the front. Tech highlights include a twin 10.25-inch touchscreen and digital instrument cluster as well as a Harman Kardon premium sound system. The Kia Niro 4 also comes with an electric tailgate, electric sunroof, driver's side memory seating, and front passenger lumbar support. Driver-assistance technology includes Remote Smart Parking Assist and Parking Collision-Avoidance Assist).
Ask the heycar experts:
common questions
Is the Kia Niro a reliable car?
The Kia Niro is likely to be a very reliable car. For a start, Kia provides a seven-year/100,000-mile warranty, which gives you an indication of how confident it is in its cars. The brand also performs well in ownership surveys (such as HonestJohn.co.uk's annual Satisfaction Index), while we've heard of very few issues with the previous Kia Niro.

Answered by
Lawrence Allan
Is the Kia Niro bigger than the Sportage?
The Kia Niro measures 4420mm long, 1825mm wide and 1545mm in height – that means it's slightly smaller than the Kia Sportage. The Kia Niro slots in between the Soul and the Sportage in the brand's range.

Is the Kia Niro a hybrid?
The Kia Niro is unusual in that it's available with hybrid, plug-in hybrid and even pure-electric power. The Kia Niro EV is expected to be the biggest seller in the UK, followed by the conventional ('self-charging') hybrid, which will account for around 35% of sales. The Kia Niro PHEV is expected to be a small seller, accounting for just 5% of UK sales.

Kia Niro cars for sale on heycar
2,320
Number of cars available
£16K - £31K
Price bracket of these cars
Colours available on heycar
Keep me updated by email with the latest advice, news and offers from heycar
By submitting, you agree to our
privacy policy
.
Popular models
Similar models