Written by
heycar editorial team
heycar rating
"Compact, good value city runabout"
Best bits
Reasonable running costs
Mid-spec cars come loaded with kit
Neat and tidy handling
Not so great
Non-turbo engines are slow
Not the roomiest in the back
Fidgety ride on 16-inch wheels
Read by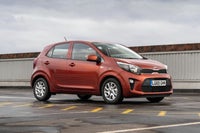 Overall verdict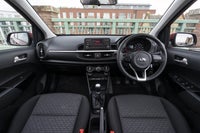 On the inside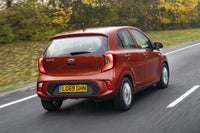 Driving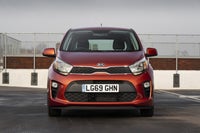 How much does it cost to run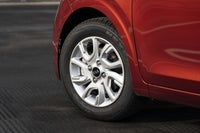 Prices, versions and specification
Overall Verdict
"The Kia Picanto is a compact city car with a spicy attitude and styling, but a sensible approach to practicality and interior design. It's available as a five-door hatch with space for five, and a line-up of little petrol engines. We'll save you the suspense of reading on, and say it's a brilliant all-rounder and one of the best in its class."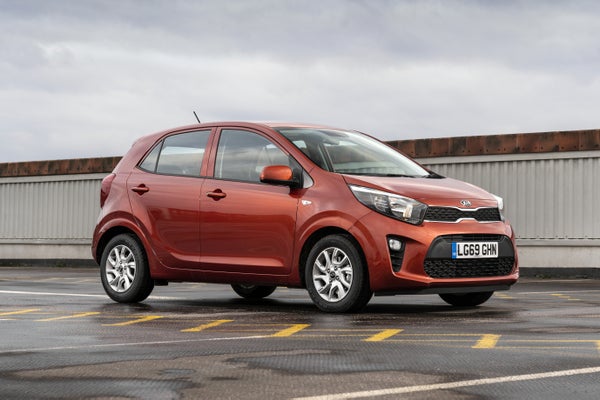 Like any urban runabout worth its salt, it has good visibility, short overhangs, and light controls. That makes it a doddle to manoeuvre in tightly-packed supermarket car parks, and stress-free to drive smoothly in the city.
Visibility is great, and the cabin is a triumph of simple, logical design. It looks good, but is also easy to use.
As with most small cars, the range runs the gamut from stripped out rental car (the bog-standard '1') to posh city slicker, and the priciest GT-Line S models are brimming with technology, and impressive luxury features.
Have you heard of a city car with a wireless charging pad, faux-leather seats and a heated steering wheel?
While it's not the best for passenger space, you can get adults in the back. Kia reckons it's possible to fit five, but while there are enough seat belts for the task, we'd advise against it unless you want to start a squabble.
Still, it has a decent-sized boot, folding seats, and enough luggage space to handle shopping trips or the odd weekend adventure, although bulkier items like a baby buggy might call for some careful re-arranging inside.
Small petrol engines are the order of the day under the bonnet. Most of the line-up are not turbocharged, so they can feel strained and sluggish on faster roads and when driving on the motorway. Kia offers you a nicer engine as you go up the range, so the most basic cars get a buzzy 67PS 1.0-litre and a five-speed manual.
This engine is characterful and perfect for town use. Here it feels more urgent and free-revving than its paltry performance figures would suggest, thanks to its thrummy three-cylinder layout, but the 1.25-litre is stronger.
With four-cylinders, 85PS and the option of a four-speed automatic gearbox, it's a better option for buyers who plan on covering bigger distances. While still fairly sedate, you'll be thankful for the extra oomph it has.
Whichever engine you choose, the Picanto is good fun to drive, with accurate steering, decent grip, and nice body control. It feels agile but remains planted through bends; the trade-off is a slightly firmer ride than rivals.
There are a dizzying seven different specifications to choose from: 1, 2, 3, X-Line, X-Line S, GT-Line, and GT-line S. Plus two special editions. The '3' is our favourite, and definitely the one to pick. Thanks to a long warranty, the Kia also makes a fantastic used car, and with so few weaknesses, you'd be a fool not to try it.
Is the Kia Picanto right for you?
We would encourage anyone in the market for a city car to take a look at the Picanto. It's small, easy but fun to drive, just about spacious enough, and looks and feels really good inside and out in the higher trim levels.
If you need an automatic gearbox then the Picanto is one of only a handful of city cars still offering one, but choosing this transmission does mean sacrificing both driveability and fuel economy, so it's a difficult toss up.
Kia is not especially well known for building exciting cars to drive, but the Picanto is brilliant fun to weave through city traffic or country lanes, with tidy handling, direct steering and lots of grip despite its skinny tyres.
A market-leading warranty that provides seven years of cover for major mechanical parts also makes the Kia a superb ownership prospect, so it's a car that will please both keener drivers and risk-averse sensible types.
What's the best Kia Picanto model/engine to choose?
Most buyers - especially those covering only a few thousand miles a year - will be well served by the basic 1.0-litre model. It may be slow, but it's a peppy engine, sounds good when worked, and will be cheap to run.

It can struggle on motorways and uphill, so if you live somewhere with a lot of ups and downs, we would pay the extra for the 1.25-litre instead. It's stronger in-gear than the three-cylinder, yet returns very similar MPG.
The four-cylinder is the only engine option offered in our favourite '3' trim, but the Titanium and Zest editions get a lot of the best kit from this version, at a slightly lower price, although they miss out on some safety kit.
Used buyers should track down a GT-Line for fancy big car features, but this model is not great value new.
What other cars are similar to the Kia Picanto?
Recently it has started to look as if city cars were becoming an endangered species, soon to be replaced by all-electric models. We're not quite there yet though, and budget-conscious buyers still have a lot of choice.
Unsurprisingly, the closely-related Hyundai i10 displays all the same impressive qualities as the Kia, but the Picanto is an older design, and the latest generation i10 feels even more comfortable and grown-up to drive.
The Volkswagen Up delivers a more refined driving experience, especially on the motorway, where it lets in less road and wind noise, but it's not available with the same level of infotainment equipment as the Picanto.
With a raised ride height, spacious boot and hybrid petrol powertrain, the Suzuki Ignis beats the Kia for fuel economy, and is better suited to those who live out in the countryside and need to deal with muddy lanes.
For sheer space on a shoestring, the Dacia Sandero is hard to beat, but it doesn't look or feel as nice inside.
Learn more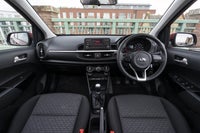 On the inside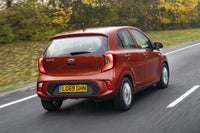 Driving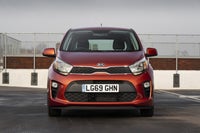 How much does it cost to run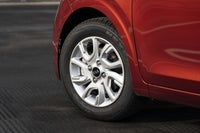 Prices, versions and specification
Reviews of similar cars
Quality checked, all cars less than 8 years old and warranty included