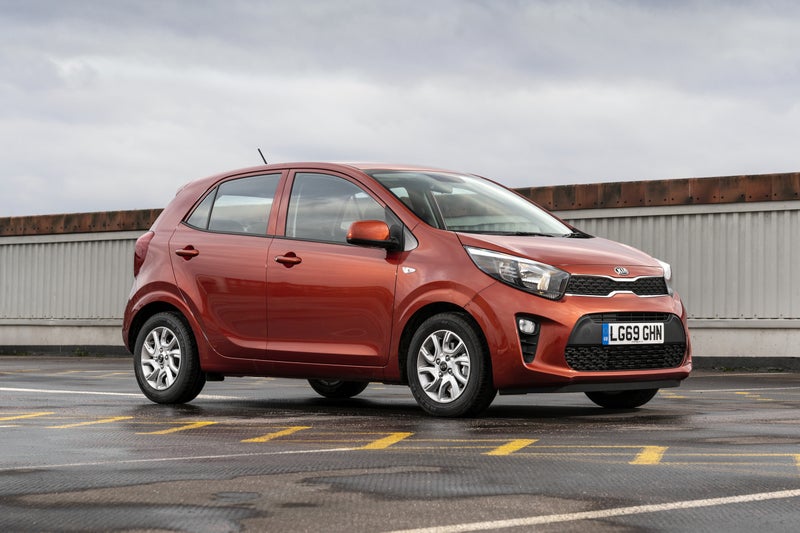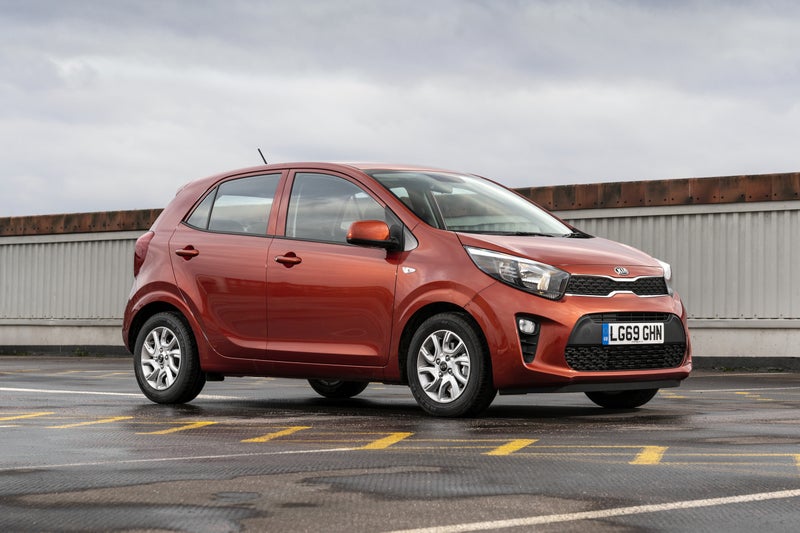 1/10
heycar rating
"Compact, good value city runabout"
Launched: 2017

City car

Petrol
Quick overview
Pros
Reasonable running costs
Mid-spec cars come loaded with kit
Neat and tidy handling
Cons
Non-turbo engines are slow
Not the roomiest in the back
Fidgety ride on 16-inch wheels
Overall verdict
On the inside
Driving
Cost to run
Prices and Specs
Common questions
Overall verdict on the Kia Picanto
"The Kia Picanto is a compact city car with a spicy attitude and styling, but a sensible approach to practicality and interior design. It's available as a five-door hatch with space for five, and a line-up of little petrol engines. We'll save you the suspense of reading on, and say it's a brilliant all-rounder and one of the best in its class."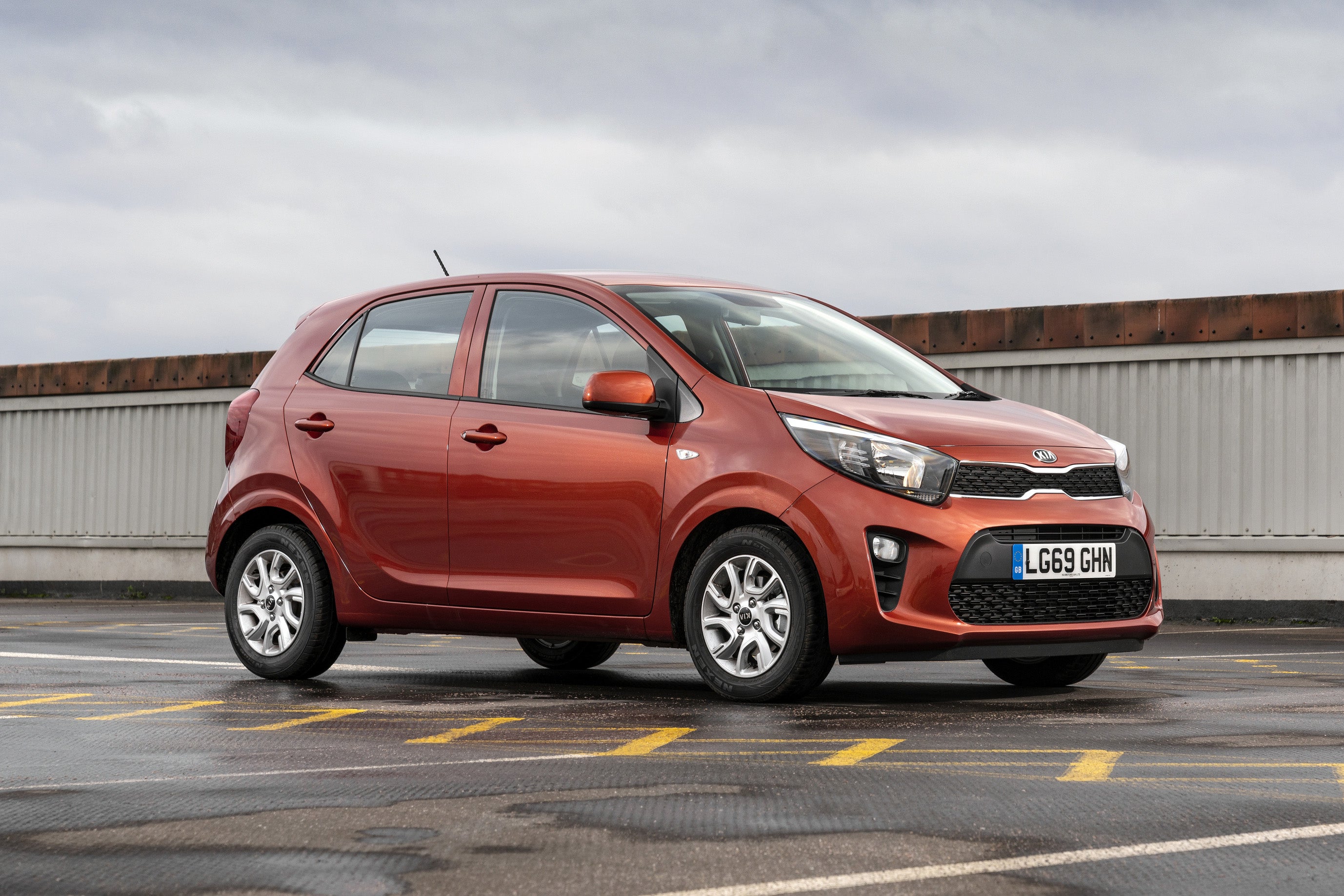 Like any great city car worth its salt, the Kia Picanto has good visibility, short overhangs, and light controls. That makes it a doddle to manoeuvre in tightly-packed supermarket car parks, and stress-free to drive smoothly in the city. Visibility is great, and the cabin is a triumph of simple, logical design. It looks good, but is also easy to use. Find out all you need to know with our 2022 Kia Picanto review.
As with most small cars, the range runs the gamut from stripped out rental car (the bog-standard Kia Picanto 1) to posh city slicker, and the priciest Picanto GT-Line S models are brimming with technology, and impressive luxury features. Have you heard of a city car with a wireless charging pad, faux-leather seats and a heated steering wheel?
While Kia Picanto is not the best for passenger space, you can get adults in the back. Kia reckons it's possible to fit five, but while there are enough seat belts for the task, we'd advise against it unless you want to start a squabble.
Still, the Kia Picanto has a decent-sized boot at 255 litres, folding seats, and enough luggage space to handle shopping trips or the odd weekend adventure, although bulkier items like a baby buggy might call for some careful re-arranging inside.
Small petrol engines are the order of the day under the bonnet. Most of the line-up are not turbocharged, so they can feel strained and sluggish on faster roads and when driving on the motorway. Kia offers you a nicer engine as you go up the range, so the most basic cars get a buzzy 67PS 1.0-litre and a five-speed manual.
This engine is characterful and perfect for town use. Here it feels more urgent and free-revving than its paltry performance figures would suggest, thanks to its thrummy three-cylinder layout, but the 1.25-litre is stronger.
With four-cylinders, 85PS and the option of a four-speed automatic gearbox, it's a better option for buyers who plan on covering bigger distances. While still fairly sedate, you'll be thankful for the extra oomph it has. Whichever engine you choose, the Picanto is good fun to drive, with accurate steering, decent grip, and nice body control. It feels agile but remains planted through bends; the trade-off is a slightly firmer ride than rivals.
There are a dizzying seven different specifications to choose from with the Kia Picanto: 1, 2, 3, X-Line, X-Line S, GT-Line, and GT-line S. Plus two special editions. The '3' is our favourite, and definitely the one to pick. Thanks to a long warranty, the Kia Picanto also makes a fantastic used car, and with so few weaknesses, you'd be a fool not to try it.
Is the 2022 Kia Picanto right for you?
We would encourage anyone in the market for a city car to take a look at the Kia Picanto. It's small, easy but fun to drive, just about spacious enough, and looks and feels really good inside and out in the higher trim levels.
If you need an automatic gearbox then the Picanto is one of only a handful of city cars still offering one, but choosing this transmission does mean sacrificing both driveability and fuel economy, so it's a difficult toss up.
Kia is not especially well known for building exciting cars to drive, but the Picanto is brilliant fun to weave through city traffic or country lanes, with tidy handling, direct steering and lots of grip despite its skinny tyres.
A market-leading warranty that provides seven years of cover for major mechanical parts also makes the Kia Picanto a superb ownership prospect, so it's a car that will please both keener drivers and risk-averse sensible types.
What's the best Kia Picanto model/engine to choose?
Most buyers - especially those covering only a few thousand miles a year - will be well served by the basic 1.0-litre model. It may be slow, but it's a peppy engine, sounds good when worked, and will be cheap to run.

It can struggle on motorways and uphill, so if you live somewhere with a lot of ups and downs, we would pay the extra for the 1.25-litre instead. It's stronger in-gear than the three-cylinder, yet returns very similar MPG.
The four-cylinder is the only engine option offered in our favourite Kia Picanto 3 trim level, but the Titanium and Zest editions get a lot of the best kit from this version, at a slightly lower price, although they miss out on some safety kit.
Used buyers should track down a Kia Picanto GT-Line for fancy big car features, but this model is not great value new.
What other cars are similar to the Kia Picanto?
Recently it has started to look as if city cars were becoming an endangered species, soon to be replaced by all-electric models. We're not quite there yet though, and budget-conscious buyers still have a lot of choice.
Unsurprisingly, the closely-related Hyundai i10 displays all the same impressive qualities as the Kia Picanto, but the Picanto is an older design, and the latest generation i10 feels even more comfortable and grown-up to drive.
The Volkswagen Up delivers a more refined driving experience, especially on the motorway, where it lets in less road and wind noise, but it's not available with the same level of infotainment equipment as the Picanto.
With a raised ride height, spacious boot and hybrid petrol powertrain, the Suzuki Ignis beats the Kia for fuel economy, and is better suited to those who live out in the countryside and need to deal with muddy lanes.
For sheer space on a shoestring, the Dacia Sandero is hard to beat, but it doesn't look or feel as nice inside.
Comfort and design: Kia Picanto interior
"Perhaps the most impressive thing about the Picanto is its uncluttered, thoughtfully designed interior. A dash layout that places the majority of the controls right in your eye-line helps, but all its fundamentals are spot-on. "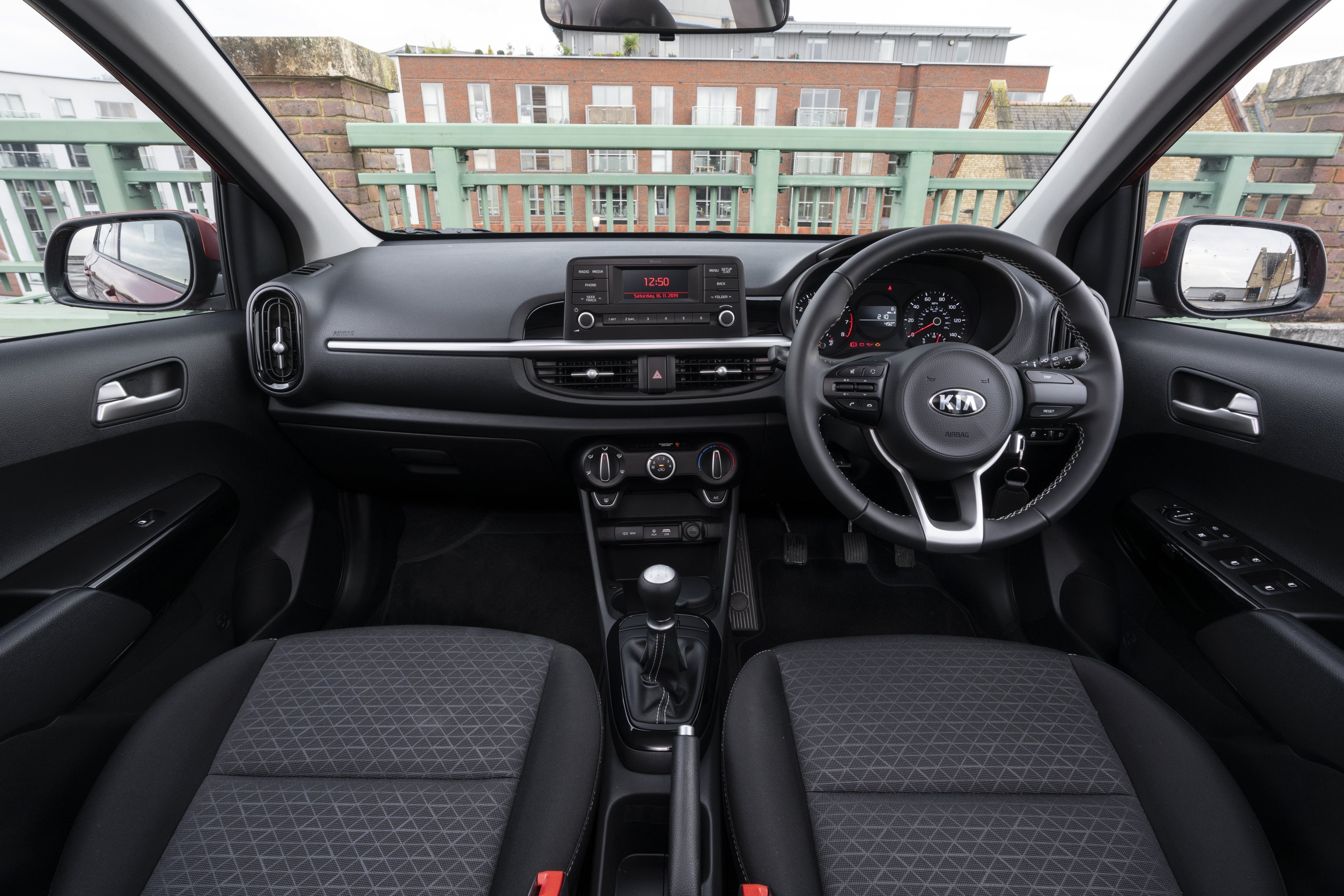 The clearly printed text on the switches makes spotting them intuitive, with bright and sharp instruments too. Some drivers will have to squint to read the dot-matrix display between them, but really we're just nit-picking.
There are a few buttons hidden by the driver's right knee, but everything you'll need to use on a regular basis is put front and centre, and there are no annoying quirks to befuddle you or become frustrating over time.
The driving position of the Kia Picanto is excellent, and while you can't adjust the steering wheel for reach (as is the case with most city cars) the front seats are comfortable and supportive. They'll stop you sliding about in corners, but keep you fresh on longer journeys, and all but the entry-level car come with height adjustment for the base.
You sit close to the windscreen, and the window pillars are nice and thin, so you get a great view out and it's easy to judge the dimensions when you're trying to thread the Picanto through a narrow gap or into a space.
The rear view isn't quite as straightforward, but over-the-shoulder visibility is still decent and mid-spec cars come with parking sensors and a reversing camera, so you'll be able to park it with millimetre-fine precision.
Quality and finish
No one expects city cars like the Picanto to feature lavish materials and luxury kit, but the Kia manages to do a lot with a little. Most of the dash surfaces are made from hard, durable plastic, but it looks and feels solid.
More than that, it's all neatly presented, and as long as you avoid the cheapest model, you'll find lots of small touches that help it avoid feeling dreary. The door handles for example, are finished in chrome, and attractive silver highlights are sprinkled on areas you'll touch often, such as the air vents, media and heating controls.
Most Kia Picantos come with a leather steering wheel, the switches are all nicely damped. Pricier versions get some coloured inserts, sporty aluminium pedals and even faux leather seats help brighten up the basic cabin.
Of course, there are scratchier areas, especially lower down, but it feels more robust than, say, a Fiat Panda or Vauxhall Viva, and its seven-year warranty only serves to underline the feeling it has been built to last.
It all raises the level of expectation buyers should have from cars in this class, especially the top-spec cars with seat heaters and a heated steering wheel - which used to be unheard of outside of swanky big saloons.
Infotainment: Touchscreen, USB, nav and stereo in the Kia Picanto
The Kia Picanto can be one of the most well connected and modern runabouts on sale, or one of the most basic. It all depends on the trim you decide to go for. Entry-level cars get a dated radio with a 3.8-inch monochrome display, and the only way you can listen to anything other than the cricket scores is via the USB or Aux ports.
The sparsely equipped Kia Picanto 1 only has two speakers, with tin-pot sound reproduction and bass. Yet only a couple of steps higher up the range, you'll get all the features demanded by any tech-savvy car buyer.
From the 3 trim upwards, every Kia Picanto features a 7.0-inch colour touchscreen that is one of the brightest and most responsive on the market. This system includes sat-nav, Apple CarPlay and Android Auto, so you can use the display to access your favourite phone apps, with messaging, music streaming and mapping options.
With this system you get six speakers (plenty in a car this size), DAB digital radio, voice control so you can talk to Siri or Google and a parking camera.
Upgrade to the Kia Picanto S and you'll get a wireless phone charger but, with a 12v and USB socket, we're not sure it's worth the extra for the sake of tidying up a few unsightly wires on the dashboard.
Space and practicality: Kia Picanto boot space
Take one look at the tiny dimensions of the Picanto (just under 3.6m long and 1.6m wide) and you might assume it would be hopelessly cramped. However thanks to some clever interior packaging it's actually one of the roomiest city cars on the market.
Those in the front are well catered for, and despite being narrow, you don't get the unpleasant sensation of sitting huddled together with your passenger in a little bubble, as you do in say, a Citroen C1 or Toyota Aygo.
It's simple enough to empty your pockets into the various cubbies on board the Kia Picanto. You'll find a handy place for your wallet, phone and keys, with a deep tray in front of the gear stick, two large cupholders and a wide glovebox.
The dashboard on the Kia Picanto is quite slim, and raised to create the sensation of space around your knees, and headroom is good too. The good news continues for anyone travelling in the back. It's not quite as adept at carrying big adults as the Ford Ka+ or Dacia Sandero, and larger passengers will find things cramped behind a tall driver.
Since all Picantos come with five doors as standard, at least getting into the back is easy, but the rear doors could open a bit wider, so you'll have to manoeuvre yourself carefully when stepping in or fitting a child seat.
There are ISOFIX mounting points on both outer spots. Still, to get a large rear-facing seat in you're forced to slide the front passenger seat as far forward as it'll go - rendering that space totally useless for passengers.
The Kia Picanto has a decent boot to make up for that though, with a standard 255-litre capacity that's bigger than all but a handful of rivals. The back seats fold down 60:40, and while they don't sit obediently flush with the boot floor, in such a tiny car it's no hardship to lug suitcases over the hump and push them against the front seats.
With them folded, you can cram over 1,000 litres of luggage into the load bay, very impressive given its small footprint. Still, only the top trims get a useful variable height boot floor, whereas in a Volkswagen Up it comes as standard.
For a city car, the Picanto passes the practicality test with flying colours. Bear in mind though that if you need even more space, the Dacia Duster and Suzuki Ignis are quite a bit bigger, but cost roughly the same.
Handling and ride quality: What is the Kia Picanto like to drive?
"First and foremost the Picanto does all the crucial city car stuff well. It feels compact on the road, letting you nip through gaps in traffic and the steering is nice and light at parking speeds, making it an easy car to drive."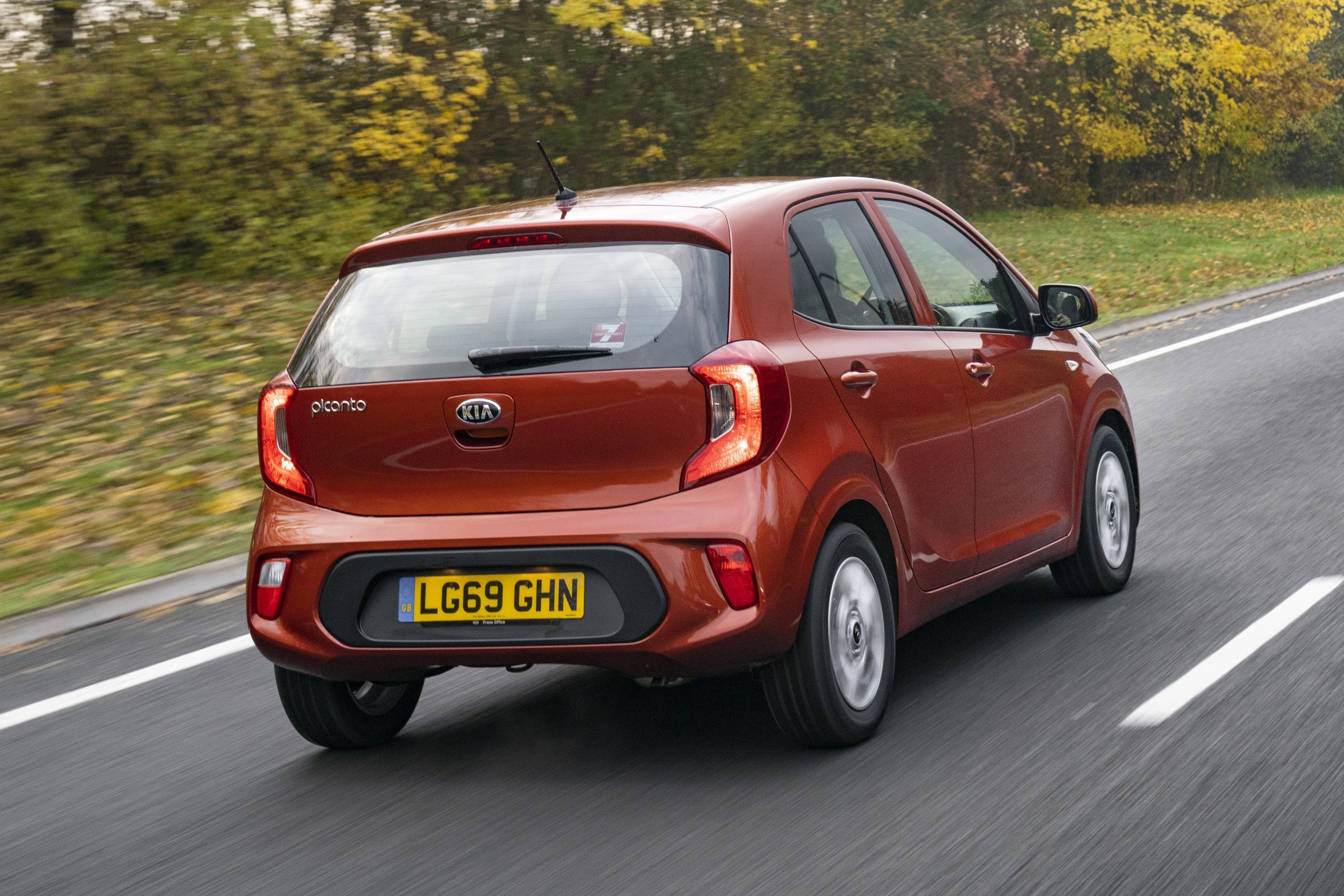 Avoid the 16-inch alloy wheels (standard fit on Kia Picanto GT-Line and X-Line models) and you'll be in for a smooth ride too, although the Volkswagen Up and Hyundai i10 are softer over bumps, and don't fidget as much on patchier roads.
This jittery character is only noticeable at lower speeds, where the Picanto can thud into potholes, but does a good job of stopping the disturbance created spreading from one corner to the whole car. A firmer setup also means it doesn't bounce you about over longer compression's or float queasily up and down dips and crests.
With thinner sidewalls giving the suspension less travel, the two trims we mentioned can get quite bumpy on an undulating surface, but the trade off is excellent body control, and strong mid-corner grip. In fact, this Kia Picanto is a real hoot to drive, with better body control than its peers, accurate steering, and lively, agile responses.
It manages to feel connected to the road in a way that's rare in city cars, staying alert and upright as it turns without becoming nervous at higher speed. Grip in tighter bends is plentiful, and the handling is predictable.
A Hyundai i10 feels more grown-up, but we like the Kia's youthful exuberance. We're sure many new drivers will welcome the fact that while it's not a particularly quick car, it can definitely put a big smile on your face.
What engines and gearboxes are available in the Kia Picanto?
Some brands have replaced their smallest city cars with pure-electric models, including Skoda, Smart, and Honda, while others such as Vauxhall and Suzuki have dropped their cheapest town runabouts altogether.
As a budget-friendly option though, the Picanto is sticking to its guns, and comes with a range of three small petrol engines that should still be fairly cheap to run, and perfect for nipping around on short urban journeys.
Things kick off with a 1.0-litre with 67PS, which is your only option on the entry-level car. It's a three-cylinder, so it sounds chirpy and feels eager to rev, and while pretty slow, it's no major chore to keep it spinning away. This engine is fine for short trips, but can feel asthmatic as it struggles up steep inclines or on the motorway.
If you want to venture out on faster roads often, the 1.25-litre four-cylinder is a better option. It only has an extra 18PS to play with, but that makes a big difference to how fast it feels in such a light, compact city car.
However, the larger engine sounds (and feels) a bit flat compared to the 1.0-litre, especially at higher revs. Still, it does give buyers the option of a four-speed automatic instead of the standard five-speed manual 'box. We like the light clutch and positive shift of the manual, but the auto is one of the smoothest in any city car.
By far the quickest option is the 1.0-litre T-GDi turbo with 100PS. It feels like a junior hot hatch, with keen performance, and a lot more grunt in-gear, and it feels at home dicing with larger traffic on flowing roads.
Unfortunately, this engine is rather expensive, and only available on the highest GT-Line trim level. For most buyers, the much cheaper, zesty 1.0-litre will be sufficient, and it's the lightest on fuel too; every little helps.
Refinement and noise levels
Generally speaking, the Kia Picanto is well-mannered for a city car. Still, because you need to work its engines hard to make decent progress, and it only has five gear ratios, it does become noisy at motorway speeds.
For this type of driving, the 1.25-litre engine sounds coarser than the smaller three-cylinder, which makes a zingy thrumming noise that gives it character, but also sends a buzz of vibration through the seat and pedals.
Obviously, the outside lane of dual-carriageways is not the natural habitat of small cars. The Kia is typical of the class at it creates a fair bit of wind and tyre noise; you'll need to raise your voice to make yourself heard.
A Hyundai i10 or Skoda Citigo will isolate you better from the world outside, but it won't tire you out like a Fiat Panda or Toyota Aygo on a hundred mile journey. The suspension makes the occasional nasty 'thud' as well.
Stay in town, and you'll notice much less engine noise except when tackling steep hills, and controls like the brakes and clutch are light and respond consistently, making it easier to drive the car smoothly in city traffic.
Safety equipment: How safe is the Kia Picanto?
If you think that most safety gizmos don't really make any difference, this Kia Picanto is here to prove you wrong. As standard, the entry-level trims come without auto-emergency braking (AEB) to help prevent small mishaps.
When crash tested by independent body Euro NCAP it got a three-star rating, but if you add the optional Advanced Driver Assistance Pack (£350) it gains an extra star, and higher adult protection scores.
With the safety pack, the Picanto has better overall crash performance than a Volkswagen Up or the Toyota Aygo, although the former still does better for child protection, getting 81% versus 64% in the Picanto.
The system works by using a camera in the windscreen to scan the road ahead for traffic, pedestrians, and other potential obstacles. If the car senses a potential crash, it'll warn the driver, but if they don't react in time it can apply the brakes for you, performing an emergency stop. From '3' trim onward this kit comes as standard.
Every model has a decent baseline of active and passive equipment, including a hill-start assistance perfect for getting away from steep junctions, electronic stability control, and a set of tyre pressure monitors. Unlike some rivals (this means you Fiat Panda) it comes with six airbags as standard, plus a reminder to buckle up.
All but the basic Kia Picanto 1 and 2 models come with rear parking sensors, and every model fitted with the 7.0-inch touchscreen also features a colour reversing camera, even though the Picanto is already quite easy to park.
You get a tyre repair kit in the boot, rather than a more useful space saver spare wheel, like the Hyundai i10.
MPG and fuel costs: What does a Kia Picanto cost to run?
"The Picanto is a value-driven city car, and while not a budget option, it won't cost you much to run every day. According to the latest WLTP figures the 1.0 MPi engine should return over 50mpg, the best in the line-up."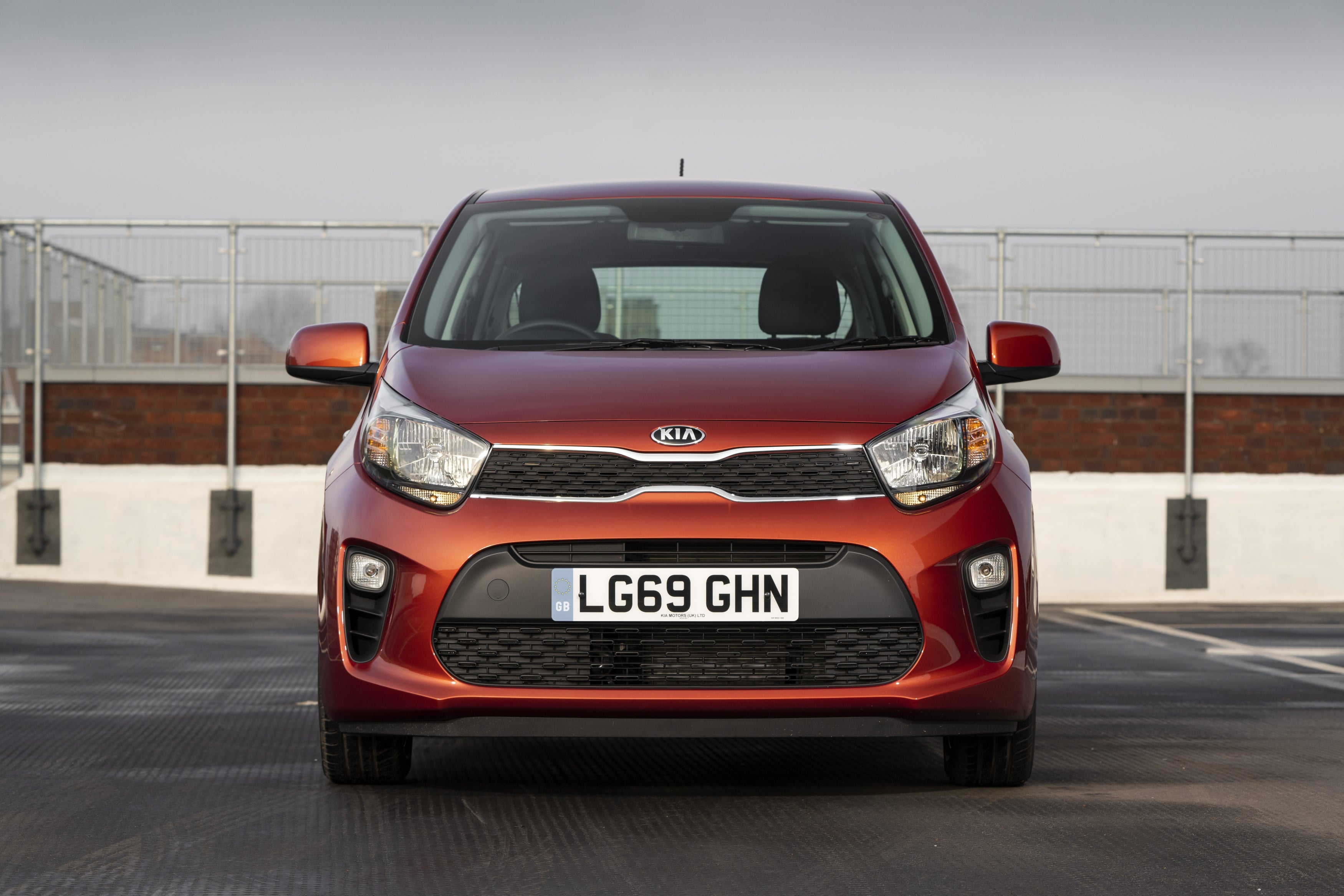 You won't sacrifice too much by going for the punchier 1.25-litre though. That can still achieve 49.6mpg, and since it won't require thrashing to make decent progress, you're likely to get close to that in real world driving.
Our Real MPG owners recorded a rather less impressive 45mpg for the former and just 40mpg for the latter. If you opt for the four-speed automatic, your economy takes a hammering, dropping to realistic mid-thirties.
With a 35-litre tank, you should be able to go around 350 miles between fill-ups, about right for a town car.
How reliable is a Kia Picanto?
The odd rattle aside, we've heard of very few reliability issues with the Kia Picanto. It's an incredibly dependable small car, while Kia's seven-year warranty should also help put your mind at rest.
As a brand, Kia performed very well in the 2020 HonestJohn.co.uk Satisfaction Index. It scored an impressive 9.31 out of 10 for reliability.
Insurance groups and costs
For whatever reason, the Kia is not the cheapest city car to get comprehensive cover for. Younger drivers, or those with zero no-claims bonus might be shocked to learn that even the slowest, most basic car is Group 4.
Most rivals start in Group 1 or 2, which could make a big difference to new drivers who have recently passed their tests. If you want the Kia Picanto 2 trim with some actual equipment, that's in Group 5, and a 1.0 turbo is Group 10.
That's the same as a Volkswagen Up with a similar engine, but worth bearing in mind if you're counting your pennies.
VED car tax: What is the annual road tax on a Kia Picanto?
All Picantos registered after April 2017 (which should be pretty much all of the current shape cars) will pay a standard set rate of VED, which is currently pegged at £150 per year for petrol cars, regardless of efficiency.
Used buyers should remember this means some of its older rivals (registered before that date) will be much kinder to your wallet, since they'll either be tax exempt, or cost about £30, under the old CO2-based system.
New buyers need to pay a first-year fee that is based on efficiency, but this will only be between £175 and £215 depending on the engine and trim, and is usually rolled into the on-the-road purchase price at a dealer.
How much should you be paying for a used Kia Picanto?
"New prices from around £11,000 and climb above £15,000 for the top-spec Kia Picanto GT-Line S. Of course, you can pay a lot less than that if you're willing to buy a used version, and there's plenty available."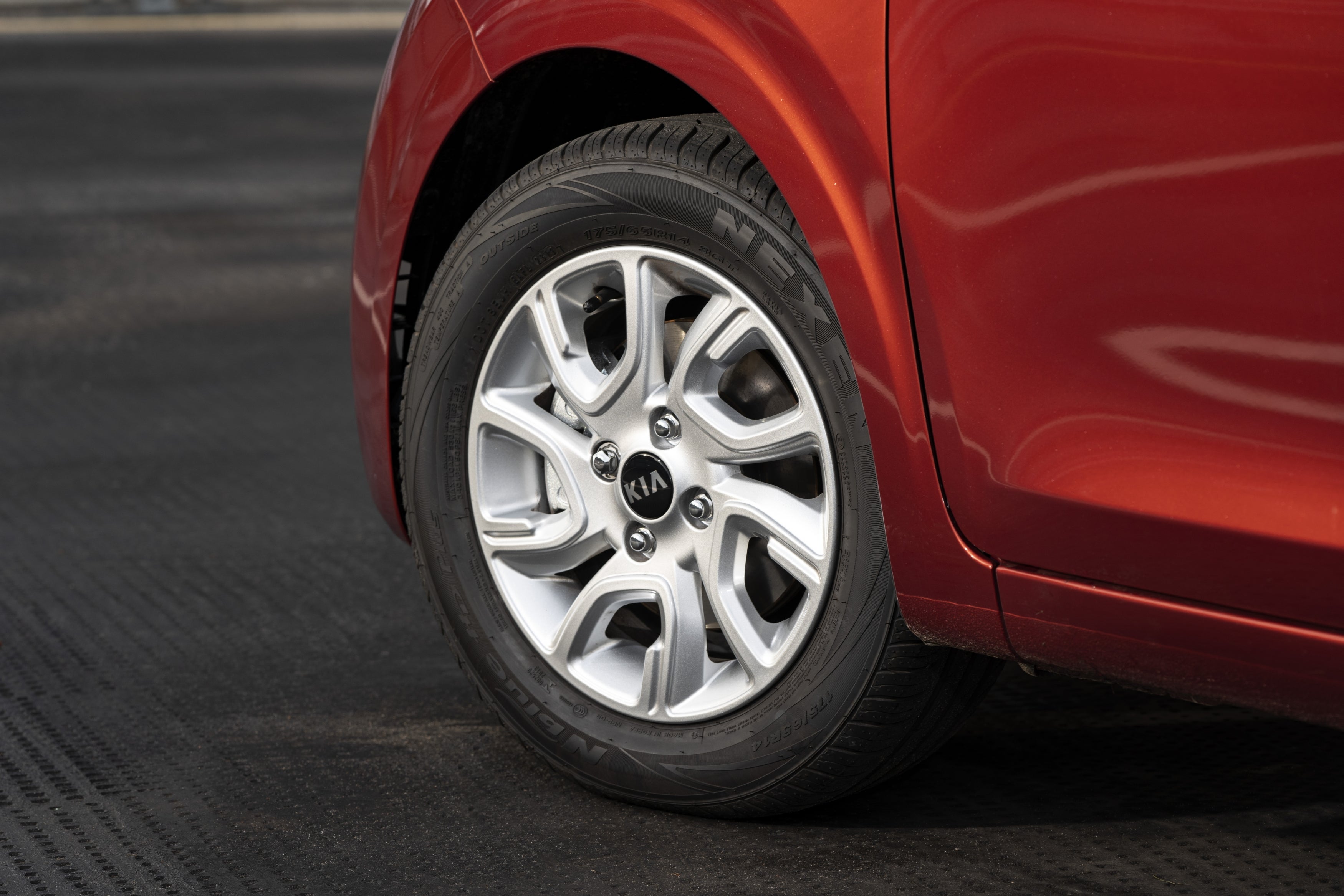 The cheapest route into Picanto ownership is picking up a 2017 car fitted with the 1.0 MPi engine in basic 1 Air spec, which should cost around £5,000. That's in line with a Hyundai i10 but cheaper than the Volkswagen Up.
Expect to part with at least £1,000 more for one of the posher trims, or the larger 1.25-litre petrol engines. At the other end of the scale, since the 1.0 T-GDi turbo triple only comes in Picanto GT-Line trim it starts from £10,000.
At that price you'll be getting a car with very low mileage from 2019 with a spotless interior and bodywork. To get discounts on pre-registered new cars is harder, but it's possible to find deals of £1,000 off the list price.
Trim levels and standard equipment
With seven different trim levels to pick from, it's easy to get confused when choosing your Picanto. The most basic Picanto 1 is plain, with steel wheels, black plastic wing mirrors, and fewer paint options. It's also barer than a student's fridge inside, with no air-conditioning, a dot-matrix radio, no Bluetooth, and wind down rear windows.
Things rapidly improve as you move up the range. The Kia Picanto 2 adds alloy wheels, air-con, four speakers, electric windows, Bluetooth, a leather multi-function steering wheel, and driver's seat height adjustment. Stretch to the Picanto 3 and things start feeling very posh, with climate control, a 7.0-inch touchscreen and reversing camera.
This model also comes with Apple and Android smartphone mirroring, cruise control, rear parking sensors, sat-nav and six speakers. Fully-loaded, basically. It should be all the car most buyers need, but you can get some of its best features for a bit less cash if you choose one of the keenly-priced Picando Titanium or Zest editions.
If you want rugged looks, the Kia Picanto X-Line mimics the styling of SUVs, combining chunkier bumpers and a raised ride height to make the Picanto look like a diddy off-roader, or, on the other hand, a bit naff, depending on your viewpoint.
The Picanto GT-Line trim is the sportiest looking, with a similar approach, so it has unique bumpers and a twin exit exhaust. The 'S' versions of both these last two trims add really luxurious kit that you're unlikely to find on any other city car; heated seats and steering wheel, a wireless phone charger, and faux leather upholstery.
You cannot add optional equipment (with the exception of a Driver Assistance Pack in the Picanto 1 and 2 so pick carefully, and bear in mind that some engines and colours are limited to a single (usually pricier) trim level. In fact the only additional thing you'll pay at a dealership, apart from the agreed price, is the cost of metallic paint, which is £260.
Ask the heycar experts:
common questions
Is the Kia Picanto a good car?
Yes. The Kia Picanto might be part of a dying breed (small petrol city cars) but it's smart to look at, very cheap to run and with a decent-sized boot, but some of its engines feel weedy and strained.

Will a used Kia Picanto be reliable?
The Kia Picanto has a solid reputation for reliability, and it comes with seven years of cover for all its mechanical parts, so the manufacturer will fix any issues free of charge. This is great for second hand buyers, who can get a two-year old used example with five years of cover.

Answered by
heycar editorial team
Does the Kia Picanto come with an automatic gearbox?
Yes. The 1.25-litre petrol engine comes with the option of a four-speed automatic. It's smooth but quite an old technology, so fitting it has a negative impact on fuel economy.

Is the Kia Picanto fuel efficient?
Definitely. It's a small and light car with small engines, and that's reflected in the running costs. The most efficient versions are limited to four seats, but emit just 101g/km and can return up to 65mpg (on the old NEDC tests) use the 1.0-litre non-turbo with 66PS. Pick an automatic version of the larger 1.25-litre engine though and that figure rockets to 137g/km.

Kia Picanto cars for sale on heycar
2,711
Number of cars available
£5.7K - £17K
Price bracket of these cars
Colours available on heycar
Keep me updated by email with the latest advice, news and offers from heycar
By submitting, you agree to our
privacy policy
.
Popular models
Similar models